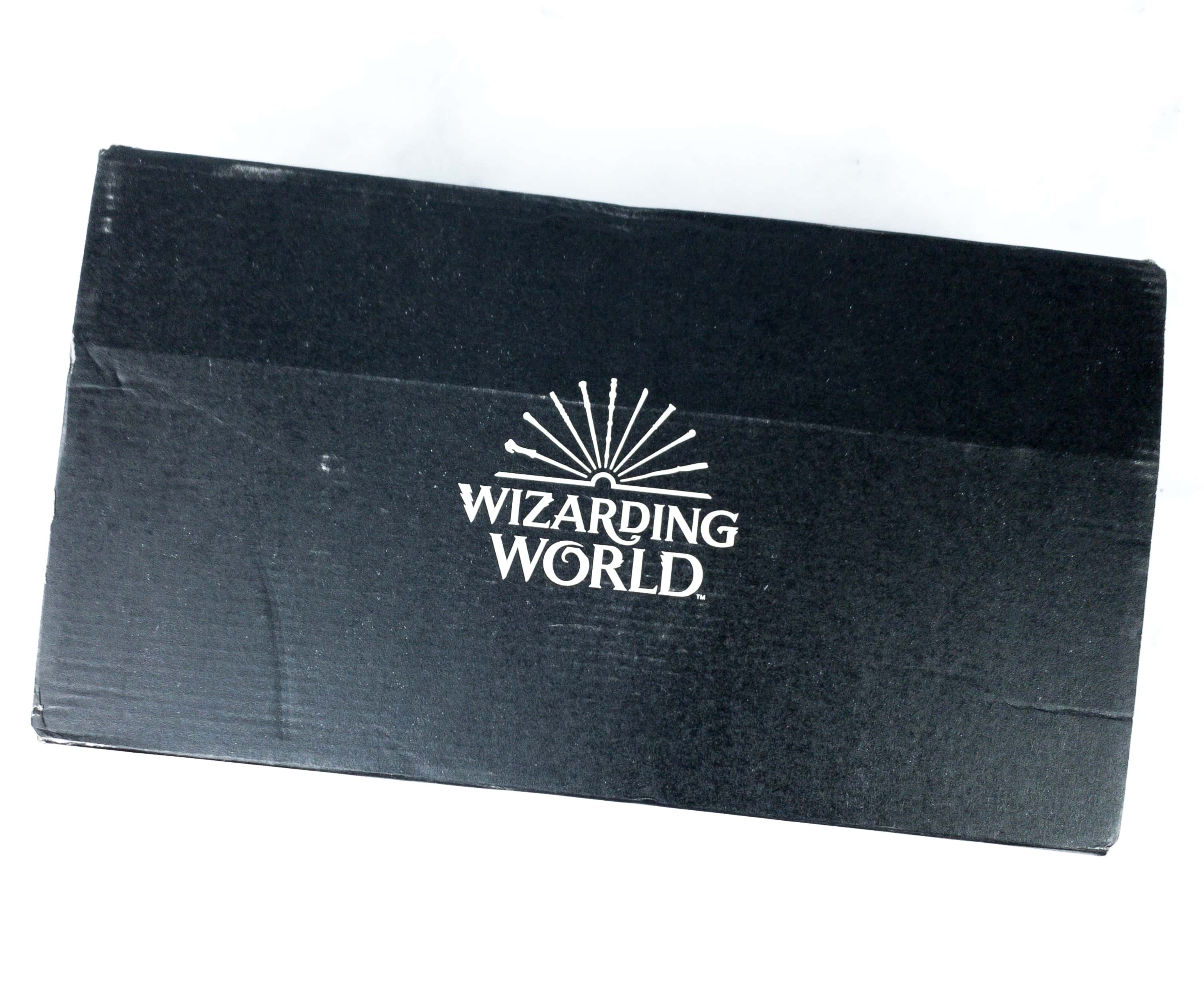 J.K. Rowling's Wizarding World Crate from Loot Crate is the bi-monthly and official Harry Potter & Fantastic Beasts subscription box. For $39.99 every other month, you'll get 5-7 unique and officially licensed Harry Potter and Fantastic Beasts merchandise, so there's no need to go to Diagon Alley!
DEAL: Save 15% on any subscription plan when you use this link and coupon code HELLOSUBSCRIPTION15.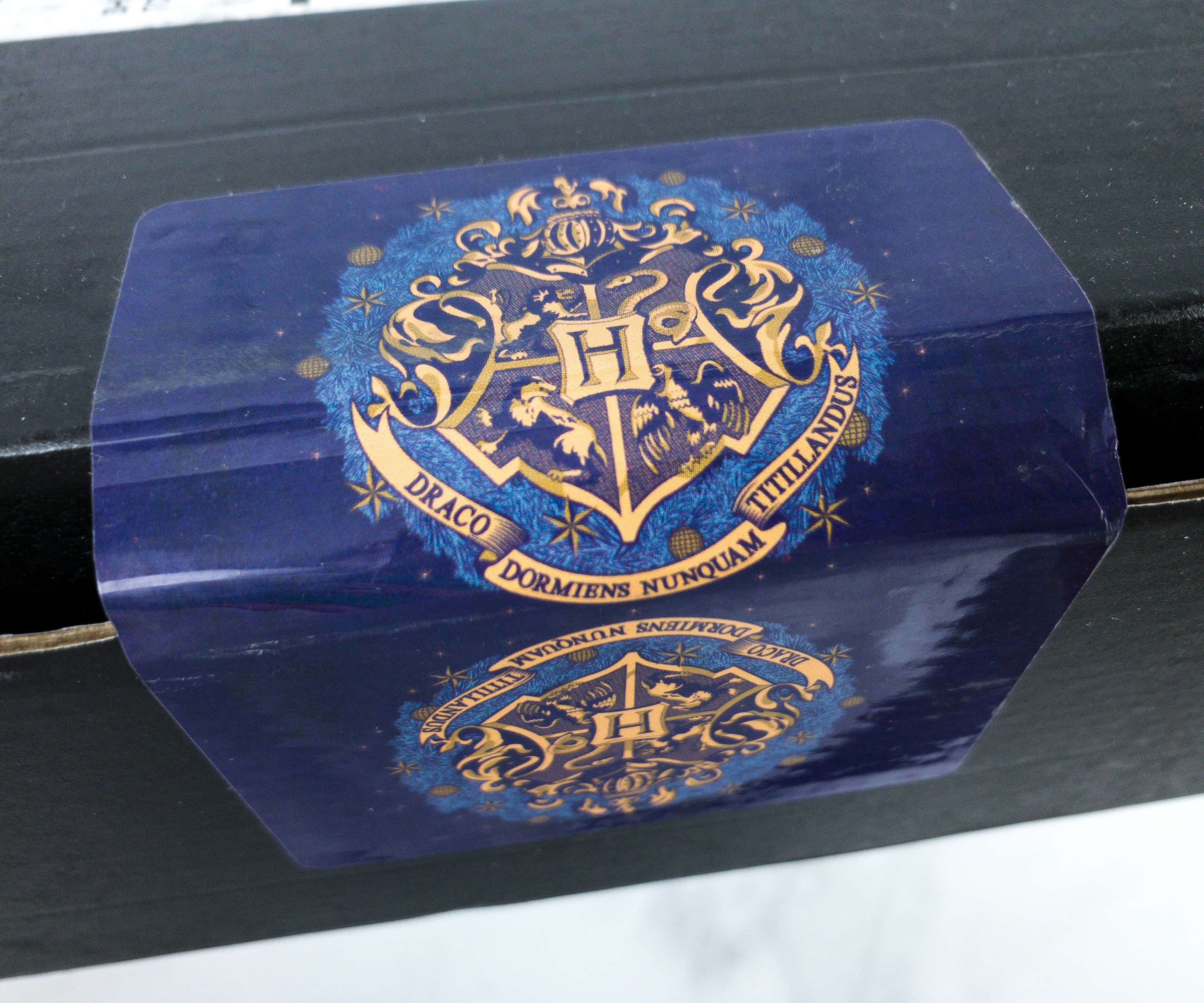 The box is sealed with a sticker that features the Hogwarts symbol!
There were no fillers or extra packaging.
The items arrived in great condition. The theme this month is  HOGWARTS FOR THE HOLIDAYS.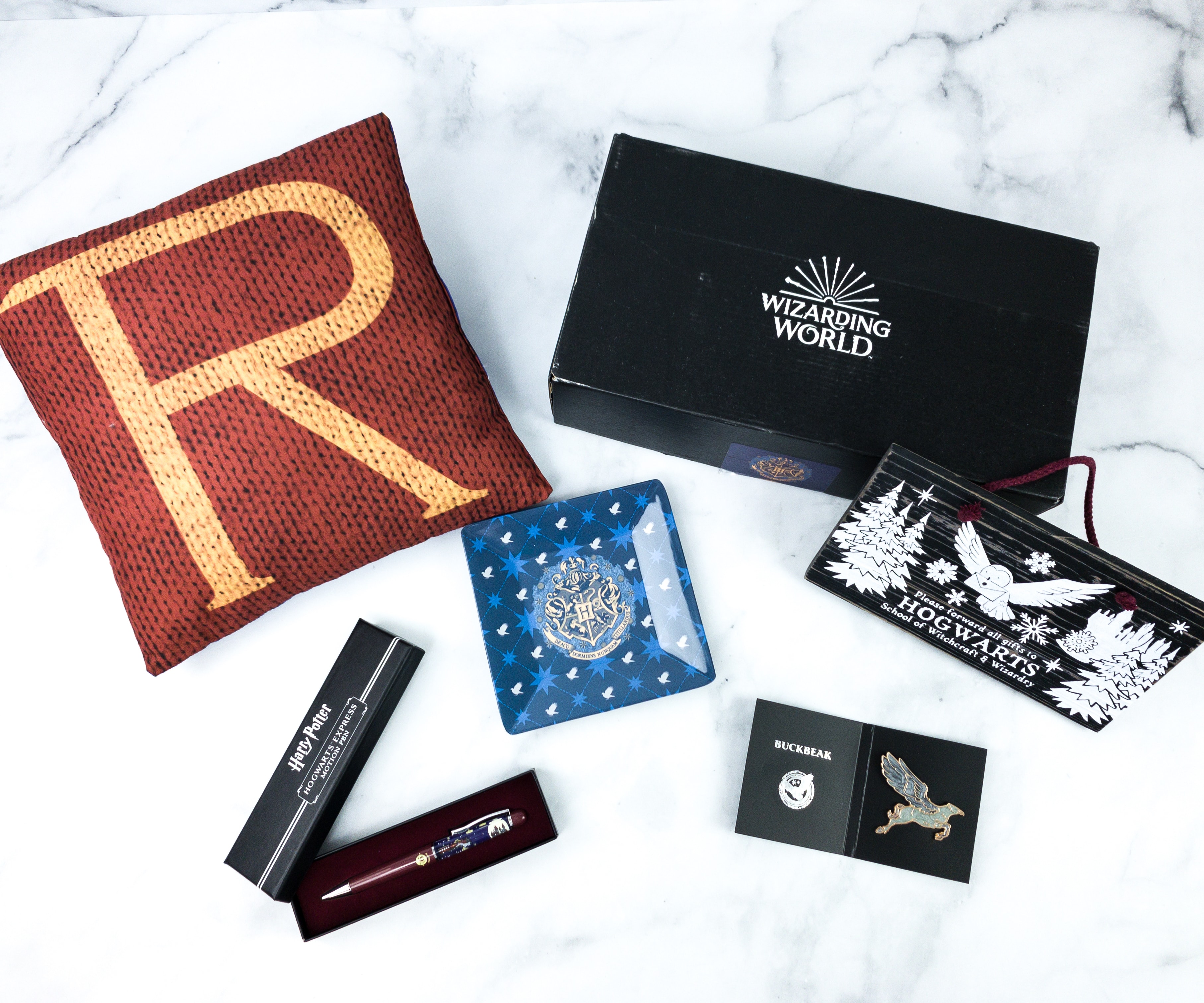 All the magical loot in the November 2019 Wizarding World crate!
Hogwarts Wooden Signage. This is really nice, I love the white images on the black-painted wood sign. This will look amazing hanging on my door! It features a snowy owl delivering a mail, and trees covered in snow and falling snowflakes! It's really beautiful, as you can also see Hogwarts in the background!
Hogwarts Express Motion Pen. I got a special pen, packed in a black box printed with the Harry Potter logo.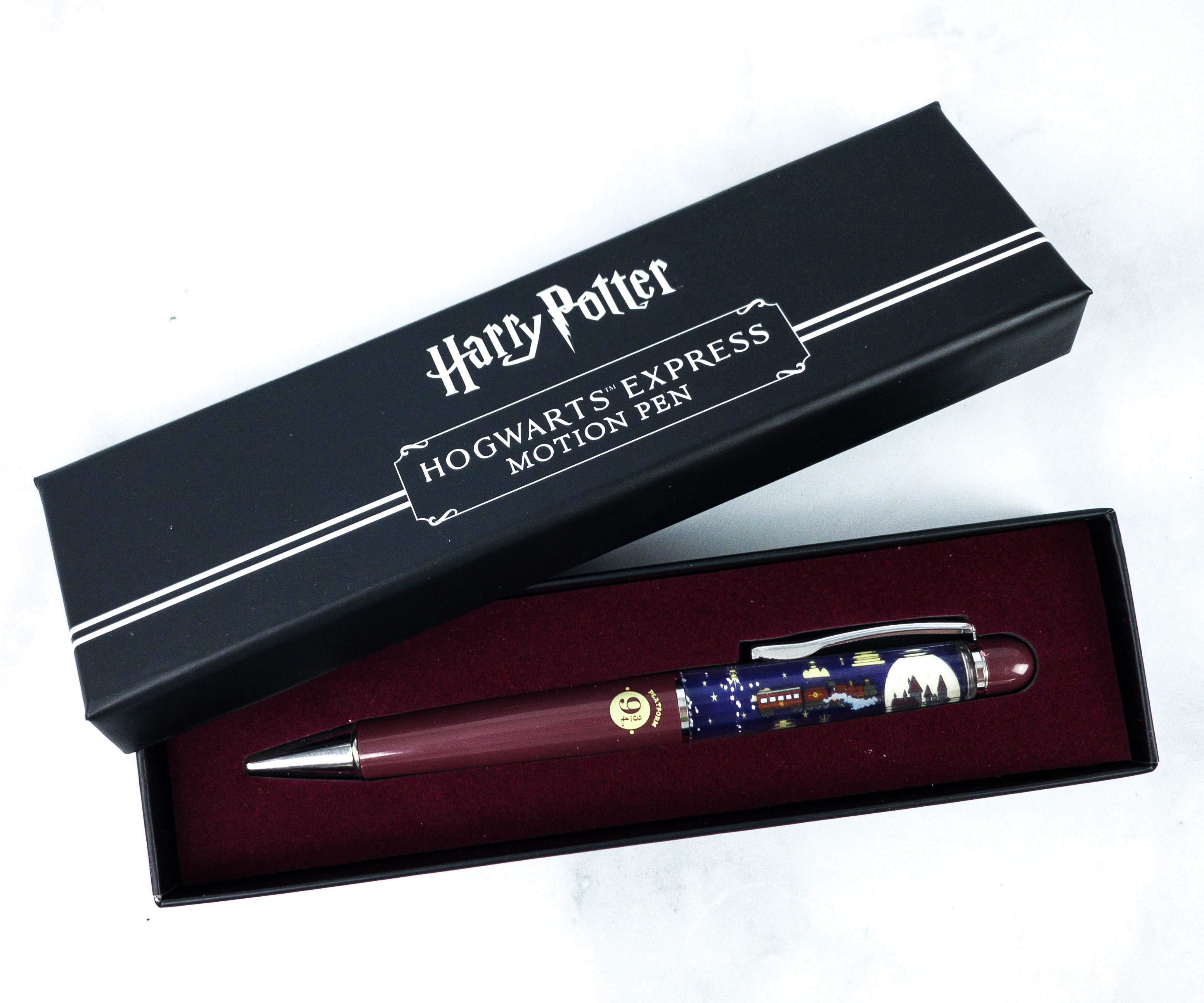 The adorable pen is safely nestled inside the box.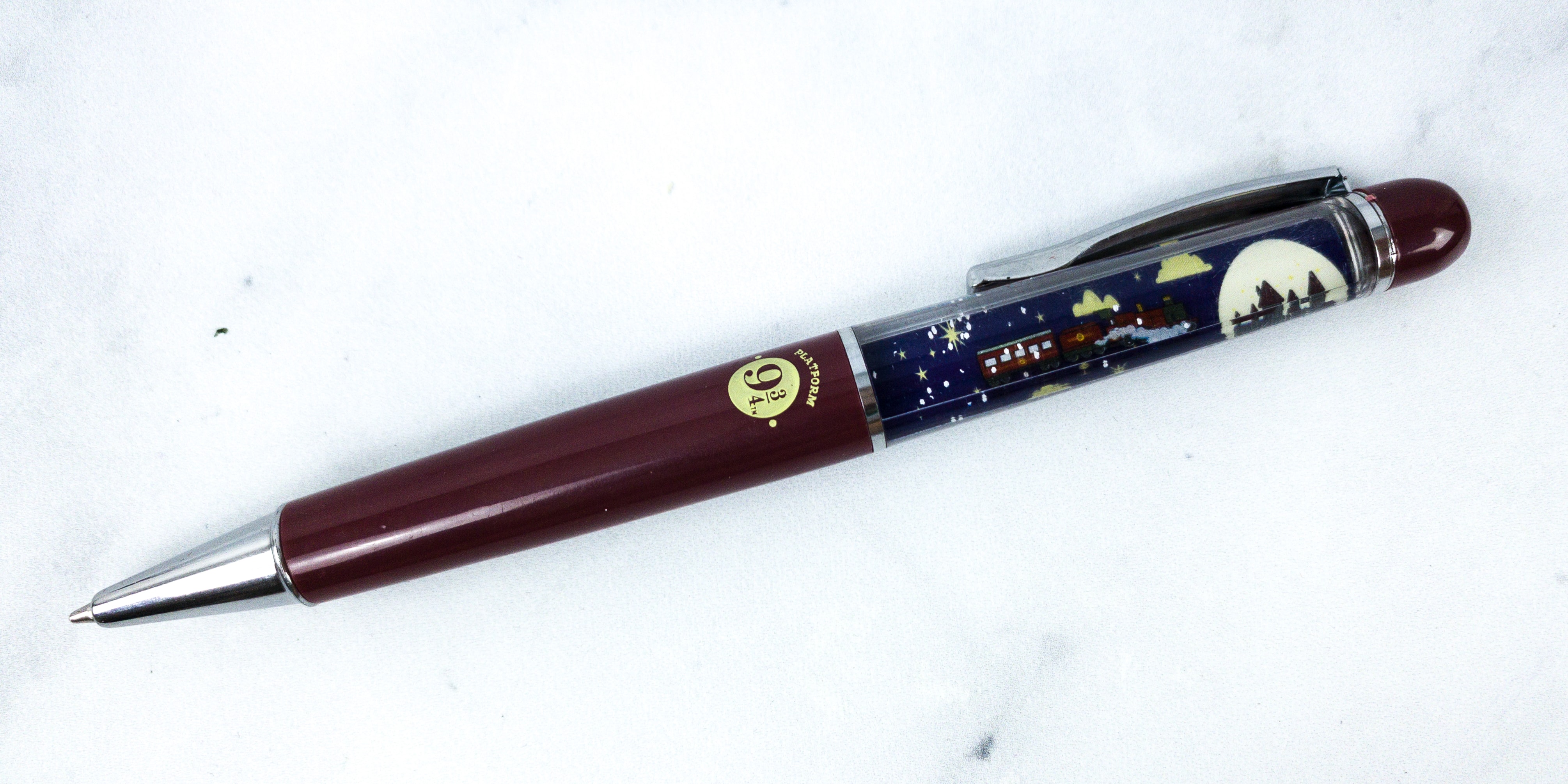 It's a twist pen that features Platform 9 3/4, and the train traveling to Hogwarts!
And you can see in this video that the train is moving! It's too awesome and I love this pen!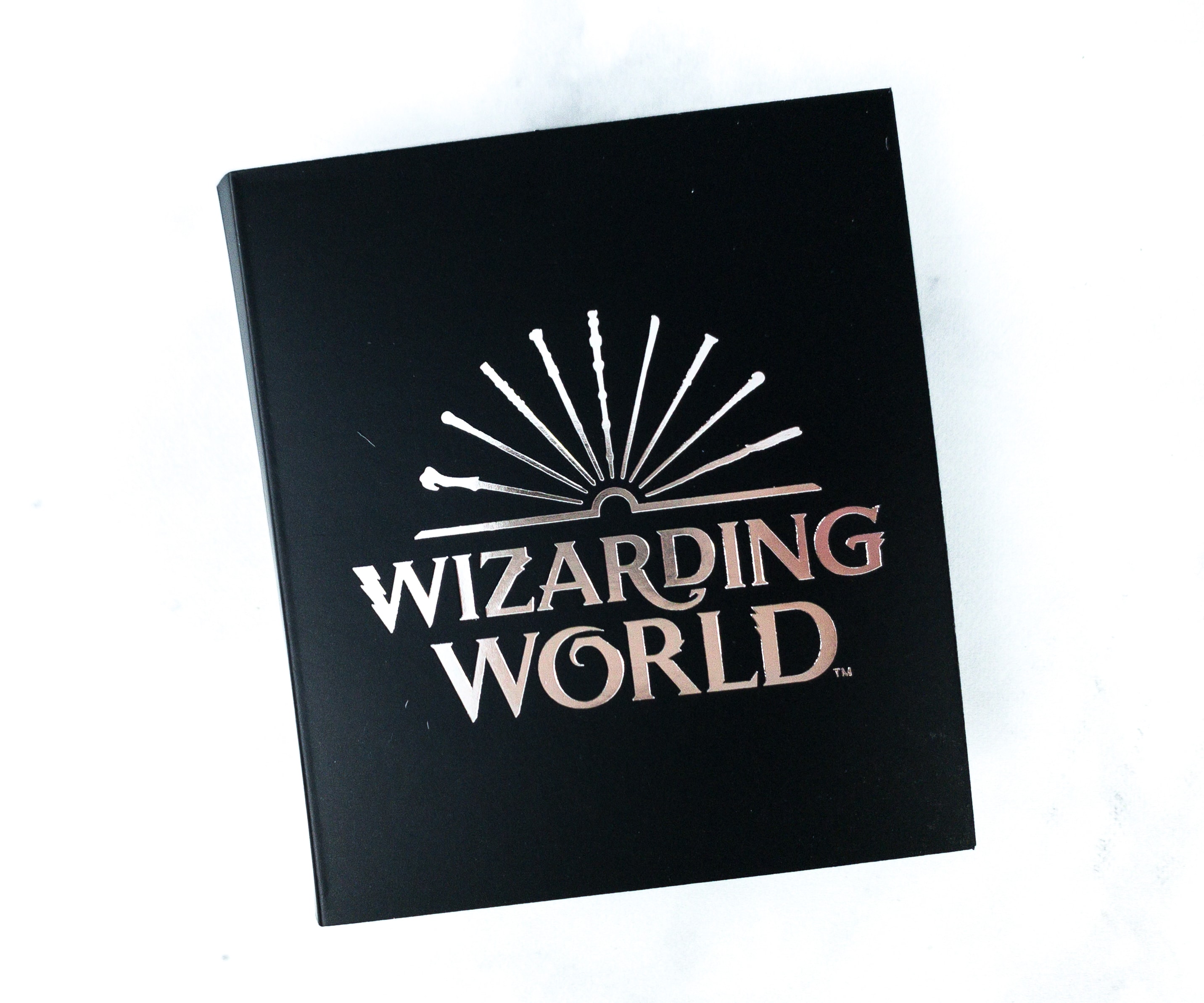 Buckbeak Enamel Pin. The Magical Beast pin this month is the hippogriff, Buckbeak!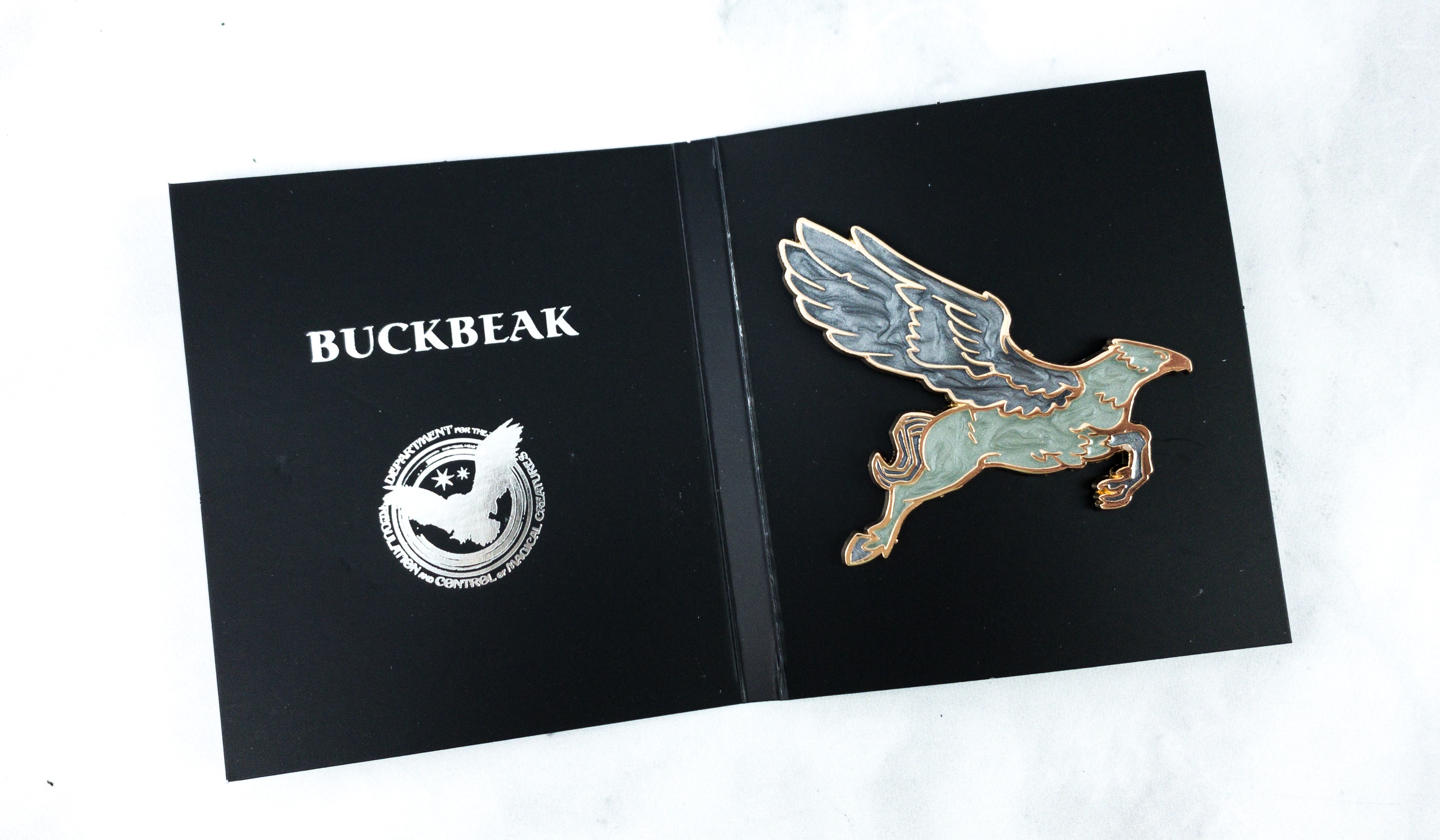 Buckbeak (fl. 1993 – 1998) was a hippogriff. He lived with Rubeus Hagrid and many other Hippogriffs, but was later sentenced to death, due to being taunted and provoked by Draco Malfoy and attacking him. Buckbeak was sentenced to death for this act by the Committee for the Disposal of Dangerous Creatures, most of whom had been threatened by Lucius Malfoy, Draco's father, into voting for that verdict.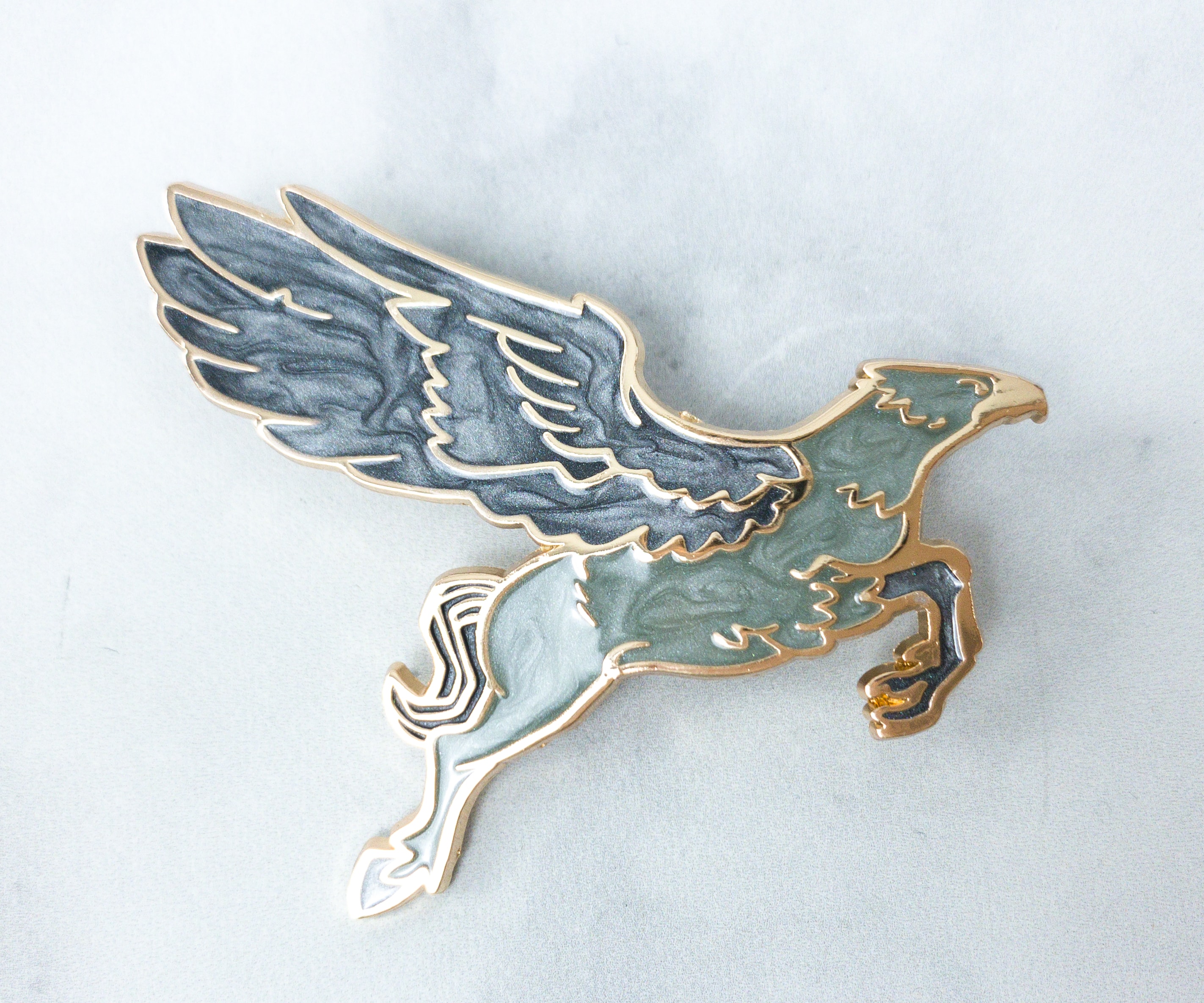 It's a beautiful depiction of the amazing hippogriff! He was temporarily named Witherwings in 1996 to deceive the ministry.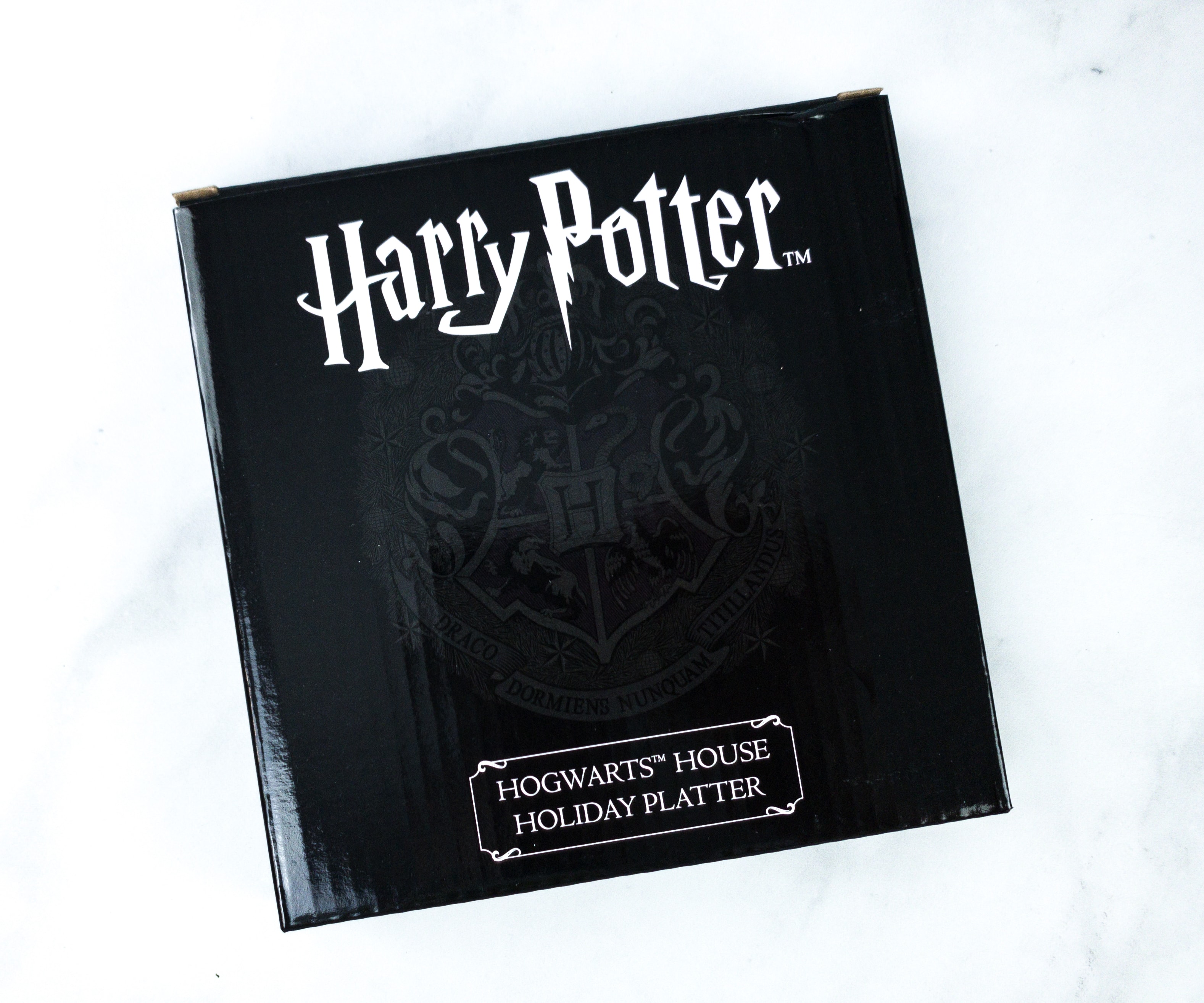 Hogwarts House Holiday Platter. The House-specific item this month is a Holiday Platter!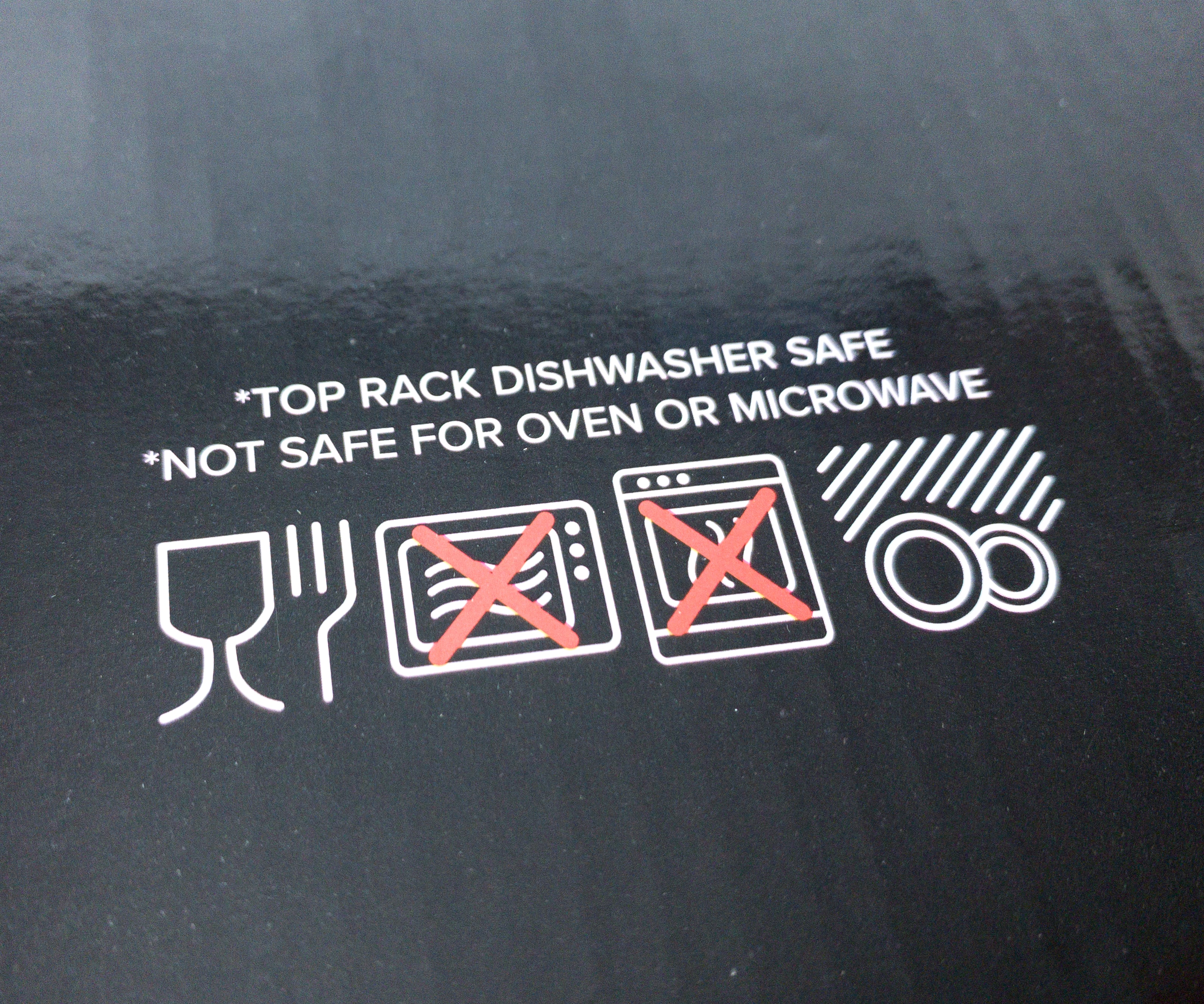 The box also included care and safety instructions for the platter. It says that the platter is dishwasher safe, but it cannot be used in an oven or microwave.
The Ravenclaw-themed platter features the Hogwarts insignia in the middle, with prints of the house's animal around. This is great for serving main dishes, desserts, or even sweets and treats!
Harry Potter Holiday Pillow. I also got a 12″x 12″ holiday pillow, packed in a plastic bag, complete with a label that contains information about the item.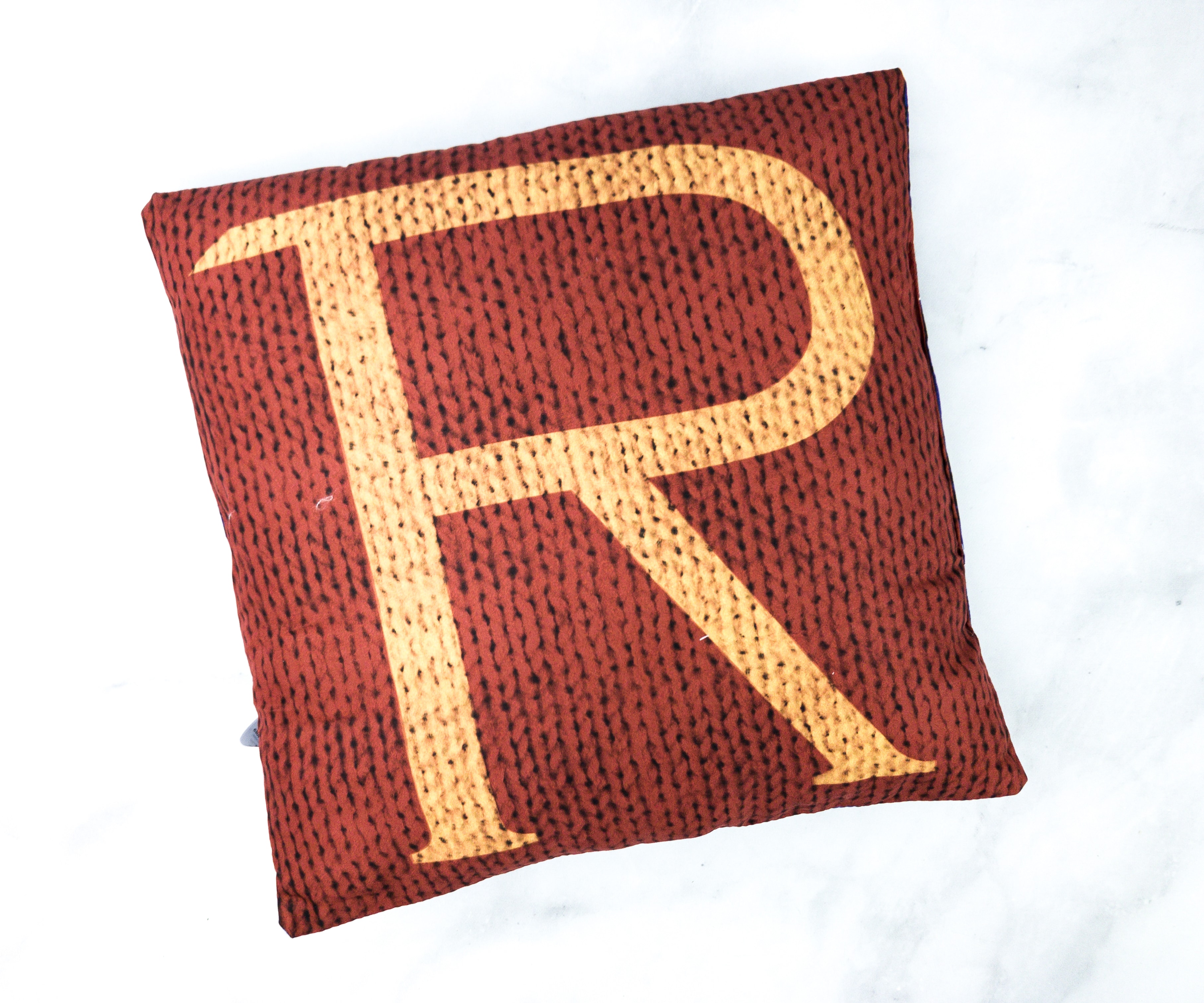 It features the design of Ron's burgundy knit sweater that his family gave him during the Holidays in Harry Potter and the Philosopher's Stone.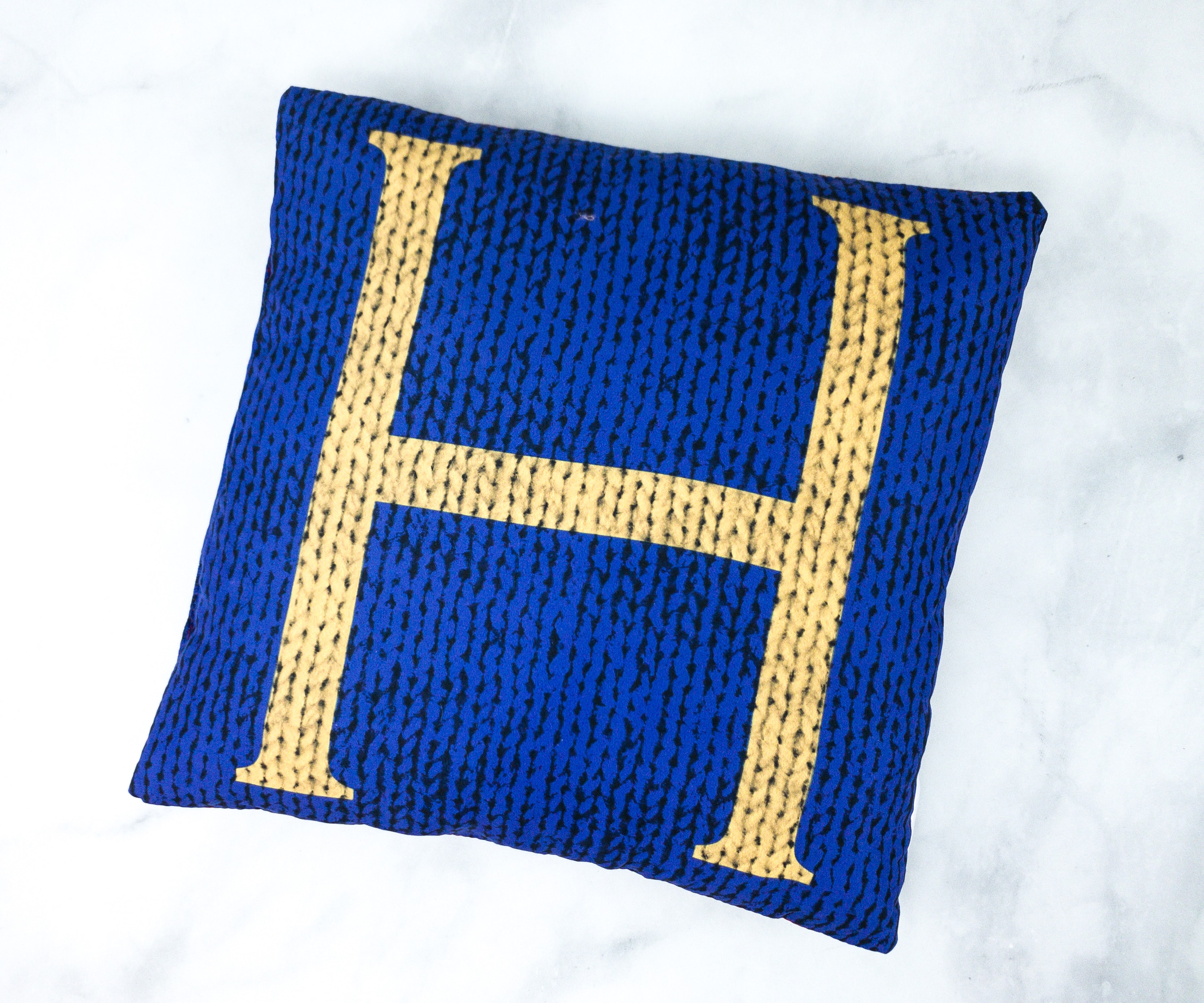 The other side features Harry's blue knit jumper, also from the Weasleys.
This box made us feel what it's really like to have a Hogwarts Holidays! All I'm missing is some butterbeer from the Three Broomsticks! I really like the pillow, and how they made them look like Harry and Ron's sweater! They're nice and not "ugly" at all! I also like the continued Magical Beasts pins, and this time, I got one of my favorite beasts, Buckbeak! The wooden signage is also gorgeous. Overall, this crate is really festive, I think that's why I feel like opening a present while unboxing it! Because it was received in February, the super fun sign wasn't super seasonal, but we tucked it away with our holiday decorations for next year.
What do you think of this month's Wizarding World box?
Visit J.K. Rowling's Wizarding World to subscribe or find out more!