Flaviar offers a Club Membership for the spirits connoisseurs! Members receive a Tasting Box of choice and a full-size bottle every quarter along with exclusive access to special release collections, private bottlings, live tasting events, industry insights and a vibrant community of like-minded individuals, as well as free shipping on anything in their store. The membership costs $95 per year. Adult signature is required upon delivery.
DEAL: Save $80 when you subscribe for a year! No coupon code needed, just use this link to subscribe!
This review covers only The Hoppy Spirit of Boston Tasting Box.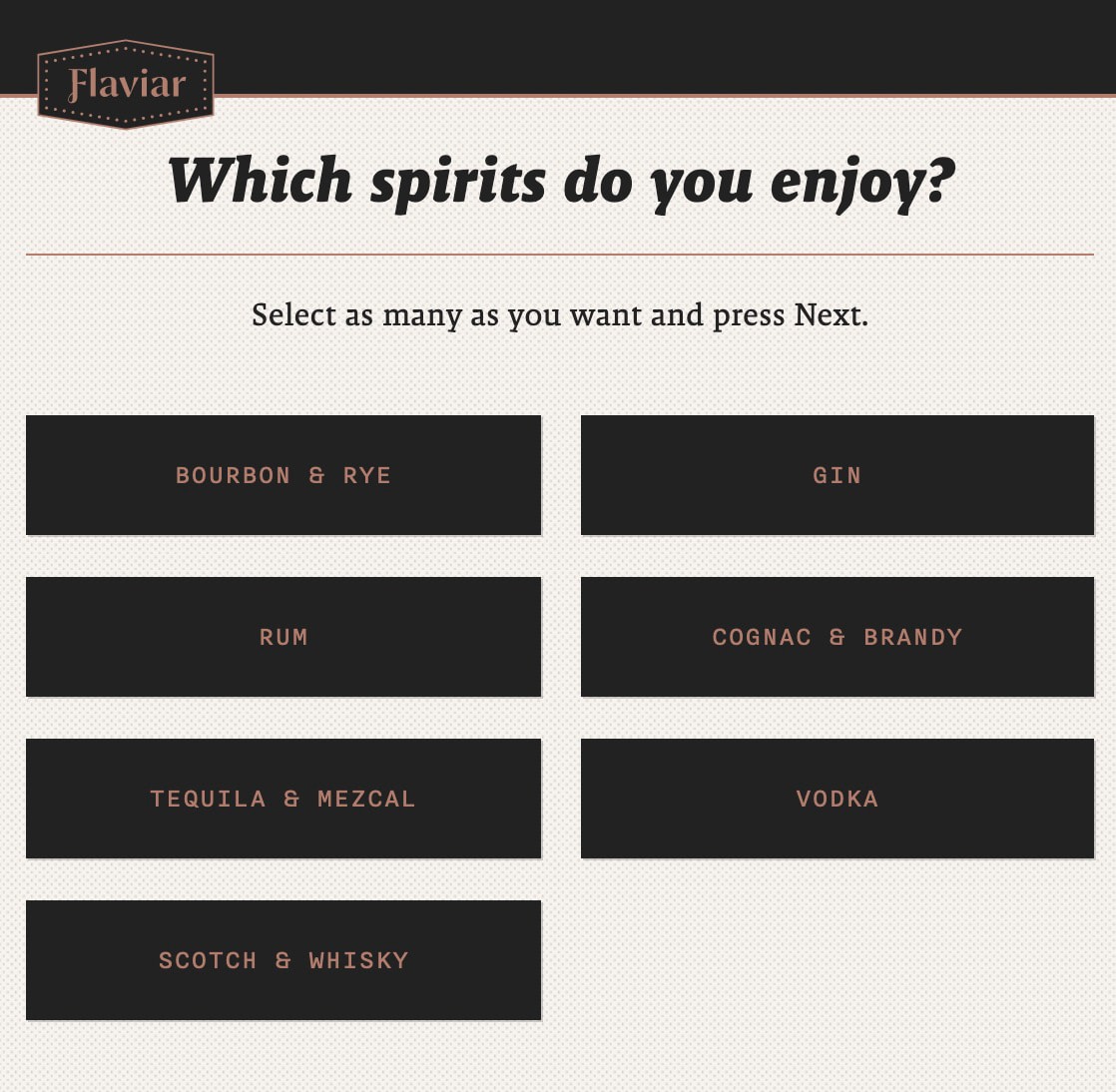 Upon sign up, there's a quick quiz about your spirits preferences. Choices include Bourbon & Rye, Gin, Rum, Cognac & Brandy, Tequila & Mezcal, Vodka, and Scotch & Whisky, and you can choose as many of these on the quiz as you want.

They also ask you about the brands you've already tasted!
Here's the most interesting question of all, what's that drink that you couldn't survive without? All of your answers will help them give you better spirits recommendations. They call it FlavorMatch!
We developed the FlavorMatch algorithm to give you better recommendations. We use each bottle's flavor spiral and your personal preferences to calculate what is the next bottle you will love.
After the quiz, you'll be able to select your tasting box, plus you'll receive credits towards your first bottle.
Featured in front of the box is a sticker stating that it contains fragile items.
The items arrived in custom-made protective packaging to assure they all arrive in great condition.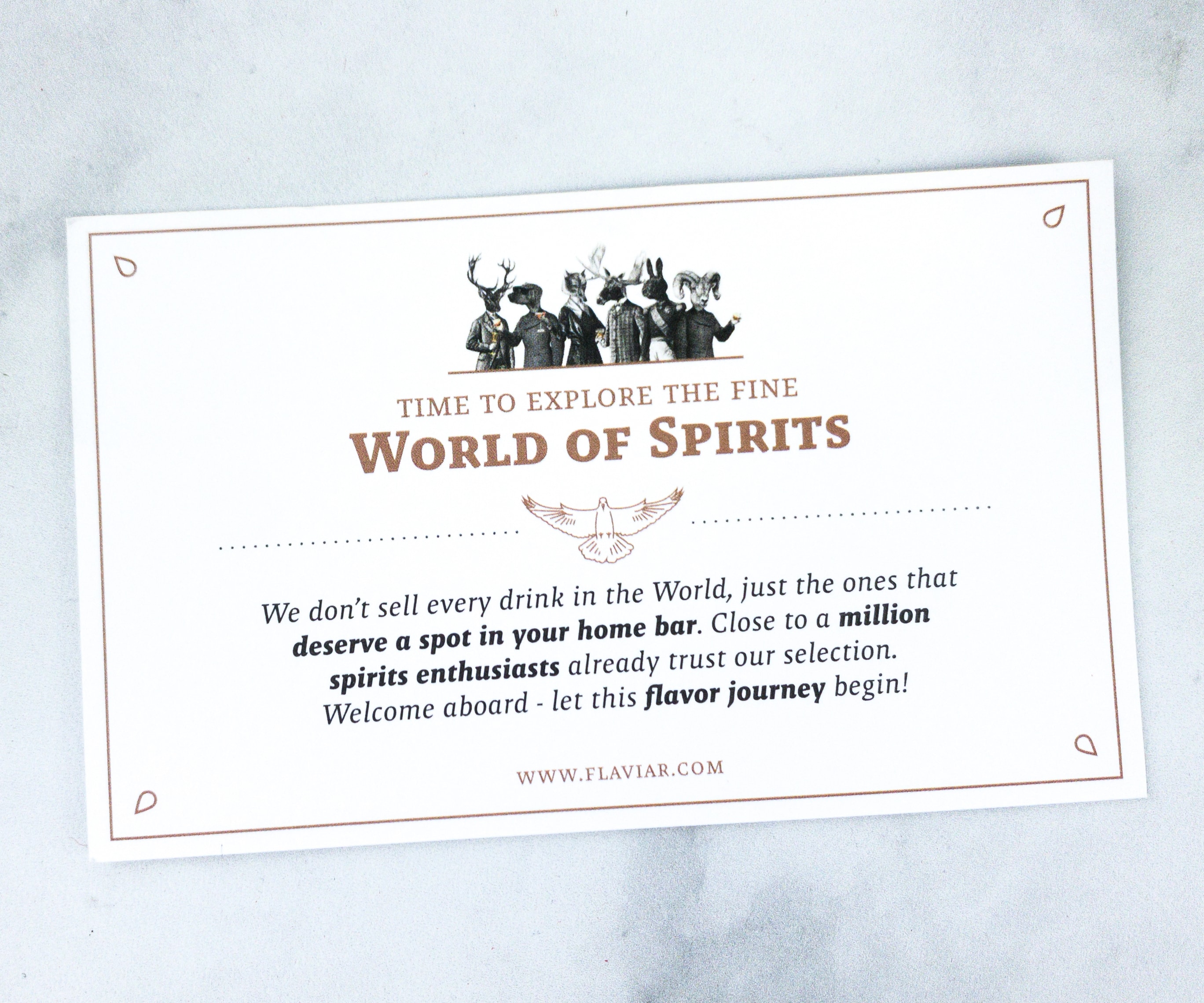 Included in this month's box is an exclusive card from Flaviar!
The back of the card encourages us to share our #flaviar moments on social media for a chance to be featured.
The cylindrical container is made from a thick carton with unglazed ceramic coasters attached on both sides.
When you remove the ceramic coaster, it will reveal a paper cover that says "Dear friends, one day we'll drink whisky in space, together."
On the other side, there's a note that instructs us to pull up the cover to reveal the coaster and the notes.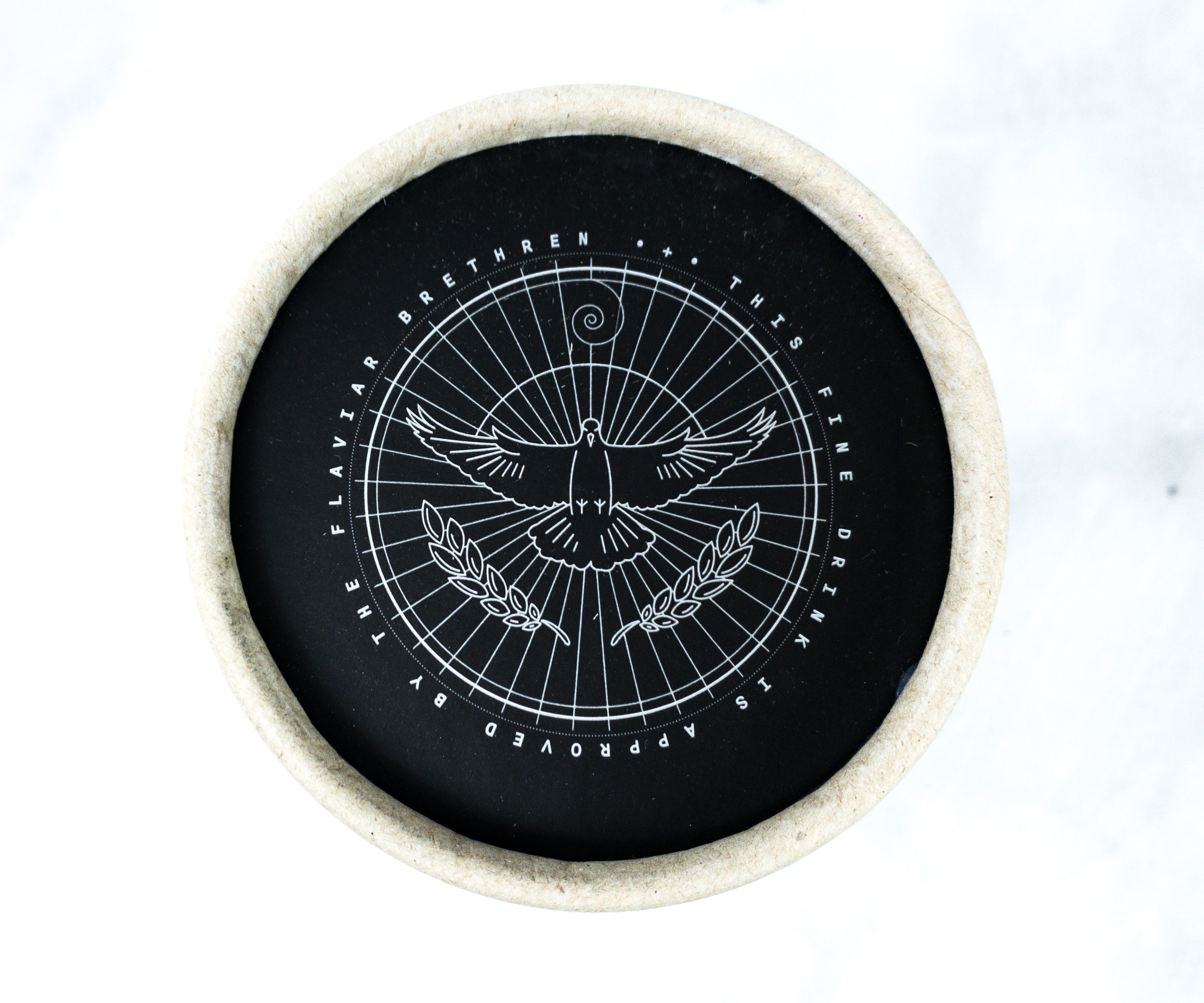 The other paper cover says "This fine drink is approved by the Flaviar brethren."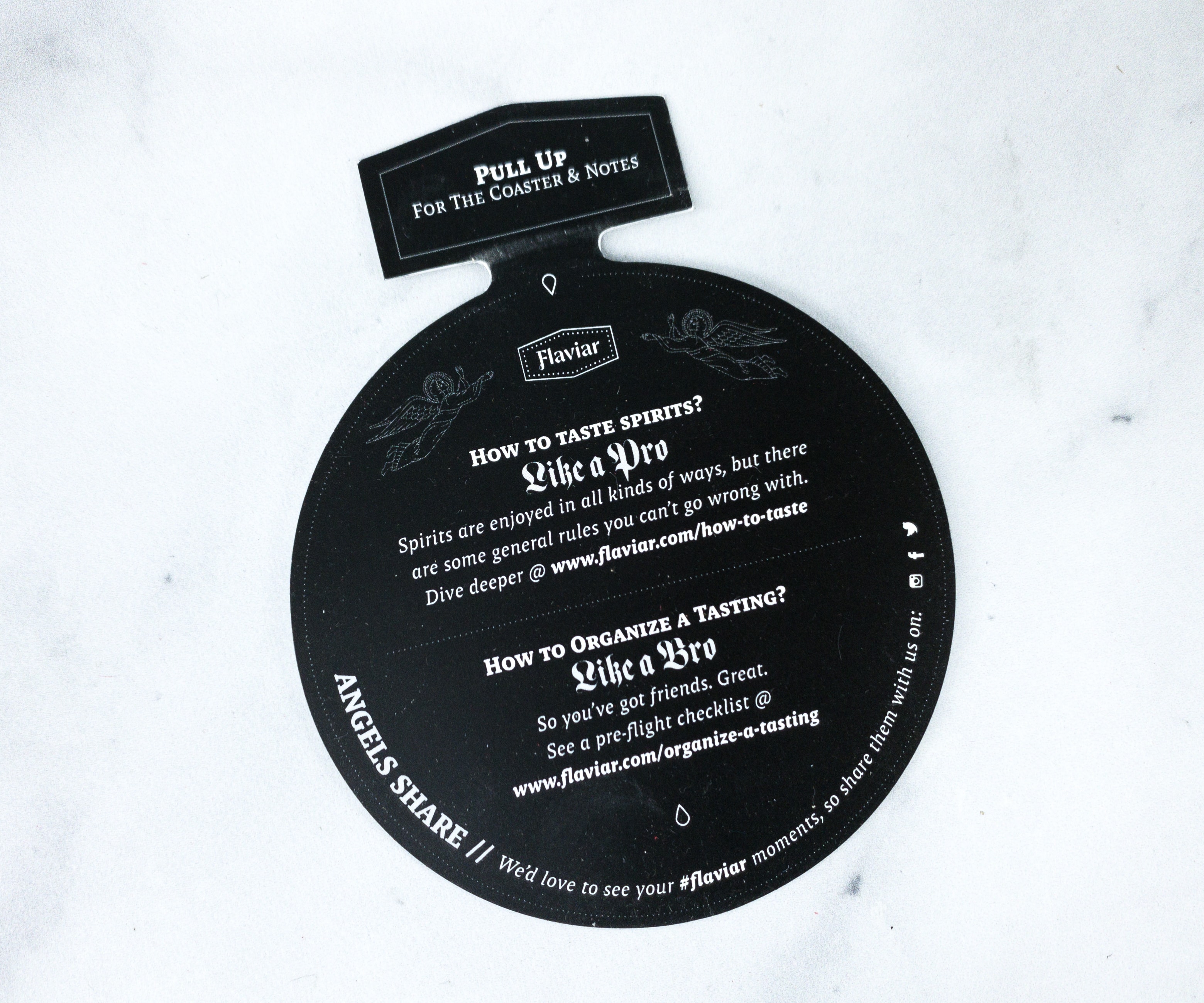 It also includes links where you will find information on how to taste spirits like a pro and to organize tasting like a bro!
The wicked Beer Whiskeys of Boston Harbor. On the heels of the Craft-Beer monster that in recent decades dominated pub spigots and posh groceries comes the age of thrill-seeking distillers who know good hops and barley when they see them.

The result is a class of spirits made from craft Beer, that lovingly lends its bold flavors and layered aromas to a product so evolved you'd think it spends its weekends on a transcendental meditation retreat.
Aside from the opening on the top and the bottom, there's also an opening in the middle of the cylinder.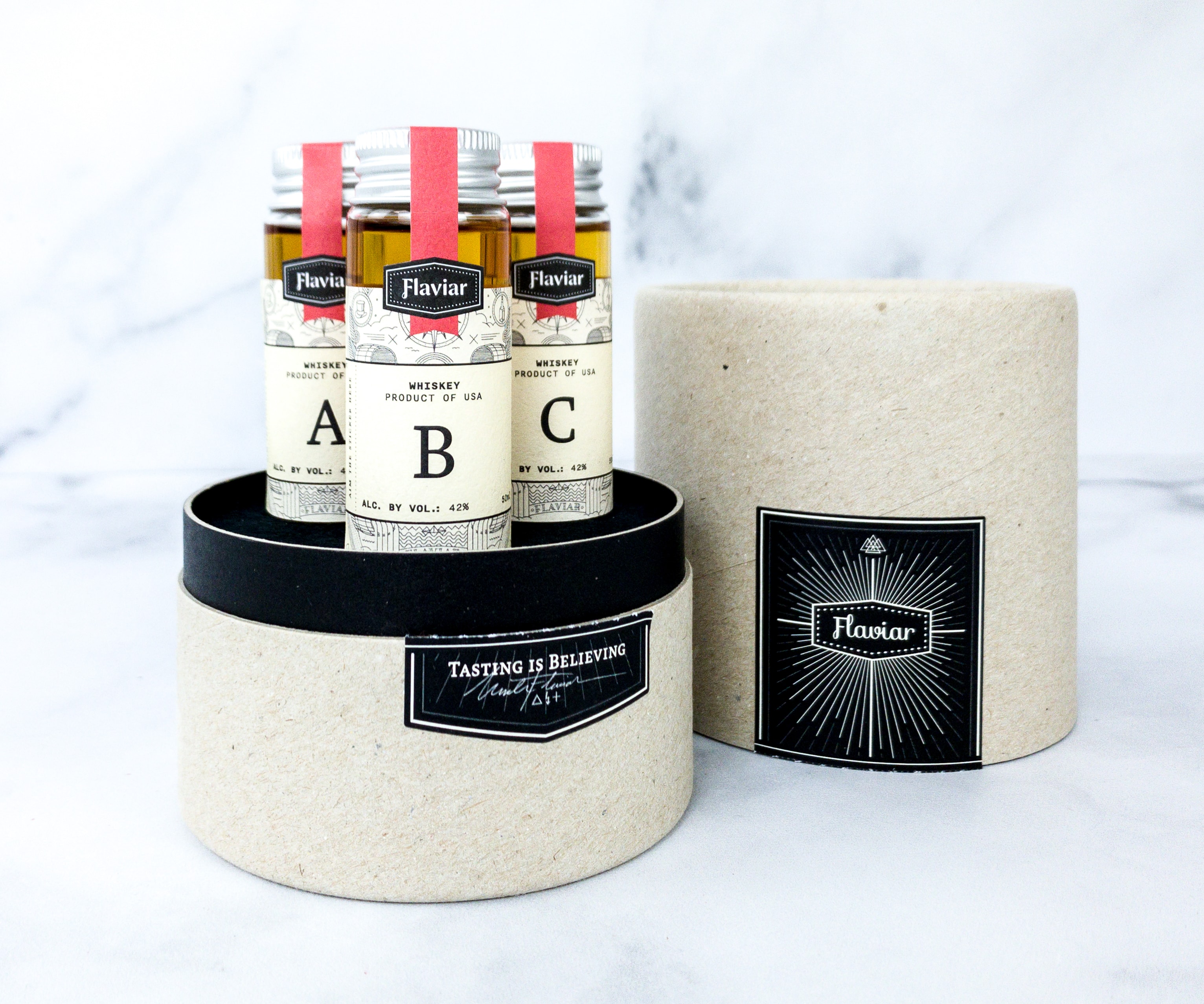 You just have to twist and pull the upper part to remove.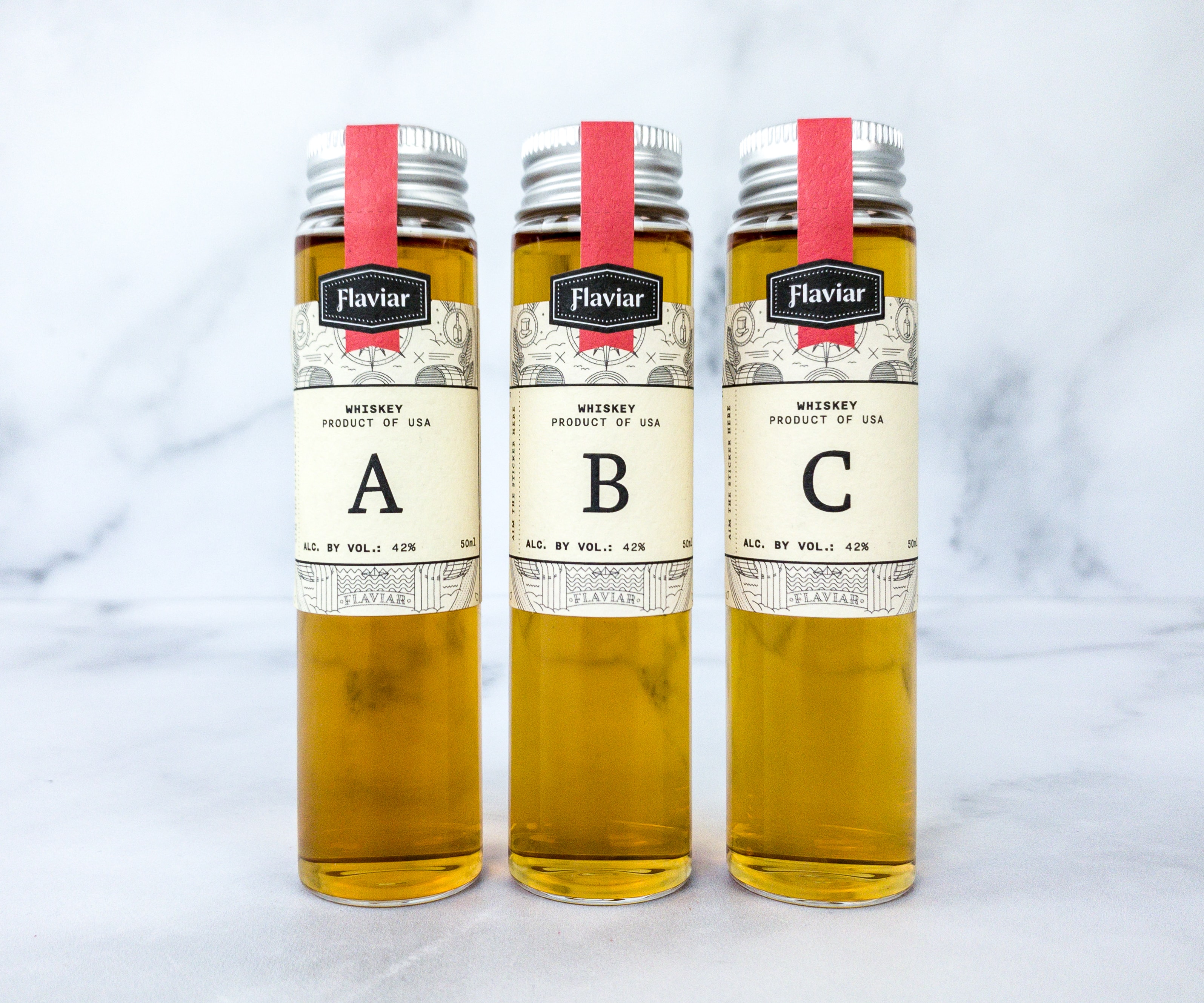 There are 3 sampler bottles in the cylinder we received and they are labeled A, B, and C.
Each bottle contains 50 ml of this month's featured whiskeys!
According to the label, they are bottled by Alamo Distilling Company San Antonio, TX 78202.
The flavored whiskeys in this Tasting Box are Double Black Lager (Bottle A), Ella Blanc India Pale Lager (Bottle B), and Merry Maker Gingerbread Stout (Bottle C). Each card contains all the necessary information you need to know about the whiskey including its name, alcohol content, and tasting notes.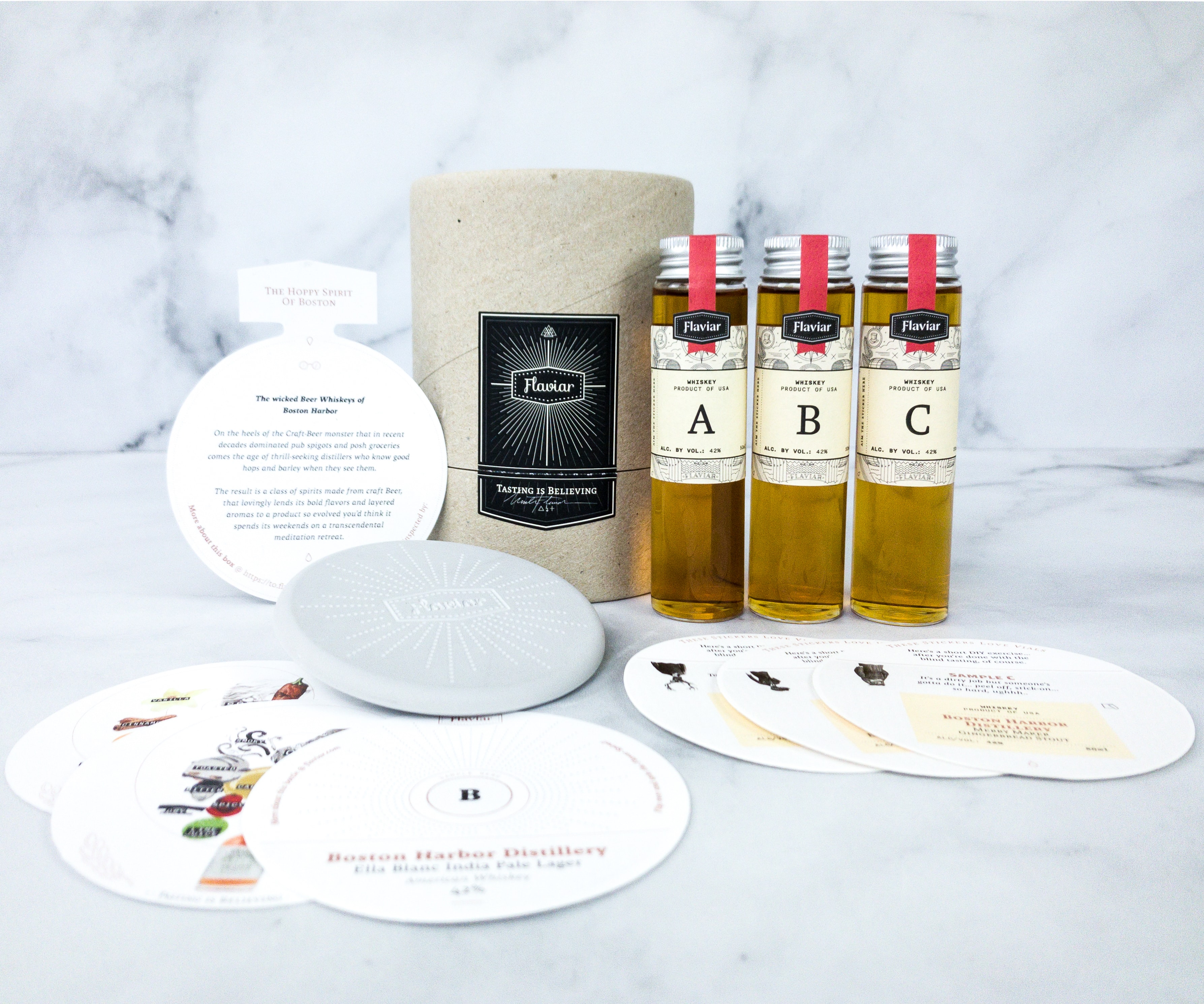 Everything in my box!
Boston Harbor Distillery – Double Black Lager. This brew brings subtle notes of caramel and chocolate, which goes down the throat smoothly. It's the perfect black lager for people who love stouts!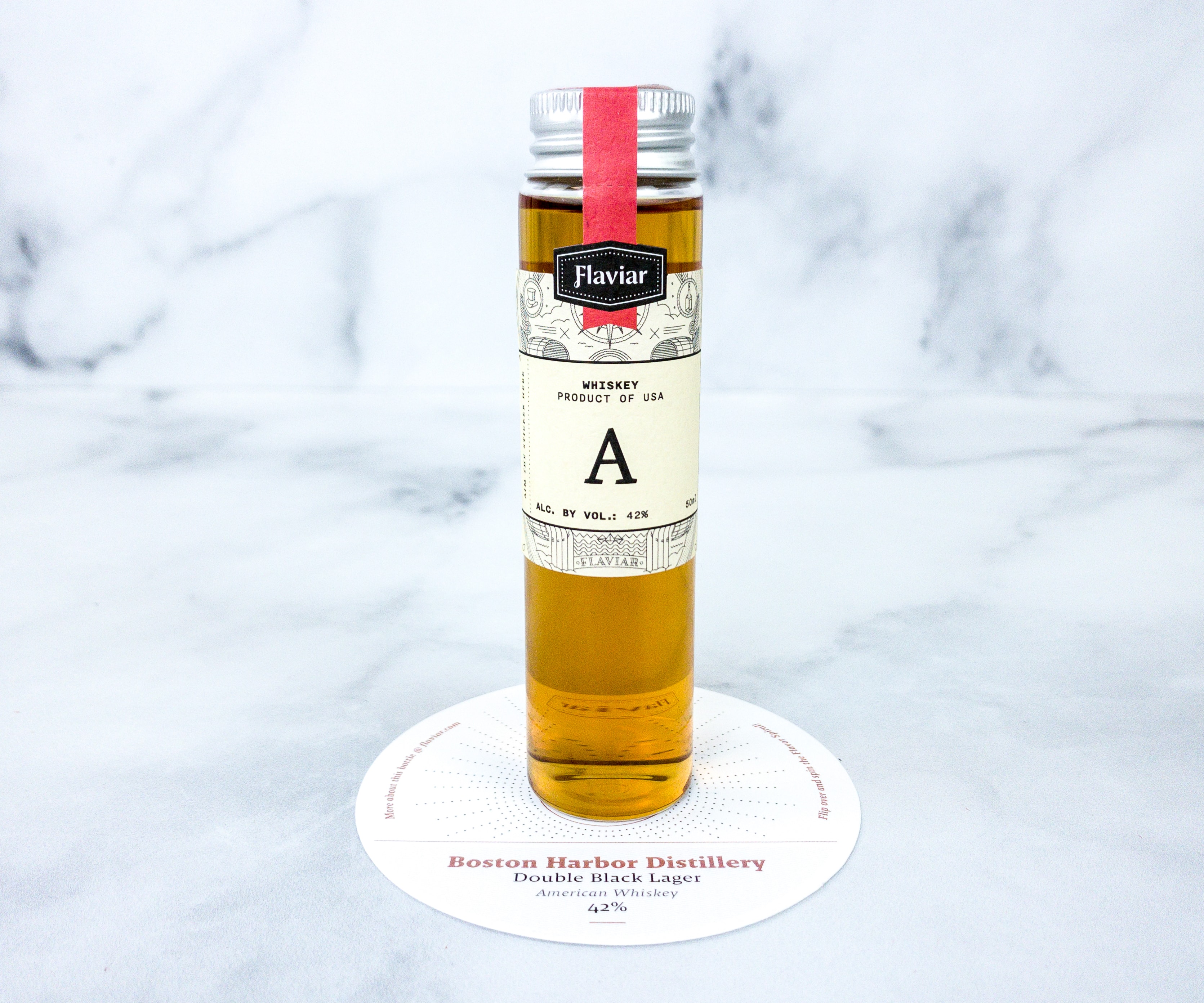 As you can see from the bottle, it has a gorgeous mahogany brown color.
As for the aroma, it has slight notes of booze and, of course, chocolate. The finish has a balanced bitter taste and subtle smokiness. It pairs well with meaty pies!
Boston Harbor Distillery – Ella Blanc India Pale Lager. This whiskey is made using the combination of two different hop varieties named Ella and Hallertau Blanc. It features a smooth malty flavor with a grassy finish.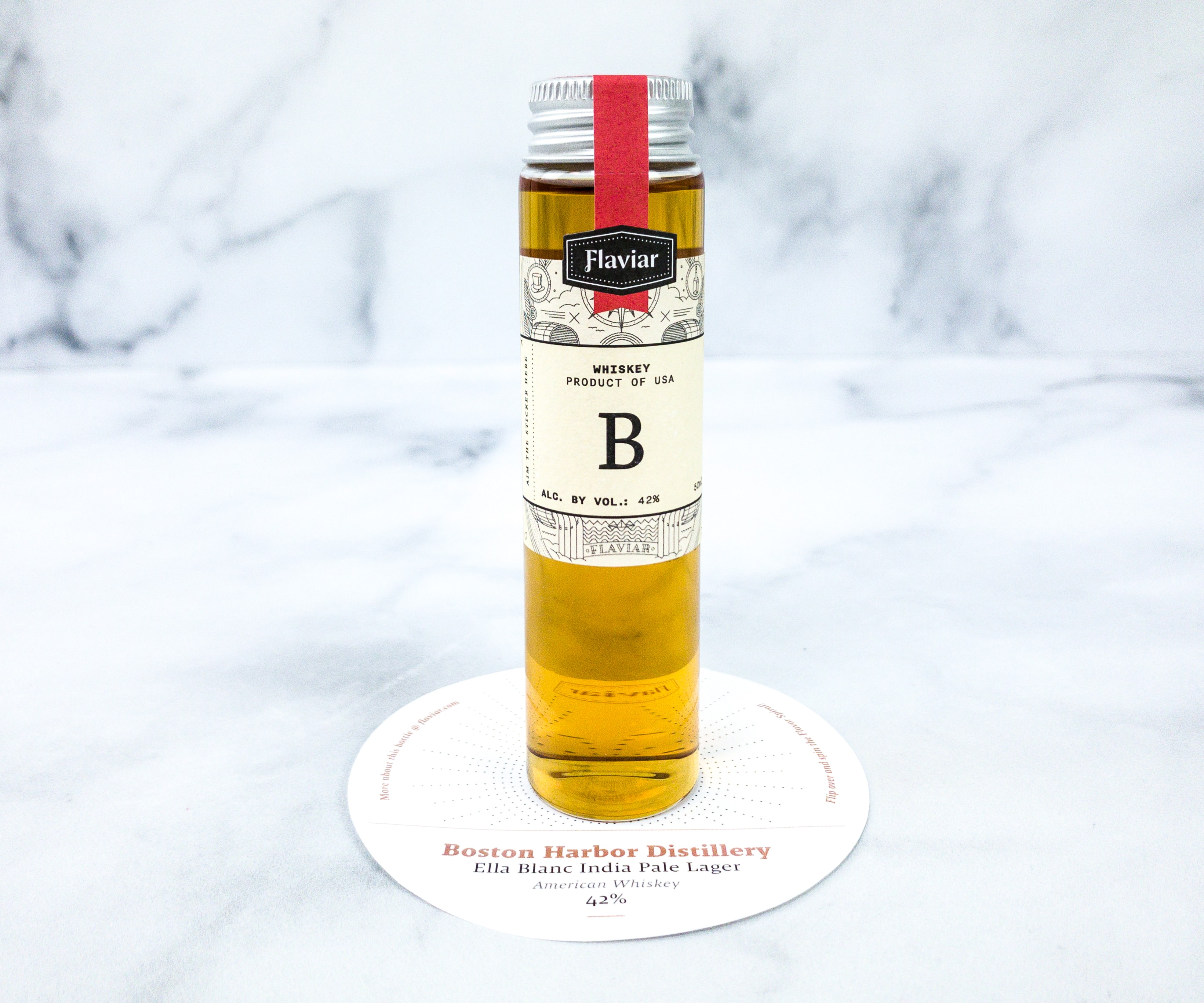 It looks so good and attractive with that deep gold color!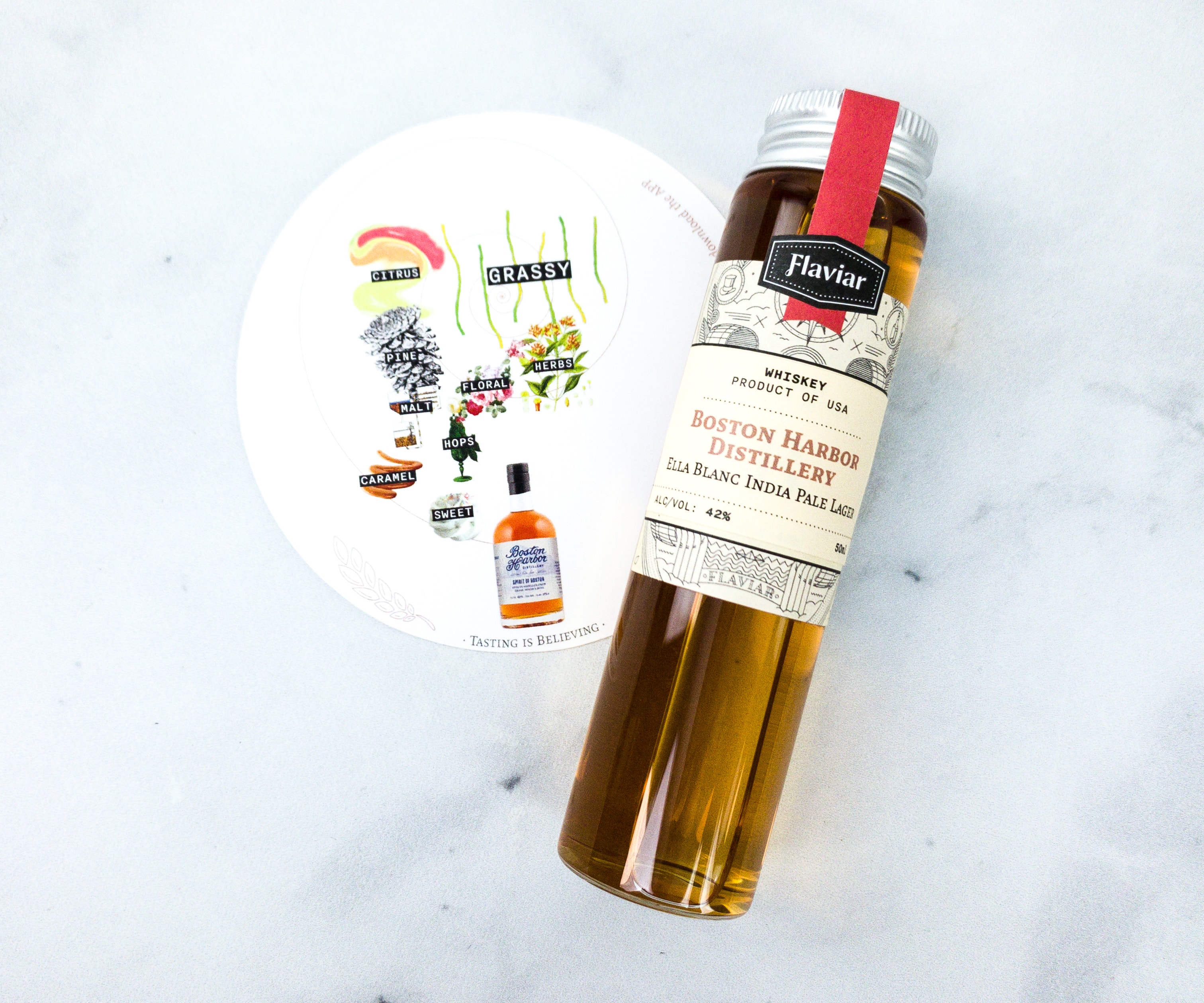 It also comes with sweet flavors of caramel and citrus followed by breadiness of lager yeast and a lovely malt character.
Boston Harbor Distillery – Merry Maker Gingerbread Stout. This whiskey is simply the best drink to consume this cold season, as it features warm notes of gingerbread and vanilla bean with spice.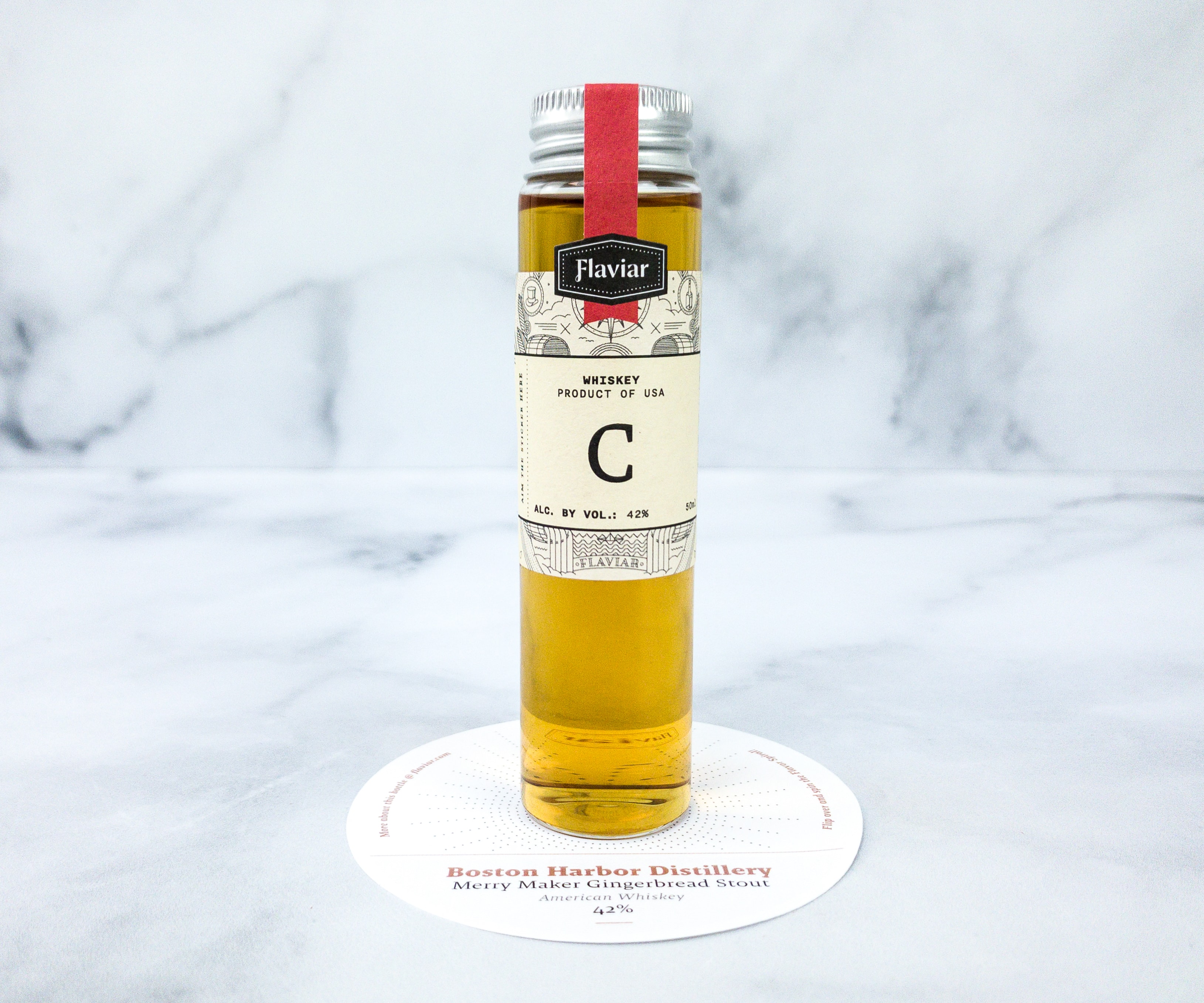 It has a dark amber color and a buttery, spicy character which I really liked!
It has notes of scrumptious cinnamon, nutmeg, and vanilla custard with fresh orange, and you can savor them in every sip.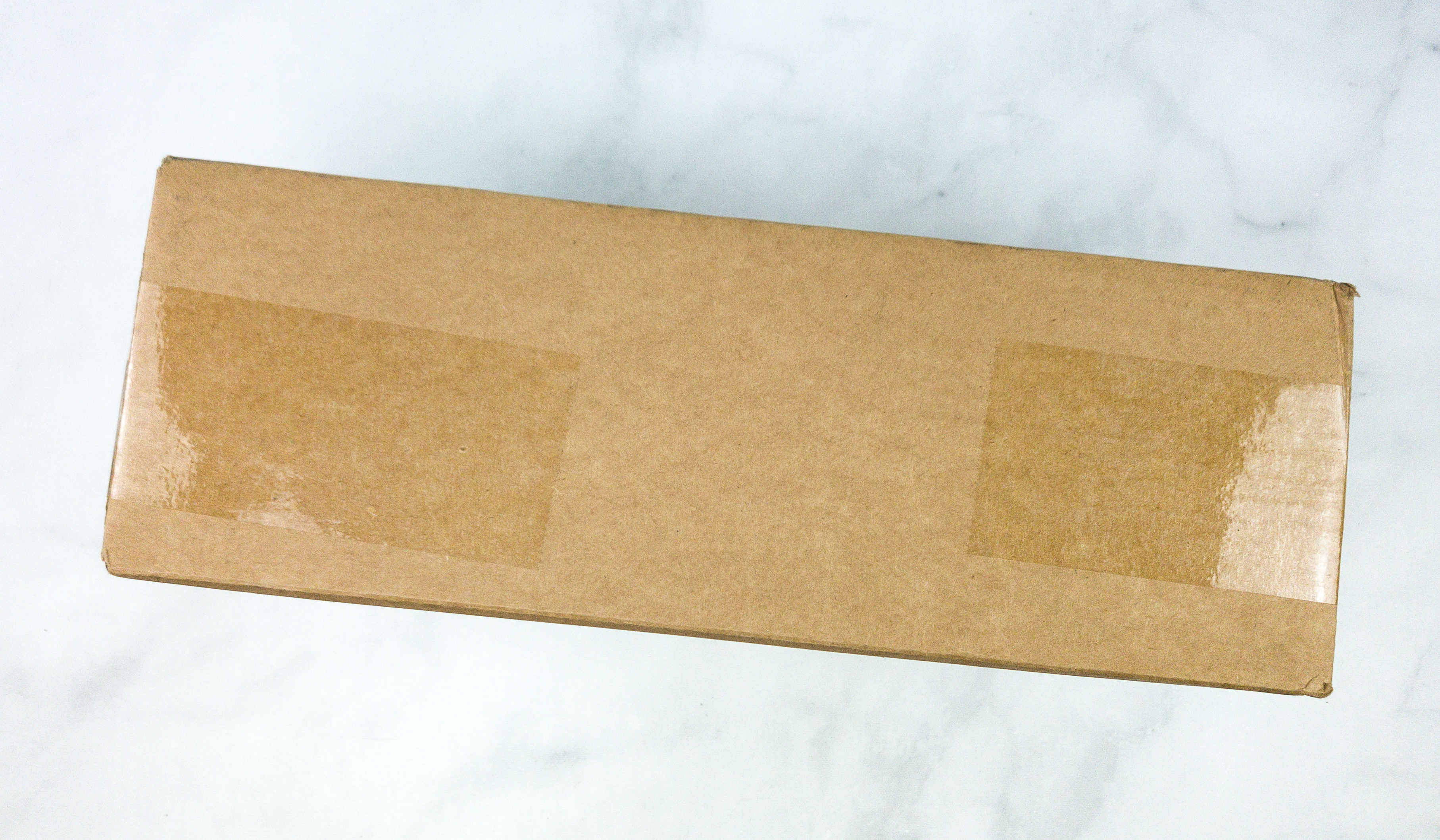 Here's this quarter's full-sized bottle, shipped separately in a brown box.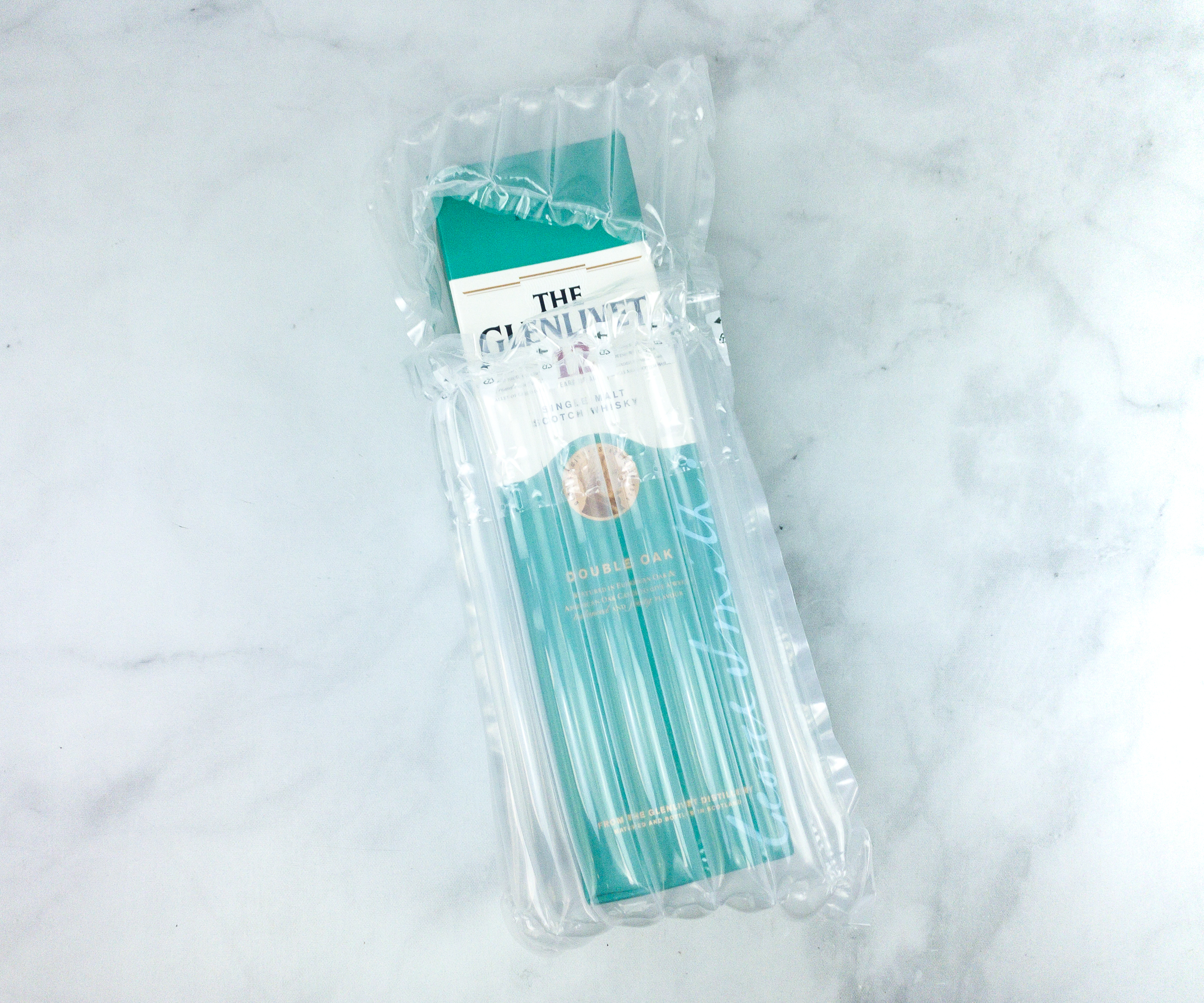 It came with bubble wrap to keep the bottle safe and sound!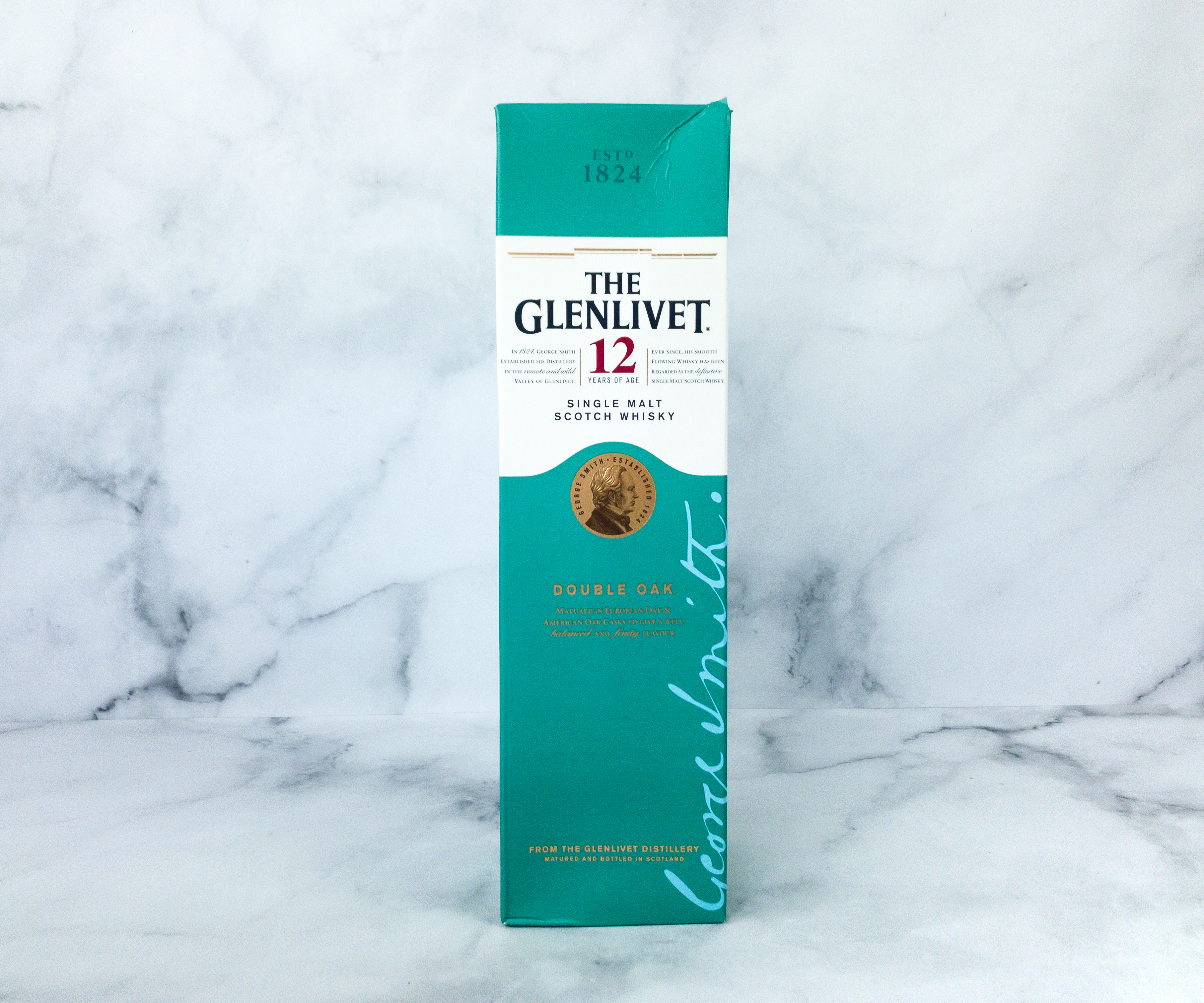 It's the Glenlivet 12 Year Old Single Malt Scotch Whisky!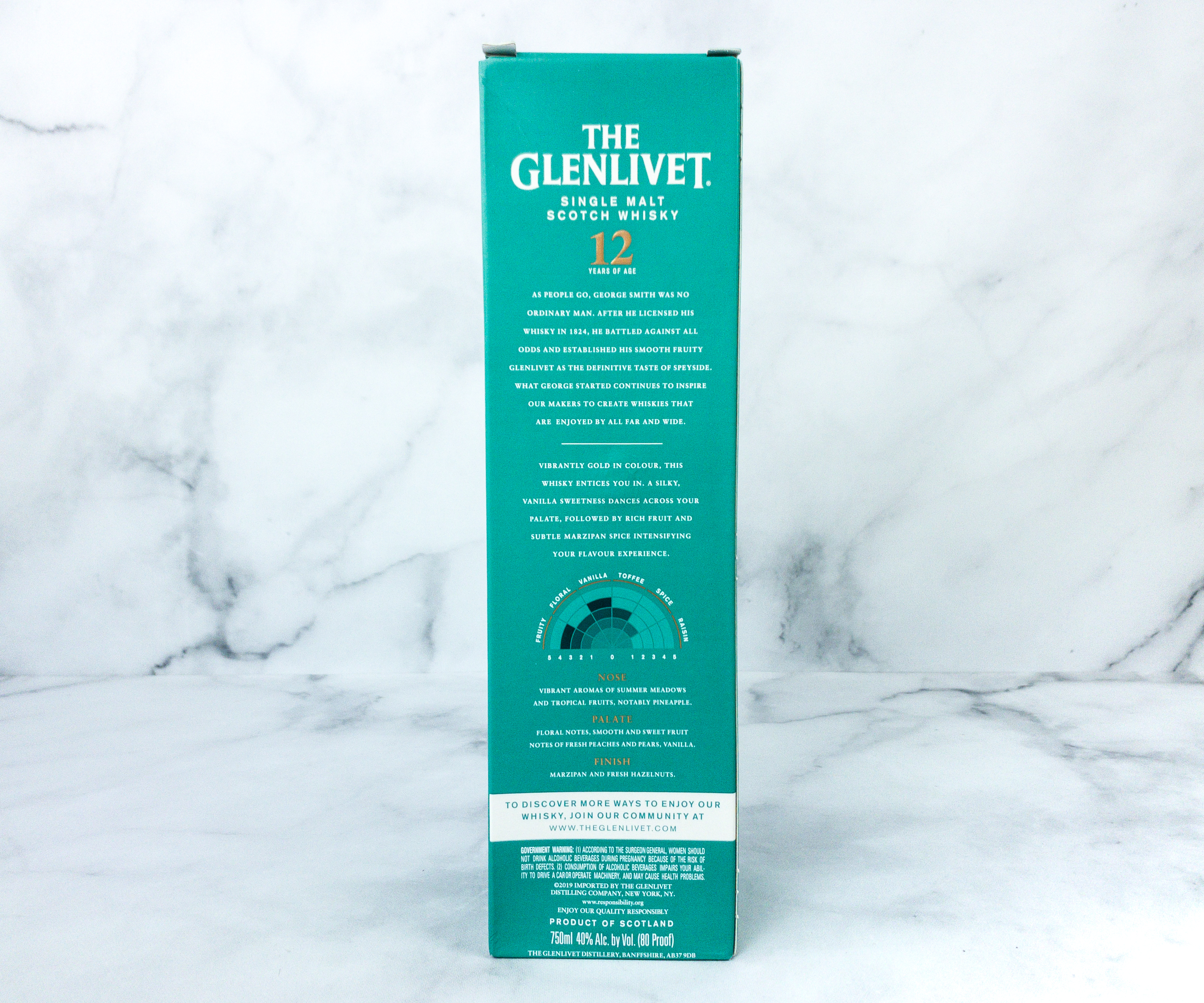 As people go, George Smith was no ordinary man. After he licensed his whisky in 1824, he battled against all odds and established hos smooth fruity Glenlivet as the definitive taste of speyside. What George started continues to inspire our makers to create whiskies that are enjoyed by all far and wide.
The scotch whisky has a vibrant gold color!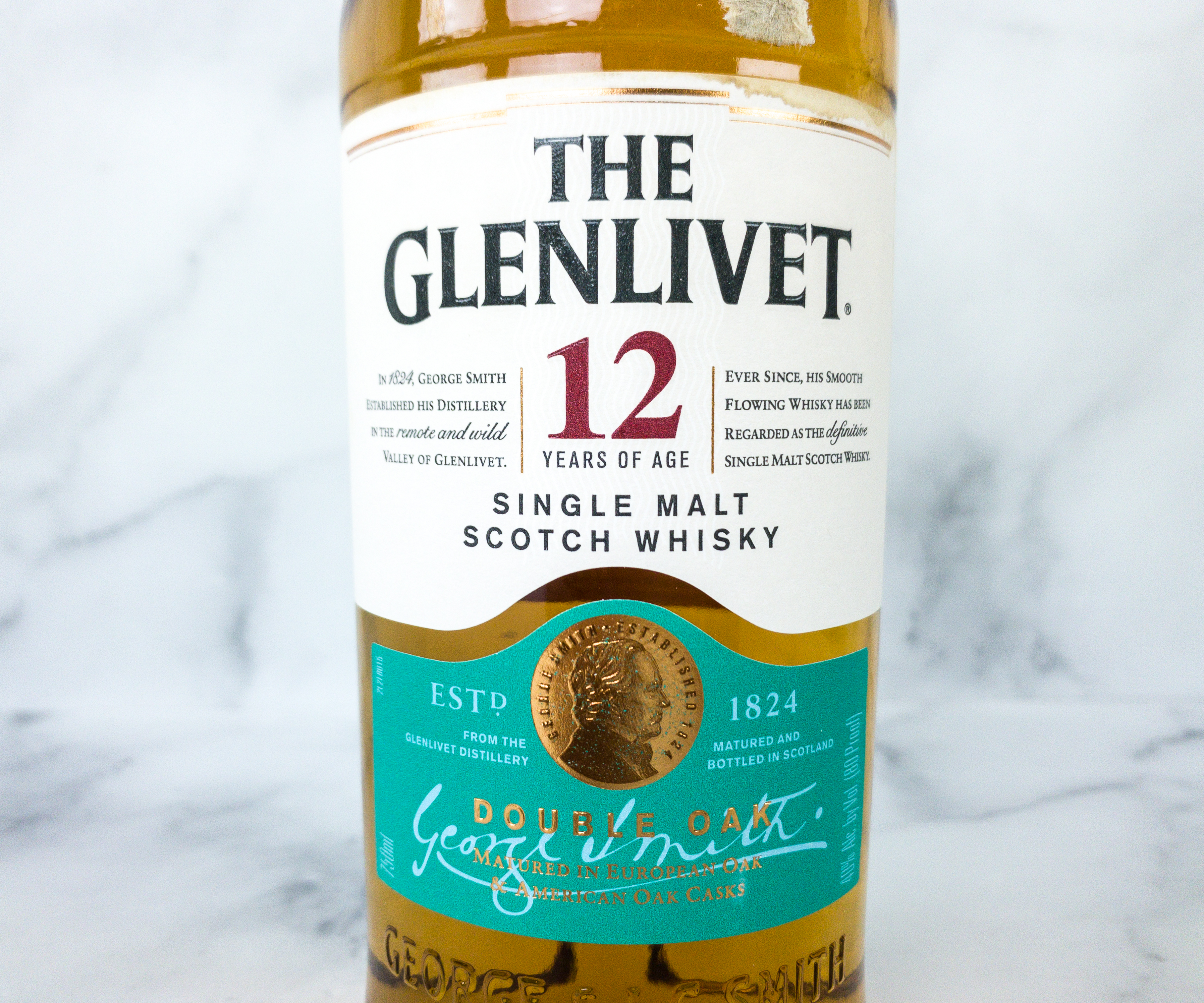 The nose is dominated by
tropical fruits including pineapple, and on the palate are notes of fresh peaches and pears, vanilla. It goes down smooth and finishes with a hint of marzipan and fresh hazelnuts.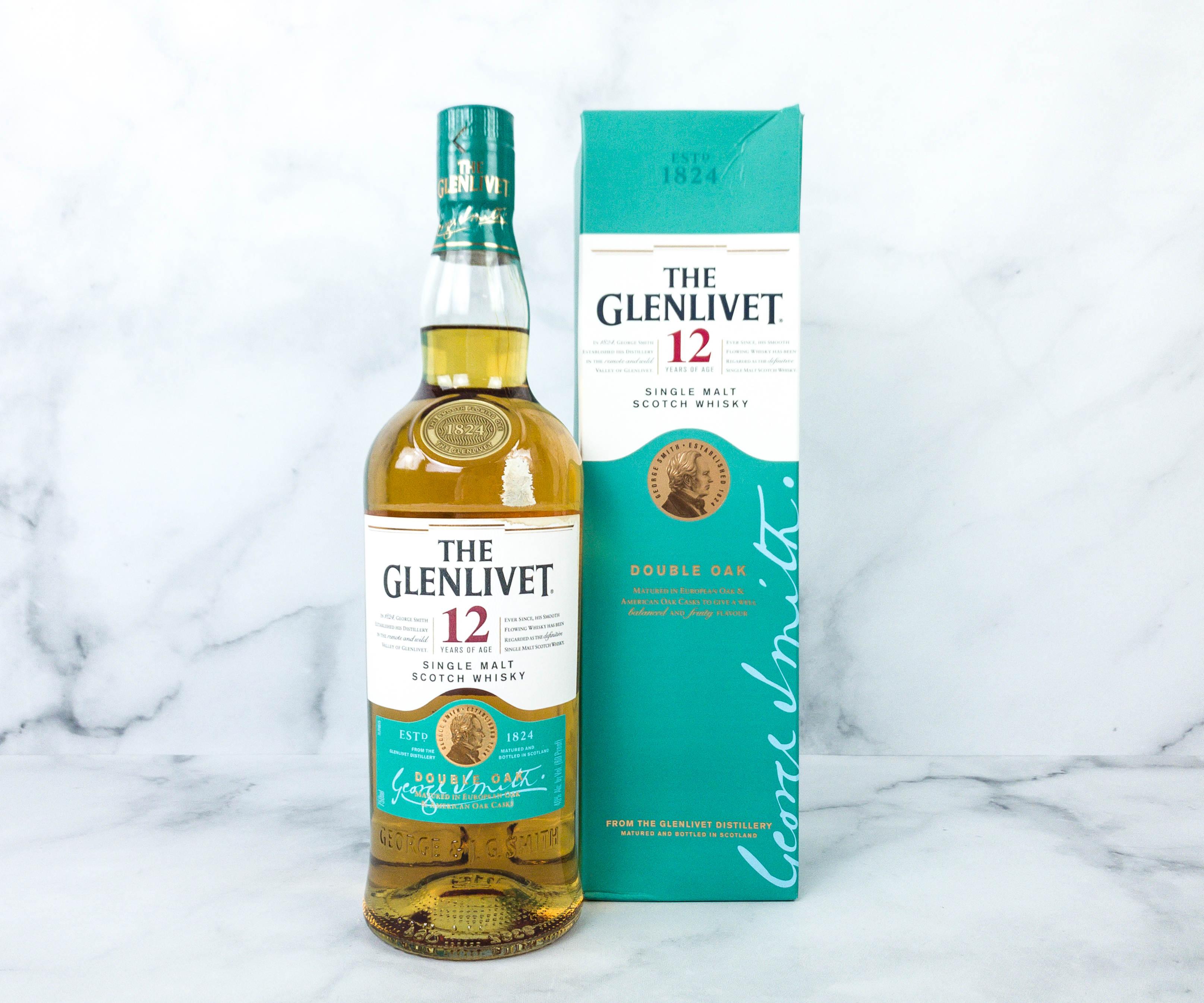 If you are looking for the finest and rarest spirits around the world, Flaviar is definitely your perfect match! This Flaviar Tasting Box features three of the tastiest whiskeys I've ever tried so far. I absolutely loved sampling everything but if I have to pick a favorite, it would be Ella Blanc India Pale Lager. It totally captured my palate as it features a light malty character with a lovely blend of sweet caramel and citrus. It's a drink that I can never get tired of easily. The membership is really worthy of its price, as they send only the best and highest quality of spirits which you can't easily get in regular shops!
The free quarterly spirits delivery is a new benefit available to members who joined after June 2019. When you receive the credits, you can use them to claim a free Tasting Box and a full-size bottle. Just select both at the same time. They might be shipped separately, so don't worry if you receive just the bottle or the box first. You can also wait until you get your tasting box and then order the bottle later.
For my bottle this quarter, I chose The Glenlivet 12 Year Old Whisky. Flaviar also gave me a FlavorMatch recommendation, which is Game of Thrones House Stark Dalwhinnie Winter's Frost ($39.99). I used my $45 credit against the $39.99 bottle from The Glenlivet. The Flaviar system charges you $1 to check out, plus the sales tax on it.
What do you think of Flaviar?