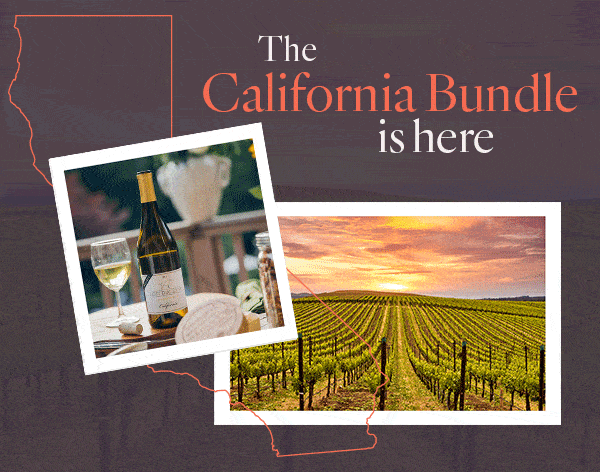 Firstleaf Wine Club has a new sale!
Many argue that Californian wines are the best wines you can buy. In fact, we've heard from many people who want to get a bundle of exclusively Golden State wines.

That's why we've compiled a new bundle of California Classics. These 6 wines — hailing from legendary vineyards in the Russian River Valley, Paso Robles, Napa Valley, and more — give you a taste of the best of American wine. Perhaps best of all, you can get all 6 for only $39.95 with free shipping, which means you'll save over 70% of the retail price! Take them home now and help support American wineries!
Get the California Wine Bundle for just $39.95, plus FREE shipping! No coupon needed, just use this link to subscribe!
Get the California Wine Bundle for just $39.95 at Firstleaf Wine Club!
About the wines:
Common Phenomena 2018 Cabernet Sauvignon LODI, CALIFORNIA

Full, fresh and fruit-forward, this a red that knows how to please a crowd. Don't let the name deceive you — there's nothing common about this approachable Cabernet Sauvignon from Lodi, California. It's a wine that needs to be given close attention to really appreciate. After all, it takes some serious know-how to create a wine that's so effortlessly drinkable. Bright, soft, and very fruit-forward, this is a wine that was pressed off the skins early to create a full freshness that glides across the palate. Savor notes of blackberry, cassis and red currant while looking out for delicate hints of pepper, vanilla, and rose. This is a glass that does well with grilled, meaty flavors. Serve to impress at your next BBQ. It retails for $23.

Devil's Advocate 2018 Pinot Grigio CALIFORNIA

With wine, the Devil is in the details. Let us be your advocate. Our team of award-winning winemakers only craft wines that are delicious. With every bottle of Devil's Advocate, you can be sure that you are getting the best wine with every little detail taken care of so that you can get back to enjoying life. Fermentation of the Lodi grapes on the lees brought out the autolytic and somewhat elusive hint of umami. A complex Pinot Grigio that showcases vibrant citrus flavors. Rich fruit notes of pear and apple play off of hints of white flowers, mint and fresh sage. It retails for $17.60.

Cartesian 2017 Syrah CALIFORNIA

Explore the revelatory flavors of the award-winning Cartesian Syrah. This California Syrah is one of our new favorite Firstleaf wines. Made with a warm, long fermentation and gentle extraction, this is a full and structured wine more reminiscent of the Old World than modern California. With dark fruit flavors of blackcurrant, blackberry, and black cherry pervading the nose, there are still some more subtle notes that peek through as you sip. We love the light tastes of rose, dried herbs, and white pepper lingering in the background. The complexity and weight make it a great pairing wine for full-bodied dishes like steaks, barbecue, and even rich pork carnitas. Judges love it too! It took home a Silver Medal at the 2020 West Coast Wine Competition and at the 2019 International Women's Wine Competition. It retails for $24.

John Mark Avant-Courier 2018 Winemaker's Cuvée SONOMA COUNTY, CALIFORNIA

The art of winemaking is on display in this exquisitely crafted Winemaker's Cuvée. Born from the tradition of artful blending in Bordeaux, the John Mark Avant-Courier puts hand-picked batches of world-class fruit into the bottle. What's a cuvée? A cuvée is a labor of love. It goes one step further than picking from specific parcels of land by picking from specific barrels. In every vintage individual components are kept apart and blended purely on taste. The result is magnificent. This wine is serious with dark fruits, spices, and minerals blending together to mouthwateringly complex results. Notes of blueberry, blackberry, and blackcurrant fade into baking spice and anise with a hint of minerality. This is a beautiful wine just waiting to be savored. It retails for $24.

Aromatherapy 2019 Chenin Blanc CLARKSBURG, CALIFORNIA

Immerse yourself in a spa-like experience. Aromatherapy is all about indulgent relaxation and that fresh-from-the-spa feeling of peace. The first vintage had a fantastic debut earning two silver medals in its first showings in 2019. Both the first and current vintage was sourced from a great Chenin Blanc region: Clarksburg, California. With rich soils, ample water, and warm days the grapes grow vigorously, but a cooling wind from the Pacific keeps them from becoming overripe. True to its name, Aromatherapy features beautiful notes of fresh, slightly honeyed pear and bright apple balanced by medium acidity and a creamy mouthfeel. It retails for $16.

Bodewell 2018 Rosé of Pinot Noir NAPA VALLEY, CALIFORNIA

Give back while enjoying this 96 point, Double Gold medal-winning Napa Rosé. Bodewell wines put a premium on place. It's why Bodewell only sources amazing wines, like this Napa Valley 96 Point, Double Gold medal-winning Rosé of Pinot Noir, and it's why $1 from every bottle sold goes to the charity Wine to Water. You can enjoy this refreshing and elegant Rosé while knowing you are making a difference. The pure red fruit flavors have been lauded by judges at wine competitions and bestowed with 96 Points and a Double Gold medal. Now you can taste the award winner for yourself, and it's just as good on its own as it is with your next meal.It retails for $20.
Here are the Firstleaf Wine Club bundles available:
See our Firstleaf reviews to see the wines we received in the past from this wine club that learns your exact taste preferences!
Prefer to get a custom bundle? Grab your first 6 wines, customized to your taste profile, here!
$40 for your first 6 customized wines at Firstleaf Wine Club!
What do you think of Firstleaf Wine Club subscription?