Erin Condren recently released a special edition collaboration with Wonder Woman! The Erin Condren x Wonder Woman Collection includes planners, notebooks, and other organization essentials inspired by the DC superhero.
DEAL: FYI – if you use this referral link to register for the site, you'll get a $10 coupon code emailed to you. It may not work on the box purchase. You can use it on pretty much anything on the site.
There's a card sitting on top of everything in the box.
The items are also wrapped in tissue paper!
The card has a beautiful pastel rainbow design!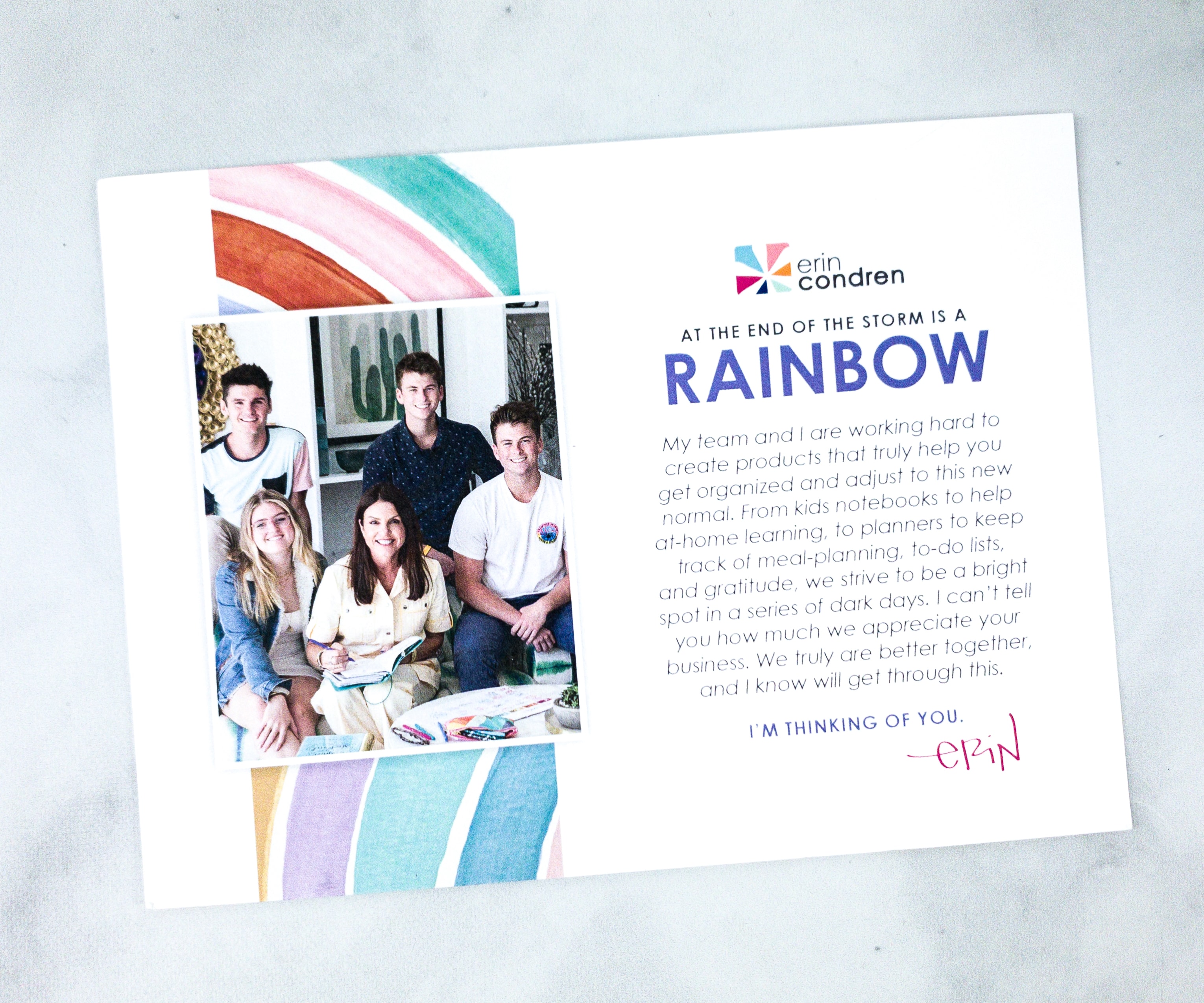 The flip side of the card has a note from Erin herself!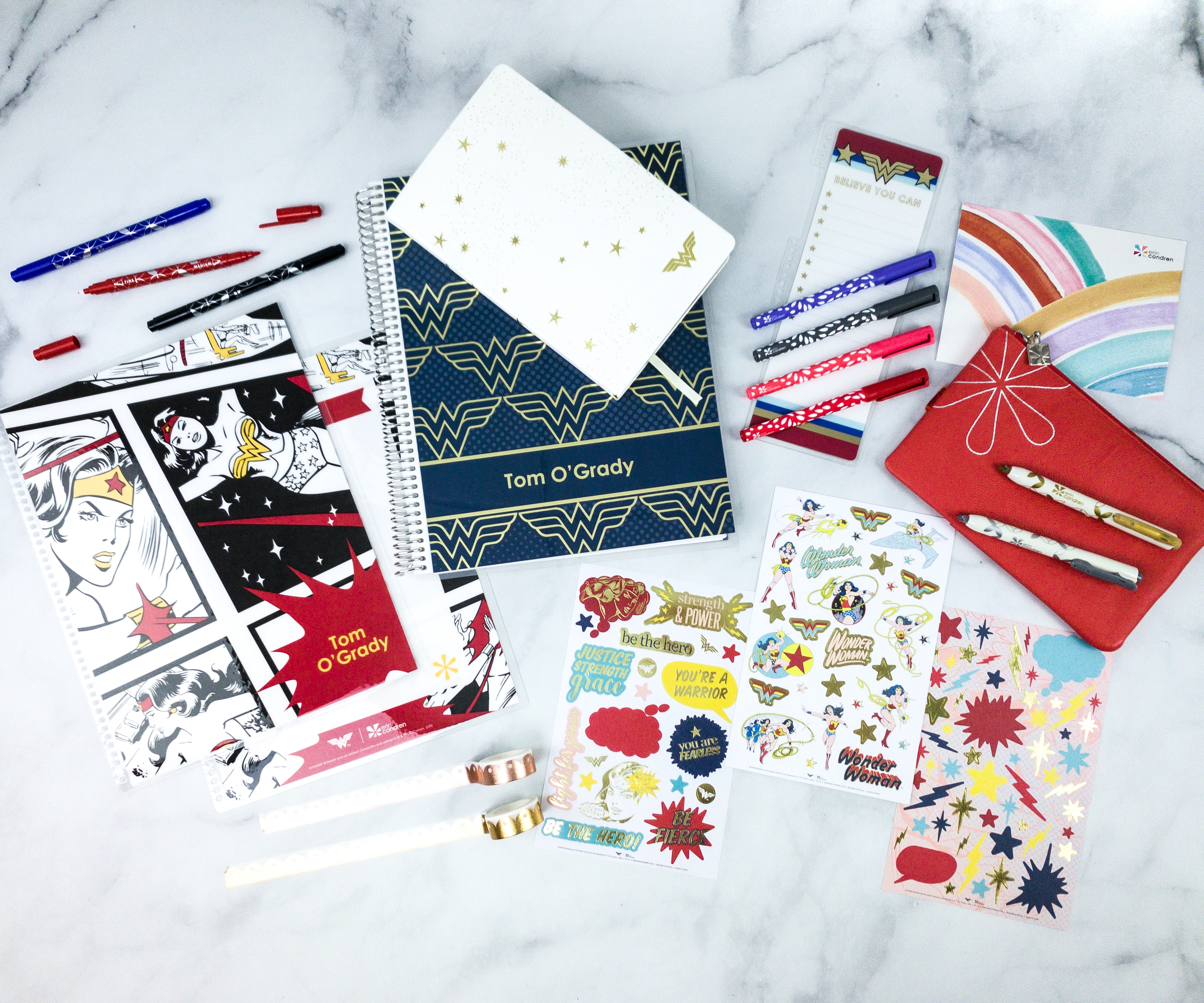 Everything in my box!
Wonder Woman X Erin Condren Metallic Logo Notebook ($21) It's a special edition metallic Wonder Woman x Erin Condren logo cover design. You can have it customized with your name on it! Yes, that's me, Tom, the Wonder Woman superfan. She's always been my favorite!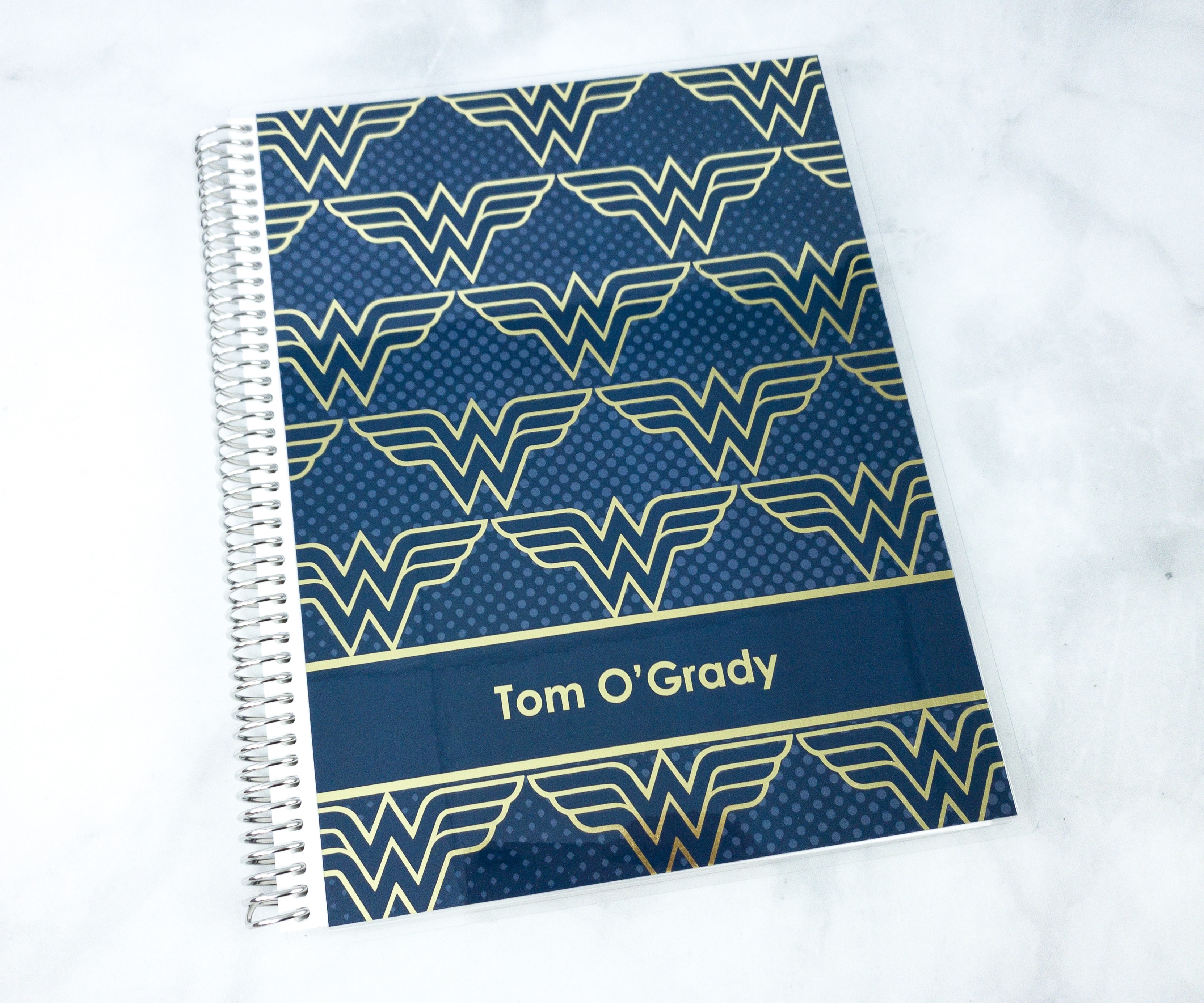 The first design features Wonder Woman's winged "W" in gold foil.
It also comes with this nice title page which has a ribbon header, and a space for more writing, framed with printed Wonder Woman insignia.
You can place them in your planner however you want and it's so easy. There's a thin, hairline slice in the lamination that keeps the cover fitting snug to the coil.
This one even has an inspiring quote inside:
Arriving at one goal is the start of another.
It comes with several blank pages where you can write, scribble, doodle, make a list, or post reminders! I love to draw, so my wife helpfully suggested I get the plain notebook (she's an Erin Condren pro). It's perfect!
Wonder Woman x Erin Condren Snap-In To-Do List Dashboard ($5.50) The pack comes with a to-do list dashboard, which will be very useful for day to day activities and tasks!
You can attach it anywhere and it can also function as a bookmark for your planner.
It also has holes fit for coil bound notebooks.
The other side features a day by day list for all your weekly activities!
Wonder Woman x Erin Condren Classic Comic Notebook ($16) Here's yet another cover for planners or journals, showcasing the beauty of Wonder Woman! According to the label, it is also interchangeable.
The cover features the comic version of Wonder Woman! Just like the first cover, you can also get it customized with your name on it.
The back has the same design as the front cover. This is really stunning! I was also able to select the two highlight colors, which was cool. I went with the vintage classic gold and ruby red.
The flip side looks like another title page with a ribbon header and more space for scribbles and writings. The frame features the cover design as well.
Gem Fine Tip Wet Erase Marker Set ($10.50) This set of markers works on the interchangeable covers!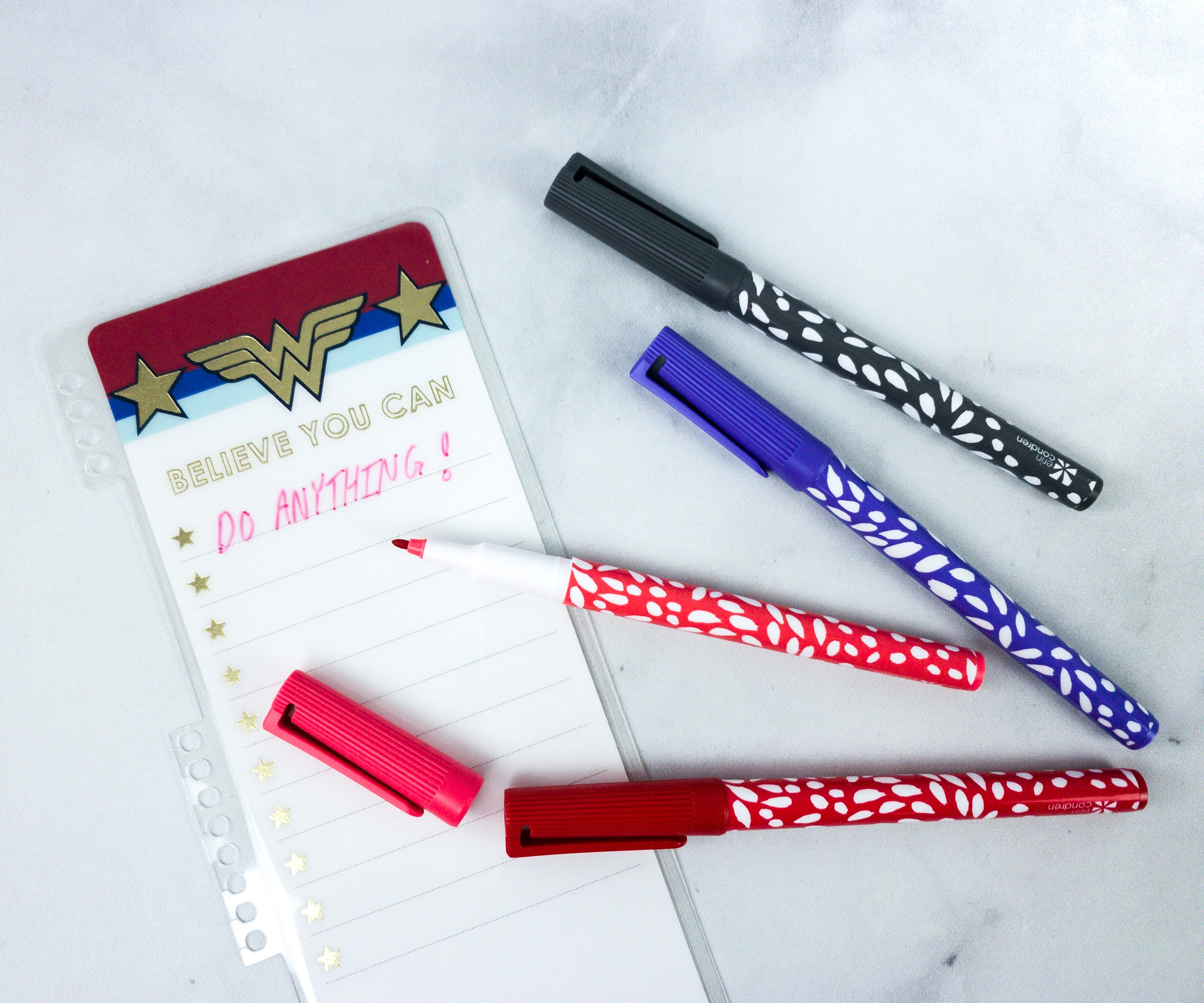 I tried using them on the to-do list dashboard and they worked perfectly!
They come in 4 colors: red, pink, blue, and gray!
There's another set of stationery items!
Red Planny Pack ($20) This Planny Pack is ideal to bring on travels. It fits pens and other essentials, so you can still continue with planning or journaling wherever you go!
It's a luxurious leather-like pouch in red, with a simple flower outline on one side.
They added a stylish elastic band at the back, which you can slip over your journal or planner!
It also comes with a zipper enclosure to keep all your stuff safe and secure inside.
Wonder Woman x Erin Condren Metallic Softbound Notebook ($14) Another travel must-have is a small, handy notebook, so you can jot down experiences and reflections on-the-go!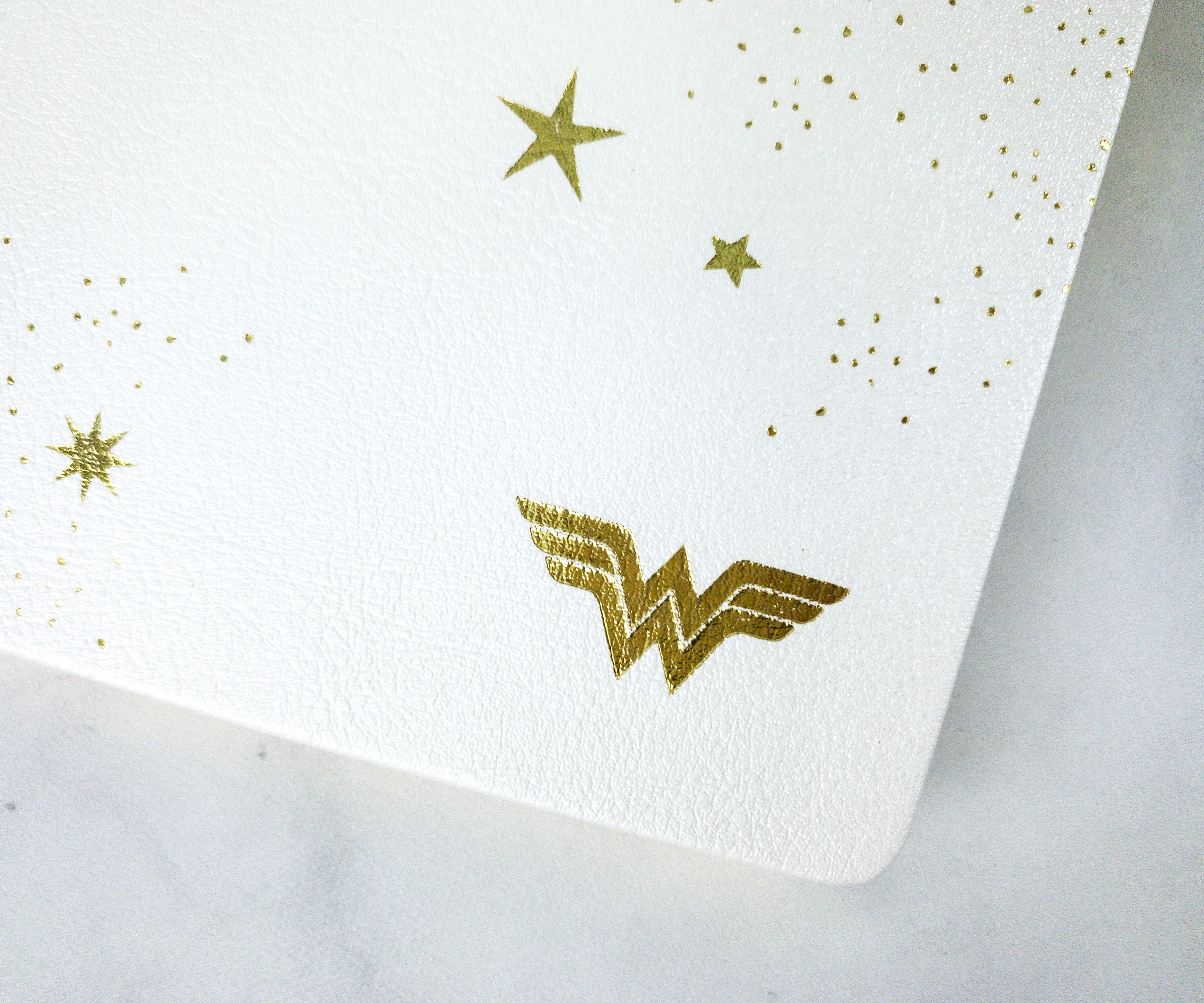 The white hard-bound notebook is made prettier with gold prints of stars and Wonder Woman's symbol!
It even comes with a ribbon bookmark to keep track of the pages.
The inside of the cover looks awesome as well. It says "be the hero"!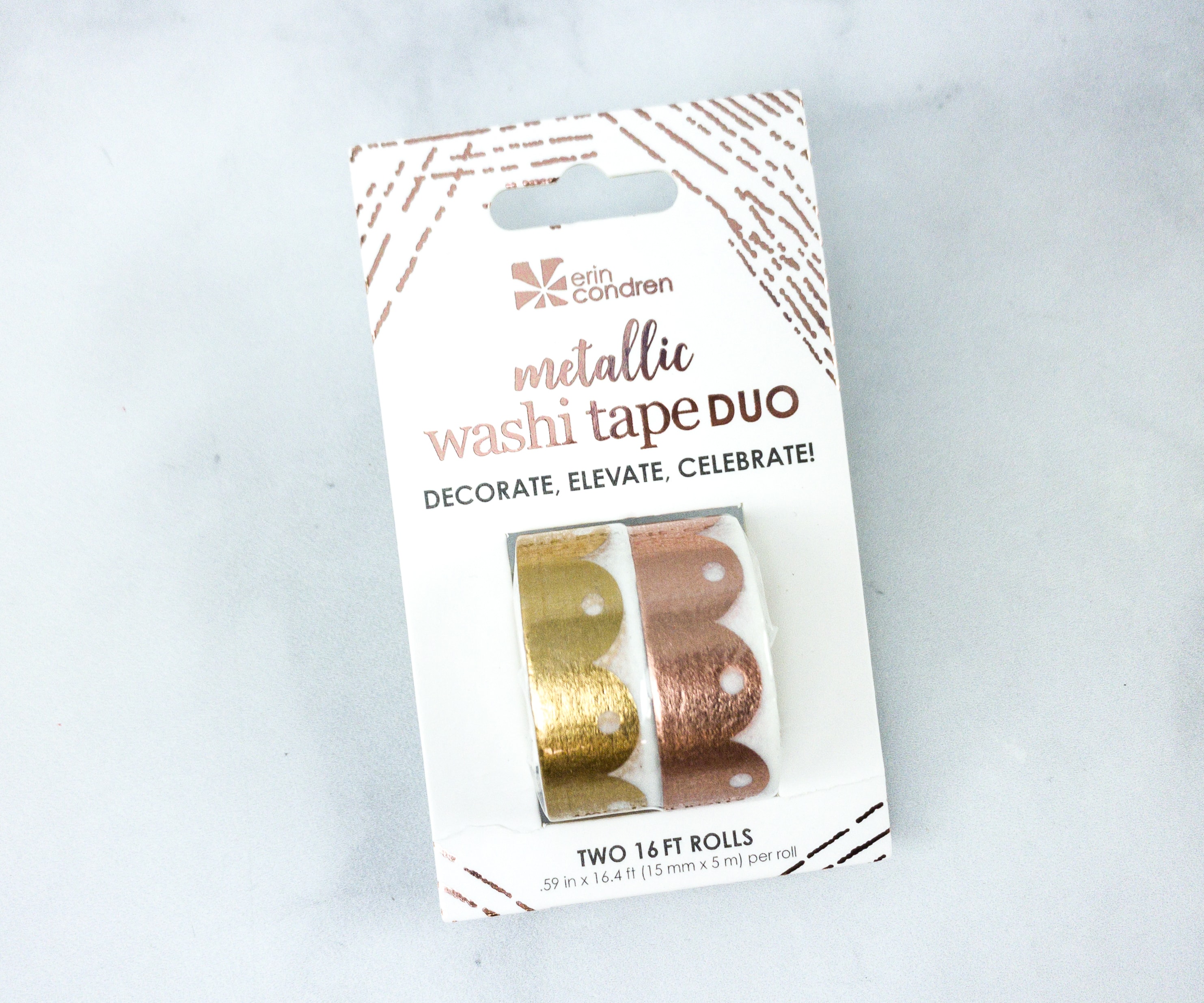 Metallic Washi Tape Duo ($5.50) Here are 2 rolls of metallic washi tapes, which make the perfect accent for journal and planner pages!
They look like golden accessories, like Wonder Woman's bracelets!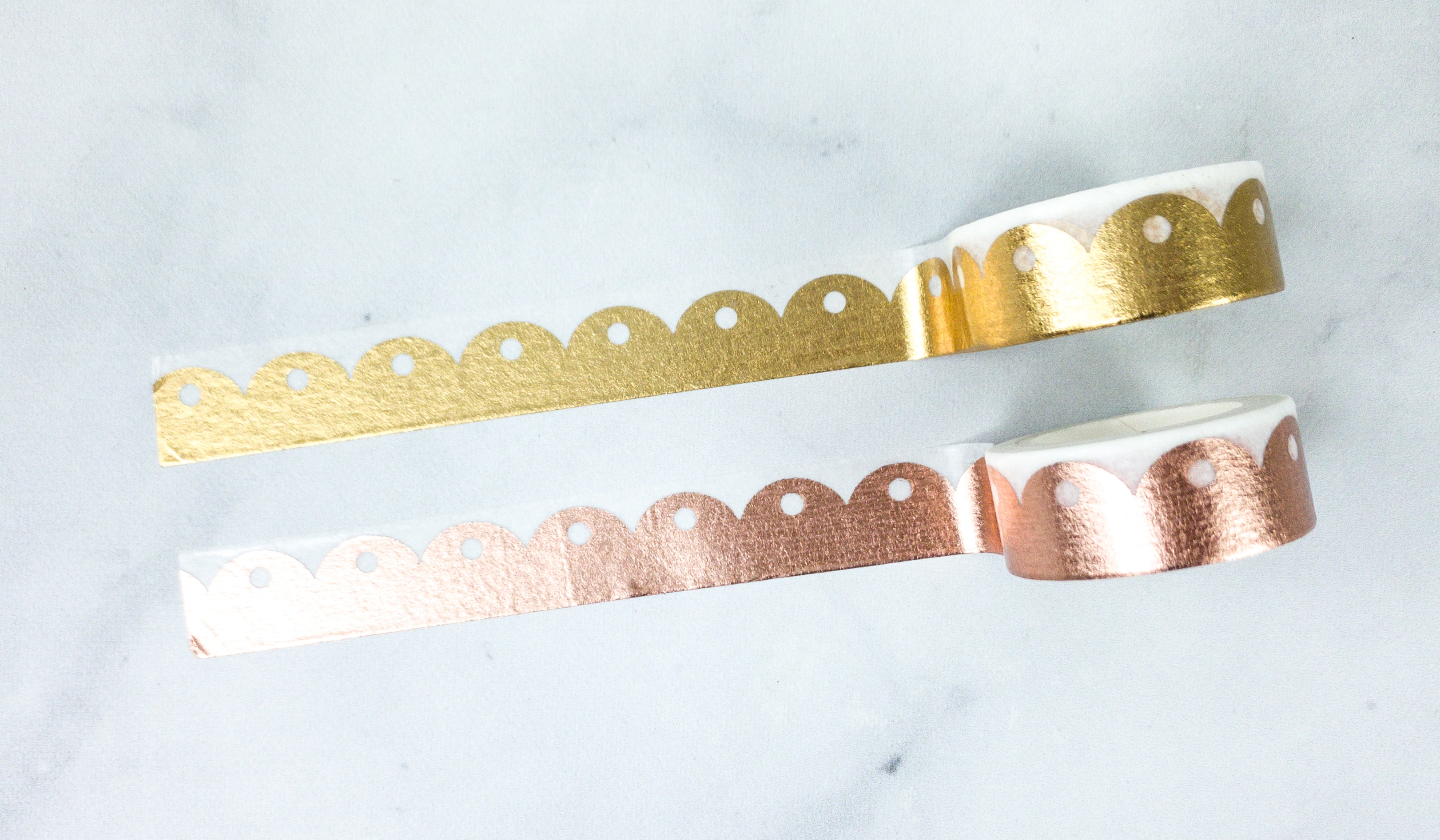 One is gold-colored and the other is copper. Both of them stick really well!
Wonder Woman x Erin Condren Sticker Pack Trio ($7.50) To add more fun to journals and planners, here's a set of Wonder Woman stickers!
There are three sheets and they all look amazing!
One has Wonder Woman in action! I like the one that shows how she transforms from her alter-ego Diana to her superhero persona.
Another sheet contains stickers with motivational phrases, like "you are fearless" and "you're a warrior".
The last sheet has dialogue boxes and other cute shapes that you can use for a comic-themed journal or planner spread!
Designer Metallic Markers ($8.50) These elegant-looking metallic markers pair perfectly with the metallic washi tapes!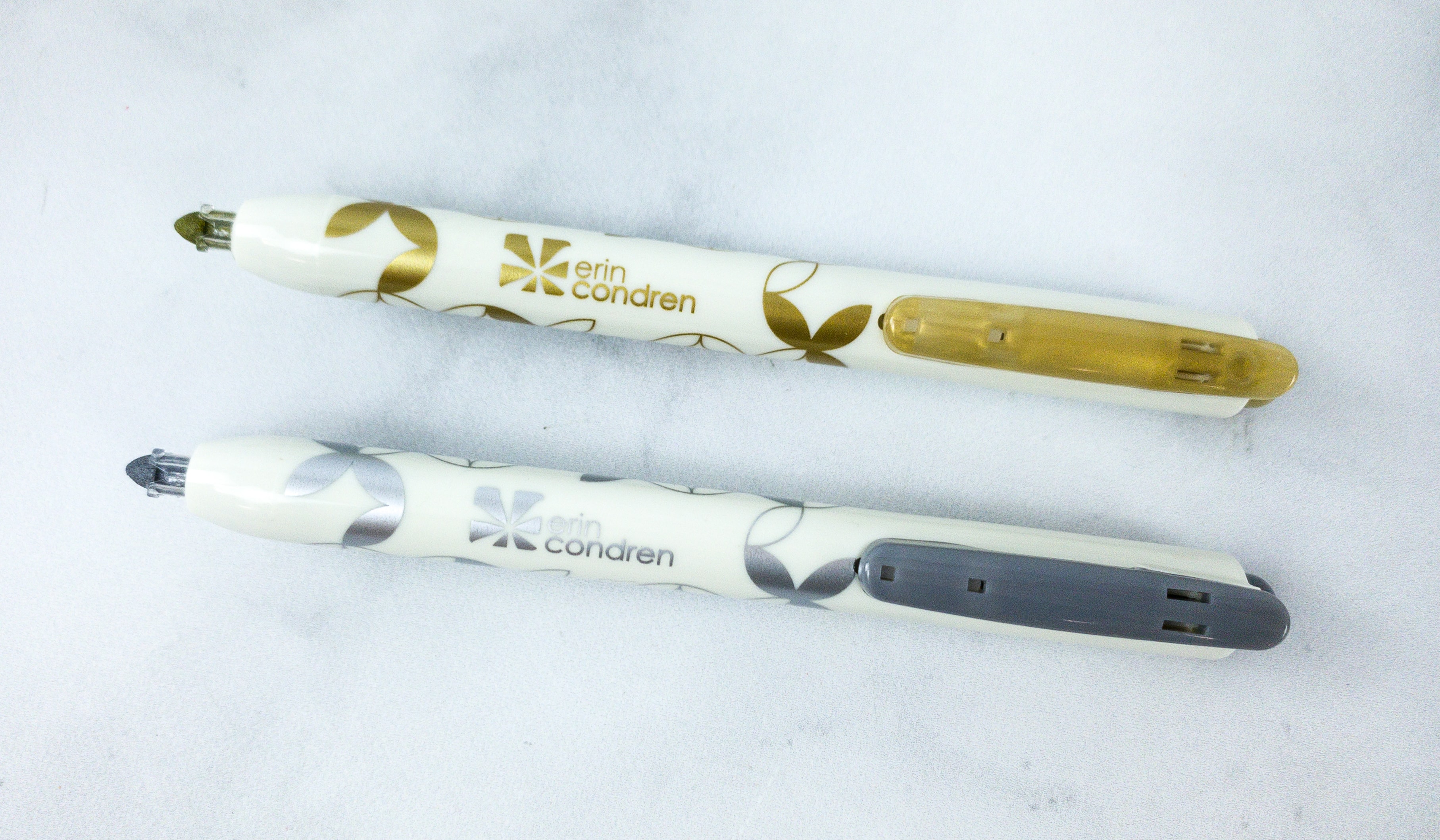 One marker is in classic gold and the other is in silver.
These markers are well-pigmented. These would be perfect for calligraphy, and writing title pages and labels!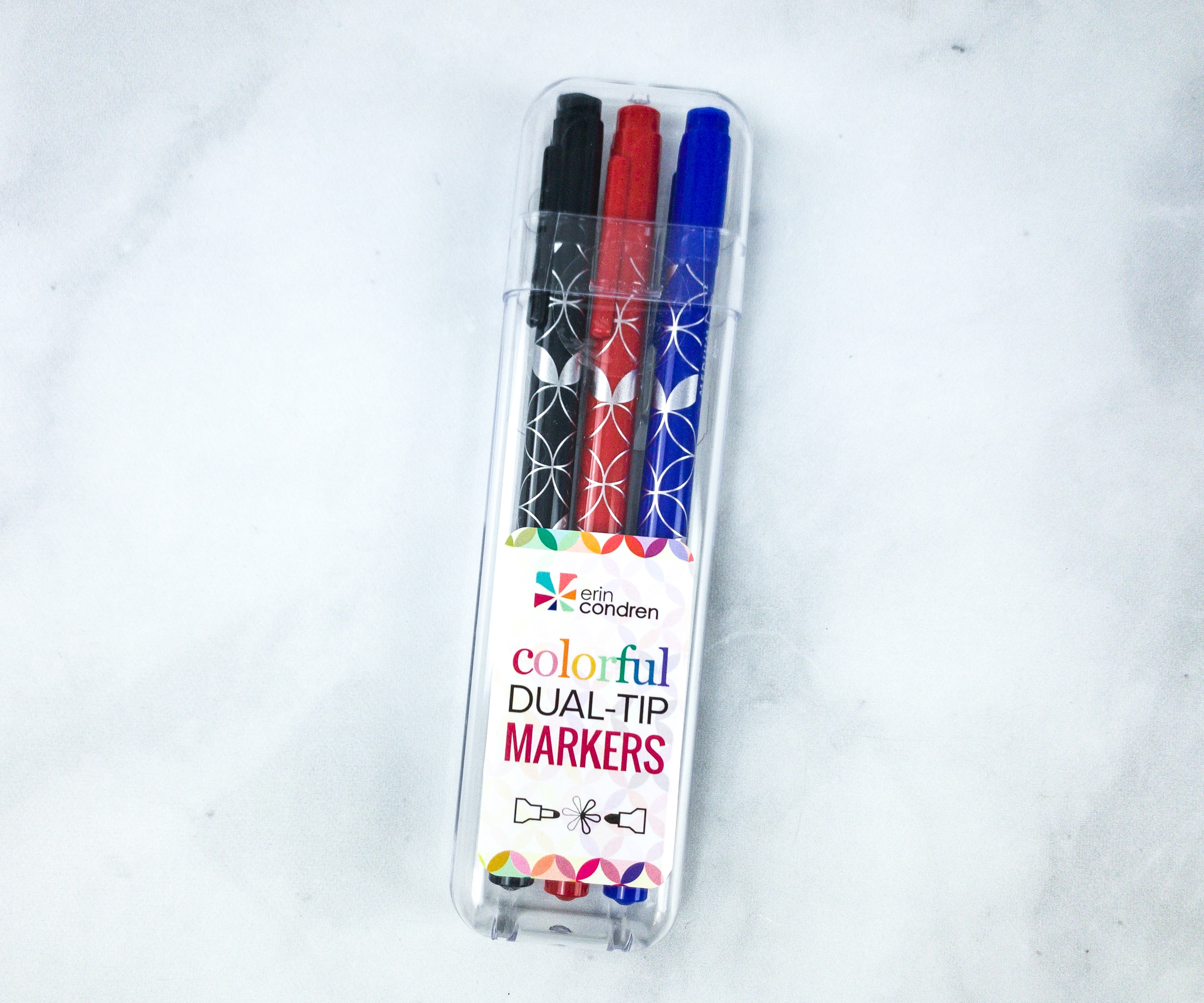 Classic Dual-Tip Markers 3-Pack ($10.50) Here's another pack of writing tools, and this time they are dual-tip markers!
They come in black, red, and blue, the classic ink colors for most pens!
Both tips are capped, one has a fine point, while the other has a point similar to a medium marker tip. The fine ones are great for lines and closing out details, while the medium point is great for writing titles and labels.
This collaboration didn't disappoint! I'm impressed with the variety of planning goods and stationery items in the Erin Condren x Wonder Woman Collection. There's really something from everyone, whether you're a planner junkie, a journal enthusiast, or simply a Wonder Woman fan and collector like me! My favorites are the interchangeable and customizable planner covers. The Wonder Woman stickers are also pretty cool! This is easily is one of the best collaborations that Erin Condren has done. I think it's inspiring for both women and men that love Wonder Woman or want to embrace her principles!
What did you think of the Erin Condren x Wonder Woman Collection?