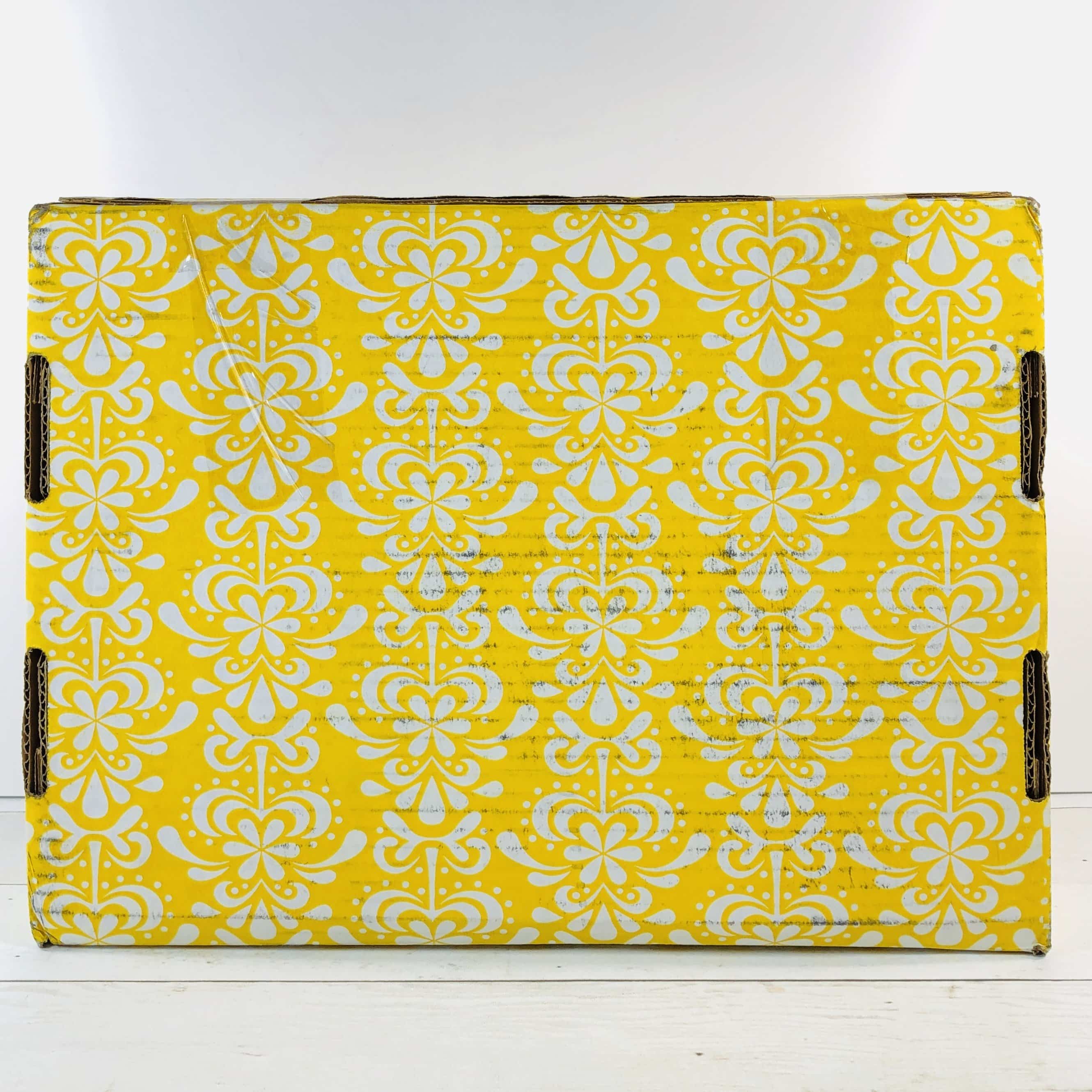 Erin Condren is the super popular purveyor of some of the best planners and planner supplies around! Here we're going to review their 2020-2021 Teacher Lesson Planner and an assortment of supplies for educators! Whether you teach preschoolers or high schoolers or any grade in between, or maybe you are a parent who homeschools, Erin Condren has lots of ways to help to keep the school year on track. Planners start at $55.
Educate, motivate, INSPIRE with the ULTIMATE Teacher Lesson Planner collection. Preferred by educators. Inspired by YOU! Now with new binding options, new designs, new customization features & so much more.

THE ULTIMATE 12-MONTH LESSON PLANNER:

– Weekly, Monthly & Yearly Spreads
– Note Pages, Checklist Pages & Communication Logs
– Coiled & Binder Planner Extras: Holiday Stickers, Planner Stickers, Inspirational Quotes
– Three Binding Options: Coiled, Binder & Softbound
– 2 Interior Design Options: Oh So Retro & Kaleidoscope
DEAL: FYI – if you use this referral link to register for the site, you'll get a $10 coupon code emailed to you. You can use it on pretty much anything on the site, as long as you haven't purchased anything yet!
Don't forget to grab notifications for the Erin Condren Seasonal Surprise Box, their quarterly mystery box!
My box was packed full and I found bright blue tissue paper covering my items, plus a sticker to hold it closed. My items were cushioned by bubble wrap.
In addition to the main EC site, you can now shop a selection of non-personalized Erin Condren items on Amazon! Many, if not most, are discounted, and they all have free Prime shipping!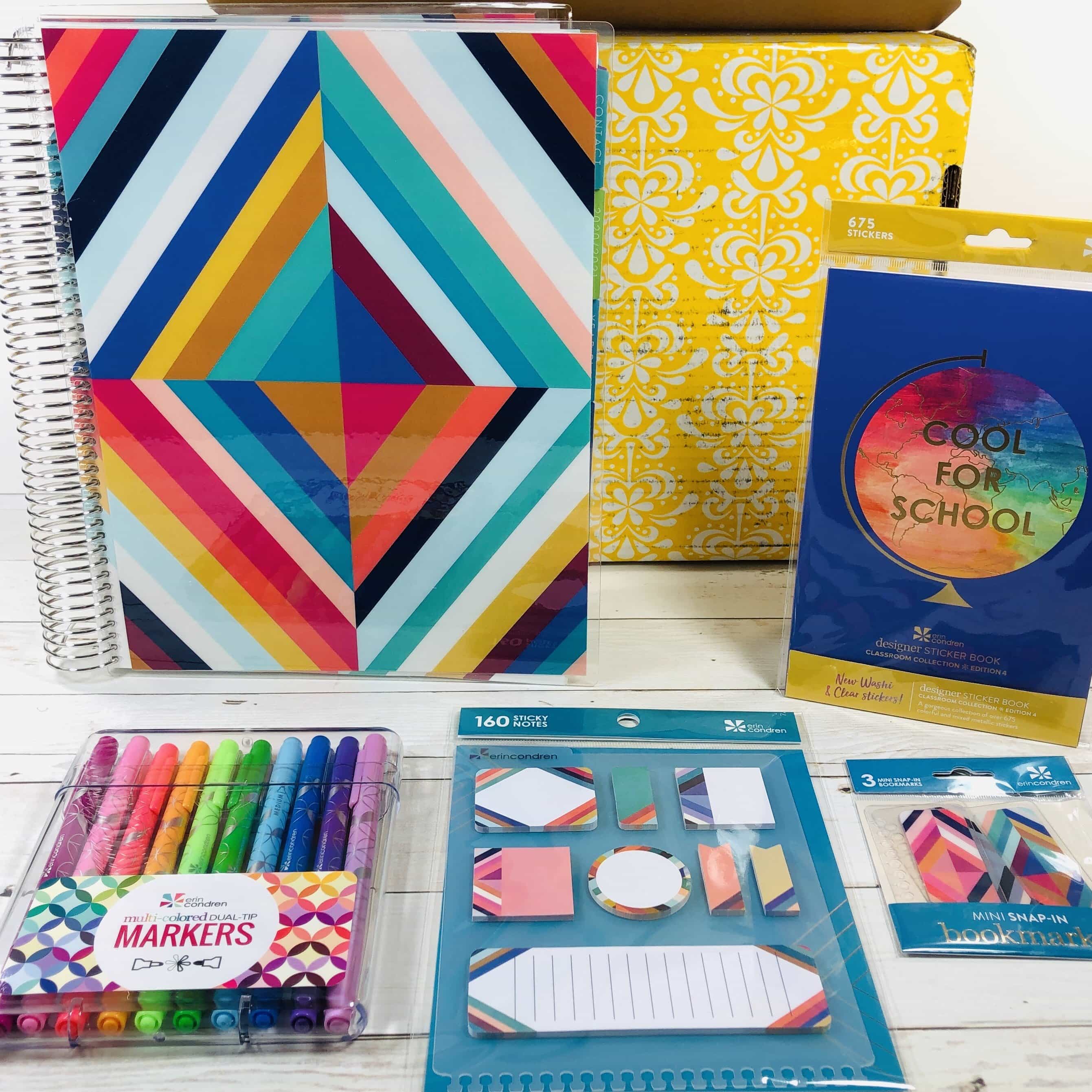 Everything in my box!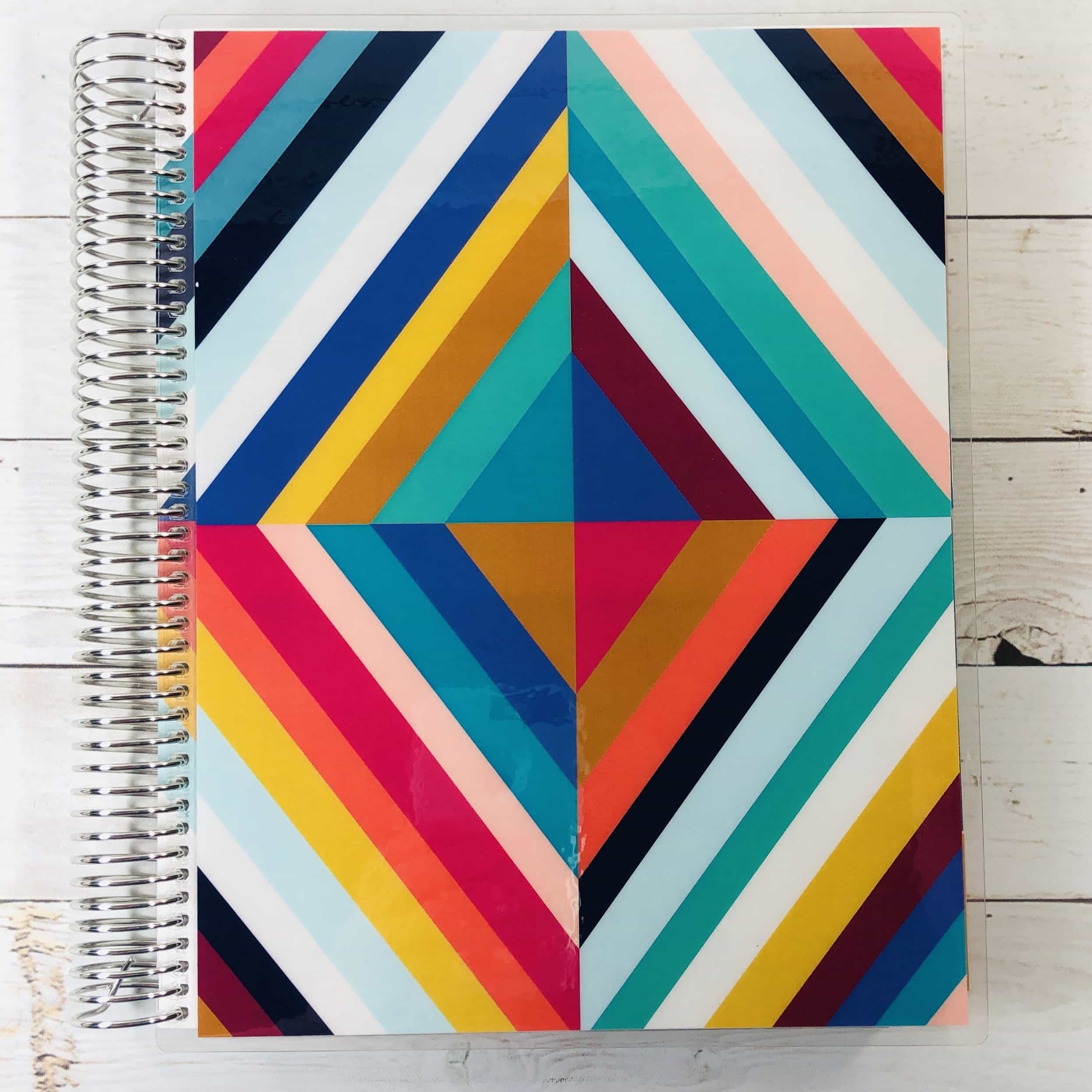 Erin Condren Oh So Retro Teacher Lesson Planner (Starts at $55) There are several cover choices available and you can have them personalized with your name if you like. You can also change your covers throughout the year! You can choose from Colorful or Neutral and of course I went for Colorful! You can also choose to order a binder system instead of a coiled planner.
Bring color to the classroom with our best-selling customized & personalized Teacher Lesson Planner! Stunning designer details and a teacher-approved layout give lesson planning a fresh, new feel! Perfect for planning lessons that create, motivate and inspire a love of knowledge in students, it's the ultimate organization tool for teachers, tutors and homeschooling parents. Fun & functional features include tabbed monthly calendar spreads, inspirational quotes throughout, four sticker sheets, checklists pages, more lined & graph pages for notes, new holiday stickers, large, double-sided folder, sheet protector & so much more! Preferred by teachers who value the quality, features & design of this Erin Condren lesson planner!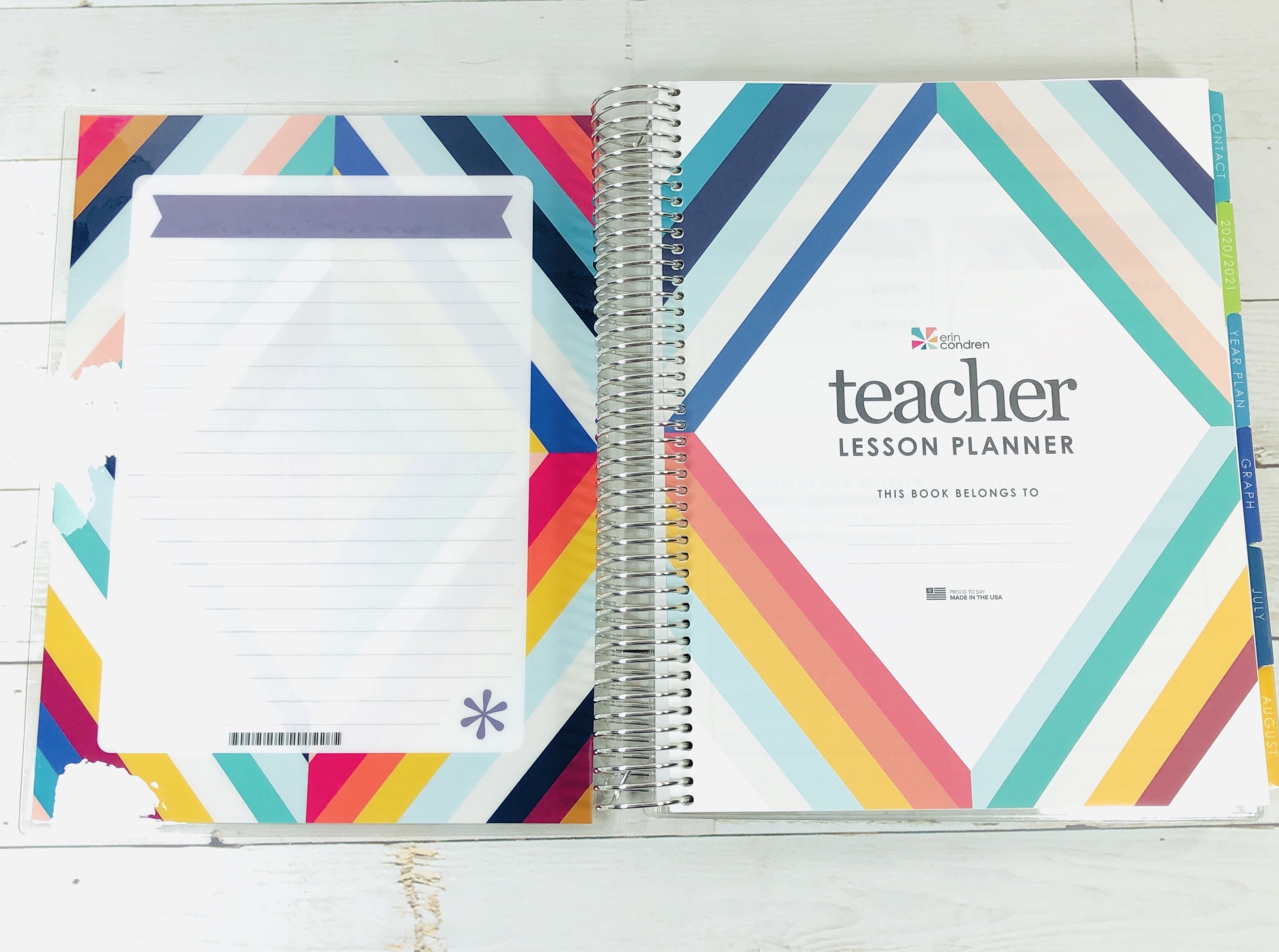 The inside of the front and back covers can be used with wet erase markers. The planner is 8.5″ x 11″, which is larger than the classic original 7″ x 9″ LifePlanner. Note the tabs on the right-hand side, it makes it easy and quick to find what you are looking for.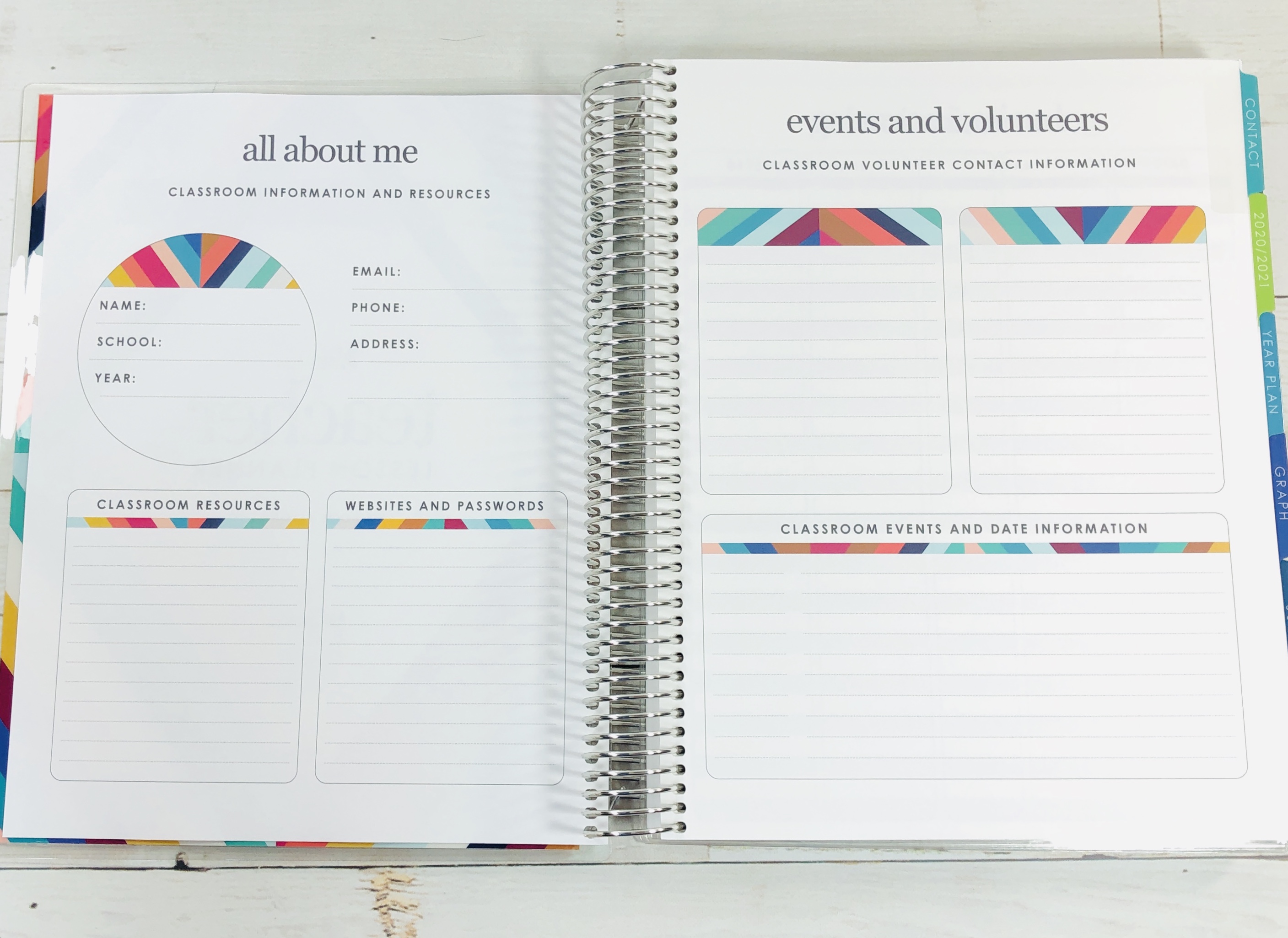 There is space for some personal info and a sheet for logging volunteer contacts.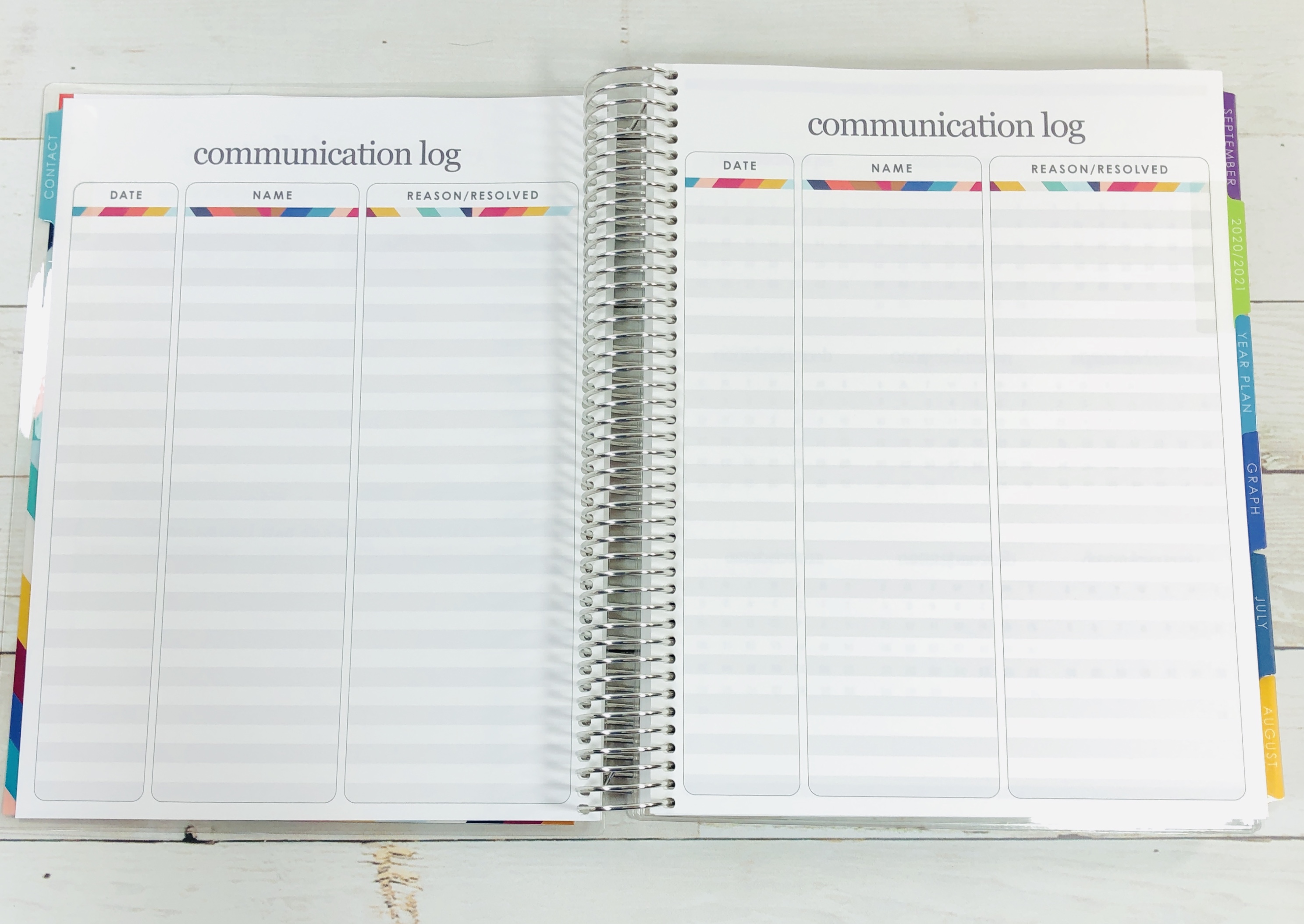 There is a communication log for noting those important conversations with students or parents.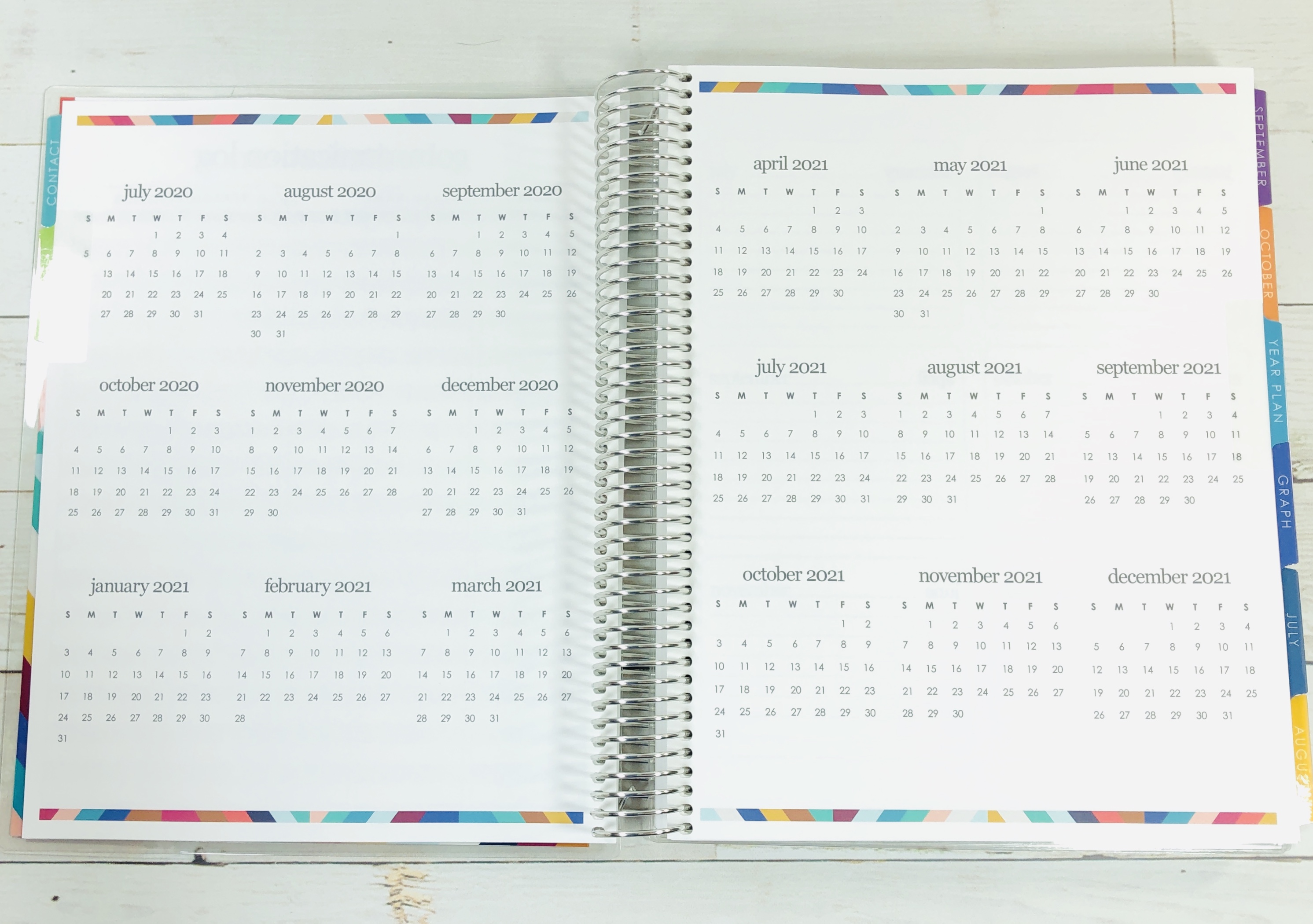 The calendar shows both the 2020/21 school year as well as the whole of 2021. There are a couple of pages that follow that provide space for writing events for each month, January through December.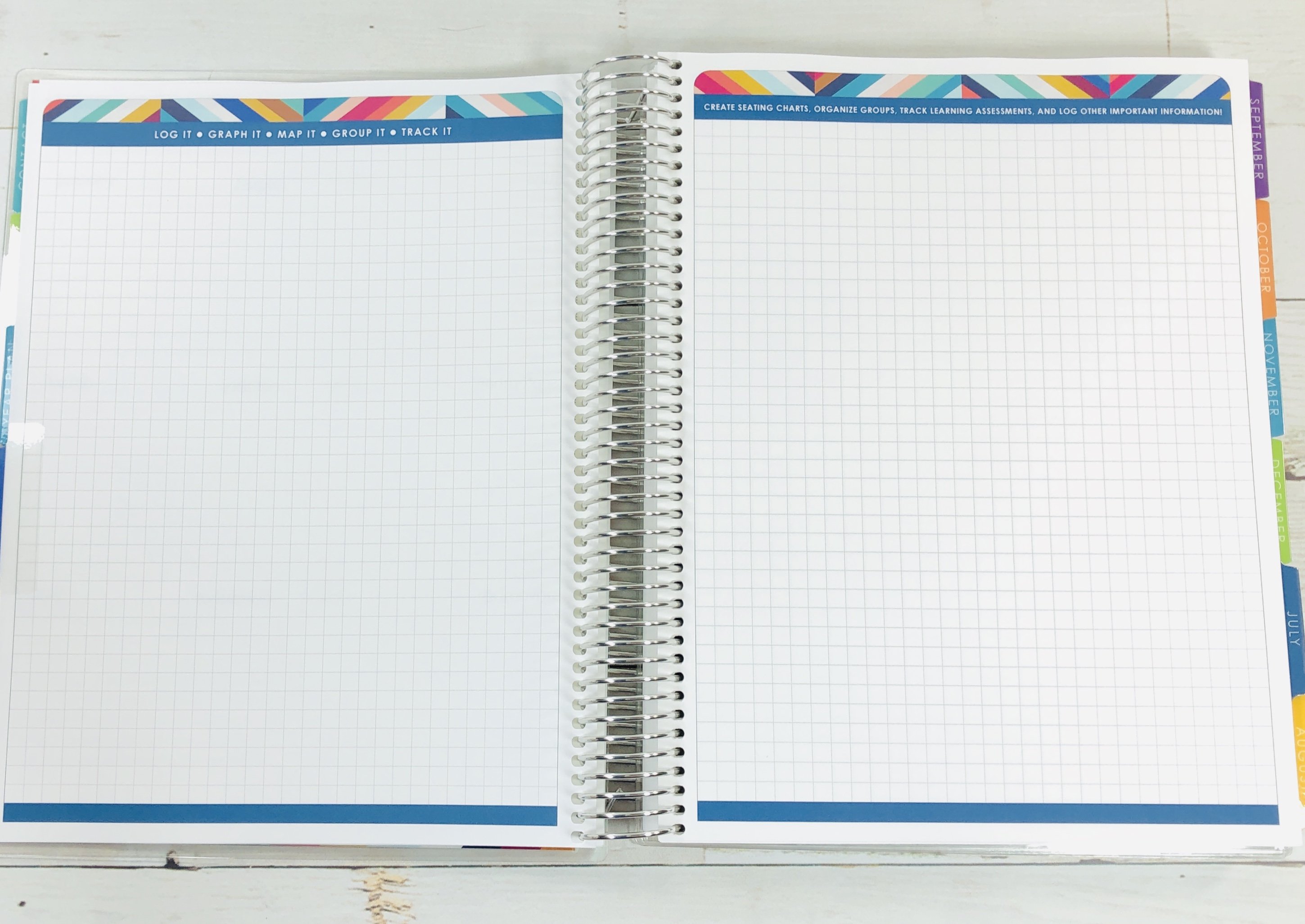 Four pages of graph paper can help with seating charts or other groups or graphs.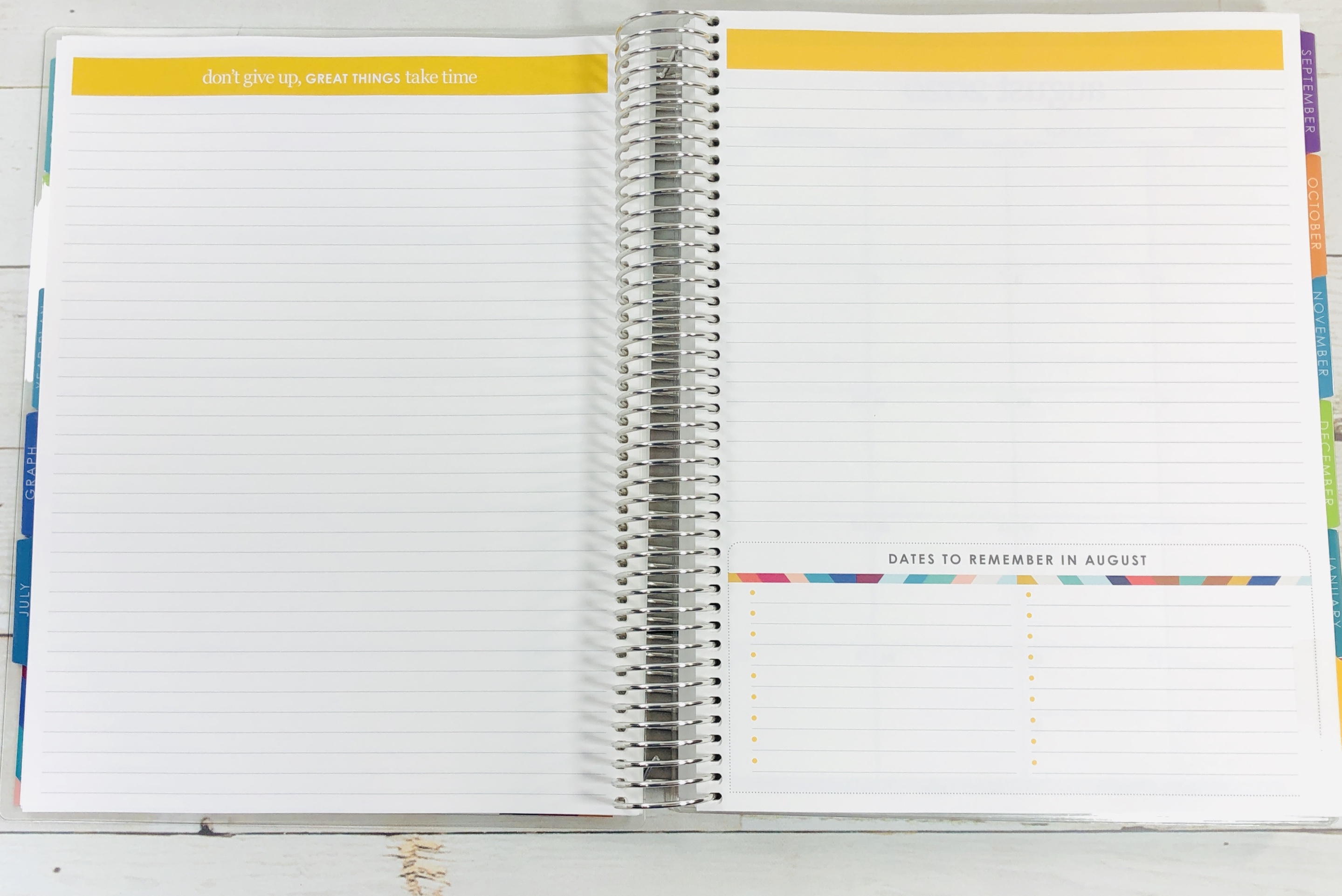 Four lined pages are for whatever you wish to write and come before each new month. The page on the right is printed on the monthly tabbed sheet and has space to jot down important dates. It is on every monthly tabbed sheet.
I've skipped ahead to August here. There is a month-at-a-glance for each new month.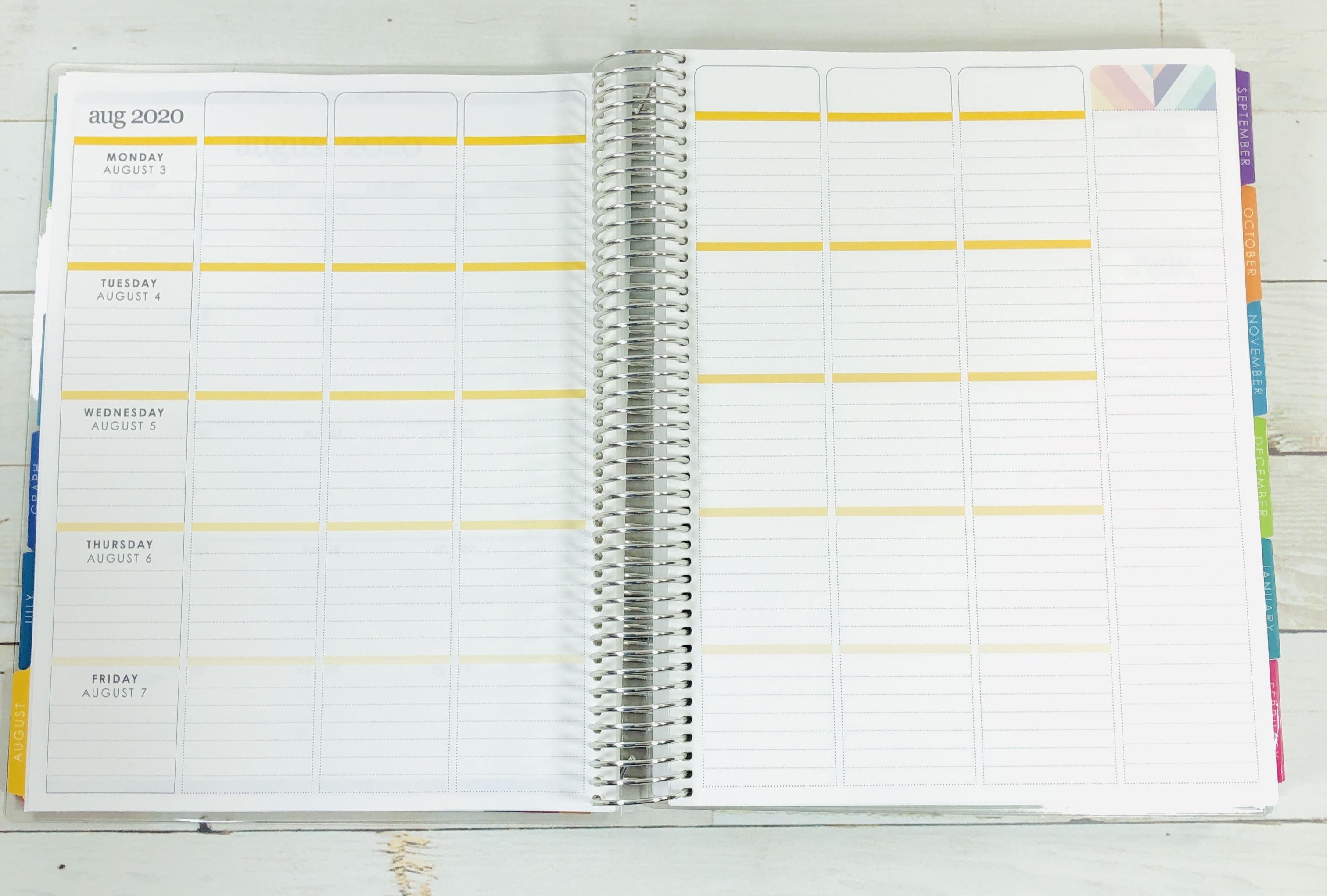 Each week runs Monday through Friday and has 6 columns for each day. For middle or high school teachers these can be used for class periods, for elementary they can be broken down by subject, and for homeschool they can be listed by child. The right side has a place to write notes.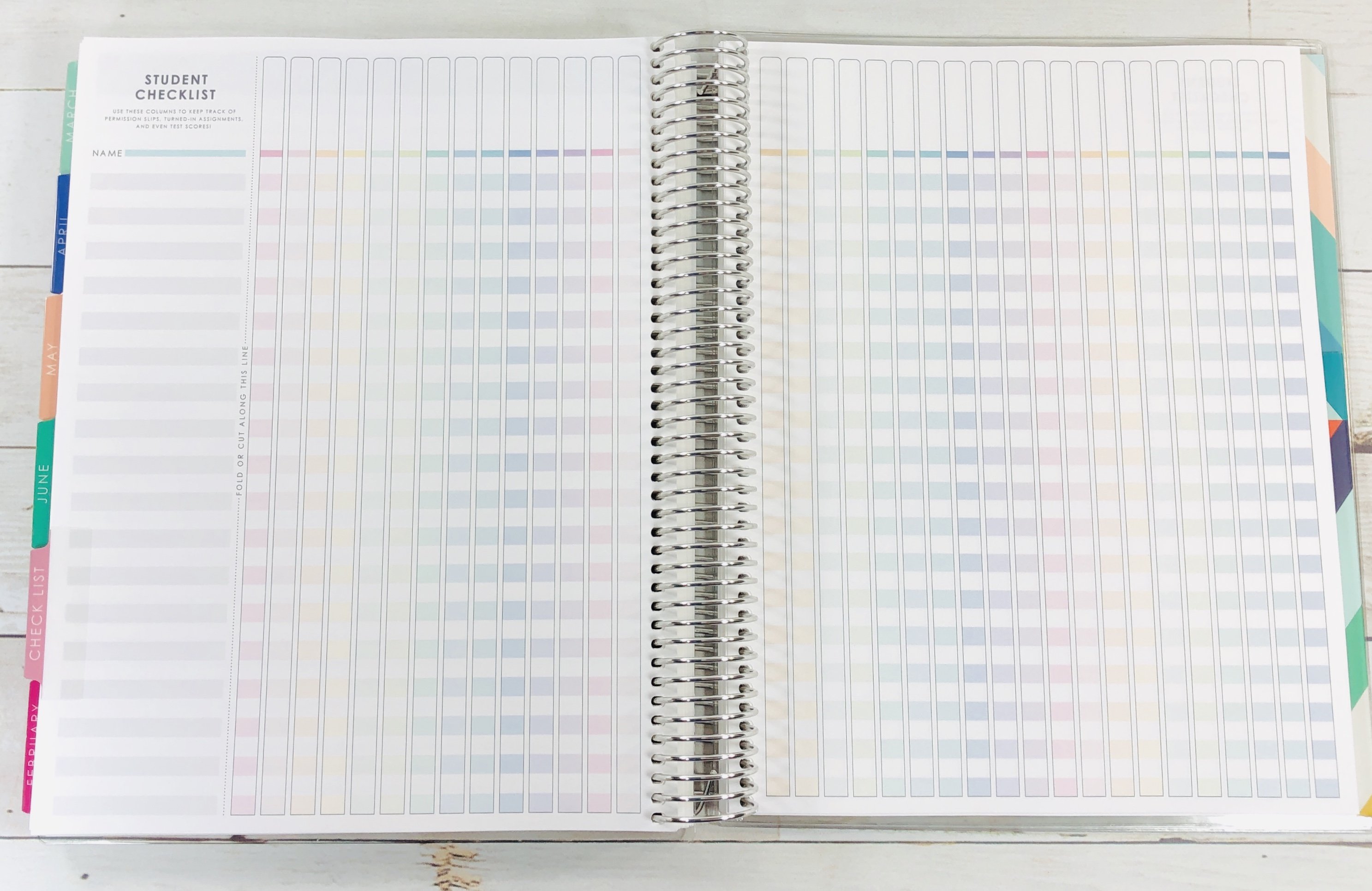 Behind the monthly/weekly calendars, there is a student checklist. There are 7 pages standard with the option to add more.
Four pages of functional stickers are ready for marking important dates.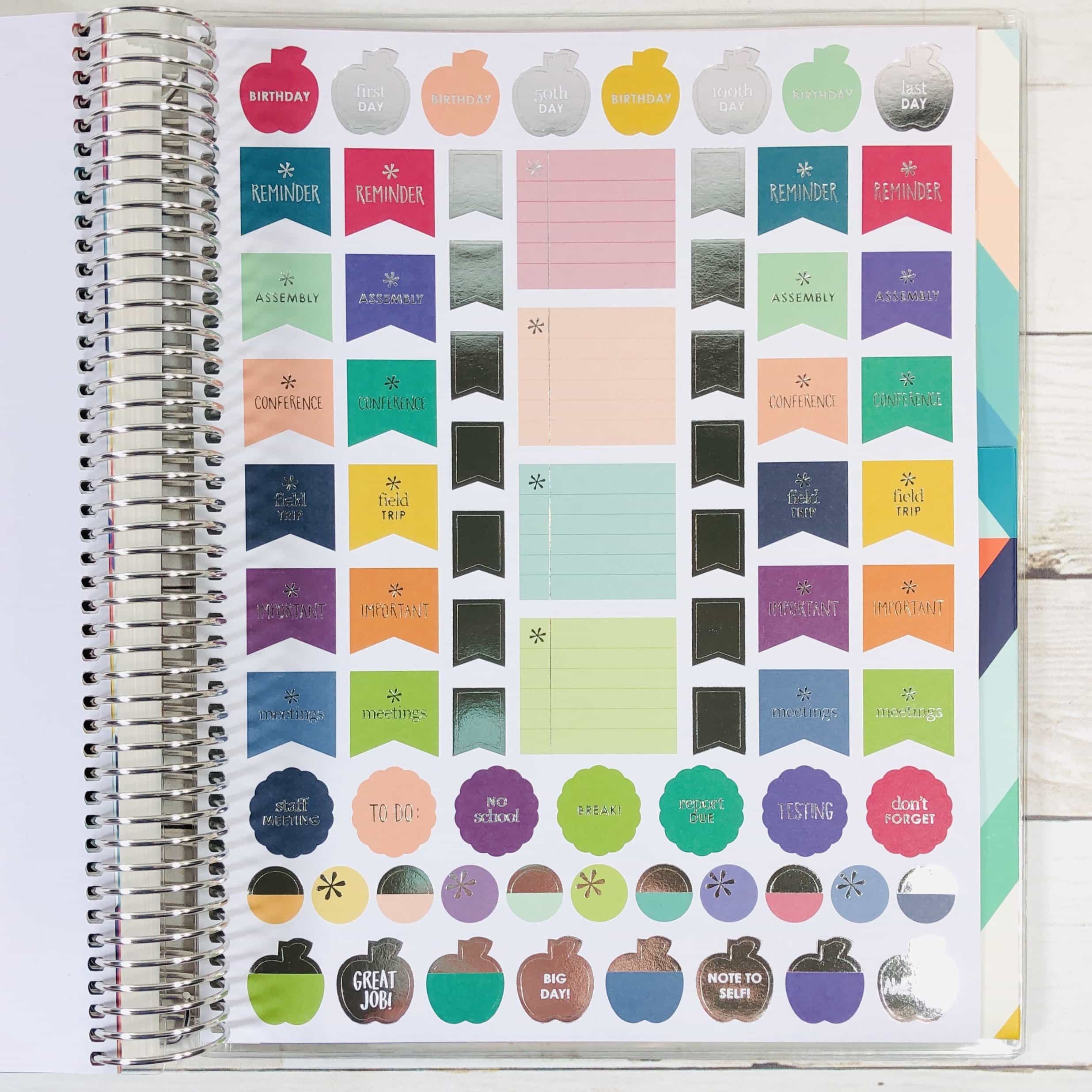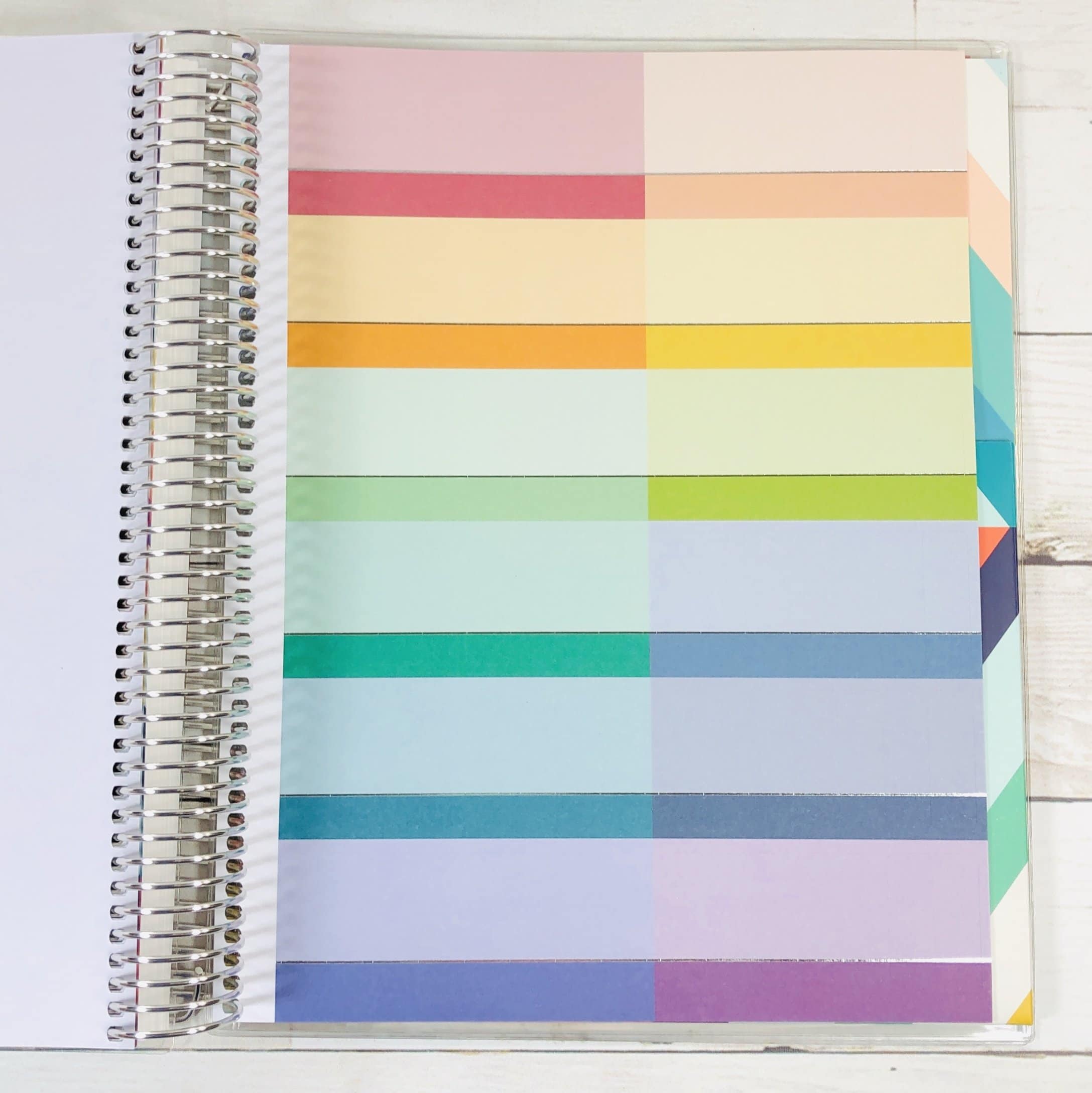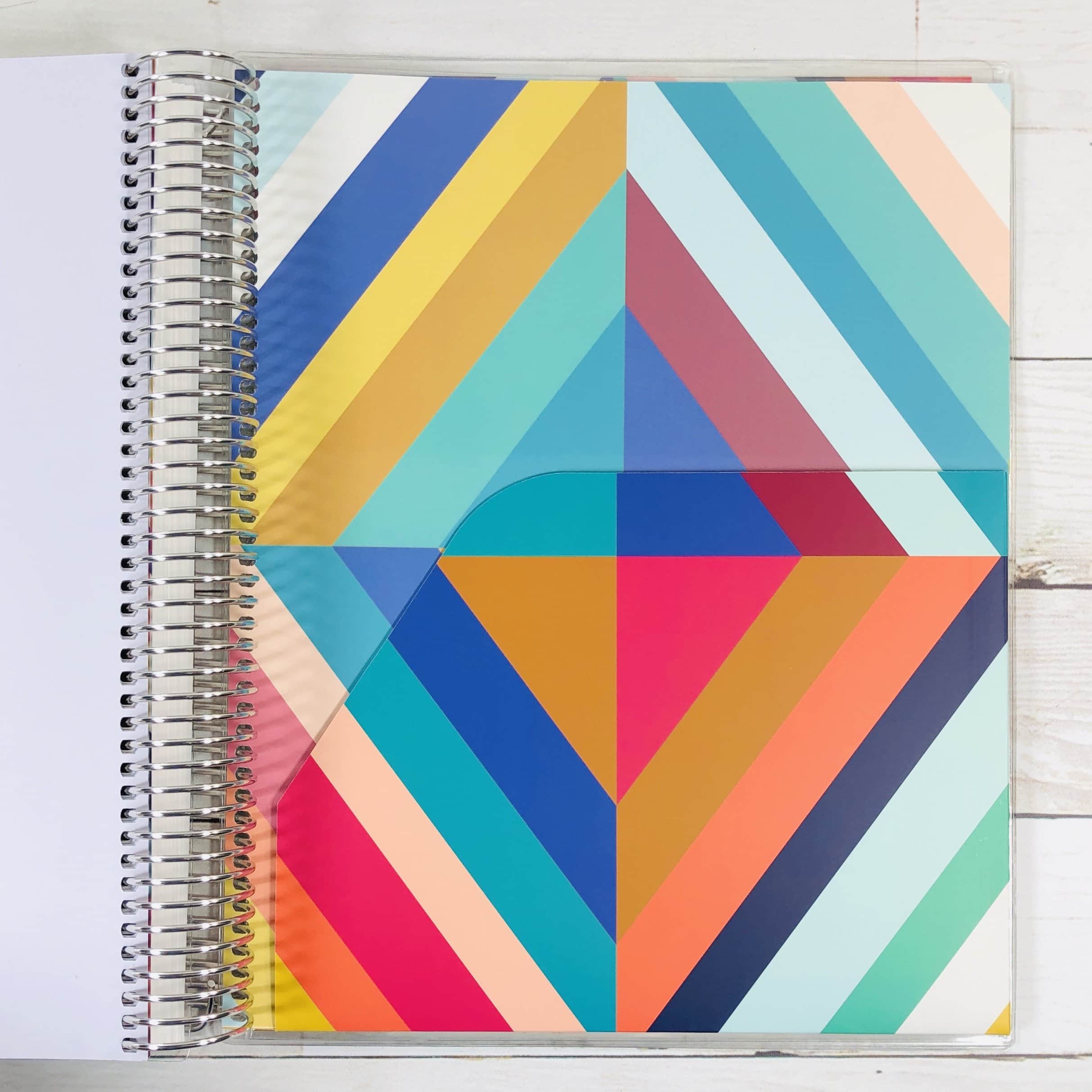 A double-sided pocket folder has space for holding papers.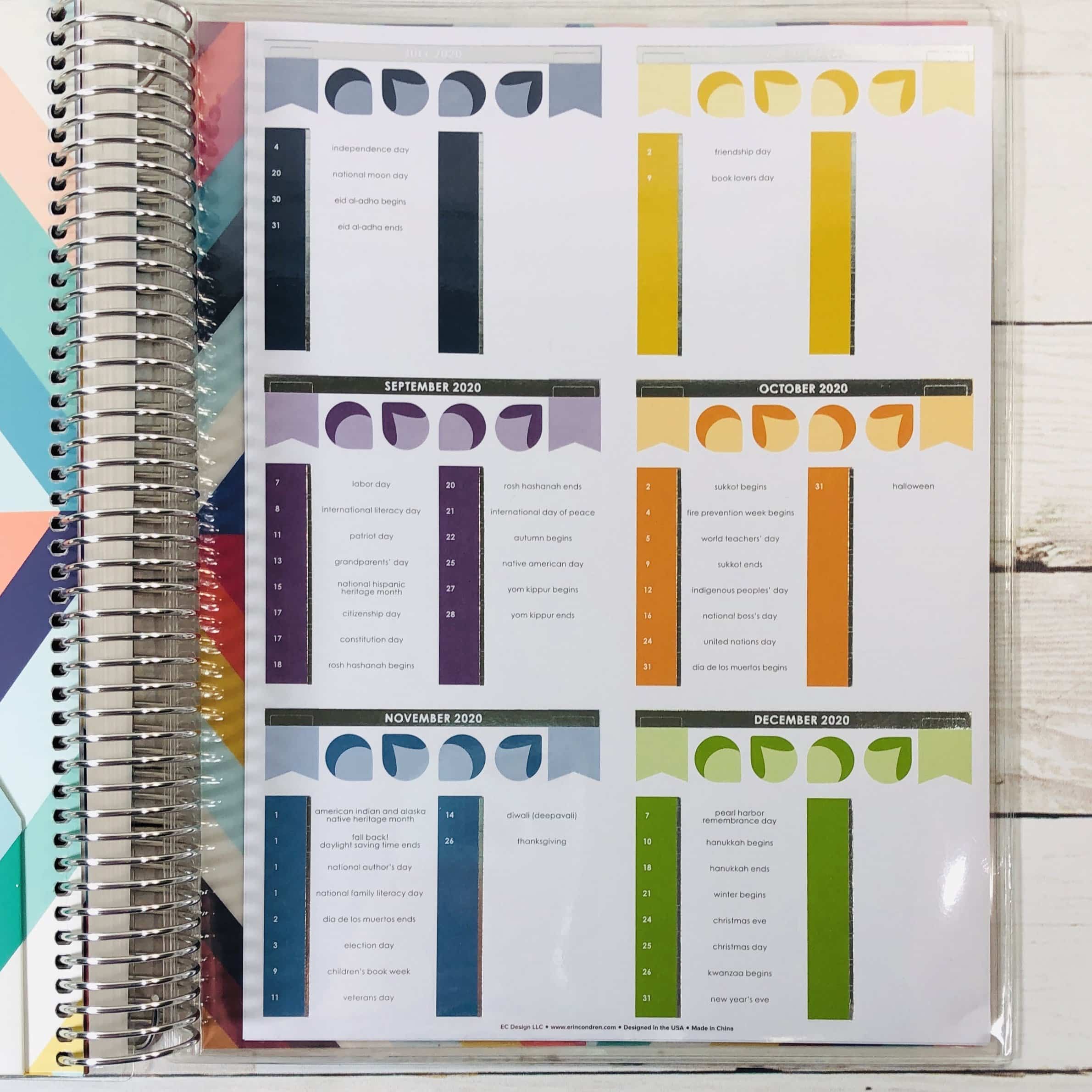 Three sheets of stickers listing each month and its holidays are kept in a sheet protector. There is a bonus sheet protector behind the stickers. You can add up to two more sheet protectors when ordering.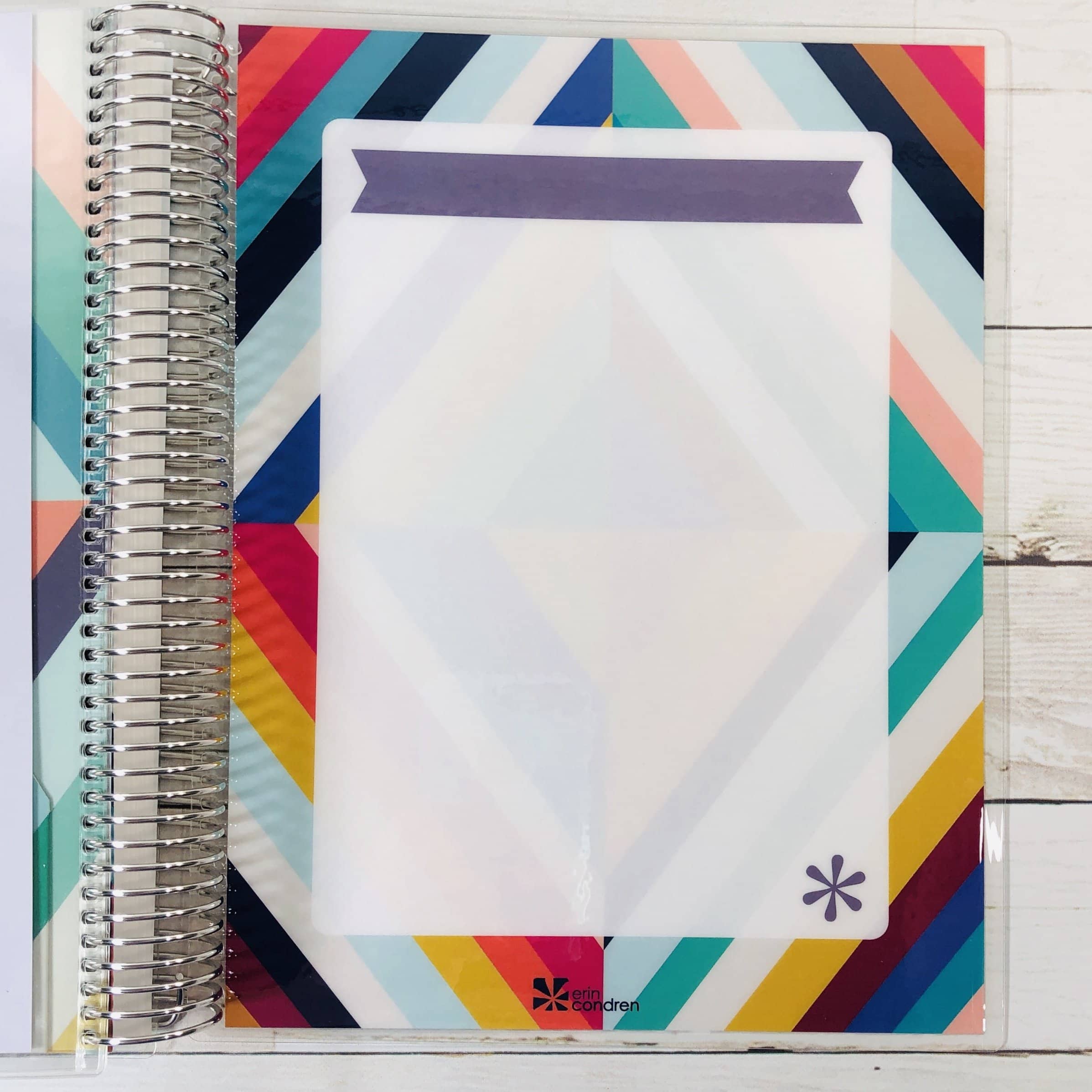 The back inside cover is also a wet erase whiteboard.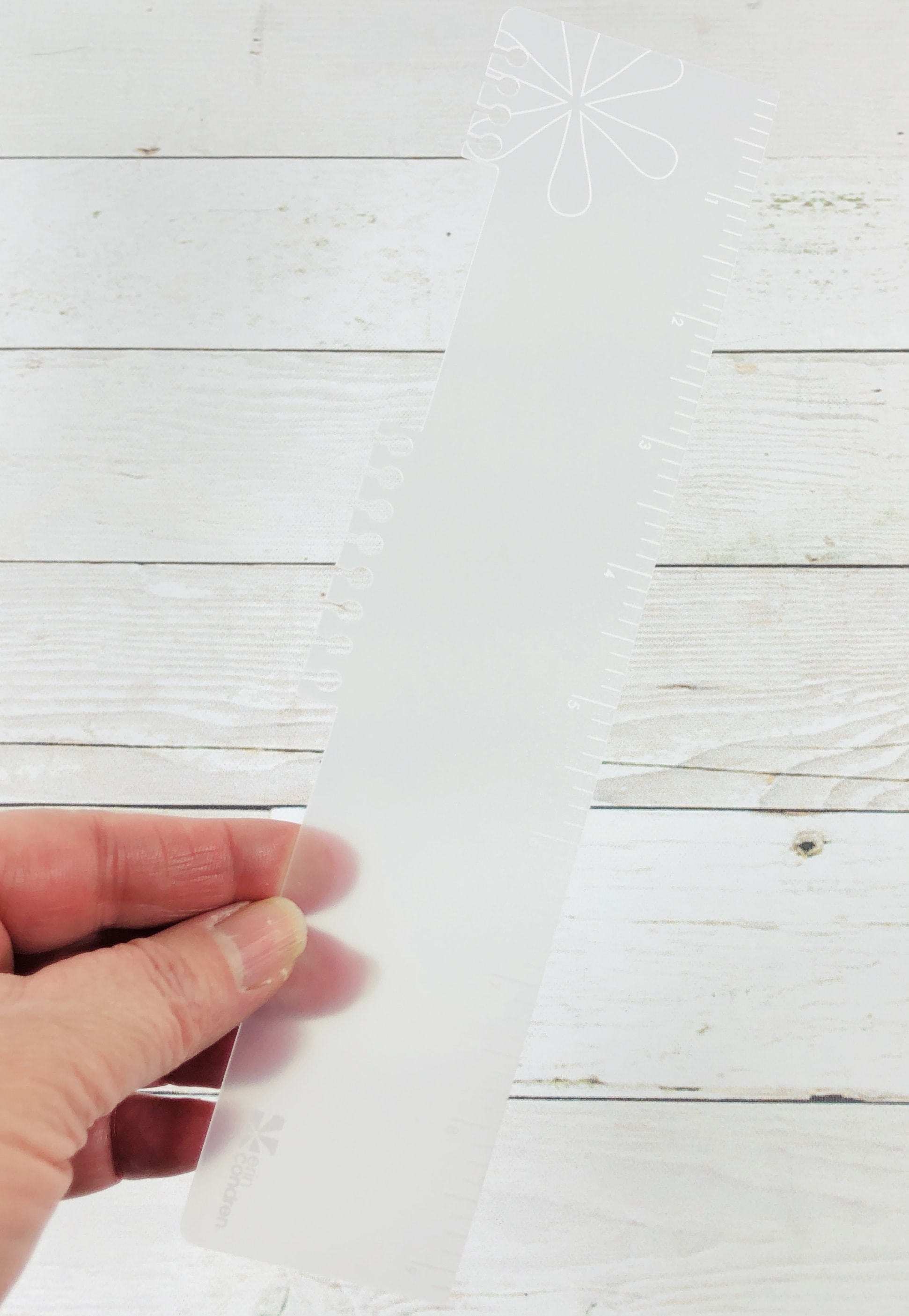 A handy ruler snaps inside and is always at the ready. You would be surprised at how often I need a ruler!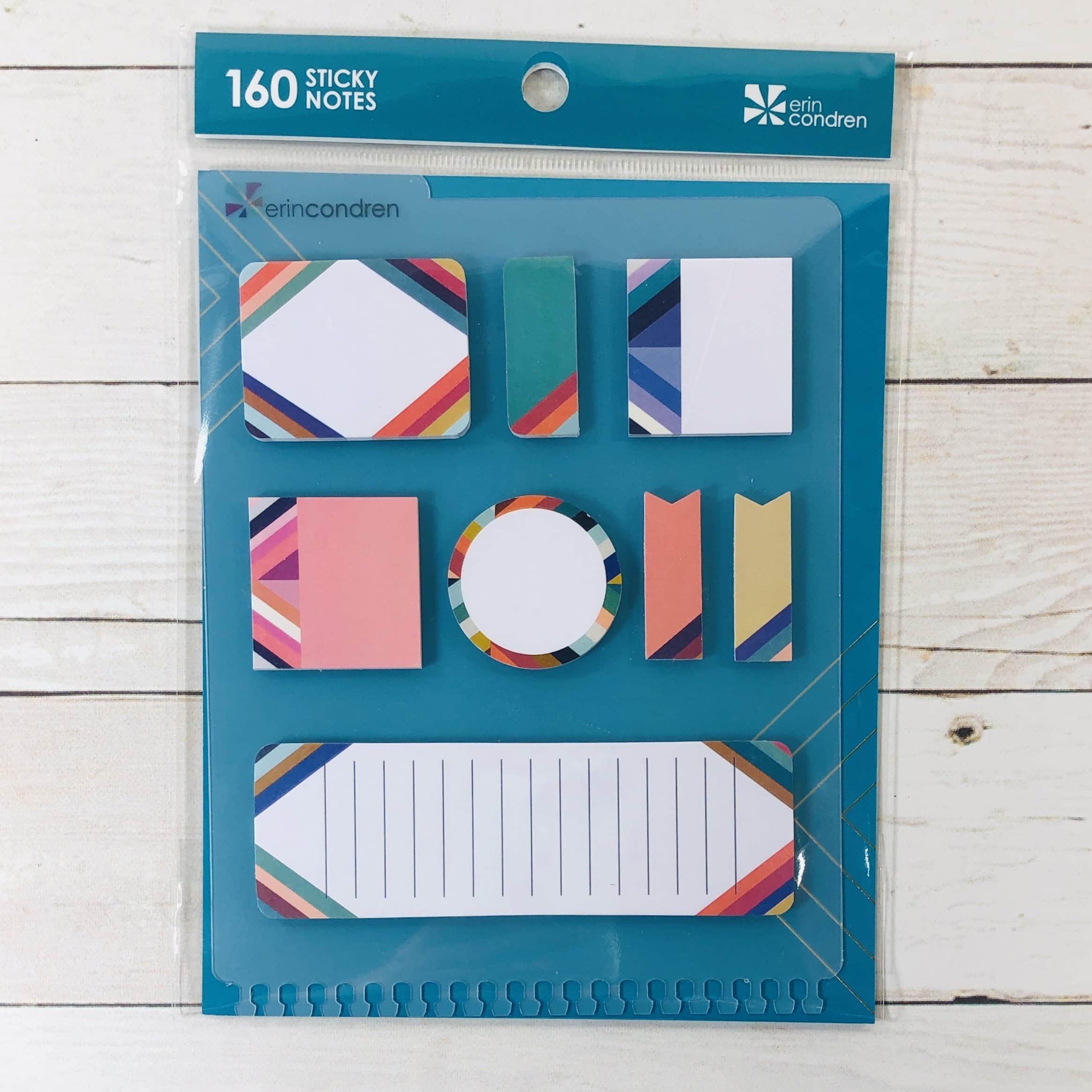 Erin Condren Oh So Retro Snap-In StylizedSticky™ Notes ($10.50) I also picked up an assortment of coordinating planner supplies!
Whether you're jotting down a reminder, marking a page or noting a deadline, stop & stick wherever, whenever. Snap these Oh So Retro StylizedSticky™ notes into your coiled planner, coiled notebook or binder planner and always have spur-of-the moment stickies handy for any situation.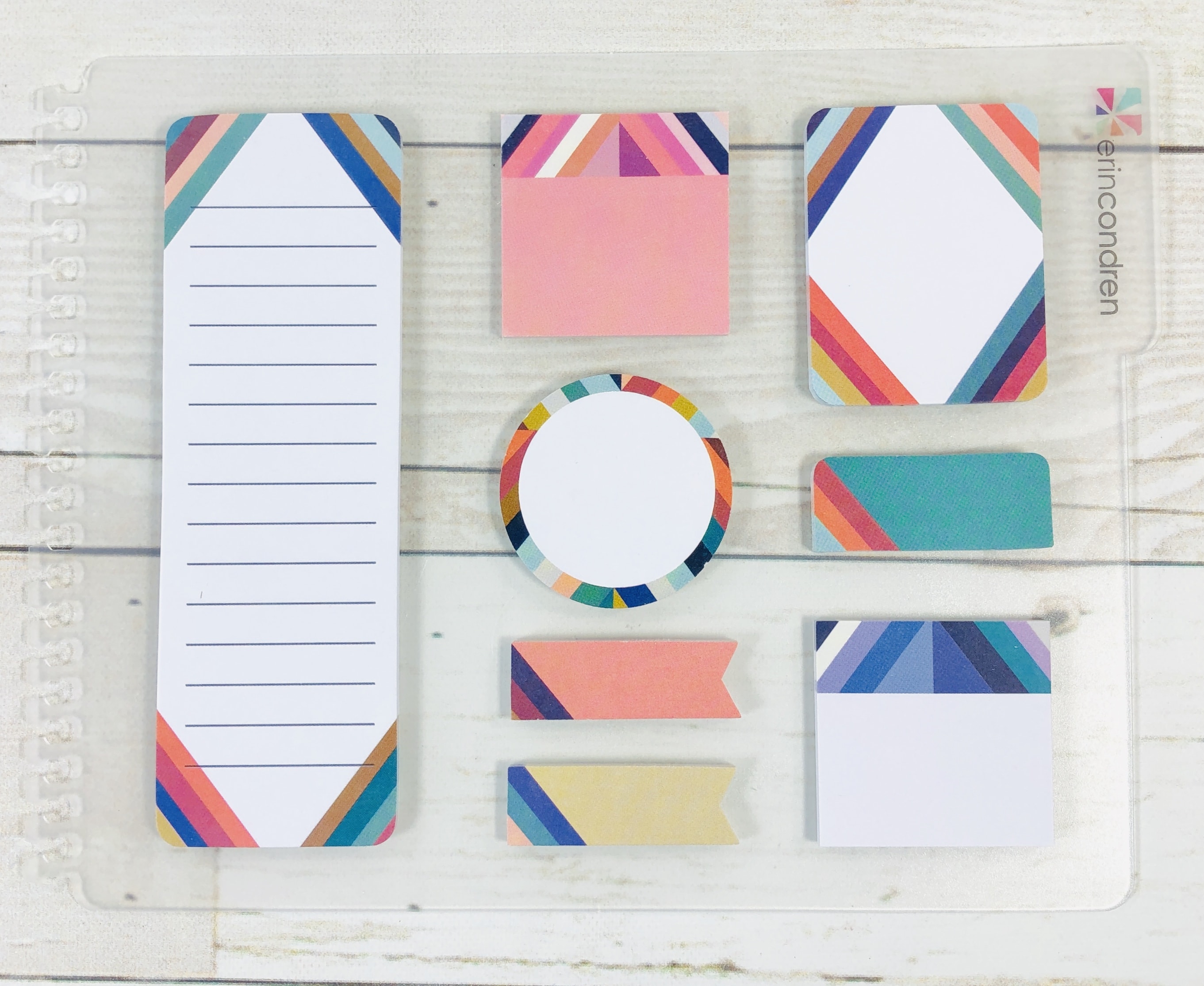 There are 8 pads and each pad has 20 sheets, for a total of 160 sticky notes. The pad can be placed in the coiled planner and is always there when you need it. The print matches my new binder cover too!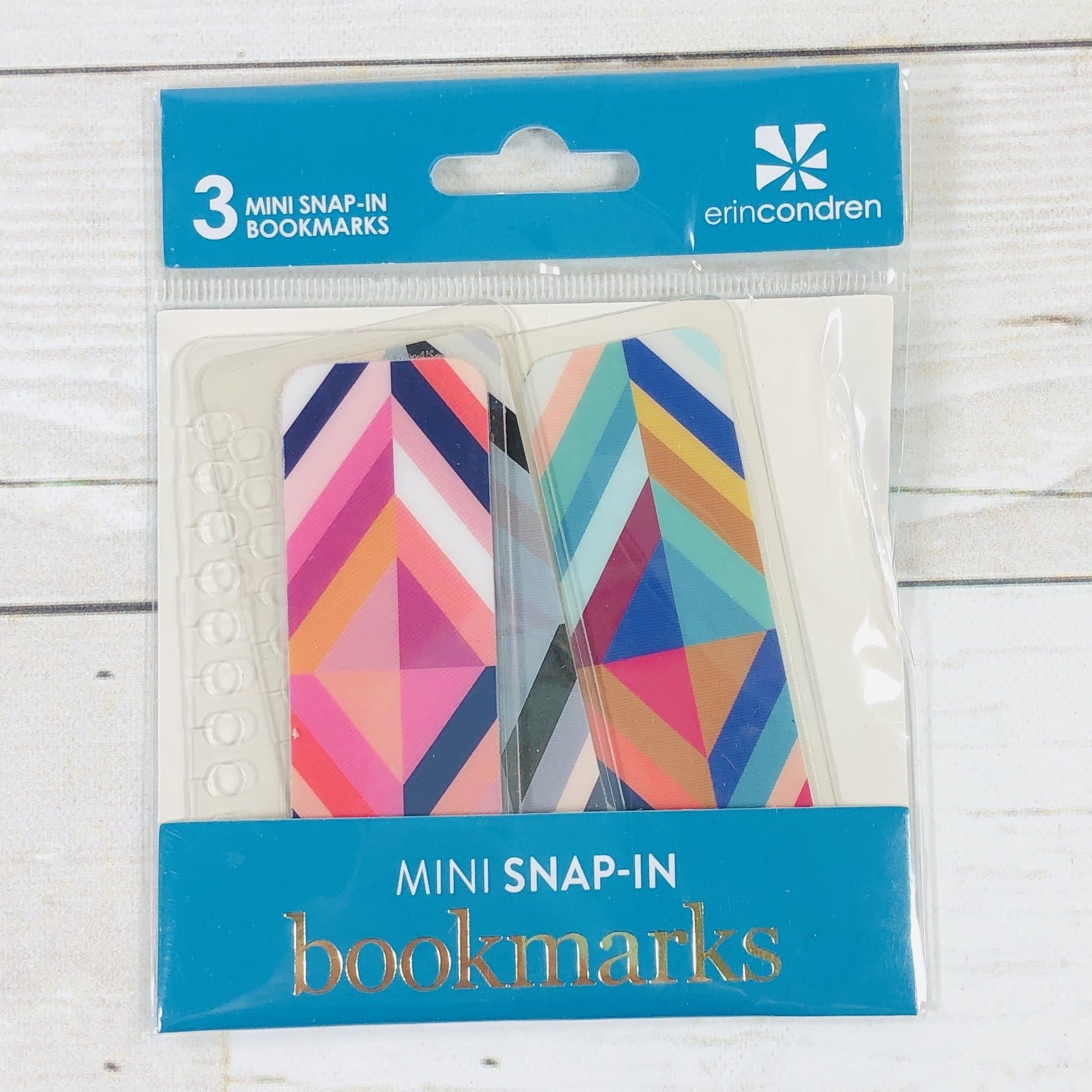 Erin Condren Oh So Retro Mini Snap-In Bookmark Trio ($4.50) come with three in a pack.
Take up minimal space but still save your place with this designer Oh So Retro miniature snap-in bookmark set of 3. Mix and match and mark your pages in style. Clip directly into your coiled planner, binder planner or coiled notebook for effortless organization.
Snap them into the coiled planner and they stick out a bit at the top so you can easily find your spot.
Erin Condren Too Cool For School Sticker Book, Edition 4 ($15.50) Stickers are one of the quickest and easiest ways to jazz up a planner!
Decorate, color code and enhance your school planner, notebook, calendar and more with this stunning collection of metallics, quotes, and classroom-inspired designs. This fun and functional sticker book includes 12 pages of stickers, 694 stickers total.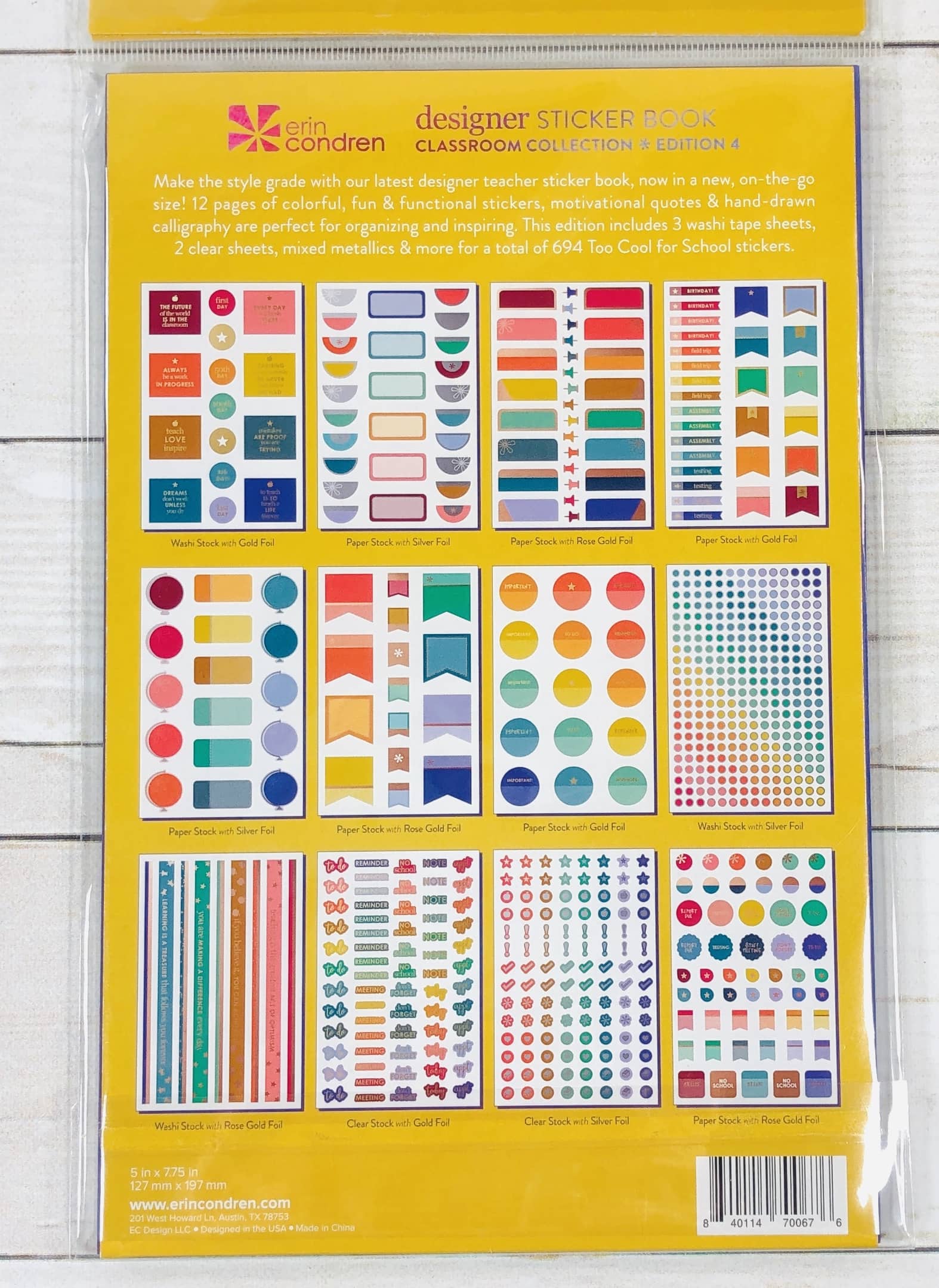 The back of the book shows all 12 pages of stickers.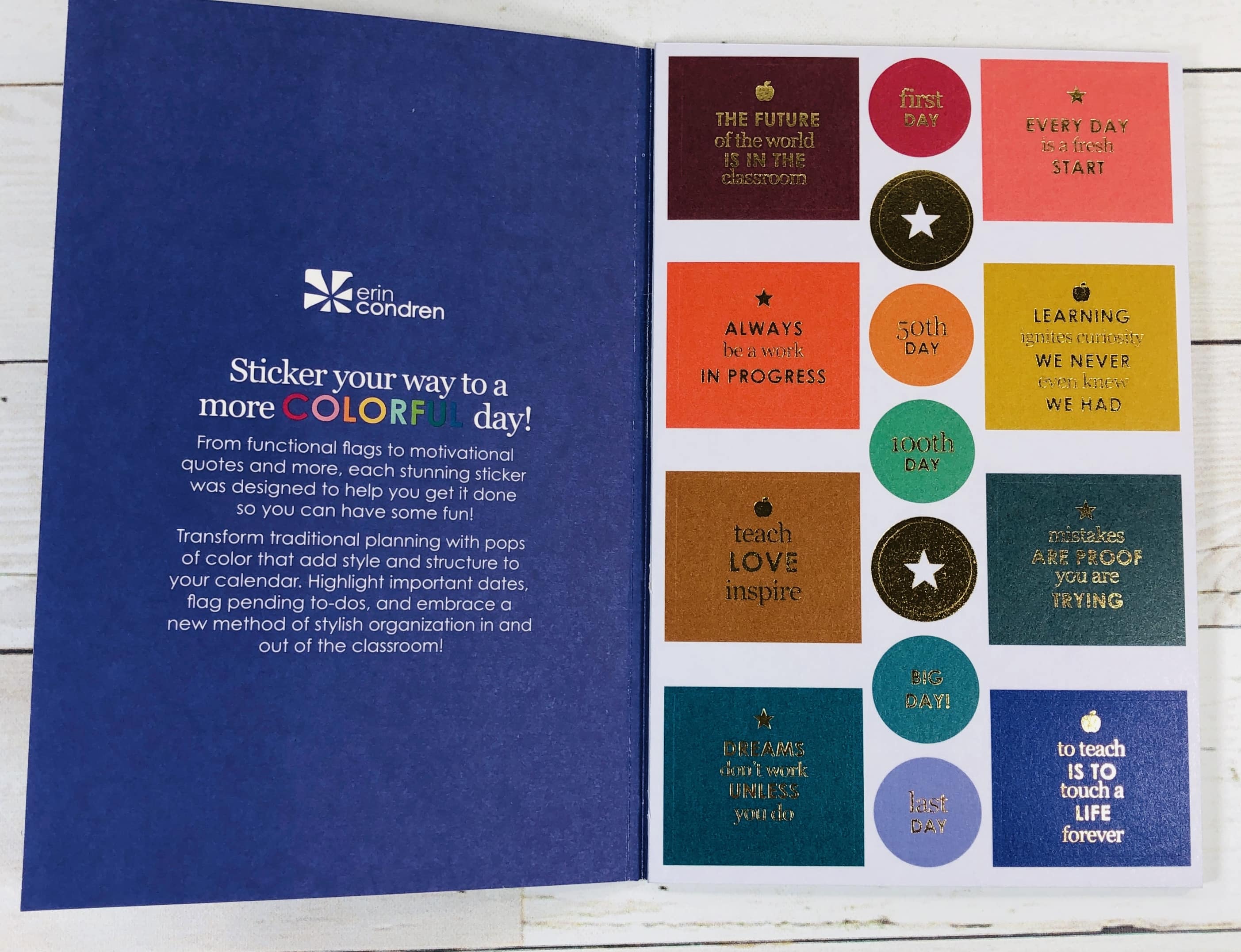 Some of the stickers are printed on washi paper.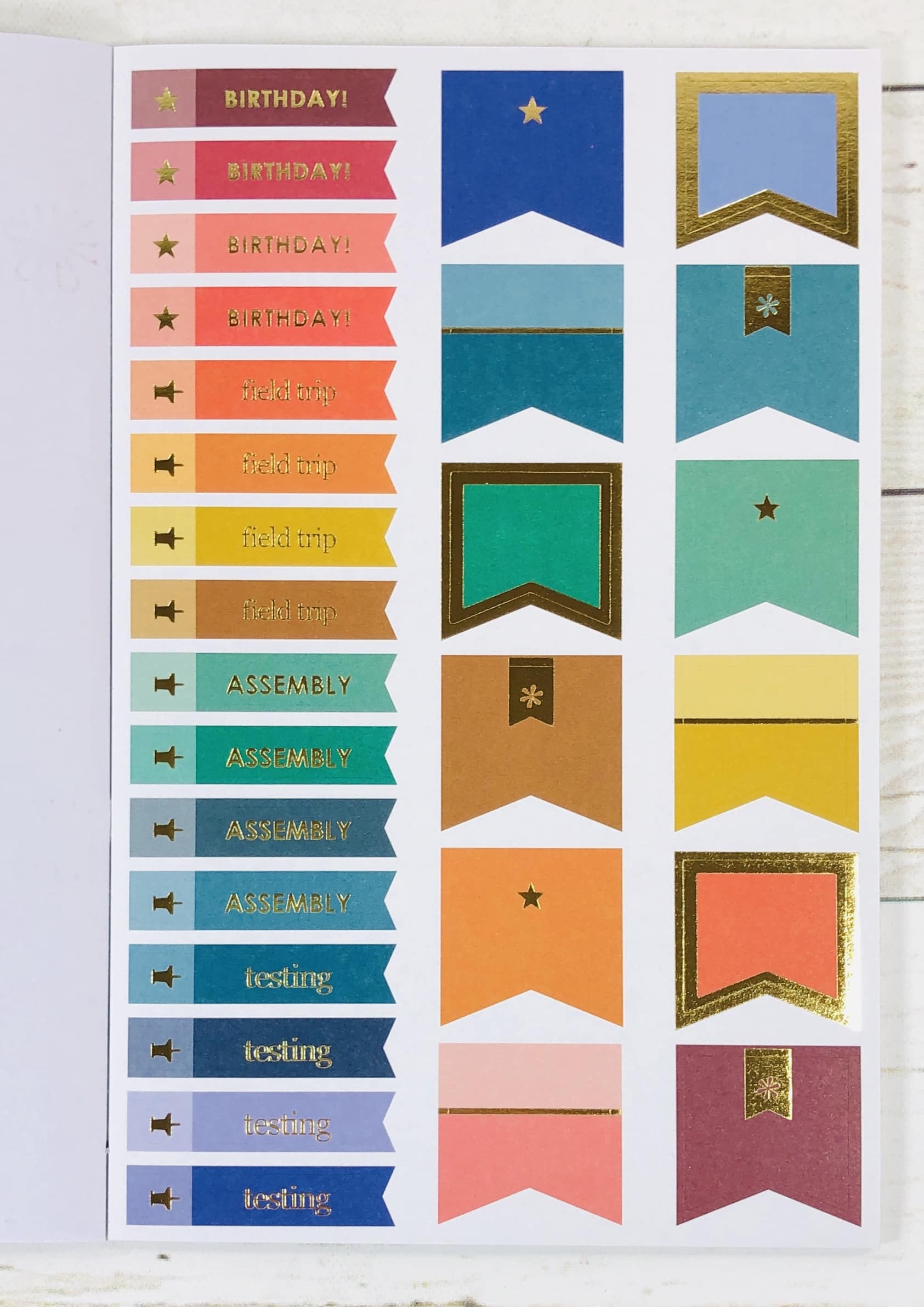 Others are on paper.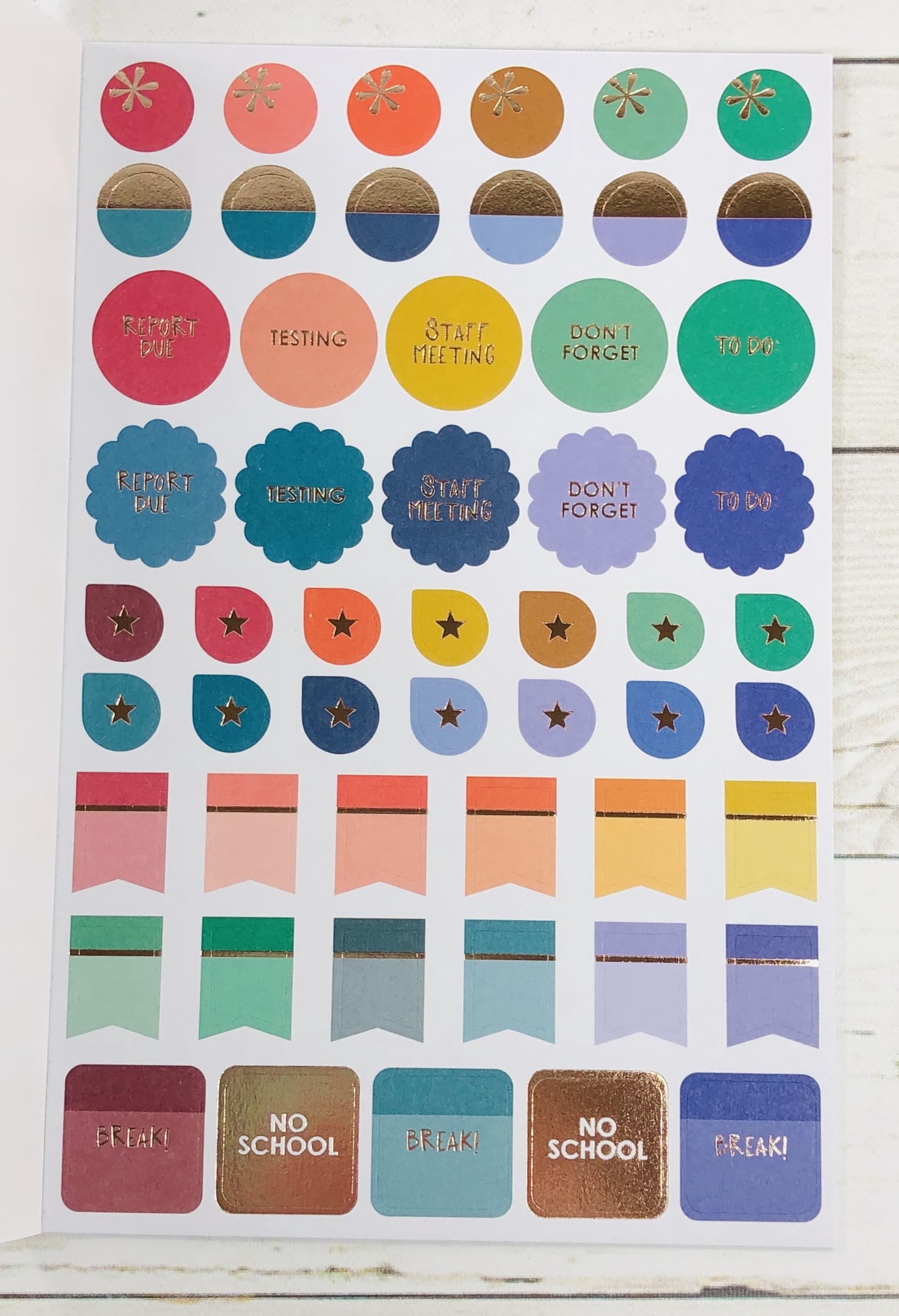 There are some plastic stickers too (not shown) and all stickers have either gold, silver, or rose gold metallic accents.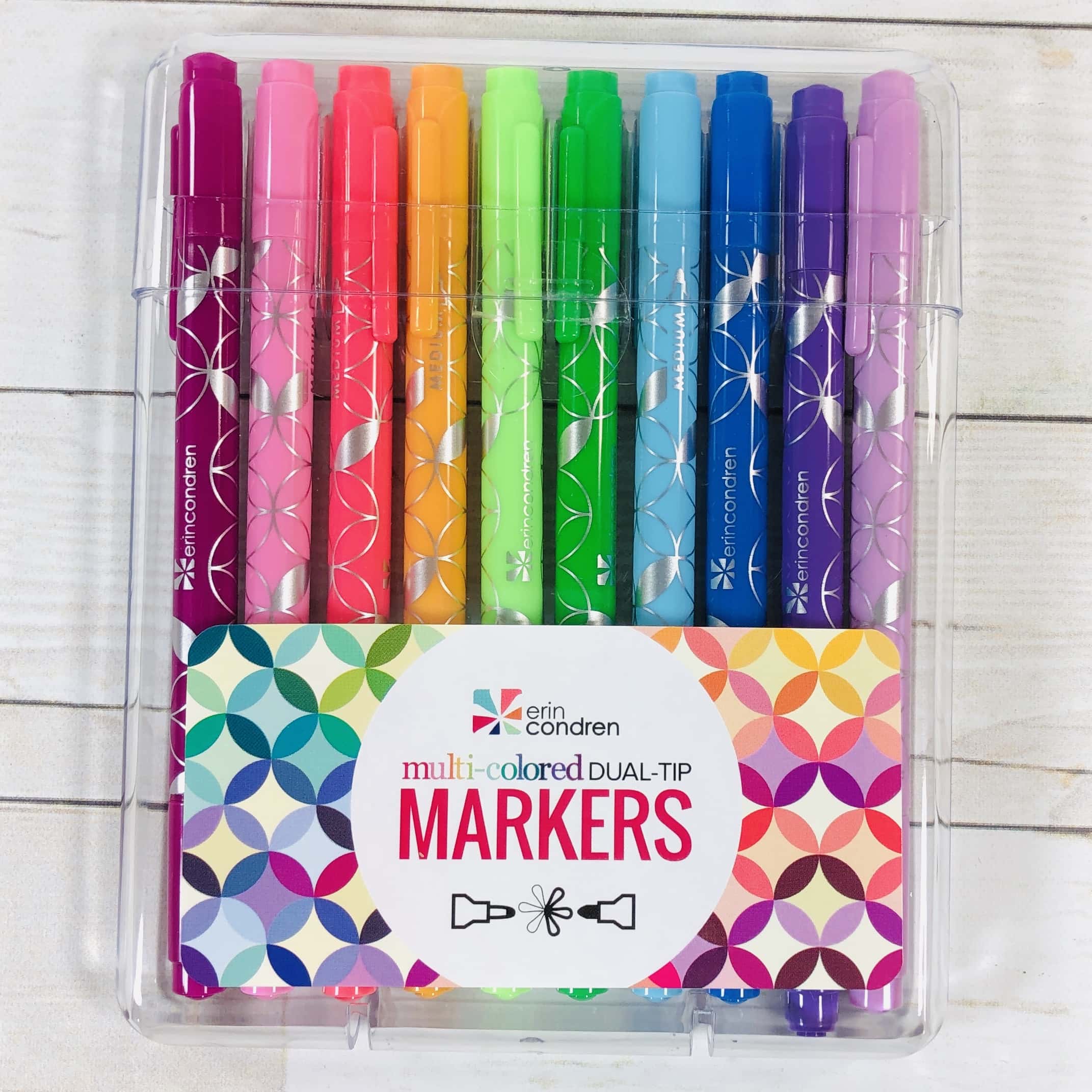 Erin Condren Multi-Colored Dual Tip Markers ($22.50) What else does Erin Condren get oh so right? Her markers, they are the best!
One is fun, but two is TWICE as nice! Dual-tip markers give you the flexibility of fine penmanship or larger lines, for artwork, sketches, and everything in between. This set of 10 colorful hues is perfect for packing to plan on the go!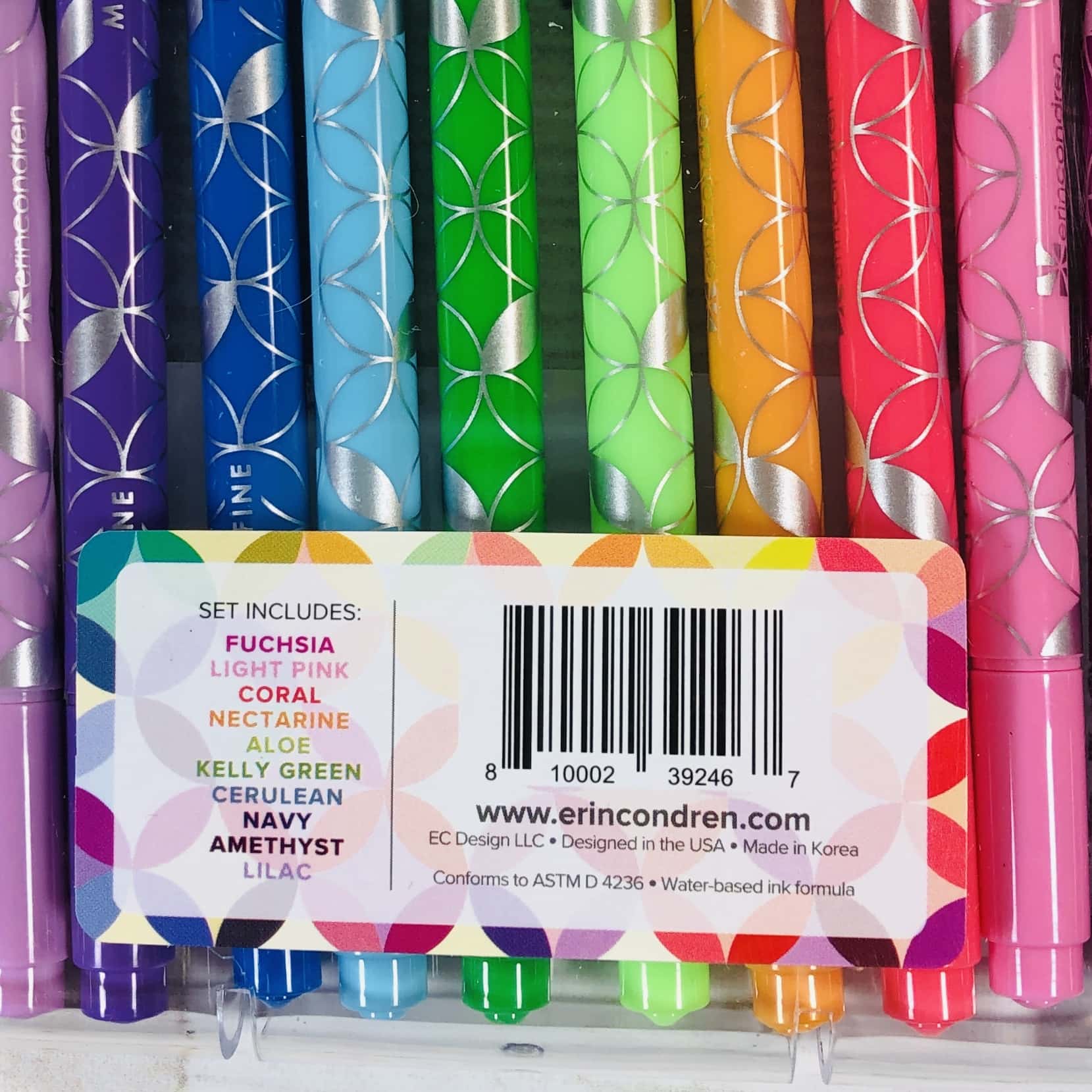 The shades are listed on the container and I received a rainbows worth of colors, and then some.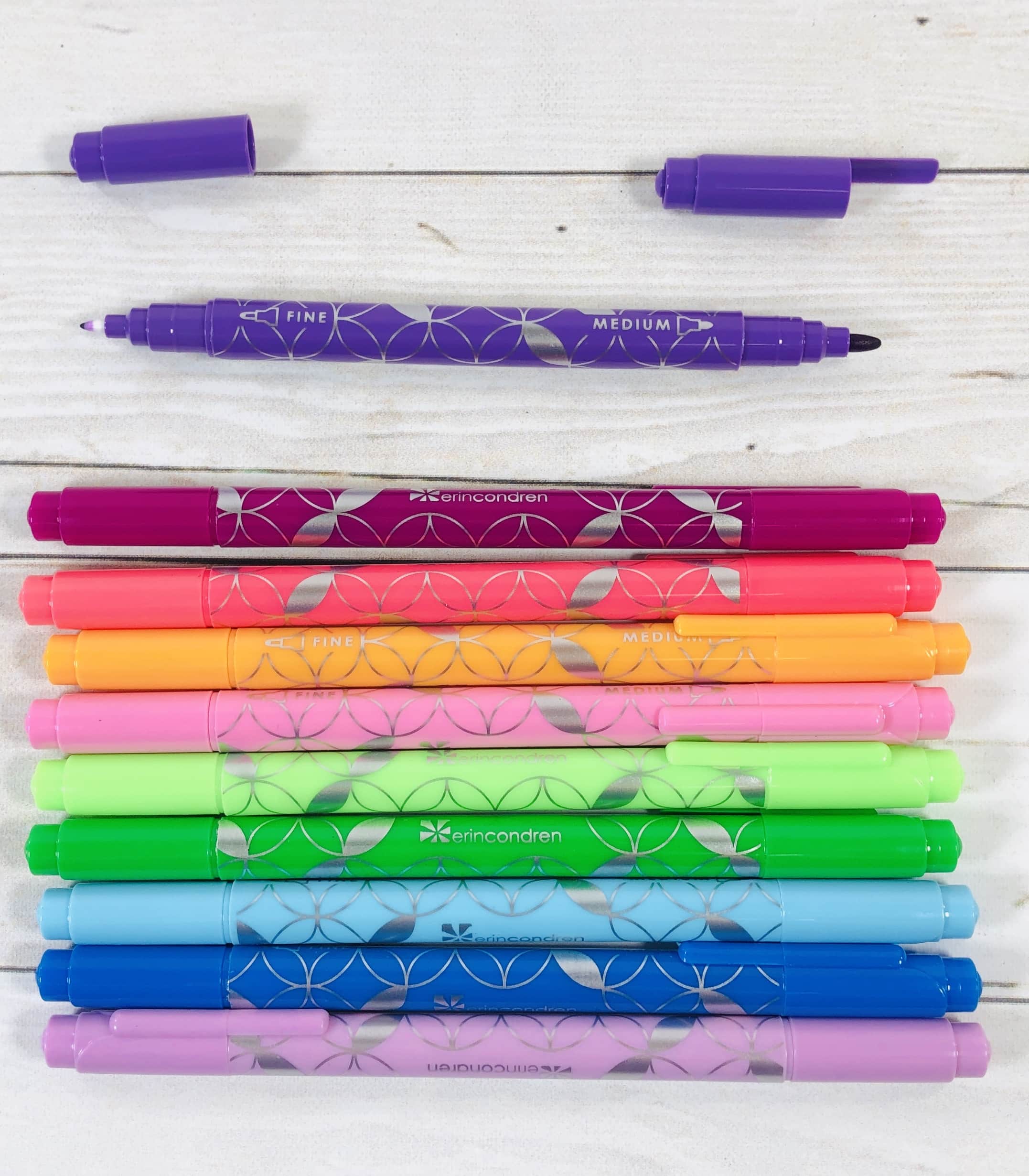 These are dual-sided and you can find fine point on one side, medium on the other.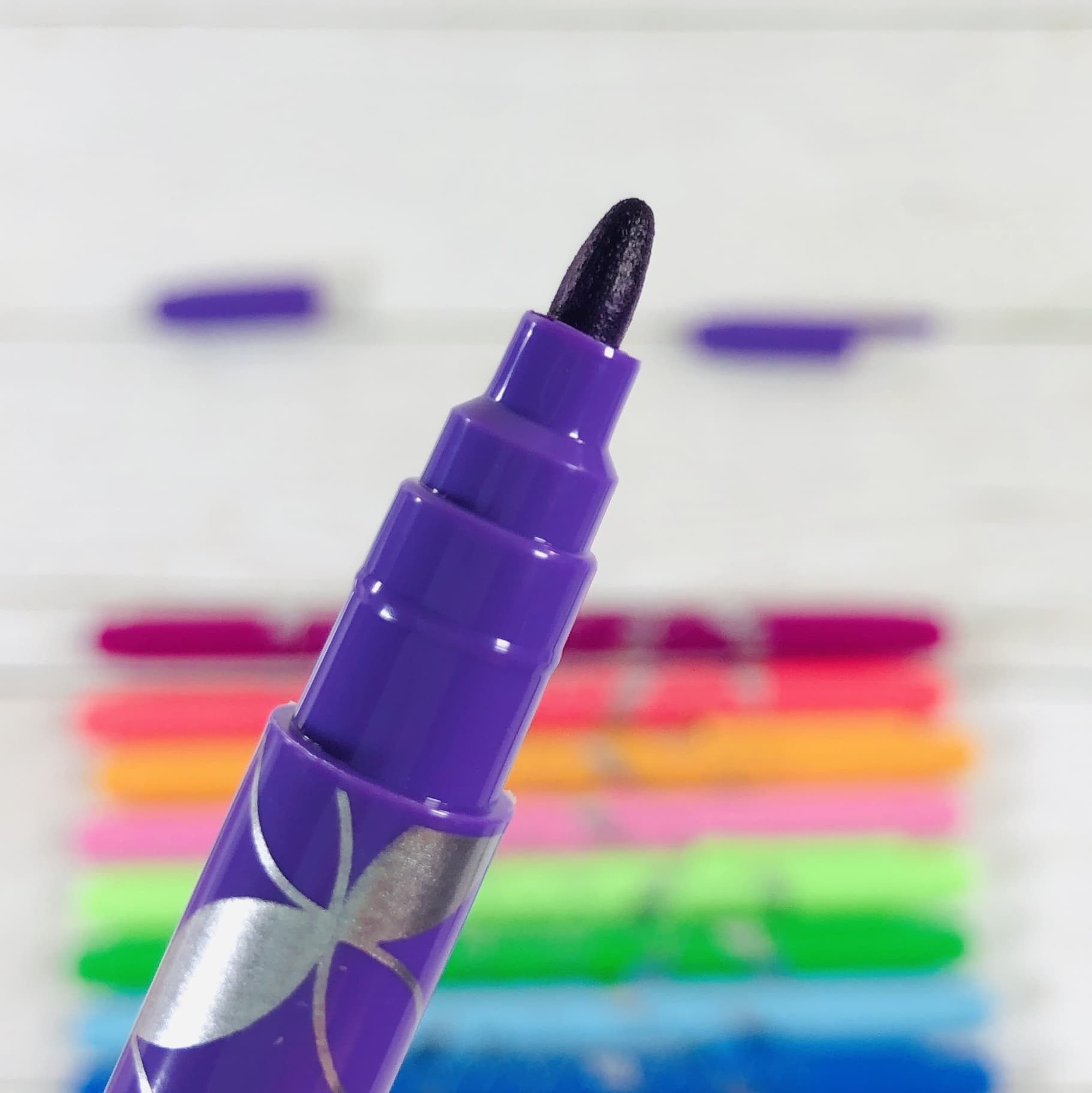 Here's the thicker medium point…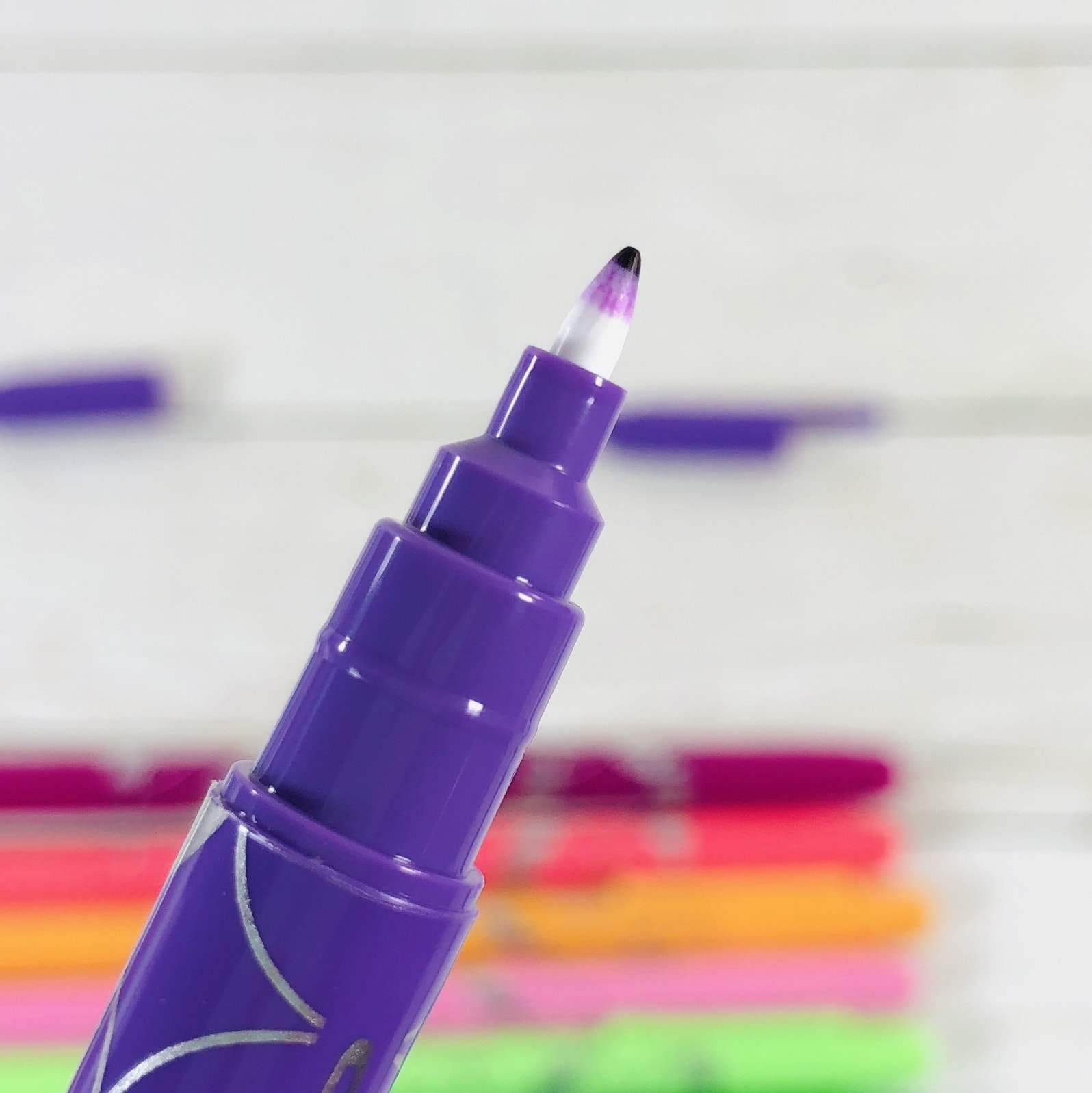 …and here's the finer side of things. These are wonderful and won't bleed through the planner pages. They are my #1 favorite planner accessory and I used them every single day.
I am so excited to get my new Erin Condren Teacher Planner up and running! The planner is excellent, there is plenty of room to write notes to help keep myself on track, and the accessories help me do it in style. It's size allows lots of room for writing in comfort, and it is easy to see what you need at a glance (especially if you color coordinate your notes and plans). I appreciate that there is some customization that can be done when ordering to make it an even better fit. There is a binder option available that allows even more flexibility. The stickers, sticky notes, and bookmarks match perfectly while the markers are superb. Whether you are looking for a teacher planner or any other type of planner or accessory, I would wholeheartedly recommend Erin Condren products!
What did you think of the new Erin Condren Planner? Let me know your thoughts!