Crunchy Mama Box is a monthly subscription box for those who prefer natural and eco-friendly products that are for mind, body, and soul. Each month you will receive items that relate to beauty, self-care, support, sustainability, education, reusability, and wellness. Boxes will contain 5-8 full sized and high quality products curated by a certified holistic health and wellness coach. Crunchy Mama Box is $29.99 a month and shipping is free to the U.S.
Crunchy Mama Box is much more than a subscription box company; we are a community of Mamas that are on a mission to spread love, support, and encouragement. We support women-owned, small, and eco-friendly businesses that make clean, healthy products and that are motivated by a cause. We are also passionate about giving back, which is why we donate a portion of each box to a different Cause Partner each month.
My items were wrapped in tissue paper and sealed with a sticker.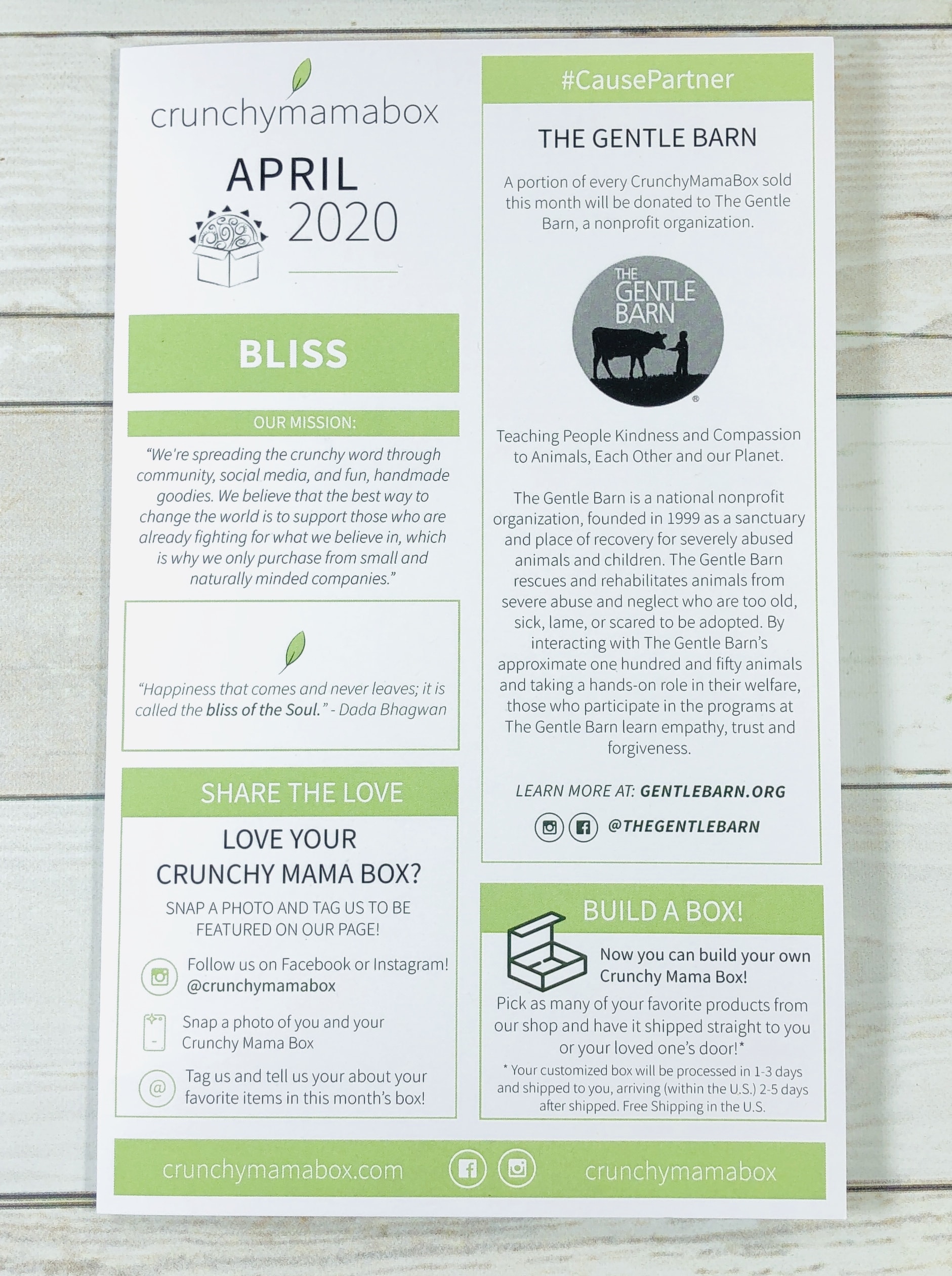 I found a brochure in the box with info on the Cause Partner for April, which is The Gentle Barn. Proceeds from the sale of this box will go to that  charity. The theme for April was Bliss. According to this brochure, you can now build your own Crunchy Mama box!
The inside of the brochure had info on each product and in most cases a website so you can grab more when you run out!
The back of the brochure listed the rest of the items and described the stone of the month. It also talked about how you can use the stone while meditating.
I found a cute little note card on top. This month we celebrate Earth Day, so the card was especially cute and reminds me to do my part to help our planet.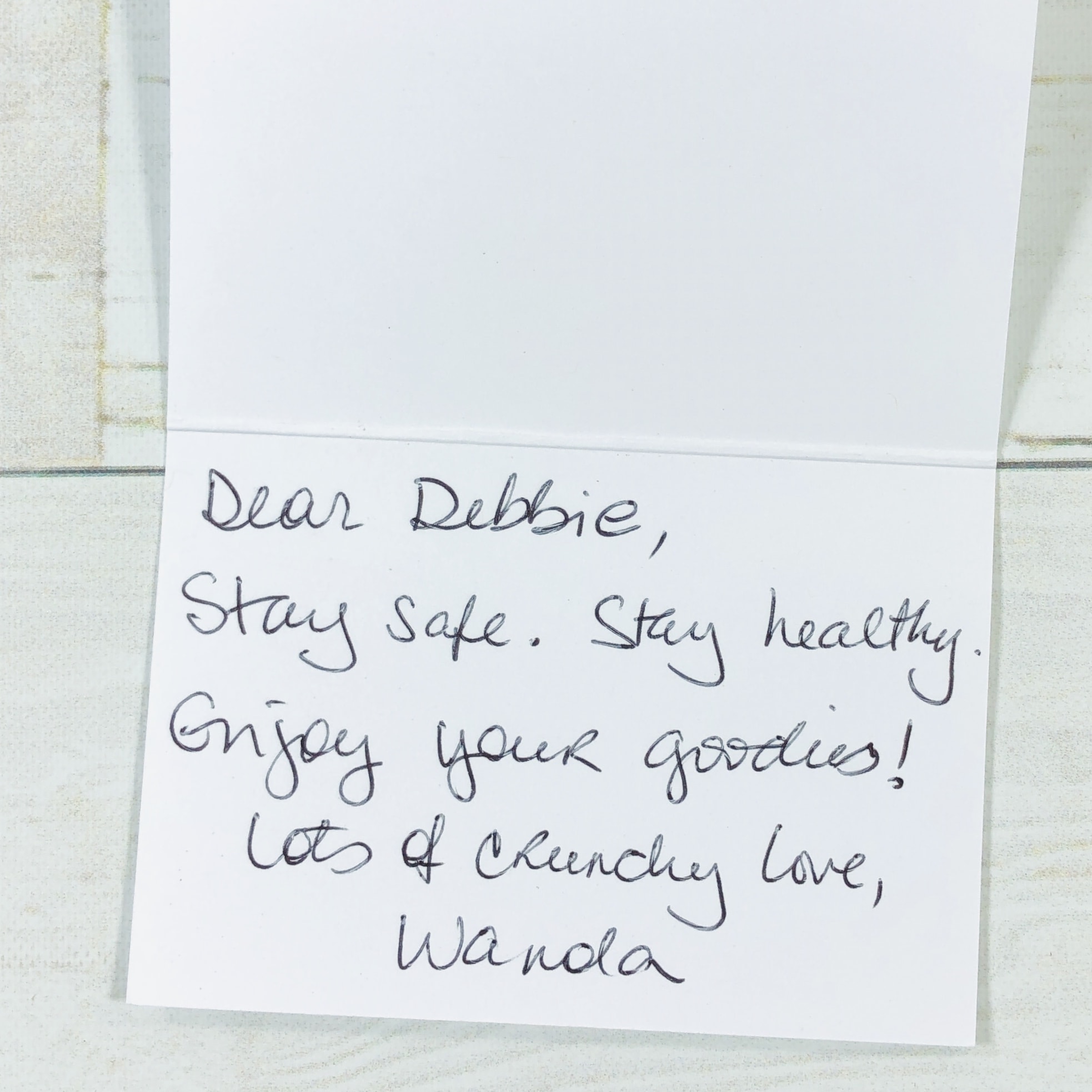 I love a hand written note!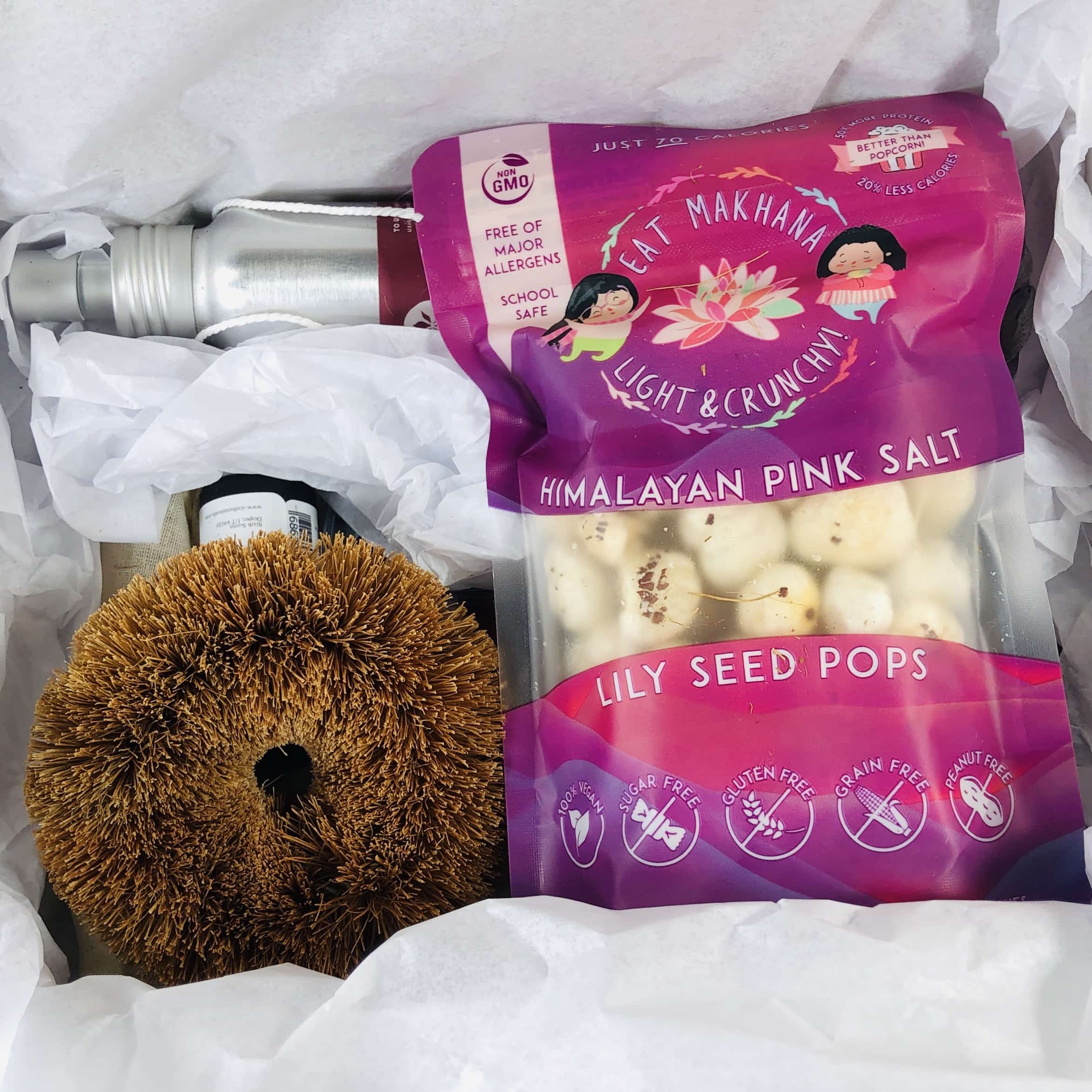 Some of my items were wrapped in tissue paper, which prolonged the "surprise" element as I opened the box.
Everything in my box!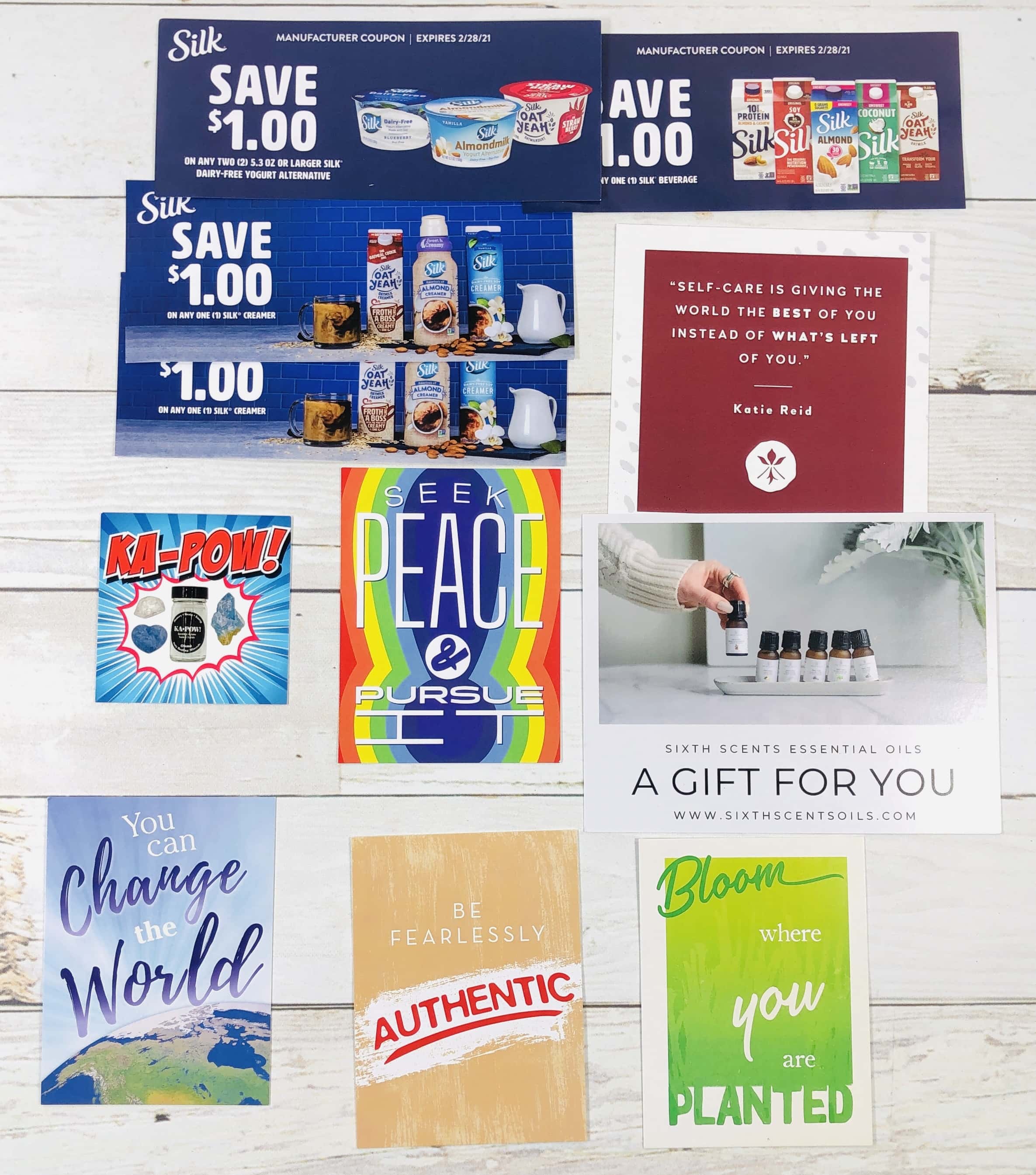 I received a few coupons and offers from brands featured in this and previous boxes.
Eat Makhana Light & Crunchy! Himalayan Pink Salt Lily Seed Pops are popped water lily seeds and are free of some of the major food allergens out there, like peanuts, grains, and gluten. They are also vegan.
This is my second time trying popped water lily seeds and they are pretty good, although my family doesn't agree. They remind me of popcorn or Pirates Booty but with an extra "earthy" flavor. These are lightly salted and tasty!
Root Journey Nourish & Clarify Facial Cleanser ($23) I usually do a double cleanse and so I used this cleanser as a makeup removing first step in my nighttime routine.
I placed a few squirts in my hands and then rubbed the grey, milky, non-foaming product all over my face. I added some warm water and massaged it in before rinsing off. It worked really well!
Aloe, olive oil, and jojoba oil are a few of the ingredients in here and the scent had hints of mint. I wasn't too happy to see alcohol as the second ingredient, since I have dry skin, although it is meant for all skin types. I didn't use it on my eyes, just my face.
EcoCoconut Cocodonut Scourer ($3.50, buy a two-pack for $6.99) I have never seen anything like this! It's a scouring brush made out of the outer "hair" of a coconut!
It can be used to clean skillets, sinks, the bathroom, wherever you need a scrubber and it's naturally anti-bacterial. I couldn't decide if I was going to use this in my kitchen or bathroom, but then I had a hard time cleaning my slow cooker insert and thought I would give this a try. It worked amazingly well! The cooked on sauce that refused to budge after an overnight soaking came off with just a little elbow grease. I'm sold!
Sixth Scents Tangerine Essential Oil ($12) I was super excited when I saw that an oil from Sixth Scents was coming – they even have their own subscription box! I don't think I have tangerine yet so this was needed to expand my collection.
There were a few suggested uses mentioned in the newsletter, such as a spray with distilled water. I love to diffuse oils (be careful though if you have pets) and you can Google other ways to use the oil.
This is 100% tangerine oil from the rind of the fruit.
Ohm KA-POW! + Herkimer Diamond Topical Mineral Remedy is made with ground crystals and minerals and that is it.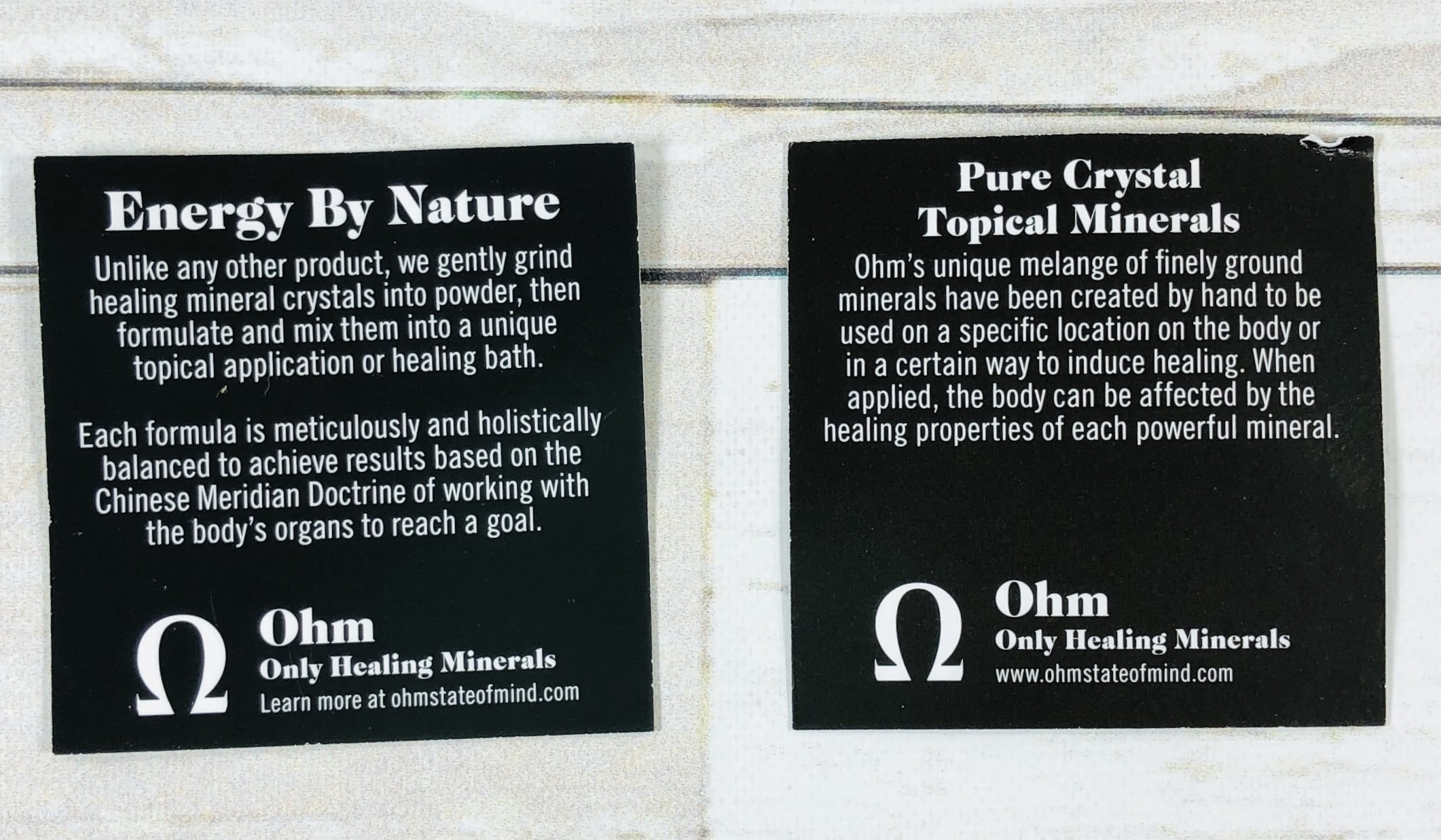 According to the Ohm website, use it "if you need brain energy, focus, a memory boost, sharpness, and creativity … it is absolutely KA-POW!-erful". You are supposed to place a dab of this (use your finger) to the forehead between the eyebrows and expect an energy boost.
It's a tiny sample bottle and there is supposed to be a hematite bead in there to help keep the crystals charged.
What do you think? I don't believe in the magical power of crystals, but I do believe in the power of positive thinking.
Our Momtra Card of the month seems like a good one for this time. The words "I am safe, I am home" really speak to me because home is about the only place I can be during this time and I'm trying to make the most of it.
Anxiety is also rampant these days so a daily reminder to take some deep, cleansing breaths to keep it at bay is especially helpful.
Stone Of The Month: Red Jasper (Find similar item here for $2.74) The stone of the month is associated with empowerment plus spiritual grounding.
The stone is smooth and has a nice flat side that makes it a good "worry" stone. You can hold it while meditating; see the suggested use for this on the back of the included info sheet.
Toe Talk Namaste Yoga Socks ($12.97) came in a net bag, which is reusable. The socks are meant to be worn while meditating.
They are made of 80% cotton and 20% polyamide. They should be washed with cold water and machine dried inside out. They say "namaste" and feature the om symbol encircled by a person sitting in a meditative posture. The socks are black with a grey and teal design. The inside rim of the cuff is also teal for an eye-pleasing pop of color.
The bottom of the socks have grey non-slip grips. I showed the bottom with one heel down so you can see the Toe Talk emblem on the back. The socks are meant for women's shoe sizes 6-10.
Crunchy Mama is one of my favorite new boxes and the April box was full of items that I can use right now, and some of them will be around for longer than a month! The snack is long gone and the jasper has been added to my crystal collection. The cleanser worked well and the ground crystals were interesting. The coconut scrubber worked extremely well and I am so excited to add the tangerine oil to my essential oil stash. The socks are so cute too! The only thing in this box that relates to motherhood is the Momtra card, so if you are looking for an earth-friendly lifestyle subscription box then I would recommend Crunchy Mama to all!
What do you think of this month's box?