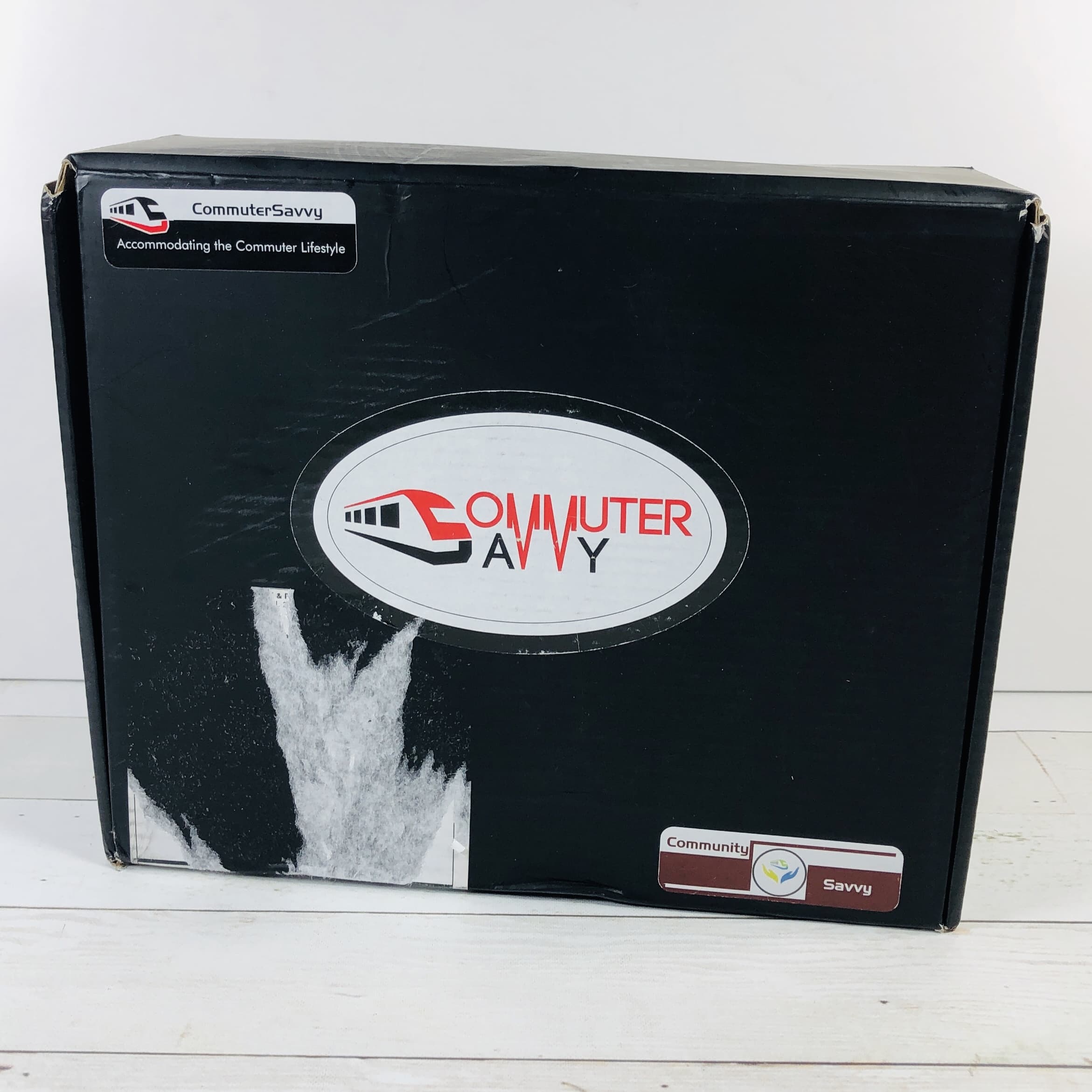 Commuter Savvy is a monthly subscription box that sends some of the most common items that we sometimes wish we had during the work day. If you rely on commuter rail, subway, bus, bicycle, automobile, or foot, then Commuter Savvy wants to make sure you have the essential items you need when you're away from home. You can configure your box to your needs – get a one-time box, monthly, every other month, or even double quantities. Prices vary depending on which extras you choose. You can order the Basic ($29.99 for everything shown in this review); SnackPack Xpress ($15 for the snacks and drink mixes only); Health & Hygiene Pack ($15 for the health and first aid items only); or Elite ($39.99 for one hygiene kit plus double the snacks and drink mixes).
Time is the one asset that we all have that can not be replenished. Once it's gone, that's it, it's gone. That is why so many of us use our commuting time to do other things in preparation for the day. So why waste time piecing together all the things that you need in order for your commute to be a less stressful endeavor? No worries, we at CommuterSavvy have you covered. We evaluate and reassess the items delivered to you monthly to ensure they provide the most benefit for your busy commuting lifestyle.
DEAL: Get 20% off your first box! Use coupon code HELLO2SAVVY.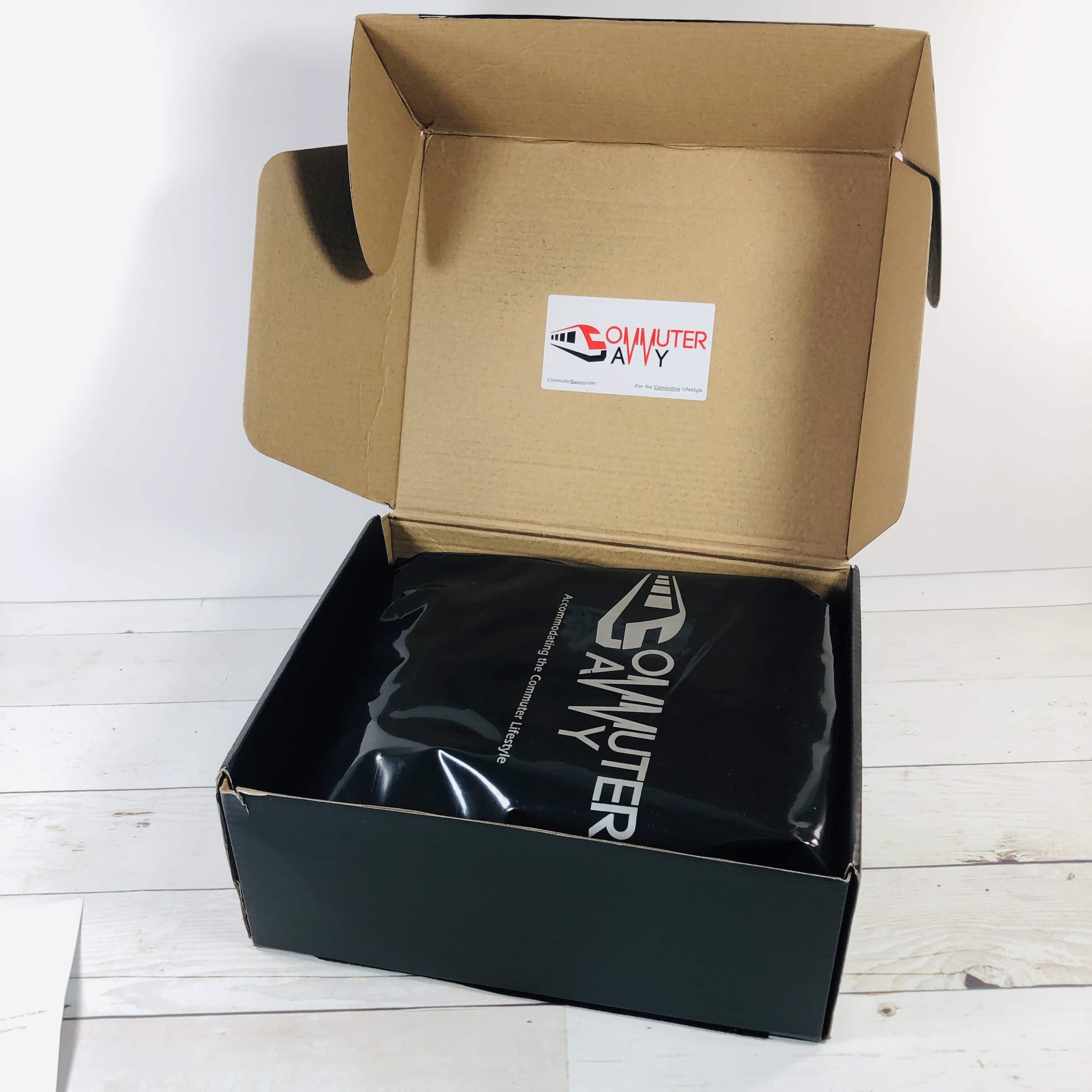 My box arrived with everything packed into a plastic carrying bag to make it easy to tote to work.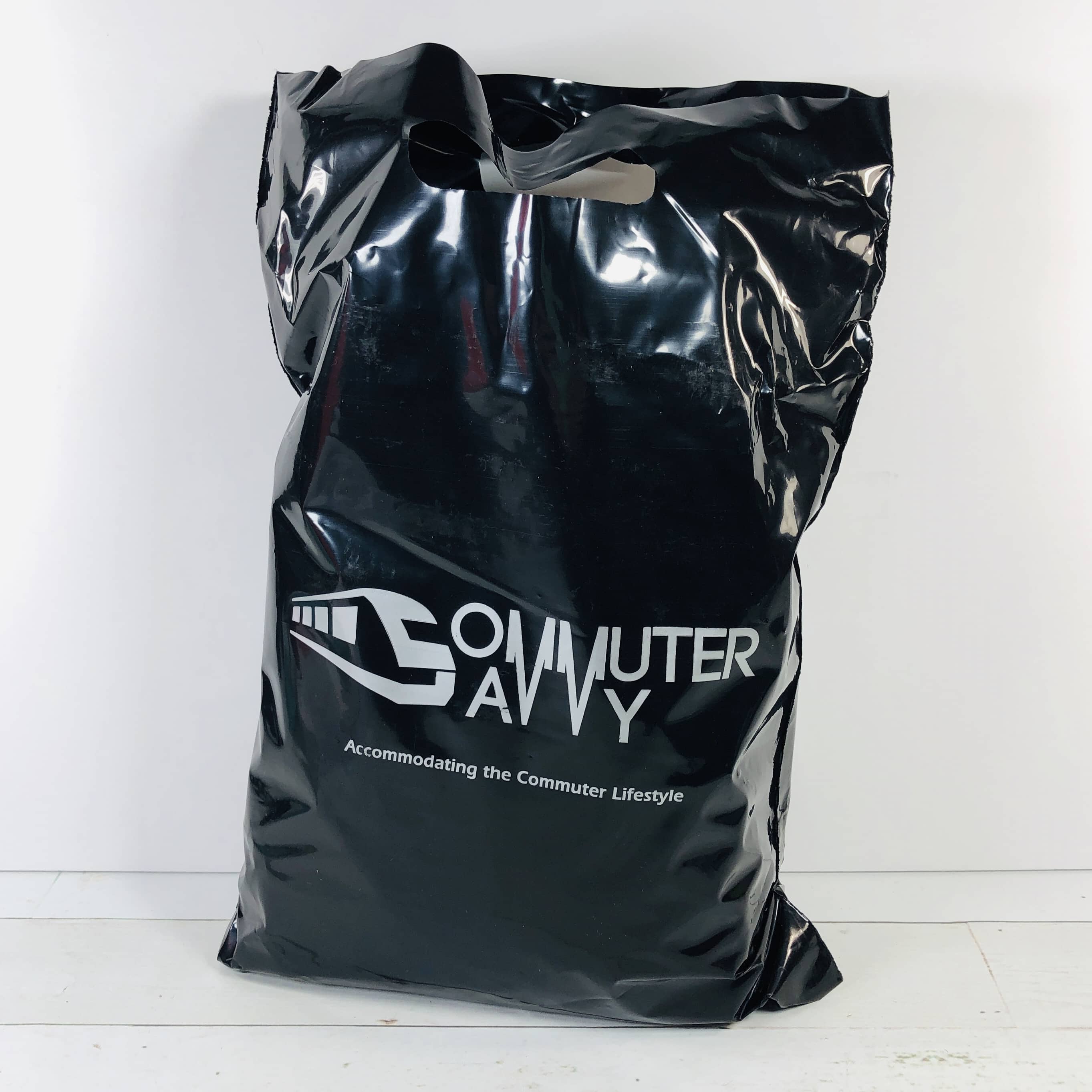 It all fits!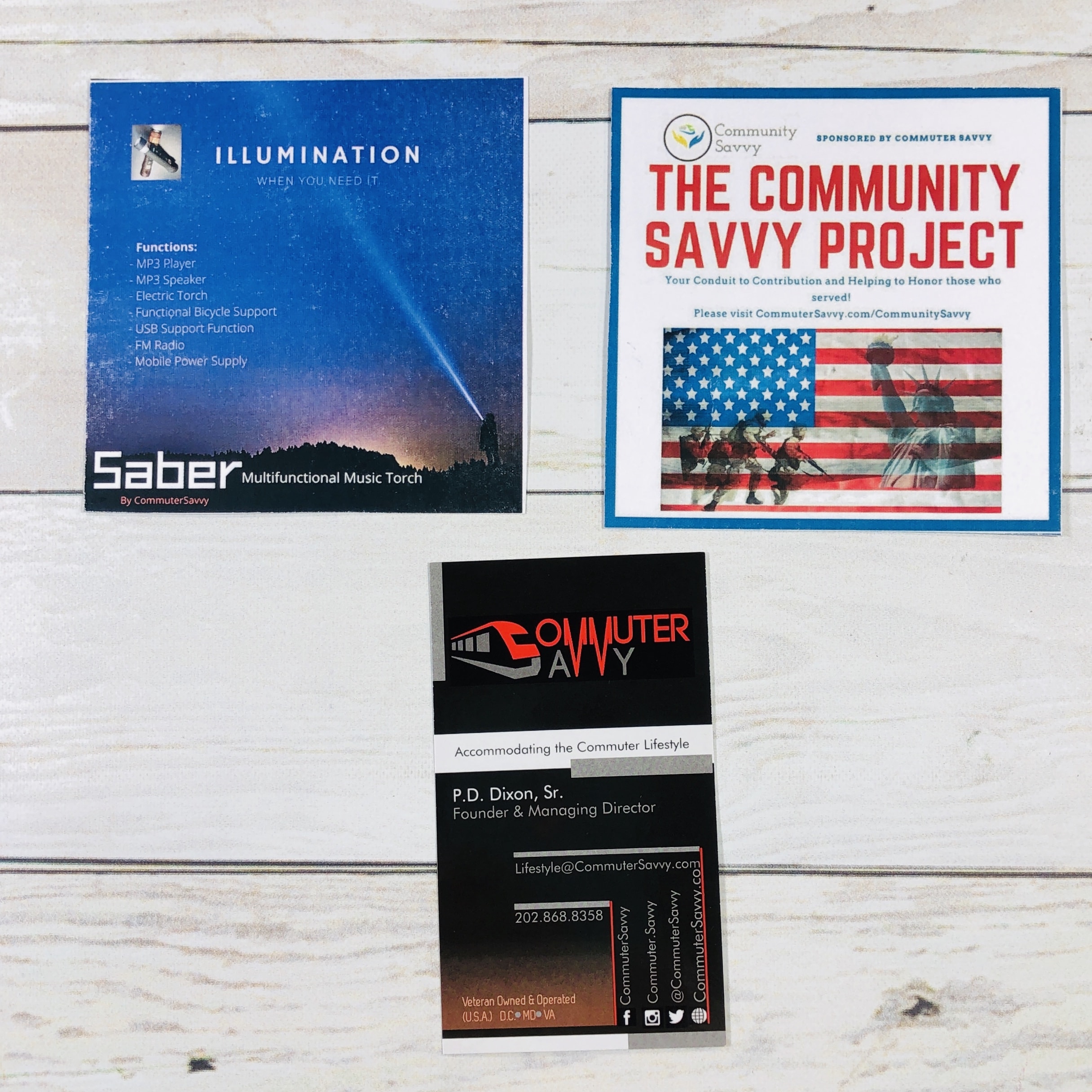 There were a couple of info papers in the box.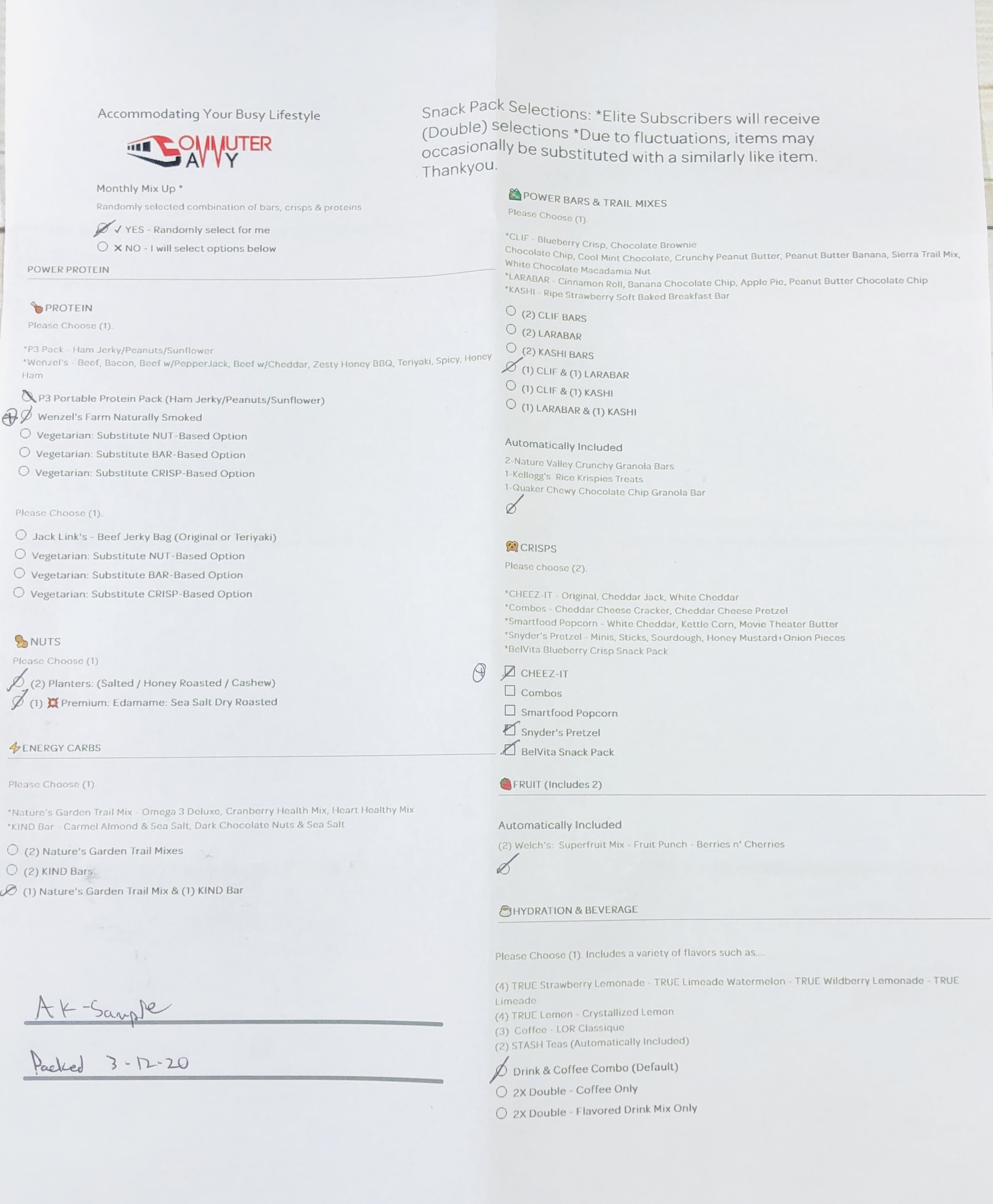 When you sign up you get to pick some of your items or let Commuter Savvy choose for you. You can even select a vegetarian option. Substitutions may be made depending on inventory.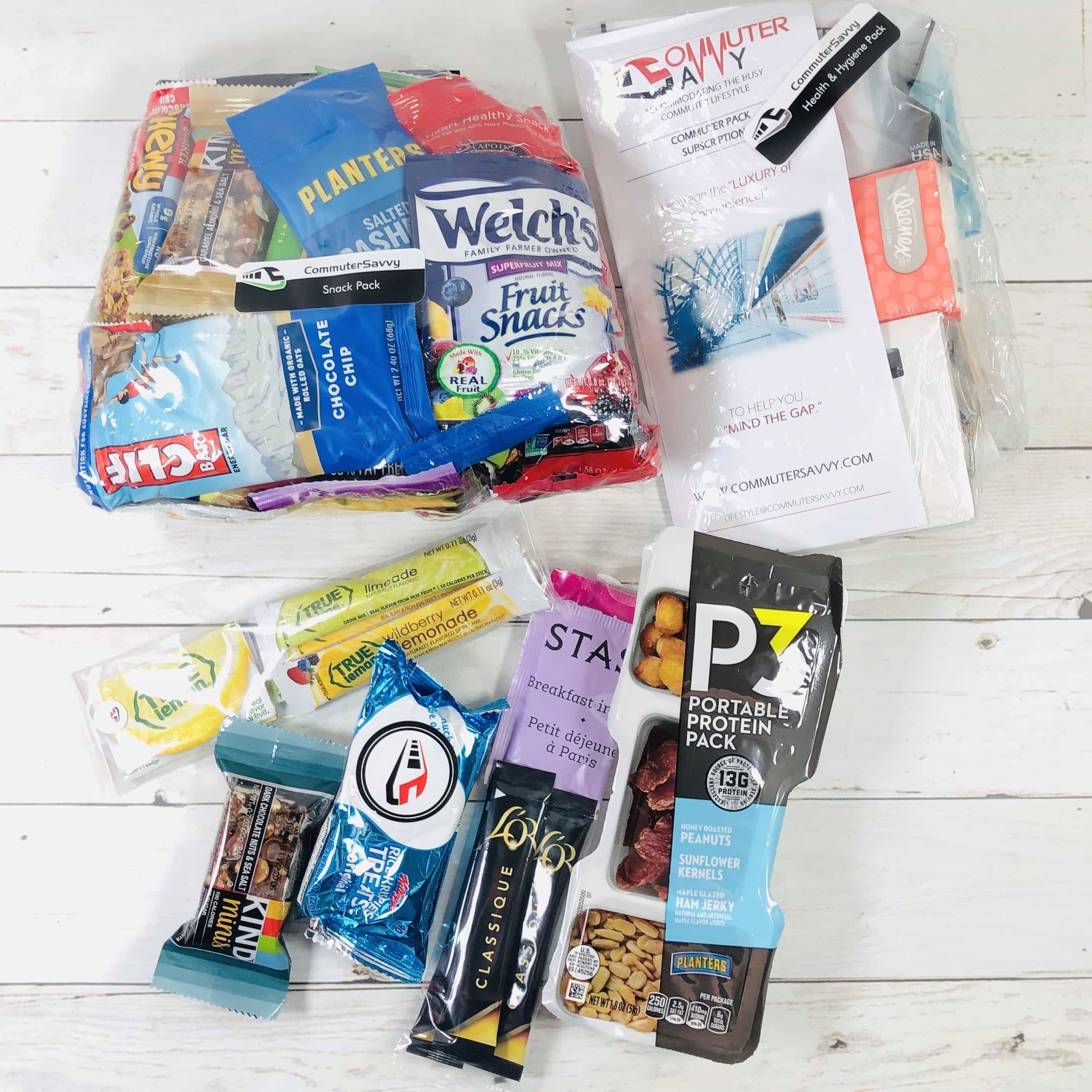 I received a Snack Pack and a Health & Hygiene Pack. The Hydration & Beverage packets were packed separately and some of the items were loose in the bag.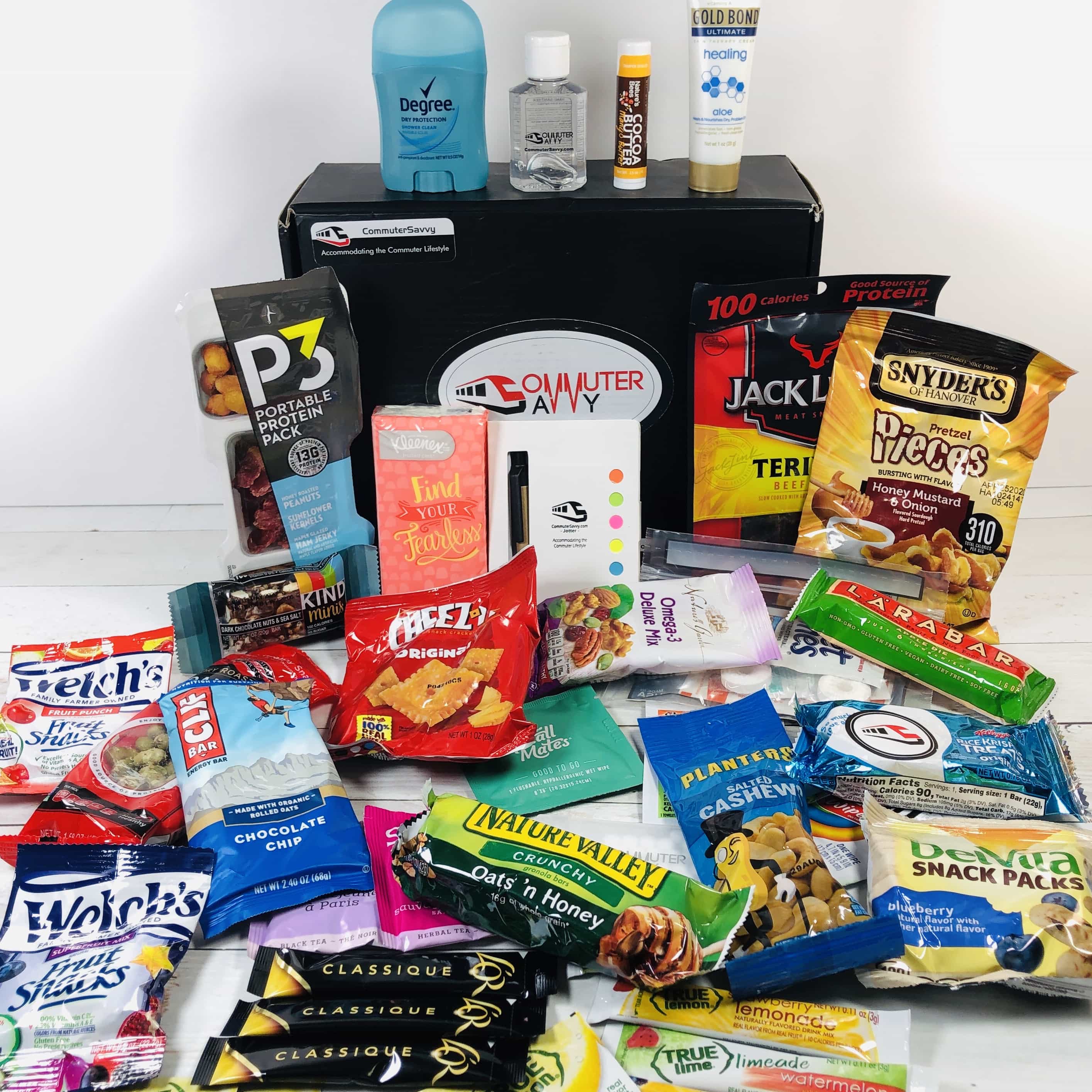 Everything in my box! This is a review of the Basic Box!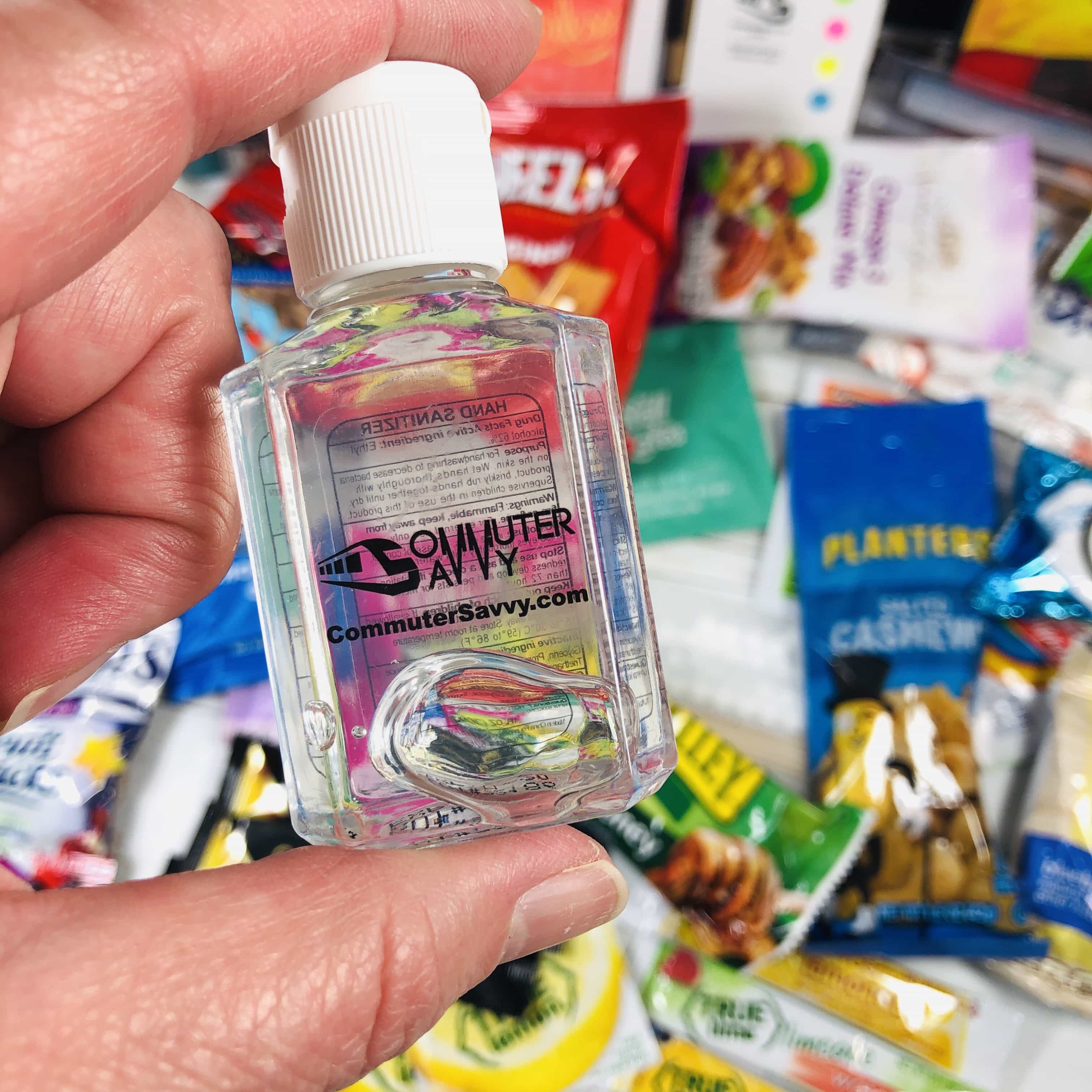 I just want to say how very happy I was to see this bottle in my box. It's the little things that count!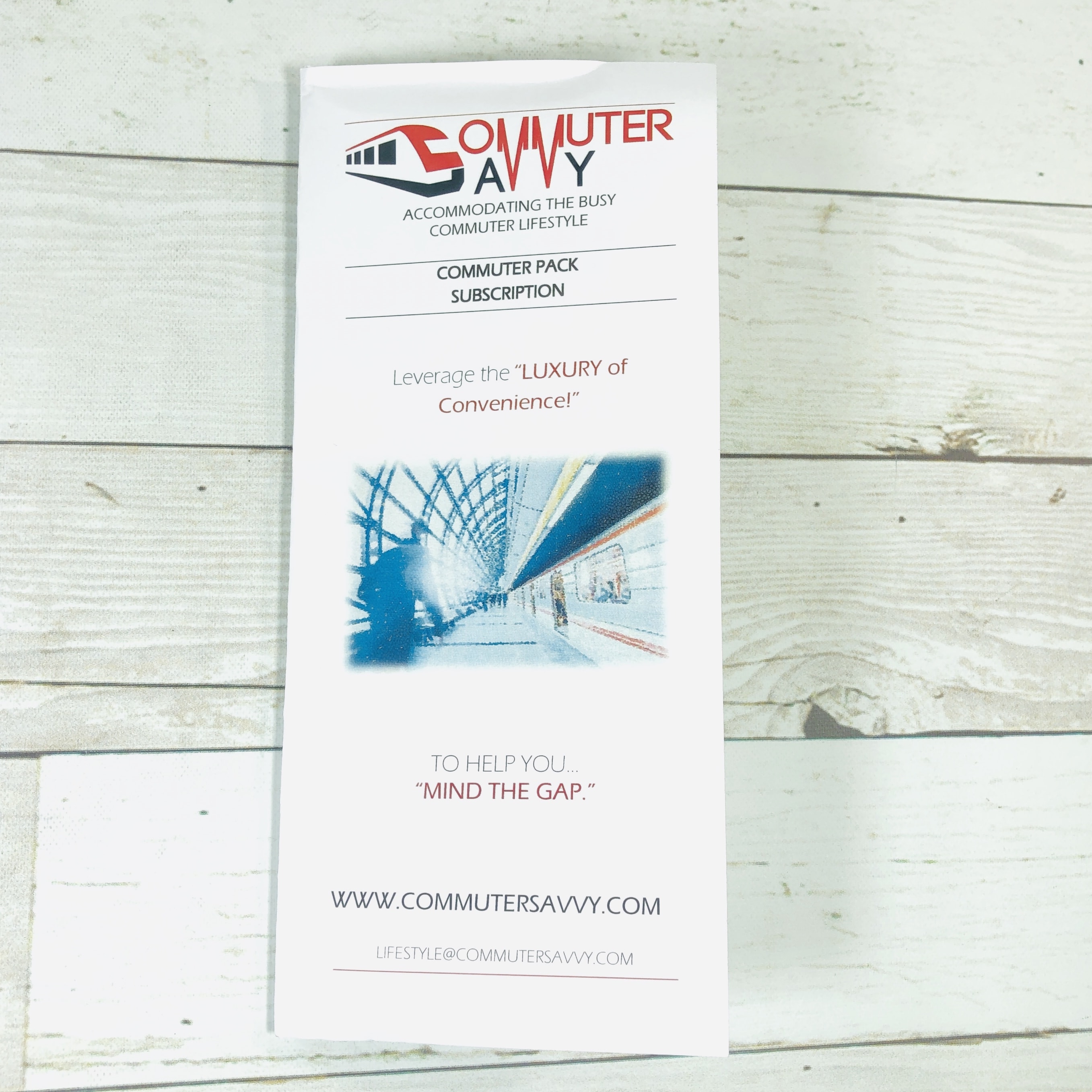 I was a little overwhelmed when I opened the box because there is just so much stuff going on here. Luckily this brochure broke it down a little.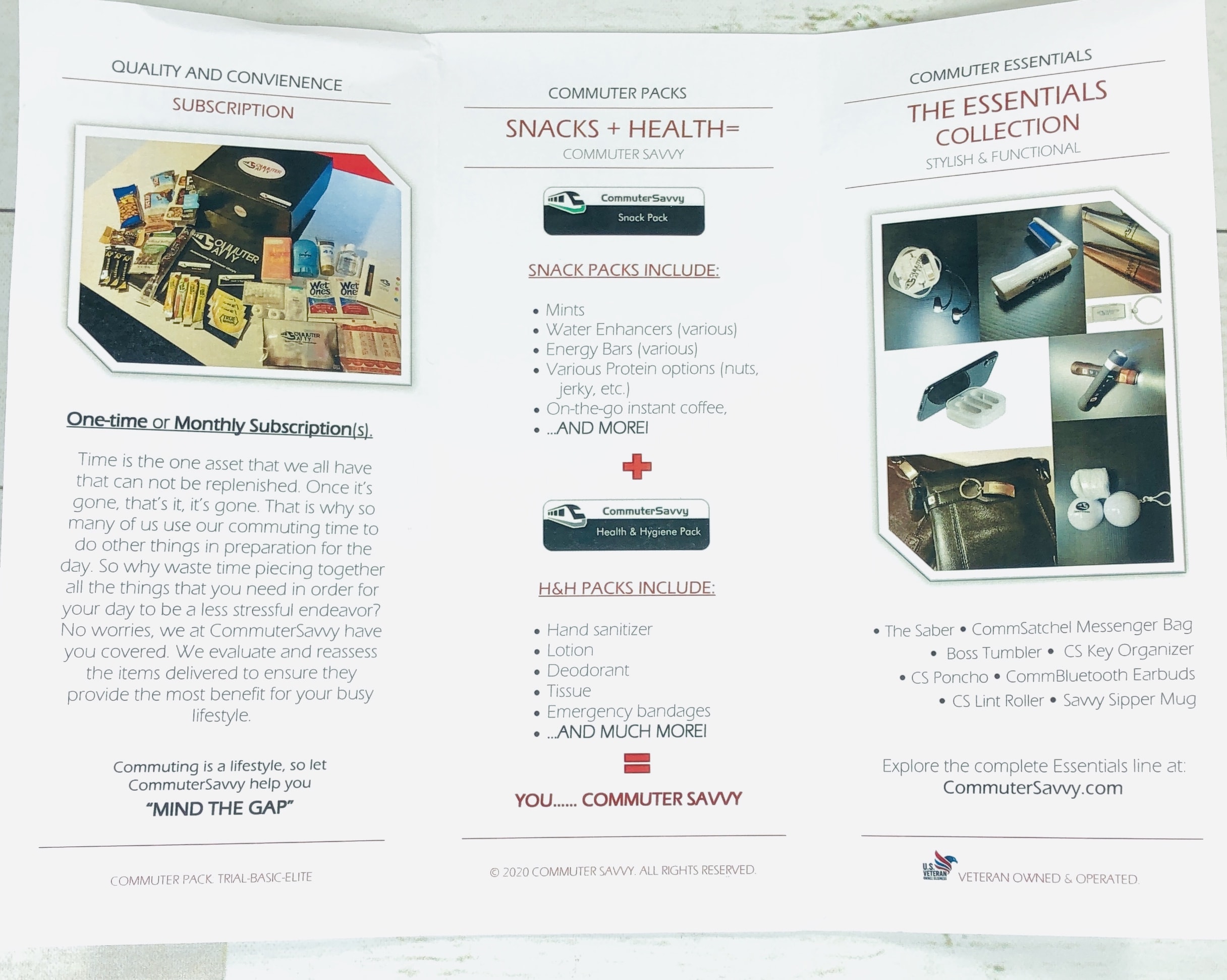 It mentioned some of the packs and extras that you can order to make sure you have all that you need while commuting to your workplace. Of course, you can use all of this stuff while working from home too. My daughter is now working from home and barely gets up from her chair so this is an easy way to keep necessary items close at hand.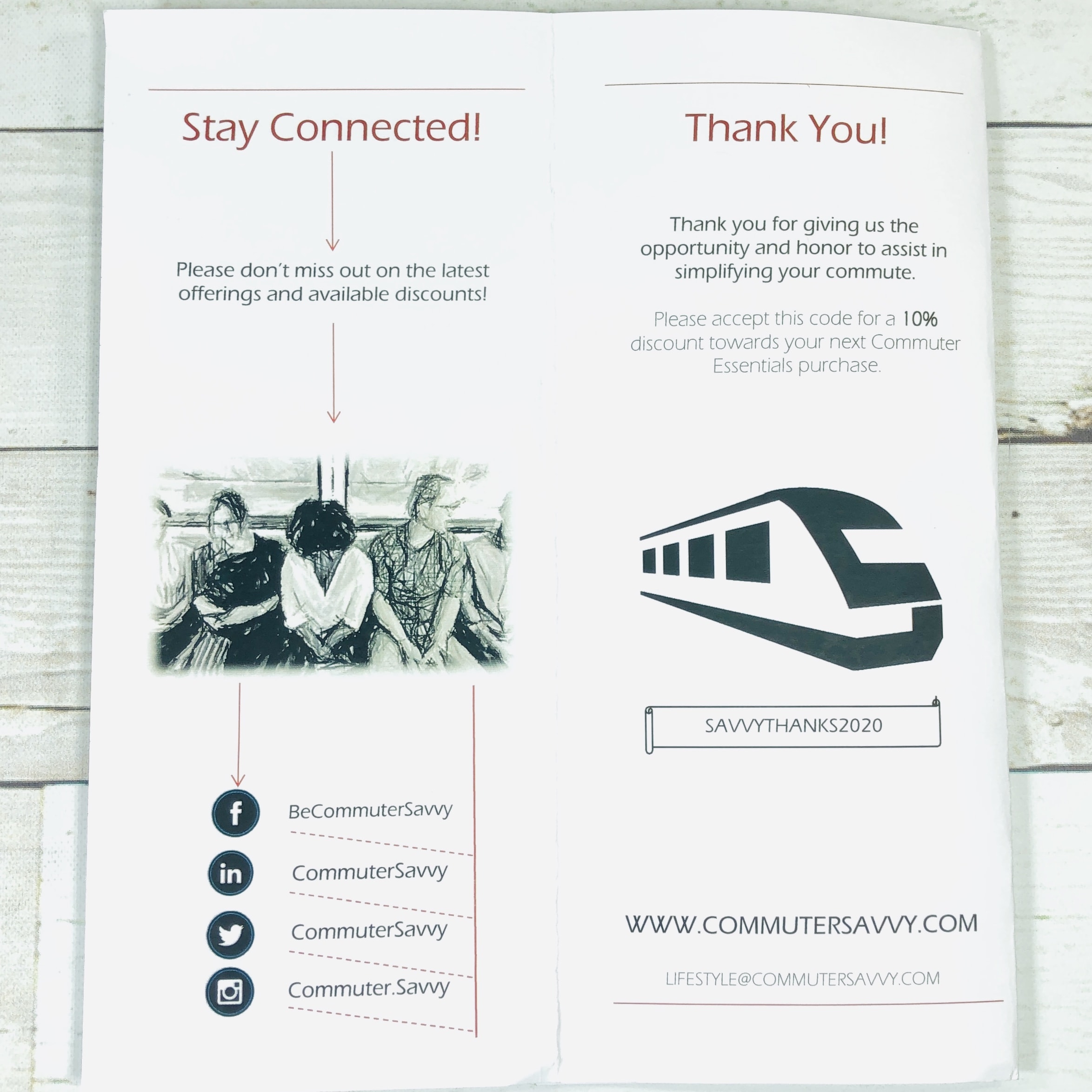 The back of the brochure listed the social media sites and even had a discount code.
NOTE: The following items were in my Snack Pack. Snack Packs come with 29 items, or 58+ for the Elite (double) subscription.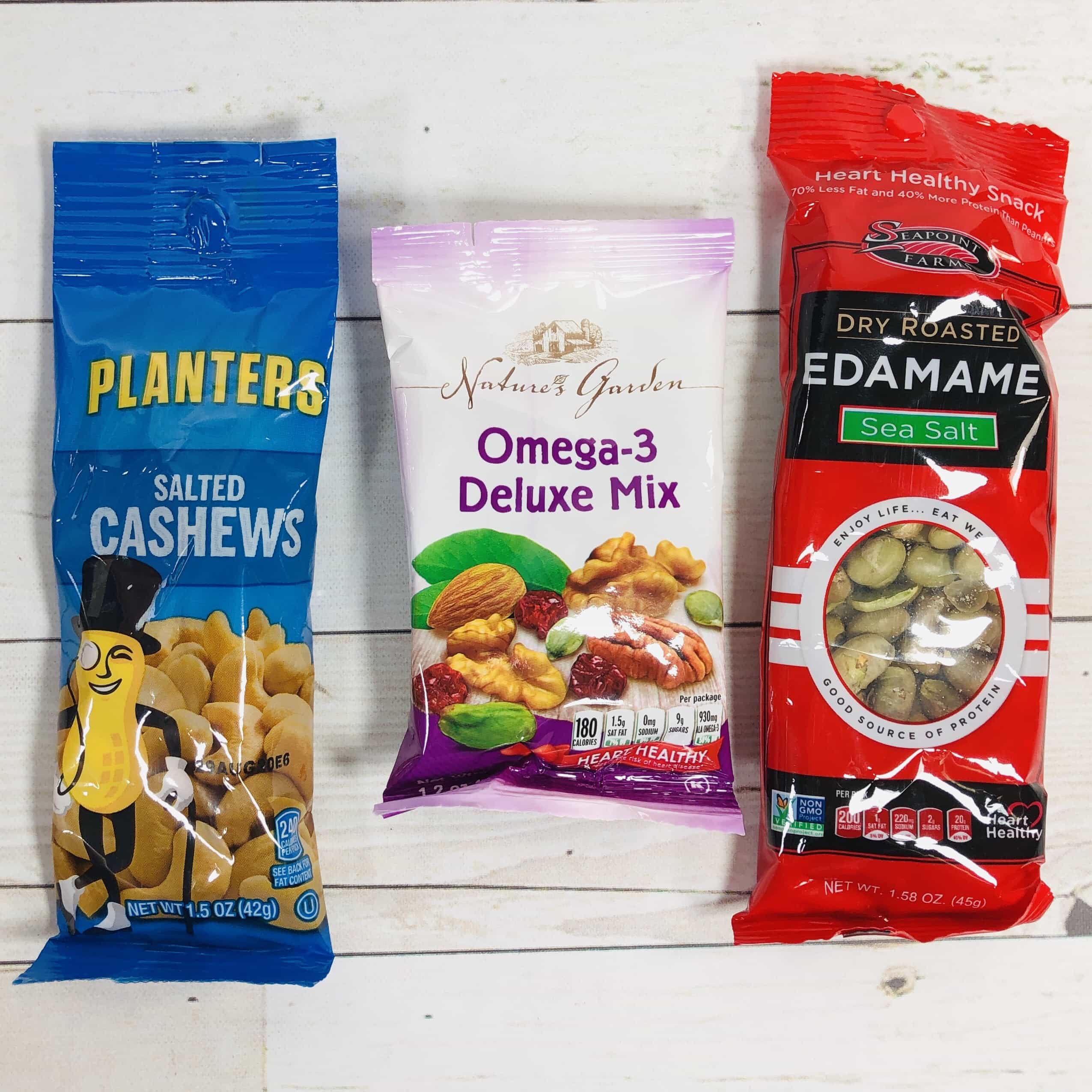 Planters Salted Cashews, Nature's Garden Omega-3 Deluxe Mix, Seapoint Farm Dry Roasted Edamame in Sea Salt I love to take nuts and trail mixes to work because they are so easy to keep in a work bag and if I forget about them for a month or so they are still good! Cashews are something I rarely see in snack boxes and the like so that was a surprise treat. I love dried soybeans too, and of course trail mix is my all-time favorite since it has plump fruit to go with the nuts.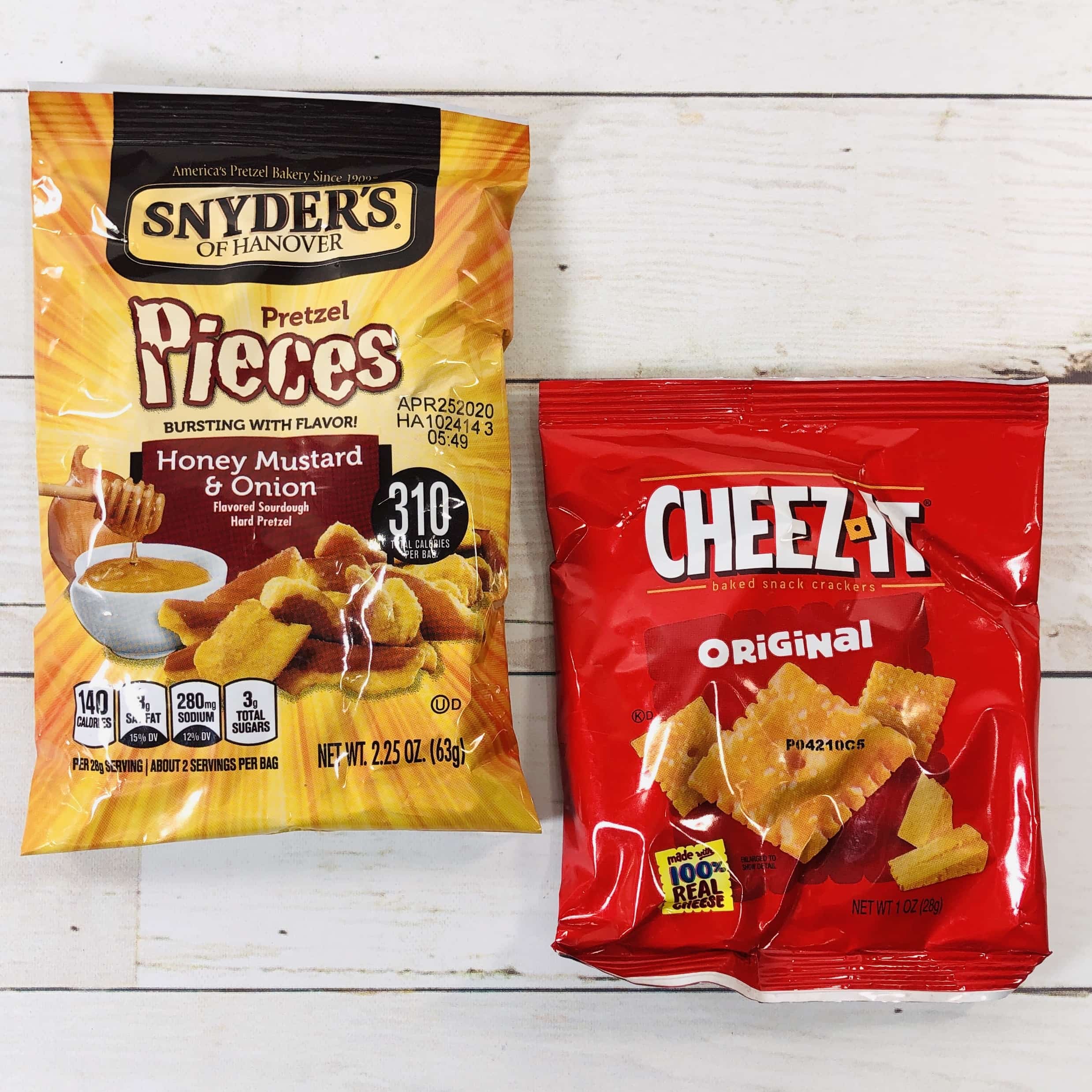 Snyder's Of Hanover Pretzel Pieces in Honey Mustard & Onion, Cheez-It Original Baked Snack Crackers Some of my work snacks will be shared with my family. My youngest loves the Snyder's pretzels, these are her favorite flavor! She is also a fan of cheese crackers so I am going to let her have these tasty treats.
Jack Link's Meat Snacks Teriyaki Beef Jerky My husband needs some non-refrigerated snacks to take to work right now so I'm going to pass these teriyaki jerky bites along to him.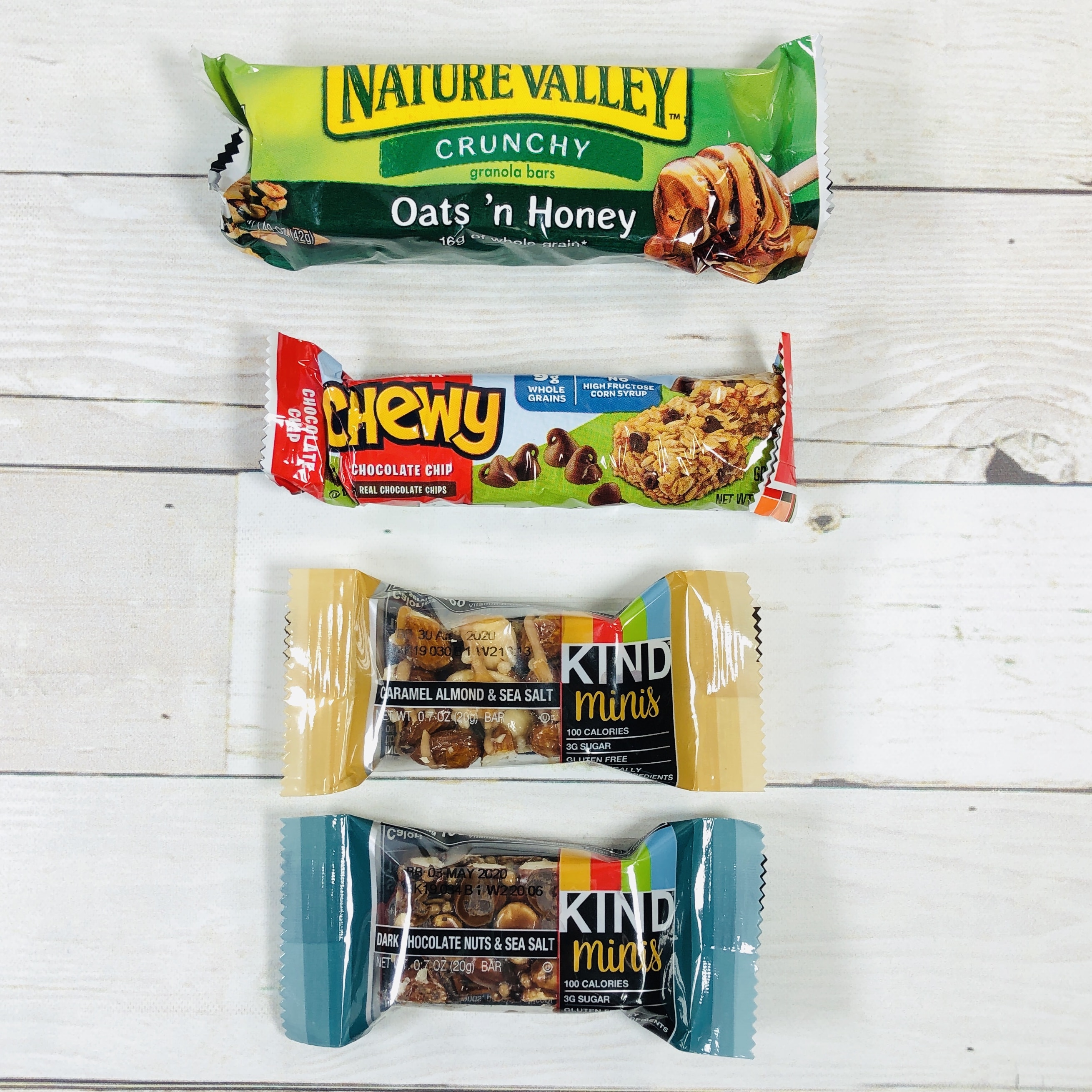 Nature Valley Crunchy Granola Bars in Oats & Honey, Quaker Chewy Chocolate Chip, Kind Mini Snack Bar An assortment of snack bars is always a good idea to have on hand because they tend to keep me full for a long time. The crunchy granola bar on top is perfect to crumble and sprinkle over yogurt for a parfait, while the chewy bar is a classic. The minis are going to stay in my secret snack drawer at home so I can enjoy them while watching TV in the evening. Shh, don't tell my family!
Clif Bar Chocolate Chip Energy Bar and BelVita Snack Packs in Blueberry can both double as meal replacements. You could even eat them in the car (or however you get to work) on the way in for breakfast on those super busy mornings.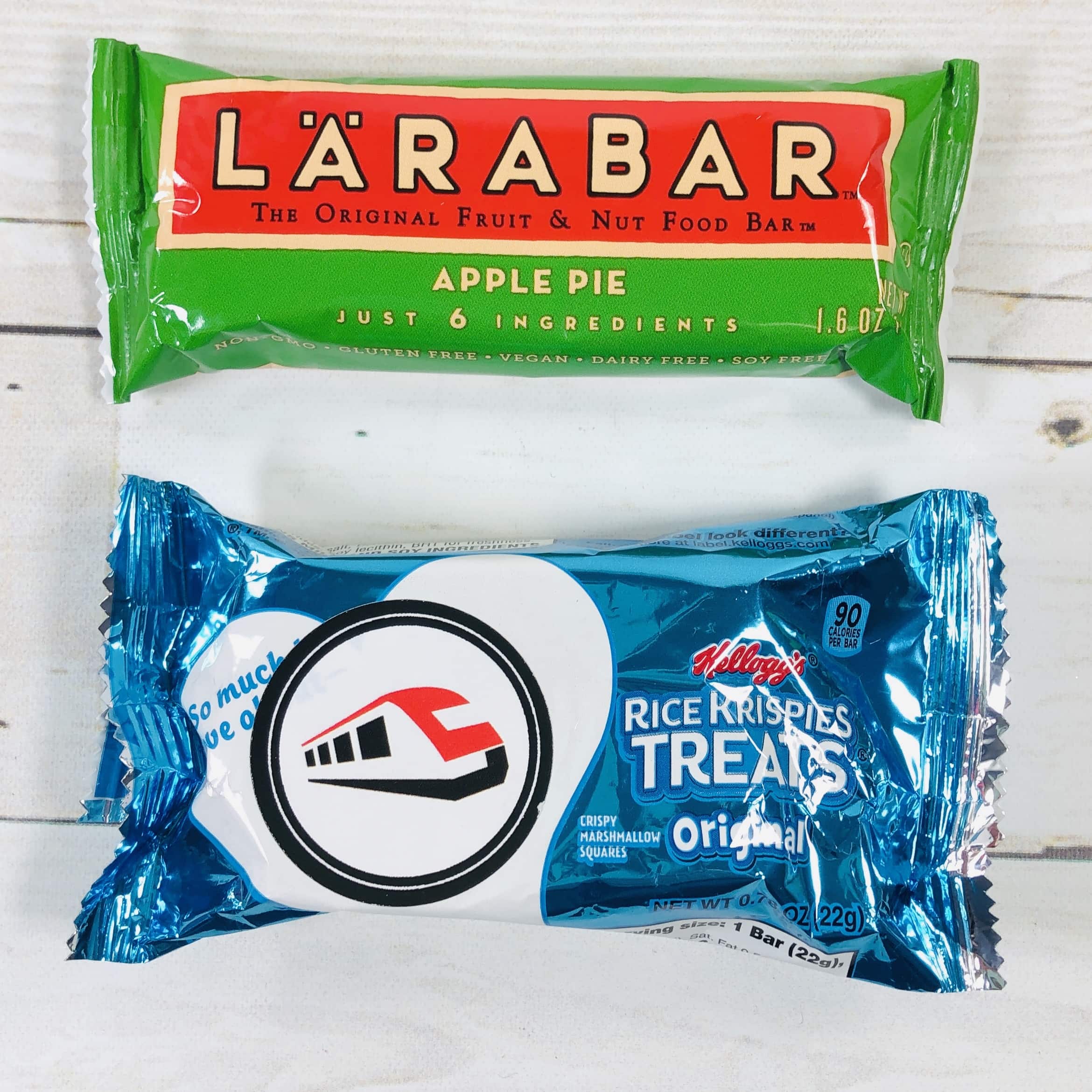 Lara Bar Apple Pie is one of my go-to snack bars, the ingredient list is so simple and natural.
Kellog's Original Rice Krispies Treats in Crispy Mallow Squares are a classic after-meal treat or for those afternoon slumps when you want something but don't need a heavy snack.
Welch's Fruit Snacks I'm not one for eating gummy candies but my daughter loves them so I will pass them on to her. I like that Commuter Savvy sent two different flavors for variety.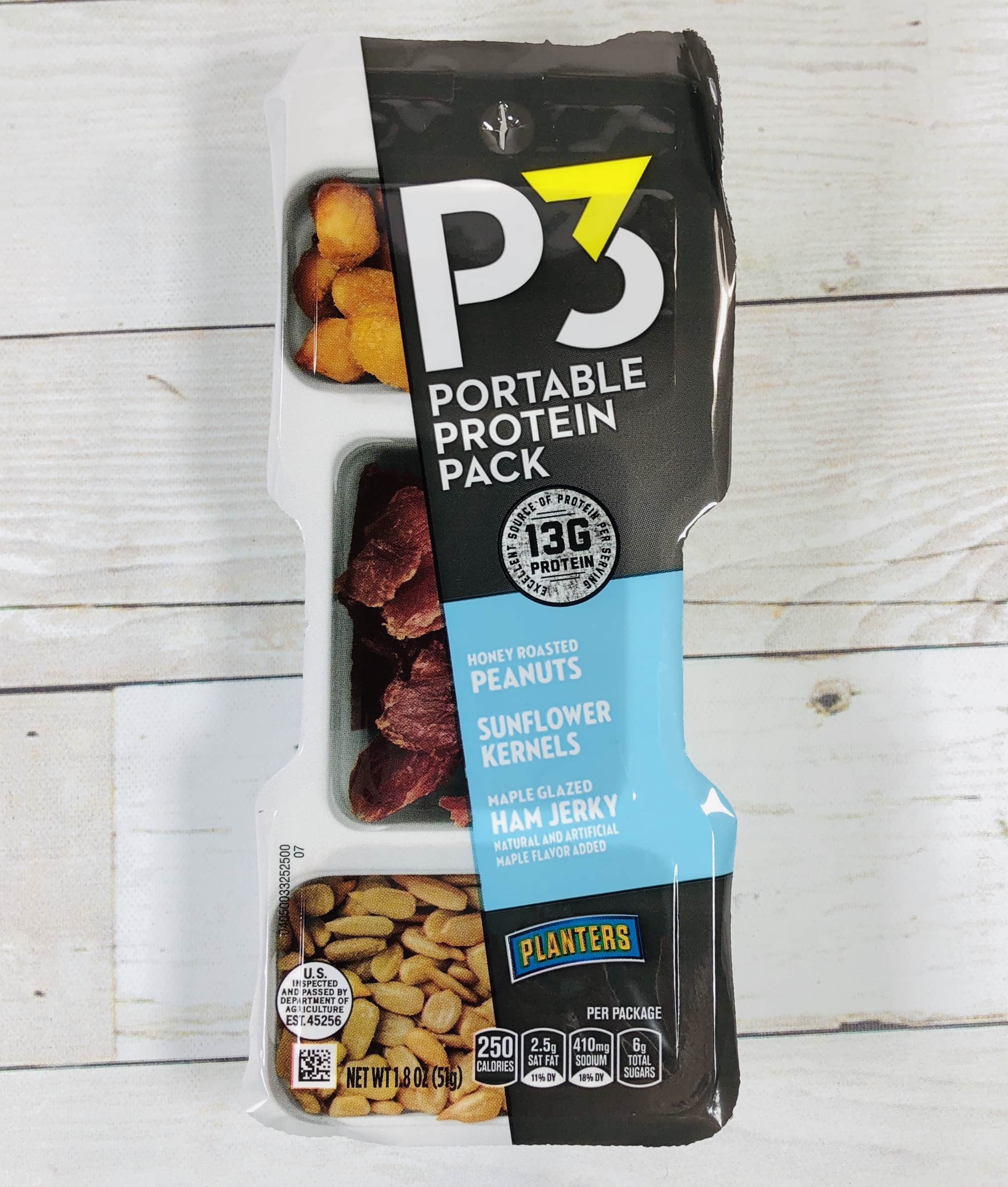 Planters P3 Portable Protein Pack Sometimes I feel like I don't need a big lunch, so this snack pack (which can stay safely stored in my desk or tote bag) can fill in on those days. It has protein and is shelf-stable, plus a bit of sweetness so it also feels like a treat.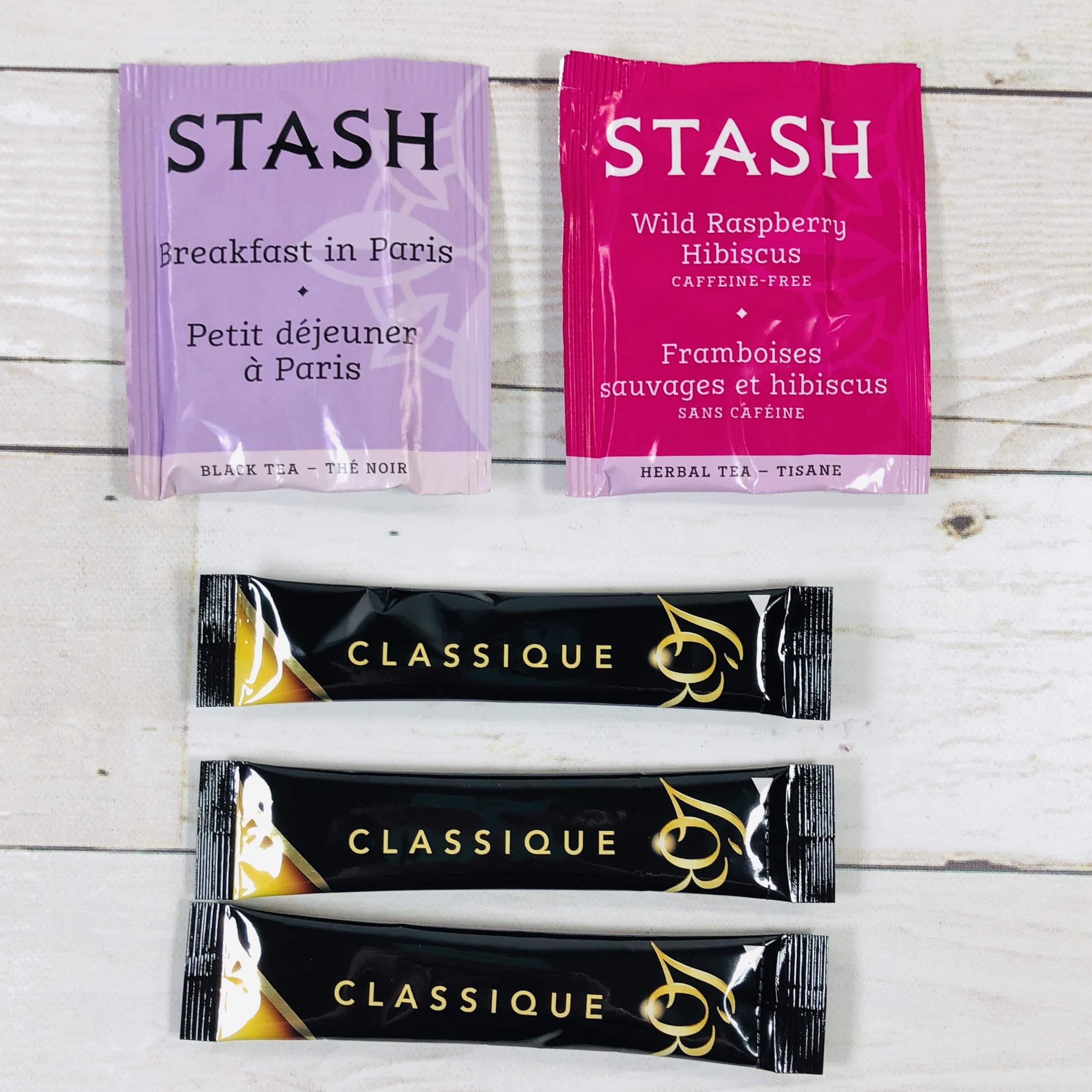 Stash Tea and L'Or Classique Instant Coffee Now we are onto the hydration and beverage mixes. I received two Stash Tea bags, and Stash is one of my favorite brands! I also received three packs of arabica blend coffee but I don't drink coffee so I will let my husband take those to his work instead.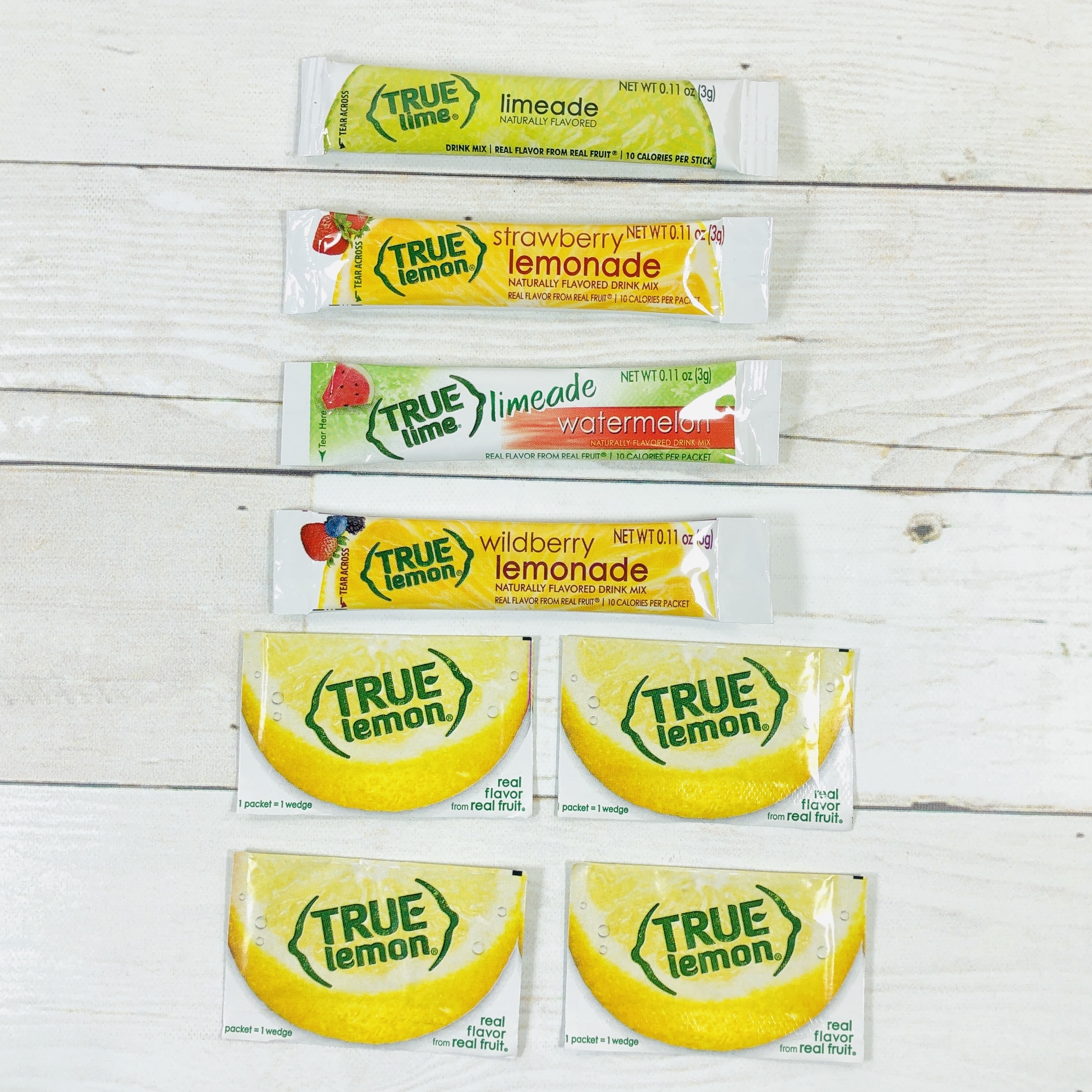 True Lemon I think I hit the True Lemon jackpot! The four packs on top are beverage mixes, just add to a water bottle or cup and mix then drink. They are sweetened with stevia. The four packs on the bottom are crystallized lemon and you can add them to tea or water and sweeten as desired. You can even add it to recipes!
NOTE: The following products were in my Health & Hygiene Pack. The Health & Hygiene Pack comes with 20+ items. 
Degree Dry Protection Shower Clean Deodorant Occasionally I find that I need deodorant during the day, either because I've been more active than usual or because I forgot to apply it in the morning! This is the perfect size to stick in a bag or desk drawer.
Nature's Bees Cocoa Butter Mango Butter Having a lip balm on standby will help me fight dry lips whether it's because of the heater or the air conditioning. Coconut oil, mineral oil, and beeswax are a few of the ingredients here and it is mango flavored.
Gold Bond Ultimate Skin Therapy Cream Healing in Aloe and Sanitizer Keeping hands clean and moisturized is a constant battle. It is good to keep sanitizer on hand to fight seasonal bugs. Follow up with some lightly scented hand lotion to keep skin from cracking.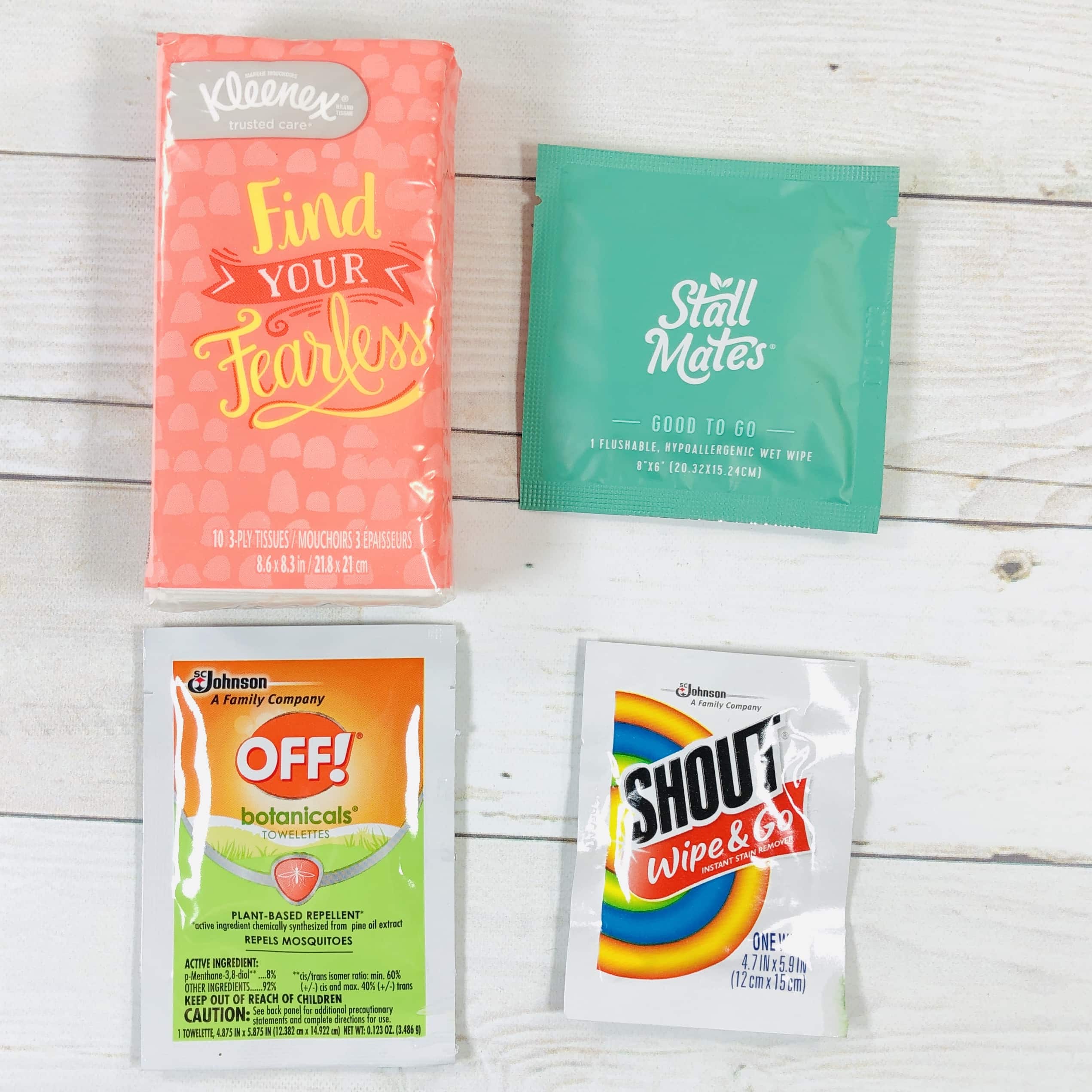 Kleenex Tissue and Stall Mates Good To Go Wet Wipe are perfect for both expected issues or those that may come on suddenly. The tissues need to go in the trash but the wipes are considered flushable and you can buy a pack of them online.
Off! Botanicals Towelettes and Shout Wipe & Go are also for unexpected moments. I go outside frequently at my job so having a bug repelling wipe is something that I would want (a sunscreen wipe would be good too!). Of course, if you are eating away from home, food spills are bound to happen so having a Shout wipe at the ready may keep that stain from setting in before you get a chance to launder.
A pack of handy mints and toothpicks were in the box. I like the idea of this, these are those little things that I don't think about but after a lunch of fajitas I bet these will save my teeth and breath.
The mini Jotter Notebook is just 4.25″ x 3″ x 0.5″ and is helpful when you need to write something down for later.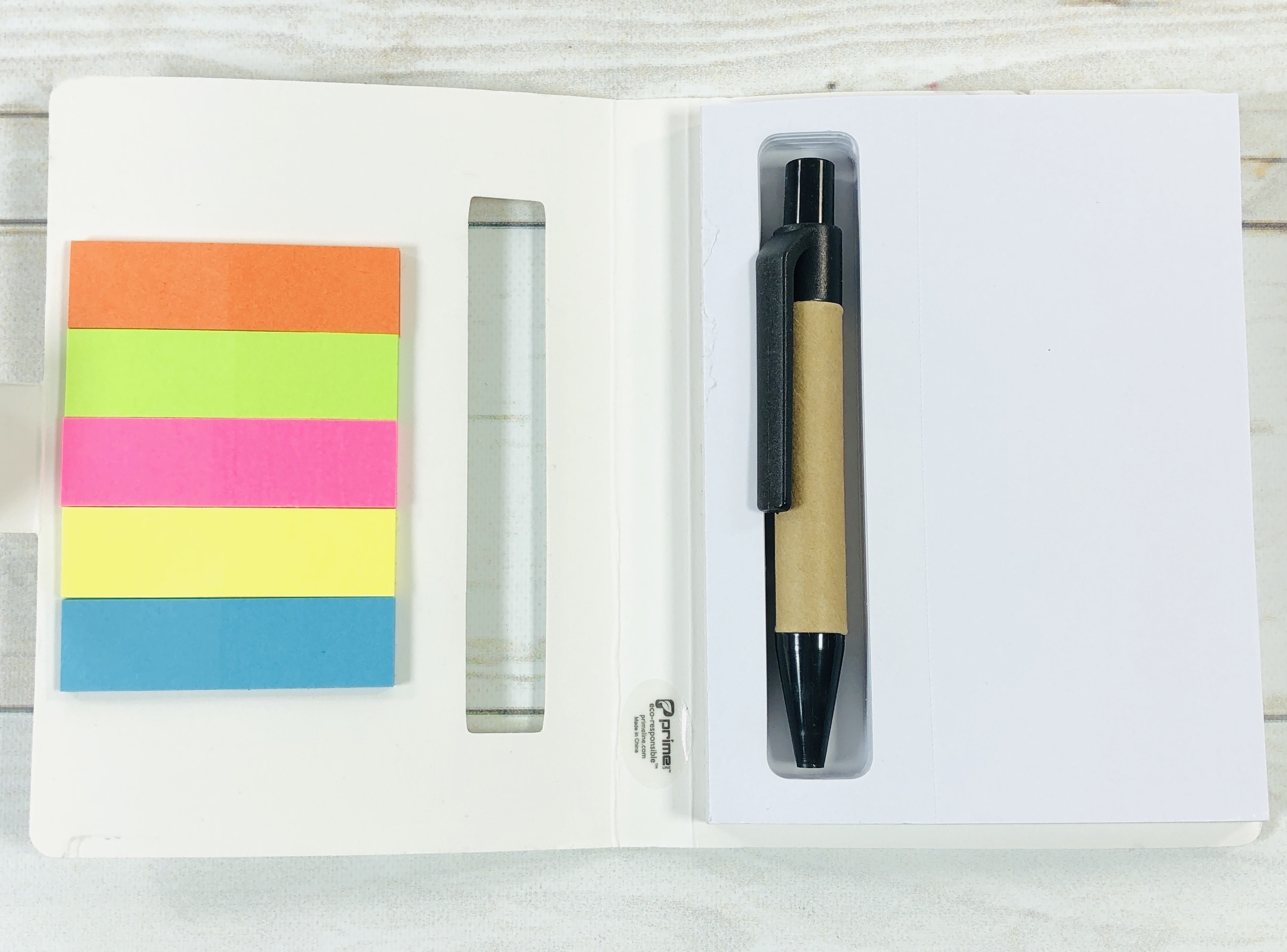 The inside has a pen, paper pad, and sticky flags so you can mark important pages if needed.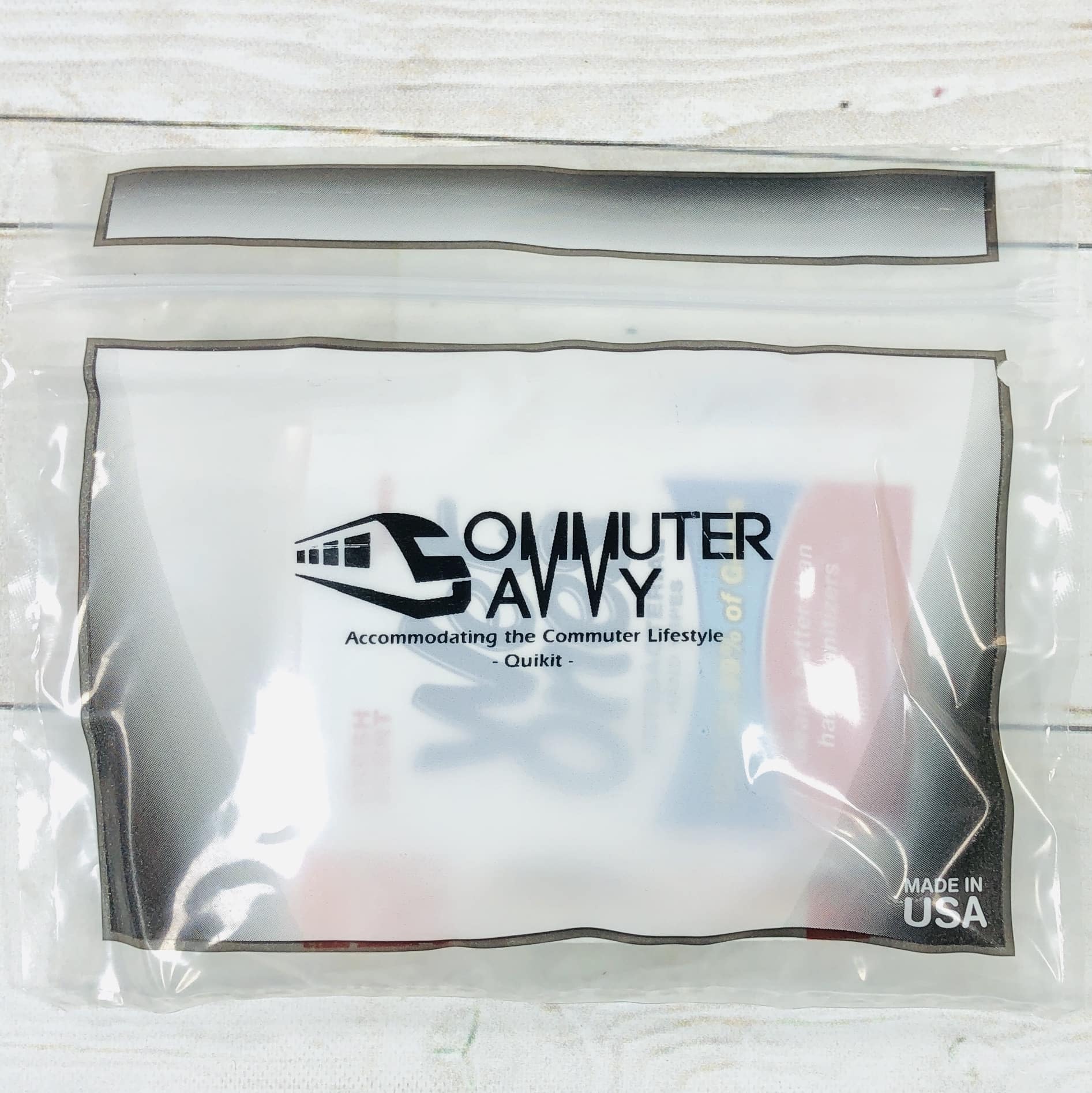 Quikit I found a zipper bag that was sealed and had some more health items inside.
Easy Access Bandages, Wet Ones Anti-Bacterial Hand Wipes, Aspirin, and Antacid were in this mini first aid kit. There were even mints! I'm happy to keep these on hand; you wouldn't believe how often I need band-aids or wish I had an antacid nearby.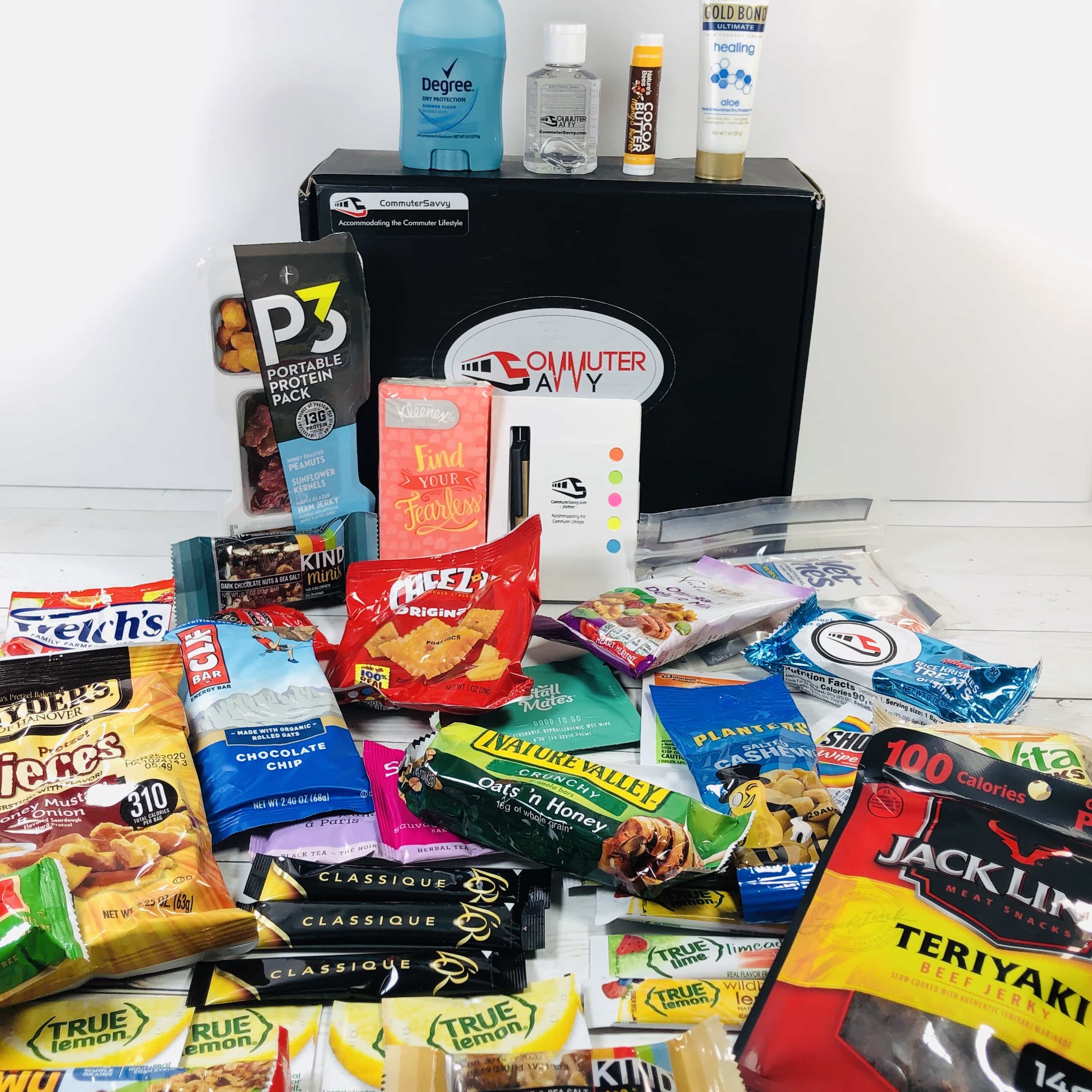 That was everything in my very first Commuter Savvy Box! It was a lot to take in at first but I figured it all out and was happy with the variety. You can get random snacks (which is what I picked) but I appreciate that you can also choose what you like and Commuter Savvy will put those items (from their provided list) into your box. This box is great whether you are male or female and I think it would be perfect to send to a college student too. I like that there was a vegetarian option and I was also excited about the flexibility to choose either snacks, health items, or both, or even double the snacks! The Commuter Savvy website has all of the items listed along with links so you can easily find ingredients etc. Plus, I am happy to support a veteran-owned business!
What do you think of the Commuter Savvy box?