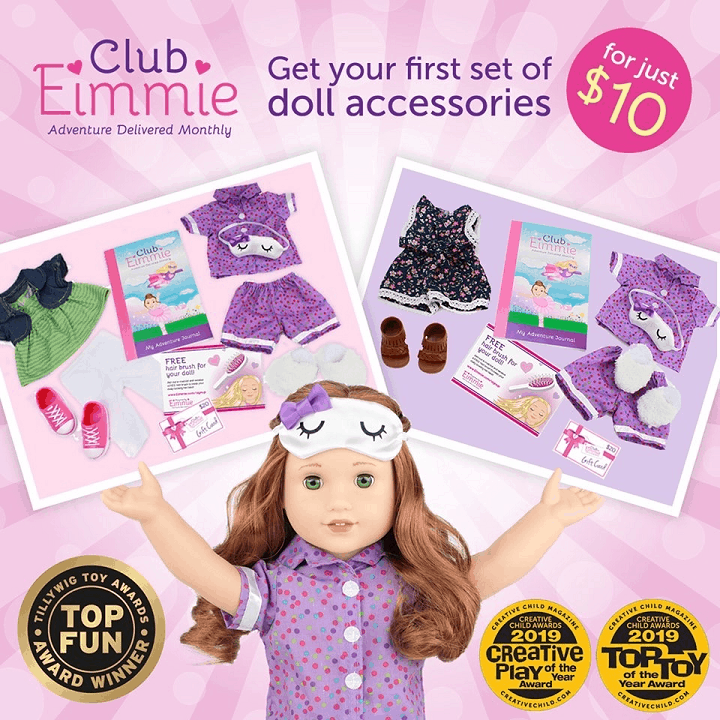 Club Eimmie's doll clothing subscription best ever deal is back!
Our best- selling Club Eimmie offer is BACK!

Club Eimmie delivers 18″doll clothing, accessories and more straight to her door! Here's the chance for you to give Club Eimmie a try for just $10!

The first pack comes with an 18″ doll outfit of their choice, pajamas, eye mask, slippers, a $10 gift card to spend on Eimmie.com, a poster and a fun Adventure Journal to write down all the fun adventures with your Eimmie doll!
Get your first box for just $10 – that's almost 50% off! No coupon code needed, just use this link to activate the deal. Valid for a limited time only.
Your first box includes:
1 Themed Outfit
1 pajama set with accessories
1 $10 gift card for Eimmie.com
1 Club Eimmie adventure journal
1 redemption card for a free hairbrush
Fun, exclusive content!
Here are your choices:
Dress Your Doll Intro Pack
Trendy Romper Intro Pack
Succeeding boxes are billed $19.99 per month.
Are you getting Club Eimmie?