BabyFaceDiary is a Korean sheet mask subscription! There are three tiers of subscription: Essential (4 masks for $9.99), Premium (6 masks for $19.99) and Luxury (8 masks for $29.99). They ship worldwide with free shipping to the US!
This is a review of the Essential MysteryFUN Box, which has four masks.
DEAL: Get 30% off of your first box! Use coupon code HELLO30.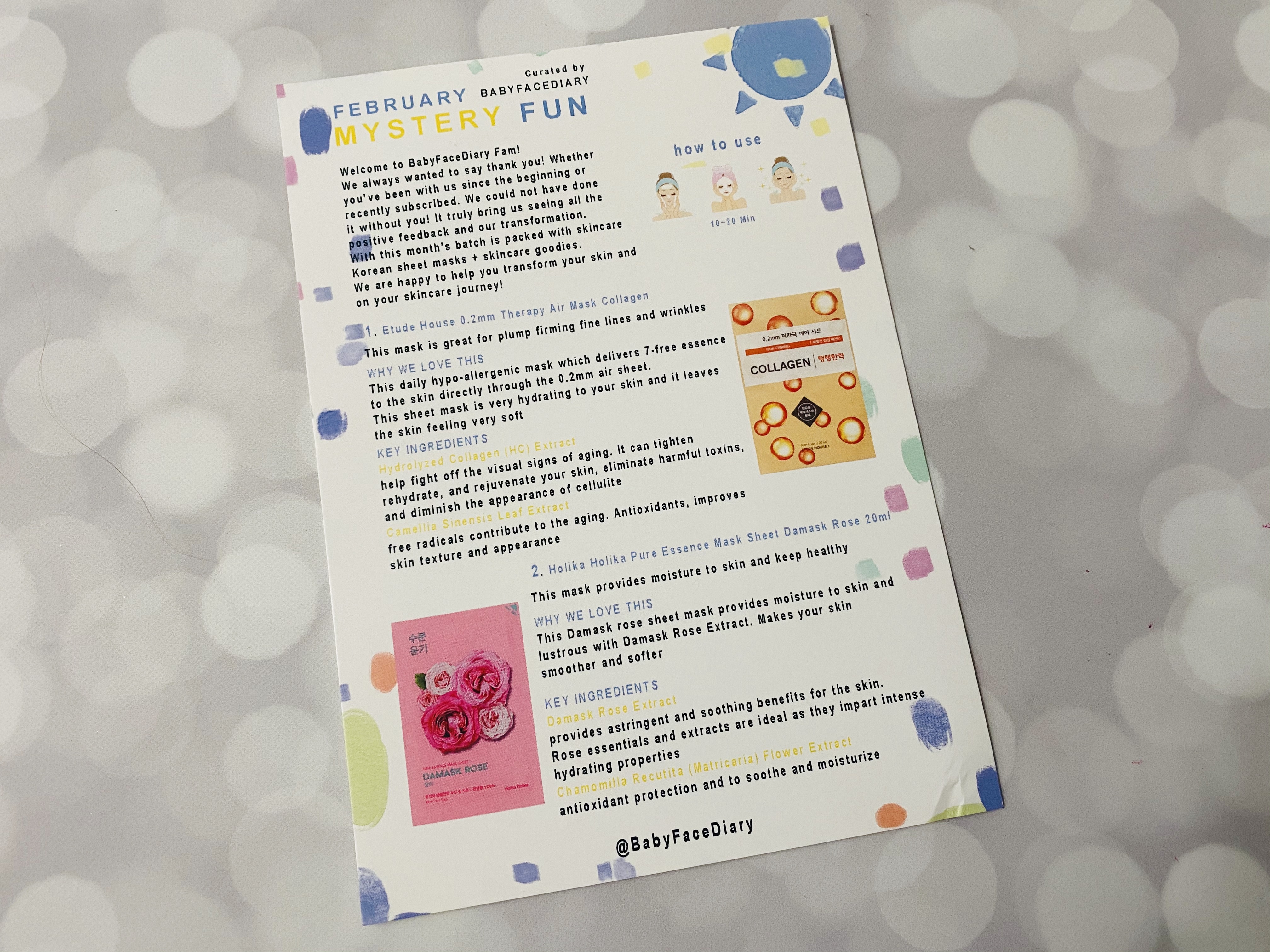 A super cute information card lays out what masks are included in the package.
I love that they include lots of details about all of the ingredients in the masks selected. Many masks are only in Korean or Japanese and it can be hard to understand the benefits of ingredients!
Etude House Collagen Mask ($1.99) — This is from Etude House's 0.2mm mask collections which boasts masks made from an extremely thin sheet mask fabric for ultimate comfort. The fit is great and it is infused with collagen to keep skin plump. There's debate about whether topical collagen works as well as collagen supplements you ingest, but this mask is loaded with other good ingredients as well!
Holika Holika Damask Rose Mask ($0.48) — Rose is one of my favourite scents and the ingredient itself is great for skin. It smells amazing, is hydrating, and also very soothing as well. This mask has a fantastic rose scent and the fit was okay.
Tony Moly Aloe Mask ($1.99) — Aloe is famous for its soothing and cooling properties. I associate aloe with summertime and coming in from the sun, but year round it's great for toning down redness and inflammation. Tony Moly masks don't fit my face as they are HUGE, but if you're just laying down chilling then it should be an issue.
MediHeal Tea Tree Mask ($2.27) — I love MediHeal's masks for their fit, formulas, and sheer variety! I've tried most of the masks in their Care Solution collection and while the Tea Tree one isn't one I'd normally reach for with my normal-dry skin and overall clear complexion, tea tree is amazing for those who suffer from oily, acne prone skin for its antibacterial properties.
The Essentials collection featured four masks for different skin types and highlighting different ingredients including collagen, rose, aloe, and tea tree. It's an inexpensive way to try some new masks from different brands and companies!
What do you think of this Korean sheet mask subscription?