Yumble is a weekly meal subscription service for kids. They deliver pre-prepared meals suited to the specific tastes, nutritional needs, and portion size requirements of children. To make things more fun, they also include activities in each box! All the meals are pre-cooked and need either minimal heating, or no heating at all. You can customize exactly what meals you receive, or have Yumble just automatically send meals. Yumble meals are designed to be healthier versions of "kid food" and Yumble claims if your child is exposed to at least two weeks of Yumble food, they'll pretty much forget they ate anything else.
Yumble offers meal plans with 6, 12, and 24 meals per week. This is a review of the 6-meal per week box! Individual meals range from $6.99 to $7.99, and shipping is always free!
DEAL:  Get free shipping with every plan, plus save 25% with a 12 meal plan and save 15% with a 6 meal plan. No coupon code needed, just use this link to subscribe!
There's a promotional card in the box, which shows us the gift we received in this box.
The box itself, the meal sleeves, and the meal trays are recyclable.
To keep the meals fresh, they ship it in an insulated box with ice packs, which are also reusable and recyclable.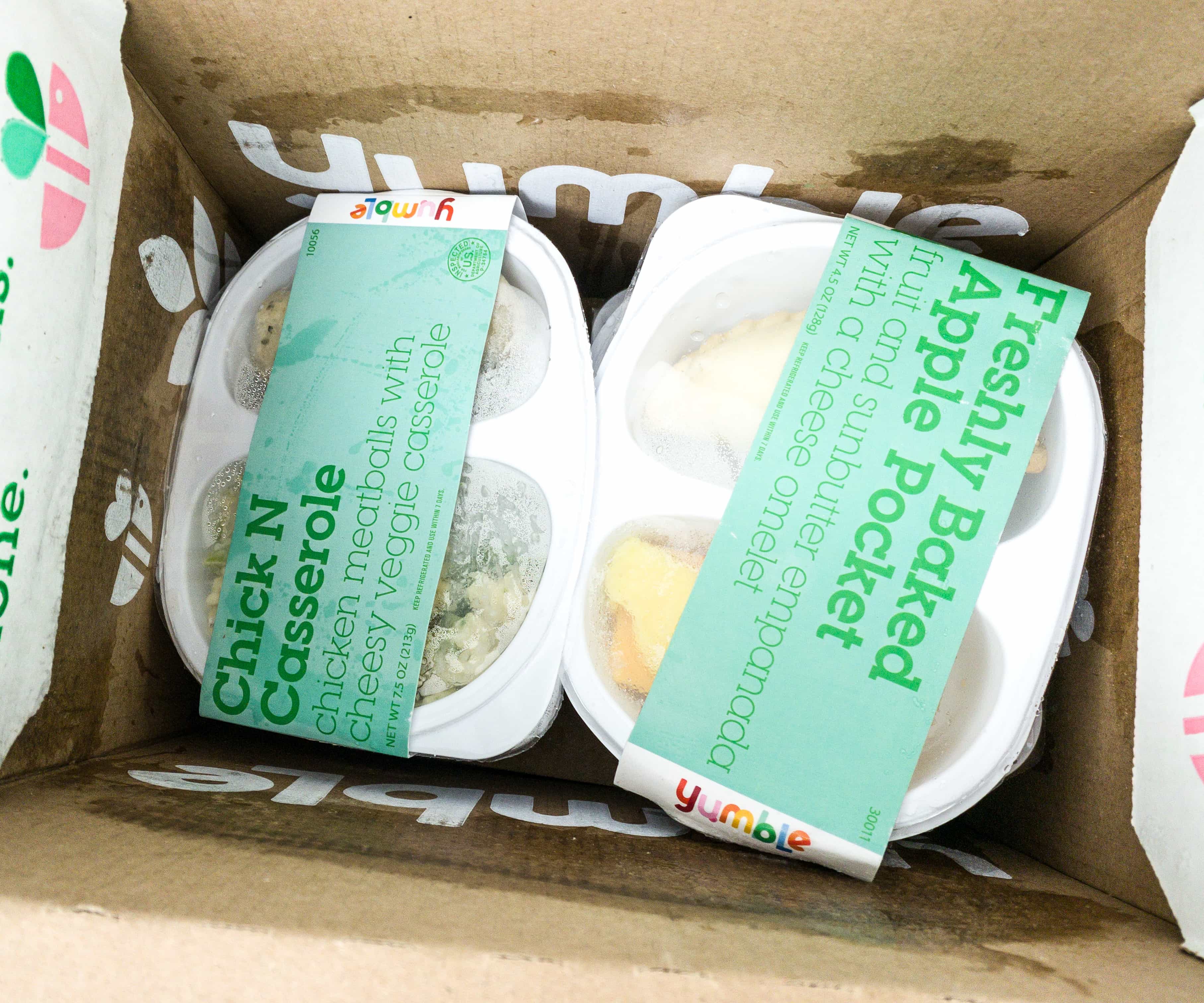 Each meal is easy to identify because they're well-labeled and even color-coded.
The ice pack in this box leaked, but the meals still arrived in great condition!
The box design is cute!
They also showed us the other gifts with an over $50 value!
For this box, we got the plate, for week 3!
The plate is perfect for all the meals!
Care instructions for the plate are inscribed at the bottom of the item.
Each meal came with a large label!
Everything in the box!
For this box, we got some Daisy Bolognesy, Freshly Baked Apple Pocket, Savory Meatballs and Veggies, Chick N Casserole, Classic Cheese Ravioli, and Pizza Bagel with Pepperoni.
Chick N Casserole Chicken Meatballs with Cheesy Veggie Casserole.
Each meal has a sleeve that has all the info related to that meal, including heating instructions, nutrition, and ingredients. They also have a handy "enjoy thru" date to help you order your meals for optimal freshness.
We're ready to heat this meal up!
The chicken meatballs are perfect to top on the cheesy pasta! It's really good. The broccoli is also a fresh addition to the whole meal, and it makes it more healthy.
Classic Cheese Ravioli Cheese Ravioli in Veggie Marinara with Green Beans.
This is one of our kids' favorites from Yumble! As always, the ravioli is cheesy and it pairs so well with the tomato sauce.
However, I think we need more marinara sauce!
As we heated them up, the cheese oozed from the ravioli and I think that made up for the lack of marinara sauce. The beans are still crunchy!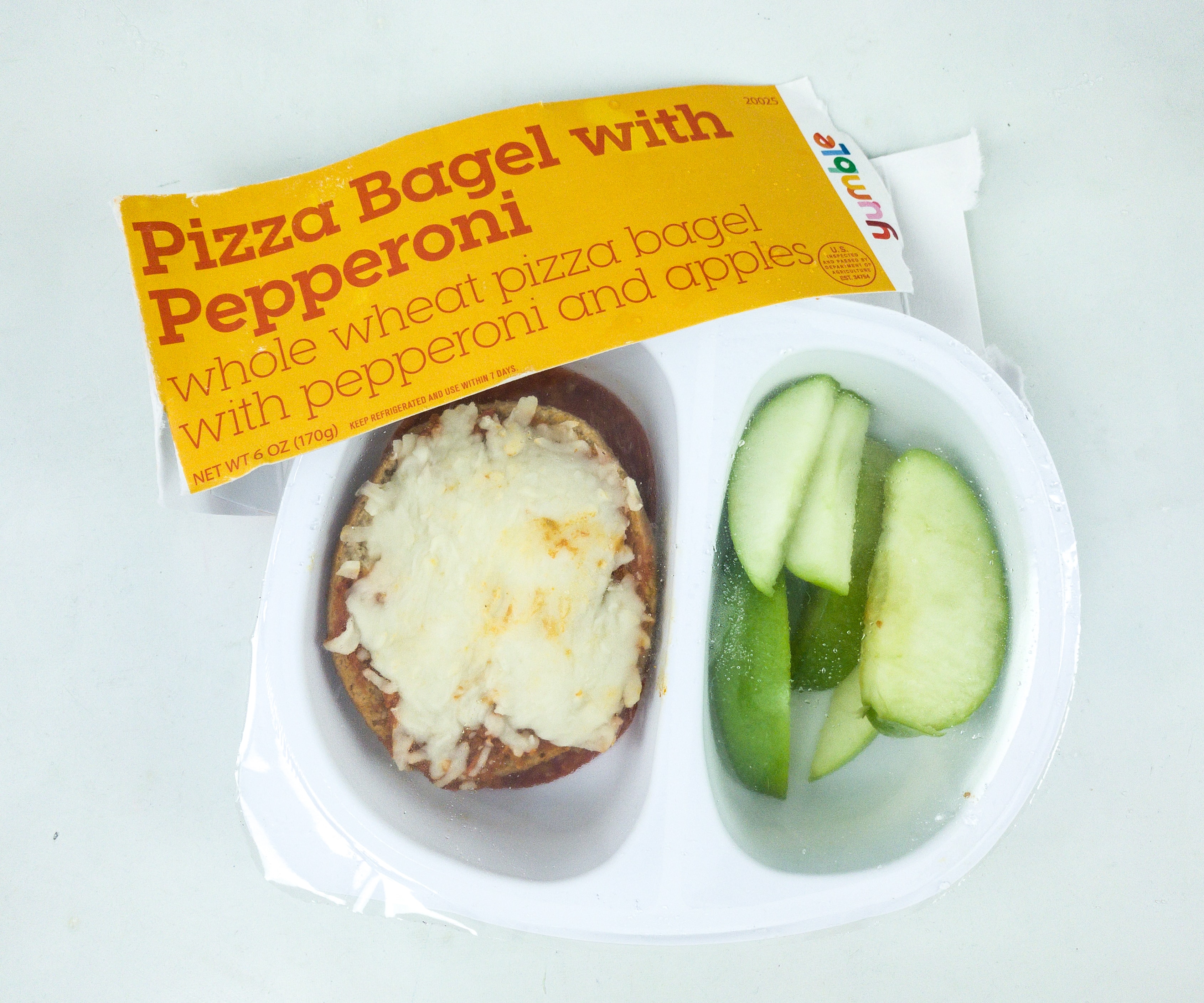 Pizza Bagel with Pepperoni Whole Wheat Pizza Bagel with Pepperoni and Apples.
Here's another Yumble classic, the pizza bagel! The whole wheat bagel is filling. It has a tasty sauce made with organic tomatoes, mozzarella cheese, pepperoni, and lentils puree.
We really love how melty the cheese is! The sides for this meal are sliced green apples, and they were also a hit with the kids.
The pepperoni slices are also the size of the bagel pizza. Delicious!
Freshly Baked Apple Pocket Fruit and Sunbutter Empanada with Cheese Omelet.
This one's a combination of dessert and snack! It wins my kids' hearts every time.
The empanada is so good! The pie didn't become soggy after we heated it and the apple filling just tastes amazing.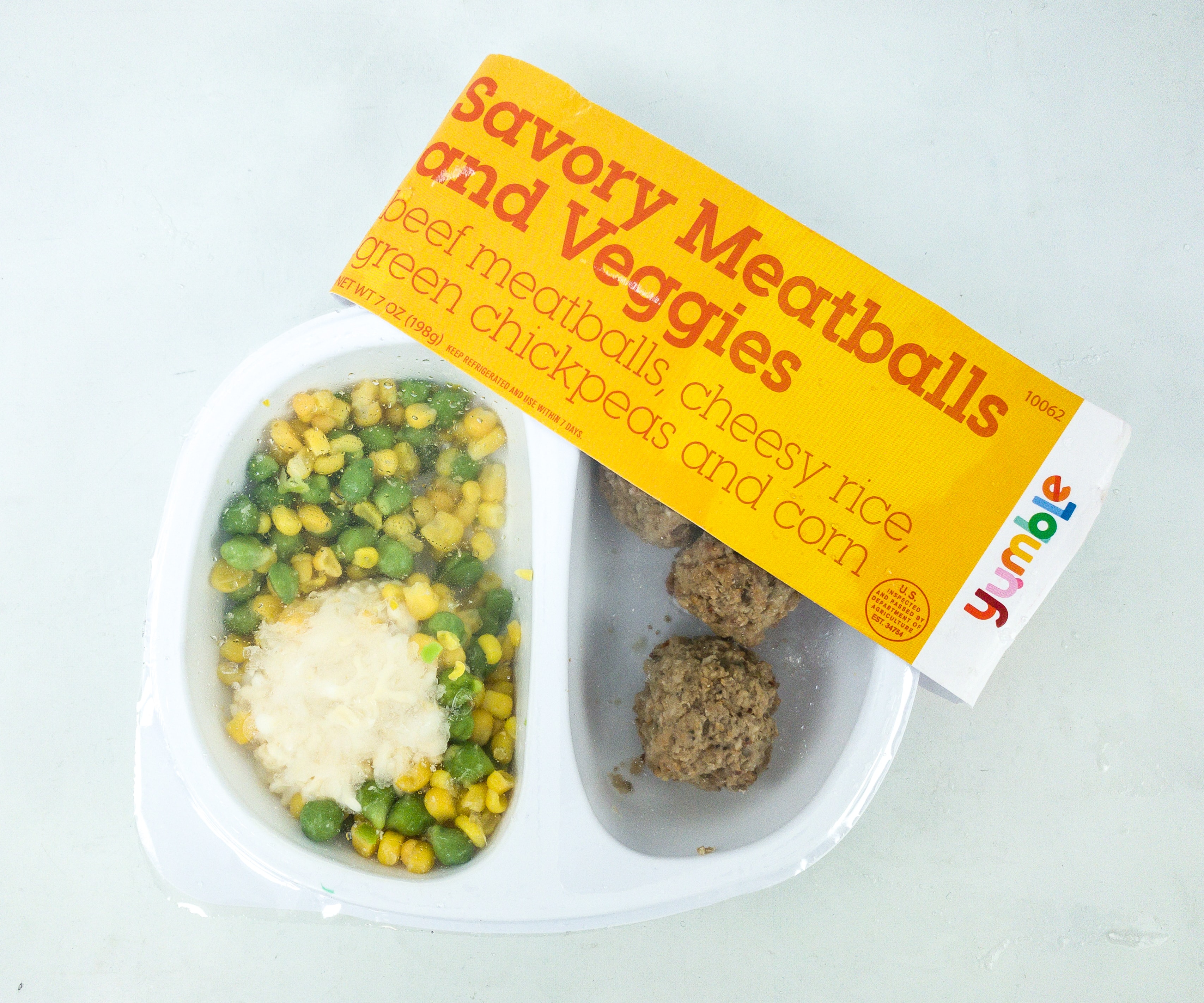 Savory Meatballs and Veggies Beef Meatballs, Cheesy Rice, Green Chickpeas, and Corn.
We love that the meatballs aren't that all dried up and that the mixed veggies added texture to the cheesy rice!
Daisy Bolognesy Cheese Ravioli with Veggie Ground Beef Bolognese.
Here's another ravioli dish! The cheesy daisies came with a tasty and meaty sauce that kids simply can't resist.
The sauce is made with organic tomatoes packed with antioxidant lycopene, vitamin C, potassium, folate, and vitamin K.
The flower-shaped ravioli was definitely the first thing that caught my kids' attention, but they also fell in love with the sauce after. The beefy and meaty bolognese sauce really goes well with the cheesy ravioli.
My kids love the pasta dishes from this Yumble box! Yumble makes it easy to feed the kids with healthy and nutritious food, so there's no more need to chase them while holding a spoon and bowl. They also love the freebies that we got from the box! Yumble even incorporates veggies and fruits in their meals, which adds not just color and texture but essential vitamins and nutrients as well. You can always choose what meals they will include in your box from their menu, and you just have to the meals when they arrive at your door. Talk about convenience! We're definitely looking forward to our next box!
Have you tried Yumble Kids subscription box yet?