Wild Alaskan Company, a monthly seafood delivery service, has a new sale!
Eat Healthy Seafood Every Month

We proudly ship a wide variety of wild-caught species from Alaska and the Pacific Northwest including sockeye salmon, coho salmon, pacific cod, pacific halibut and wild Alaska pollock.
Get $15 off your first order! No coupon needed, just use this link to subscribe!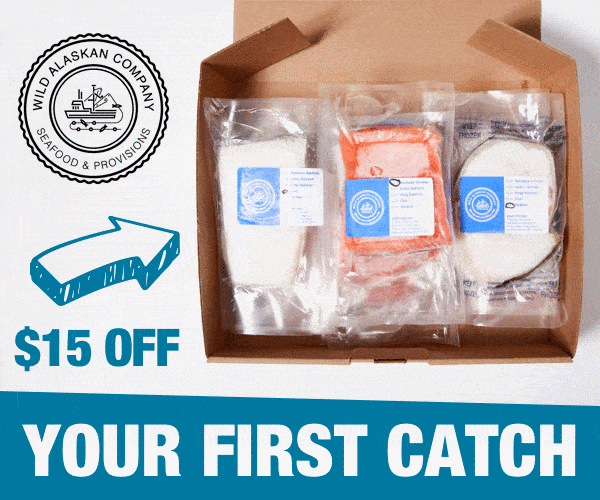 Wild Alaskan Company is a monthly subscription that delivers wild-caught, sustainable seafood to your doorstep. Price starts at $131.88 including shipping.
Here's how it works:
STEP 1 Pick Your Plan Ever leave the seafood counter with more questions than answers? Our salmon, combo and white fish plans make sure you never have to be unsure about your seafood again.
STEP 2 Wait (A Little) For Delivery The heat is on (and we got your back!). Our eco-friendly, insulated cooler and dry ice keep your fish frozen even in the hottest conditions. Wait for your fish to be delivered Cooking our fish is effortless
STEP 3 Cook Effortlessly Our individually wrapped portions are designed for quick and easy cooking. Enjoy stress-free, regular meals and shine at your next dinner (lunch or breakfast) party.
Here are the perks:
A HEALTHIER LIFESTYLE A seafood-focused diet can do wonders. With links to weight-loss, brain development, reducing the risk of heart disease and other health benefits, there's a reason why doctors and nutritionists recommend we eat more fish.
EXPERT ADVICE JUST FOR YOU You'll have access to our team of personal fishmongers for seafood questions, recipes and cooking tips. We're really nice, promise.
DELIVERY WITHOUT THE WASTE We're committed to sustainability from catch to delivery. That's why our packaging is either recyclable, compostable, or our favorite, dissolves in water.
WIN BACK YOUR TIME Say goodbye to the seafood counter. We're here to make seafood enjoyable on your schedule. Change your next delivery date or let us know when you need a break, all without having to pick up the phone. You can call us if you'd like, though 🙂
FEEL GOOD ABOUT YOUR FOOD No more second guessing the source of what's on your plate. Eat with confidence, knowing that your Wild Alaskan membership will only ever include seafood that's wild and sustainably-caught.
MONEY-BACK GUARANTEE We know our seafood is some of the best food on the planet. That's why we offer a 100% money-back guarantee. If you're not totally satisfied with our product, we'll refund or replace the total purchase price.
Here's what you'll get:
Individually-Sealed (Avg. 6 oz. Each)
Ready-to-Cook
Sustainably Harvested
Caught and Processed in the USA
Wild Caught
Never Farmed or Genetically Modified
Here are the plans:
WILD SALMON BOX Our signature box featuring 6-ounce portions of wild salmon — such as sockeye and coho. Starts at $131.88 including shipping!
WILD COMBO BOX An assortment of portion sizes, cuts and species of wild salmon and wild white fish. Starts at $131.88 including shipping!
WILD WHITE FISH BOX An assortment of portion sizes, cuts and species of wild white fish — such as halibut and cod. Starts at $131.88 including shipping!
Are you getting anything from Wild Alaskan Company?