The Introverted Chick is created for women who value alone time and for those who'd rather stay at home than to go out and socialize. Items usually include relaxing goodies plus lifestyle items featuring the humor that only true introverts will understand. The subscription is $39.99 a month and a portion of proceeds are donated to charitable causes!
DEAL: Save 10% on your first purchase with coupon code HELLO10.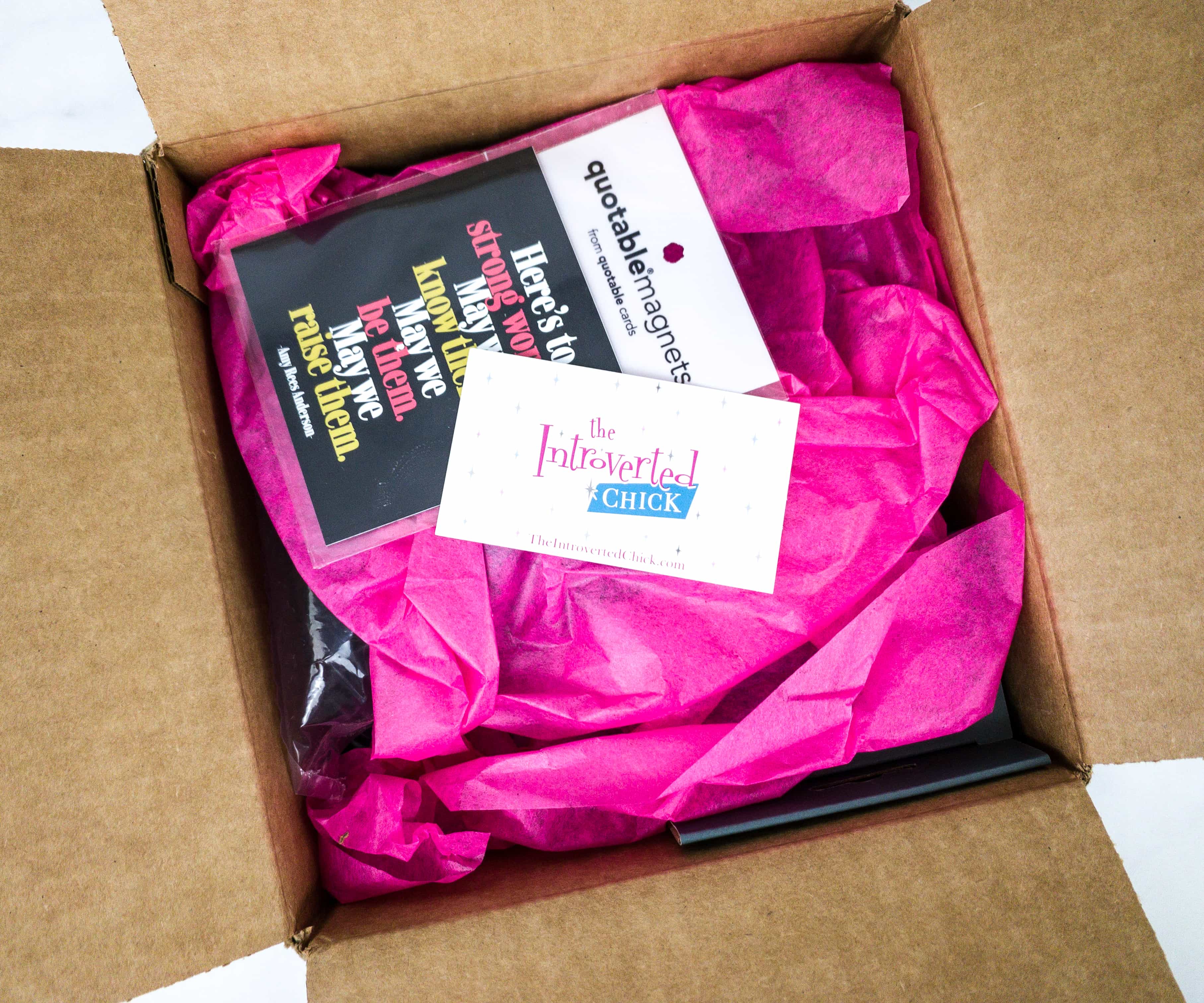 The items are in a simple brown box. On top of the items, there's a pamphlet.
The items are all wrapped in a pretty pink tissue paper.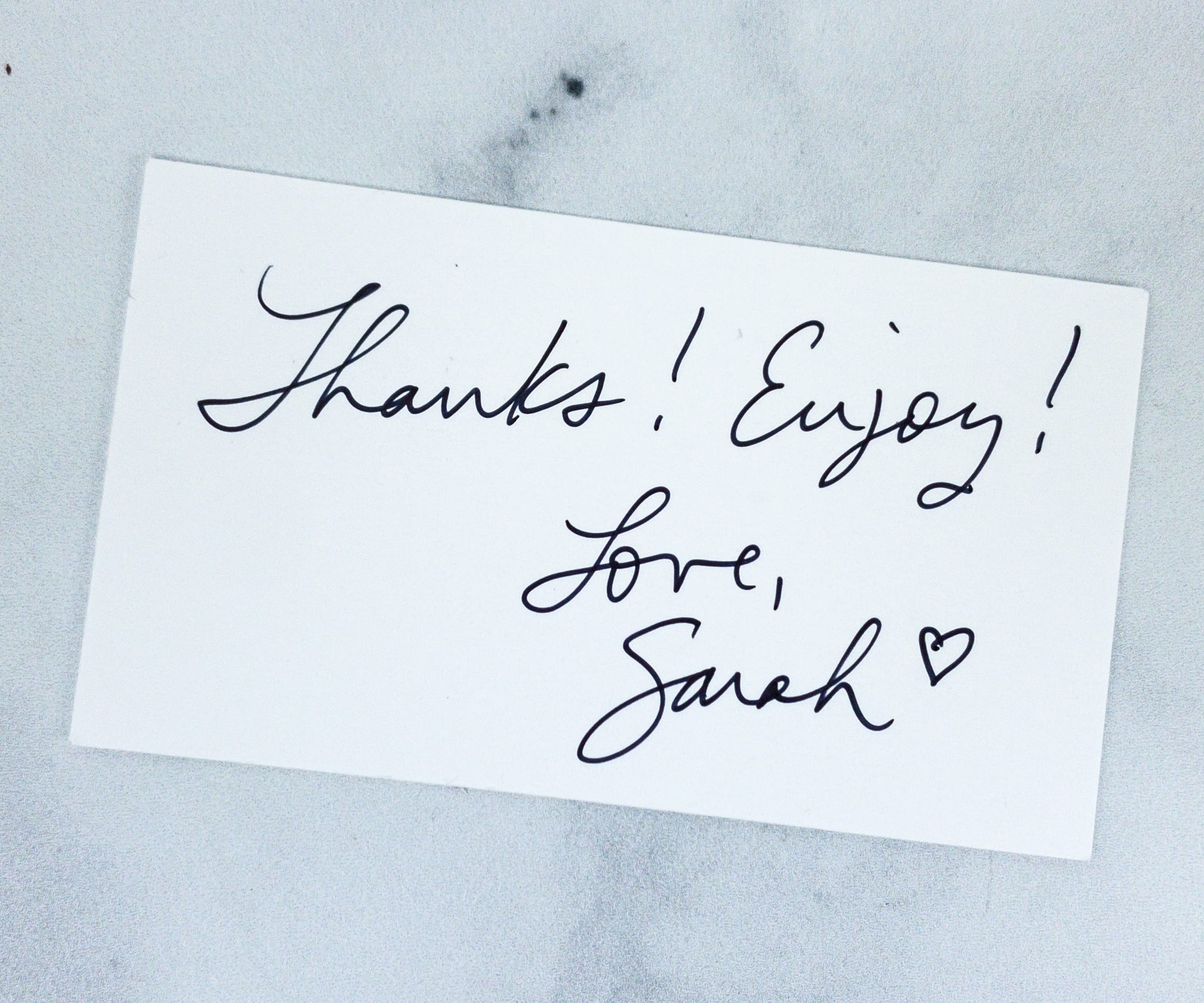 There's a handwritten note from Sarah, the box owner.
The pamphlet also contains a message from Sarah.
They also listed the brands featured in this month's box.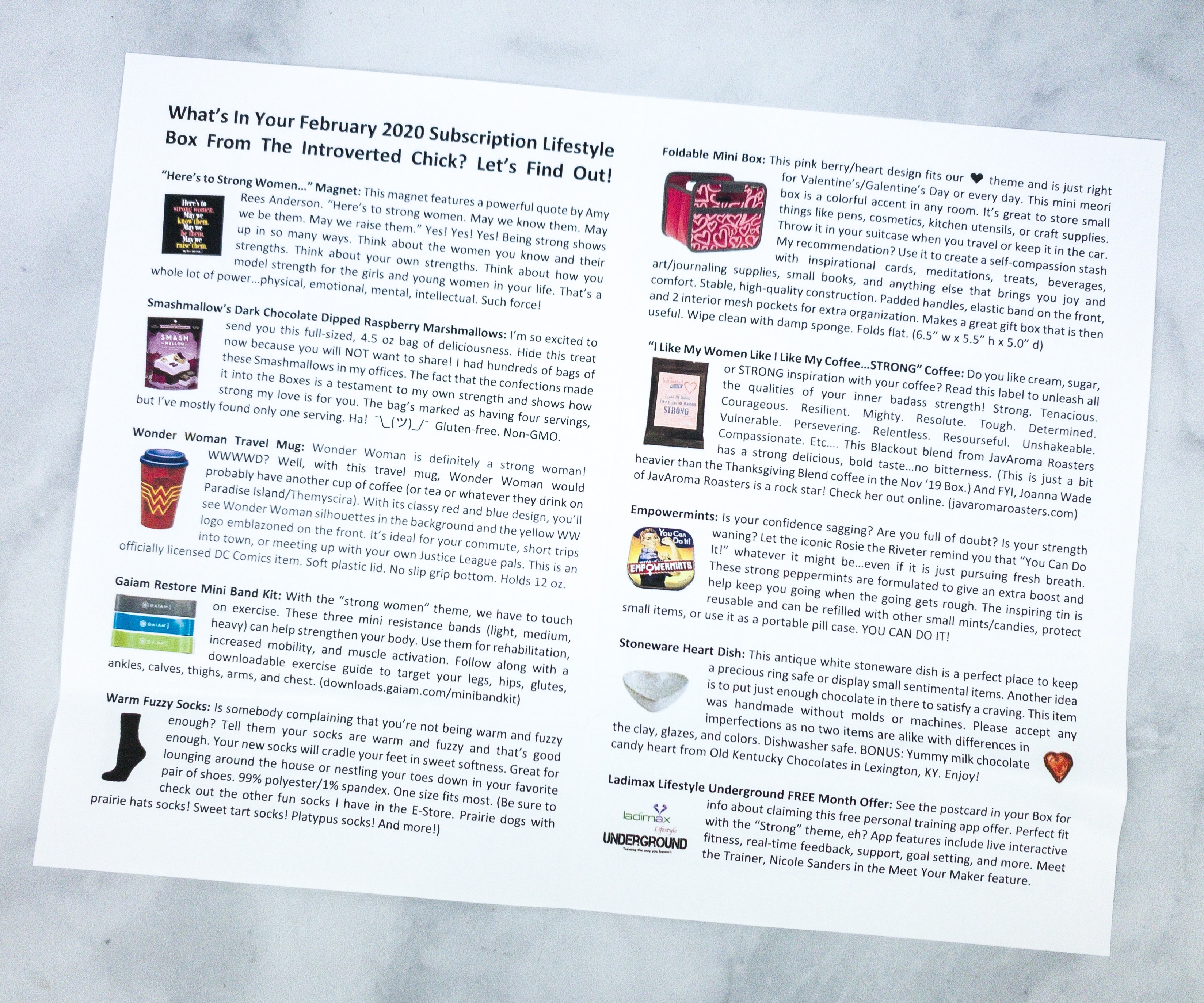 Of course, there's a rundown of all the items, plus a brief description for each.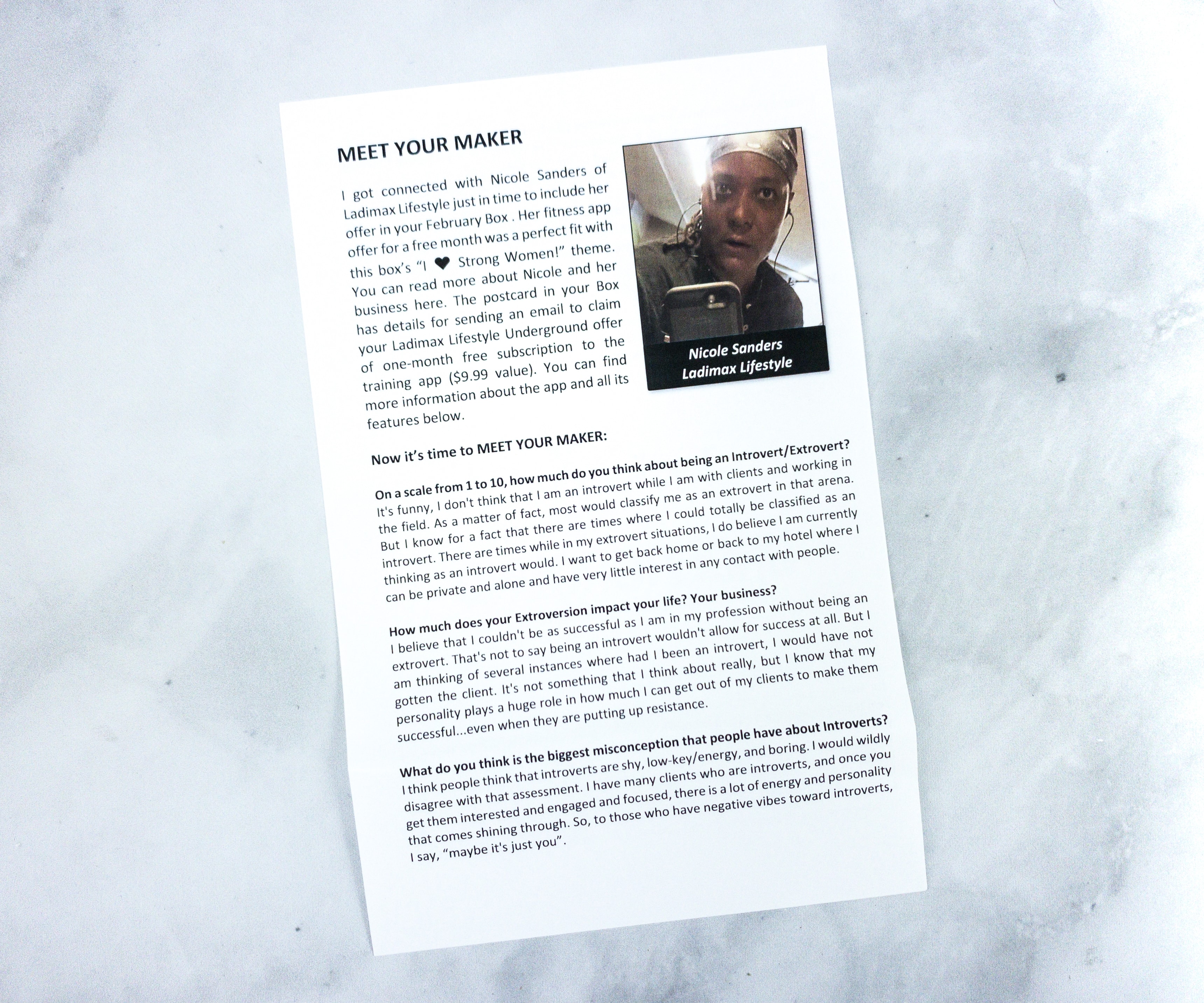 There's also a Q&A with maker Nicole Sanders from Ladimax Lifestyle.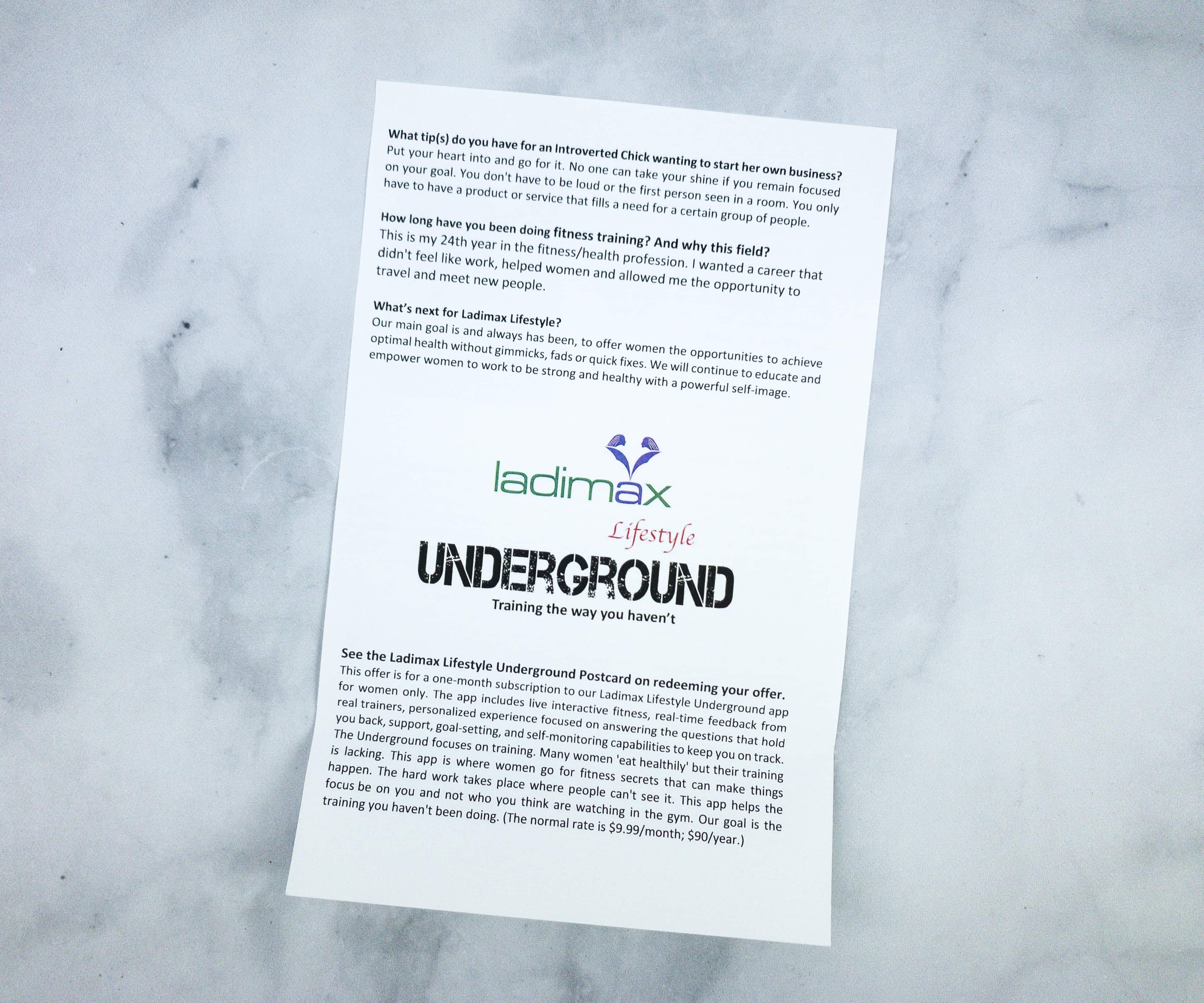 Ladimax Lifestyle is a fitness app for women. It includes live interactive fitness, real-time feedback from real trainers, personalized experience focused on answering some questions that you want to ask, support, goal-setting, and self-monitoring capabilities to keep you on track.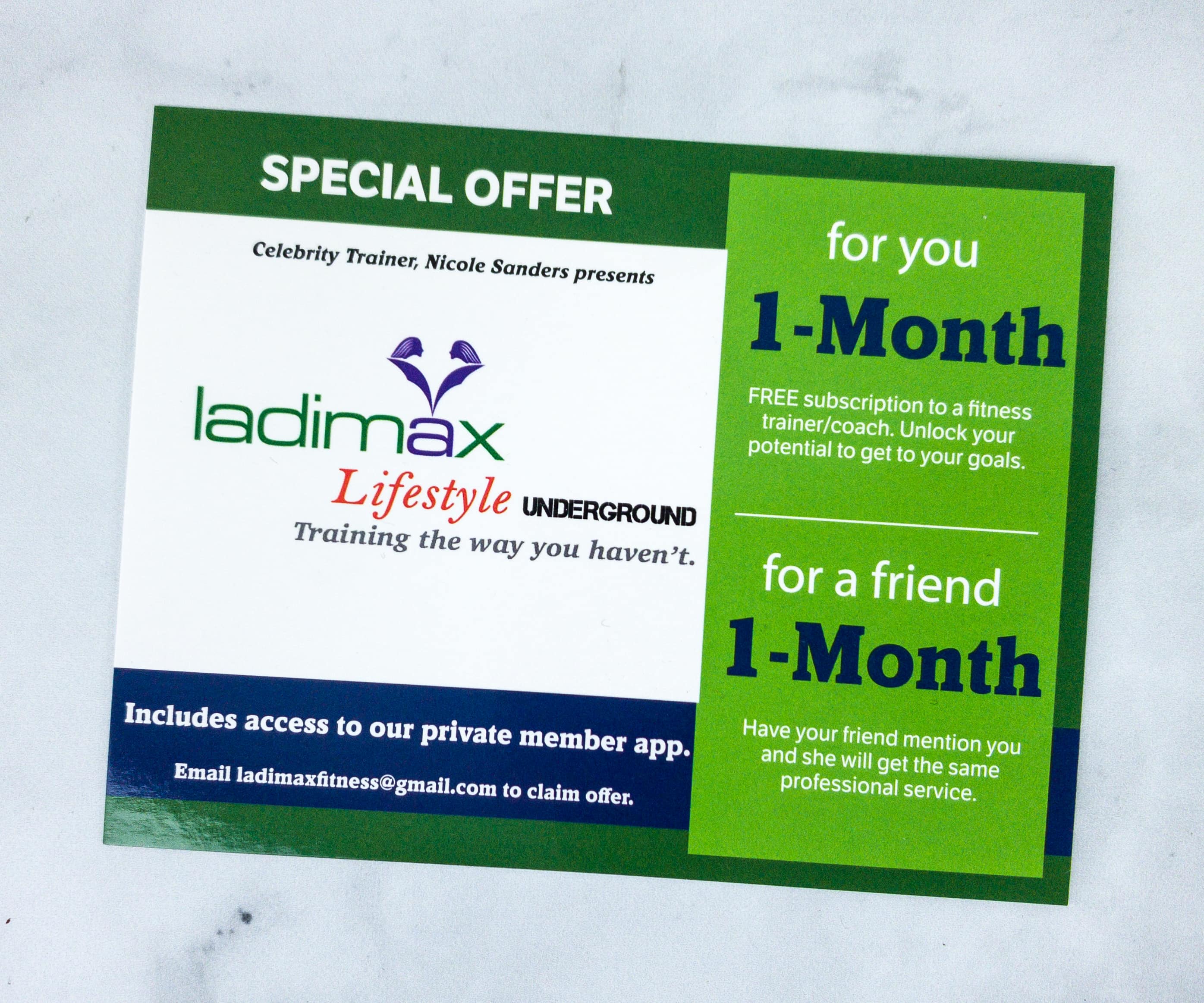 They gave us a free 1-month subscription to a fitness trainer/coach. You can also give one to a friend!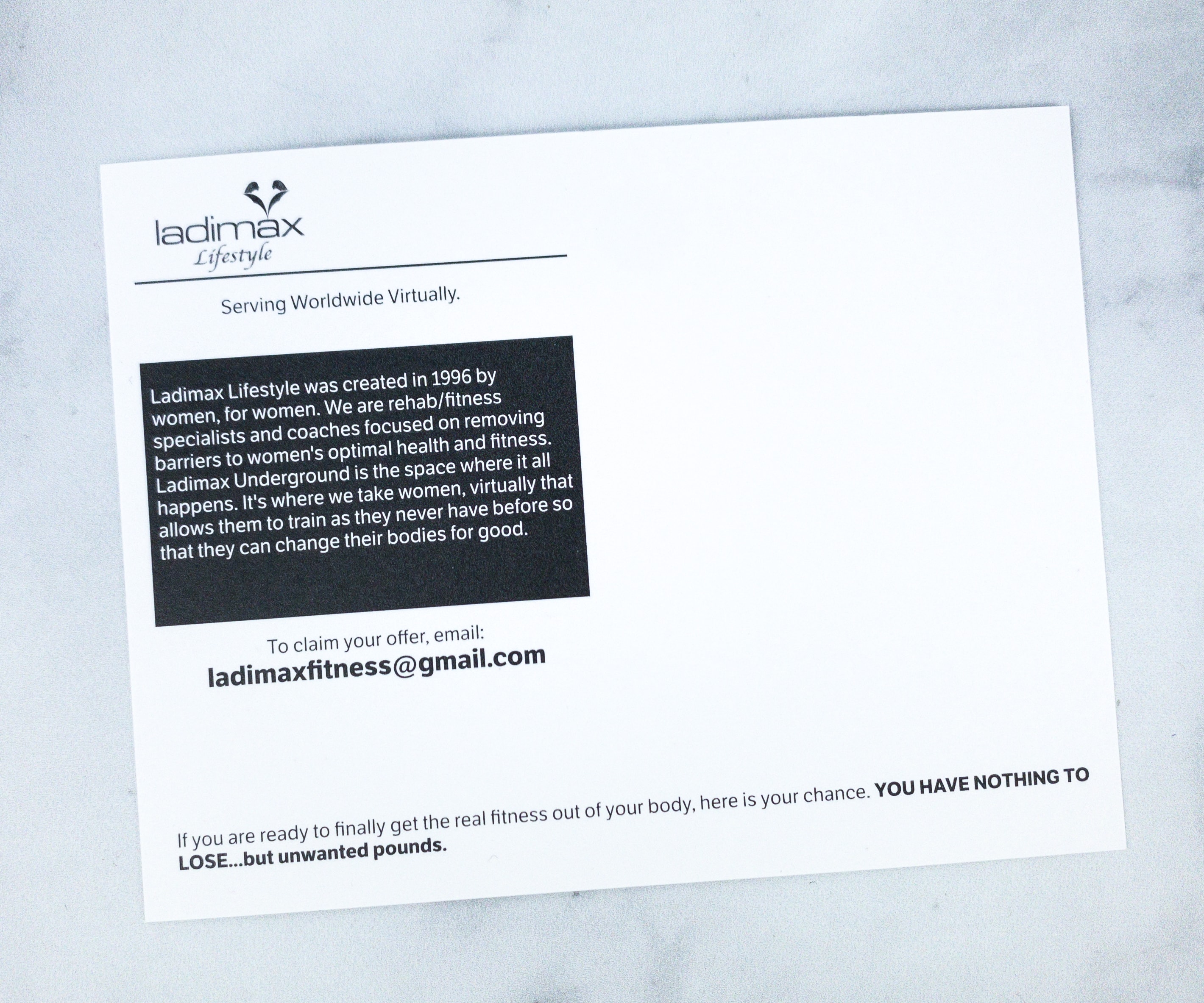 The back has an instruction on how to claim the offer.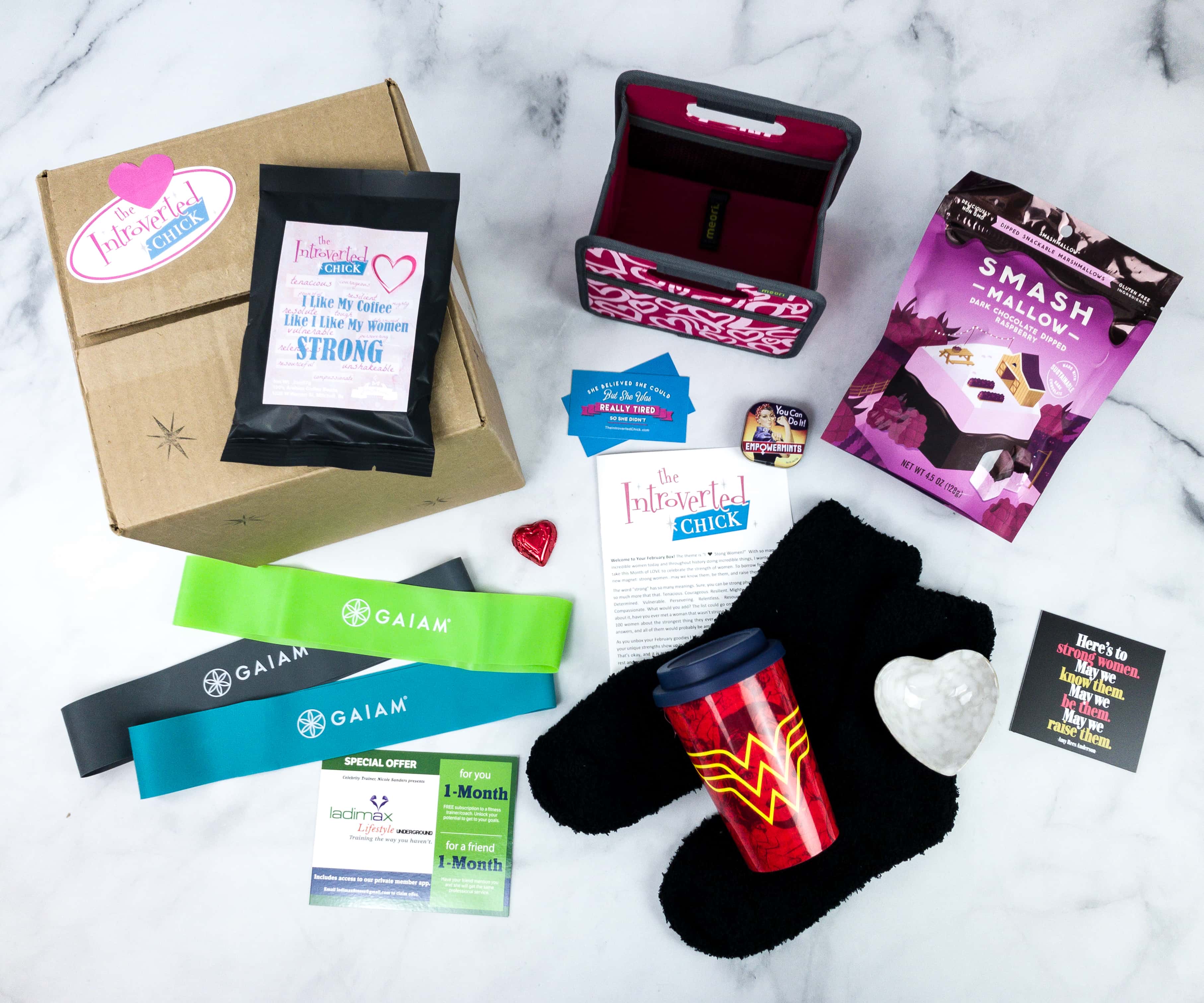 Everything in my box!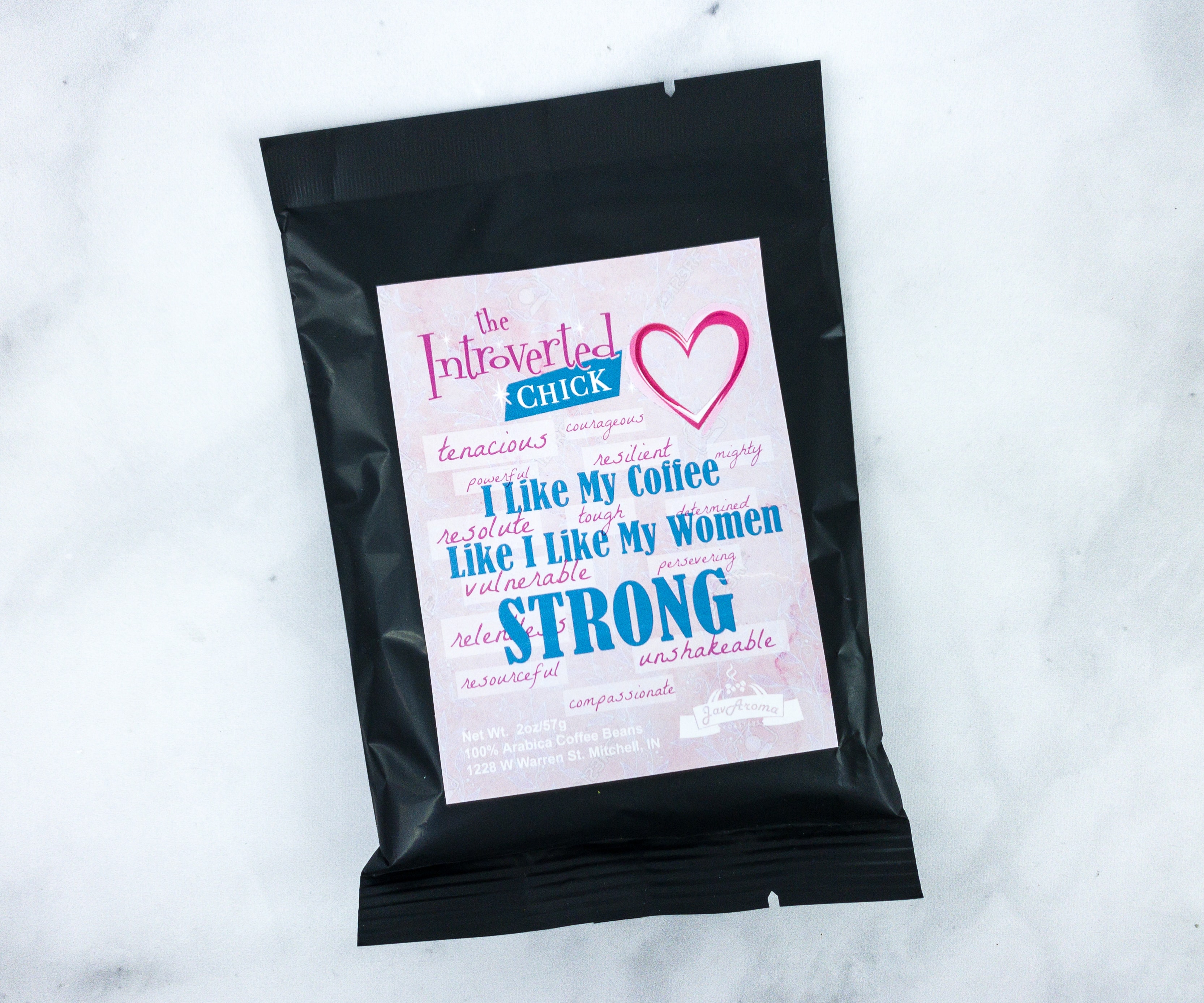 I Like My Coffee Like I Like My Women… Strong Coffee. Not really a fan of coffee, but I bet this bag of arabica coffee beans really is as amazing as the women of today: empowered, resourceful, unshakable, and strong!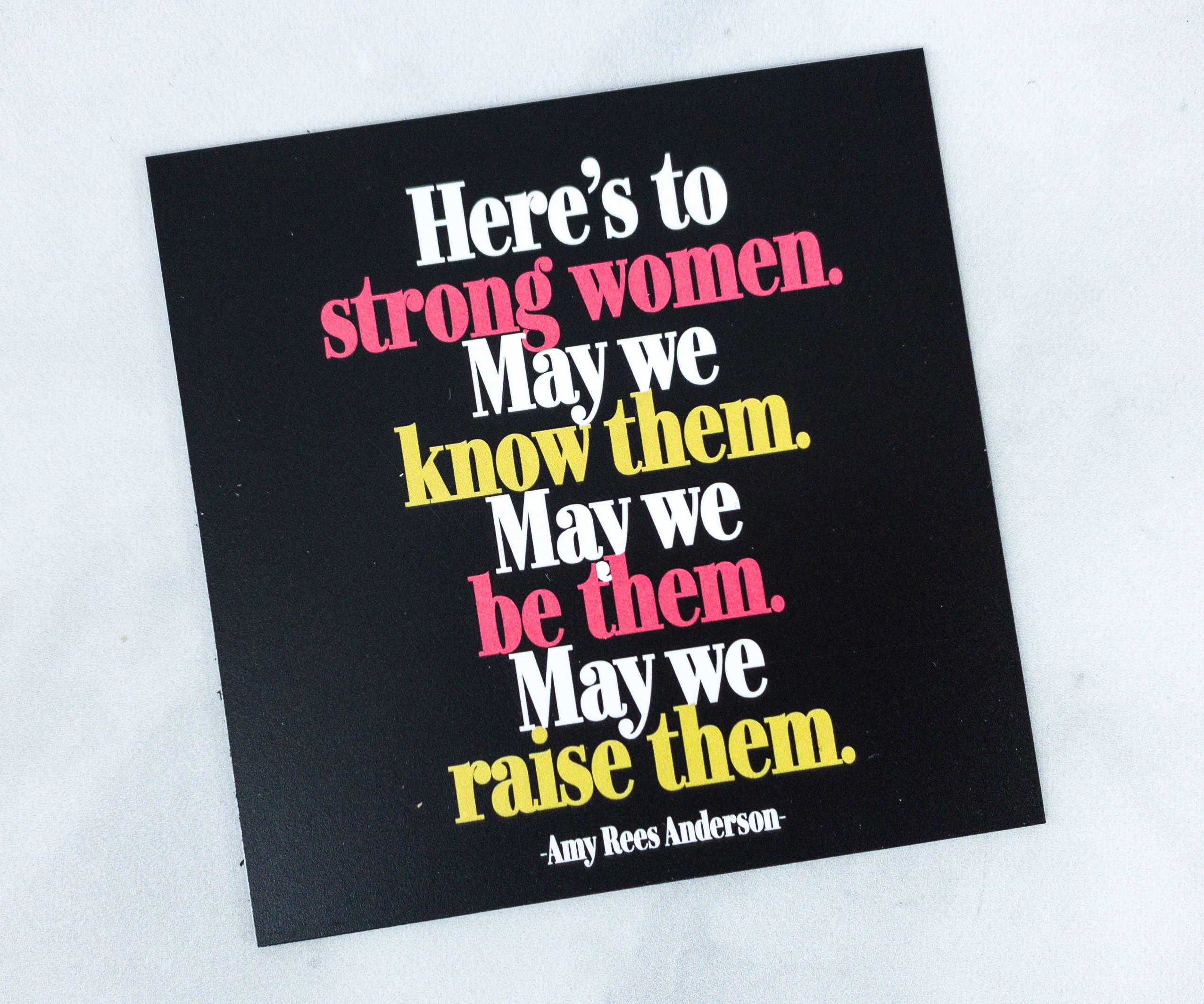 Here's To Strong Women Magnet. I really like the positive message that this magnet is getting across to us:
Here's to strong women. May we know them. May we be them. May we raise them.
The inspiring magnet is designed by Quotable Cards, Inc. You can also send them your favorite quotation and they might turn it into a nice magnet like this woman-empowering one!
Cards. Any introvert would be able to relate to the message on these cards: "She believed she could but she was really tired so she didn't." Social interactions tire us out, so we often need to recharge.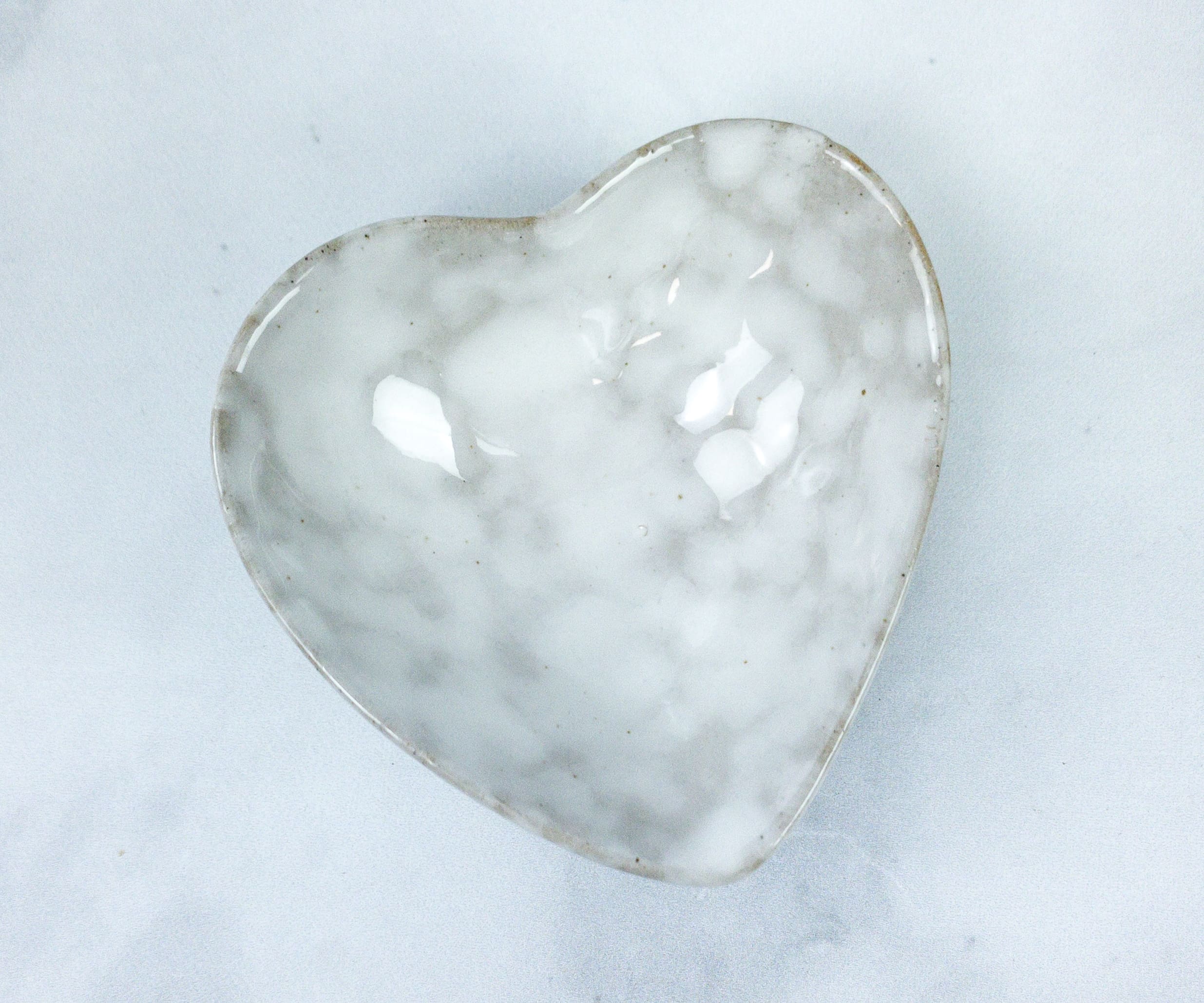 Stoneware Heart Dish. This may have some flaws but those are the things that make the dish special and beautiful!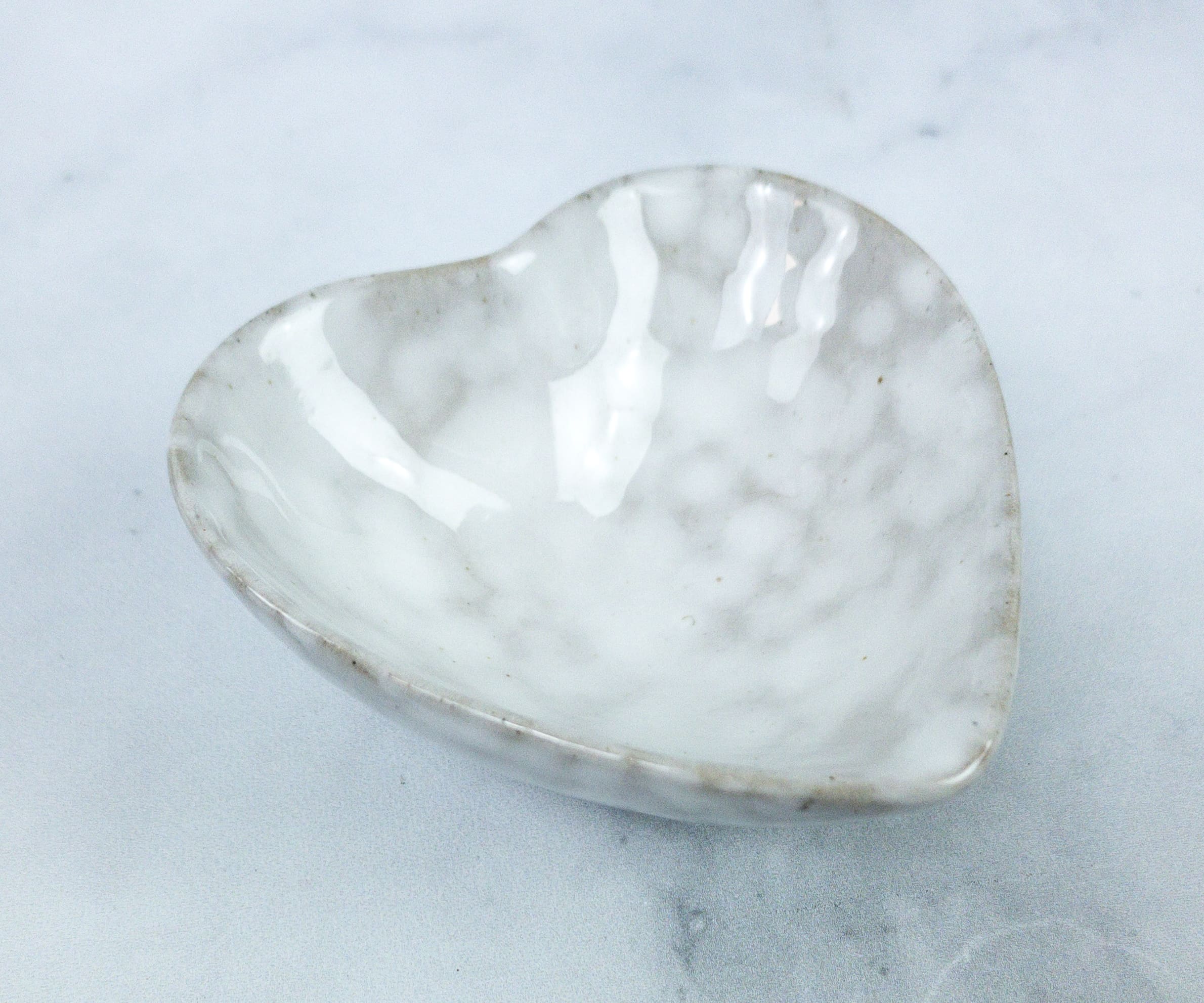 It's a perfect piece for my side table, and it can also hold tiny items, like pieces of jewelry or trinkets.
Milk Chocolate Candy Heart. This heart-shaped treat comes as a bonus with the heart dish. How sweet!
Empowermints. For those who need encouragement, here's Empowermint! I like the witty name, and it even features Rosie the Riveter!
The strong peppermints are placed inside a reusable tin container.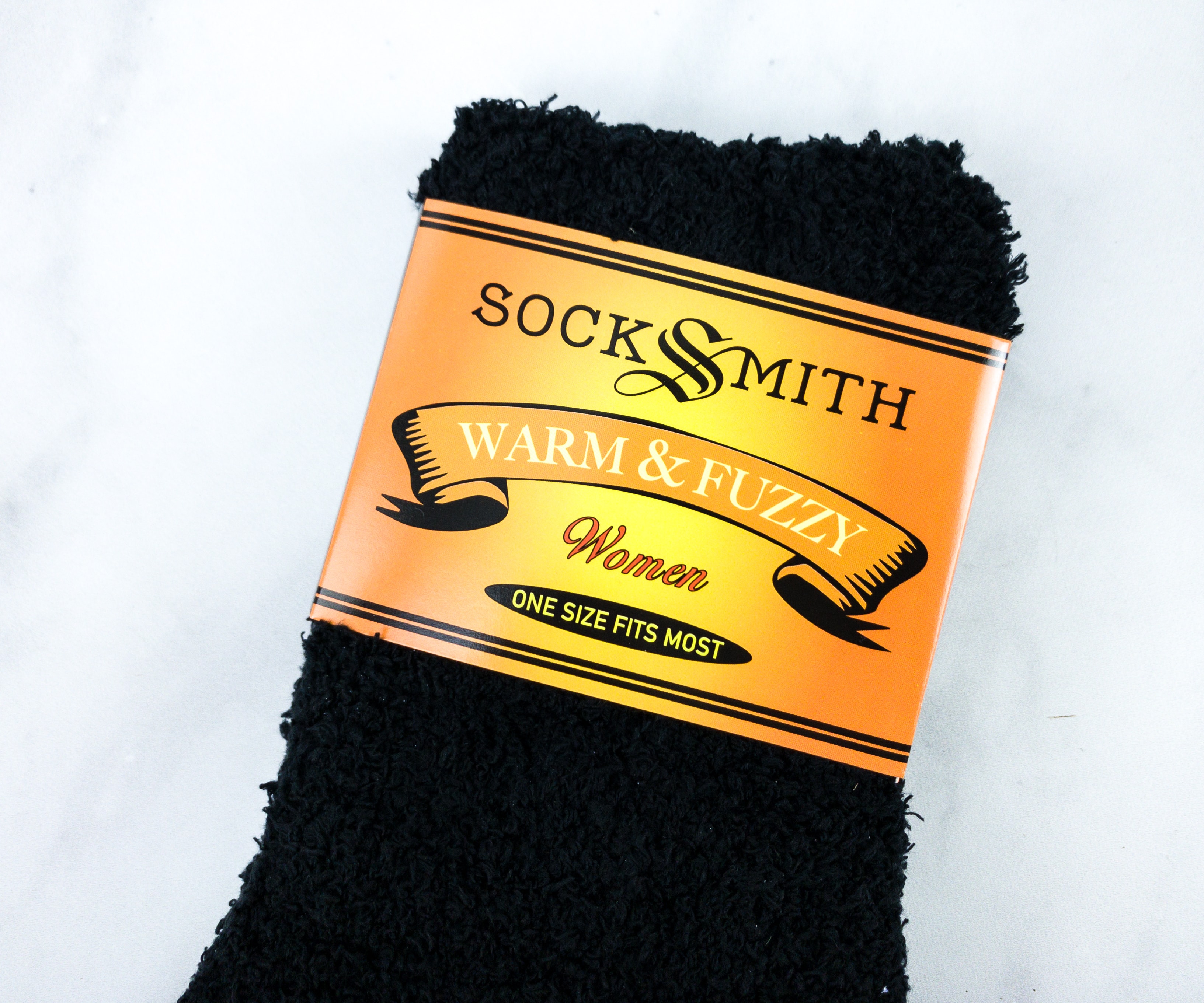 Warm Fuzzy Socks. The label says the exact qualities I'm looking for in socks: warm and fuzzy!
The one-size-fits-most socks are made with 99% polyester and 1% spandex.
The pair is really soft and comfy! They're great to use when you're lounging around the house, or when you wear your favorite boots to keep your feet toasty!
Wonder Woman Travel Mug. Bringing your own mug or cup when traveling doesn't just save you money, it's also eco-friendly. This one is just perfect as it features Wonder Woman who serves as an inspiration and as a symbol of women empowerment!
There are classic comic book images around the mug. It also represents Wonder Woman's colors: red, blue and yellow!
It even comes with a lid. No more need for straws because I can easily sip my drink from it.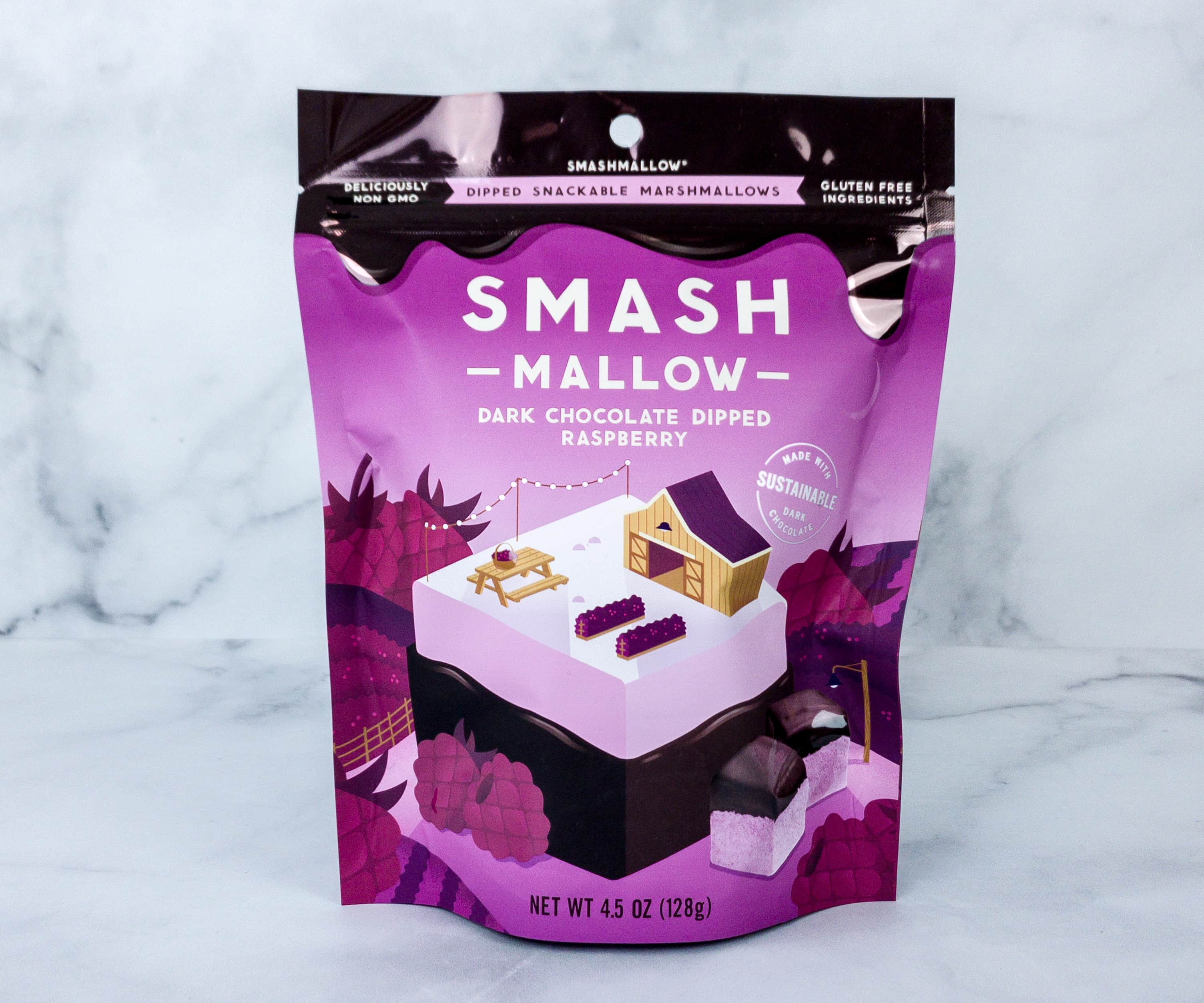 Smashmallow's Dark Chocolate Dipped Raspberry ($5) What better way to spend a free day than stay at home and snack on this chocolatey treat!
The Smashmallow is made from non-GMO ingredients and dipped in sustainably-sourced dark chocolate.
They're soft and delicious! I love the dark chocolate coating which balances the sweetness.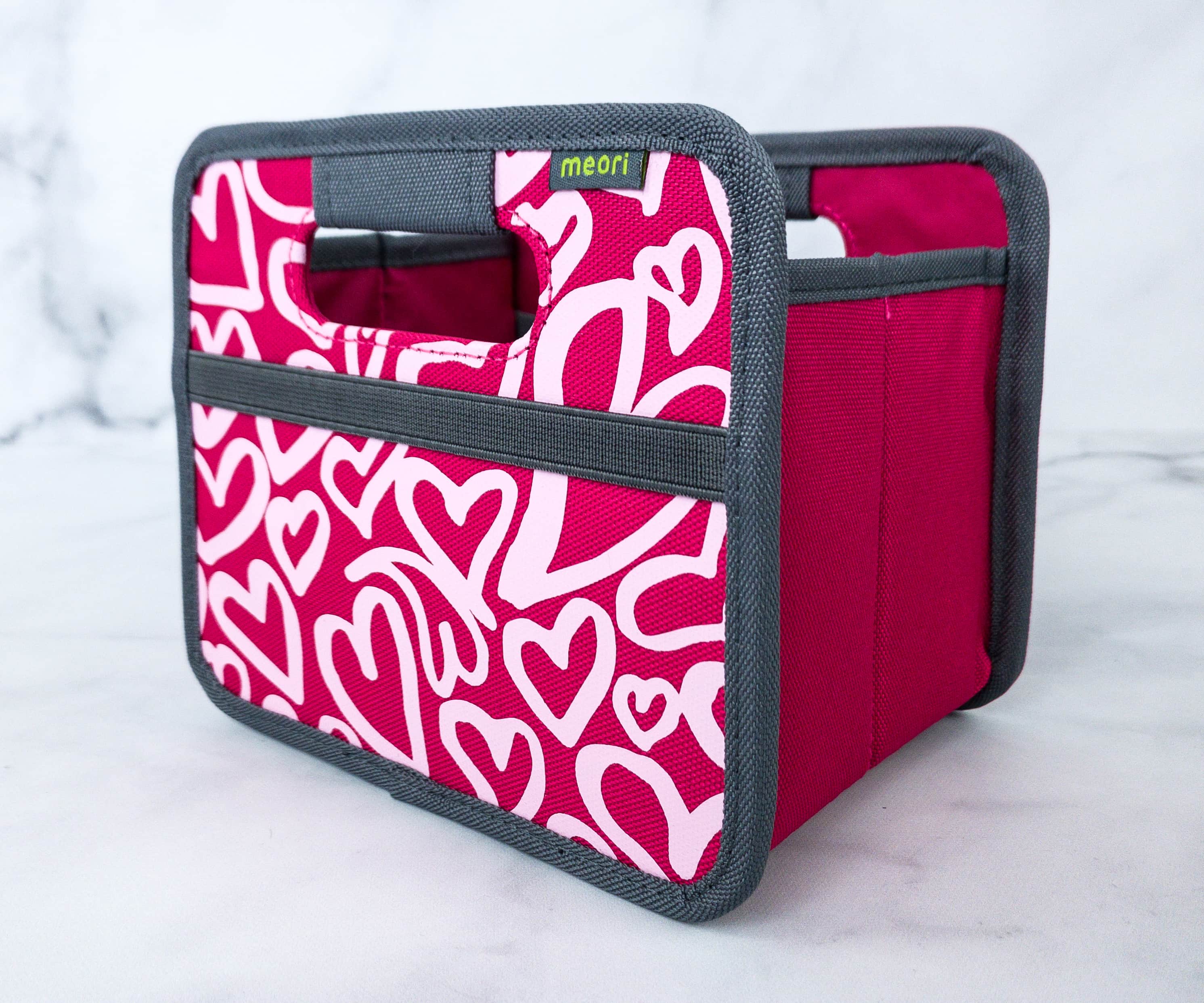 Foldable Mini Box. The heart drawings on this foldable box are just too cute!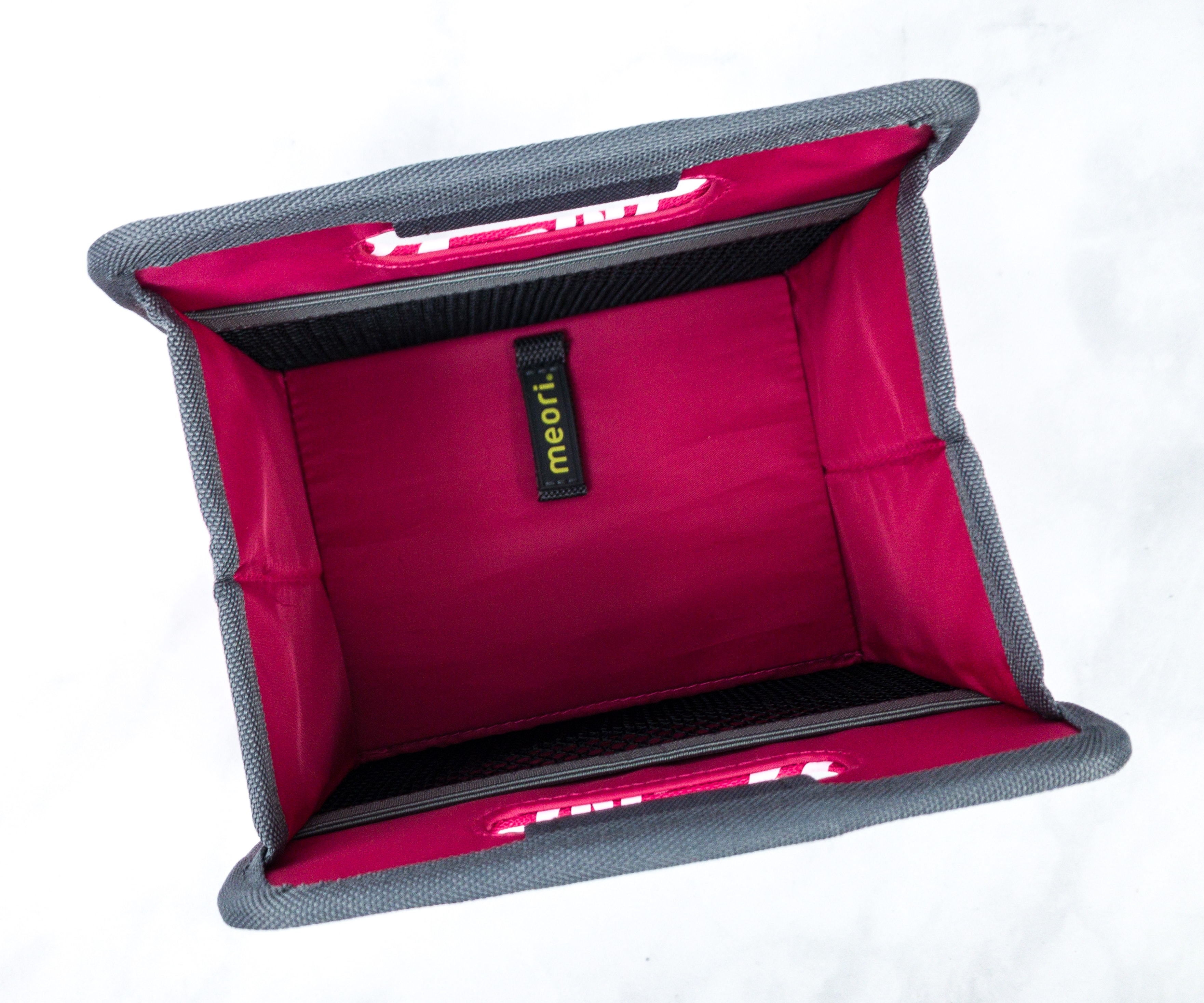 The small box is great for small items, accessories, as a make-up organizer, or crafting tool storage. It even has 2 mesh pockets inside.
Since the box can be folded, it won't take so much space when not in use.
The box is great for desktops, side cabinets, or even countertops.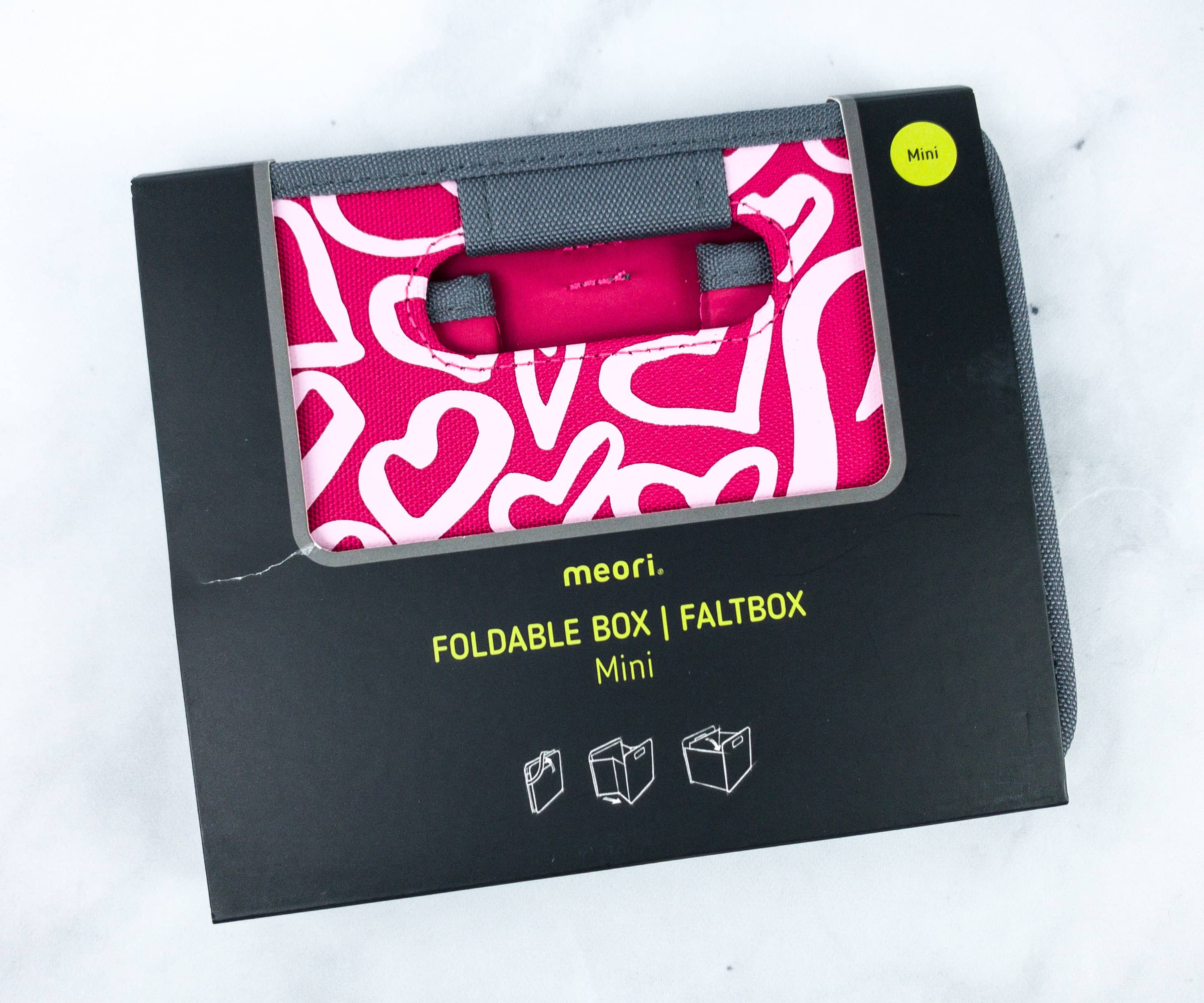 It's made with dirt-resistant and tear-proof polyester.
Gaiam Restore Mini Band Kit – I also got a set of mini-resistance bands, which can be used for exercises at home or even when you travel.
The bands help strengthen the body and they can be used for rehabilitation, increasing mobility, and for muscle activation as well.
It comes in 3 different colors representing 3 levels of resistance: light, medium, and heavy.
You can also use the band along with the downloadable exercise guide that targets the hips, legs, ankles, calves, glutes, arms, thighs, and chest.
For others, staying at home means boredom, but never for us introverts! The Introverted Chick box surely understands this because they keep sending us items that make us want to stay in more and enjoy more alone time. I also like the Valentine's themed items in this box, the collapsible box and heart dish. The Wonder Woman mug is also really awesome. Of course, let's not forget the yummy marshmallow and chocolate snack. It's simply the best. All in all, I had fun with the box contents and I can't wait for future boxes! You all rock, introverts!
What do you think of The Introverted Chick box?