Pura Vida Bracelets Club is a monthly subscription that delivers 3 stylish, trendsetting, and exclusively designed bracelets, carefully curated by their own team of influencers and fashion stylists. The orders are shipped out within 4 -5 days of purchase, and the pack arrives on the 15th of each subsequent month.
DEAL: Get one month FREE with a 6-month subscription and three months FREE with an annual subscription! Deal applies automatically, just VISIT AND SUBSCRIBE.
You can also save 10% on anything in their shop by using coupon code PVSAVE10. Subscription not included.
The items arrive in an orange mailer with Pura Bracelet Club branding.
The featured bracelets of the month are packed in a reusable drawstring pouch.
According to the booklet, Pura Vida is founded in Costa Rica and they are bound to help provide full-time jobs for artisans worldwide.
Inside the booklet is Pura Vida's story, how they started and also the meaning behind the brand. Apparently, "pura vida" means "pure life" in Spanish.
Every purchase of the bracelets helps support hundreds of artisans providing them steady income, employment opportunities, and a positive work environment.
The sticker features a pineapple!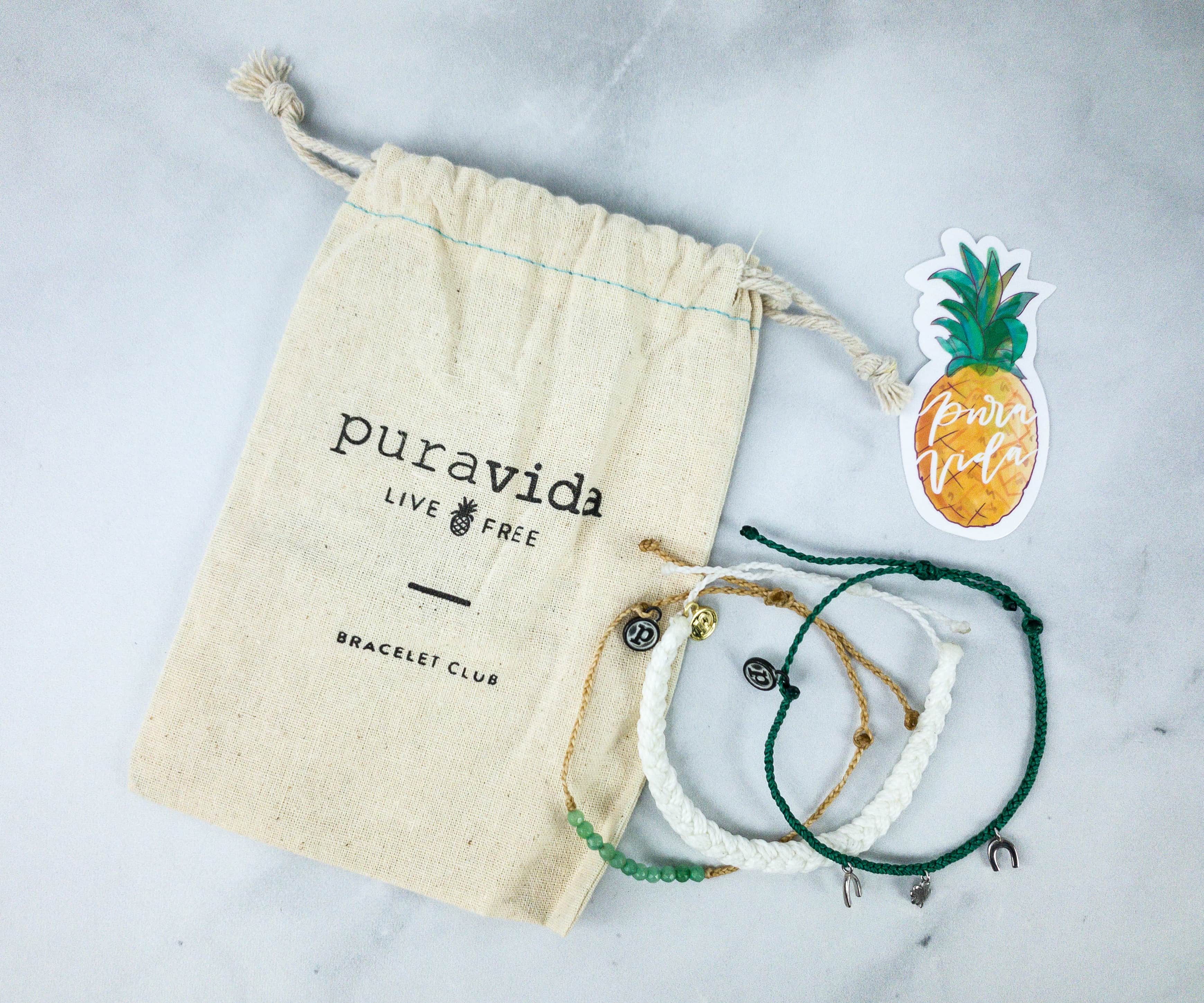 Everything in my March 2020 Pura Vida Package!
The bracelets were held together by a white carton.
This month's bracelets feature earth colors and I'm here for it! The first one has gold-colored braided strings, plus green beads. The second one features thicker braided strings in white. Lastly, there's a dark green bracelet with lucky charms!
They all look so pretty! Our favorite is definitely the one with lucky charms, including two horseshoes and a four-leaf clover.
Pura Vida Bracelets sends cute and high-quality arm candies monthly. It's a great subscription for anyone who loves wearing bracelets or who has a bracelet collection. These bracelets look wonderful, whether when stacked together or worn individually. They're also easy to match and to wear, so they're perfect for any casual day. Our bracelet collection is growing and we're really happy about it! Can't wait for the next set of bracelets already!
What do you think of this month's Pura Vida Bracelets Club?
Visit Pura Vida Bracelet Club to subscribe or find out more!