We have the third spoilers for the Spring 2020 Oceanista! The theme is BLUE LAGOON!
?We chose this theme in celebration of Pantone's 2020 Color of the Year: Classic Blue 19-4052 ? .
?The Blue Lagoon box will be an exciting curation of our love of Seaside Blues. .
DEAL: Get $10 off your first box or annual subscription! Use coupon code HELLO10 or HELLOBLUE.
Each box includes:
The Maliblue Weekender Beach Bag!
Here's a closer look:
Plus:

Jilzarah Premium Clay Jewelry in their Seaside Blue and French Lavender Collection.
Designed in Chicago. Handmade with Love.

From vibrant golds and blues to pastel pinks and lavenders, JILZARAH is all about expressing yourself through color and looking amazing while you do it. Every single bead and pattern is the result of hundreds of hours of dedication and passion from our designers. We don't stop until each one is just right and neither do our artisans.

What I love about Jill's handmade clay jewelry is the uniqueness of each of her pieces! Many of them are reversible and you can wear her jewelry dressed up, dressed down and even at the office! I have no doubt you're going to love it! xo ~JJ

Please note: Choices will be removed as they become unavailable.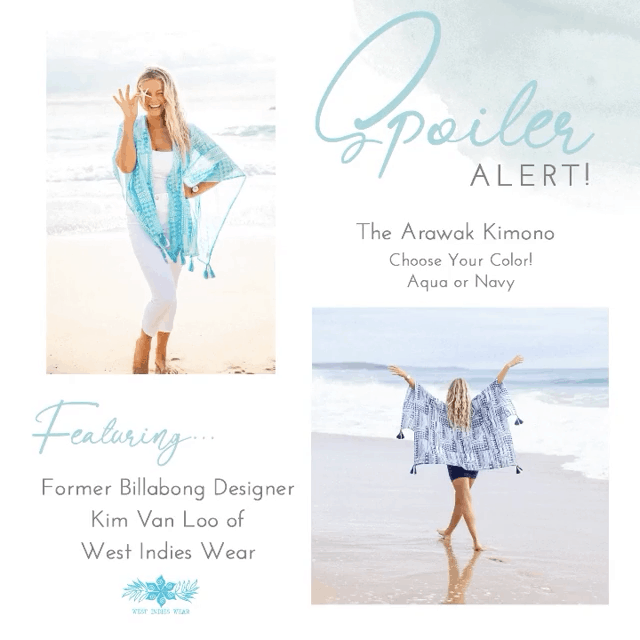 Arawak Kimono by Kim Van Loo of West Indies Wear!
We are so excited to feature Australian-born fashion designer Kim Van Loo of West Indies Wear!

Our Spring, 'Blue Lagoon' Box will be curated with Kim's beautifully designed Arawak Kimono! Her inspiration came from The Arawak Taino People. They were a peaceful indigenous tribe of people who lived throughout South America & the Caribbean long before Spanish settlement. Many Arawak rock carvings & petroglyphs have been discovered throughout the Caribbean islands. Even today they continue to be found by hikers in lush overgrown rainforests. The symbols in Kim's Arawak print are derived from their ancient rock carvings.

The pure cotton Arawak Kimono is a wonderful alternative to your standard tunic top, throw this kimono style cover-up over your shoulders to get that boho chic look when you first get out of the water. If you don't always feel confident in your swimsuit, this is instant cover-up. It also provides sun protection while you are on the beach, and converts your jeans & white tee look back home to island chic. Lightweight and cool to wear, the pure cotton fabric dries quickly and doesn't need ironing.

FABRIC : Made from 100% breathable cotton knit fabric featuring our unique Arawak print.
DETAILS : Easy to wear slip on kimono cardi style, one size fits everyone.
FIT : Comfortable One-Size fits most up to XXL.
Here's a closer look: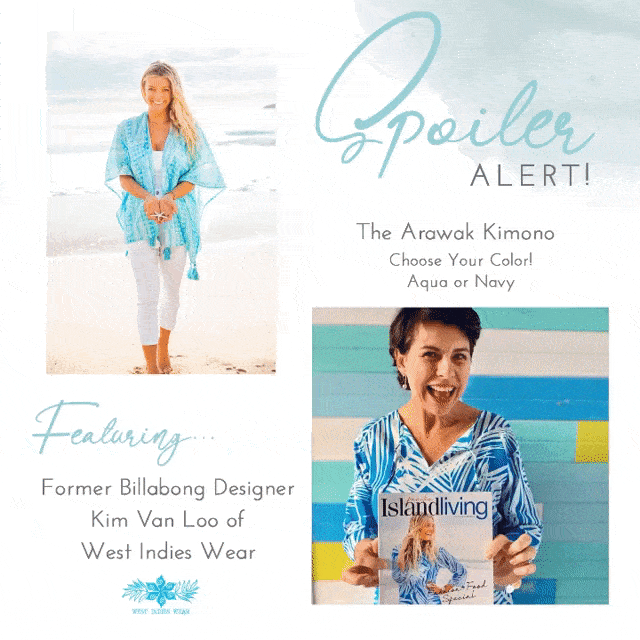 Are you getting Oceanista?