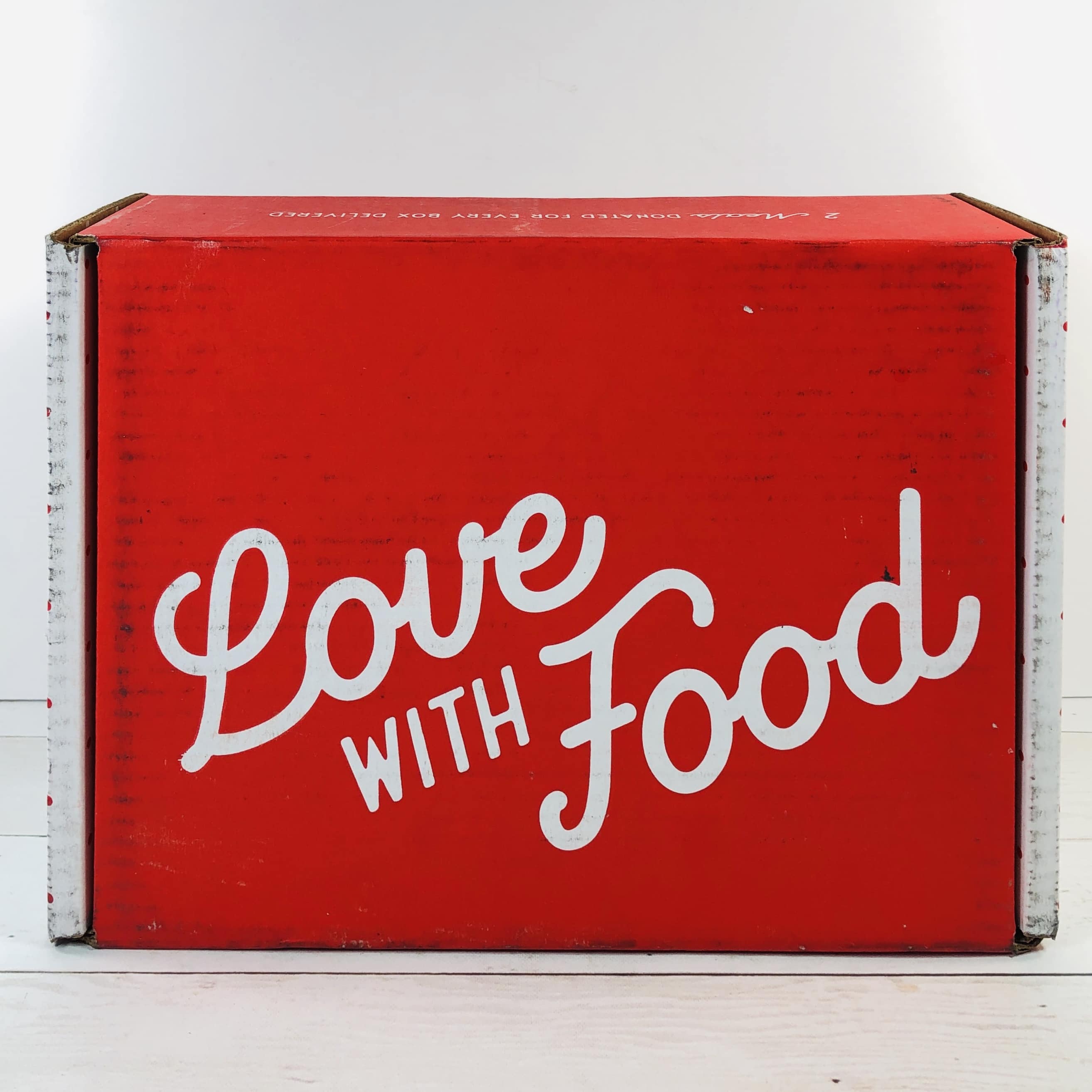 Love with Food Deluxe Box sends 15+ surprise snacks from various healthy snack brands each month. It's an ideal snack box for sharing at home or if you are a heavy snacker. This particular plan promises to include plenty of snacks for everyone and a few duplicates. Also, the snack box only includes snacks made with real ingredients and no added chemicals. The Deluxe Box is $19.95 a month. Love with Food also offers other snack boxes such as the classic Tasting box and the Gluten-free box.
Our team scours hundreds of brands every month and chooses the best tasting, feel good options for your box.

No chemicals, artificial flavoring, MSG or high fructose corn syrup
Clean and delicious snacks made with real ingredients
Every snack passes our 73 Banned Ingredients List
Expertly sourced, vetted and curated
DEAL: Save 40% off your first Love With Food Box: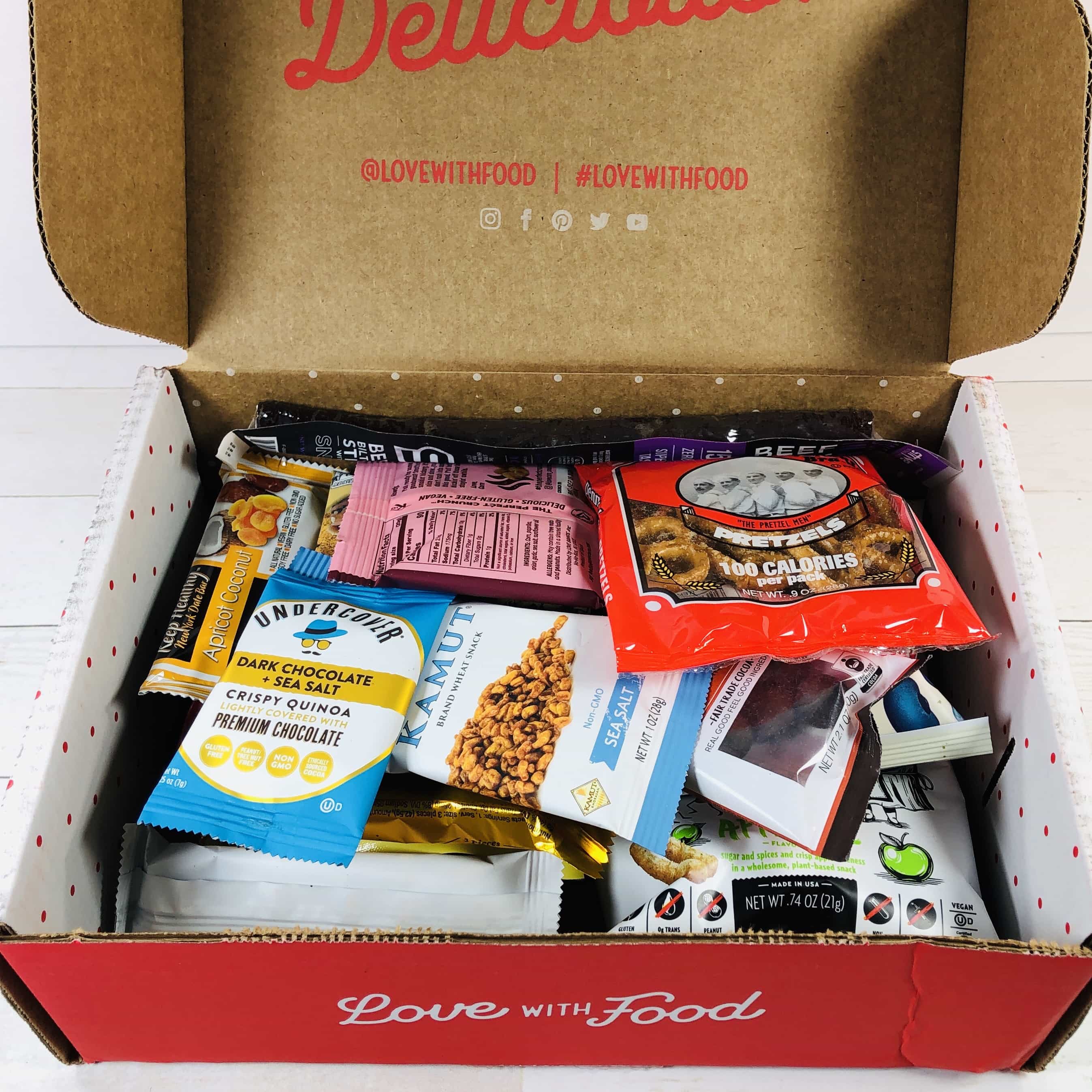 Packed to the top!
I found a card that has a blank spot so I can write in why I'm lucky. You can find all of the items sampled each month on the Love With Food website.
For every box sent to subscribers, Love With Food donates a meal to families in need. Don't forget to review your snacks so you can earn points for even more snacks!
Everything in my box!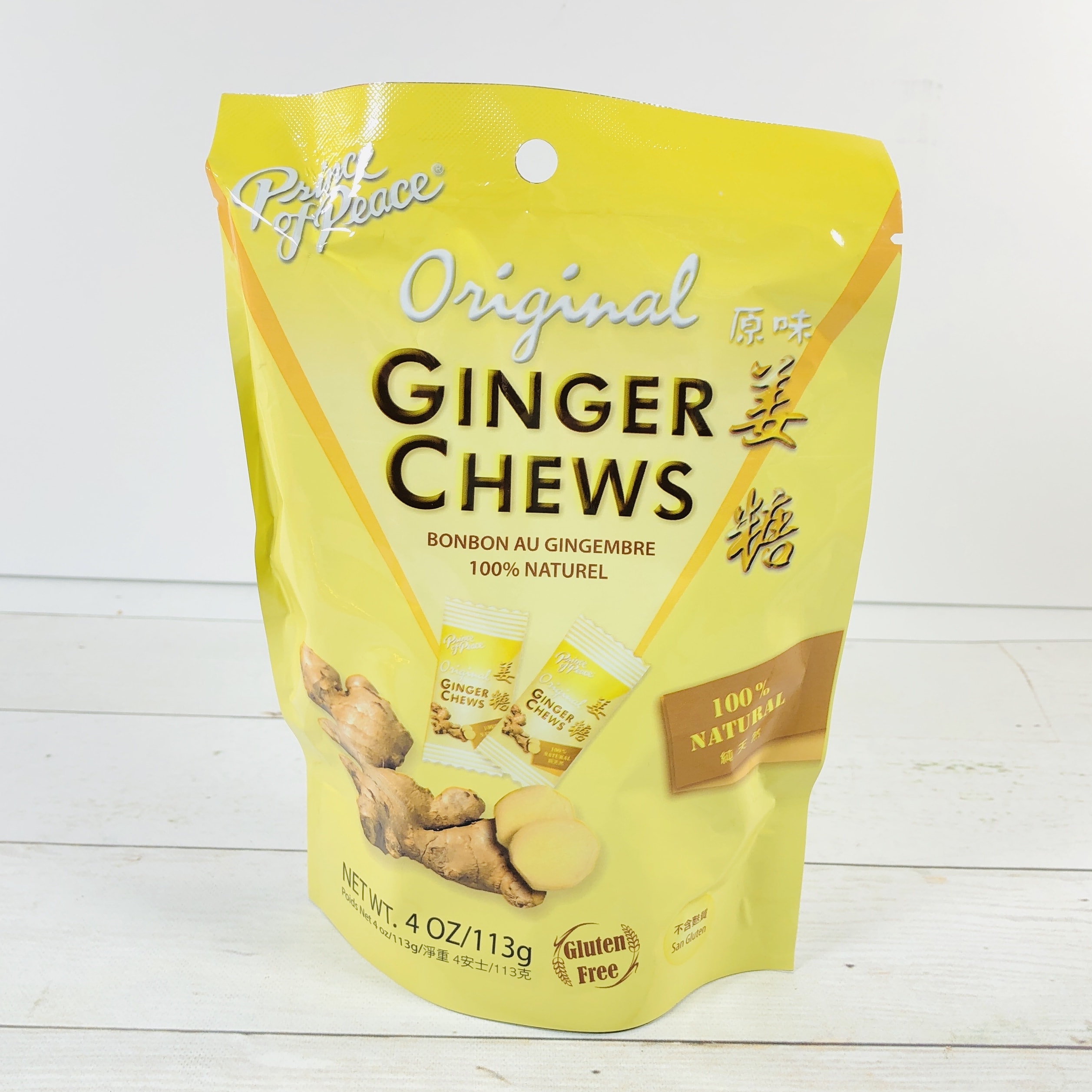 Prince Of Peace Original Ginger Chews I have received similar treats like this in the past, but usually they are flavored. This is the original.
The candies are individually wrapped. Inside you will find a piece of candied ginger, and there a lot of packs in this bag. The candy is chewy and very spicy to me, your perception may be different. This may help alleviate nausea or morning sickness so they are good to keep on hand for your natural pharmacy.
Incredi Puffs Cinnamon Apple Pie are like cheese puffs, but apple cinnamon flavored! They remind me of cereal.
Farm To Bag Beanitos Sea Salt Black Bean Chips are made mostly with black beans, sunflower oil, and rice and will be perfect along a sandwich for lunch.
Pennysticks Brand Pretzels Pretzels are a pretty common snack in this box and my daughter ate them happily.
Love, Corn in Smoked BBQ are made with non-GMO corn plus oil and spices. I no longer eat this kind of snack (I don't want to break a crown) but I like the minimal ingredient list.
Pear's Gourmet Everything Bagel Flavored Cashews and Legendary Foods Buffalo Wing Seasoned Almonds are both great snacks because the first ingredient is nuts! Everything Bagel Cashews has sesame seeds and poppy seeds plus some tasty flavors. The almonds have a spicy, tangy note with a hint of sweetness.
Marich Dark Chocolate Barrel Aged Bourbon Caramels Chocolate, caramel, and bourbon all in one little ball? Yum! One of them reminded me of a chocolate covered cherry and I swear one of them had alcohol fumes!
Big Sandy Organics Kracklin' Kamut in Sea Salt has a base of kamut, an ancient grain that's similar to wheat. The only other ingredients are safflower oil and sea salt.
Here are those Bourbon caramels. So good!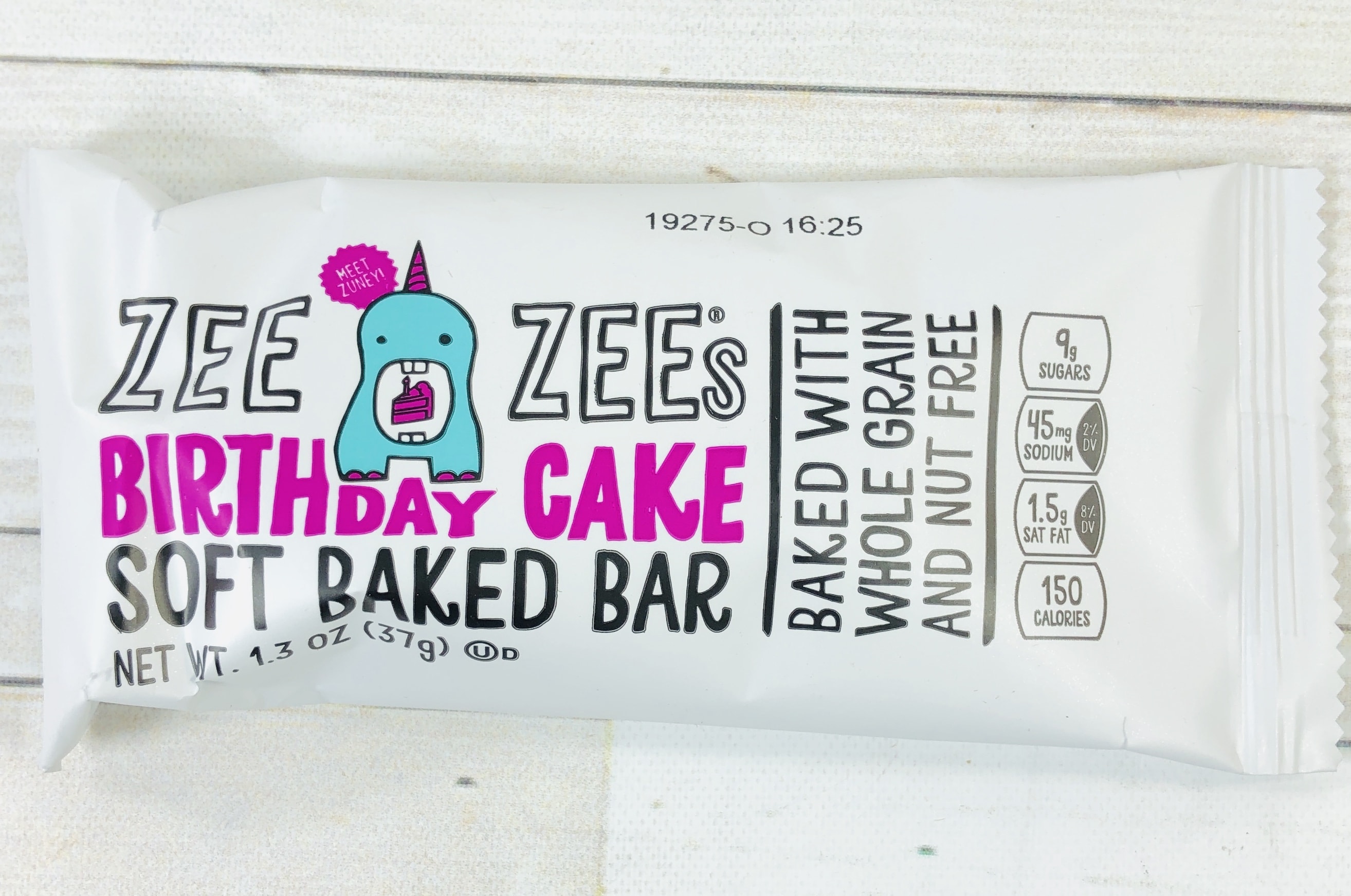 Zee Zee's Birthday Cake Soft Baked Bar are similar to other soft-baked bars but they do have raisin paste plus spirulina, which is a type of algae. My daughter gave me a bite of it and it was soft and sweet, with a bit of icing on top and the consistency of a soft baked oatmeal cookie.
Keep Healthy New York Date Bar in Apricot Coconut I like simple bars like this, and it's similar to a Lara Bar. It has dates, walnuts, apricots, raisins, coconut, almonds, and sunflower oil. I ate it for breakfast and loved the sweet taste.
Enstrom Almond Toffee in Milk Chocolate There were three individually wrapped candies in this bag, perfect for me to share with my two daughters. The inside had roasted almonds and this was a hard candy that was covered in tasty milk chocolate. I let it melt in my mouth, so buttery and sweet!
Here is a picture of the apricot coconut bar!
Stryve Biltong Snacks Beef Biltong Stick The ingredients in here are mainly beef, vinegar, and spices and we have mostly stopped eating this type of snack but my daughter decided to give it a try.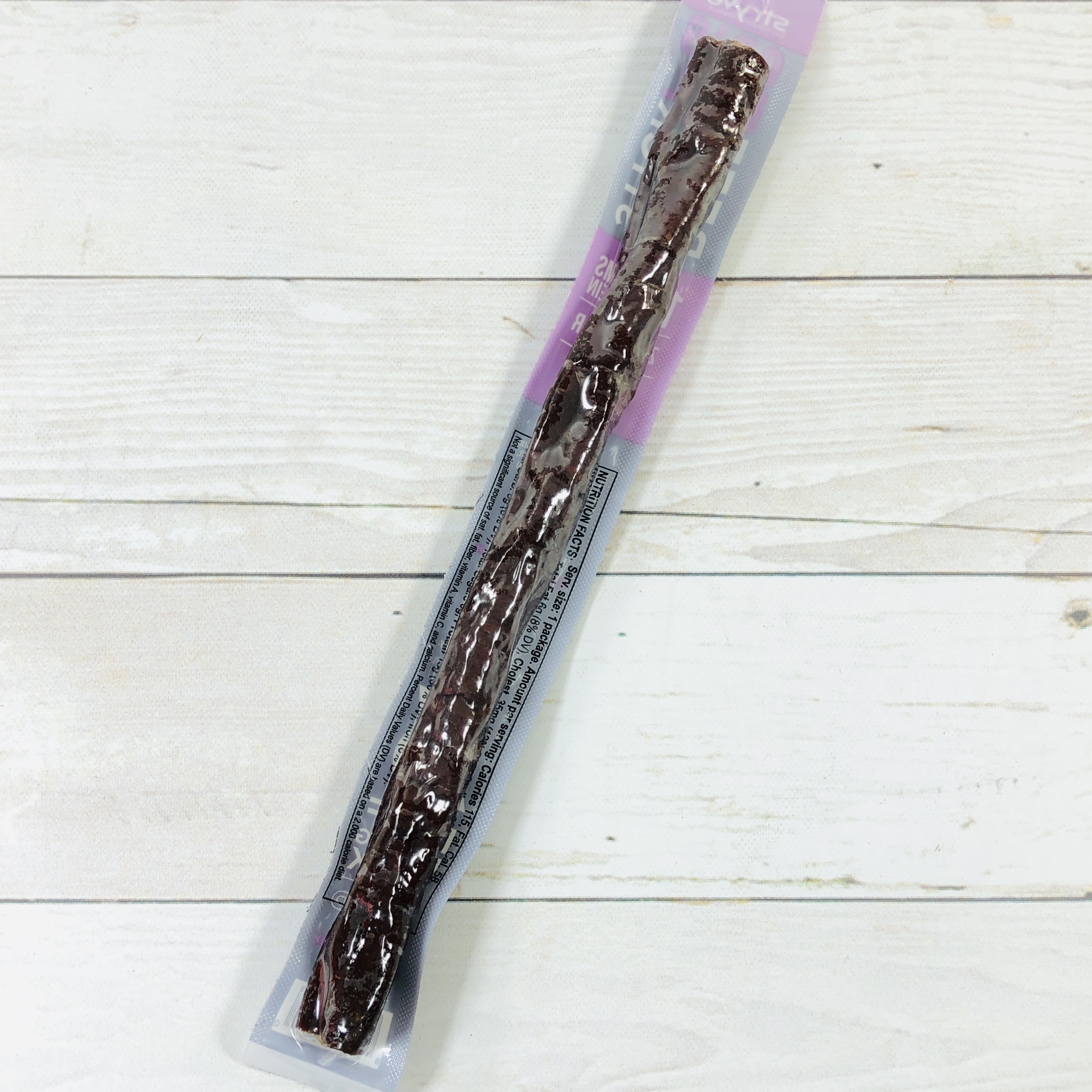 She wasn't happy with the texture and said it was hard to eat.
Undercover Dark Chocolate + Sea Salt was like a dark chocolate Nestle Crunch candy bar, but with an interesting flavor from the popped quinoa (instead of the blandness from rice).
Awake Mint Dark Chocolate Bite I didvided this bar into three pieces to share with my daughters and we all agreed that it is a winner! It's some delicious chocolate with refreshing peppermint flavor and we adore minty chocolate. Each bar has the same amount of caffeine as a cup of coffee.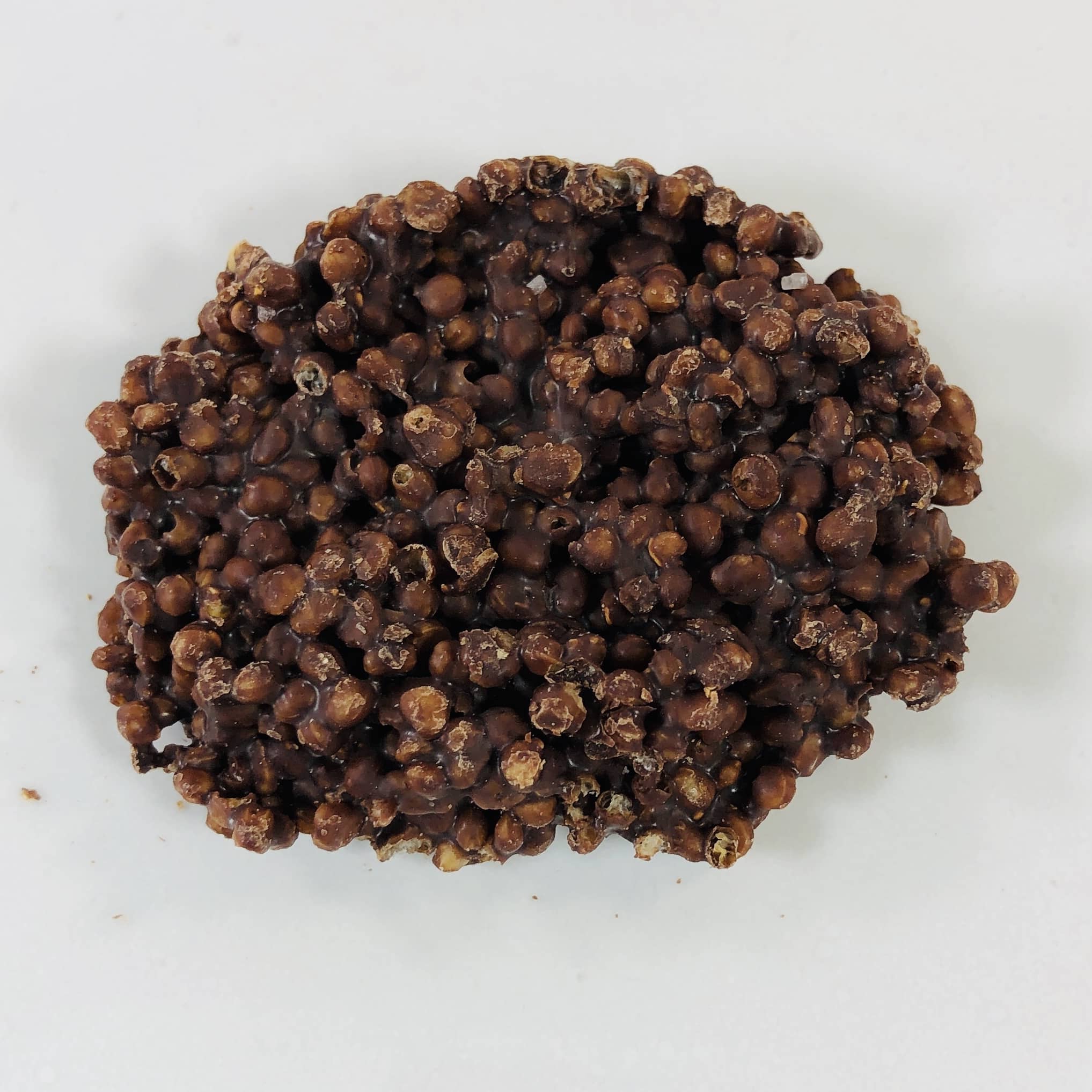 Here is the chocolaty quinoa. It was pretty small but the chocolate punch was satisfying.
Here is the Awake minty chocolate. So yummy!
Love With Food always sends a combo of both items I've received before plus new items (or flavor varieties) that are new-to-me. The March box had some special chocolate treats, which may not come in future months as the weather heats up and they become harder to ship. I love the different bars and nut packs and my daughters enjoyed some favorites like pretzels and soft baked bars. I like that there is such a good variety and something for every snack craving!
What's your favorite snack from the Love With Food Deluxe Box this month?
Visit Love with Food Deluxe Box to subscribe or find out more!