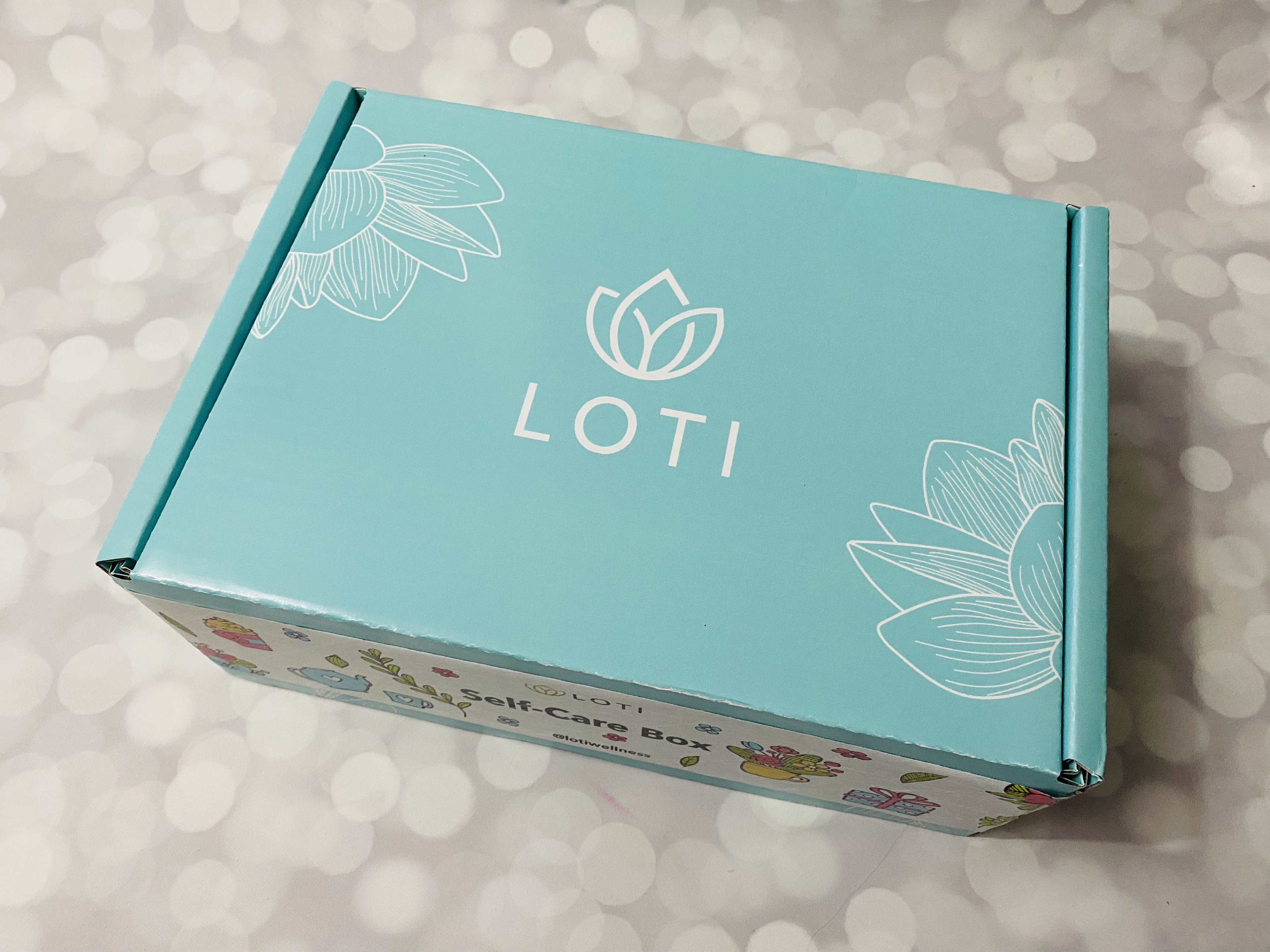 Loti Wellness is a new Canadian subscription box with a focus on self-care. The box has a monthly theme curated by therapists to focus on items and rituals to promote positivity and improving one's self. Loti Wellness works with local brands and small businesses whenever they can, and choose cruelty-free and natural products. The box is $49.95 CAD with lower prices on annual subscriptions – about $35 USD. Shipping is $5.99 CAD to Canada and $7.99 CAD to the US (about $6 USD).
DEAL: Save 10% on your first box! Just use this link and coupon code SUBSCRIBE10.
First look!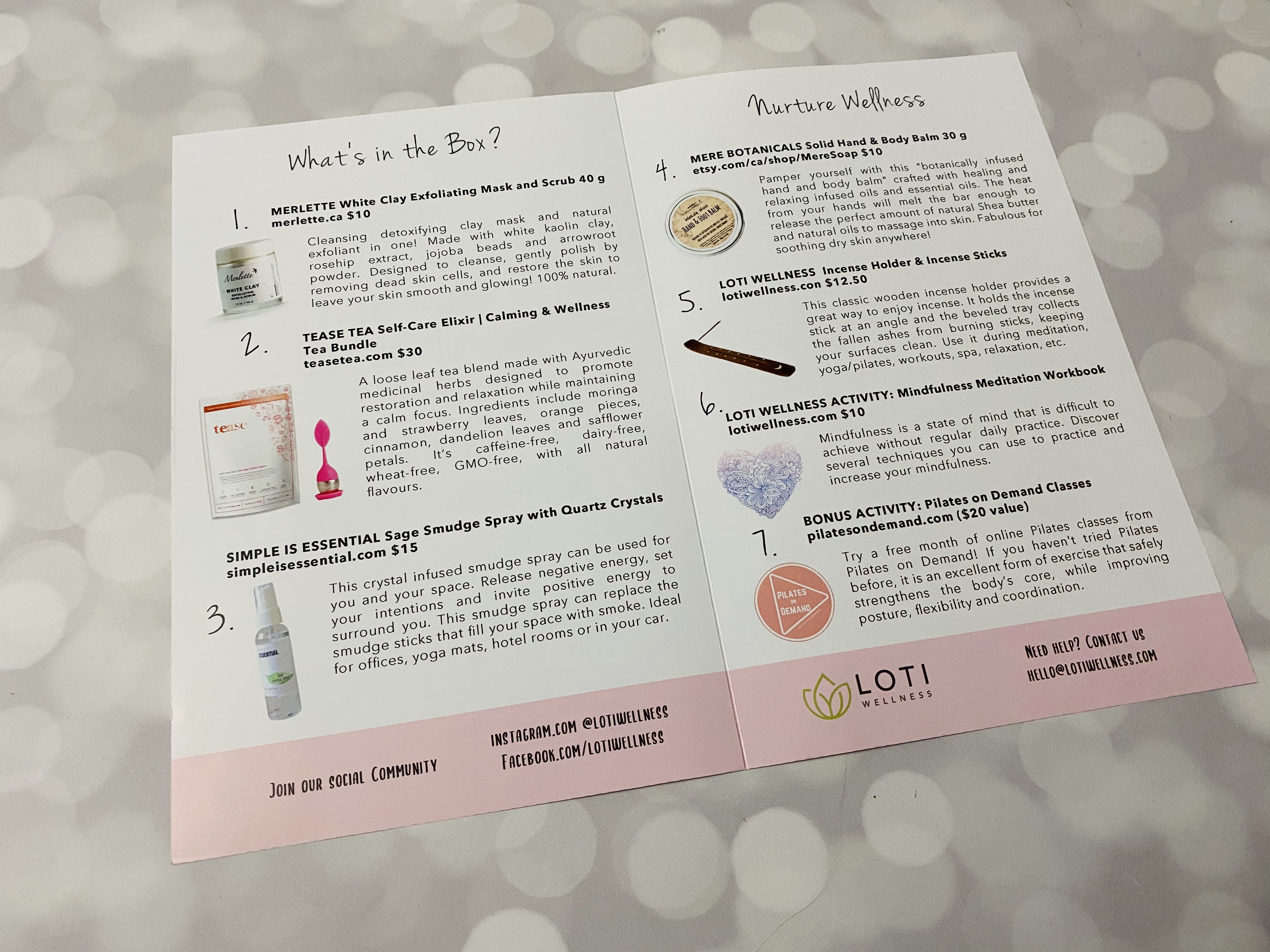 The information booklet goes over the theme for the month as well as the items and retail values for the included products.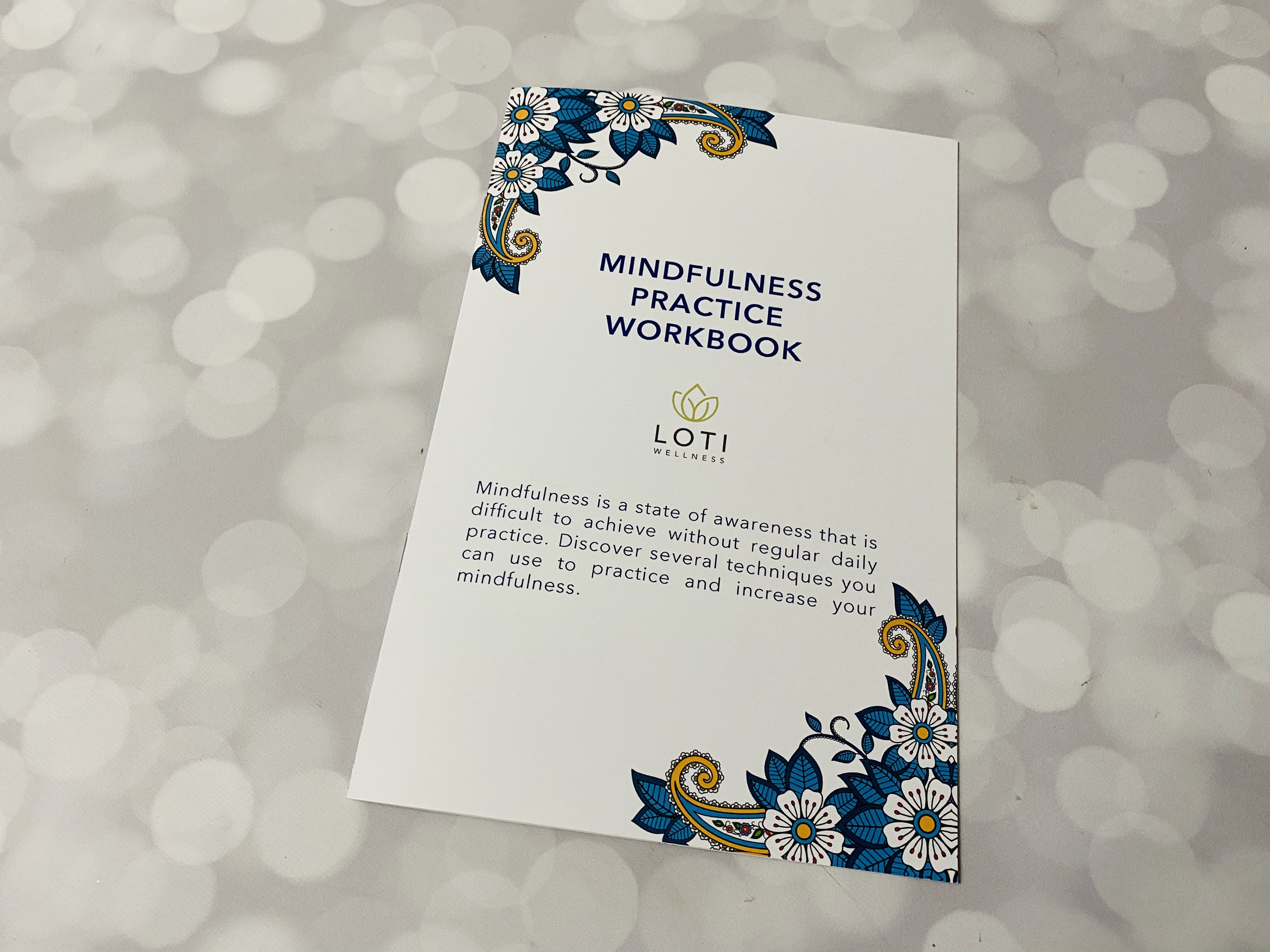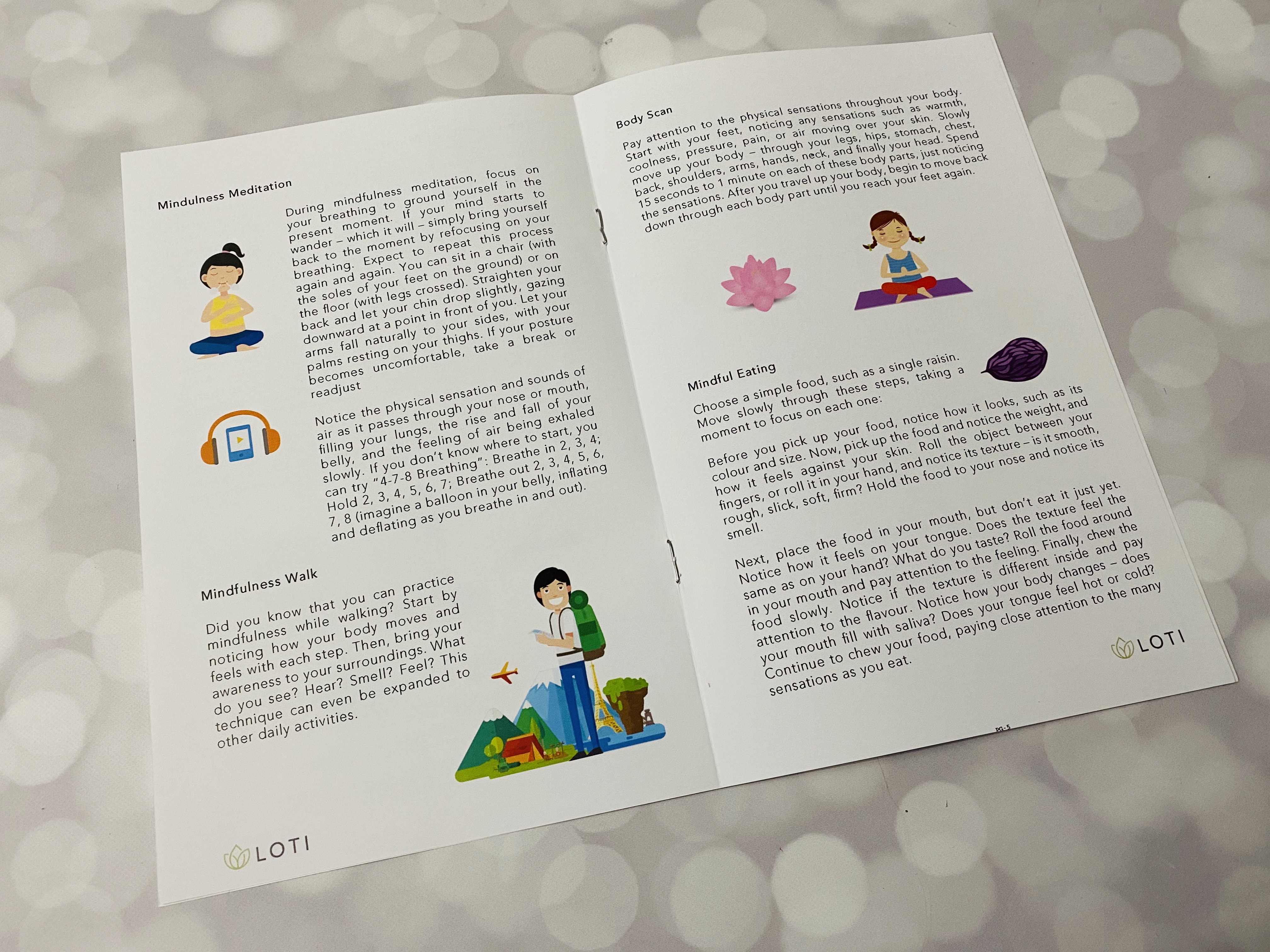 Mindfulness Workbook ($10 CAD) — Loti always includes a workbook that introduces a concept and this month the concept is Mindfulness. The book has activities to try to become more aware of the moment.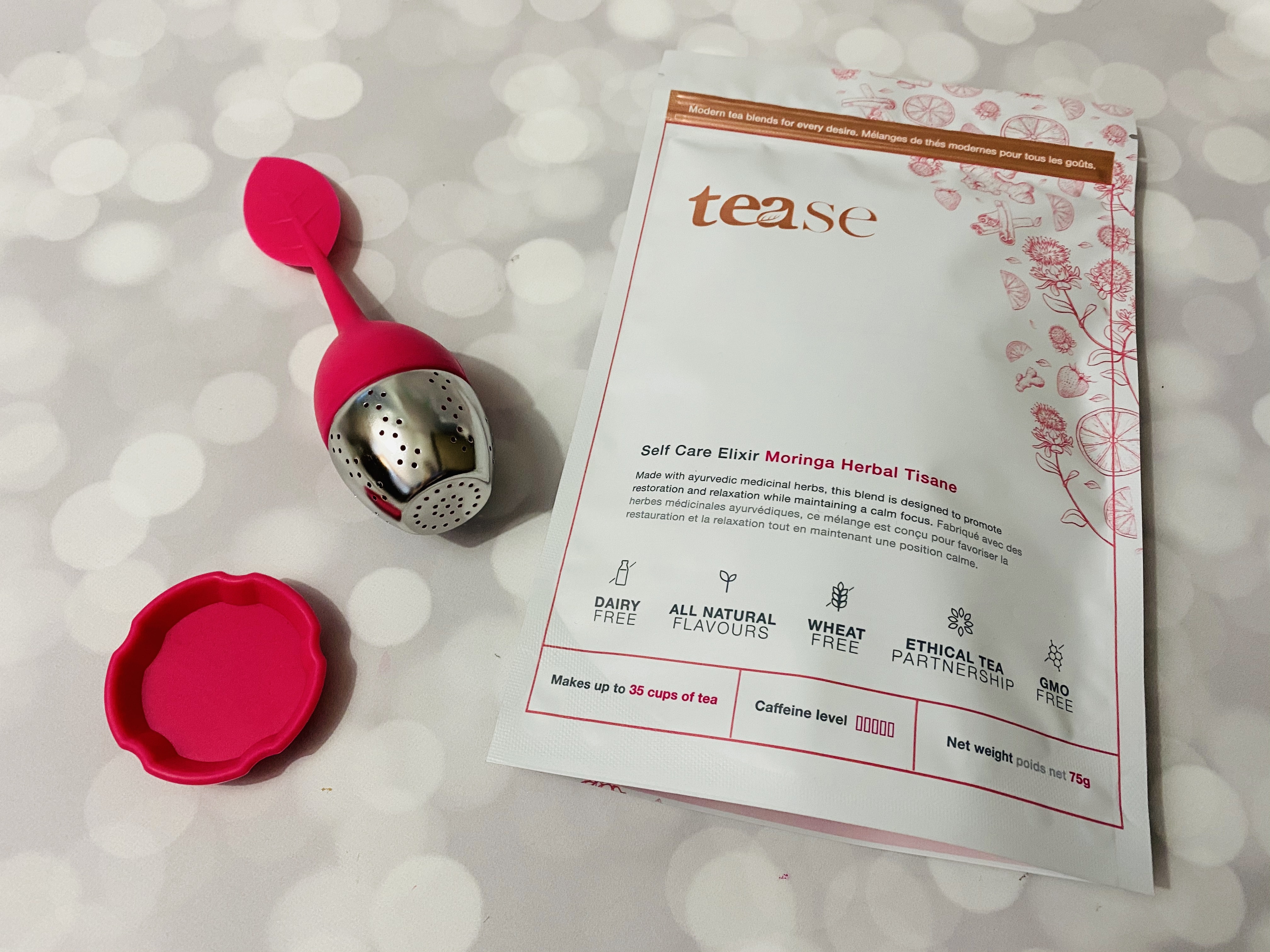 Tease Tea Set ($30 CAD) — This is a set of their Self Care Elixir tea as well as a cute pink diffuser to go with it. The tea is a blend of fruit as well as cinnamon for flavour.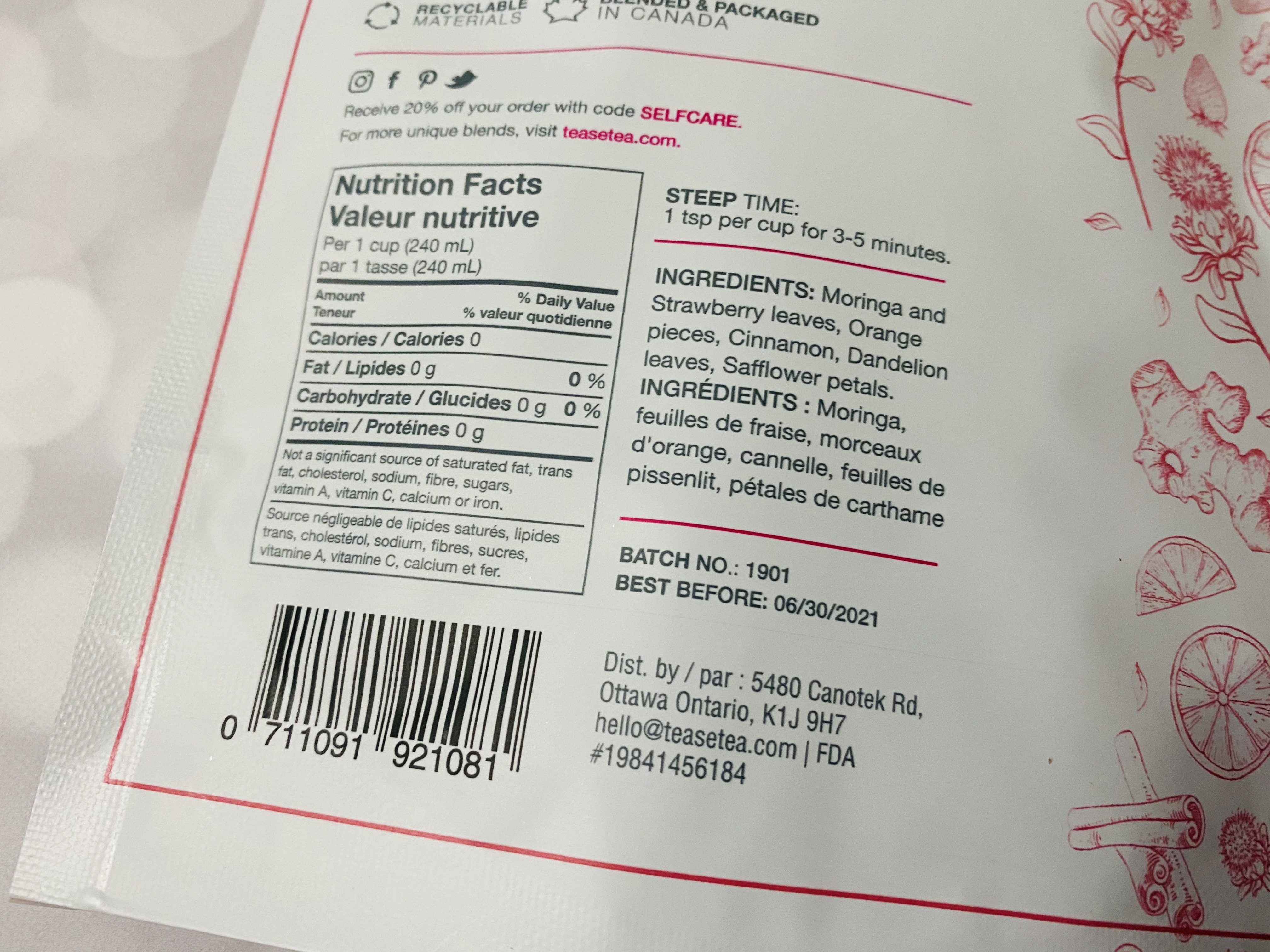 Full ingredients on the back!
Pilates on Demand ($20) — A trial of Pilates videos. I'm excited to try this as I'm self-isolating at home as much as possible.
Solid Hand and Foot Balm ($10 CAD) — Shea butter and beeswax are the star ingredients in this luxurious hand and foot balm. The scent I received is Calendula & Lemongrass which is really energizing and refreshing.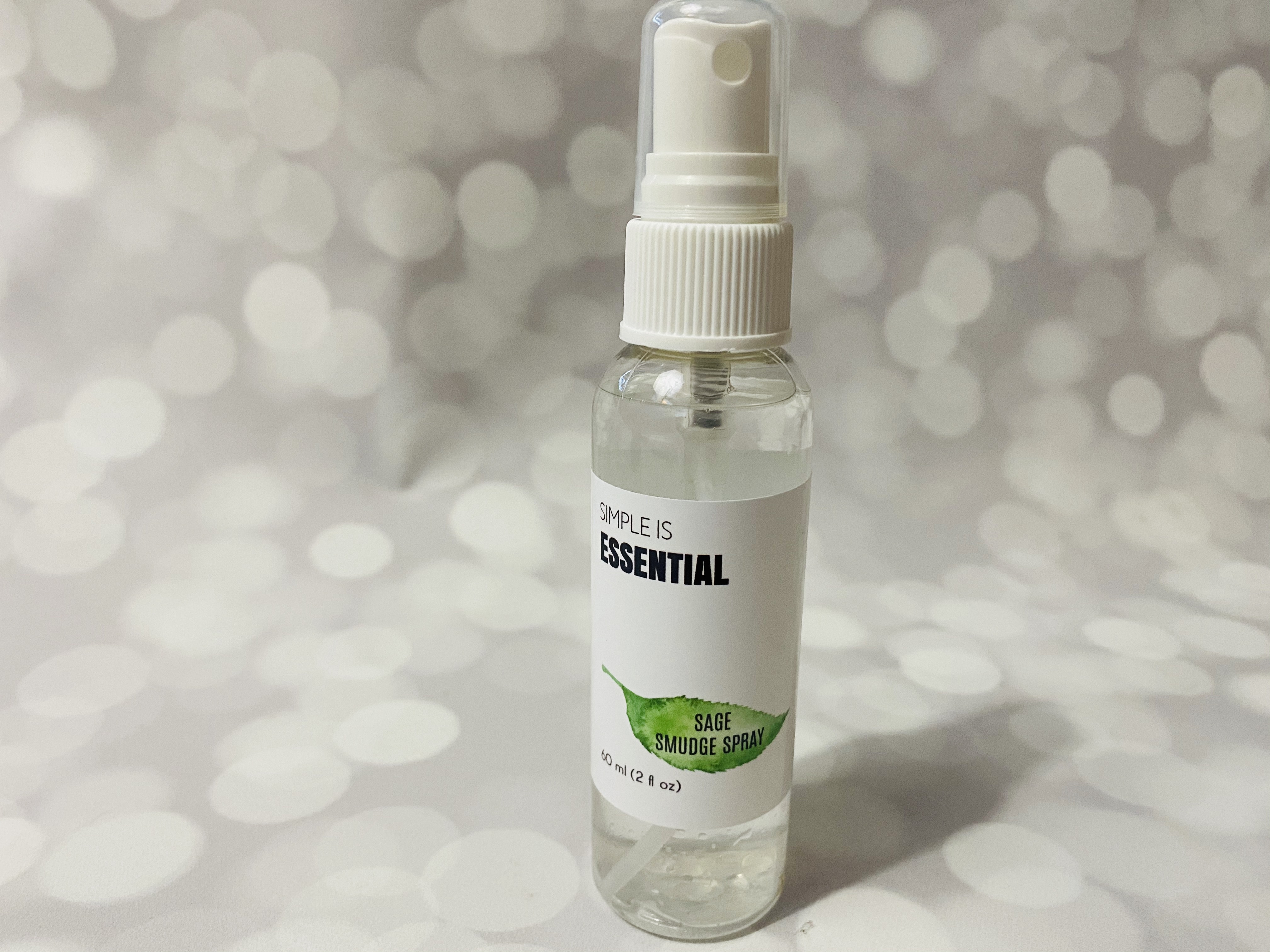 Sage Smudge Spray — Sage smudging is a popular ritual of burning safe to cleanse a space. When you don't want to deal with fire and smoke, this is a great option. The sage scent is light and bright, and there are even some crystal quartz points in the bottom of the bottle as well!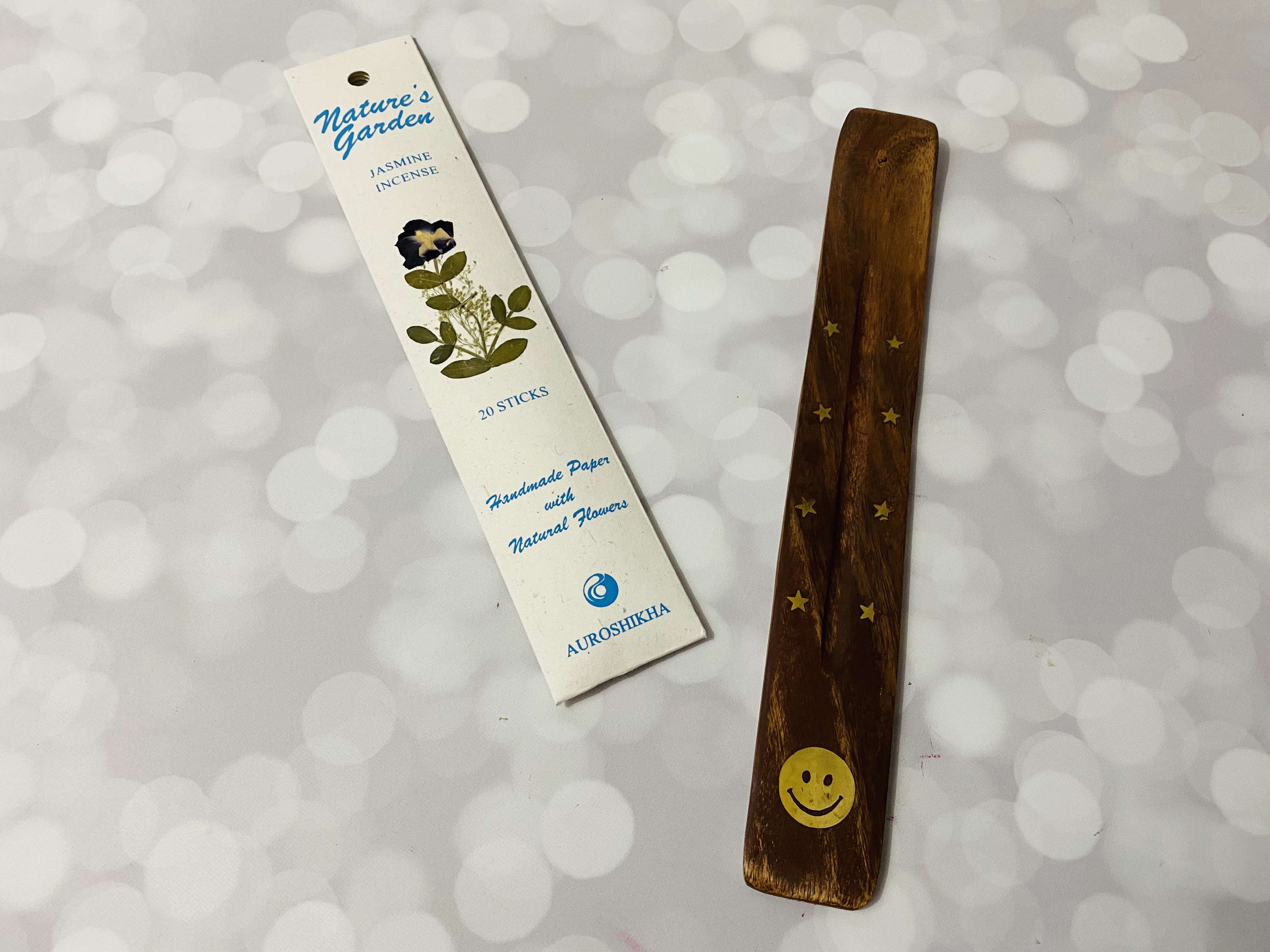 Jasmine Incense and Holder — I loooove the scent of jasmine and as soon as I opened my Loti box I could smell this amazing incense! A cute wooden incense holder is included as well so you can safely burn your incense without worrying about the ash droppings.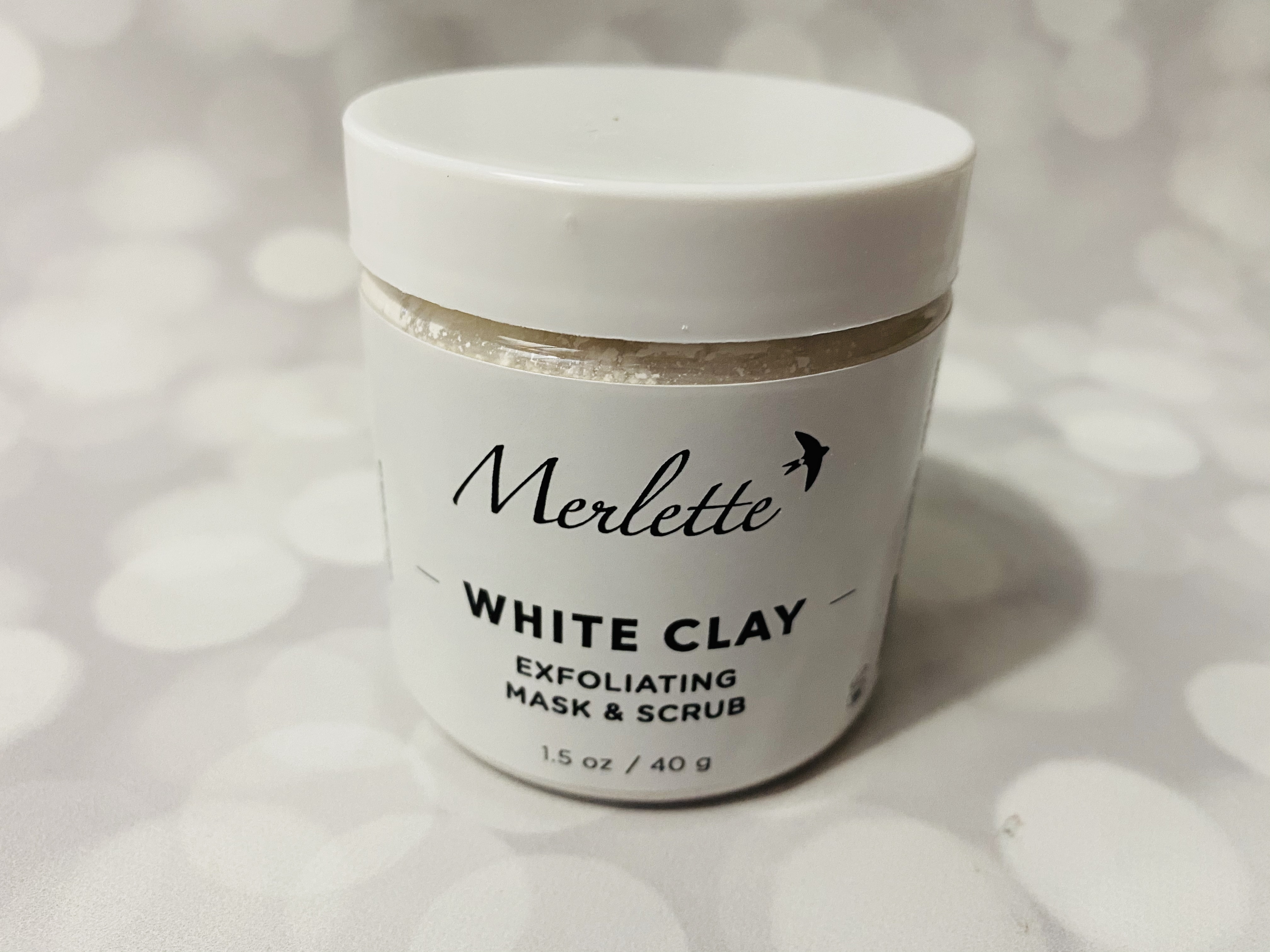 White Clay Exfoliating Mask ($10) — I like dry masks like this when I feel like customizing my skincare routine. By adding it to water, yoghurt, or honey you can customize it to what your skin needs. The base ingredients are white kaolin clay with cleanses and exfoliates, rosehip extract which has Vitamin C, and jojoba beads for natural exfoliation.
The jar is packed full! This will last a long time and many facials!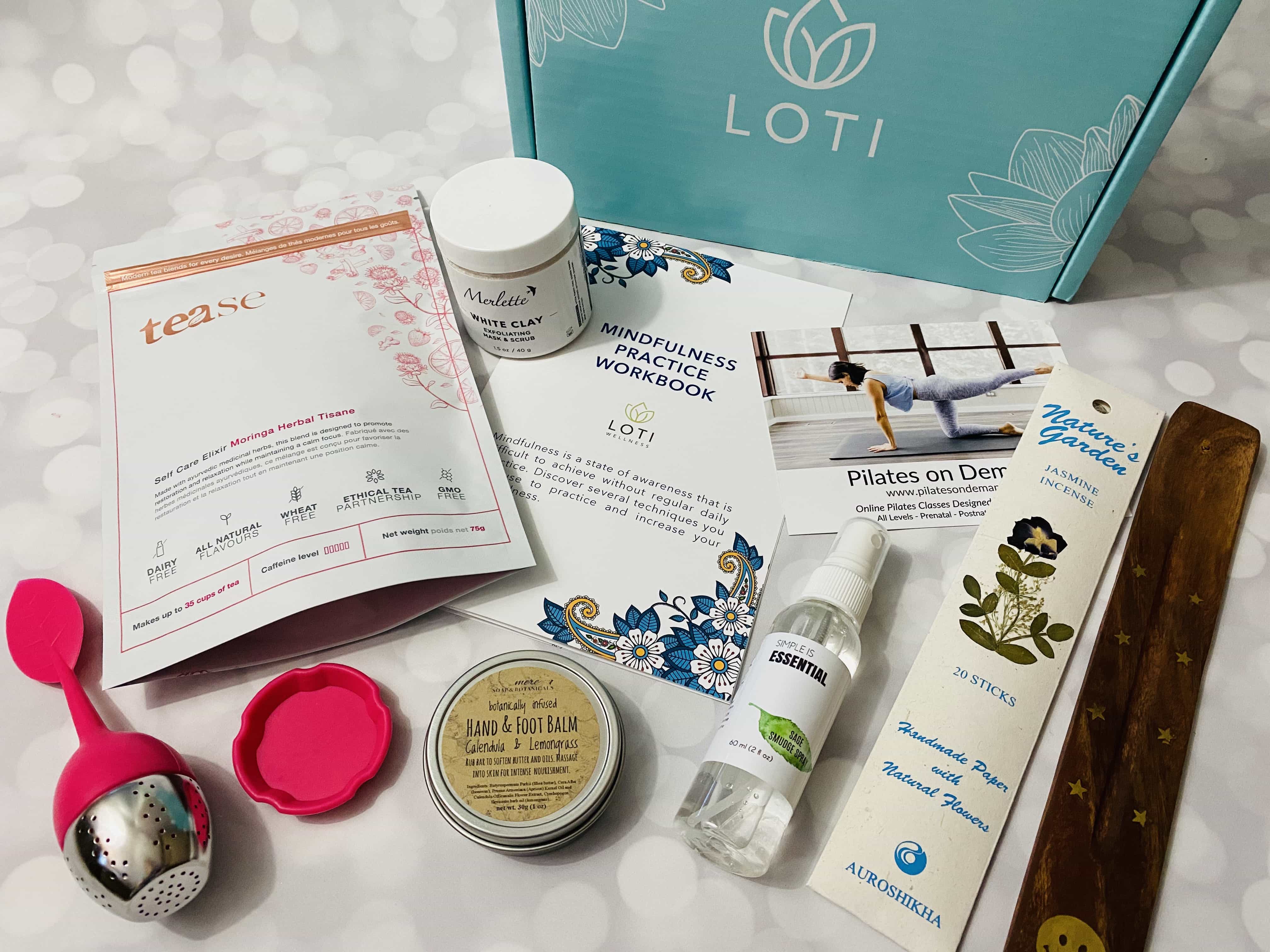 Loti's March box arrived amidst the chaos the world is facing right now and included treats to remind me to be in the moment and focus on the now. It was an amazing and much needed treat!
What do you think of this self-care subscription?