Home Chef has a giant sale to get dinner on the table fast, easy, with little prep or cleanup with new Fresh and Easy plan!
Home cooking is a breeze with Home Chef's NEW Fresh and Easy meal plan. Prepped, portioned, and ready to cook – little to no clean-up!
Save $100 on your first four Fresh & Easy boxes when you use this link. Ends 1/31!
There are 5 super easy options that help you get your life in order and dinner on the table superfast!
Oven Ready
Pots and pans, you're off the hook. Pre-portioned ingredients come fresh inside an oven-safe tray, so dinner is ready in no time, and clean-up is a piece of cake.
Slow Cooker
There's nothing quite like coming home to a delicious meal at the end of a long day. Feed the whole family or save for your week ahead. With simple prep, dinner is ready when you need it!
Grill Ready
Fire up the grill for a quick, flavorful meal. Assemble the ingredients in the grill-safe bag and throw it on the grill. Get dinner done!
Express
With fully prepped and portioned ingredients that cook in 15 minutes, Home Chef Express helps you get dinner on the table pronto!
Entree Salad
Need a quick, healthy dinner in a pinch? Fresh veggies and proteins come pre-cooked and pre-portioned so all you have to do is combine the ingredients and enjoy!
Here's a look at some upcoming choices on the Home Chef Fresh and Easy Plan!
Looking for the regular Home Chef? Get TEN meals FREE when you sign up! USE THIS LINK – no coupon code required! That's up to $100 savings! Ends 1/14!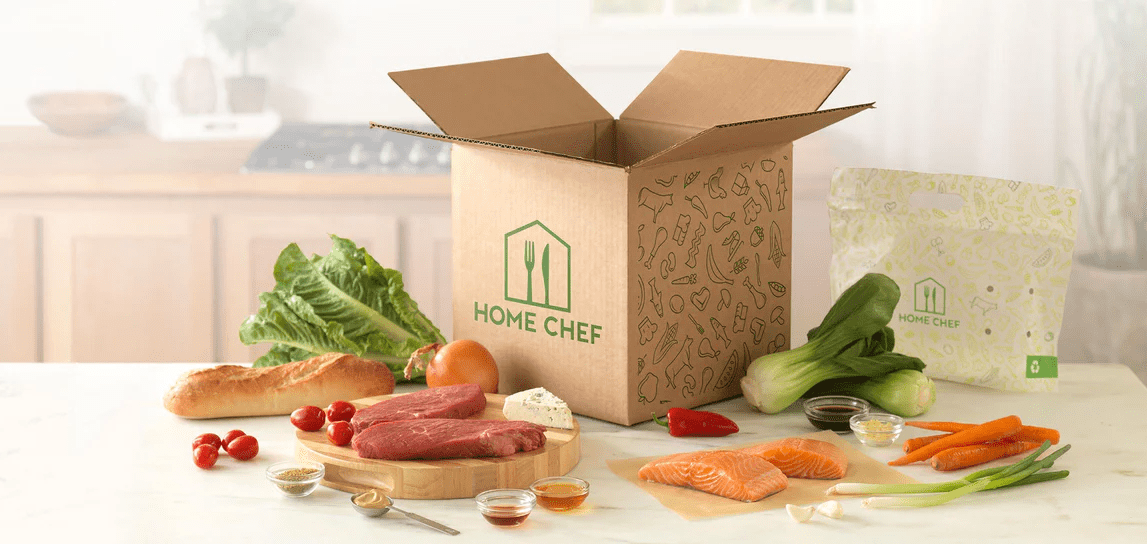 Home Chef is a meal in a box subscription – every week, you choose from a variety of recipes and have all the ingredients and preparation instructions delivered to your door. The basic concept is the same as other weekly meal delivery services, but it has its own unique features and recipes. Their meal options include many great Asian, Indian, African, and South American inspired dishes, along with more traditional American home-style and steakhouse fare.
Check out our Home Chef reviews to find out more about this weekly dinner kit subscription. Meals start at $9.95 per serving, and delivery is free for orders over $49.
Are you getting Home Chef?