Erin Condren's Seasonal Surprise Box is a quarterly planner accessories and stationery box featuring early access items, popular accessories, and exclusive surprises from Erin Condren. This box isn't available by subscription; you must purchase each box individually. This box usually sells out quickly but click here and tap that blue bell to get notified when the next box becomes available! The box is $40 and includes free shipping to the US.
This inspirational Spring Surprise Box was designed to help you harness the new possibilities and opportunities of 2020!
DEAL: FYI – if you use this referral link to register for the site, you'll get a $10 coupon code emailed to you. It may not work on the box purchase. You can use it on pretty much anything on the site.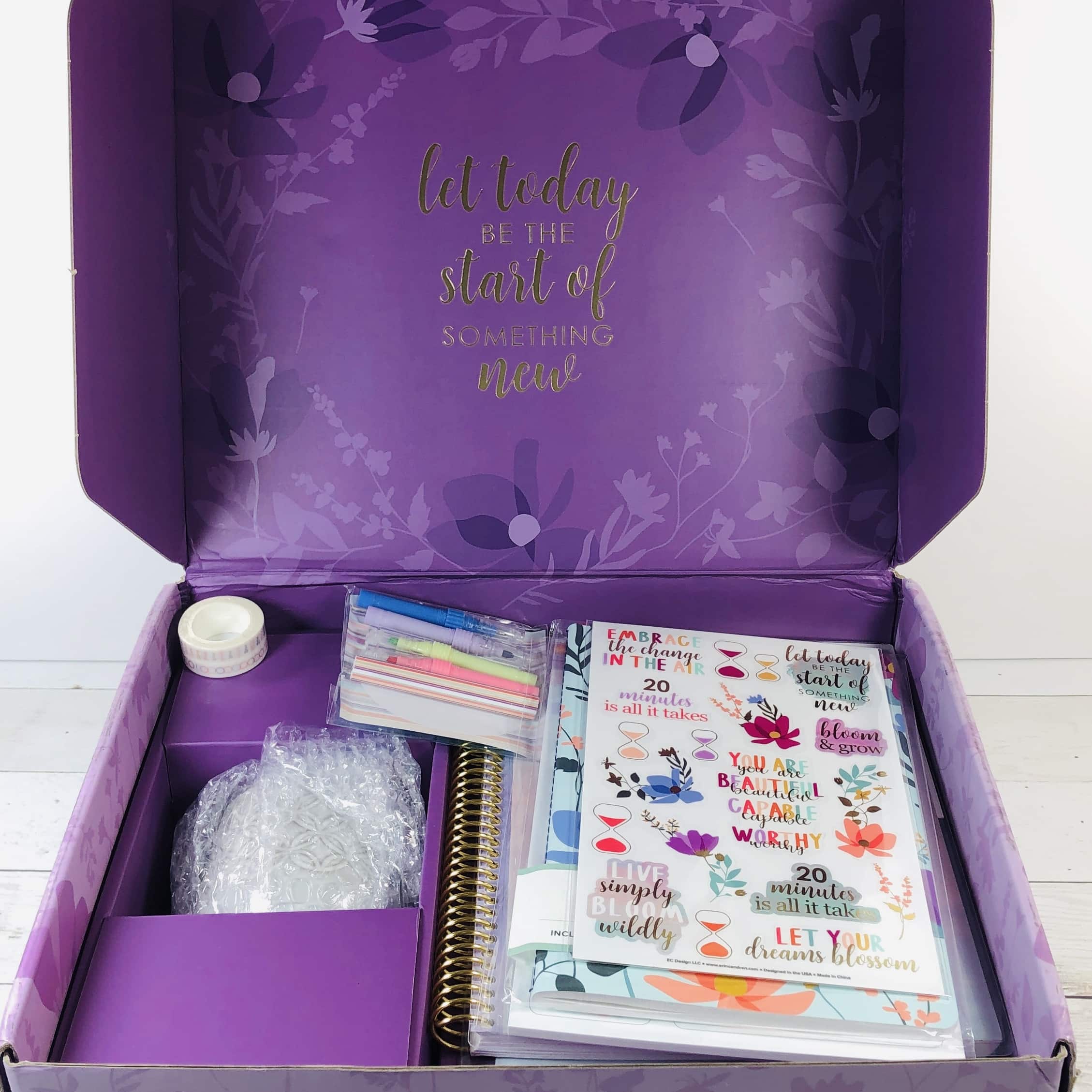 The inside of the box has an inspirational saying and you can even take the box apart and reassemble it with the outside facing in. I have done this to several boxes, which are now used to hold stationery and the like.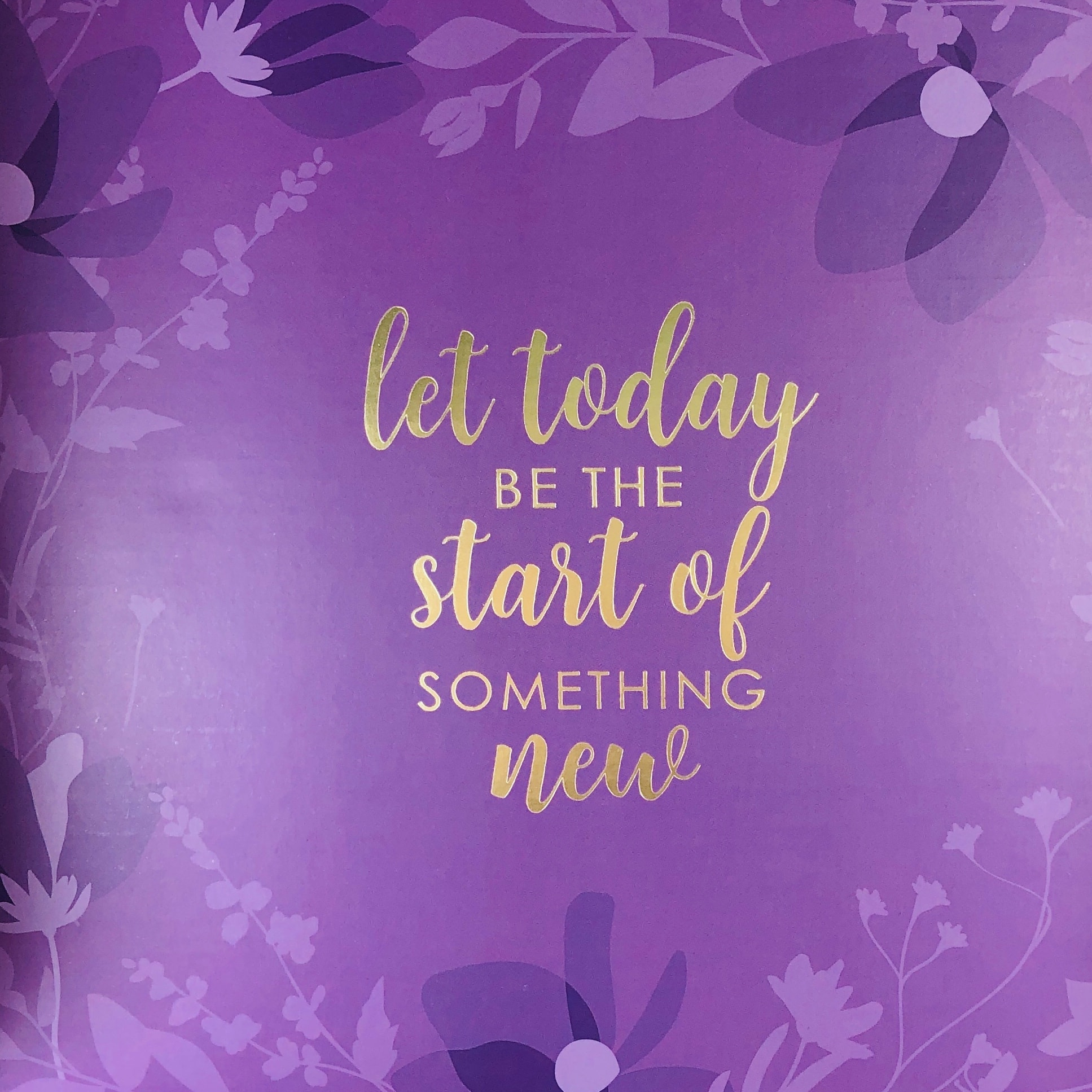 I like this motto!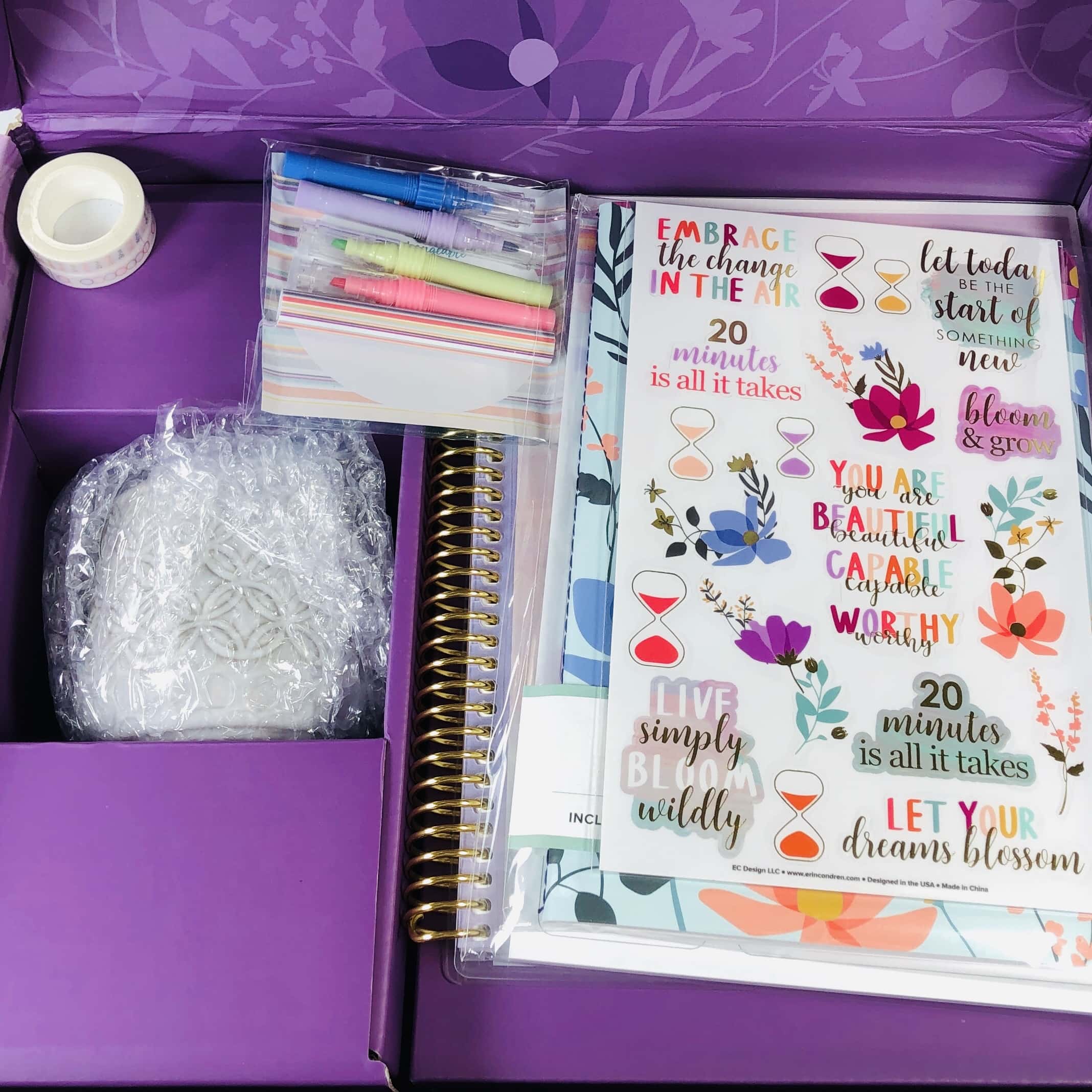 One breakable item was wrapped in bubble wrap and the other items look so pretty and colorful!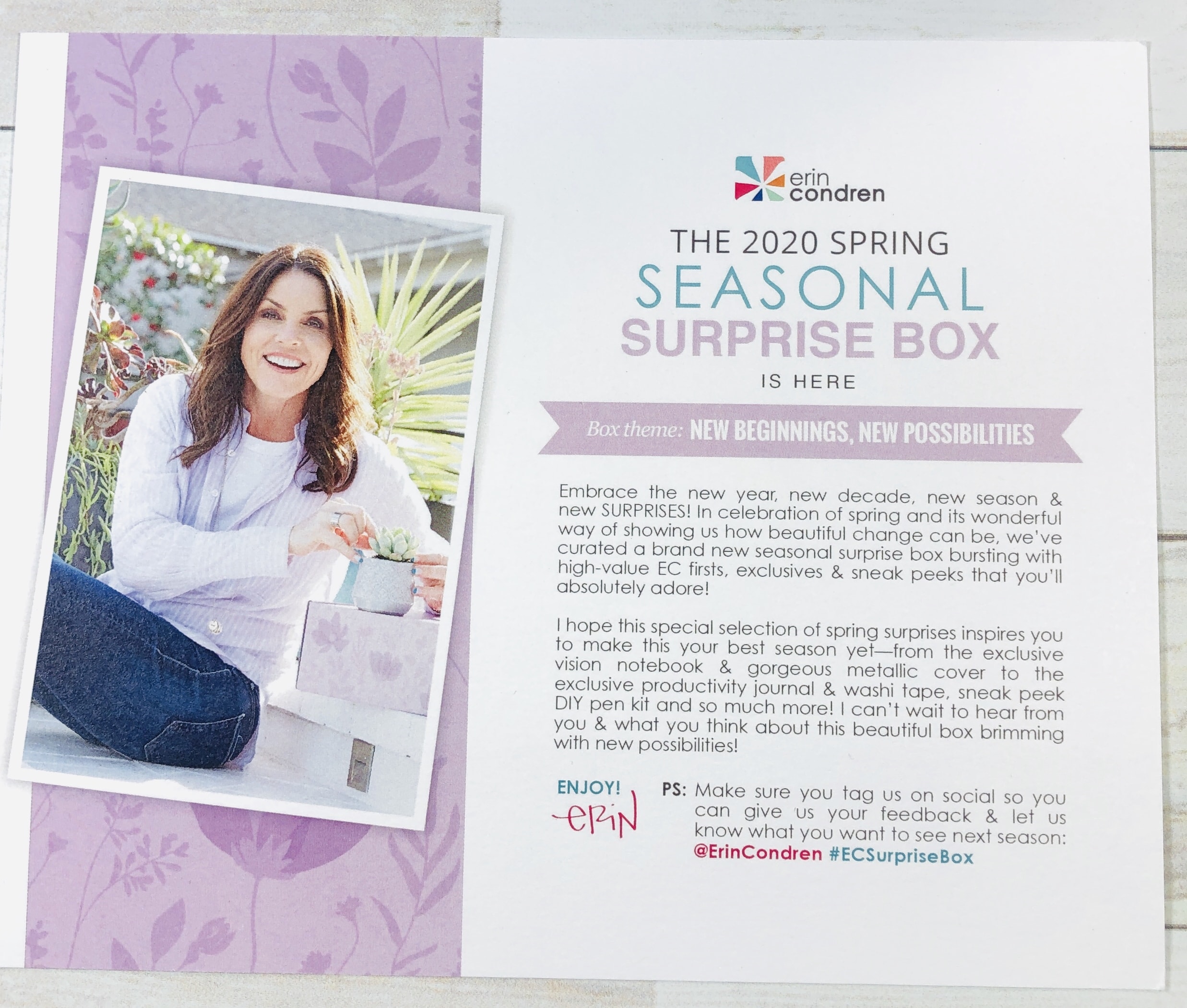 The theme for the Spring 2020 Box is New Beginnings, New Possibilities!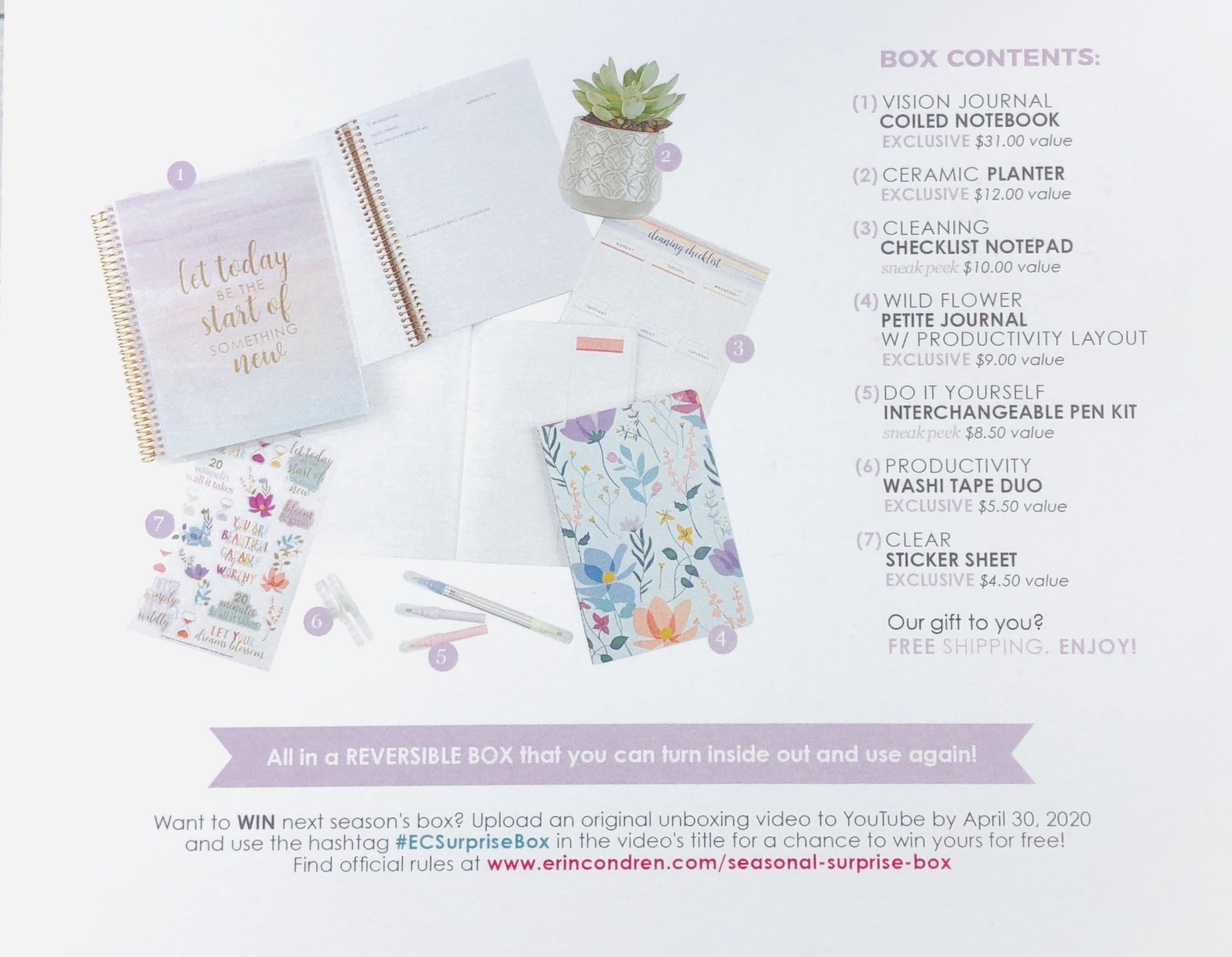 The information card gives you a picture list of all the items included and value. Some of the items may be available at Erin Condren retail locations, some may be coming soon, and others are exclusive to the box.
Everything in my box! In addition to the main EC site, you can now shop a selection of non-personalized Erin Condren items on Amazon! Many, if not most, are discounted, and they all have free Prime shipping!
Ceramic Planter (Exclusive, $12) At first I thought this was a coffee mug but it turns out it is a planter!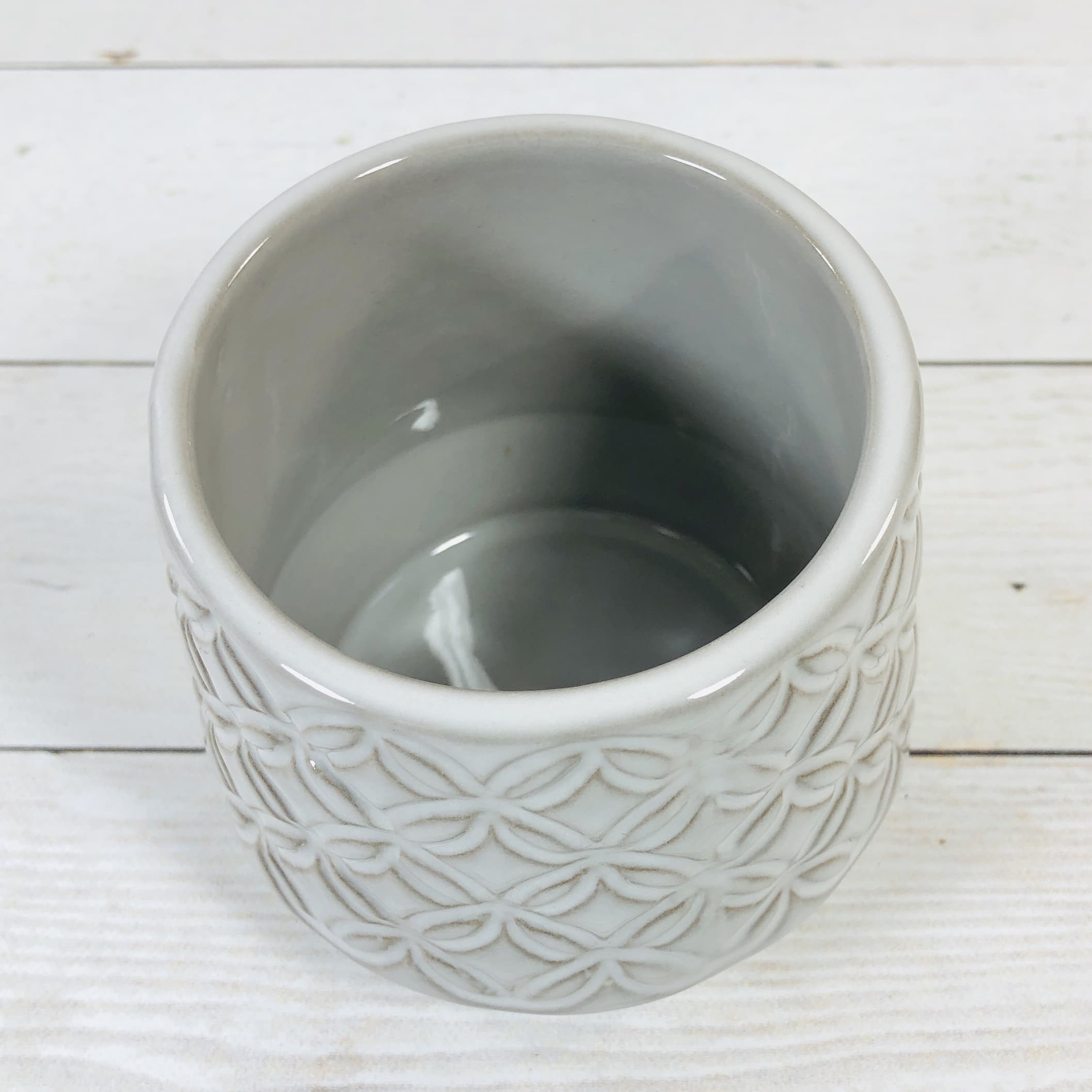 The planter is about 3″ tall and 3″ across the top. There are no drainage holes in the bottom. I plan on using it to hold my colorful collection of Erin Condren pens!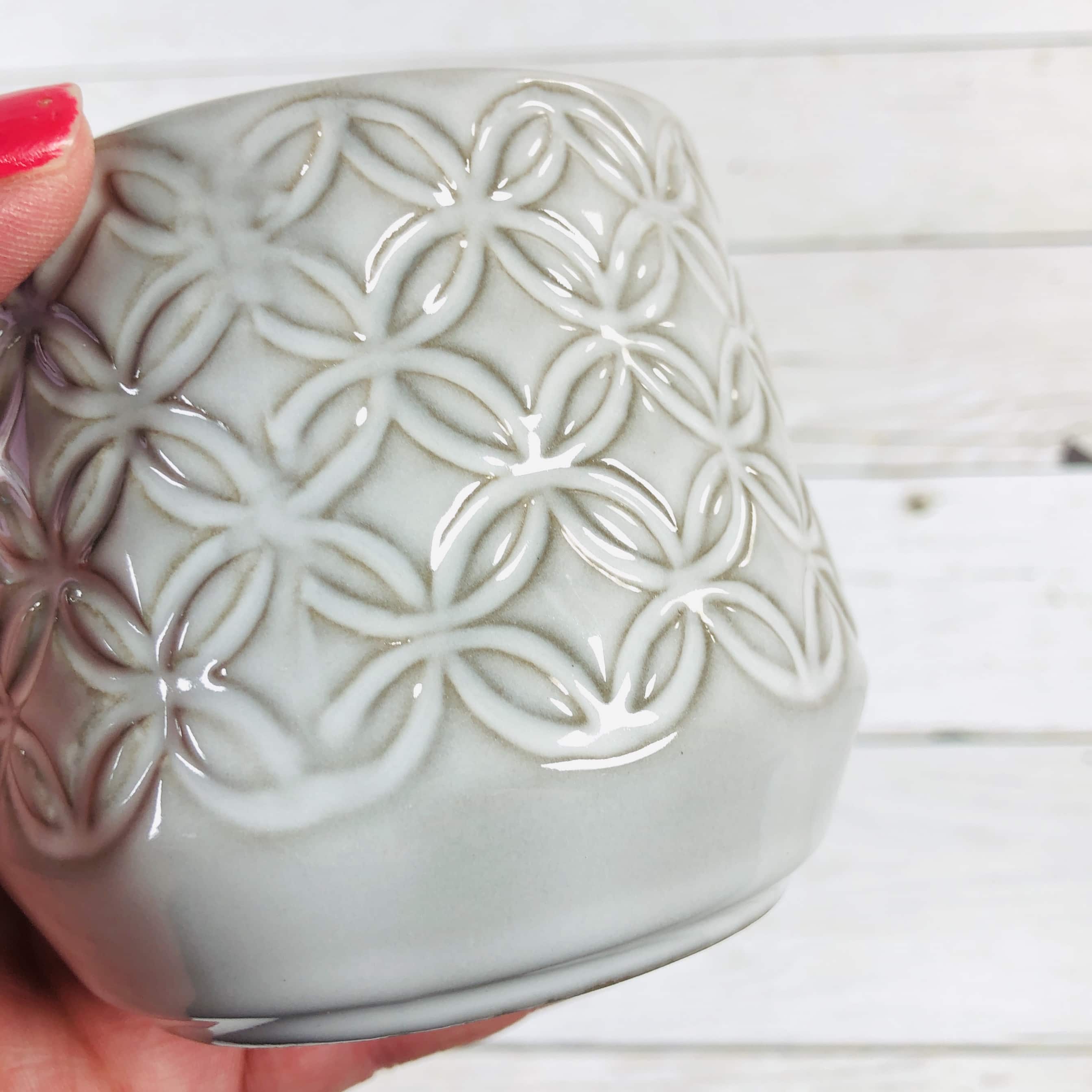 I believe this pattern is the Mid Century Circles, which is an Erin Condren classic!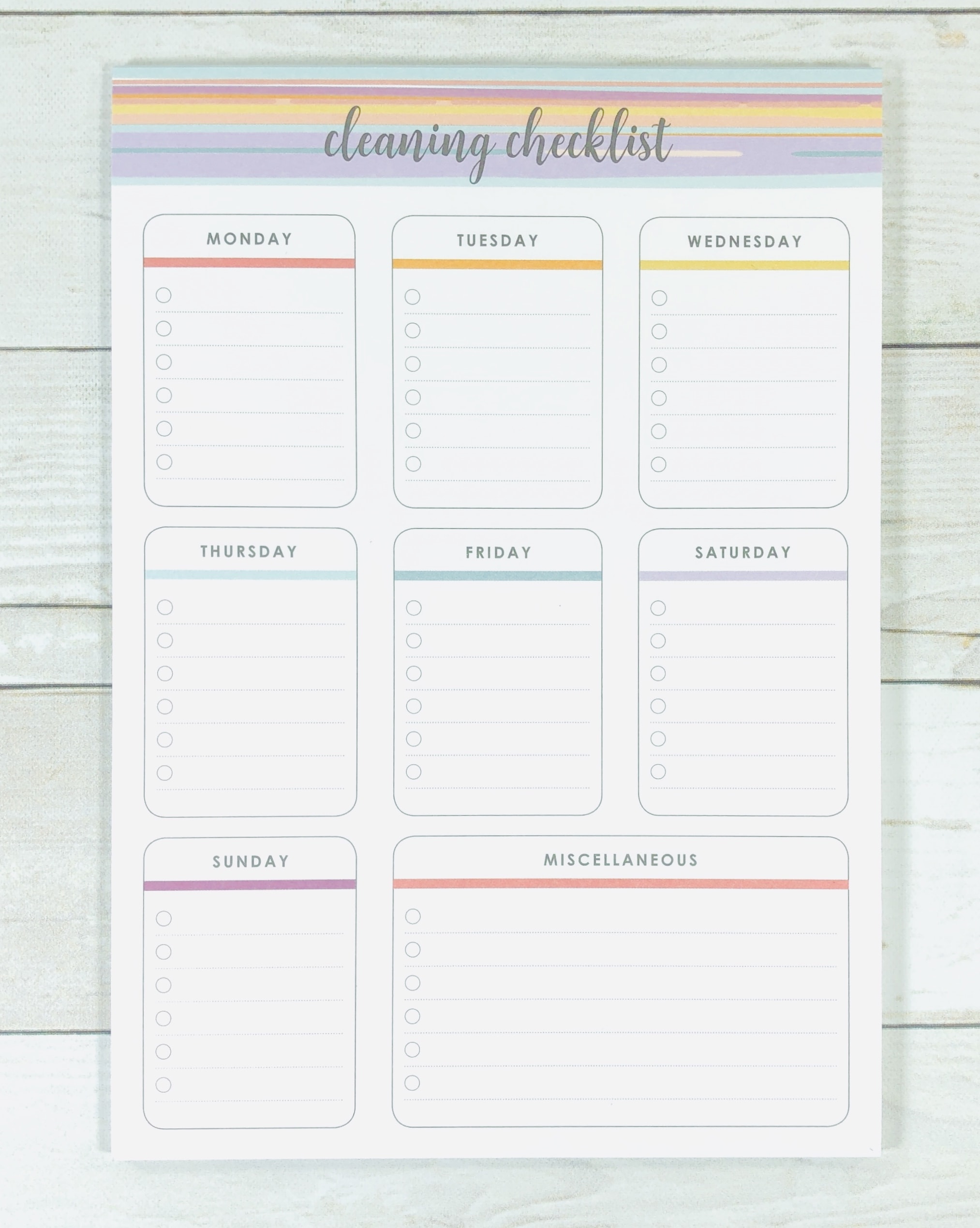 Cleaning Checklist Notepad (Sneak peek, $10) Ok, I know no one wants to do spring cleaning, but this checklist might make the process a little more organized.
The checklist can be used for many weeks to come and of course any season of the year. There are 25 pages in this 8.5″ x 6″ pad.
Erin Condren Vision Journal Coiled Notebook (Exclusive, $31) I thought at first that this was a new LifePlanner™ since it's about the same size!
Inside this exclusive planner, I found a card describing the intention of this product. Erin Condren wants us to dream big not only this year but this entire decade!
Just like the LifePlanner™, the inside of both covers are also boards and you can mark them up with wet erase markers. There was also an inspirational quote inside.
The Vision Journal is based on the process known as vision boarding and this page gave some background info on what that is exactly.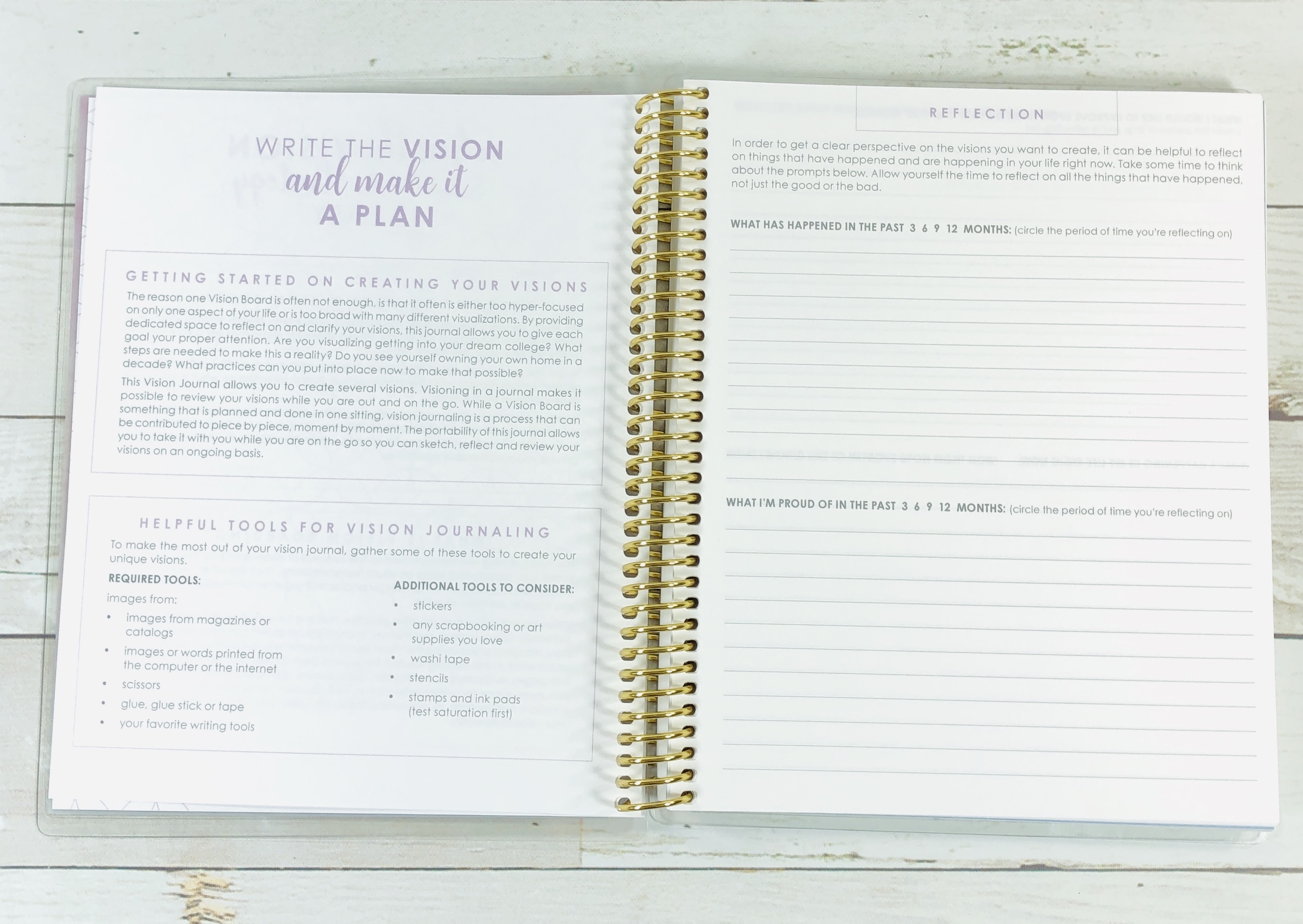 The page on the left tells me what products I might want to gather to get started on my vision board, plus it gave some tips on getting started. The page on the right is to help me gain insight on how the past few months or even year has been.
There were more pages on jotting my ideas down about what I liked about the past or what I think I might need to work on in the future. There were a few more pages about getting clarity in my goals, or what exactly I want to make happen in the future. I also found a section on getting started on my vision and a dot grid was there for brainstorming ideas.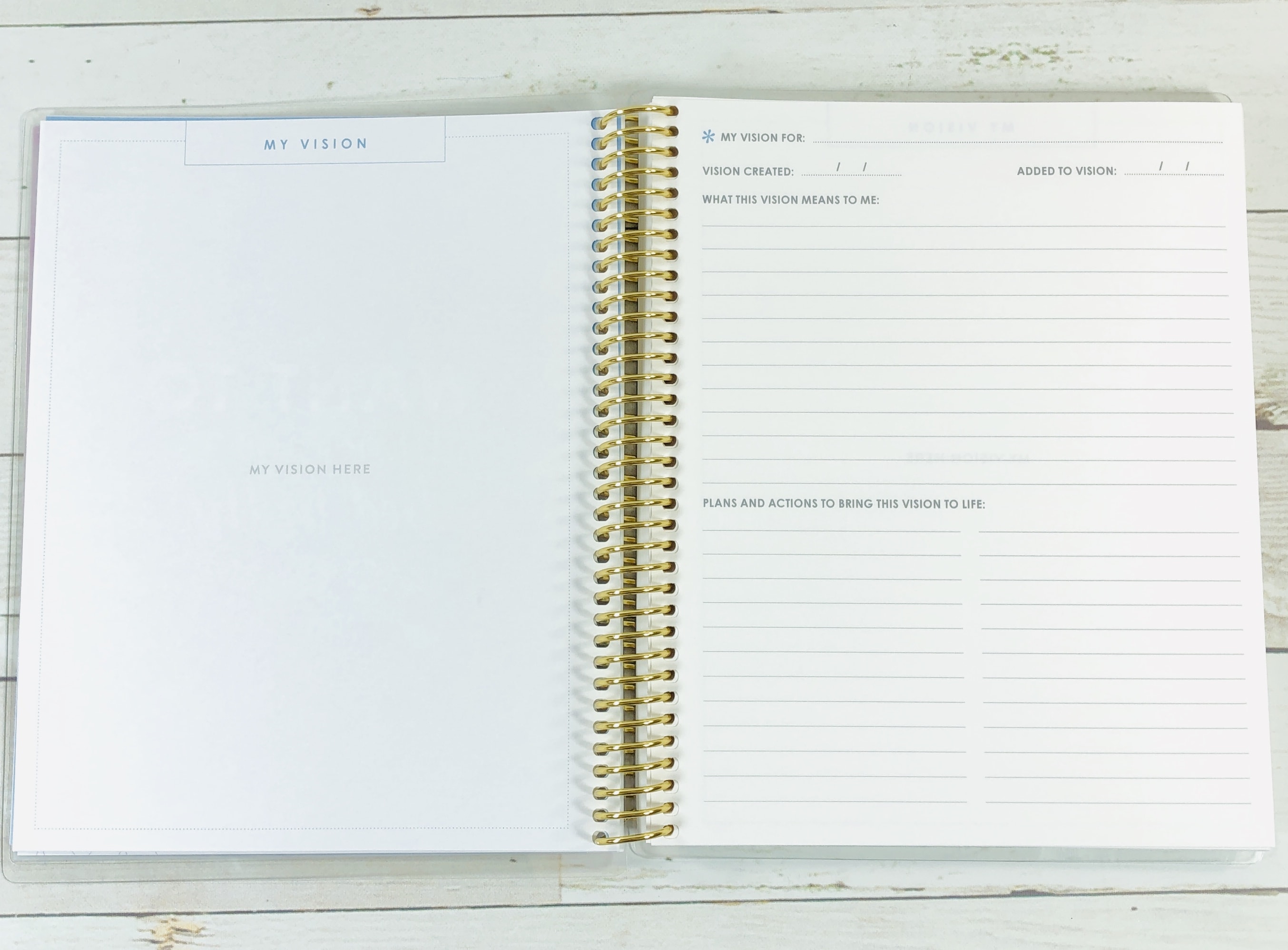 Next I came to the My Vision section, and there was a place to put my vision board right in the journal. I think I counted 31 page duos like the two pages shown above.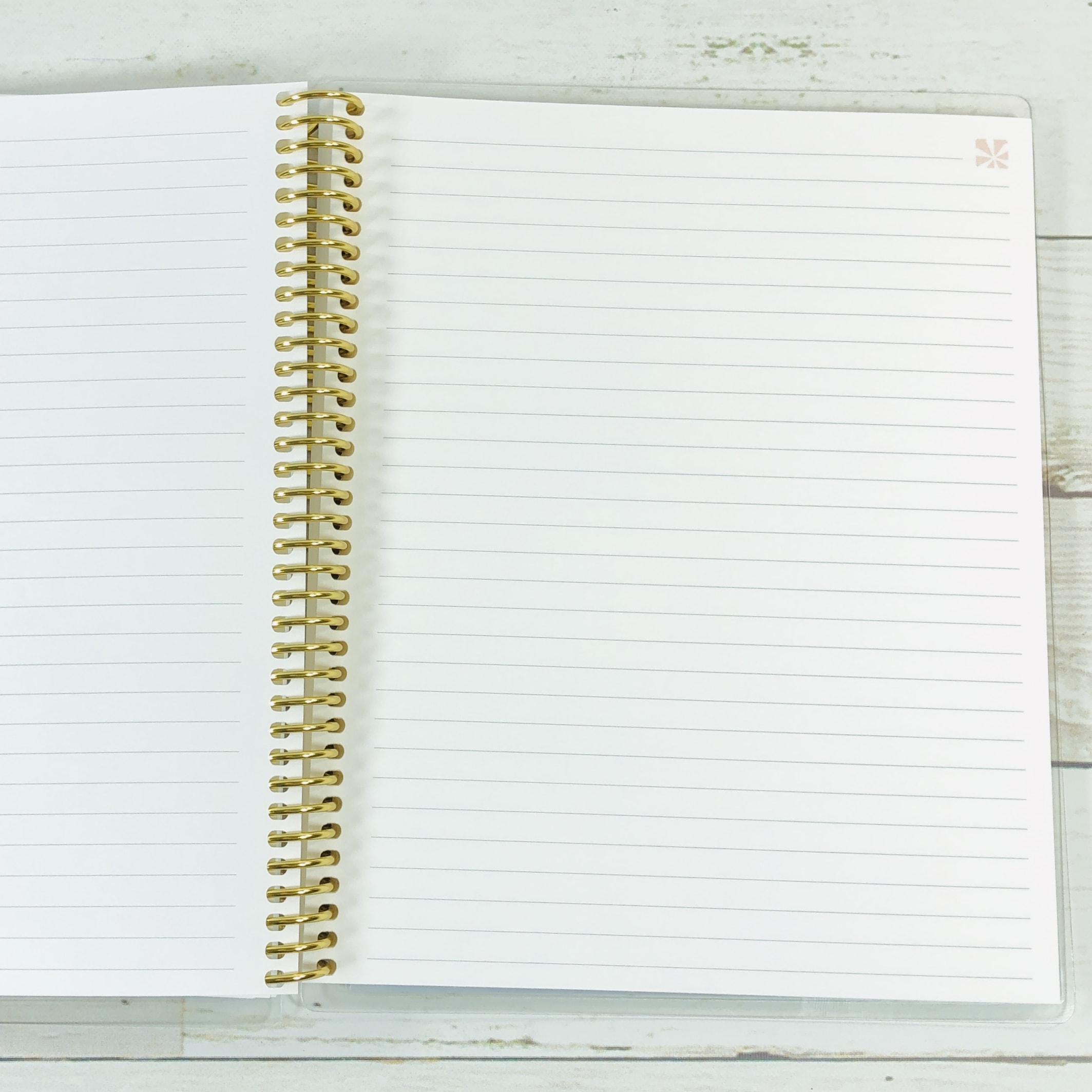 I found several lined pages for journaling.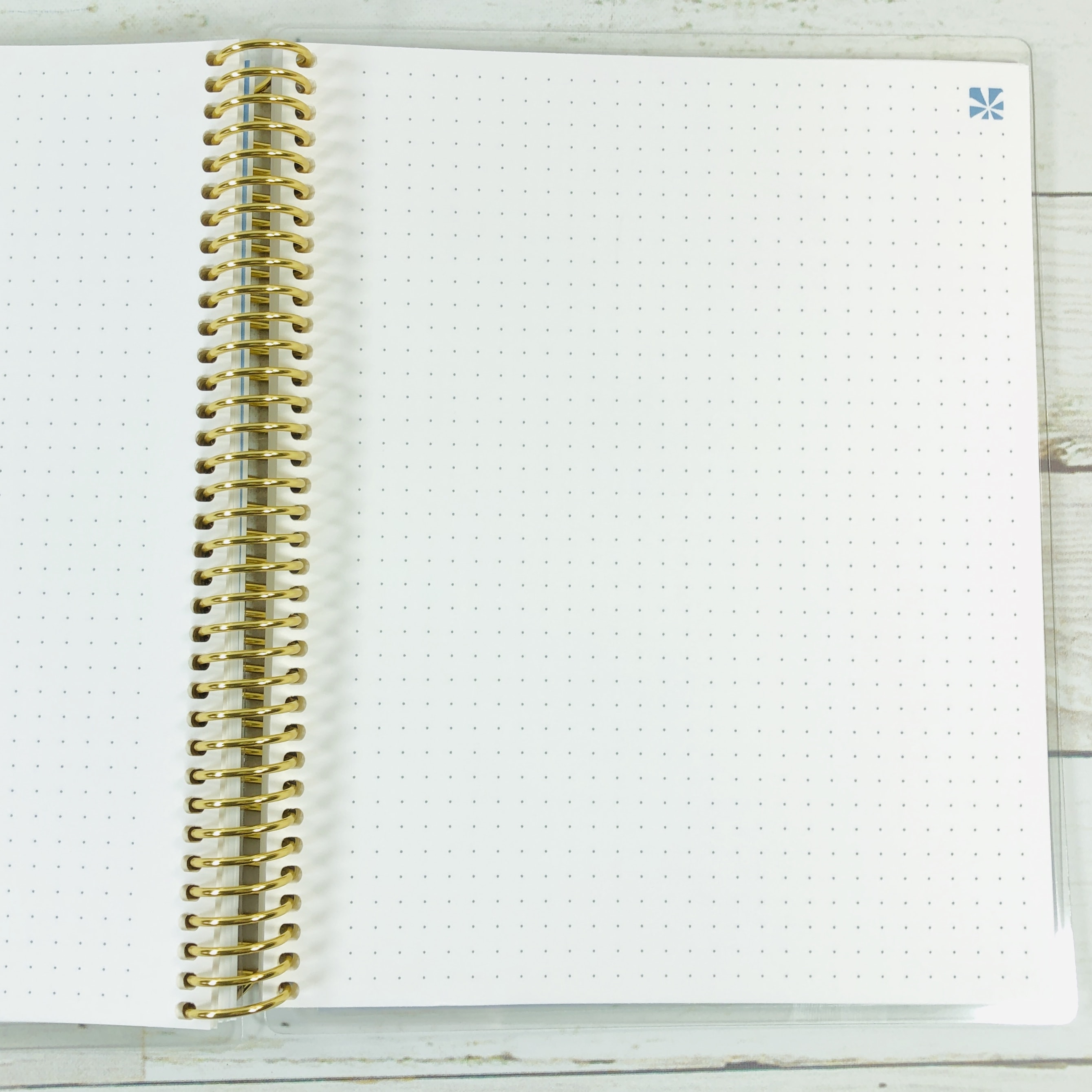 There was also a section of dot grid pages…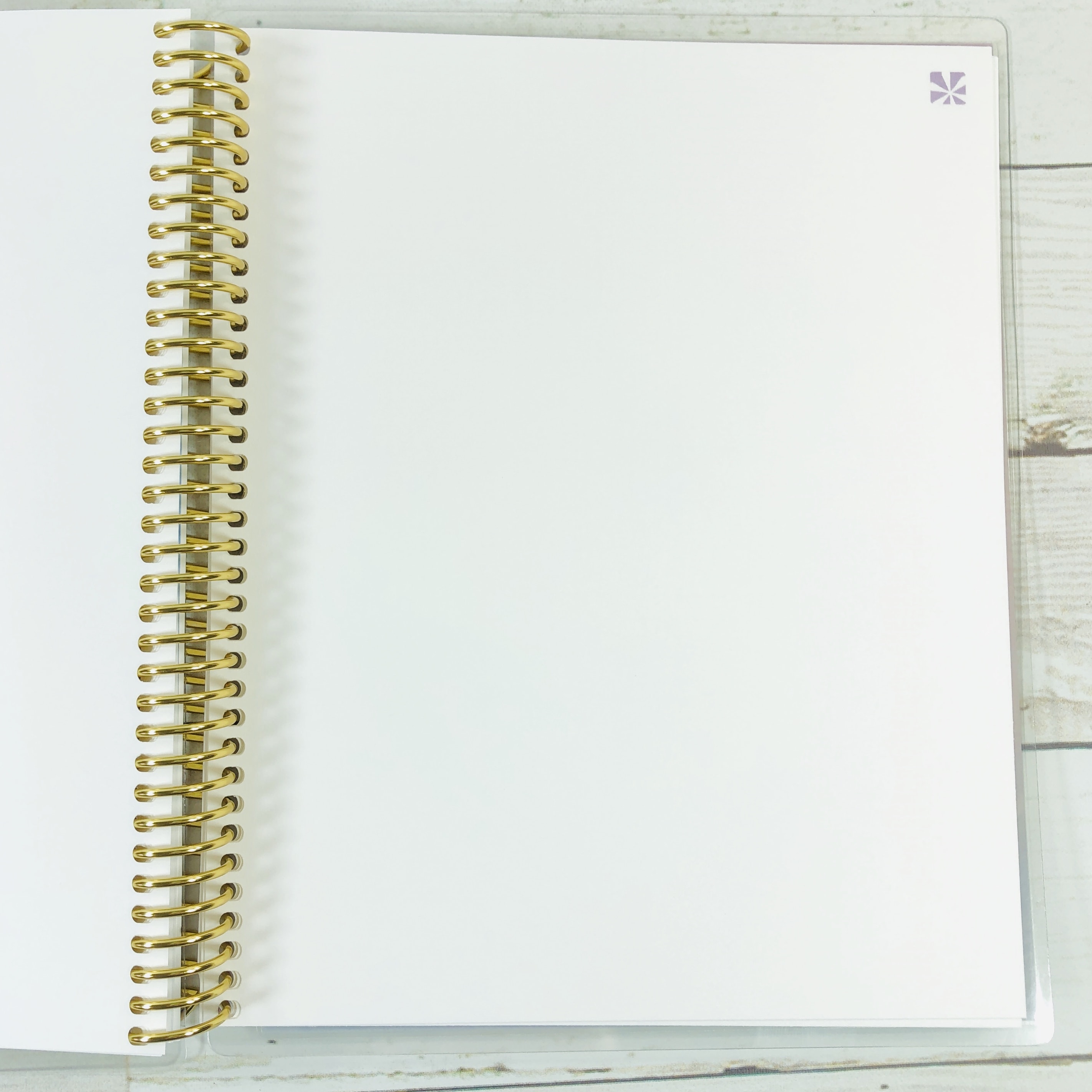 …and blank pages. I can't wait to get started! This would also make a great gift for someone just starting their journey into adulthood – I may get one for my college-age daughter as she was talking about her life goals last night and she would love something like this! I hope they add this to the shop!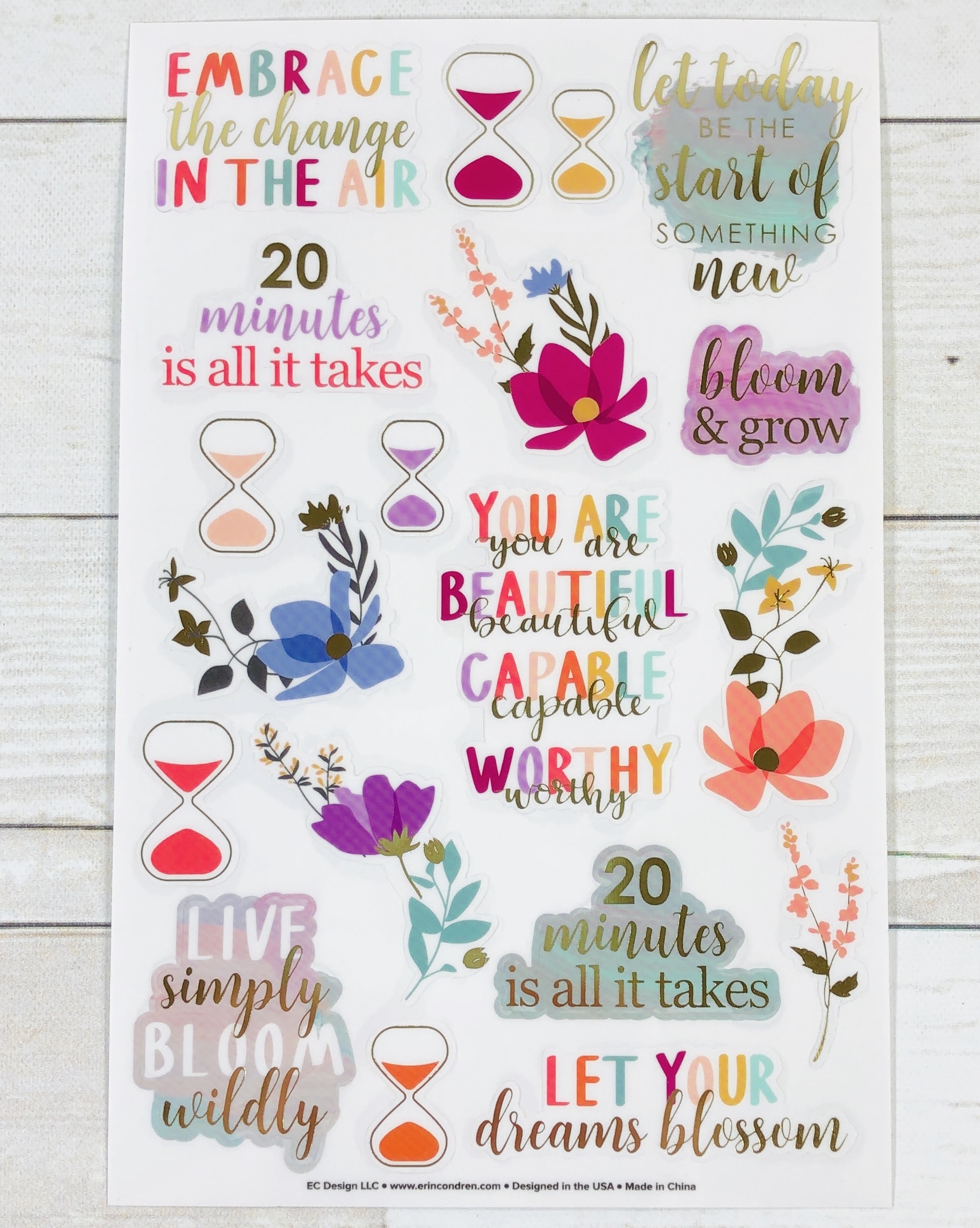 Erin Condren Clear Sticker Sheet (Exclusive, $4.50) I simply love Erin Condren stickers, they are so beautiful and the designs are just amazing, where do they come up with all of these ideas?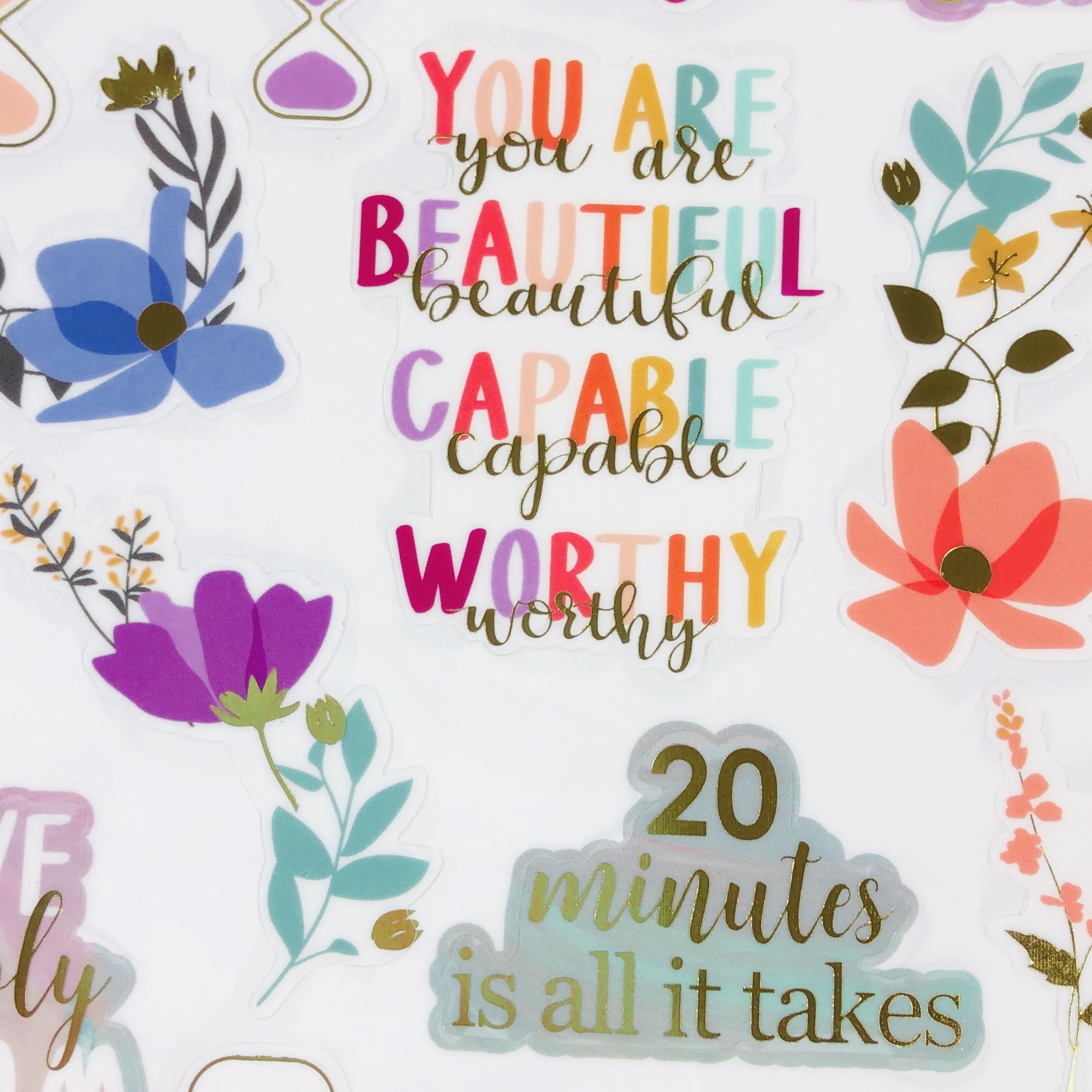 These are vinyl stickers with a clear background. The sayings are empowering and urge us to go after those goals. Use them in the Vision Journal shown above, the Petite Journal shown below, or in your planner or calendar.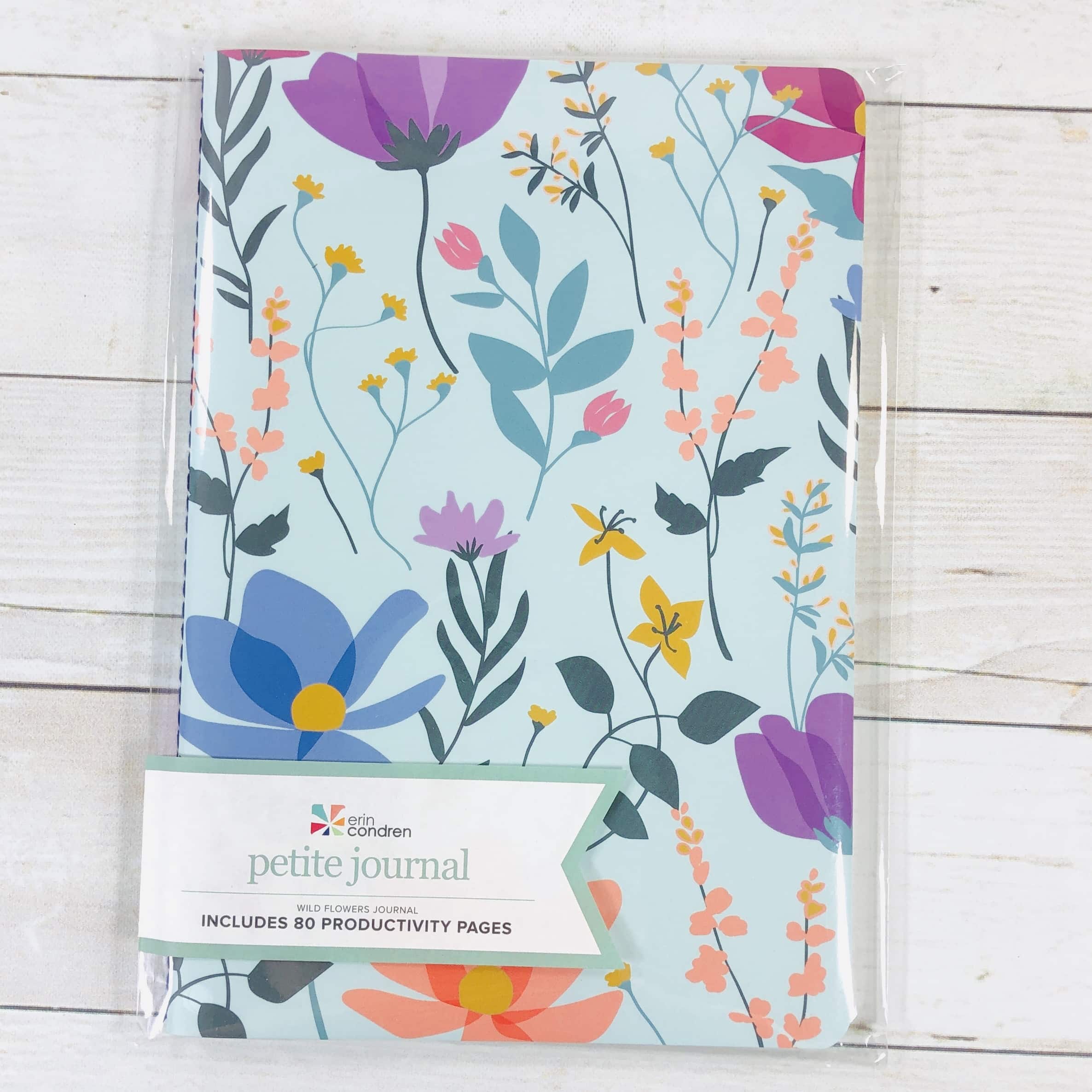 Wild Flower Petite Journal W/ Productivity Lay Out (Exclusive, $9) The sticker on the front of this journal tells me it has 80 productivity pages.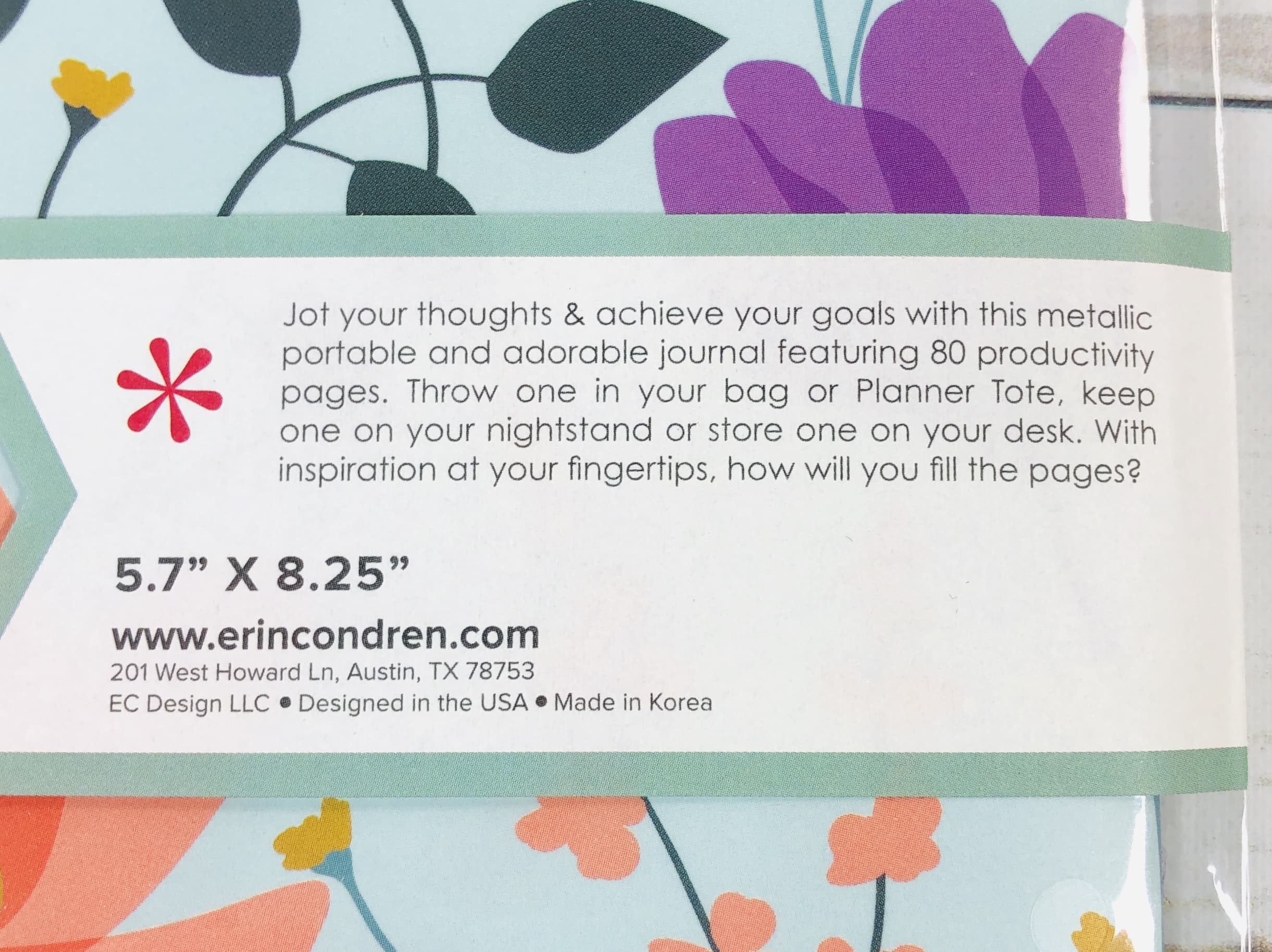 The sticker on the back tells me it is 5.7″ x 8.25″ and perfect for sticking in a bag, tote, briefcase, or backpack. You can also leave journals like this in places around the house where you like to get creative, like next to a reading chair or nightstand.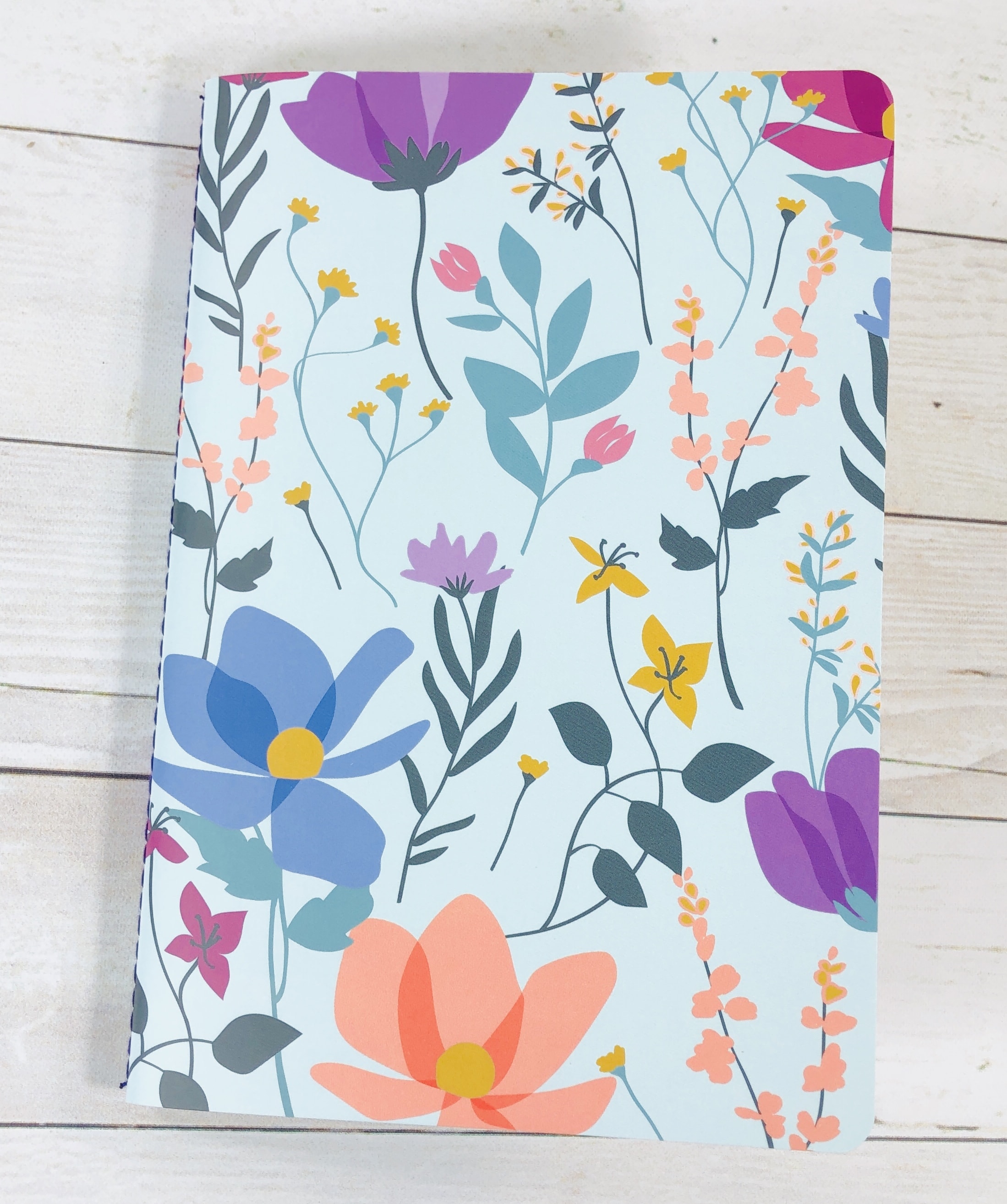 I adore the colorful floral design on the front and back. The sticker said this is a metallic design but I don't see any hints of that at all, it has a matte finish.
The inside has an inspirational message.
The pages have a colored rectangle in the upper right corner, and the color changes on each page before eventually repeating. The right side also has a checklist so it seems like a good journal for keeping track of tasks that need to be completed.
Erin Condren Productivity Washi Tape Duo (Exclusive, $5.50) While the colors of this duo are exclusive, there is a similar item on the Erin Condren website, although it is currently sold out.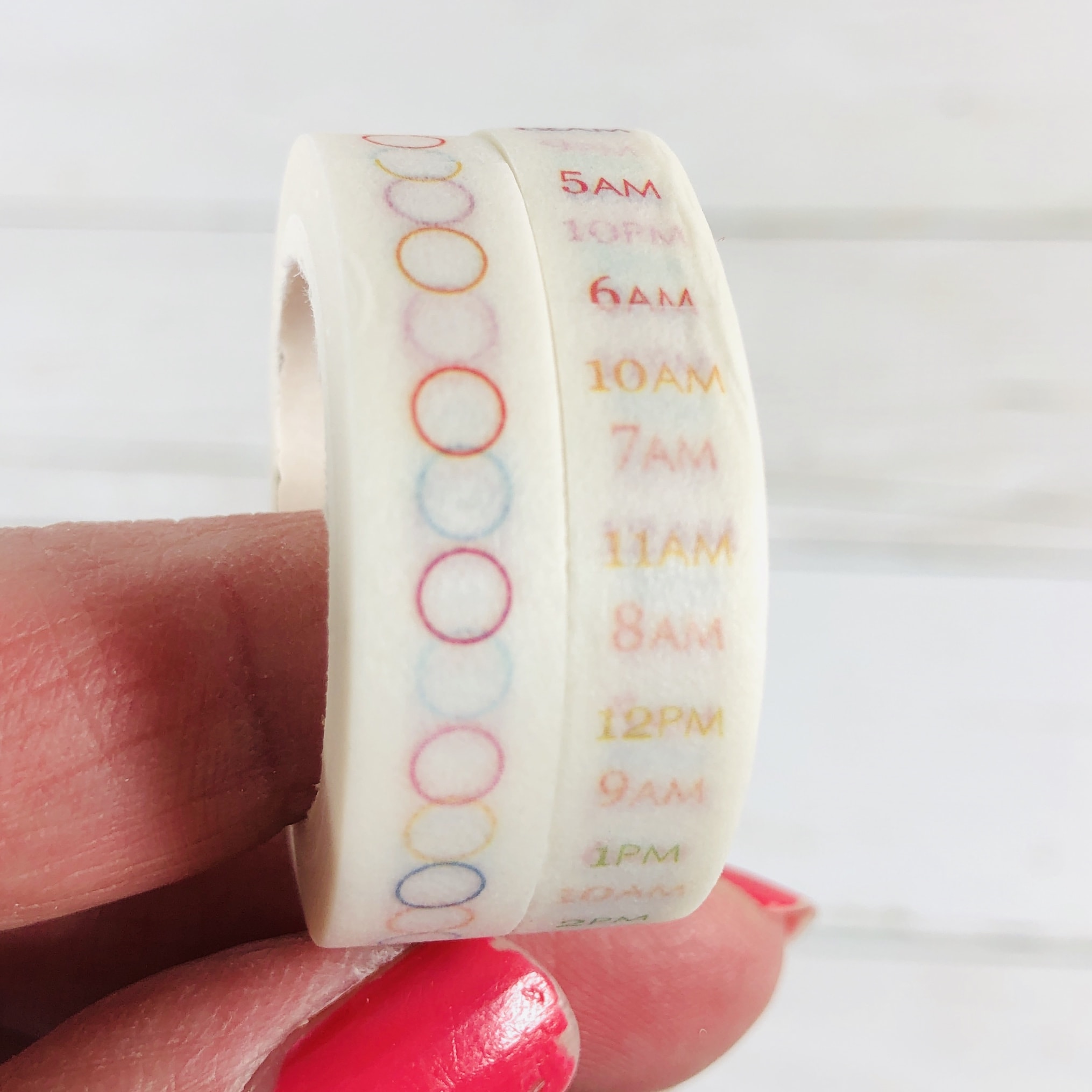 There are two 16 foot rolls of washi tape. One roll has a checklist, so you can mark off those to-do's in style. The other roll is hourly, so you can make your blank journals into a planner if you like.
Erin Condren Do It Yourself Interchangeable Pen Kit (Sneak Peek, $8.50) Well this item looks interesting. It's a DIY pen kit!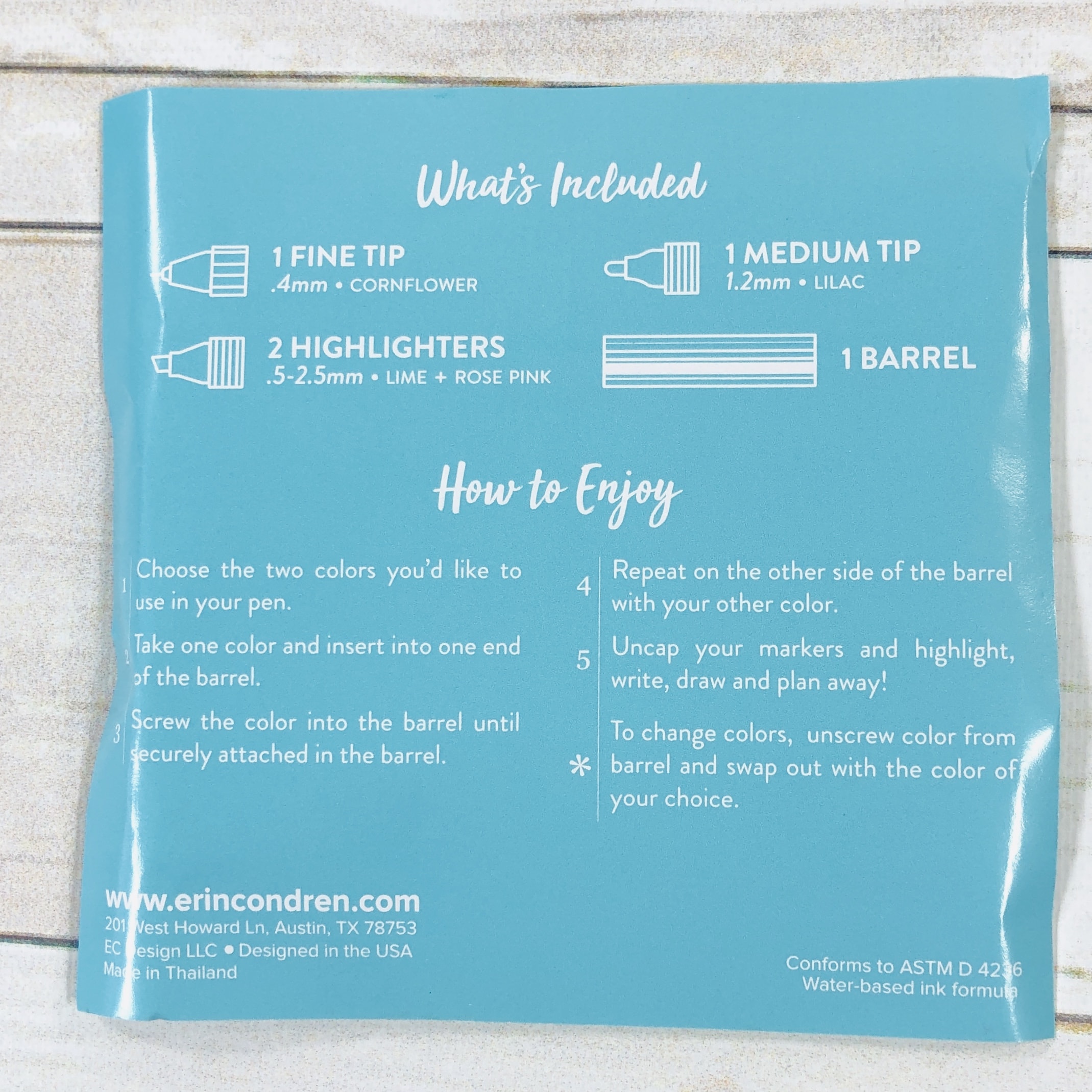 Instructions for use were on the paper included in the package.
There is a colorful striped barrel and four interchangeable pen colors.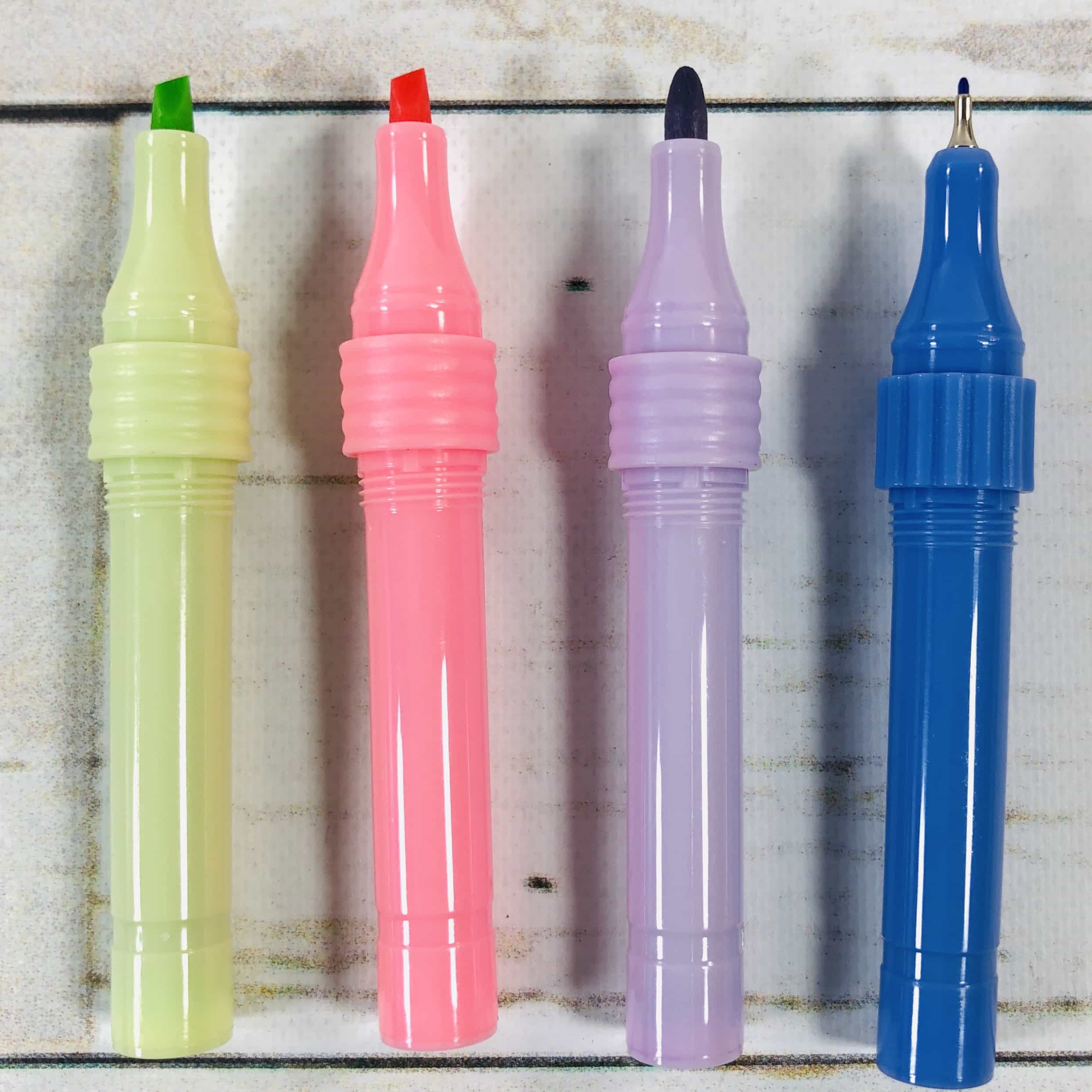 The green and pink colors are highlighters, the purple has a medium tip, and the blue is fine-tipped.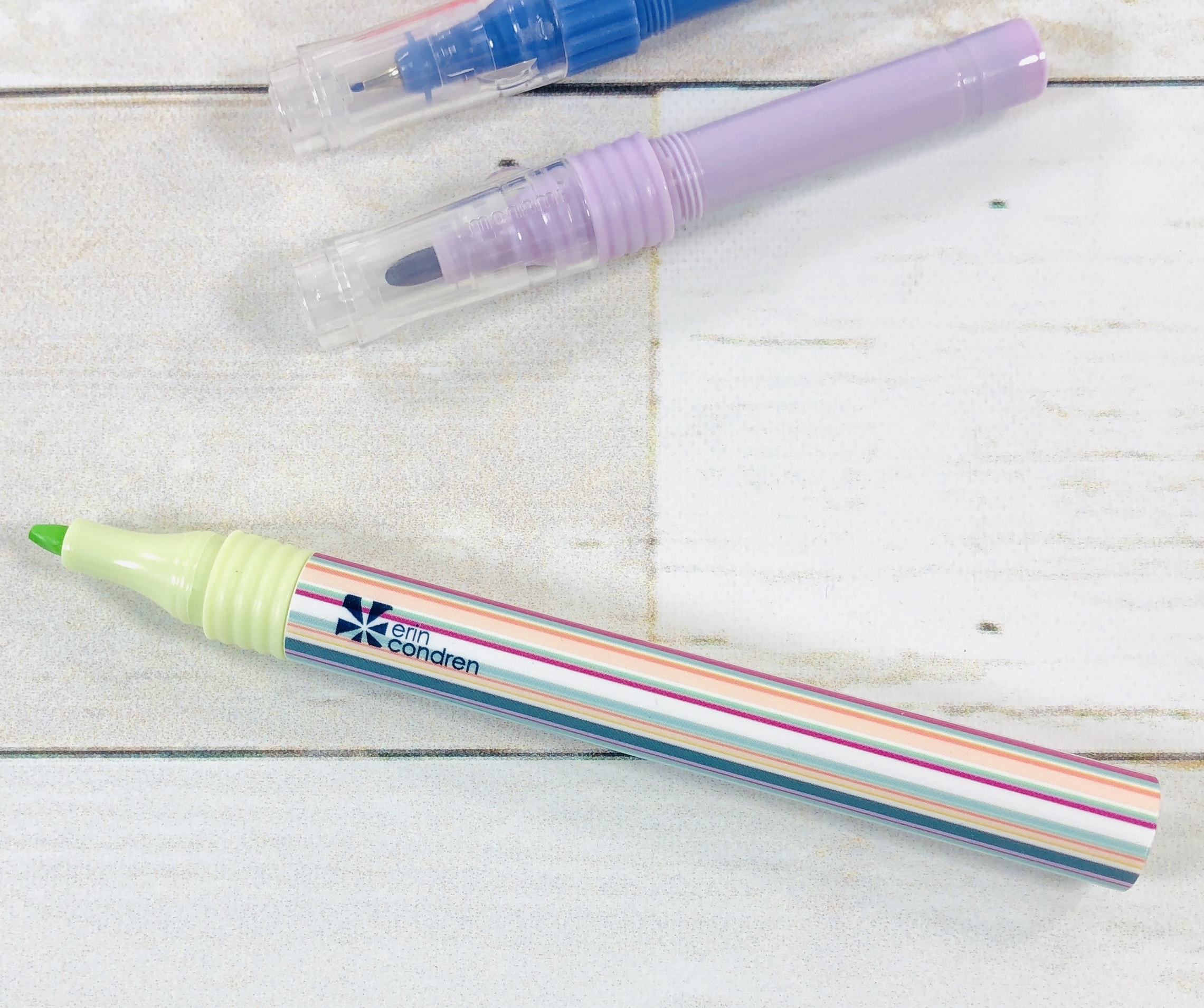 I didn't realize until later that I can put TWO tips in the barrel, one on each side! Just screw your desired color into each end, then switch them up when you feel like it!
What a great assortment of products in the Spring 2020 Erin Condren Seasonal Surprise Box! I was happy with everything in the box, starting with the lavender colored box itself! The color scheme was one of my favorites and I love the cool purple tones, the ombre stripes, and the florals. The vision journal is a great addition to the line of products, I wonder if we'll see something similar in the EC online shop in the future? I like that I can carry around a multi-colored pen and the cleaning checklist has me ready for a spring spruce up. The productivity journal is beautiful, as are the stickers, and the other items rounded out the box nicely. My box had a value of around $80.50!
What did you think of the box?
Visit Erin Condren Seasonal Surprise Box to subscribe or find out more!