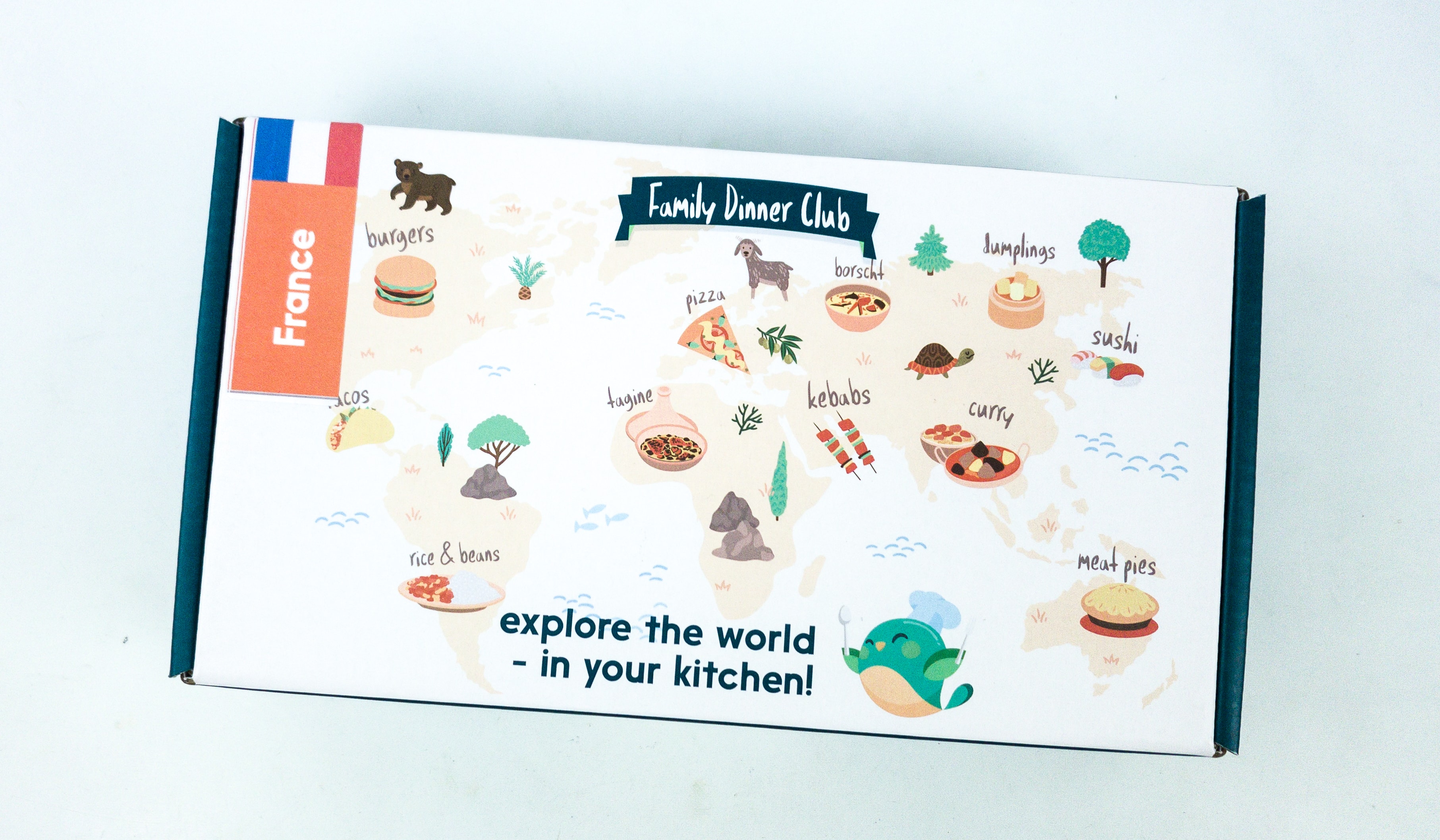 Eat2Explore is an educational food and culture explorer box. They currently offer 3 kinds of boxes: Explore a Country box ($24.95), Explore a Continent box ($22.46), and Explore the World box ($21.21). Each box includes easy-to-follow recipes, pre-measured spice/sauce mixes for each recipe, shopping list, brochure, activity sheet, country sticker, flag pin, and a collectible. This box is ideal for kids 5 years old or older.
DEAL: Get 15% off on any subscription! Use coupon code NEW15.
This month's box is all about France!
The box arrived well-secured with an Eat2Explore sticker.
The bottom of the box contains the history of the subscription and a breakdown of all the items inside.
Eat2Explore encourages us to share all our exciting experiences with this box on social media.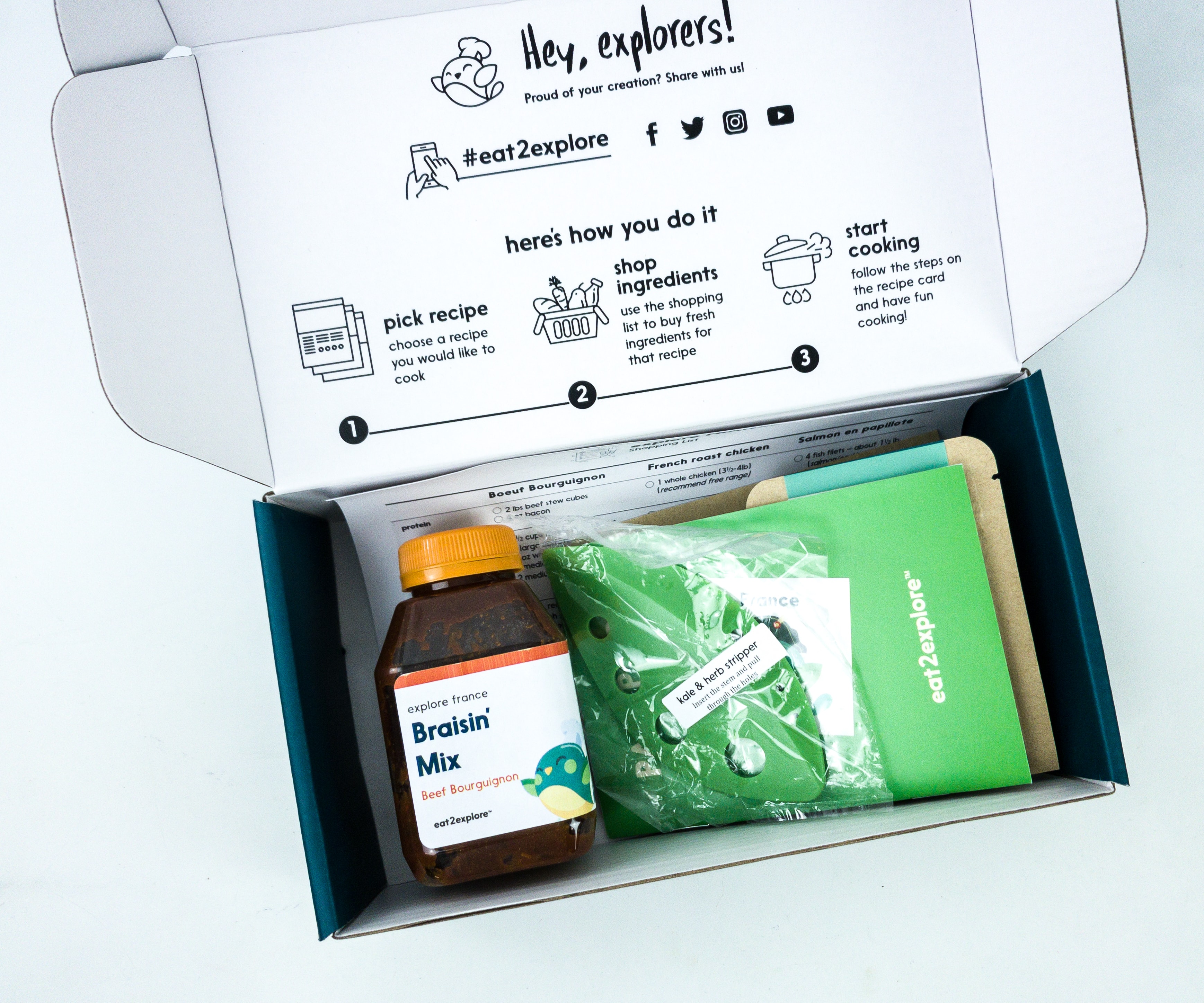 The box also gives us three basic steps on how this subscription works: first, you need to pick your recipe, shop the ingredients needed, and then start cooking!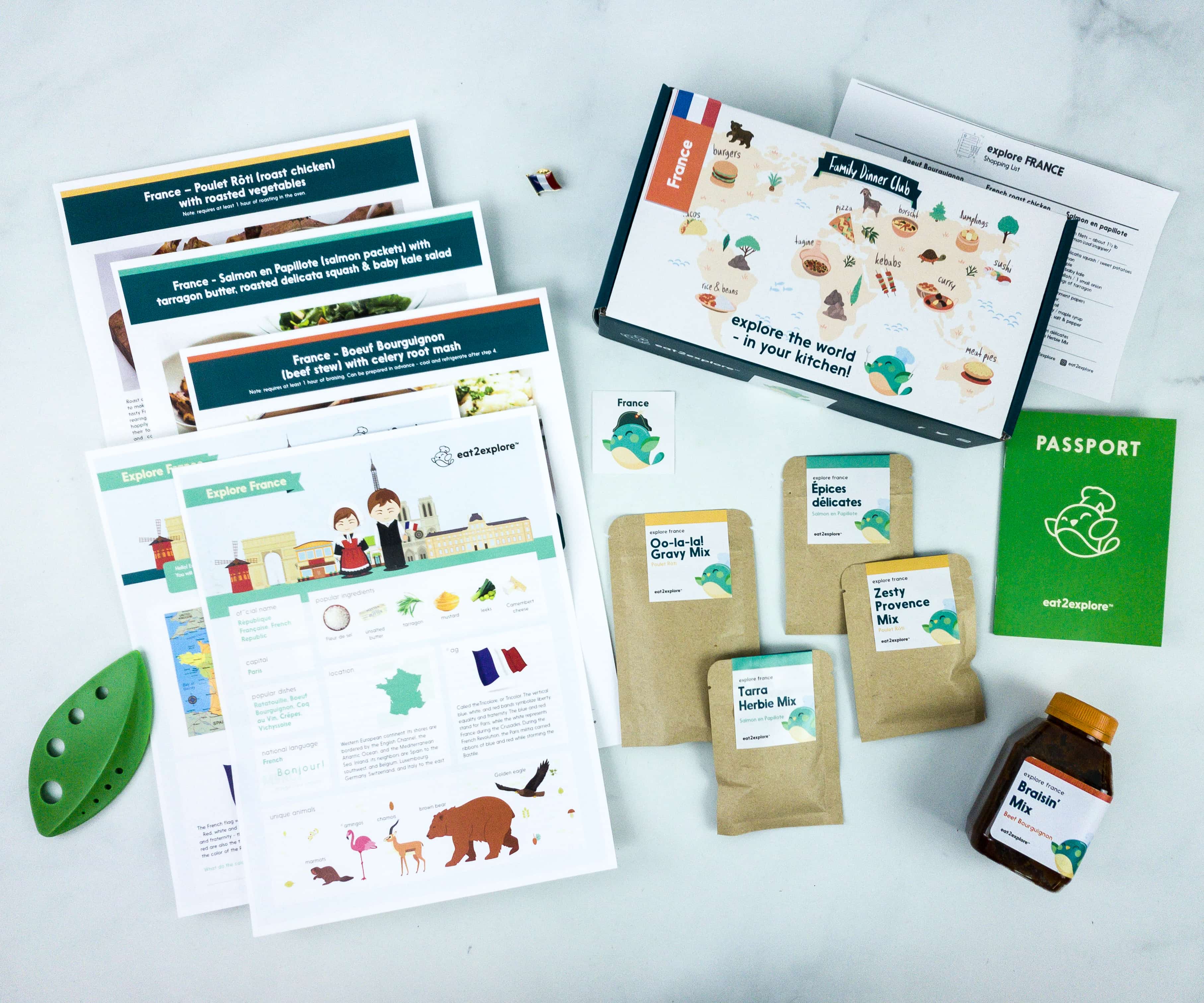 Everything in this month's box!
This month's box includes an Eat2Explore card.
We also got here an enamel pin that features the flag of France.
Aside from the pin, we also got an exclusive leaf-shaped kale and herb stripper.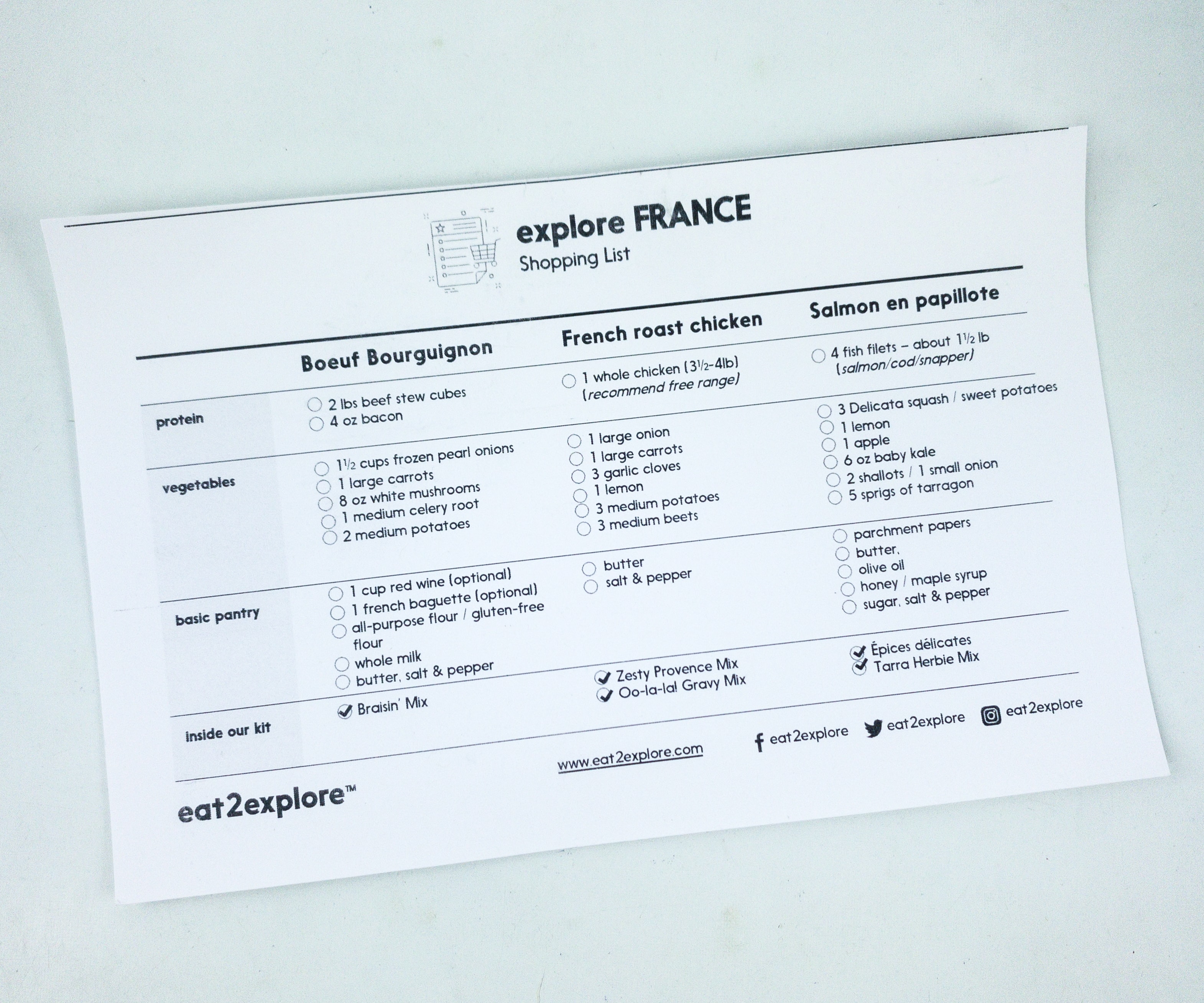 This month's featured recipes are Boeuf Bourguignon, French Roast Chicken, and Salmon en papillote. Listed on this sheet are the ingredients you need to buy per recipe, basic tools, and ingredients included in the kit.
Here's the little green booklet from the first box, which works as the Eat2Explore passport.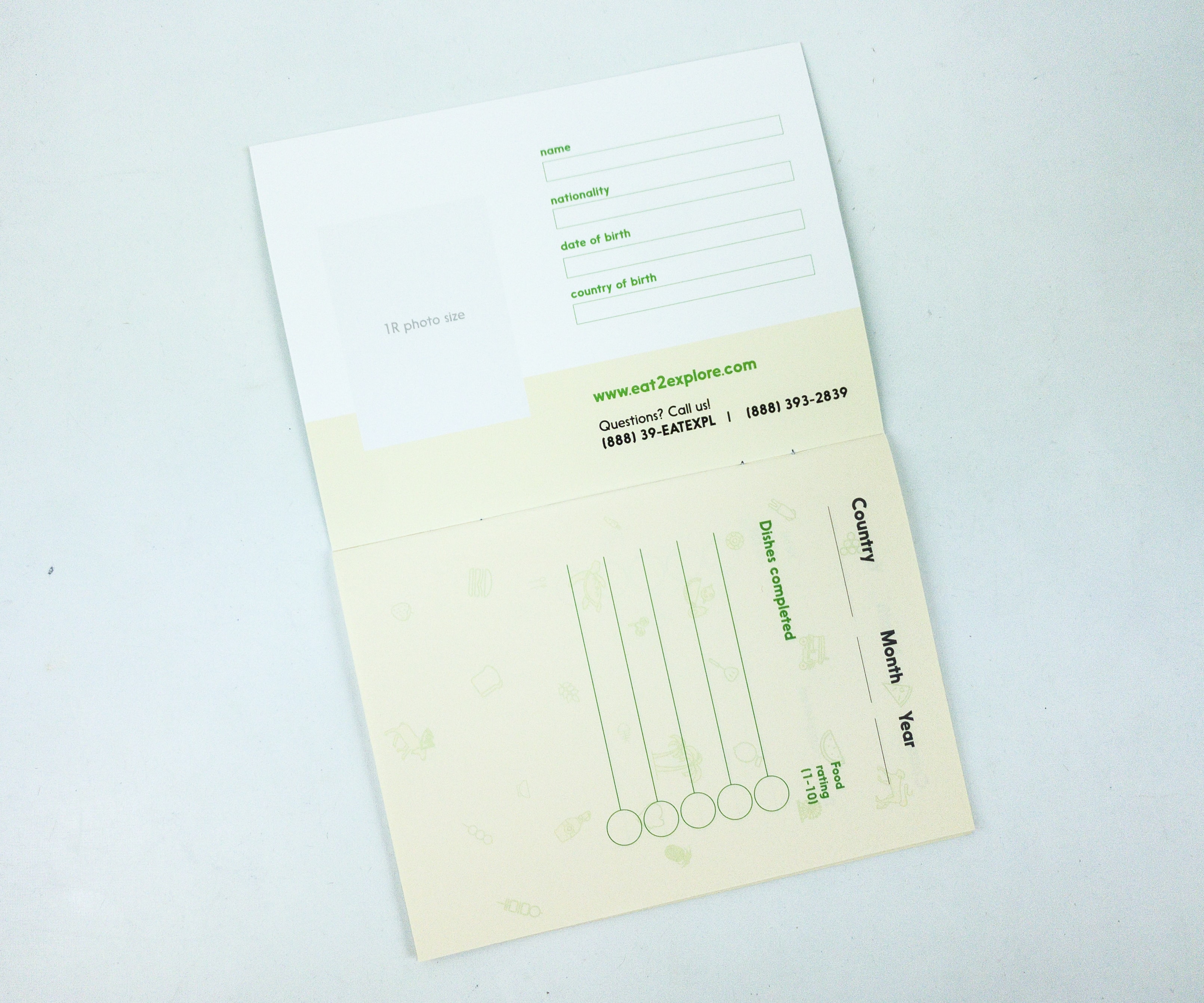 Just fill in the booklet and add your kid's 1R photo to make it look just like an actual passport.
On this part of the booklet, you can jot down all the recipes you completed, your food rating, the country where the recipe originated, plus the month and year that they were done.
They even sent us some trivia about this month's featured country, France!
Provided at the back of this sheet is all the information you need to know about the Art of French Cuisine, including its origin and specialties.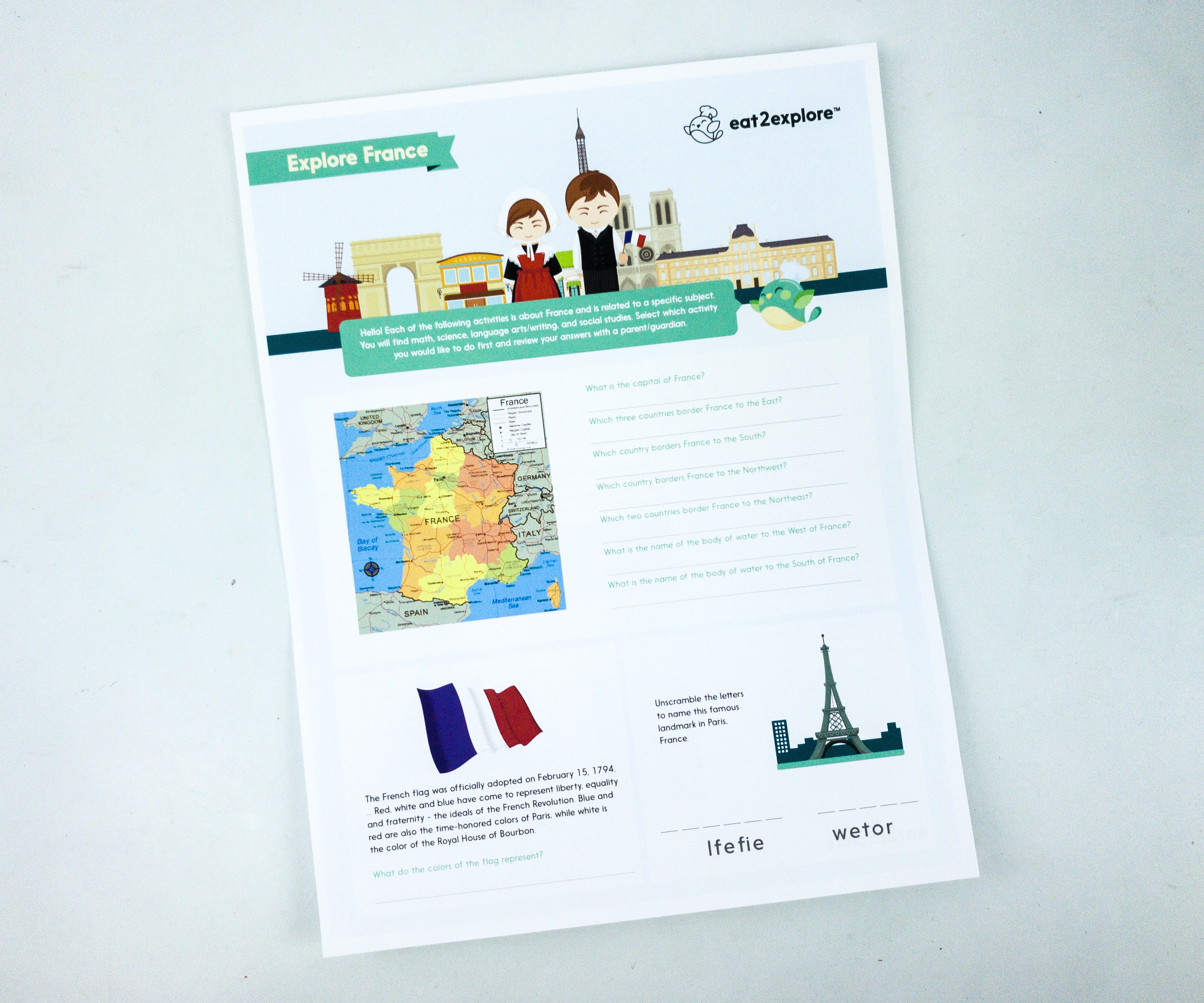 They even included an interactive activity sheet for kids!
These activities include social studies, language arts, mathematics, and even science problems.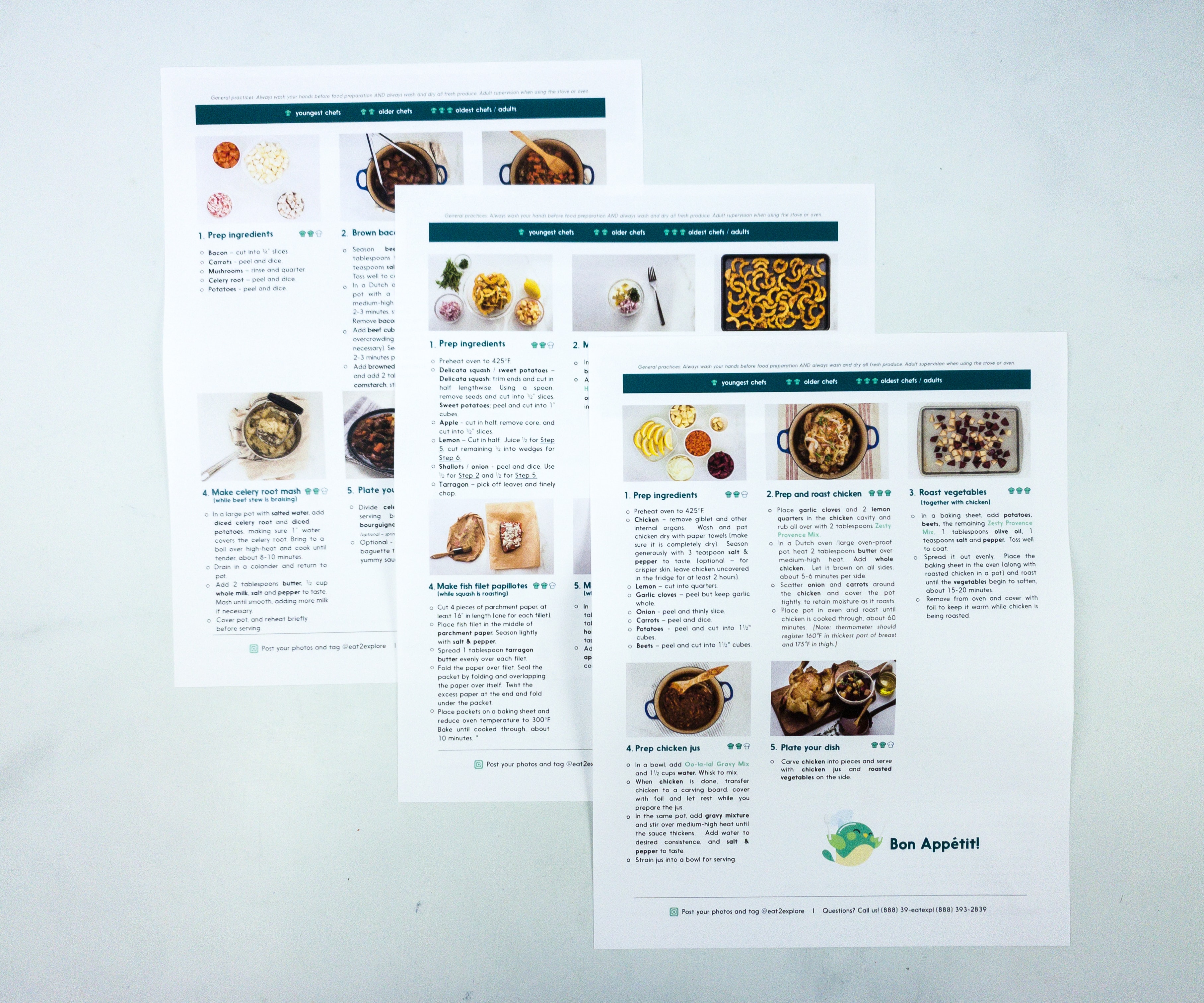 Each recipe comes with a corresponding cooking sheet that features all the ingredients and detailed step-by-step procedures.
Here are all the essential spices, sauce, and grain mixes that we need to complete all three projects!
Boeuf Bourguignon (Beef Stew) with celery root mash. This first meal we made is a classic French dish that primarily uses beef stew, pearl onions, carrots, mushrooms, celery root, and potatoes.
For the beef stew chunks, we used Beef Eye Round Roast from Butcher Box. They are 100% grass-fed and they don't contain antibiotics or any growth hormones. We also used bacon from Butcher Box for additional flavor!
Before you start cooking, it's always a great idea to prepare all the ingredients first! Here, we already peeled the pearl onions and cut potatoes, carrots, and mushroom.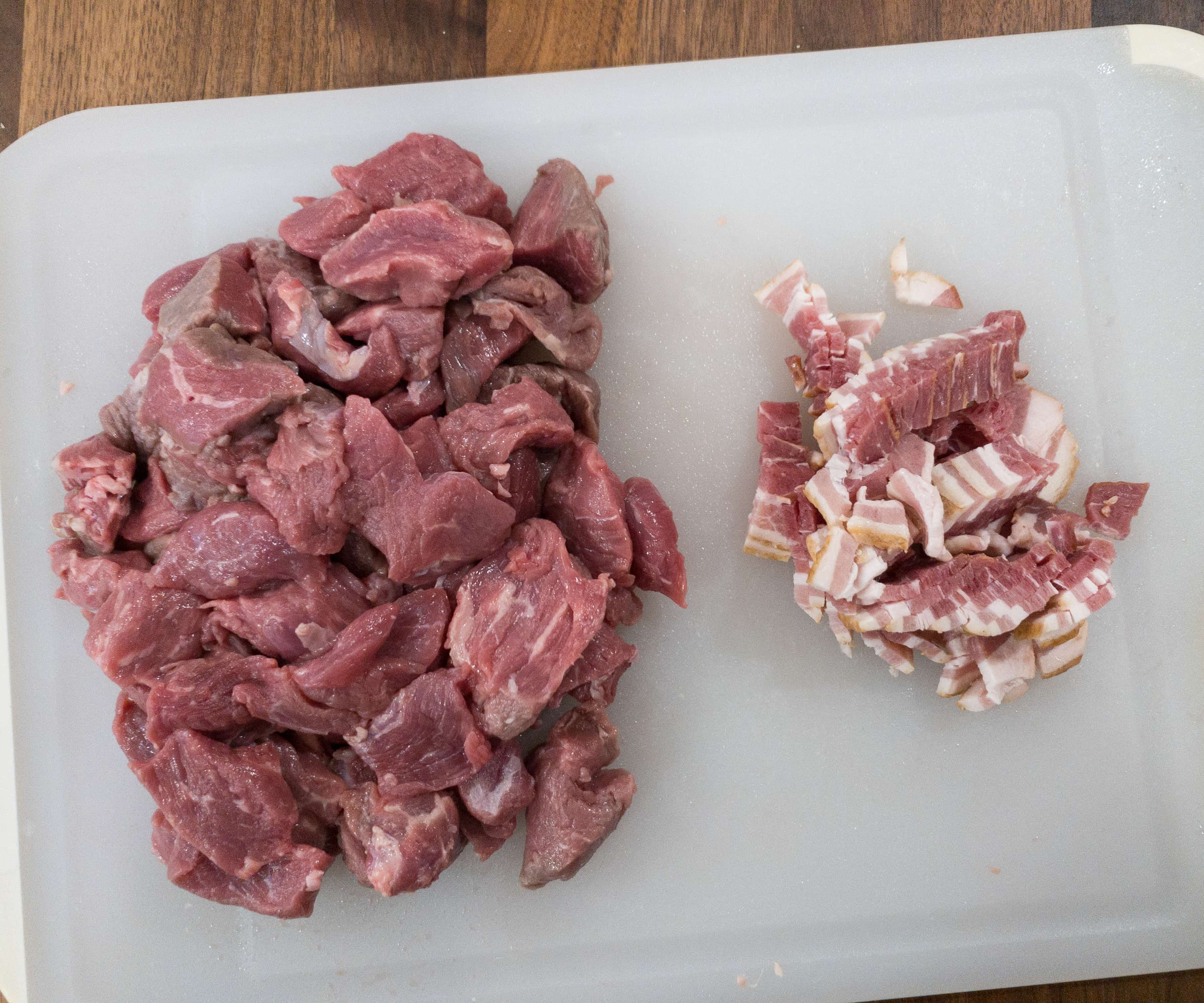 One of the key elements to make this dish more delectable and chunkier is to make sure that the slices of beef are way much larger than the bacon.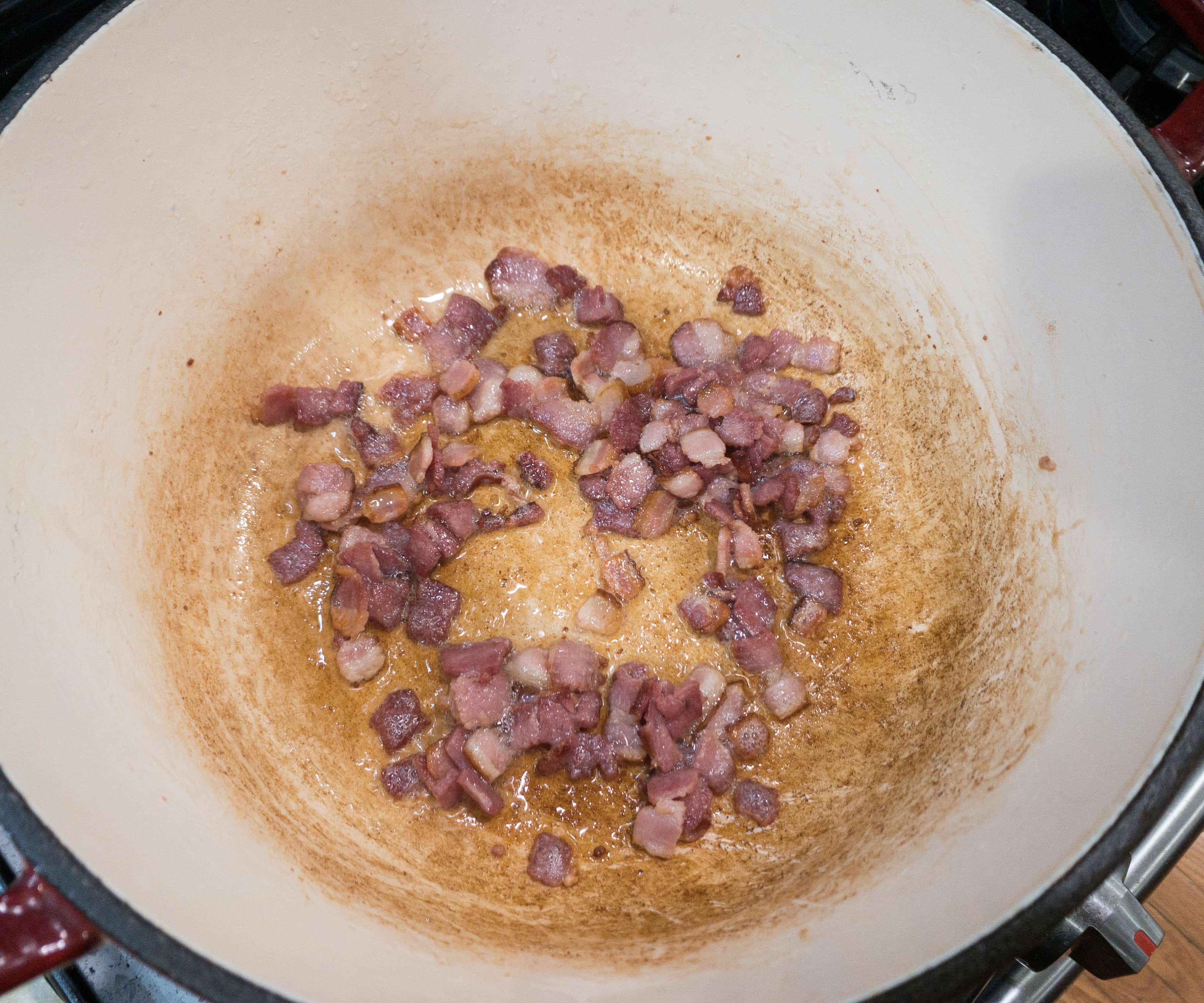 We started by cooking the bacon in medium-high heat for around to 2-3 minutes.
Remove the bacon, and then replace it with the beef chunks and cook it for another 2-3 minutes or until it turns brown.
Add the pearl onions, carrots, mushroom, celery roots, and the Braisin' Mix provided by the box!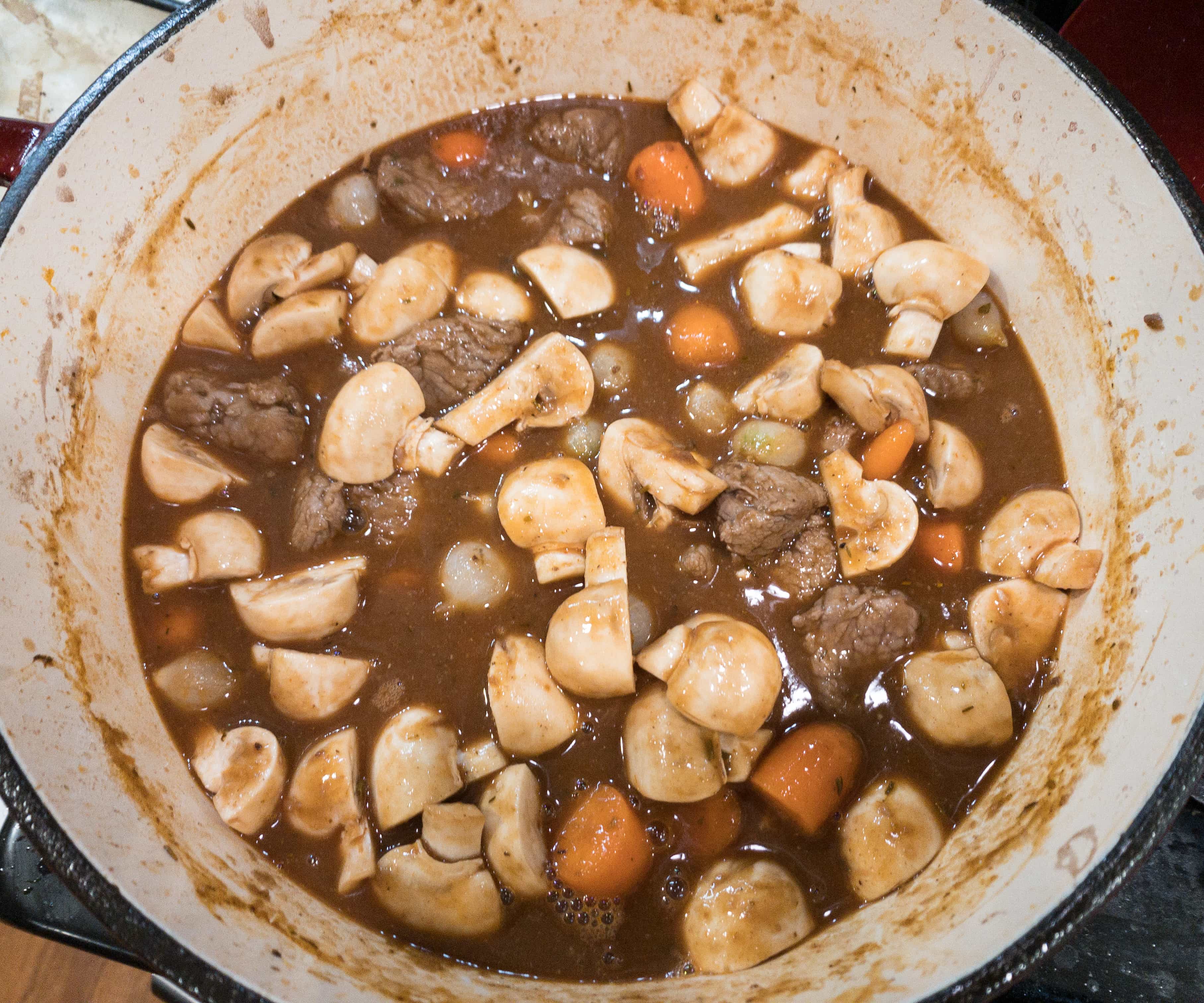 The mixture is pretty concentrated so we added a cup of water on it and stirred it continuously.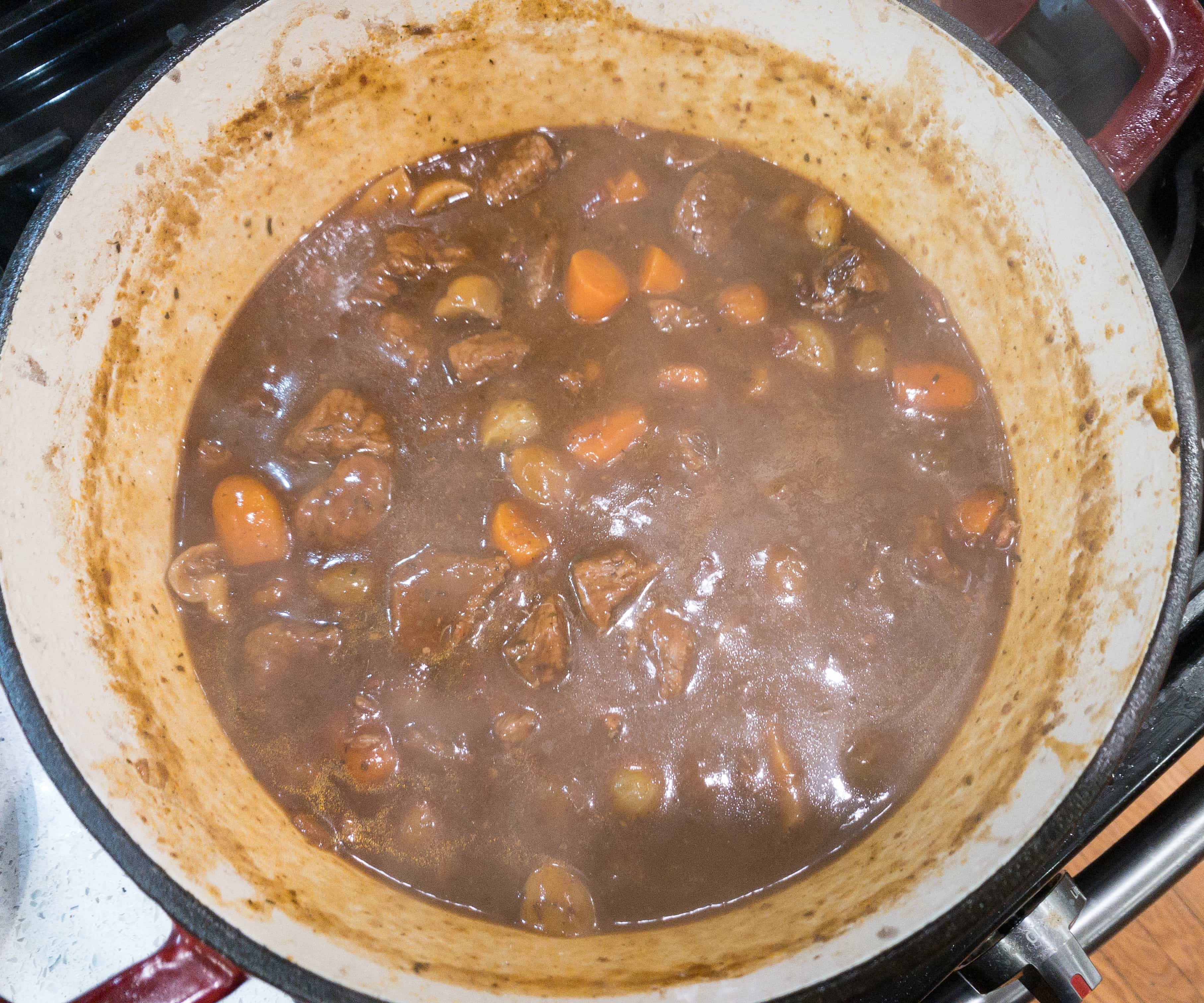 Wait for another couple of minutes until it becomes thick and a little creamy!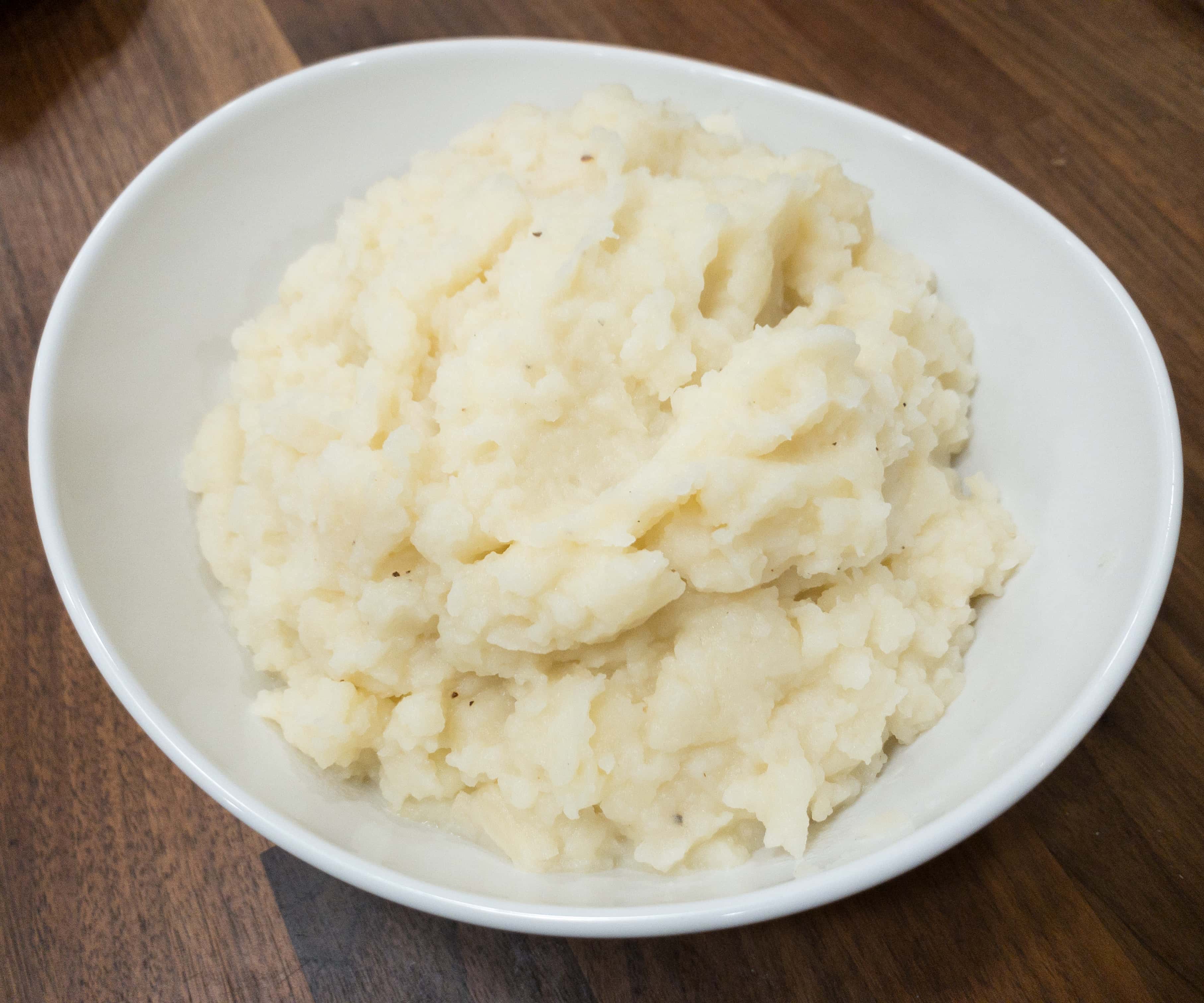 While waiting for the beef stew to be cooked, we put the diced celery root and potatoes on a separate pot, added water and boiled it for 8-10 minutes. When it's done, drain the water, add butter, whole milk, salt, and pepper and mush it until it becomes smooth!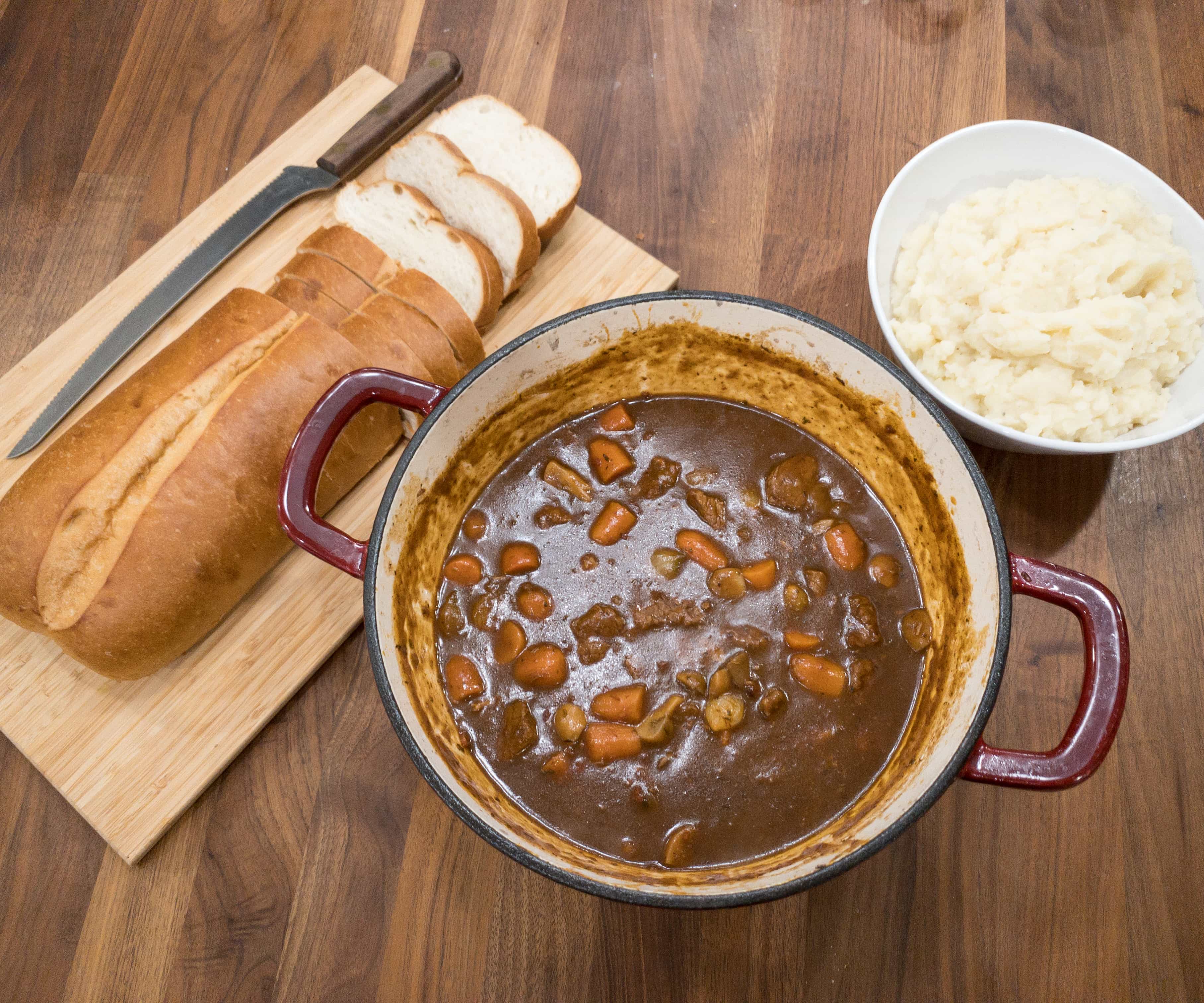 This dish is best served with the French Baguette!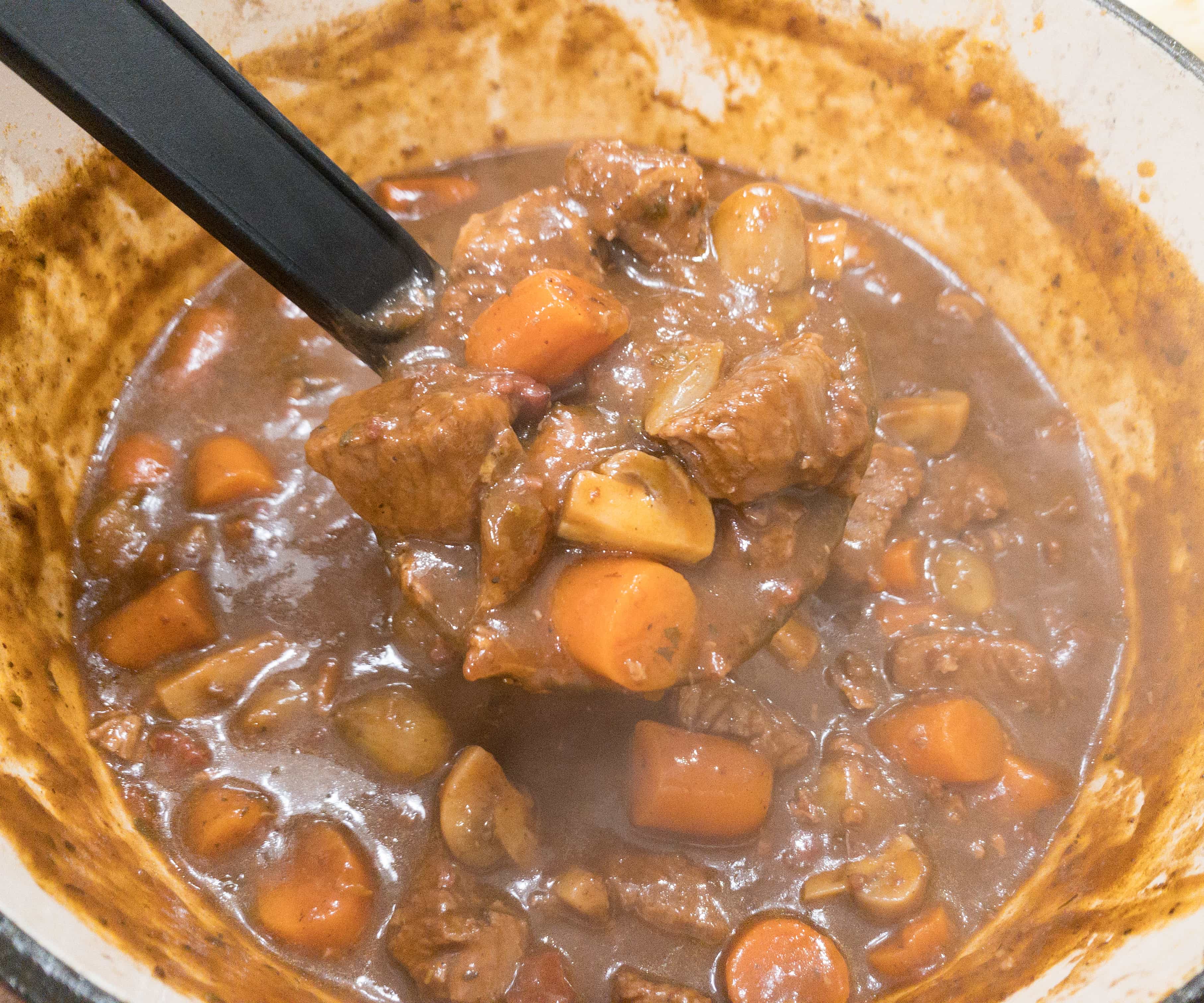 It's so creamy, tasty, and yummy. This beef stew features a well-balanced sweet and spicy taste that even kids love!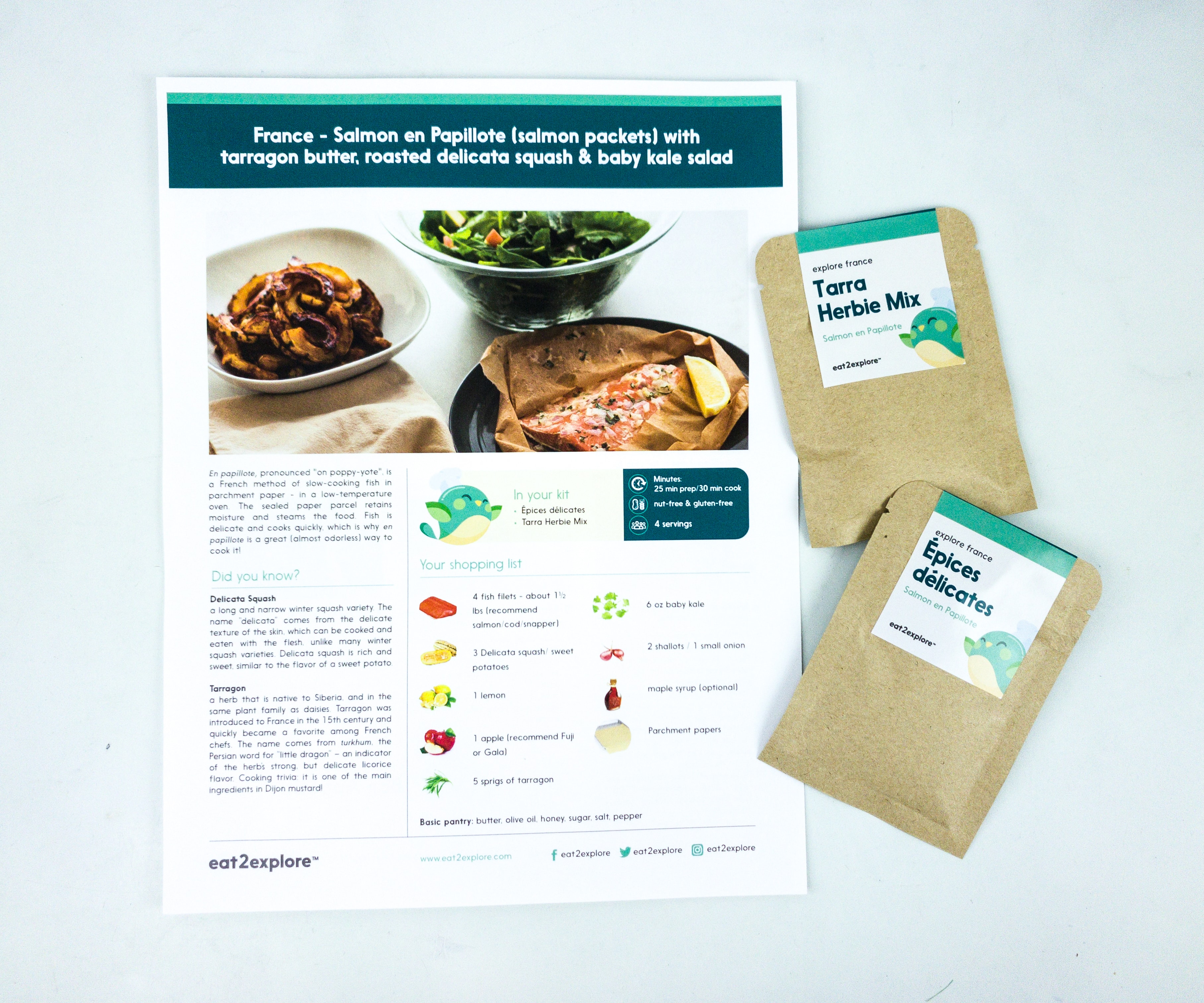 Salmon en Papillote (Salmon Packets) with tarragon butter, roasted delicata squash & baby kale salad. For this meal, we used Tarra Herbie Mix, Epices delicates, fish fillet, delicata squash, lemon, apple, sprigs tarragon, baby kale, shallots, maple syrup, and parchment papers.
The salmon we used is from Moink! It's sourced from the natural waters of Alaska, the home of the world's most abundant sockeye salmon fishery.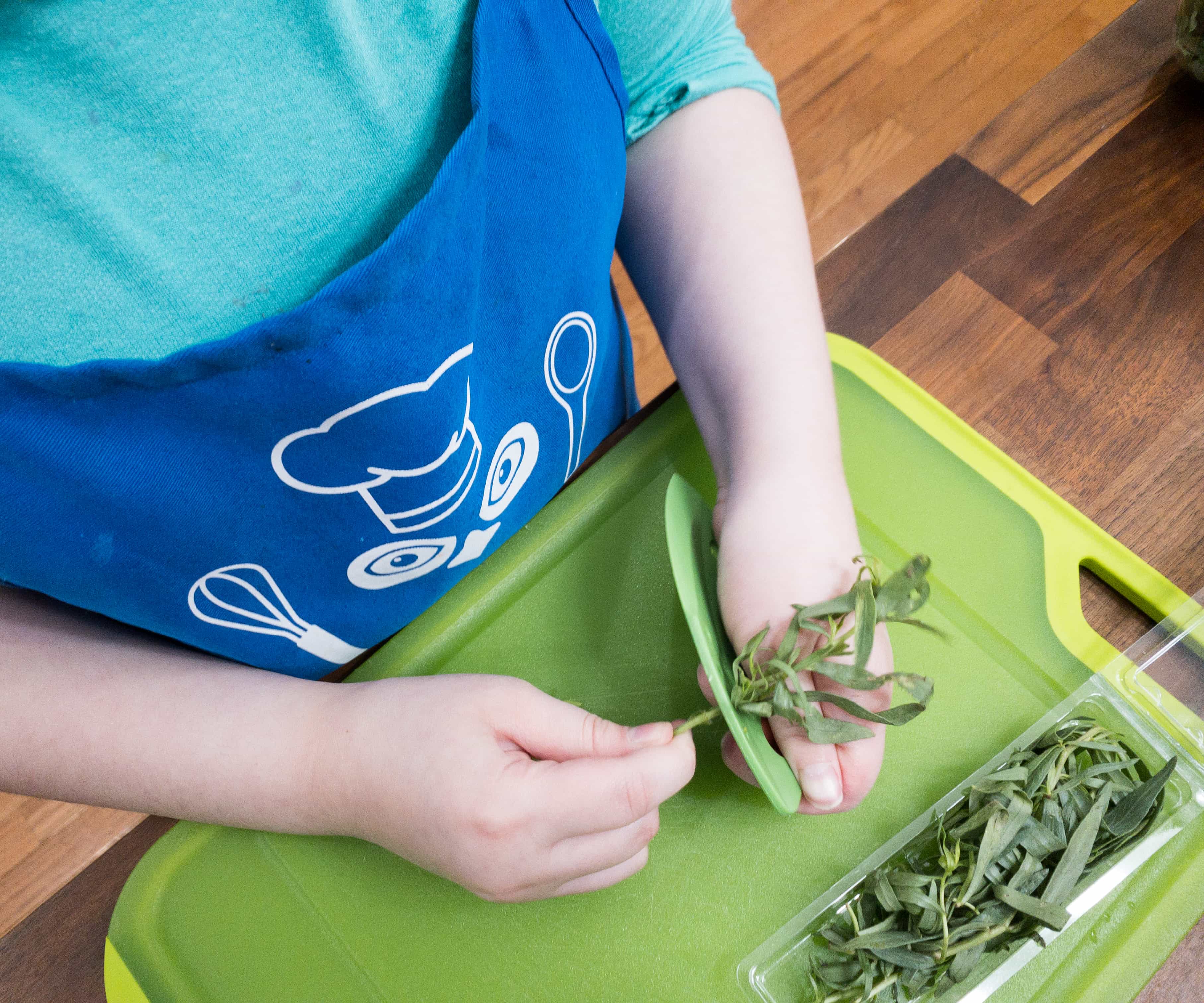 My daughter helped in preparing and cooking this recipe! We started by stripping the kale and herbs using the leaf-shaped stripper. To use the stripper, simply poke the stalk through the hole then pull it.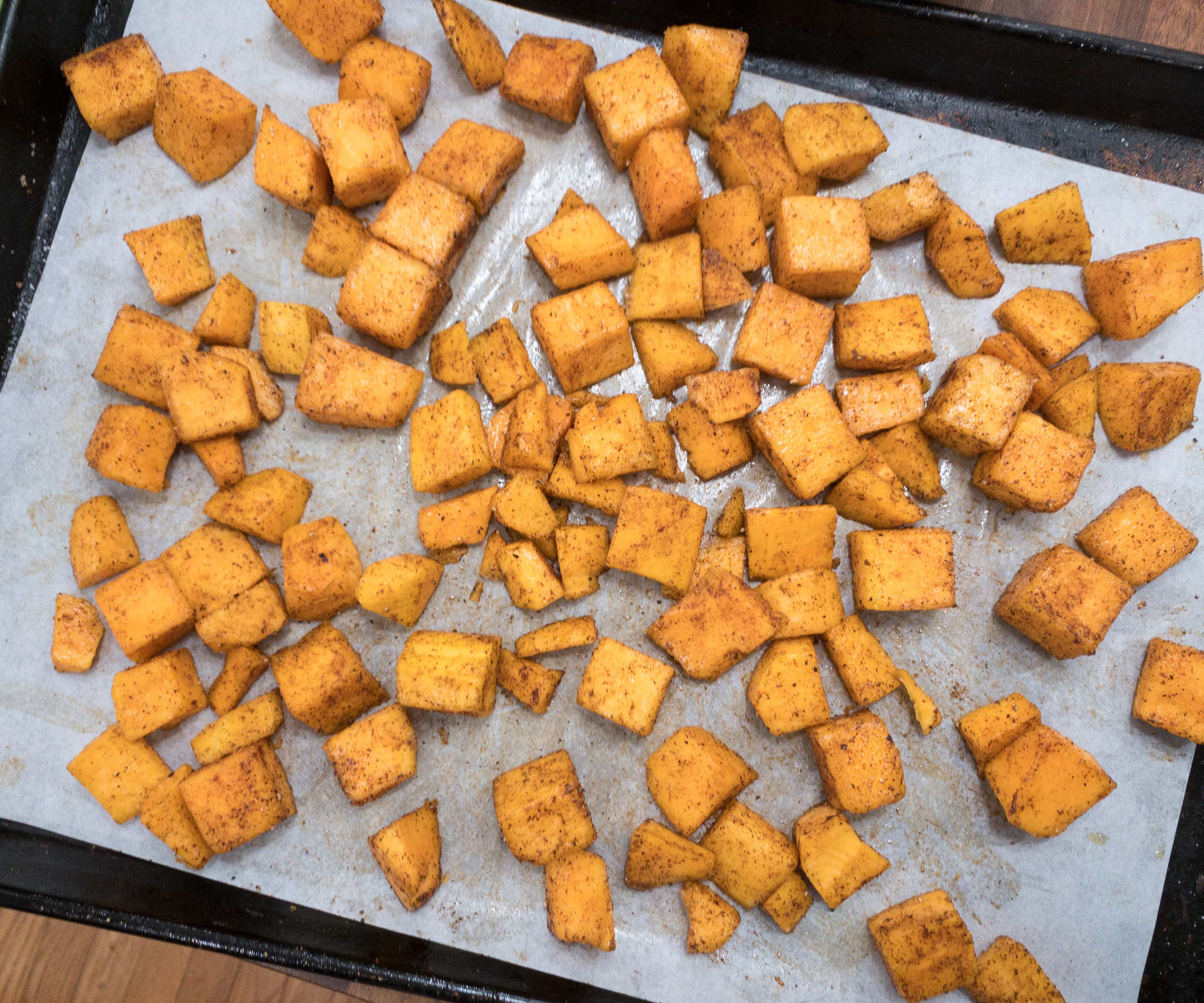 We also peeled the sweet potatoes and cut it into 1″ cubes.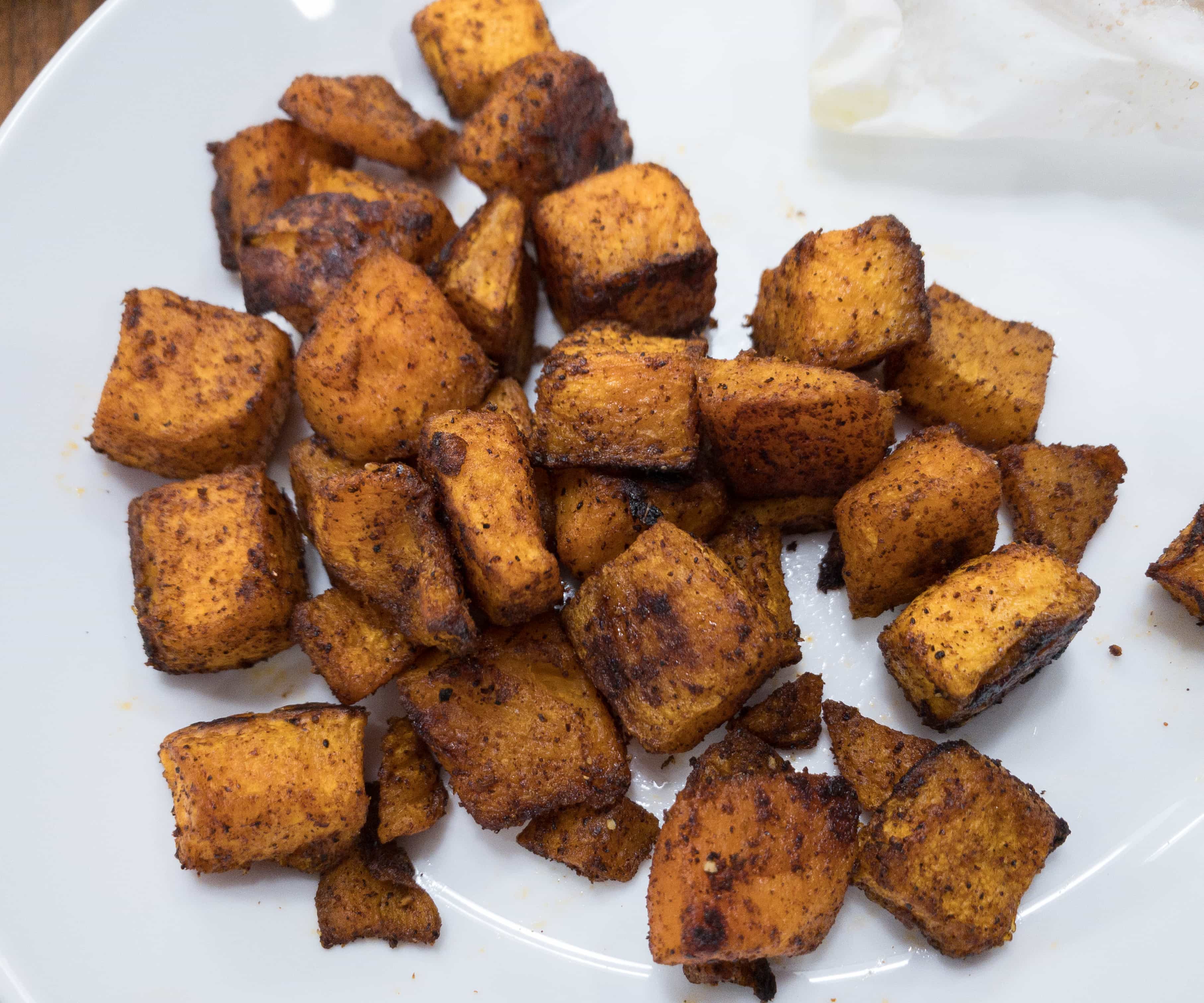 Fry them for 3-5 minutes or until they turn golden brown!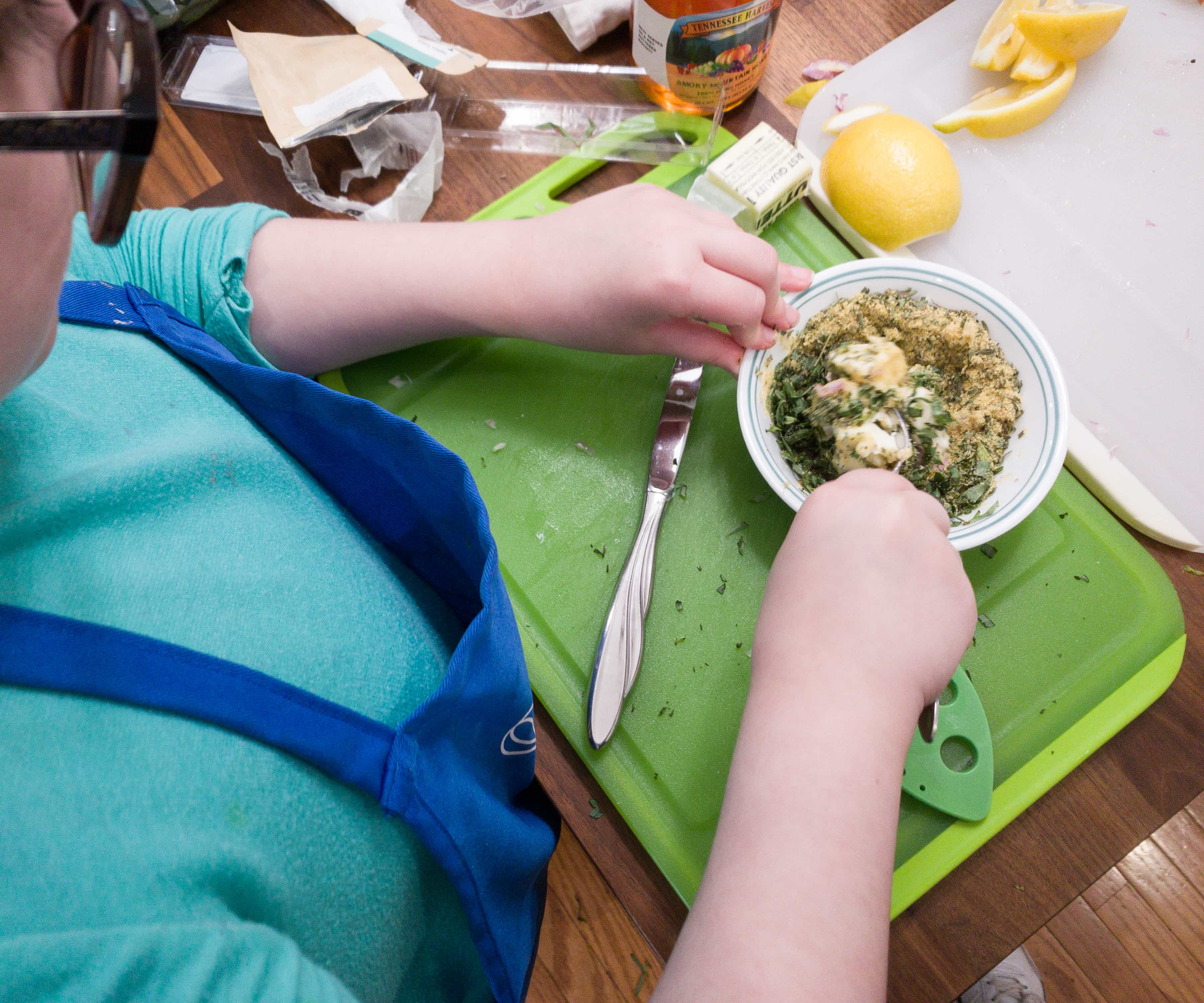 Once done, mix the rest of the ingredients including the Tarra Herbie Mix, Epices delicates, sprigs of tarragon, and shallots. Drizzle them with maple syrup and lemon.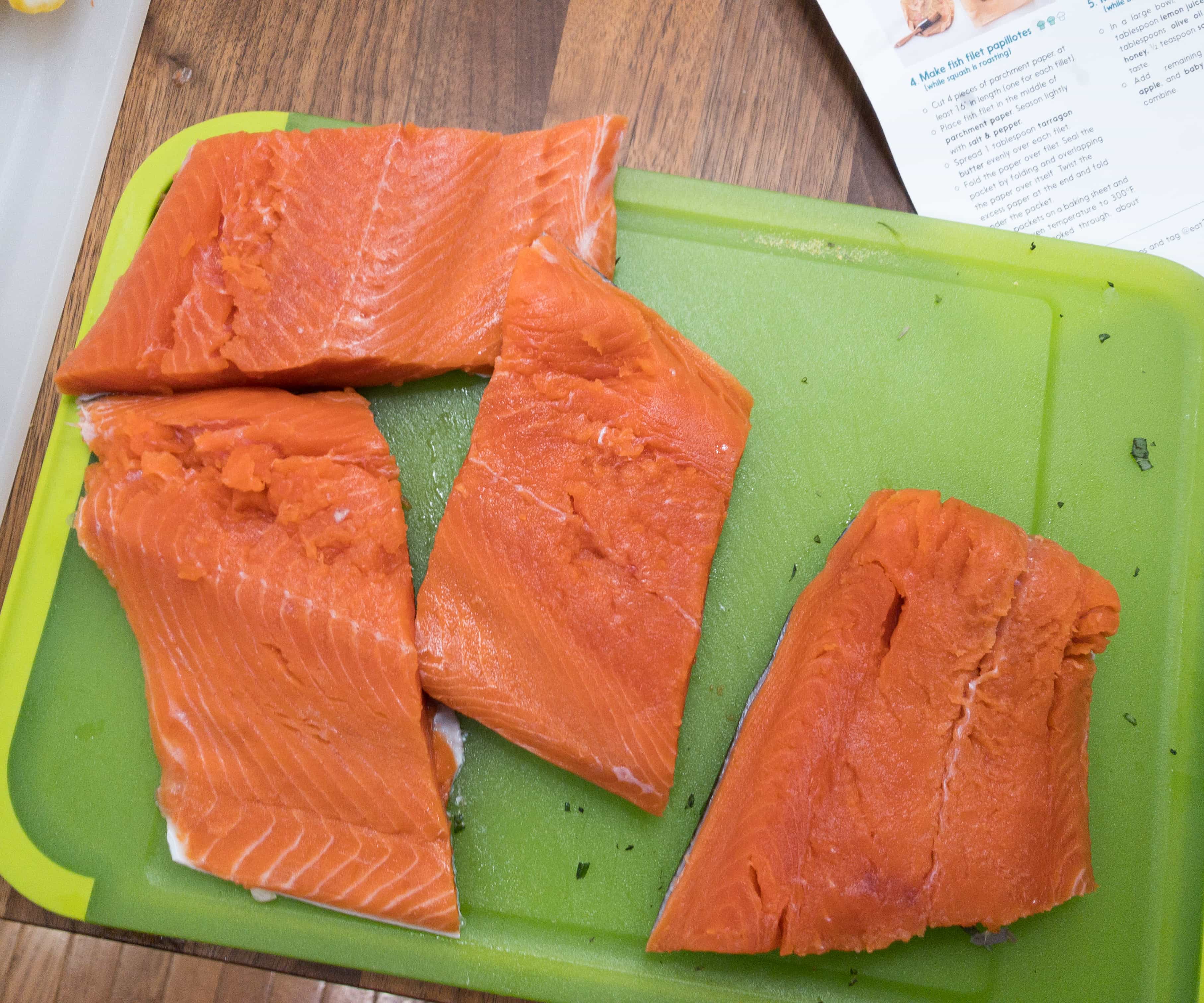 We also cut the chunk of salmon into 4 pieces.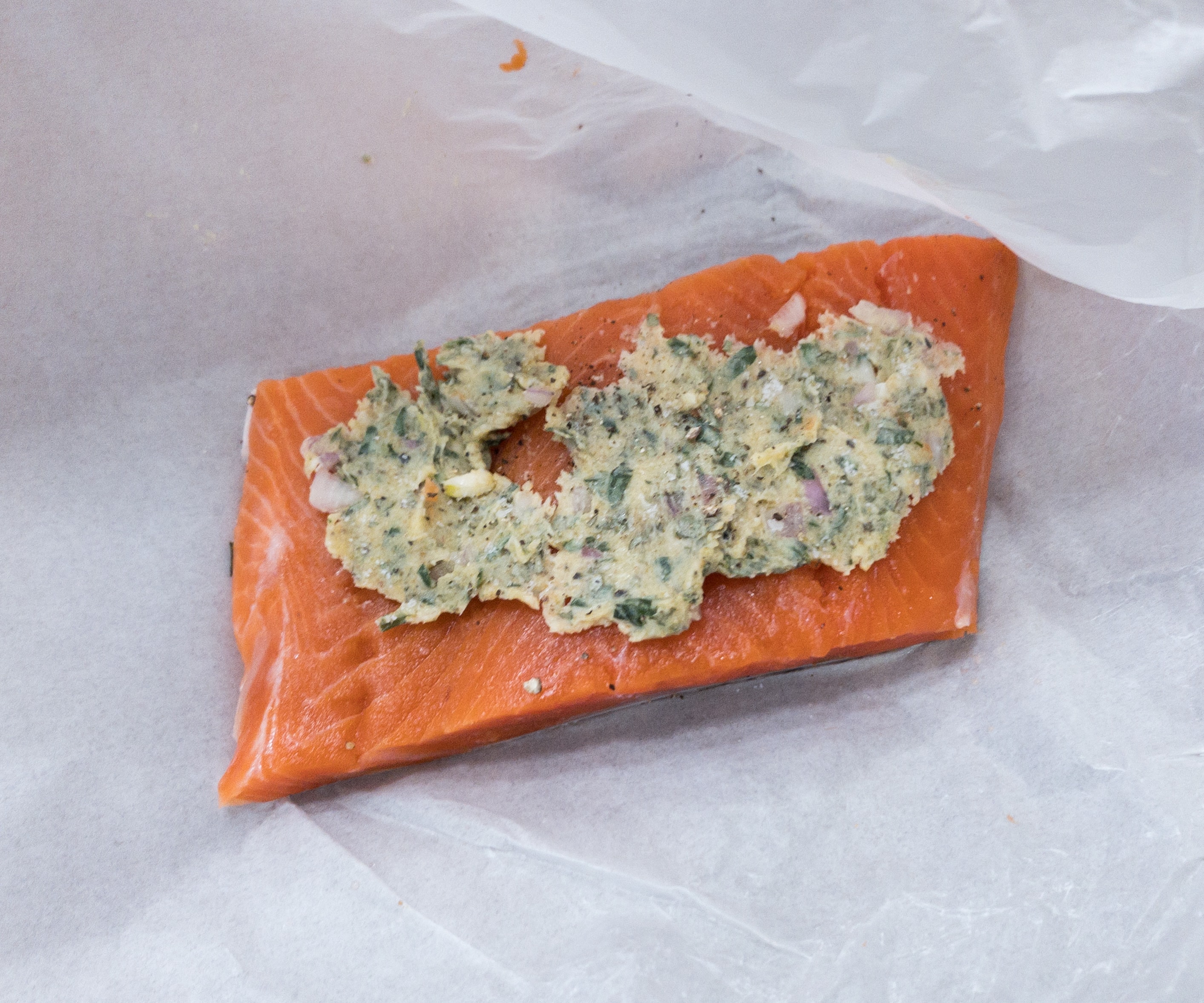 The next step is to put the mixture on top of the salmon.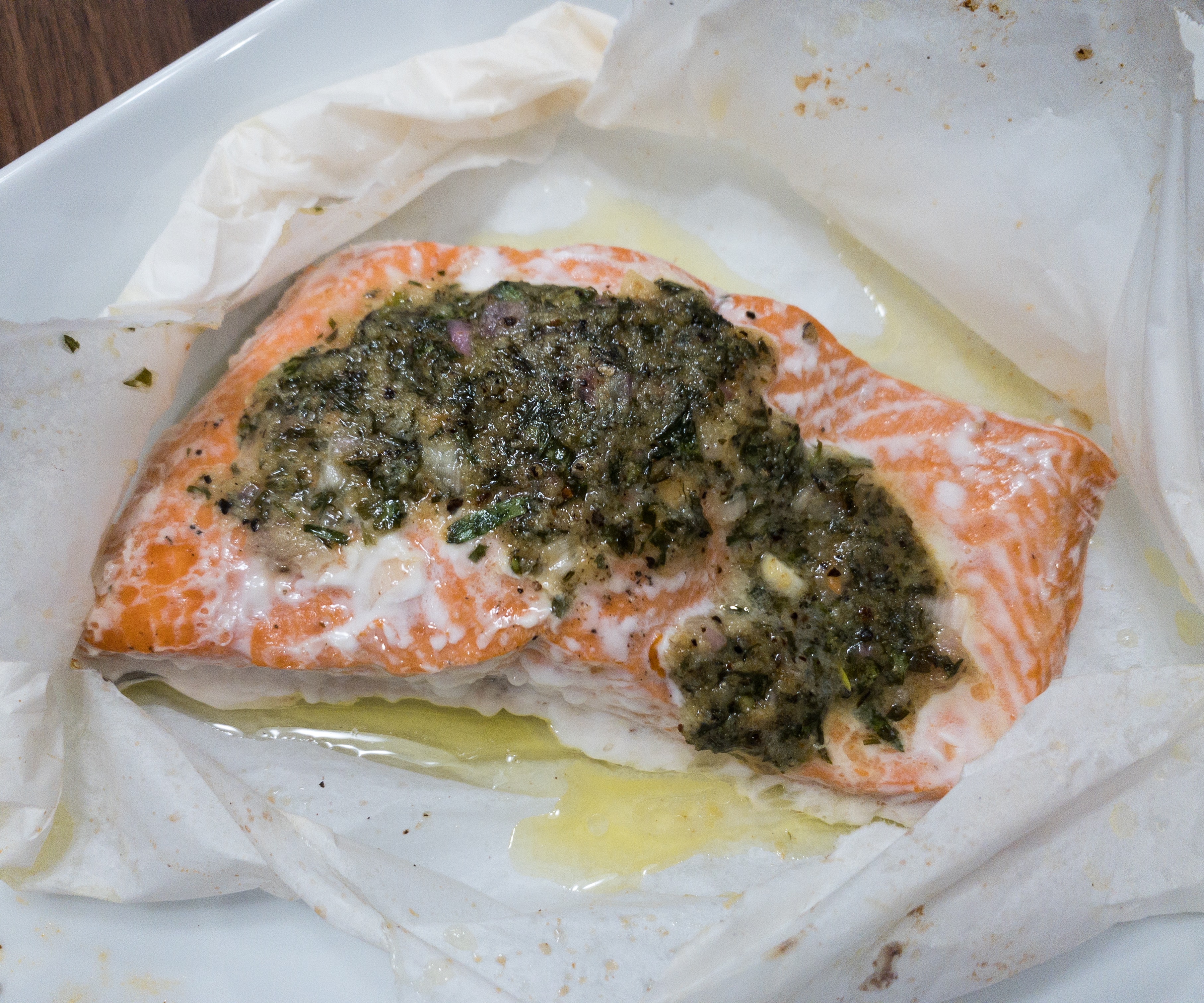 Cover the salmon using the parchment paper and bake it for 2-3 minutes. Look at the juices from the salmon meat!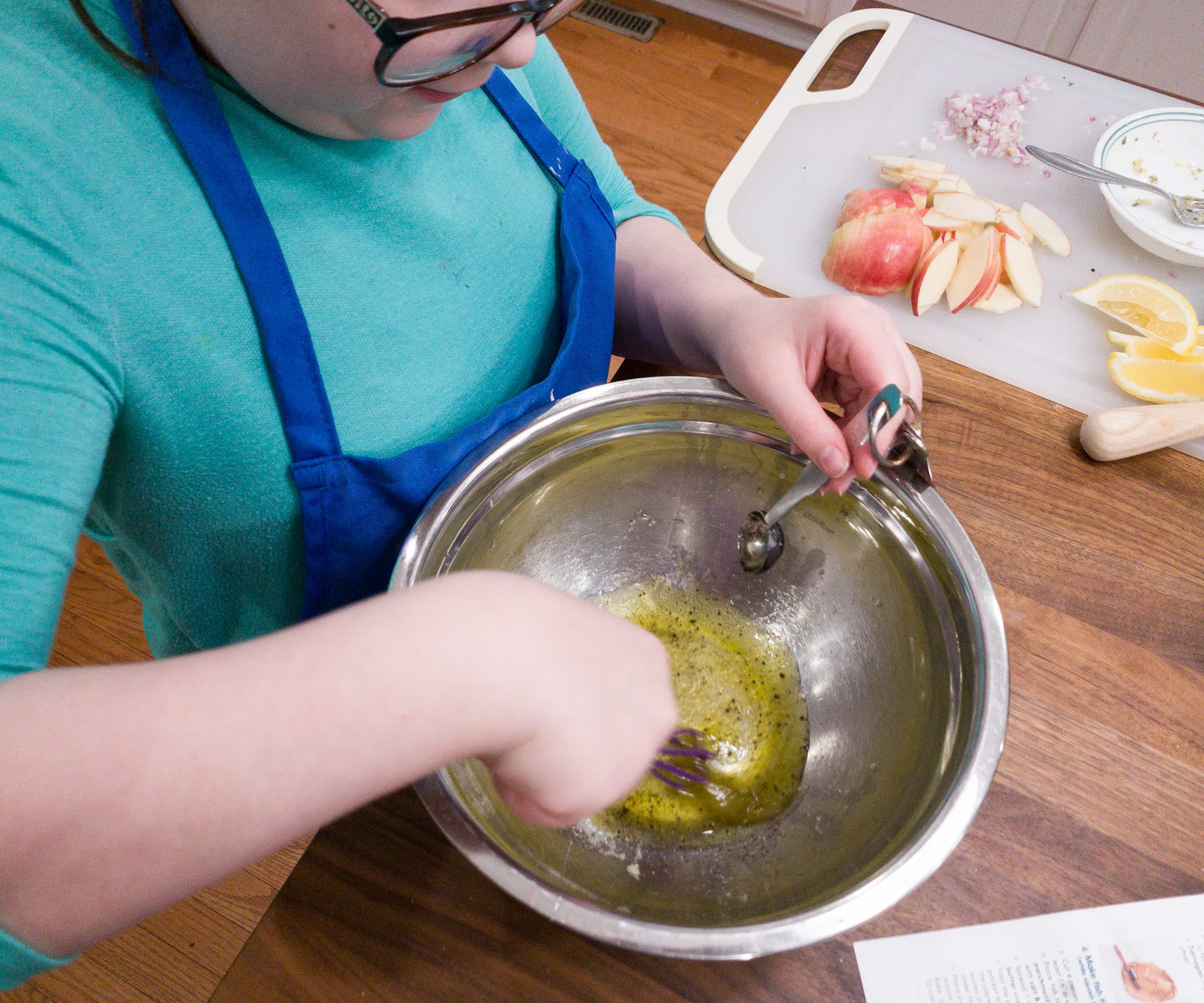 On a separate bowl, we made another mixture of ingredients that includes butter, olive oil, honey, sugar, salt, and pepper.
We added some sliced apples and baby kale, and mixed it again thoroughly.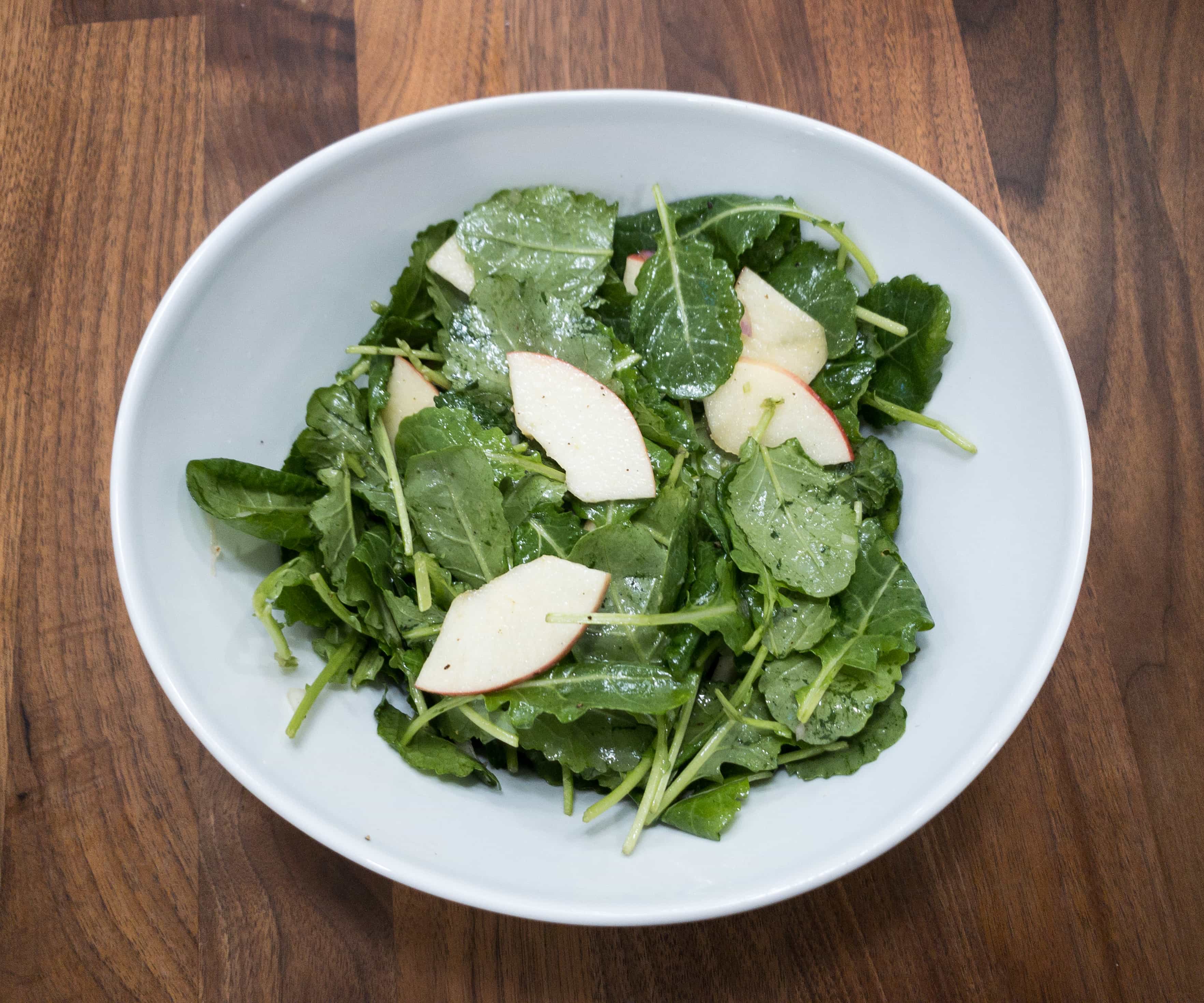 There we have our baby kale salad!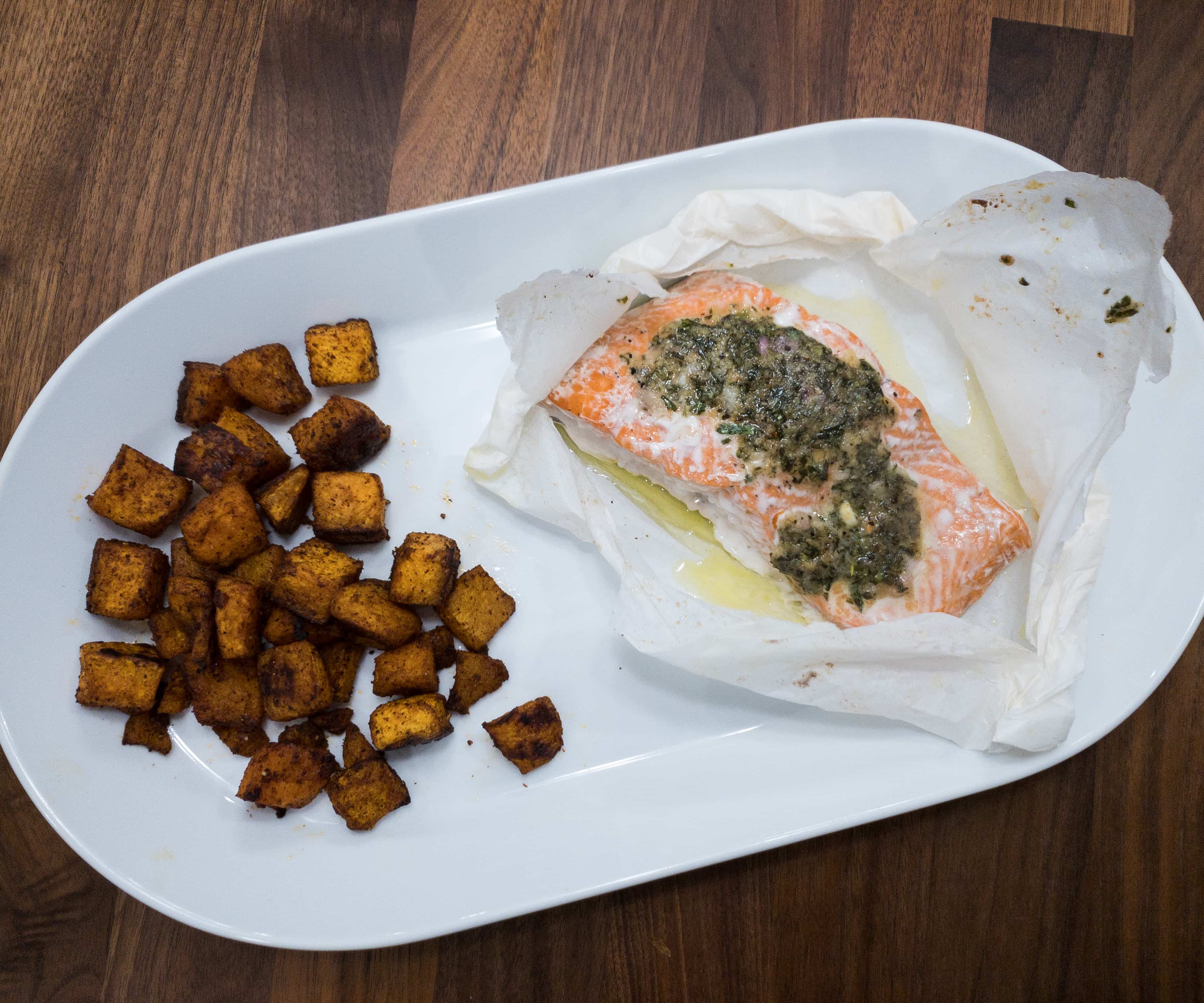 The fried sweet potato paired really well with our baked salmon dish!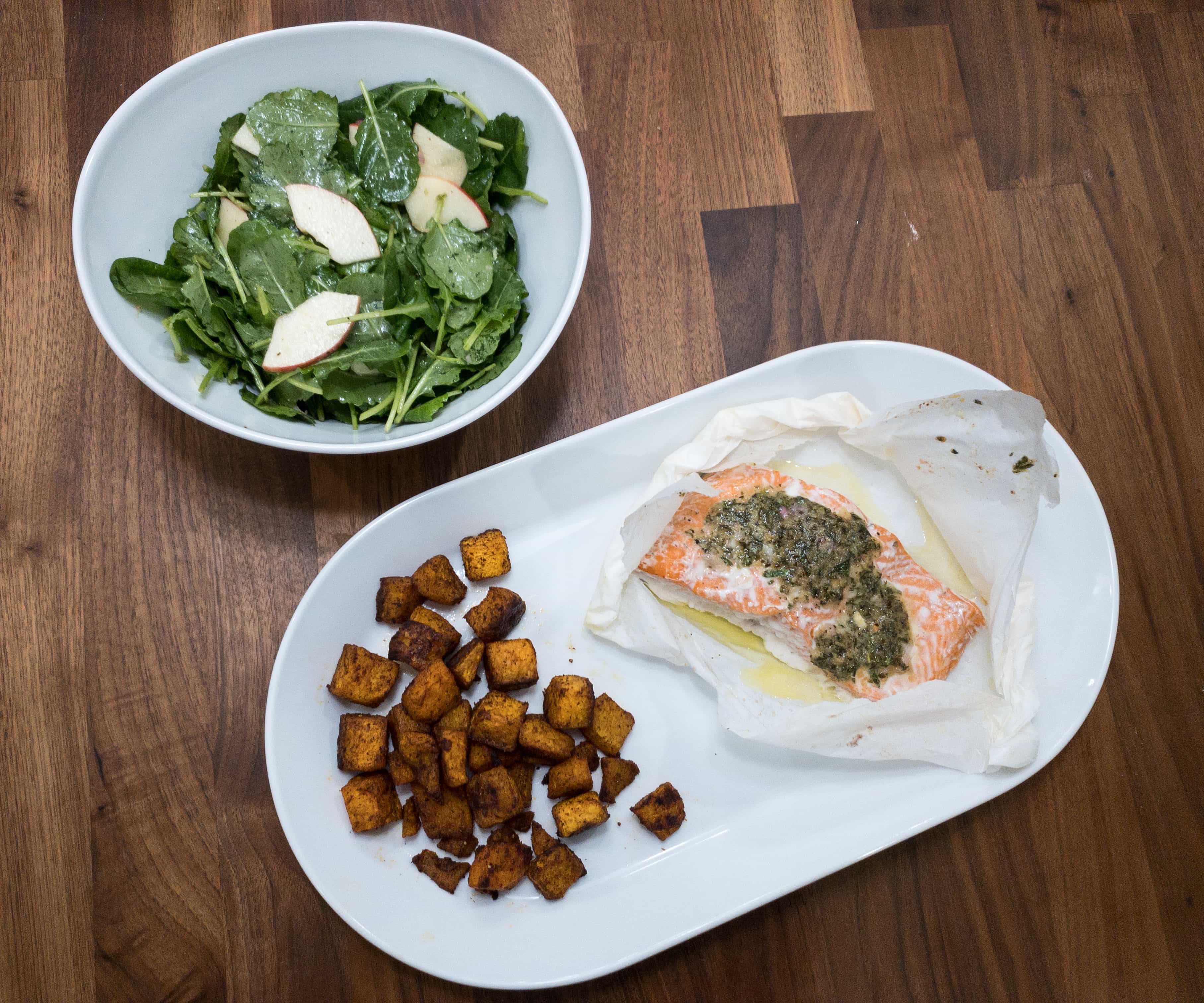 The addition of kale salad provides an extra kick of flavor!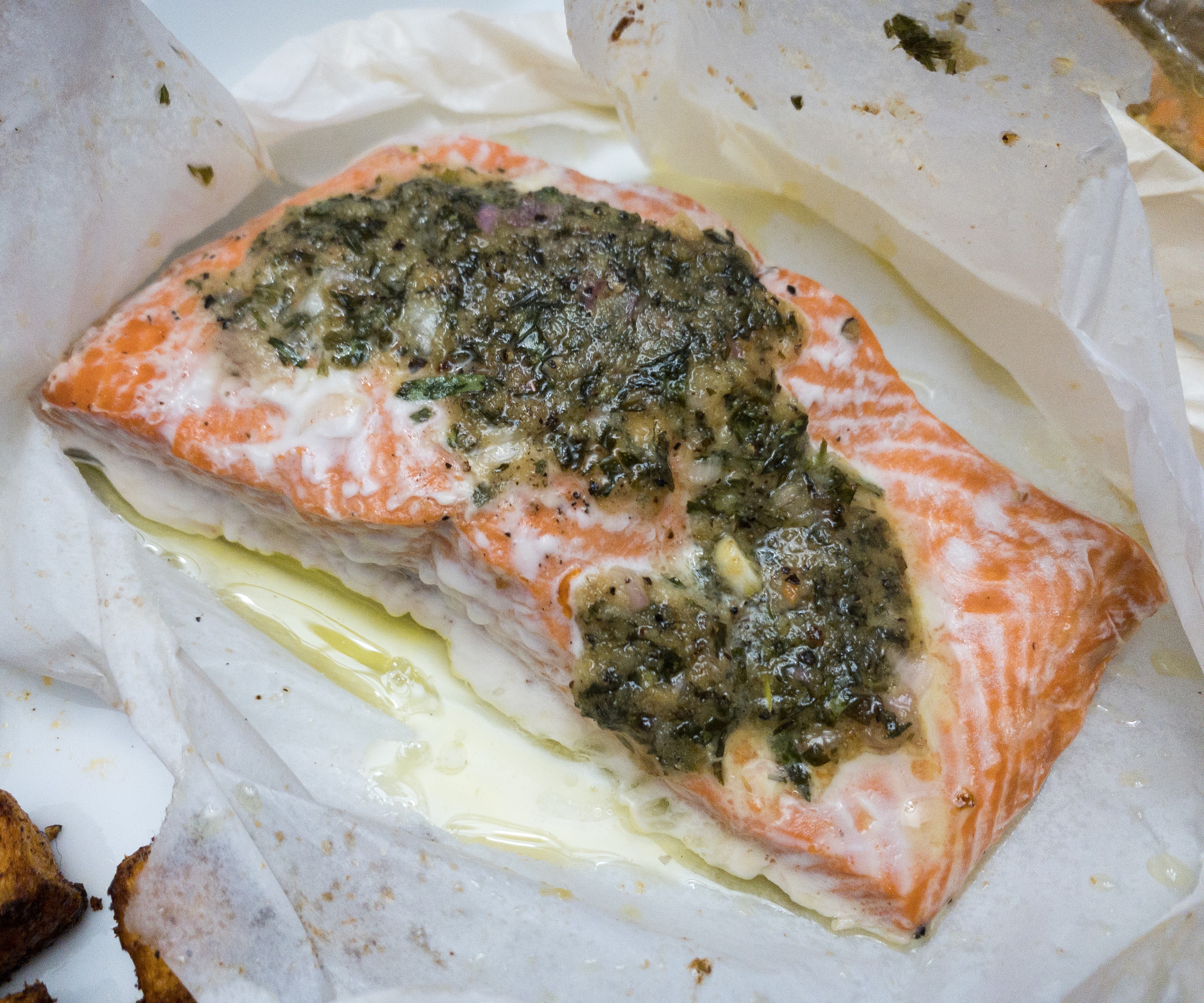 En papillote is a French method of slow-cooking fish in parchment paper using a low-temperature oven.
This method retains the moisture and steams the food perfectly while enhancing its scrumptious flavor.
Poulet Roti (Roast Chicken) with roasted vegetables. For the third recipe, we used Oo-la-la! Gravy Mix and Zesty Provence Mix.
We used a whole chicken from Moink, onion, carrots, garlic cloves, lemon, potatoes, and beets.
Like the first two recipes, it is more ideal to prepare all the ingredients first.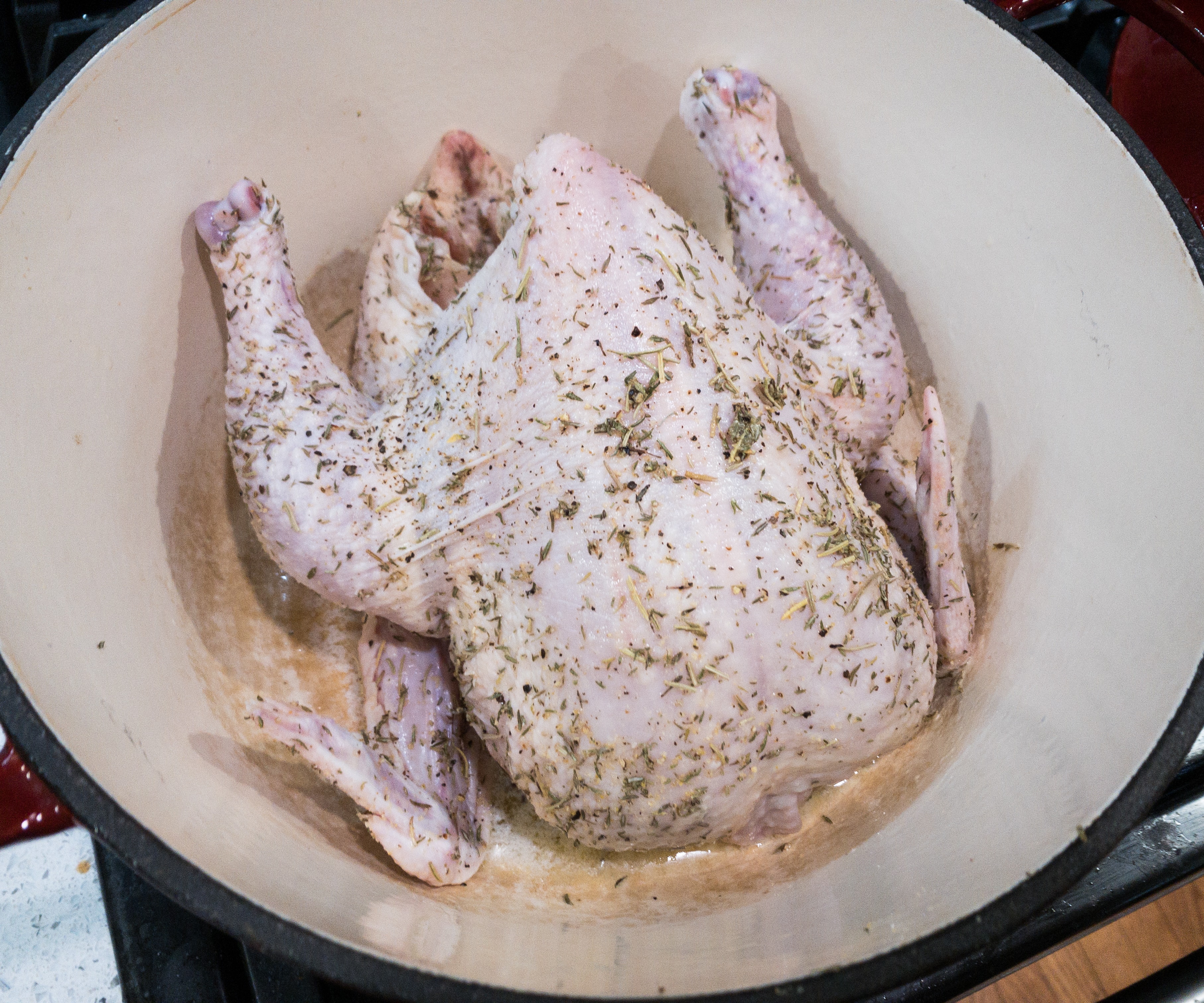 Prepare the chicken, remove giblets and other internal organs, wash and pat chicken dry then season it with the Zesty Provence Mix, salt and pepper.
Roast the whole chicken, wait for it to turn brown on all sides for 5-6 minutes, scatter onion and carrots around the chicken and cover the pot tightly.
Making our own gravy has never been this easy! Just put the provided mix on the pot, place a cup of water, and boil it for a couple of minutes.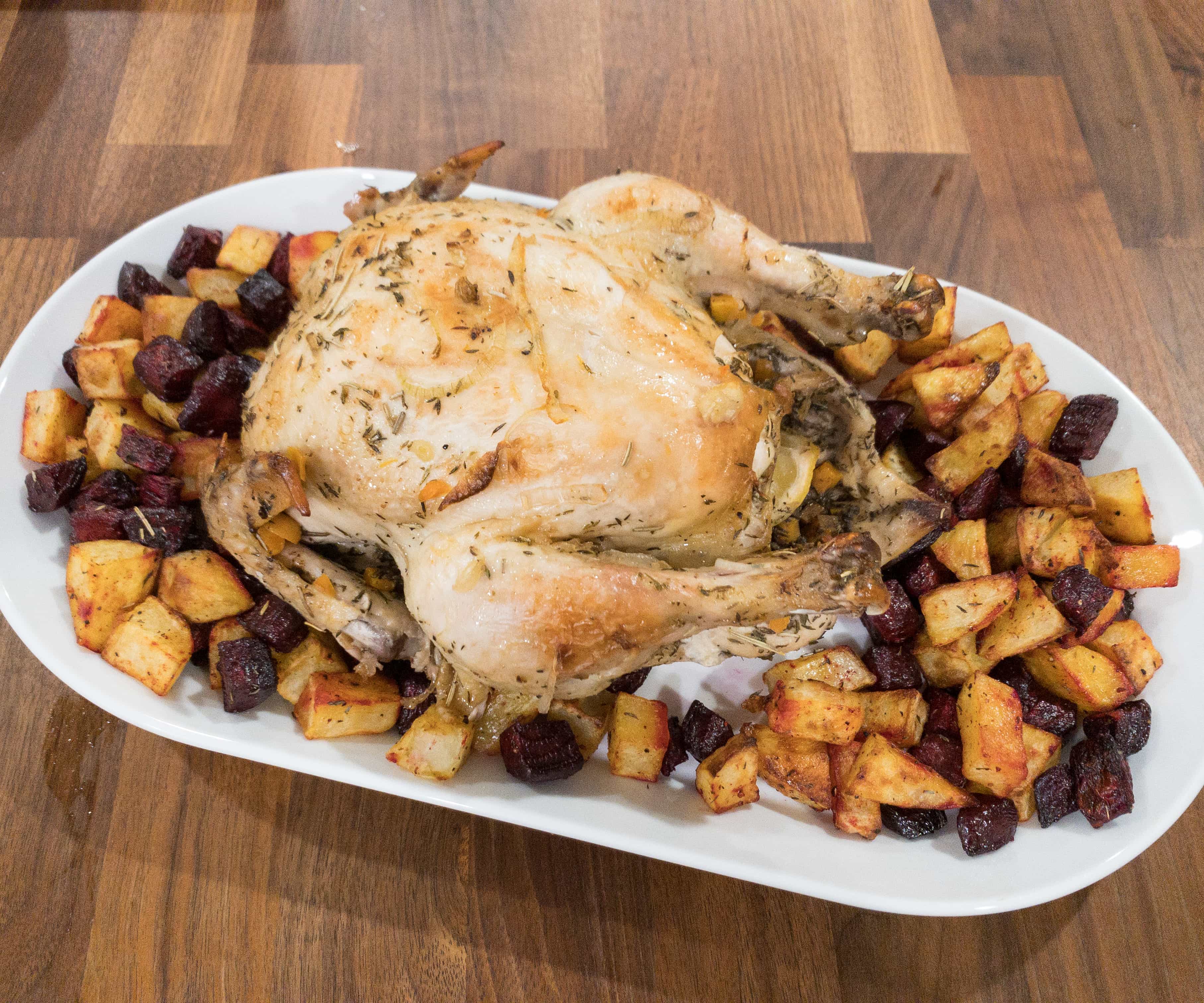 While waiting for the chicken to be roasted, we also prepared the vegetables on a separate sheet and roasted them for 15-20 minutes or until the veggies begin to soften.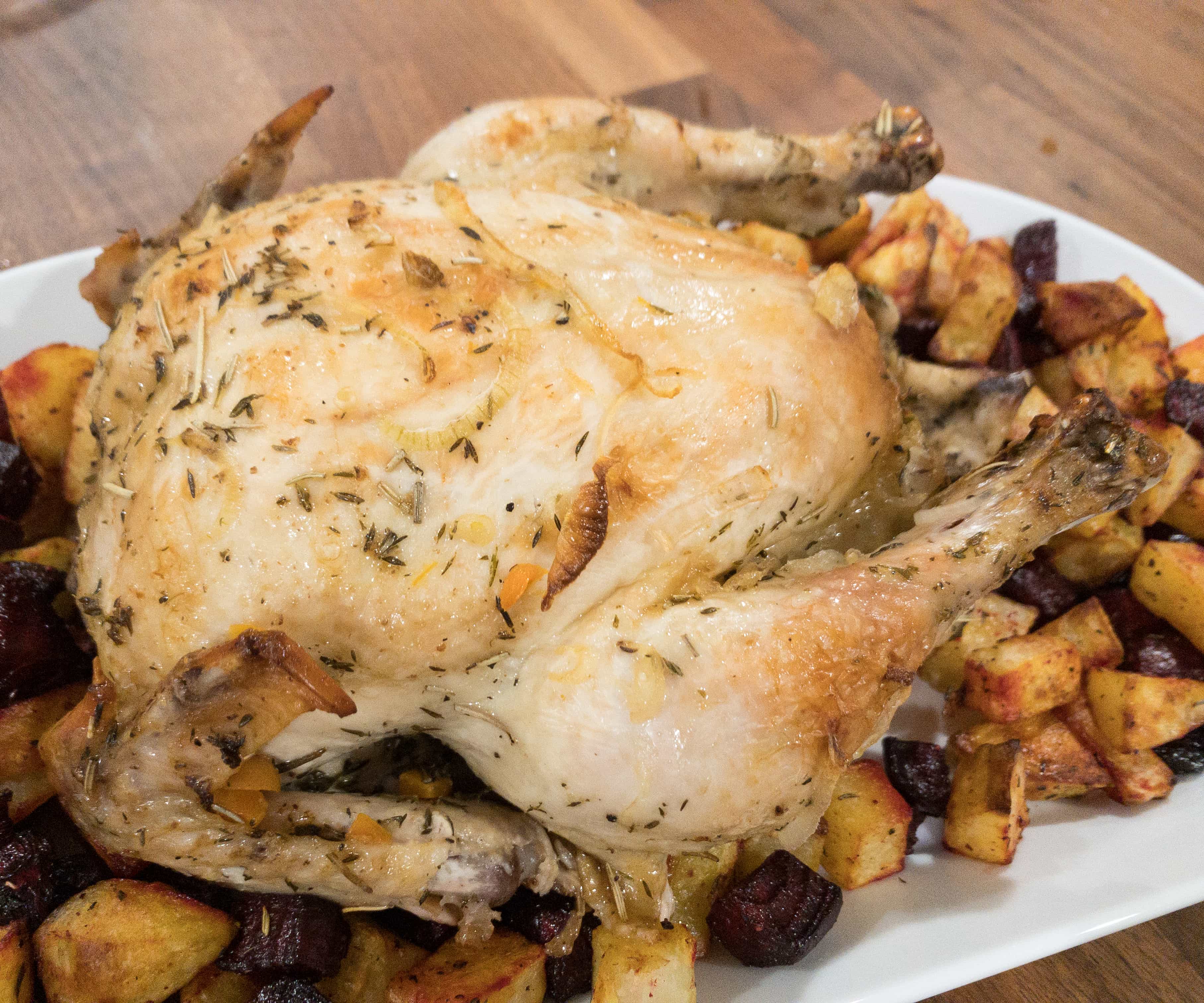 Scatter the roasted veggies on a wide platter and top it with the freshly roasted chicken.
Here's our complete set of roasted chicken with roasted vegetables!
The chicken came out tender and flavorful!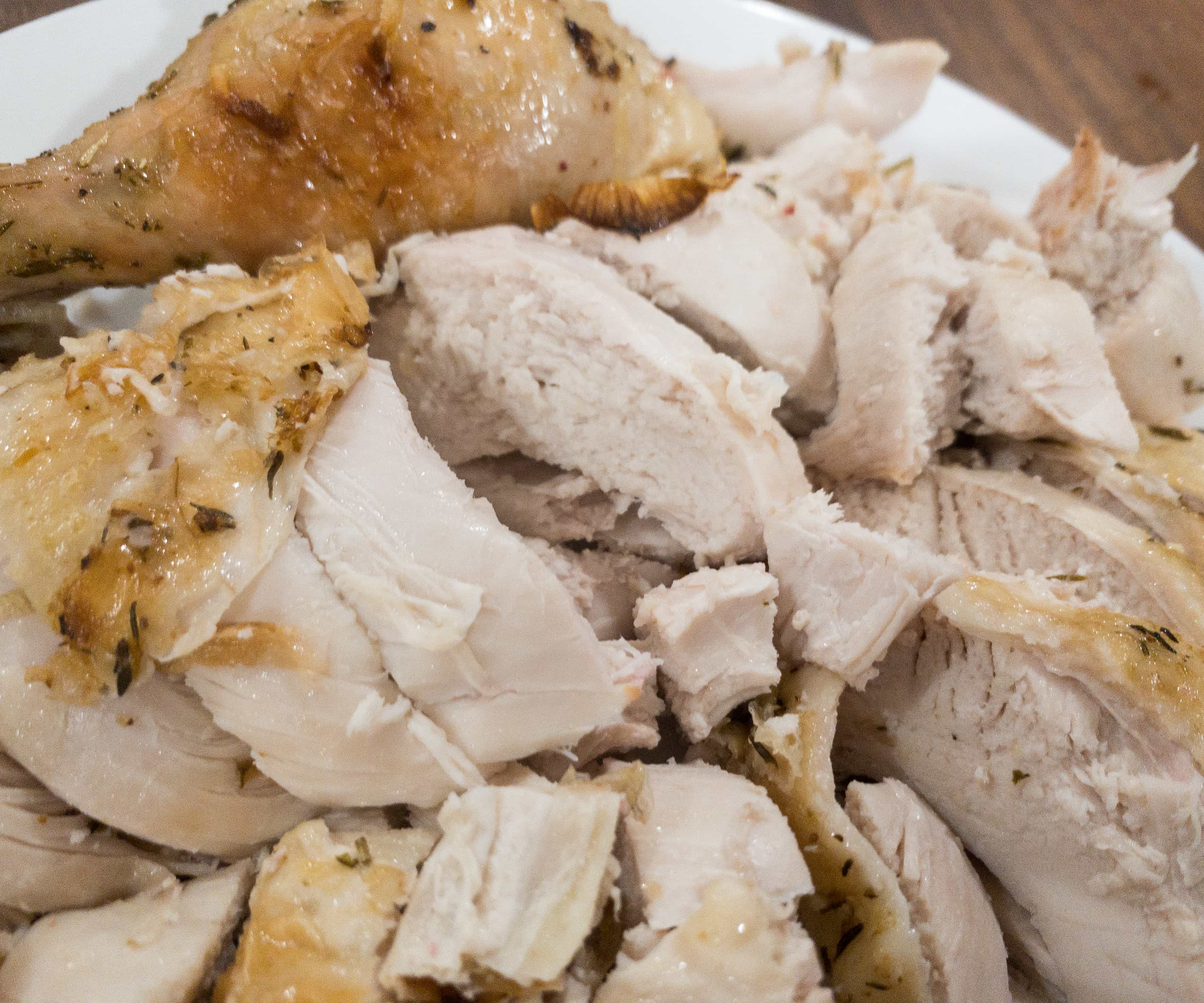 It was also juicy! Paired with the gravy, it made such a delectable meal!
Eat2Explore has once again impressed us with their featured recipes and trivia! This subscription makes a fun and unique way of learning about different countries through food and cooking. This month, they introduced us to some of the most famous recipes from France. They are pretty easy to prepare and cook, especially with the help of the information sheet provided in the box. My daughter definitely enjoyed it! If you're looking for a unique way to learn and enjoy without leaving the comforts of home, this subscription is definitely worth looking into!
What do you think of this month's box?