Crunchy Mama Box is a monthly subscription box for those who prefer natural and eco-friendly products that are for mind, body, and soul. Each month you will receive items that relate to beauty, self-care, support, sustainability, education, reusability, and wellness. Boxes will contain 5-8 full sized and high quality products curated by a certified holistic health and wellness coach. Crunchy Mama Box is $29.99 a month and shipping is free to the U.S.
Crunchy Mama Box is much more than a subscription box company; we are a community of Mamas that are on a mission to spread love, support, and encouragement. We support women-owned, small, and eco-friendly businesses that make clean, healthy products and that are motivated by a cause. We are also passionate about giving back, which is why we donate a portion of each box to a different Cause Partner each month.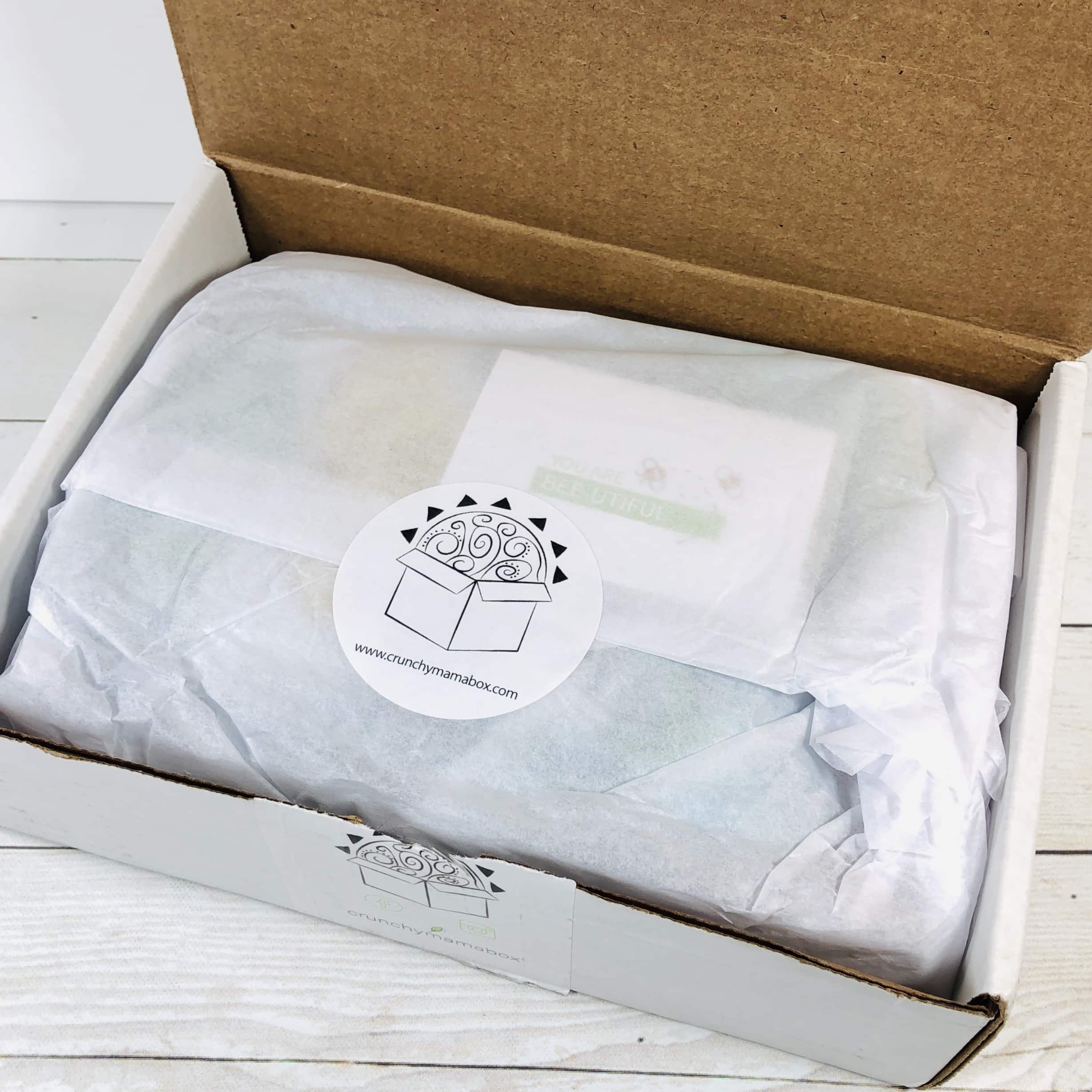 My items were wrapped in tissue paper and sealed with a sticker.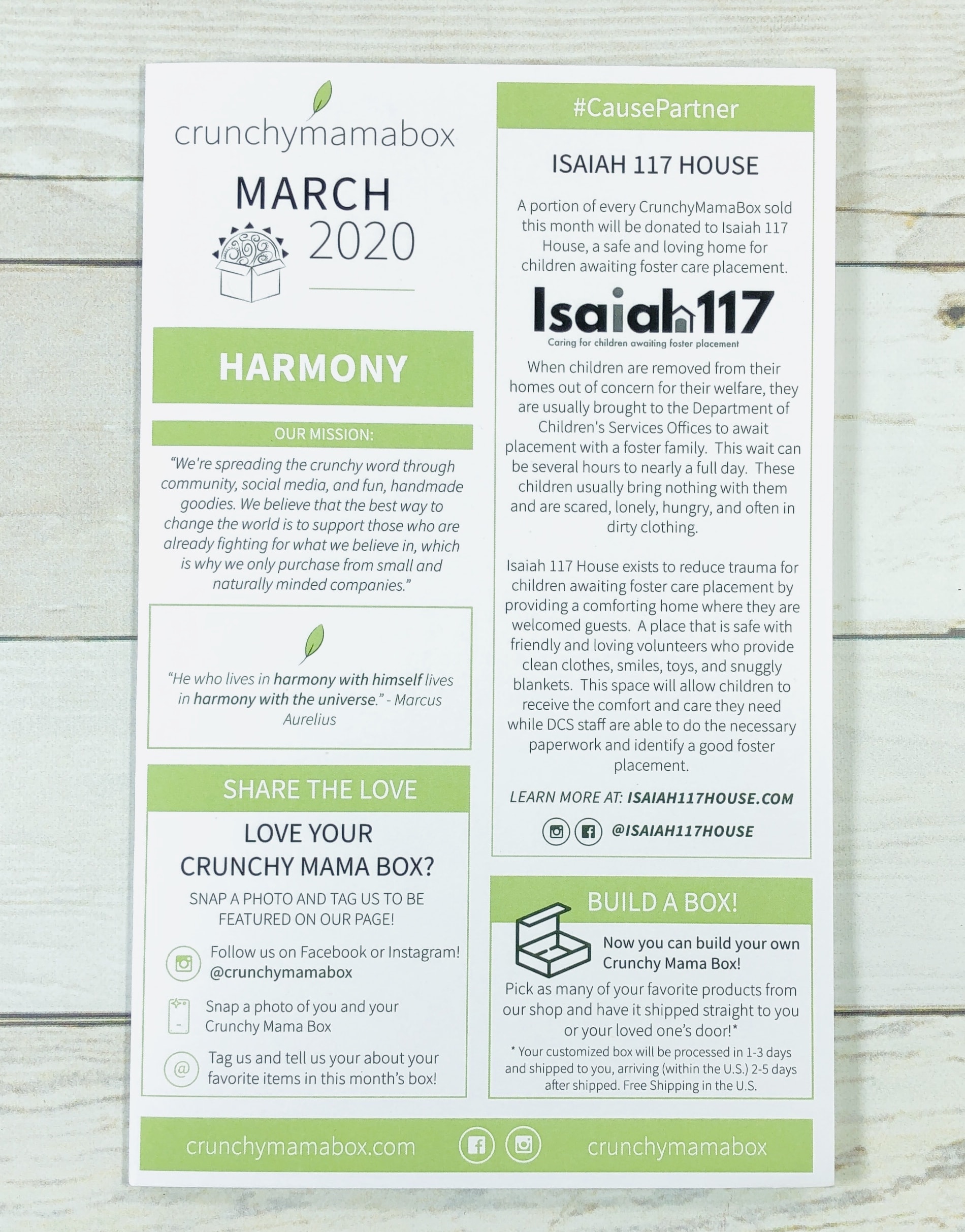 I found a brochure in the box with info on the Cause Partner, which is Isaiah 117 House. Proceeds from the sale of this box will go to that  charity. The theme for March was Harmony. According to this brochure, you can now build your own Crunchy Mama box!
The inside of the brochure had info on each product and in most cases a website so you can grab more when you run out!
The back of the brochure listed the rest of the items and described the stone of the month. It also talked about how you can use the stone while meditating.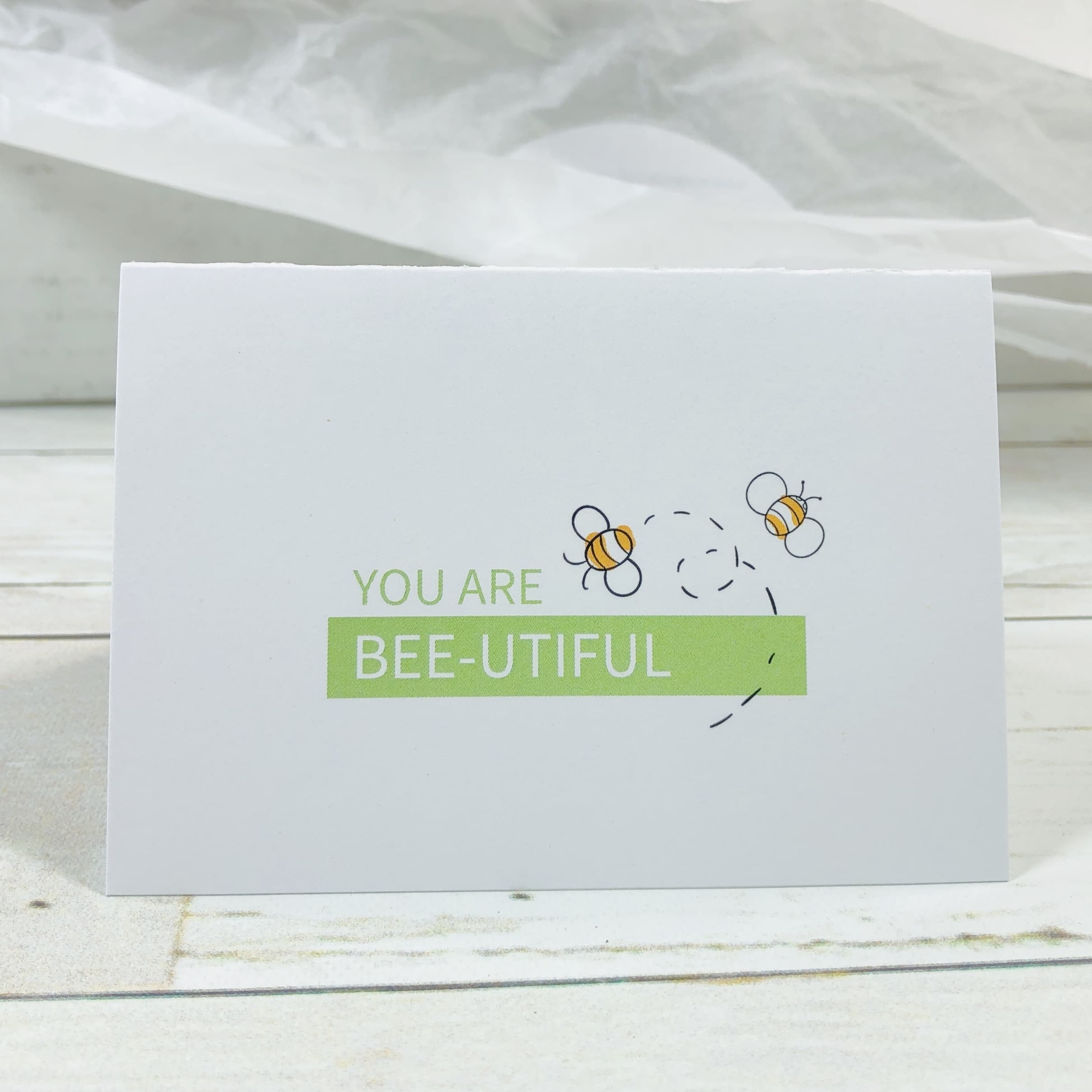 I found a cute little note card on top.
I love a hand written note!
Some of my items were wrapped in tissue paper, which prolonged the "surprise" element as I opened the box.
Everything in my box!
There were a couple of printed papers in the box from some of the vendors.
Bubba's Fine Foods Kettle Cooked Nana Chips ($3.09) I've never tried a non-sweet banana chip before!
These are made with green Saba bananas so they aren't supposed to be sweet. They are fried in coconut oil and tossed with salt and spices.
These were really good, although a few of the pieces were hard to chew (I get worried about my crowns). I liked the bold flavor and they weren't sweet at all.
LOTUSWEI Infinite Love Aura Mist ($20) You can download a guide to flower elixers for mom and baby at the LOTUSWEI website. LOTUSWEI believes that flower elixers may help combat stress caused by EMF's in our daily lives. I'll let you decide for yourself if you think they work.
The mist is made of water, plant oils, and pink tourmaline gem essence. The idea is that the mist will get into acupuncture meridians and give you a similar result but without the needles. You are supposed to spritz this around your body 5 times a day and let it work its magic. It helps if you think positive thoughts and possibly meditate too. This isn't a body or room spray. It smells like roses and fades very quickly. This is a mostly metaphysical product that works on your mind rather than your senses so it helps you to be open to possibilities. Otherwise it just feels like misting yourself with water.
HBC Organics Winds Of Change Coconut Milk & Honey Handmade Cold Press Soap I couldn't find this bar on the HBC website but luckily Crunchy Mama listed the ingredients in the brochure. The soap is made with natural stuff like olive oil, coconut oil and milk, shea butter, avocado oil, honey, and essential oils. I also discovered that this brand offers several subscription box options so if you are a fan you could get a regular monthly shipment of body care or wellness items.
Sage Stick (find similar item here) I am familiar with sage sticks and they are used to clear the air of negative energy. You can Google how to do a sage cleansing ritual but basically you light the end of the bundle, let it burn for a few seconds, then blow it out and let it smoke some. Put it in a bowl (caution: it might get stained) and walk around the house letting the smoke do its work. It helps to have an open mind and possibly open windows so you don't set off the smoke alarm. At the very least it leaves behind a sweet smokey scent.
Eco Lips Hemp Vanilla Mint Lip Balm ($3.33) Vanilla mint is the scent of the season and I love it!
Sunflower seed oil, cocoa butter, and beeswax are a few of the all-natural ingredients in this balm. It also has hemp seed oil, which is supposed to provide beneficial fatty acids to keeps lips soft. There is no CBD or THC in this product.
It goes on so smoothly and right away I had a cooling feeling on my lips. The feeling lasted for a few minutes before settling into a silky lip balm.
Spa Savvy Nail Files My usual nail files are a very boring terra cotta color. This is a cute way to add some fun to a mundane task.
There were 6 large nail files with cute patterns and colors. They look exactly the same on both sides.
Superieur Dried Electrolyte Drink ($1.86) There were two packets of this electrolyte drink mix in the box. I received one in Fresh Watermelon flavor, the other was Red Raspberry.
The mixes were sweetened with stevia and organic rice syrup. They have Himalayan salt and vitamin C. Add to 8-12 ounces of cold water and sip before or after working out or when you want a refreshing low-calorie drink.
Jodhpuri Terracotta Foot Scrubber I thought I had seen it all but this item was new to me! I had to wonder if it was an old fashioned iron since that's what it looks like.
It turns out that it is a foot scrubber! You are supposed to use it on wet feet, maybe near the end of a shower, to remove dead skin from the bottom of the feet.
The only real "mom" item in this box is this Momtra Card.
I feel like this is meant for those who are at the beginning of their journey as a mother, although it's a good reminder for those somewhere in the middle too.
Stone Of The Month: Amazonite (find similar item here) The stone of the month was packed in a bag along with the Momtra.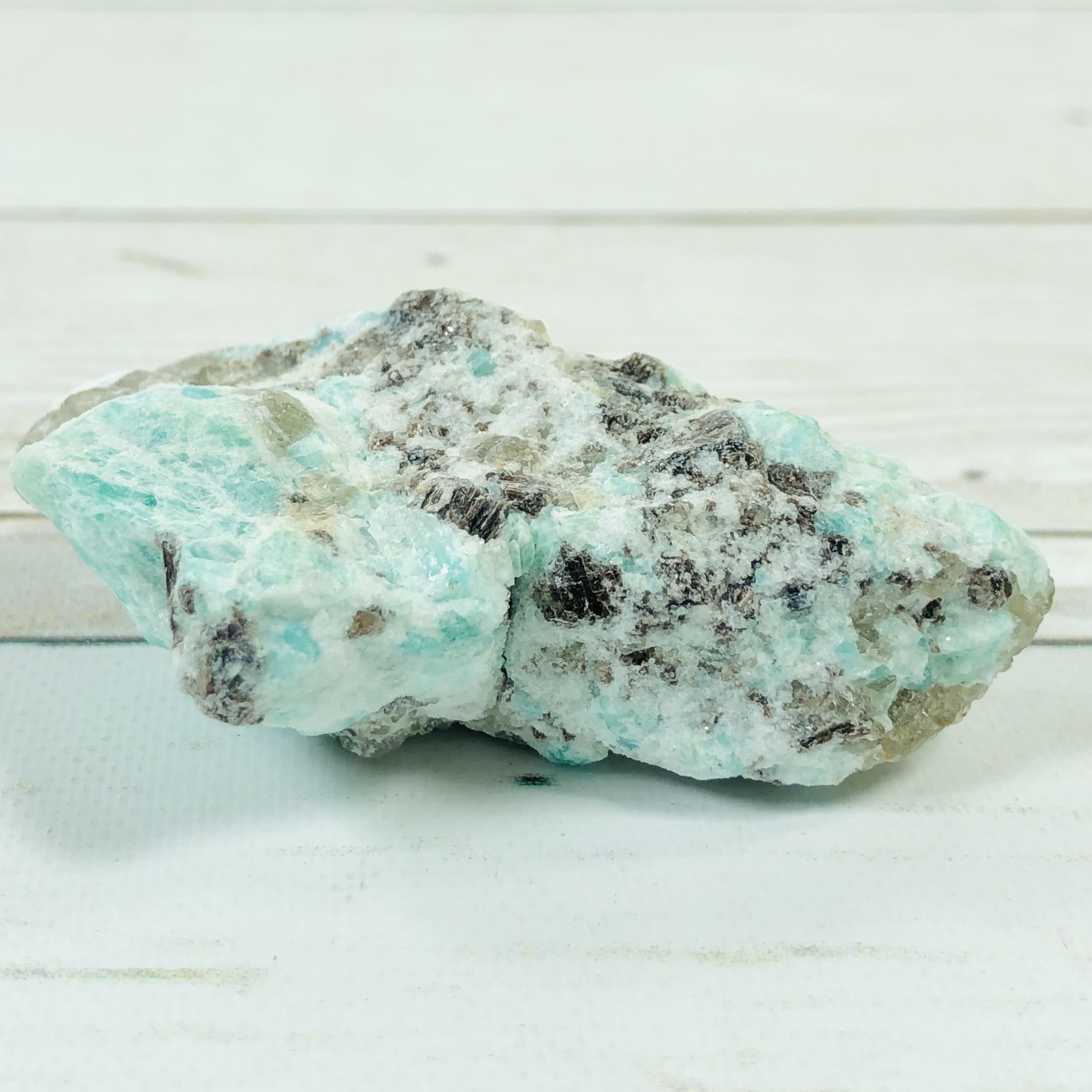 It is a gorgeous piece of Amazonite! I don't have this one in my collection so I was really excited to receive it, look at that color!
The piece is 2″ long and is 1.5″ at its widest point.
Amazonite is the stone of hope and also of truth. Use it to face up to insecurities or close your eyes while holding and imagine problems flowing away down the river. It can be used with meditations involving the heart and throat chakras.
I am really enjoying my Crunchy Mama subscription! It has beauty products I like using, tasty edibles, and even items to help enhance my spirit. I shared the nail files with my daughters (they loved picking their favorite patterns and colors!), soap and lip balms are always put to use in my home, and the crystal is stunning to hold and gaze upon. How cool was it to get a foot scrubber from another country? I will stand by my statement last month: you don't have to be a mom to enjoy the products in this box as they would work for a wide variety of subscribers.
What do you think of this month's box?