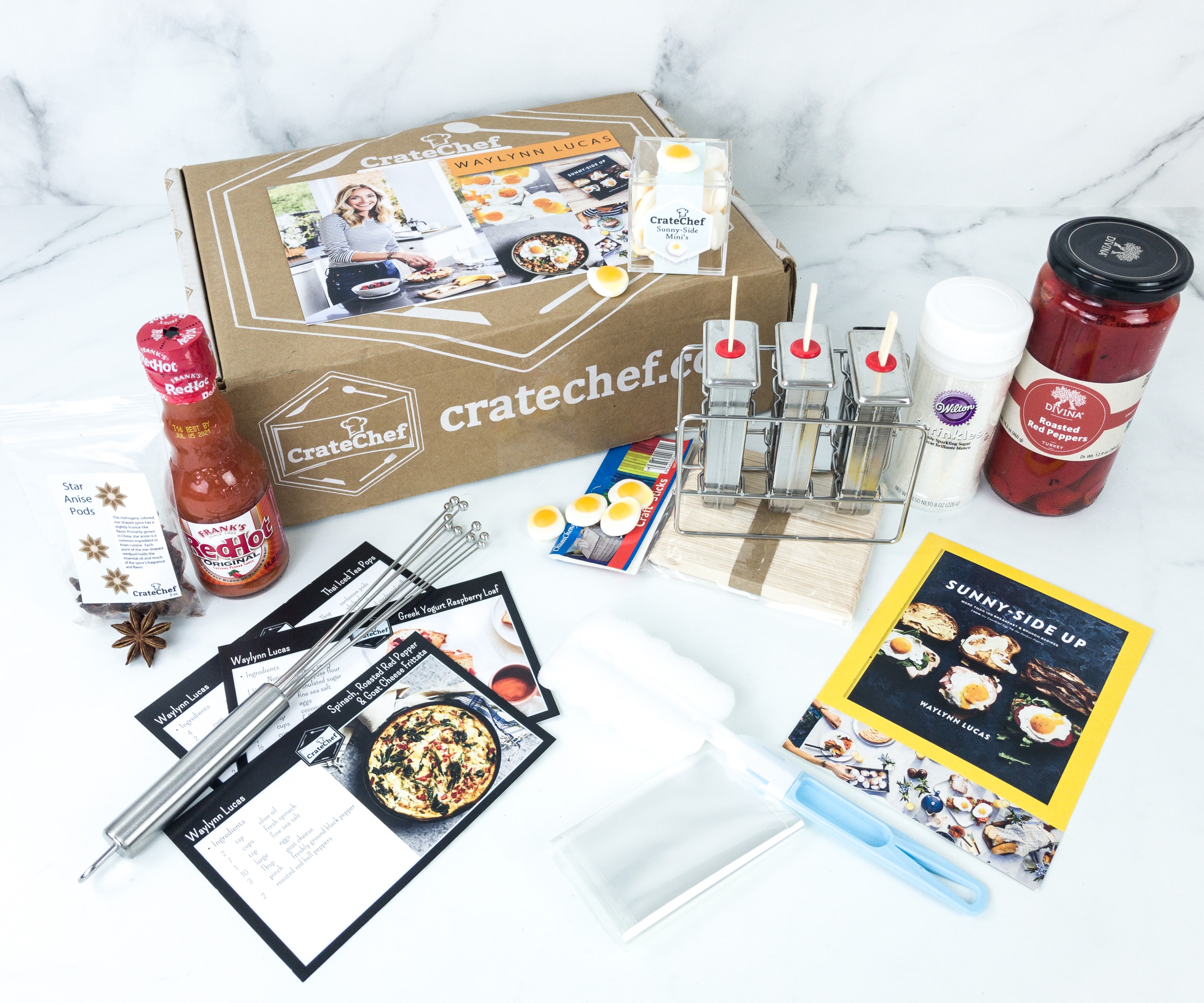 Crate Chef has a new sale!
Get a FREE copy of Sunny-Side Up Cookbook when you sign up for a CrateChef subscription and pick the Waylynn Lucas crate! No coupon needed, just use this link to subscribe!
See all our CrateChef reviews to find out more about this gourmet chef-curated subscription box!
Crate Chef is a bi-monthly subscription that sends a specially curated box filled with chef-curated kitchen items, food products, as well as selected recipes. They invite a luminary from the culinary world to curate each box with their favorite finds. Each box costs $45.
Here's the FREE cookbook:
Sunny-Side Up by Waylynn Lucas!
Have you ever wished you could enjoy a delicious restaurant-quality breakfast or brunch at home with your loved ones? Sunny-Side Up will have you doing just that in no time. In her warm and encouraging voice, Waylynn Lucas demonstrates how a touch of finesse can elevate your dishes and make you more confident in the kitchen. Whether you're looking for a decadent weekend brunch spread to impress guests or a healthy make-ahead breakfast to start your day off right, you can find just what you're craving in chapters such as:
 
• Egg obsessions and other savories: from Melt-in-Your-Mouth Scrambled Eggs and Chilaquiles to Chipotle-Maple Breakfast Sausage Sandwiches
• Syrup required: Buttermilk Pancakes, Waffles, and Waylynn's sweet and savory French Toast Sandwich combinations
• Biscuits, muffins, breads, and more baked goods: Bacon-Cheddar Biscuits, Banana Mocha Chocolate Chip Muffins, Grapefruit-Pistachio Cakes, and Peach-Thyme Jam
• Fancy pastries: Brioche Beignets, Sticky Buns, Apple-Almond Tart with Orange Essence
• Yogurt, bars, breakfast pops, smoothies, and other healthy yums: Homemade Yogurt, Carrot-Coconut Pops, Beets Don't Kill My Vibe Smoothie, Green Machine Juice
• Boozy daytime adventures: Watermelon-Jalapeño Smash, Margarita Bar, Lemon Slushy for Adults Only, and Grapefruit-Mint Mimosas

With more than 100 photographs, Sunny-Side Up is perfect for home cooks who want to wake up to delectable and uplifting dishes fresh out of their own kitchens.
Here's what's inside the Waylynn Lucas CrateChef:
Stainless Steel Popsicle Mold And Stand.
Sunny-Side Mini's
Steel Ball Whisk
Star Anise Pods
Wilton Sparkling Sugar ($11.99)
Divina Roasted Red Peppers ($15.51)
Frank's Red Hot ($4.80)
See our review of the CrateChef August-September 2019 Waylynn Box here!