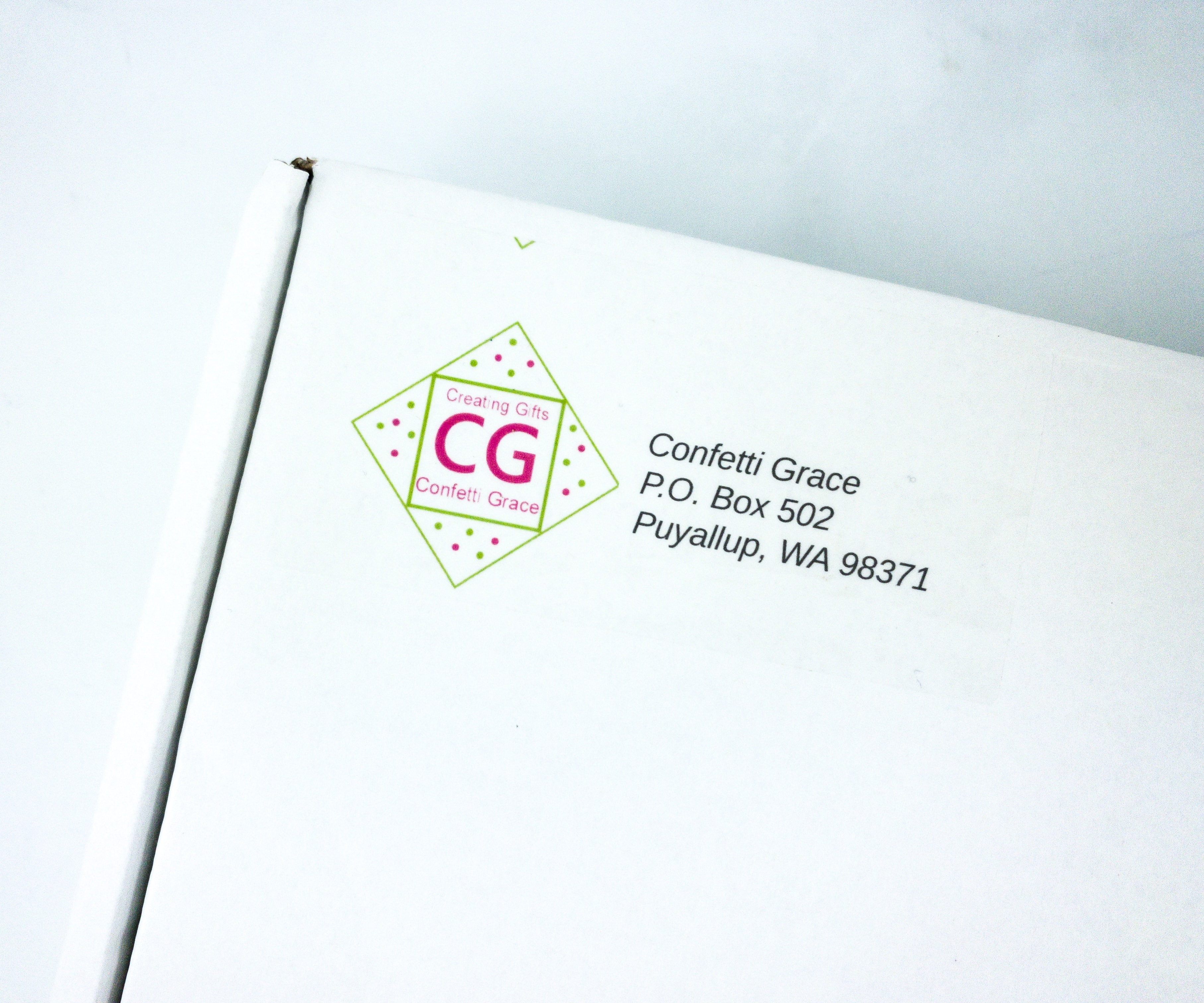 Confetti Grace is a monthly craft box subscription that is good for kids 8 years and above as well as adults. For $28.95 a month, you can get a craft box that is filled with two DIY projects that you can build with your child. The idea behind here is to get to give one and keep one so you will be able to spread some happiness around you.
DEAL: Get $5 off on your first box! Use coupon code CONFETTI$5.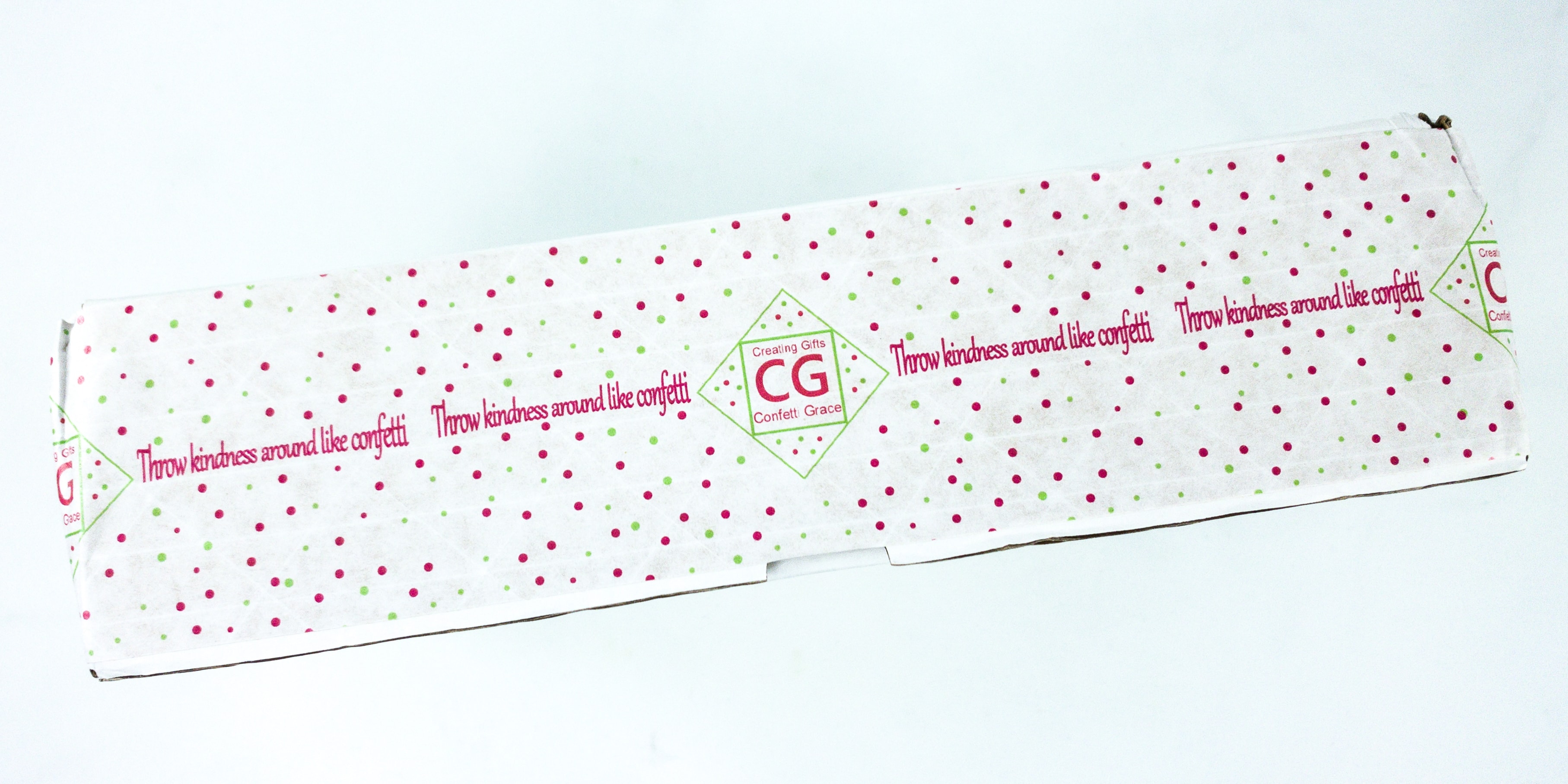 The box looks nice and can be reused as a storage or a gift box, or can be a part of your craft!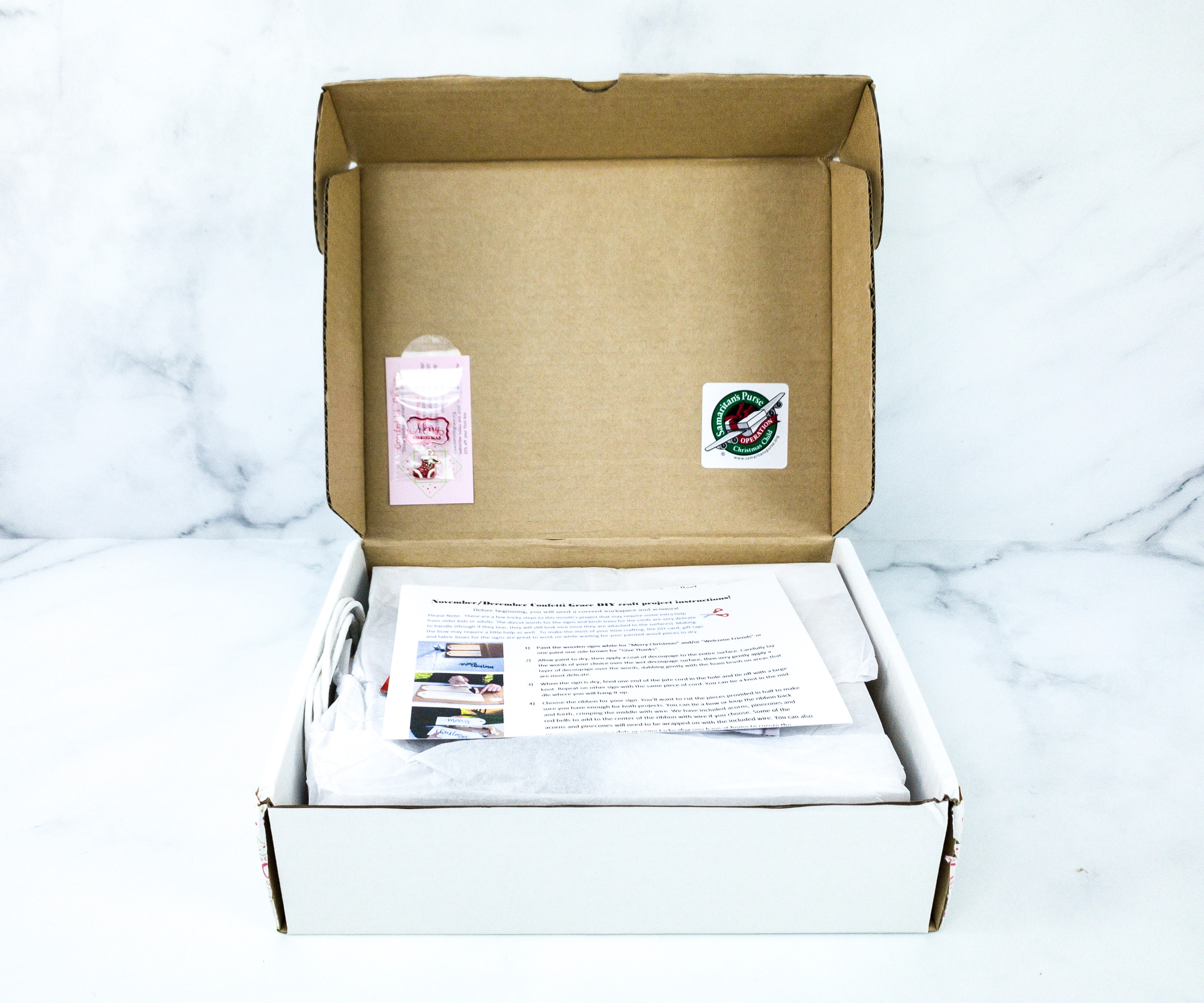 There's an info sheet sitting on top of the items in the box.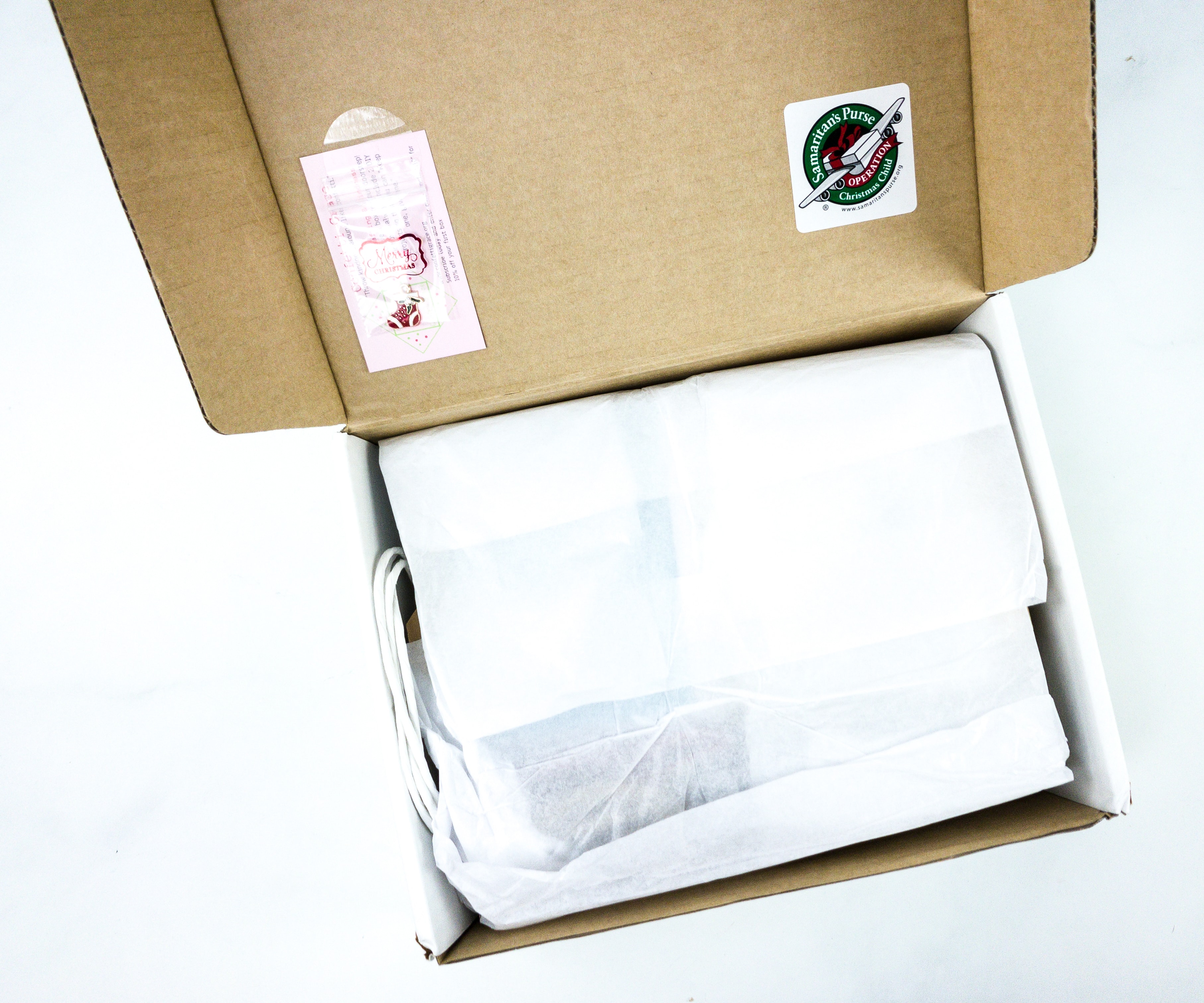 All the items are wrapped in white tissue paper.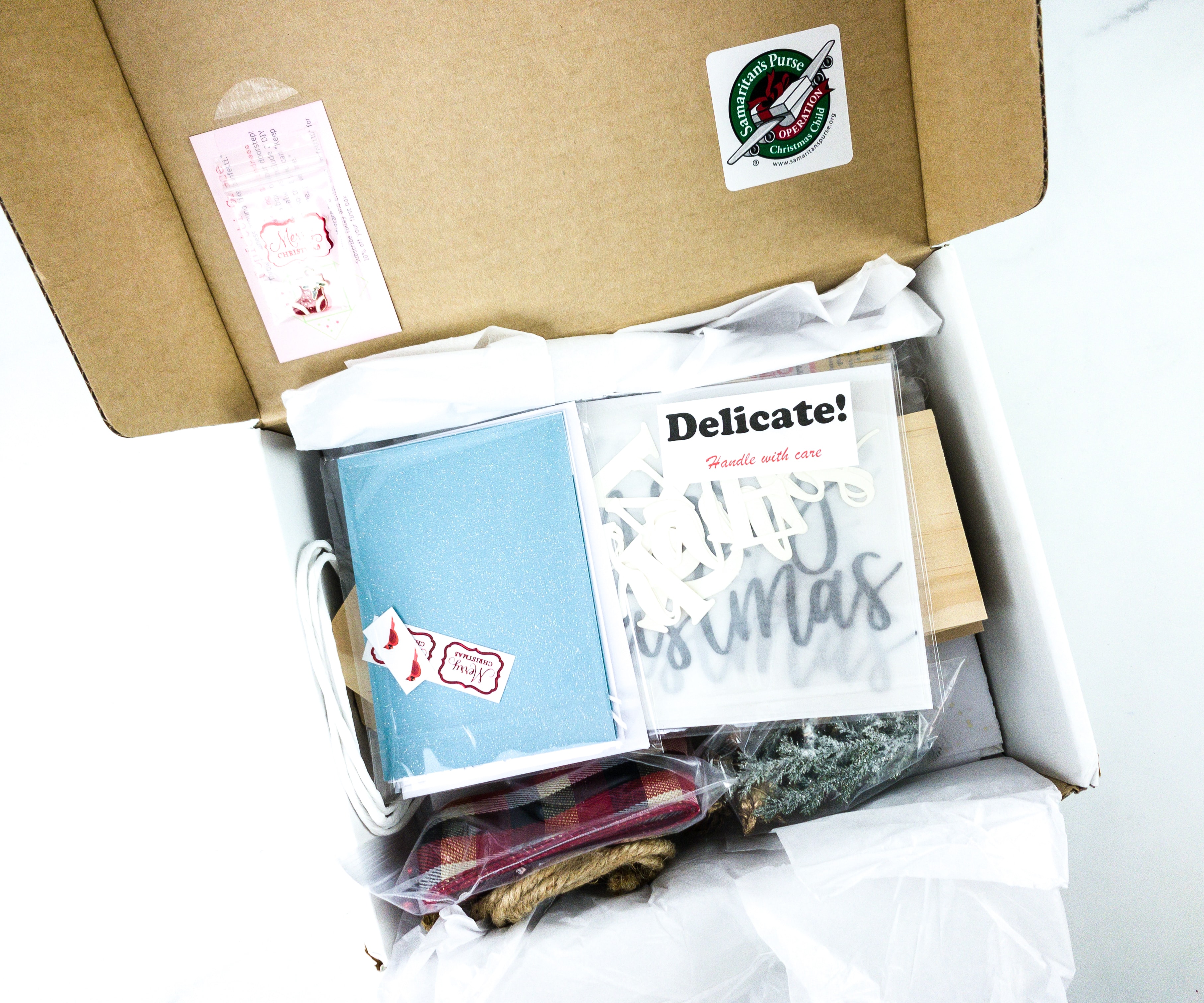 Also, all the items inside are packed separately.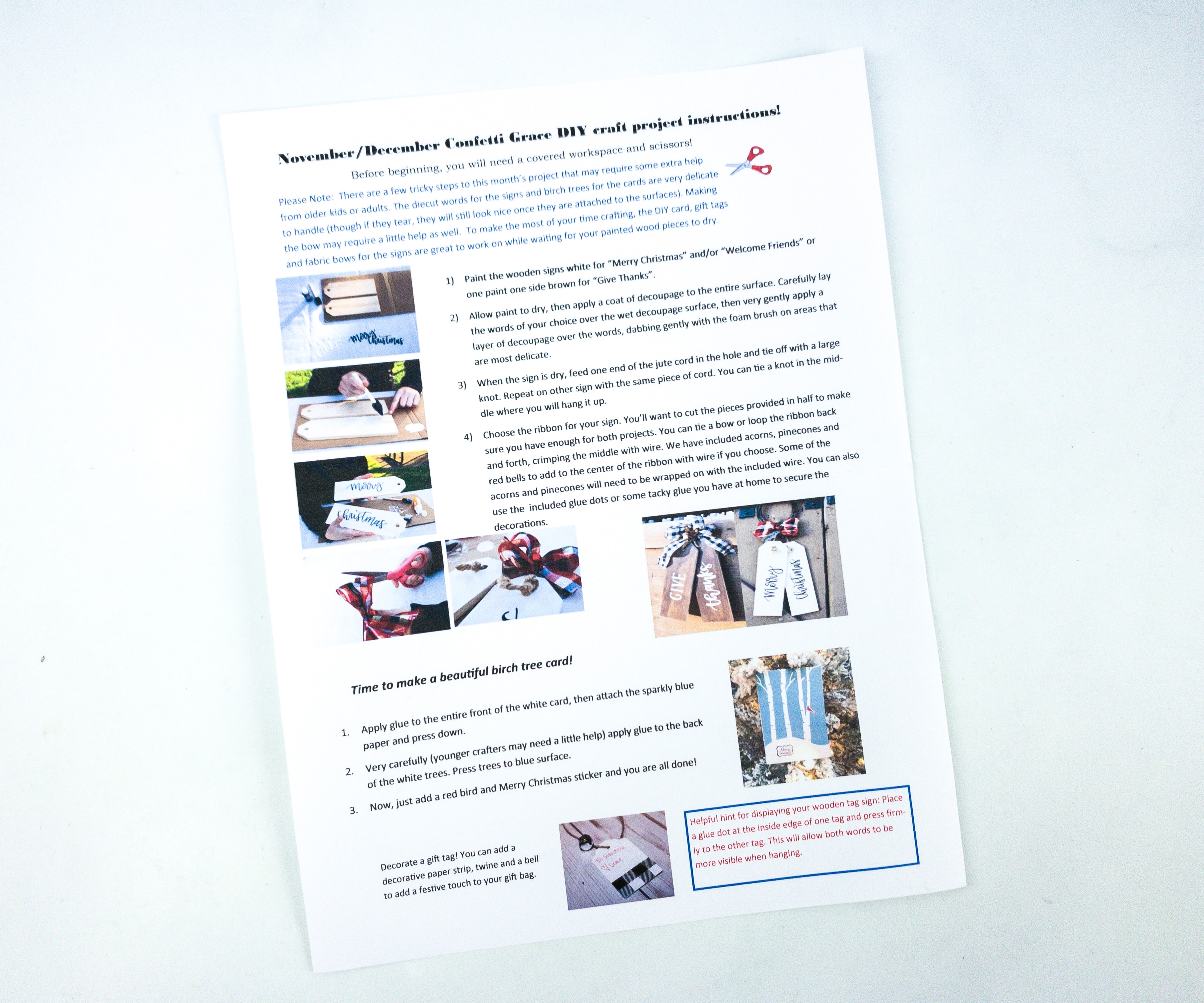 Included in the box is a guide in making crafts. For this month, the crafts are wooden tag signs and birch tree cards!
The box also encourages us to join "Operation Gratitude." It's a letter drive, and the letters are sent in care packages to deployed troops, veterans, and first responders to let them know how much they are appreciated.
There's also a promotional ad for Samaritan Purse's How to Pack a Shoebox.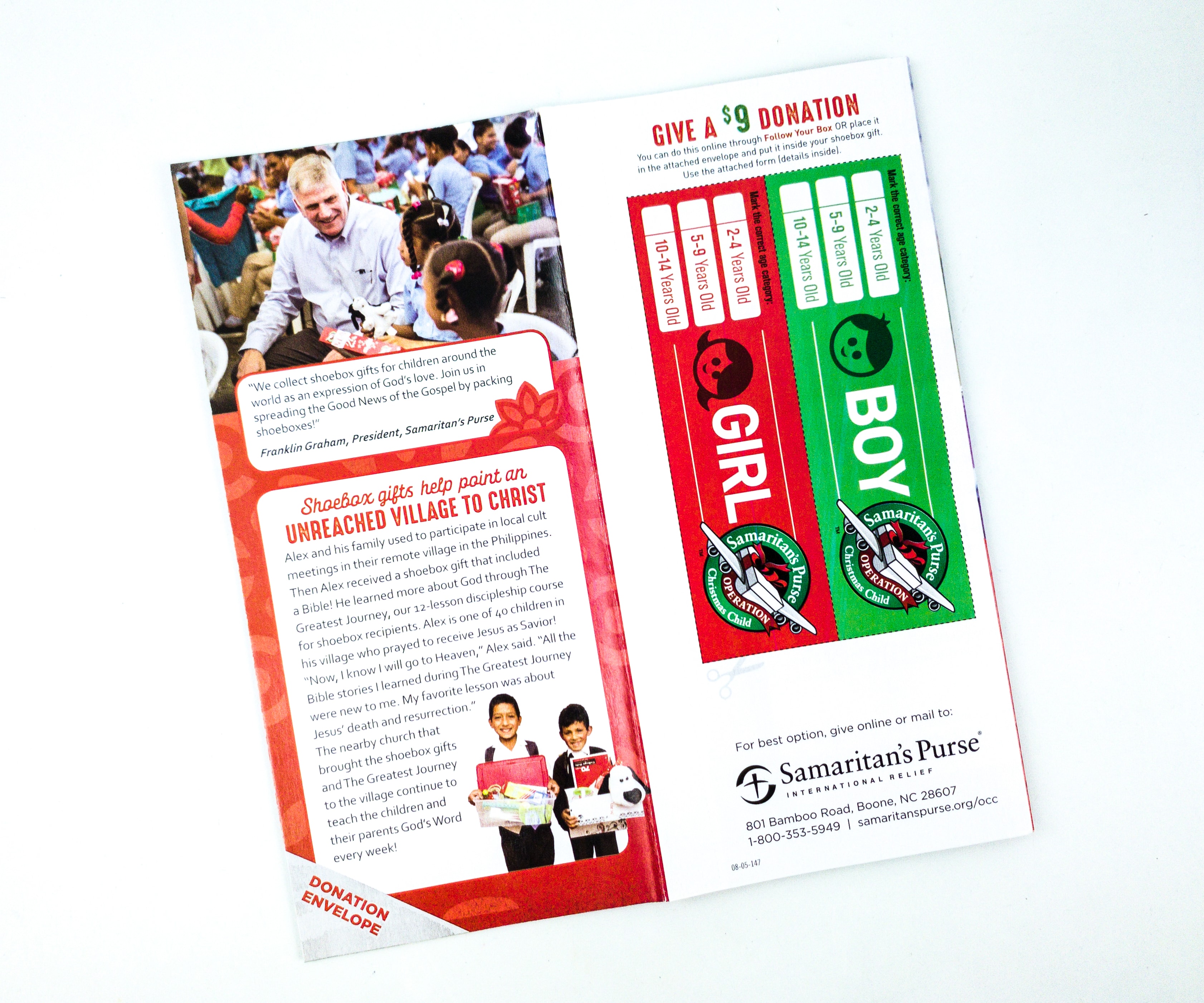 Inside, there are ways on how you can donate and send shoebox gifts!
According to them, you can include fun toys, hygiene items, school supplies, and a "wow" item in the shoebox gift. You can also include a prayer for the child who will receive your gift and a $9 donation to cover shipping and other project costs.
Confetti Grace is giving 20% of their net profits to charity!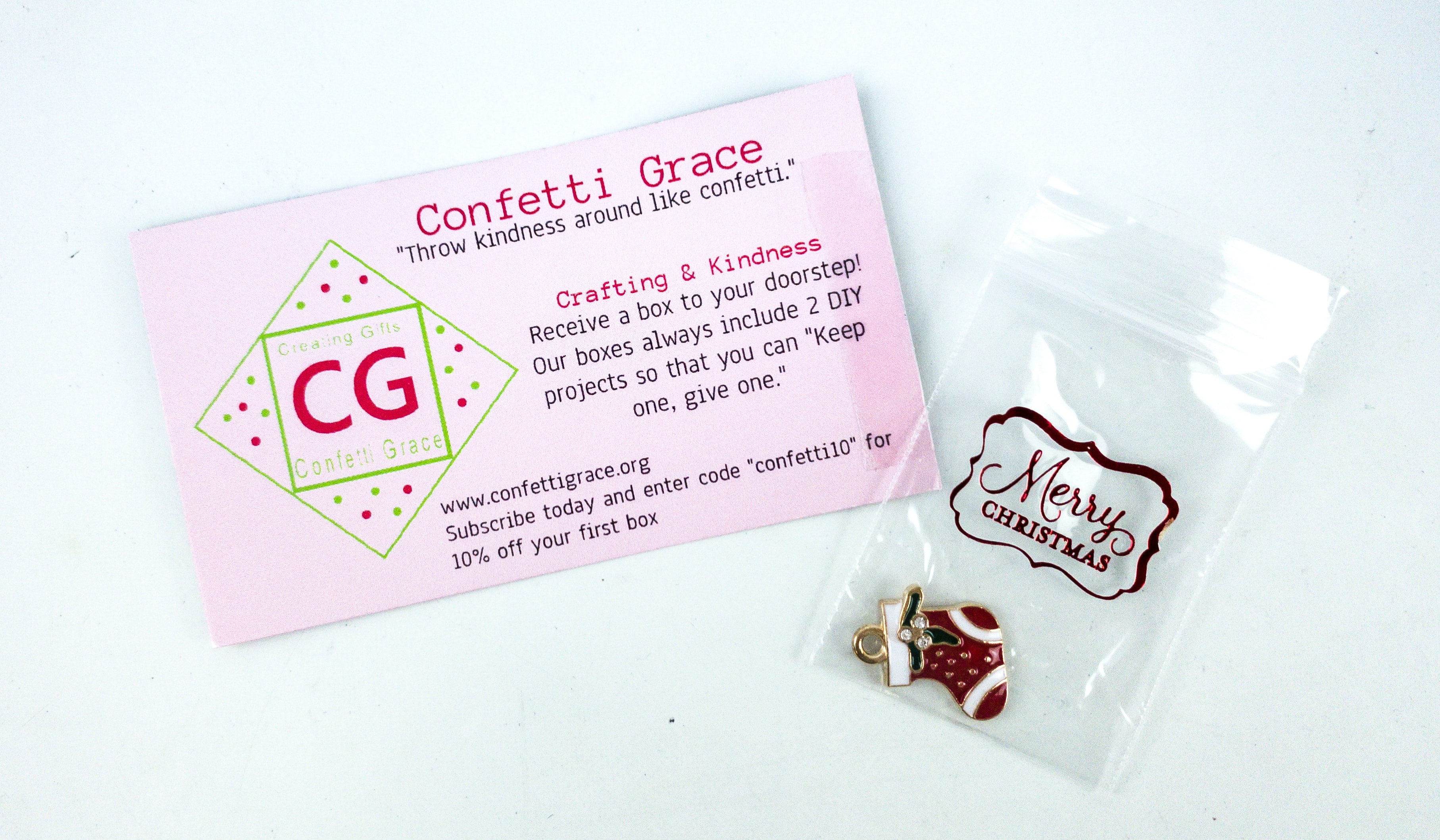 There's a cute Christmas charm included in the box.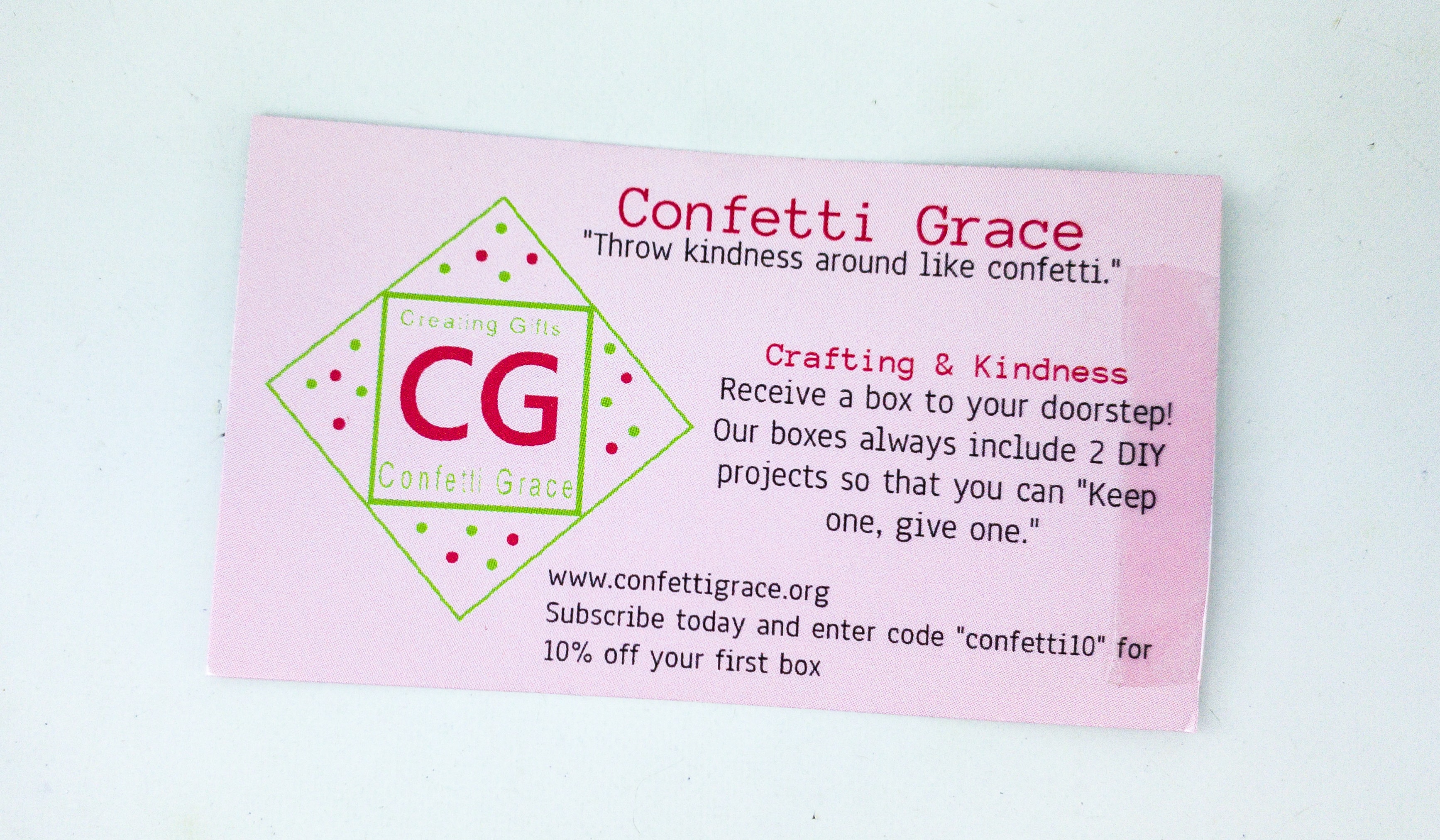 The box always includes 2 DIY projects so you can keep one, and give one.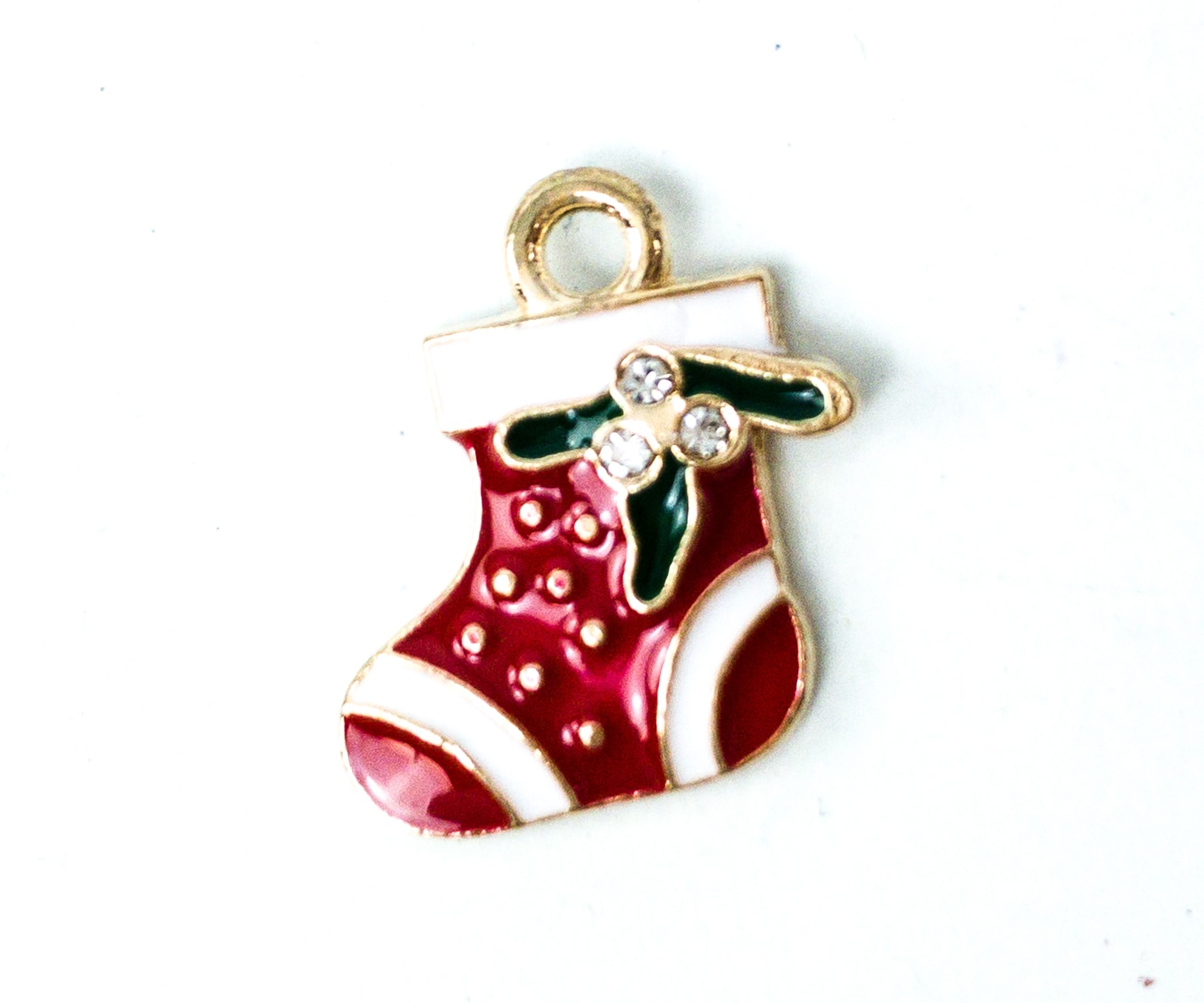 It's a cute, bejeweled Christmas stocking!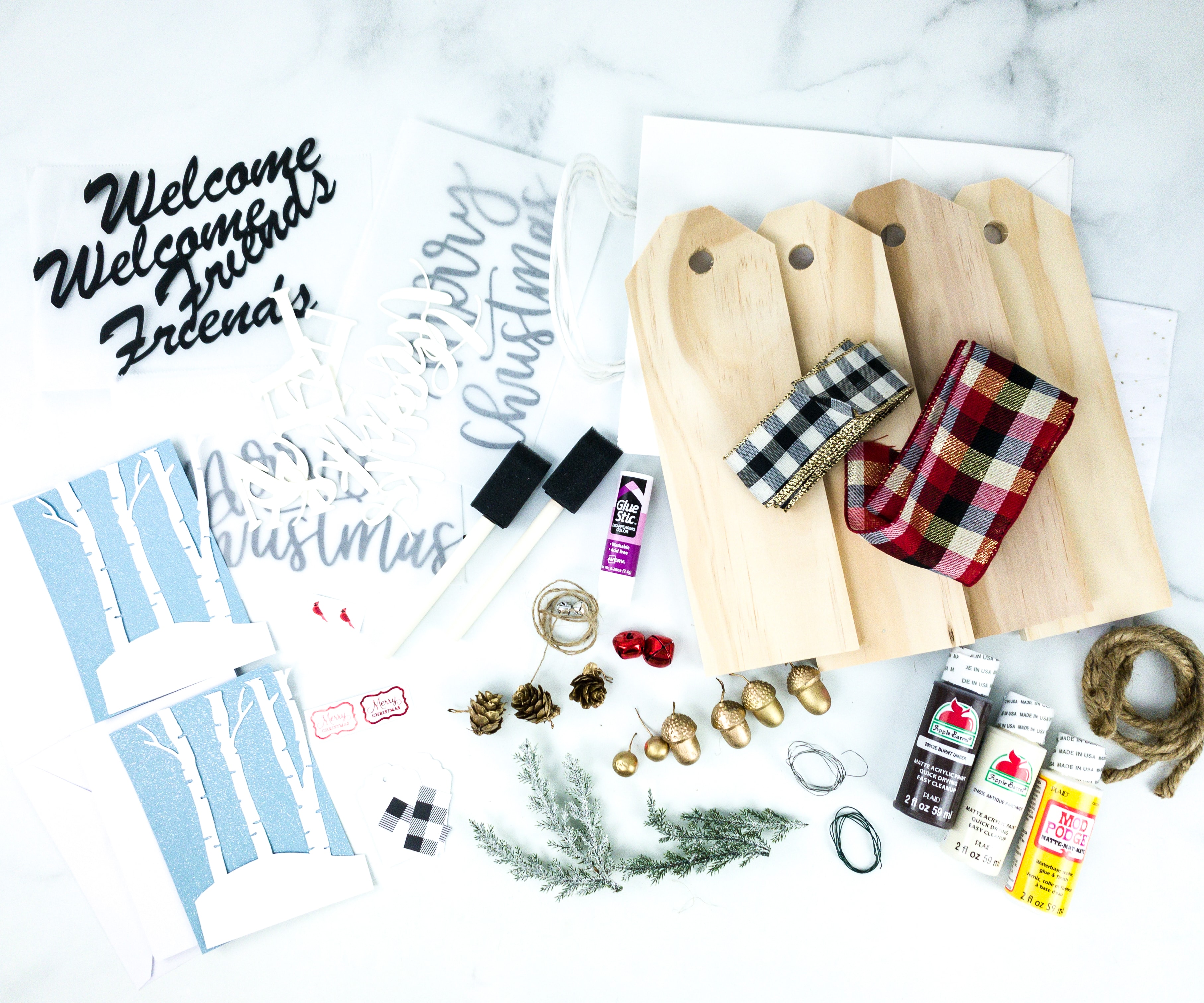 Everything in my box!
To make the wooden tag signs, the box included 4 wooden signs, foam brushes, and burnt amber (brown) and antique parchment (white) paints.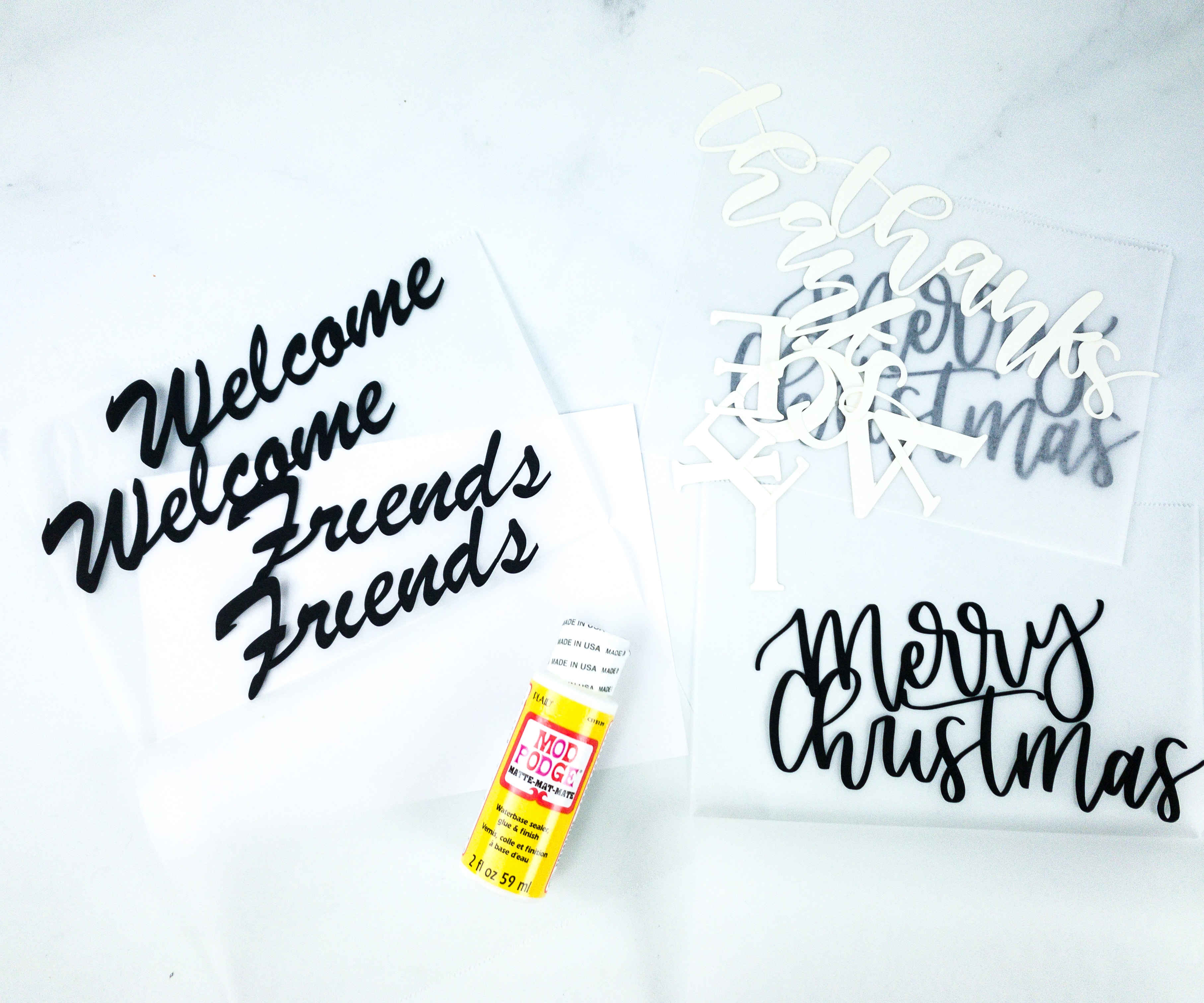 The box also included decoupage and some printed words that we're going to use to decorate the tag signs.
The box also included some pinecones, acorns, bells, wires, and ribbon to beautify our project.
First, we need to paint the wood signs. For this first pair, we used the burnt amber (brown) paint to cover the surface.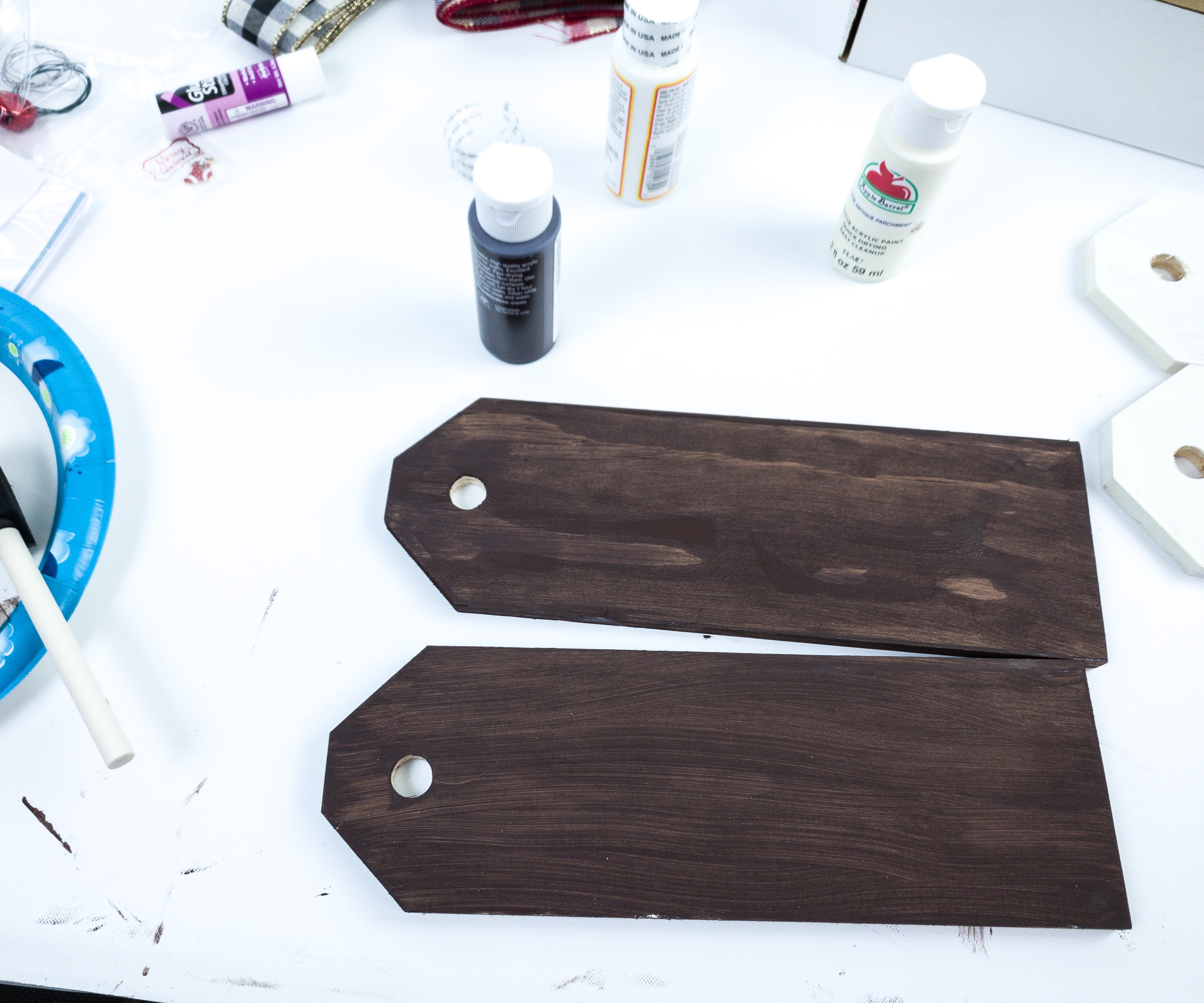 We let the paint dry before applying anything else. After the paint dries, we applied some decoupage as we ready the words that we're going to stick to it.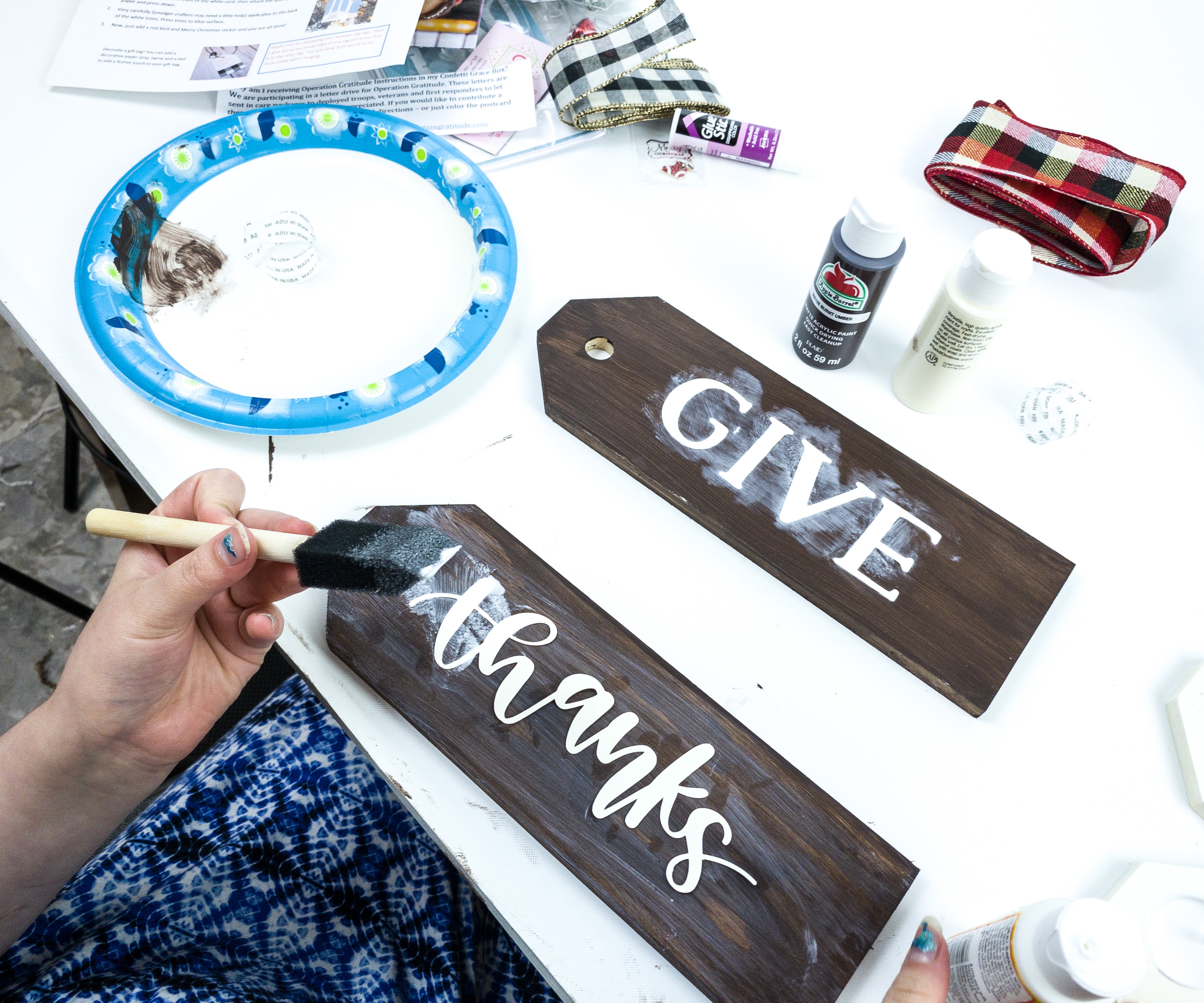 We laid out the words "give" and "thanks" on each sign, then we applied decoupage on top,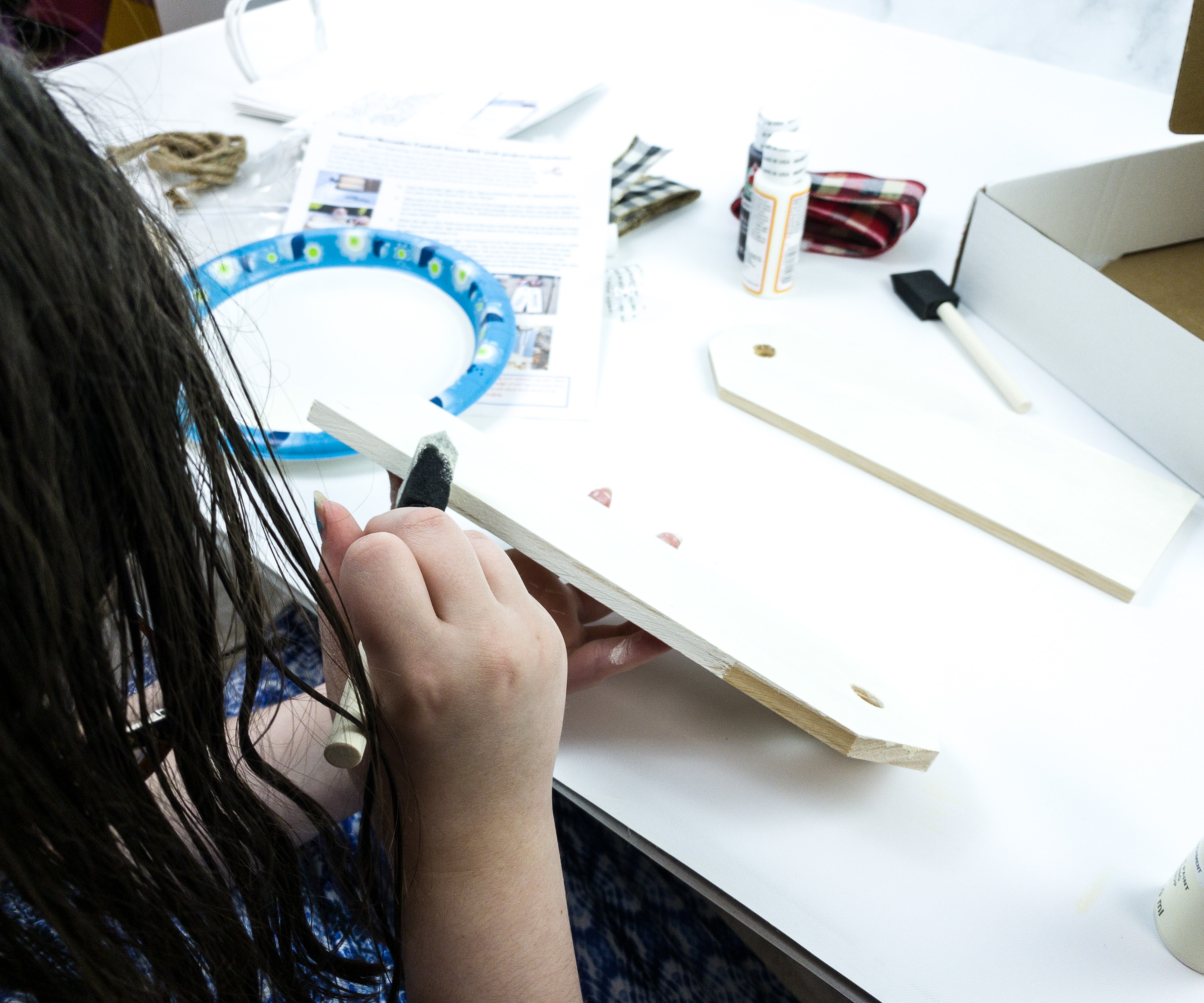 We did the same thing to the other pair, but this time, we used the antique parchment (white) paint. For our choice of words, we used "welcome" and "friends".
We also made use of the beautiful ribbons and other adornments on each of our wooden tag signs.
For the white one, we added the Jule cord on the hole on top, and adorned it with ribbons and pinecones.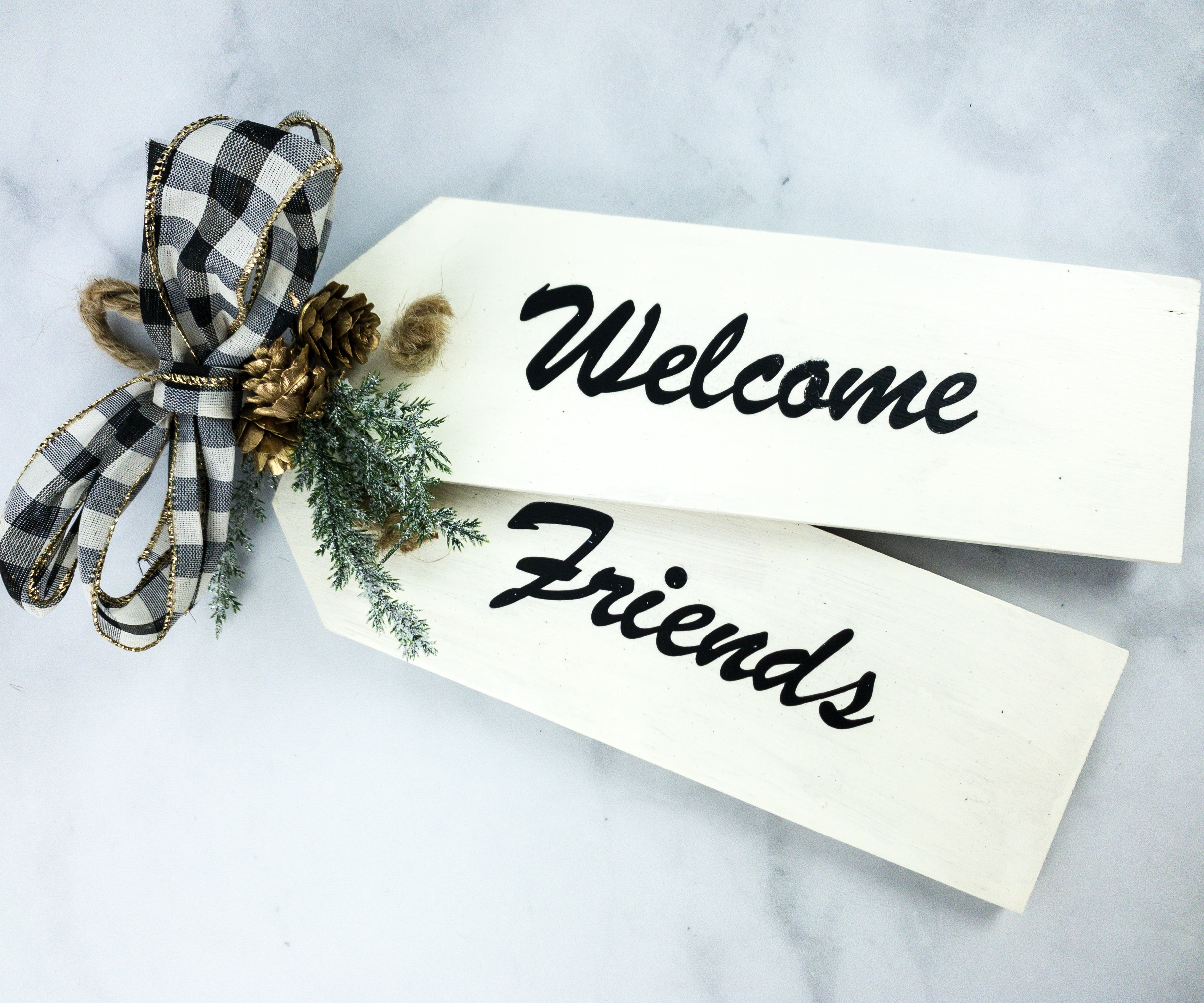 The box also gave us some tips on how to display the wooden tags. You need to place a glue dot at the inside edge of the tag and press firmly to the other. This will allow both words to be more visible when hanging.
The same goes for the brown ones, but this time, we used the red ribbon on top.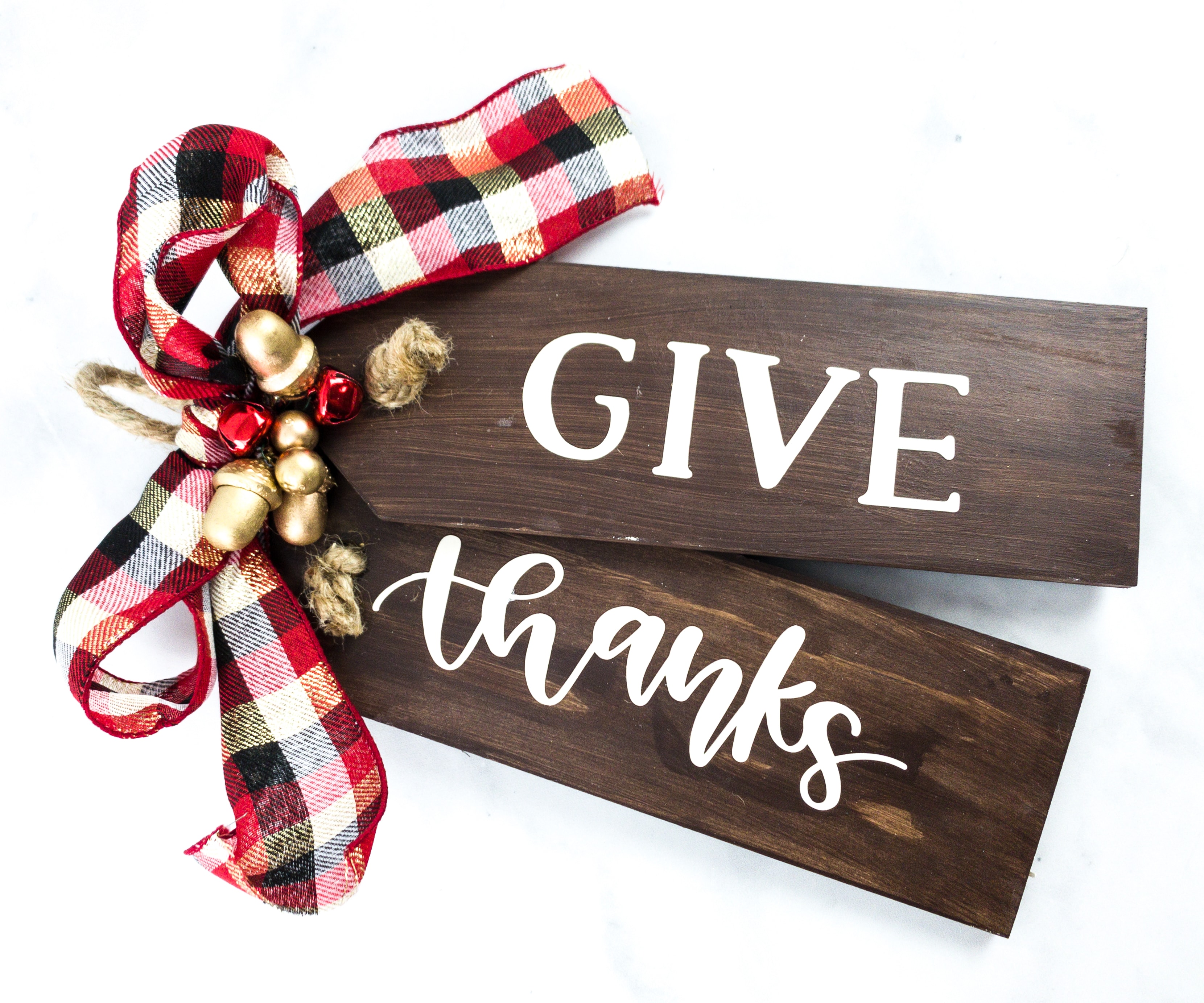 We also added the acorns on this one.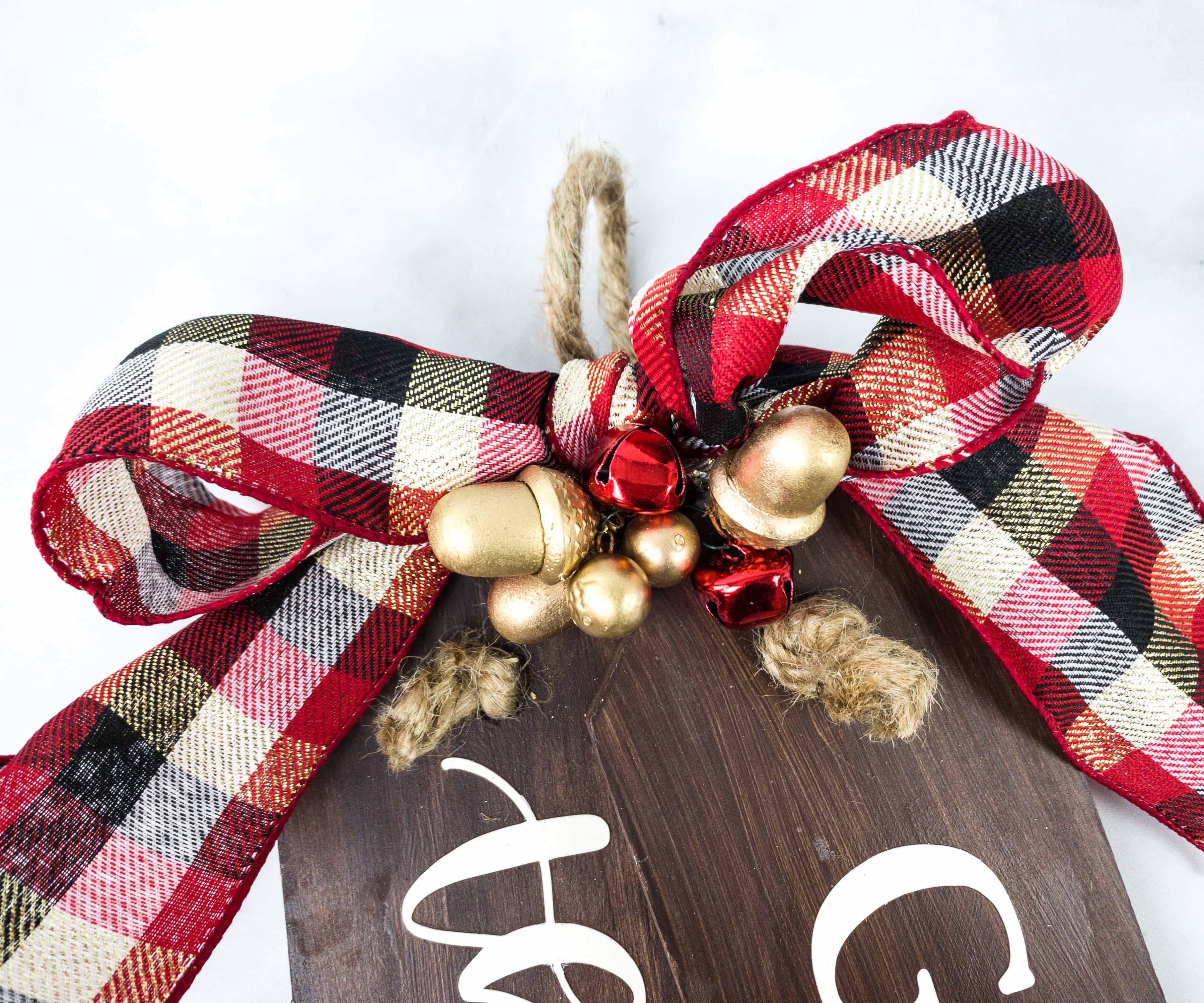 Aside from the acorns, we also included the red bells. It goes well with the ribbon and gives it a more festive look.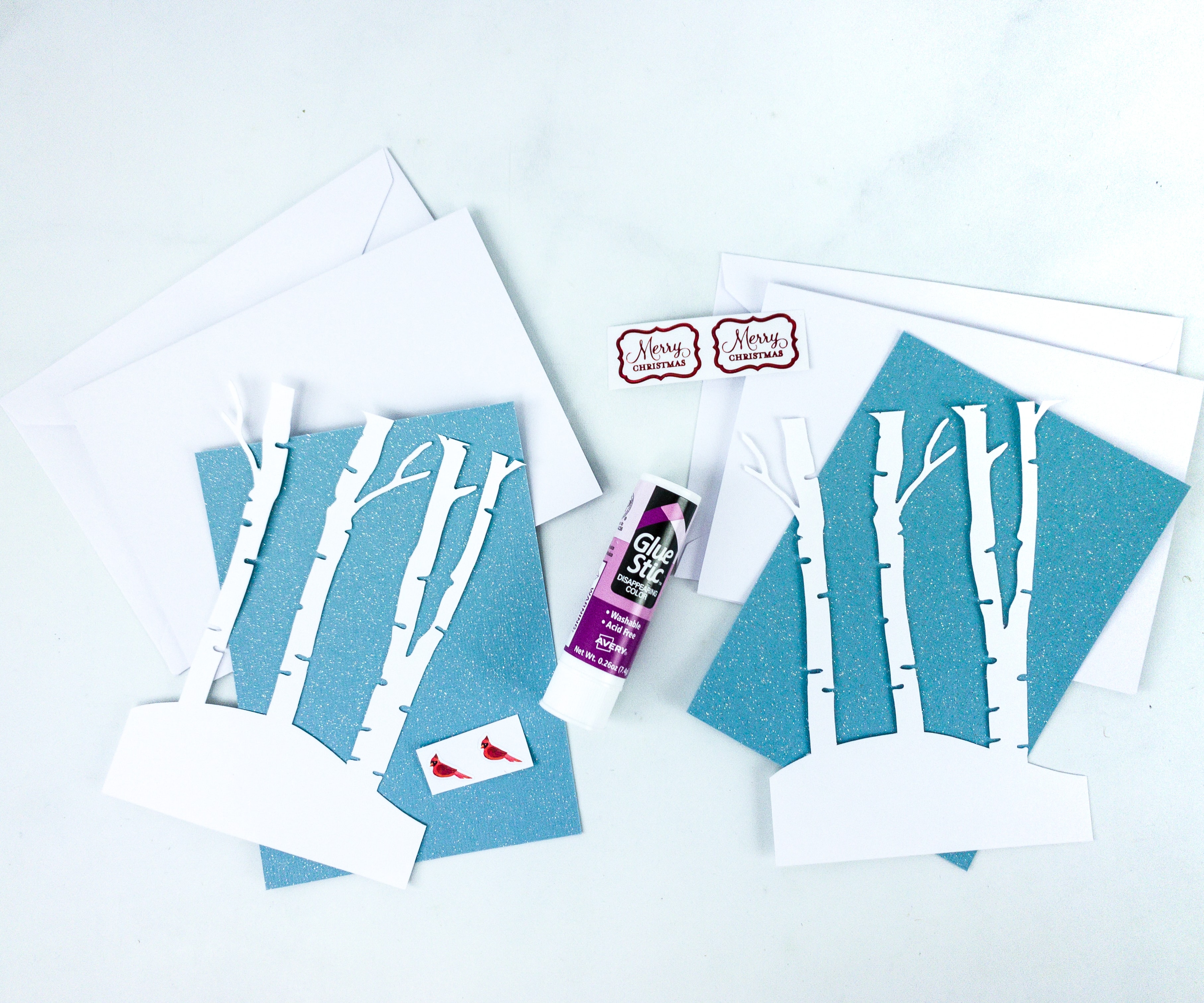 Our next project is the birch tree cards. For this project, we got some cards, sparkly blue paper, white trees, glue stick, red bird and Merry Christmas stickers.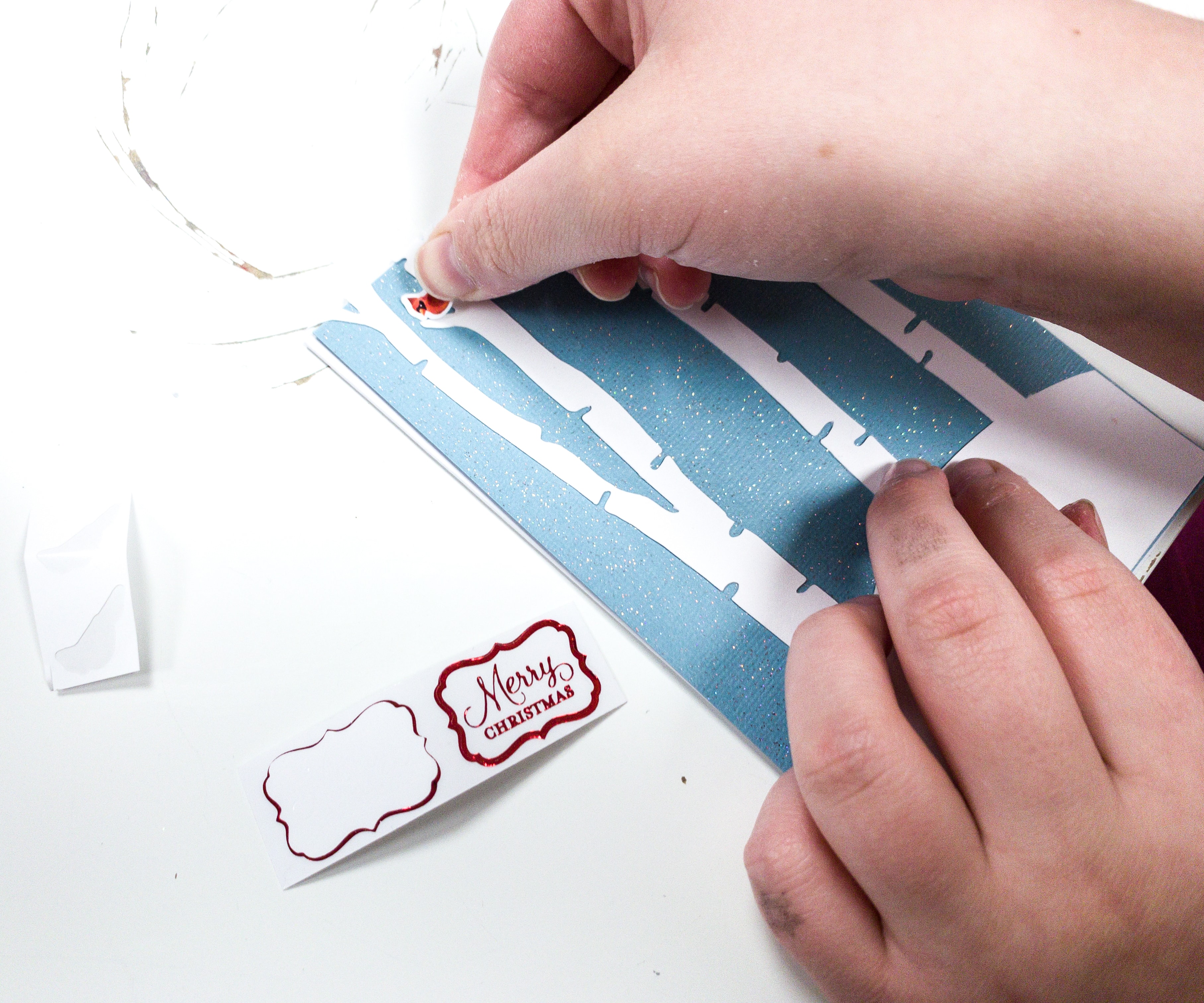 After applying the sparkly blue paper on the white cards and adding the white trees, we adorned them with the red birds and the Merry Christmas stickers.
You can place the stickers anywhere you want! And to finish everything off, you just have to add your personal messages inside the cards!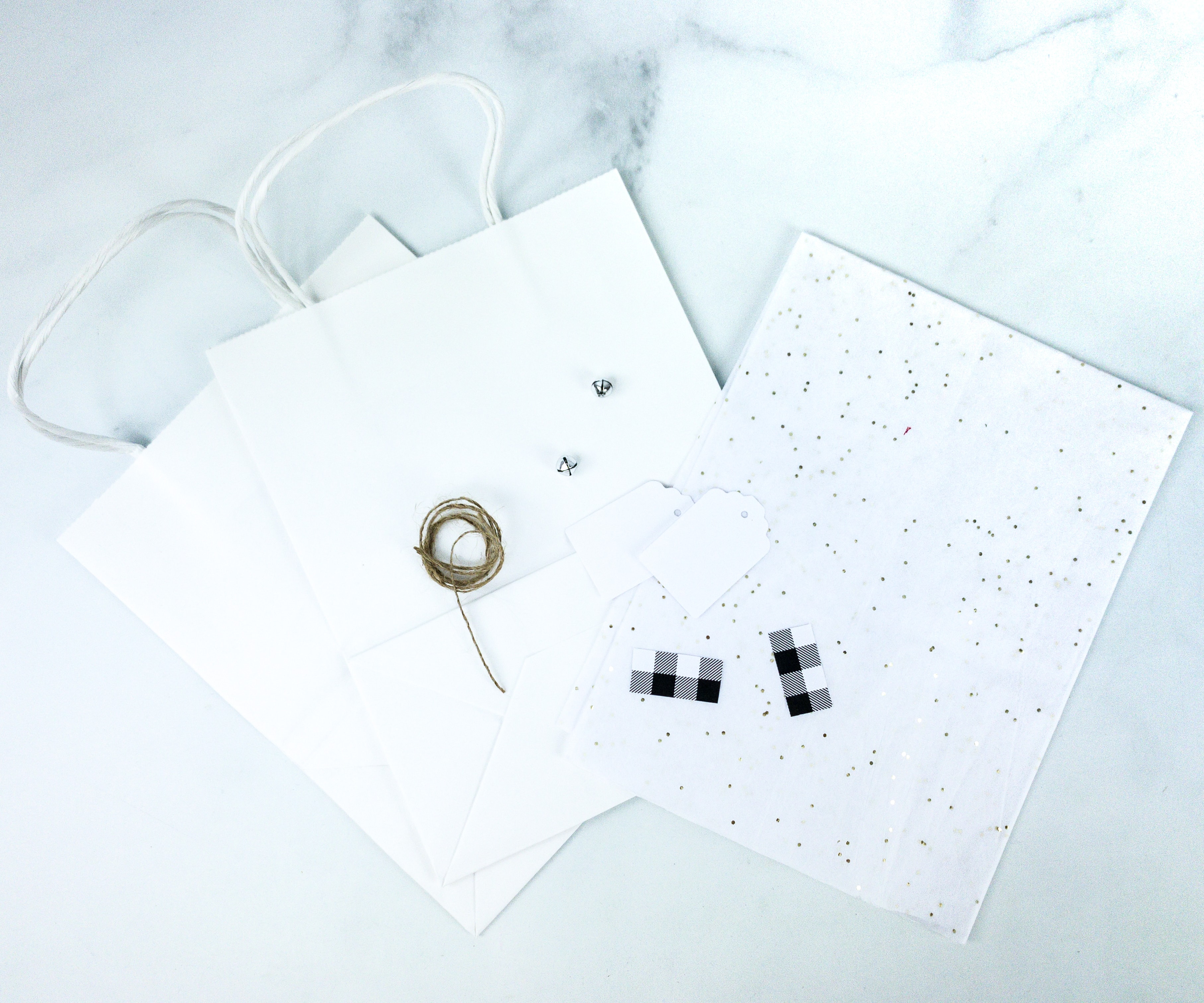 To make the finished products more special, the box also provided paper bags that we can also decorate.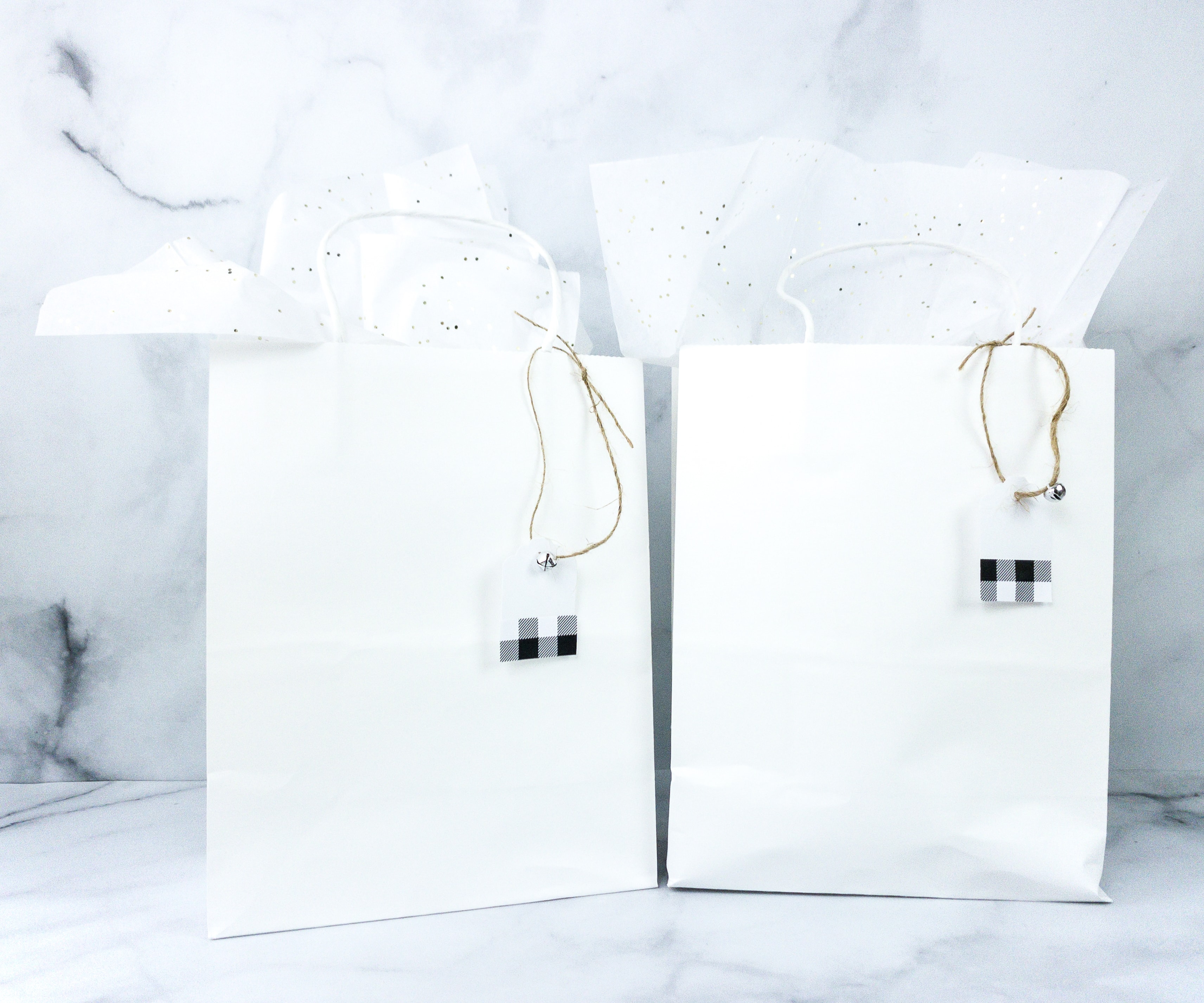 You can also add a decorative gift tag on your bags using a paper strip, twine, and a bell.
As always, you can keep one for yourself, and then you can gift the other on!
This craft box is made for generous people, as you can always gift one of the finished products to a person close to your heart. There are also cards that you can use to share the love for others. This is the perfect time to show appreciation and to let other people know that they're always remembered. Aside from yielding amazing finished products, we also love that we are able to bond while making these projects. The crafts are also easy enough for the kids, with only a little supervision from adults. The box also provided almost everything that we need to make the crafts. We love everything in this box, and it really gave us a festive and joyful feeling. The fact that we can share not just the items but the happiness is just amazing!
What do you think of this month's Confetti Grace box?