BOXYCHARM is a makeup and beauty subscription box that sends out 4-5 deluxe and full-size samples every month. In the past, the items have been mostly full-size products and the boxes have been able to maintain an amazingly high value.
This is a review of the upgraded quarterly BoxyLuxe subscription. You can see the full spoilers for the regular March 2020 BOXYCHARM boxes here. BoxyLuxe contains all the items from one of the variations except for one, and adds additional luxury items in a quarterly upgrade for an upcharge of $28.99 on your existing box once per quarter. You can find more info on BoxyLuxe here.
FYI – Boxycharm recently announced a new Boxycharm PREMIUM subscription, which is different than this – check out all you need to know about Boxycharm Premium here!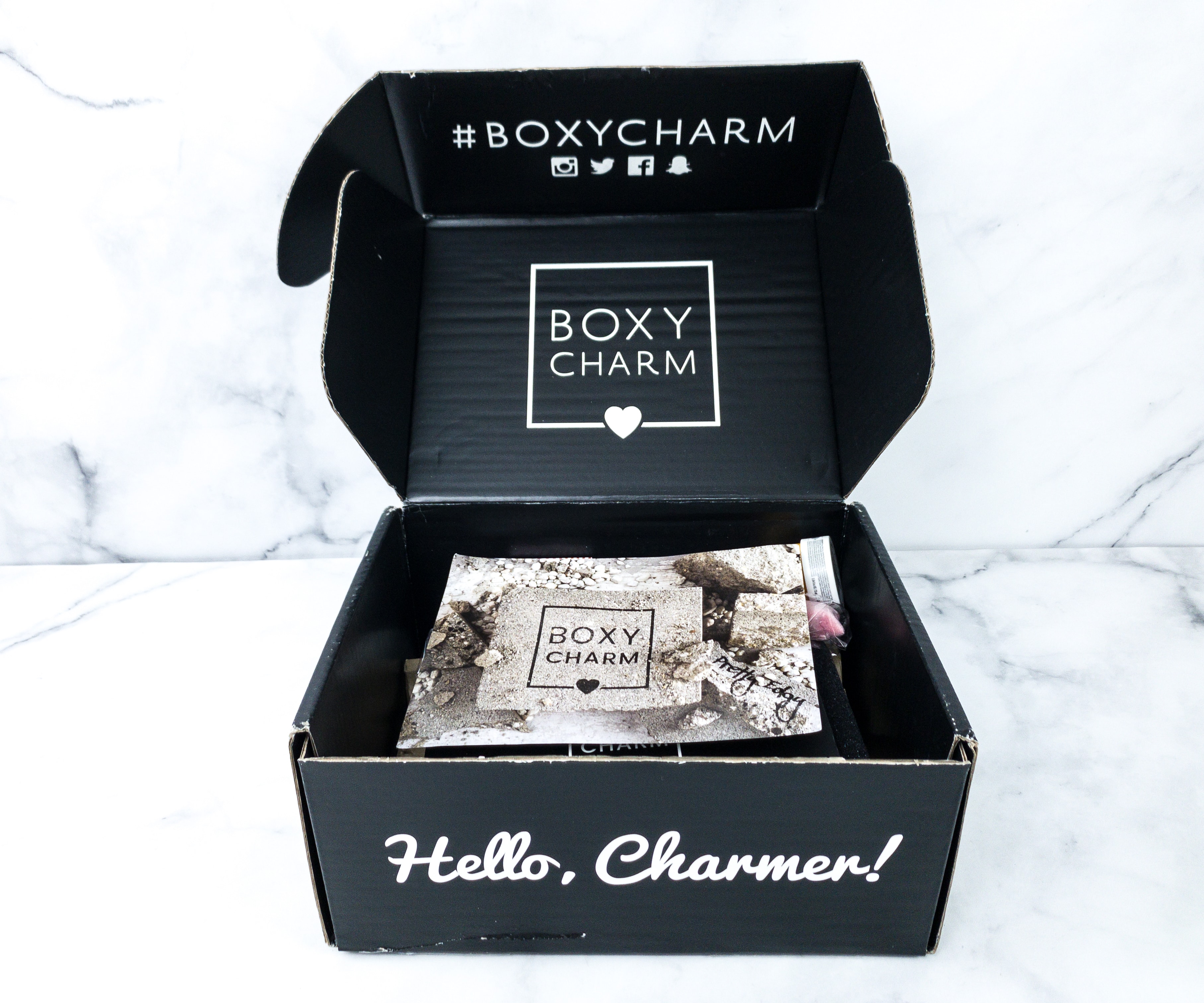 It's here! I've been excited since the spoilers!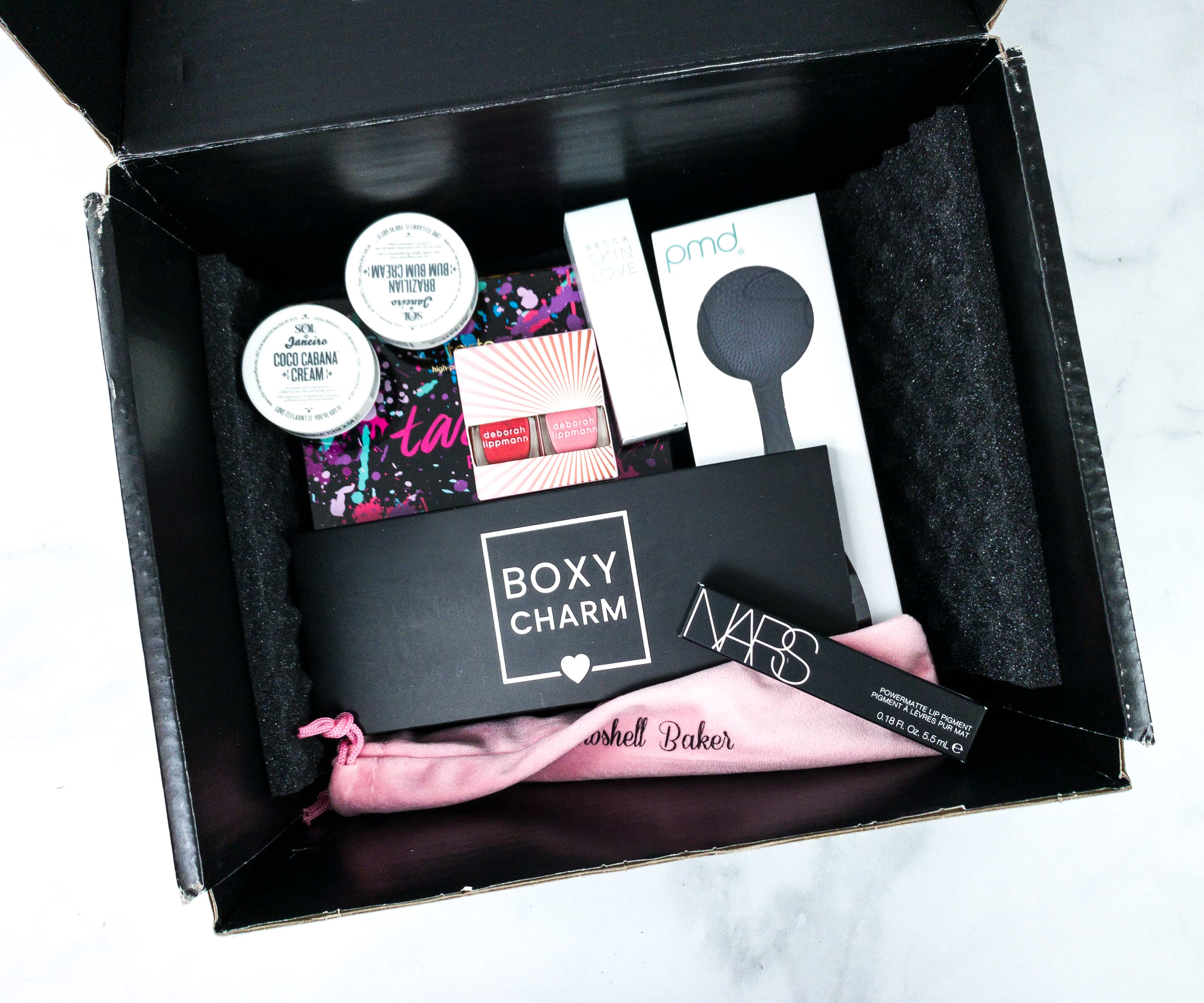 The items arrived in a black box. There were also black foam pieces to cushion everything.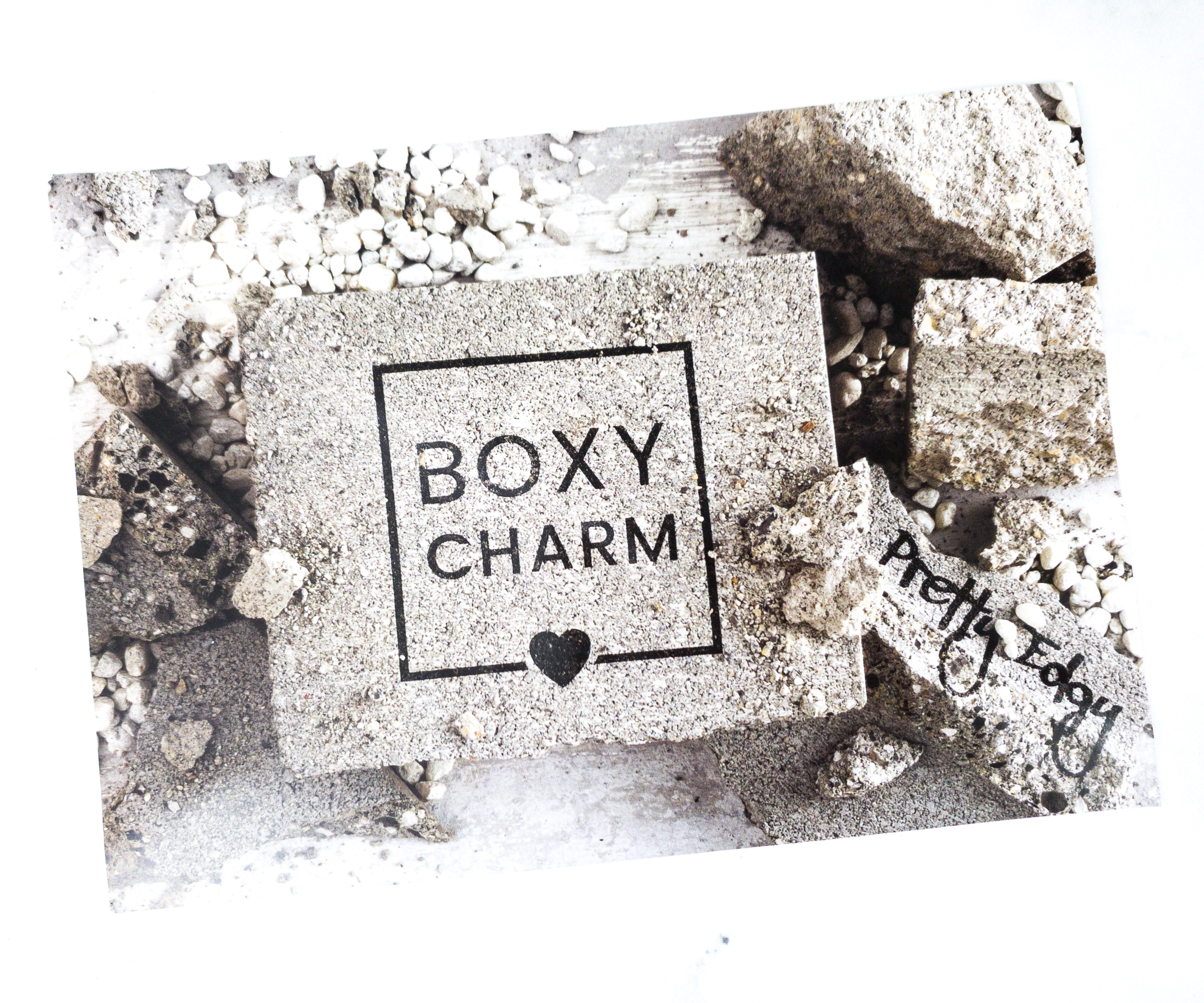 The box includes an information card.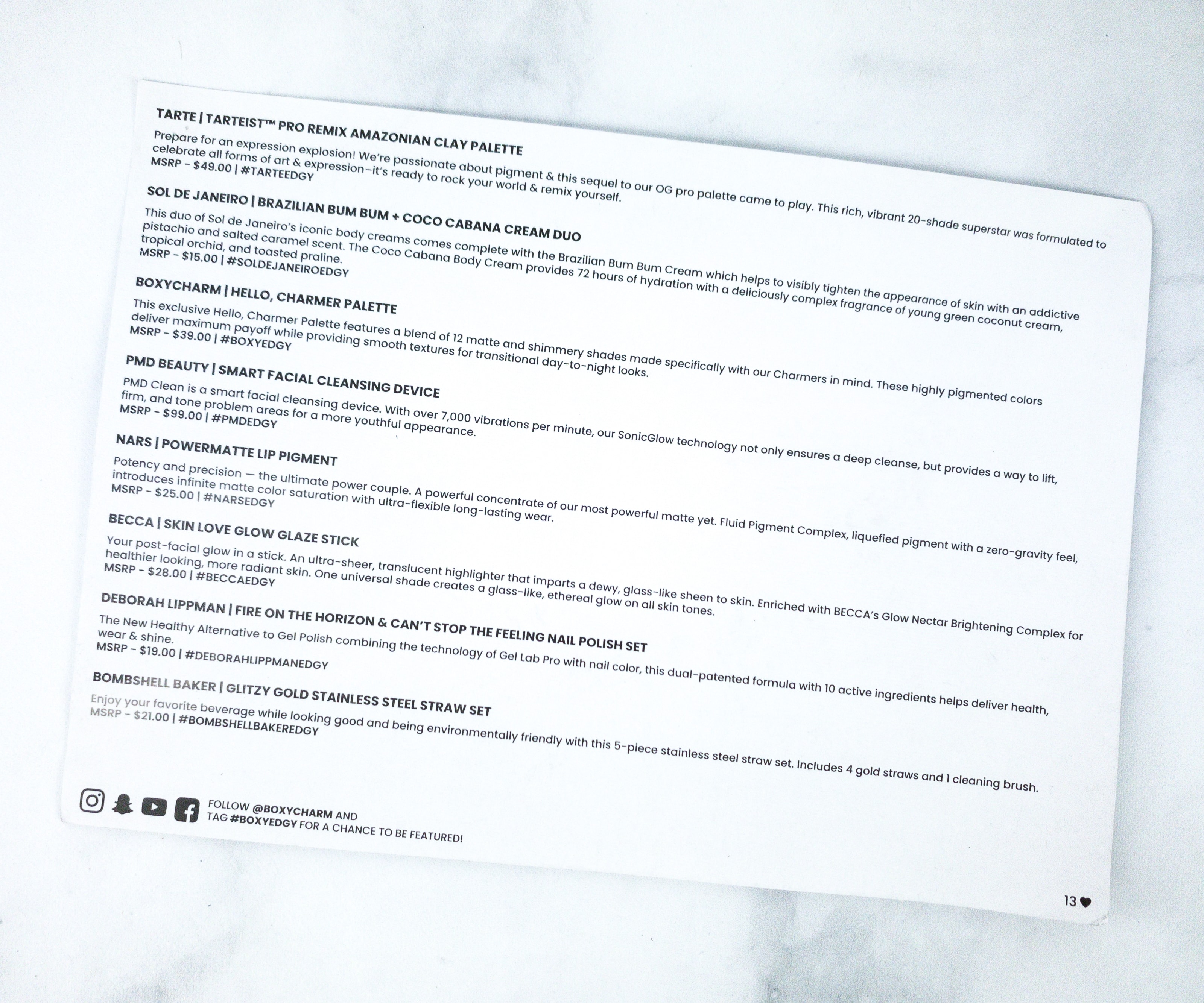 At the back, it lists all the products in the box, together with a brief description.
Everything in my March 2020 BOXYLUXE! You can see the full spoilers for the different variations of the December 2019 BOXYLUXE boxes here.
Once again, This is a BoxyLuxe review. Up first, BoxyLuxe Items!
Becca Skin Love Glow Glaze Stick ($28) This is a variant item. Dewy makeup is still a trend and this translucent highlighter helps us easily achieve that beautiful glow! I expected it to be sticky, but it wasn't. The formula is ultra-light and sheer!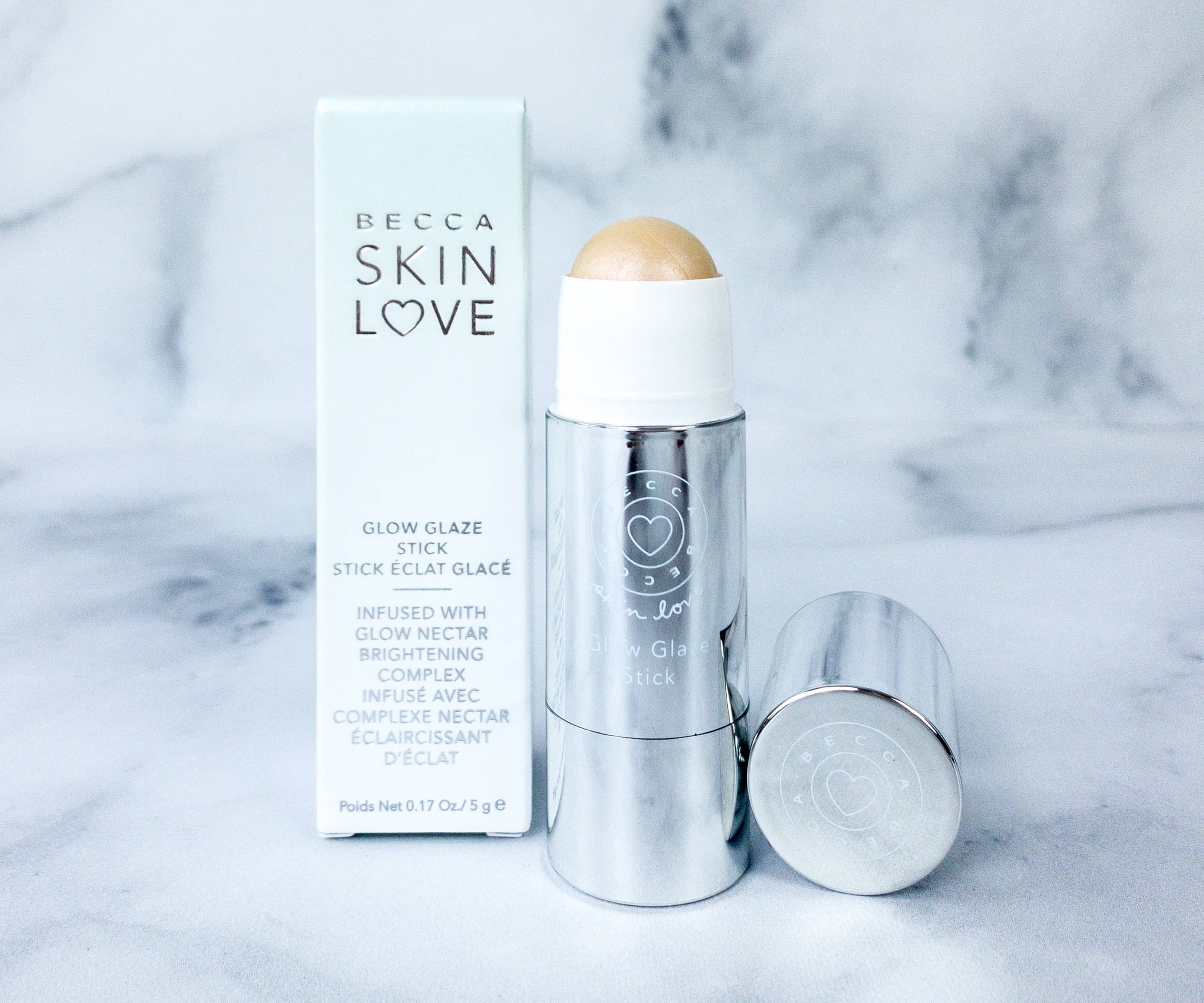 The highlighter contains a blend of bitter ginger, cold-pressed avocado, and melon which help support healthier skin. This shade is universal, which means it looks gorgeous on any skin tone. I also love the packaging, it's handy and easy to twist.
Deborah Lippmann Fire On The Horizon & Can't Stop The Feeling Nail Polish Set ($19) This is a variant item. I got two bottles of nail polish and they have a dual-patented formula containing 10 active ingredients that help prolong the color but don't damage the nails. 
Can't Stop The Feeling is a light pink shade, while Fire On The Horizon is a classic red. I'm loving the choice of colors. They're fun and vibrant!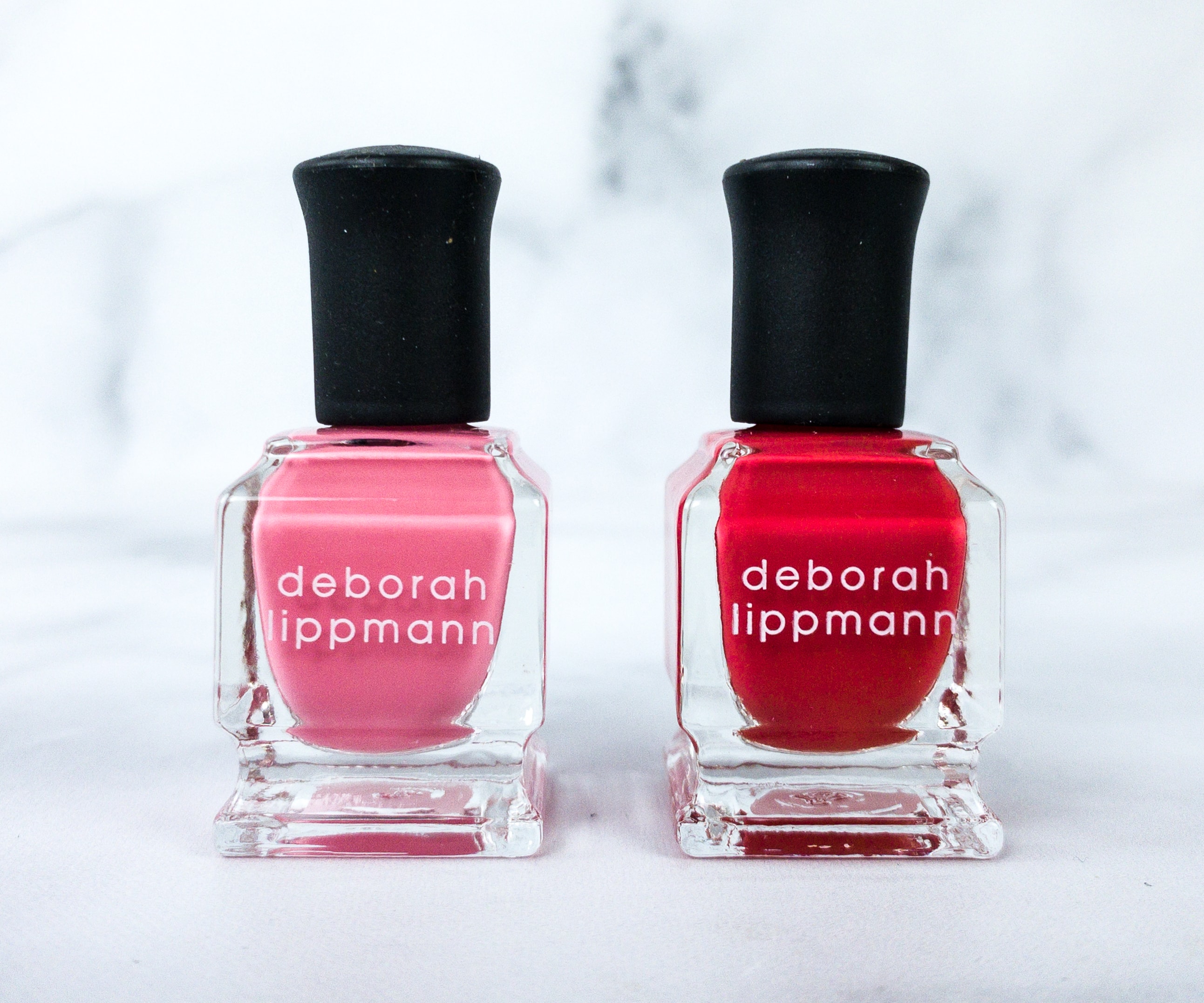 These nail polishes have good coverage! Just apply two thin coats and you're good to go. For best results, make sure to apply a thin layer of base coat over clean nails before applying any color.
Tarte Tarteist Pro Remix Amazonian Clay Palette ($49) Subscribers were able to choose among this, Sutra Beauty Mini Curling Wand (Pastel Yellow or Pastel Lavender), Murad Hydro Dynamic Ultimate Moisture for Eyes, and QMC Medicosmetics Lip Liner Corrector. I chose this palette because of the great variety of colors and also because it has skin-friendly ingredients like the Amazonian clay.
This palette doesn't contain parabens, phthalates, mineral oil, and triclosan. It's also cruelty-free and gluten-free!
The packaging got me more excited. It features what looks like splatters of paint!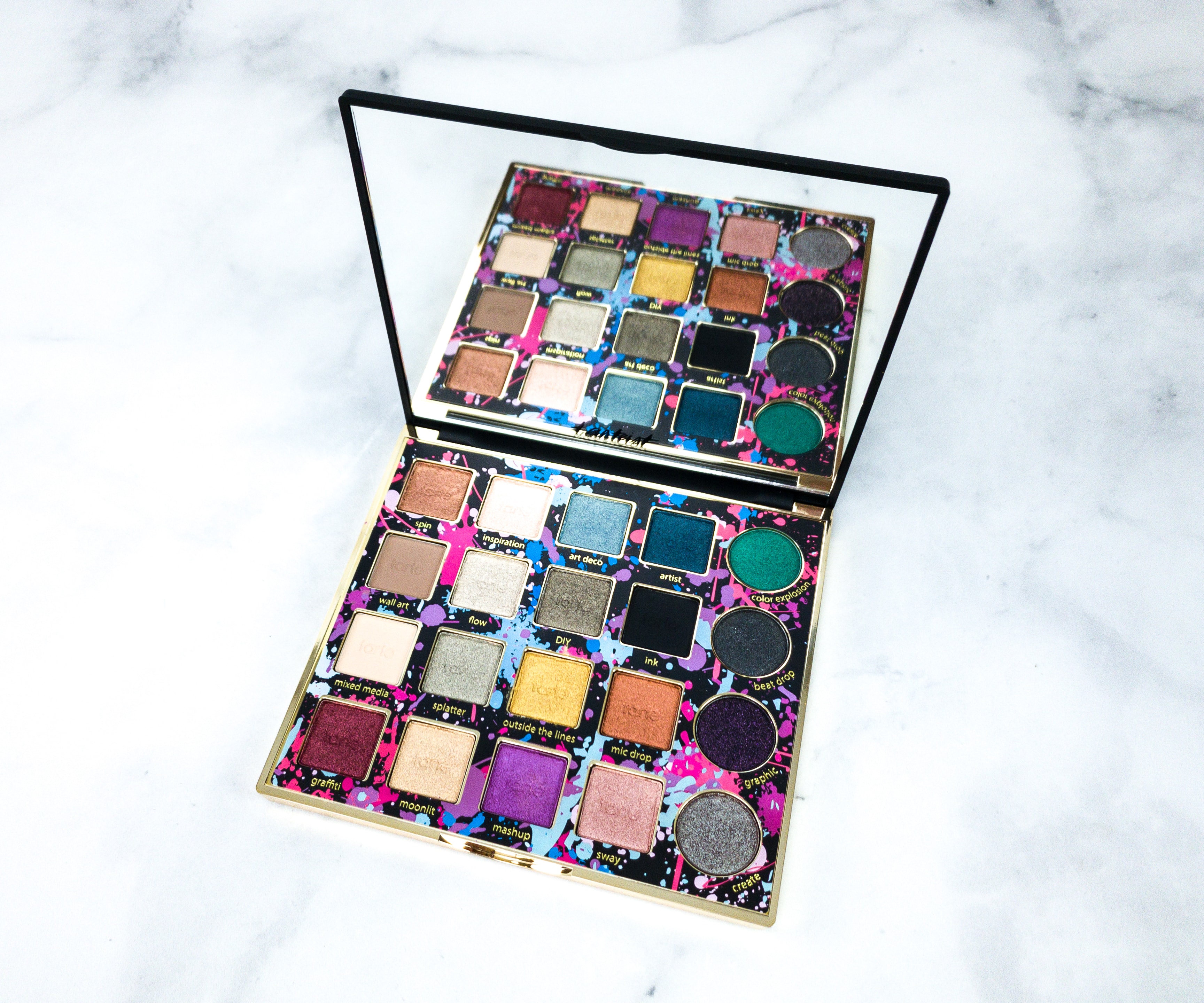 The palette comes with a mirror that you can use for quick and easy touch-ups no matter where you are.
Look at those vibrant colors! There are 6 kinds of finishes in this palette: matte, luster, metallic, duo-chrome, shimmer, and floating glitter. This is great for those who like to experiment with their makeup and are unafraid to sport unconventional looks. Everything is non-drying and well-pigmented. They apply smoothly as well. My favorite shades from this palette are Mic Drop (copper with a metallic finish) and Sway (rose with a shimmer finish)!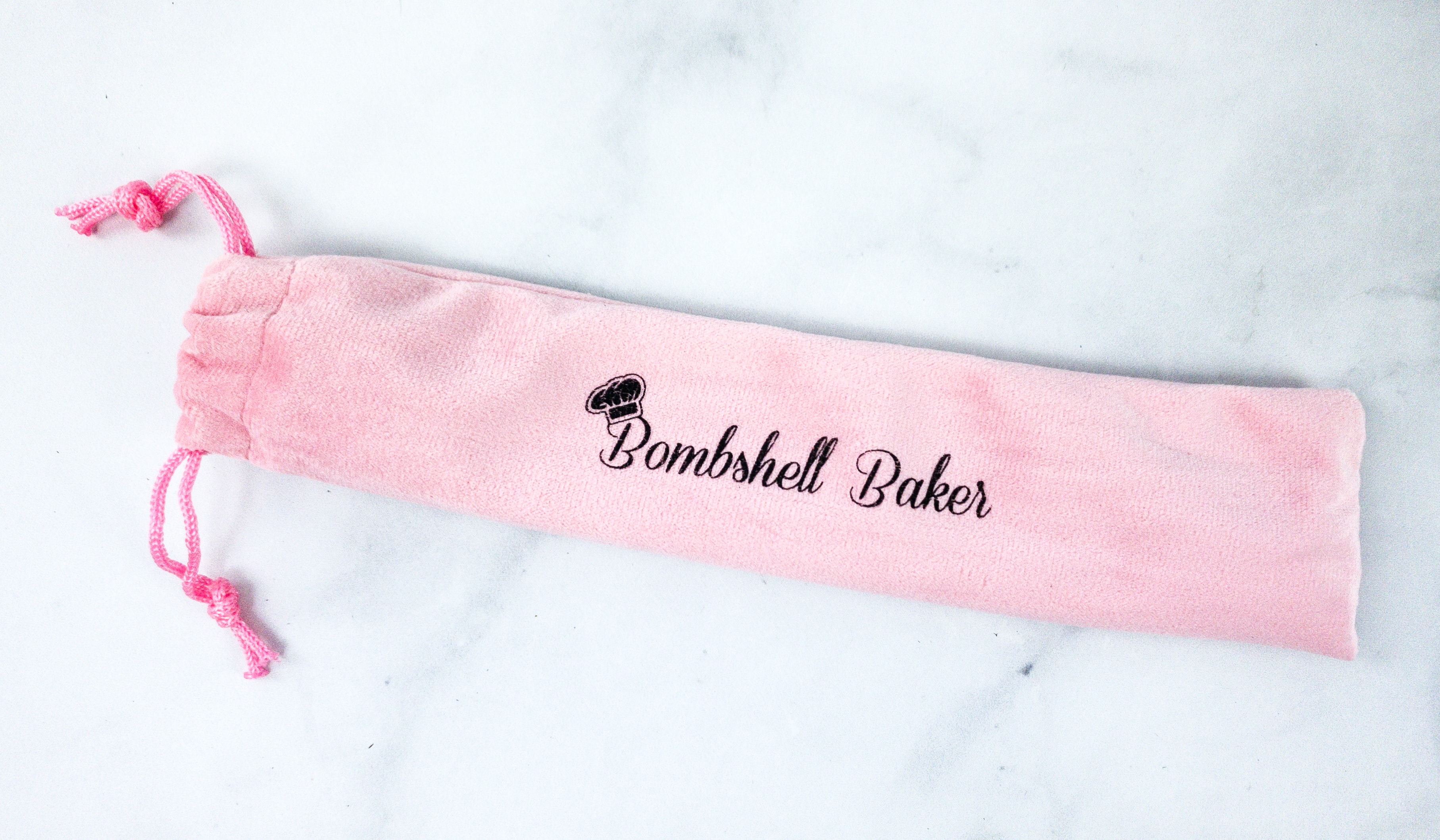 Bombshell Baker Glitzy Gold Steel Straw Set ($40; $21 on the card) Subscribers were able to choose among this, Appeal Cosmetics Gel Liner (shades may vary), ZAXIE by Stefanie Taylor Play It By Ear Pavé Hoop Earrings (not available if you choose the styling wand or palette), and Moroccanoil Protect and Prevent Spray (not available if you choose the palette). The reusable straws come with a pink velvet drawstring pouch, which makes it easy to bring them on the go!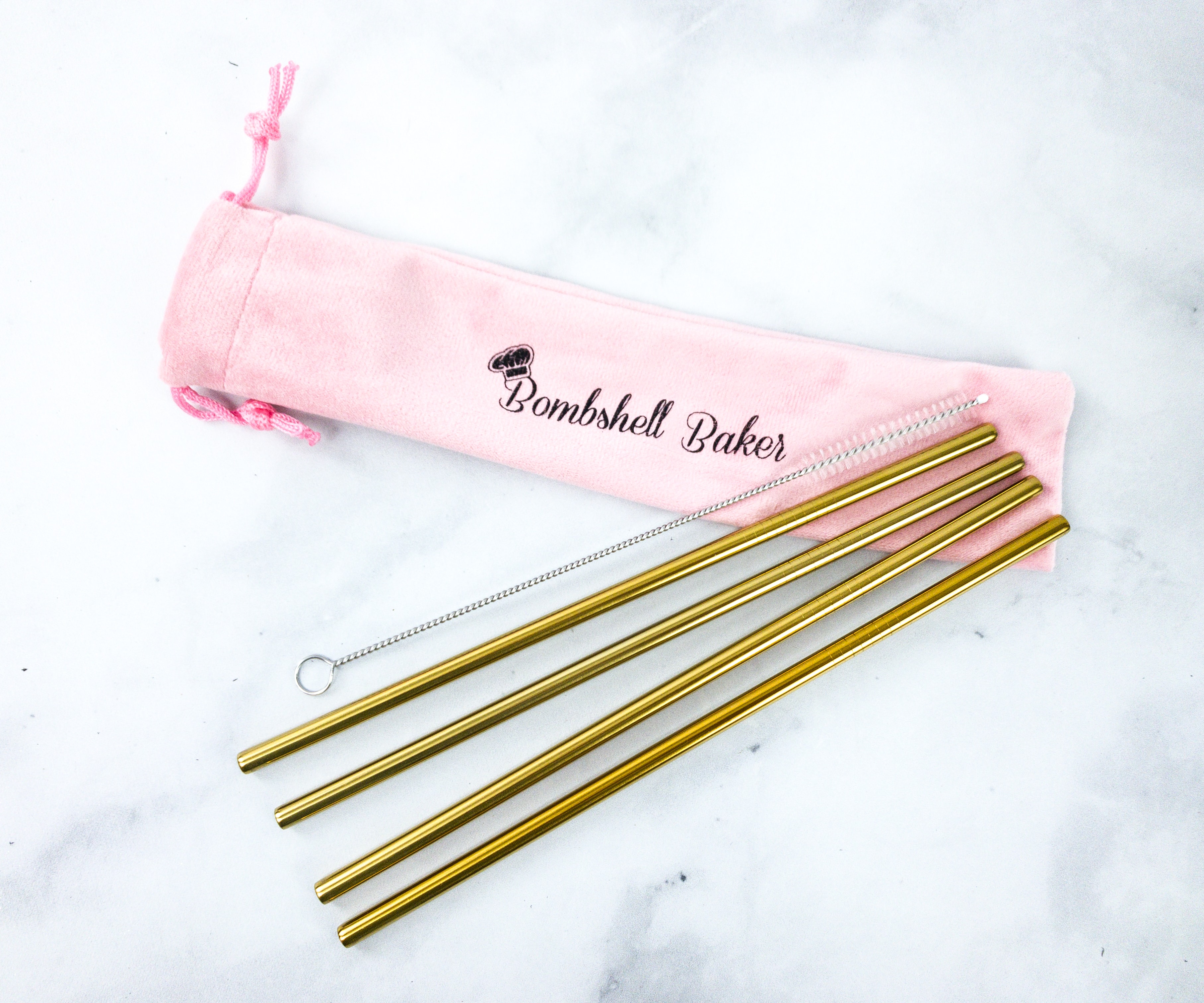 There are 4 gold-colored metal straws plus a brush for easier cleaning. Using these help in reducing plastic waste!
My box includes two creams by Sol de Janeiro!
Sol De Janeiro Coco Cabana Cream ($6.66) This is a variant item. It's a unique gel-cream formulated to provide deep hydration and keep your skin soft and supple. The formula is enriched with CocoSugar Blend, a natural humectant, and
highly-moisturizing coconut oil.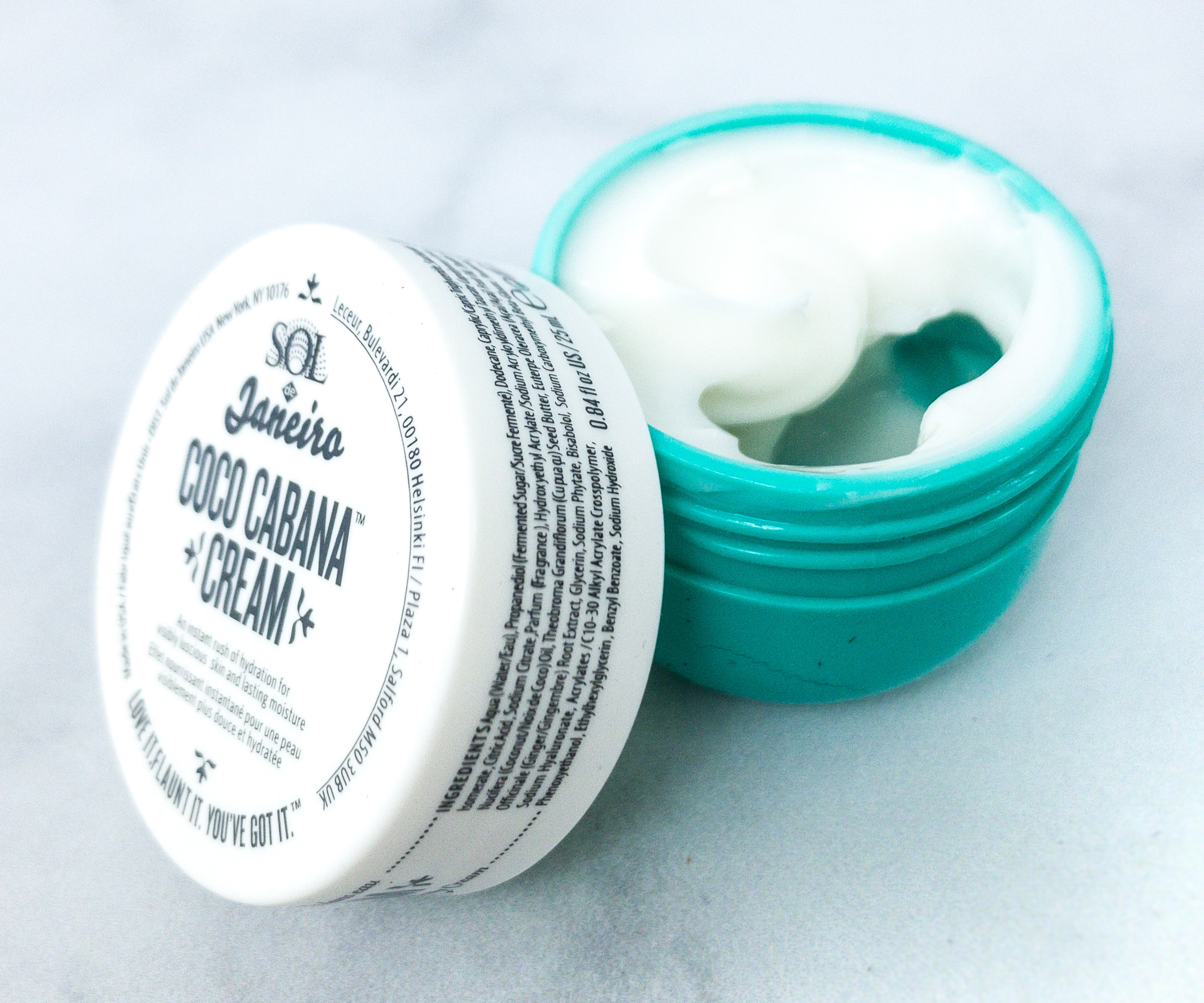 It features a new and improved scent, which is warm and sweet. Main notes include coconut cream, tropical orchid, and toasted praline. The cream is light and creamy, plus it gets easily absorbed by the skin.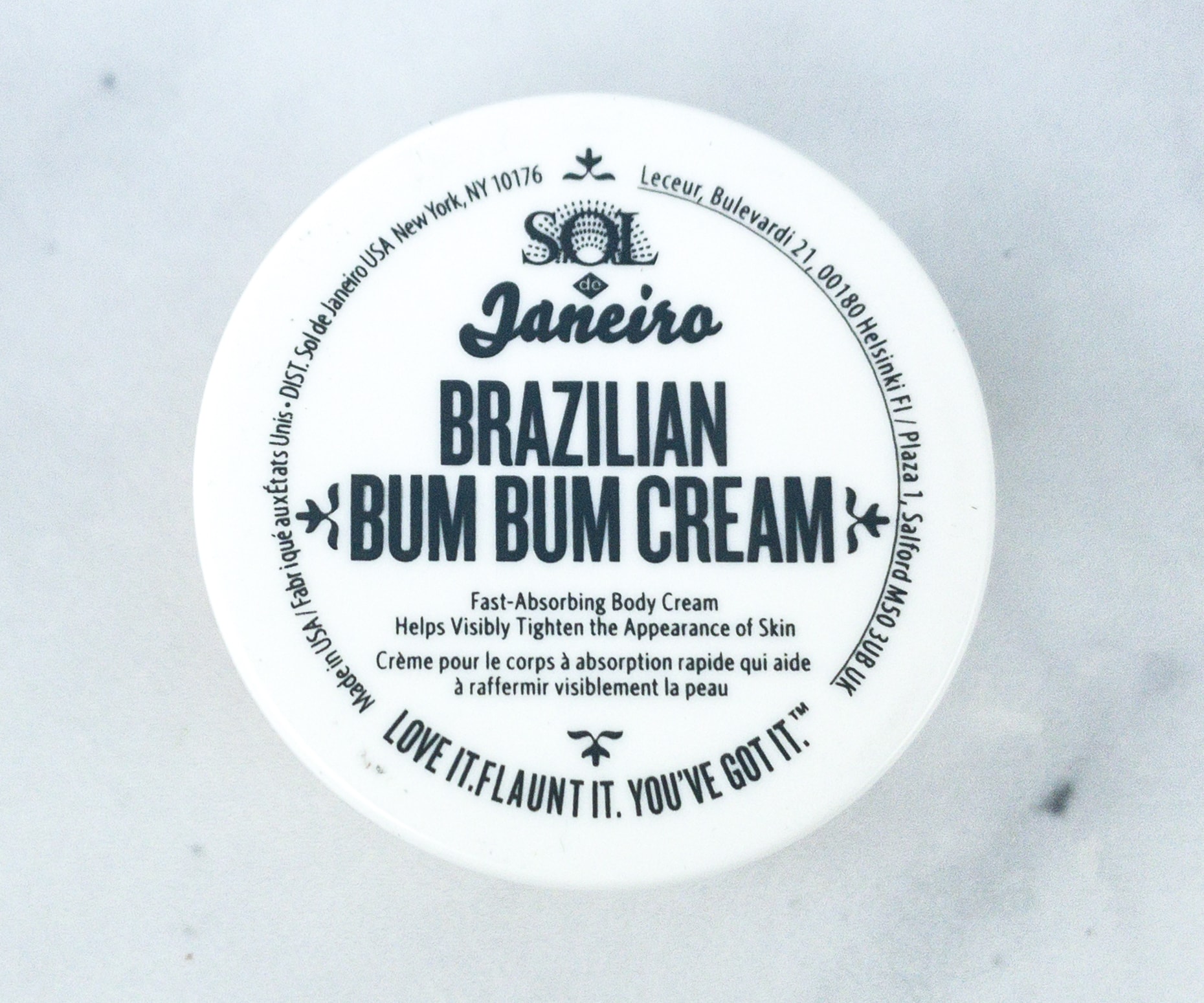 Sol De Janeiro Brazilian Bum Bum Cream ($6.66) This is a variant item. From the same makers as the Coco Cabana cream, here's another luxurious all-over body cream and this time it's formulated to help tighten the appearance of the skin and make it more radiant.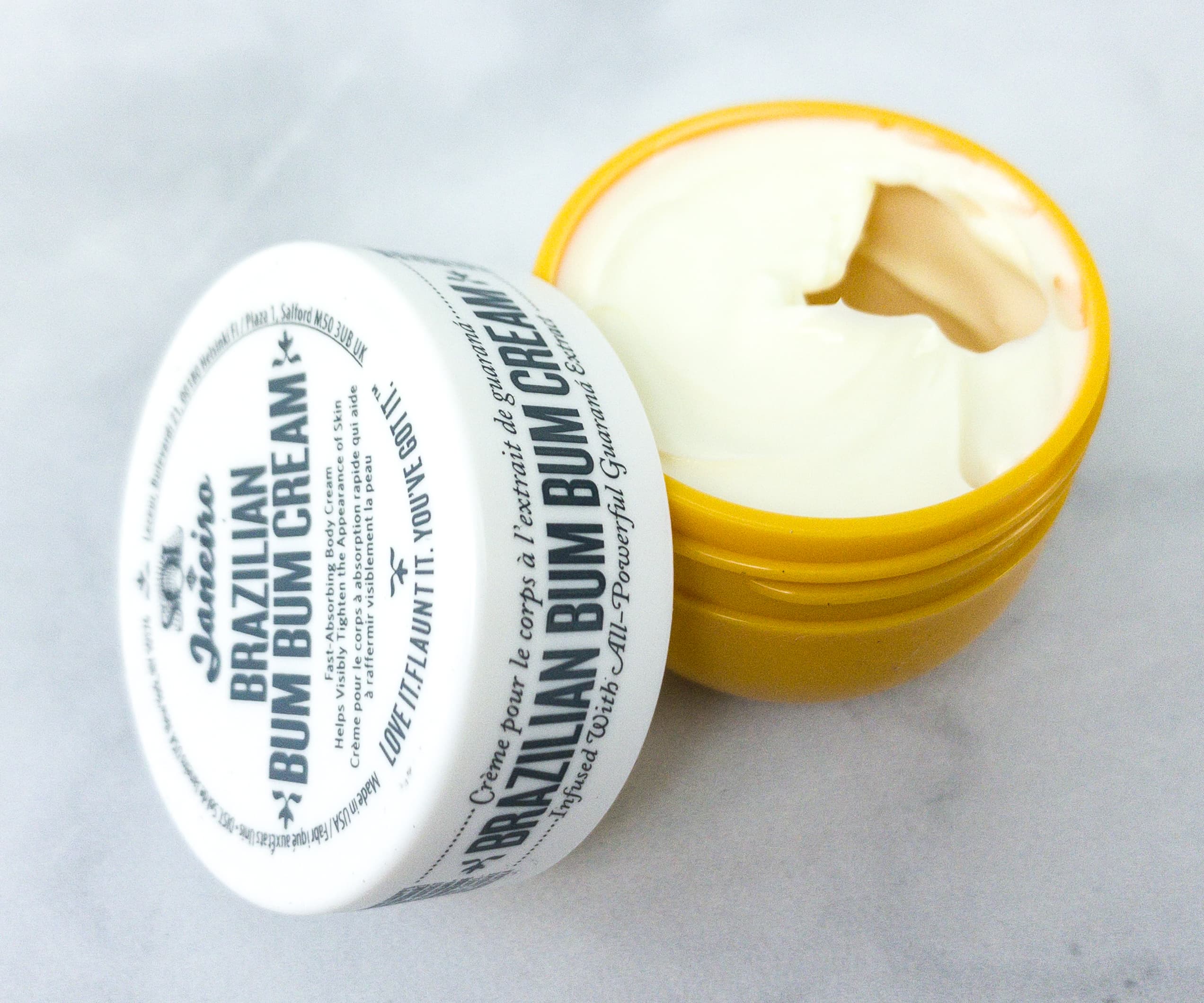 This lightweight cream is infused with caffeine-rich Guaraná extract and a mix of cupuaçu butter, açaí, and coconut oil. It smells like pistachio and salted caramel!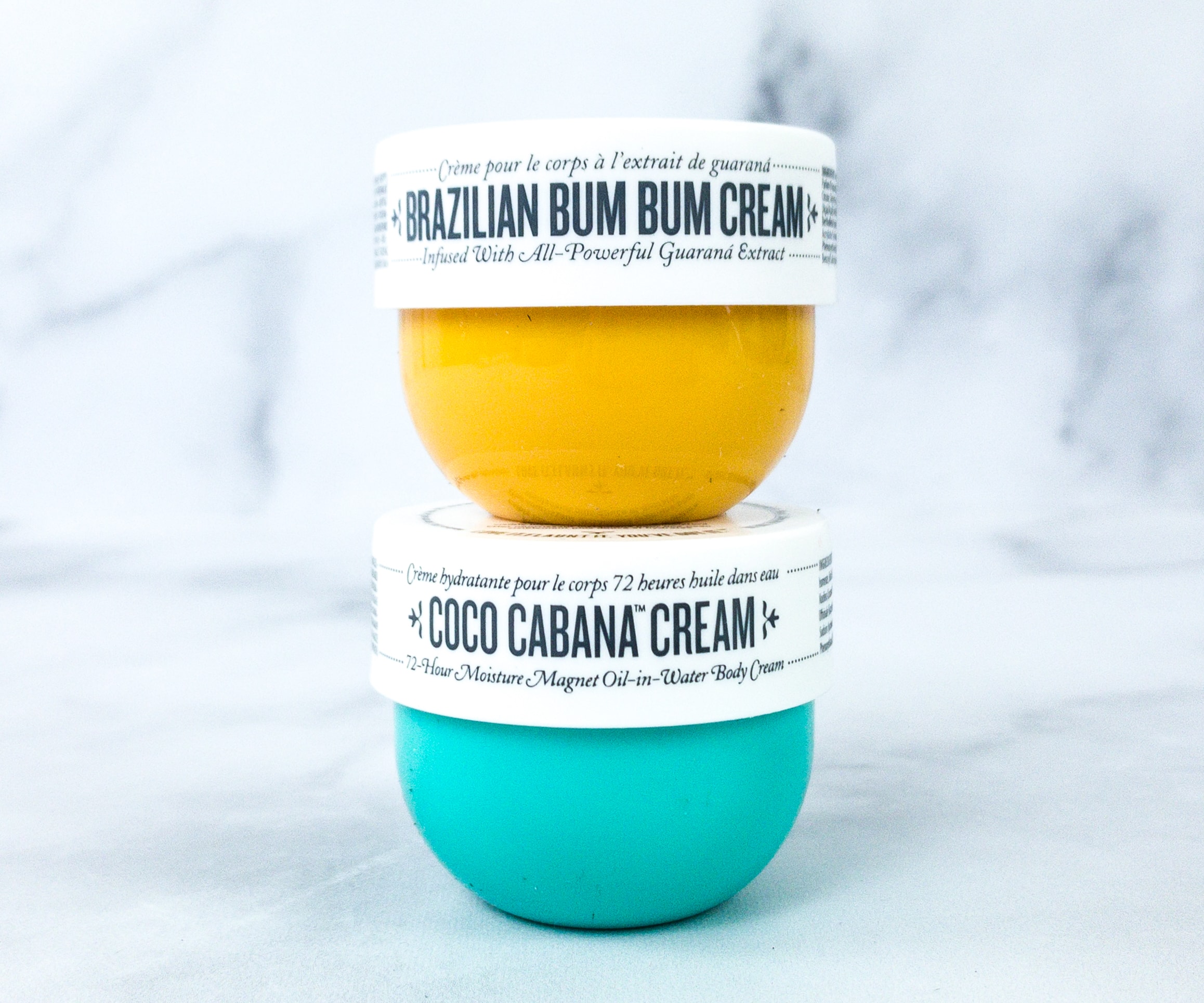 These creams remind me of summer, but they're great to use no matter what time of the year, especially for those who have dry skin like me.
And now items that were also in the regular BOXYCHARM boxes (don't forget, there were variations!)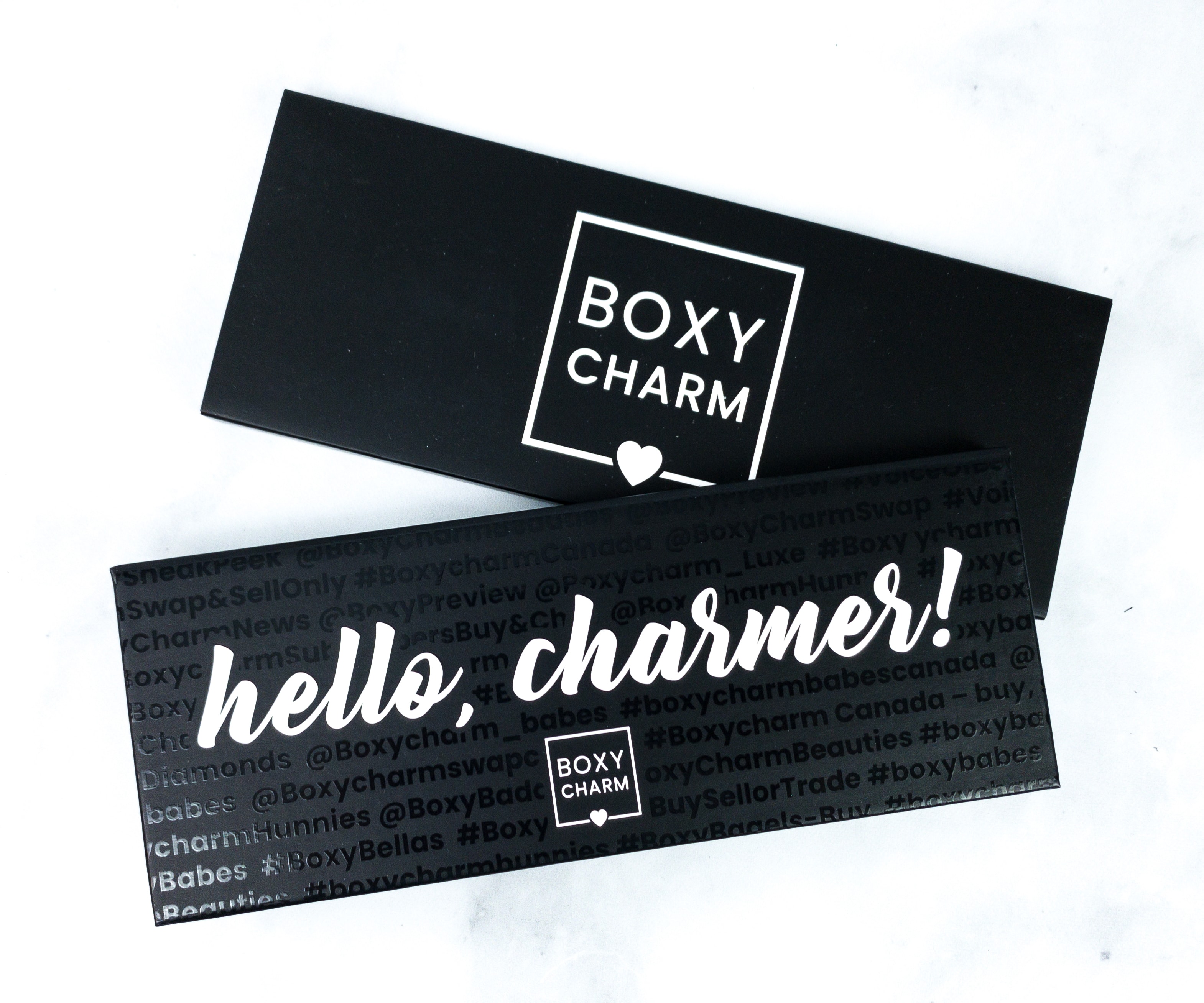 Boxycharm Hello, Charmer! Palette ($39) Everybody gets this item. Here's an exclusive BoxyCharm palette with a combination of 12 matte and shimmery shades.
According to the label, this palette is cruelty-free.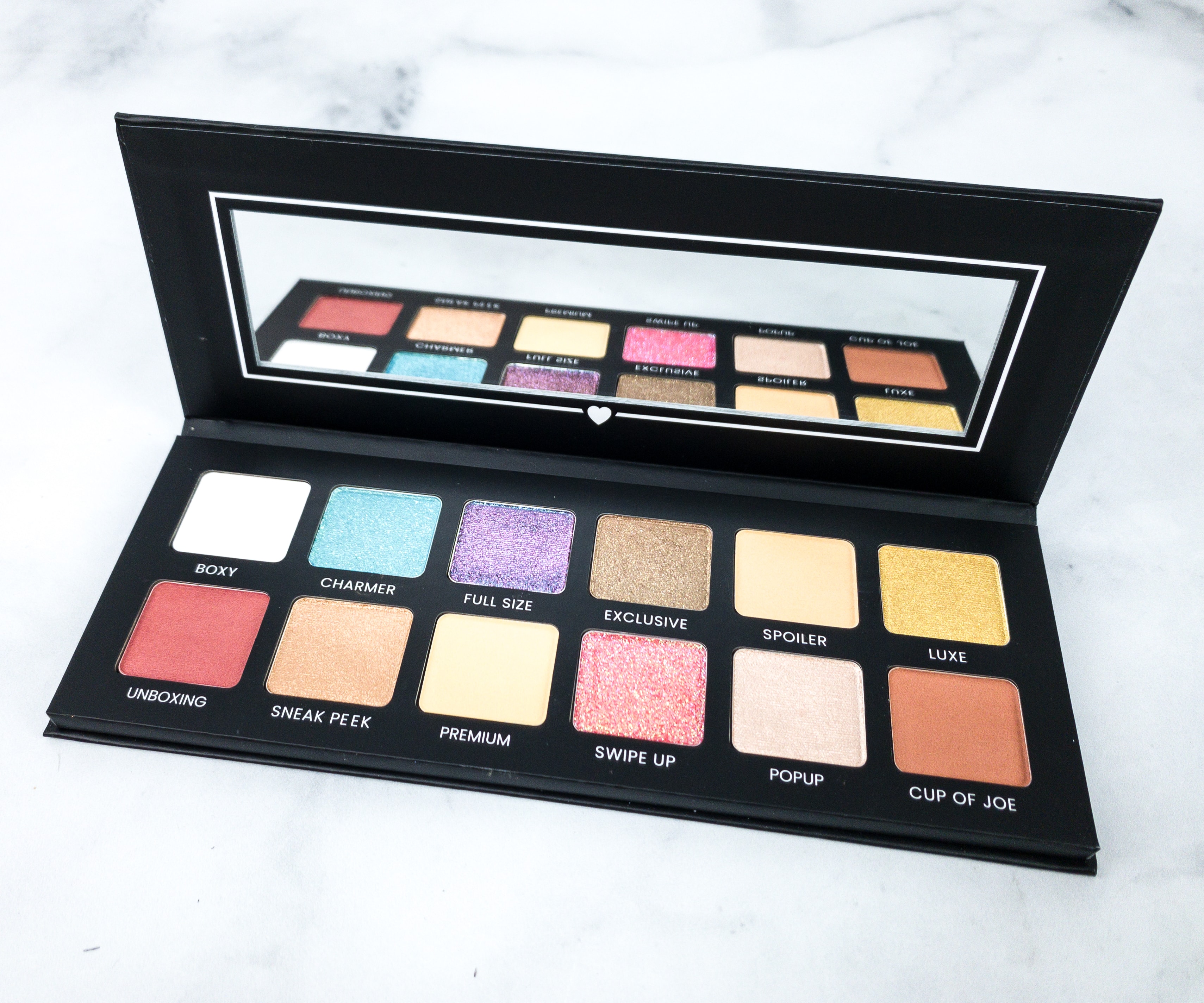 Just like most compact palettes, it comes with a mirror that you can use for touch-ups. Each shade is also properly labeled.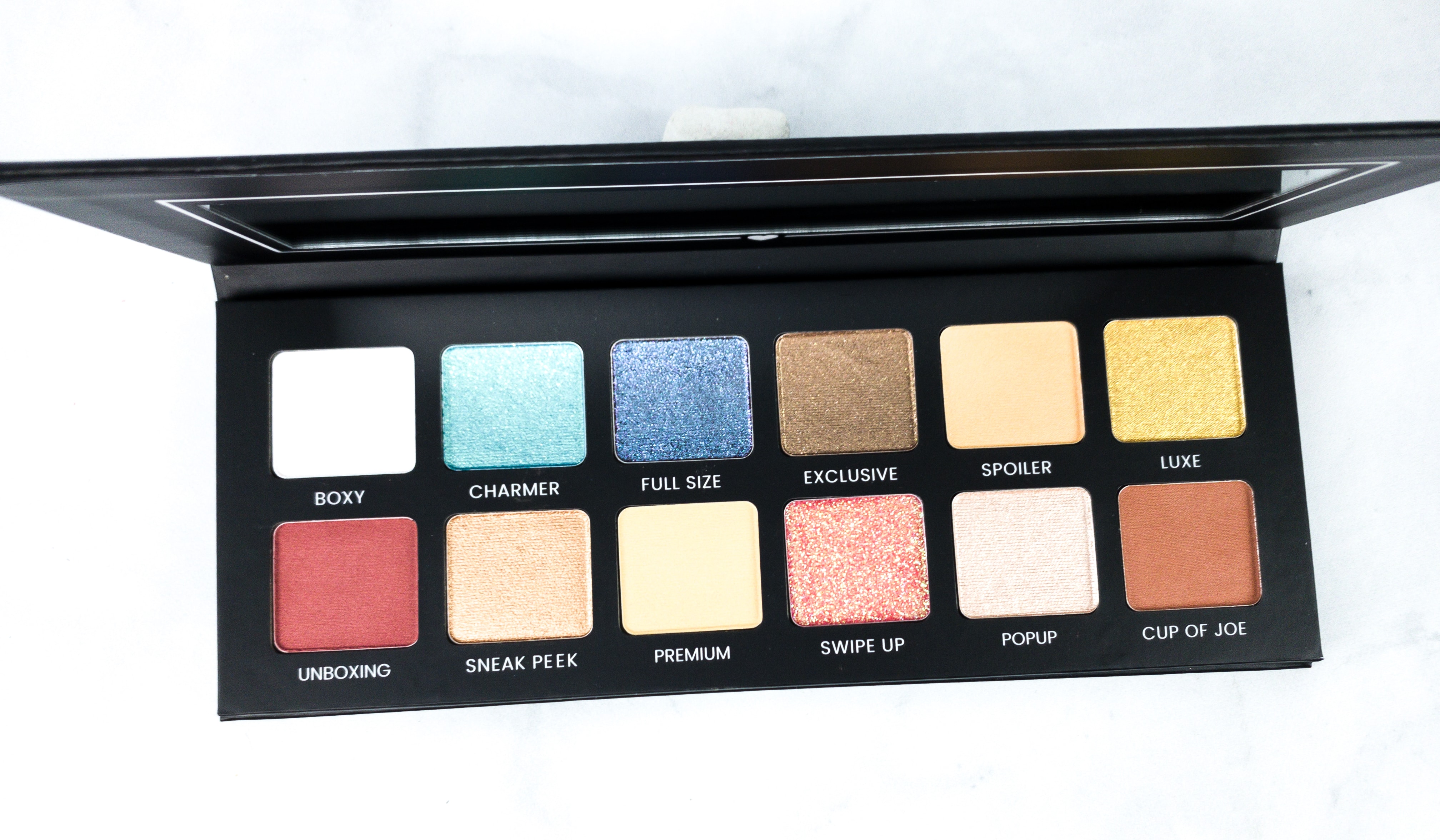 I'm impressed with these highly pigmented colors! They have a good color payoff, and they blend smoothly like butter. This mix of colors and textures are great for creating transitional day-to-night looks.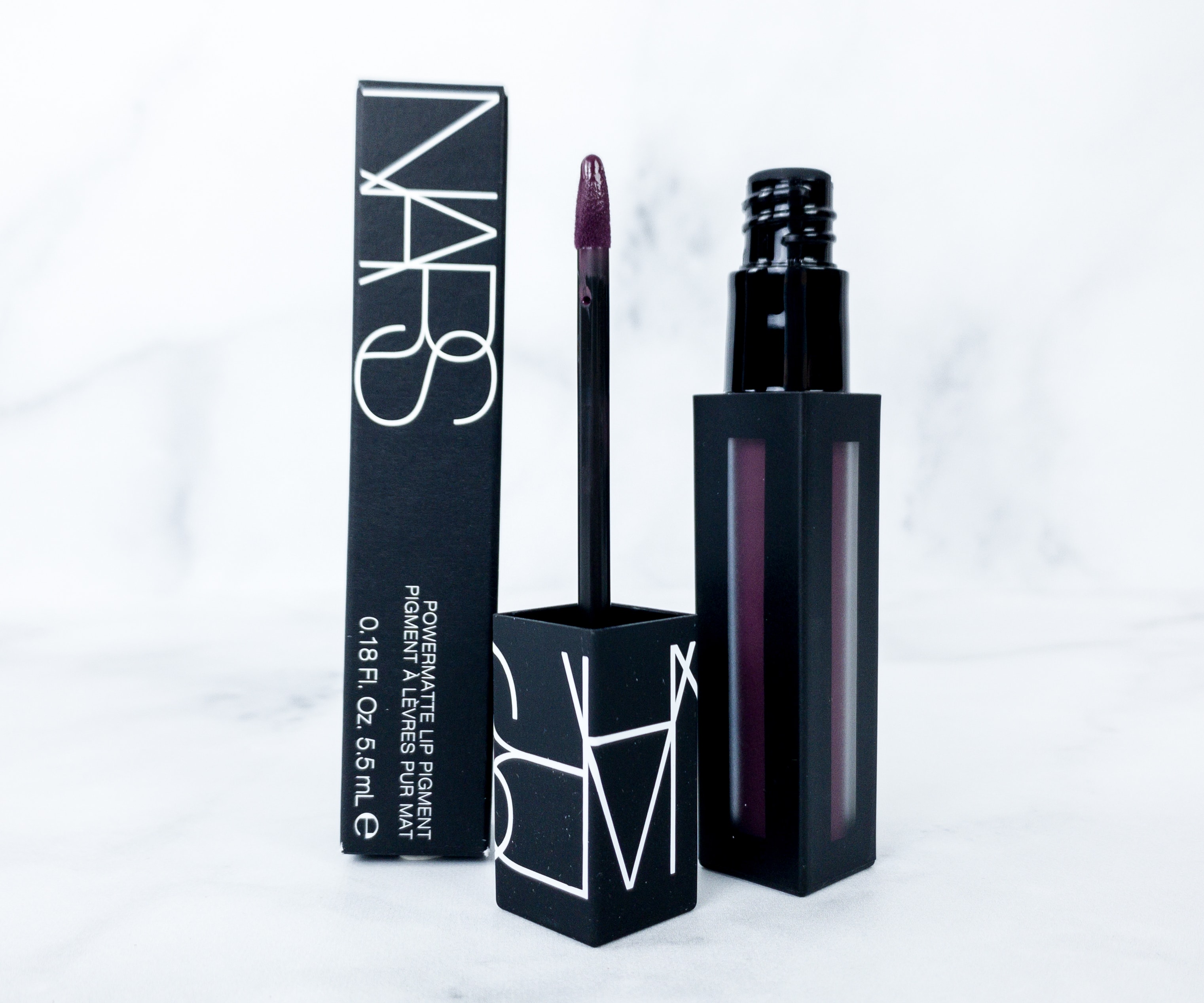 NARS Powermatte Lip Pigment in Wild Night ($26) Subscribers will get 1 out of 5 shades: Get Up Stand Up, Call Me, Wild Night, Give It Up, or Low Rider. I got Wild Night, a deep lilac shade. It's too dark for my liking but there's no denying that this liquid lipstick has a light, creamy formula that feels luxurious on the lips. It comes with a doe-foot applicator which spreads the color nicely and evenly.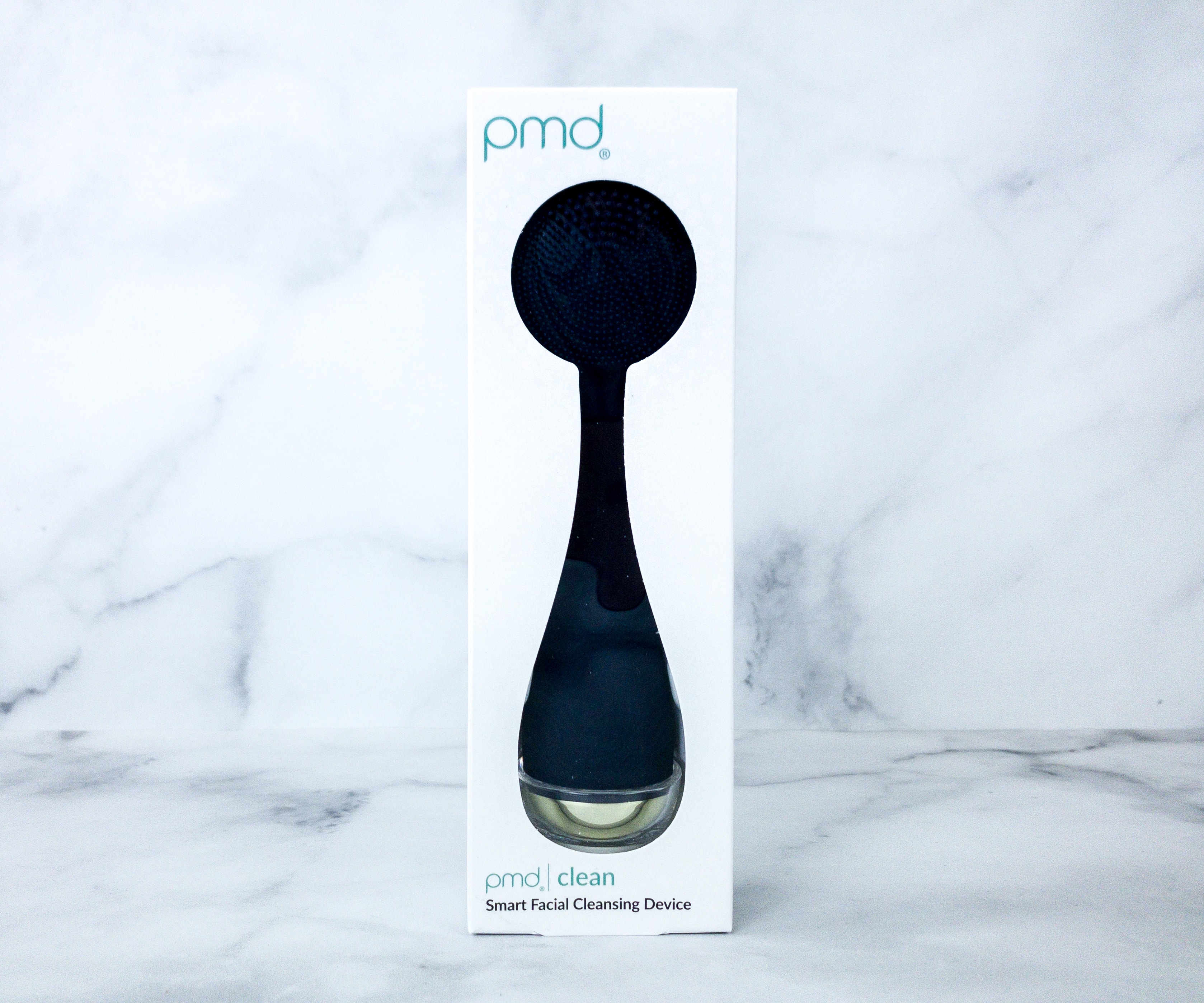 PMD Beauty Smart Facial Cleansing Device ($99) Everybody gets this item but shades vary. I got navy blue! It's not your ordinary beauty tool, it's a smart facial cleansing device capable of producing vibrations to help deep cleanse, lift, firm, and tone the skin.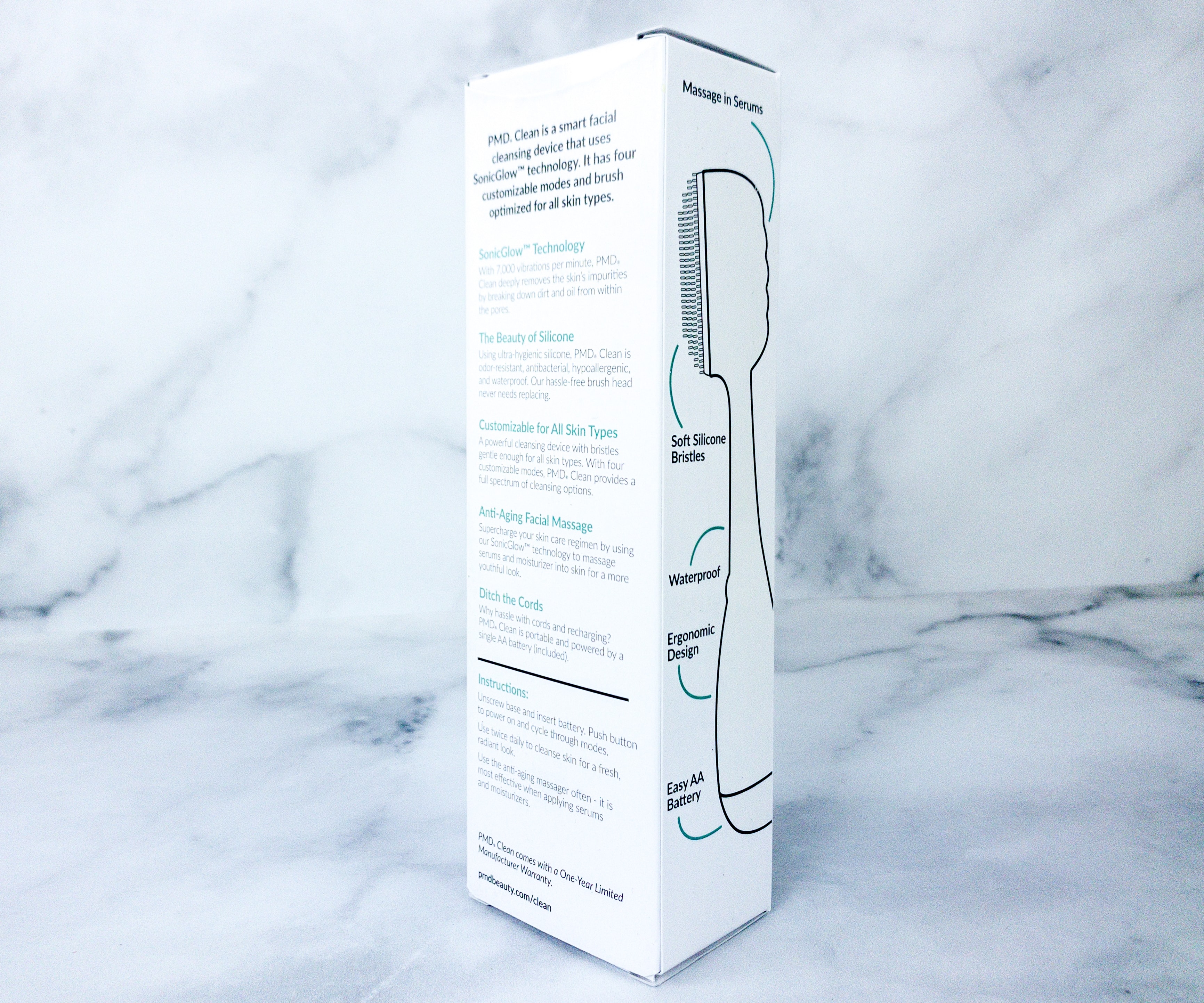 It has 4 modes: Cleansing Mode Gentle Vibration, Cleansing Mode Intense Vibration, Anti-Aging Mode Gentle Pulsation, and Anti-Aging Mode Intense Pulsation.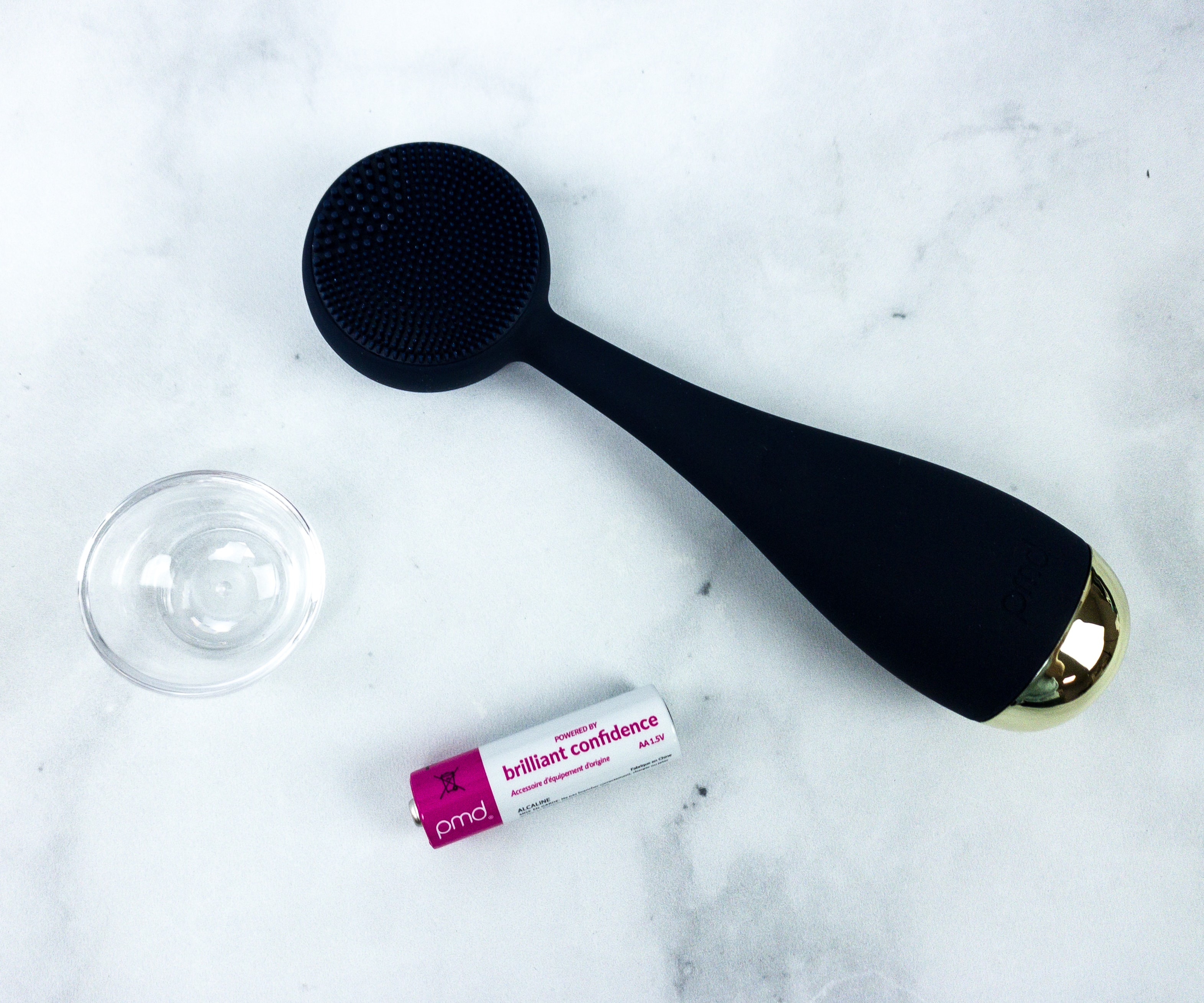 Aside from the device itself, there's also a stand and AA battery. There are no replacement heads necessary, but no worries because it's odor-resistant, anti-bacterial, and hypoallergenic.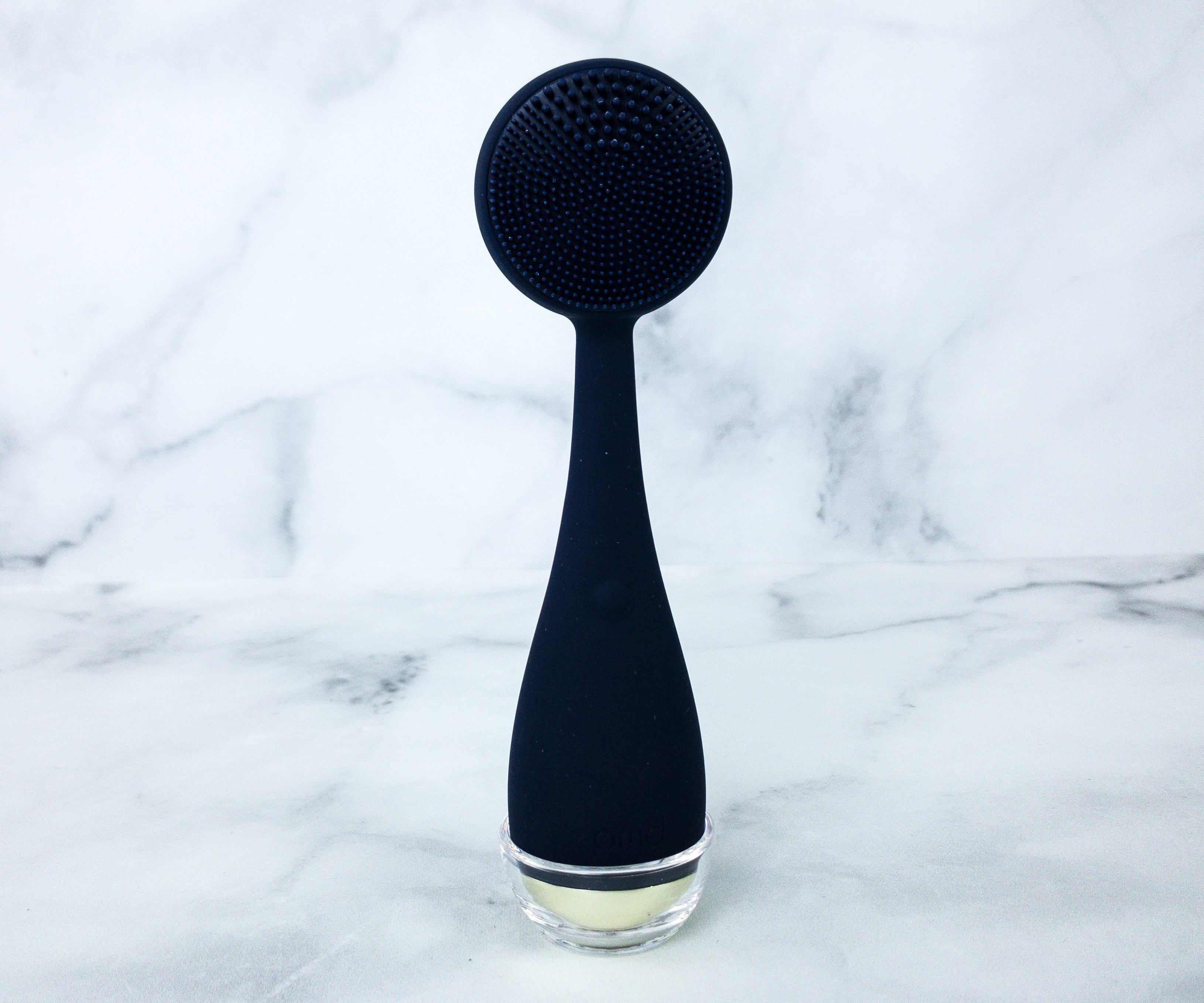 Before using, you have to unscrew the base and insert the battery. Then, push the power button and cycle through the 4 different modes. When not in use, you can simply attach the device to the clear base for easy storage.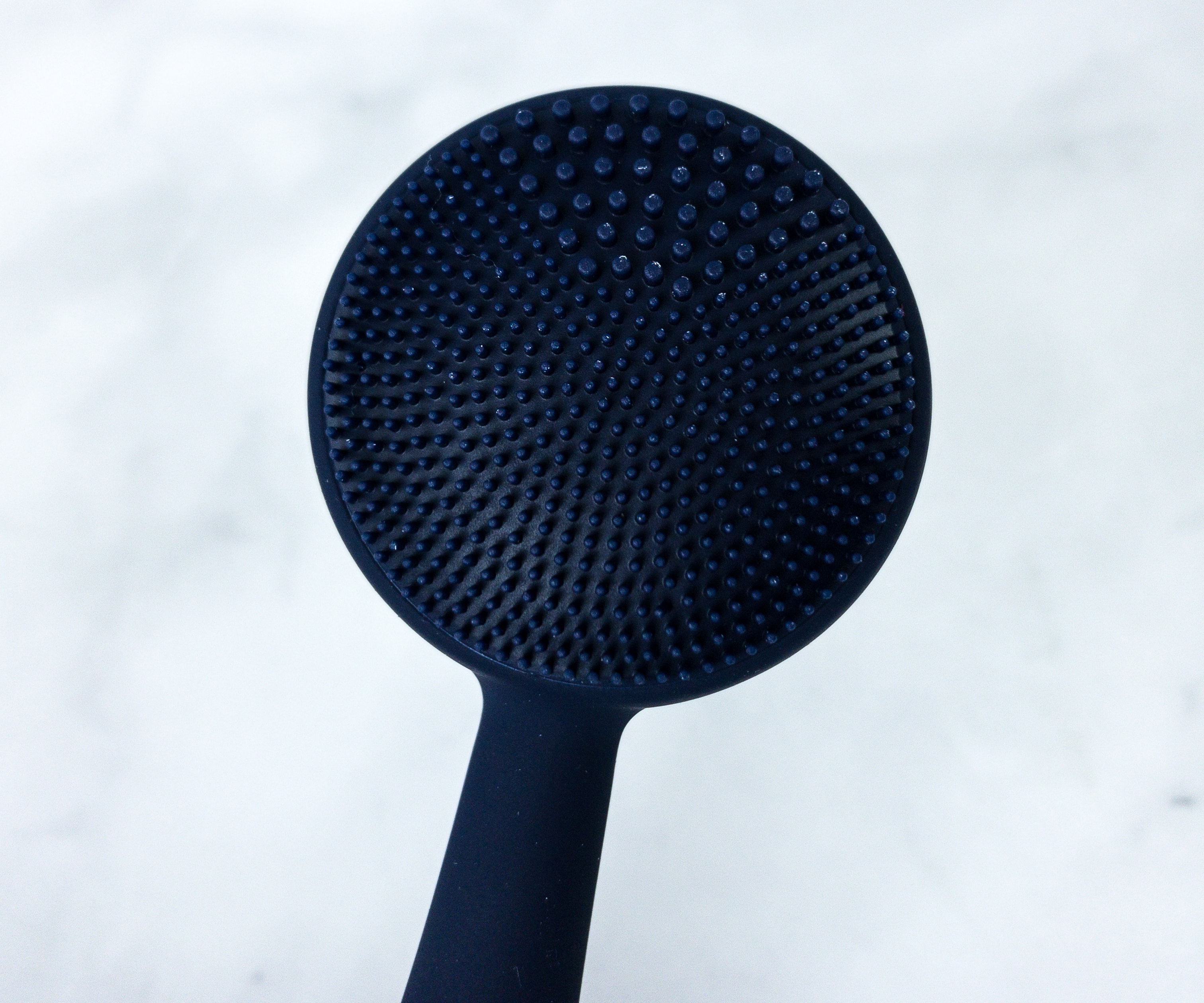 The brush has soft silicone bristles that are gentle enough for all skin types. These bristles minimize the appearance of blackheads and reduce oil congestion.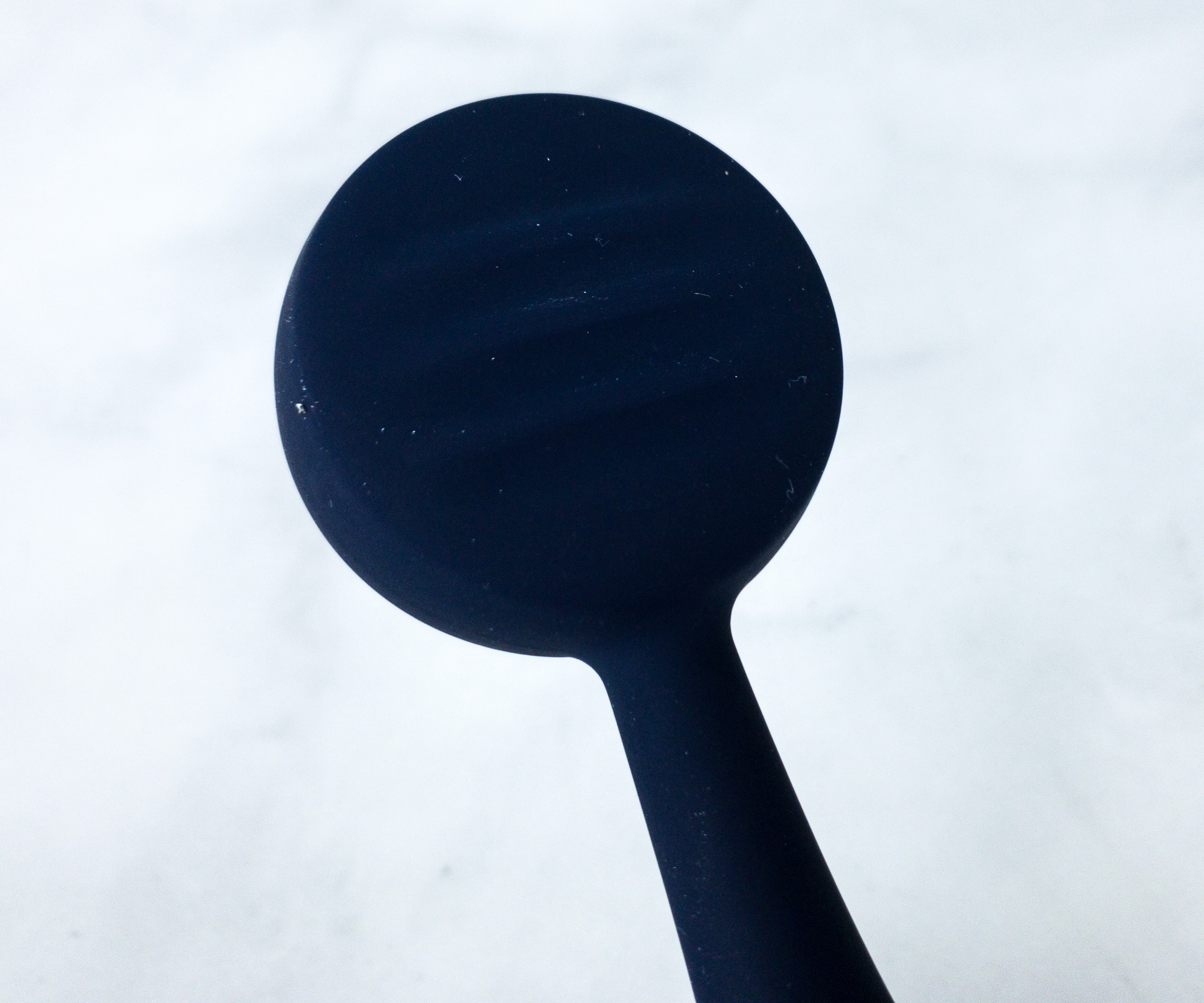 Even the back of the brush is useful. You can use it to massage your face after applying serum, for faster absorption. I like the device's ergonomic design. It's easy to grip and use all over the face.
This is a pretty jampacked box with usable and some high-value items. First off, I really love getting full-sized palettes and I got two in this box! The Tarte palette has gorgeous shades, some of which are my new favorites. The exclusive BoxyCharm palette is also pretty awesome, as the shades are super blendable. The creams were wonderful, and although their scent would be more fitting for summer, they're still great to use any time for keeping my skin at its best condition. Of course, let's not forget the cleansing device! Its retail price is way more than the upcharge for BoxyLuxe! If you're looking for ways to amp up your skincare routine, that device is certainly a great item to try. All in all, I liked this curation which totaled to $313 in retail value!
What's your favorite item in this month's BOXYCHARM?