ZenPop Japanese Packs offers five different boxes from Japan — Sweets, Ramen, Sweets + Ramen, Beauty, and Stationery! You can do a one-time box to try it out, or subscribe and save some money. I've reviewed a couple of their boxes before and was so impressed with the curation!
DEAL: Get $3 off on your first box on any plan! Use the coupon code HELLOSUB2020 at checkout!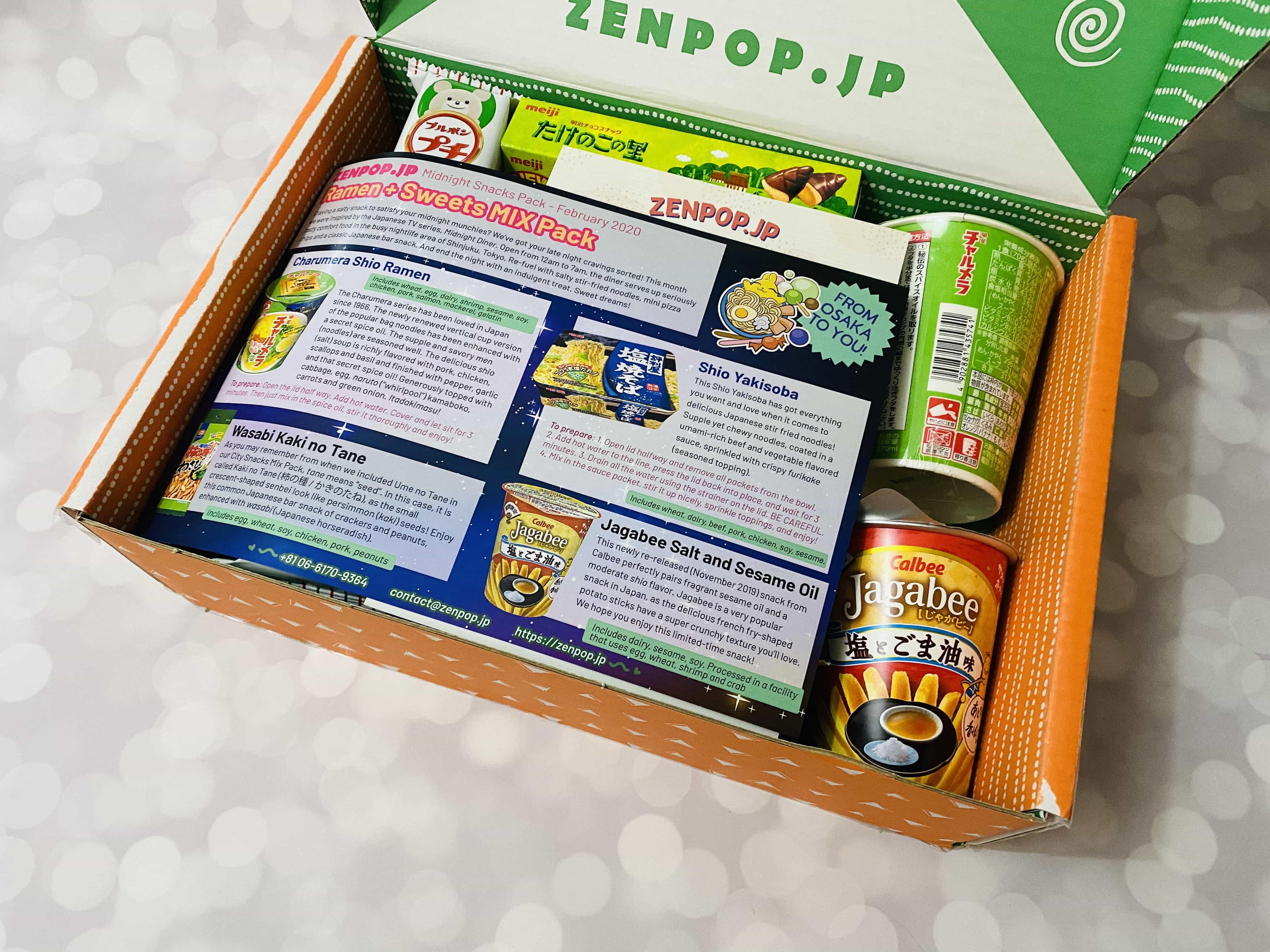 First peek!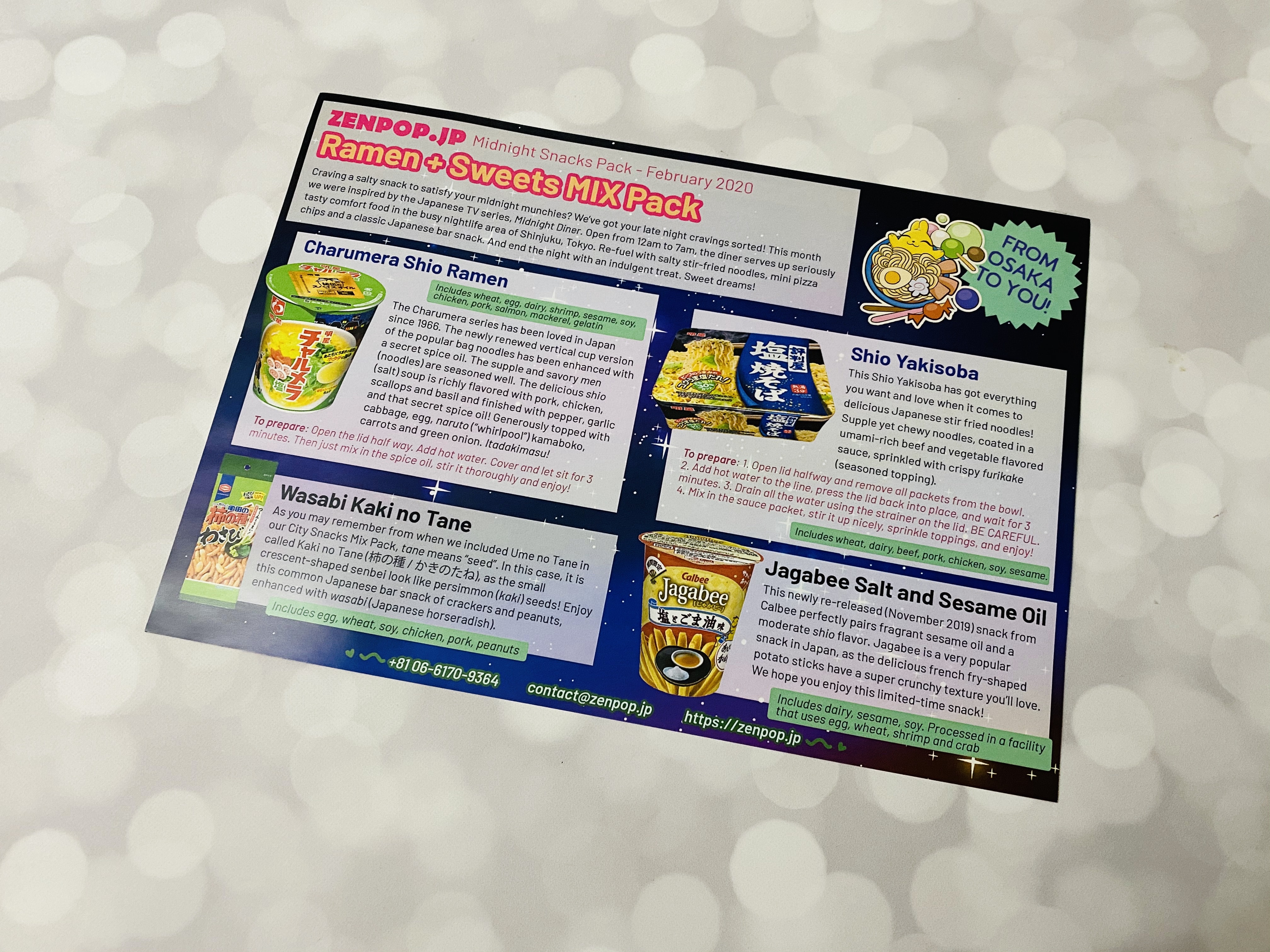 The information sheet is a standard size piece of paper; everything is described and it shows the variations that were sent as well! The info sheet is in full colour printed with photos and descriptions of each item. The February theme is Midnight Snacks! Sometimes you need a little pick-me-up late at night and these snacks will satisfy your cravings for salty and sweet!
Shio Yakisoba — A delicious instant yakisoba with a peppery dry seasoning to put on top. This unique yakisoba has a strainer built into the container so you can drain the water out after soaking the noddles. I was surprised by how peppery the seasoning was and definitely sneezed a few times while enjoying the umami flavour of the sauce and the chewy noodles.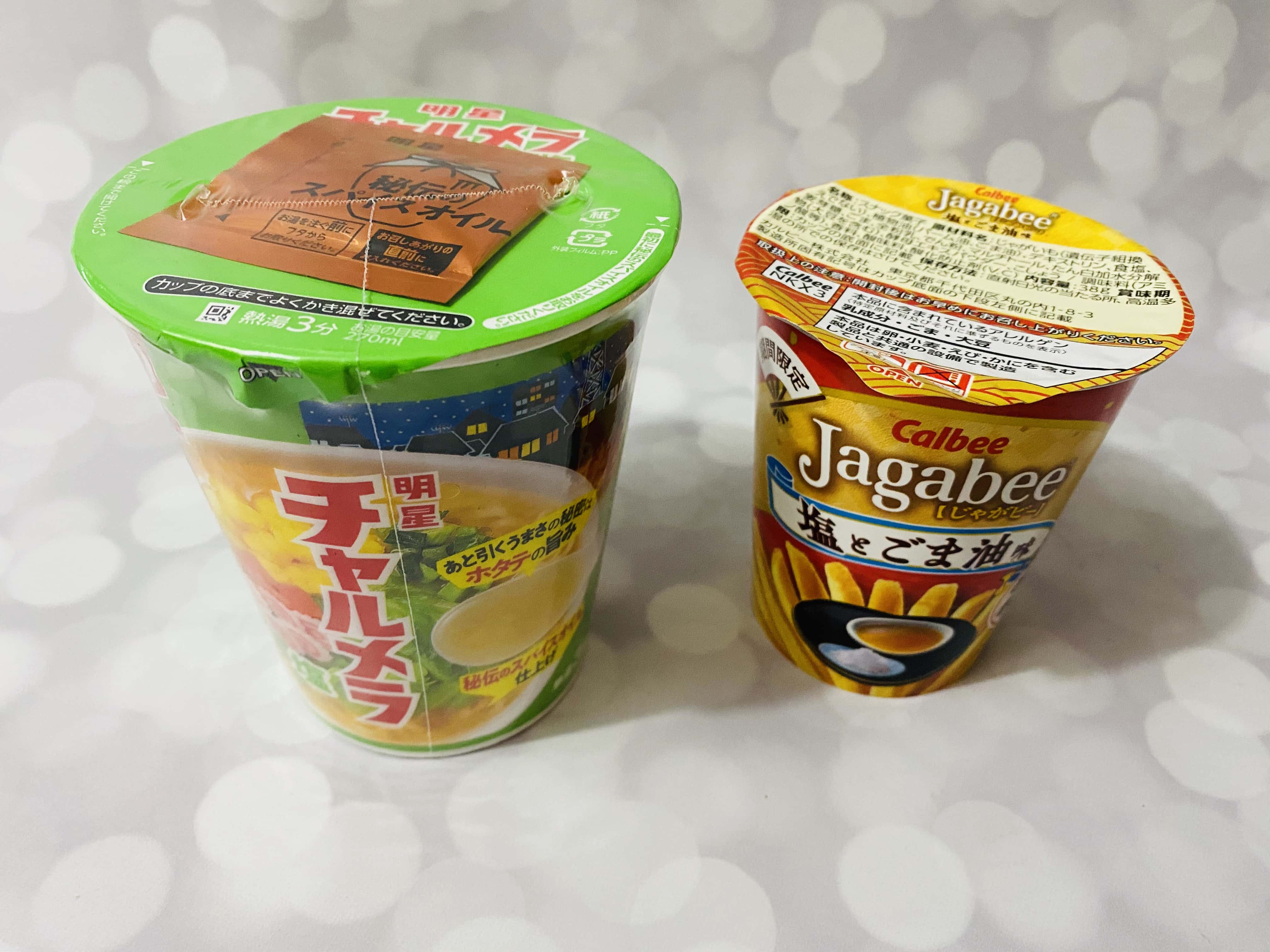 Charumera Shio Ramen — Another shio brother, but this time it's a traditional ramen. This ramen had lots of toppings like green onion, egg, and fish cakes. The flavour was a lot milder and the broth was a bit creamier. I enjoyed this as well.
Sesame Oil Jabaee — Jagabee snacks are the best! This is a brand new flavour with sesame oil and salt. The sesame oil adds a toasted flavour that is hard to describe but is really good.
Mini Shimi Choco Corn — Small puffed chocolate corn snacks. These are so cute!
Wasabi Kaki no Tane — An assortment of mini rice crackers with a wasabi flavouring.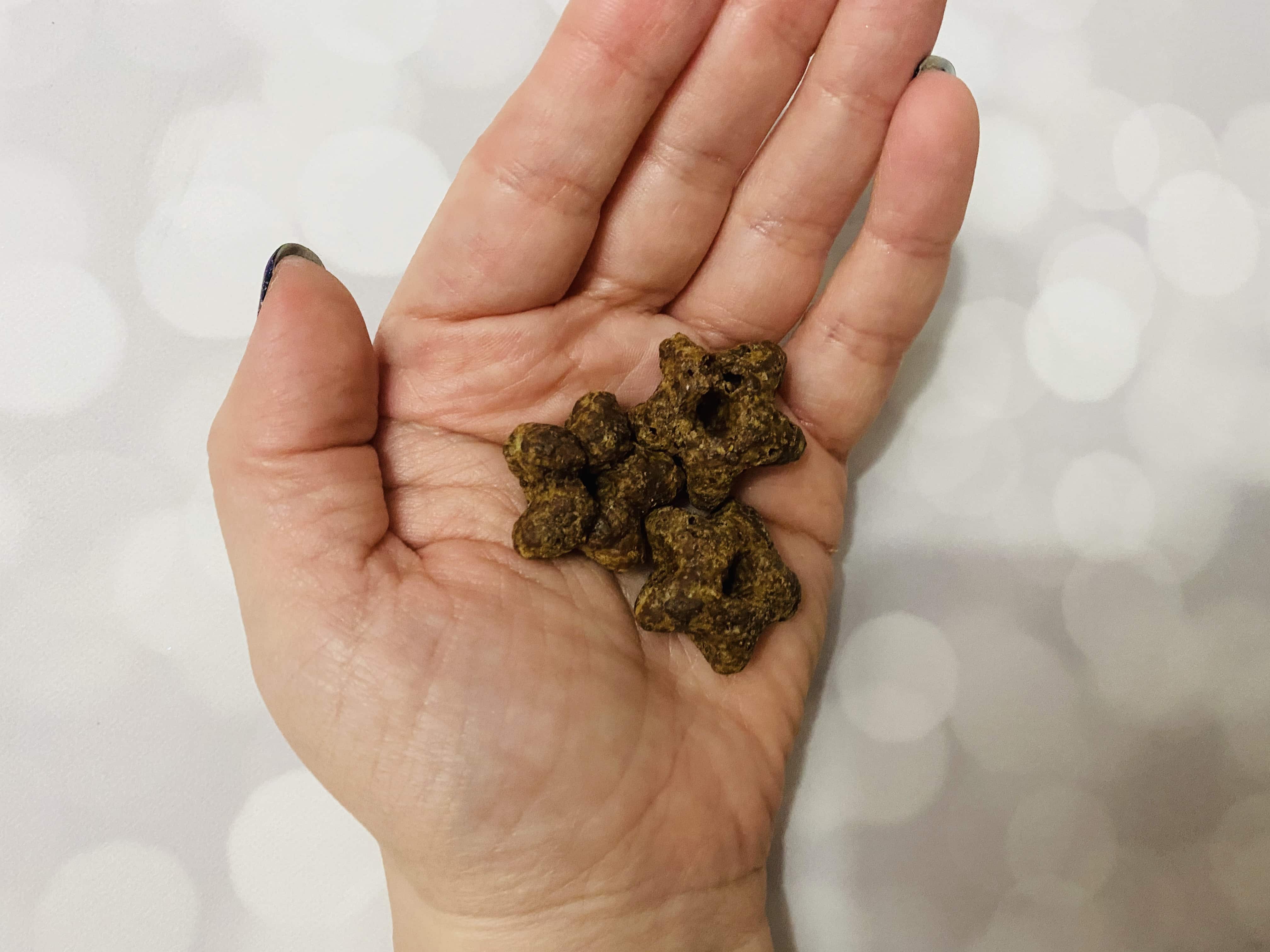 The choco stars are absolutely addicting and soaked in the chocolate so you taste it in every bite!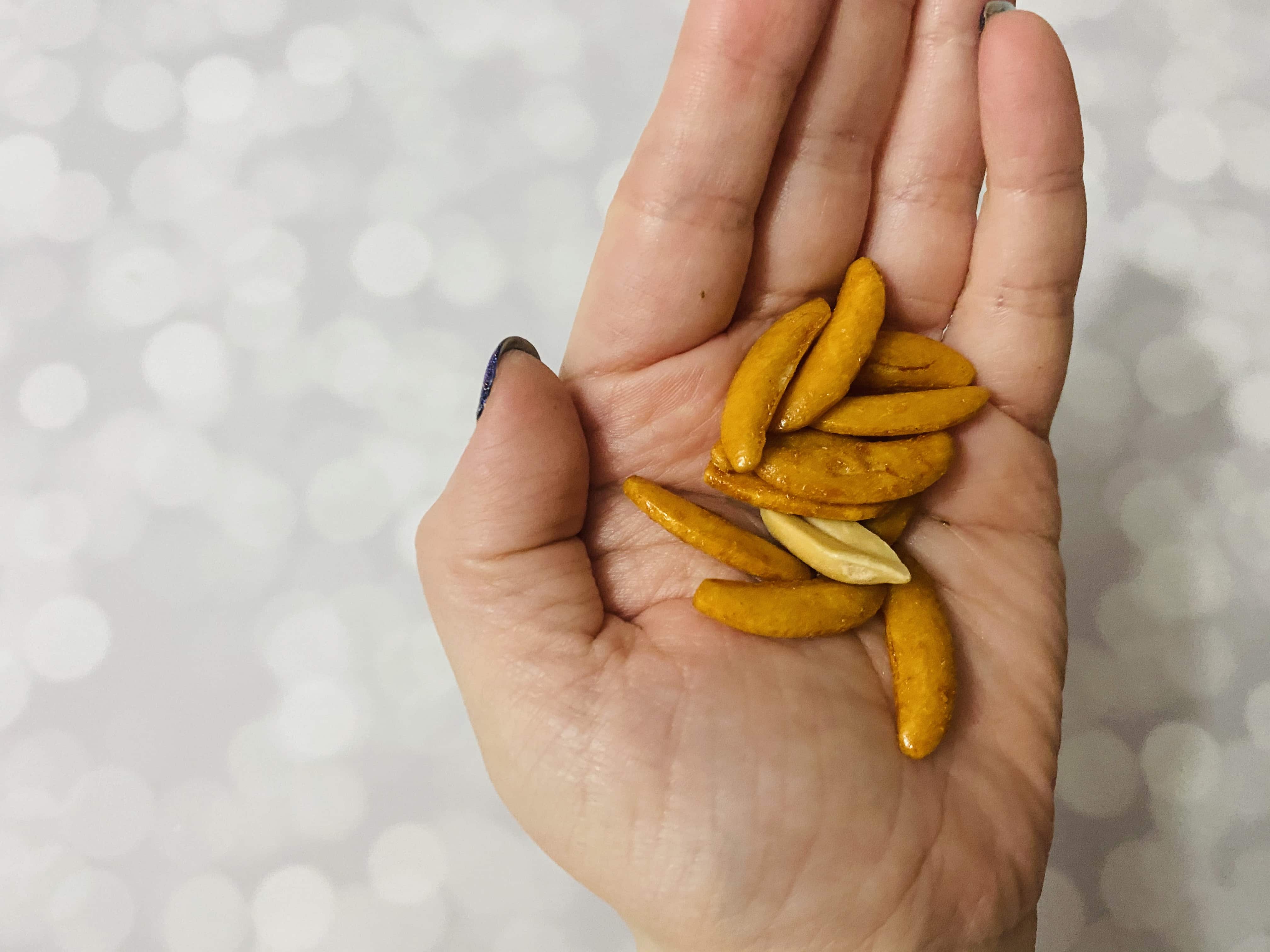 The snack mix even has some peanuts tossed in there. A great snack to accompany a beer, I think.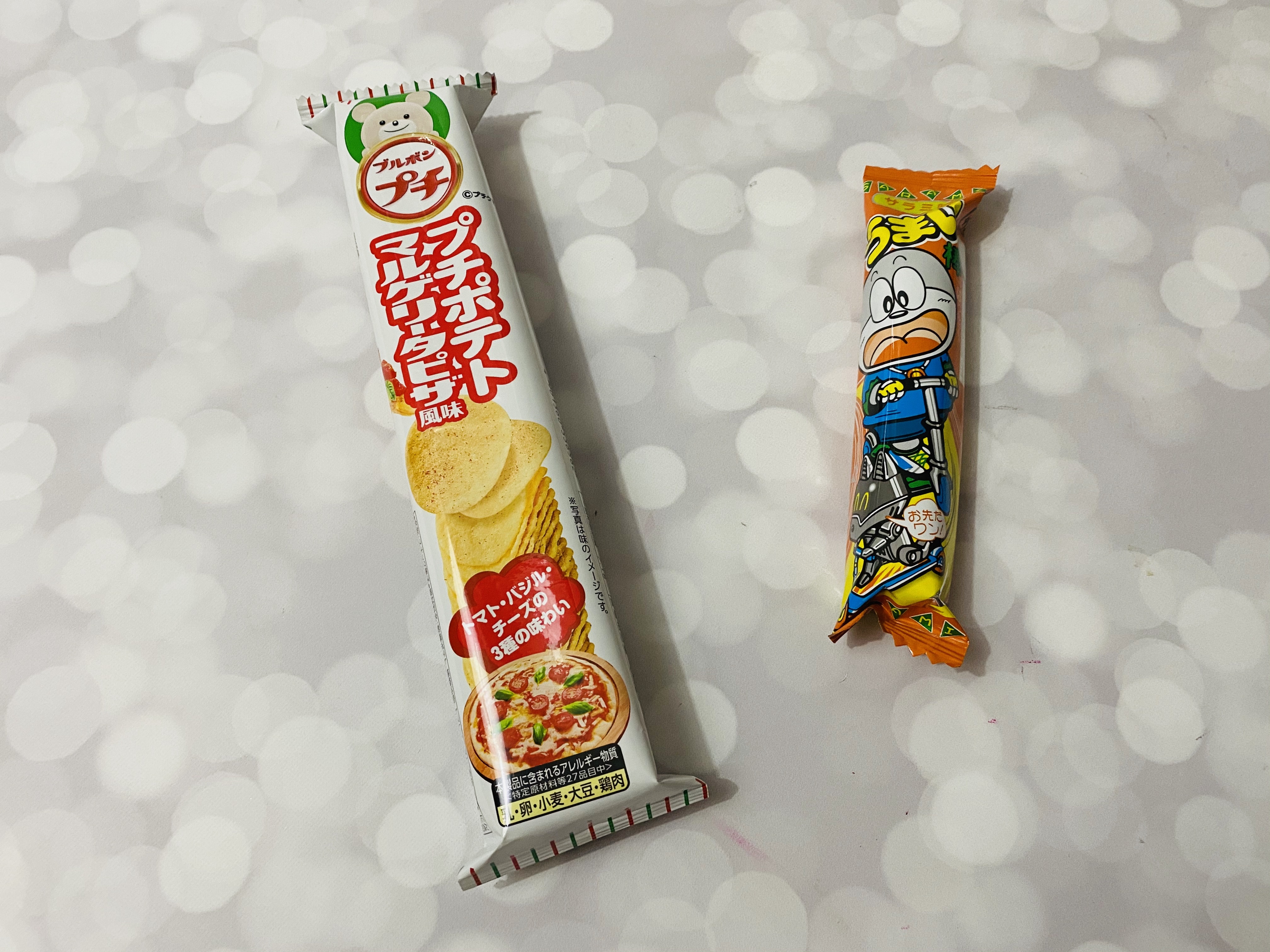 Pucchi Margherita Pizza Chips — Pucchi means small in Japanese, and this is like a mini Pringles stack of pizza flavoured chips. To me I really only tasted the tomato, so it was a bit of a letdown as I wanted maybe some cheesiness or some spice. But they were addicting nonetheless and they tasted a bit like ketchup chips just not as strong.
Salami Umaibo — My fave snax from Japan are these giant pugged corn snacks. This one had a salami flavour I've never tried before!
Take no Ko no Sato Chocolates — "Take no Ko" translates to "bamboo shoots" in Japanese, or rather literally "bamboo child." I've been studying Japanese for a few months so it's cool to be able to read some of the text. This is a chocolate covered cookie in the shape of bamboo shoots. Meiji chocolate is some of the best — try it if you ever get the chance!
DonDonYaki — Another of my favourites, these are small rice crackers with a savoury Dondonyaki pancake flavour. These are sooo addicting and really salty. A perfect treat to indulge a craving!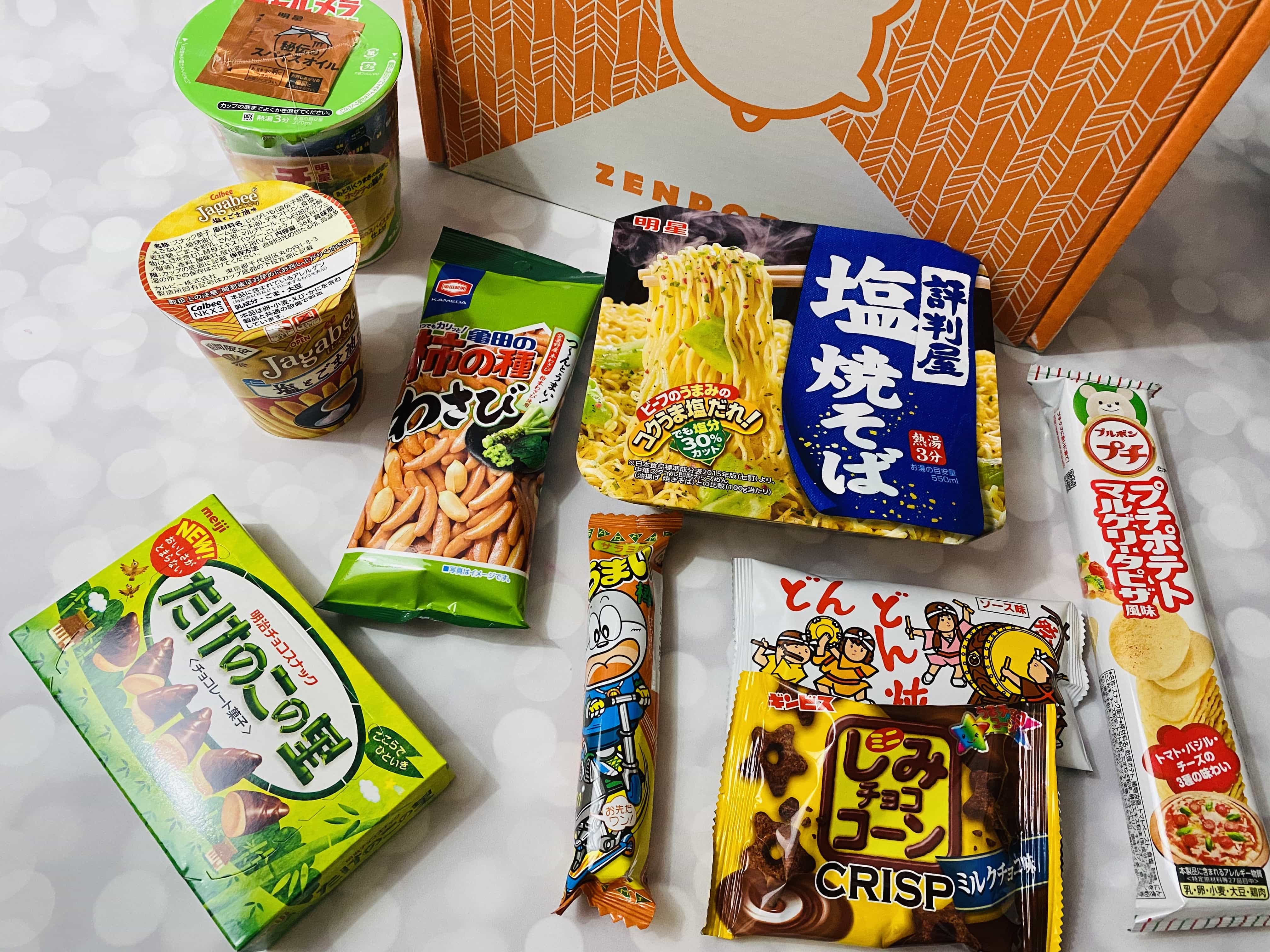 The February box had an awesome combo of ramen and other snacks. I love the variety that ZenPop always sends. This is a great box to give you a little taste of everything!