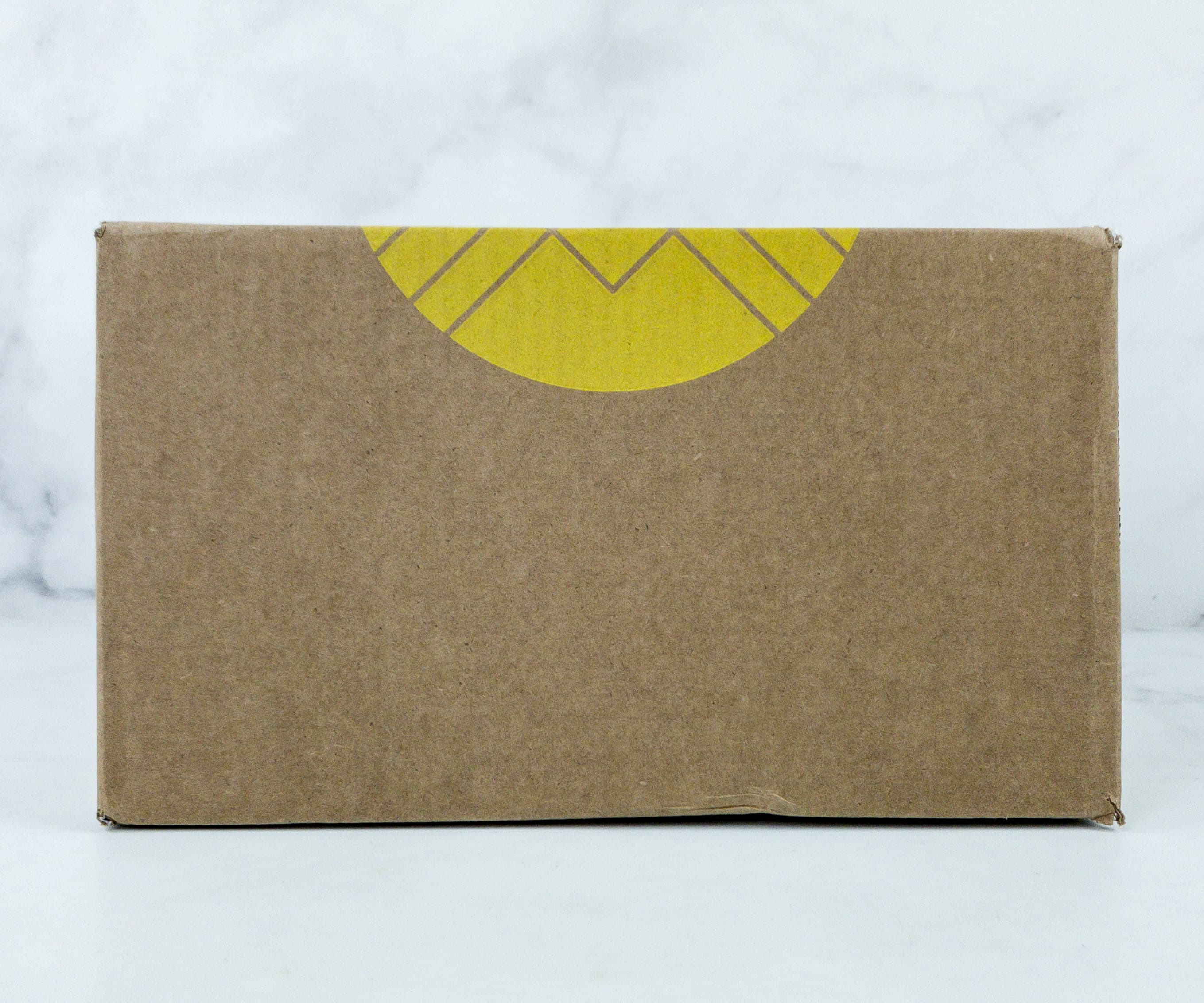 Stitch Fix Kids is a personal styling service for kids clothing ranging from sizes 2T to 14. At $20 styling fee for each box, you'll get 8 to 12 items with retail price ranging from $10 to $35 when it is shipped to you. You will be asked to share some styling preferences first when you sign up for this box so that the items included will be curated accordingly. If there are clothes that don't fit your child, you can always return them by the return envelope included in the box. If you do decide to keep all of the items, you will get 25% off on the whole box.
This is the review of Stitch Fix Kids for Little Girls.
The box is sealed with a Stitch Fix tape.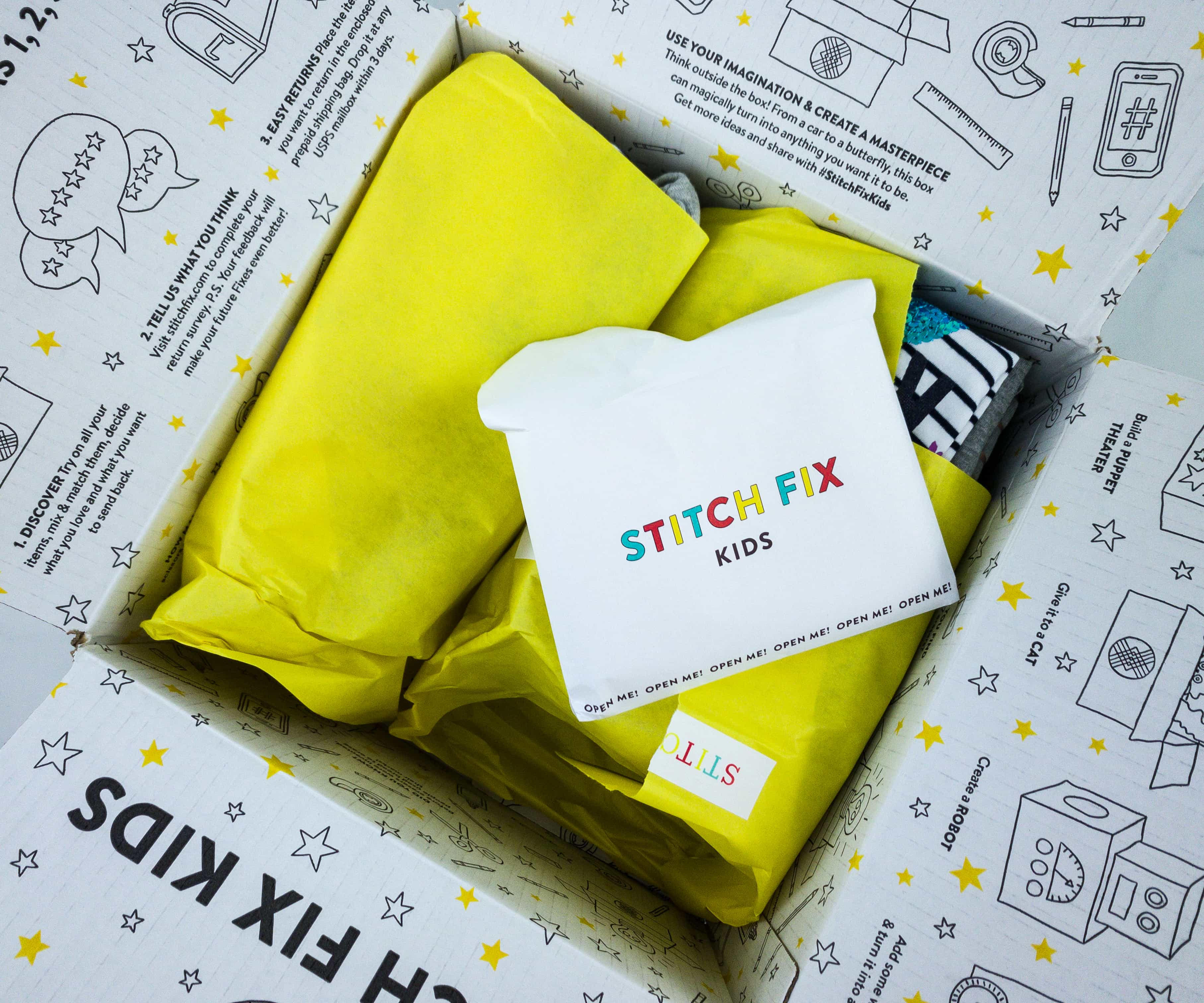 When you open the box, you will see several cards on top with the rest of the items hidden away. The flaps of the box contain everything you need to know about how the service works.
There's also a Stitch Fix envelope in the box.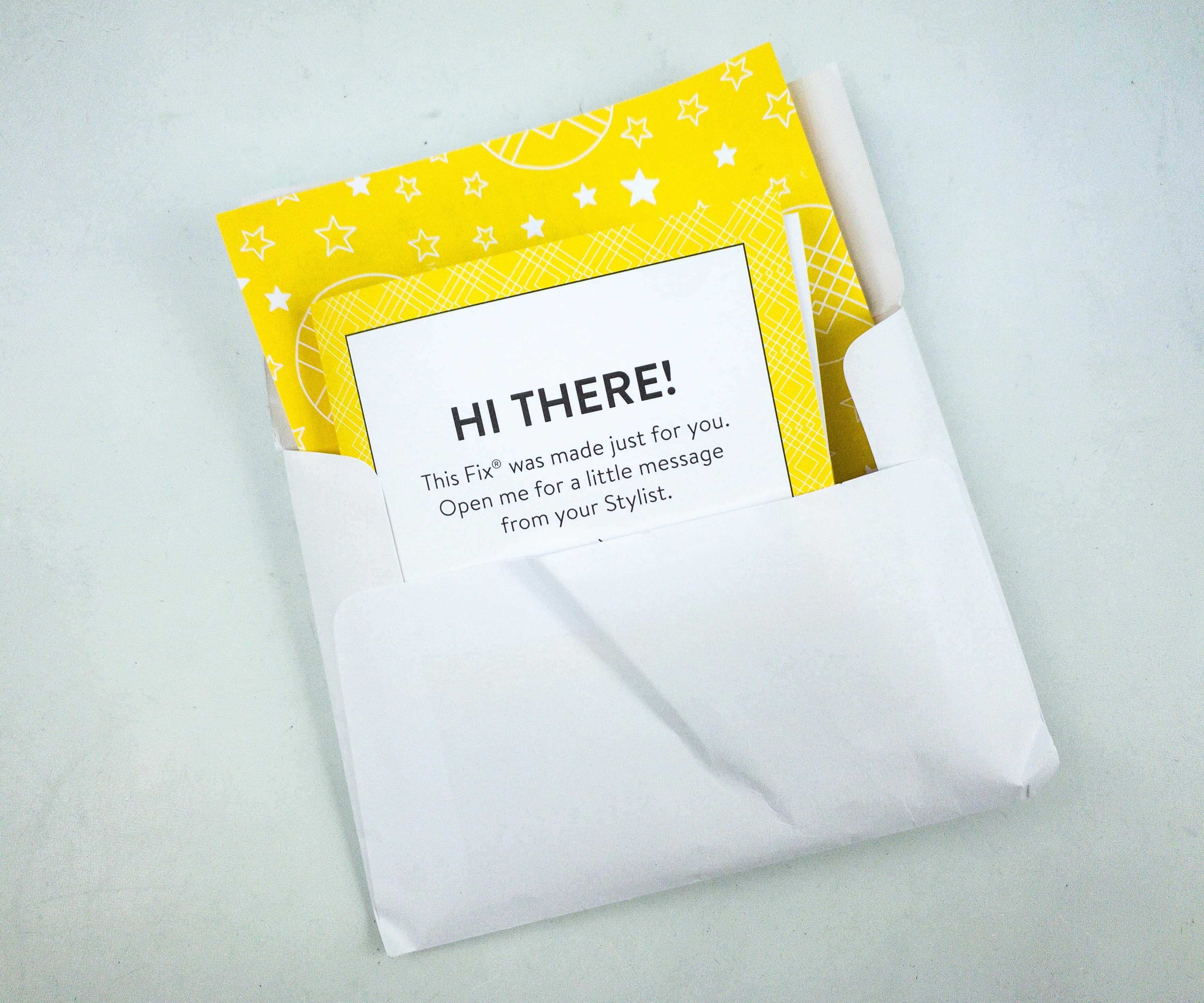 It contains a welcome card!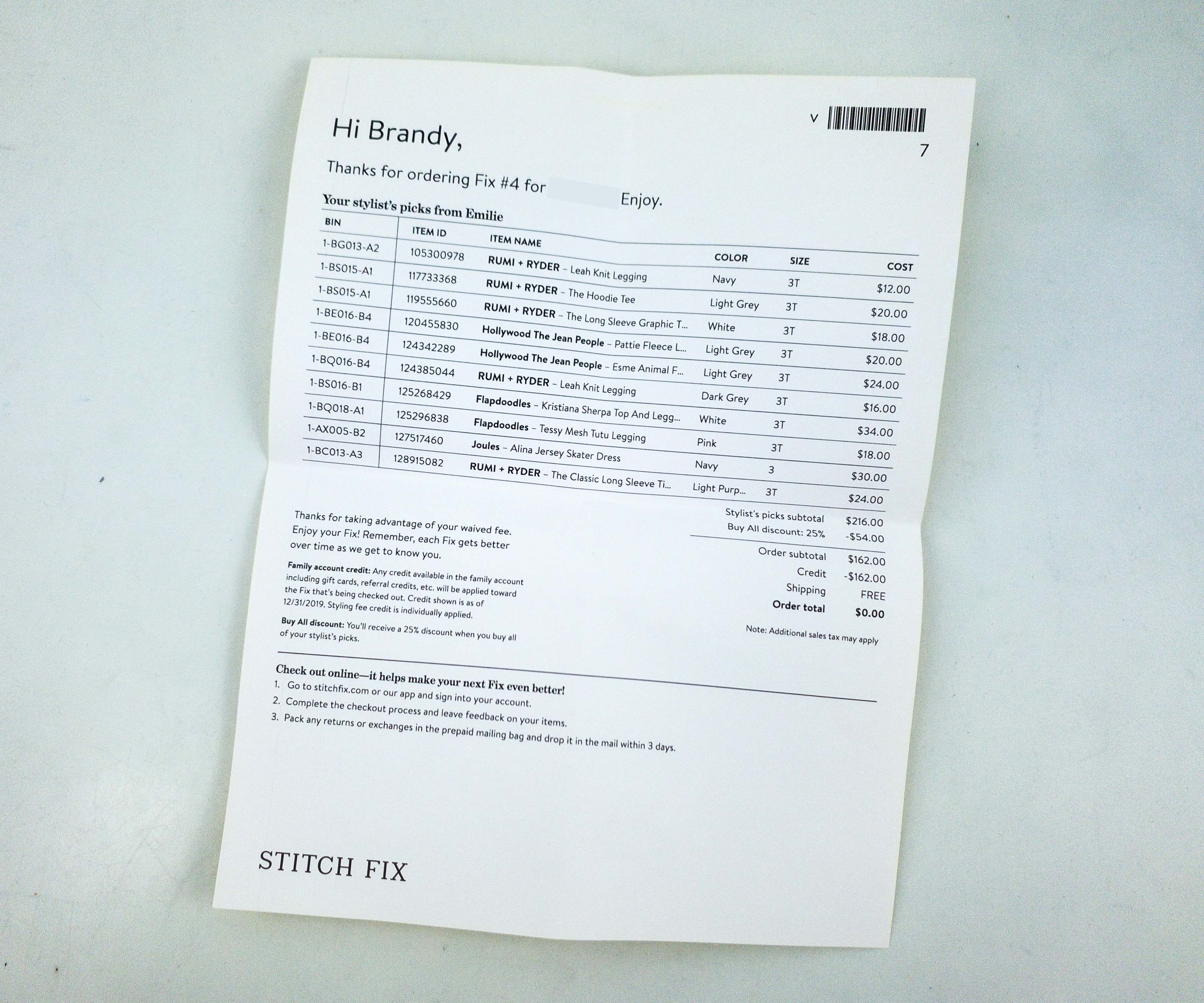 There is a list of all the items included in this box, along with their size and their price. This way, it will be easier for you to compute how much you'll be paying if you'll get individual items.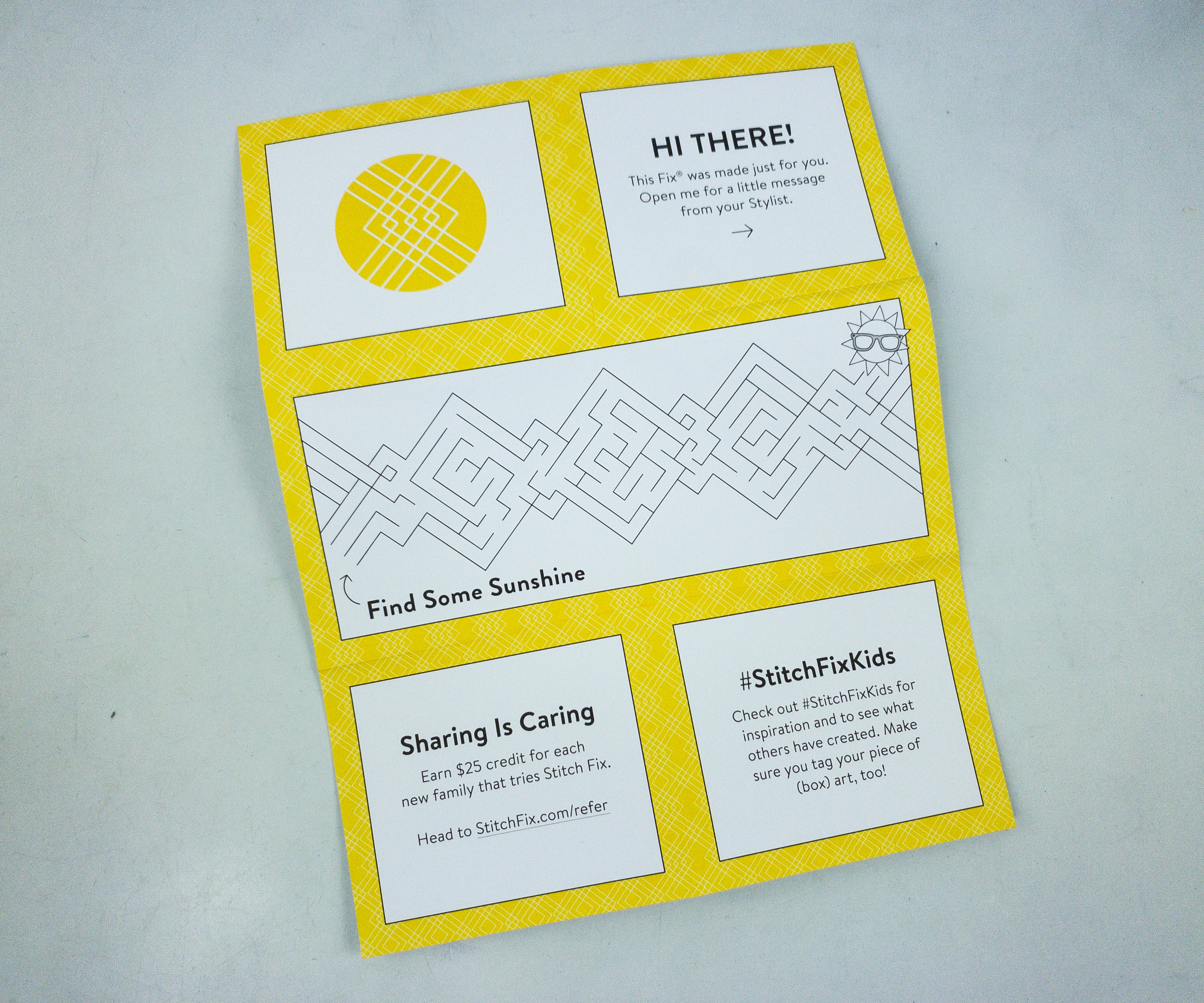 There's also a mini-game!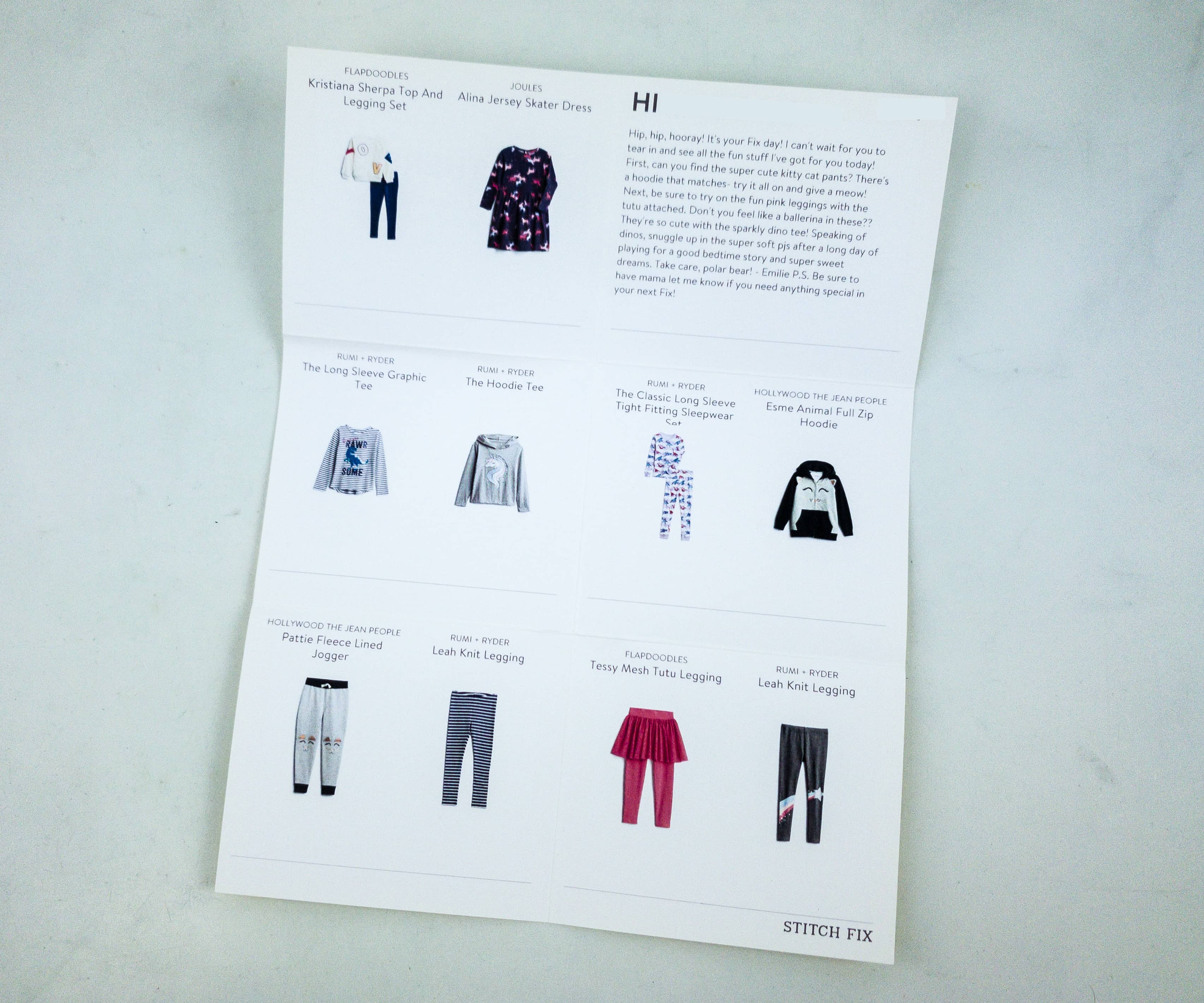 Flip the sheet over and you will see the message from this month's stylist as well as the photos of the items inside this box.
StitchFix started it off on the right foot with this cute set of StitchFix stickers.
The return envelope is already included in the box so you can return the items easily.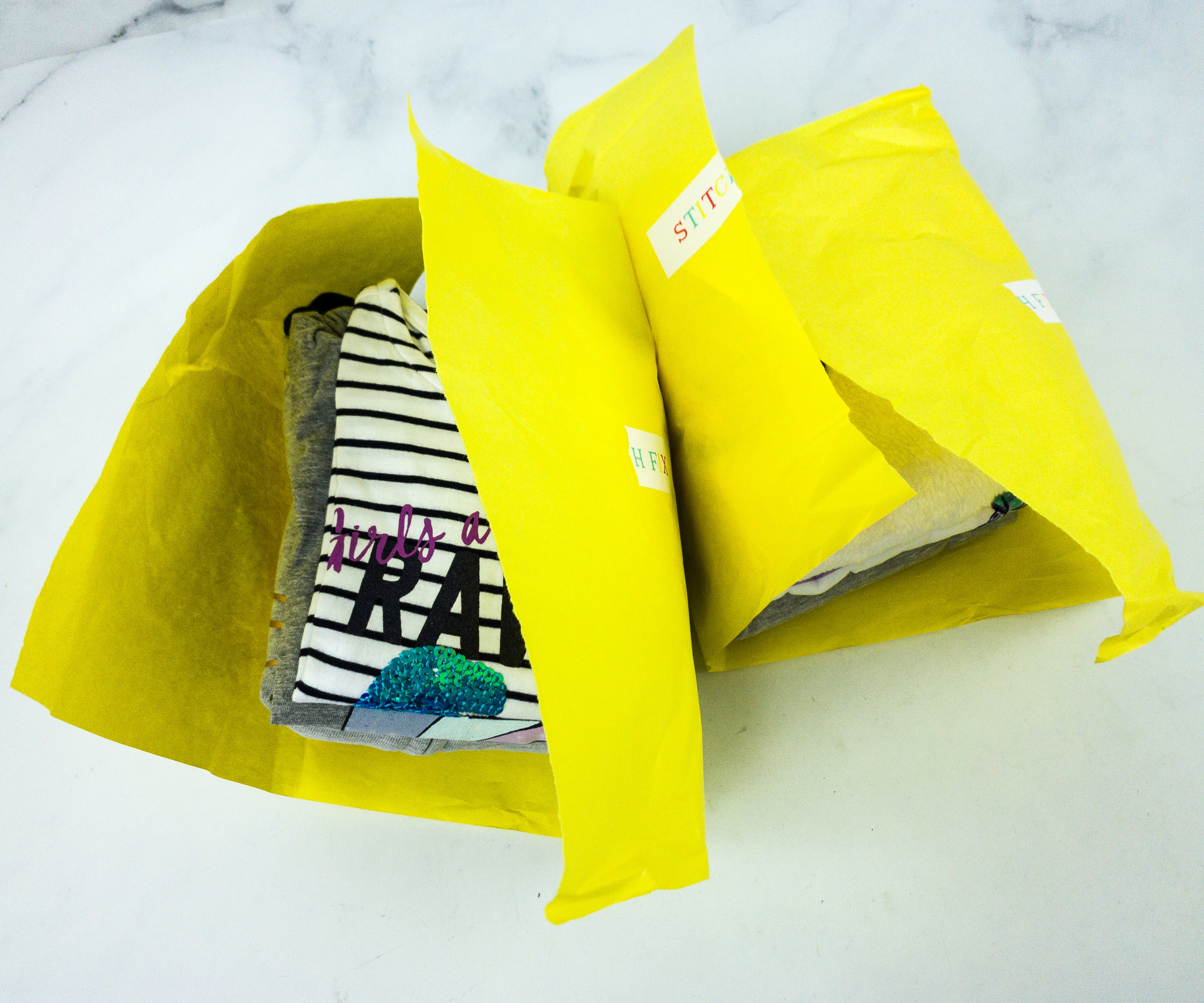 We're so excited to see the new items! All the items are wrapped in yellow paper with a colorful Stitch Fix sticker.
Everything in my box.
Joules Alina Jersey Skater Dress ($30) YAY UNICORNS! This dress is so cute! It has different shades of purple and pink unicorns all over!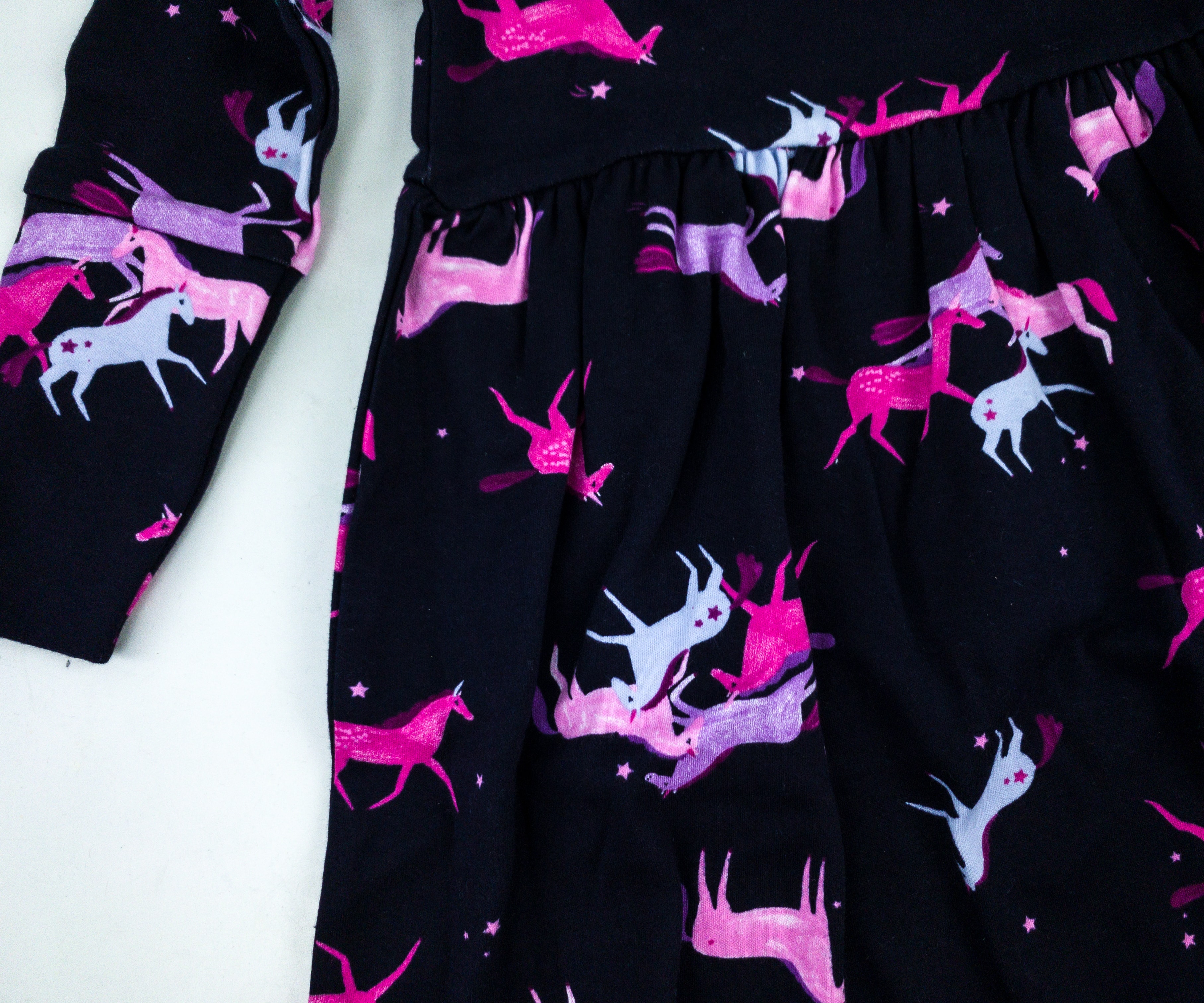 It is cut in the waist area with an A-line skirt.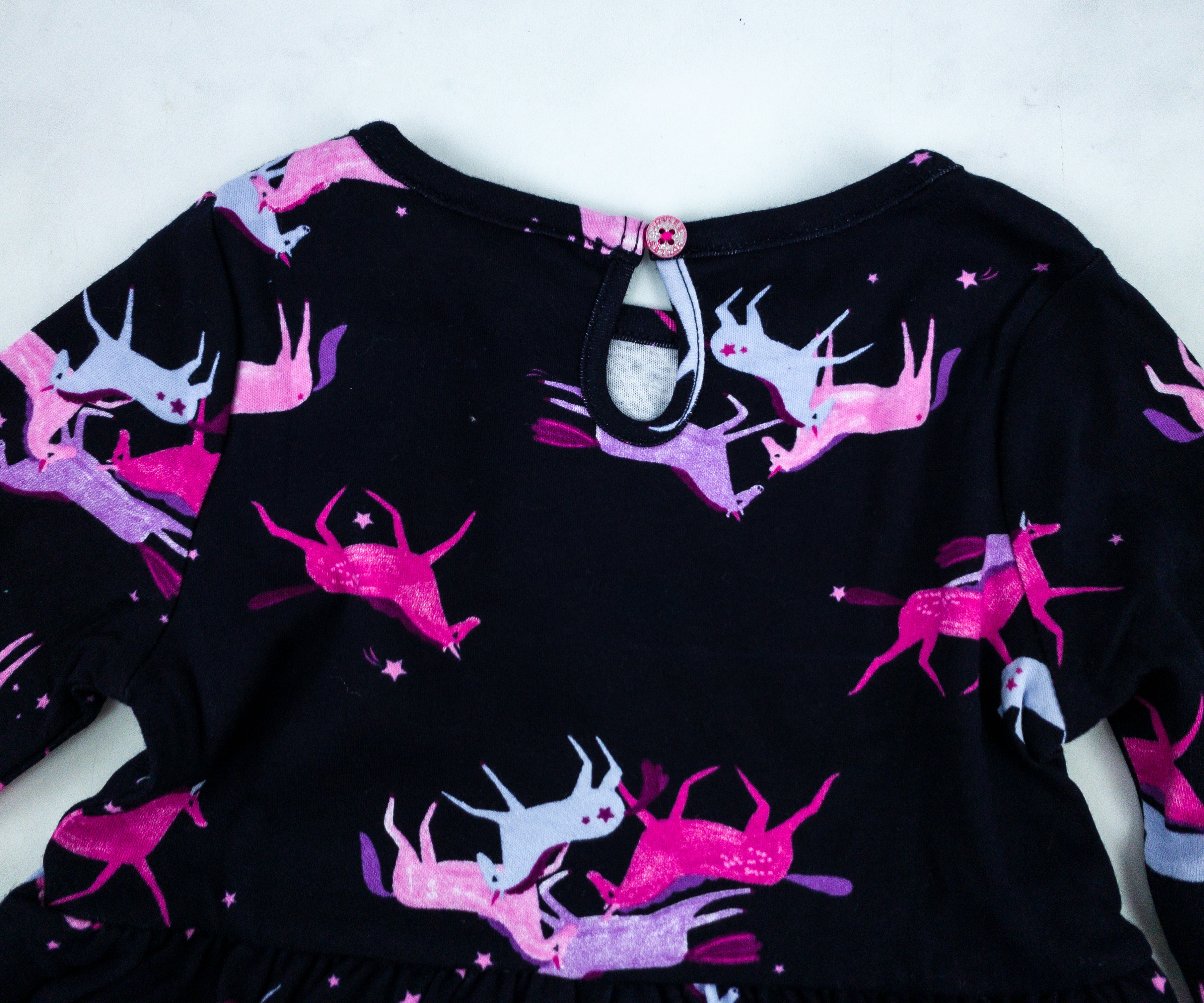 There is also a button enclosure at the back.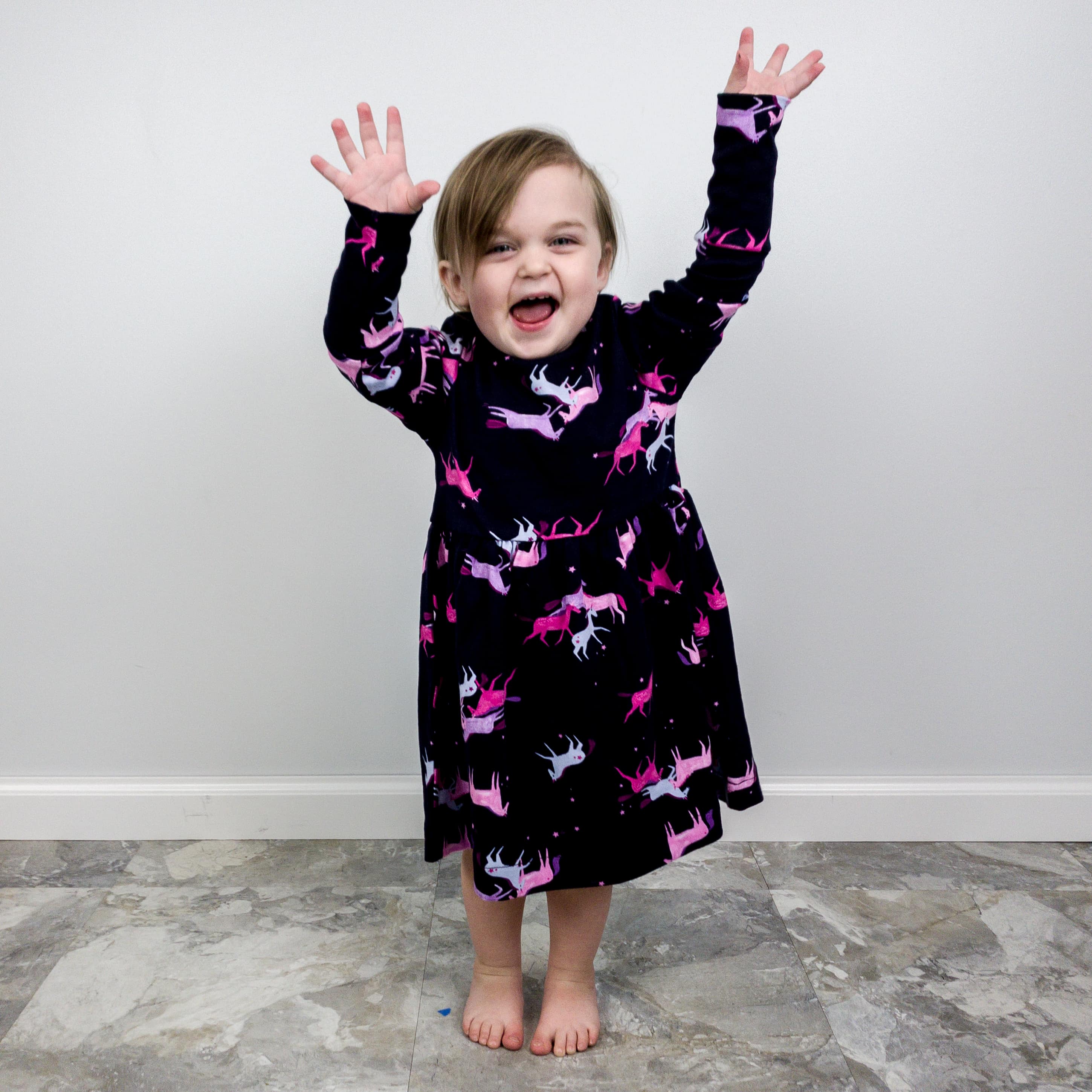 This looks so pretty when worn! Hangs just below my daughter's knee so it's the perfect length. The pink and purple hues of the unicorn is a very good contrast to the plain black background. The material they used is good as well! It's very soft and comfortable!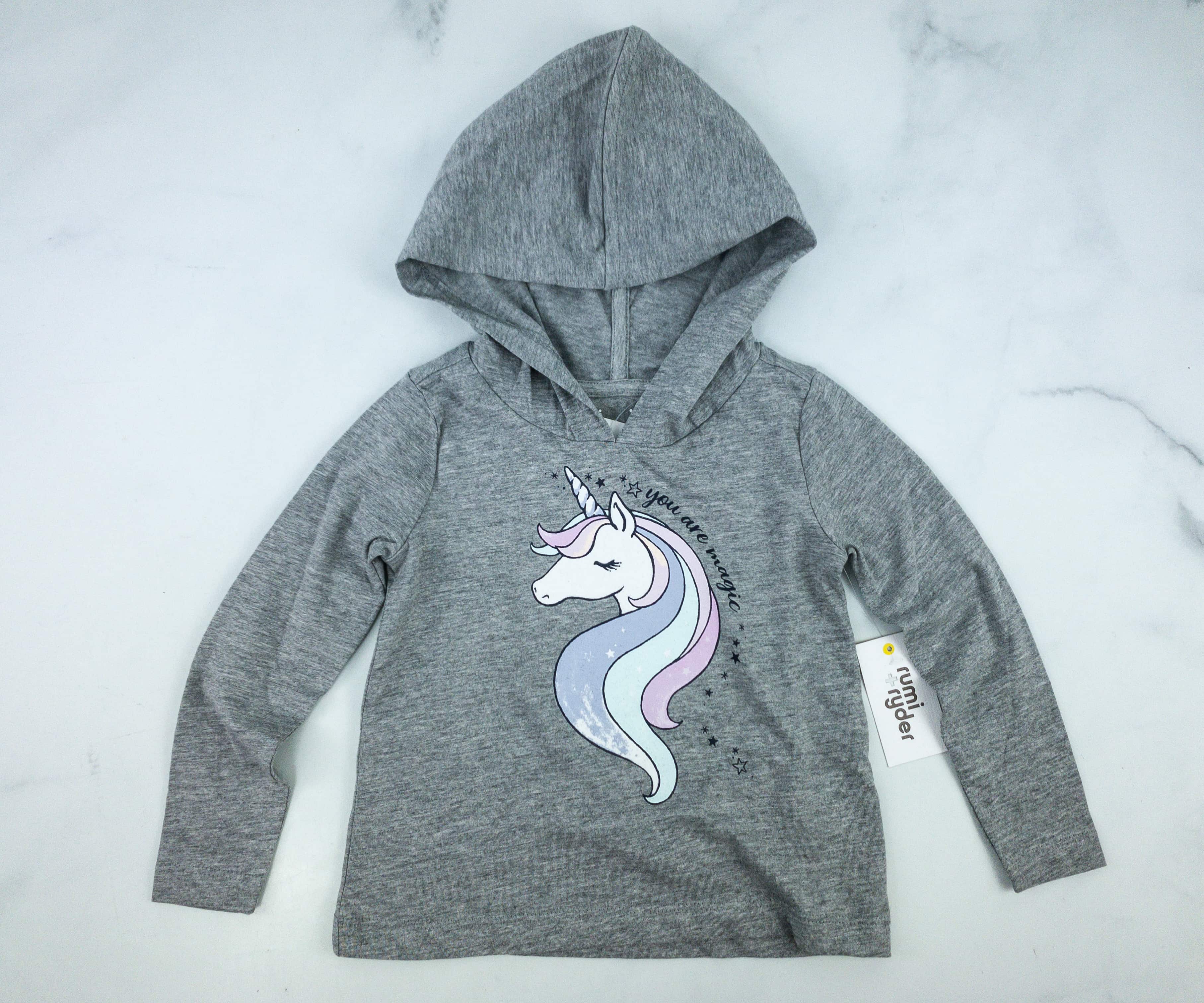 Rumi + Ryder The Hoodie Tee ($20) Another unicorn-themed item over here! This hoodie is so adorable! I love that the fabric is not too thick. You can layer it for winter but you can also wear it as it is on normal days!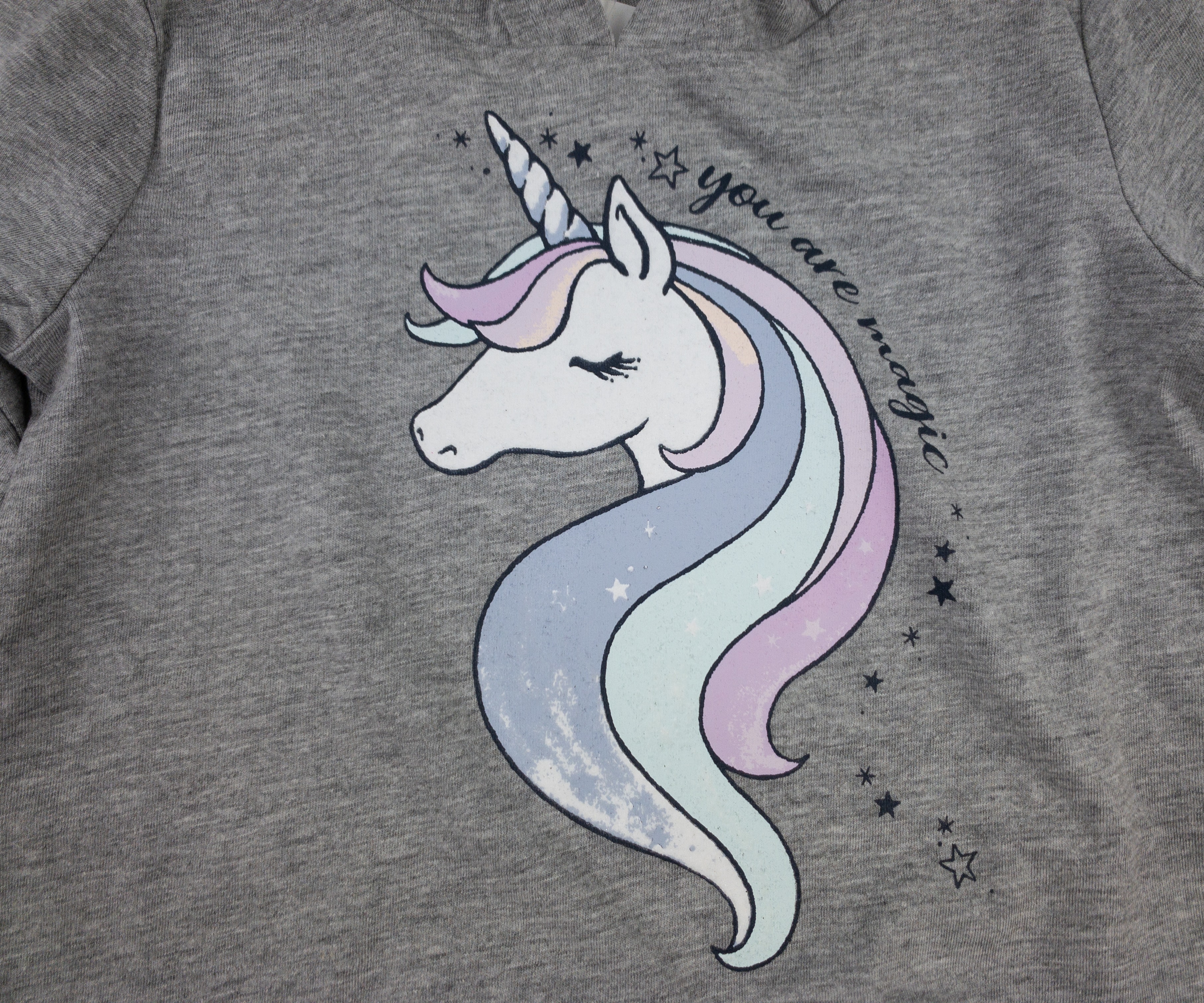 My youngest daughter likes unicorns as well and she is obsessed with this one!
Flapdoodles Tessy Mesh Tutu Legging ($18) A tutu and a pair of leggings in pink is one of the cutest things in this fix!
This is a great way to layer up clothing without the stress! The mesh fabric of the skirt goes really well with the soft cotton leggings! Plus it's pink, so my daughter automatically loves it! The vibrant color is very age-appropriate and I really like it!
We matched it with the hoodie and my daughter loves it a lot!
Rumi + Ryder Leah Knit Legging ($16) What better way to spice up a basic pair of leggings that to put a colorful rainbow?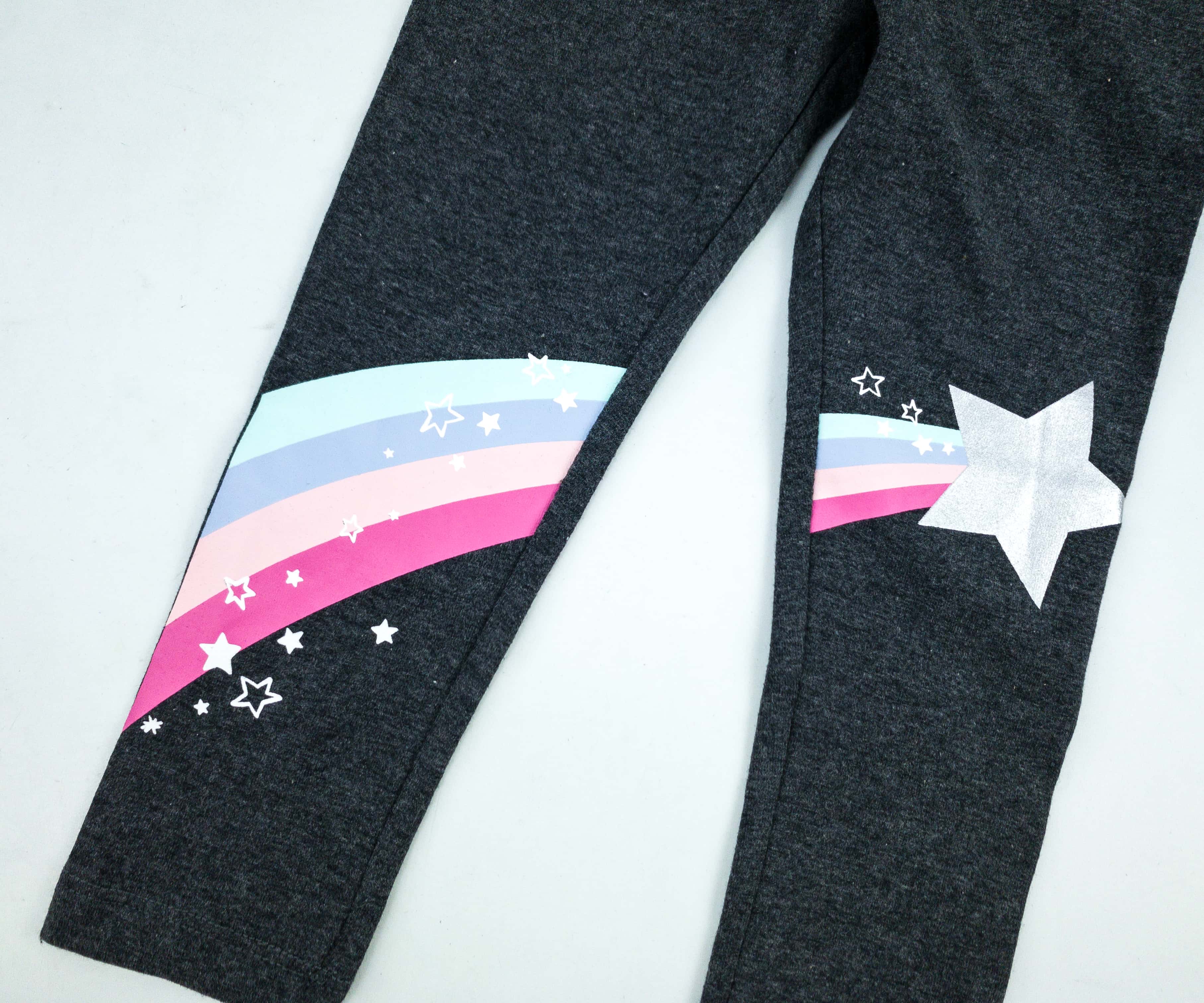 Isn't that cute? The rainbow goes through both legs as it is coming from a shooting star! It's a really cute pop of color to the plain dark gray leggings!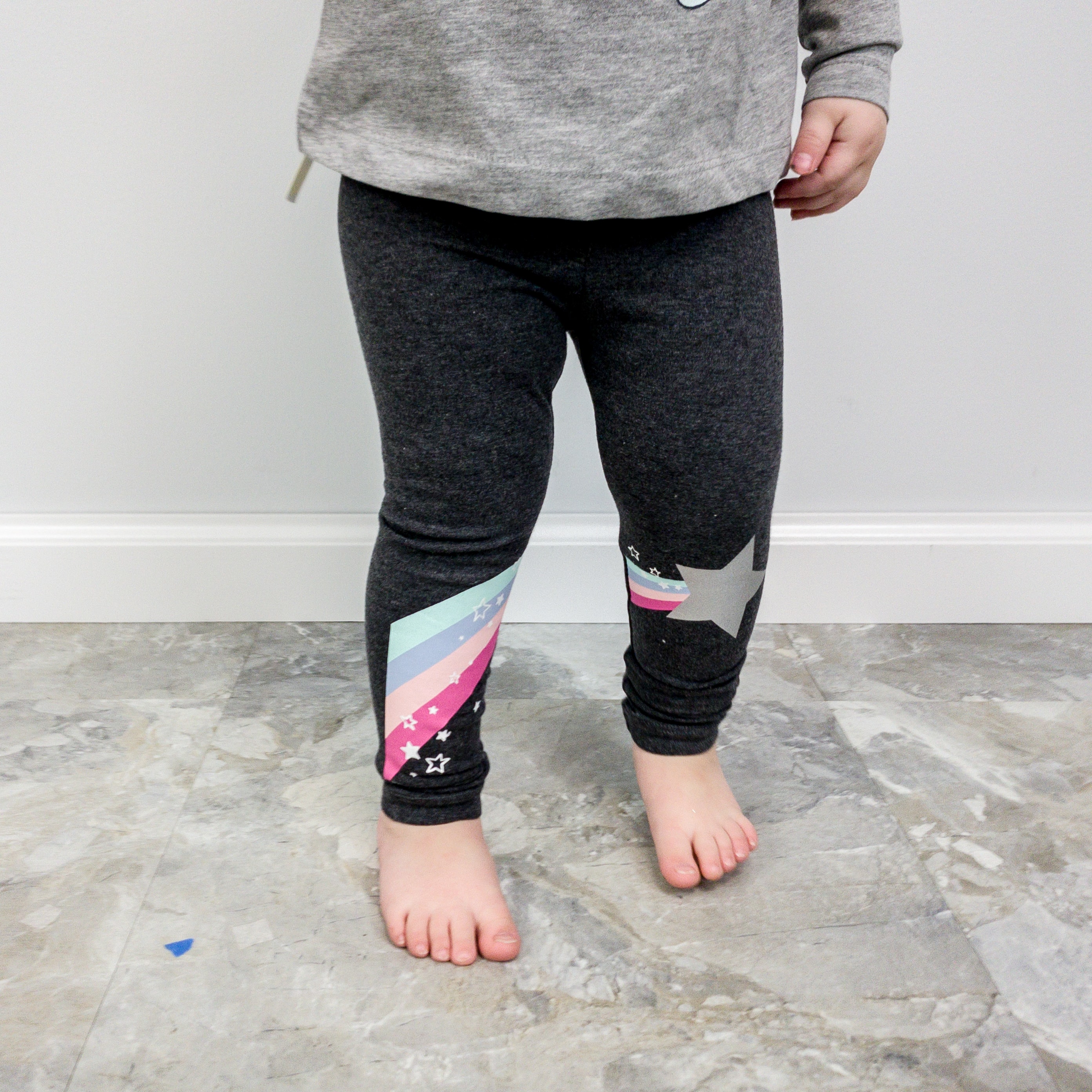 Look at that! It's super cute! The leggings fit perfectly!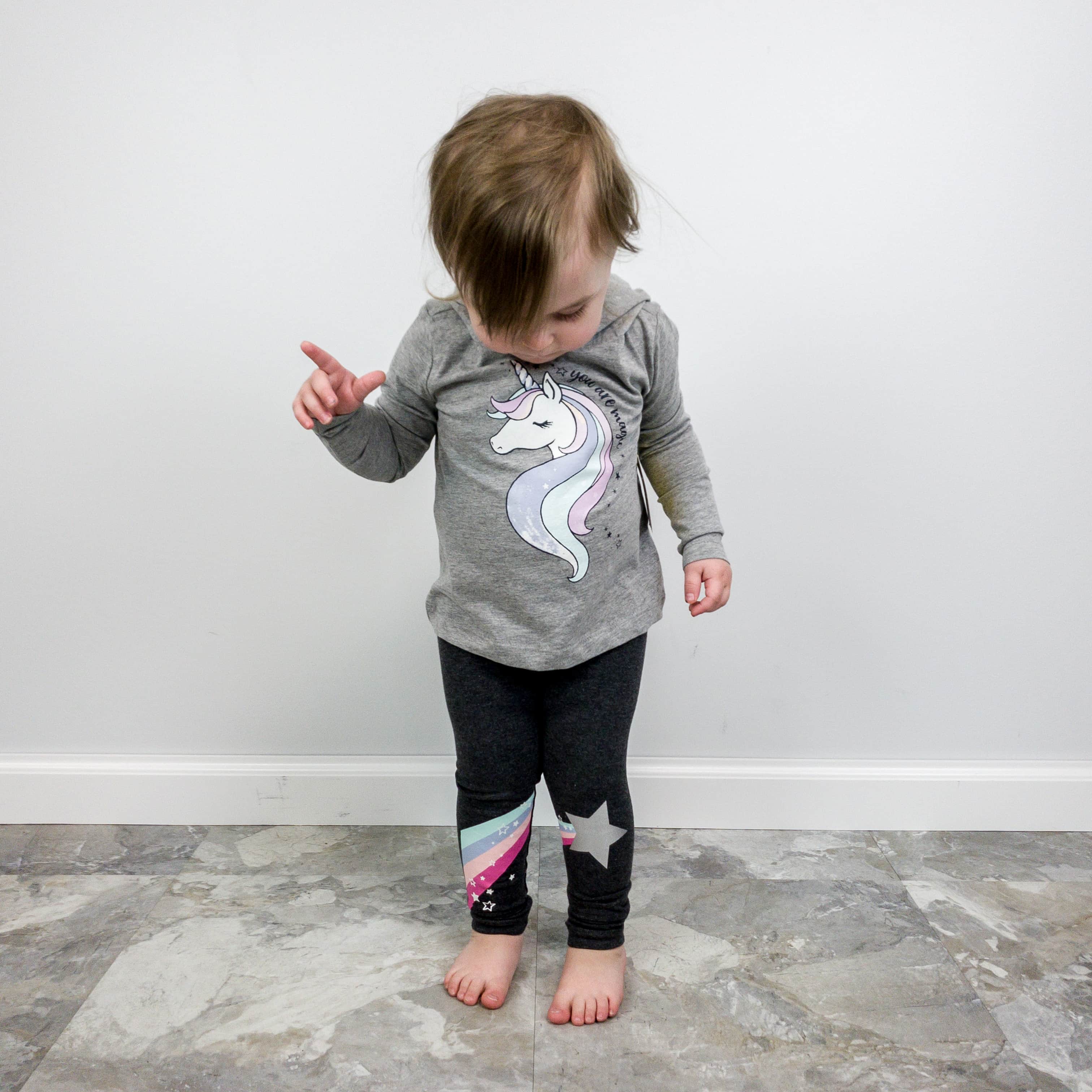 This legging is also very easy to pair with other pieces of clothing, like pullovers, jackets, hoodies, and even shirts.
Hollywood The Jean People Esme Animal Full Zip Hoodie ($24) Full-zip hoodies are great to wear on casual days, especially during the coldest of months! Of course, the cuter the better!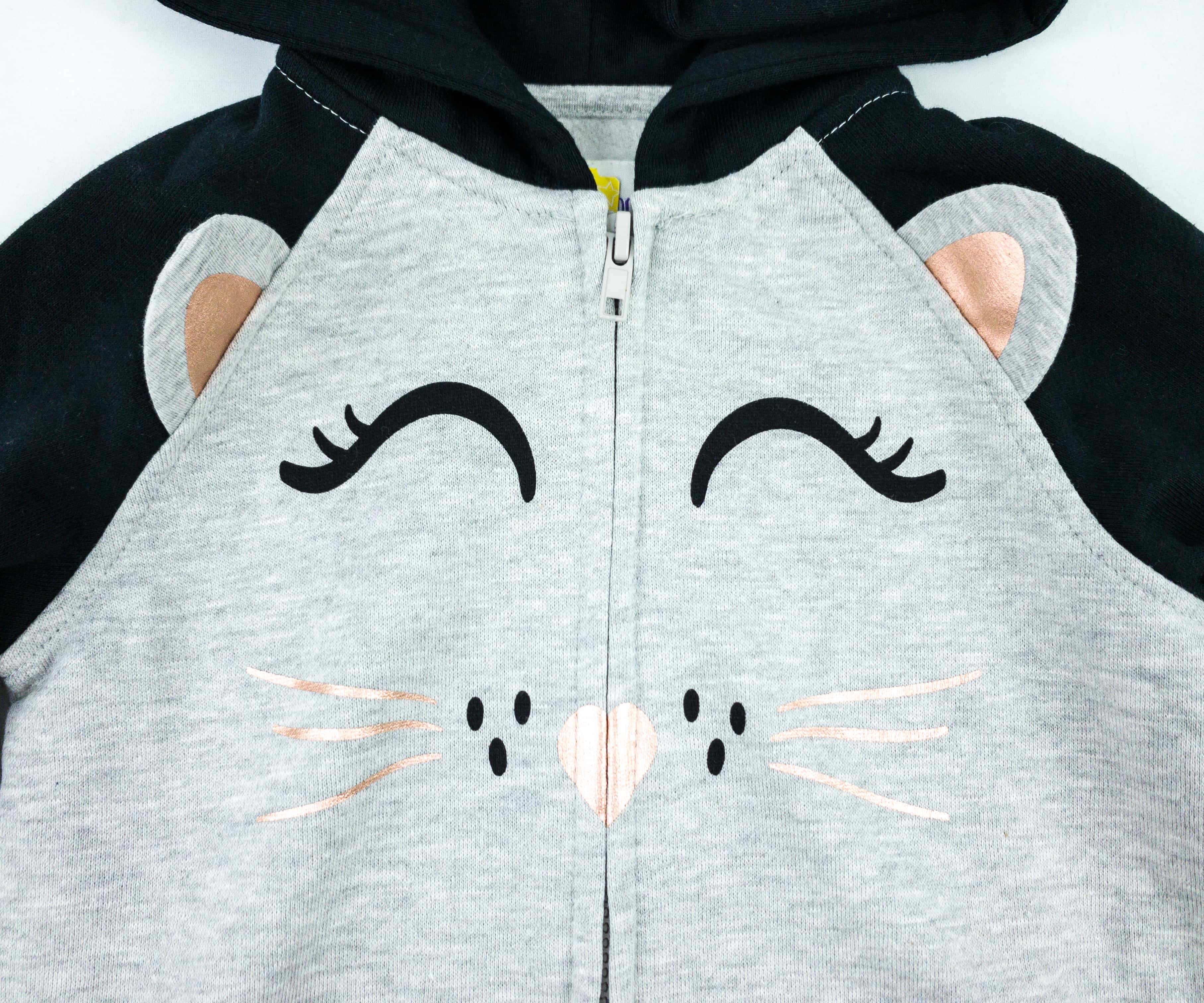 This one has a really cute animal face in front! It even has ears sticking out!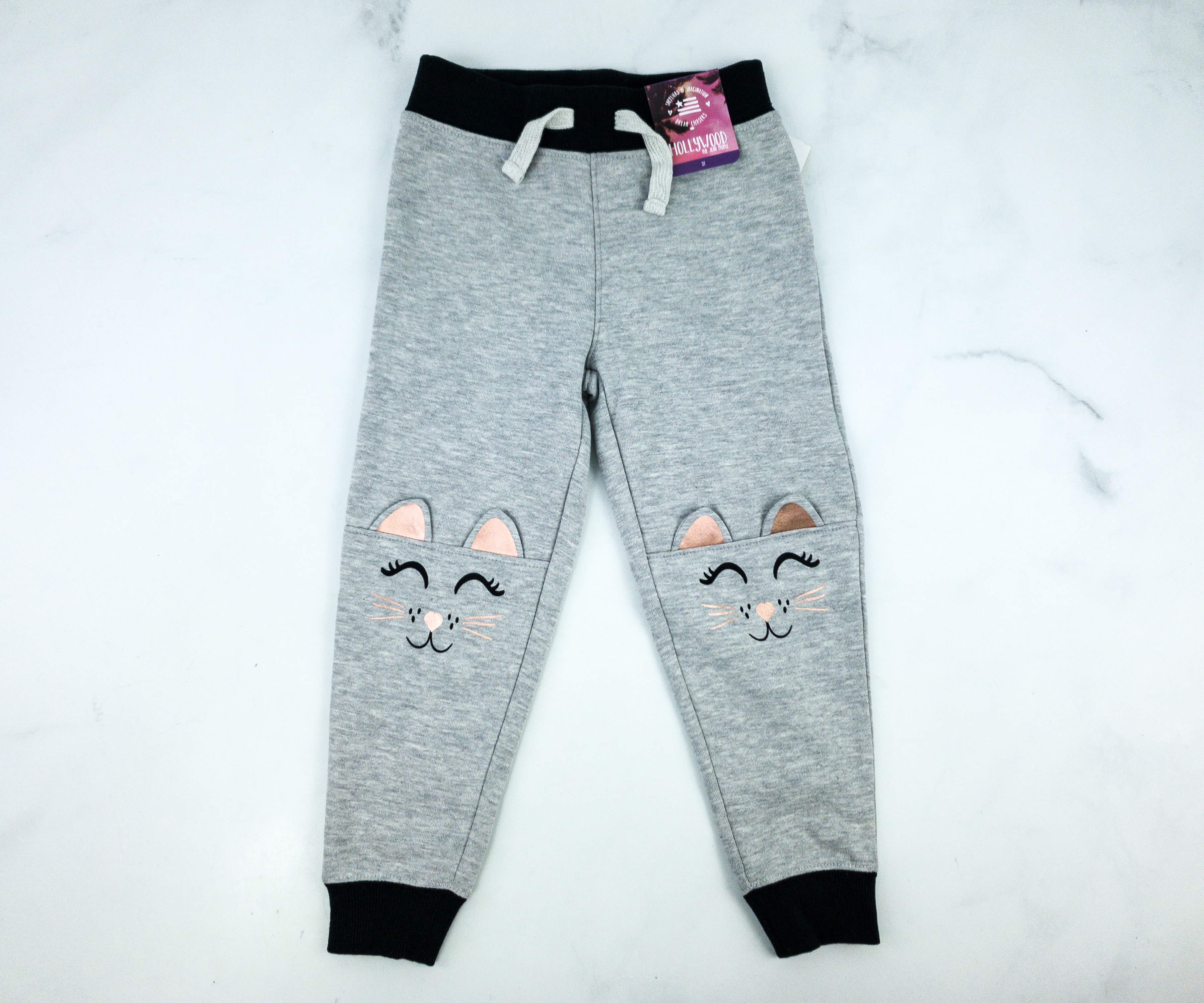 Hollywood The Jean People Pattie Fleece Lined Jogger. To pair with the full-zip hoodie is a jogger, also in gray with black elastic waist and cuffs.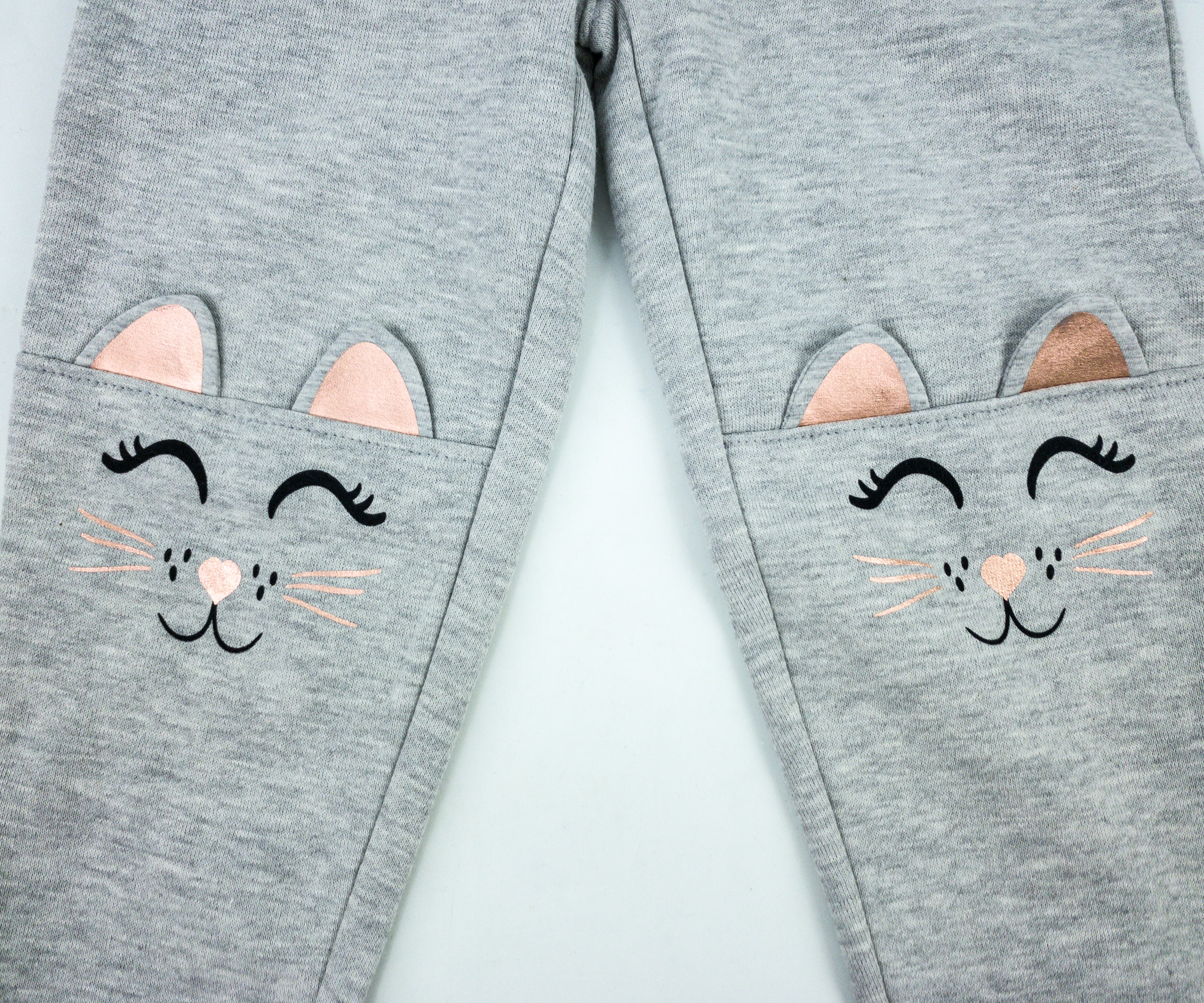 It also has the same cute animal design on the knee area!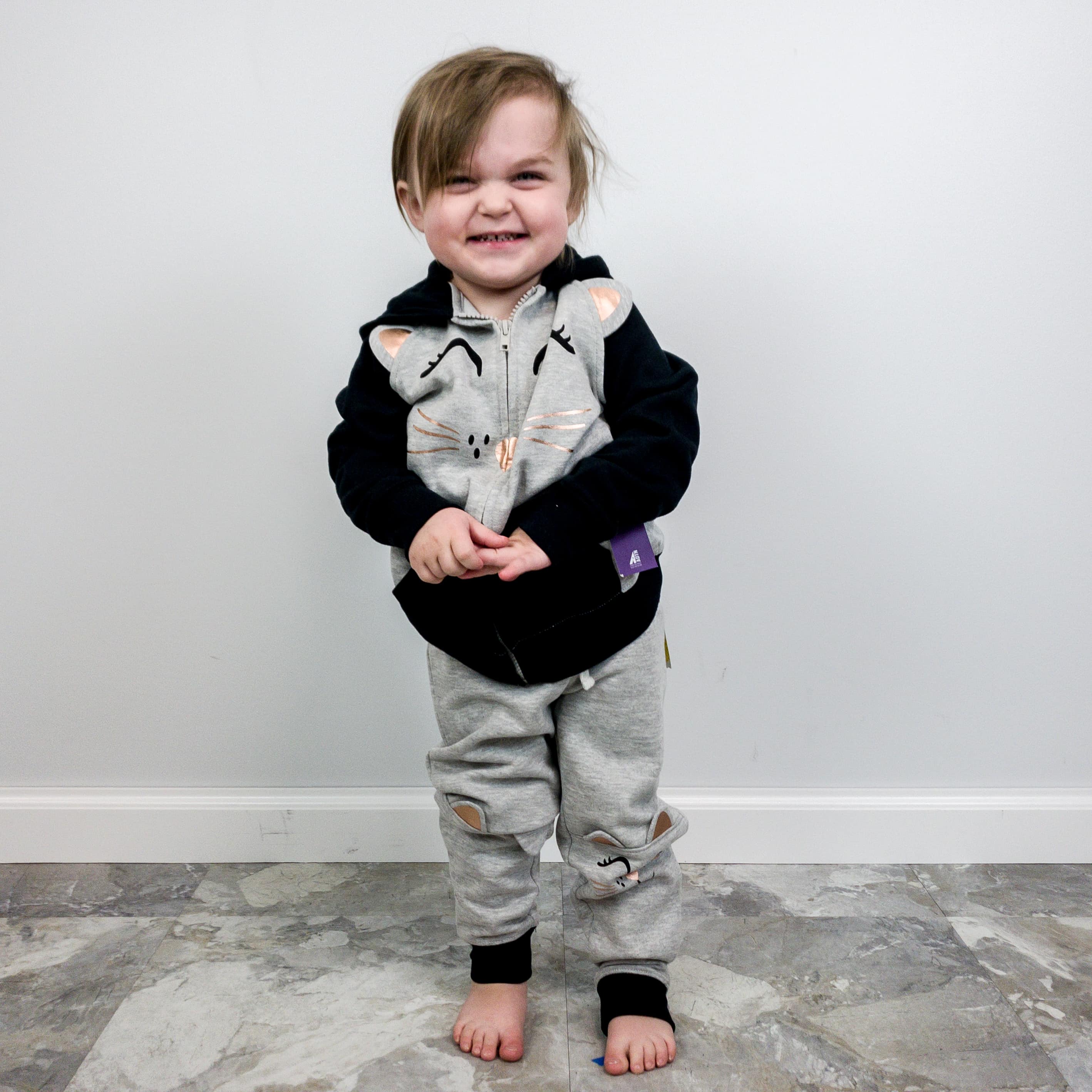 Paired together, they're so adorable! But they can also be worn separately and they will still look good!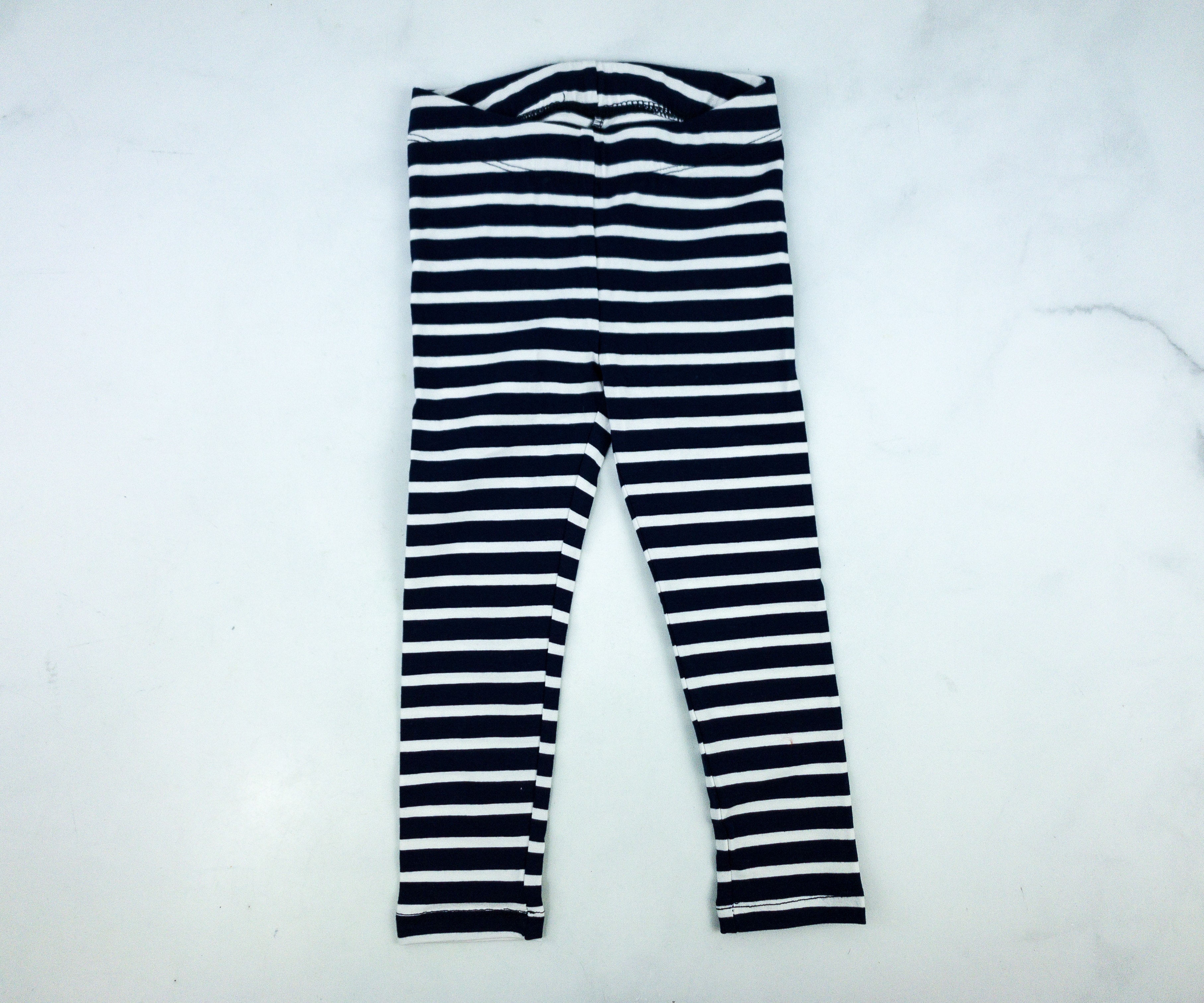 Rumi + Ryder Leah Knit Legging ($12) Here's another versatile legging, which features black and white stripes.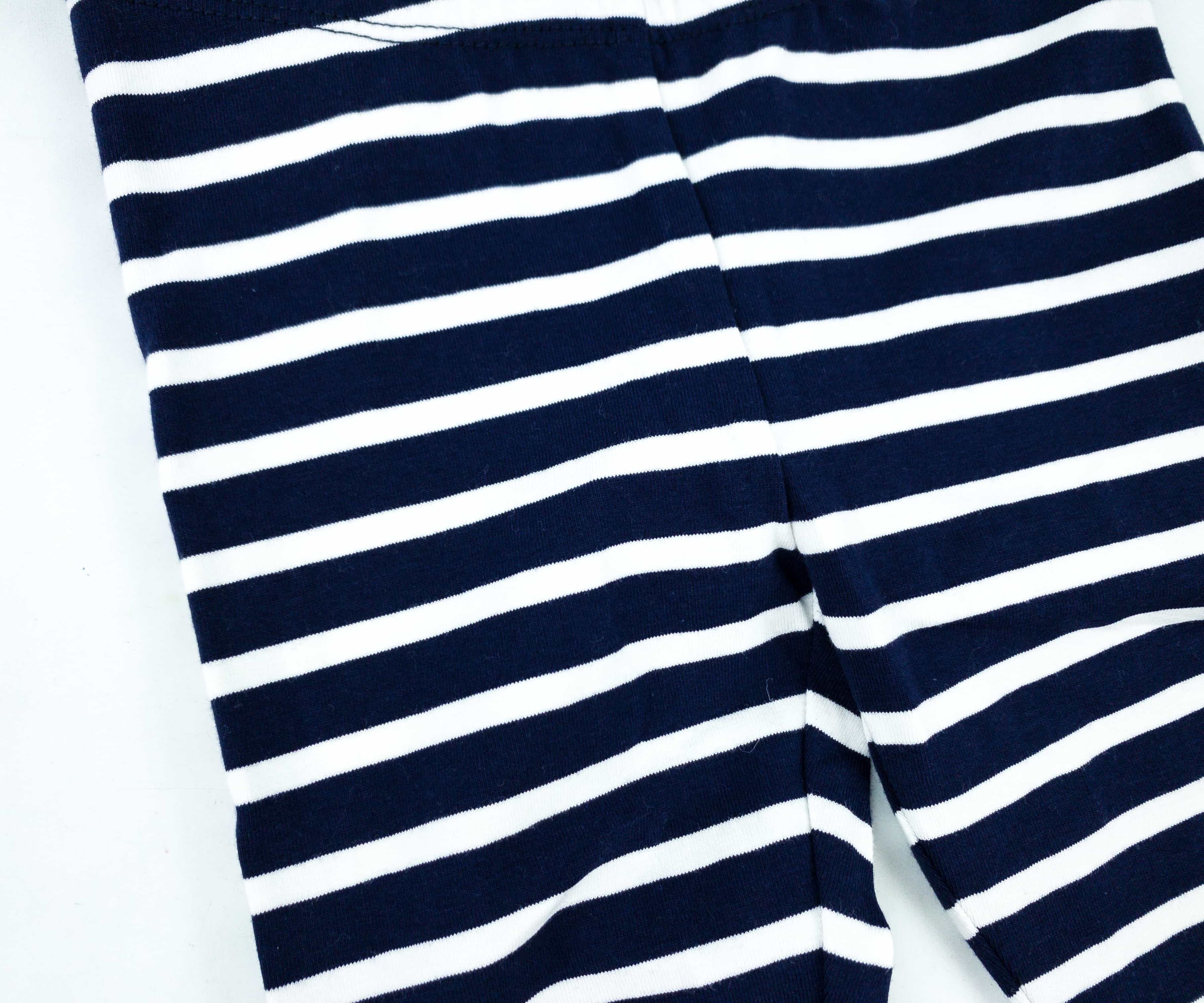 It's simple and comfortable to wear. The material used is pretty stretchy so it doesn't restrict my daughter's movement.
Rumi + Ryder The Long Sleeve Graphic Tee ($18) We got another long-sleeved top and we're not complaining because they're so cute and they're perfect for the current weather! It matches the striped leggings, and it features a cute dinosaur design in front.
The dinosaur design is made with sequins and I just love how it reflects the light!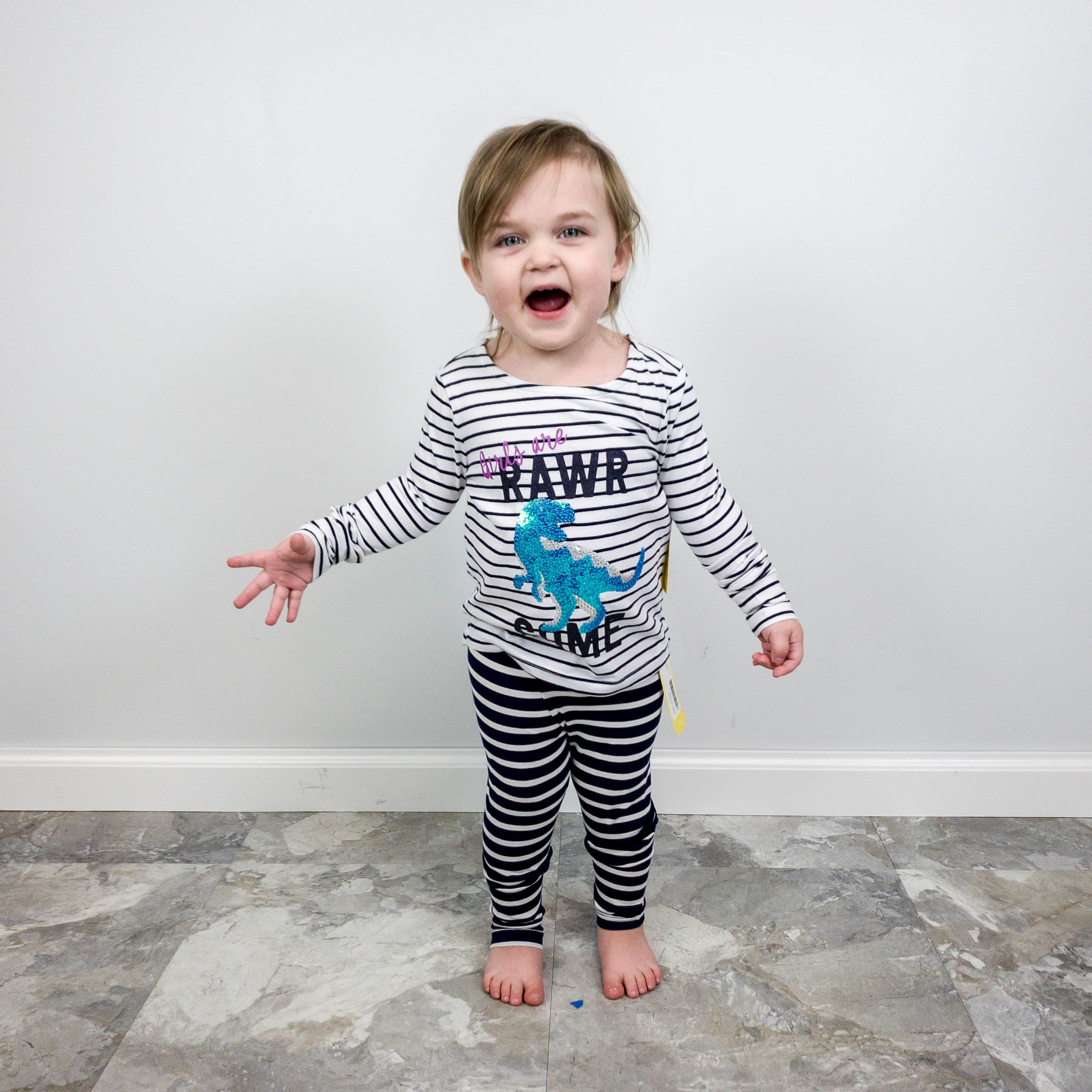 Rawr! She loves the whole look!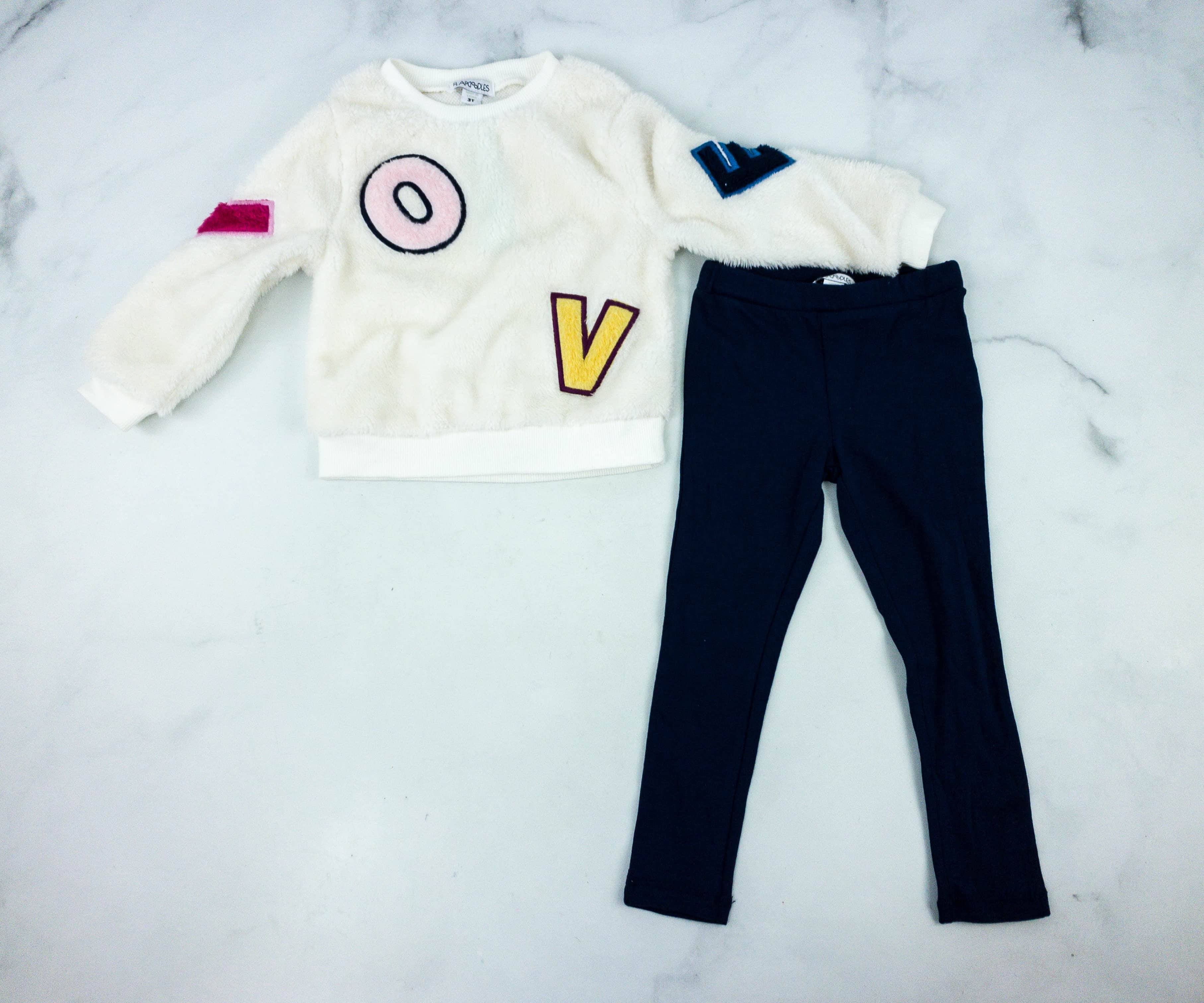 Flapdoodles Kristiana Sherpa Top And Legging Set ($34) This lovely set is composed of a furry top and plain black legging! It's a nice outfit for traveling this winter, especially when paired with boots!
The top is a long sleeve sweatshirt that's so fluffy. It has letters that spell out the word "LOVE" and we really like it! It's casual, classy, and comfortable at the same time!
Look at her feeling all happy with this set! There's no denying that she loves this outfit!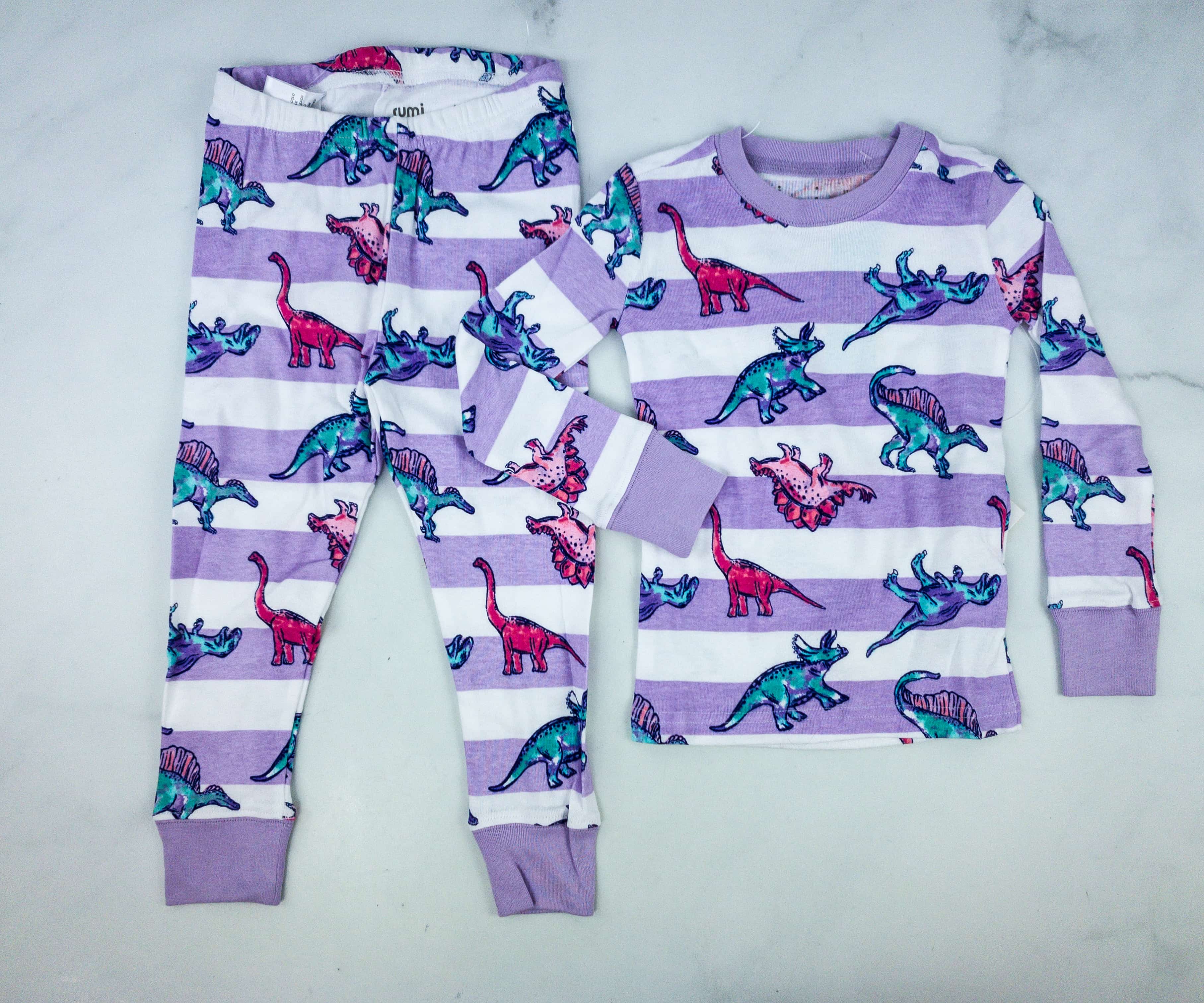 Rumi + Ryder The Classic Long Sleeve Tight Fitting Sleepwear Set ($24) We're delighted to see that they've included sleepwear in this fix! The top is long-sleeved to keep my daughter warm and toasty at night. The legging is tight-fitting but still soft and comfortable enough to wear.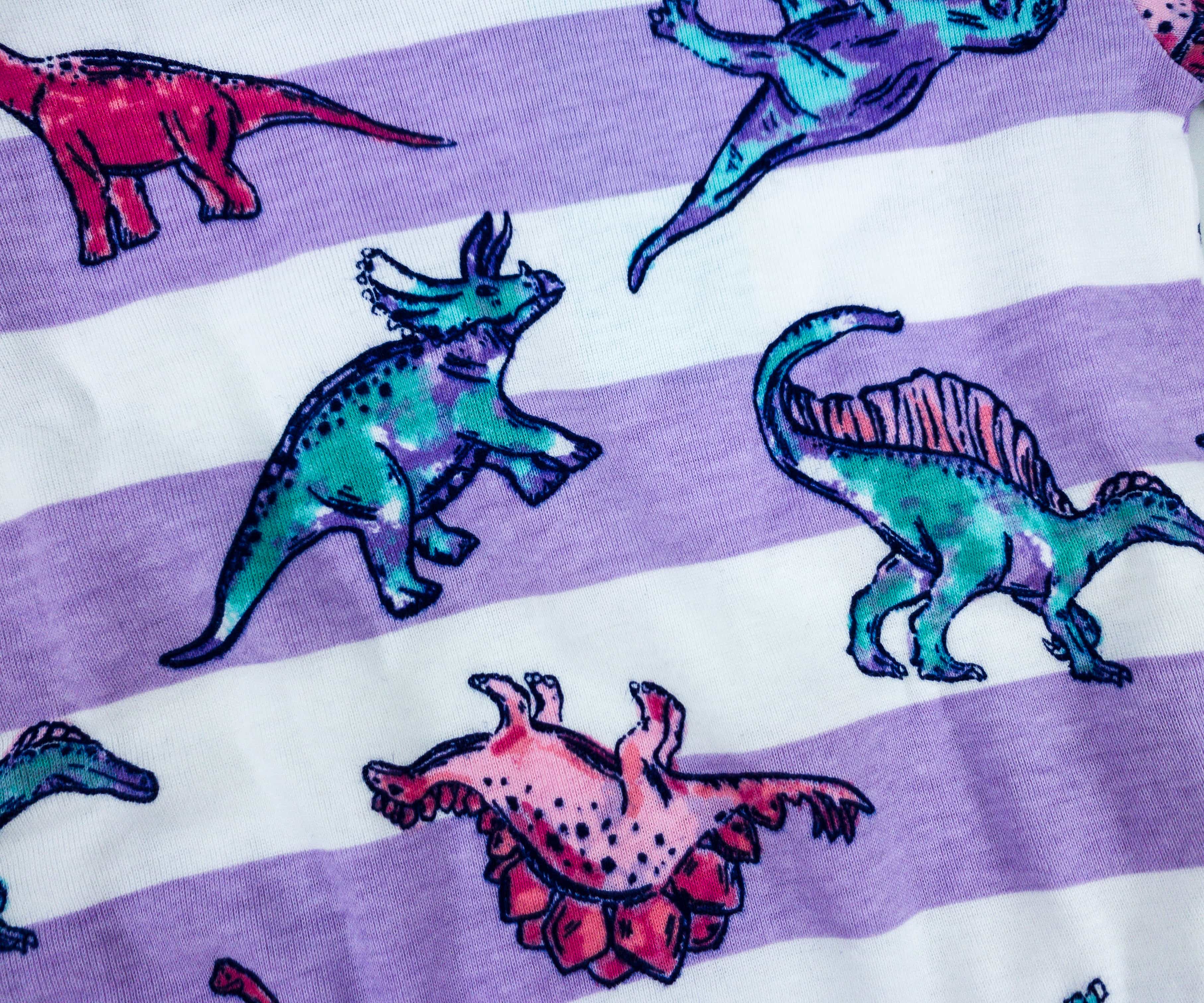 It has white and purple stripes, with dinosaurs all over! This is a really fun print and we can't get enough of it.
The fabric is breathable and soft on the skin. It's definitely a yes for her!
There's an animal theme going in this month's fix and we're all for it! It included weather-appropriate clothing pieces, like long-sleeved tops and jackets, as well as the comfy leggings which are great to wear for any casual day. My daughter was excited to try everything! We really love this subscription because we get new and stylish clothes without stepping out of the house! Plus, if something doesn't fit or you don't like something, returns and exchanges are as easy as 1-2-3! Looking forward to the next fix! I hope they keep those cute pieces coming!
What do you think of Stitch Fix Kids?