Rare Cheese of the Month Club offers artisanal and rare cheeses in a monthly subscription! This subscription is $53.95 per month + $14 shipping
Each month, members of The Rare Cheese Club will have the opportunity to taste hand-crafted, artisanal cheeses from among the best cheeses in the world. We work with our partners at Zingerman's to curate three extremely limited-production cheeses made by some of the world's most interesting and celebrated cheesemakers using only the best and freshest milks. Award-winning cheeses produced in France, Italy, Switzerland, the UK, Holland, Germany, Austria, Portugal, Spain, the U.S. and even some countries you might not expect like Croatia. If you fancy cheese made from age-old traditional recipes, some centuries old, you're going to love The Rare Cheese Club!
DEALS:
Save $10 off a 4 shipment order. Use coupon code SAVE10.
Save $15 off a 6 shipment order. Use coupon code SAVE15.
Save $25 off a 12 shipment order. Use coupon code SAVE30.
Here's how it works:
We've Partnered with Zingermans®, a Top-Rated Deli by Zagat's Gourmet

We work closely with Zingermans® to select our featured cheeses, which has been selling artisanal cheese since 1982 and was rated as one of 25 of the World's Best Food Markets by Food & Wine magazine.

Great Ingredients Make Great Cheese

At the heart of all great food are great ingredients, and no one knows that better than Zingermans®. Together, we look for traditionally made, farmhouse and artisanal cheeses made from the best natural ingredients. Cheeses that you wouldn't easily find on your own.

We Look For Cheeses Made in Their Place of Origin

To find the best, most traditional interpretations of a specific cheese, you have to buy each from its place of origin. We look for Manchego in the Dehesa plains in Spain's central La Mancha region and Comté in the Franche-Comté region of France.

We Work Closely With Artisanal Cheesemakers & Build Strong Relationships

Many of our farmhouse producers not only have their own cows, they've named each of them. Their primary focus is to make the best product possible and often with the input of our tasting panel, they'll experiment with slight changes to their process and raw ingredients to perfect their cheeses.

Our Buyers Travel Internationally to Work with Our Cheesemakers

It's not always as glamorous as it sounds. Often, they'll spend four or more hours in a 45° aging room, tasting dozens of samples from literally hundreds of batches of the same cheese to find just the right one.
What you'll get: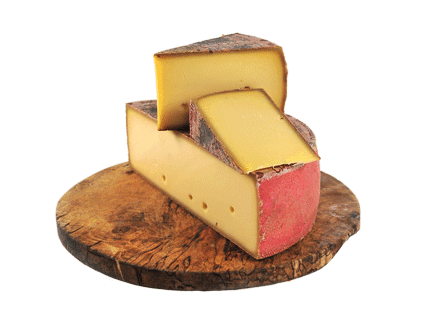 When only the best will do, Rare Cheese Club members receive three small batch, artisan cheeses made from only the best, and often rare ingredients. Three unique cheeses totaling roughly 1 ½ lbs delivered in each shipment.
Extremely limited-production, hand-cut, extended-aged and fresh rare cheeses from traditional age-old recipes, many that can only be produced in just one or two designated locations in the world.
Cheeses made from scarce, expensive milks from animals that are 100% grass fed, often by farmsteads that produce both the milk and cheese to ensure the freshest milk possible.
Tasting notes, cheese profiles, cheesemaker histories, serving and pairing suggestions.
Here's a peek at past boxes:
Are you getting anything from Rare Cheese of the Month Club? Do you want to see more about this cheese subscription in a review?