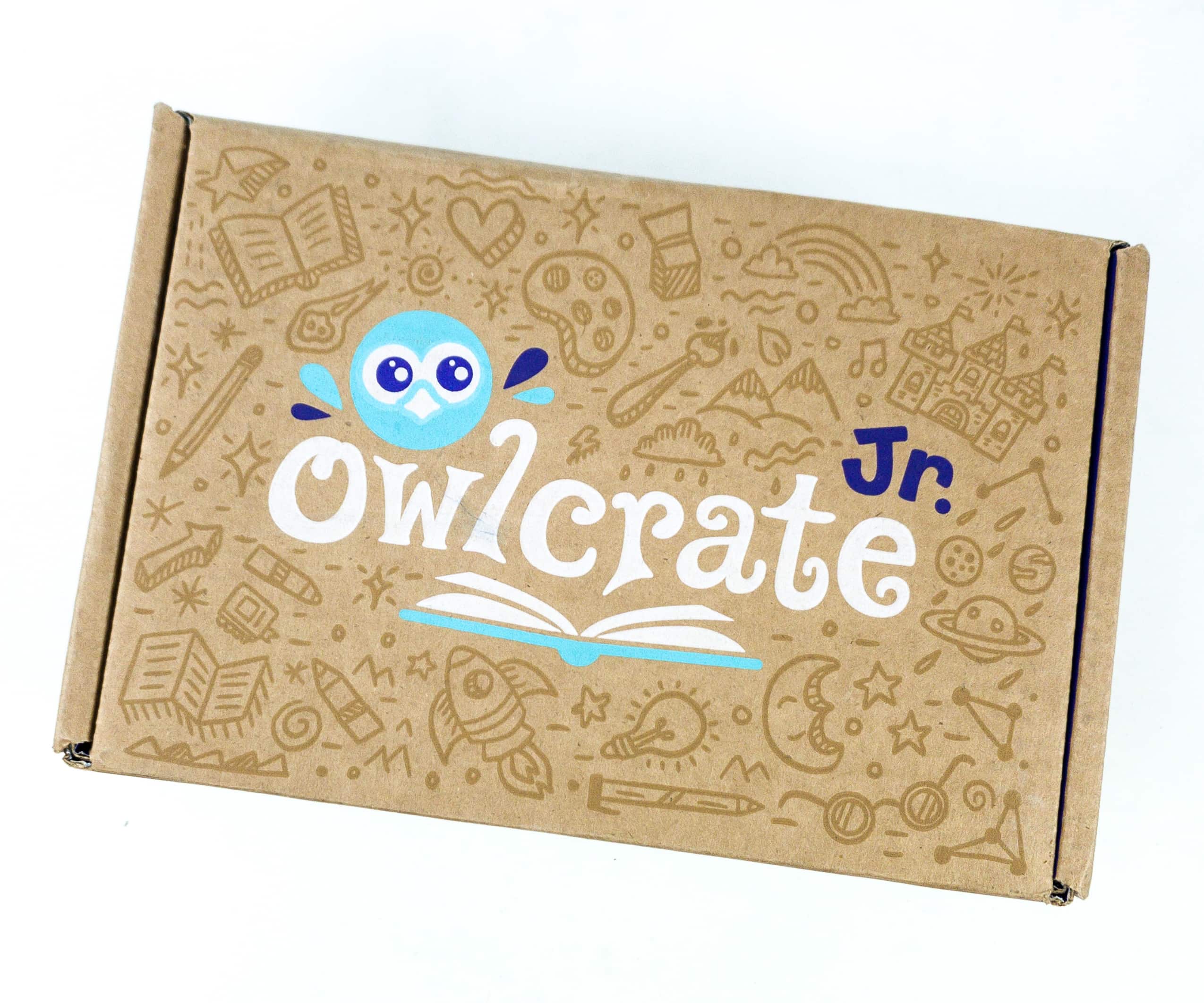 OwlCrate Jr. is a monthly book subscription box for young readers ages 8-12 with a middle-grade book plus fun gender neutral bookish items designed to enhance your little reader's experience. It's from OwlCrate, a super popular YA (young adult) fiction subscription.
DEAL: Save 15% on your first subscription with the coupon code HELLO15 at checkout.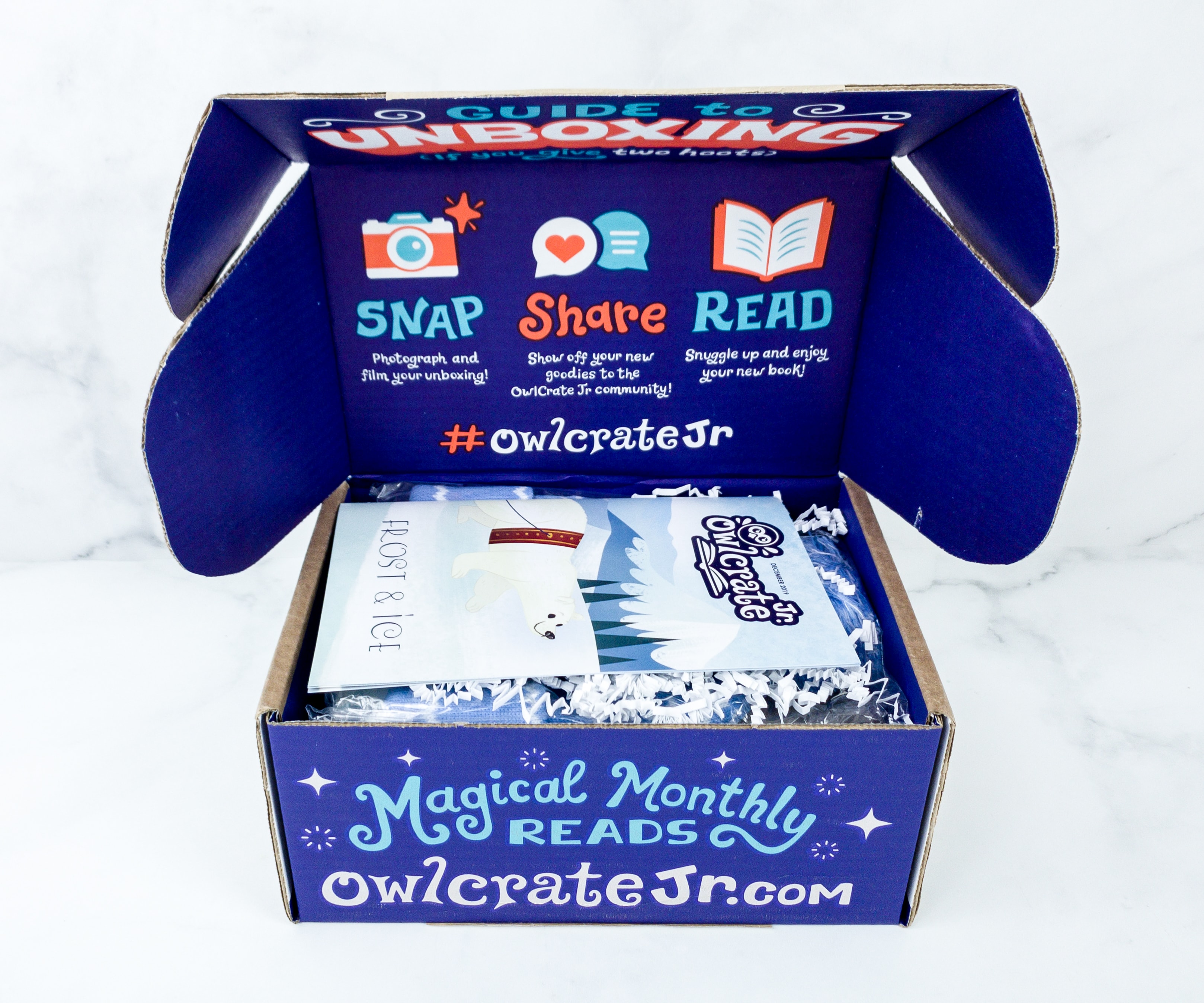 The inner flap has a guide to unboxing your crate!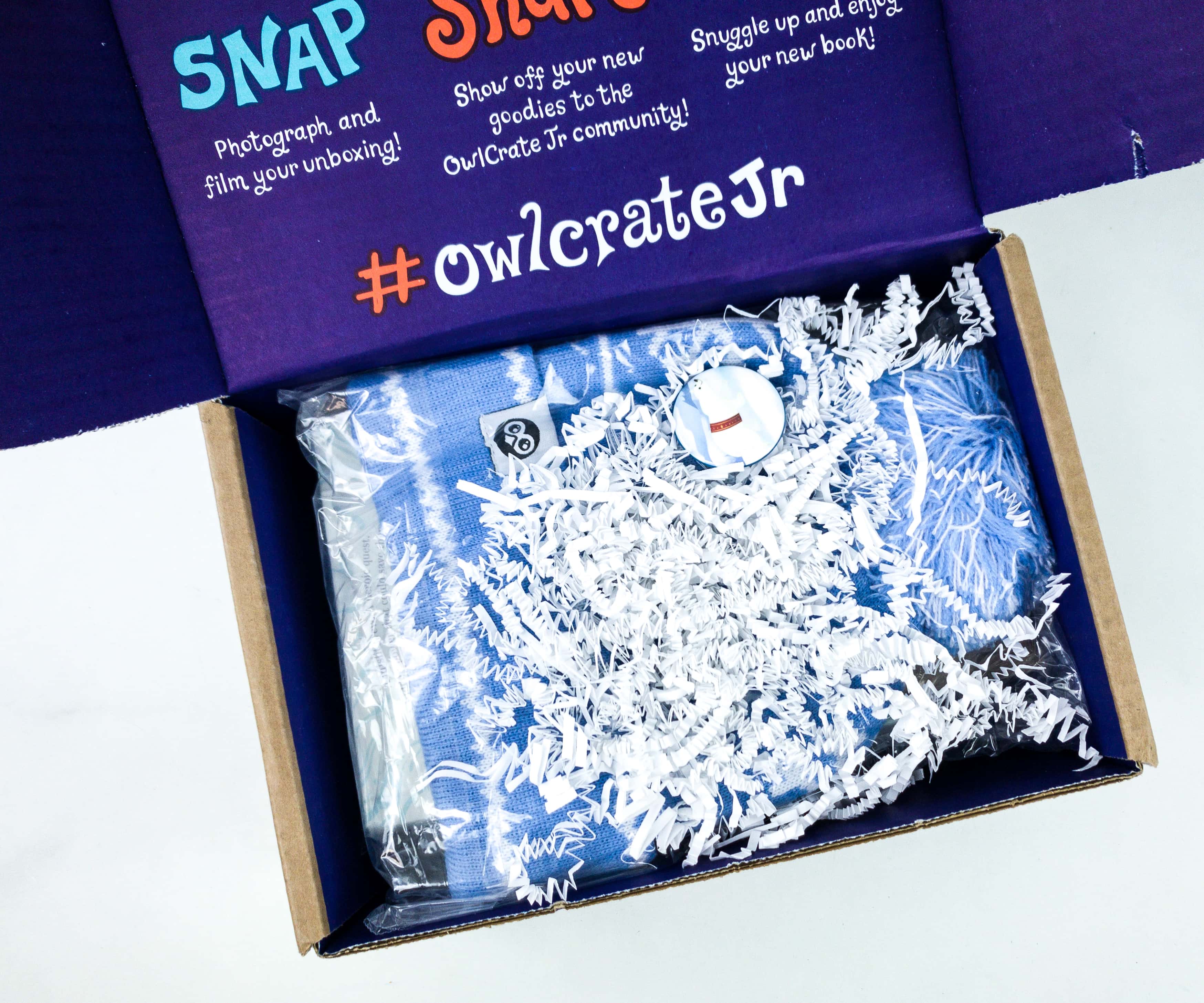 The items were packed with white squiggles.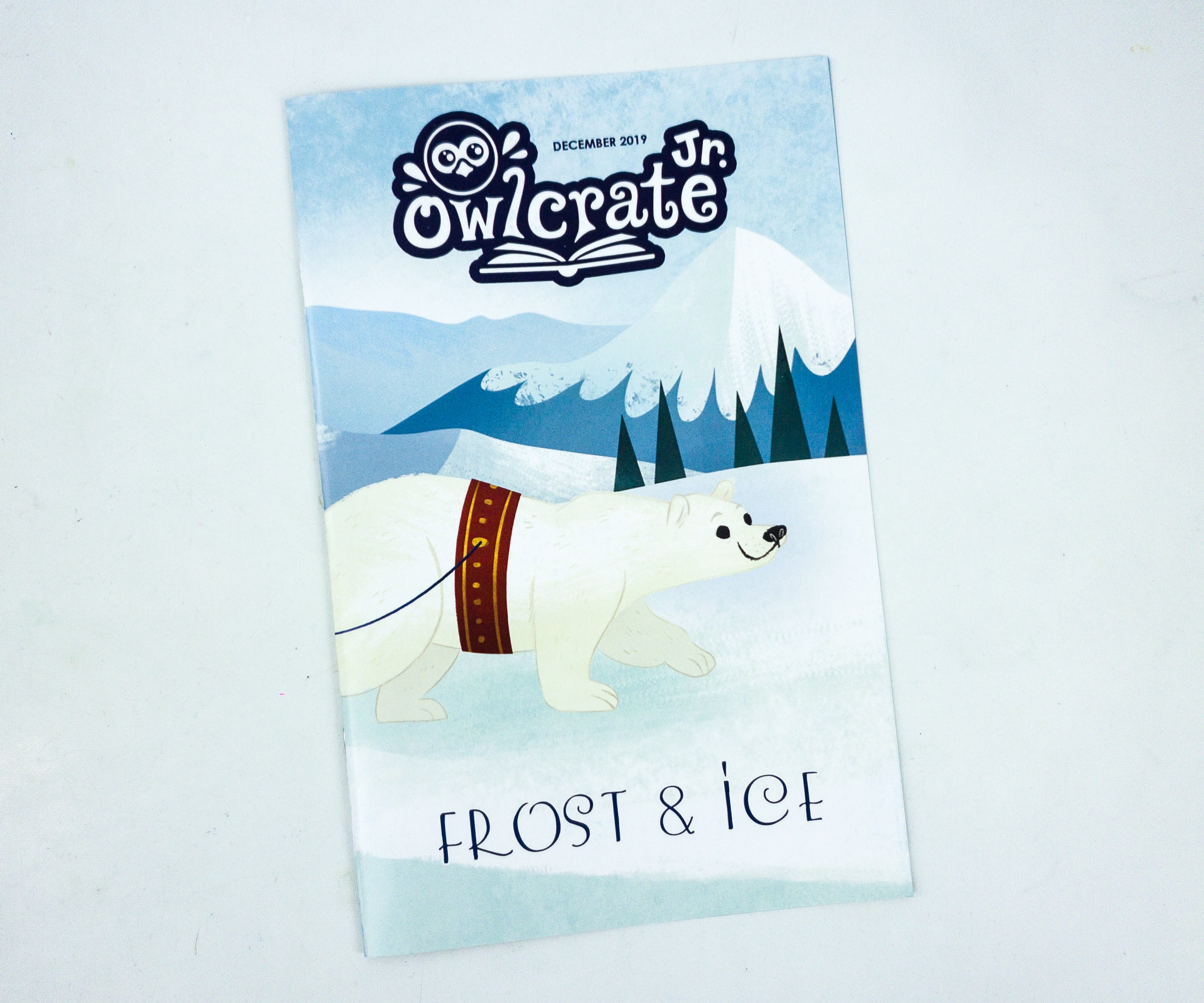 The theme for the December 2019 OwlCrate Jr. box is FROST & ICE! Here's the mini-magazine!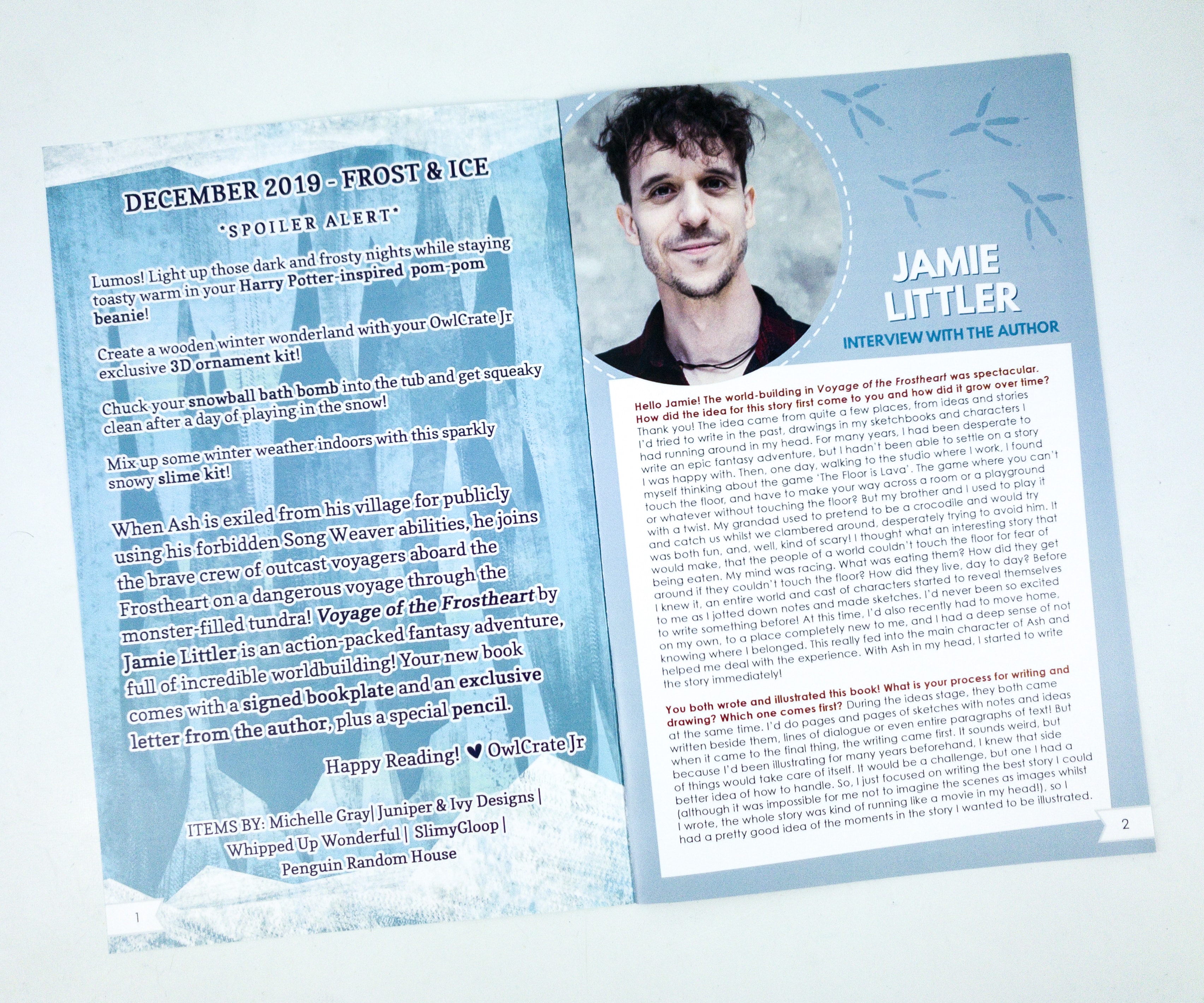 Of course, the mini-magazine includes an author interview. This month's featured author is Jamie Littler.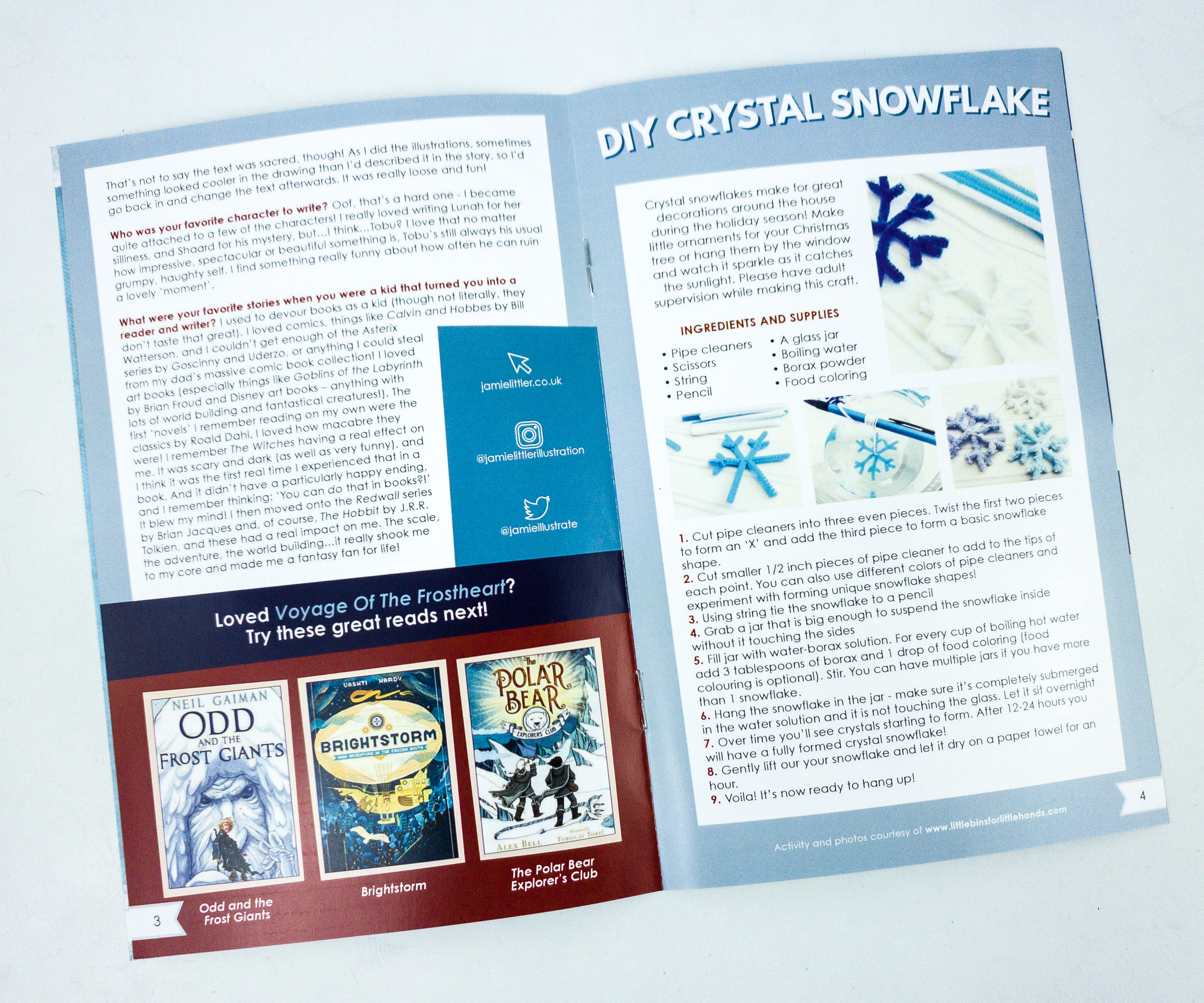 Knowing what inspired the author to pen a story can help children understand the book better.
They also suggested some titles for further reading, especially if you love this month's book:
There's another a community feature that has an interview with Gabriel's Universe. They even included a box photo challenge that you can join.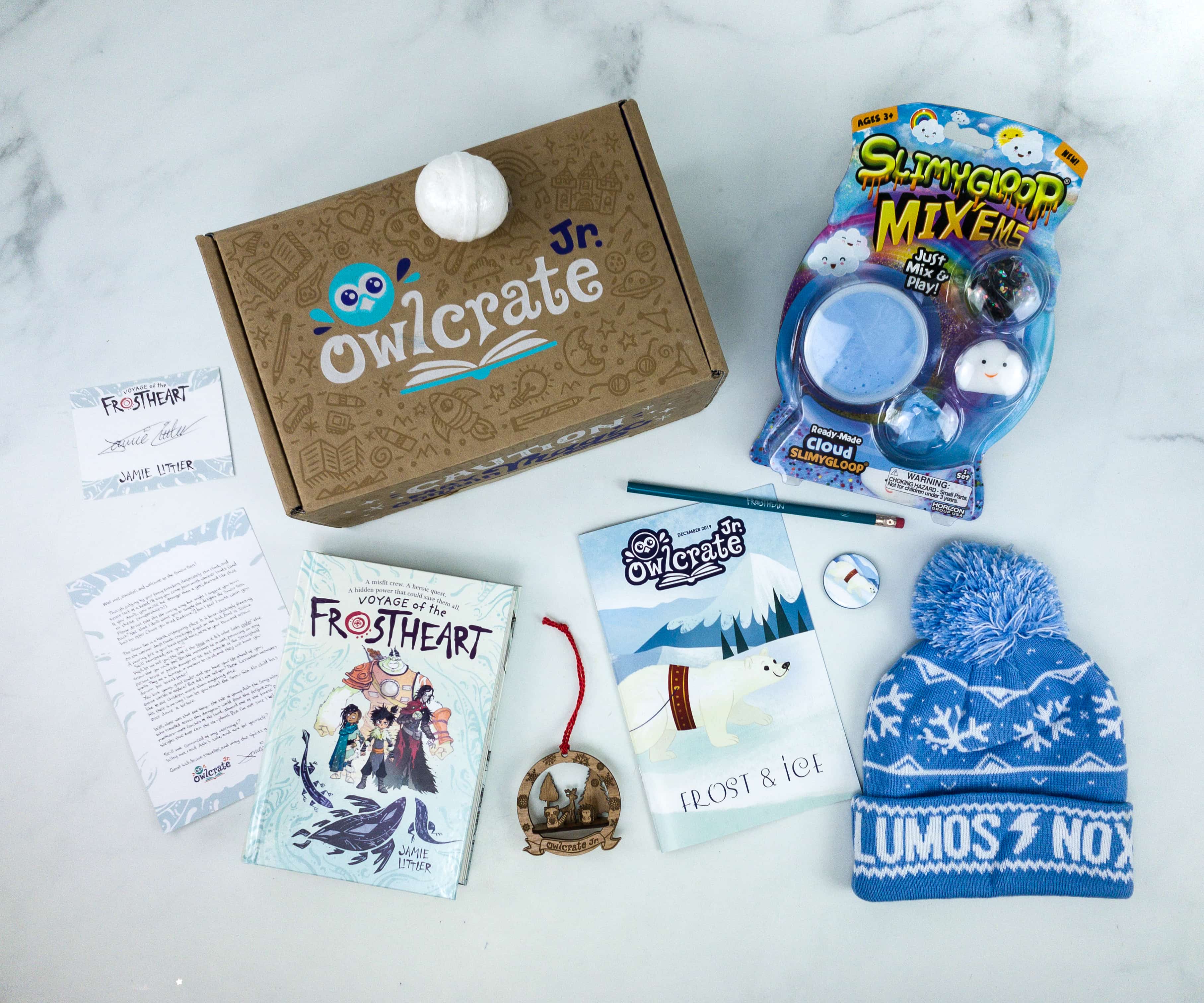 Everything in the December OwlCrate Jr. box!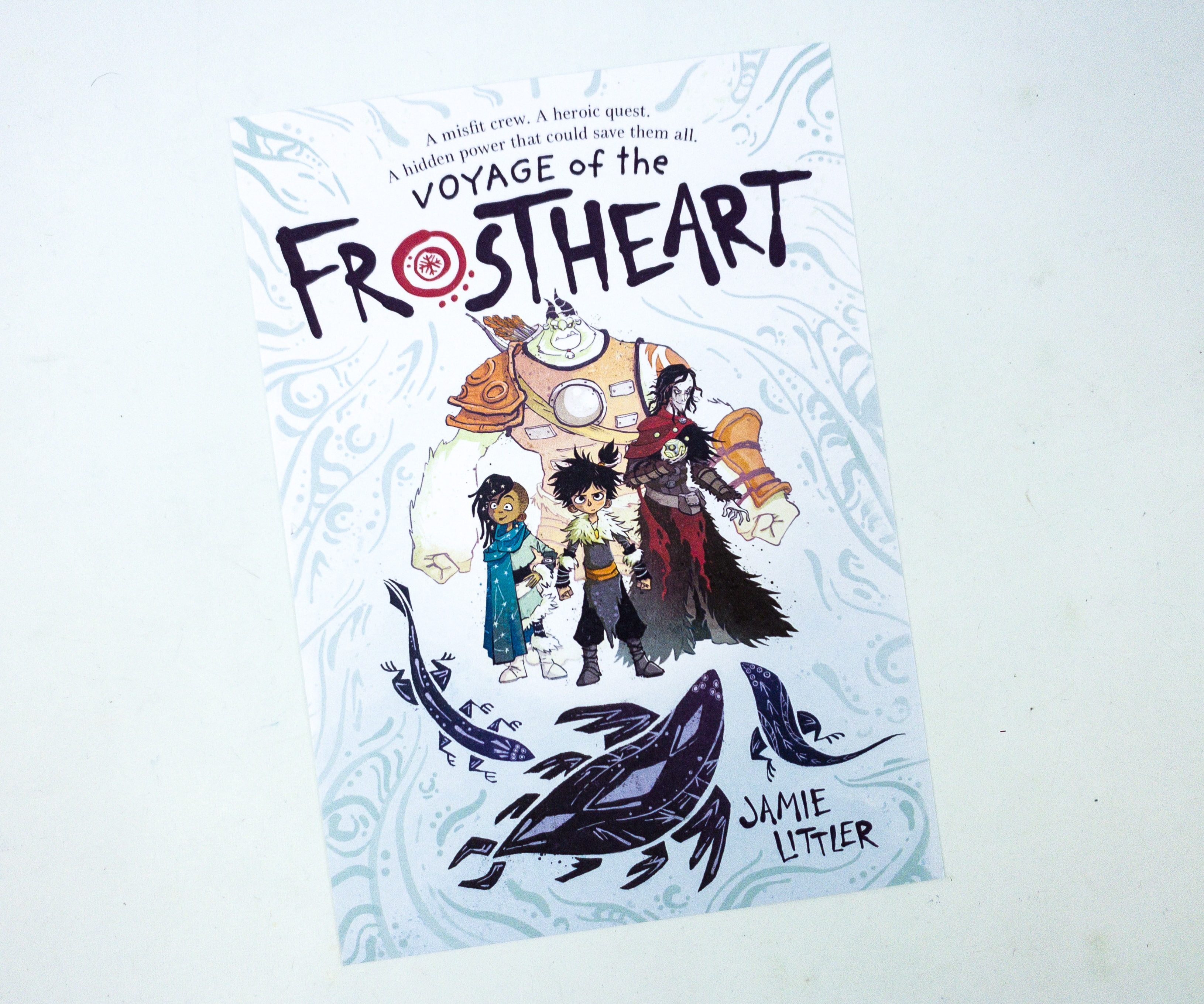 Voyage Of The Frost Heart by Jaime Littler ($12.79)
The whimsy of Nevermoor meets the mythical world-building of Neil Gaiman in this unlikely hero's quest to find his parents–and find the home he's always longed for.

In a snow-covered land where monsters rule the icy tundra, only song weavers hold the power to control these vicious giants. But for centuries song weavers have been the subject of suspicion–how can those who hold so much power be trusted?

Ever since his parents were lost on a pathfinding expedition, Ash has spent his life as an outcast. As a budding song weaver, his village marked him as a potential threat, even though all he wants to do is protect them. Eager to find his place in the world, he and his cantankerous yeti caretaker seek passage on the Frostheart: a ship-like sleigh whose mission is to explore faraway lands.

There he meets a fast-talking, spunky navigator, a walrus captain with a peg leg who runs a tight sleigh, and a mysterious traveler who encourages him to hone his song. But can Ash's song weaving save the Frostheart from the monsters hiding under the ice? Or will his untamed powers put his newfound friends in jeopardy?

Chockfull of heart and humor, as well as Jamie Littler's irresistable illustrations, the journey of the Frostheart will win over readers and gatekeepers looking for a rich, gateway fantasy read.
Author's Note Card. Here is a note from the author that welcomes us to the Snow Sea!
Signed Bookplate. Another awesome inclusion is a signed bookplate from the author!
I really like the artwork which looks similar to comic books!
The back of the book tells us more about the adventure that awaits us!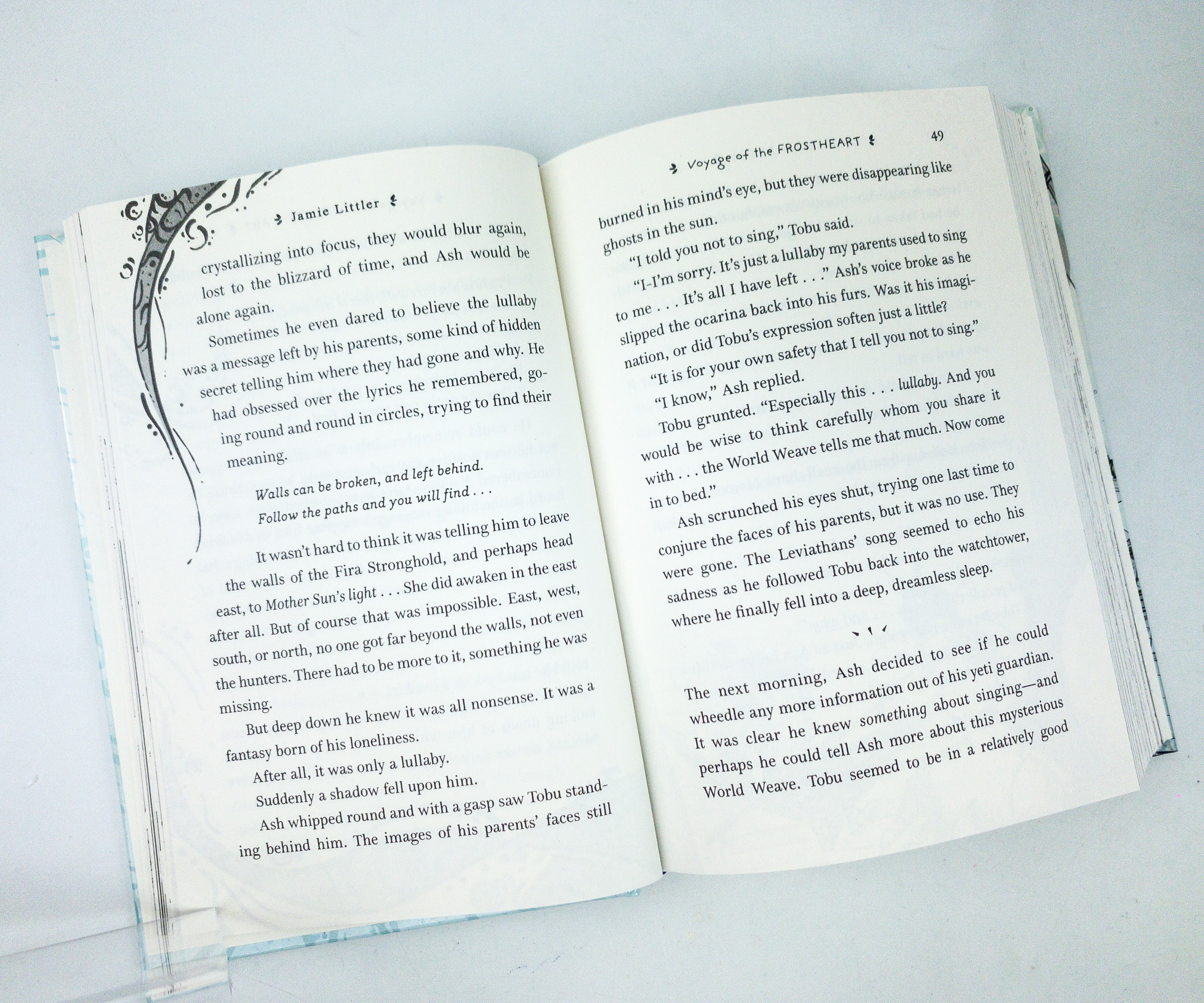 The story is about a boy named Ash, who is a Song Weaver, which has the magical ability to control Leviathans which are monsters that lurk beneath the Snow Sea.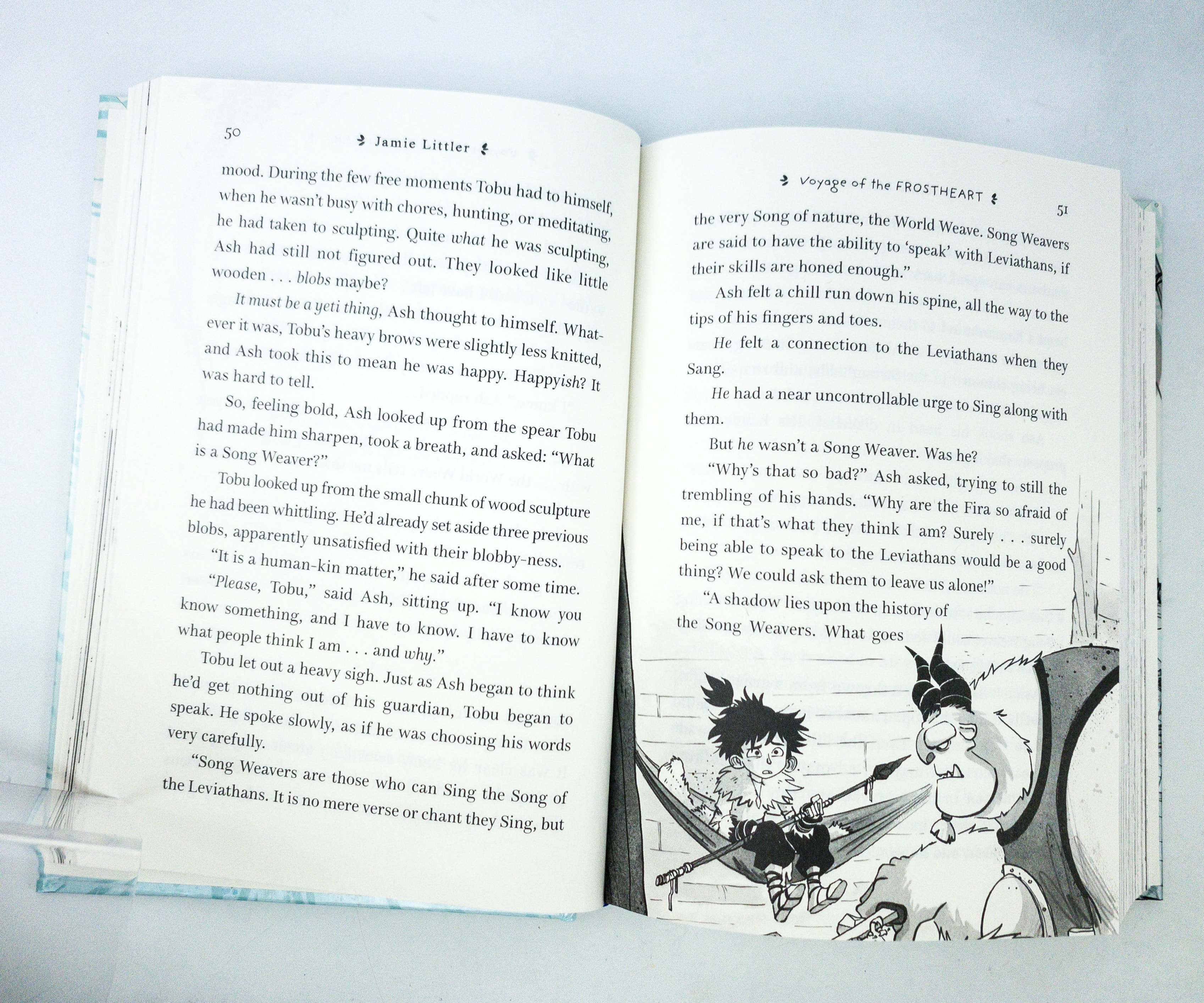 One day, Ash saves a crew of pathfinders, and from there, it is revealed that he has magical powers. He joins Frostheart, a sleigh packed with explorers that could use his help, and with them, he also wants to find the whereabouts of his family.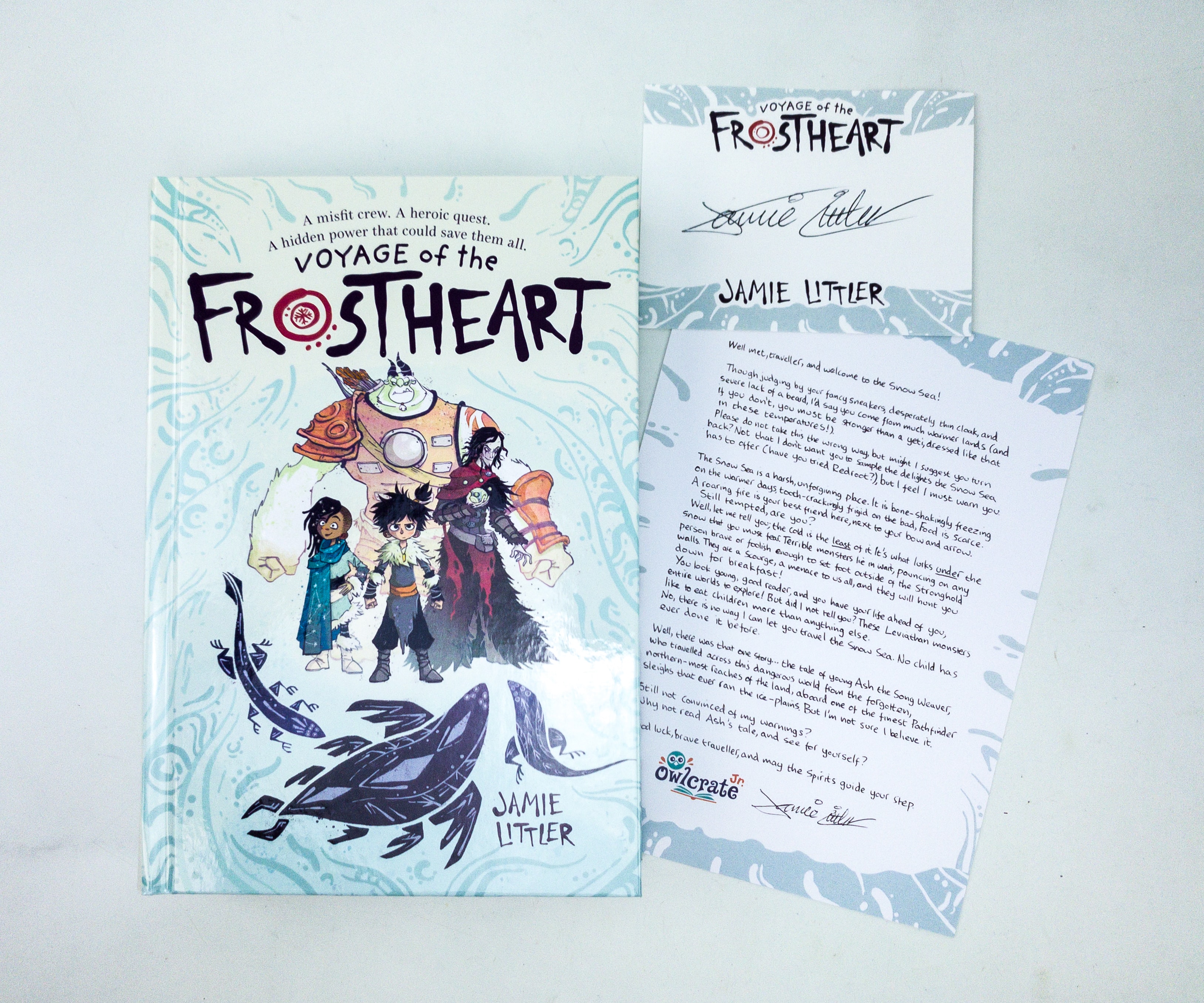 This was a hit with my kids as they love adventure stories!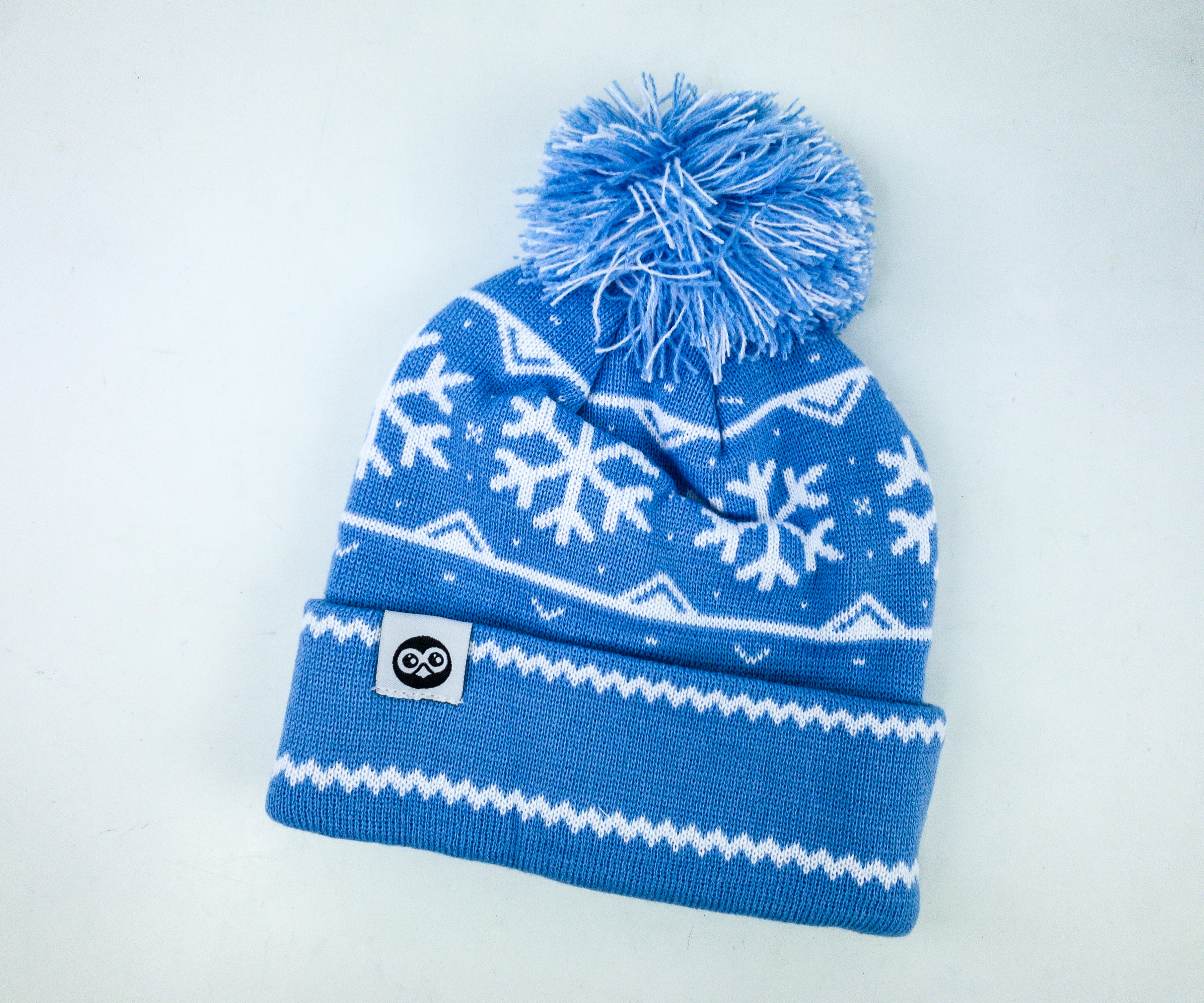 Beanie. To combat the cold and keep your head warm, they included a cute blue beanie with snowflakes designs.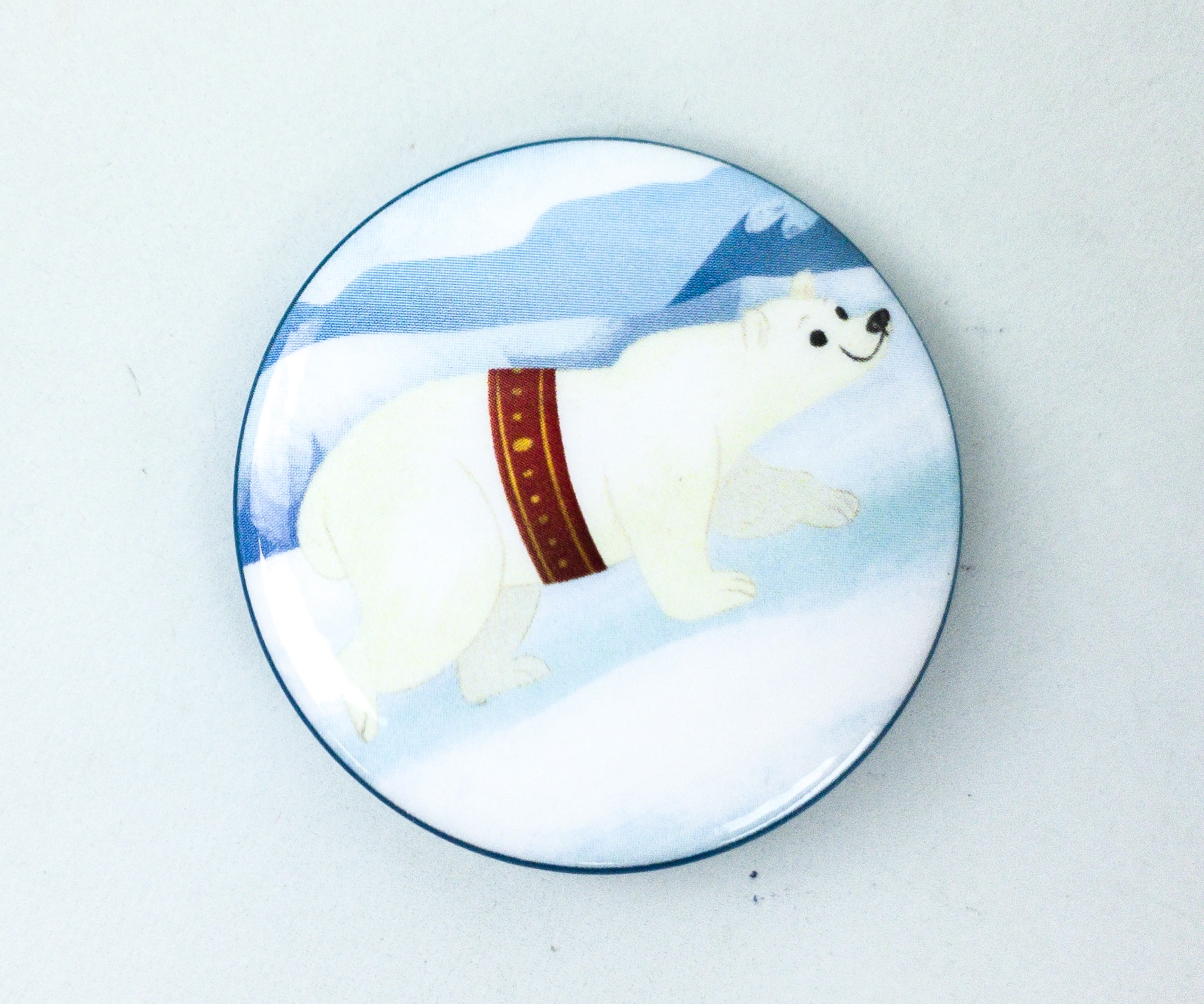 Button Pin. The button pin this month features a cloud-like polar bear. It's so adorable!
Pencil. We also got a green pencil with an eraser, and the title of the book is also printed on its body!
Bath Bomb. They also included a bath bomb that looks like a snowball!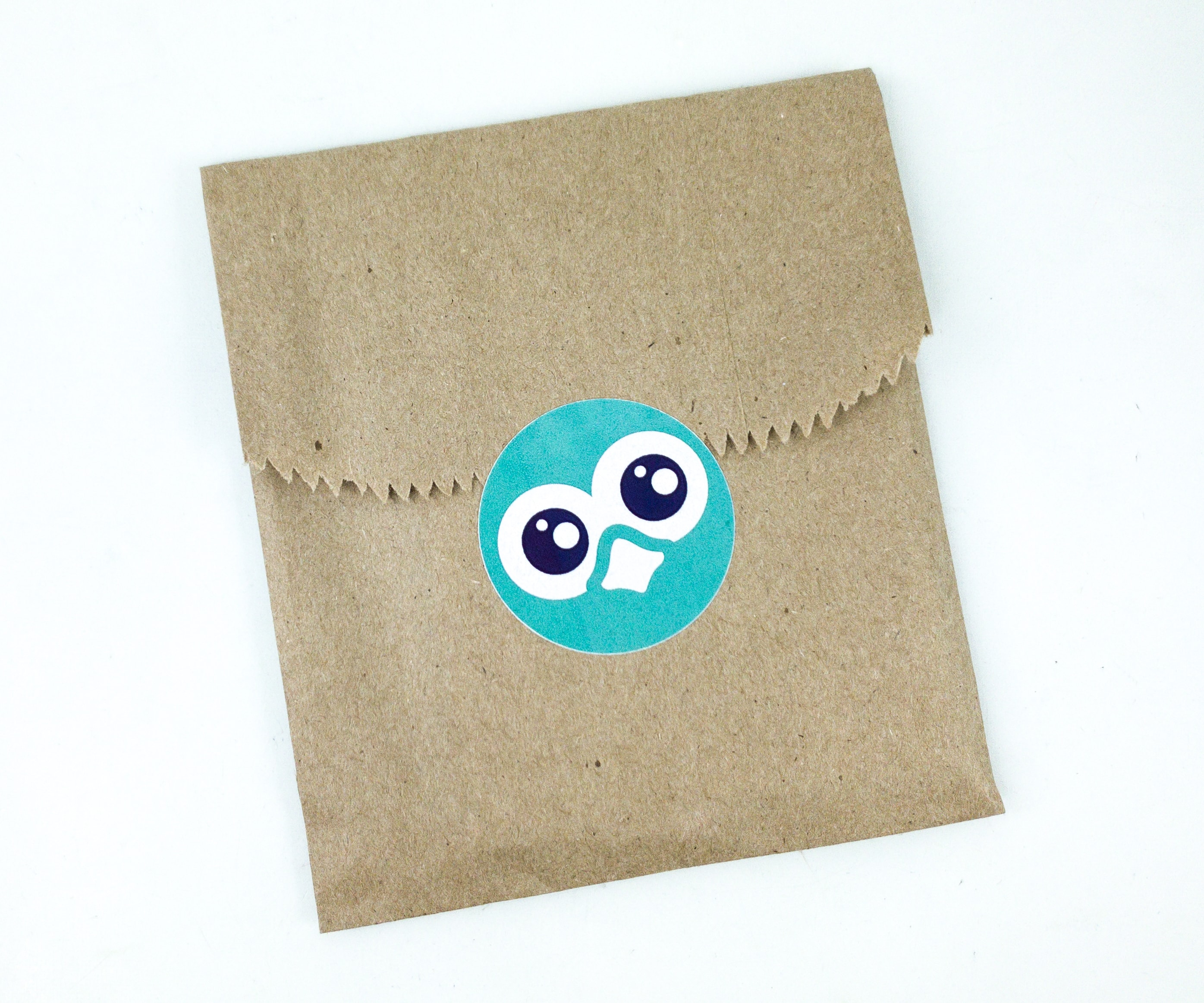 Owlcrate Jr. Ornament. The next item are placed in a brown bag sealed with an OwlCrate sticker.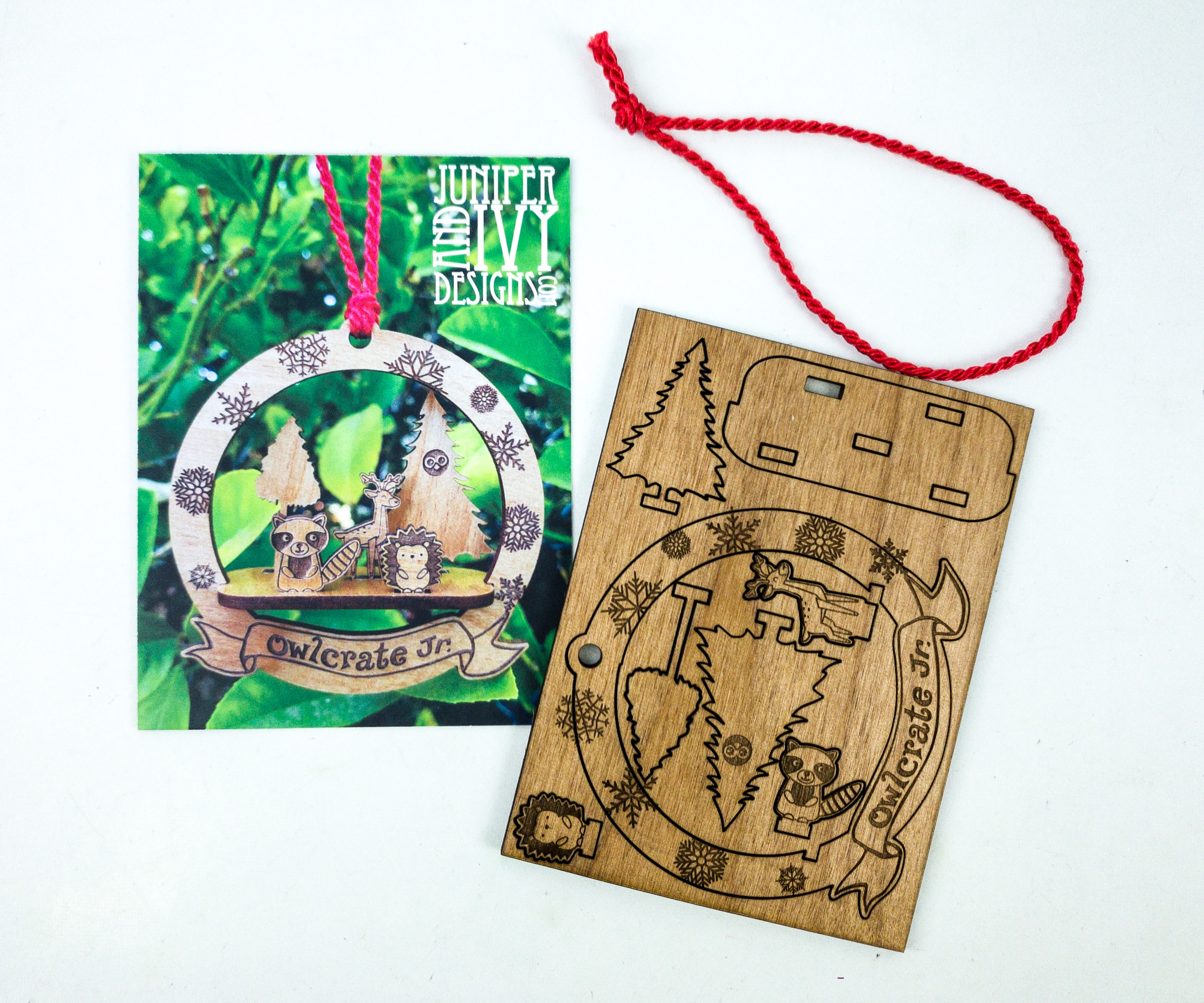 It's a wood ornament!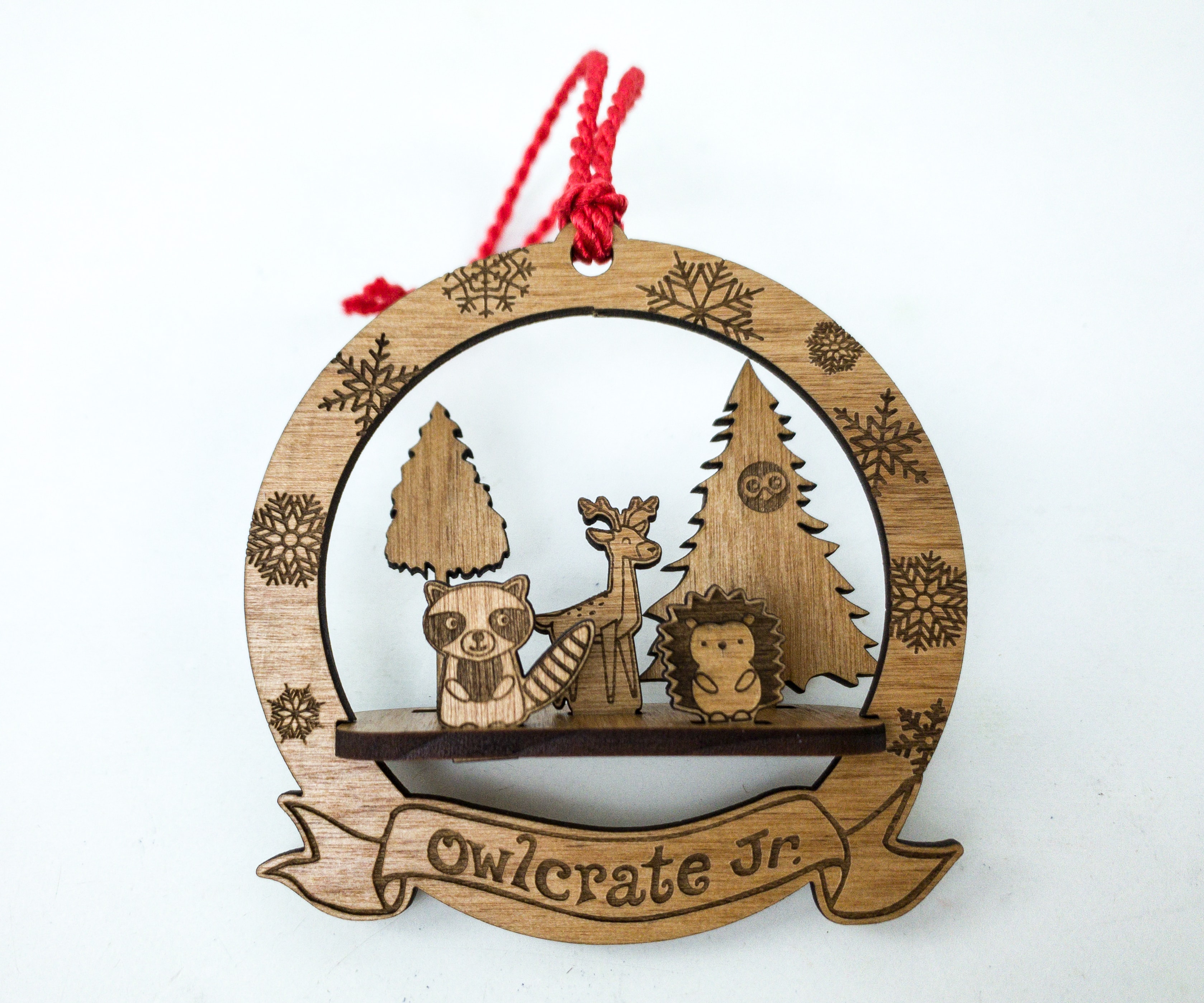 Complete with a string, the ornament is like a puzzle that we need to solve, and the finished product looks amazing. The animals are enjoying their time beside trees.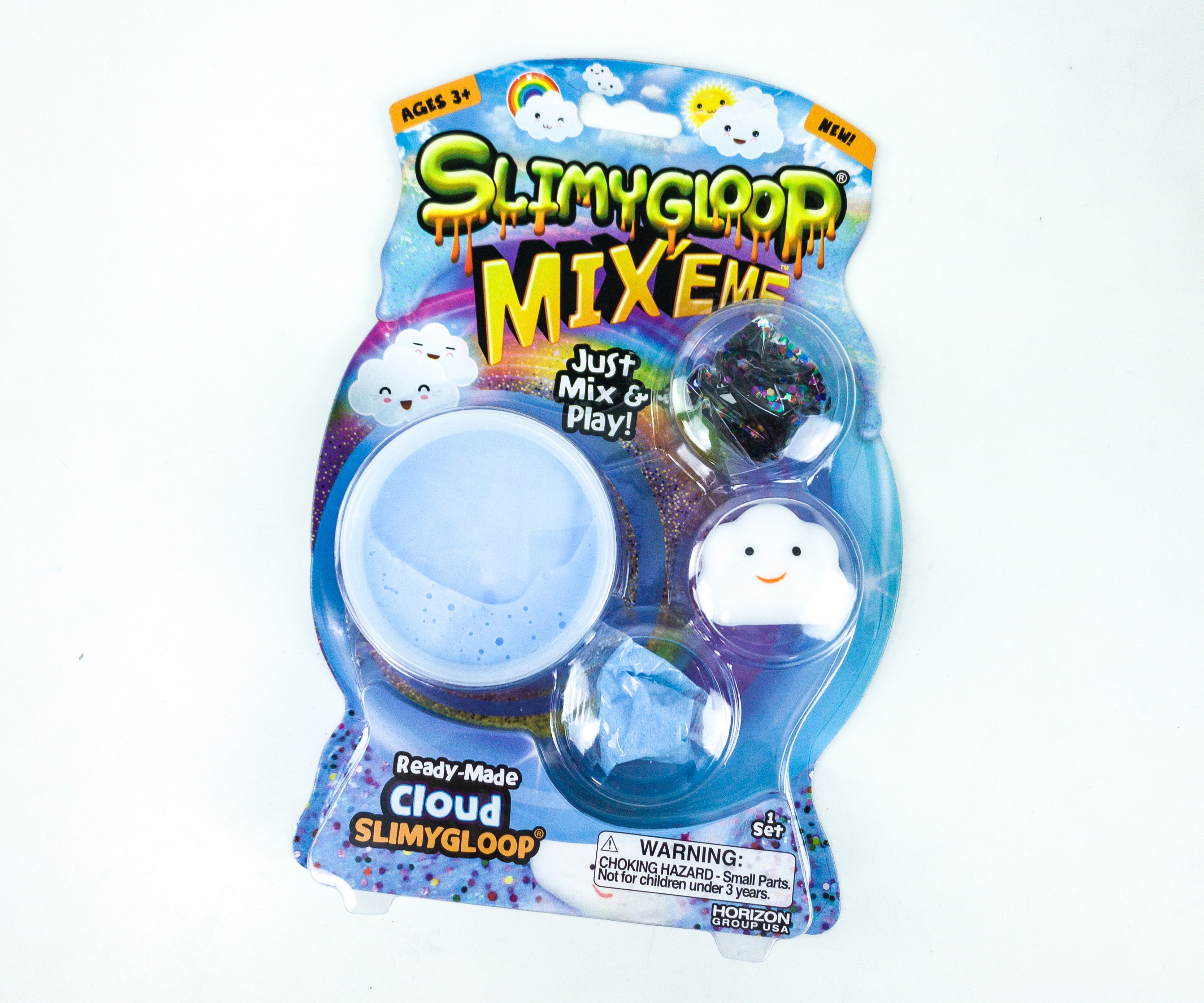 Slimy Gloop Mix'Ems Cloud ($6.99) Another fun inclusion in this month's box is a Slimygloop!
The back of the packaging provided more information about the gloop. It includes a reusable container, Slimygloop, Hexagon glitter, Instant Snow Net, and a squishy cloud figurine.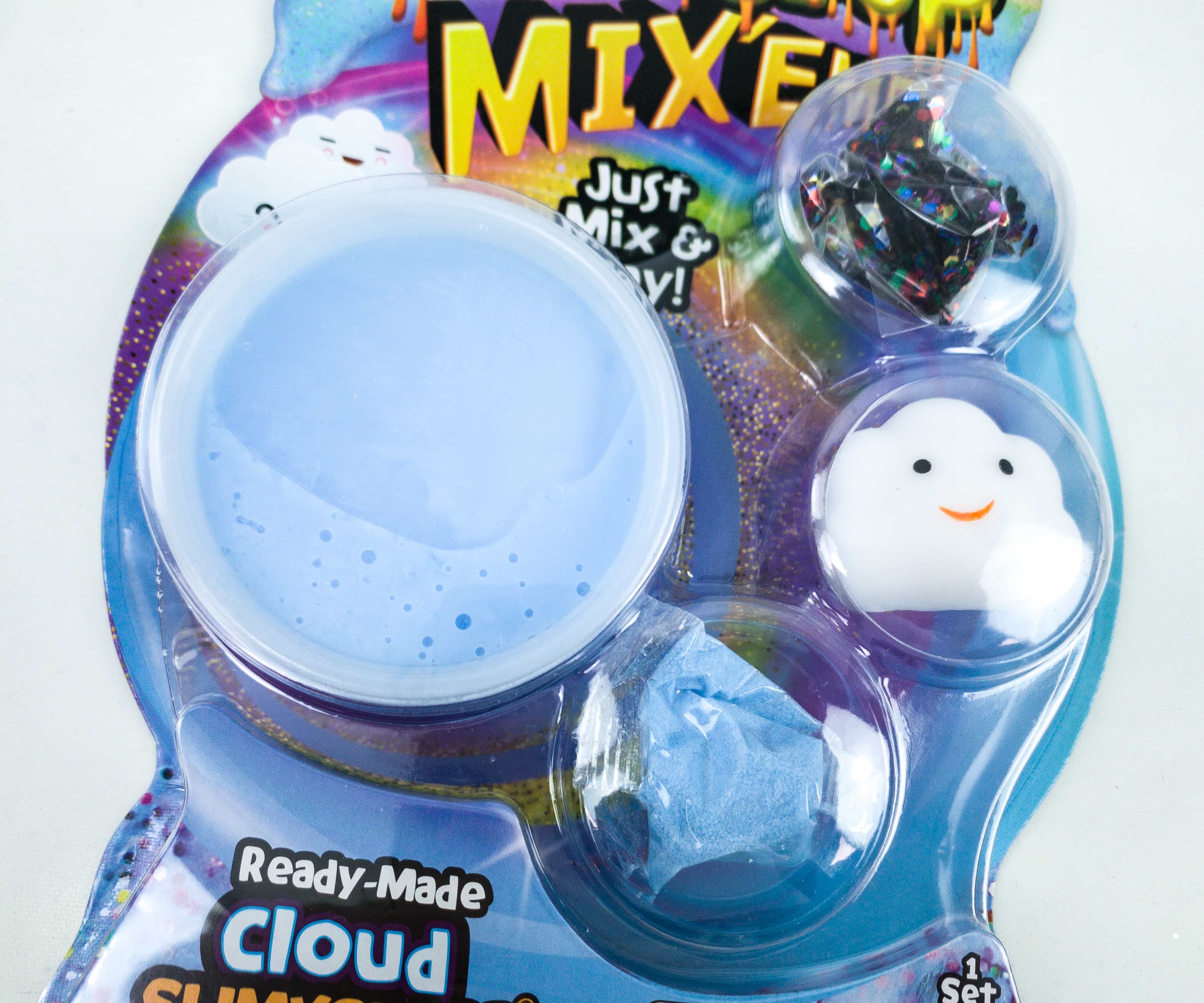 Just mix and play with it by taking out the ready-made slime and add some glitters and the squishy cloud on it. You can squish, twist, stretch, and squeeze it! It's really therapeutic!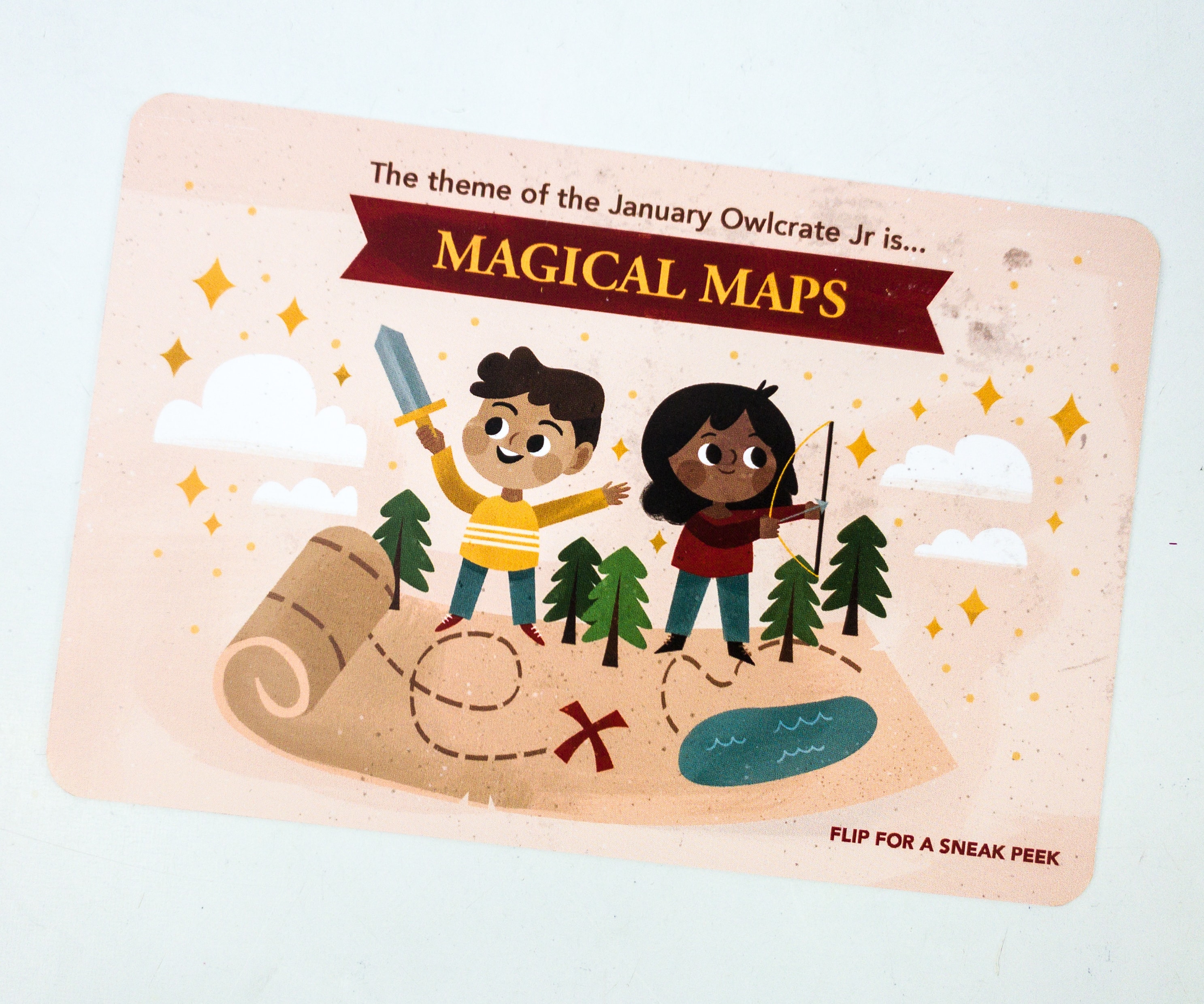 Here's a sneak peek for next month's box!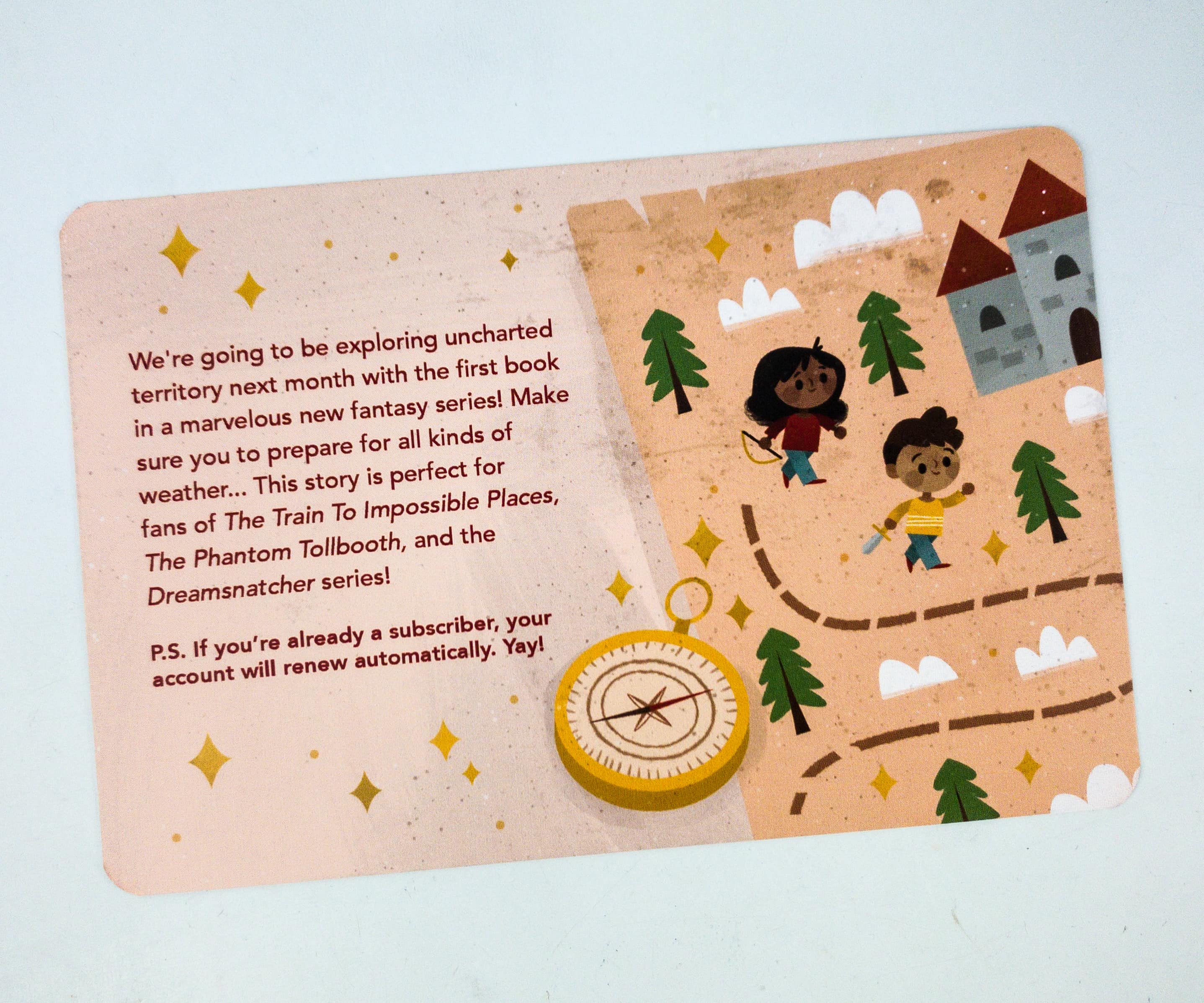 The January box is all about Magical Maps!
We're going to be exploring uncharted territory next month with the first book in a marvelous new fantasy series! Make sure you prepare for all kinds of weather… This story is perfect for fans of The Train to Impossible Places, The Phantom Tollbooth, and the Dreamsnatcher series!
We were really excited to explore this month's OwlCrate Jr., which is about Frost & Ice, and it didn't disappoint! The story of Frostheart is really an adventure of a lifetime, and we all enjoyed the ride with Ash. Other inclusions like the beanie, ornament, pencil, and the cute pin are also awesome. We're already excited for the next box, as the theme promises a new and fun adventure with Magical Maps!
What did you think of the OwlCrate Jr. box this month?