Nom Nom is a healthy dog food subscription that ships on a weekly or monthly schedule (you choose which) so you always have fresh, human-grade food for your best friend. The dog food they send is formulated by a leader in veterinary nutrition and cooked by a professional chef. Upon signing up, you create a profile for your pet to personalize your plan.
DEAL: Get 50% off your first order! USE THIS LINK to get the deal. Price starts at around $16-17 per week.
They sent a bag of treats with our order! The frozen food is at the bottom of the box.
It's neatly covered with a gigantic ice pack and wrapped inside an insulated bag. The sheer volume of food also helps keep it chilled in transit.
Our kit includes the following for each dog: a week of transition meals, three weeks of regular two-a-day portions, plus a sample size of all their different recipes!
This month's box includes a Nom Nom card.
This card features a variety of tips and tricks to get your pups into eating – these tricks works even for your picky eater pets.
Flavor Flakes. This powder mixture features a combination of Bonito fish flakes and dried beef liver. It's a superb supplement powder rich in amino acid and protein that helps improve digestion and immune system.
According to the card, you can mix a quarter full tablespoon for every 450 grams of dog food.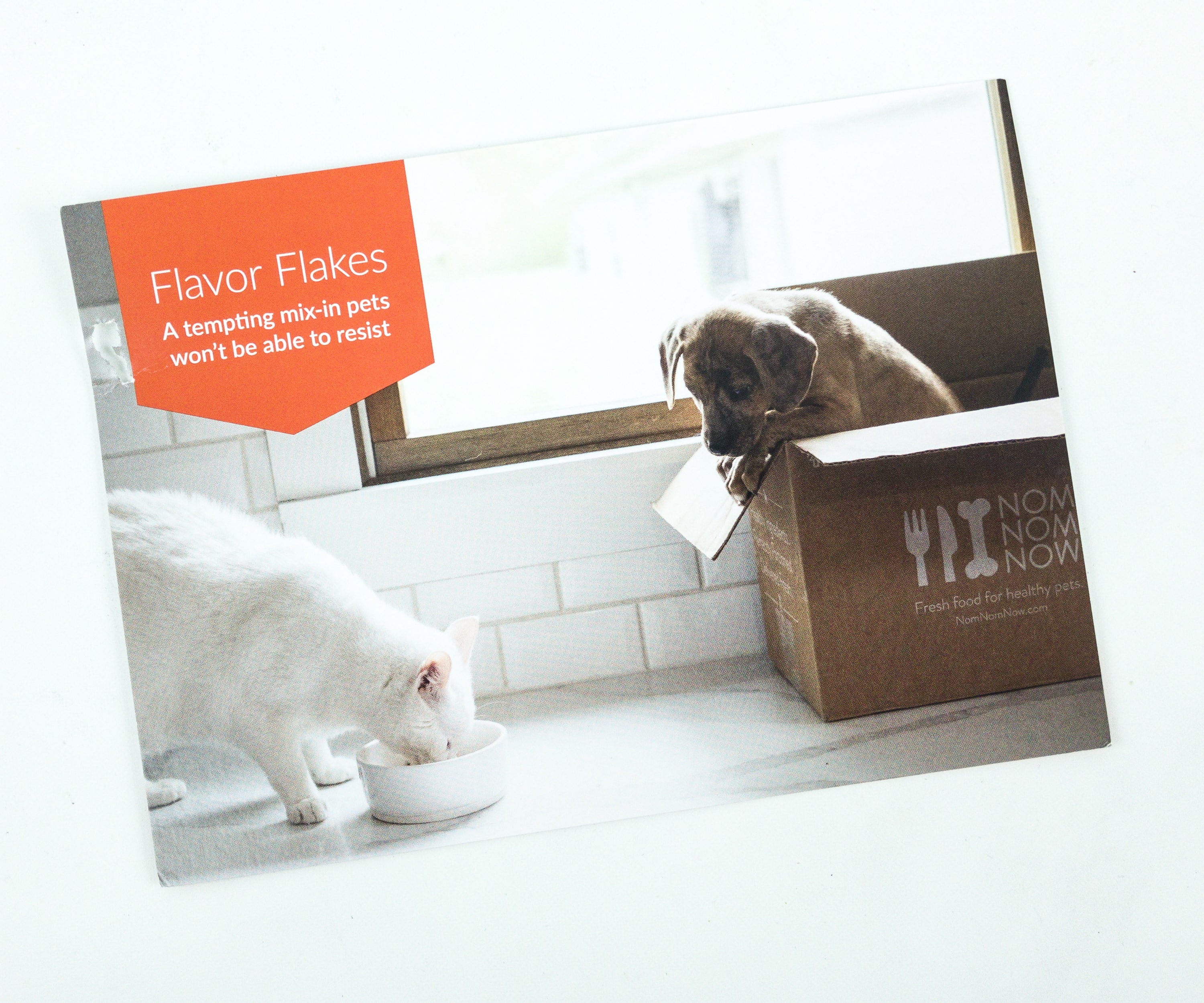 This mix is perfect for picky-eater pets!
Everything in my box!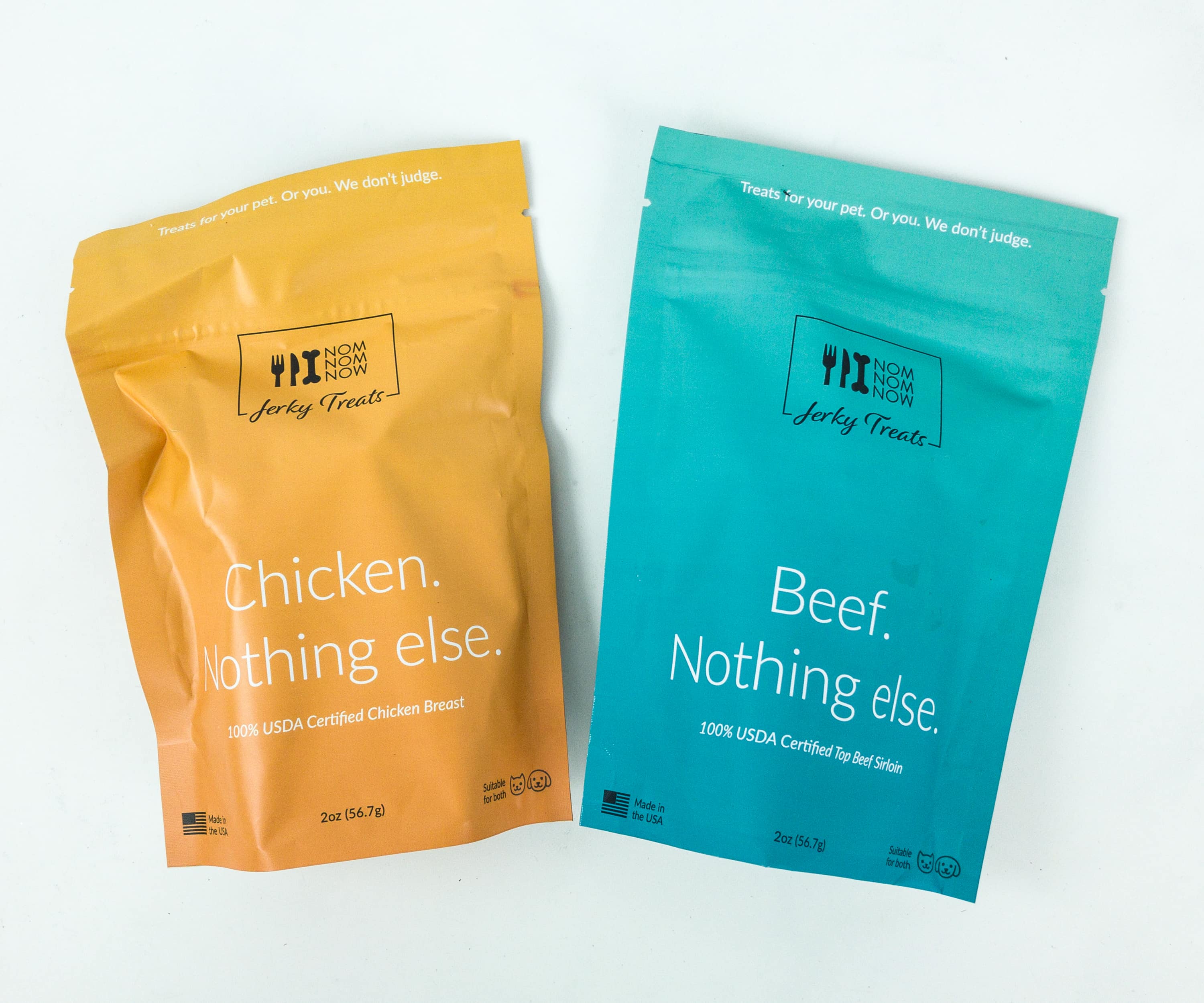 This month's box includes a pair of Nom Nom treats!
Beef Jerky ($12) The first bag contains beef-flavored jerky snack made from 100% USDA certified top beef sirloin.
Made with all natural ingredients, it's not just yummy but a great source of protein too.
The bag is resealable, making sure that all the treats stay at its best condition.
Chicken Jerky ($12) The next bag of treats is a chicken jerky snack made from USDA certified chicken breast.
The chewy jerky has a golden brown color and a rough texture. It also has a strong scent that is really inviting.
Like the first snack, this one also comes in a resealable bag, ensuring its freshness even your pups can't consume them all right away.
Variety Pack For Dogs ($15 per pack) These are the pre-portioned dog food with a variety of mouthwatering flavors and ingredients. Our pack includes Chicken, Turkey, Beef, and Pork.
Porkalicious Potluck. For the pork meal, they mixed ground pork with russet potatoes, green beans, squash, brown mushrooms, kale, and seasonings.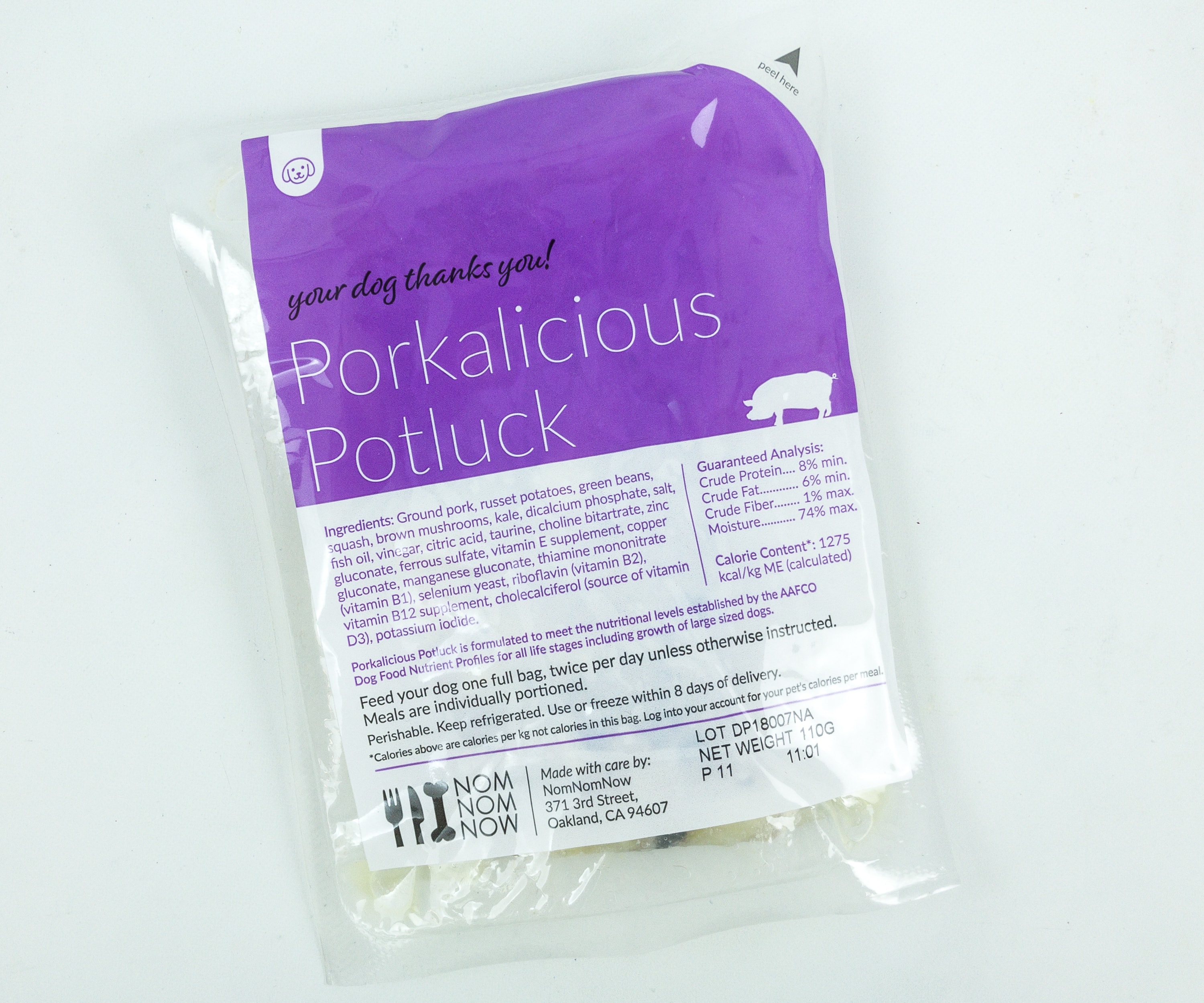 Featured at the back of the pack are all the necessary information you need to know about the product.
Each bag is good for one full meal.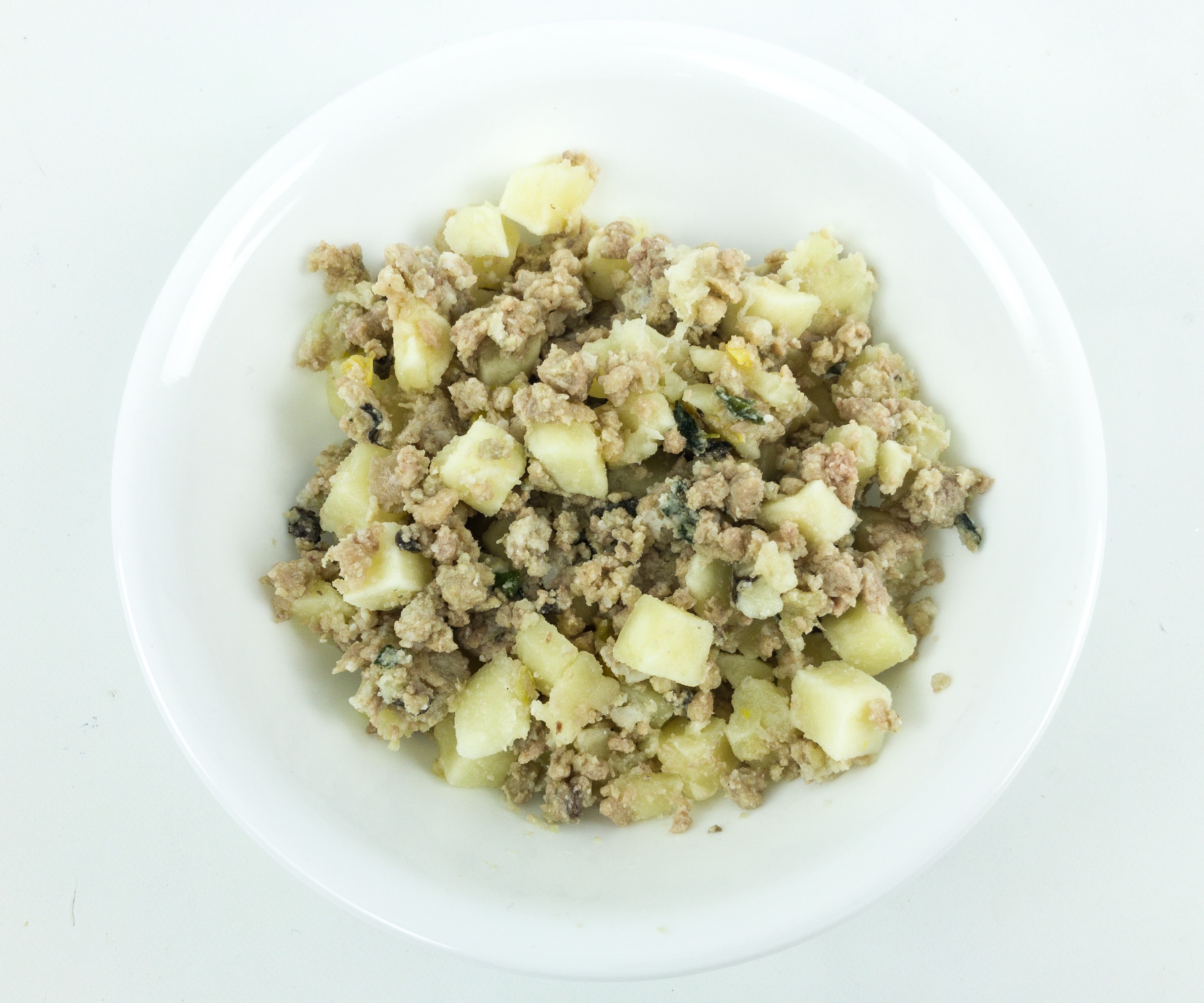 To serve, all you just need to do is open the pack, transfer the meal, and then serve.
Heartland Beef Mash. This one is made with pure ground beef, eggs, carrots, peas, russet potatoes, and seasonings.
It's also packed with ferrous sulfate, vitamin E supplement, and vitamin B12 supplement to keep your pups healthy!
The ingredients on this meal are more visible, I can easily the green peas, carrots, smashed egg, and of course the ground beef.
This meal definitely has a thicker texture. It's also chewier.
Chicken Chow-Wow. The third meal includes diced chicken, sweet potatoes, yellow squash, spinach, sunflower oil, and seasonings.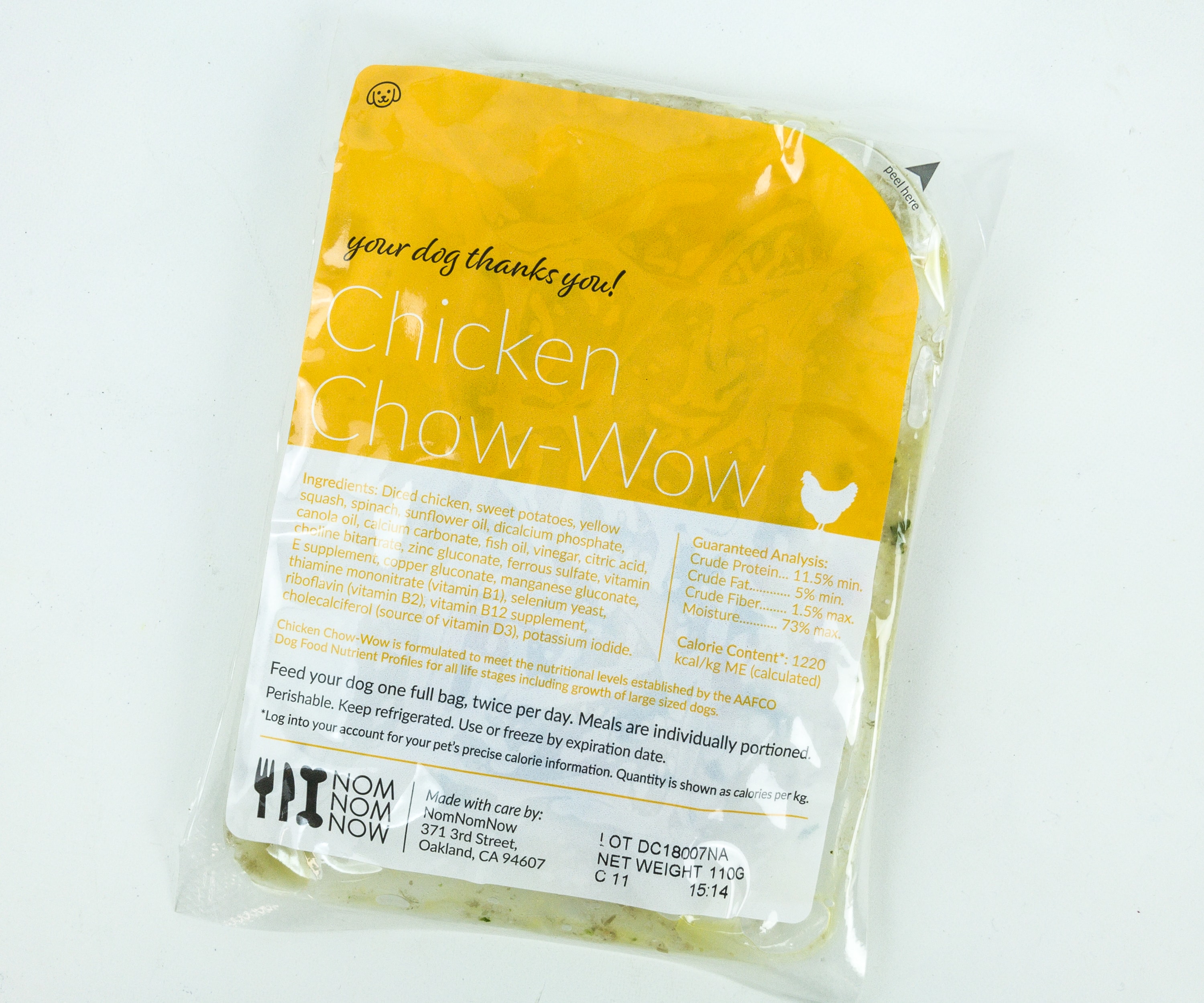 It's also packed with protein, fiber, and fat that helps improve your pup's coat and promotes digestion.
It's so meaty!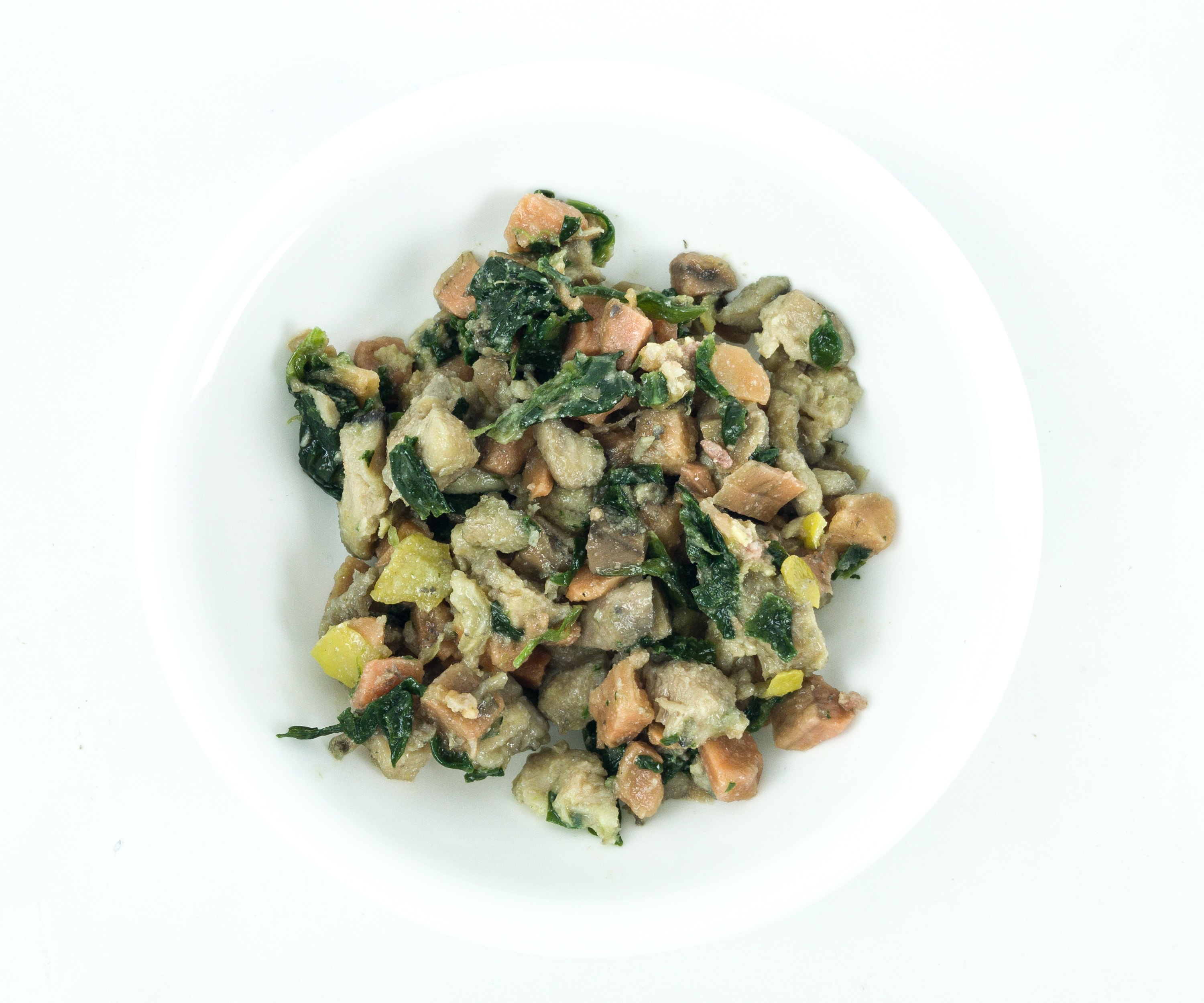 The vegetable leaves and corn are very much visible. My pups love them!
Tasty Turkey Fare. As suggested by its name, this turkey meal looks so tasty!
This variant includes ground turkey, eggs, brown rice, carrots, and spinach.
It's a highly nutritious meal that contains vitamin E, copper, manganese, citric acid, and potassium. It's also rich in fiber, protein, and fat.
They're a bit crumbly but it wasn't a problem with our pups.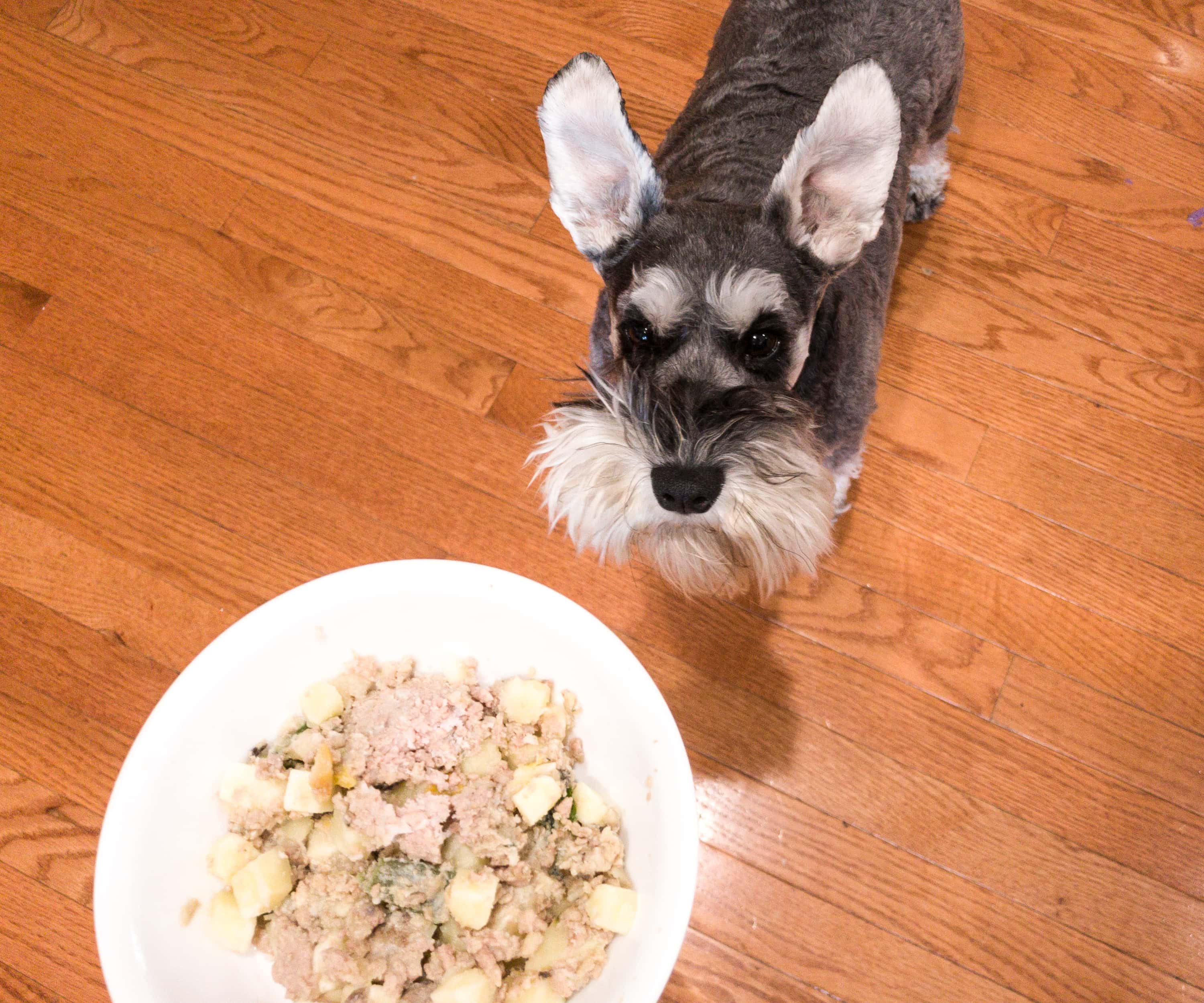 Here comes your meal, Dean Dog!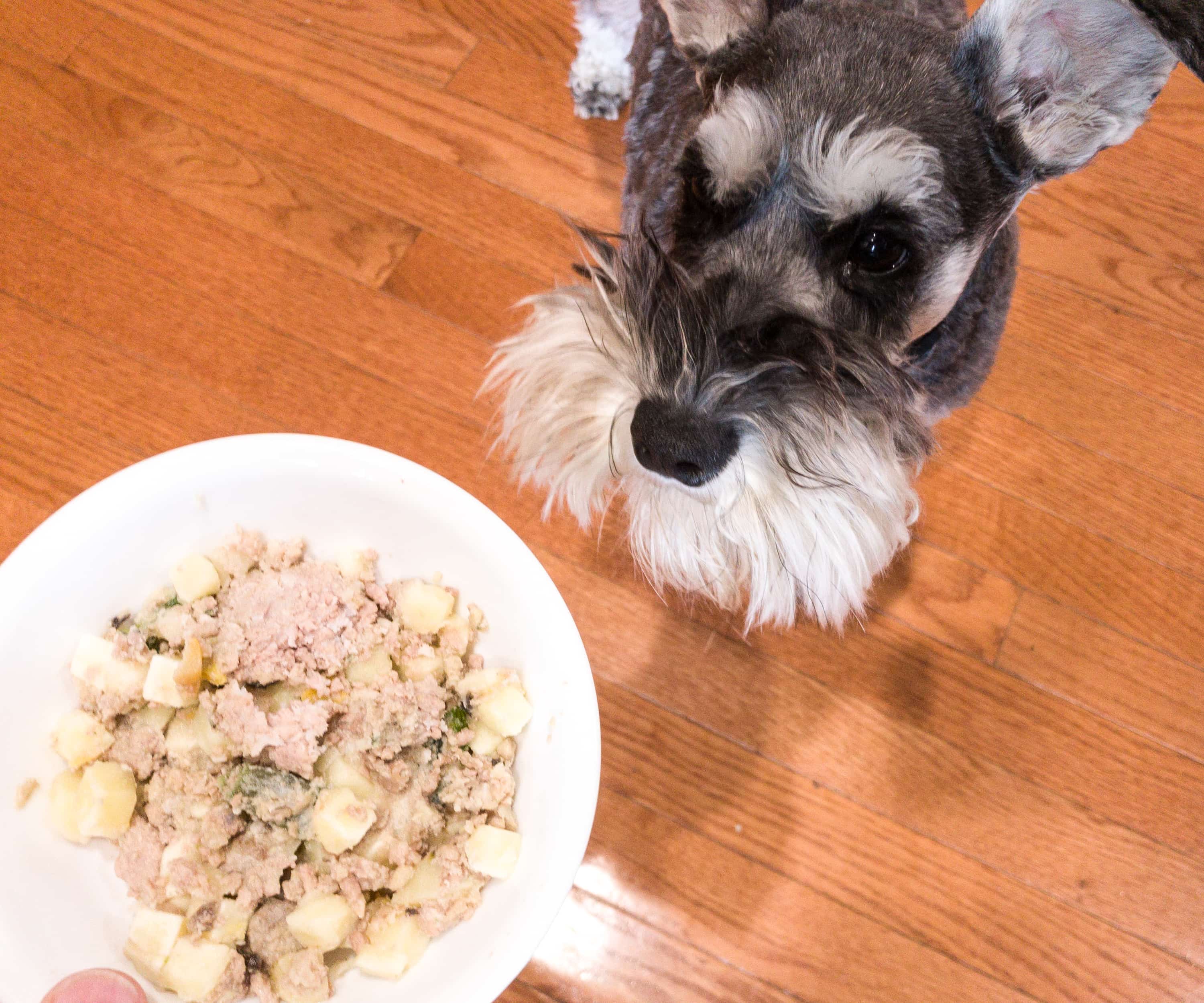 Dean was really curious about the meal and it was only a matter of minutes before his serving was gone!
Nom Nom is a super convenient way of getting fresh meals for your pet. All the meals this month arrived in perfect condition. They even included jerky treats, which are both perfect treats for training. The Variety Pack is awesome too. It contains four different recipes, with each bag equivalent to one full meal. This subscription is definitely ideal for busy pet owners or simply if you want healthier food for your beloved dog!
Are you getting Nom Nom?