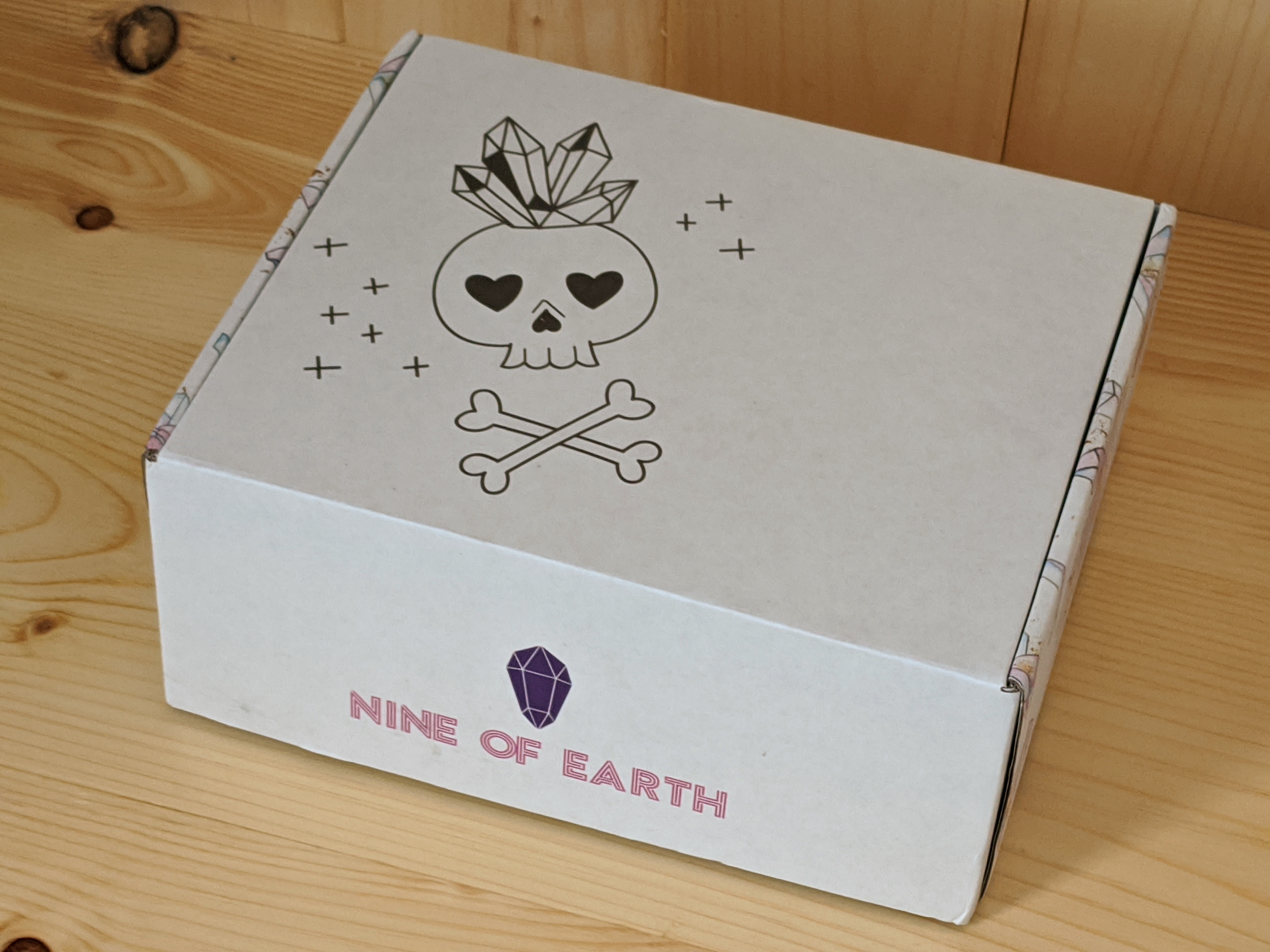 Nine of Earth is a bi-monthly mystical subscription box for Magickal, and Modern Bad-Ass Babes! Every box will include 6+ items including one unusual Tarot or Oracle related item, one piece of unique jewelry, and other fun lifestyle items that fit the theme of the month. Typical items you may receive include a t-shirt, key chain, crystals, decor, candles, etc. Grow your Tarot collection with unusual decks & tarot items, unique jewelry pieces. This box is $59.99 every other month. This box is still available if you order before February 29th.
DEAL: Get 10% off your first box! Use coupon code SAVE10.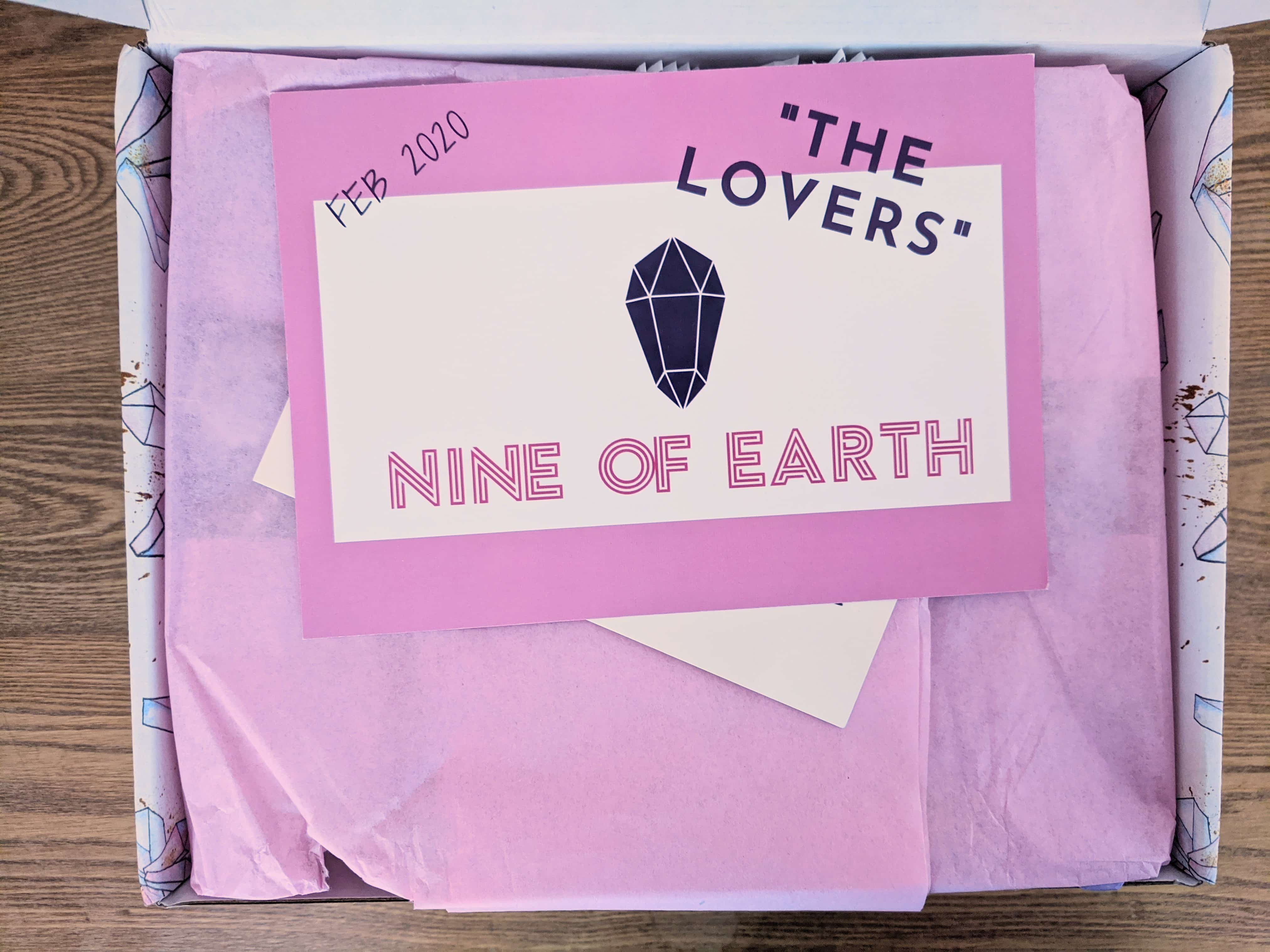 There were two options for February. Subscribers could choose between the "The Lovers," which would include a T-Shirt but no tarot or oracle deck, or "Crystal Love," which would include the Crystal Visions Tarot deck. This review is for "The Lovers" box.
Everything was lovingly packaged with pink and light purple tissue and lots of paper squiggles. It also smells soooo good, like sweet candies.
On the back of the theme card, we have the list of all the items in this box. This box is packed!
This little card with the sane design as on the box is so cute! I love the crystal "hair".
"Yeah Bunny" The Lovers T-Shirt. This is a lovely t-shirt is 100% cotton with a drawing created by @ivoadventures.
Look at the cute little pugs! This is such a lovely interpretation of "The Lovers" card!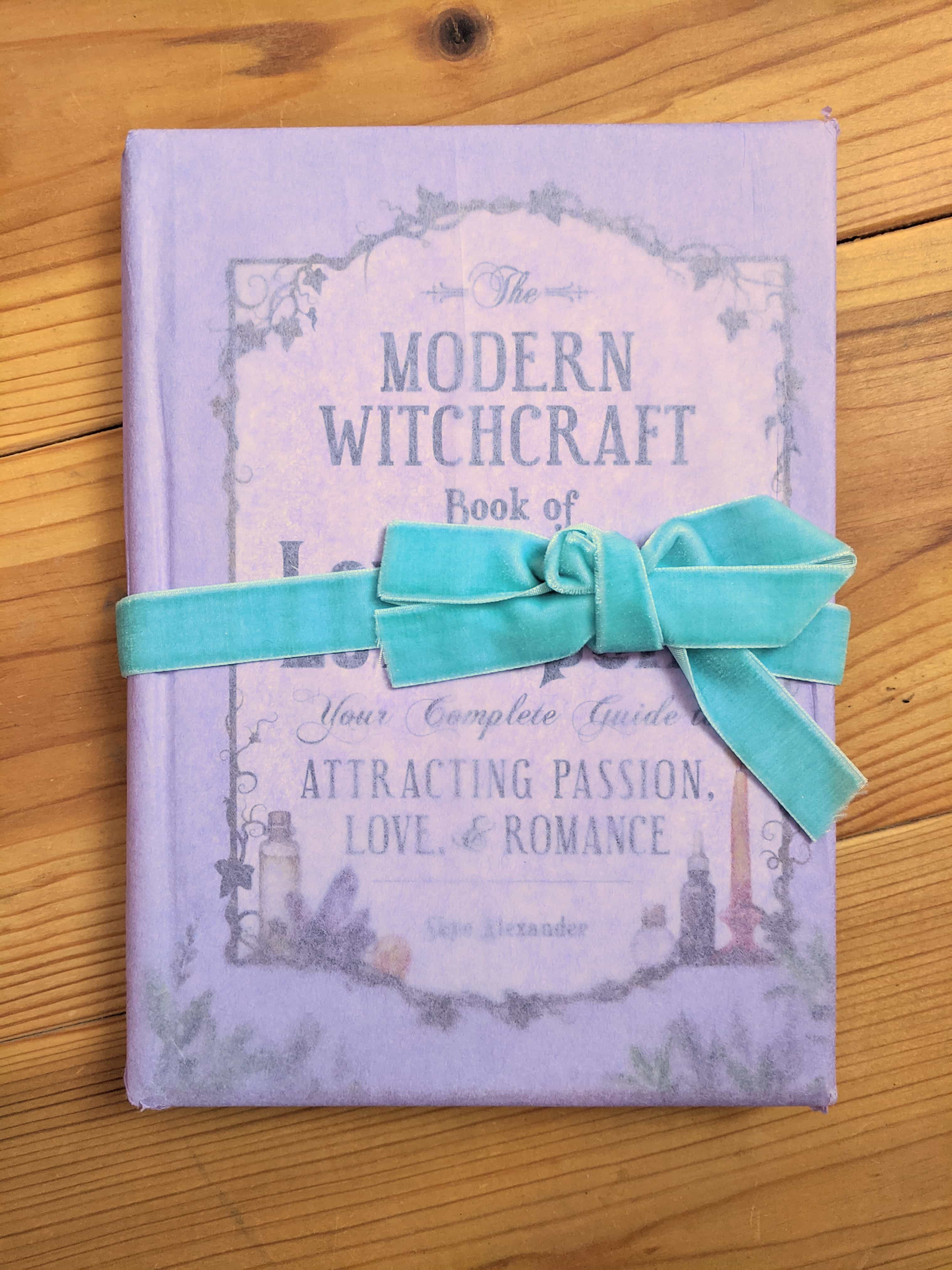 I love how some of the items are wrapped to protect them from everything else in the box.
Modern WitchCraft Book of Love Spells by Skye Alexander.
From the author of the Modern Witchcraft series comes a new book on romantic spells to bring you love, companionship, and passion, with straightforward, accessible spell instructions.

The Modern Witchcraft Book of Love Spells is a comprehensive collection that will help you get the love you want—from manifesting a mate, to blessing and helping new love, to helping you reconnect with a partner and stoking the flame to add fire to your romance.

This book will guide you toward your romantic desires to find love—with the help of a little magic!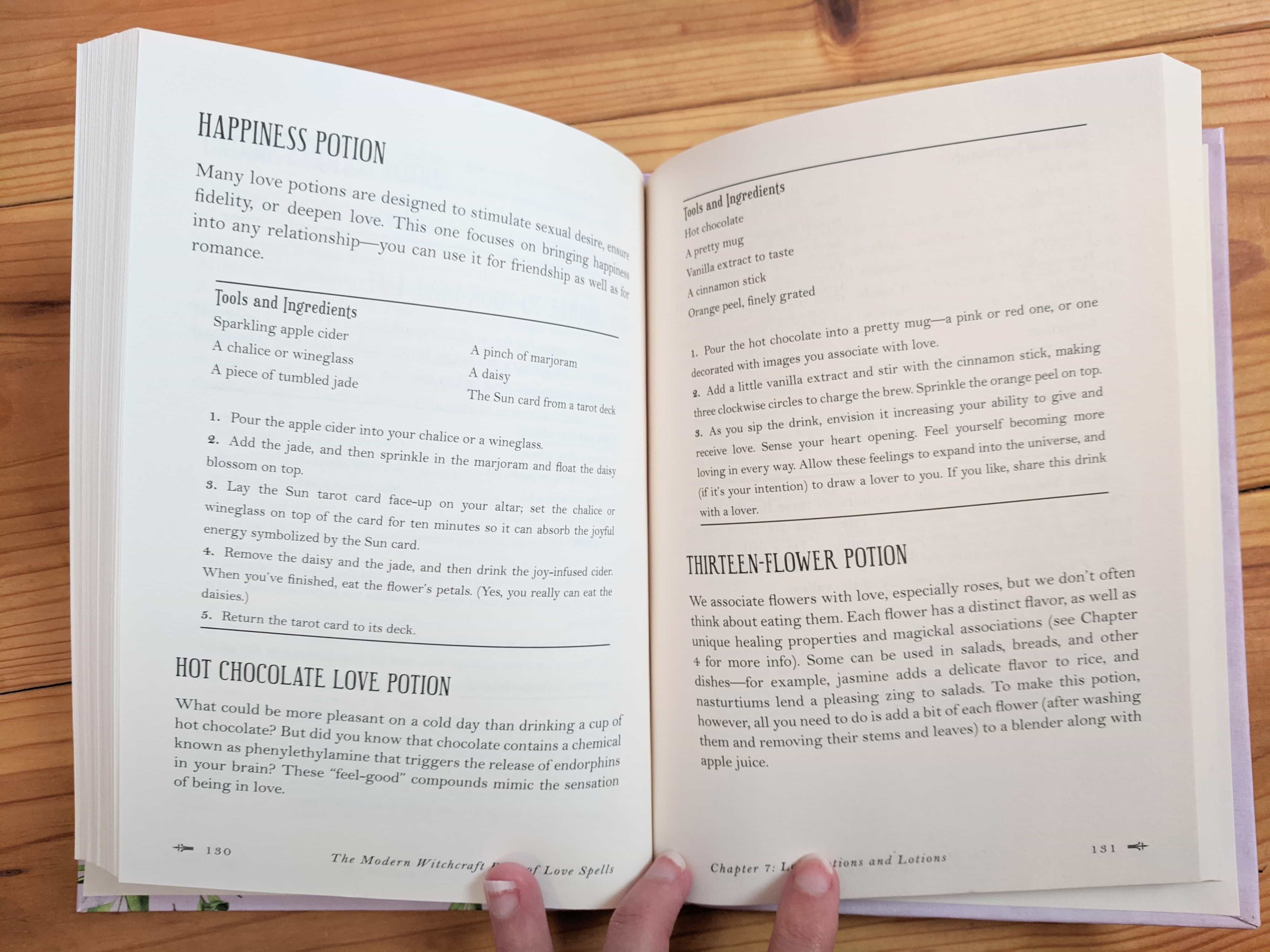 I love that the spells and potion can be used for different kinds of Love: friendship, self, family, and romantic relationship. And who can say no to a Hot Chocolate Love Potion?
I love the idea of planting a romantic garden to bring love and happiness to our home.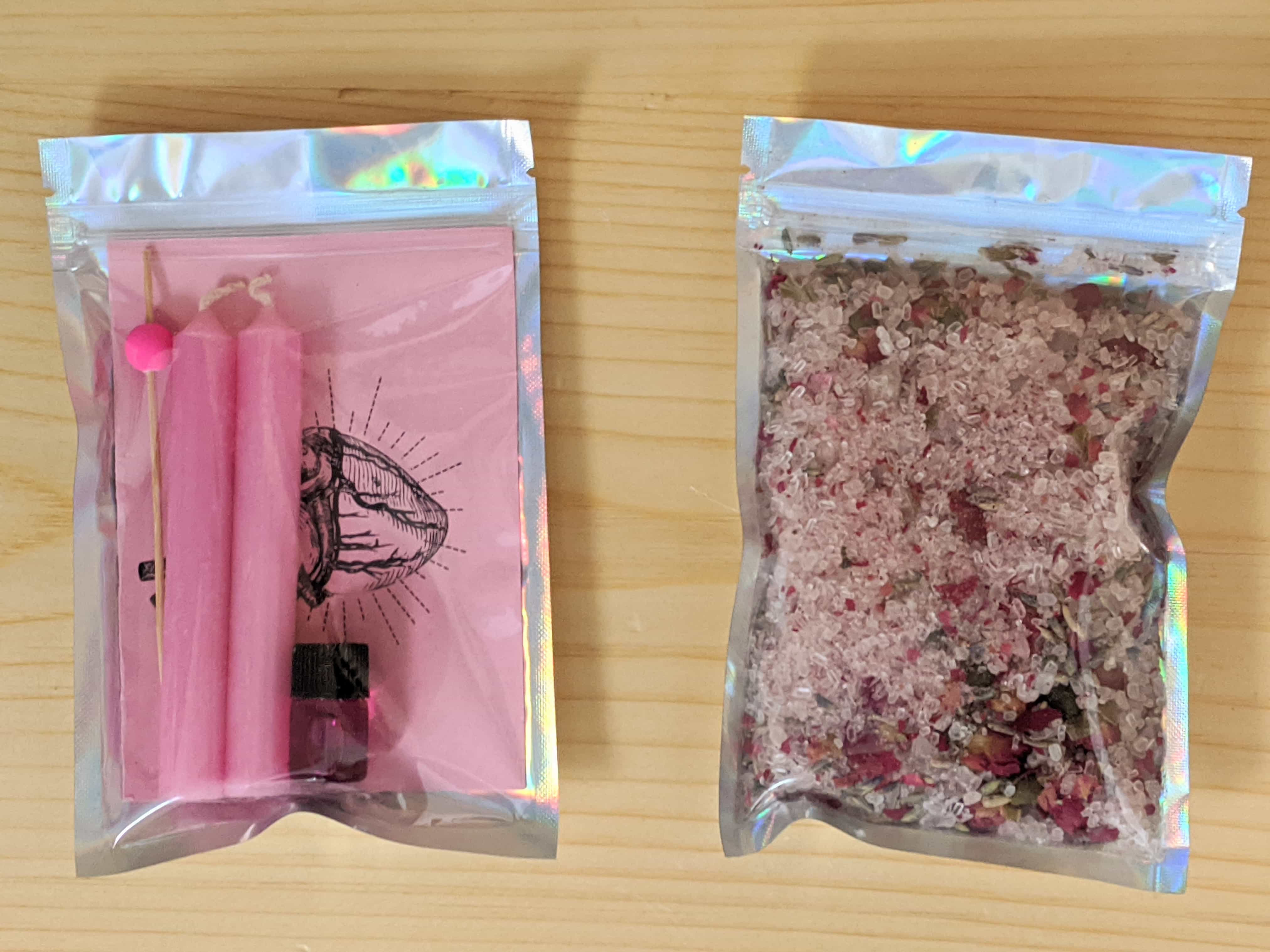 Pink Candle Spell Kit. This little kit comes with everything you need for an easy love manifestation kit.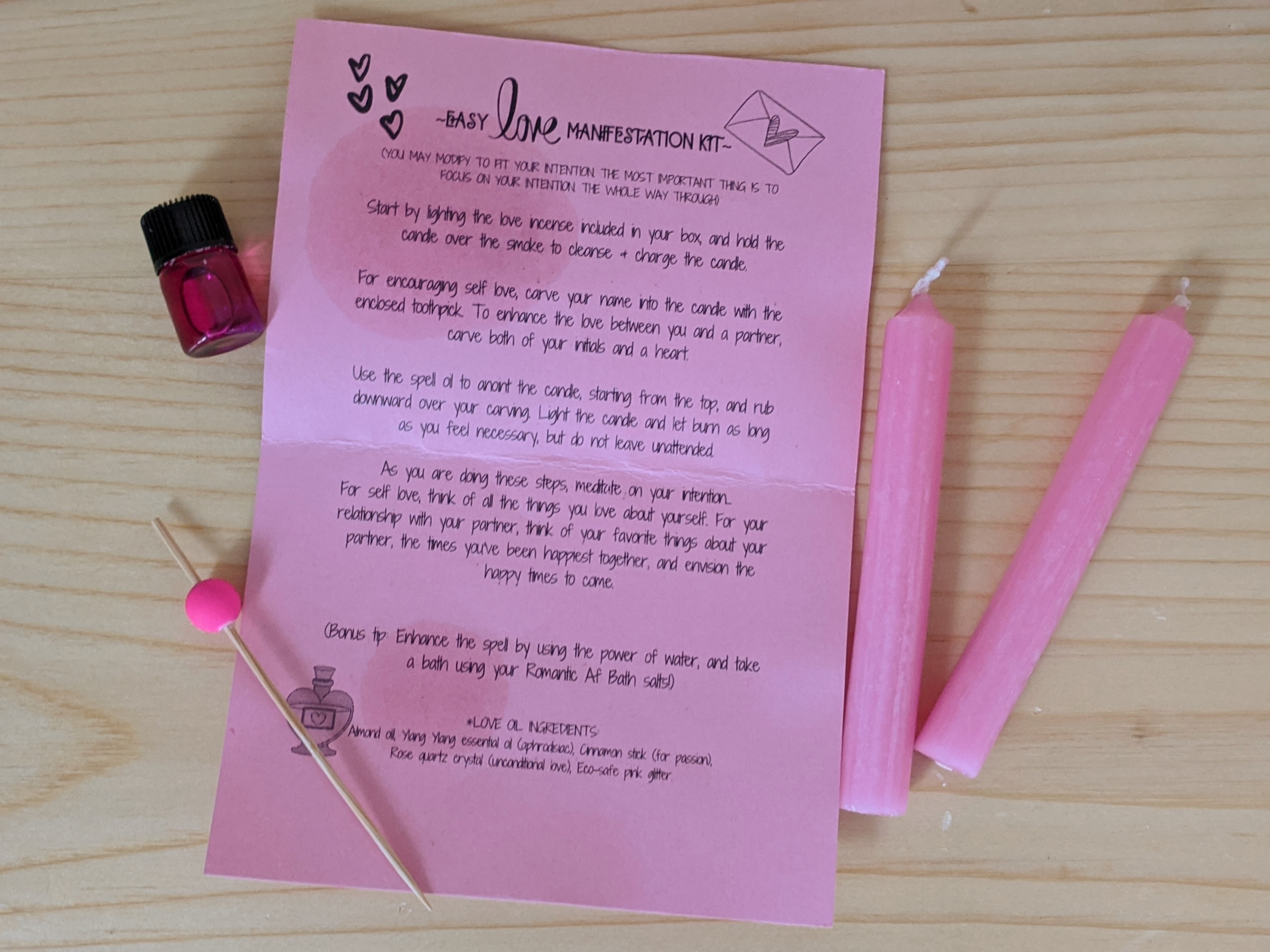 The kit contains two small pink candles, a ritual love oil (almond oil, ylang ylang essential oil, cinnamon stick, rose quartz crystal, glitters) and a carving toothpick. As a bonus, you can do this spell right before taking a bath with the Romantic Bath Saltsi.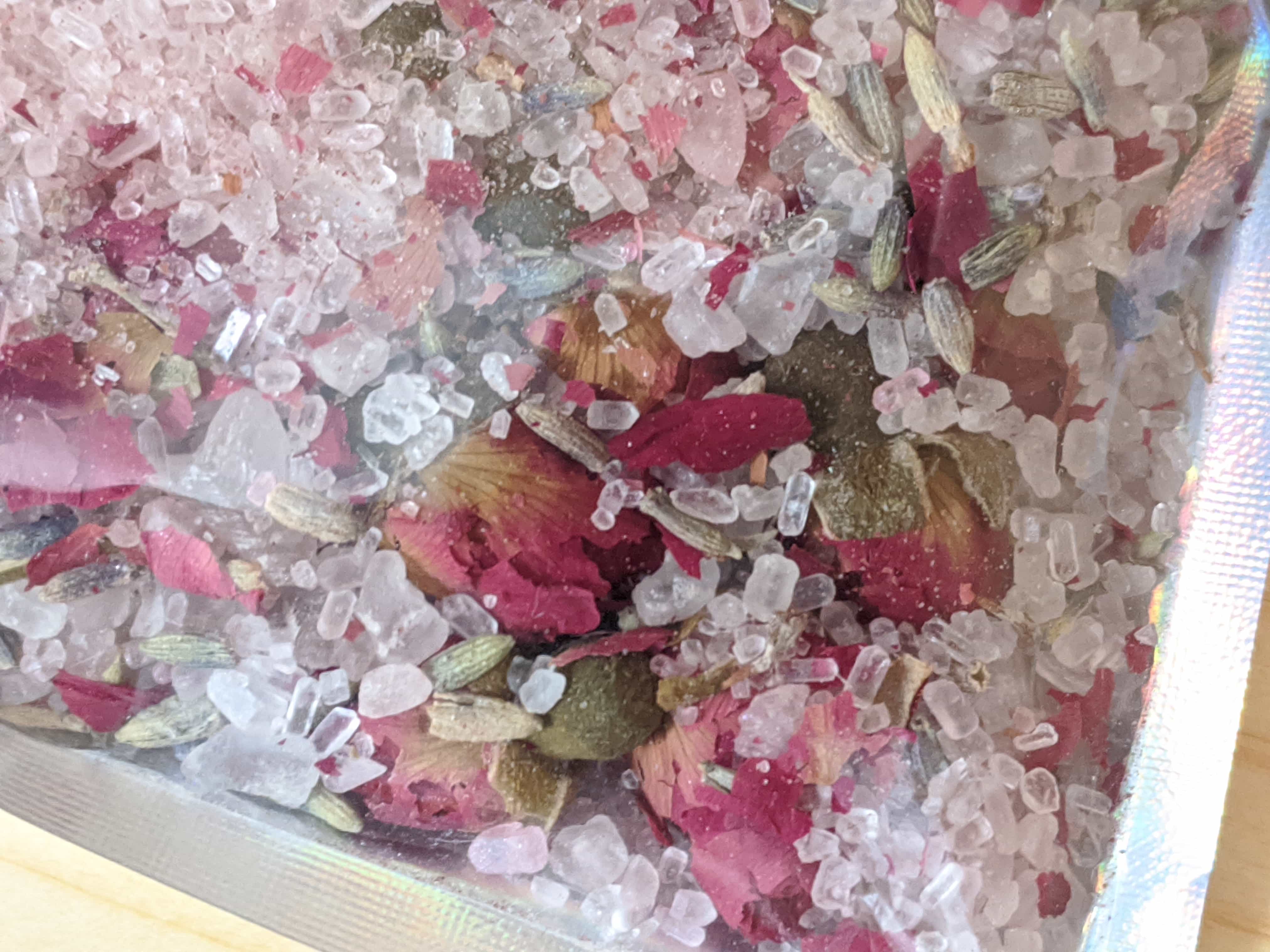 Romantic AF Bath Saltsi. These bath salts are made with a blend of Sea Salt, Epsom Salt, Lavender, Rosebuds, Rose Oil, Saigon Cinnamon, Vanilla Extract. I love taking a relaxing bath with rose petals and other kinds of flowers, I'm looking forward to trying these out! You can use it to give yourself some loving care, or as part of the Love Ritual with the Pink Candle Kit.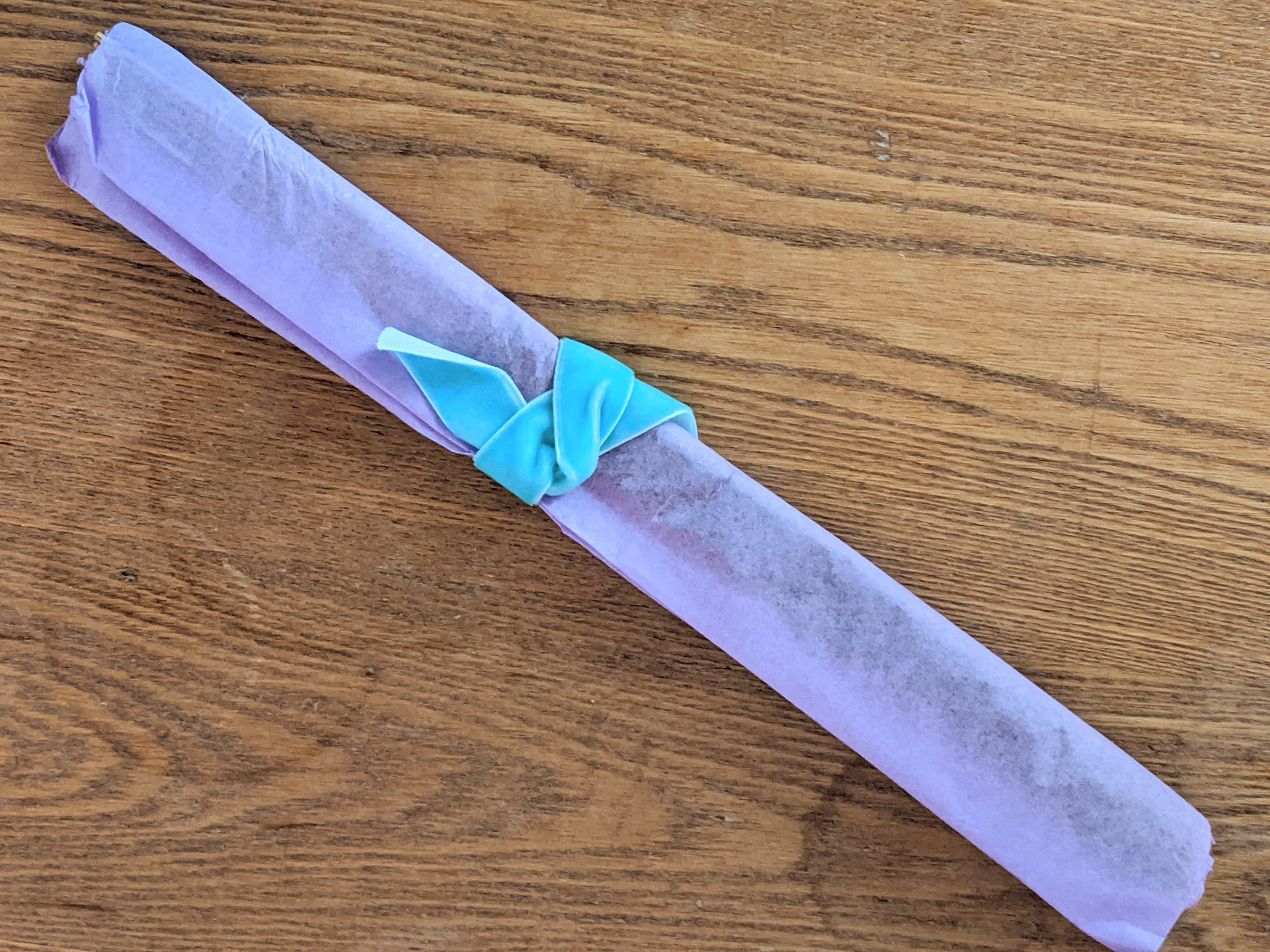 Even the Incense Sticks were package with purple tissue paper, and they really helped to get everything to smell good in the box.
Escential Essences Love Incense Sticks. We received 5 sticks of this lovely blend that could help bring pleasure and affection.
Rough Lepidolite. On the information card, we are told that lepidolite is said to help you realize your true desires, and is said to have the unique power to help you awaken to the joy all around you and stop thinking about the past. The lepidolite on this rock is the laminated purple part, and it's gorgeous. I love the calmness coming from this stone, and it's a stone that helps me take my time before making an emotional decision.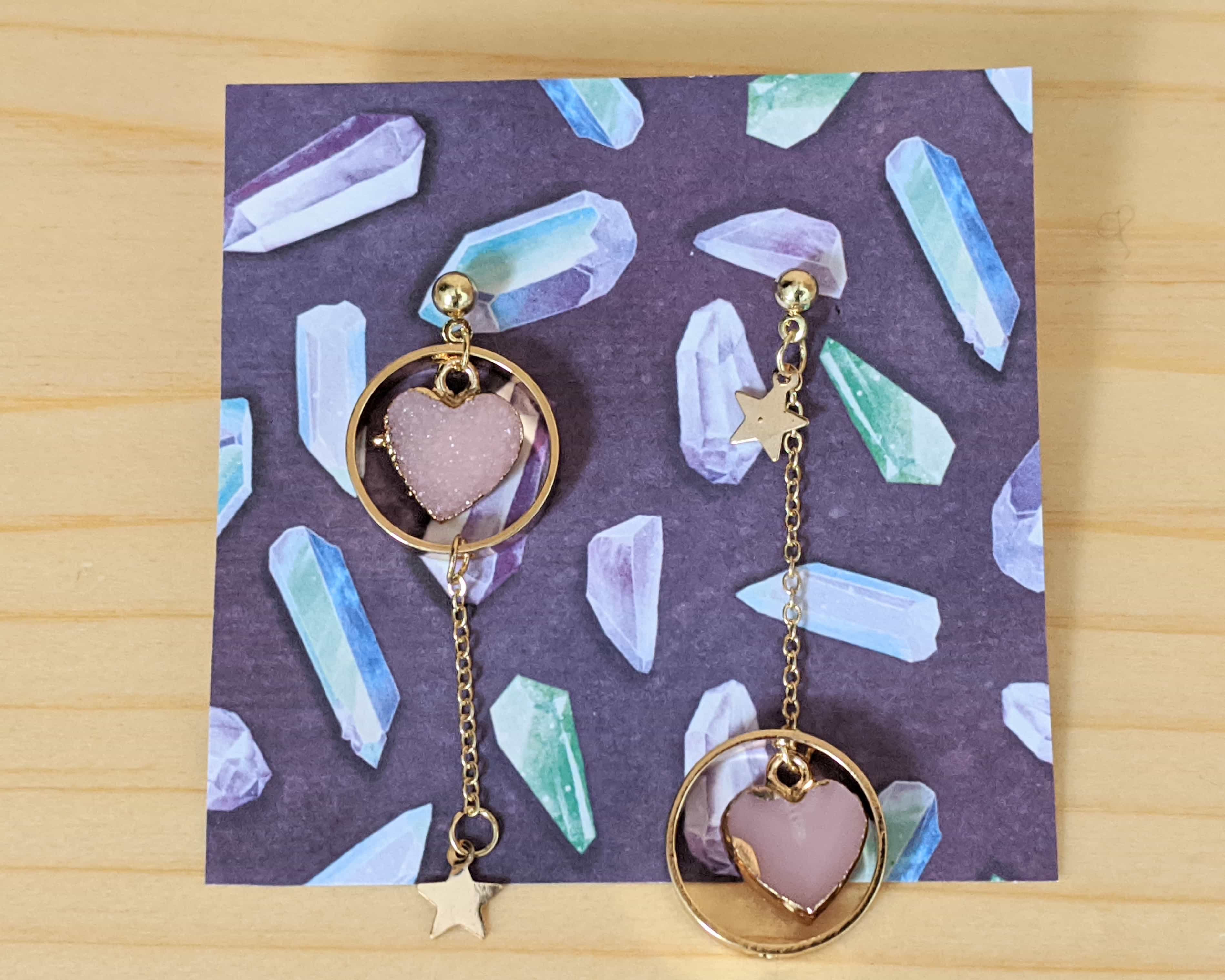 Heart Dangle Earrings. I love mismatched earrings, and these are so cute, without being too much.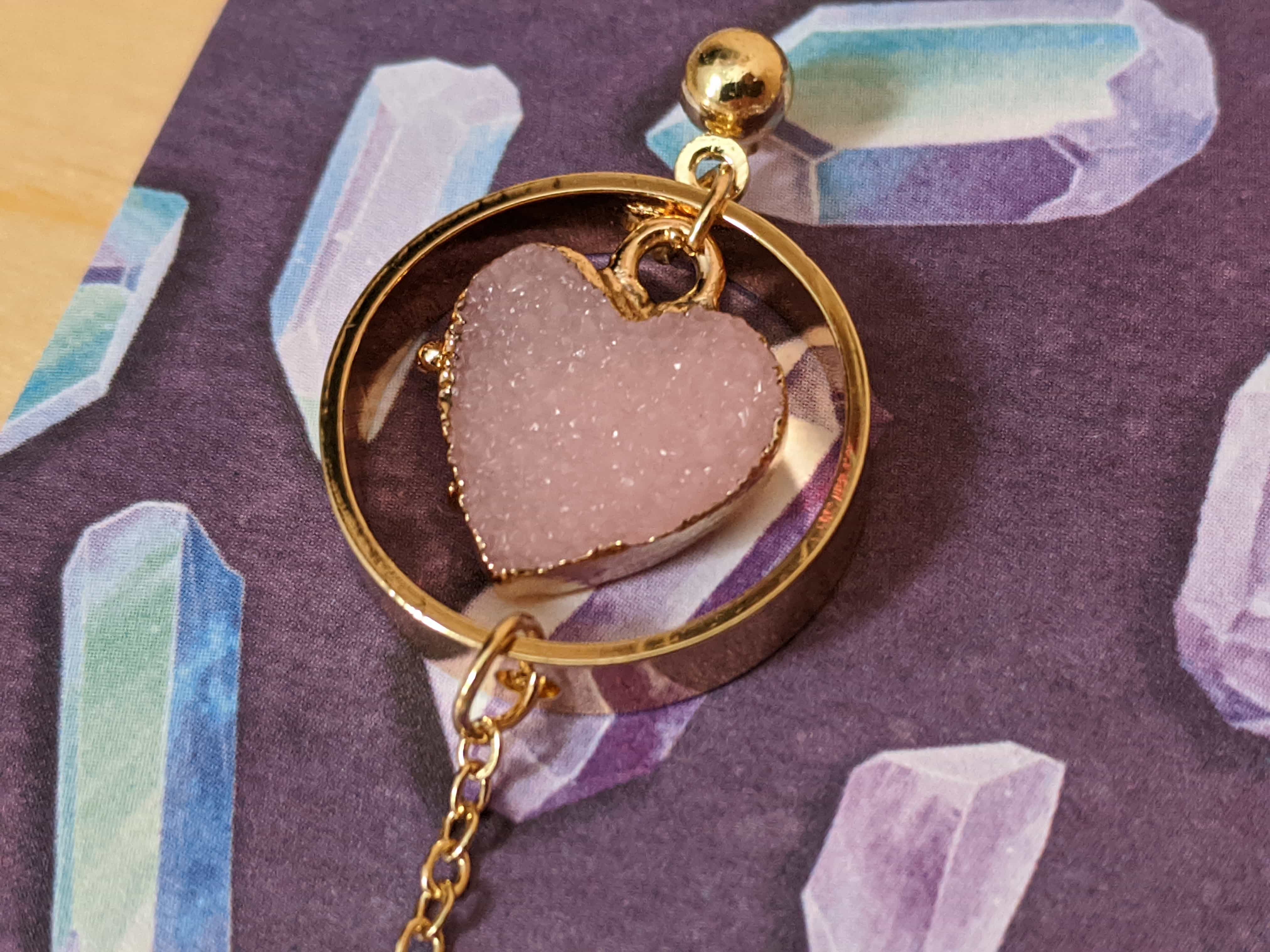 The faux druzy heart-shaped crystals are a light shade of pink, and not too heavy.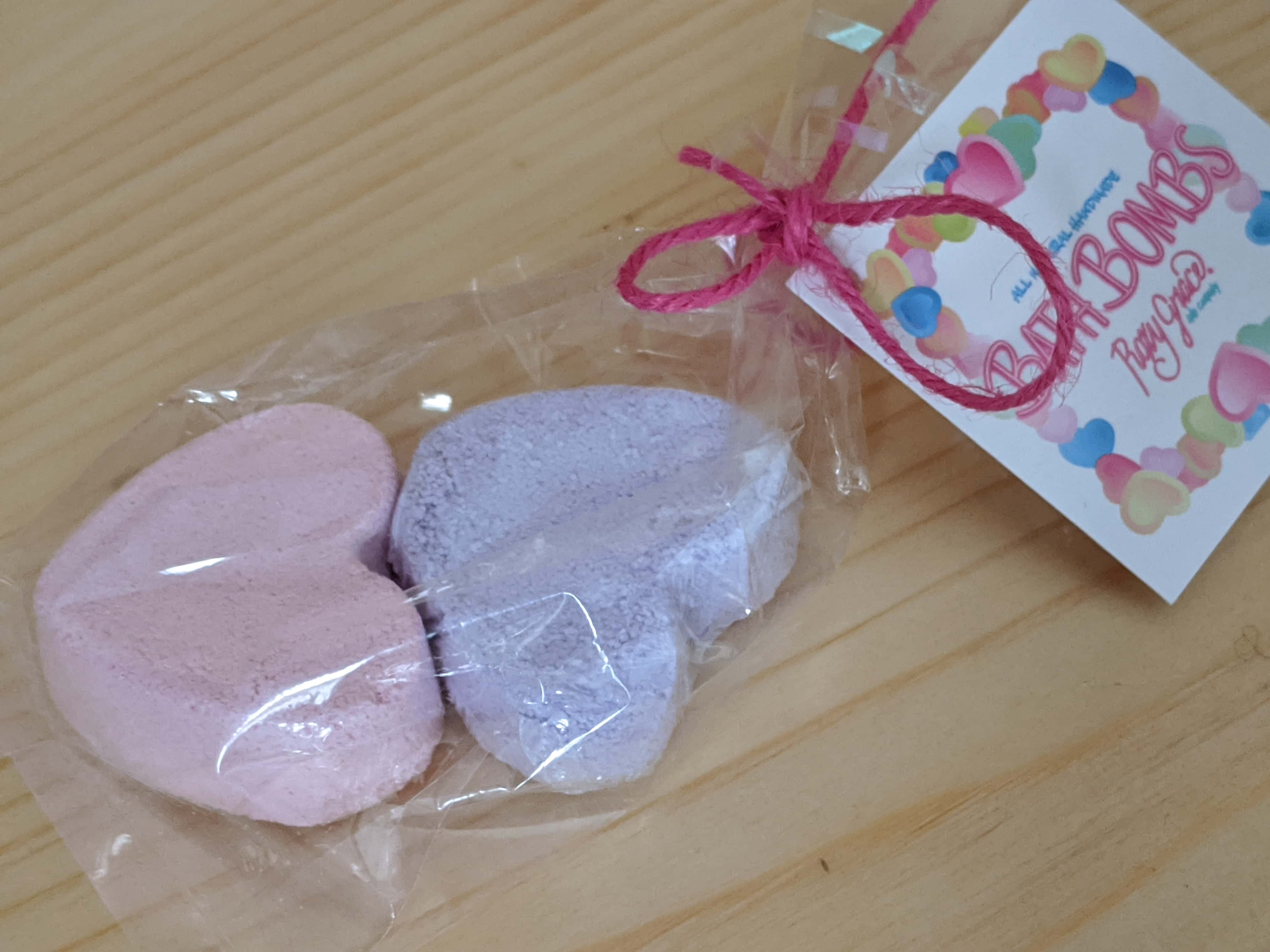 Roxy Grace Co. Mini Heart Bath Bombs. They smell like sweet powdery candies. They are quite small and individually wrapped, but I prefer this size to bigger ones. They are made with baking soda, citric acid, witch hazel, natural mica color, organic fragrance oil.
I think I had one Grape "flavored", and the other one bubblegum, but I could be wrong.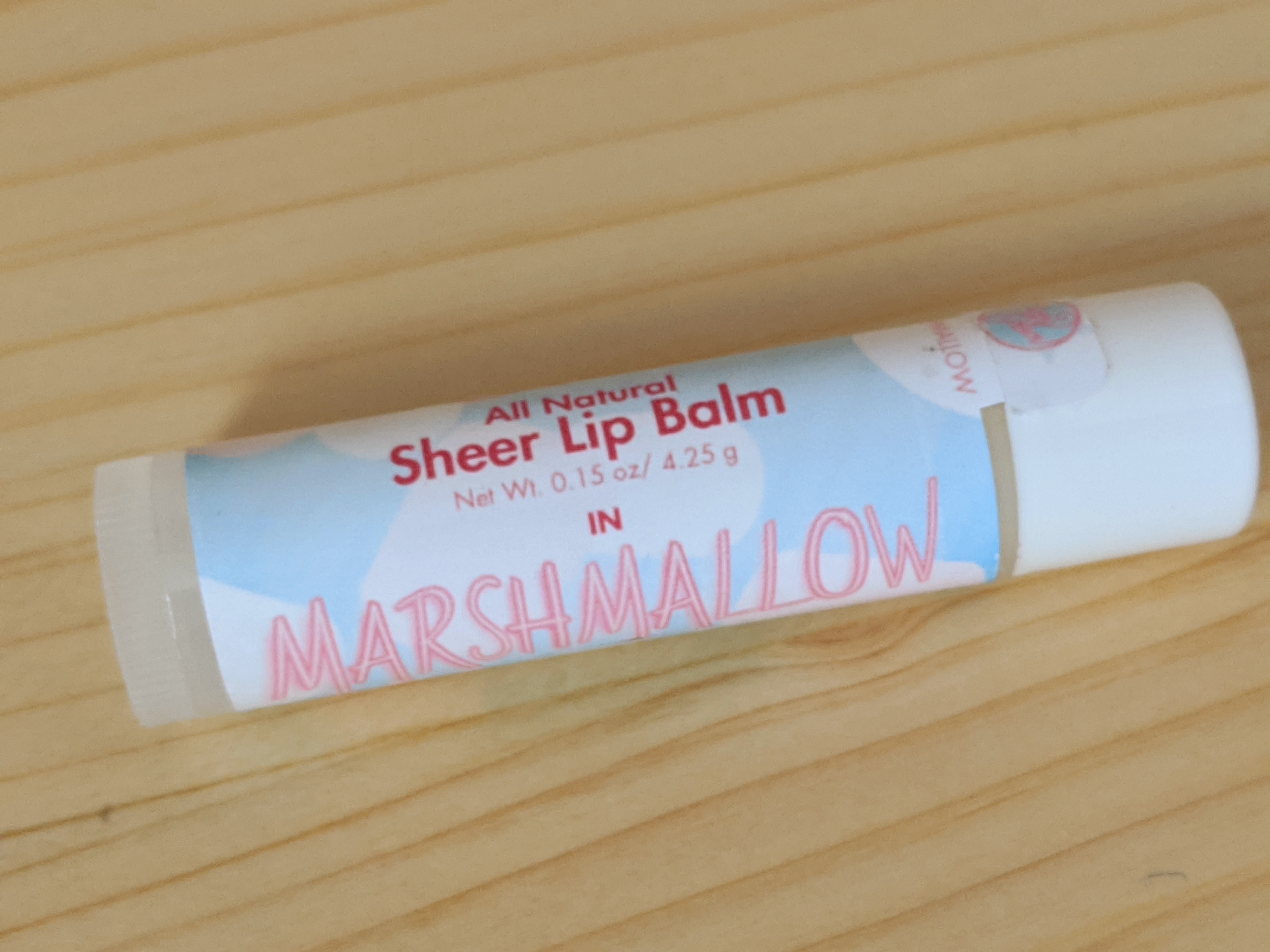 Roxy Grace Co. Marshmallow Lip Balm. A lovely lip balm to show some love to your lips. It's smells amazing too and feels great.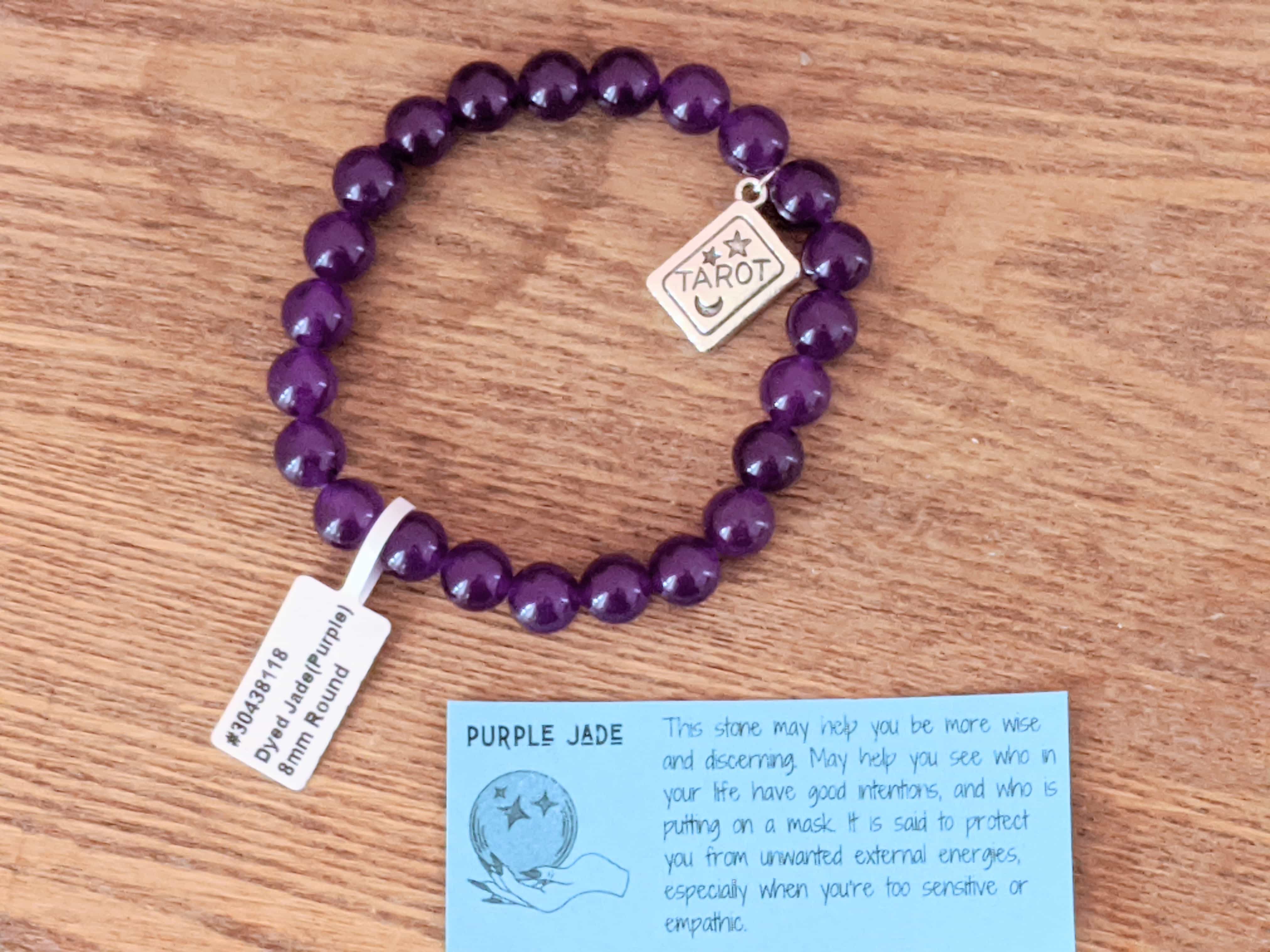 Gemstone Power Bracelet. Every subscriber will receive one of six styles of bracelet. I received the Dyed Jade (Purple) bracelet with the "Tarot" silver tag. Lately, I've been attracted a lot to the purple color, so this bracelet felt at home with me. I love the little tag as well.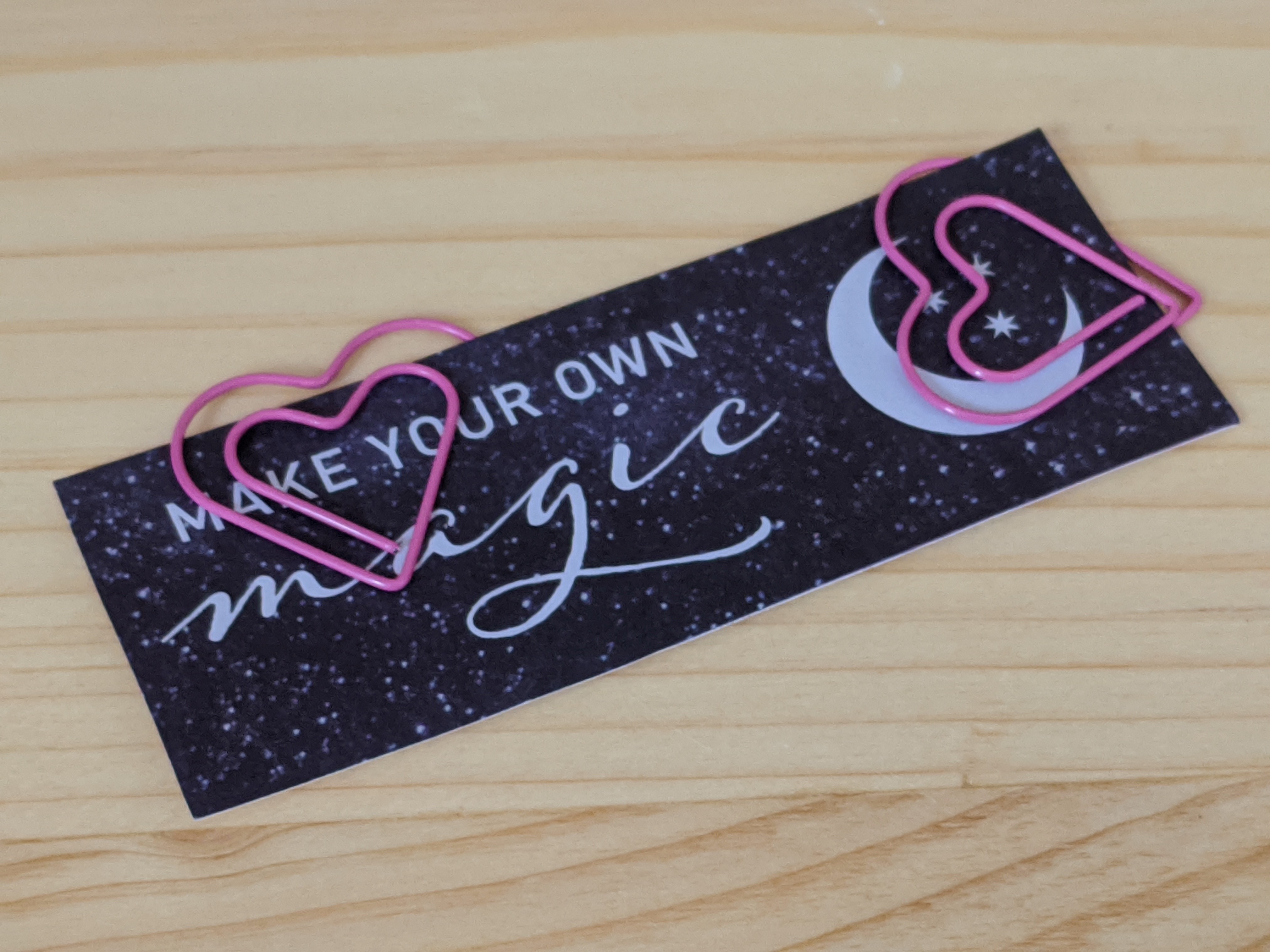 Lastly, I got these cute heart-shaped bookmark paperclips. To be honest, the card they came with can also make a fun bookmark for the book we received in this box.
This was a great box from Nine of Earth. I chose "The Lovers" box instead of the "Crystal" ones as I fell in love with the T-Shirt as soon as I saw it, and I wasn't disappointed. I'm happy that the customization is known before ordering so you can choose the big item and then get surprised by all the smaller themed items. I love that this "Lovers" box was full of tools for self-love as well as attracting love to you. Even though there was a lot of pink, it wasn't childish and was well-curated. You can feel a lot of love put into the curation.
What do you think of this box?