Loot Socks is one of the Loot Wear collections of monthly subscriptions from Loot Crate with exclusive geek and gamer premium wearable accessories with a monthly theme. Every month you'll get 2 pairs of epic geeky socks for $9.99 per month (or less with a longer subscription)! Month to month, the $9.99 price is great for 2 pairs of socks. It drops to $8.49 for both on a one year plan – and you can now skip months you're not interested in!
DEAL: Save 15% on Loot Wear subscriptions when you use this link and coupon code HELLOSUBSCRIPTION15. [Does not apply to Wizardry Wear] Get $3 off your first month with coupon code SAVE3. [Not valid on Undies]
This month's pack includes an exclusive card that contains a QR code that we can use to learn more about this crate.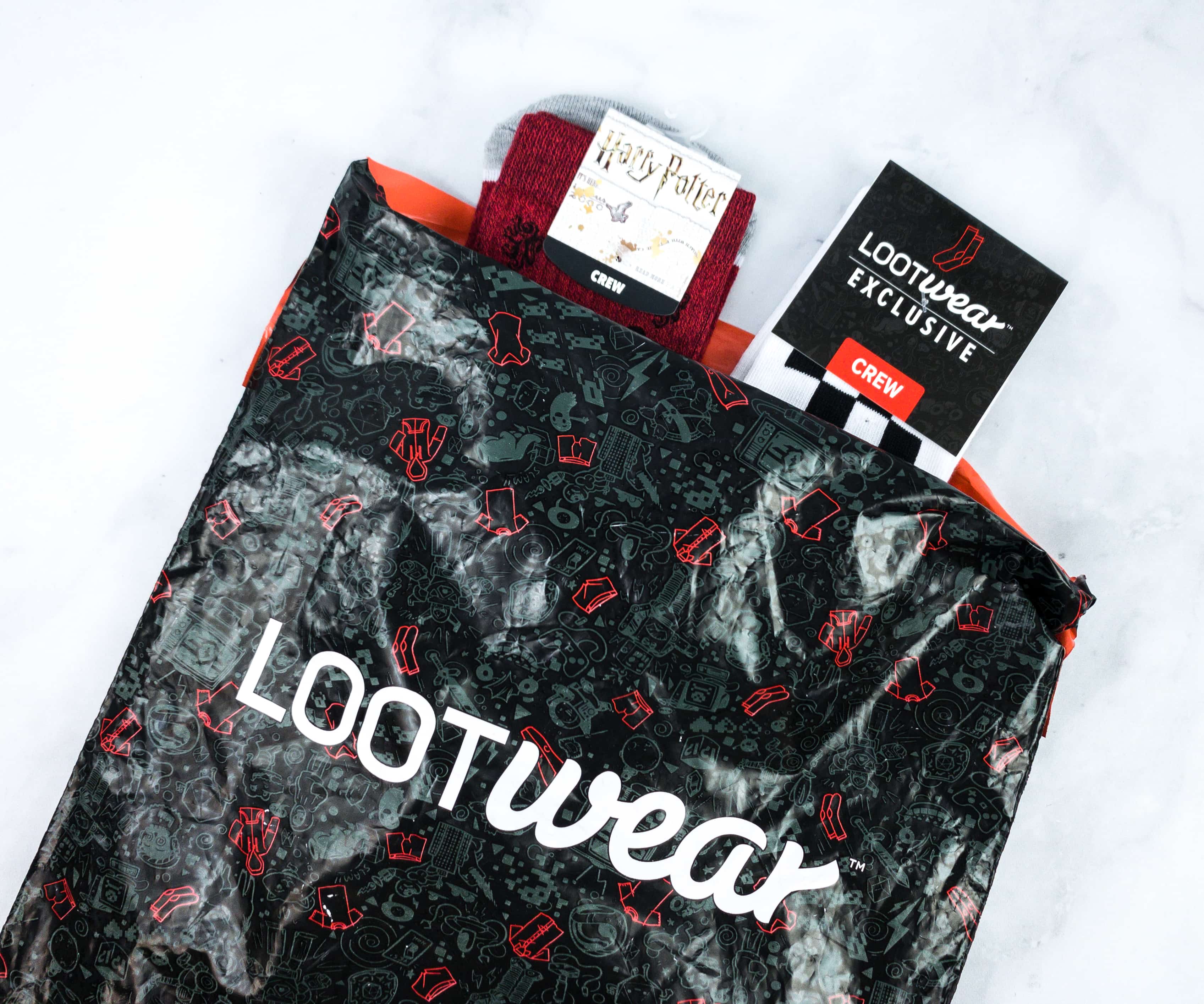 Here's a peek at my new pairs of socks!
All the goodies for this month!
This month's Loot Socks are crew-cut socks that fit shoe sizes 6-12.
Both of the socks are made with 97% polyester and 3% spandex.
Speed Racer Socks. The first pair features Speed Racer, also known as Mach GoGoGo, a popular car racing anime series that originated in Japan and was first released in the late '60s. It's an extremely thrilling anime that features the story of an ambitious and adventurous young man who became a professional racer. The socks have reinforced red cuffs, heels, and toes.
These socks feature a checkered print on the legs and the logo of Mach GoGoGo in the instep. They look just like a racing flag!
Harry Potter Socks. The second pair is Harry Potter-themed! The socks feature a red base color with grey heels and toes.
Below the cuffs is the logo of Hogwarts School of Witchcraft and Wizardry. Printed all over the socks are the four houses of Hogwarts: Gryffindor, Hufflepuff, Ravenclaw, and Slytherin.
This month's Loot Socks are truly amazing! Getting Harry Potter-themed socks made me the happiest. You can never have too many Harry Potter merchandise when you're a Potterhead! The Mach GoGoGo socks are also nice. They have a cool and eye-catching design that any fan or even any racing enthusiast would love. These 2 pairs of high-quality geeky socks are for less than $10 a month and that is such a steal! I'm definitely looking forward to more awesome socks in the future! Loot Crate reports they are 90% caught up – must be all the socks still in their warehouse because these ones were 7 months late.
What did you think of Loot Socks this month?