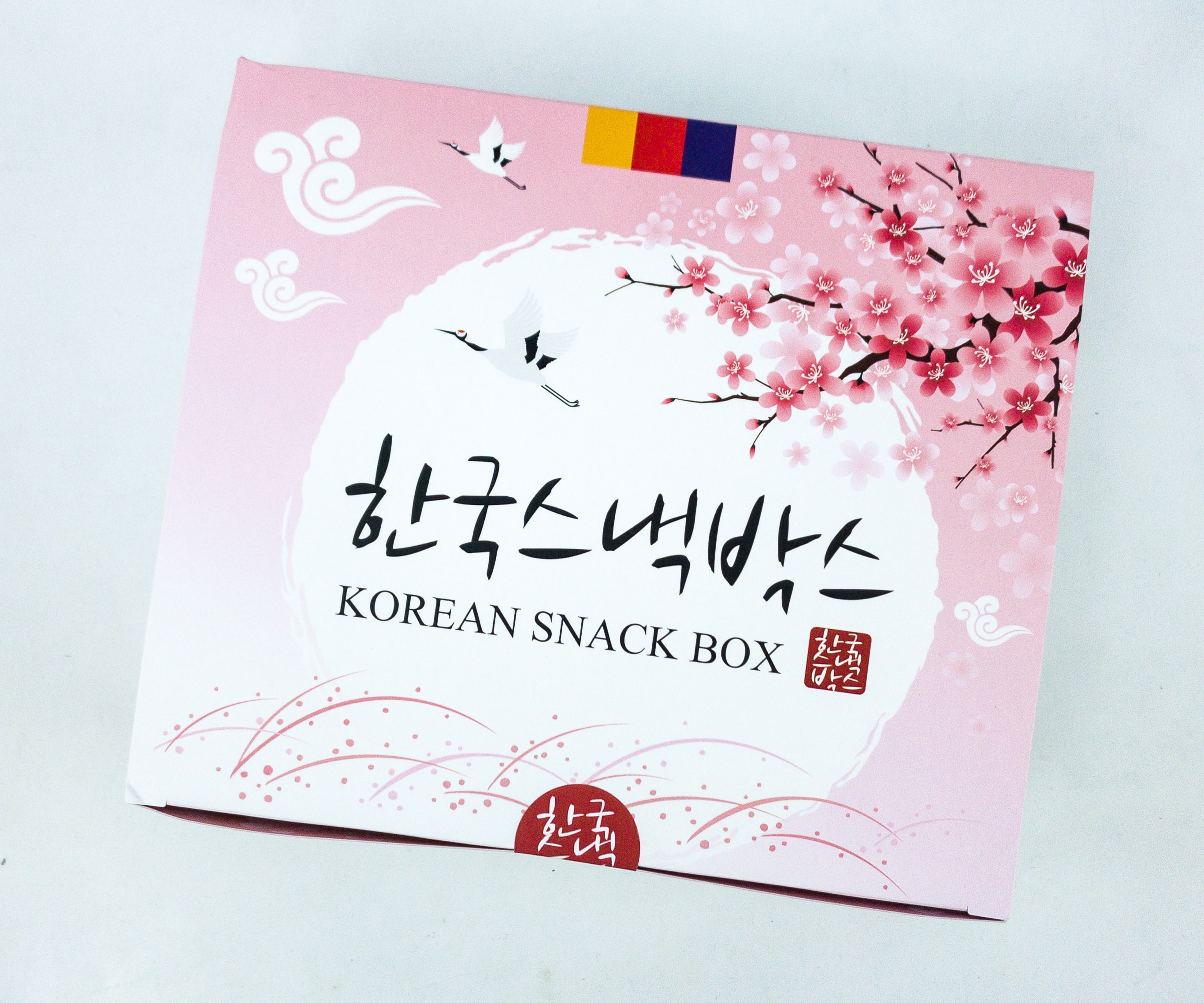 The Korean Snack Box is a monthly subscription box dedicated to premium Korean snacks. The subscription starts at $14.95 each month (Medium and Large boxes available), with free worldwide shipping. Each box comes in a beautiful Bokjumeoni (traditional Korean silk bag) with 5-10 or 10-15 items and tasters. You can now find the previous month box and earlier month's boxes in the Korean Snack box shop.
This is a review of the large $24.95 per month Korean Snack Box.
DEAL: Get $2 off your first subscription box with coupon code HELLOKOREA.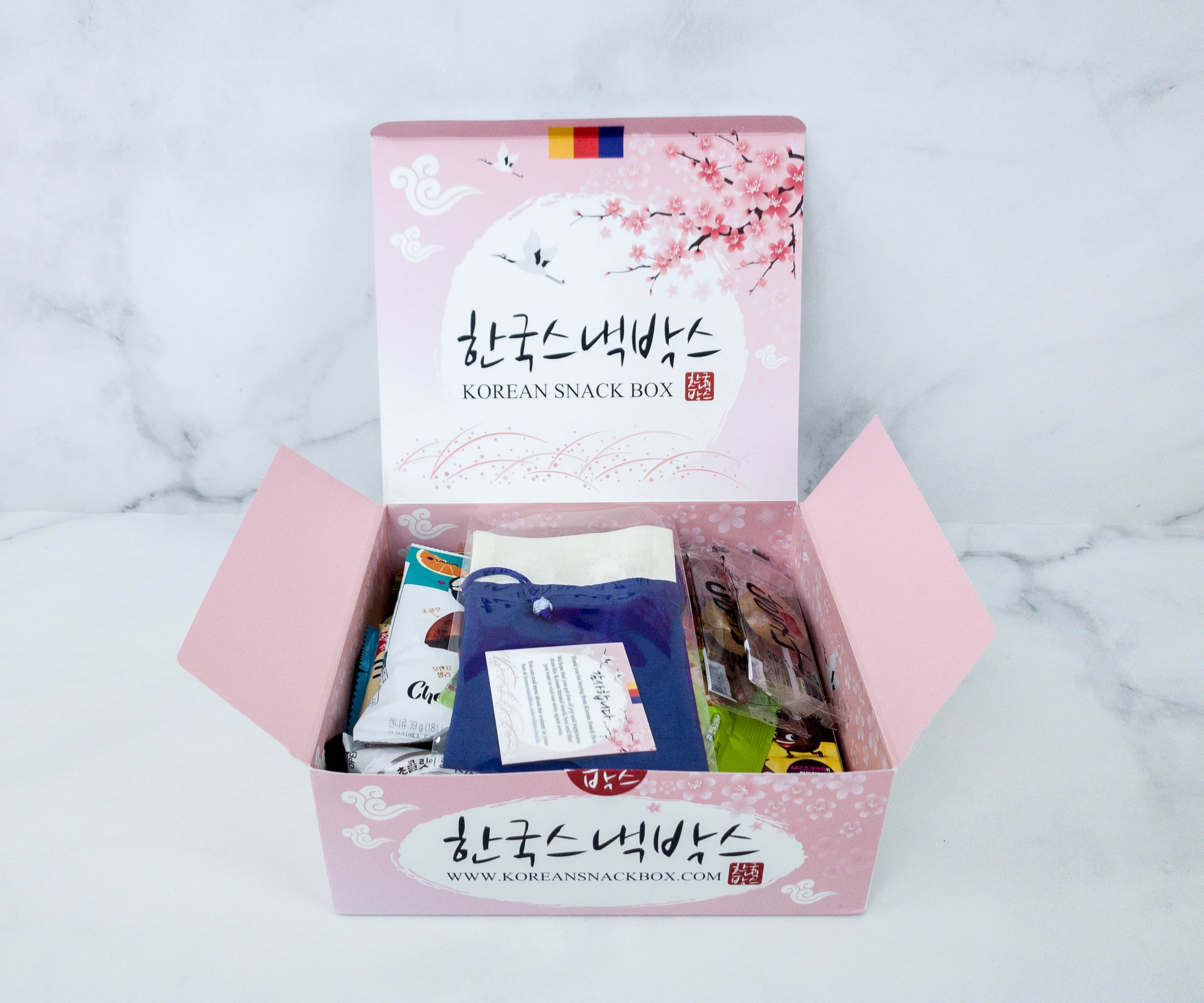 Look at that! Lots of snacks waiting for us!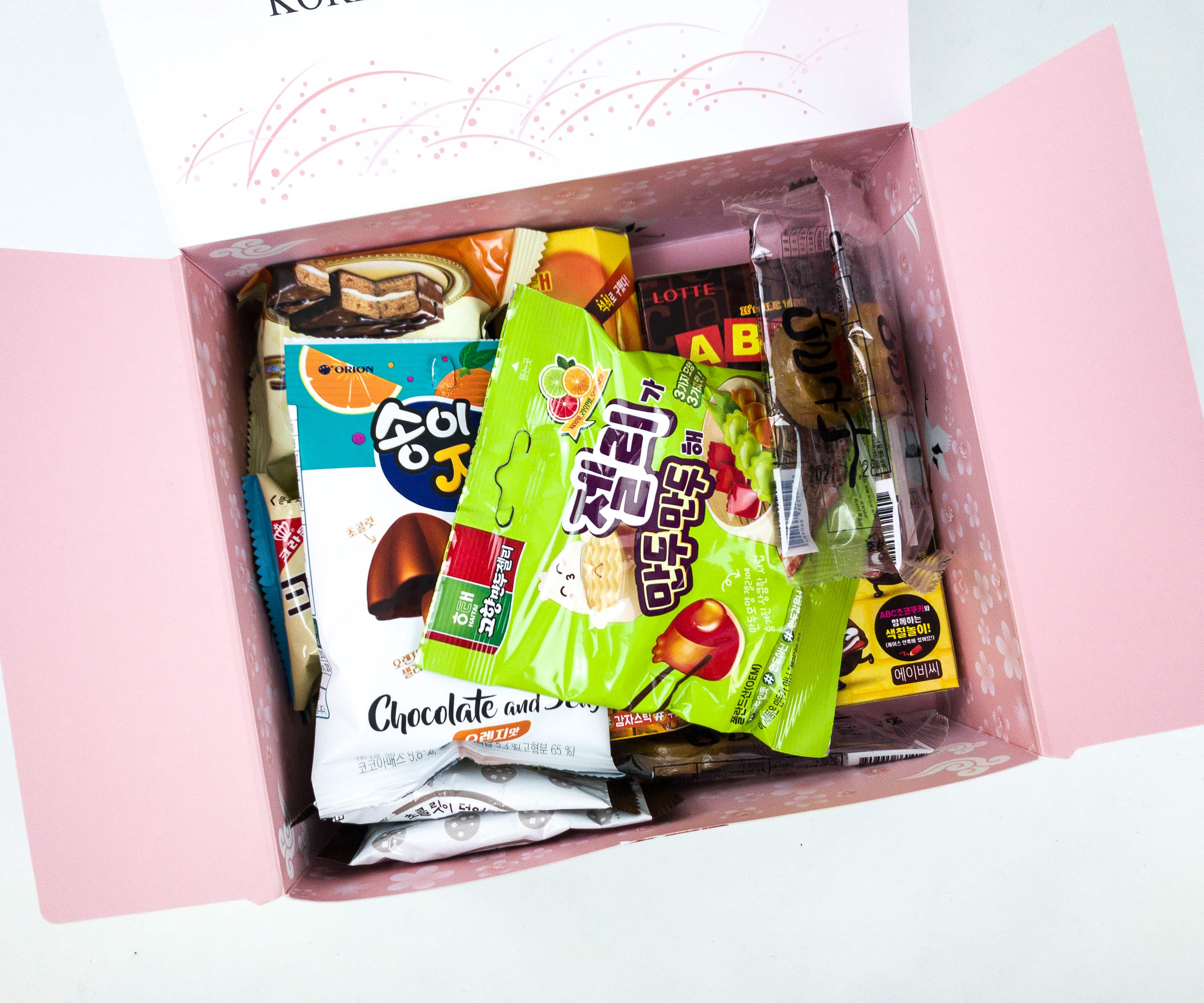 The box has improved. Instead of the usual plain box, it's in pink and cherry blossoms-inspired. This month's theme is Christmas Winter.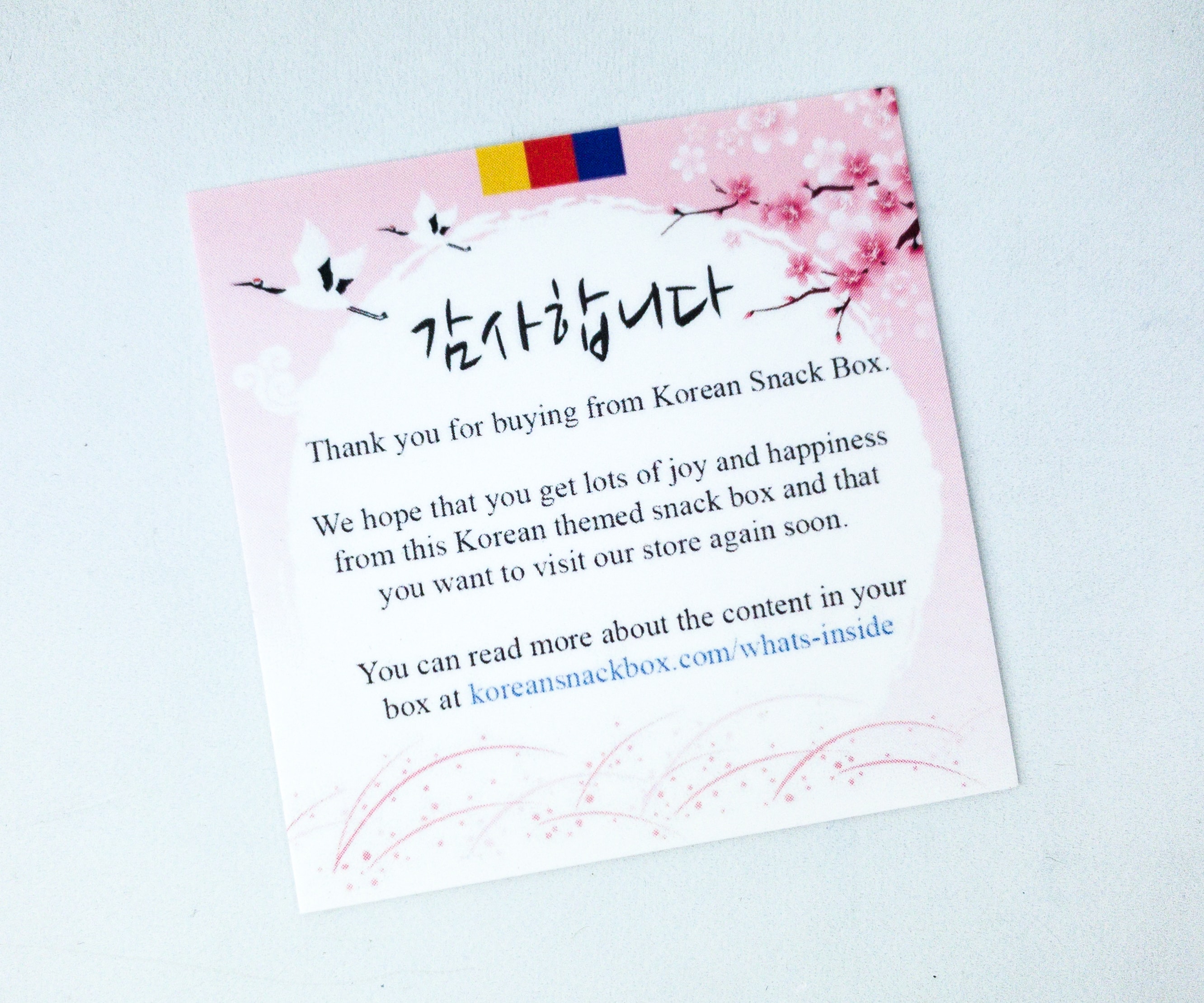 The card did not list the items in the box. Instead, they informed us that more information about the box contents can be found on their website.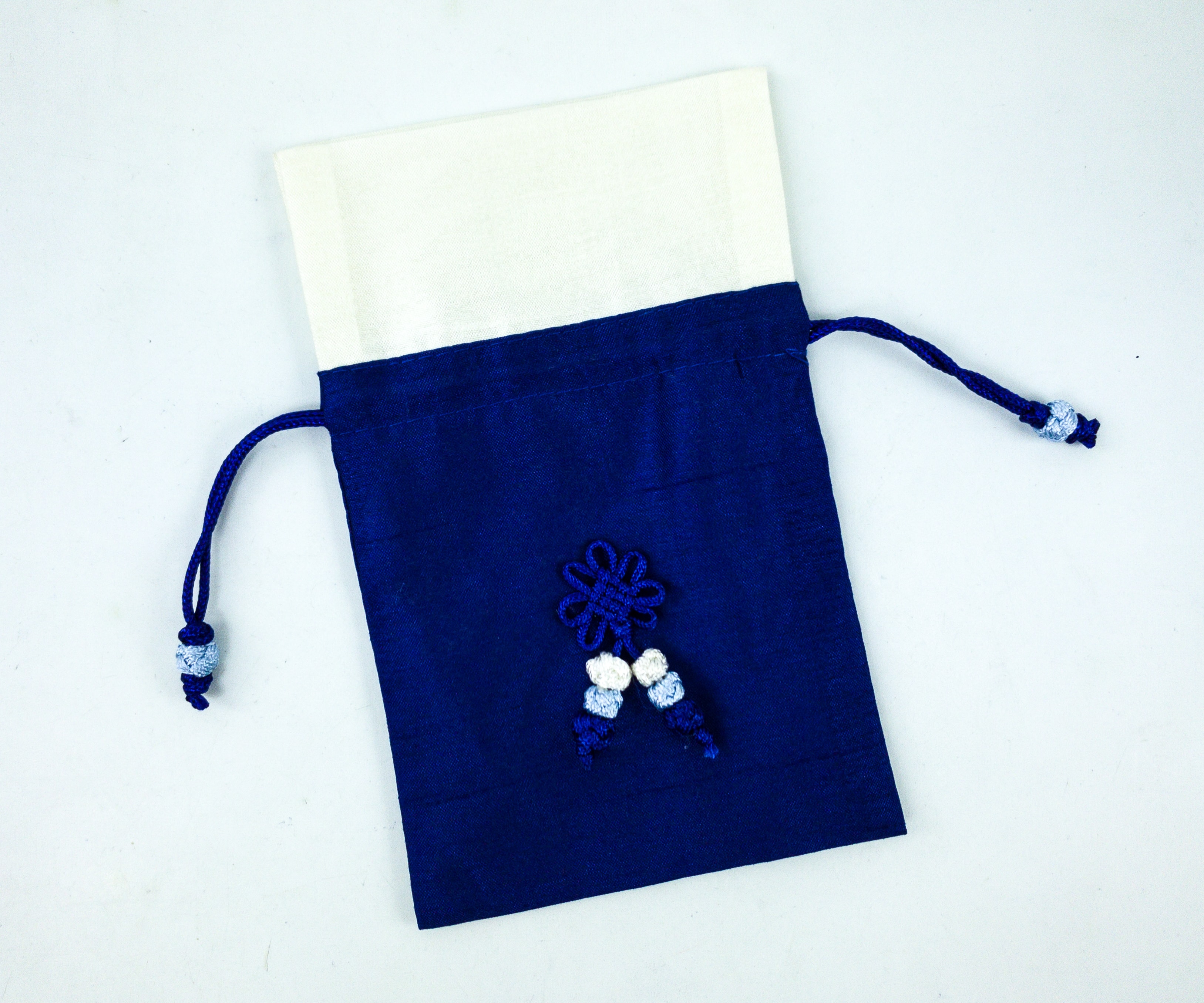 This month's box includes a blue Bokjumeoni, a traditional Korean lucky pouch. It's reusable as a purse, pouch, or even as a makeup bag!
Everything in my box!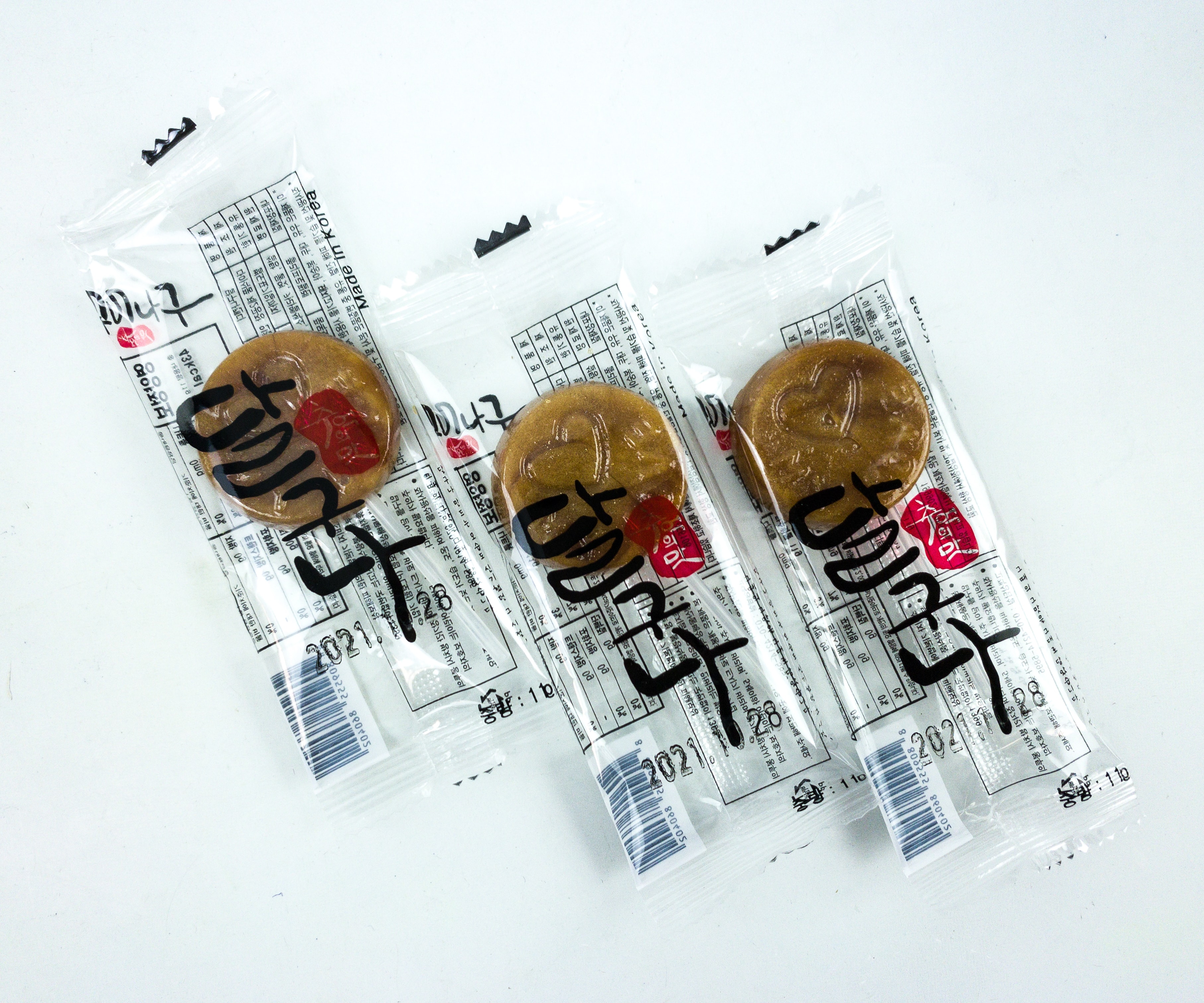 Dalguna Lollipop / 달구나 캔디. This lollipop is a traditional Korean snack. If you've got a sweet tooth, this would definitely be a great fix. It's sweet and creamy all at the same time. We got 3 pieces in the box and they're individually packed.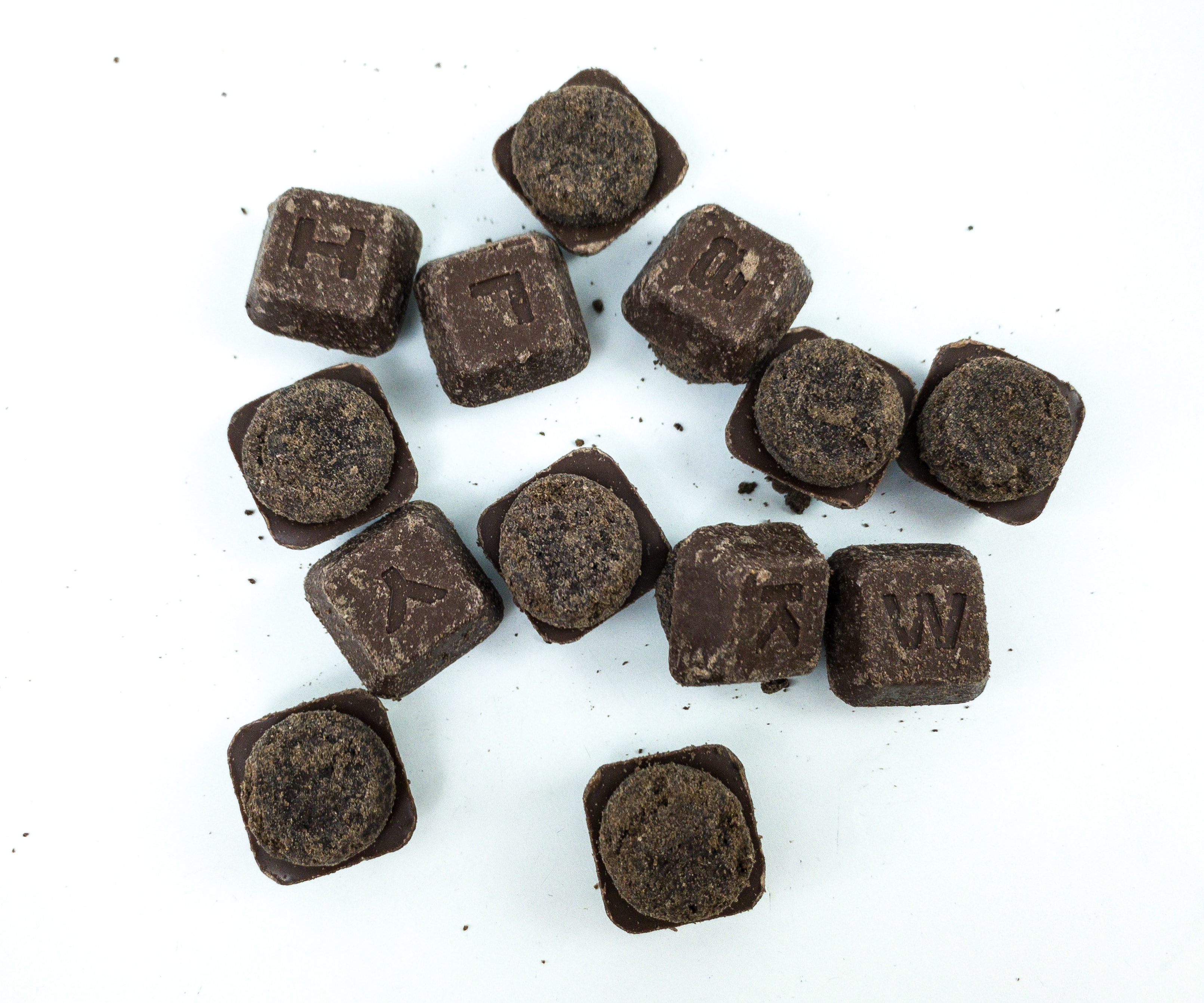 ABC Choco Cookies / ABC 초코 쿠키. These tasty square-shaped chocolates have letters engraved on top and a chunk of yummy cookie at the bottom. My kids love these! With alphabets on them, this is a great way to learn, write, and snack at the same time!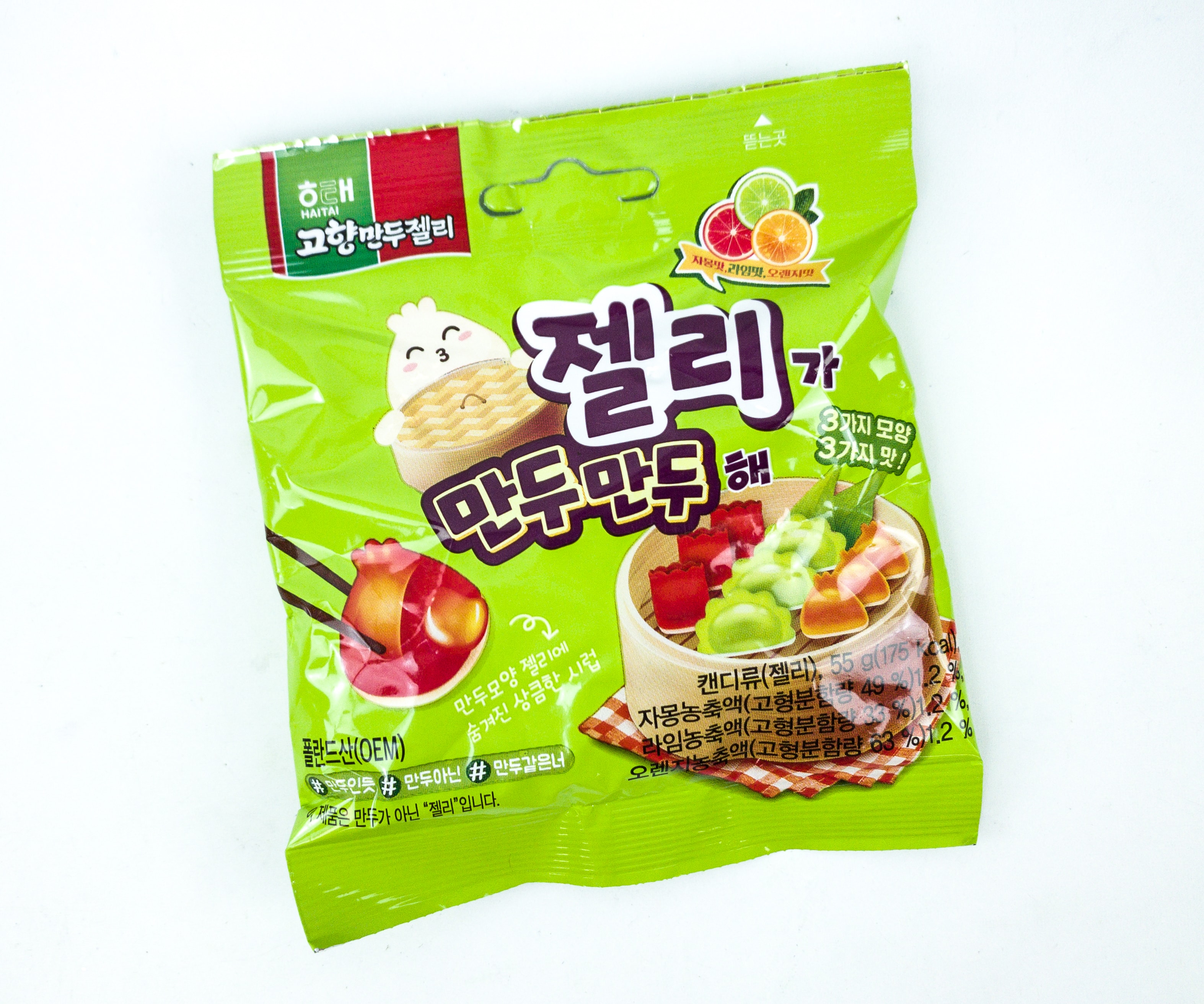 Mandu Jelly / 만두 젤리. These fruit jellies are made to mimic the look of a mandu or dumpling. It's fun to eat and there's a distinct flavor for each piece. We really like that the jellies were firm and not too soft or mushy.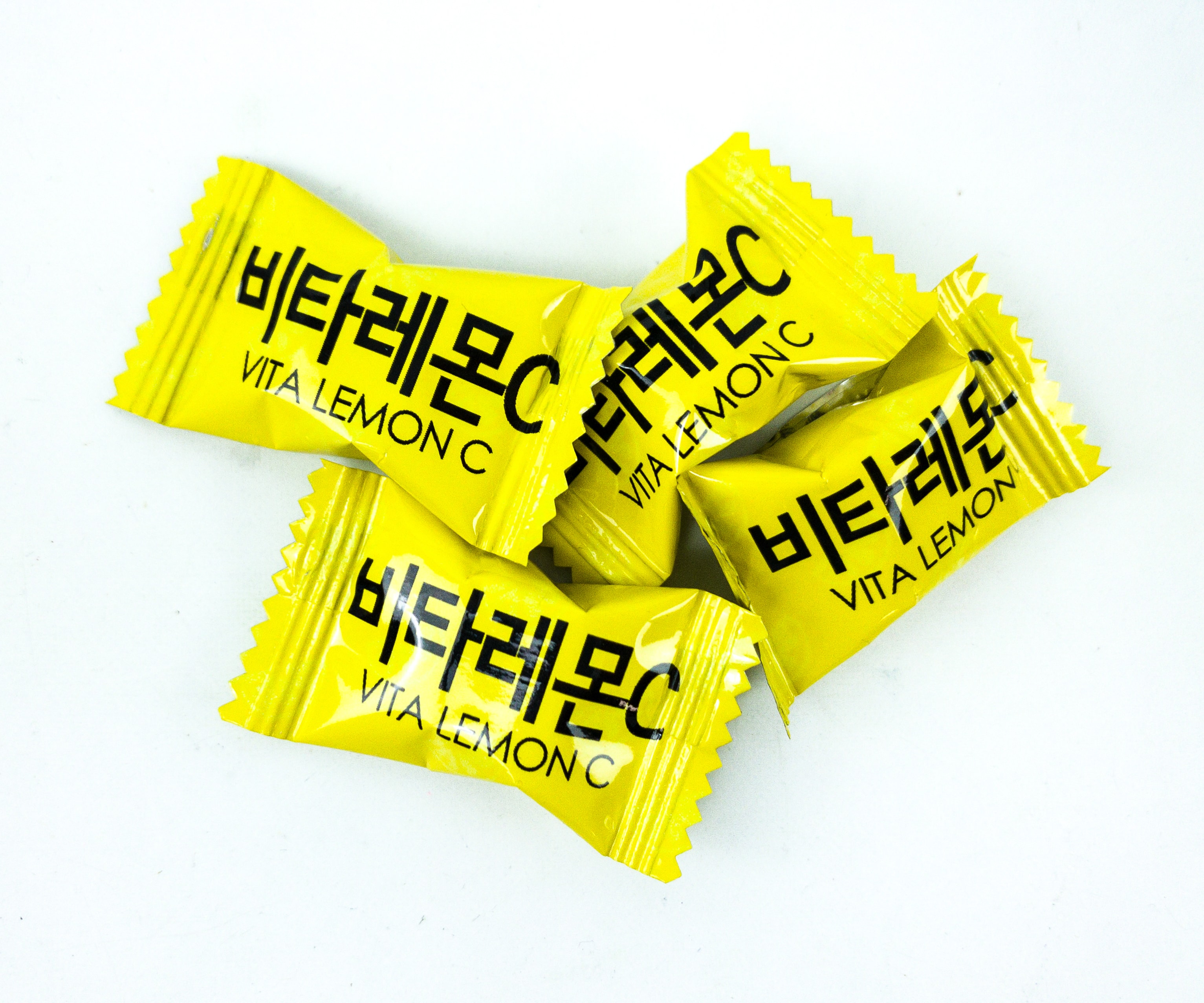 Vita C Lemon Candies / 비타레몬C. Here are 4 individually-wrapped candies bursting with lemon flavor and vitamin C. They're a perfect picker-upper with their refreshing taste, a perfect balance between sweet and tangy!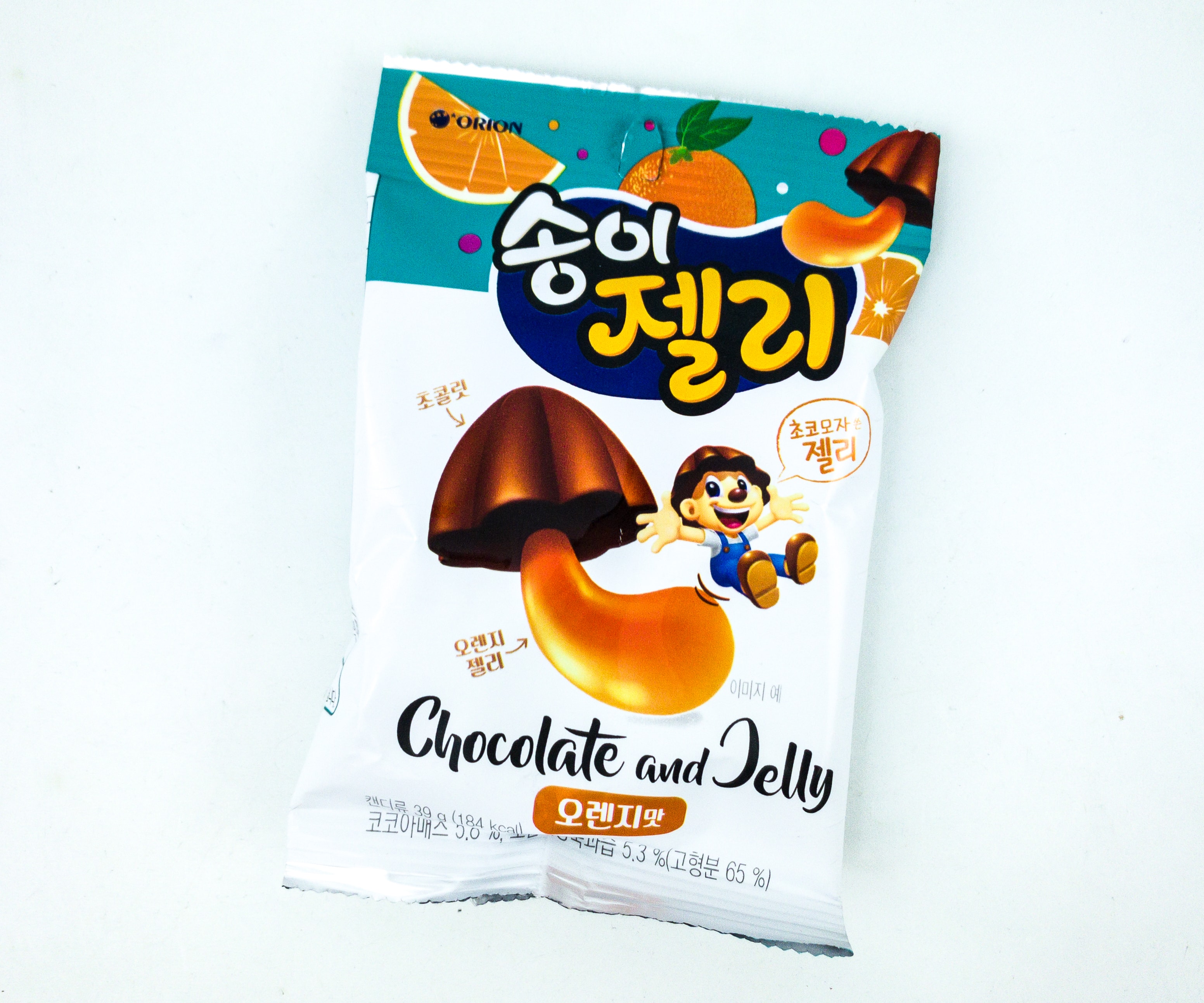 Songi Jelly / 송이 젤리. We love orange chocolates! This one gives it an exciting twist because the orange flavor comes from the jelly! When we saw this, we thought it was the usual choco-biscuit mushroom, so we're a bit surprised to see that the base was jello! But the flavor works!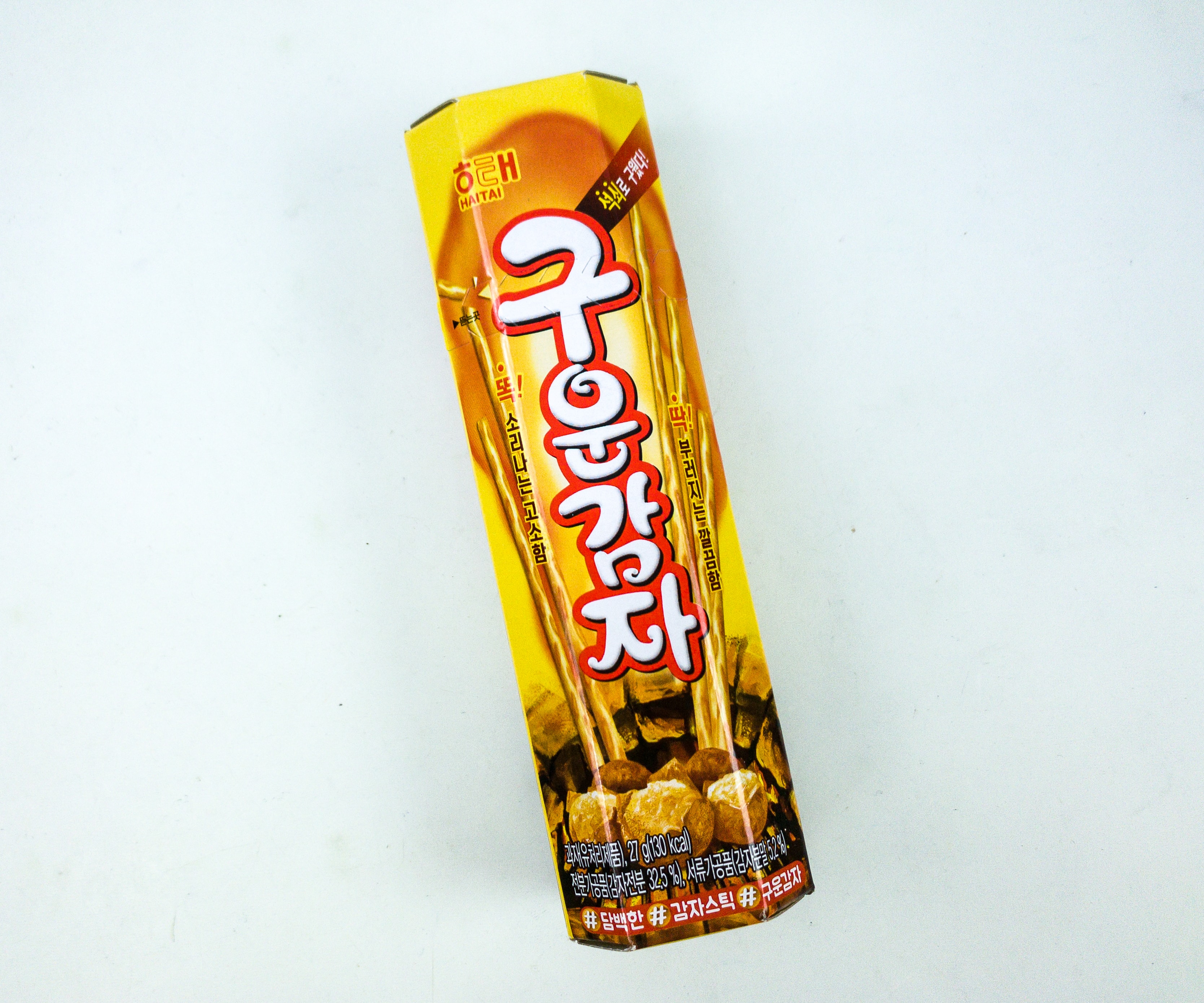 Baked Potato Snacks / 구운감자. Not your average potato snack! This one is actually a pack of potato sticks, which are super crunchy and flavorful! It's great for on-the-go snacking, or even as a snack to munch on for movie nights!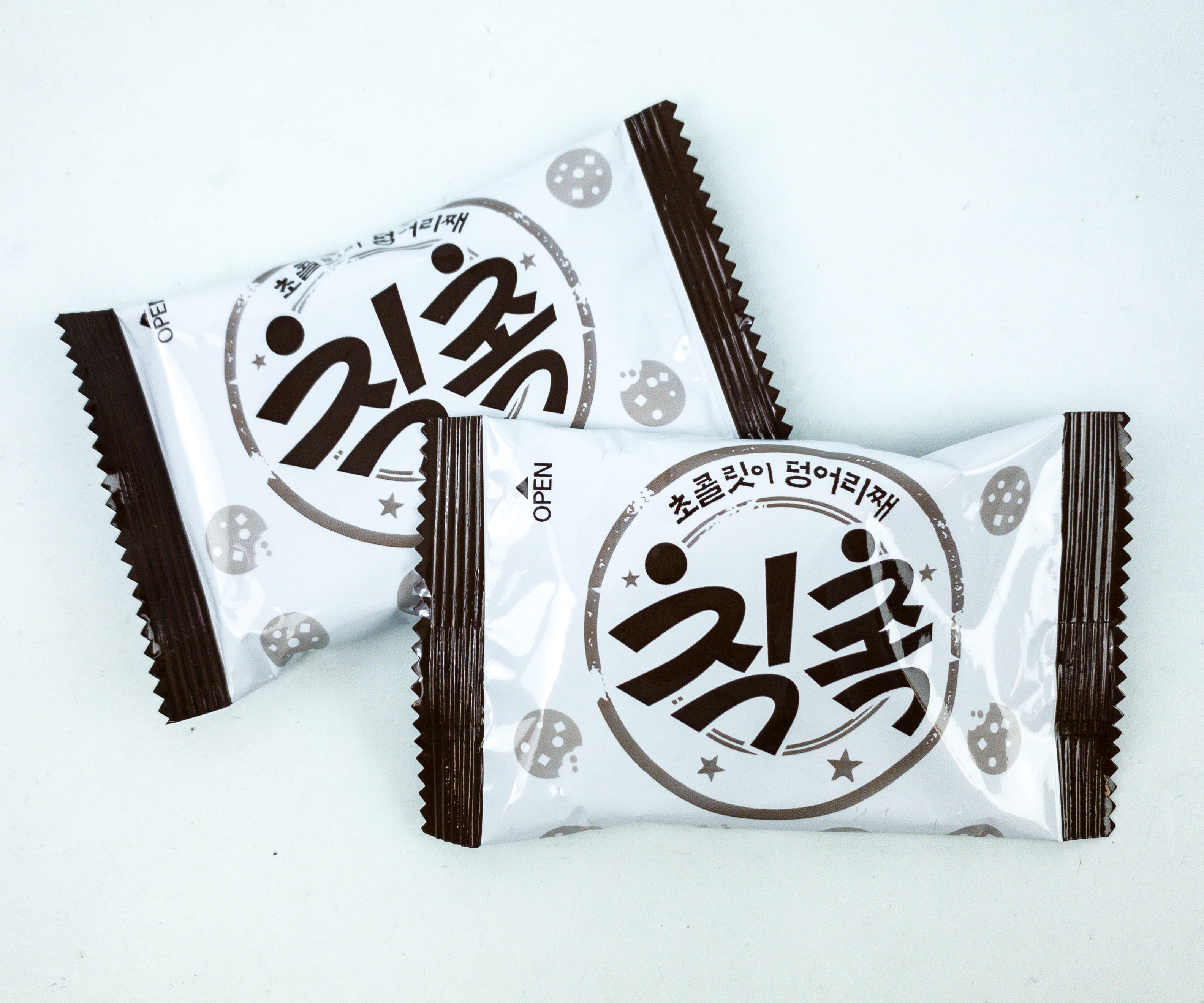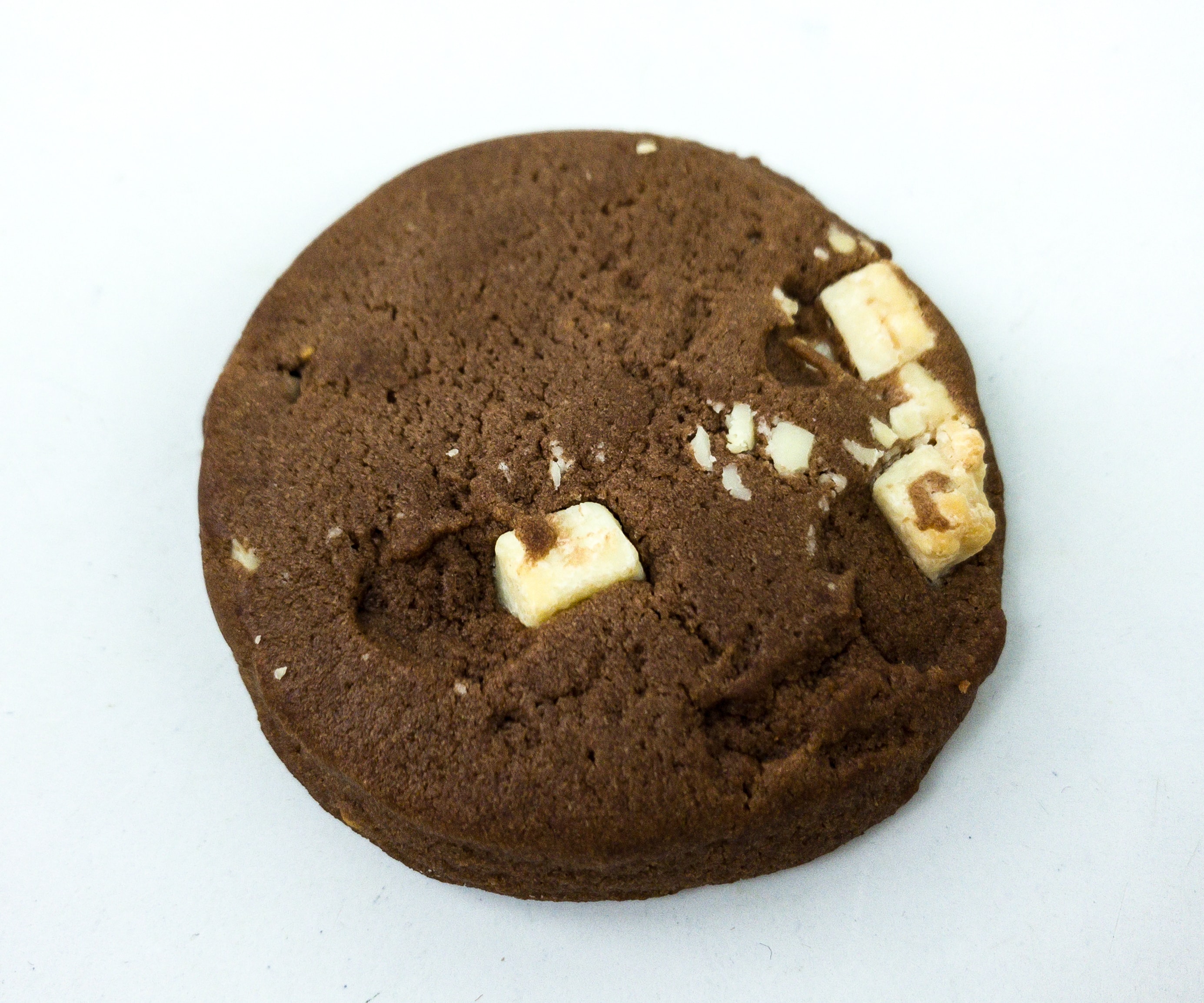 Chic Choc Tiramisu Cookie / 칙촉 티라미수. These tiramisu-flavored soft cookies are individually packed to maintain quality and freshness. There's also gooey chocolate in the middle. Combined with the soft and crumbly texture of the cookie and topped with chunky toppings, this makes an instant dessert snack.
Crown Sando Cookie / 크라운 산드 스윗밀크. I like that they have switched to a more classy design for packaging. The airtight wrappers keep the cookie crunchy and fresh. The biscuit itself is crunchy and flavorful with just the right amount of filling! These also pair well with hot beverages for a filling afternoon snack!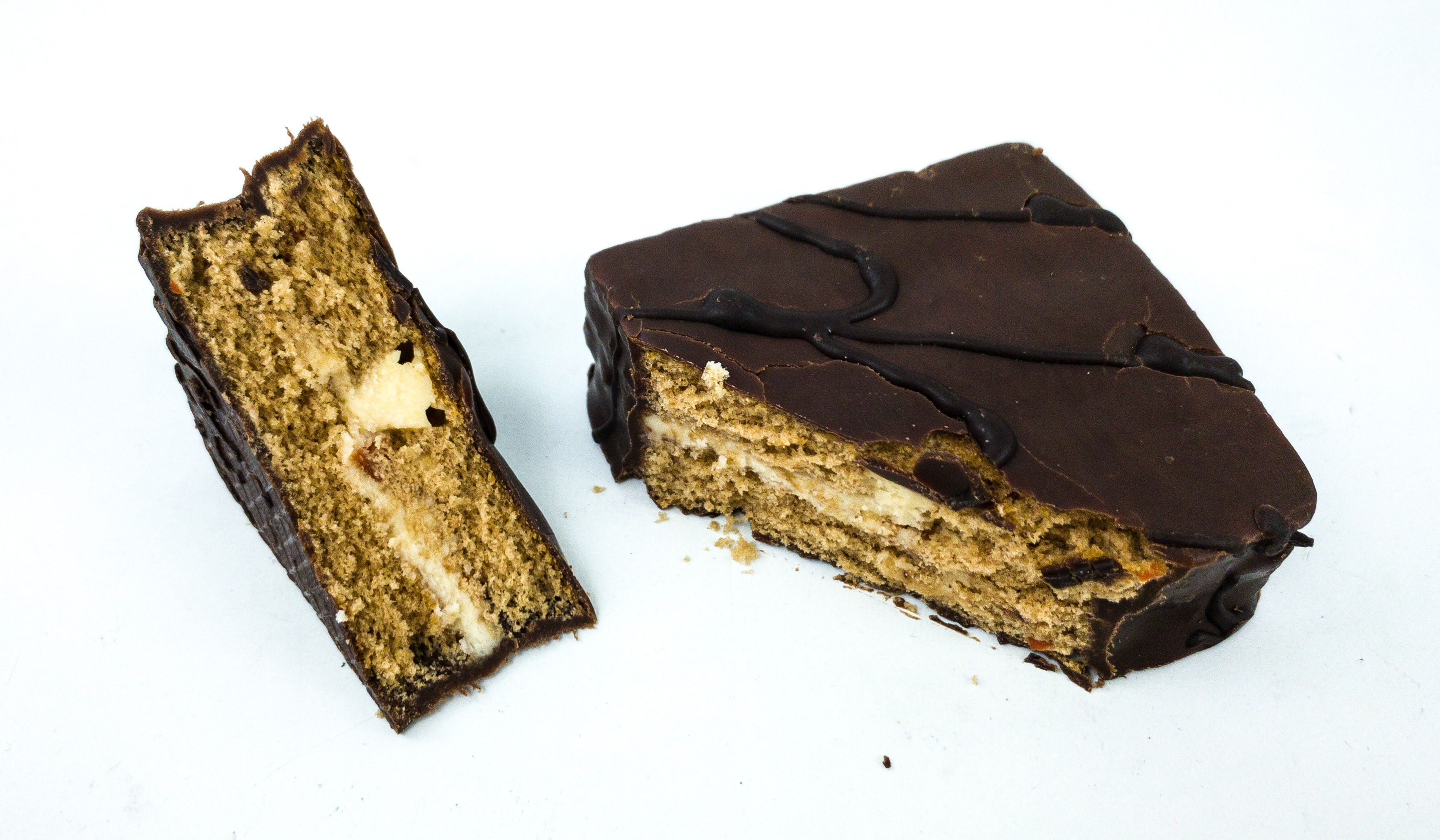 Oh Yes Carrot & Cream Cheese / 오예스 당근 앤 크림치즈. We love cream cheese so we were excited to try this! The chocolate was evenly spread as the coating and there was also a dollop of luxurious cream cheese in between the carrot cake. I really love how all the flavors blended well. Even texture of this cake is perfect! It's like heaven in a bar!
Korean Snack Box did a great job with this month's box! My whole family enjoyed trying out new snack items from Korea. We liked the chocolate covered carrot cake the most. The cream cheese in the middle definitely made it so appealing. Another snack we loved is the pack of dumpling-shaped jelly candies! Overall, we're happy trying out new snacks! If you're feeling a bit adventurous or you just happen to be a fan of Korean snacks, this subscription box is definitely for you!
What do you think of Korean Snack Box?