Grove Collaborative is an eco-friendly subscription service that allows you to quickly pick your favorite high-quality cleaning and household supplies and set up a customized schedule for their shipment to you. Grove Collaborative carries a variety of brands including Method, Mrs. Meyers, Seventh Generation, Preserve, and more, including their own house brand. They're a Certified B Corp – this means that they meet certified standards for prioritizing social, environmental, and community wellbeing!
This is a review of Grove Collaborative Laundry Line items!
When you sign up for Grove, after your FREE 60-day trial, the VIP membership automatically renews for the $19.99 year rate. See more on that below!
DEAL:
You might also qualify for additional free bonuses depending on your order size!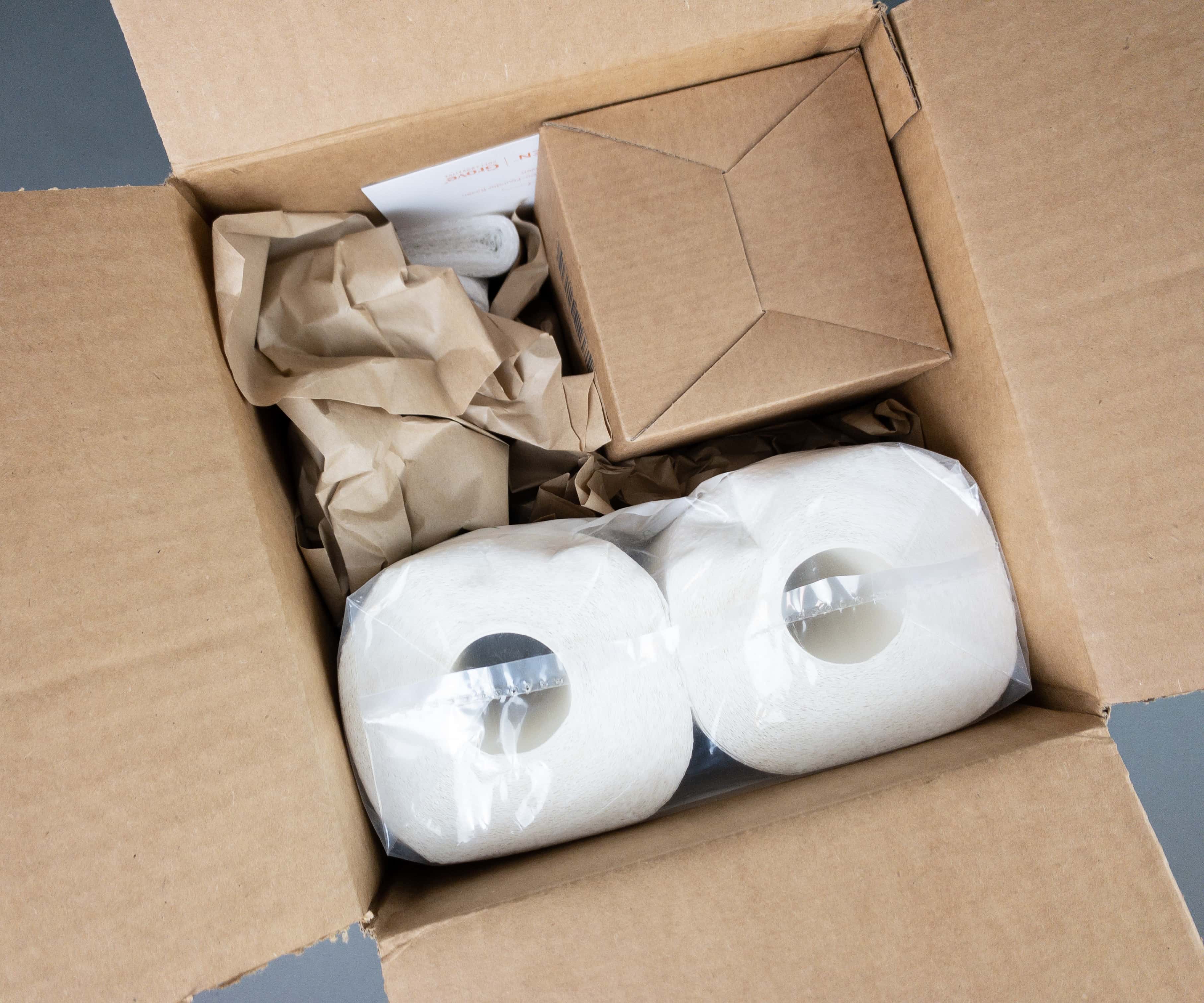 Here's how Grove Works:
Your bundle will ship every 30 days, with items selected based on your use frequency. You can switch this around at any time.
You'll pay the cost of the products (you can see the details on every product on the Grove Collaborative site), plus a $2.99 shipping charge.
It's super easy to skip, move around your dates, and change your products!
Your bundle needs to meet the order minimum! $10 for the regular automated shipment, $15 if you select Ship Now and you're a VIP Member, $30 if you select Ship Now and you're not a VIP Member.
The VIP membership fee is $19.99 annually. When you sign up you'll get a 60 day free trial to see if it's right for you.
With the VIP membership you'll get early access to exclusive and new items, extra bonuses, and more!
If you don't want the VIP membership, you'll be reminded via email before its charged – just be sure to follow up that you're not interested.
There's an included card that introduces us to Roven! It's a new online retailer focusing on clean beauty products, and it's also from the founders of Grove Collaborative.
On the flip side is a note from its co-founder, Nicole Farb.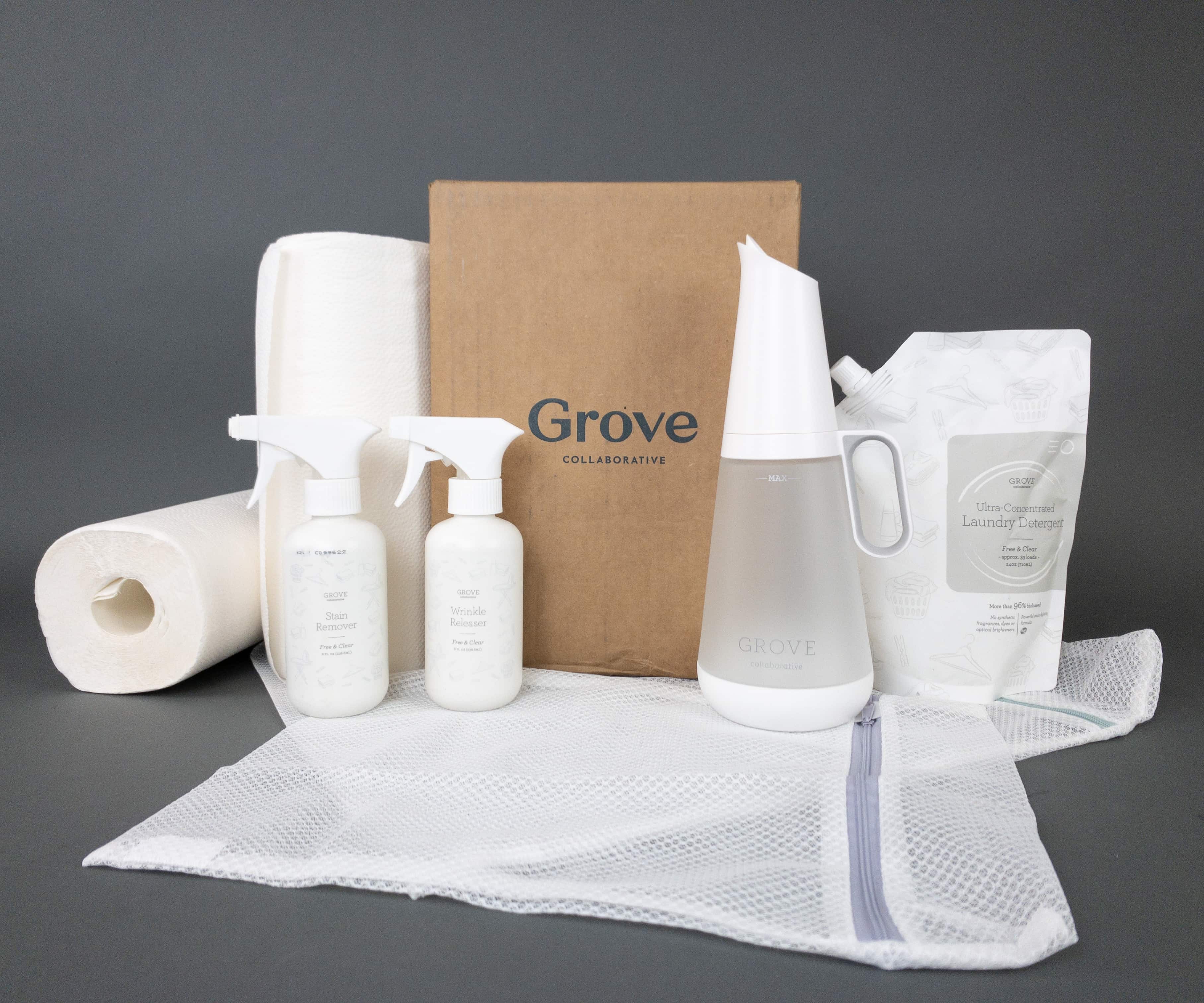 Everything in my box!
Laundry Delicates Bag Set ($12.95) Doing the laundry, especially delicate pieces, is made easier with these laundry bags. They're exactly what I need as I wash a lot of delicates, stuffed animals, and shoes!
If you usually handwash the delicate ones, this would be really helpful as you just need to throw them inside this bag, and on to the washing machine, ensuring that the bags will keep them in shape!

I got the bags in two sizes, a large one that measures 51cm x 40cm and a medium one that measures 38.5cm x 29cm.
The large bag can fit a sweater, while the medium is perfect for tops and underwear.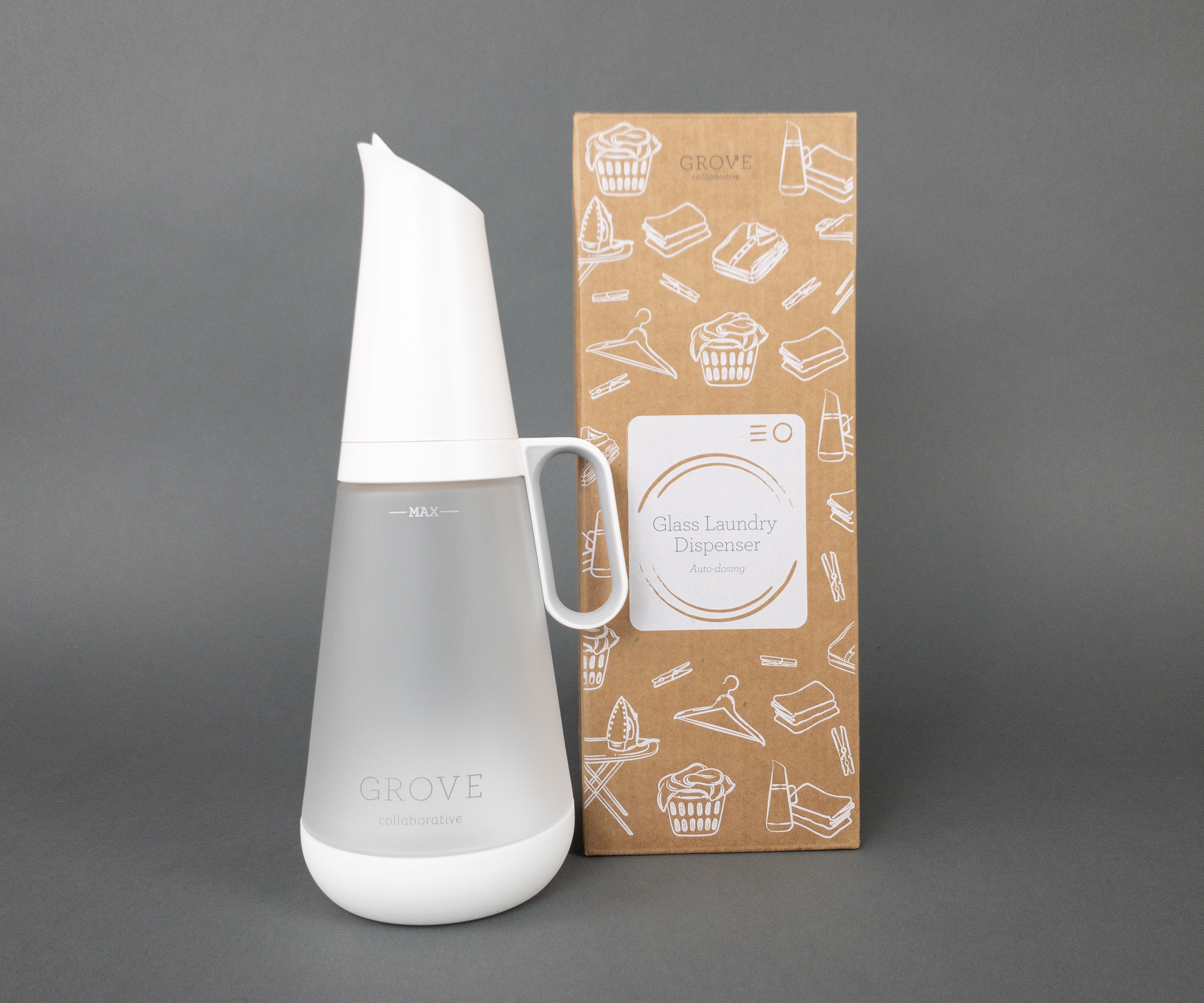 Auto-Dosing Laundry Detergent Dispenser ($16.95) Grove Collaborative's Auto-Dosing Glass Detergent Dispenser is designed with patent-pending and an auto-dosing mechanism that dispenses just the perfect amount of detergent for a regular load. You can buy this individually or as a part of the Grove Collaborative Laundry Starter Set.

The box included instructions on how to effectively use the dispenser.
The other side of the box tells us more about how awesome the dispenser is, and how it dispenses just the right amount of detergent for regular loads!
Aside from dispensing laundry detergent, it is also designed for zero dribbles and more than 60% plastic ware reduction.
The problem with most laundry detergent container caps is that it drips when filled with liquid. This one is an exception because it has a drip-free spout, which means zero mess!
The bottle is also designed with a silicone bottom to make it more sturdy. It perfectly pairs with Grove's Ultra-Concentrated Laundry Detergent. One full bag fills it up all the way.
Ultra-Concentrated Liquid Laundry Detergent ($9.95) Grove Collaborative's ultra-concentrated liquid laundry detergent is a dye-free detergent which is tough to take on any stain while being gentle to the planet! It's also a part of Grove Collaborative Laundry Starter Set, along with the laundry dispenser.
They also have these new laundry detergent formulas!
Stubborn stains and odors don't stand a chance against our Pure Power detergent. With a premium blend of five, ultra-effective enzymes and other plant-based cleaning agents, it can tackle the toughest stains – from grass to chocolate ice cream – while still being gentle on the environment. Designed to be used with our auto-dosing Grove Glass Laundry Dispenser, it not only adds superior performance but also sustainability and ease to your laundry routine.
Our Cold Wash detergent is a spin in the right direction. It's been optimized for cold water washes — which are proven to help clothes last longer. For this formula, we specifically selected cleaning enzymes that perform their best at colder temperatures. So while our effective blend of enzymes and other natural ingredients get to work cleaning your clothes, you're saving money and helping the environment by using cold water. Like all of our laundry detergents, it's plant-based with 96% plant-based ingredients and naturally scented (nothing synthetic). Take it for a spin by pouring into our Reusable Detergent Dispenser and enjoy all the cleaning power you need with 80% less plastic waste.
Made with powerful, plant-based ingredients, this liquid laundry detergent protects color, prevents pilling and reduces signs of existing wear — all while gently and effectively cleaning — so clothes look newer, longer. This detergent pairs perfectly with our auto-dosing Grove Glass Laundry Dispenser, an innovative system that reduces plastic waste, so that you can care for your clothes and the planet.
I'm torn between trying out Care and Renew and Pure Power next!
There are actually three variants of this laundry detergent which are Citrus & Woods, Lavender & Rosemary, and Free & Clear. This is Free & Clear!
Plus any of those three scents are available in the Grove Laundry Powder packs, too!
Wrinkle Release Spray ($4.95) There are times that I really don't have the time to iron clothes so I just have to rely on an anti-wrinkle spray, that's why I am so delighted that Grove Collaborative Laundry Line has this Wrinkle Release Spray!
The spray helps to remove fold and static in fabric for sleek clothes! However, it is not advisable to use on silk, nylon, or 100% polyester. It's fragrance free, so it's fabulous. I can't stand Febreze!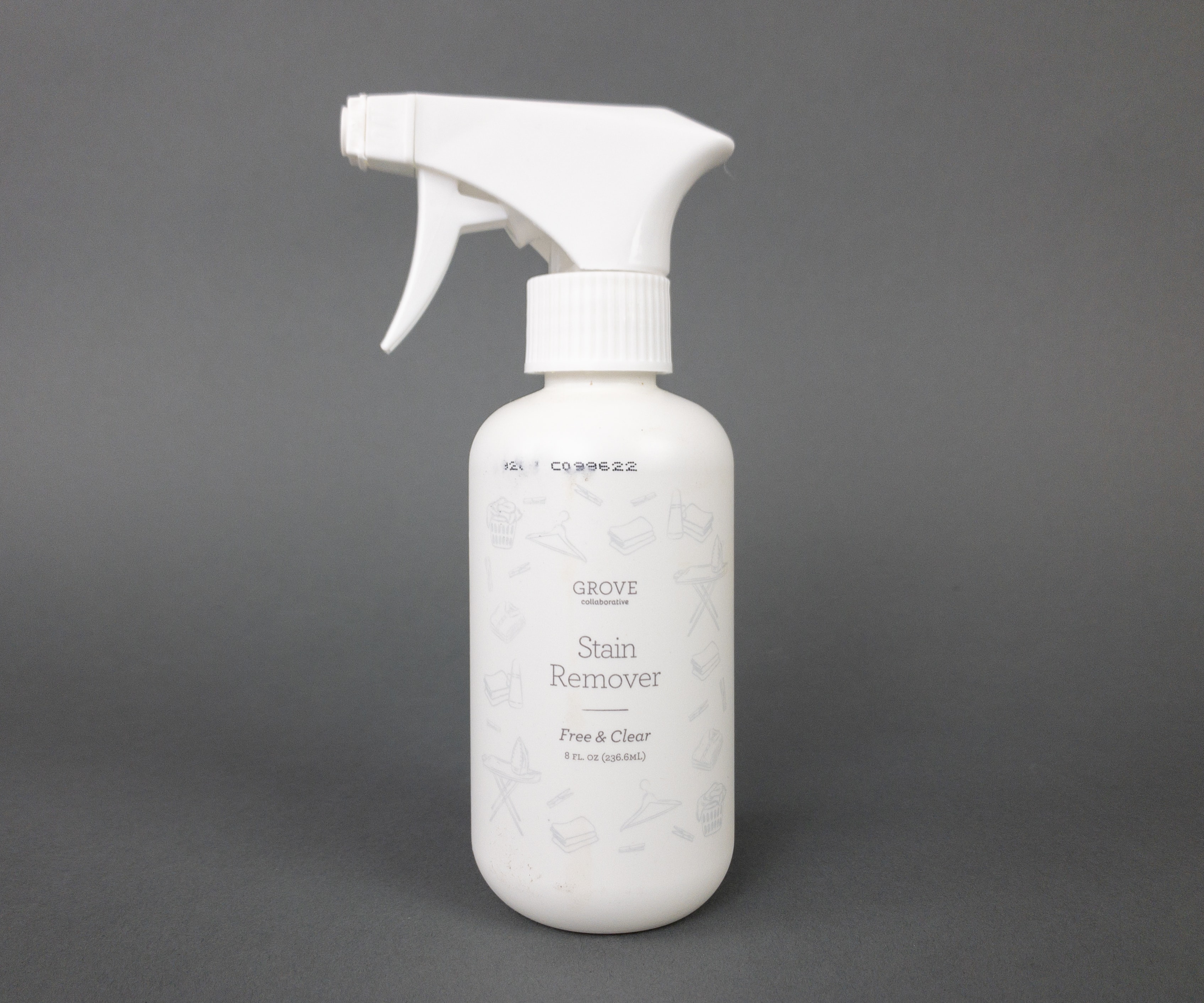 Stain Remover Spray ($4.95) Stains are really hard to remove from some clothes. Here's another item from the Grove Collaborative Laundry line, which is formulated to help us get rid of stains using natural cleaning enzymes. It works wonders! I now have fewer worries with spills and stains because I know there's something that can help me remove them easily and make the clothes look brand new!
To use this stain remover, just spray on to the stained area until it is thoroughly saturated, then wash. For best results, allow the stain spray to sit for at least five minutes before washing. It works on all washable fabrics as well!
I also had this freebie item in my order!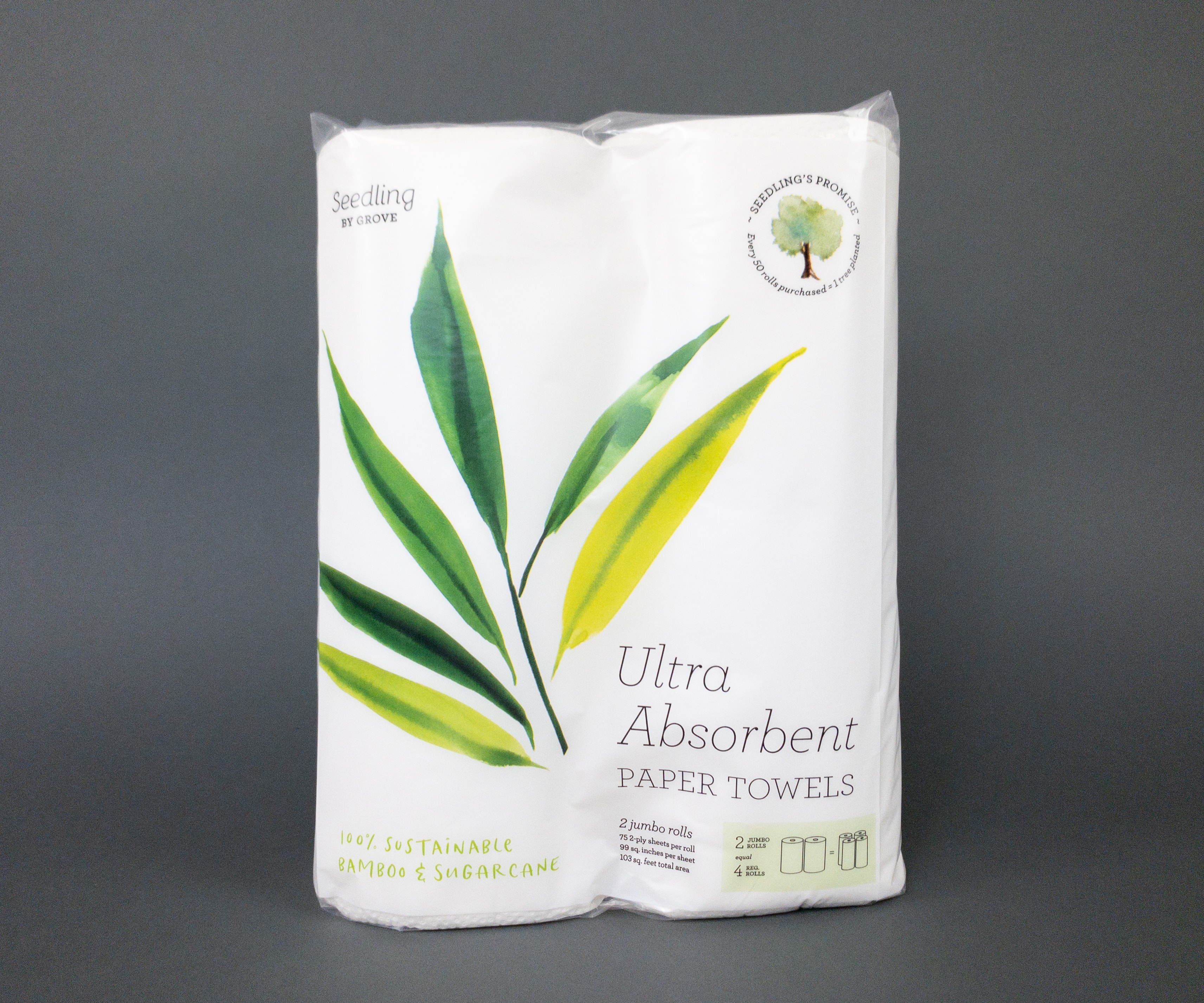 Seedling by Grove Tree-Free Paper Towels 2 Jumbo Rolls ($3.95) I'm fond of these 100% tree-free paper towels! Their two-ply construction allows the absorption of more water spills without breaking down, and that's how tough I want my paper towels to be! It's not a part of Grove's Laundry Line, but an add-on.
As part of the eco-friendly collection, Seedling by Grove Collaborative makes sure that they always take the environment into consideration through their elemental chlorine-free bleaching process. Moreover, every cube sold goes towards reforestation efforts in the US.
These snowy-white paper towels are made from bamboo pulp which is highly absorbent and can hold 3x its weight in water, no wonder it's a reliable cleaning aid.
Each roll has 75 large sheets, which is equal to 150 normal sheets!
The Laundry Line is such an awesome addition to the Grove Collaborative family. There's always a load of laundry to wash at home and it's inevitable for the kids to have zero stains on their clothes, so the detergents and the stain remover spray are perfect for our family. I also love the laundry bag because I don't have to worry about our delicate clothes getting easily worn out. The auto-dosing laundry detergent dispenser is a cool product as well. It eliminates spills and wastes effectively! Grove Collaborative definitely helps me a lot with my chores at home. They make everything so much easier. Another thing that I love about these products is that they're only made with ingredients that are environment-conscious!
Have you tried out Grove Collaborative?
Visit Grove Collaborative to check it out and personalize your own subscription!