Greenwell Pet is a monthly dog wellness subscription box. You can get a one time box for $44 + free shipping, but if you opt for the subscription, it will only cost you $39 per box, plus free shipping too.  Each month, you will receive at least 3 CBD/hemp products and 1 to 2 health and well-being items such as a toy or grooming product made with earth-friendly materials. The products will help relieve your furbabies' stress, joint pain, skin issues, or other ailments, so they can really enjoy a healthy life that is full of fun!
DEAL: Get 20% off your first box! Use coupon code HELLO.
The items were wrapped in white tissue paper.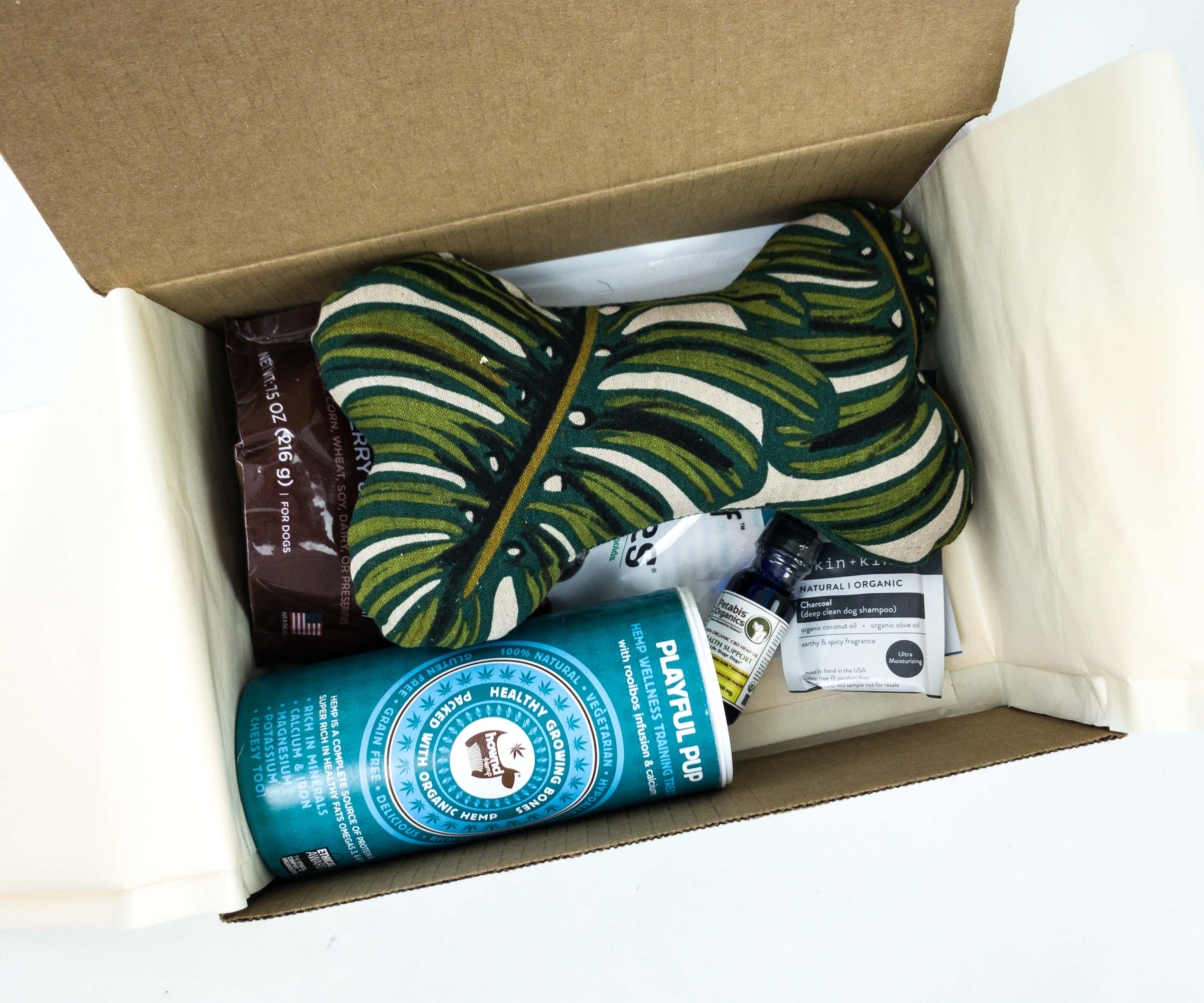 No squiggles or extra packaging, but everything arrived in great condition.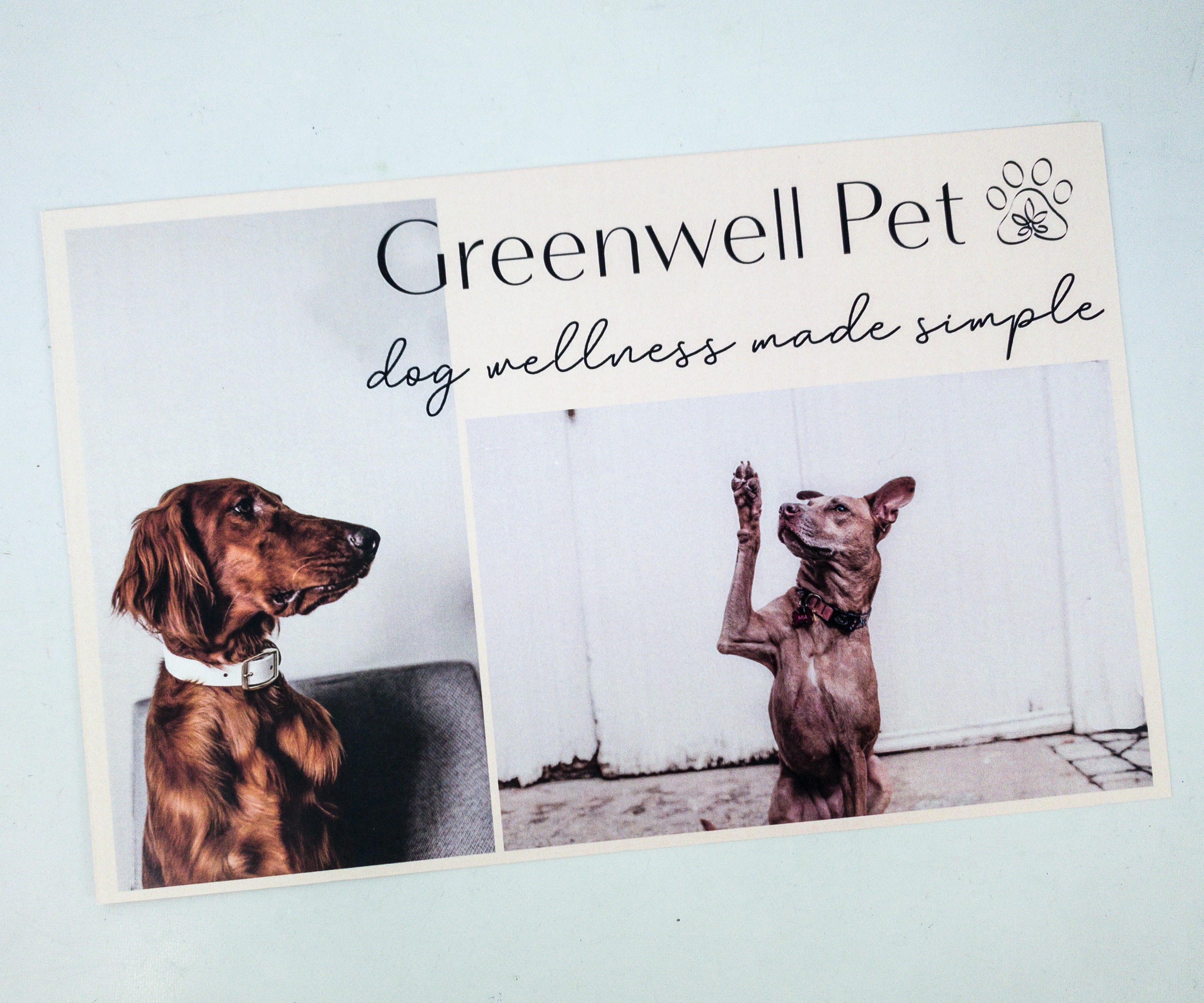 The box also includes an info card that has adorable pup photos!
The back of the card lists all the items in the box, and each item comes with a description.
Everything in the box!
CBD Pup Box Monstera Leaf Squeaky Toy ($17) Made with fabric designed by Rifle Paper Co., this squeaky toy is made from thick canvas fabric. It's quite tough and it doesn't easily get pierced no matter how tough our dogs are.
The toy is stuffed with an eco-friendly filling made from 100% recycled plastic bottles. Yes, it's high time to go green, even with dog toys and stuff!
Kin + Kind Itchy Dog Shampoo – Healing Clay ($0.42) This dog shampoo contains natural bentonite clay that soothes irritated skin, as well as a blend of coconut oil, olive oil, and glycerin that attract and lock-in moisture to the skin and coat. This will prevent the pups from scratching themselves which results in redness and scratch wounds.
Kin + Kind Deep Clean Shampoo – Charcoal ($0.42) For active pups, this shampoo is perfect as it contains activated charcoal that removes impurities and ensures a perfectly clean coat. It also deodorizes any scent and brightens both white and colored coats! It also comes with itch relief and removes allergens with the use of natural oils like coconut and olive oil.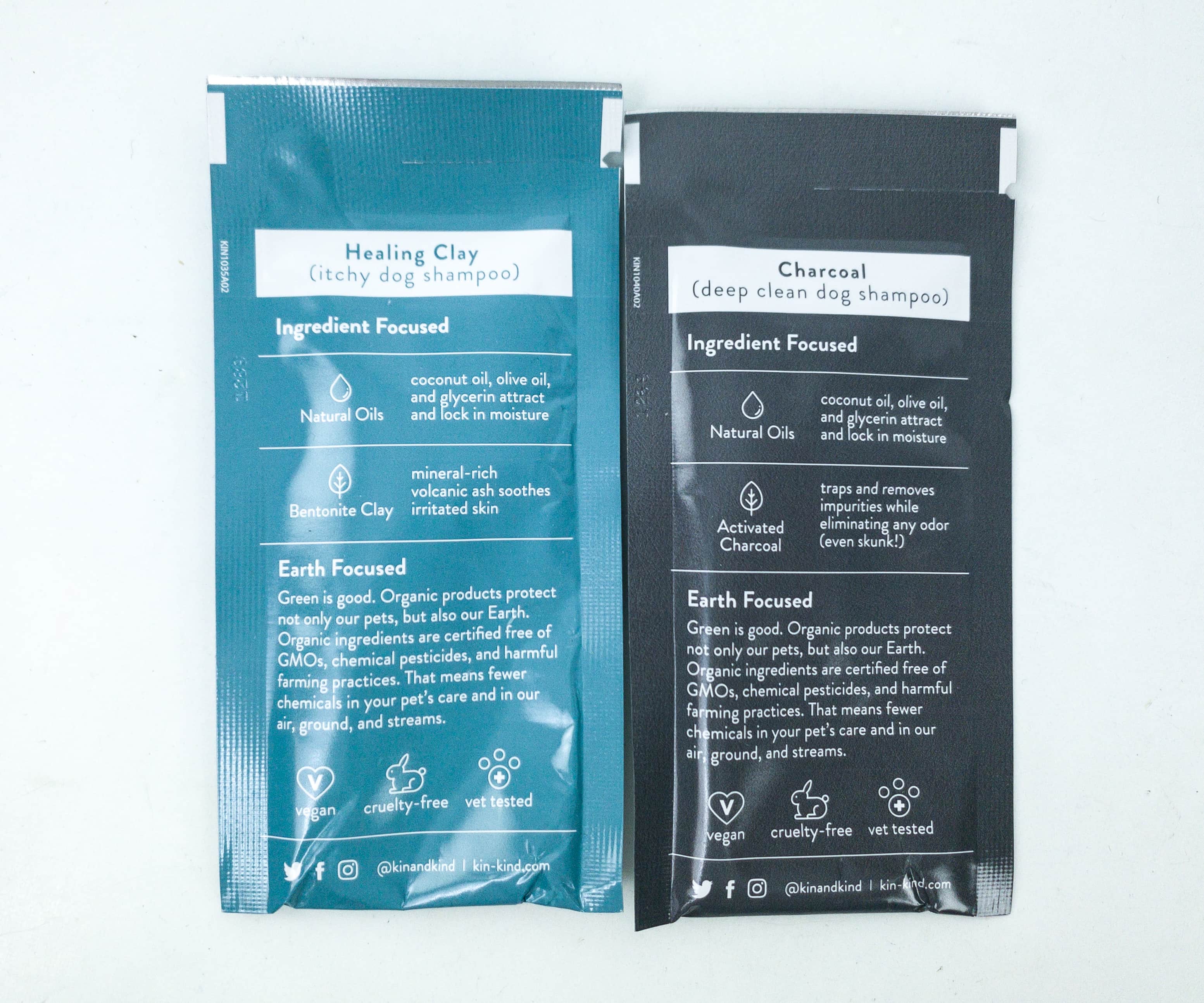 Both of the products are earth-focused as well. They don't just protect our pets but also our planet.
Pet Releaf Edibites – Blueberry & Cranberry ($17.99) These CBD-infused snack bites are dubbed as superfood smoothie for dogs. They are considered an immune system turbo boost and are a perfect daily supplement. The bites don't contain wheat, corn, dairy, or soy, and have no fillers or chemical preservatives either.
The treats are made of organic full-spectrum hemp extract including naturally occurring CBD. No worries because CBD doesn't have a psychoactive ingredient. We already have tried these with our pups, and they love them (and work wonders!) so we were thrilled to get these in the box!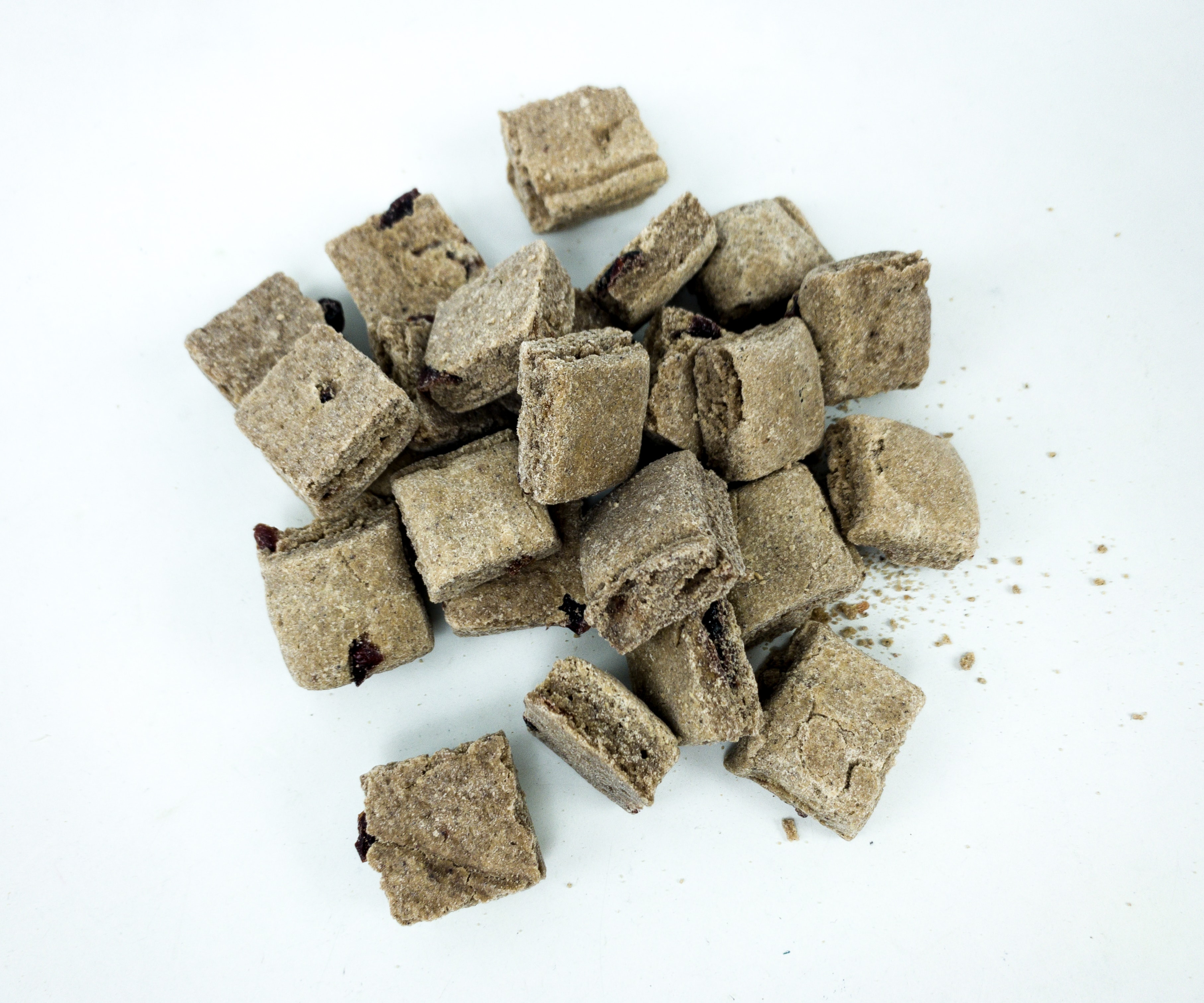 Each piece is bite-sized, great even for smaller pups. They're crunchy and chewy, our pups can't get enough (2 per day for our little ones please!).
Petabis Organics CBD Hemp Oil – Health Support ($40) Another CBD product that is good for the pups (and even cats) is this non-GMO, human-grade, and full-spectrum organic CBD Hemp Oil. It is locally grown and organically cultivated and sustainably sourced in Colorado, and they only produce the purest, nutrient-dense, and chemical-free natural CBD Hemp Oils that are good for pets.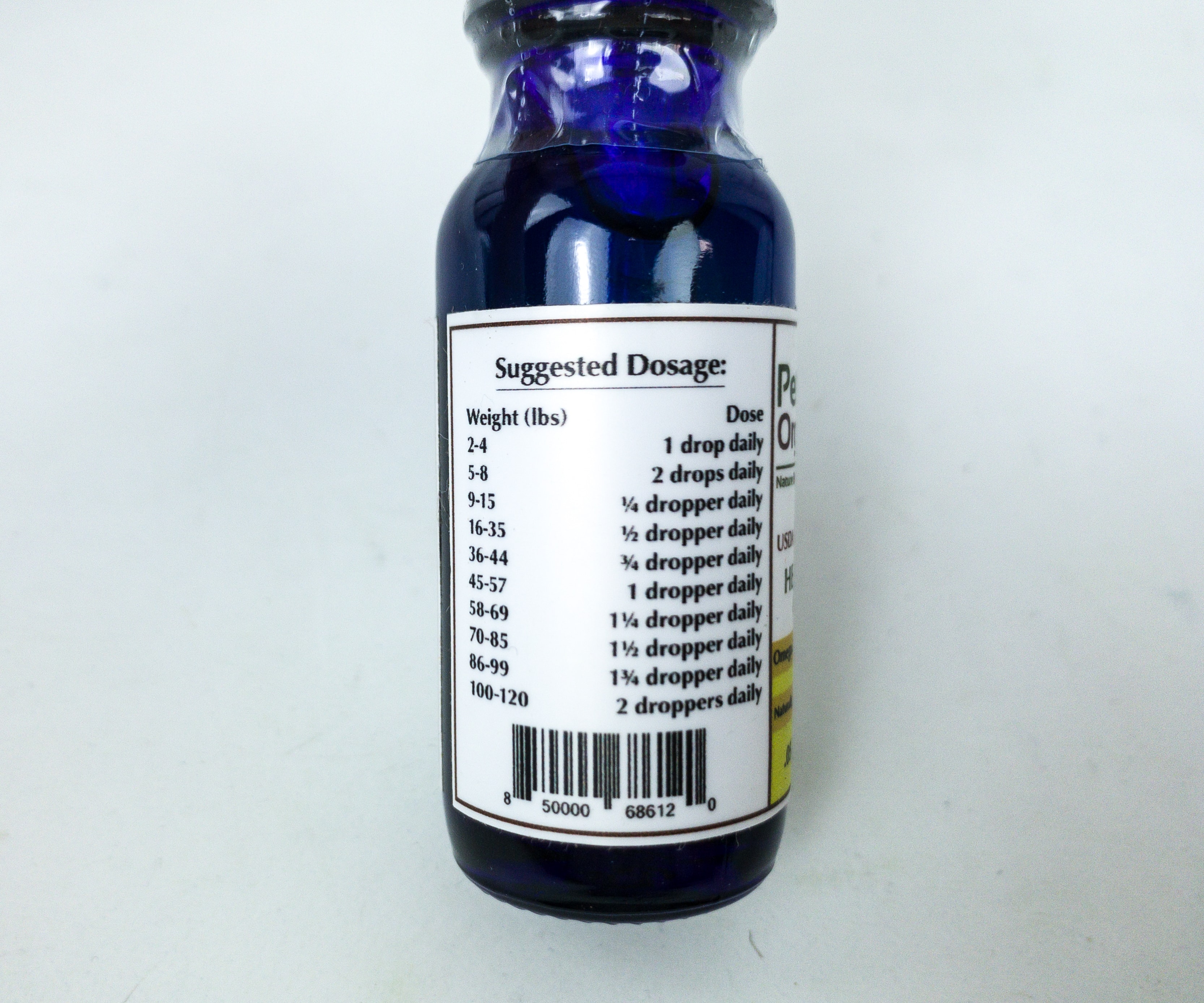 The container also indicates the suggested dosage that your pet can take, depending on their weight.
To maximize benefits, you can also give hemp oil outside of meals. Just place the suggested dosage on the tongue, treat, or food. The bottle lasts for 30 drops, so refrigeration is needed after opening.
Being able to go green for our pets and the environment is simply amazing! Greenwell Pet includes natural supplements and treats in each box, as well as toys made with recyclable materials. The pups really enjoyed the toy squeaker and I can tell that they love the snack bites. We also tried the shampoo on our dogs and they worked really well. This is just our first box but we're already quite impressed! We're so happy to have encountered a dog subscription box that also promotes eco-friendly products! Plus, if you have a dog that benefits from the addition of CBD to their daily routine, this subscription box is a no-brainer. Our senior dog Lindy does so well with CBD, it's a great subscription box for her!
What do you think about our Greenwell Pet Box?