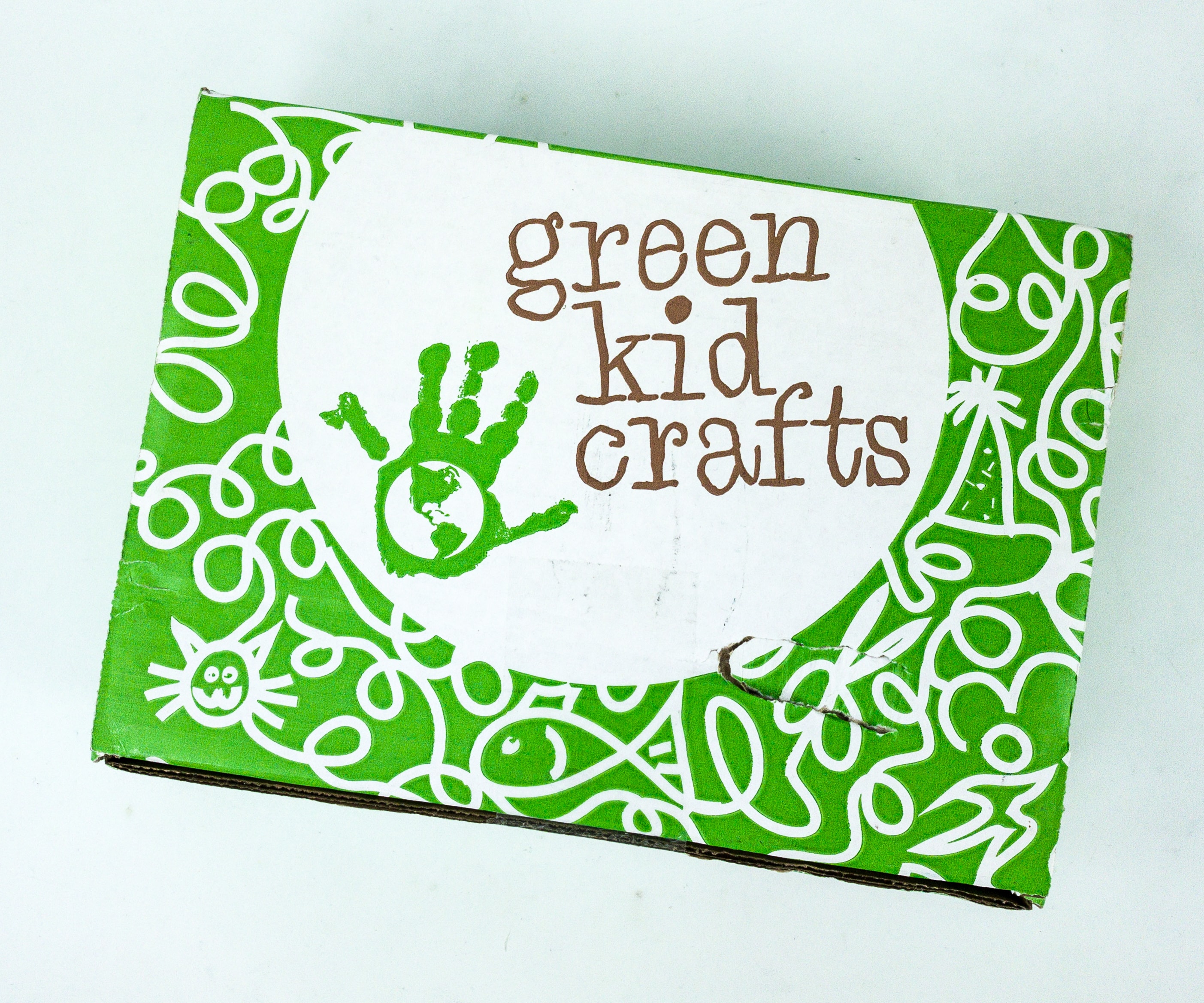 Green Kid Crafts is a subscription box that sends 5-8 themed projects made with eco-friendly materials to your home every month. The boxes contain hands-on explorations in science, math, technology, engineering and art that are intended to challenge children from 3-10 years of age.
DEAL:  Save 50% on your first box! Use coupon code HELLOSUB50.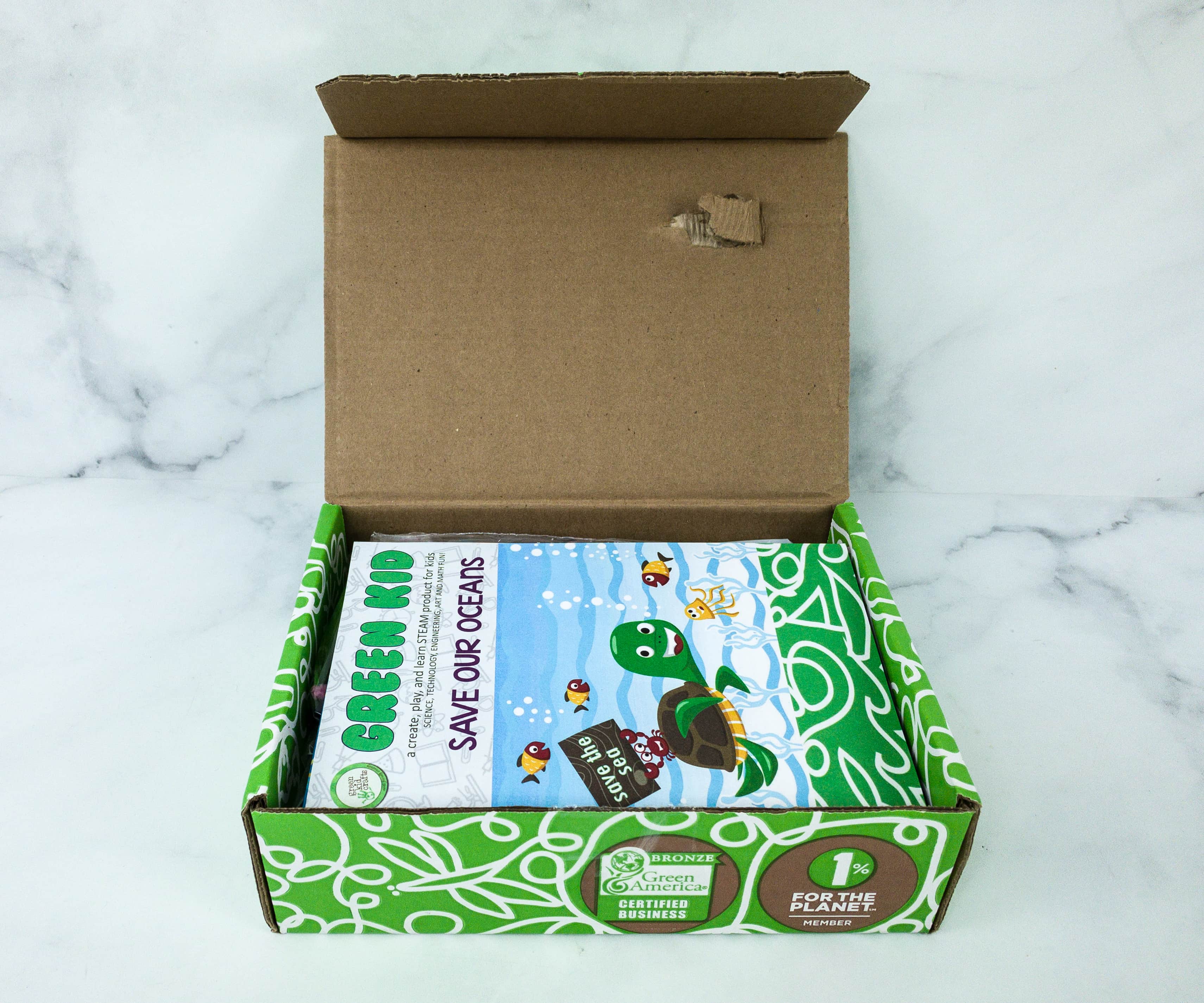 Green Kid Crafts offers two age ranges –  the Junior Discovery Box (ages 2-4) or the Discovery Box (ages 5-10+). This is a review of the Discovery box! Green Kid Crafts also offers a Sibling Discovery Box (ages 2-10+).
The box itself is in green, with cute doodles on it. All the items are packed neatly inside.
Everything in my box!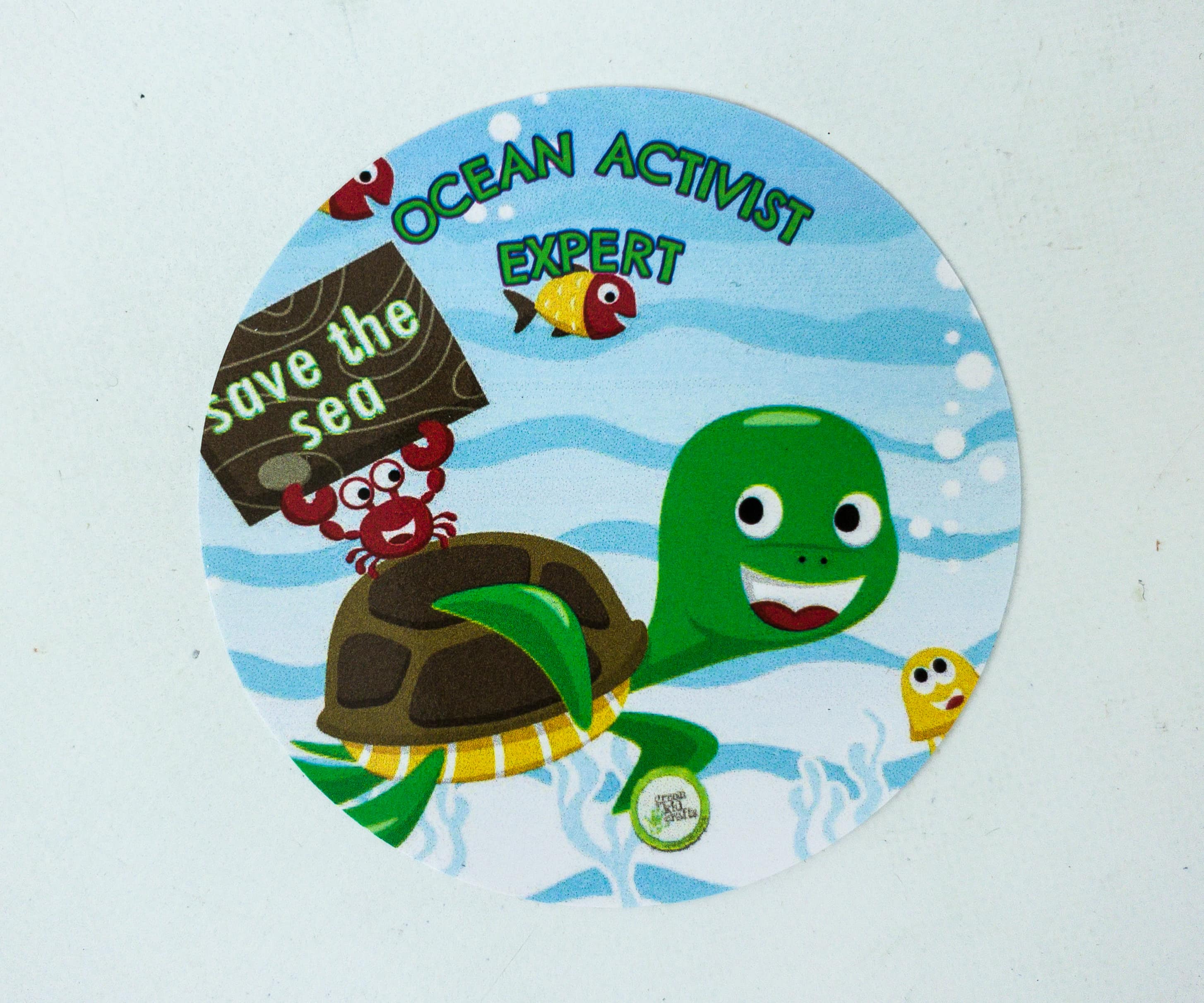 Each month you'll get a special badge that you can collect and stick on a badge sheet. This month, it's the Ocean Activist Expert badge!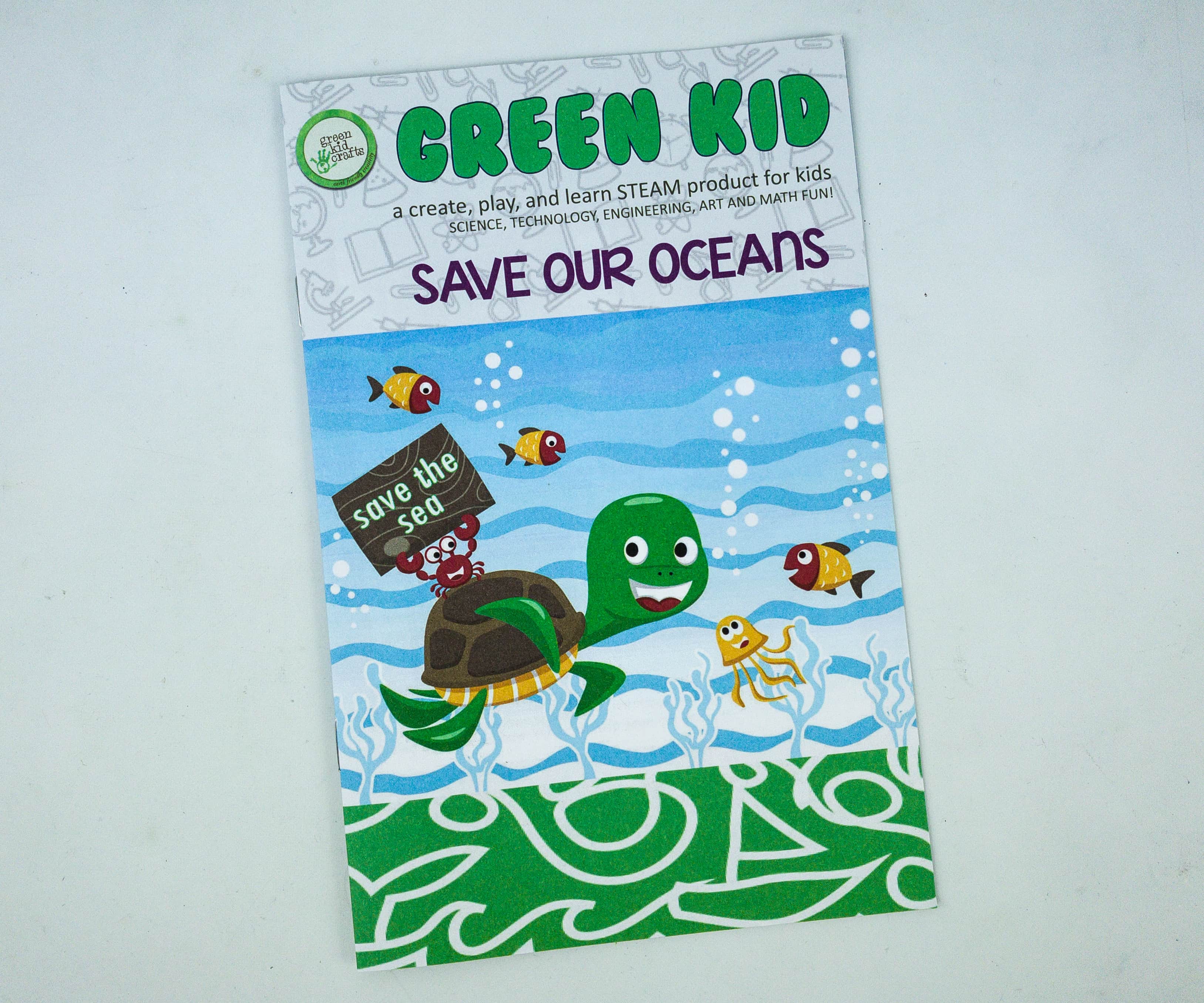 This box's theme is SAVE OUR OCEANS.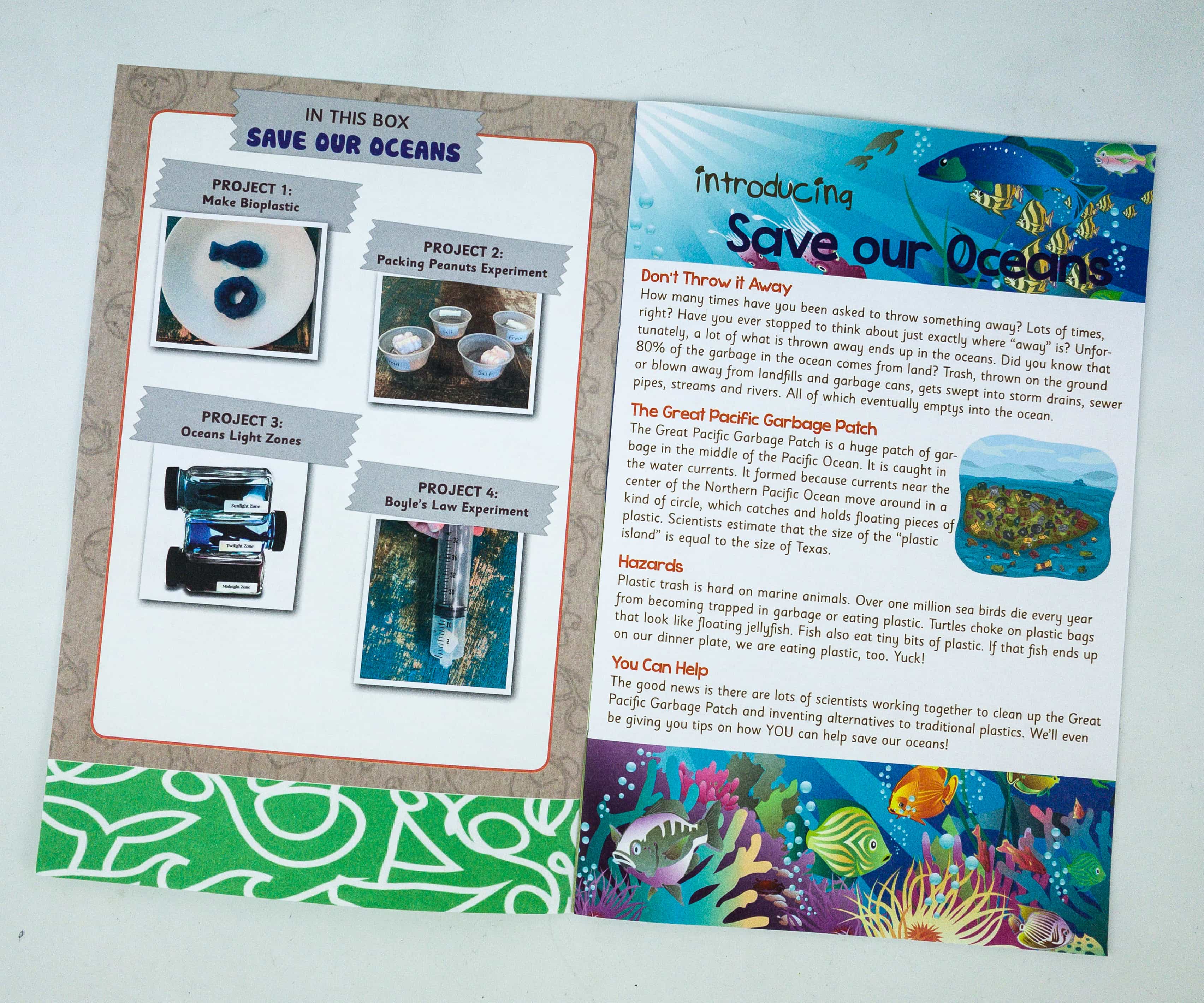 The booklet provides essential information about the subscription and a variety of projects that you can work on.
The booklet is well-detailed and very informative.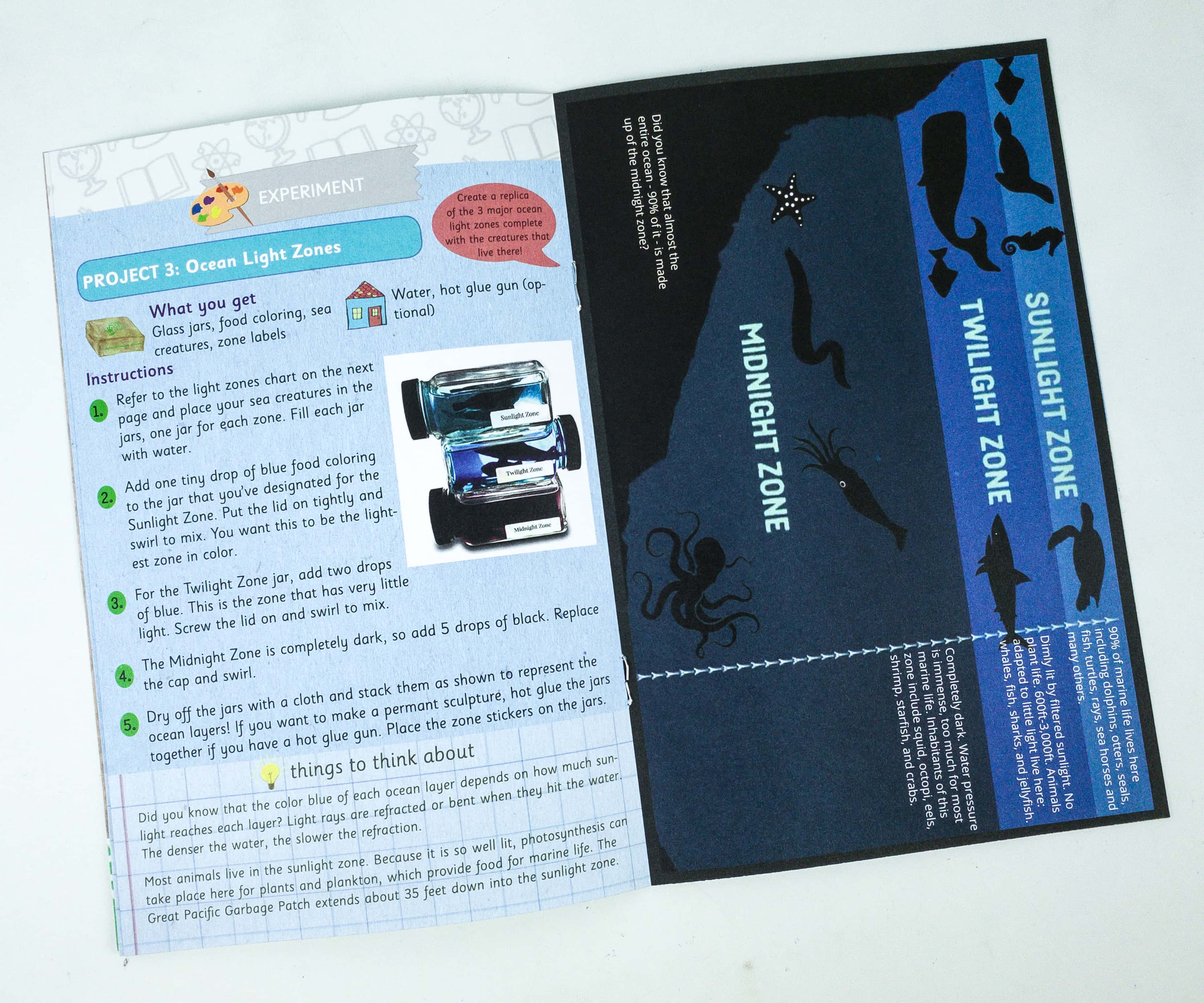 It provides us with complete instructions and details for each and every project.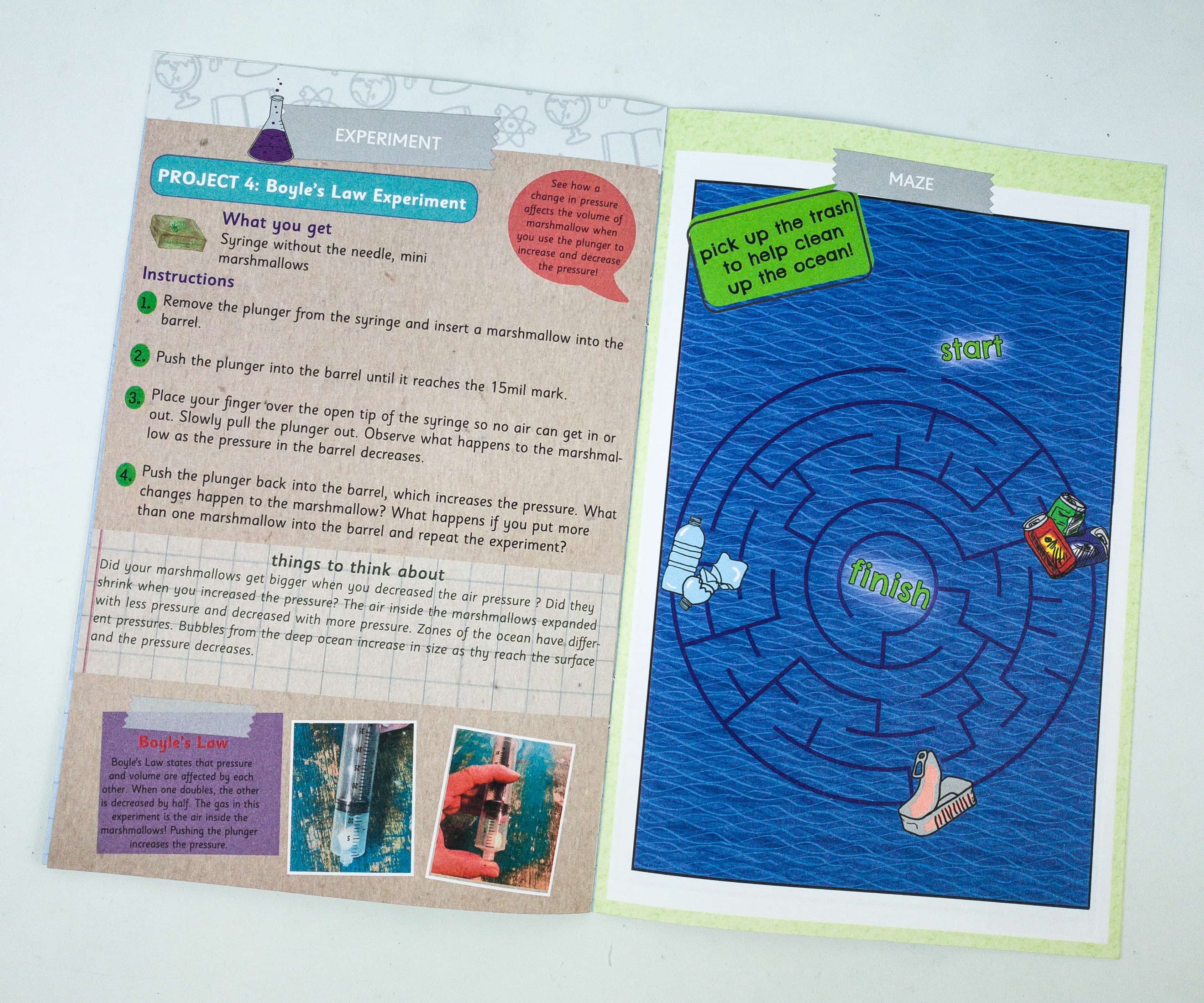 There's a total of 4 projects for this activity box! Aside from the projects, the booklet also comes with a lot of cool on-page activities for your kids to enjoy, like puzzles and mazes.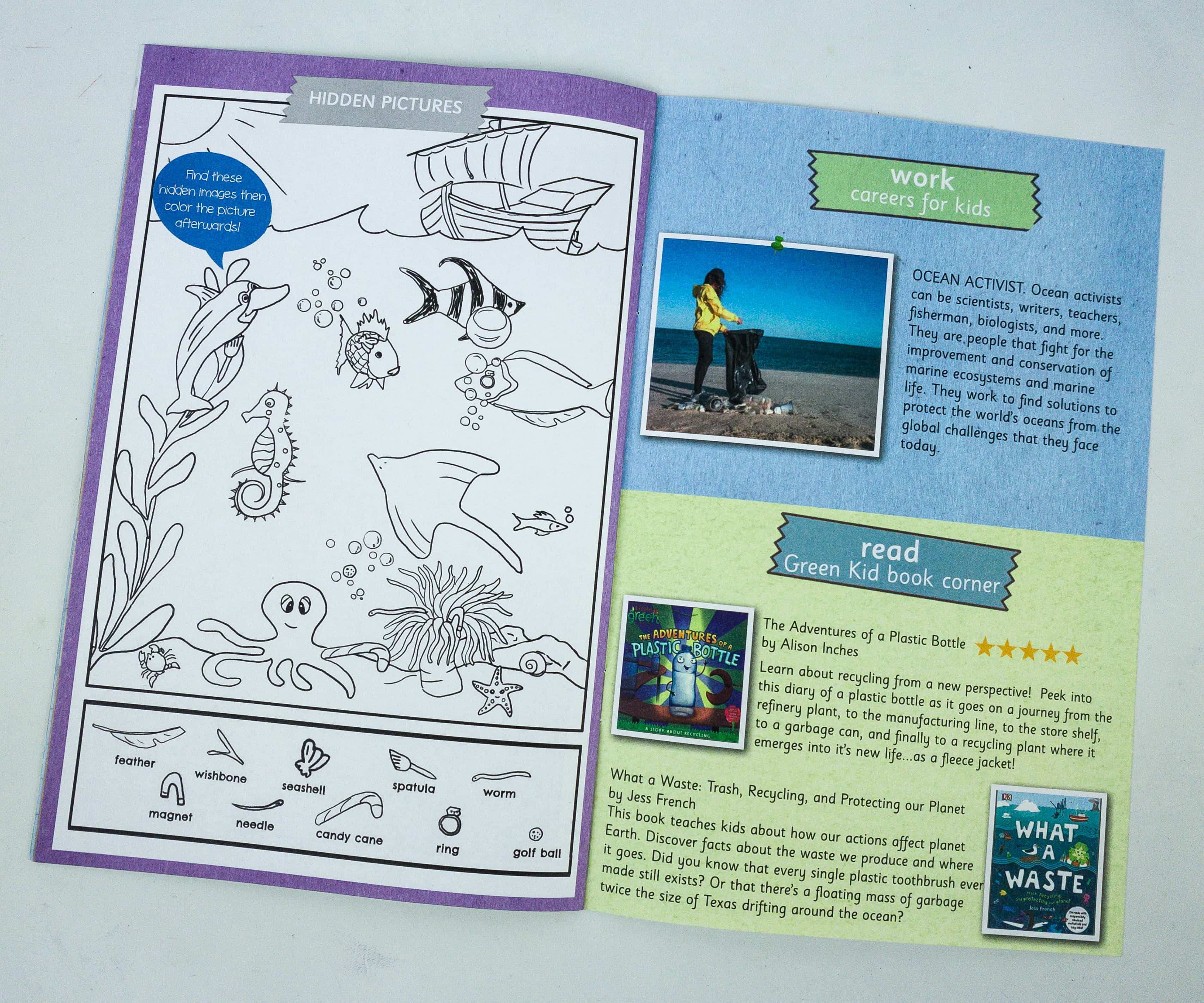 One of the fun activities in the booklet is Finding the Hidden Picture. The other page even suggests a book and a career that the kids can consider to be when they grow up.
There's also a card with additional projects for this month, which all involve creative painting techniques.
First is the Pulled Yarn Painting. The instructions are easy to follow and they even added photos for your reference. There's also an Artist Spotlight, and it features Jackson Pollock.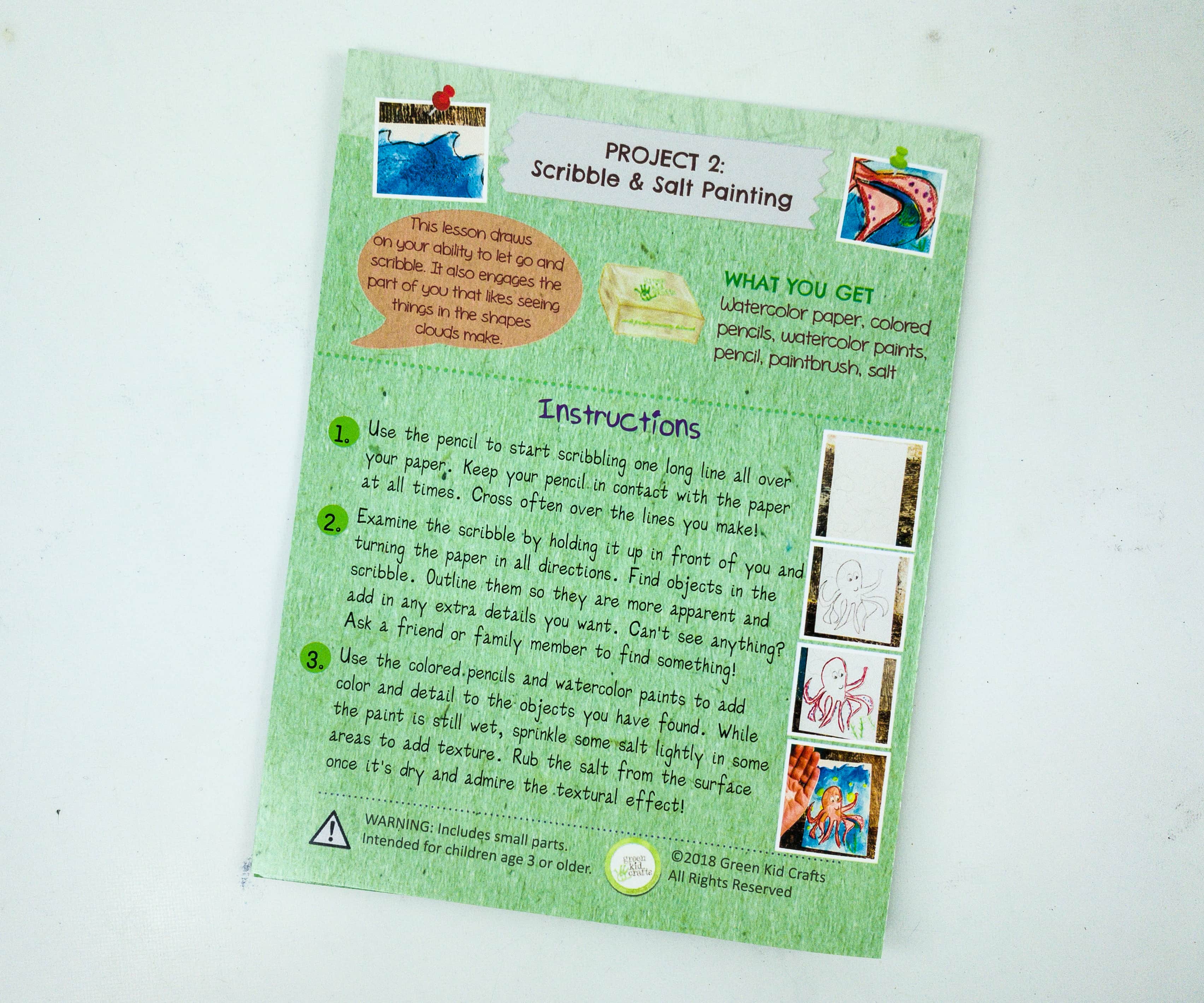 The next project is Scribble & Salt Painting. The well-detailed instructions and reference photos are really helpful!
The box also includes a huge and colorful world map!
My son is currently pointing on our flag and is currently and is looking for its location on the map.
Each project comes in separate plastic containers to avoid mixing of items.
Here are the materials for the Pulled Yarn Painting and Scribble and Salt Painting: watercolor paper, paints, strings, craft stick, and salt.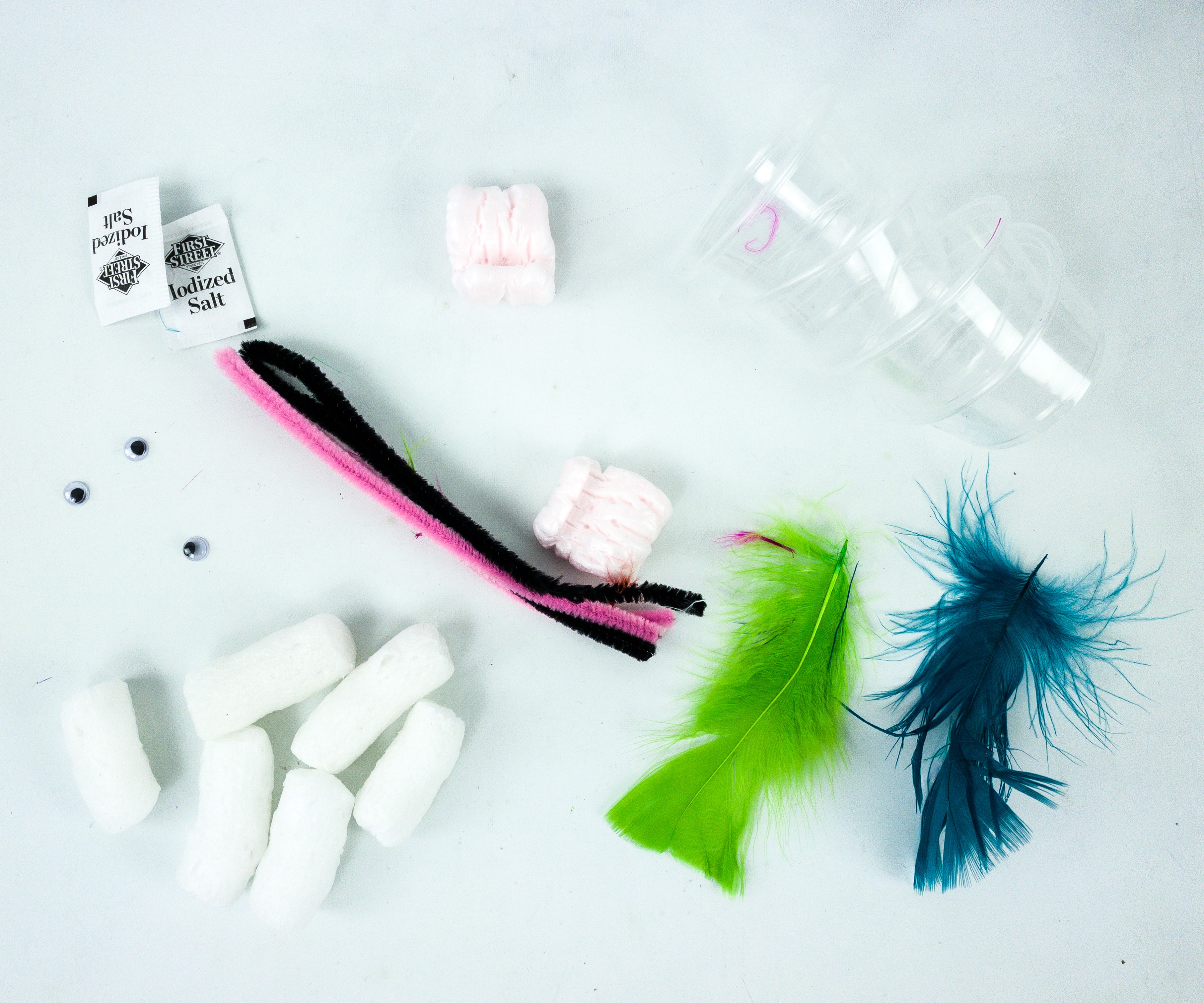 Packing Peanuts Experiment. For this experiment, we used plastic cups, pink packing peanuts, white packing peanuts, goggle eyes, pipe cleaners, feathers, and salt.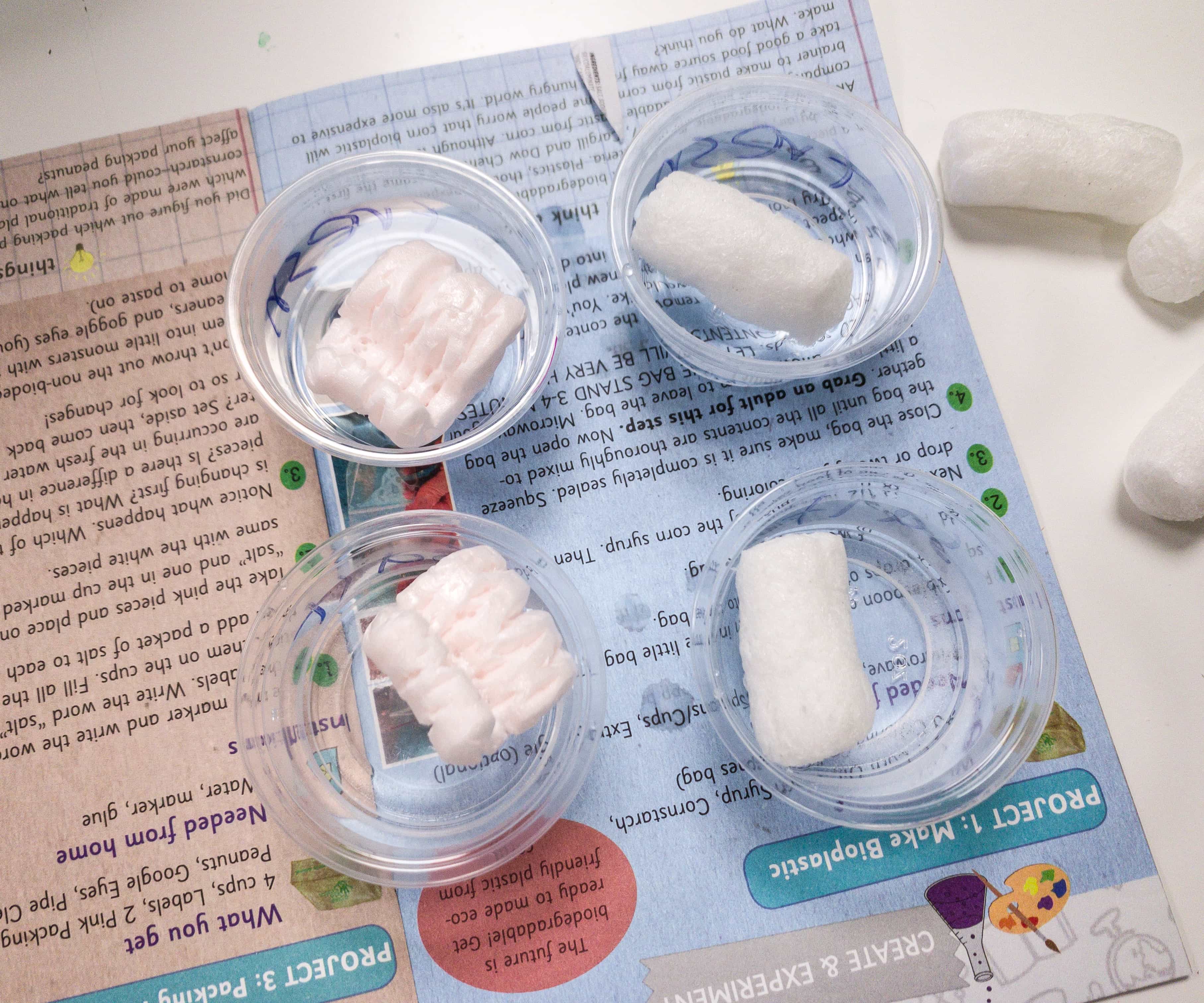 We started by labeling the first two plastic cups with the word "fresh" and the other pair "salt". Then, we placed one pink and one white packing peanut for each batch.
The next step is to fill all the cups with water and then add a packet of salt to each cup marked "salt".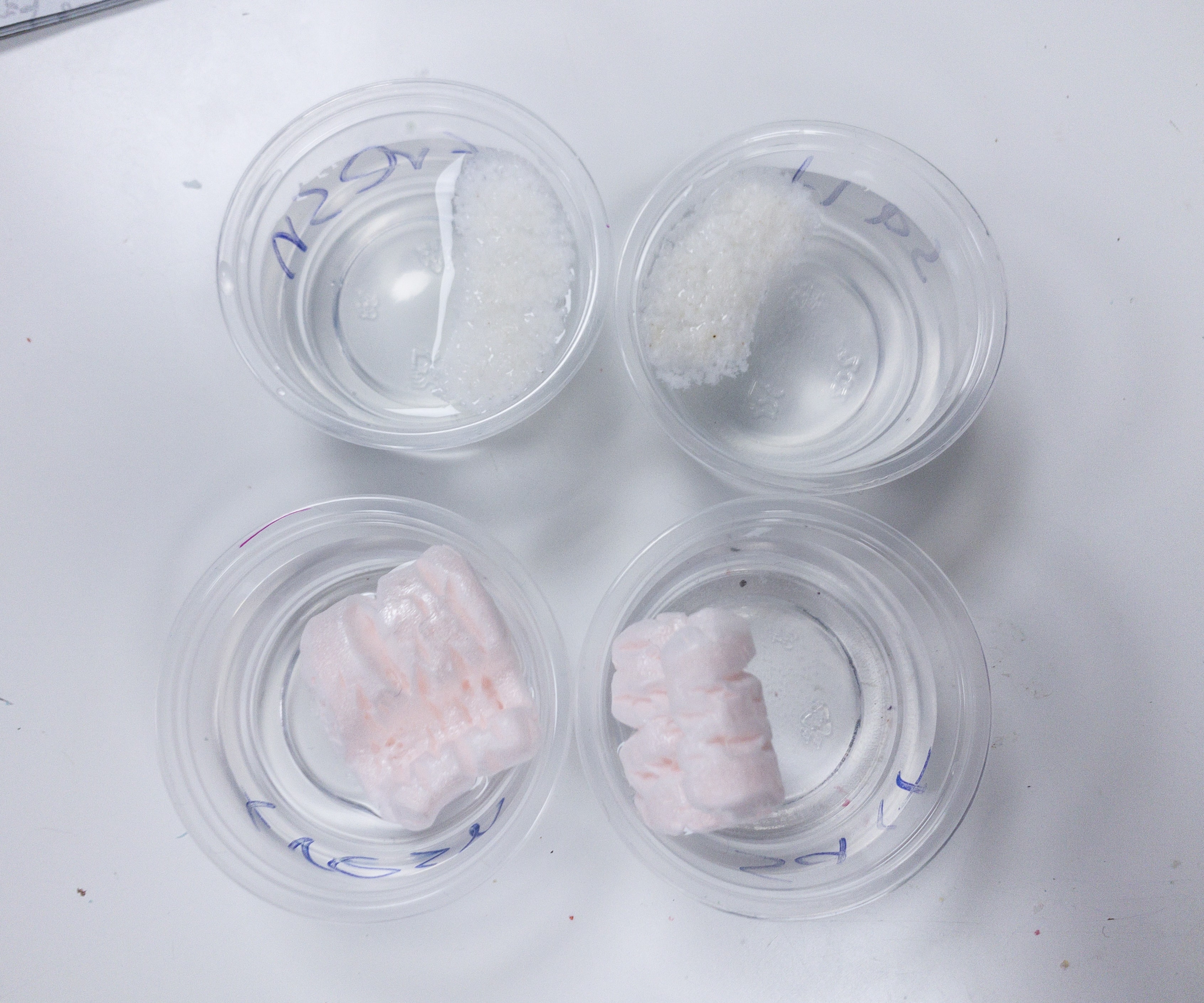 Then, we observed what happens with the packing peanuts. Set it aside and then come back every twenty minutes until you see a huge change!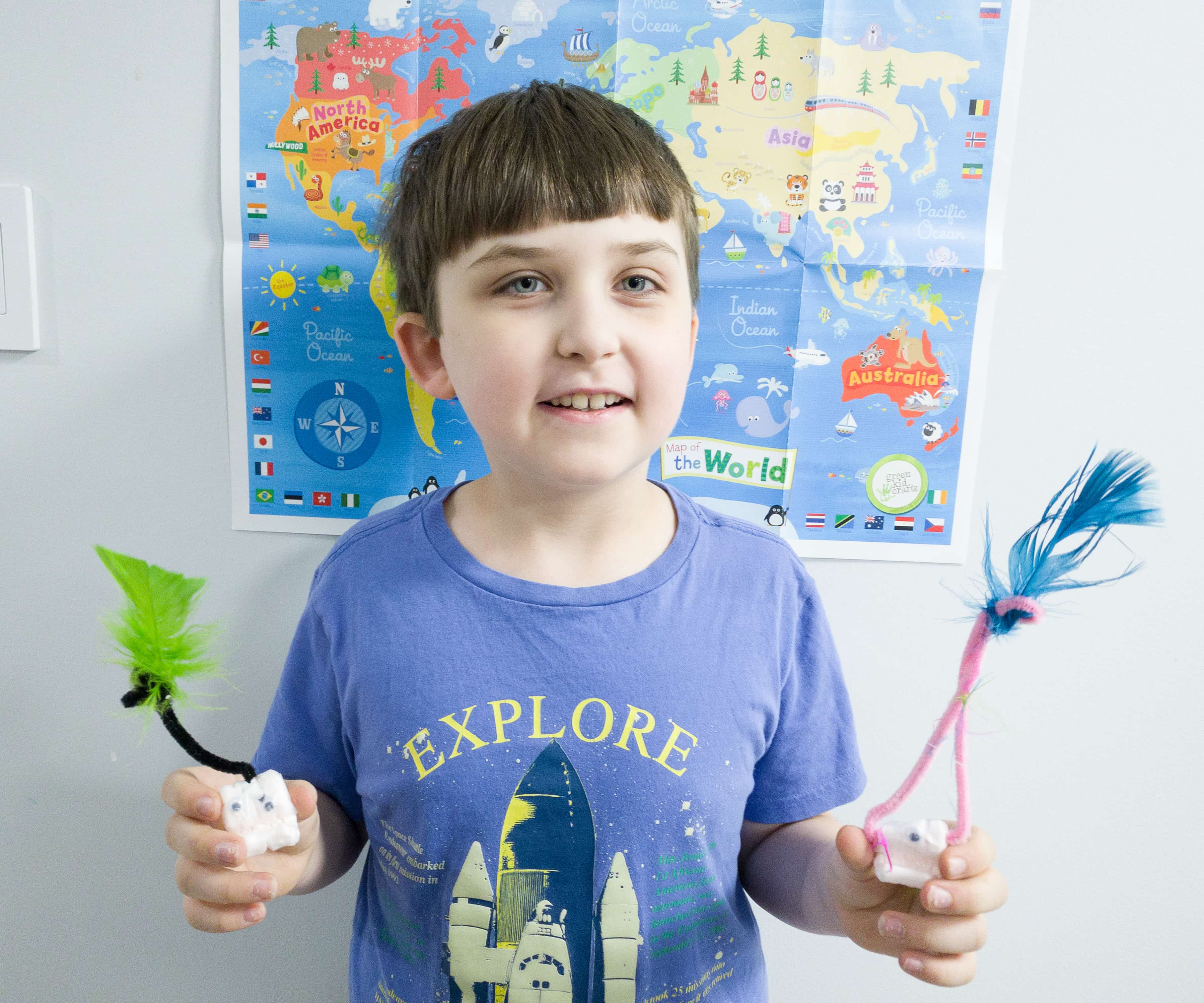 Don't throw the packing peanuts just yet! You can turn them into cute little monsters by putting feathers, pipe cleaners, and goggle eyes on them.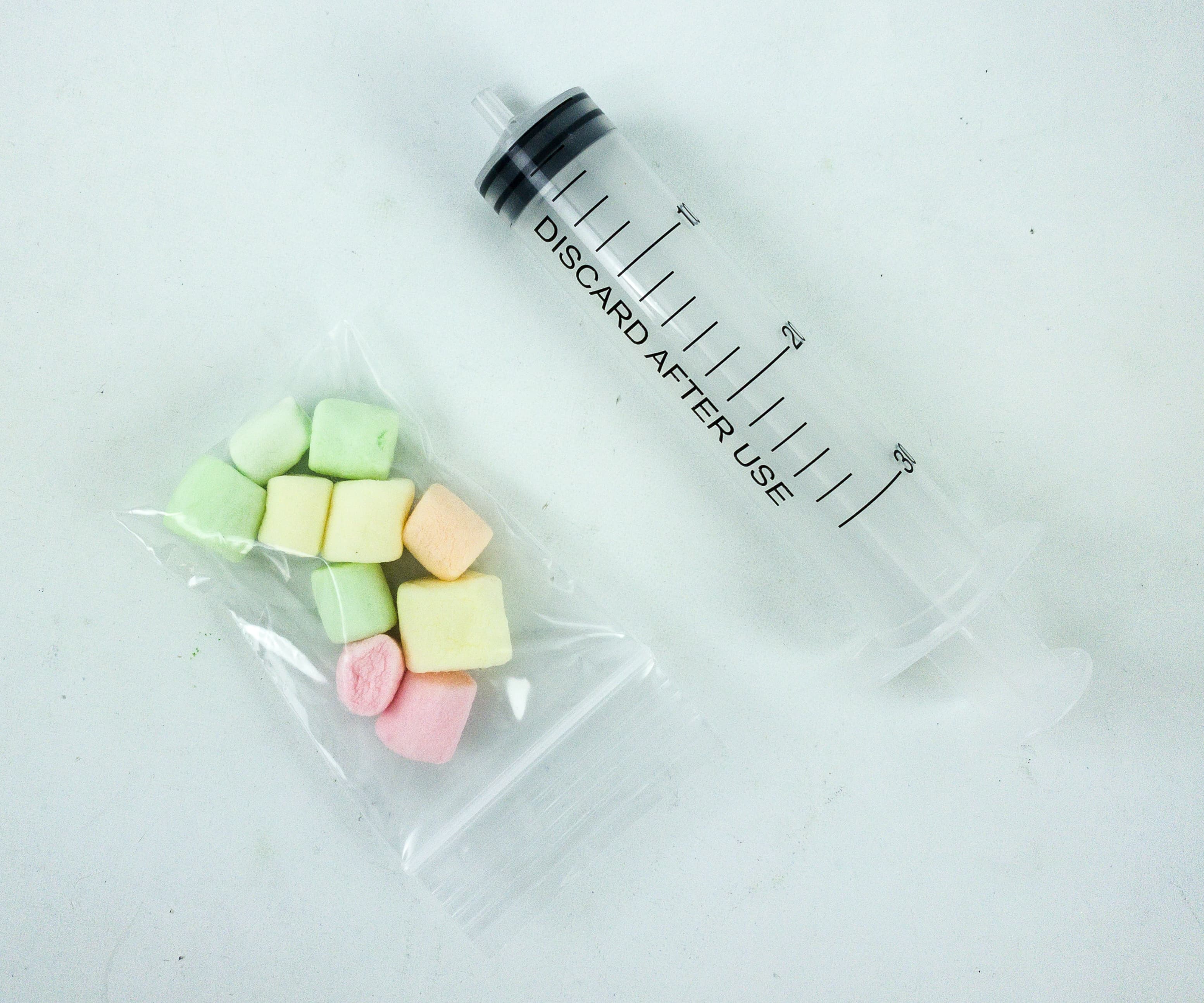 Boyles Law Experiment. For our next project, Boyles Law Experiment, we used a syringe without needle and mini marshmallows.
This project is so easy to do, all you just need to do is to remove the plunger from the syringe and insert a marshmallow into the barrel.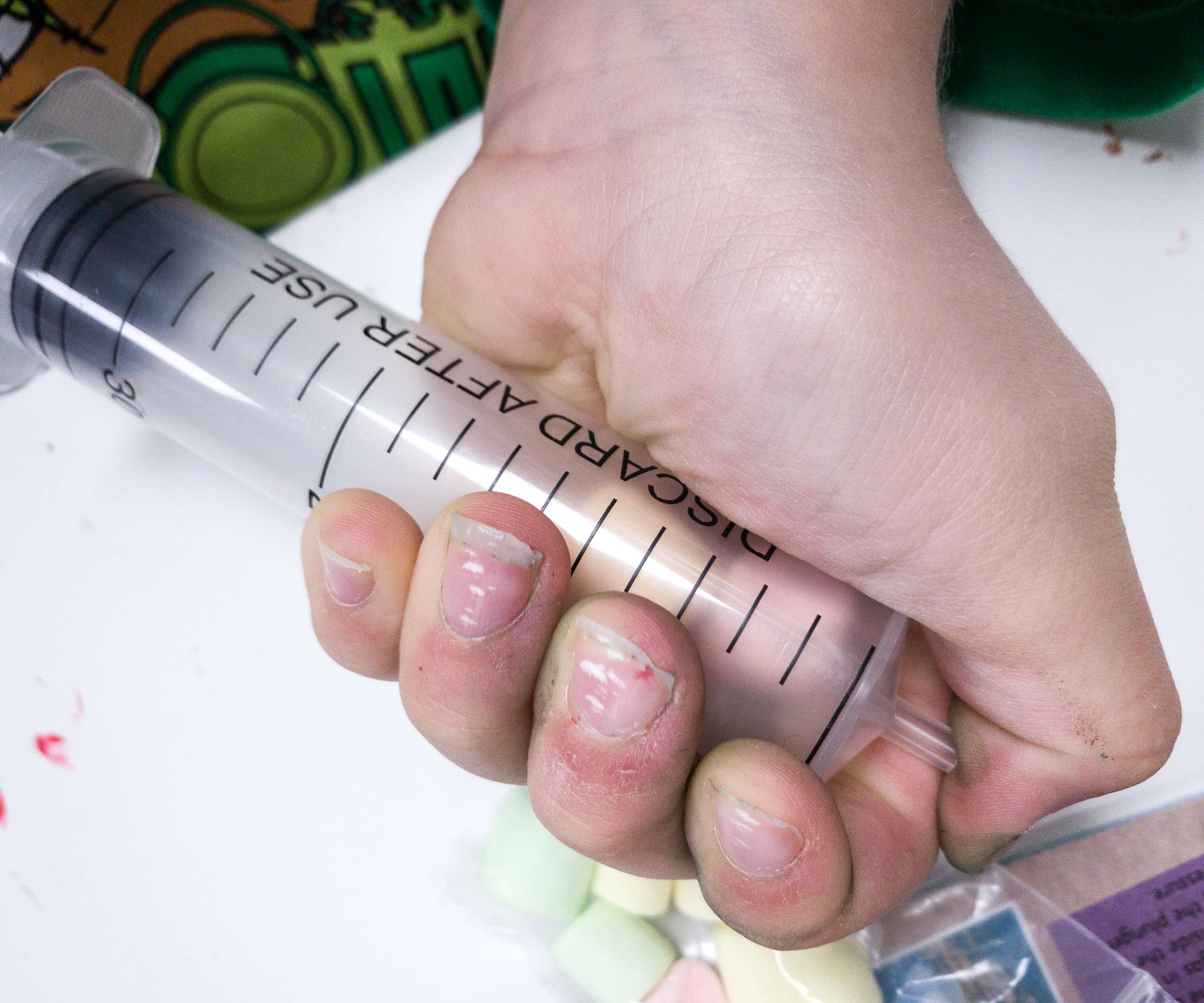 Push the plunger into the barrel until it reaches the 15 ml mark and then place your finger over the open tip of the syringe so no air can get in or out.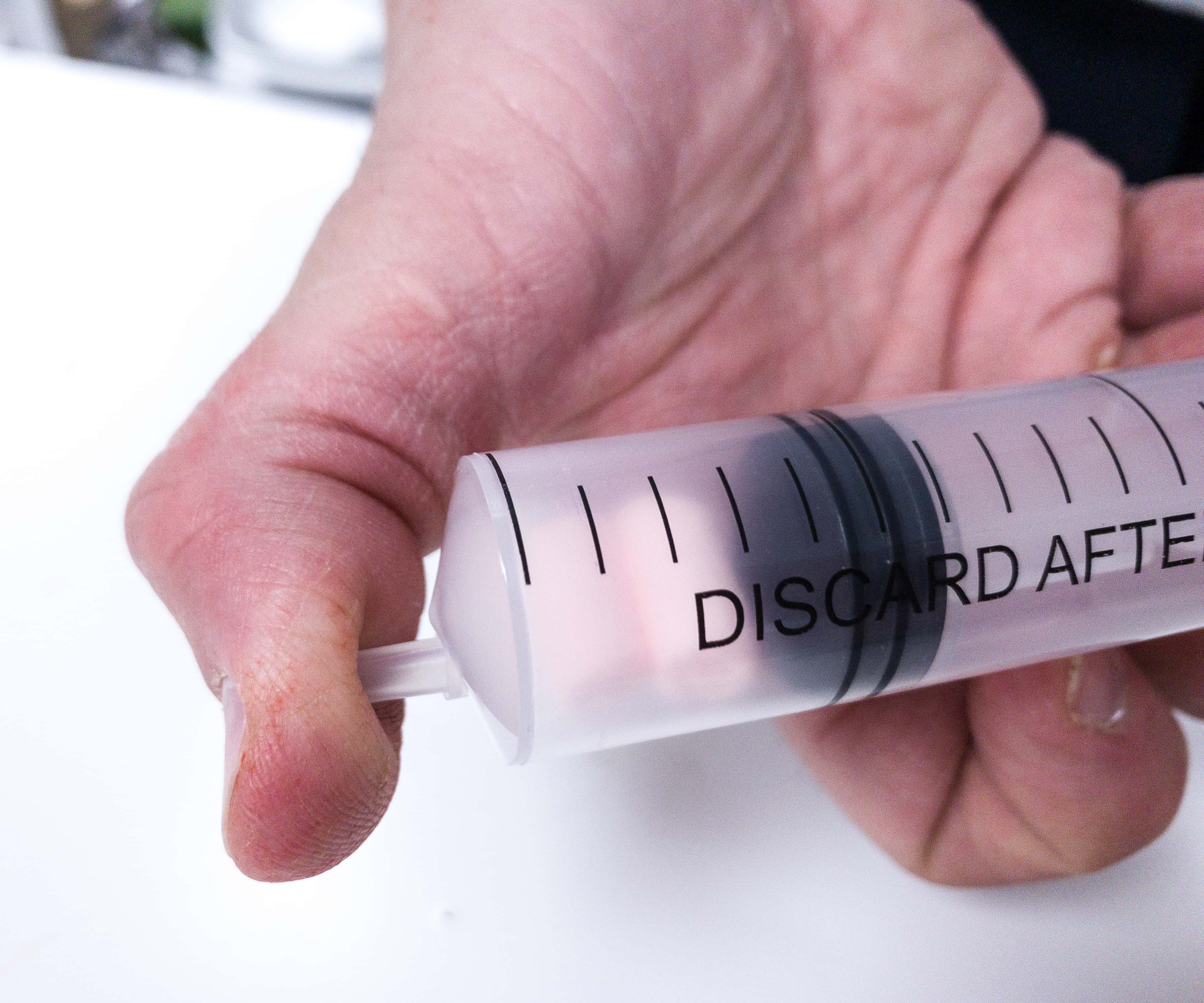 While keeping your hands on the tip, slowly pull the plunger out and observe how the marshmallow expands as the pressure in the barrel lowers. Try it with a number of marshmallows and see if it produces the same result!
Bioplastics Experiment. For our third project, we used baggie, corn oil, corn syrup, cornstarch, and food coloring.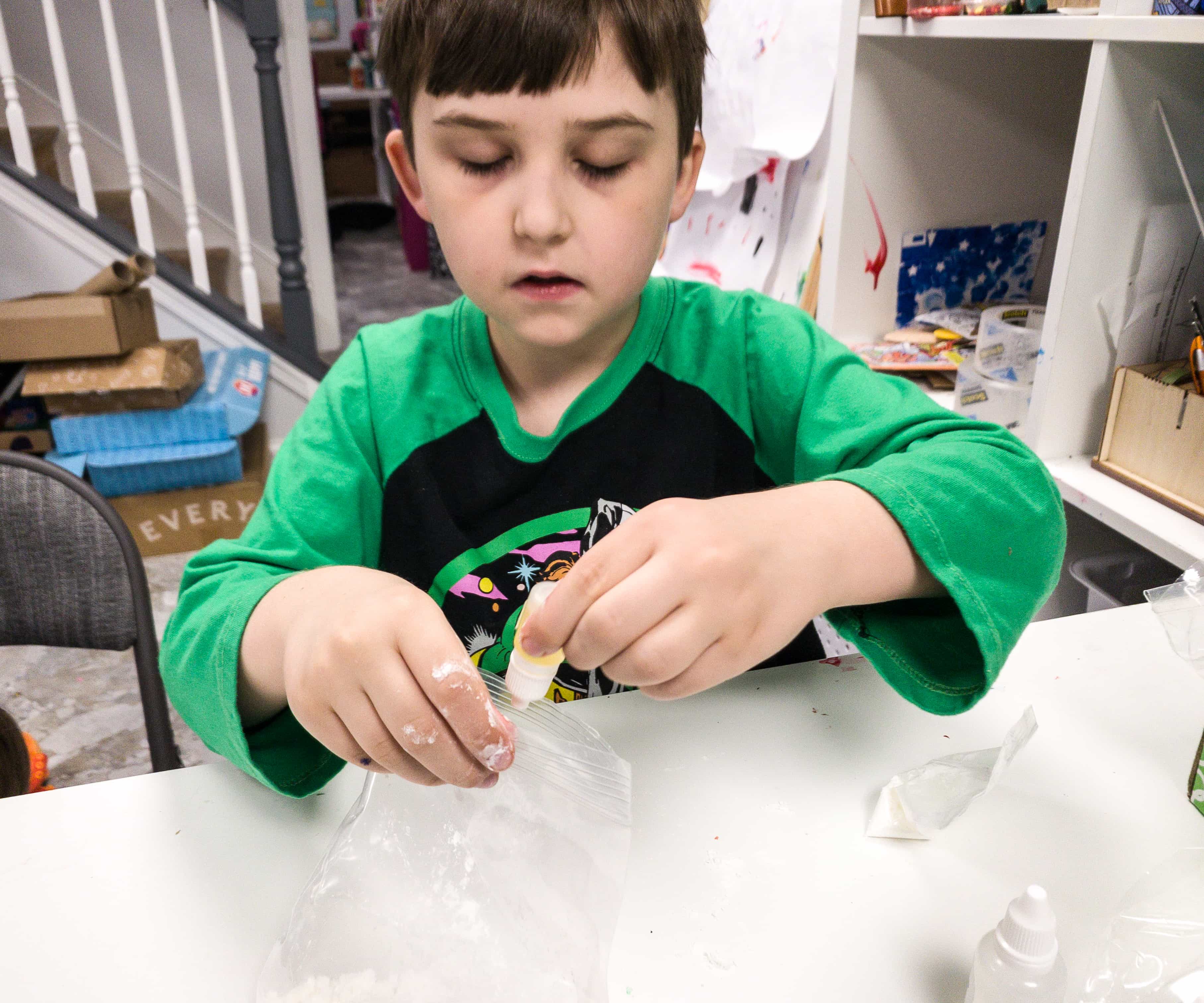 My son put a tablespoon of cornstarch in the little bag and then squeezed two drops of corn oil into the bag.
Once done, the next step is to add one-eighth cup of water into the bag, a half more tablespoon of corn syrup, and a drop or two of food coloring.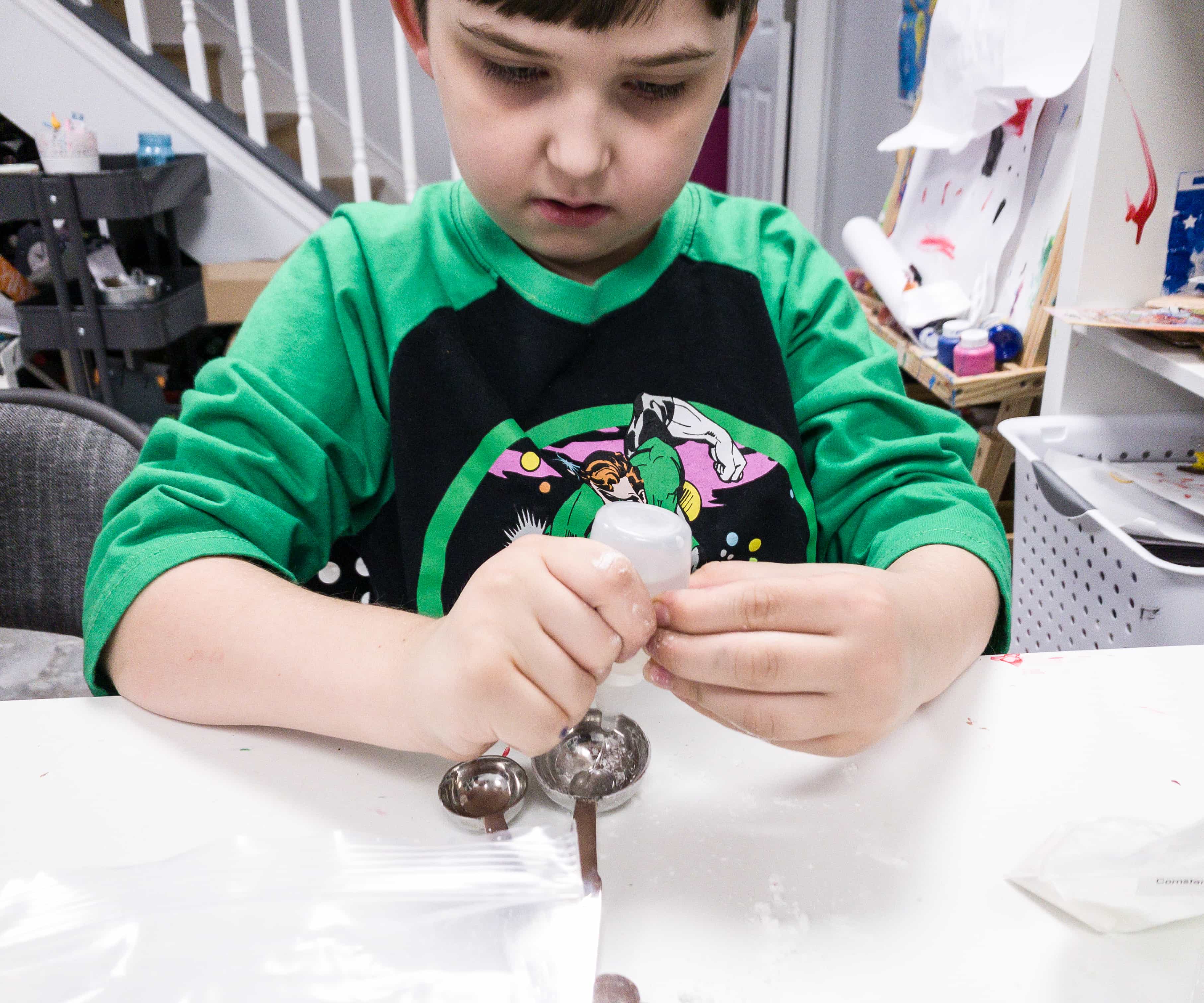 My son is really making sure that we'll only just put a half tablespoon of corn syrup.
Put all the mixture in one bag and shake!
Close the bag, and make sure it is completely sealed.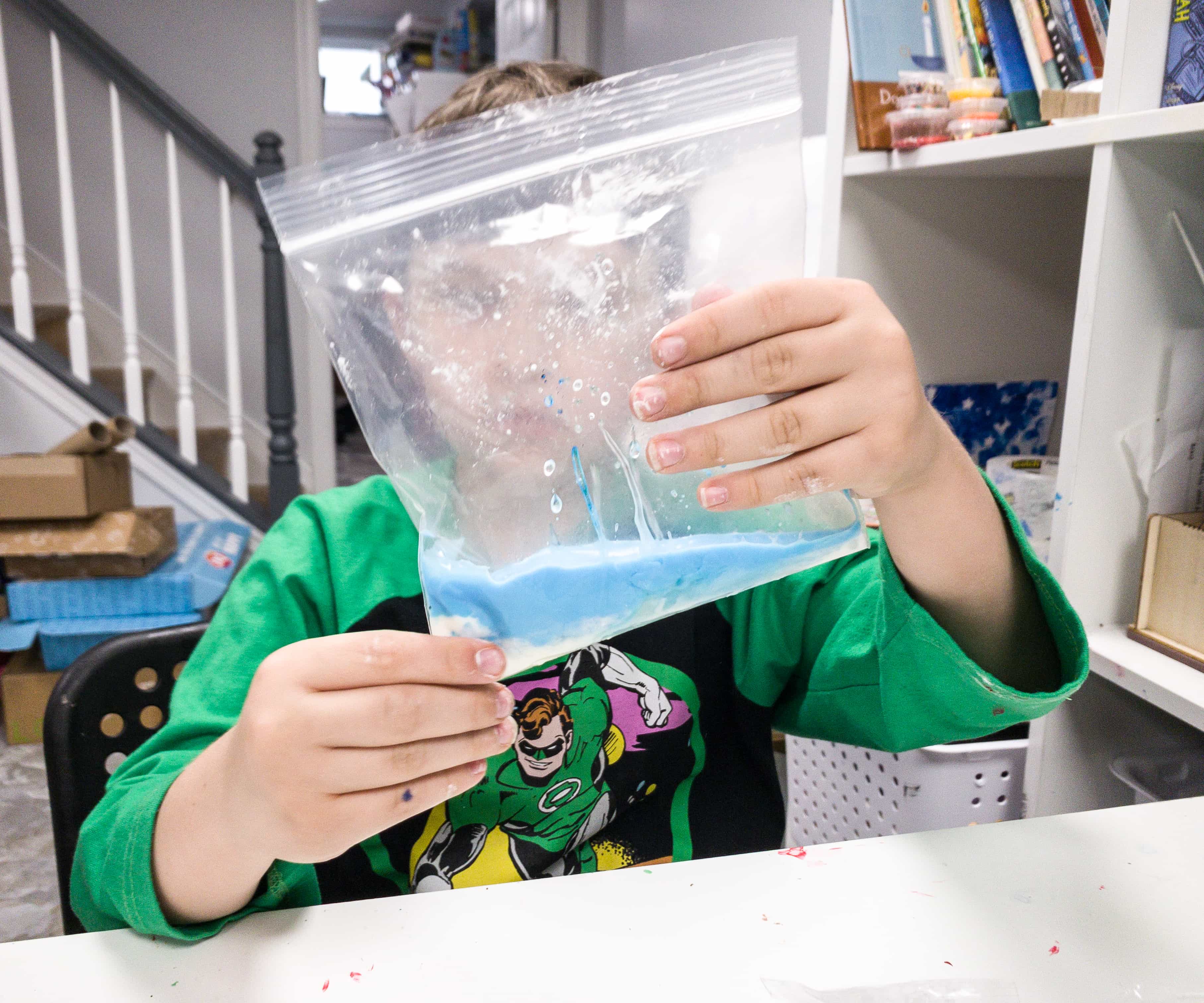 Squeeze the bag until all the contents are thoroughly mixed together.
Carefully open the bag a little bit to allow the steam to leave, and then microwave the bag for 20 seconds and leave it for another 3-4 minutes or until the bag is cold enough to hold.
When the bag is cooled, take out the bioplastic mixture and then shape it to whatever shape you like.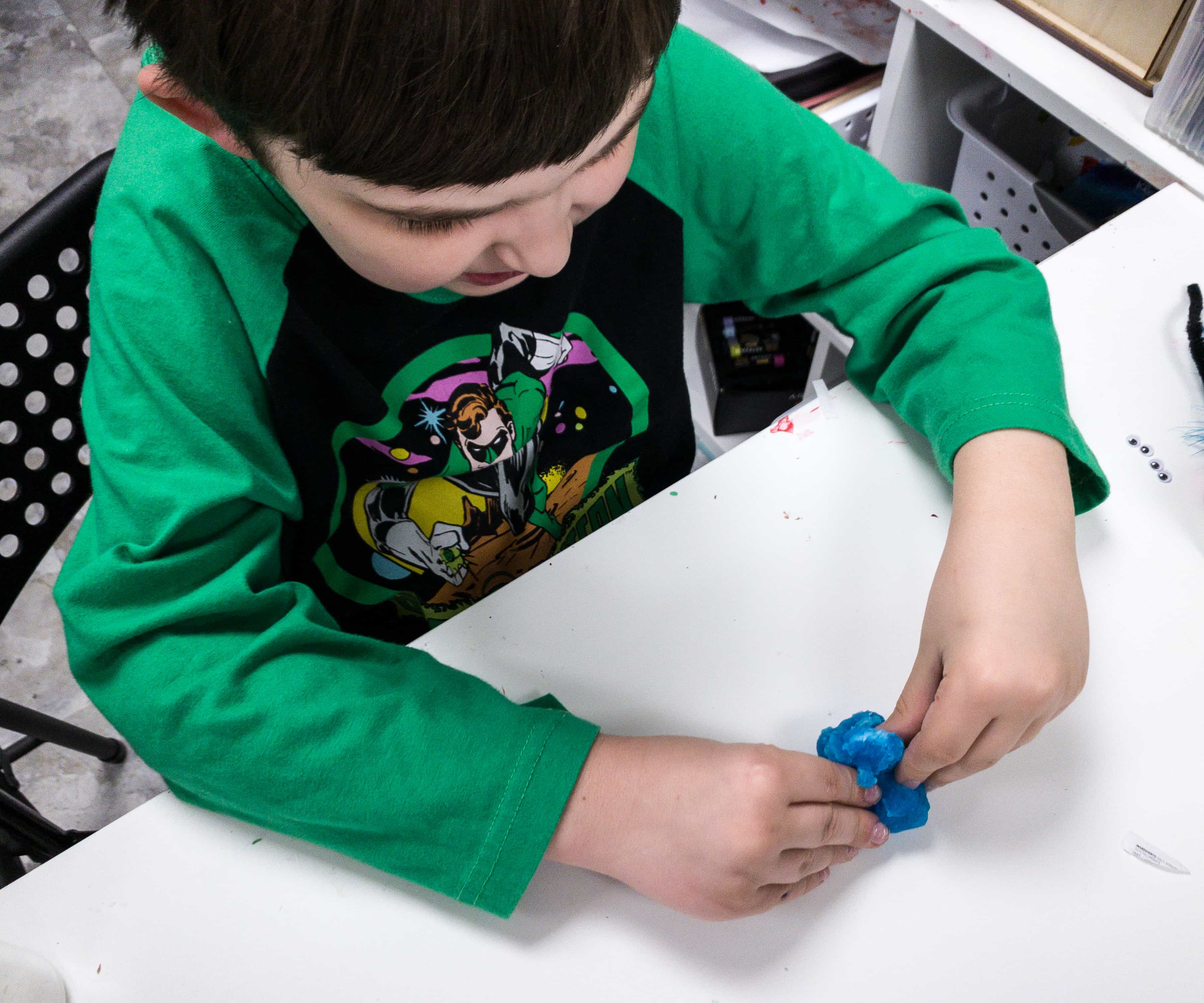 It's so soft, lightweight, and super squishy. My son loved playing with it and molding it!
You can mold it, cut it, and stick it back again like regular clay.
For our third project, we came up with a bioplastic blue starfish!
Ocean Light Zones. For our last project, we used glass jars, food coloring, sea creatures, and different zone labels.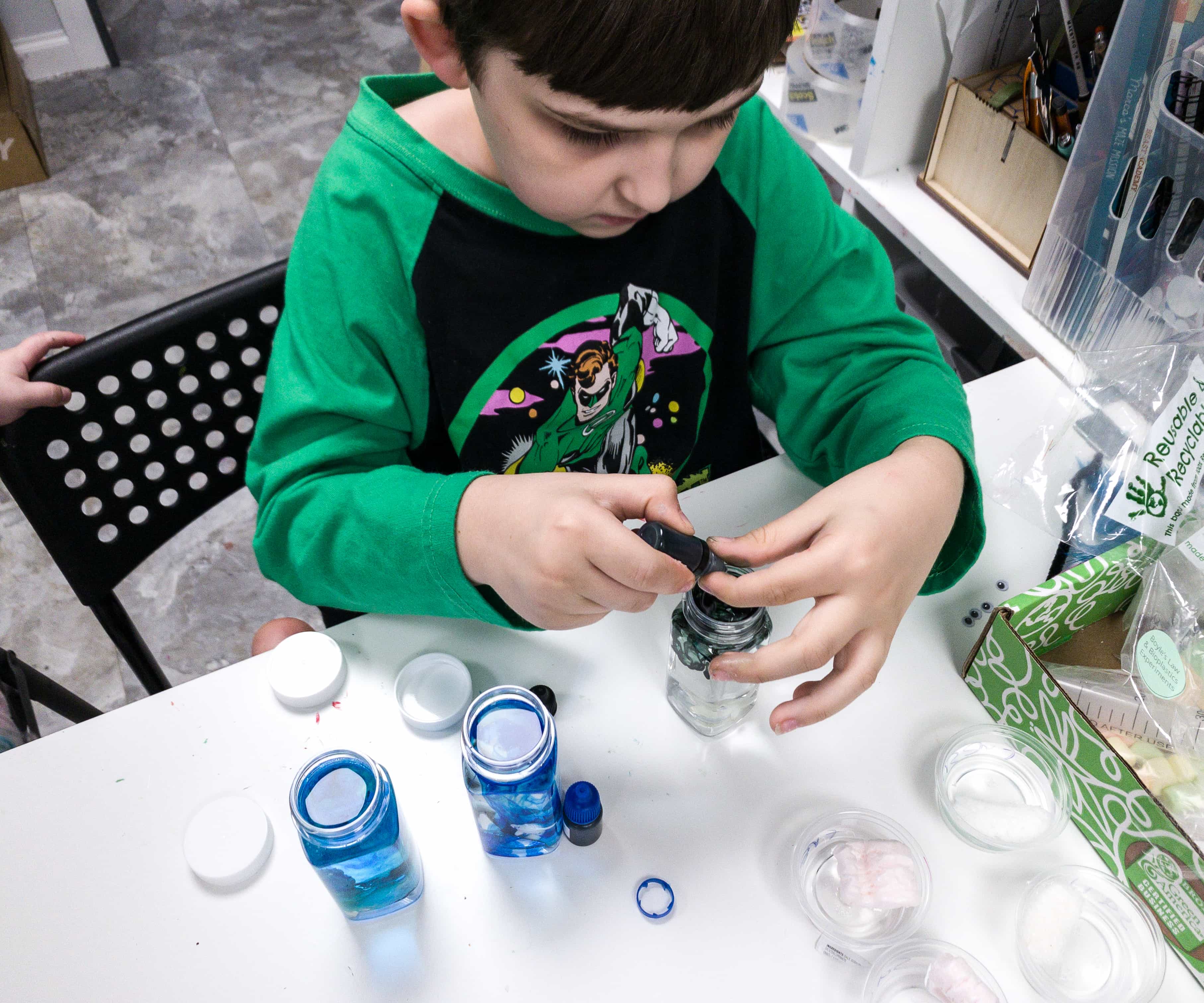 We just filled all three jars with water and carefully dropped food coloring on each bottle.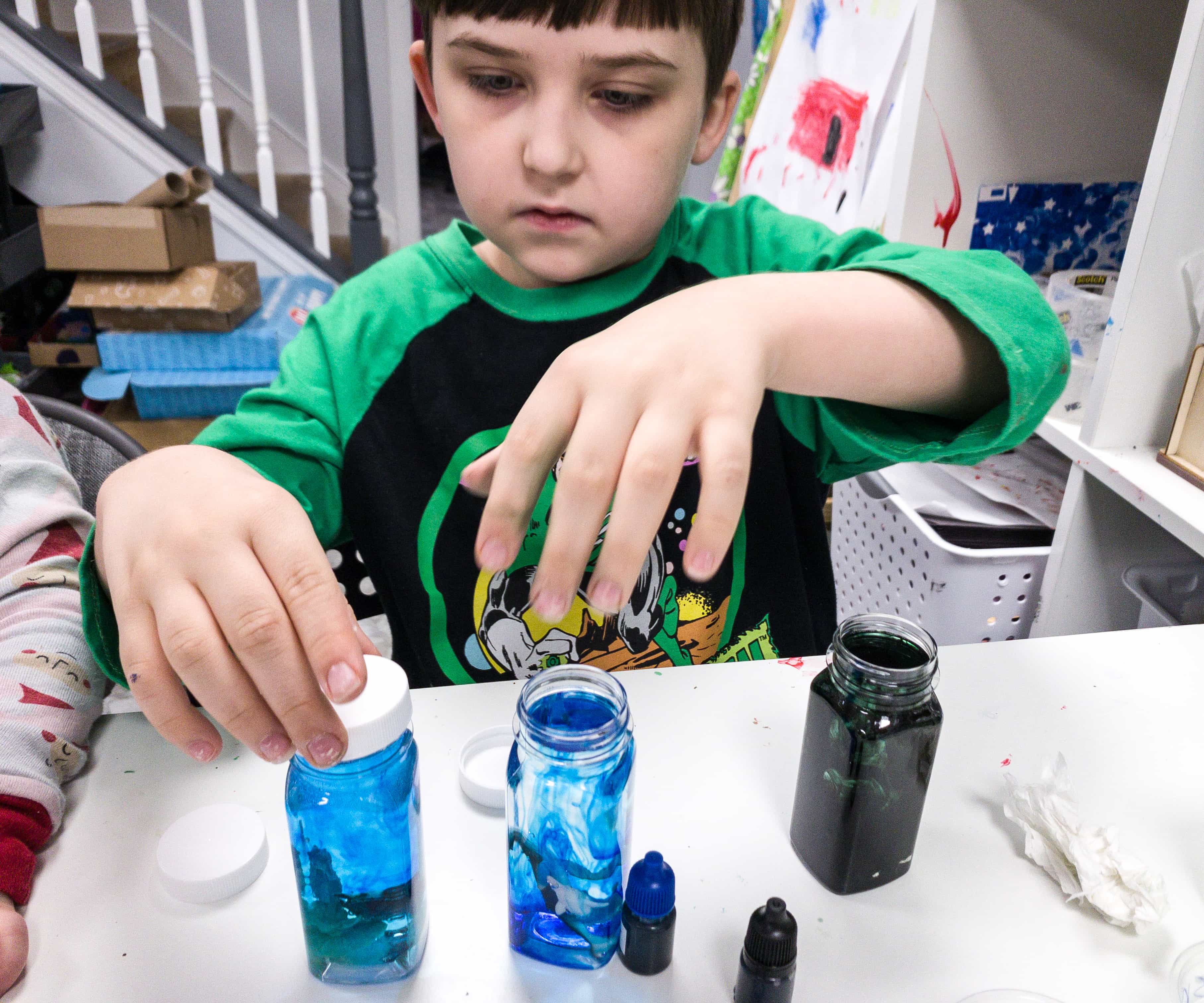 The next step is to choose a sea creature and put it on the jar where you see it fit! My son put the starfish and sea horse on the lightest mixture, the turtle on the next, and the two big fish on the darkest one.
Lastly, he put a label on each glass jars: the sunlight zone, twilight zone, and the midnight zone, respectively! They represent the ocean layers!
Green Kid Crafts never ceases to amaze us! This month, they gave us ocean-themed projects and activities that help kids appreciate the ocean and understand the difference between saltwater and freshwater. While doing each project, they were also able to develop their creative and problem solving skills. As always, the experiments brought us a lot more things to talk about. I'm also really happy to see my kids learning new things. It's truly an exciting box, and we're looking forward to seeing more crafts and projects in future boxes!
Has your family tried Green Kid Crafts?