Goodboy is a subscription offering supplements and vitamins for dogs. Each box is personalized based on your dog's specific needs and it will be determined through a quick quiz upon sign-up. All their soft chew supplements are cold-formed, which means they weren't exposed to too much heat during the manufacturing process to ensure that vitamin and nutrients are preserved. If you have multiple dogs, you can also add more than one pup to the plan but the supplements for each dog will arrive in their own box. Subscriptions start at $29.95 plus shipping!
DEAL: Get 25% off your first subscription order! Use coupon code HELLOSUB.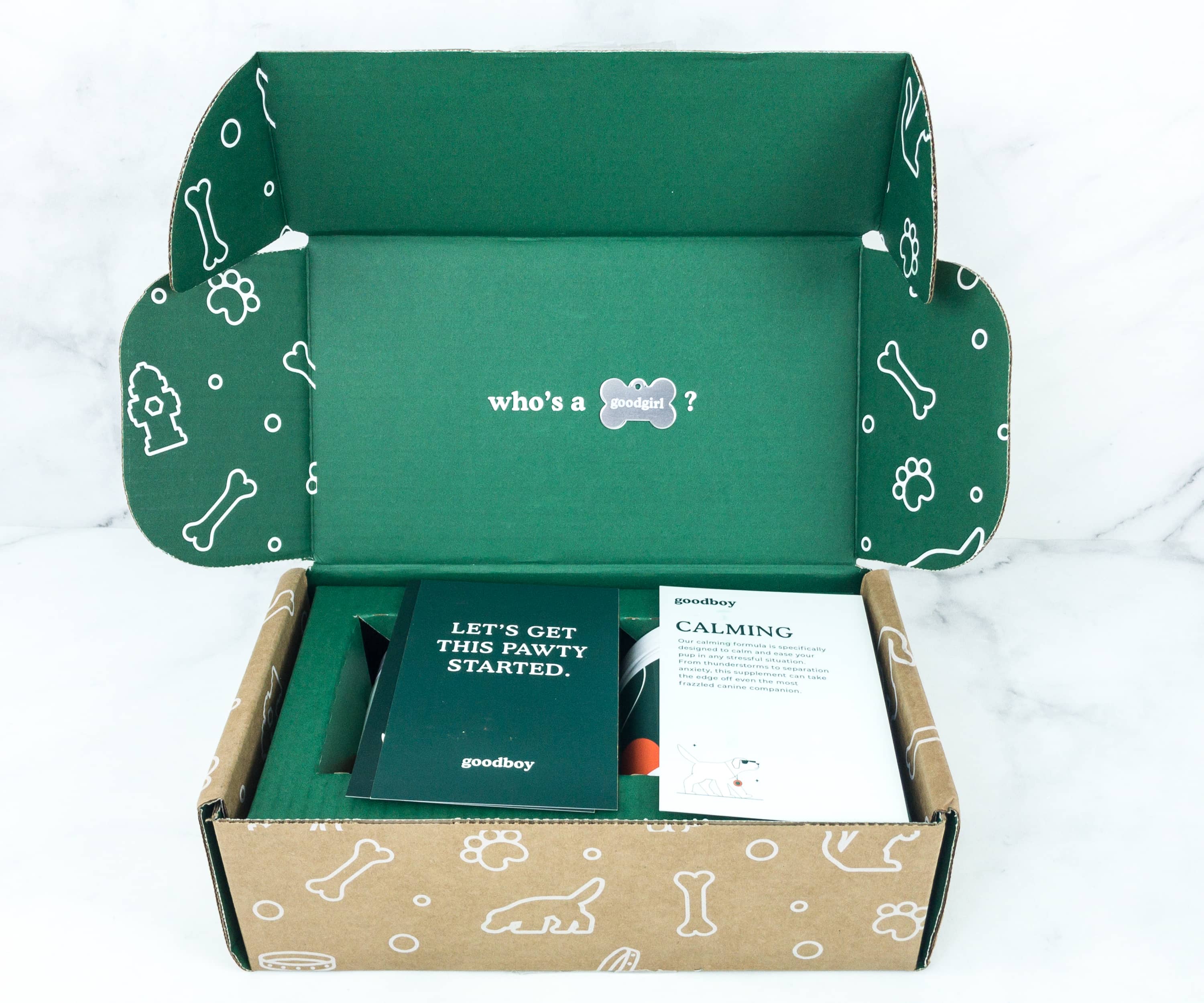 The box welcomes us with Goodboy cards.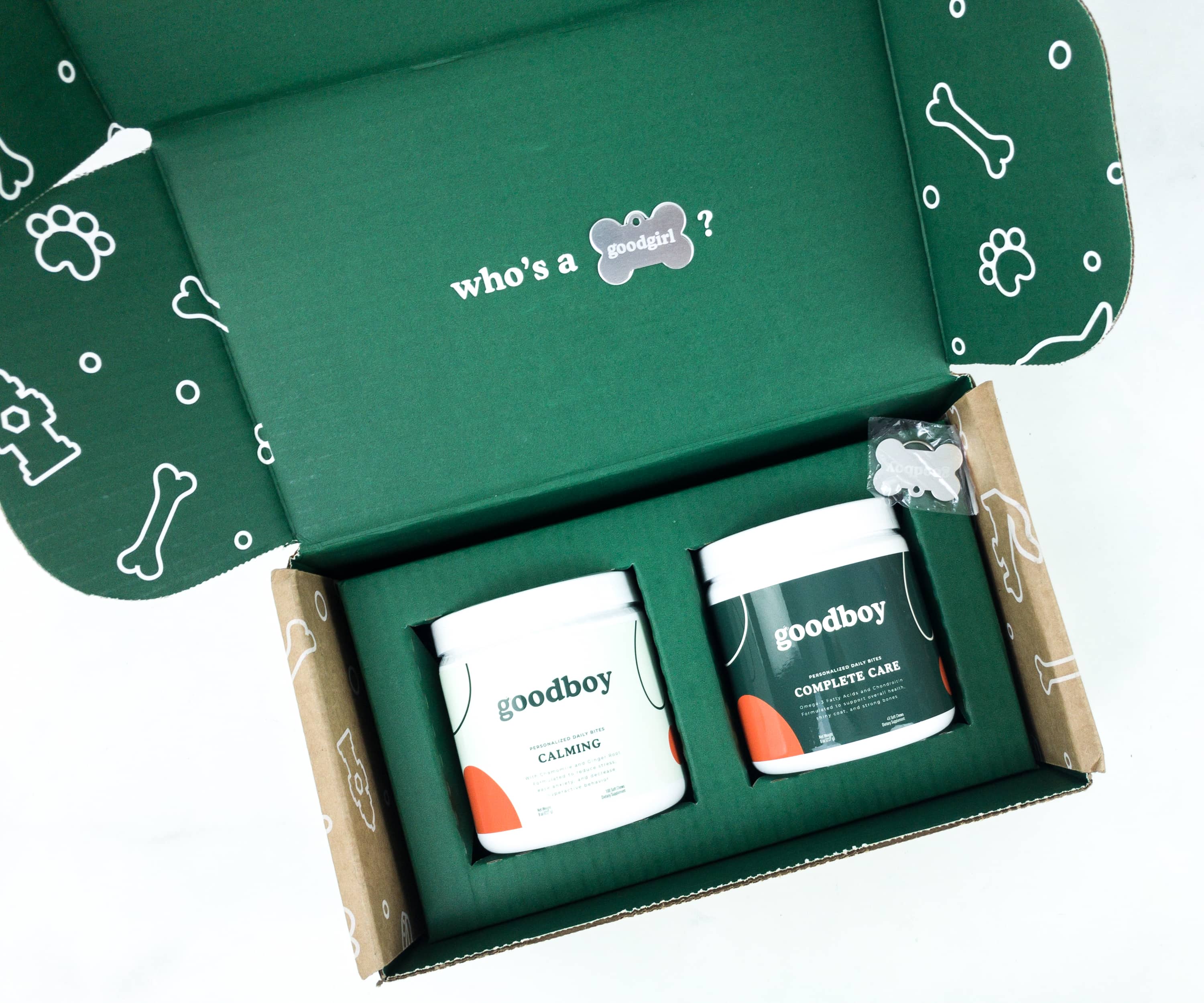 The containers are set inside a cardboard stand with holes cut out to safely hold them in place.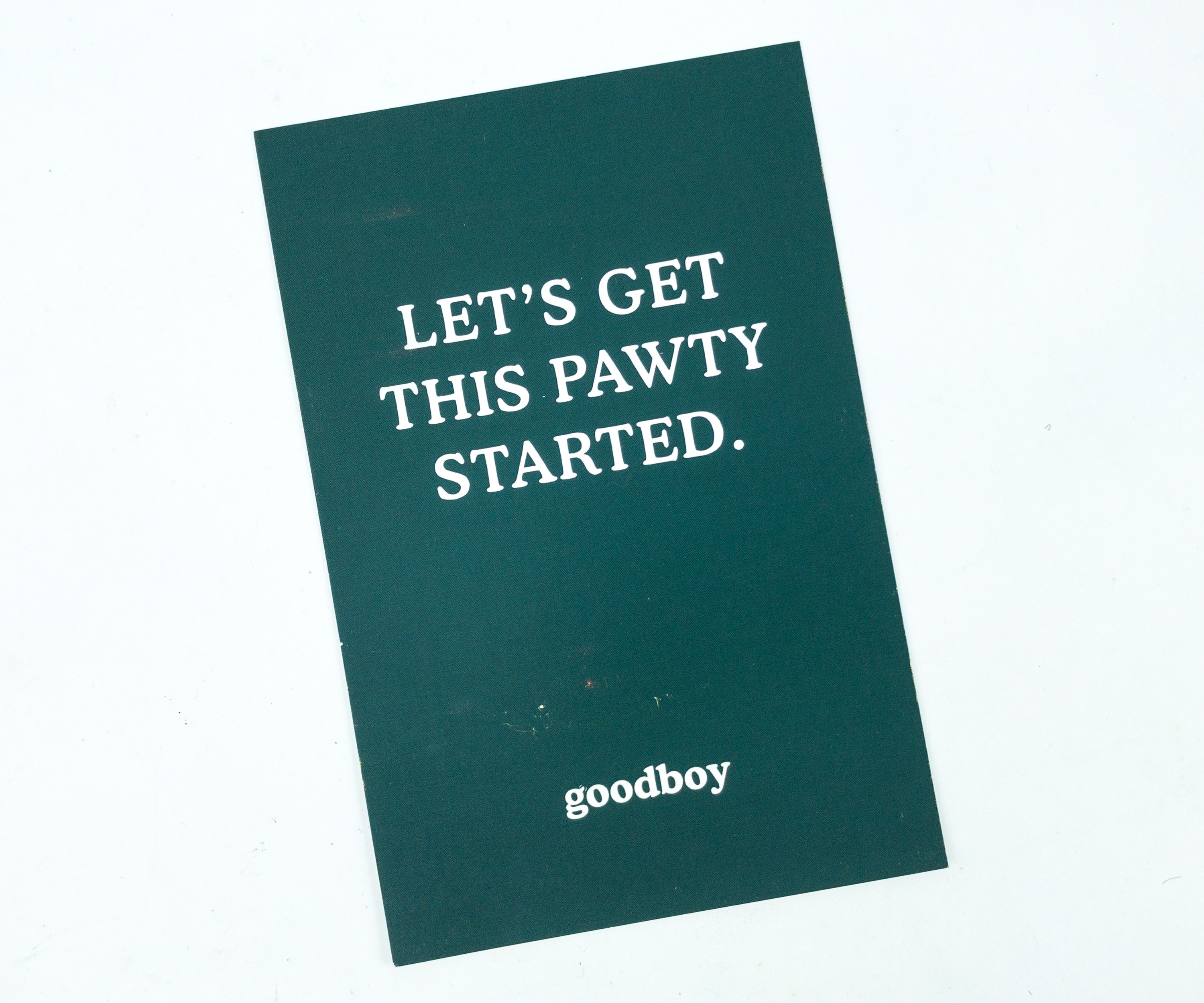 Let's get this pawty started! This card contains important information about the subscription.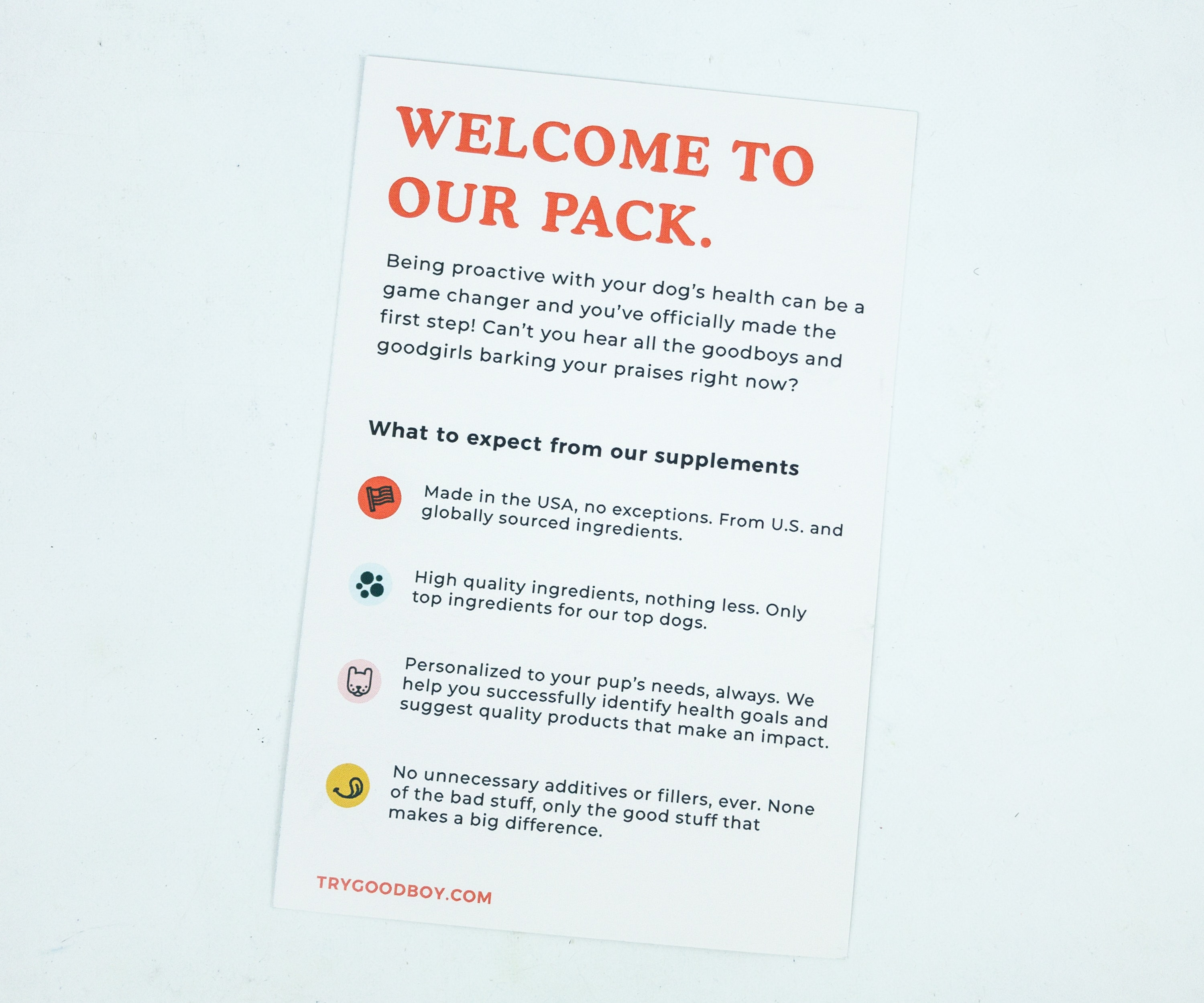 According to the booklet, all the Goodboy supplements are made in the USA without unnecessary additives or fillers.
Everything in my box!
They also included tags for our pups!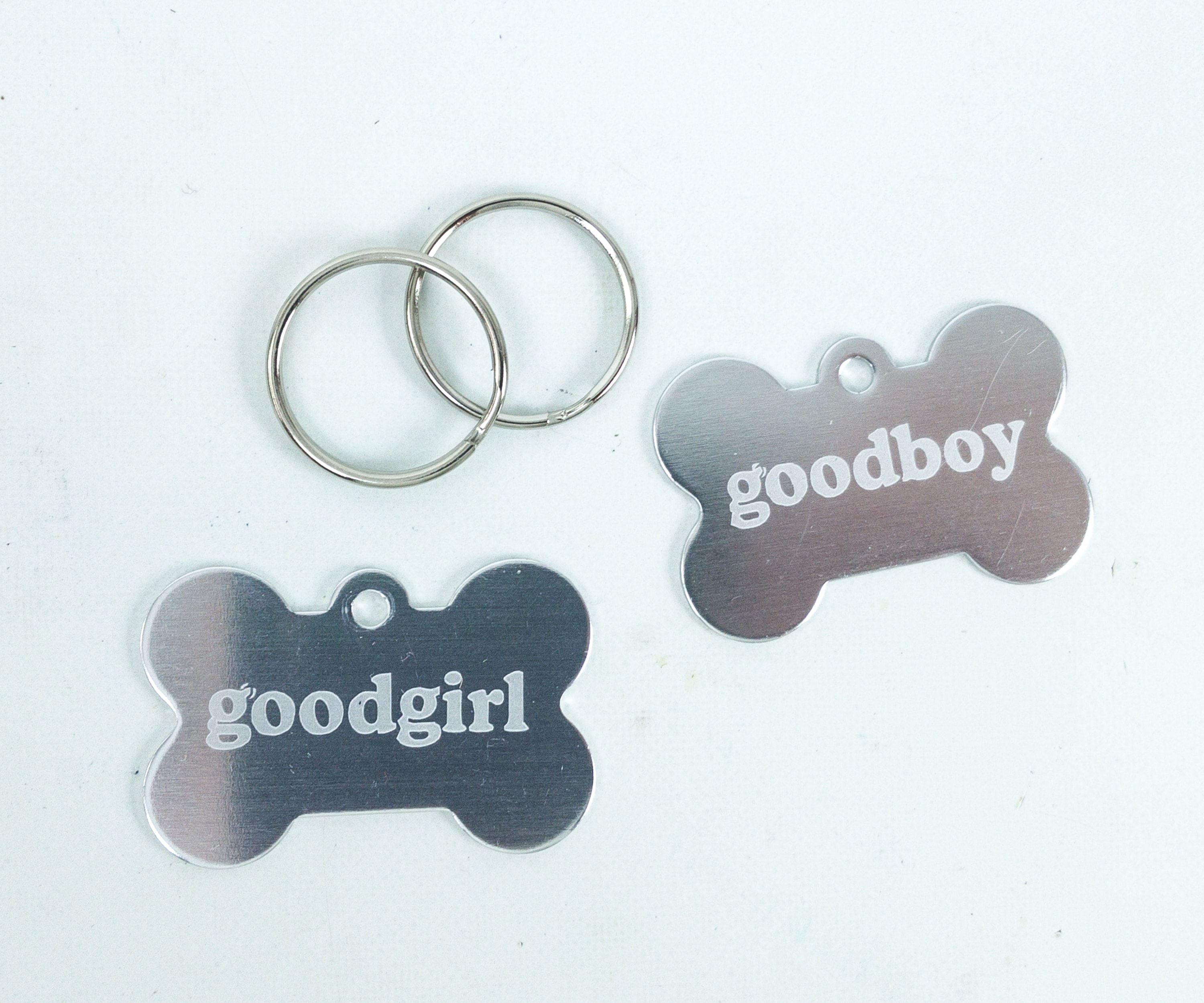 We got two of the bone-shaped tags, perfect for Dean and Lindy.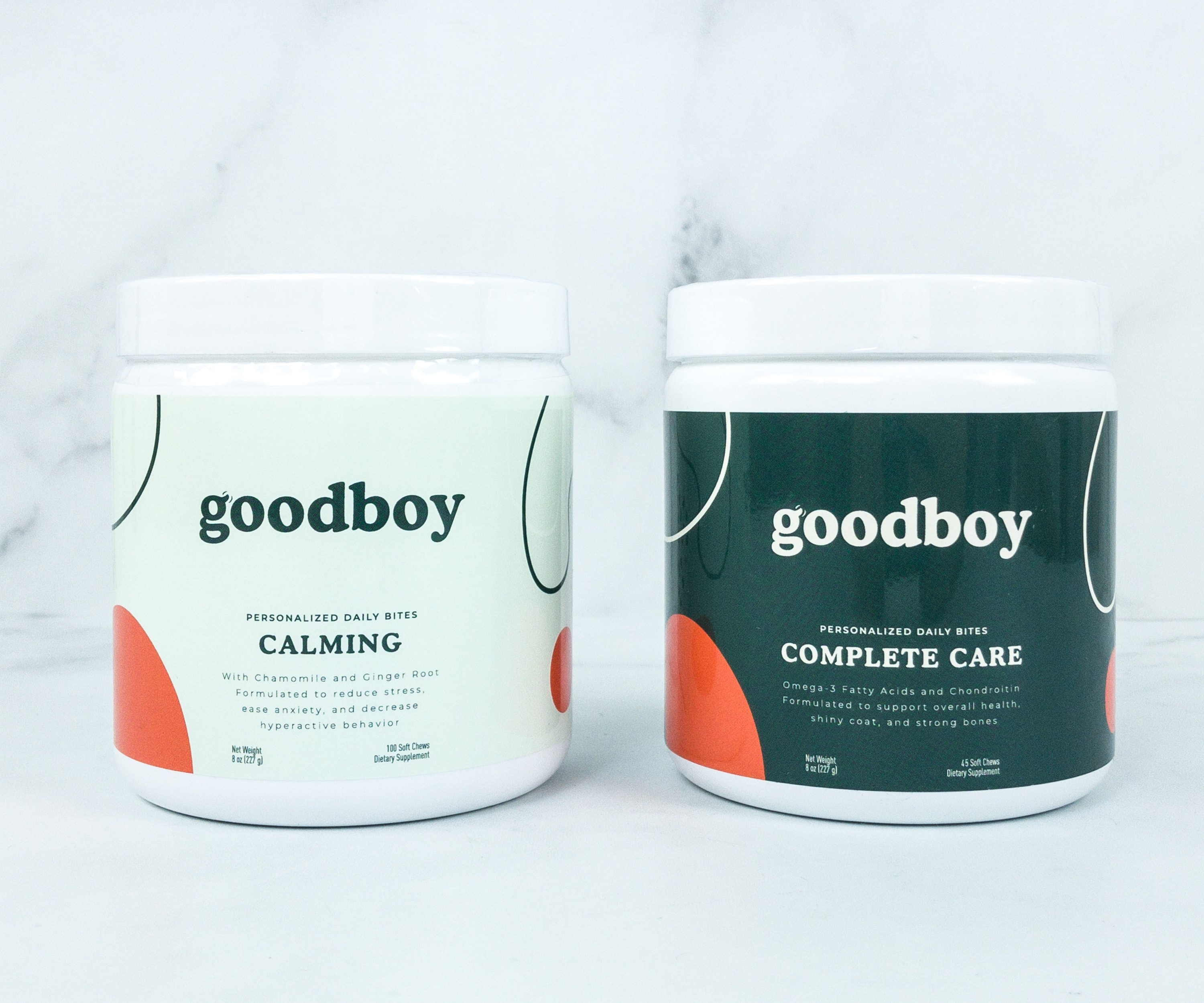 The containers were perfectly sealed, with labels featuring the name of the supplements, net weight, key ingredients, and other important details.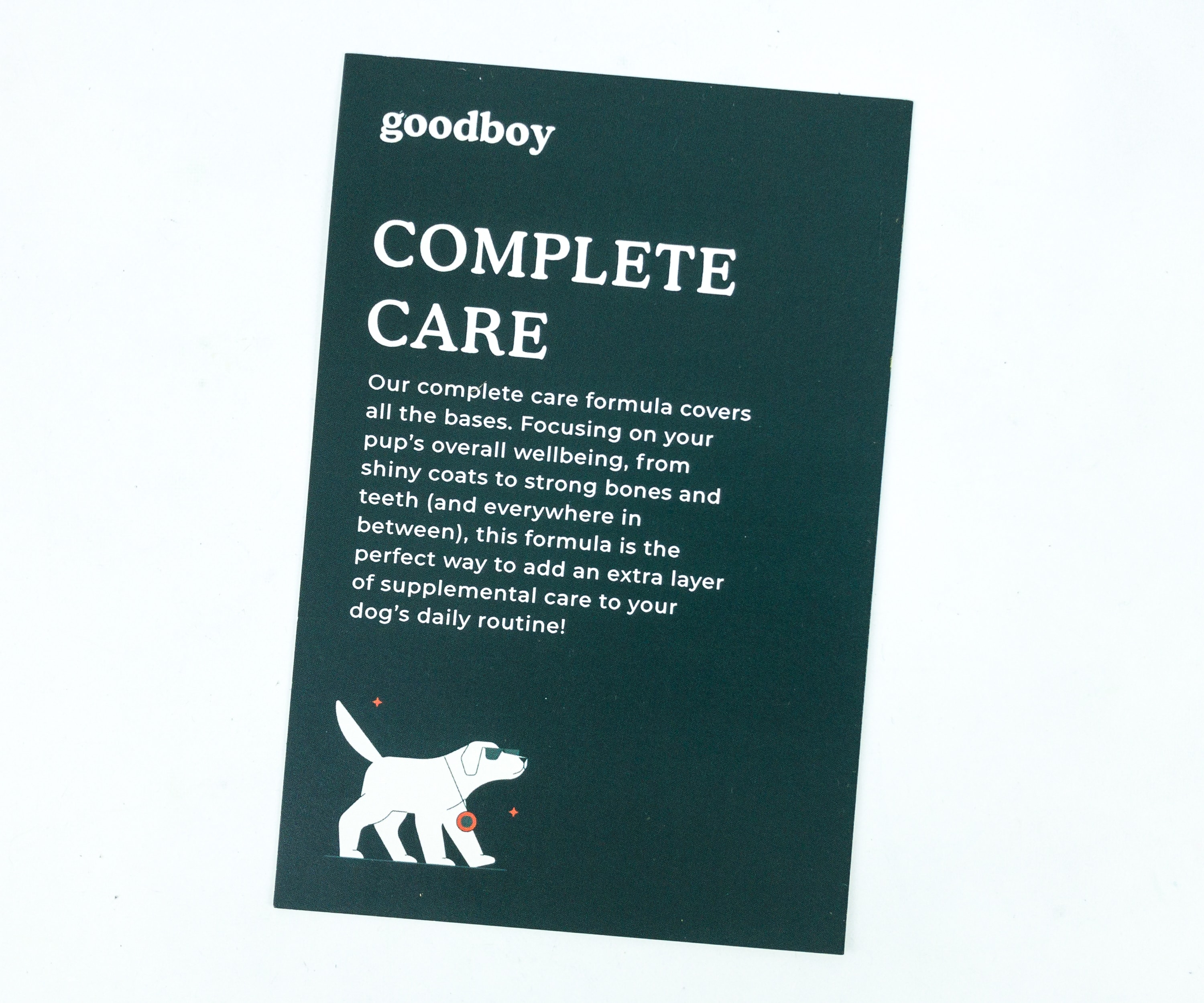 Goodboy Personalized Complete Care Daily Bites.
Our complete care formula covers all the bases. Focusing on your pup's overall wellbeing, from shiny coats to strong bones and teeth (and everywhere in between), this formula is the perfect way to add an extra later of supplemental care to your dog's daily routine!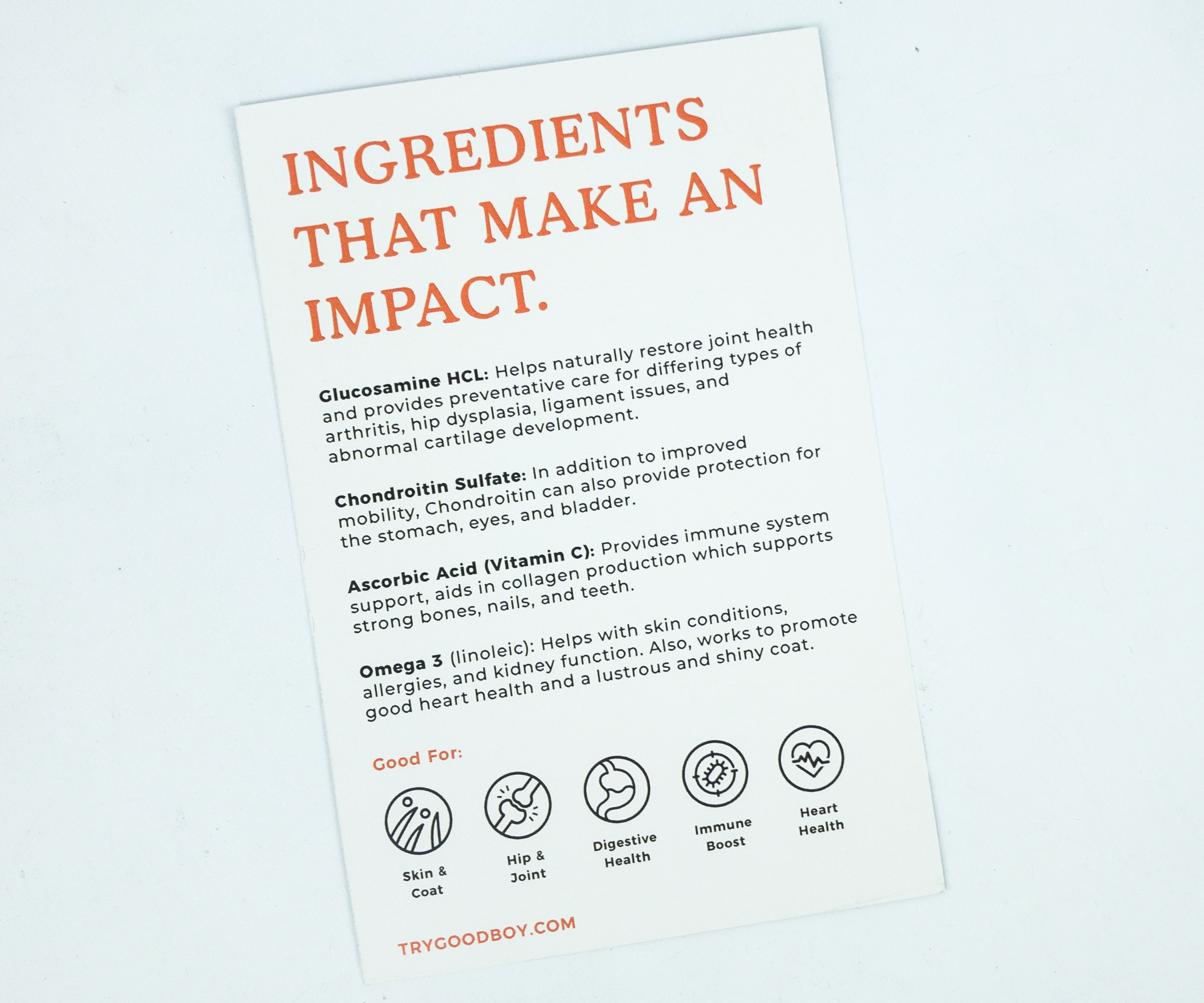 The card provides us a detailed list of the ingredients used in making this supplement: glucosamine HCL, chondroitin sulfate, vitamin C, and omega 3.
This supplement was created to support a dog's overall health, including their skin & coat, hip & joint, digestive health, immune system, and heart health.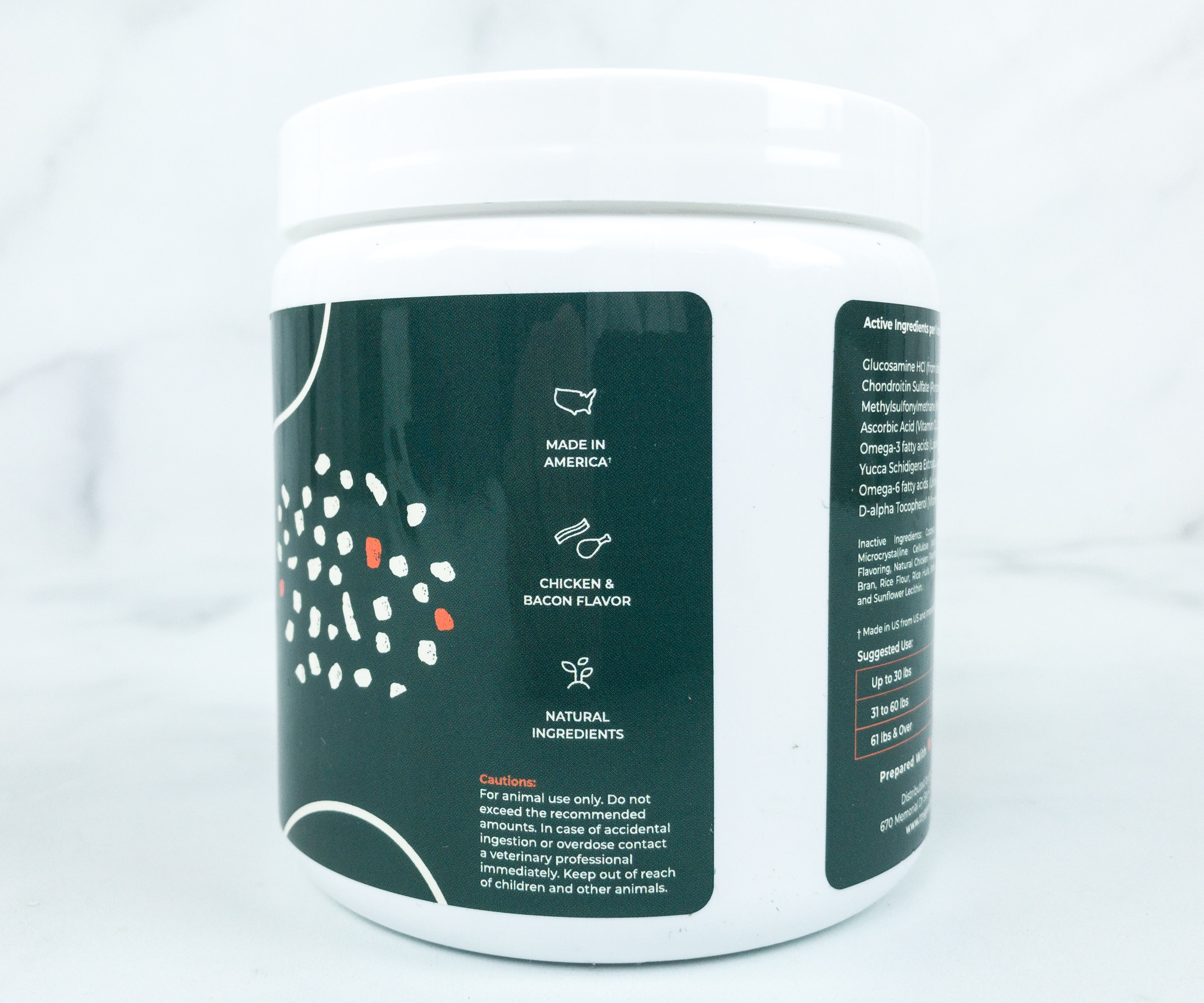 To make them more appealing for our beloved pups, they added delectable chicken and bacon flavors!
The product label is pretty detailed. They also listed the suggested use depending on a dog's weight. For small dogs, it is recommended to give them 1 soft chew only. For medium-sized dogs, they can have 2 soft chews and for large dogs, they can have 3 soft chews.
Each piece is soft and easy to chew. Based on our pups' reactions when we fed them, these chews are quite good and tasty!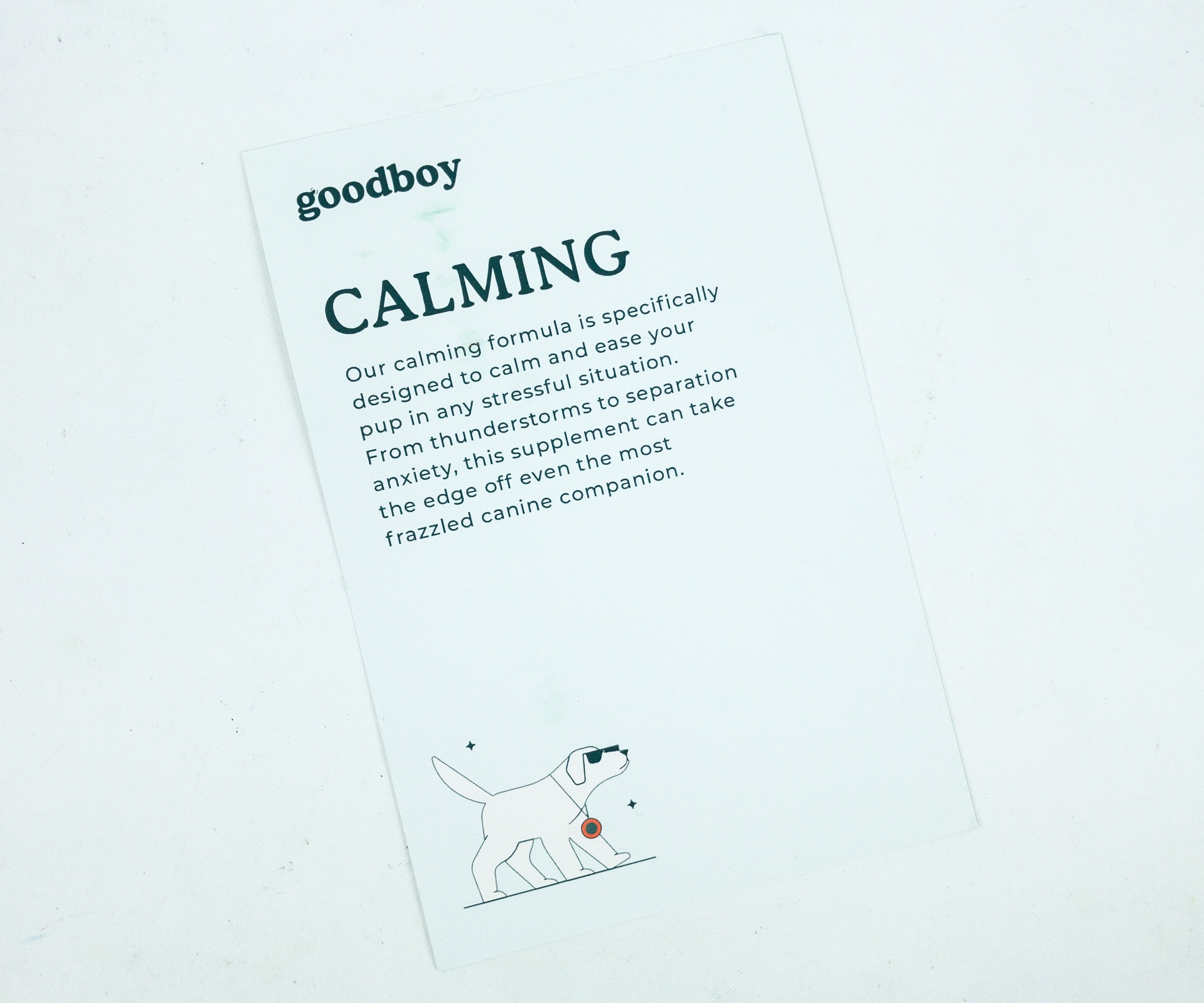 Goodboy Calming Daily Bites.
Our calming formula is specifically designed to calm and ease your pup in any stressful situation. From thunderstorms to separation anxiety, this supplement can take the edge off even the most frazzled canine companion.
It also came with a card that provided a detailed list of the ingredients used in making this supplement: chamomile flower powder, passion flower powder, ginger root powder, and L-tryptophan.
This supplement was created to reduce a dog's day-to-day stress and anxiety and also to soothe gastrointestinal issues.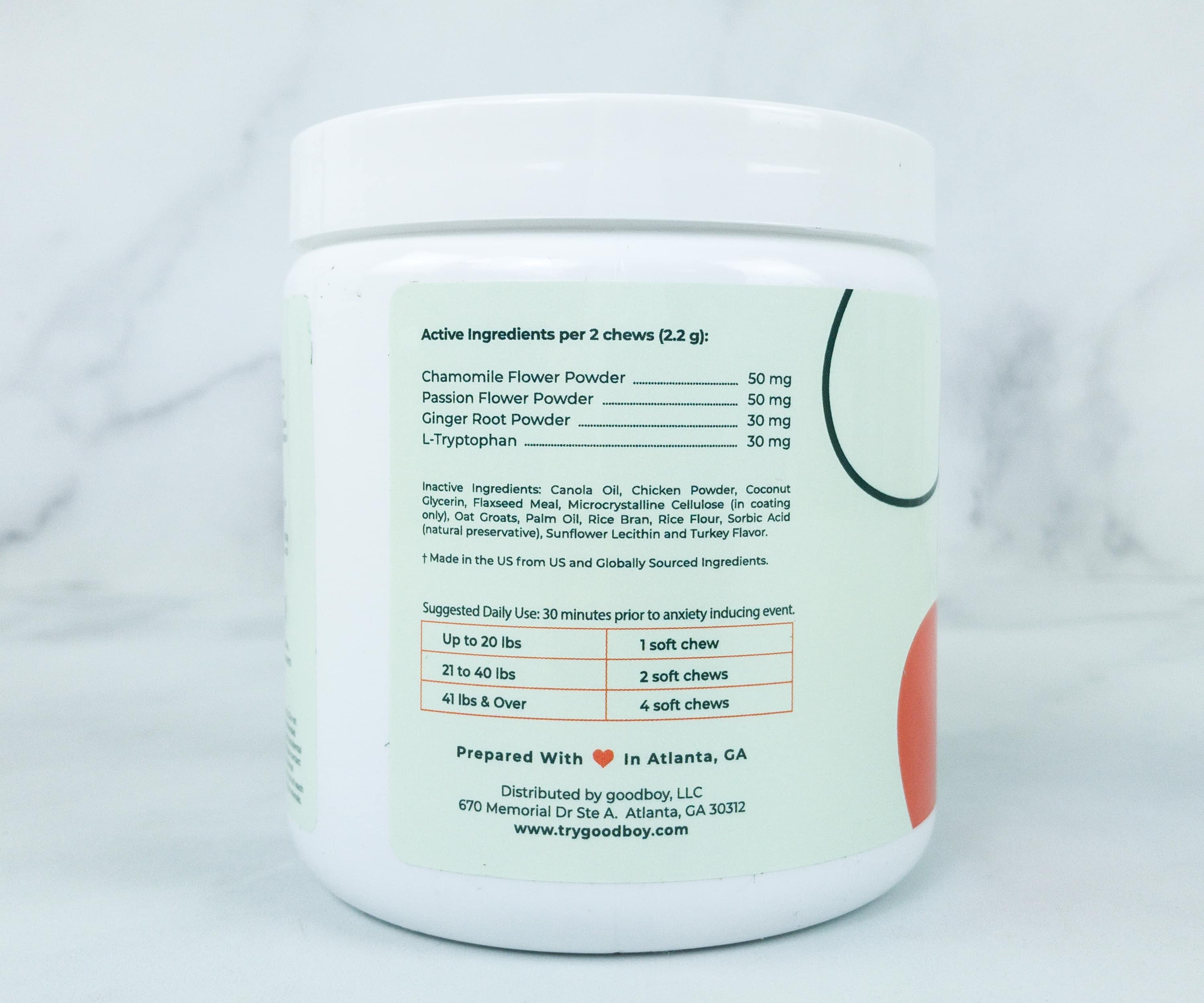 According to the label, to be more effective, the supplement should be served 30 minutes prior to anxiety including events. For small dogs, 1 chew would be enough. For medium-sized dogs give 2 chews, and for large dogs give 4 chews.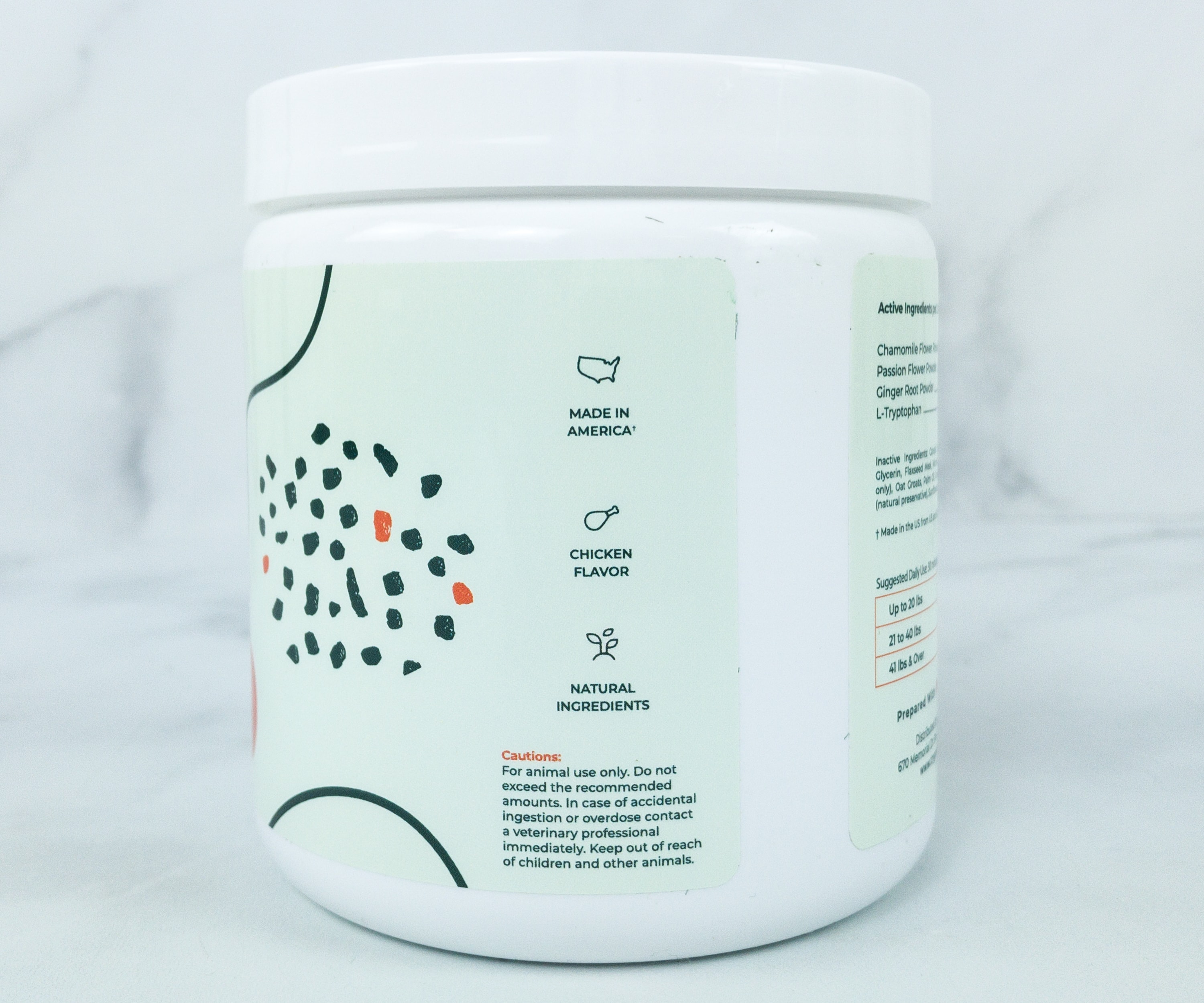 These calming chews are infused with chicken flavor to make them more appealing for our pups!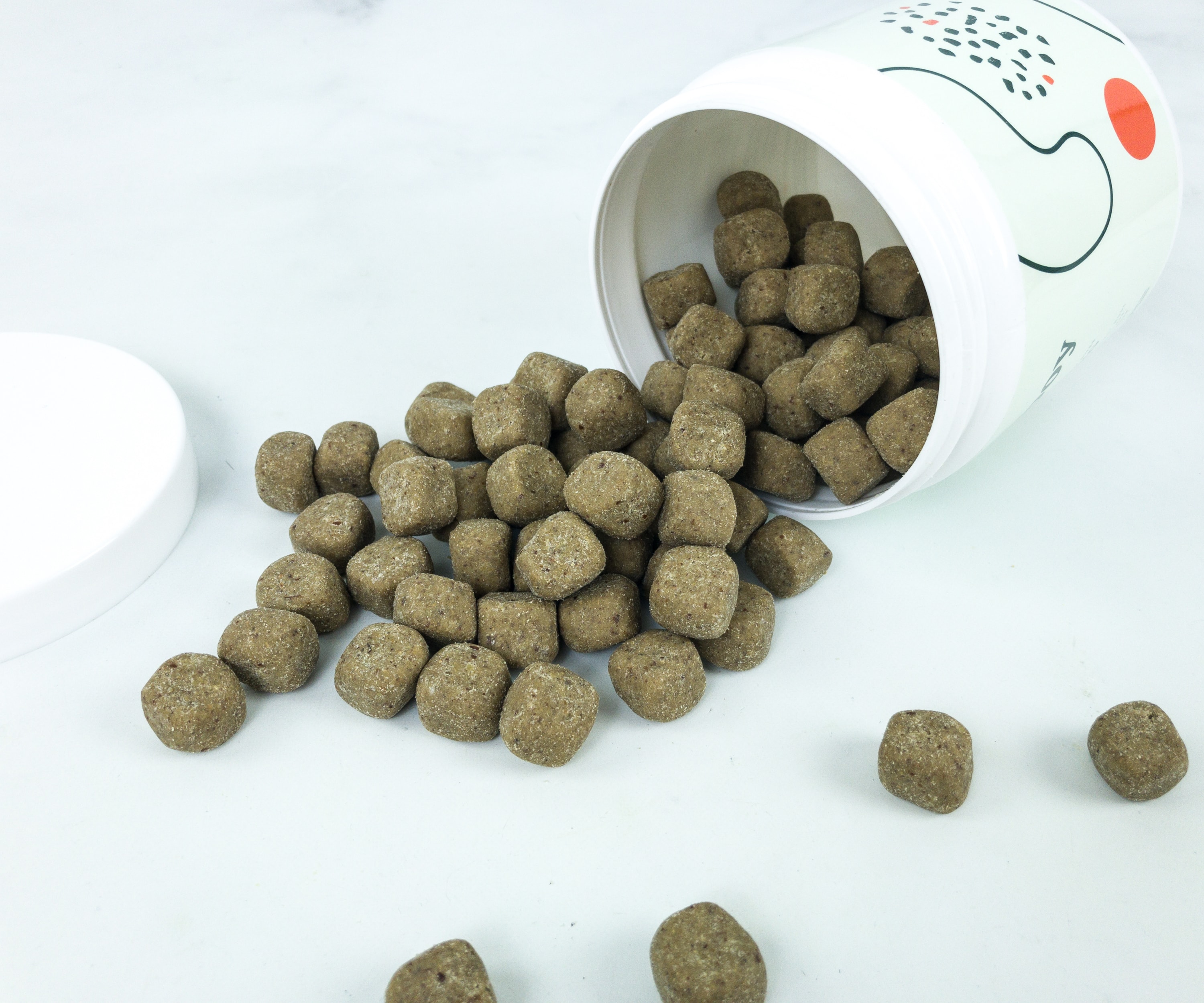 These are just as chewy as the Complete Care Daily Bites!
Dean loved the treats! The Calming Daily Bites seemed to calm him down a bit.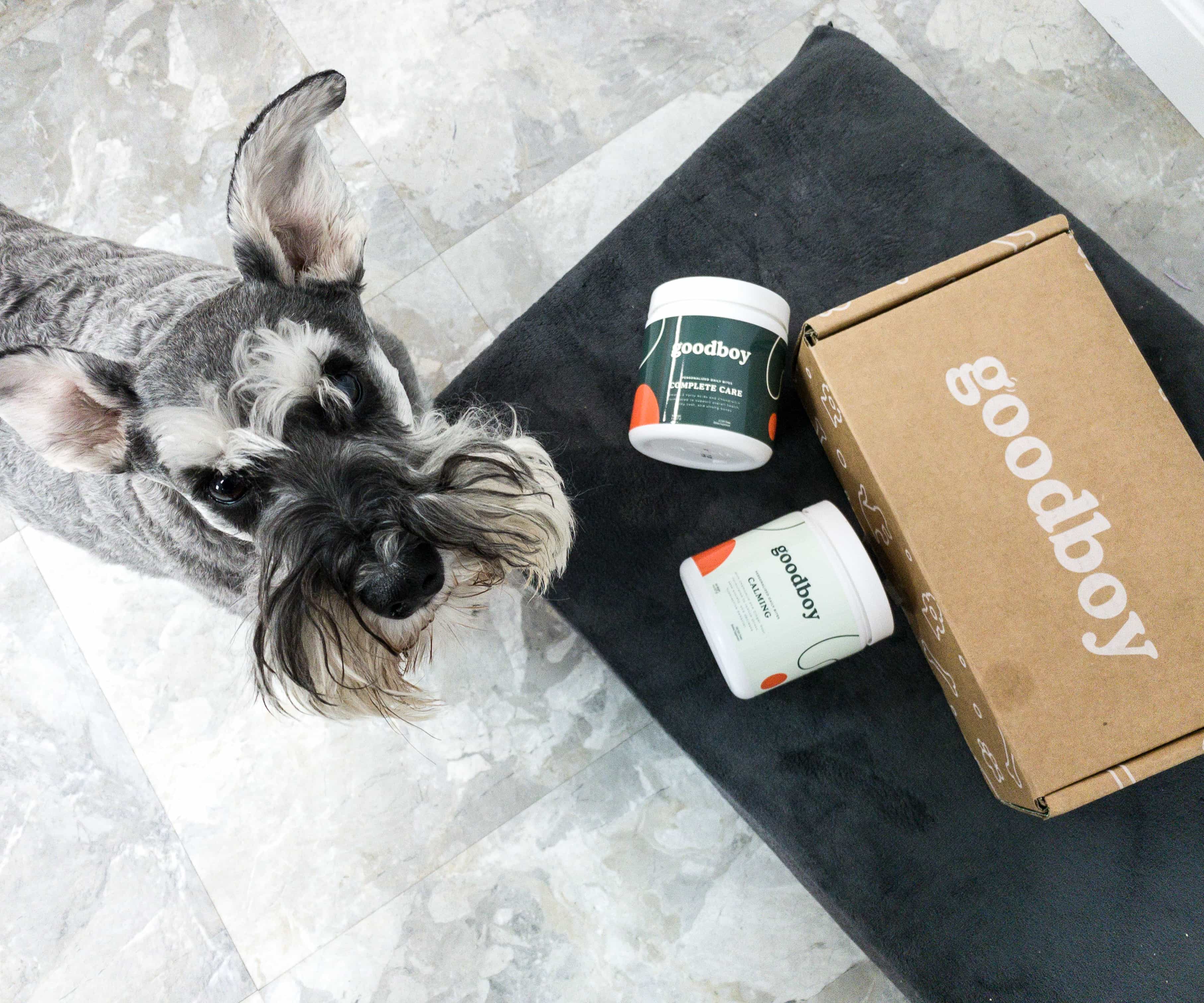 Here he is, posing with the goodies from Goodboy!
We want to give our dogs only the best, and that's exactly what Goodboy delivers in every package! The supplements they send are made in the USA with healthy ingredients and none of the harmful stuff. This month, we received a Complete Care supplement and a Calming supplement, and both are loved by our pups. Sometimes, feeding dogs with hearty meals is not enough. Health supplements like these help, and it's great that they have specific purposes as well!
What do you think of this month's new Goodboy box?