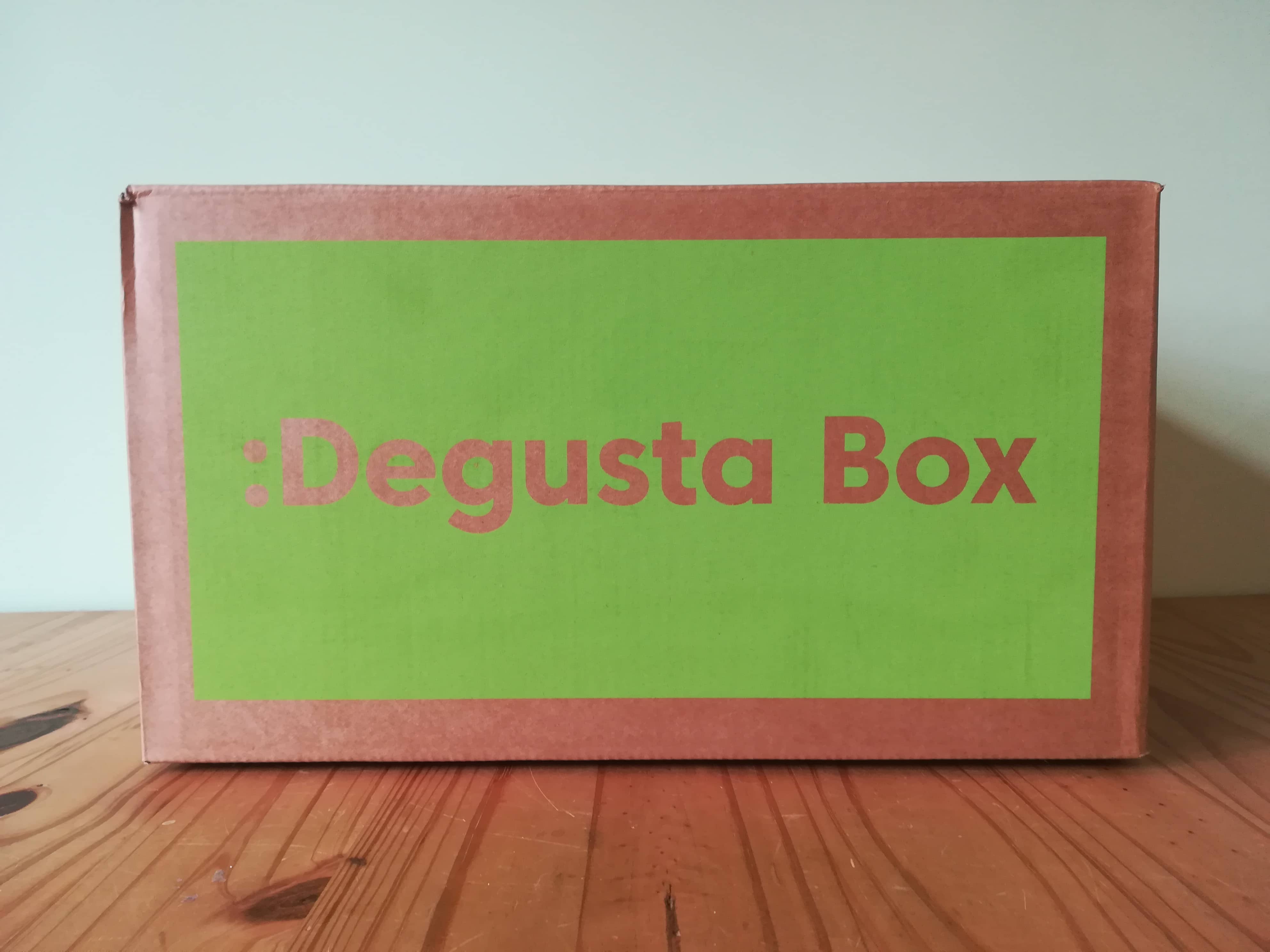 DegustaBox UK is a monthly subscription box that brings your favorite food and snacks to your doorstep. The subscription costs £12.99 per month and you'll get a box filled with 10-15 products and goodies! This box is always full of so many new things to try.
DEAL: Get your £5 off your first box, plus get free bonus item and delivery! Use coupon code HELLOSUBSCRIPTION18.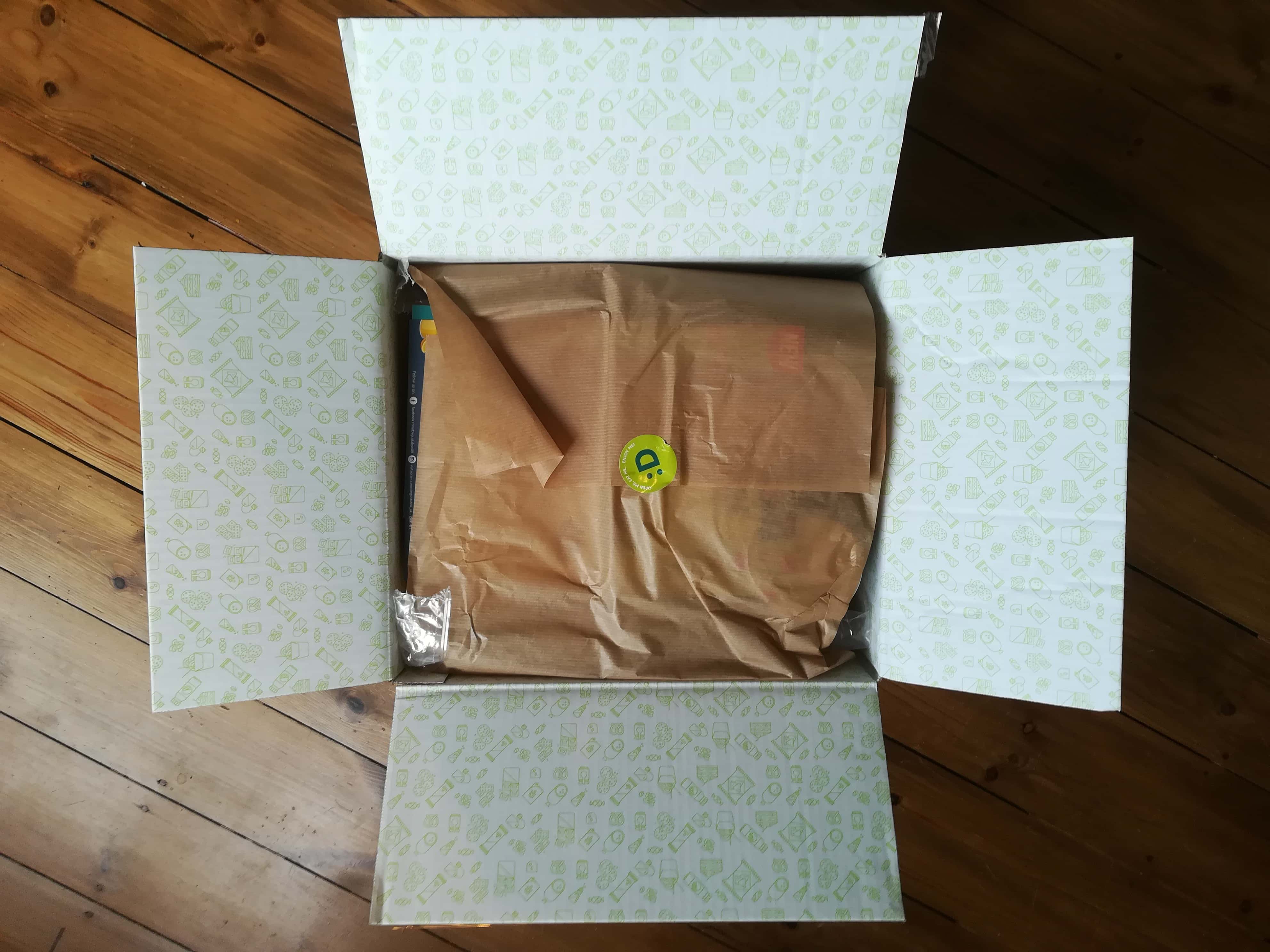 The box has a bold lime green graphic while the inside has cute little images of snack items.  Plastic wrap and butcher paper keep all the contents safe.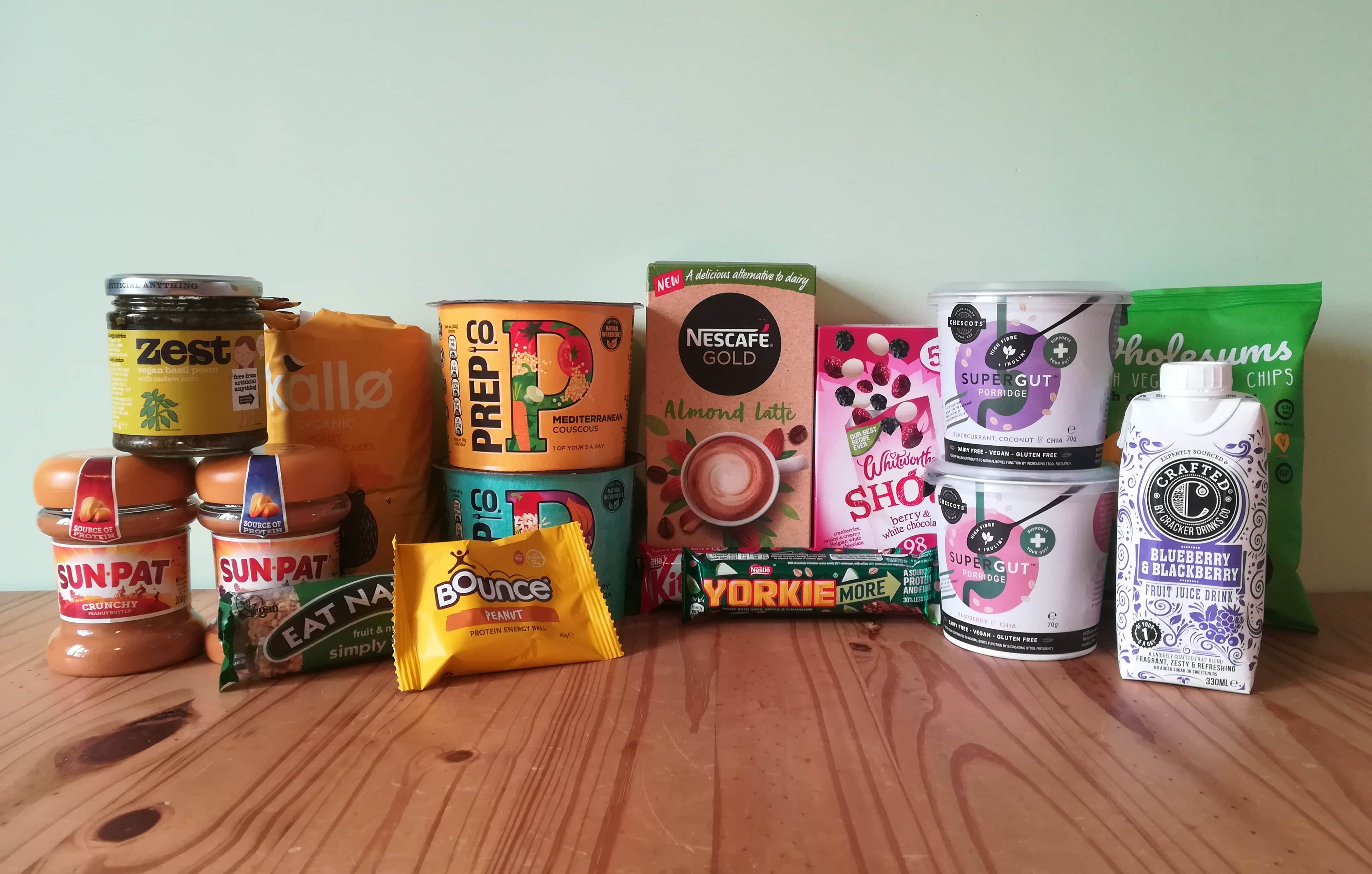 Here are all the products in January's box.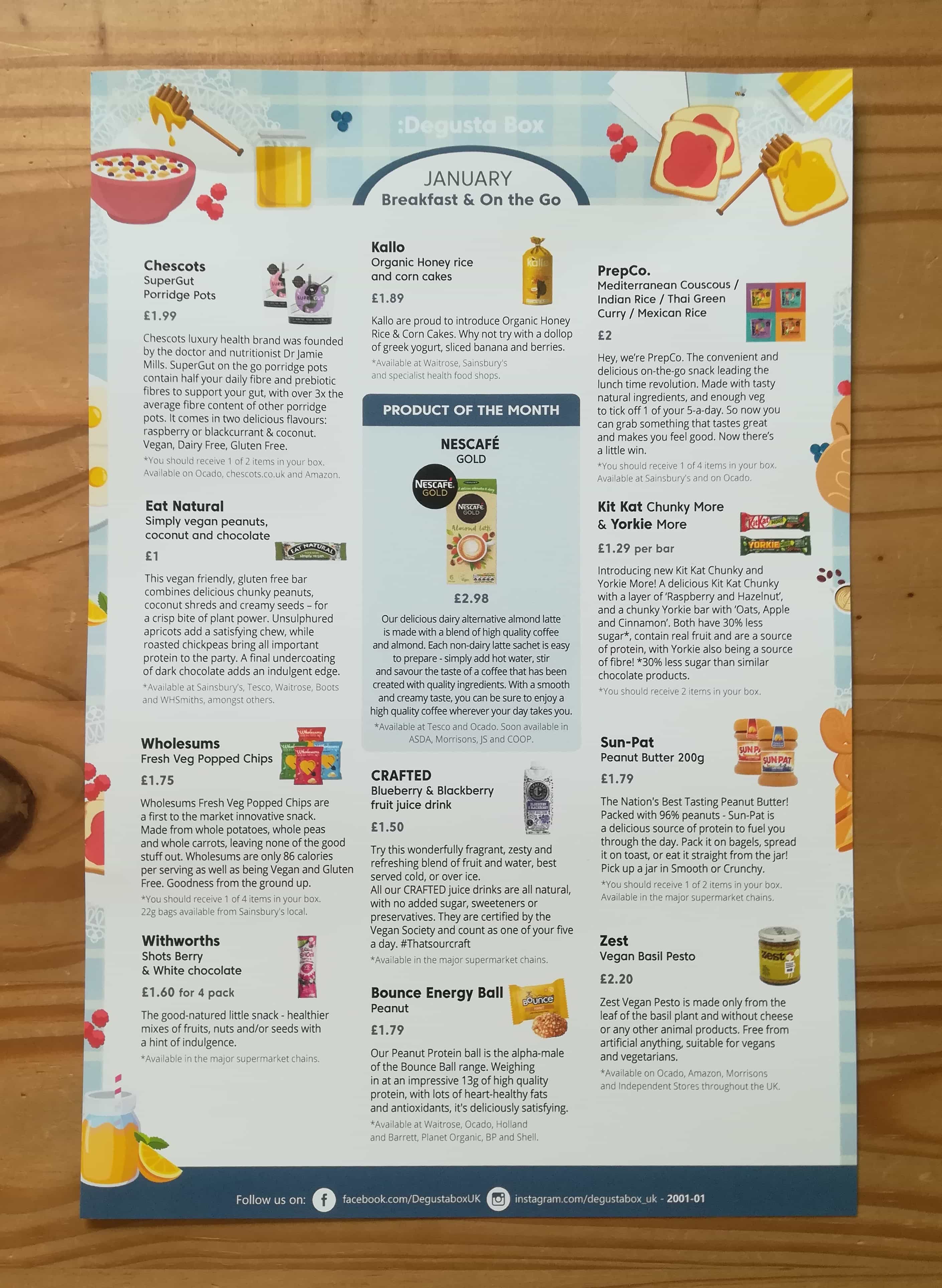 The info sheet details all the Degusta Box products.  January's box has a Breakfast & On The Go theme – it is filled with convenient foods for morning and anytime snacking.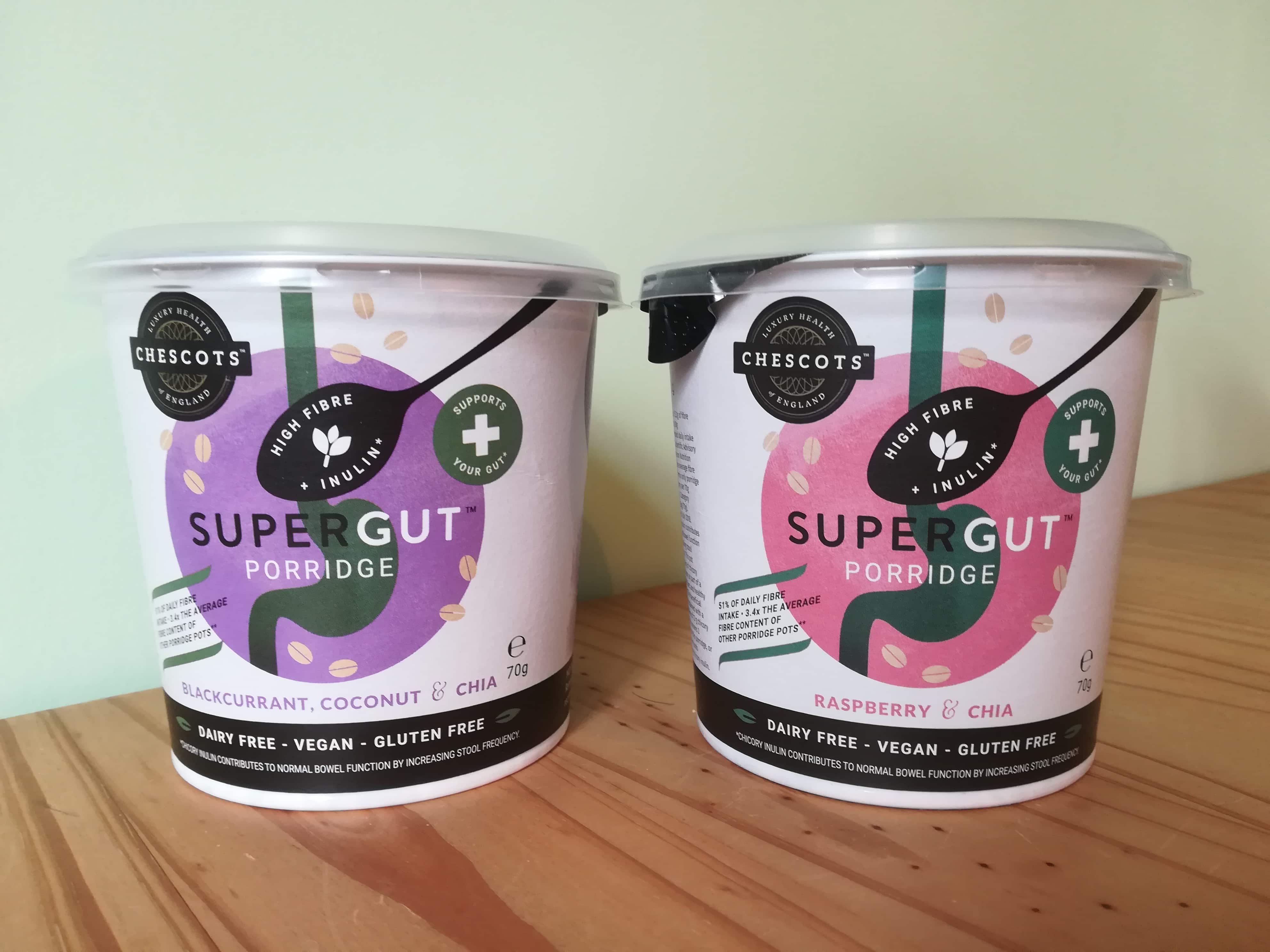 Chescots SuperGut Porridge Pots (£1.99) are an on-the-go breakfast that's dairy free, gluten free and vegan.  Made with chicory inulin, each pot provides 51% of the recommended daily fibre intake, which is over 3 times the fibre of the average porridge pot.  I received two pots, in Raspberry & Chia and Blackcurrant, Coconut & Chia flavours.  These can be prepared hot with water in just 3 minutes, or cold with milk overnight.  I frequently have overnight oats for breakfast and these didn't disappoint.  They are loaded with fruit but not too sweet, and have a pleasantly chewy texture.  I really enjoyed these and would recommend as a quick and easy, nutritious breakfast.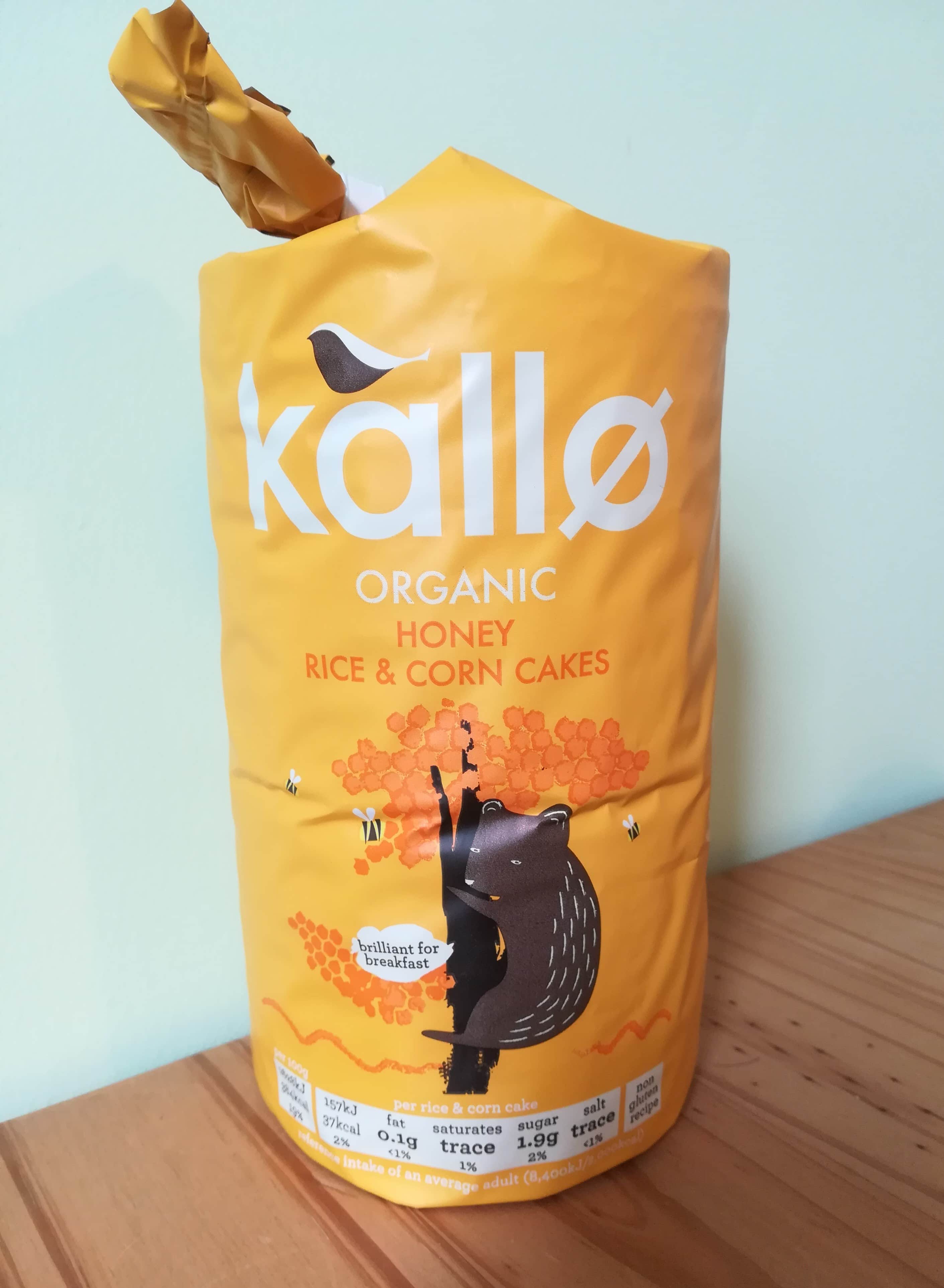 Kallo Organic Honey, Rice & Corn Cakes (£1.89) are a new addition to Kallo's product range.  I'm a big fan of their regular rice and corn cakes, and these are great too.  They are sweet, crunchy and delicious – a nice little treat when you fancy something more indulgent than a plain rice cake.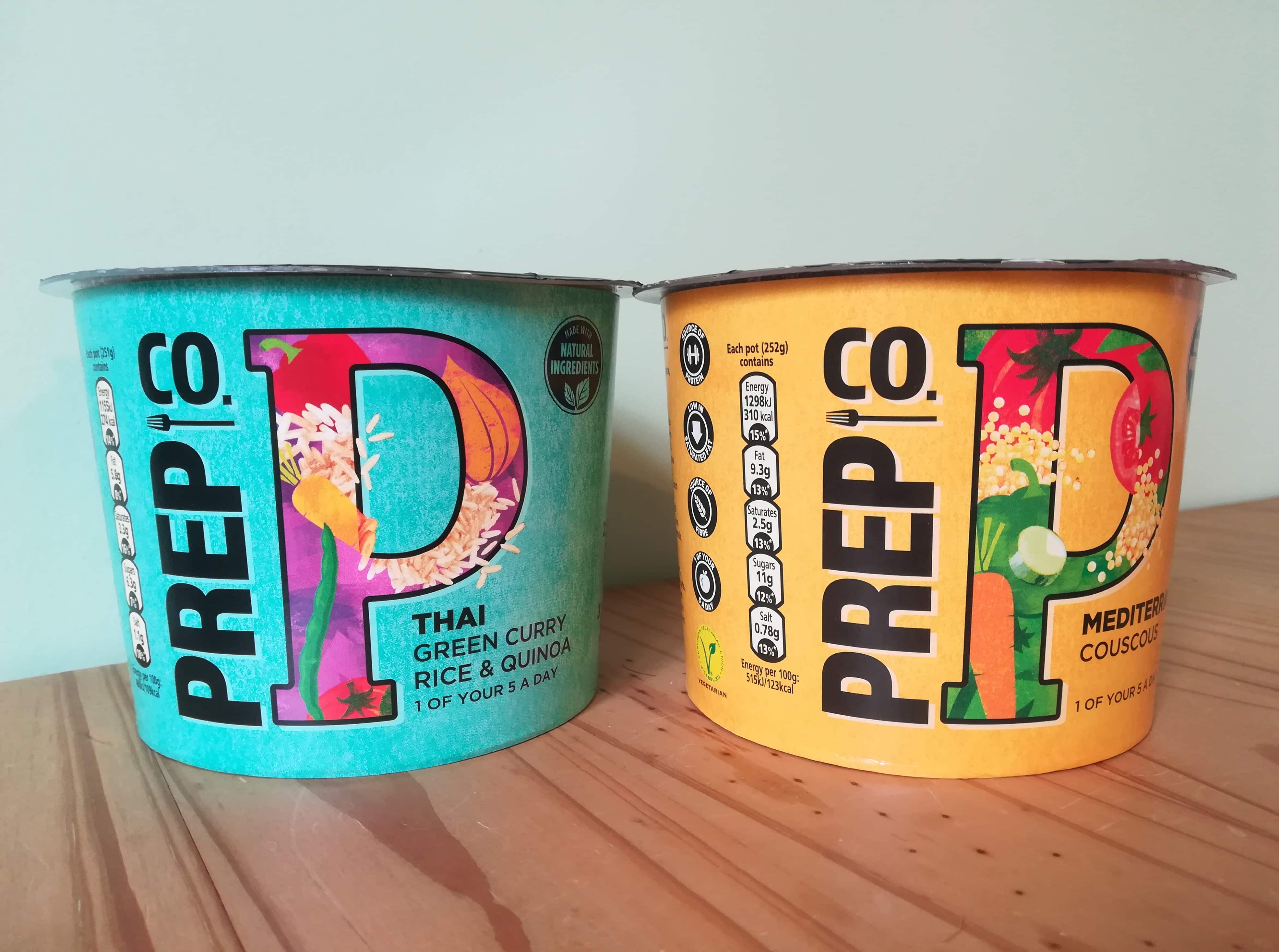 PrepCo. are an on the go lunch pots featuring global flavours and 1 of your 5 veg a day (£2).  They are prepared just by adding hot water.  Each box includes one pot, however I received two: Mediterranean Couscous and Thai Green Curry Rice & Quinoa flavours.  I found the rice pot to be too wet and mushy, and because I am not a fan of green curry flavour in general, I really didn't care for that one.  The couscous pot, however, had a really nice flavour and texture, probably because couscous is best prepared just by adding hot water.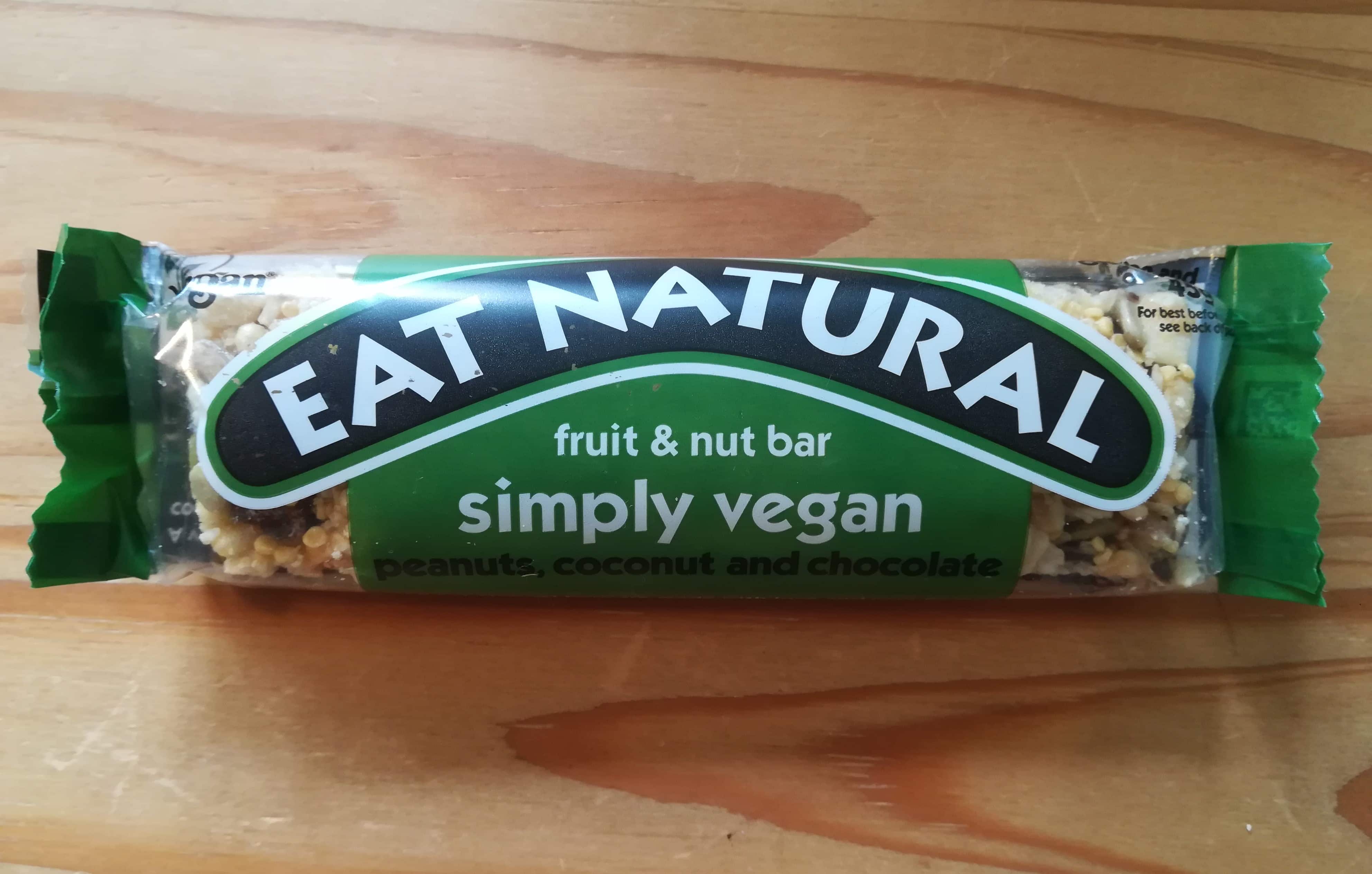 Eat Natural Simply vegan peanuts, coconut and chocolate (£1) is a tasty gluten free bar packed with nuts, seeds, coconut, dried apricots and chickpeas.  I really enjoyed this, it was perfectly chewy with a bit of crunch, with a yummy nut and chocolate flavour.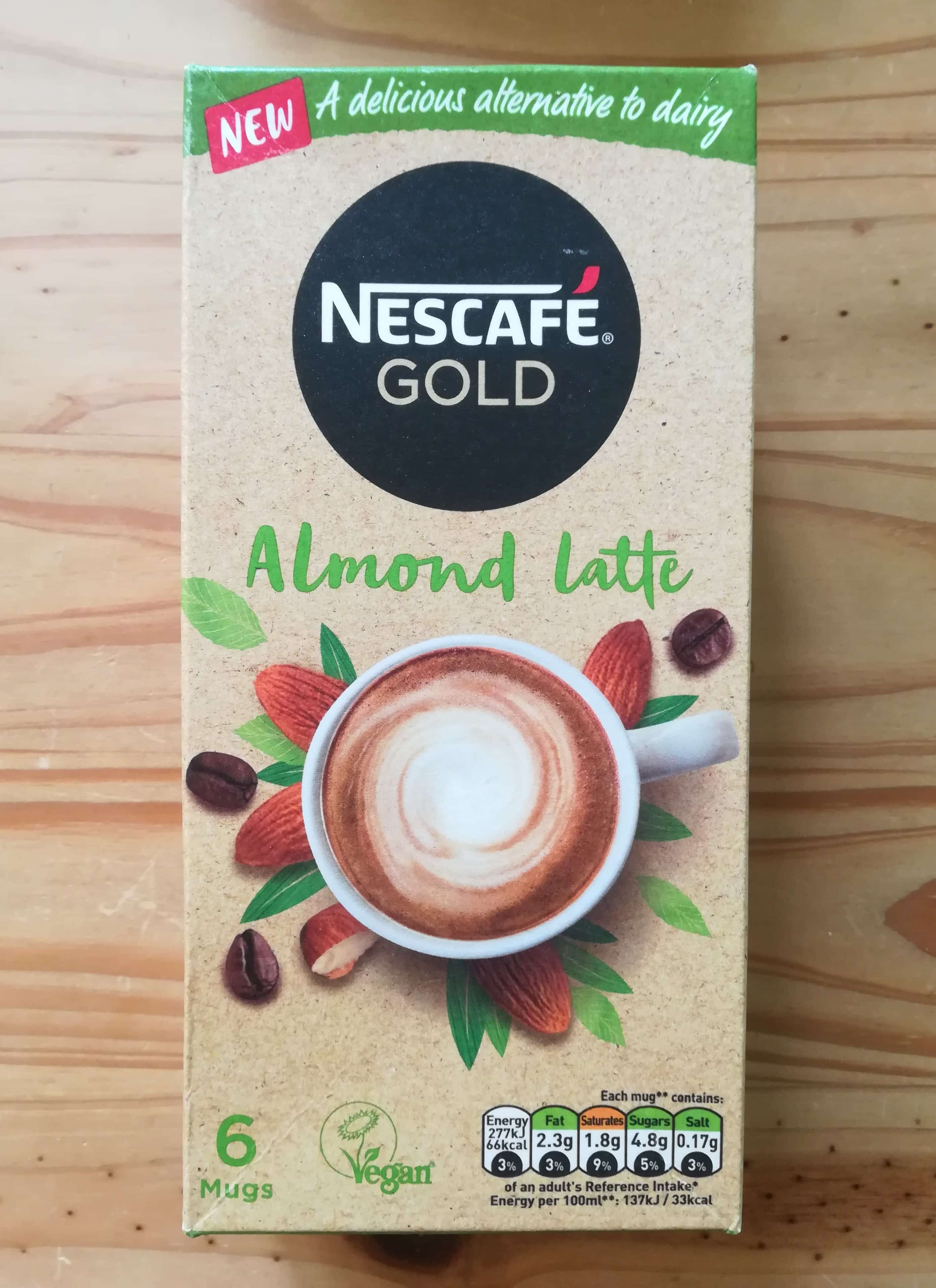 The product of the month is Nescafe Gold Almond Latte (£2.98).  Each box contains 6 sachets making a smooth, creamy vegan latte with the addition of hot water.  This makes a decent almond latte.  I prefer the Nescafe Azera range to the Gold range, as I think the quality of the coffee is better, but this is a good dairy free alternative to traditional instant lattes if that is what you are looking for.
KitKat Chunky More & Yorkie More (£1.29 per bar) are a twist on classic candy bars featuring 30% less sugar than similar chocolate products, plus real fruit and protein.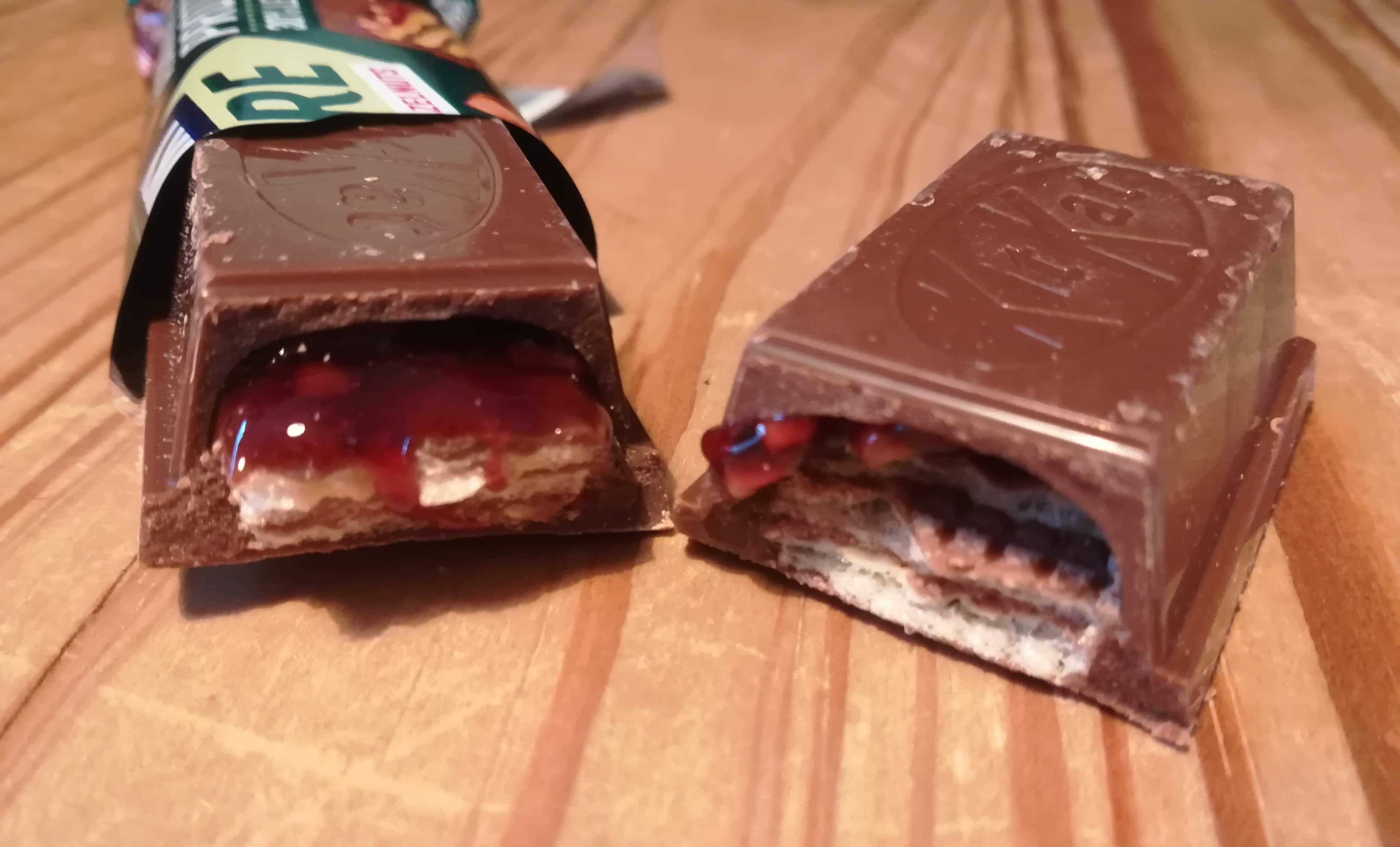 The Kit Kat surprised me, as it included a thick layer of juicy raspberry filling. I wasn't expecting to like this, but it was actually really nice.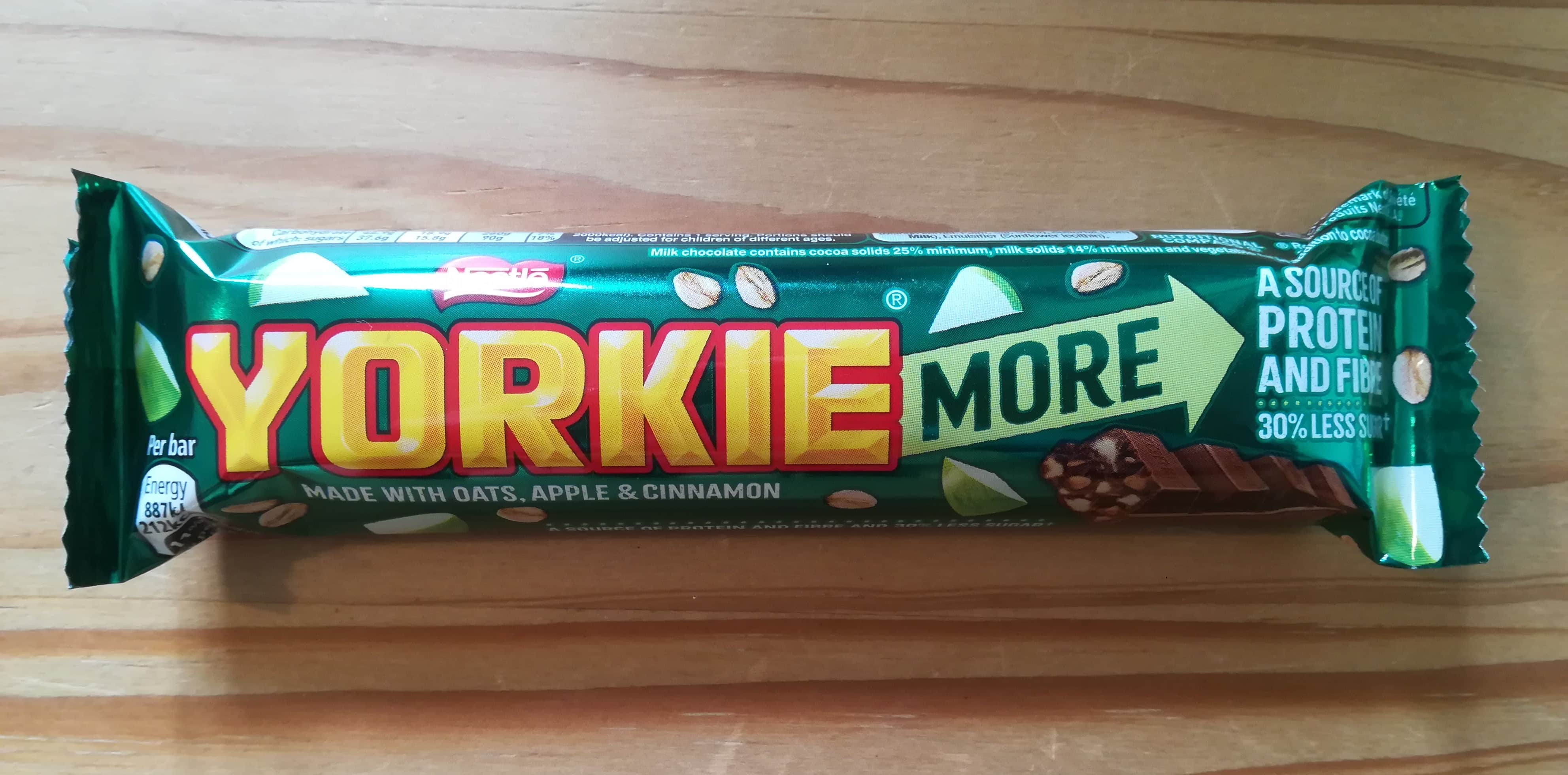 I also enjoyed the Yorkie.  I've never tried a regular Yorkie bar so can't make a direct comparison, but I was surprised by how much I enjoyed the flavour combination of milk chocolate with oats, apples and cinnamon.  Both bars make a nice change from your run of the mill chocolate bar.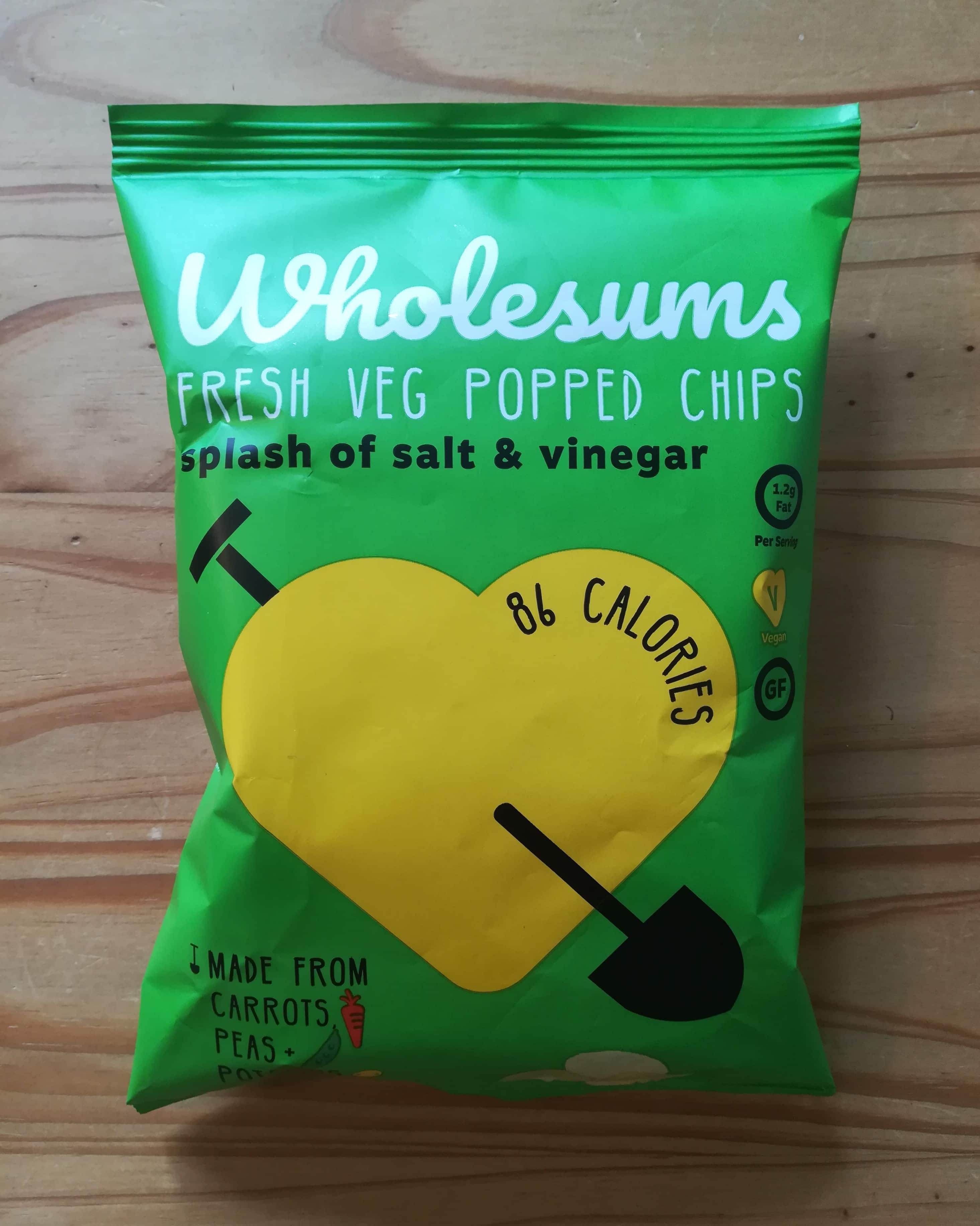 Wholesums Fresh Veg Popped Chips (£1.75) are made with whole carrots, peas and potatoes.  The salt and vinegar flavour is just sharp enough, and the chips are light and crisp.
CRAFTED Blueberry & Blackberry fruit juice drink is an all natural blend of fruit and water with no added sugar, sweeteners or preservatives.  I really enjoy all the CRAFTED drinks, and this one is no exception.  This had a fresh, fruity flavour with the perfect level of natural sweetness.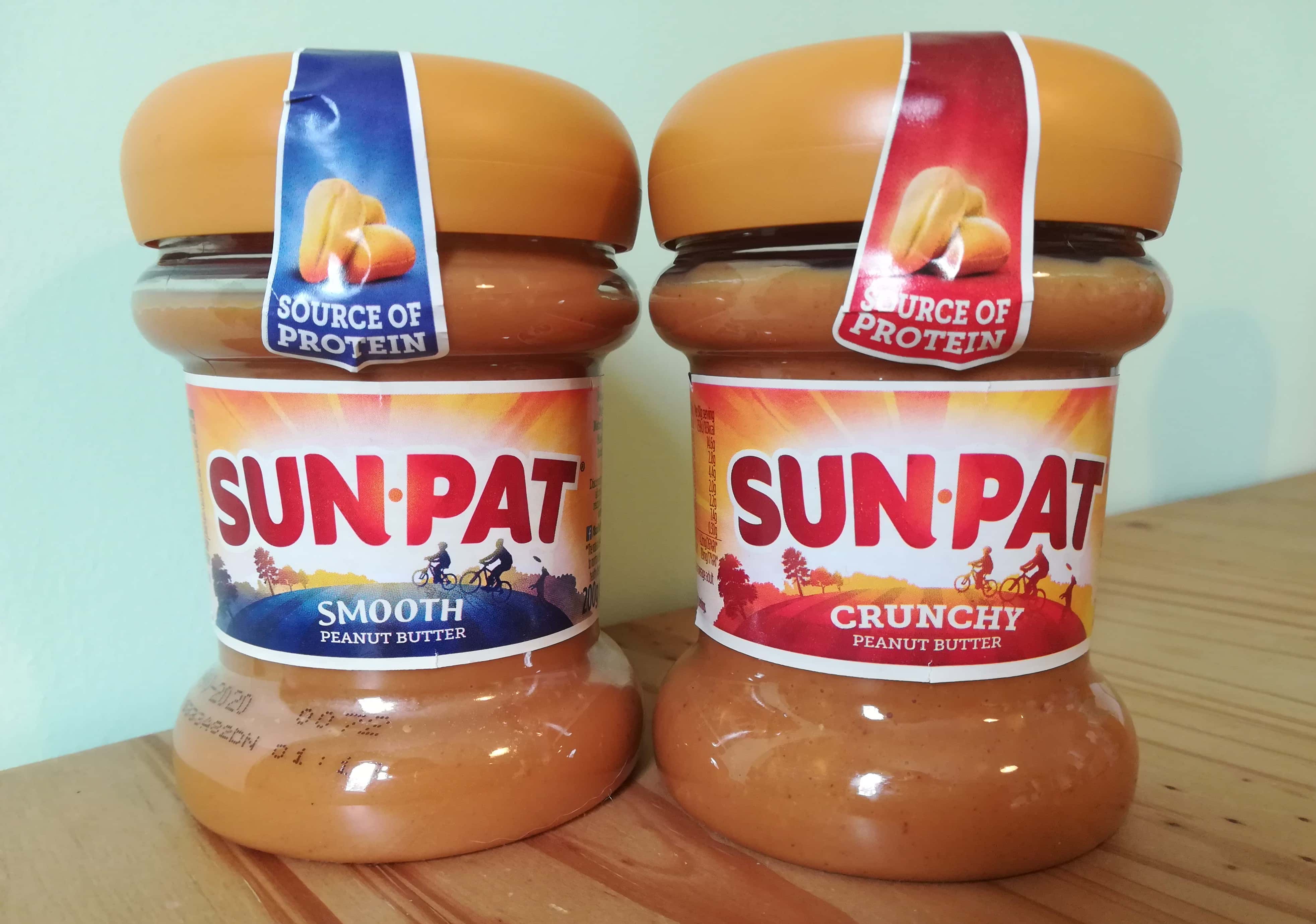 Sun-Pat Peanut Butter 200g (£1.79) is made with 96% peanuts.  Each box contains one jar of peanut butter but I received jars of both smooth and crunchy.  Sun-Pat is the closest thing I've found in the UK to the American peanut butter I grew up with.  These days I prefer natural peanut butter made with just peanuts, but if you prefer a smoother, creamier peanut butter then this is a good choice.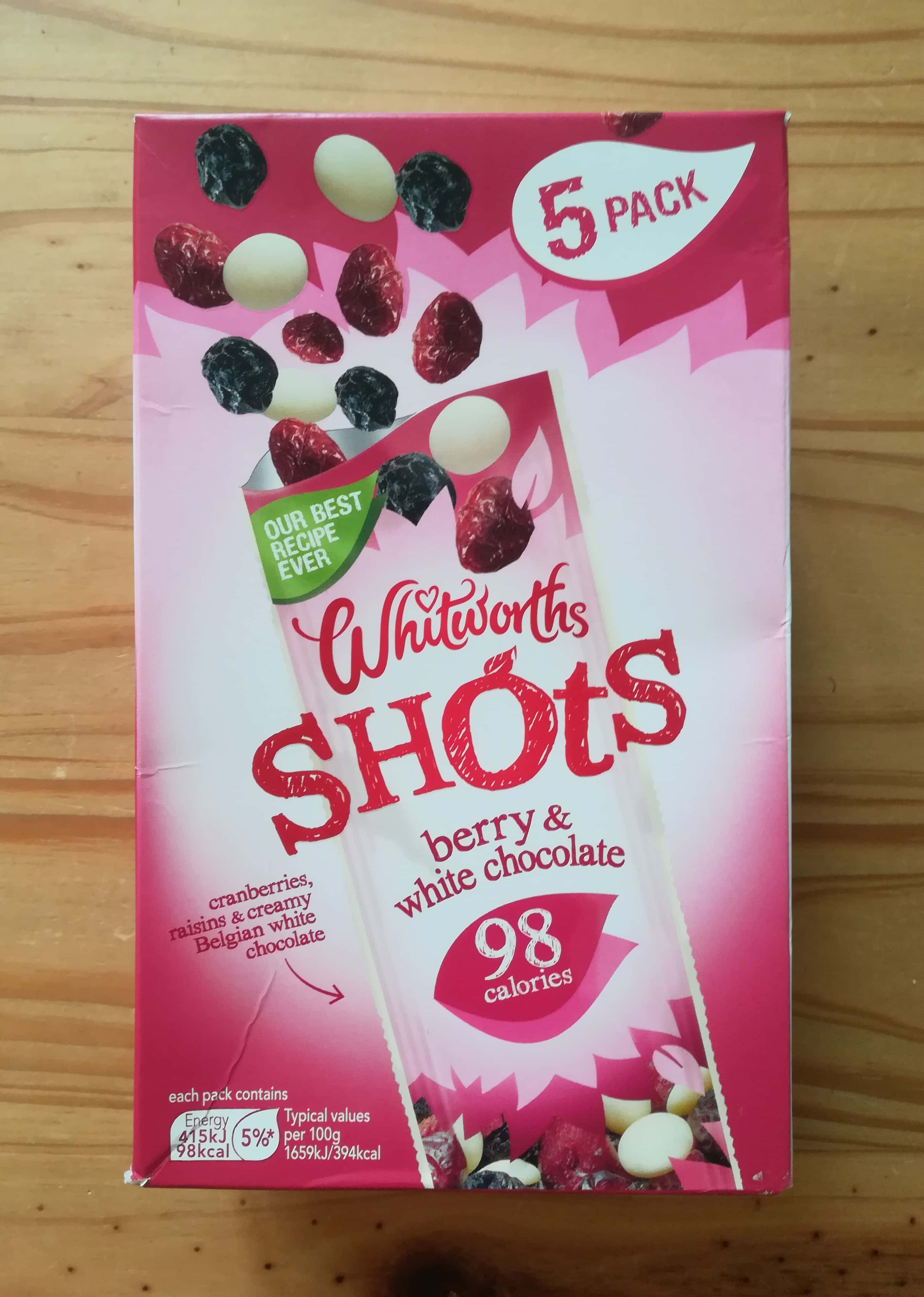 Whitworths Shots berry & white chocolate are little sachets of cranberries, raisins and Belgian white chocolate with only 98 calories each.  With plump fruit and smooth white chocolate pieces, this makes a perfect little sweet snack.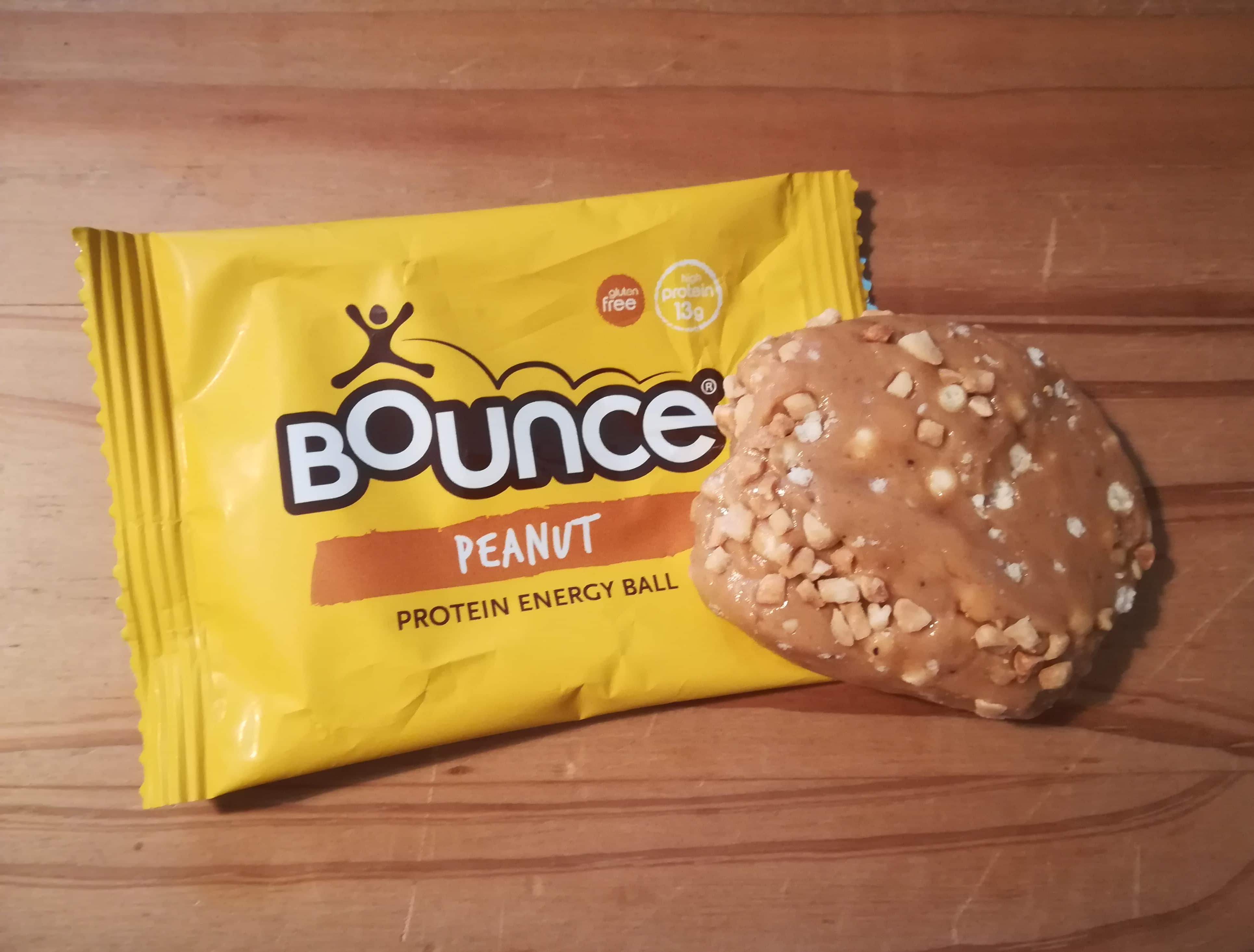 Bounce Energy Ball (£1.79) is a peanut ball featuring 13g of protein.  This was quite chewy with little chunks of crunchy peanuts.  It tasted fine but I think the price point is high for the size of the ball.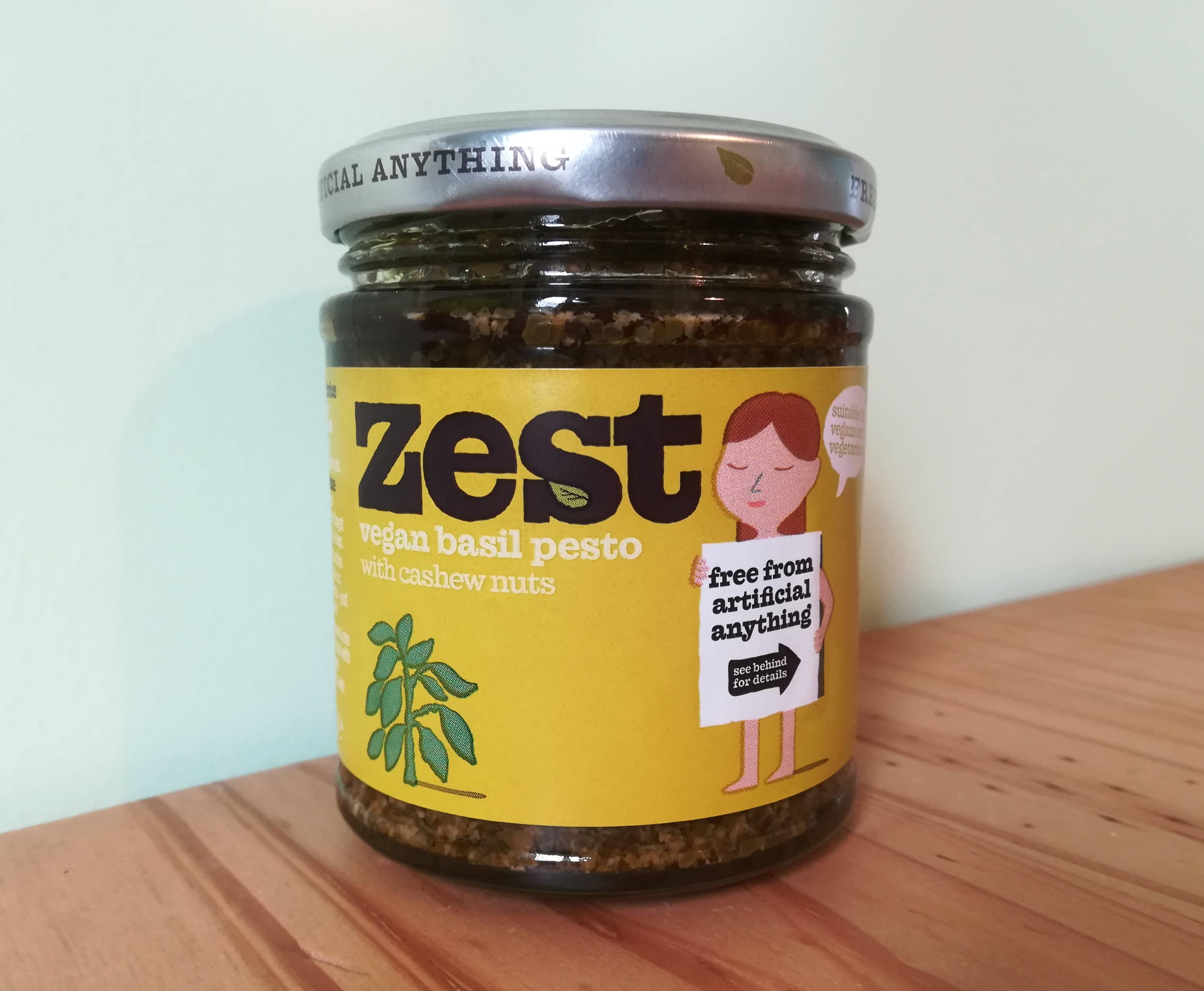 Zest Vegan Basil Pesto (£2.20) is made simply with basil leaf, cashew nuts and white wine vinegar, and free from cheese and other animal products.  This has a lovely, zippy and fresh taste.  I have tried a few other brands of vegetarian or vegan basil pesto and this is by far the most flavourful.
January's Degusta Box was packed with good finds.  I enjoyed nearly all of the products but the Chescots SuperGut Porridge Pots, Kallo Organic Honey, Rice & Corn Cakes, CRAFTED drink and Zest Vegan Basil Pesto were the standouts.
Have you tried DegustaBox UK?