CAUSEBOX is a quarterly subscription box curated with socially conscious products for women. In each box, you'll receive 5-8 seasonal lifestyle products that are focused on ethical and sustainable production, donate a percentage of profits to charity, or aim to inspire and empower others.
DEAL: Save $10 on your first box with coupon code WELCOME10!
FYI – this box is now sold out! Check out the Winter Welcome Box full spoilers here – it has many of the same items!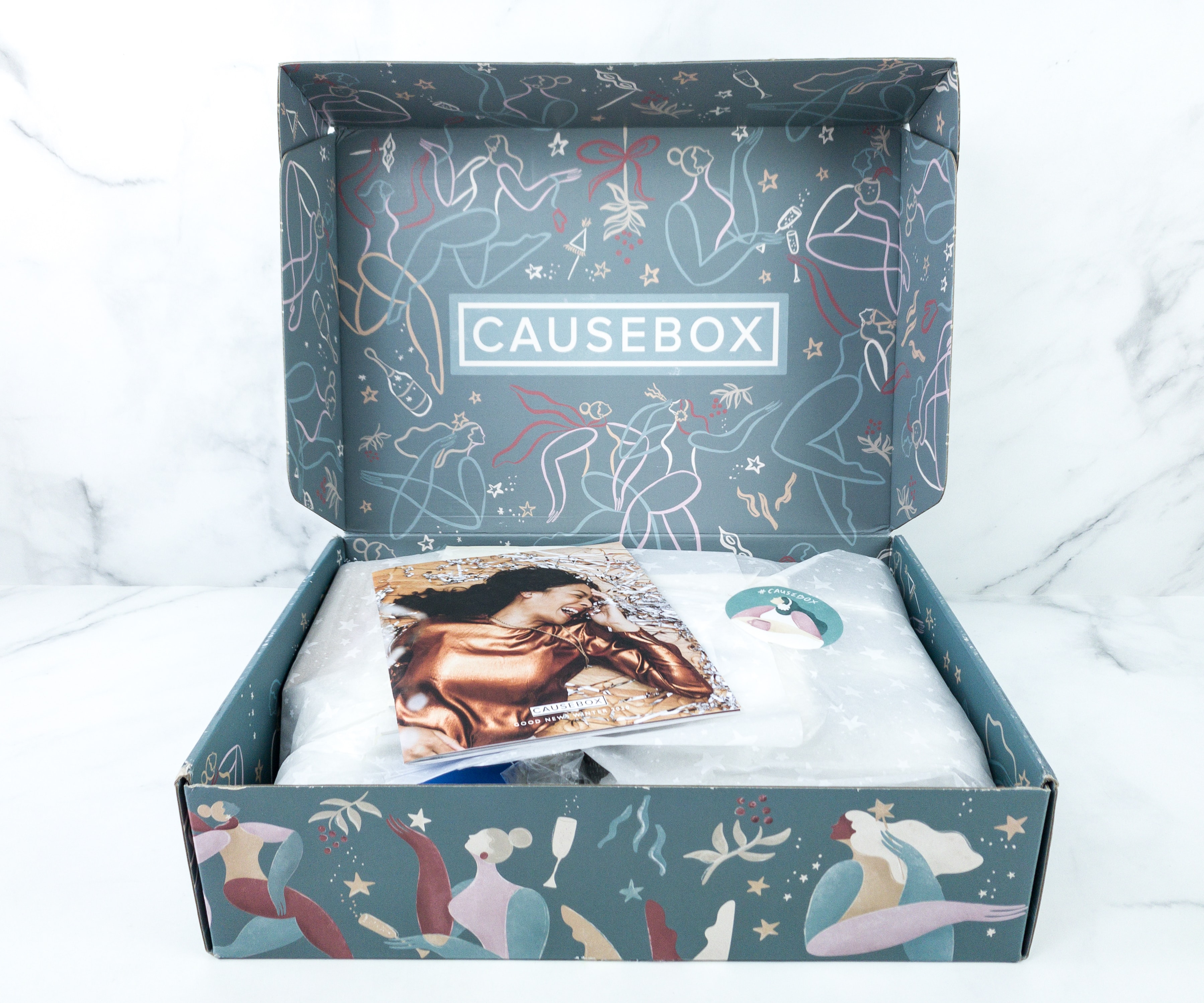 A mini-magazine welcomed us upon opening the box.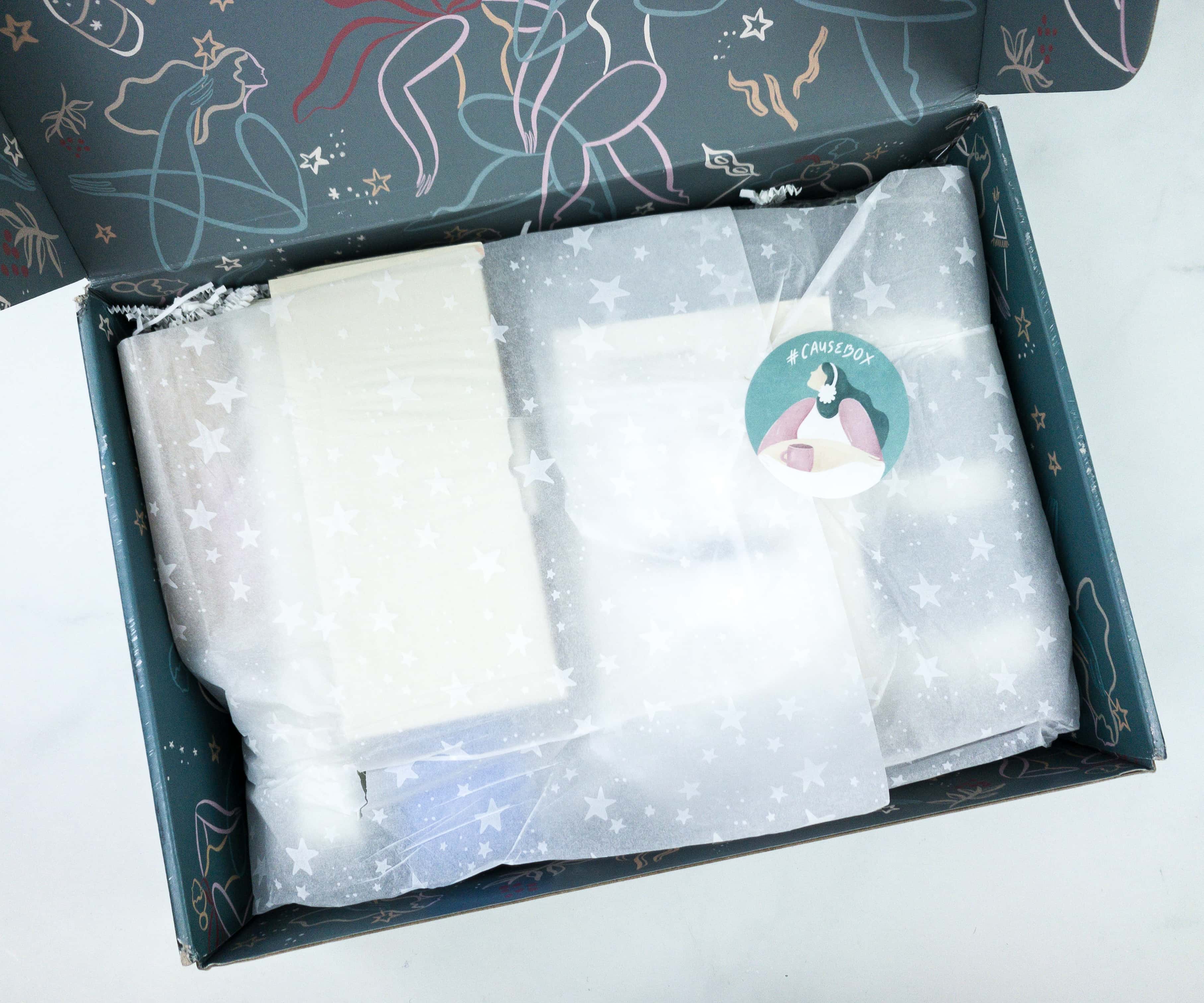 The items are wrapped in a thin tissue paper and sealed with a sticker.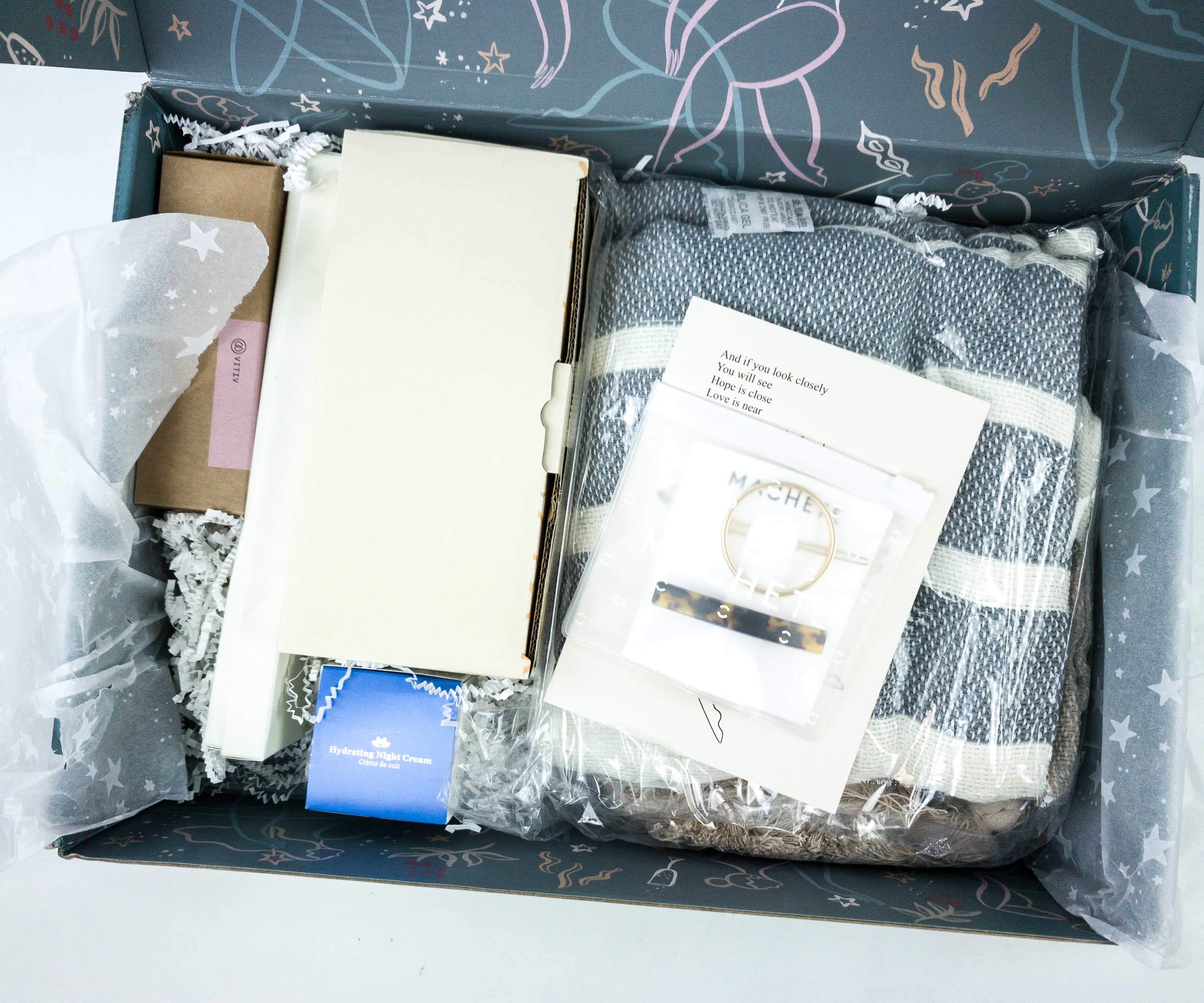 The box is jampacked!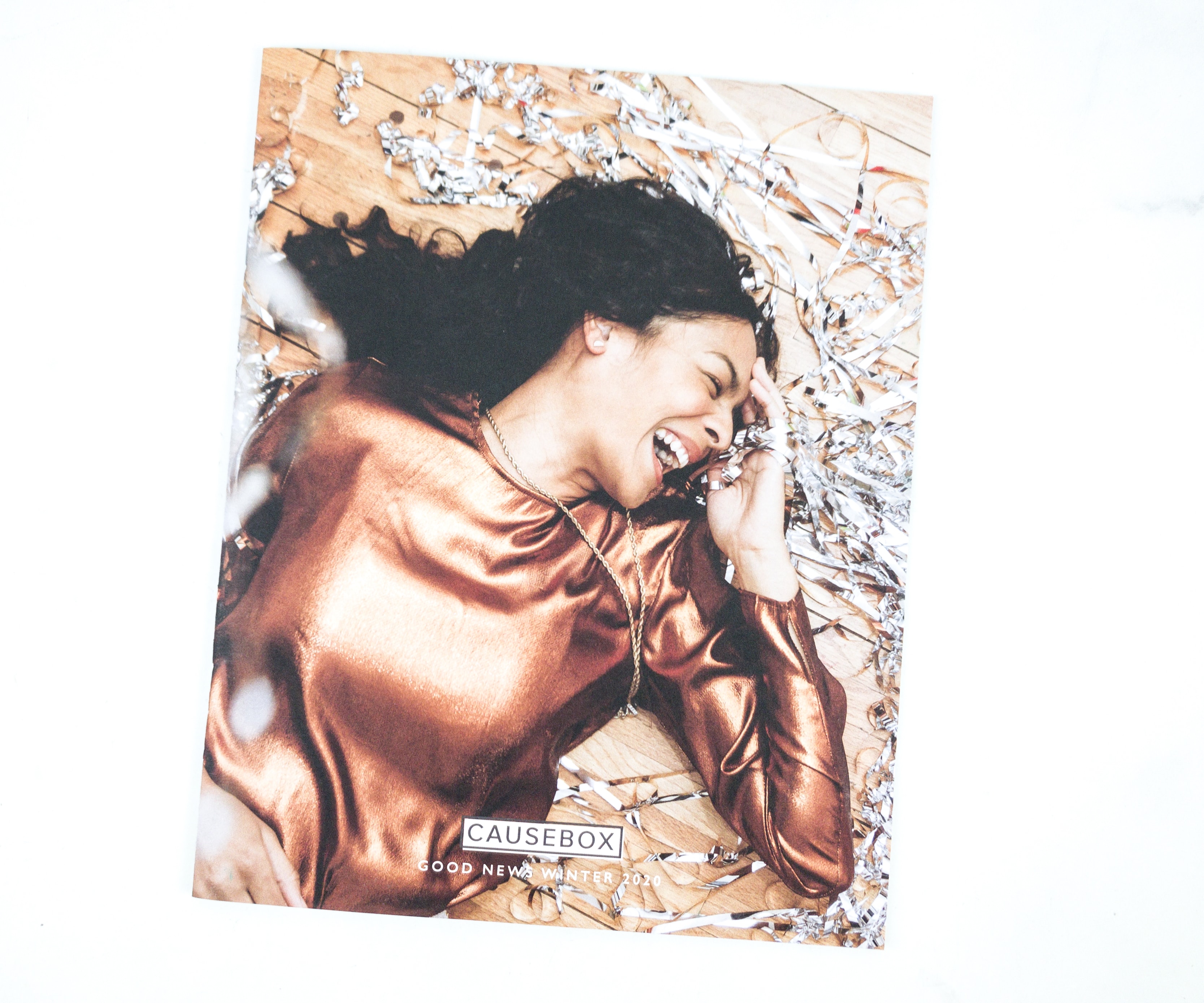 A mini-magazine is included in the box.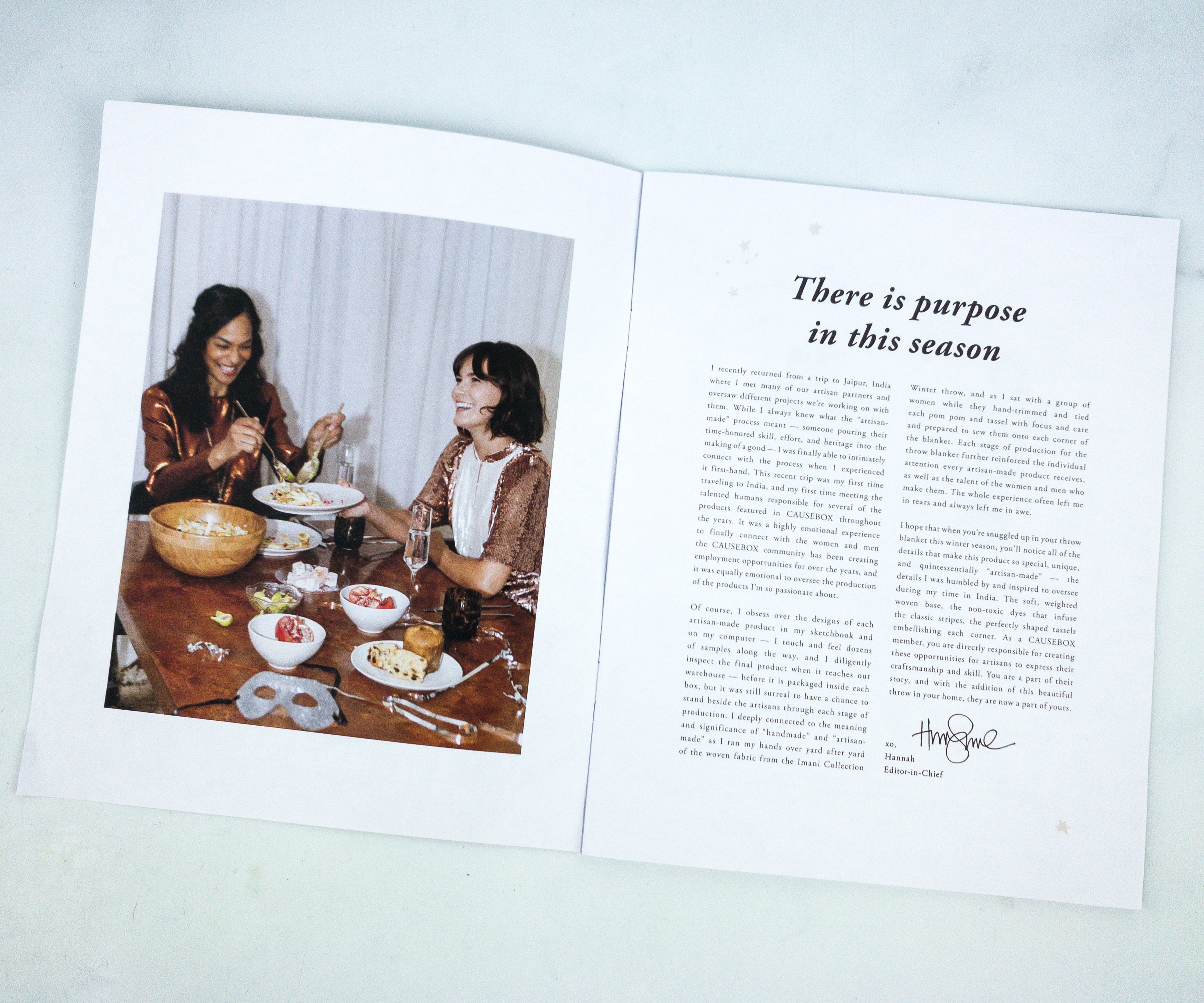 There's a message from Hannah, the Editor-in-Chief.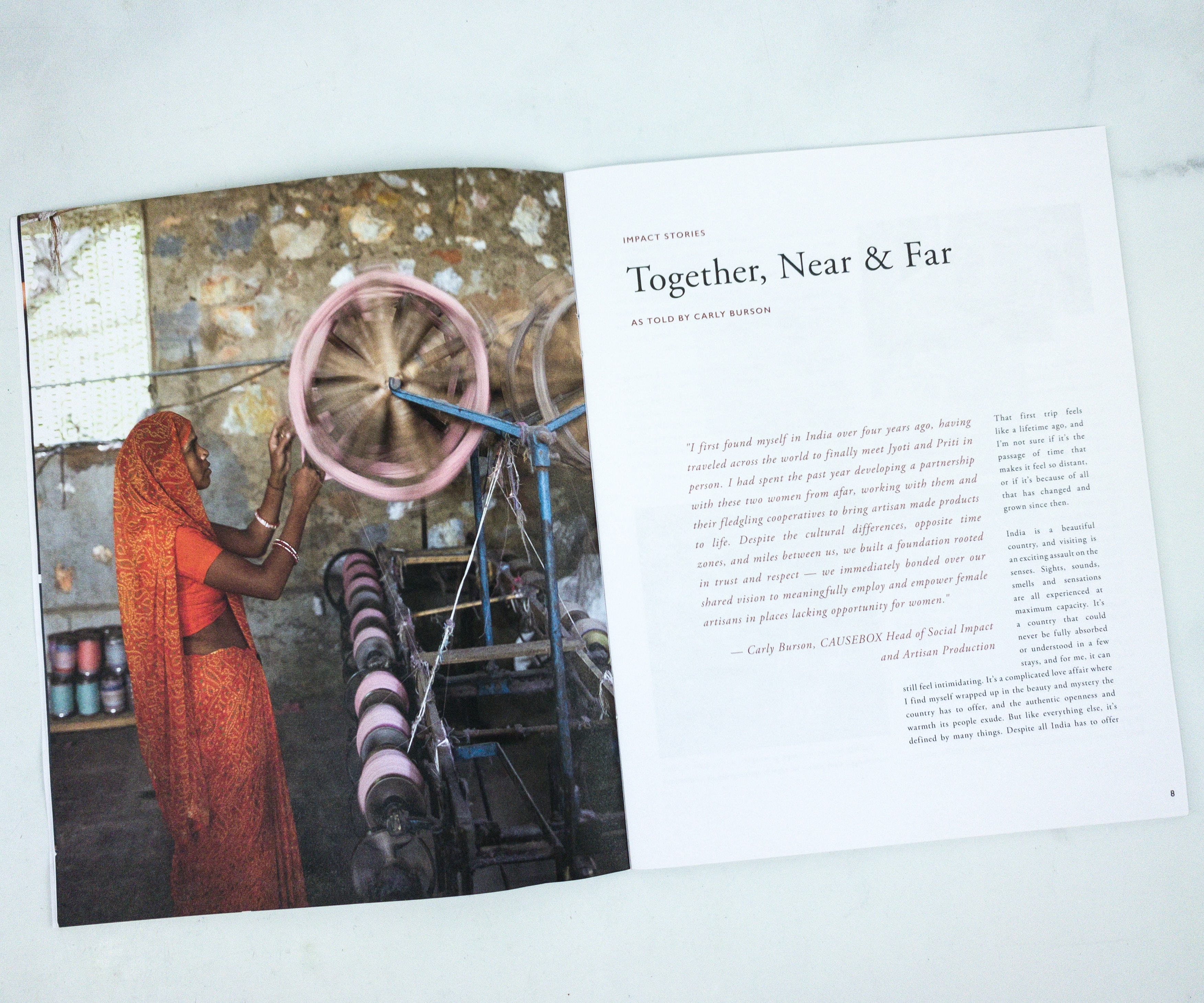 One of the feature articles in the mini-mag is an impact story entitled Together, Near & Far as told by Carly Burson. The features inside the mini-magazine are really interesting, and some are even informational or talks about certain items included in the box.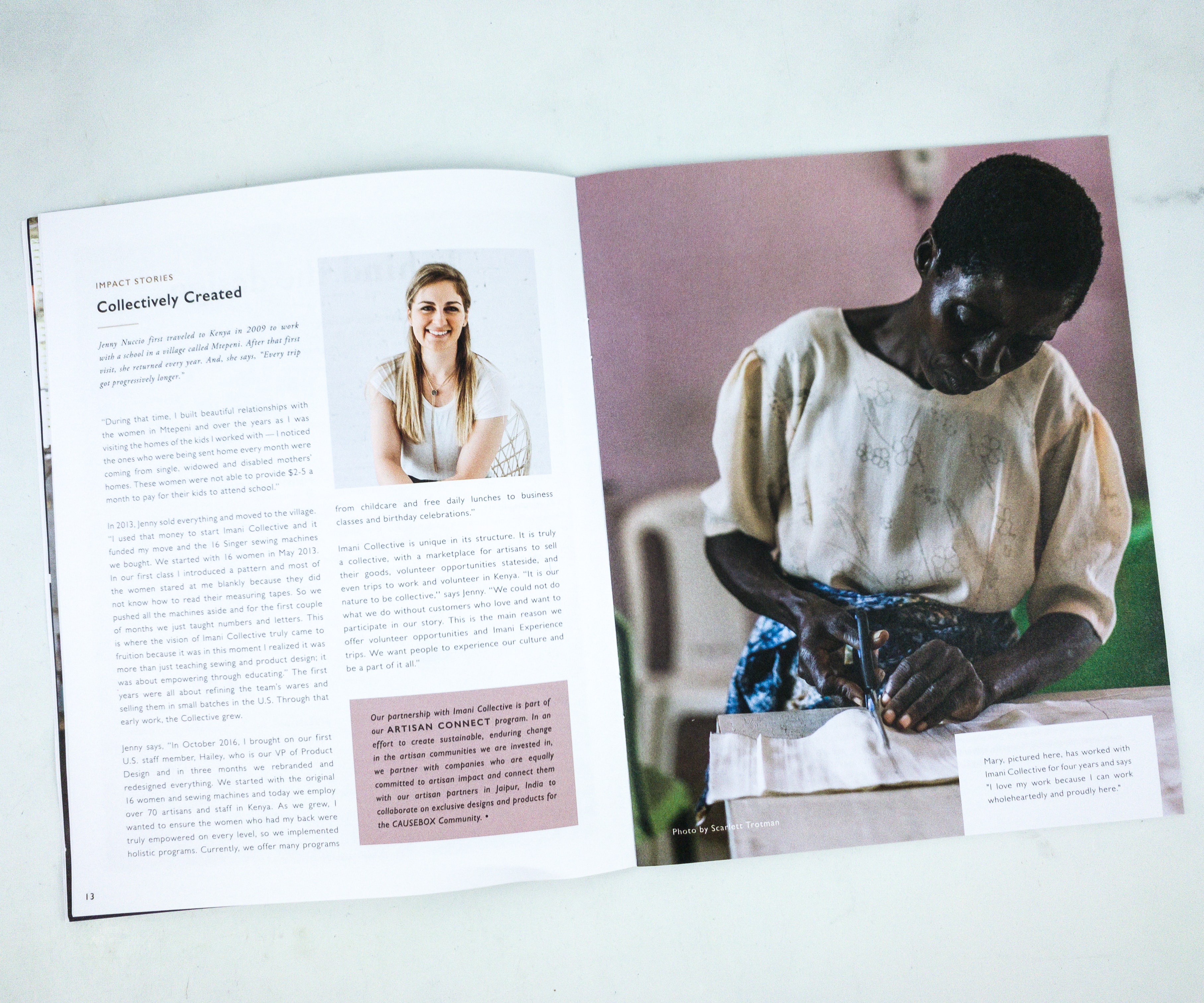 Another article is about Samara and the impact you'll make.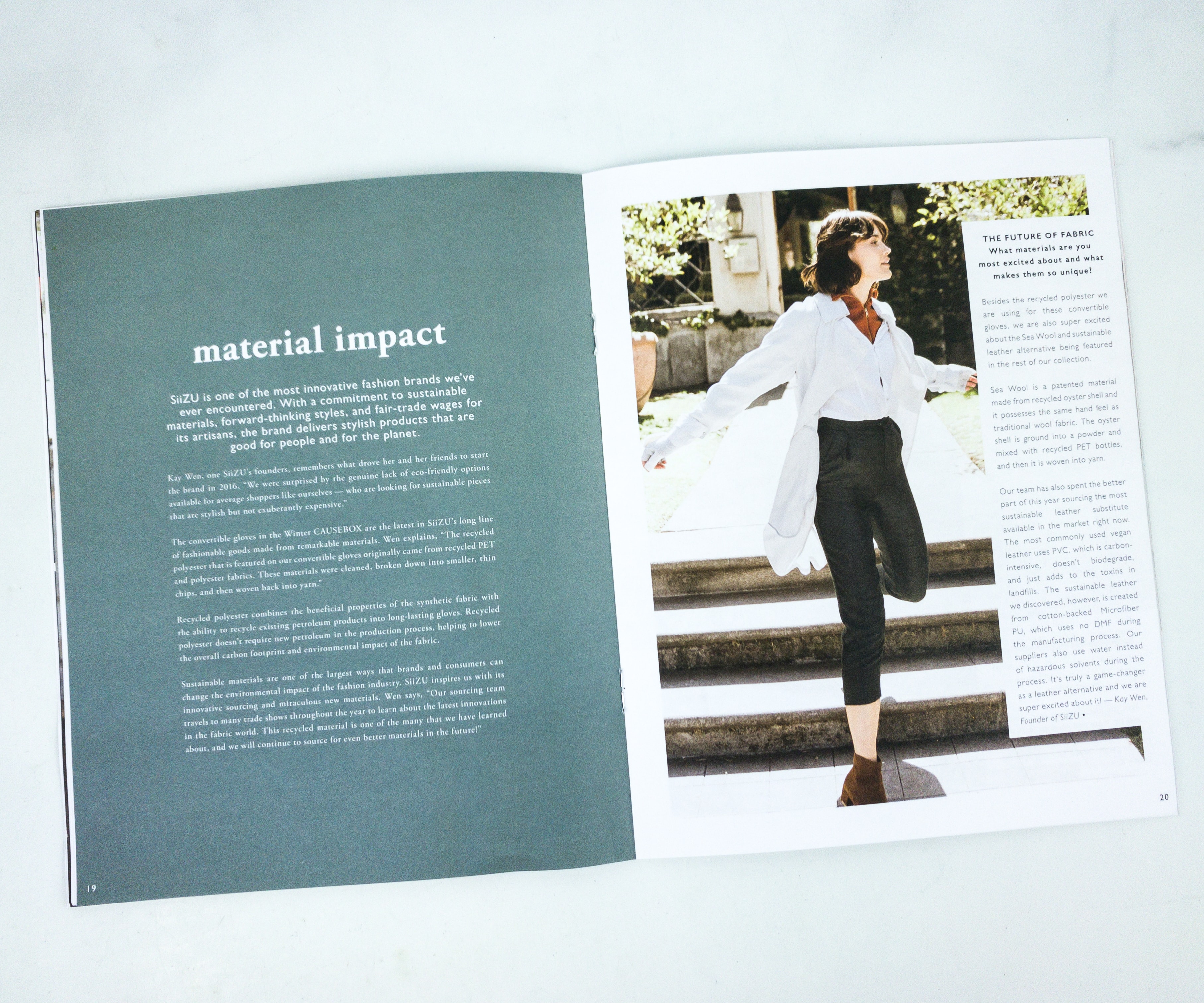 Here's an article about SiiZU, one of the most innovative fashion brands!
The Artist Residency Program is again featured in this magazine. There's also a Q&A of the Winter Box artist, Maggie Stephenson.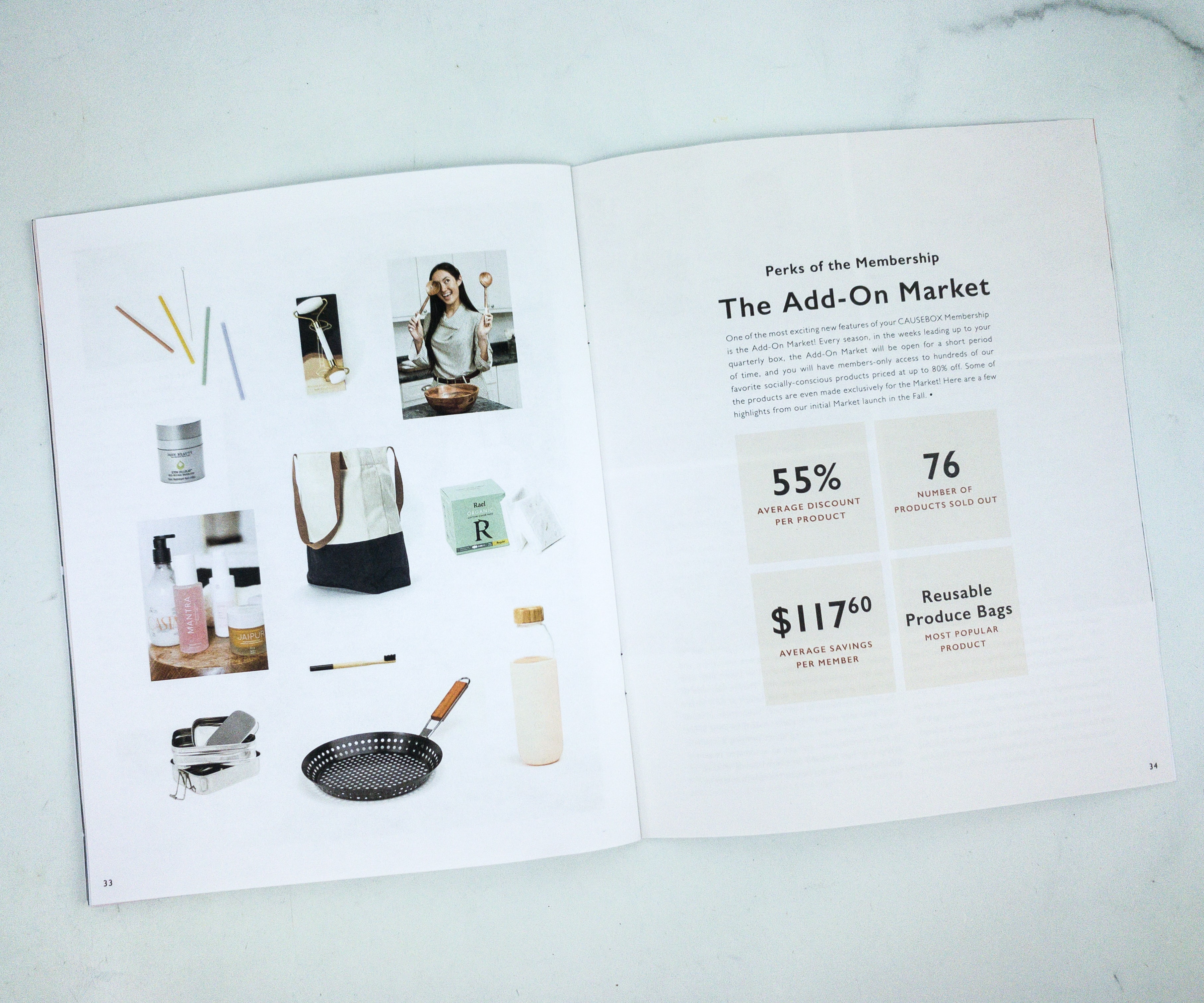 The Add-On Market will be open for a limited time before the box ships, and it will feature products that you can purchase as add-ons. Each product is limited, and will only be offered to members with an average discount of 55% per product!
For this box, the Team Spotlight features Mary Elizabeth!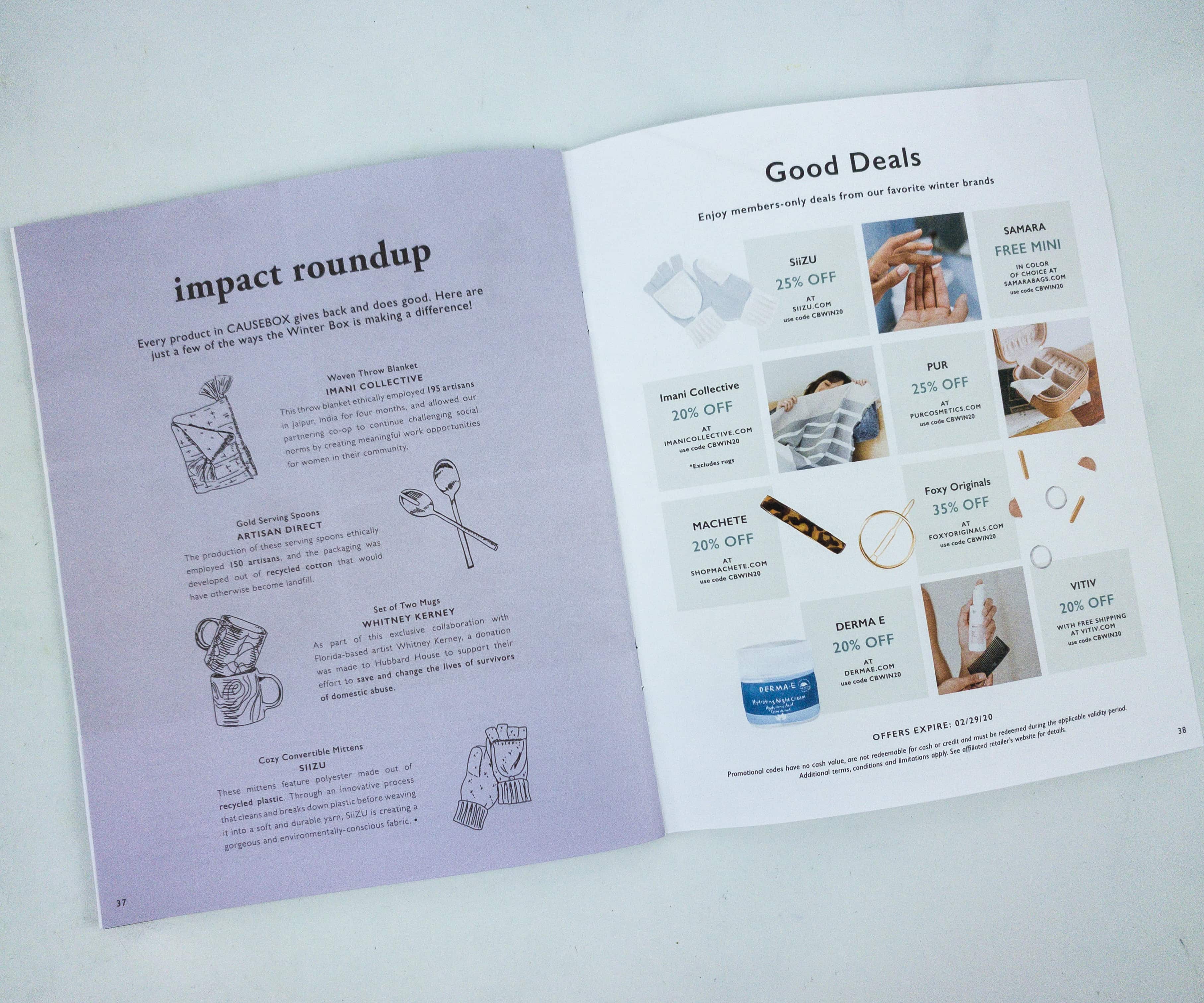 There are lots of deals included so you better read the mini-mag until the last pages! I love the page on the left highlighting the impact of each product.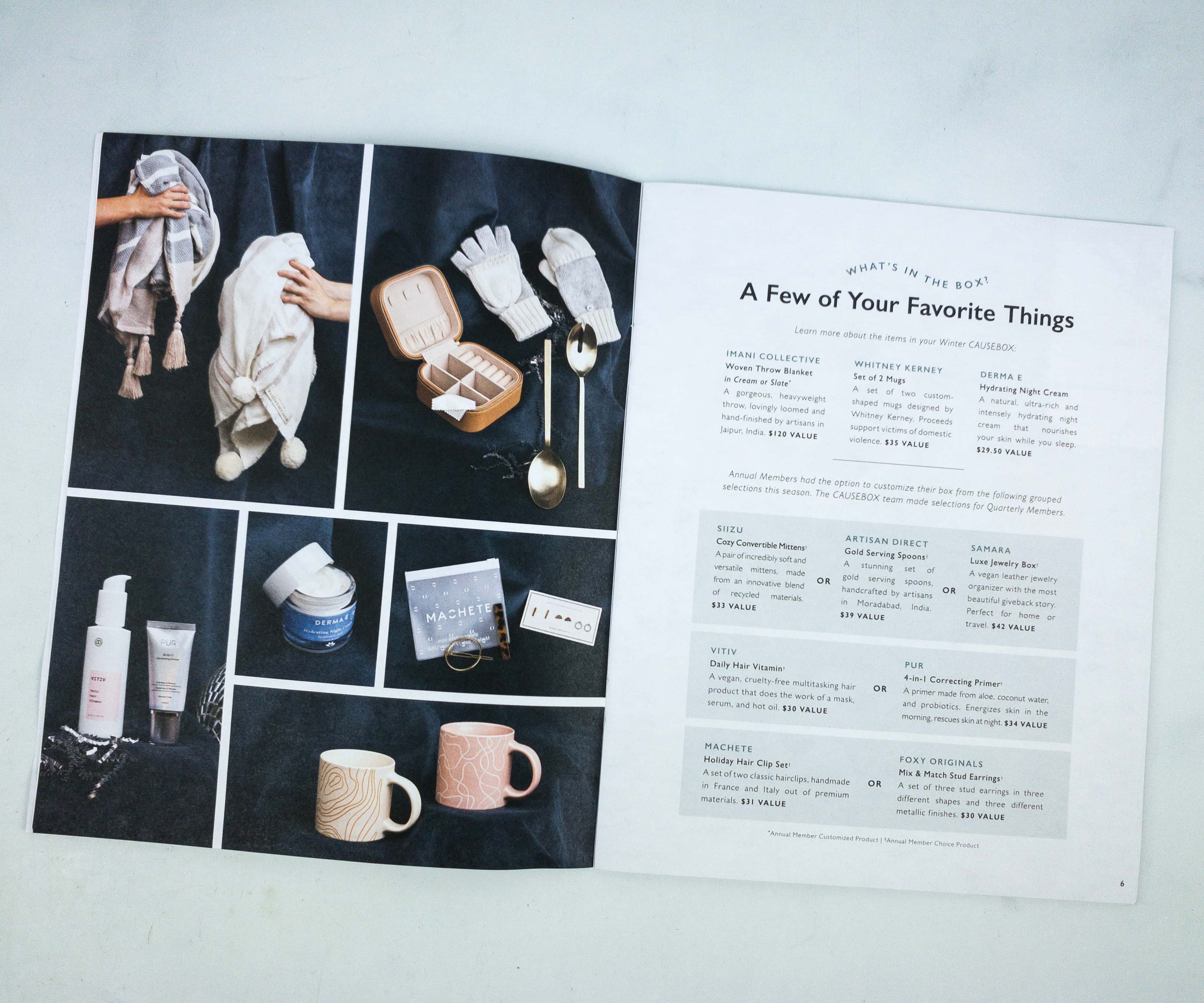 Here's a photo of some of our favorite things that we can find in the box!
Everything in the Winter 2019 box!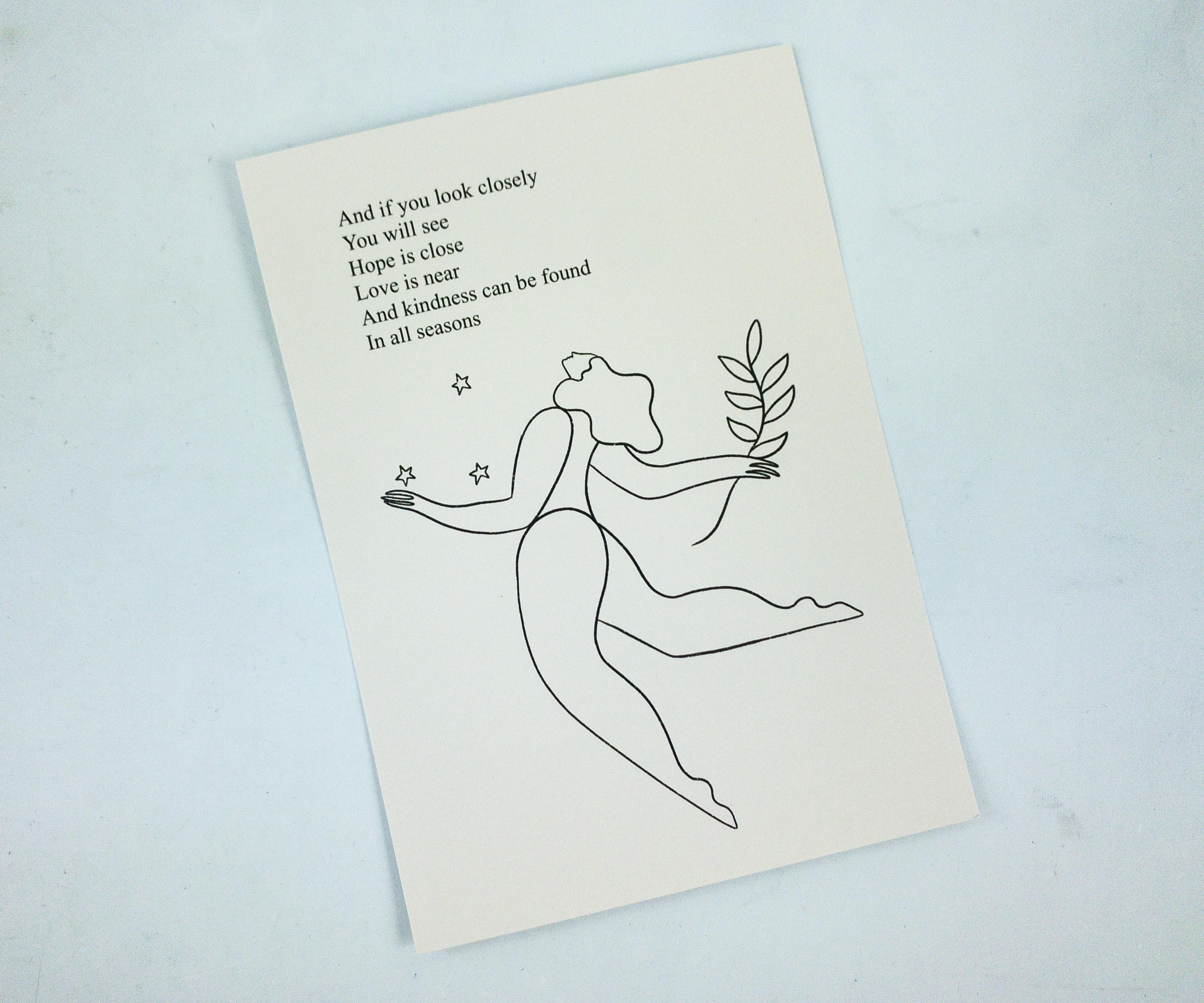 Postcard. This month's postcard is designed by the WInter Box artist, Maggie Stephenson, and I believe it leaves a very powerful message to all women, about hope, love, and kindness!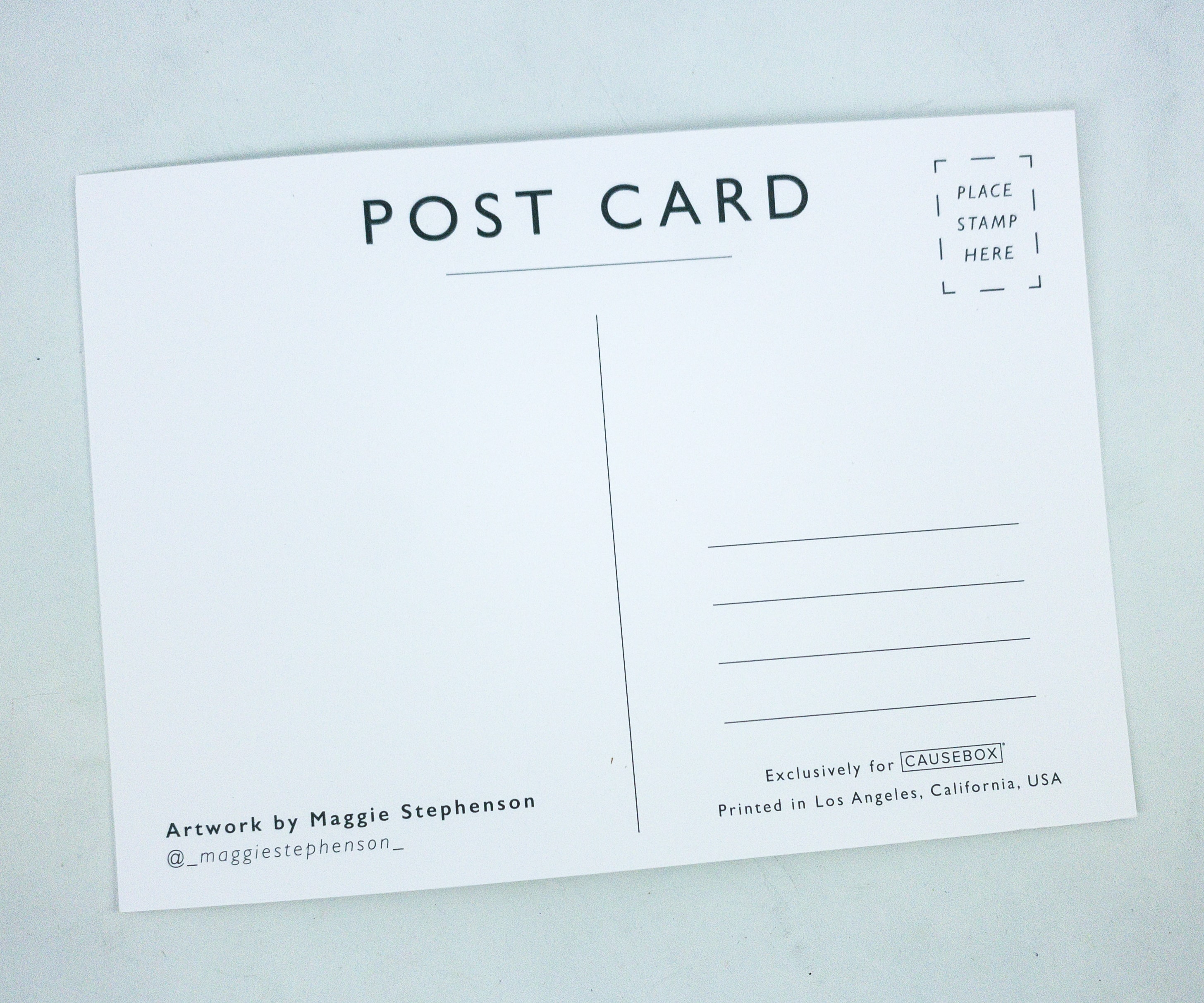 The card was printed in Los Angeles, California. As usual, the back provided space for notes and the receiver's information.
Artisan Direct ($39) Annual subscribers can choose among this, Luxe Jewelry Box by Samara, and Cozy Convertible Mittens by Siizu. These gold serving spoons are the first products from Artisan Direct to be featured in a seasonal Causebox. The spoons are made in Moradabad, India, which is famous for quality handicrafts and large-scale brass works.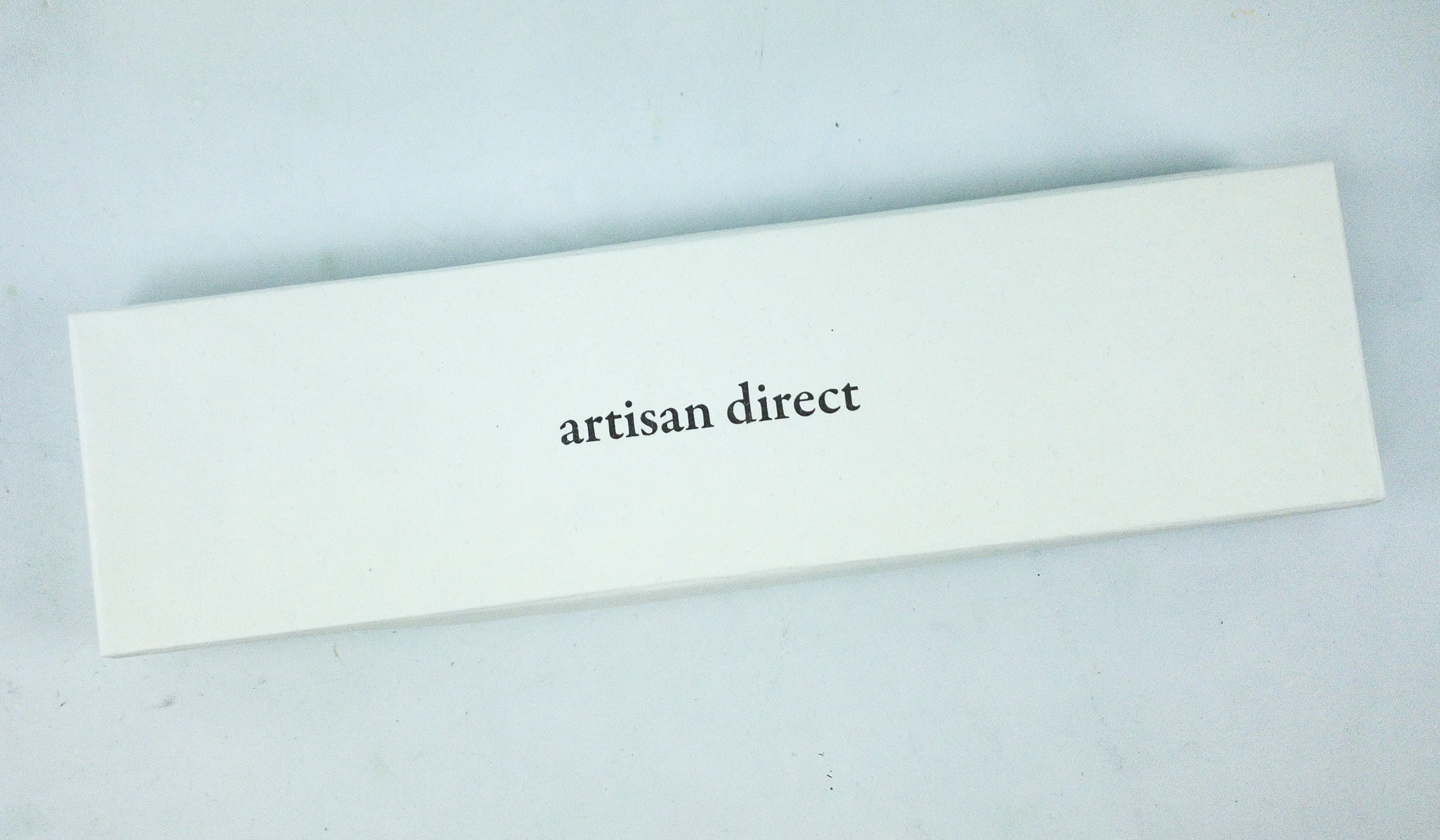 Artisan Direct partnered with a third-generation family workshop that is led by a team of husband and wife who focus on workplace safety and an equal opportunity for male and female makers. The beautiful items are placed inside a handmade paper box made from upcycled cotton.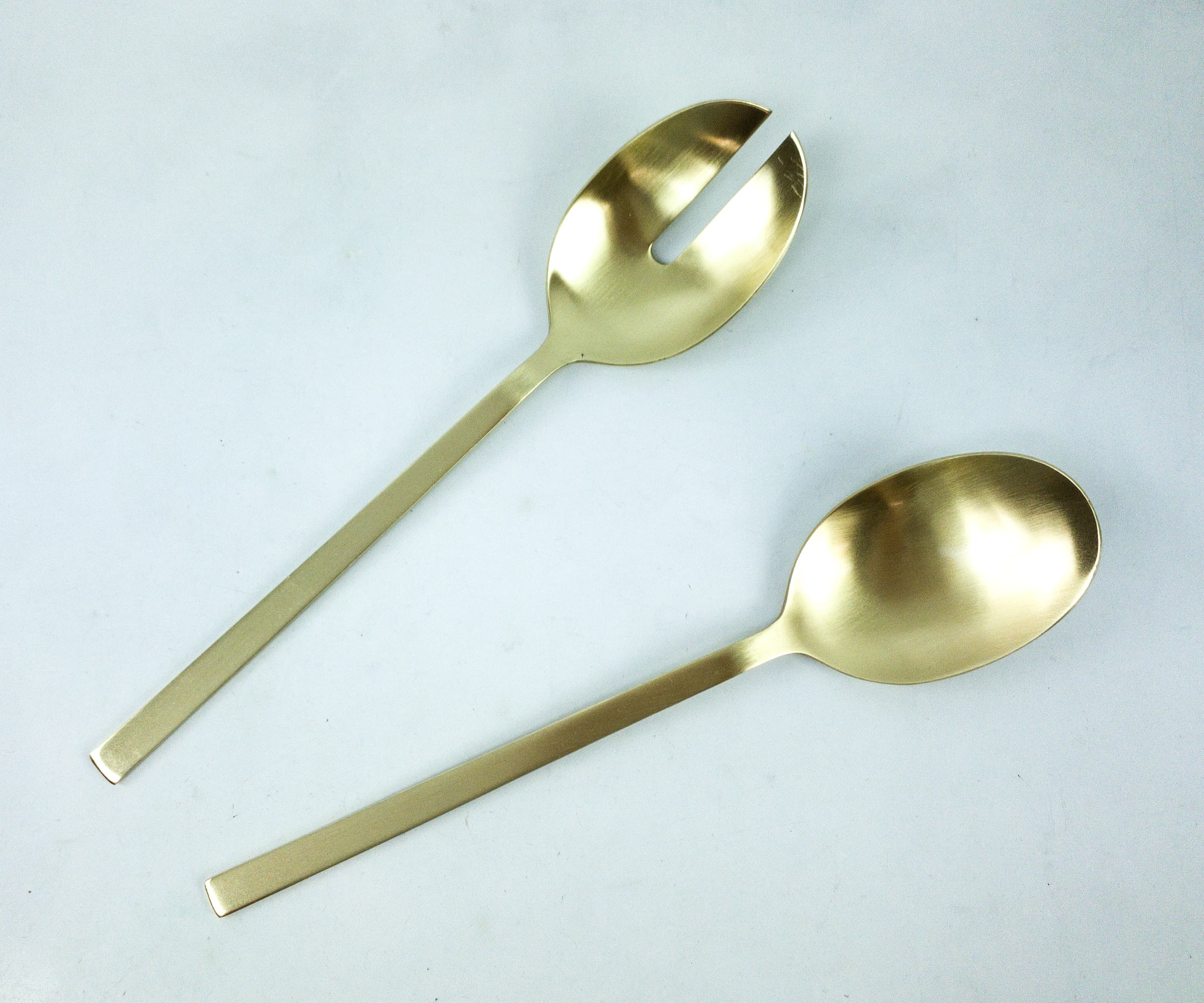 The serving spoons look amazing! What makes them more precious are the efforts of the people who made them, who also clearly care for the environment and mankind. I also like that they can go with most of our dinnerware.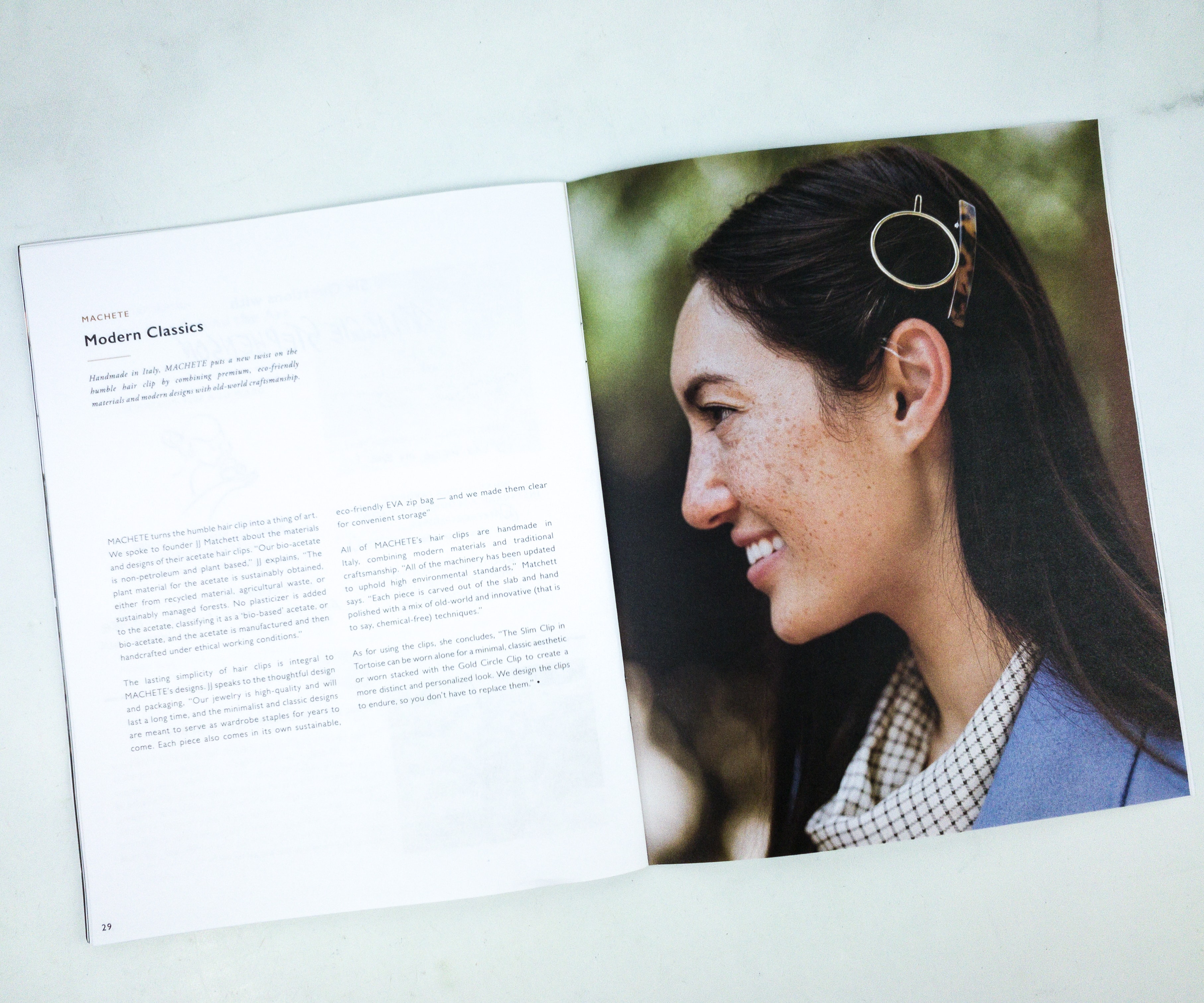 Machete Holiday Hair Clip Set ($31) Annual subscribers can choose between this OR Foxy Originals Mix & Match Stud Earrings! I chose these classic hair clips, which are handmade in Italy. I love that they put a new twist on the simple hair clip by using premium, eco-friendly materials, and modern designs, but everything's still made based on old-world craftsmanship.
The hair clips are placed inside a mini zip lock bag. I can reuse this bag to keep the clips or other trinkets safe!
I like these hairclips so much! They easily keep my hair in place and they add a touch of style to my overall look.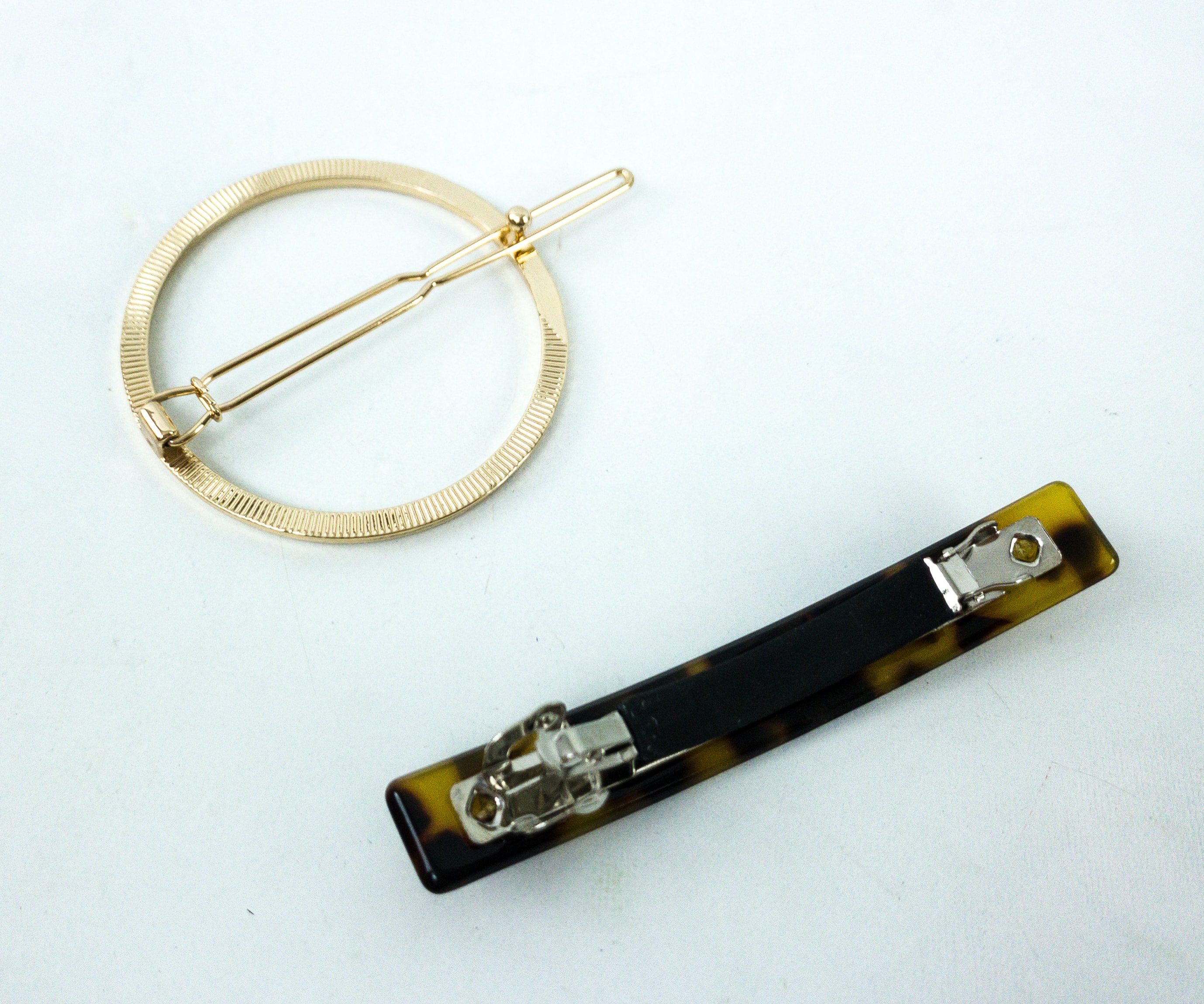 The rectangular one comes with a spring clip enclosure, while the circular one has a simple clip enclosure that will look great to hold the bangs.
Whitney Kerney Set of Two Mugs ($35) I got two super attractive mugs! Both are custom-shaped and hand-illustrated, and they're placed inside this giftable box. I also like the fact that this product provides support to victims of domestic violence.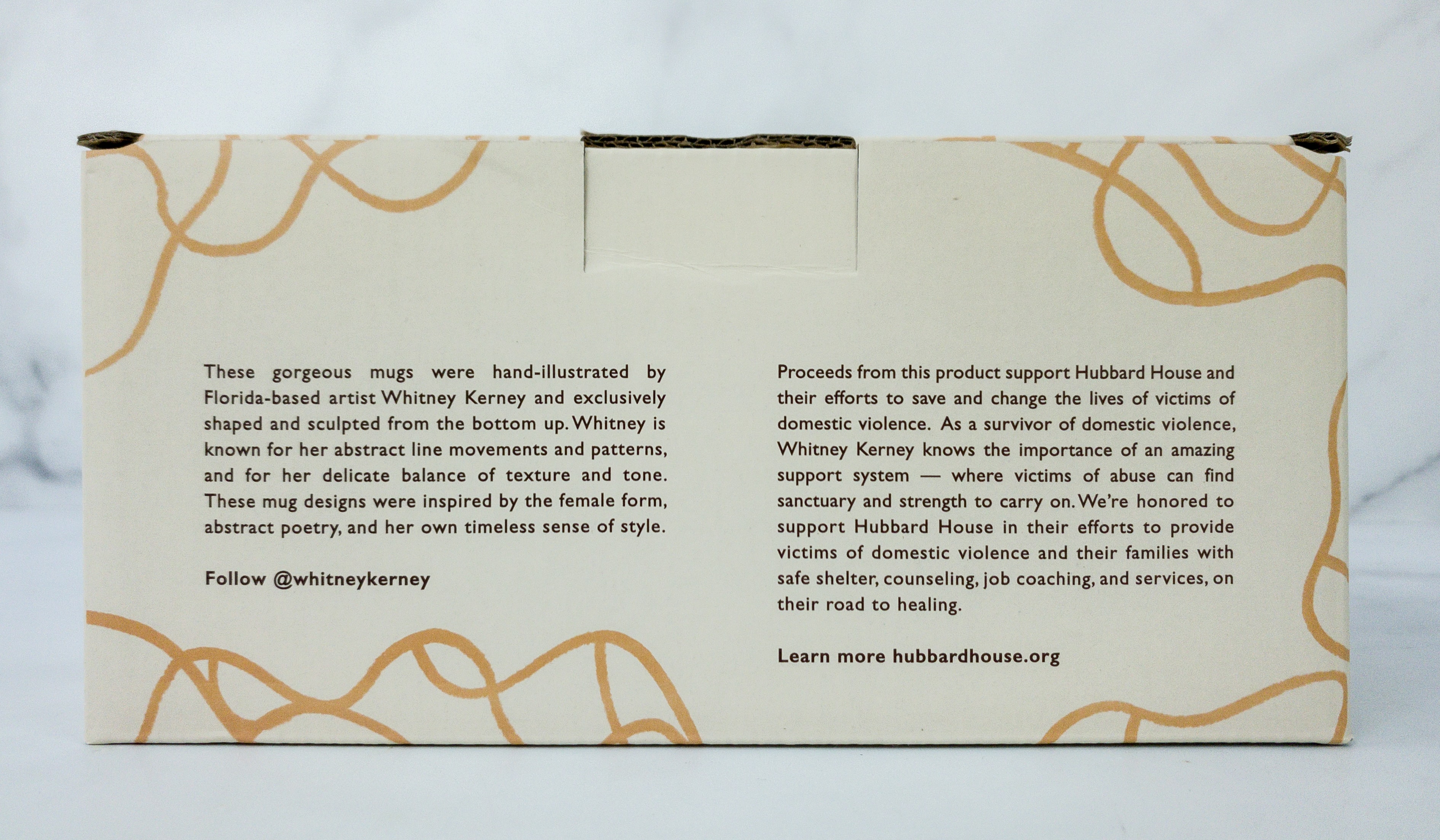 The mugs are designed and hand-illustrated by Florida-based artist, Whitney Kerney.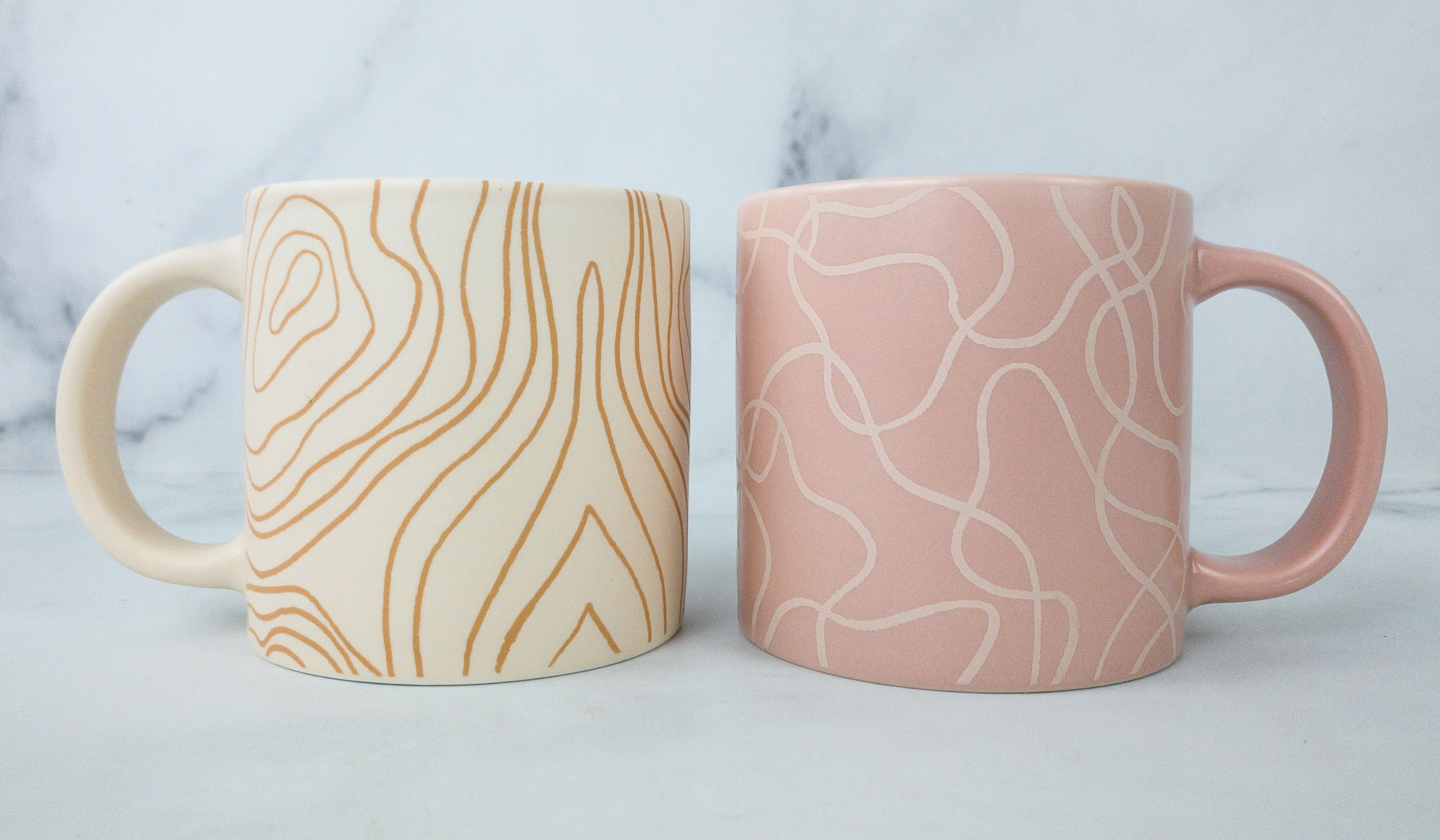 Each box will include two mugs: one featuring a cream and brown color combination, and the other featuring cream and pink. They're so gorgeous!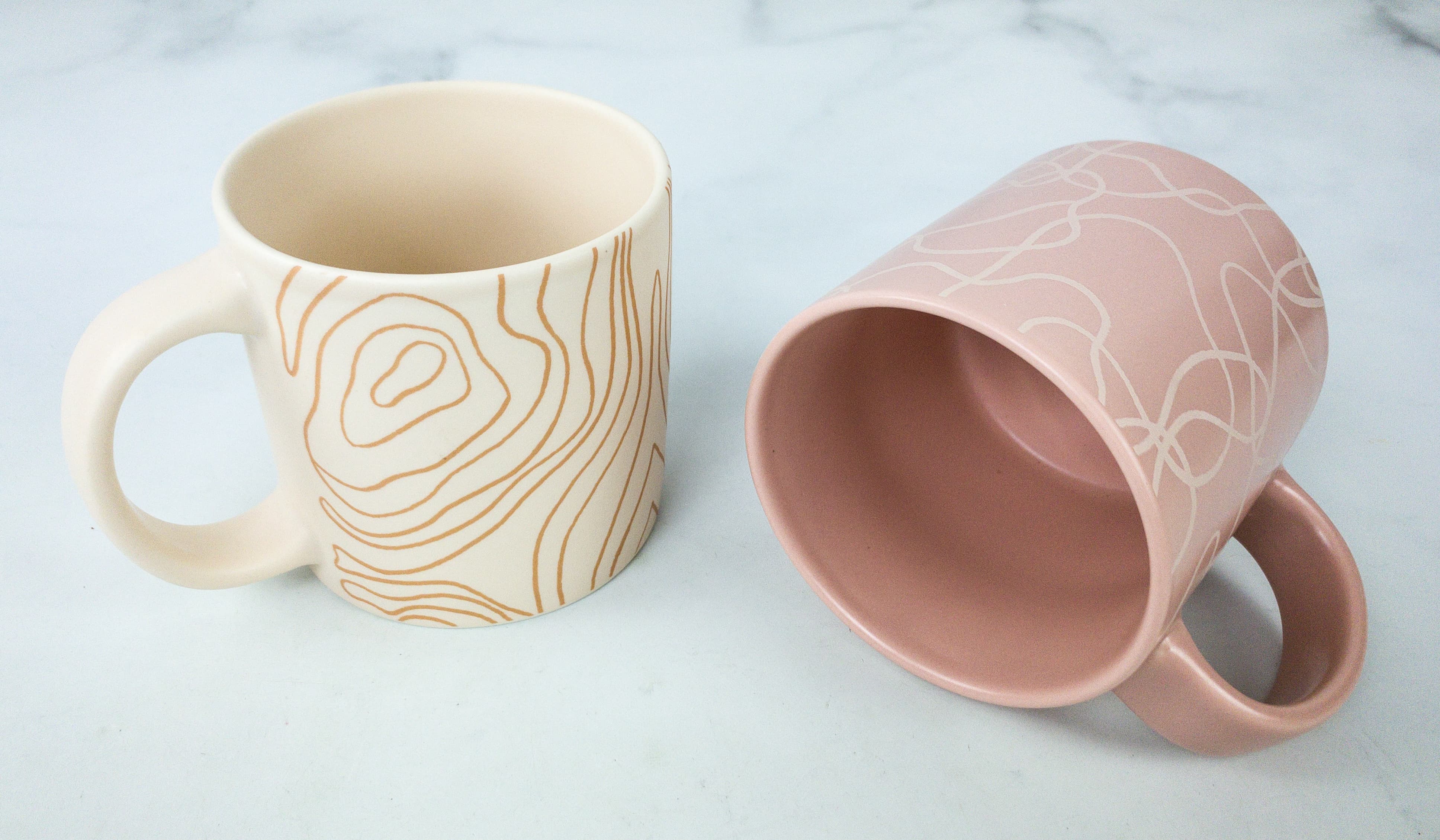 Since there are two mugs, it would be nice to share the other with a friend or a loved one. I like the cream and brown one, which has a design that looks like a tree trunk.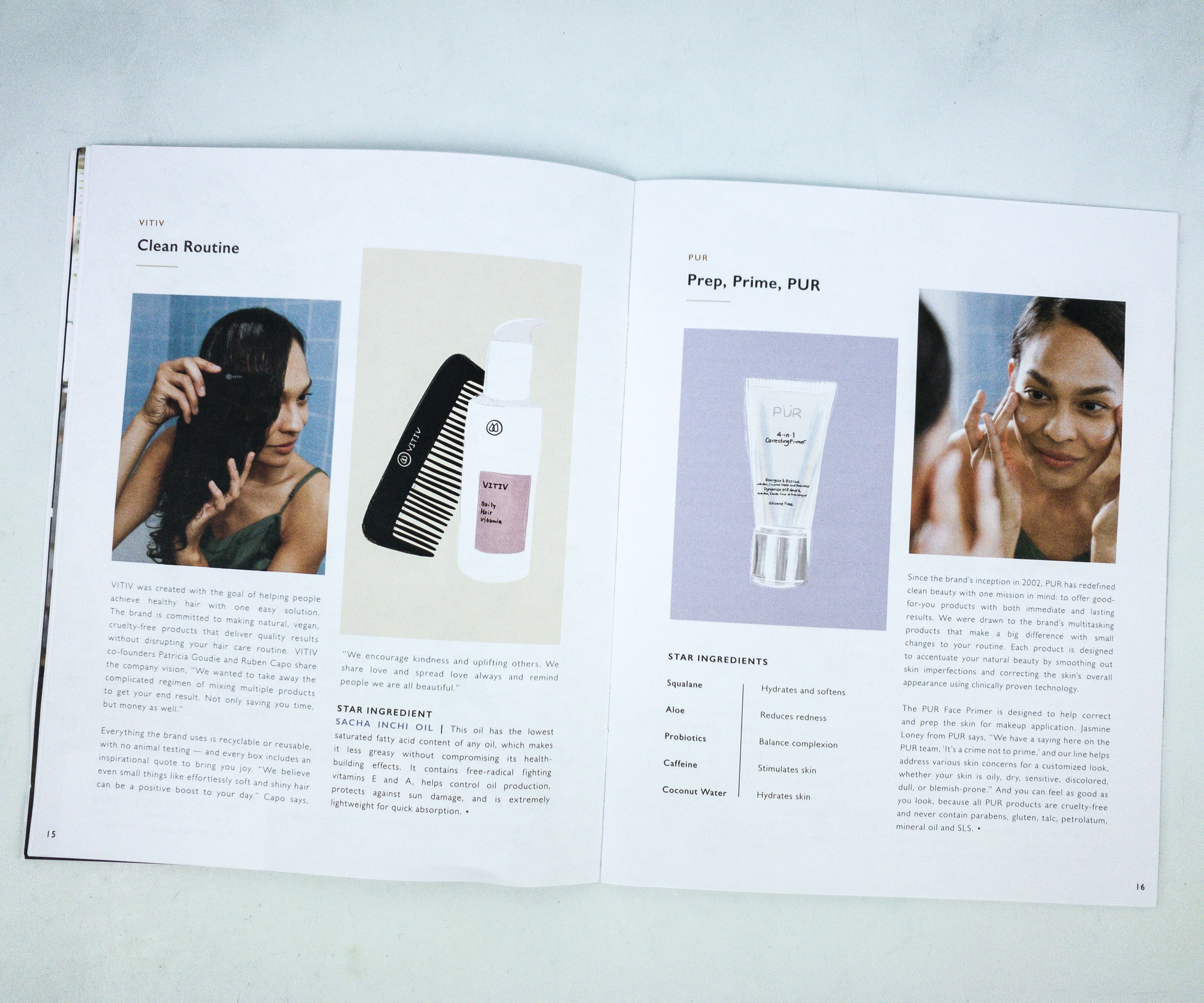 Annual subscribers can choose between Vitiv Daily Hair Vitamin or PUR 4-in-1 Correcting Primer.
Vitiv Daily Hair Vitamin ($30) I picked the daily hair vitamin! I usually have a problem with frizz so I think I need this one. The vitamin is made with chia seed oil and sachi inchi oil that soften, repair and revitalize the hair strands. The vitamin also helps protect the hair from heat.
The next product is from Derma E, a long-time ethical beauty brand that continues to redefine industry standards.
Derma-E Hydrating Night Cream ($23.60) This night cream has a deeply penetrating formula that hydrates the skin with the help of hyaluronic acid, nature's known "moisture magnet."
It's all-natural, 100% vegan, cruelty-free, paraben-free, sulfate-free, mineral oil-free, lanolin-free, gluten-free, and non-GMO. The formula is also enriched with anti-aging antioxidants, vitamins C and E, plus soothing aloe. It helps defend the skin from the harsh effects of the environment and free radicals, and also helps reduce the appearance of wrinkles so you can achieve youthful-looking skin.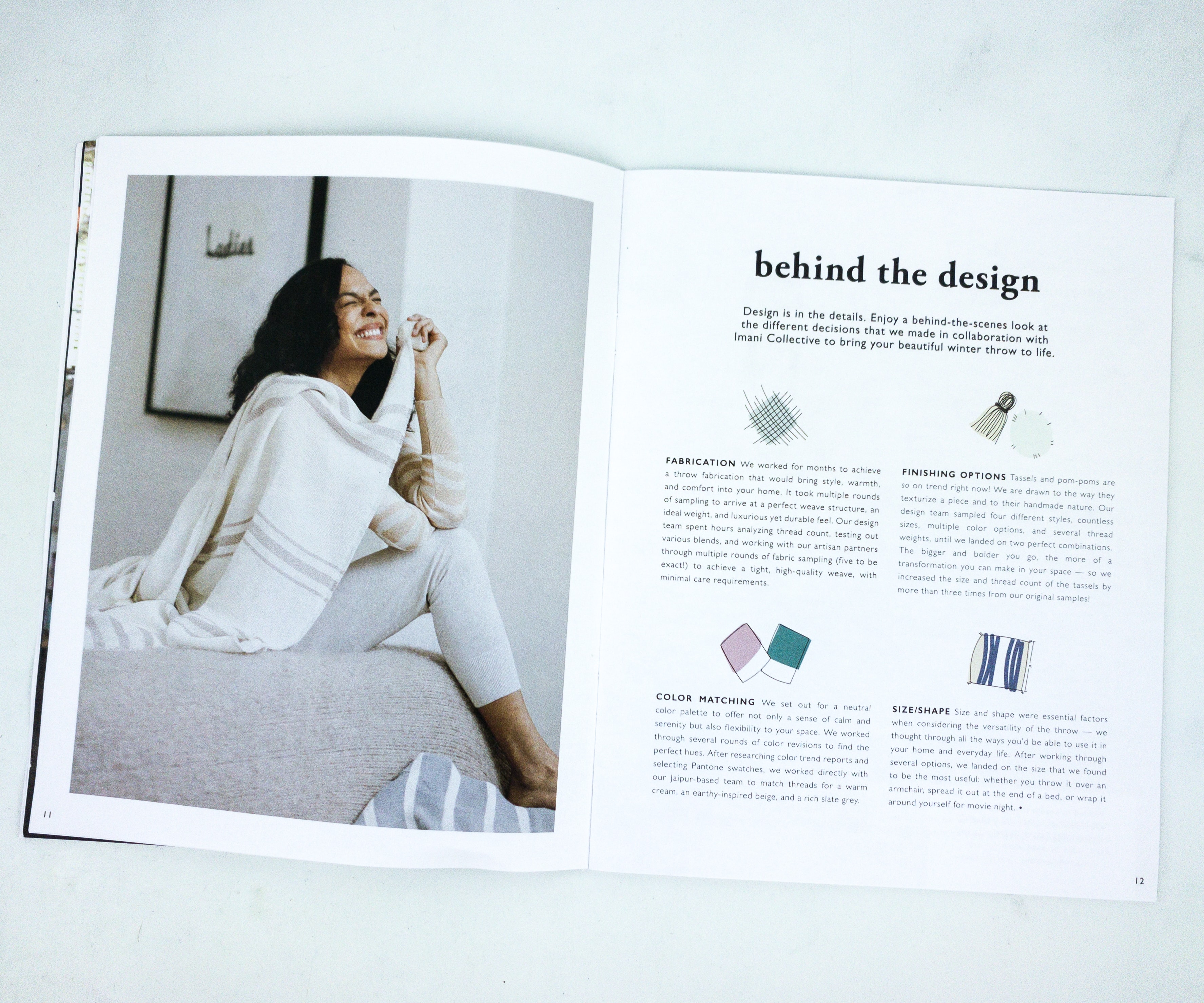 I'm really excited about this one as Causebox collaborated with Imani Collective to produce this amazing item!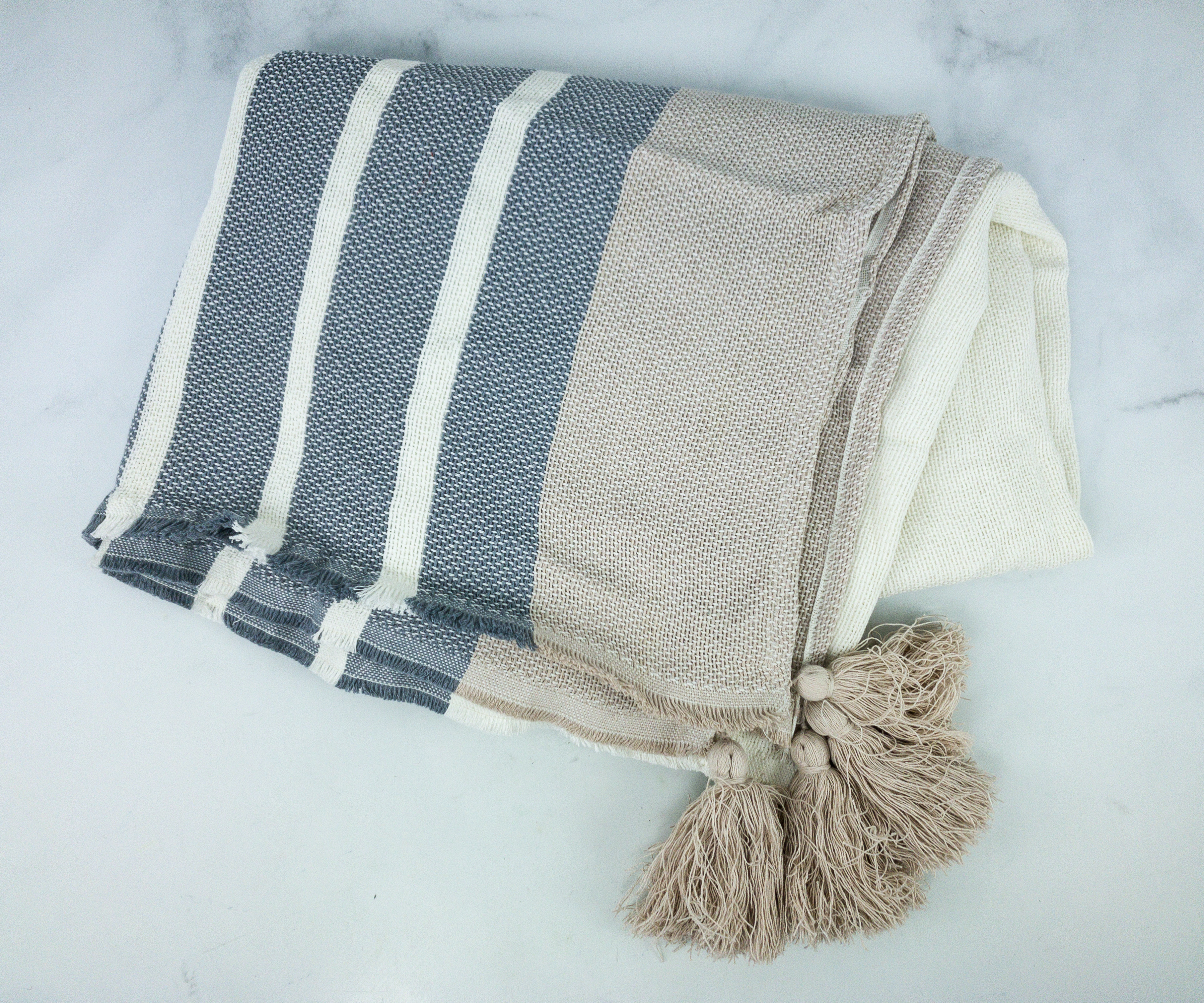 Imani Collective Woven Throw Blanket Slate ($120) It's a woven throw blanket loomed with love by artisans from Jaipur, India. The blanket is made of cotton and annual subscribers can choose from two variations: Cream and Slate. I chose the latter!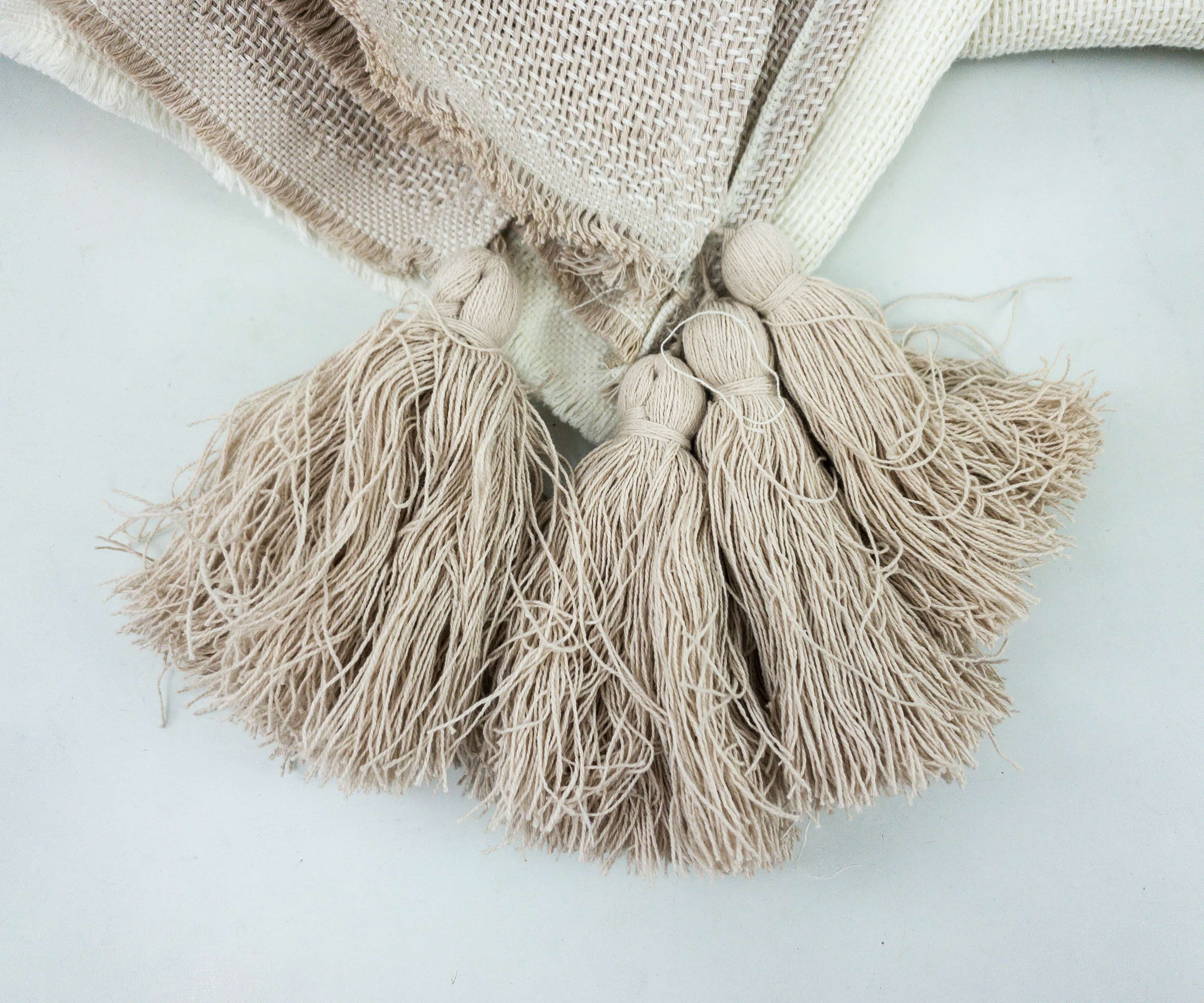 The blanket is finished with amazing details like fringes and tassels.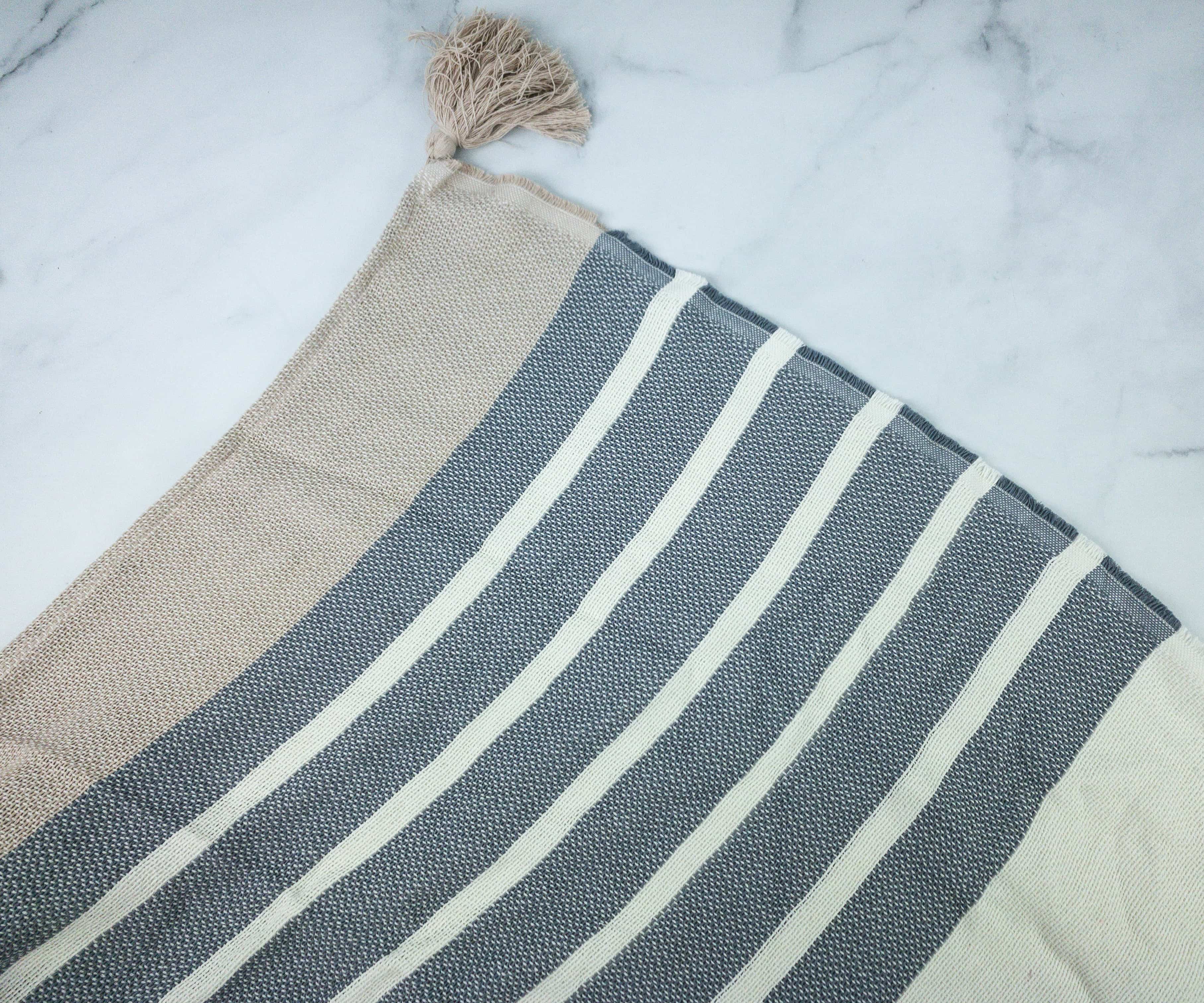 It's a warming blanket, and I love the design as well!
It's really big that I can just drape it over me and I can just fall into a deep and relaxing sleep!
Winter is a really cold season, so CAUSEBOX made it sure that we'll still feel the warmth and comfort during this period! The products are all amazing, especially the beautifully designed blanket, set of mugs, and even the hair clips. I'm also glad I chose the gorgeous spoons because they look amazing and I can use them for special occasions. Also, I love how the box highlights the amazing creators, designers, and artisans that put a lot of effort and love into making these wonderful products. We're excited about the next season's box!
What do you think of the Winter 2019 CAUSEBOX?