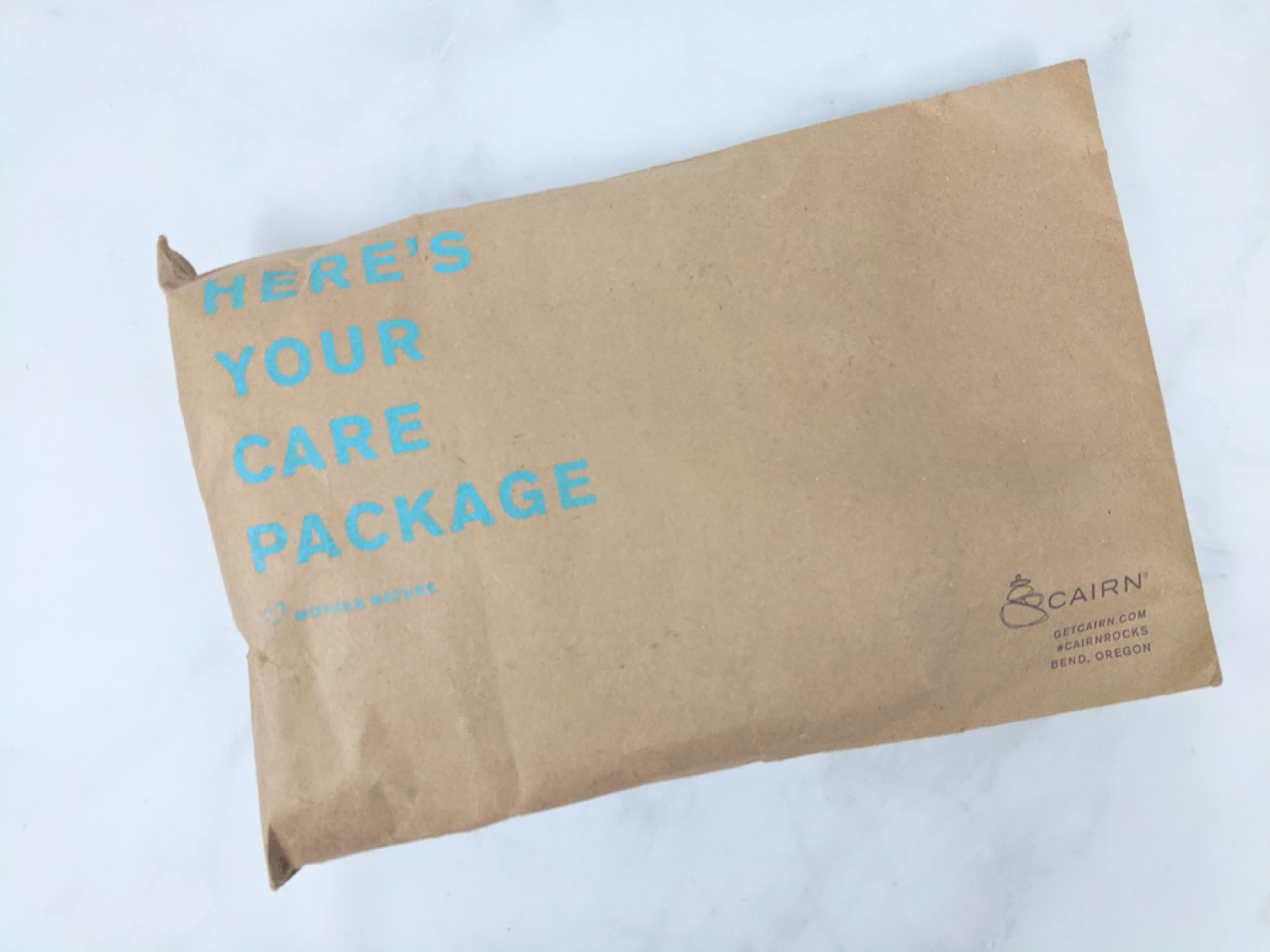 Cairn is a monthly subscription box (or bag!) for those who love spending time in the outdoors. Each month, you can expect to receive 3-6 cool products that will help you enjoy your time in the outdoors even more. Subscriptions cost $29.99 each month, but the cost goes down with longer subscriptions. Shipping is free for US subscribers and $5 to Canada.
Cairn promises that the total retail value of the items in each box will exceed $50, with a mix of gear, apparel, food, skin care, and emergency tools. If you complete the subscriber profile, the box will be curated to best match your outdoor lifestyle. As such, most months will see a variation of boxes, while there may be some months when everyone will get the same thing.
DEAL: Use code HAMMOCK to get the Hammock Collection Box as your first month! See the review of the Hammock Box!
OR Use code TRAILHEAD to get the Trailhead welcome box your first month!  See the review of the Trailhead Box!
OR Use the coupon code MARMOTGOLD OR MARMOTBLACK OR  MARMOTJUNGLE to get this $55 value Marmot Urban Hauler FREE in GOLD, BLACK OR JUNGLE when you subscribe for a 6- or 12-month plan! Valid for a limited time only!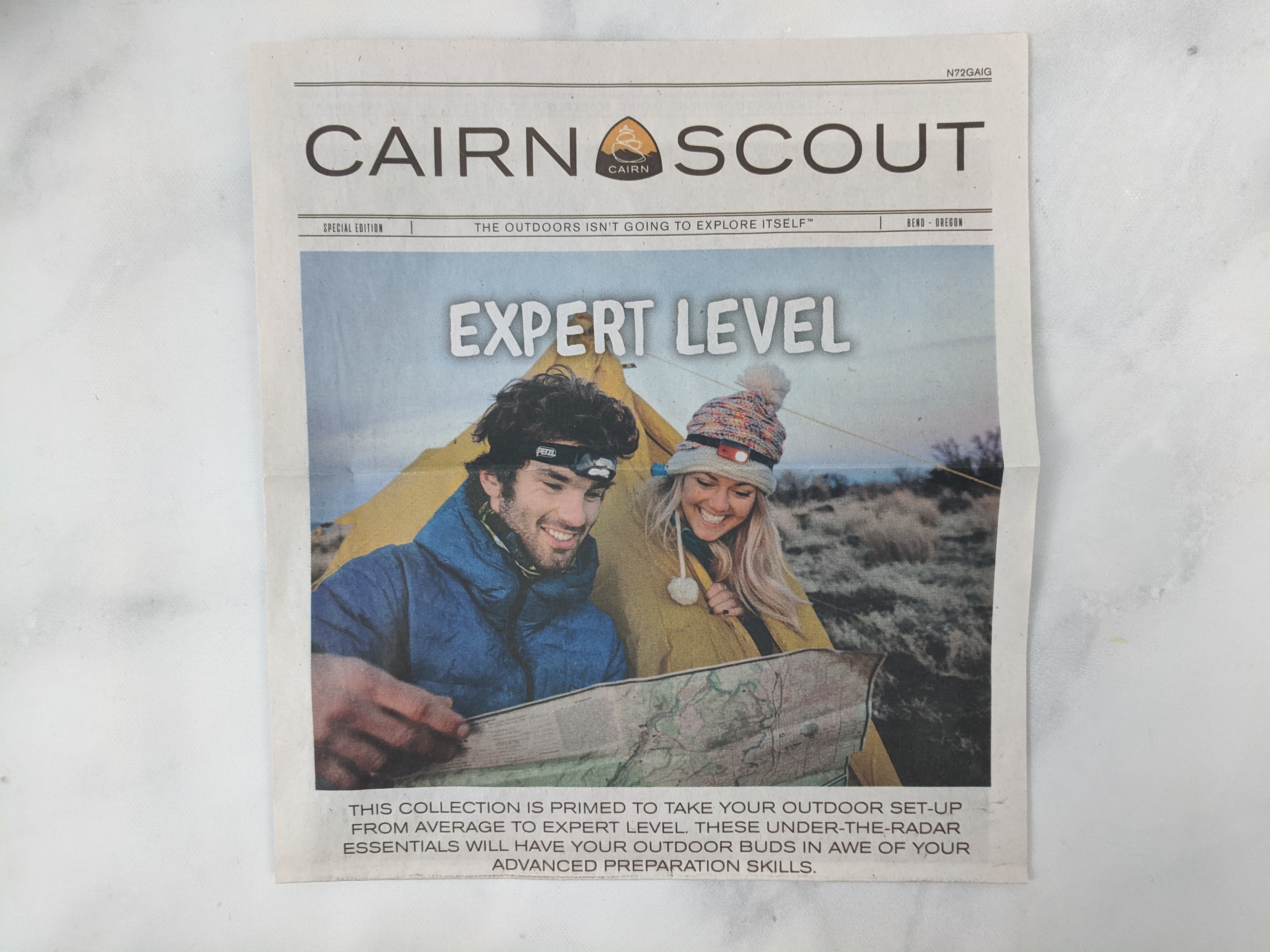 Every month, you receive a newsletter with some information and discount codes to the products included in this month's collection. This month's theme is Expert Level and this collection was created to take your outdoor set-up from average to expert level.
We get full information about the items included in the box.
Every month, some lucky Cairn subscribers will be randomly selected to win an upgrade. All you have to do is being a Cairn Subscriber!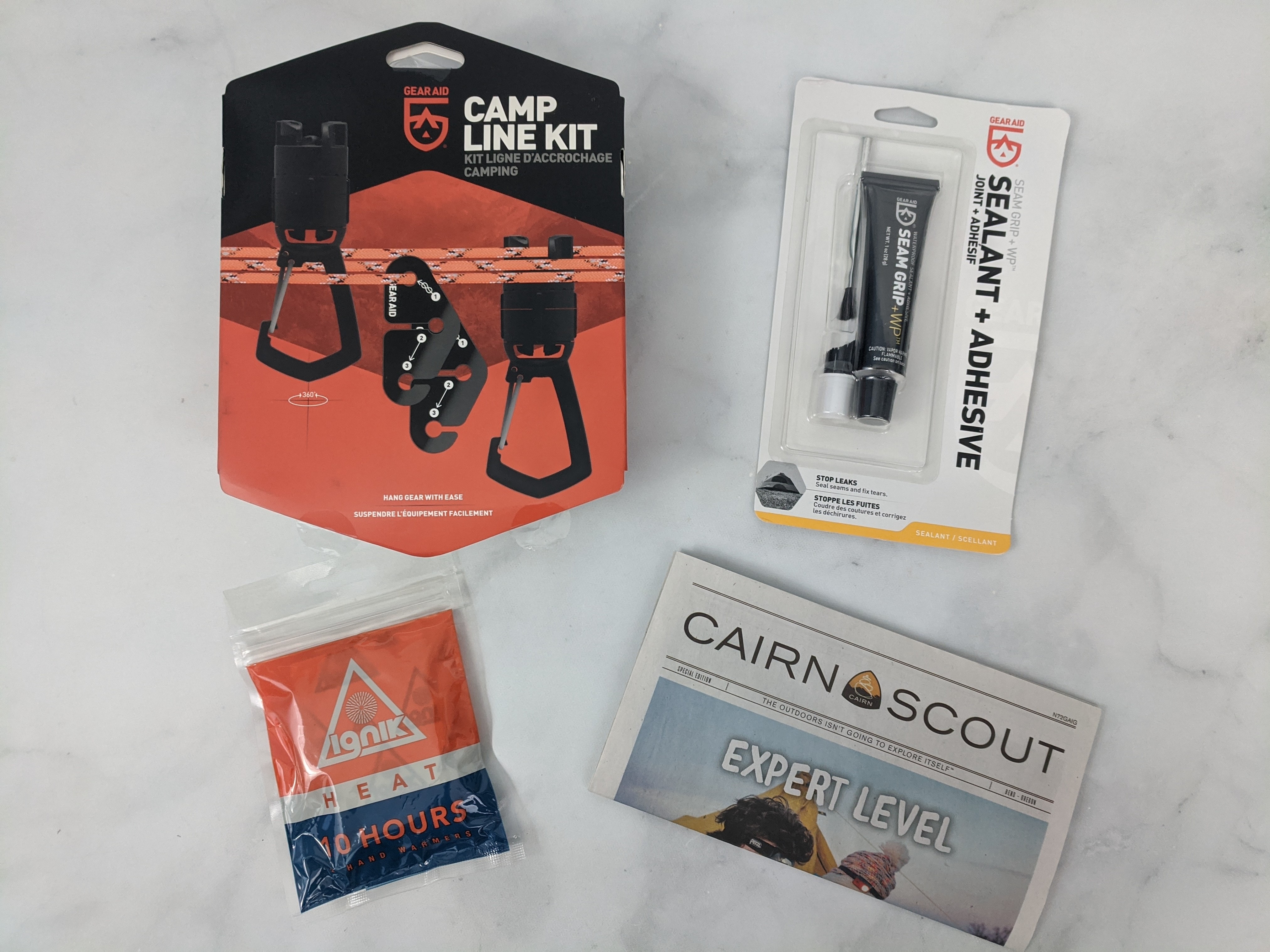 Everything in this month's envelop.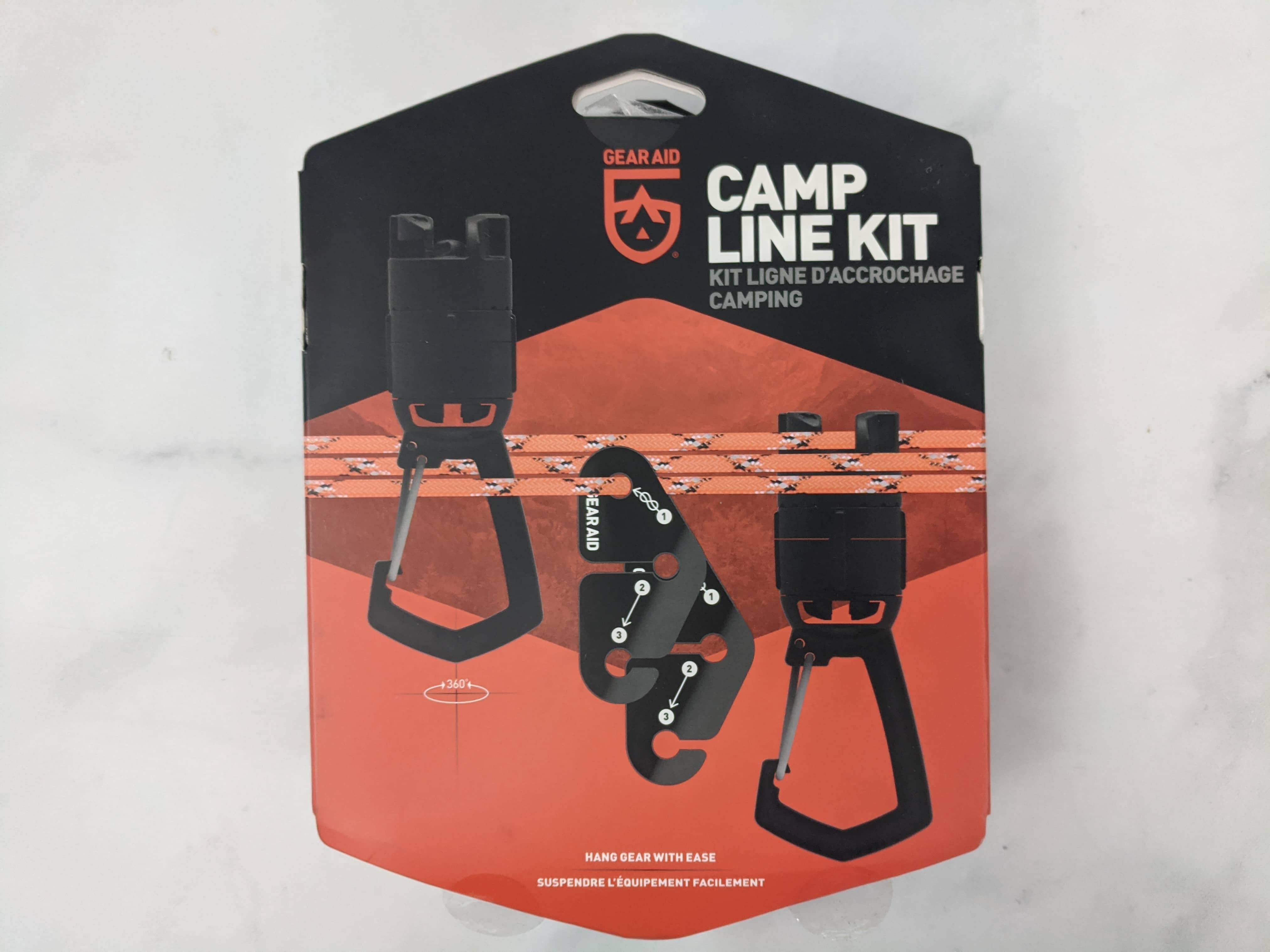 Gear Aid Camp Line Kit The first item is this Camp Line Kit to hanging and drying gear. This is a cool kit as you can use it for so many things without hurting a tree or without any weird contraption.
This line is quite practical to dry towels, shoes, and clothes as well as backpacks weighing up to 25lbs. Do not tear the package when opening, the instruction manual is on the inside of the package.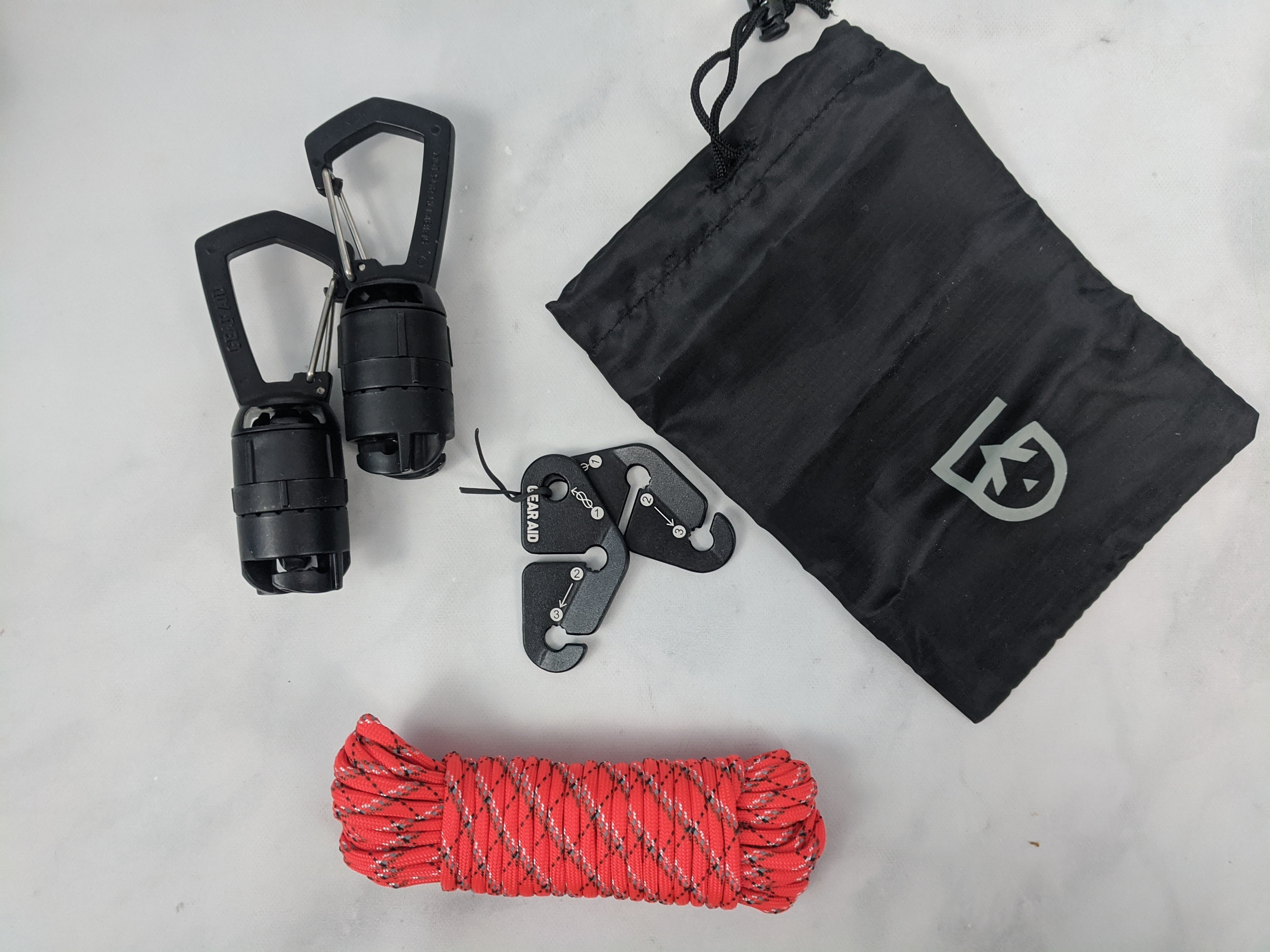 The kit contains 33ft of reflective 550 paracord, 2 line tensioners, 2 camp carabiners, and 1 storage bag.
The camp carabiner makes it easy to hang anything you want.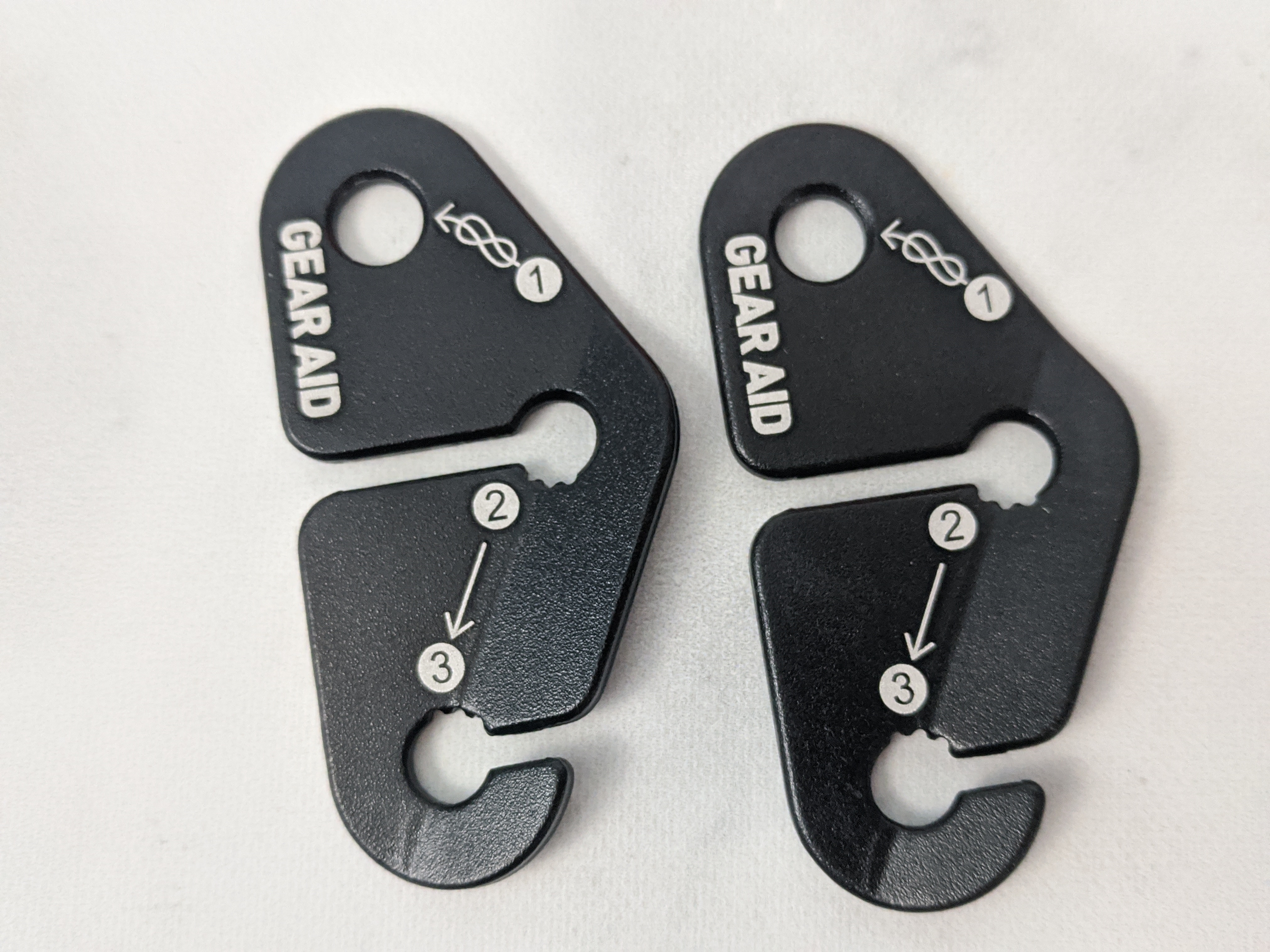 The line tensioners have numbers to know where the cord has to go through to hold it tight.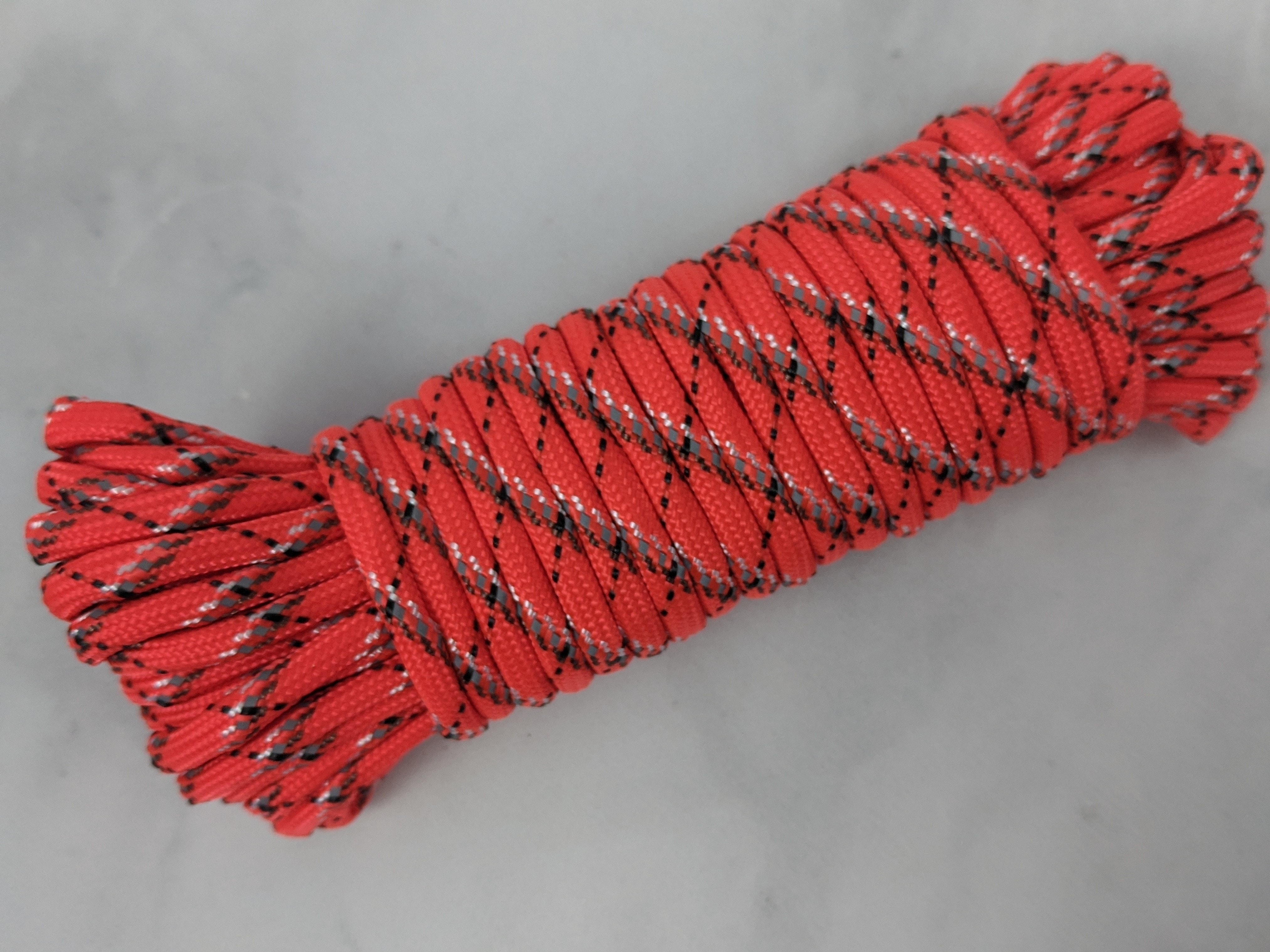 The cord is neon orange and reflective so you can easily see it, even at night (with a lamp) so you won't walk straight on it.
Gear Aid Seam Grip + WP Sealant + Adhesive. This waterproof adhesive will stop leaks and fix tears.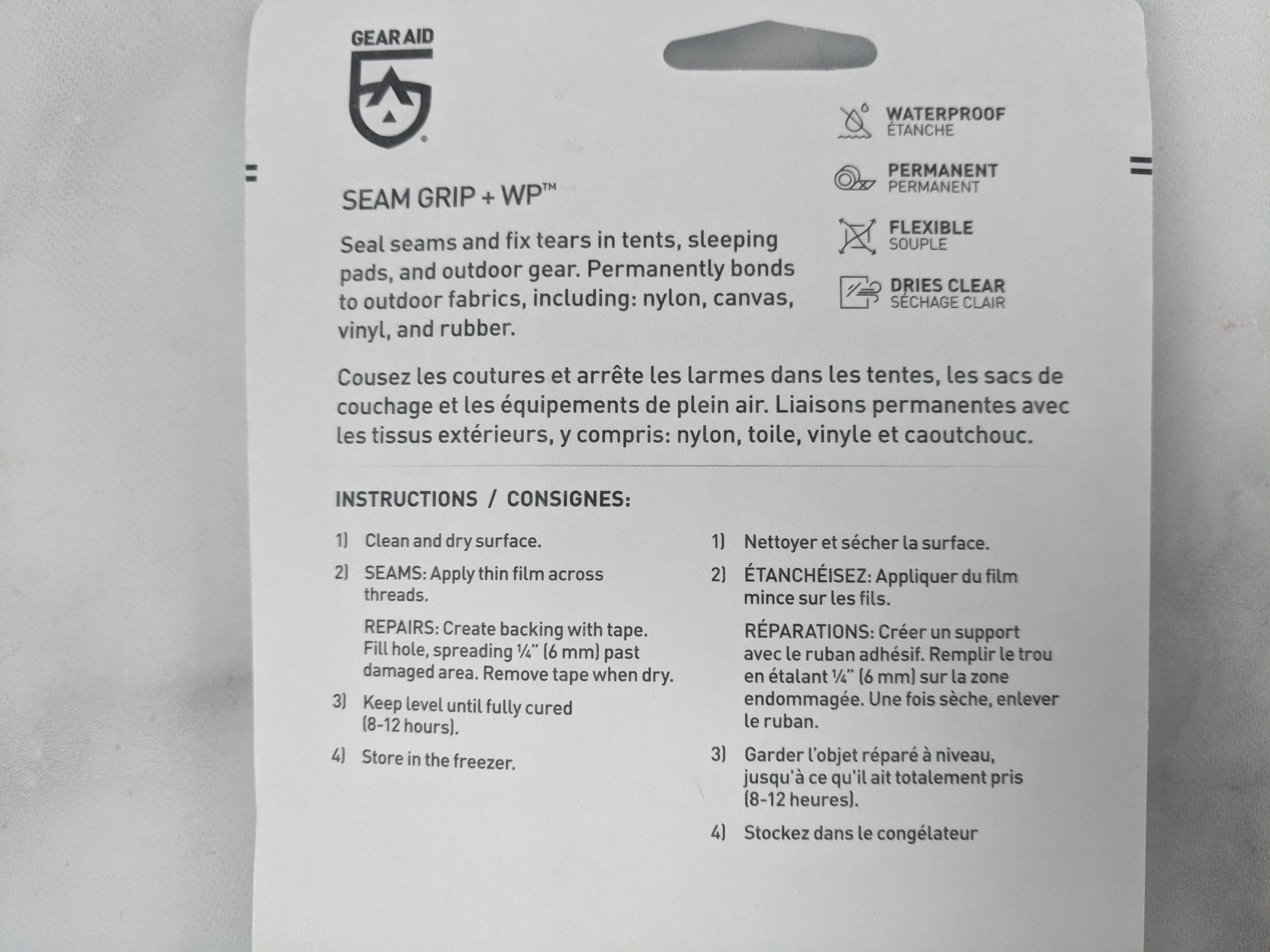 It will seal seams and fix tears in tents, sleeping pads, and anything including nylon, canvas, vinyl, and rubber.
It comes with a waterproof sealant tube, a screw-on brush, and a small paintbrush. It says on the box that it can take up to 12 hours to fully cure, so this is not something for emergency repairs.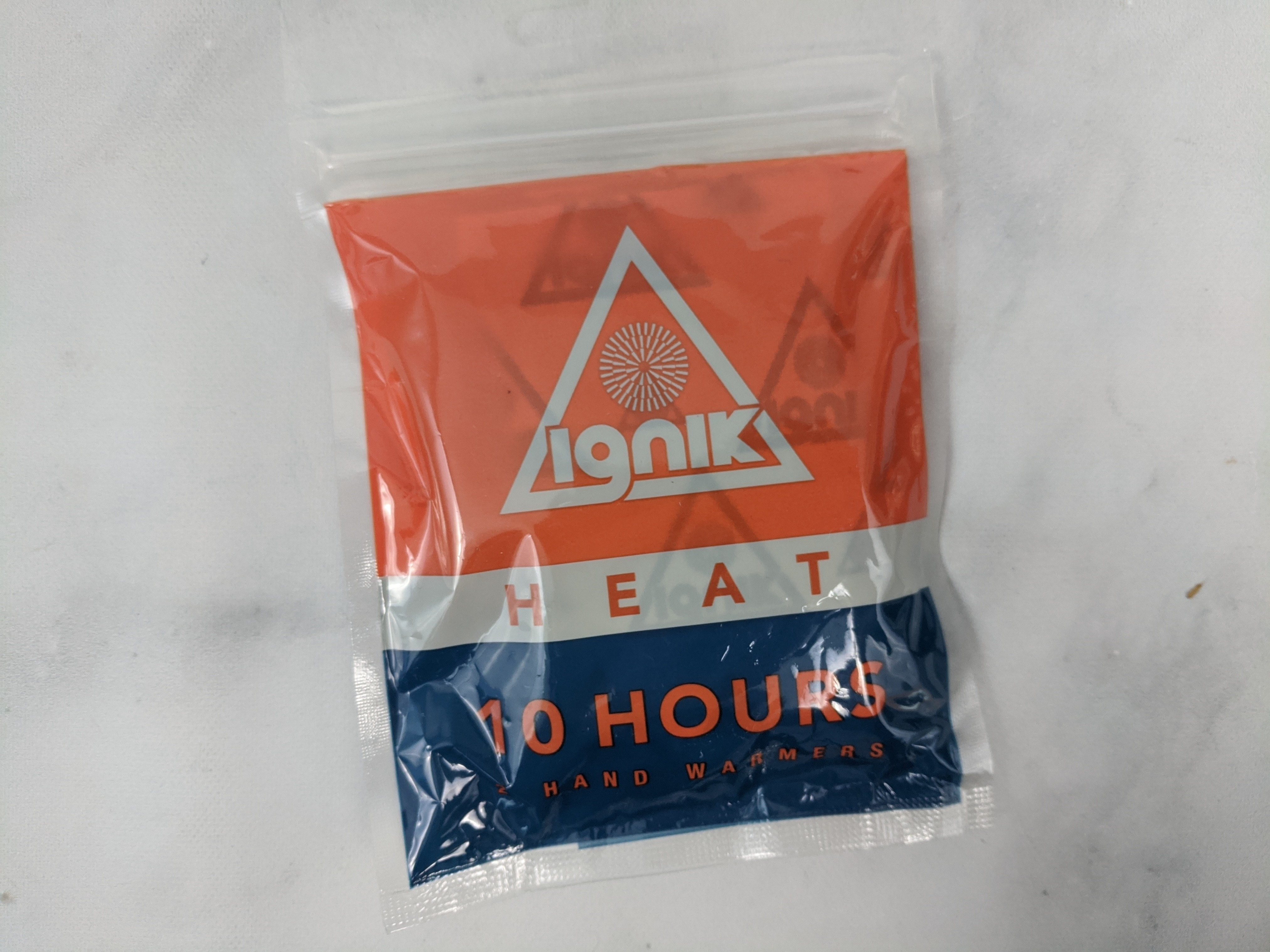 Ignik Heat Hand Warmers. These hand warmers can provide up to 10 hours of heat. The package comes with two hand warmers and is resealable. They are air-activated, so only open the bag when you need them. The bag is resealable so if you are careful, you can put the hand warmers back in it and push the air out so they can be reused at a later time.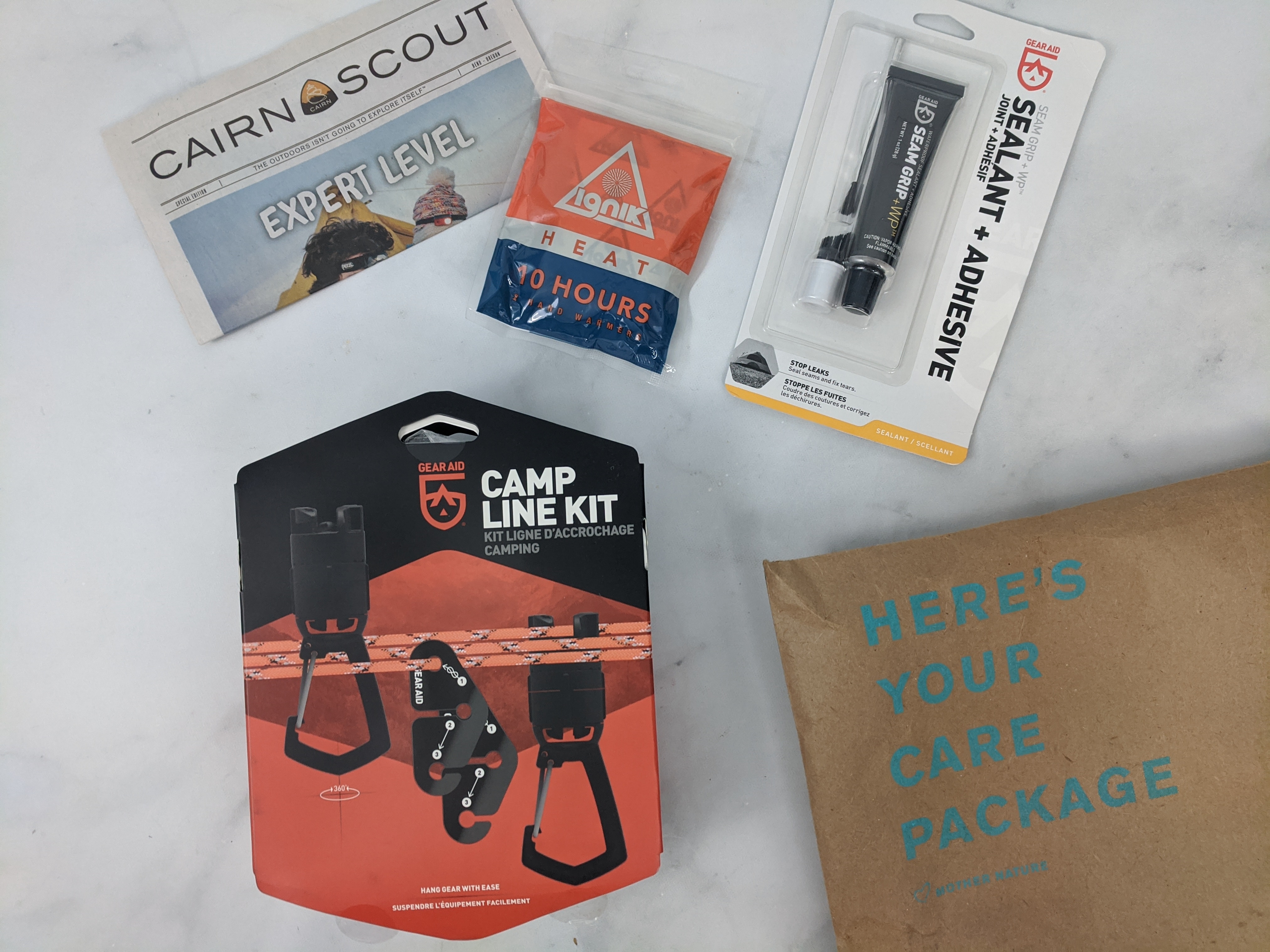 I liked this box. The hand warmers will come in handy as the winter is far from being over. The camp line kit is such a great idea, you can use it to hang a tarp and protect your fire from dominant winds and create a cozy place in winter, or just to hang your stuff away from animals or to let them dry. And a sealant is always quite useful to have around.
What did you think of this month's Cairn box?