Wohven is a monthly t-shirt subscription service that sends you premium quality t-shirts at a fraction of the retail price.
The blank t-shirt subscription starts at just $9 a month and you can choose one of 12 colors (charcoal, light gray, navy, black, white, royal, brown, red, pewter, olive, mint, cardinal, or midnight), or let them surprise you. For $10 a month, they will make your t-shirt a v-neck (same color choices but no olive, mint, cardinal, or midnight) and for $13 a month, they will send you a graphic tee every month ($14 for a graphic v-neck). Go up to a long-sleeve graphic tee for $18 per month. Sizes range from small to XXL.
This is a review of the $13 per month women's graphic tee option.
DEAL: Get 30% off of your first month with coupon code HELLOSUB30.
The shirts always come in a simple reusable plastic mailer.
Each mailer includes an information sheet that contains the designer of this month's shirt. Josh Warren is a well-known illustrator/designer known for his minimal and eye-catching visual designs who is residing in Los Angeles, CA.
Featured at the back of the sheet is this month's Wohven shirt exclusive design.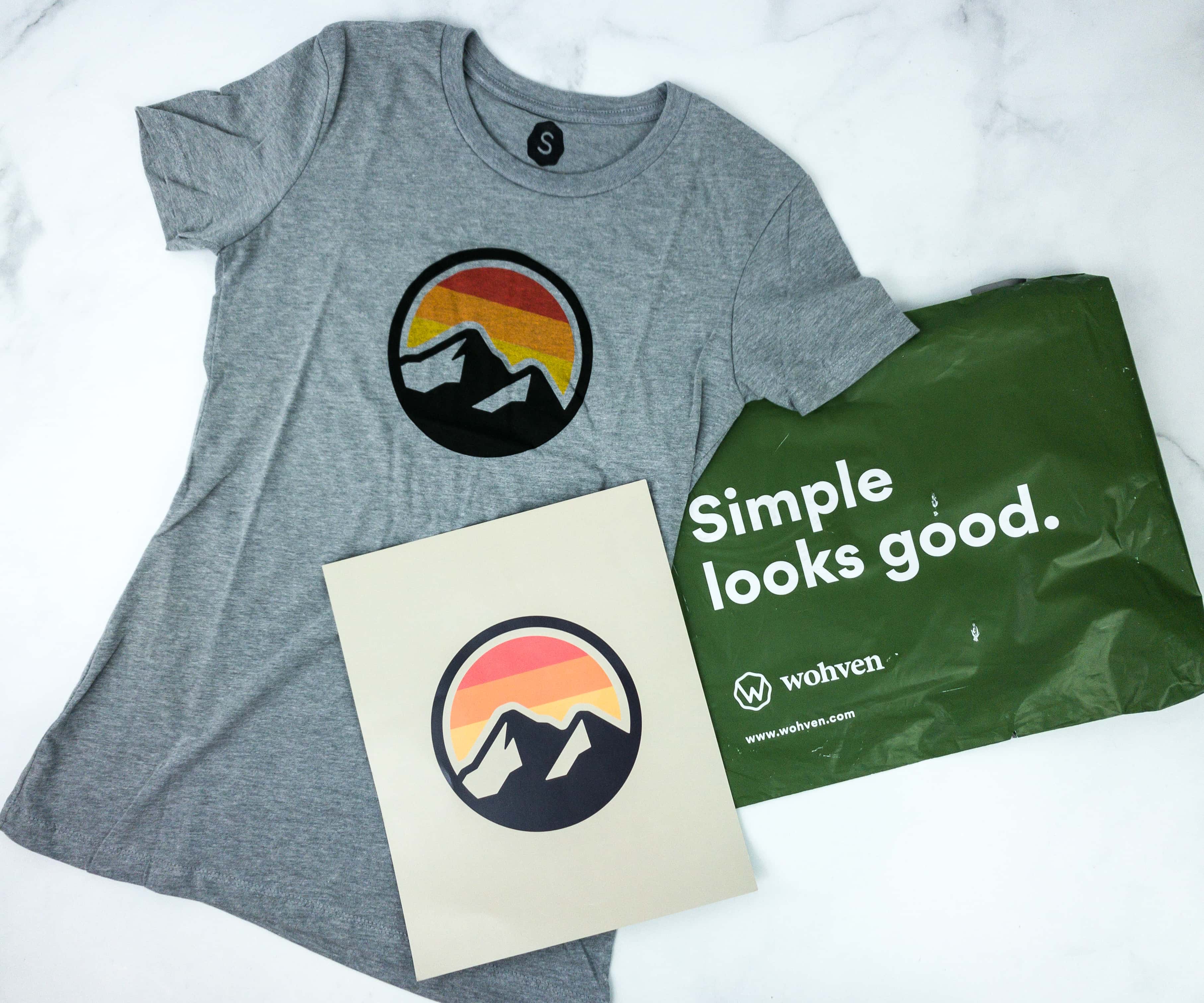 Everything in my December 2019 package!
For women, this month's shirt comes in gray. The shirt is made from premium quality cotton and polyester materials that promises a perfect and comfy fit.
The cool gray shirt comes features two mountain peaks, and the back shows us different shades of orange which gives us the feeling that the sun is setting on the background. Also, the gray base color makes the whole picture look like it's turning dark and the night time is coming!
It's another impressive shirt, and I love the base color that really complemented the featured design this month. The image may be small or it shows not that much but it tells us a lot, not just about the maker, but also, what made him do it and how great he is with his craft. The shirt is also made with superb material, making it one of my go-to attires when I want to feel comfy but still trendy!
What do you think of Wohven's Women Tees?