TokyoTreat is a monthly Japanese snack and candy subscription box that is shipped directly from Japan.
There are two box sizes — Classic ($25) and Premium ($35). As always, shipping is free worldwide.
The Classic box includes 12 items altogether — 4 popular snacks, 4 share packs (new), 2 dagashi snacks, 1 DIY candy kit, and 1 kinosei (quirky) snack.
The Premium box includes 17 items — 5 popular snacks, 1 party pack (new), 4 share packs (new), 3 dagashi snacks, 1 anime snack (new), 1 DIY candy kit, 1 kinosei snack, 1 drink.
This is a review of the Premium box.
DEAL: Use coupon code HELLOSUBS at checkout to save 10% ($3.50) on your first box!

There's a booklet on top of the items.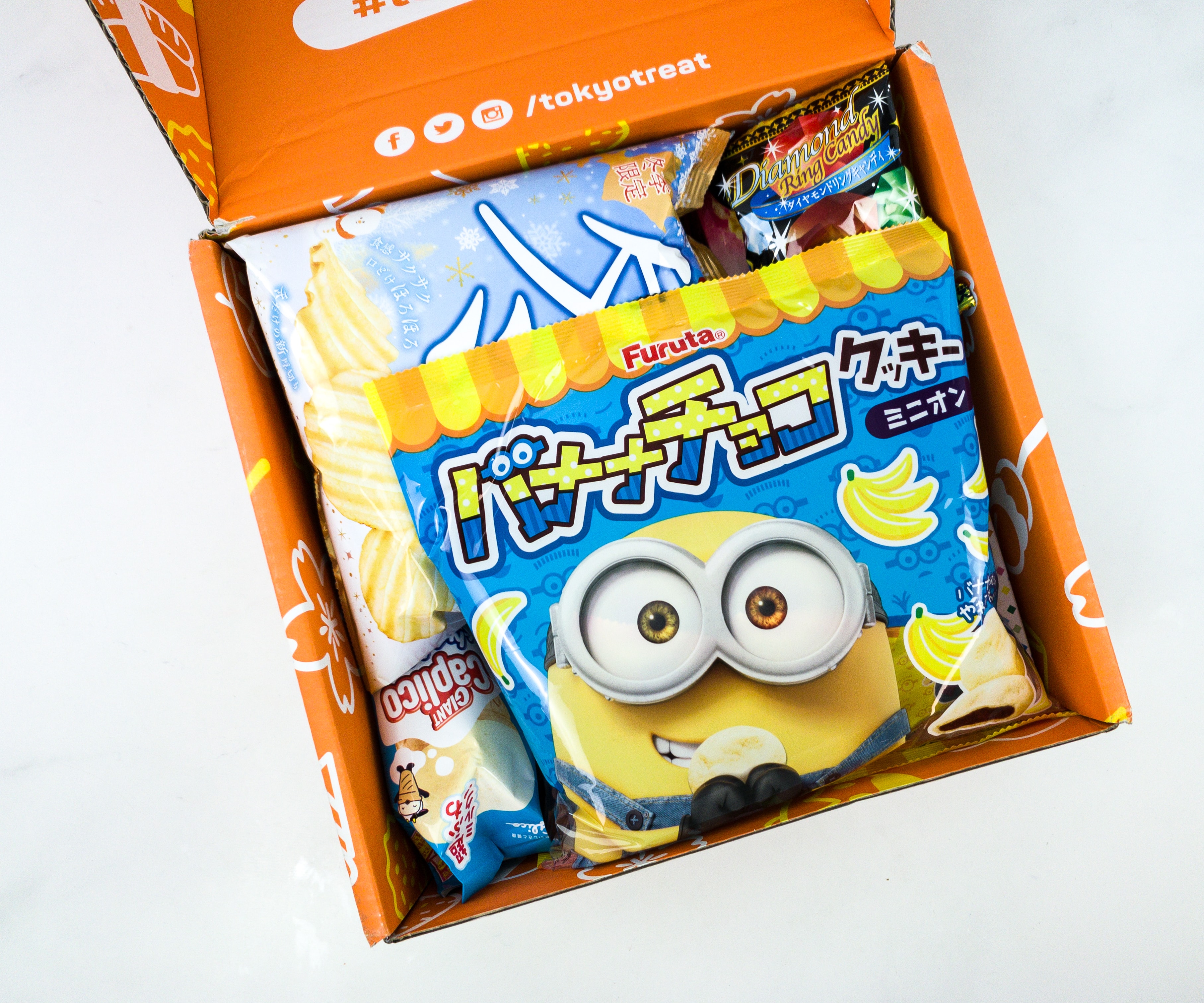 The box is jampacked, as always!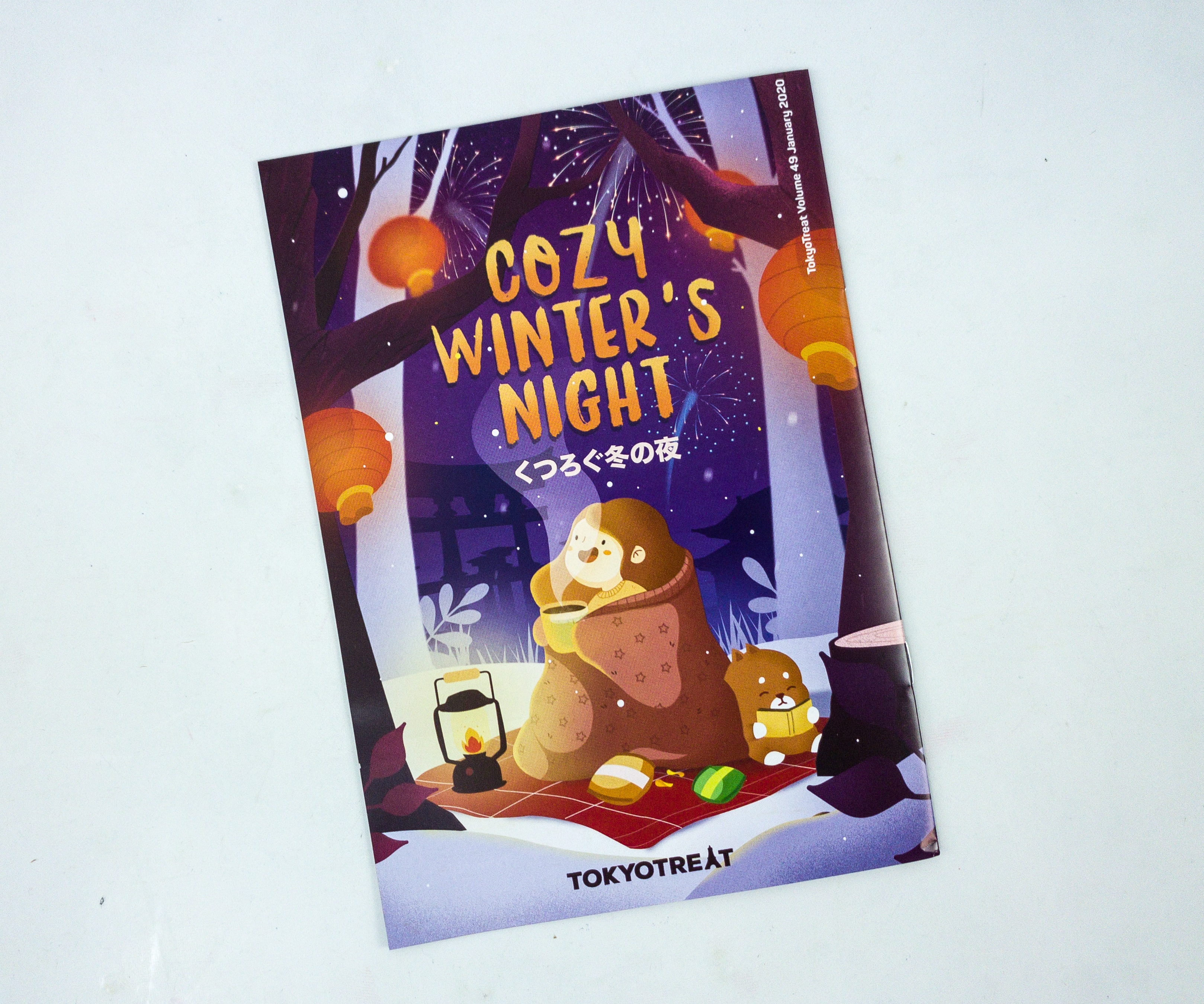 This month's theme is COZY WINTER'S NIGHT.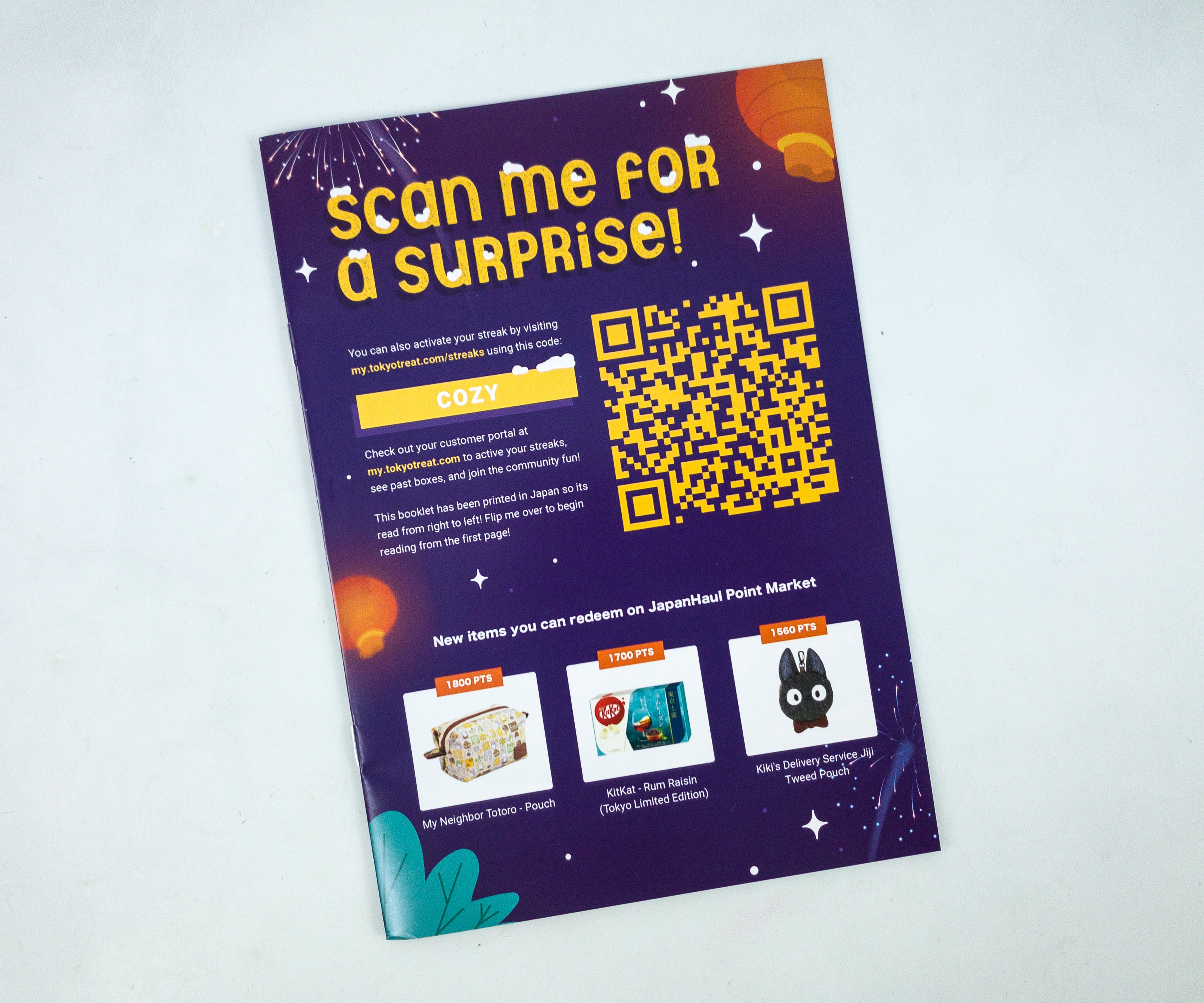 On the flip side, there's a QR code to activate your streak for your rewards.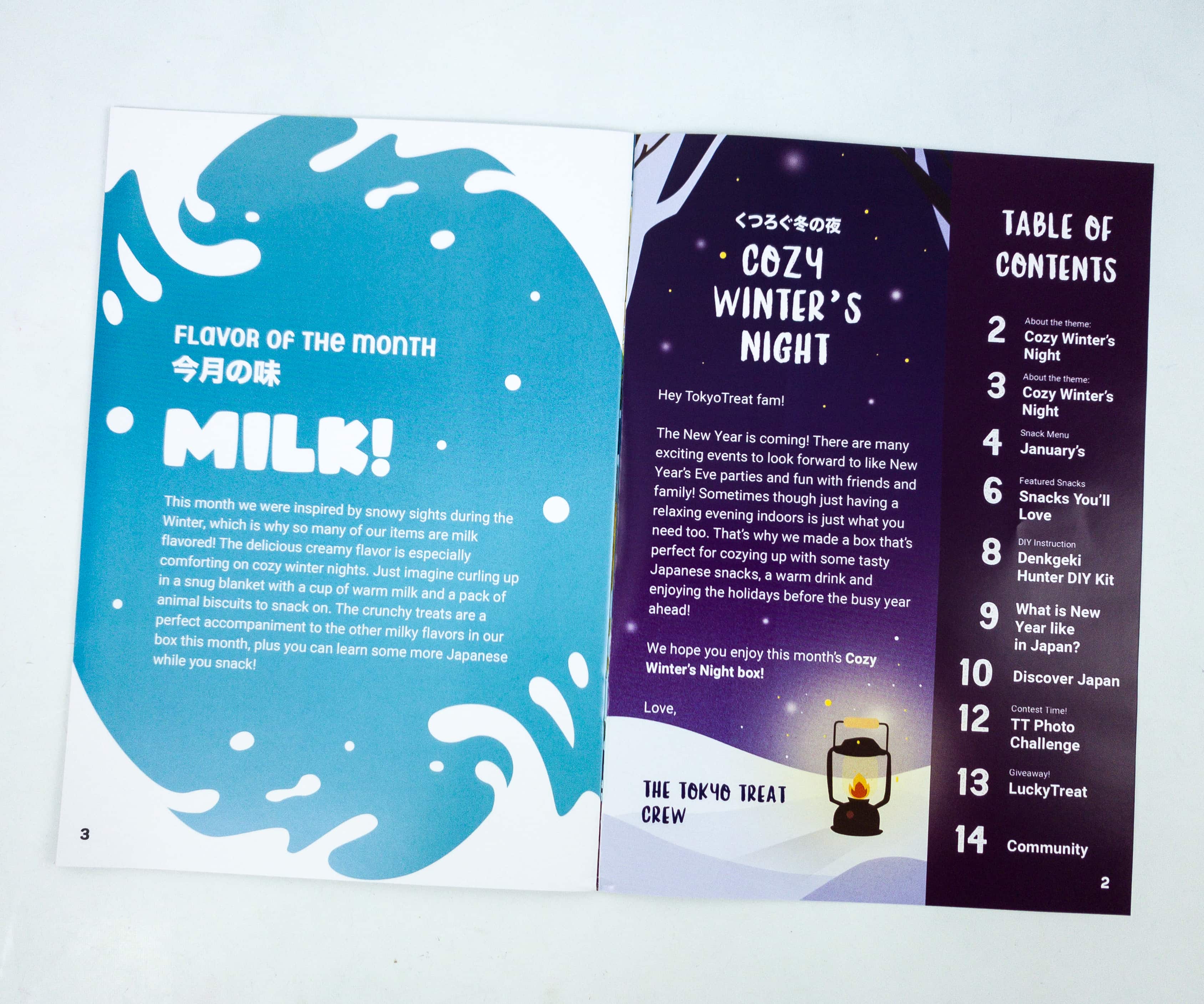 The booklet contains everything you need to know about the items inside the box. There's also a message from the Tokyo Treat Crew.
Of course, there's a list of the items we should be expecting in this month's box.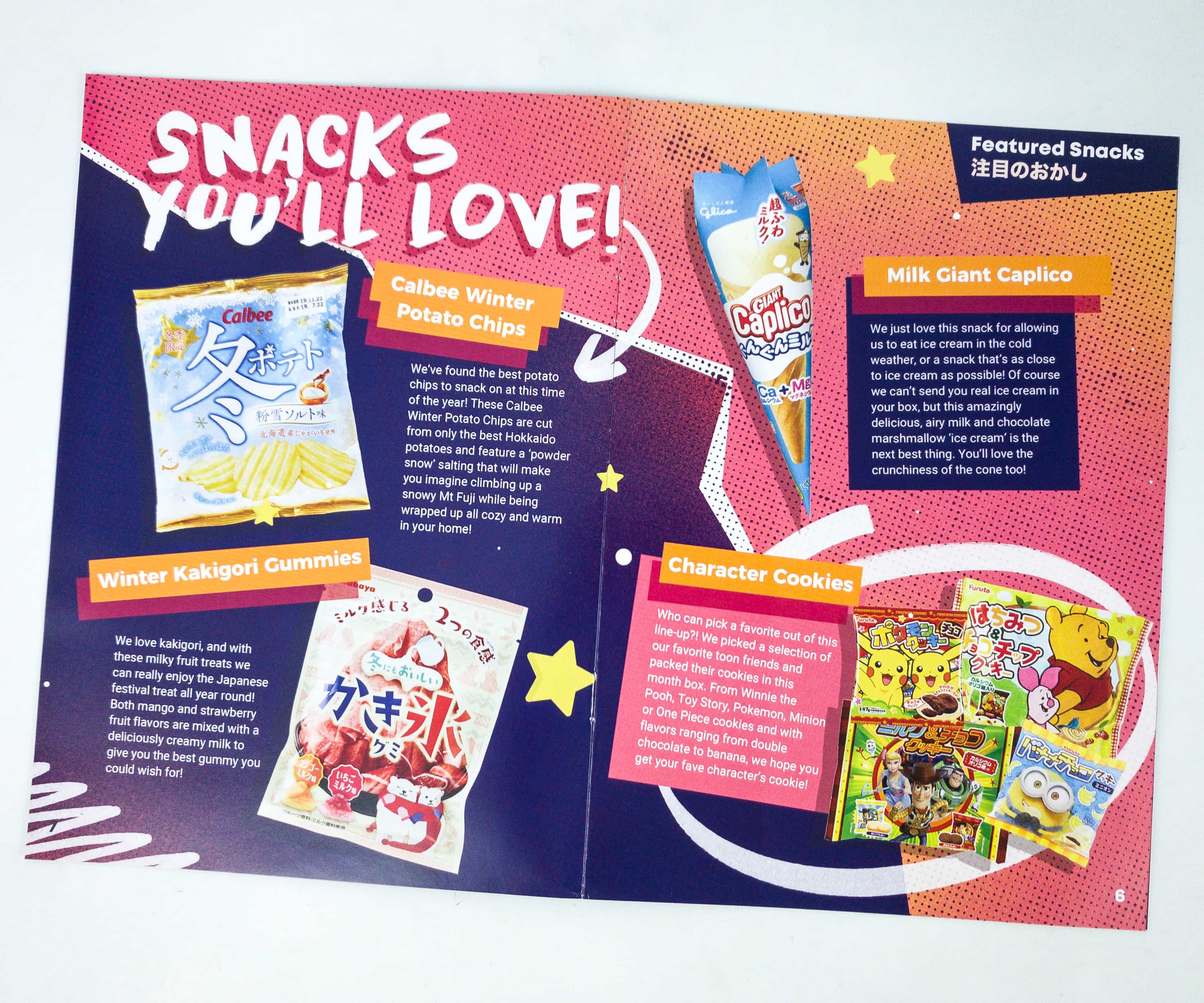 This month's featured snacks are Calbee Winter Potato Chips, Winter Kakigori Gummies, Milk Giant Caplico, and Character Cookies!
There's also an article about how they celebrate New Year in Japan. The other page lists the instructions for making DIY Denkgeki Hunter!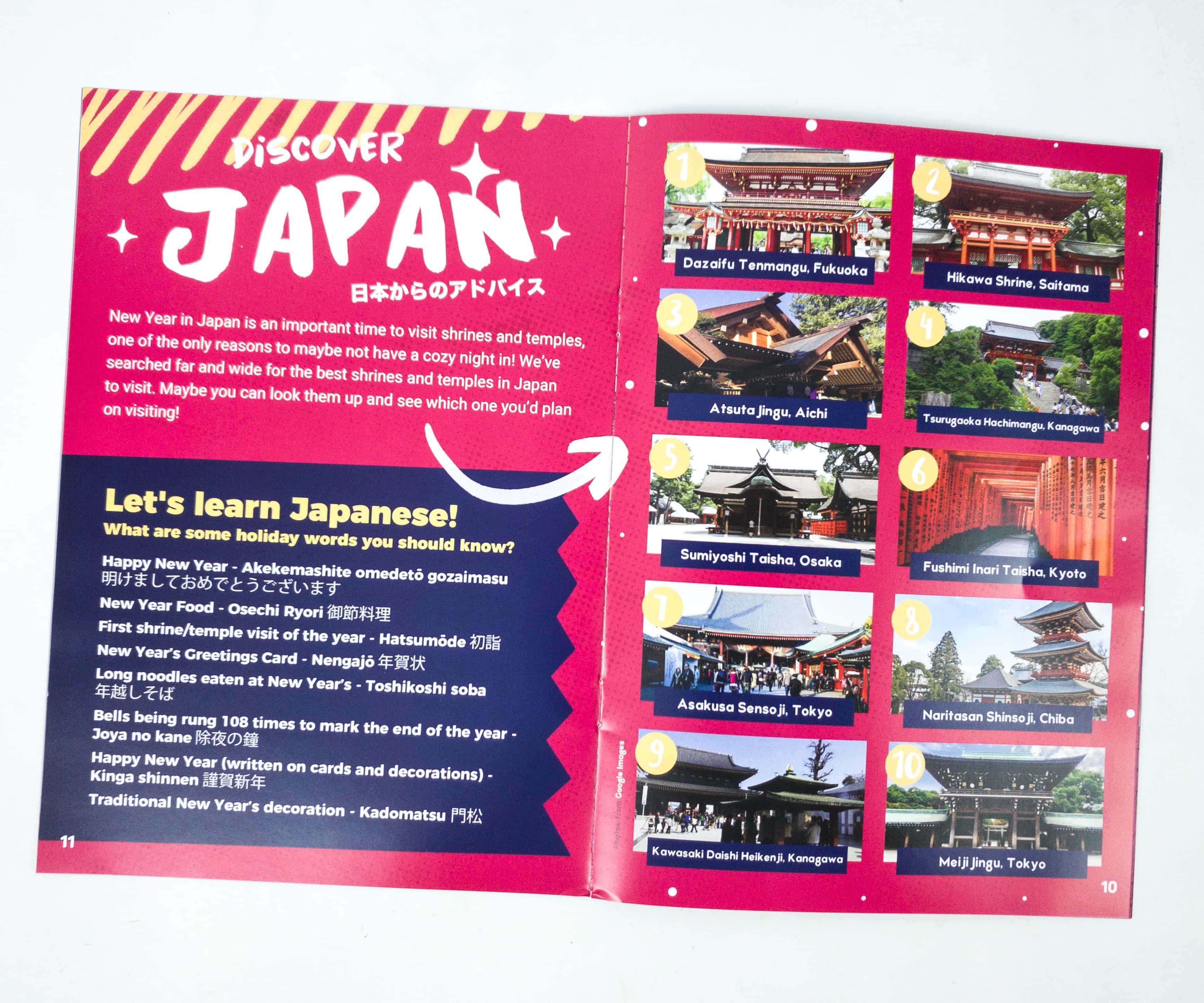 Discover Japan page shares a bit of Japan's local culture every month. This month, they gave us a list of shrines and temples to visit in Japan, plus a list of Japanese words related to the holidays.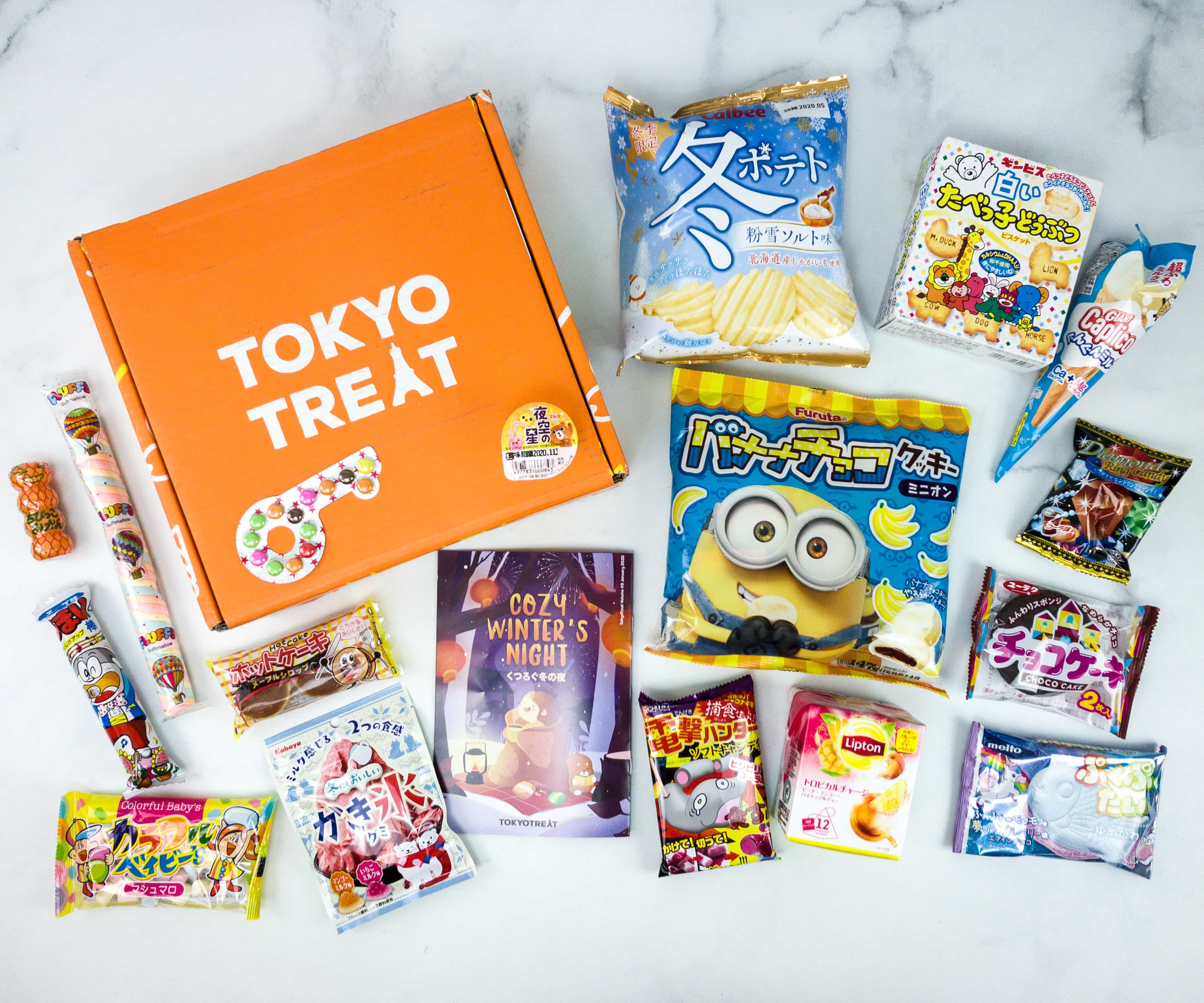 Everything inside the box!
Calbee Winter Potato Chips. These ridged potato chips are a level up from the regular ones because they're made with premium Hokkaido potatoes and dusted with a helping of snow-like salt. We can't help but enjoy the simplicity and deliciousness of this snack.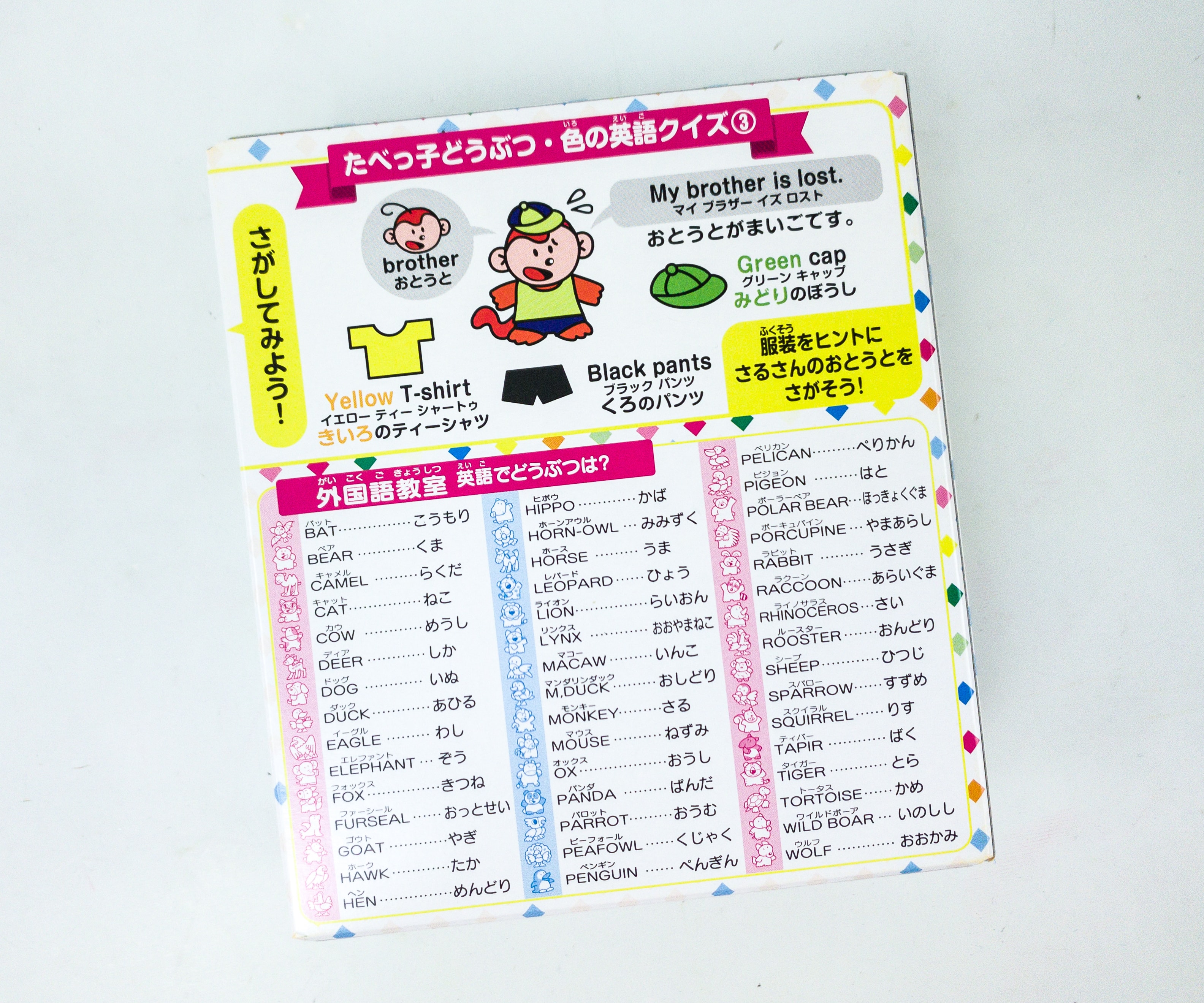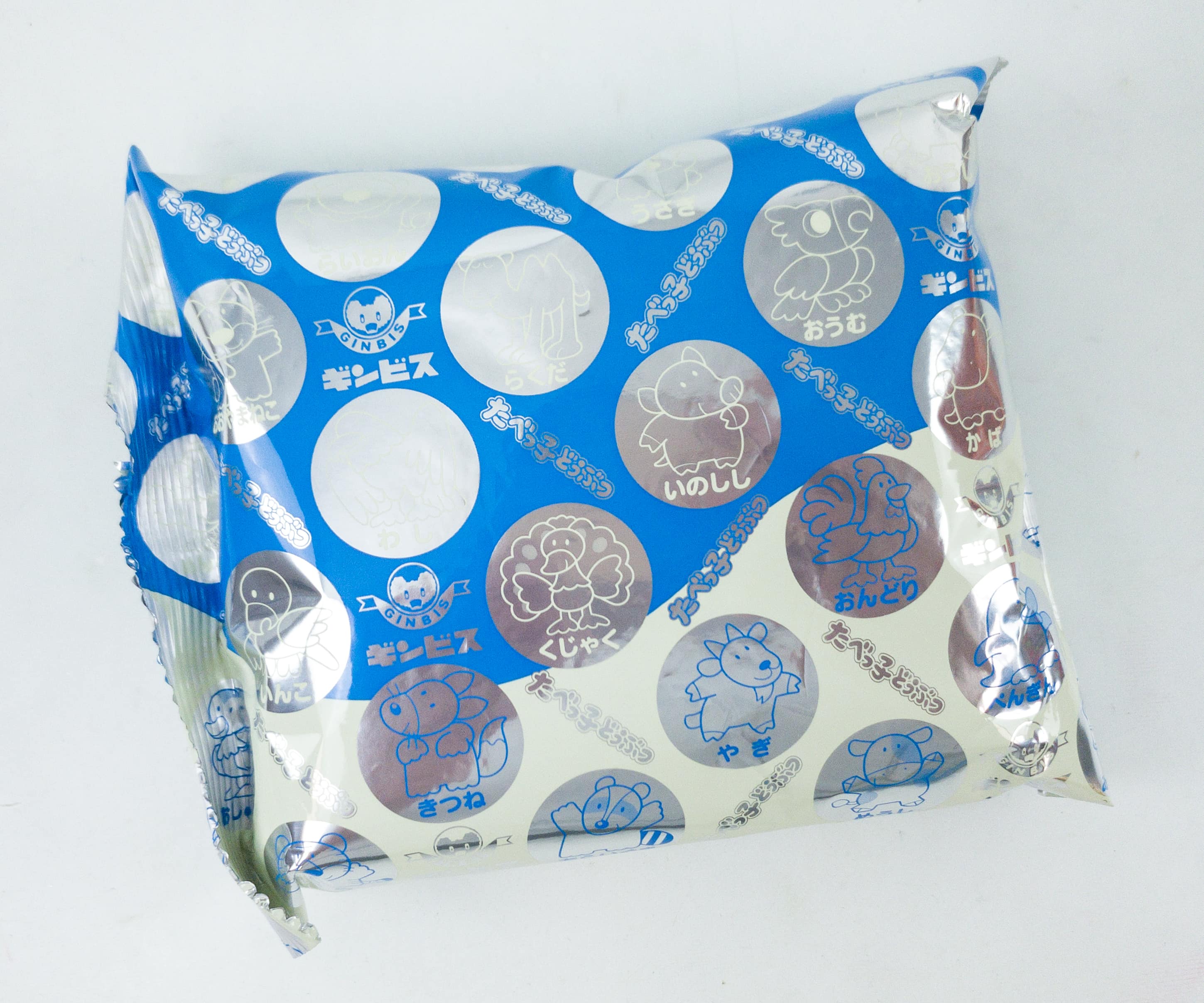 Animal Biscuits. It's a pack of milky cookies! This appeals to the kids, especially because they're shaped like various animals including duck, lion, cow, dog, camel, horse, ox, tiger, panda, and eagle! It makes a great snack, whether at home or when on the go.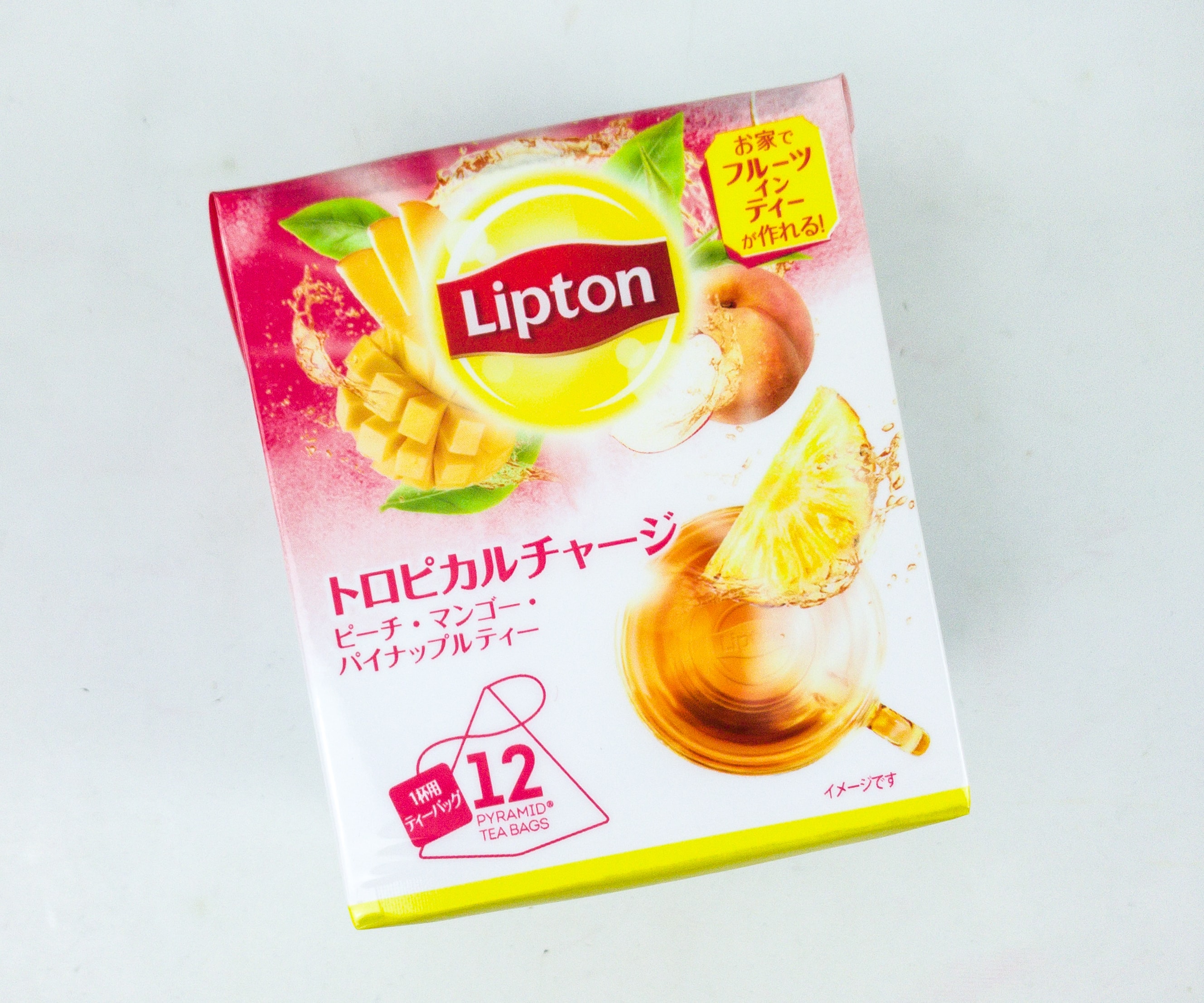 Lipton Tropical Charge Tea. We got the Lipton tea in Tropical Charge, which is bursting with peach, mango, and pineapple flavors! The tea packets are triangle-shaped, and each one comes with a string with a tag on the other end that will hold the tea while steeping and will make it easier to take out after. Subscribers will get this or the Sakura variant.
Character Cookies. Minion character cookies! They're super cute! These come individually wrapped, so they are perfect for sharing. The other character cookies that you can get from this box are Toy Story, Pooh, One Piece, or Pokemon. The cookies even have a chocolate filling that makes them tastier!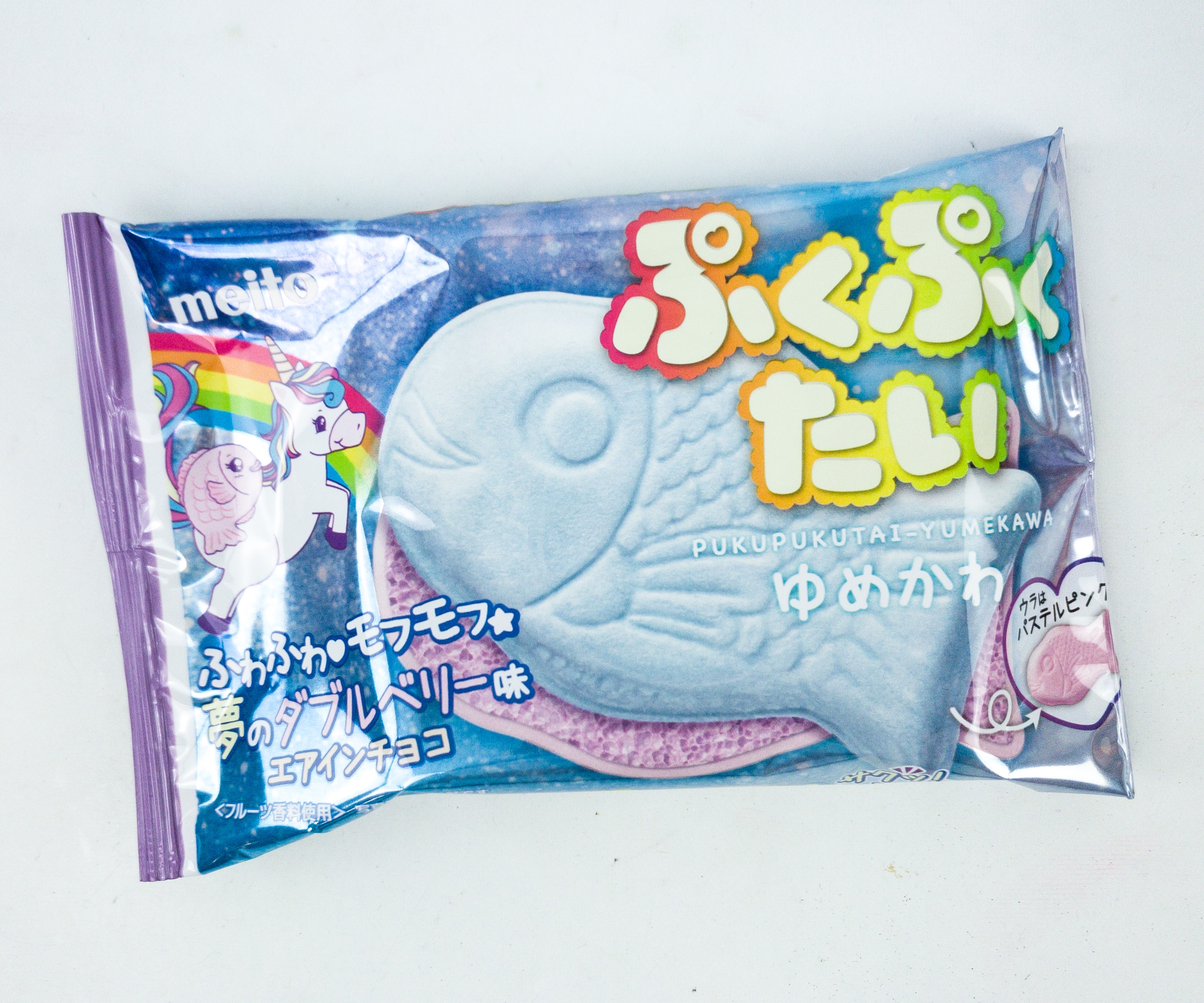 Bubbly Rainbow Taiyaki. Taiyaki refers to fish-shaped cakes popular in Japan. Unlike the usual brown-colored one, this Taiyaki is light blue and filled with berry goodness!

Fluffy Softmallow. This long and colorful twisted mallow is fun to munch on. It's sweet, soft, and easily melts in the mouth!
Milk Giant Caplico. I'm really excited about the inclusion of this ice cream-inspired snack! It includes a crunchy cone plus a milk-flavored marshmallow as the "ice cream". As you bite further, you'll find delicious milk chocolate in the middle!

Night Sky Star Candy. Looking at the stars is a really relaxing thing to do, and we can make it more fun by snacking with these star-shaped candies. These come in different colors. The candies may be small, but they're definitely packed with sweetness!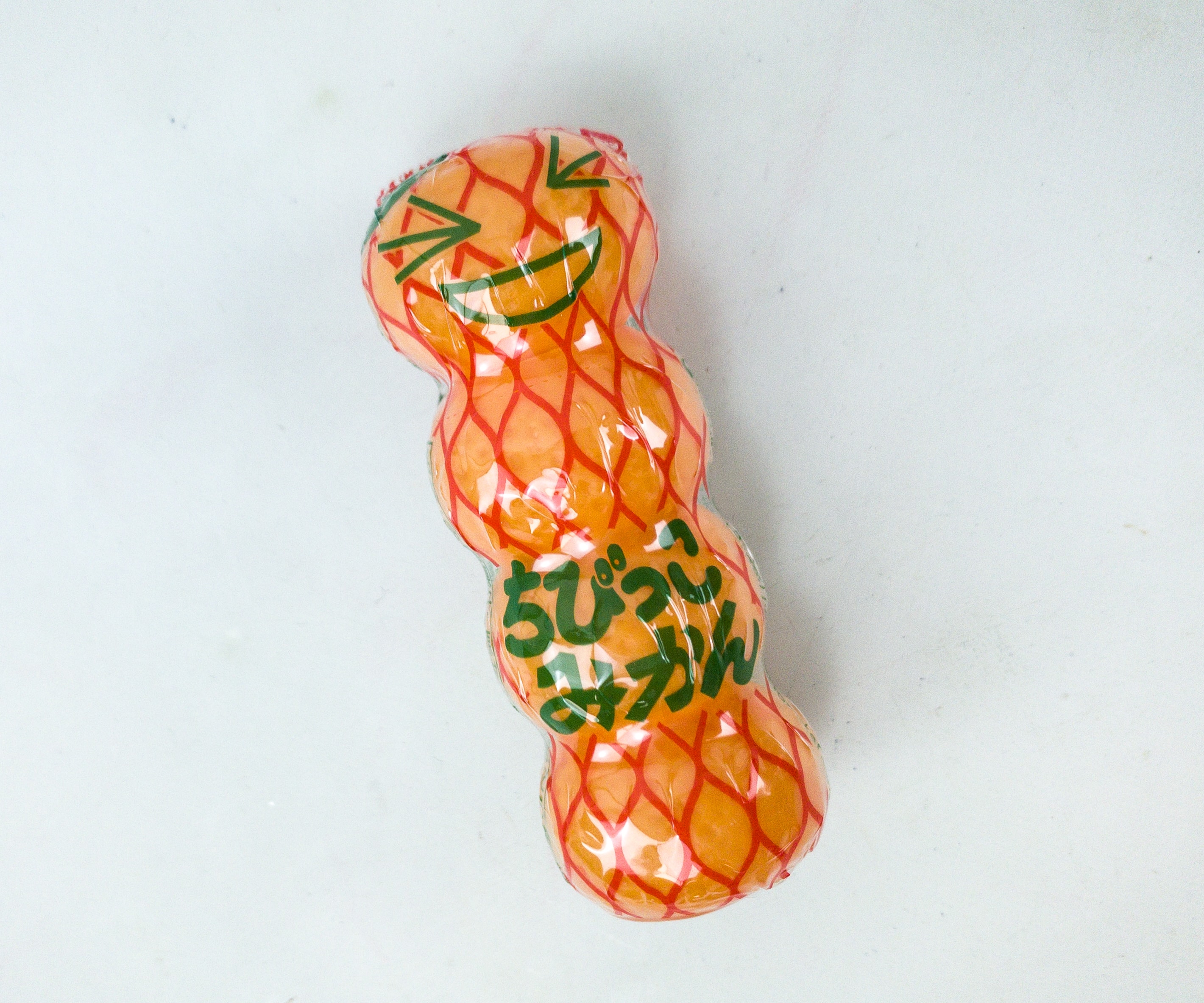 Little Mikan Mints. Mikans are sweet, seedless citrus fruits that are really a part of Japanese culture. We didn't get the real thing, but mint candies packed in mikan-inspired packaging. It's so cute!

Cheese Umaibo. What completes each Tokyo Treat box is the umaibo, a puffed corn snack! To kick off 2020, we got it in cheese flavor. It's tasty and we can't get enough of it!
Choco Cake. Luscious and rich, this cake makes a great pair with a hot beverage for a filling afternoon snack. It's loaded with chocolate, but not overly sweet.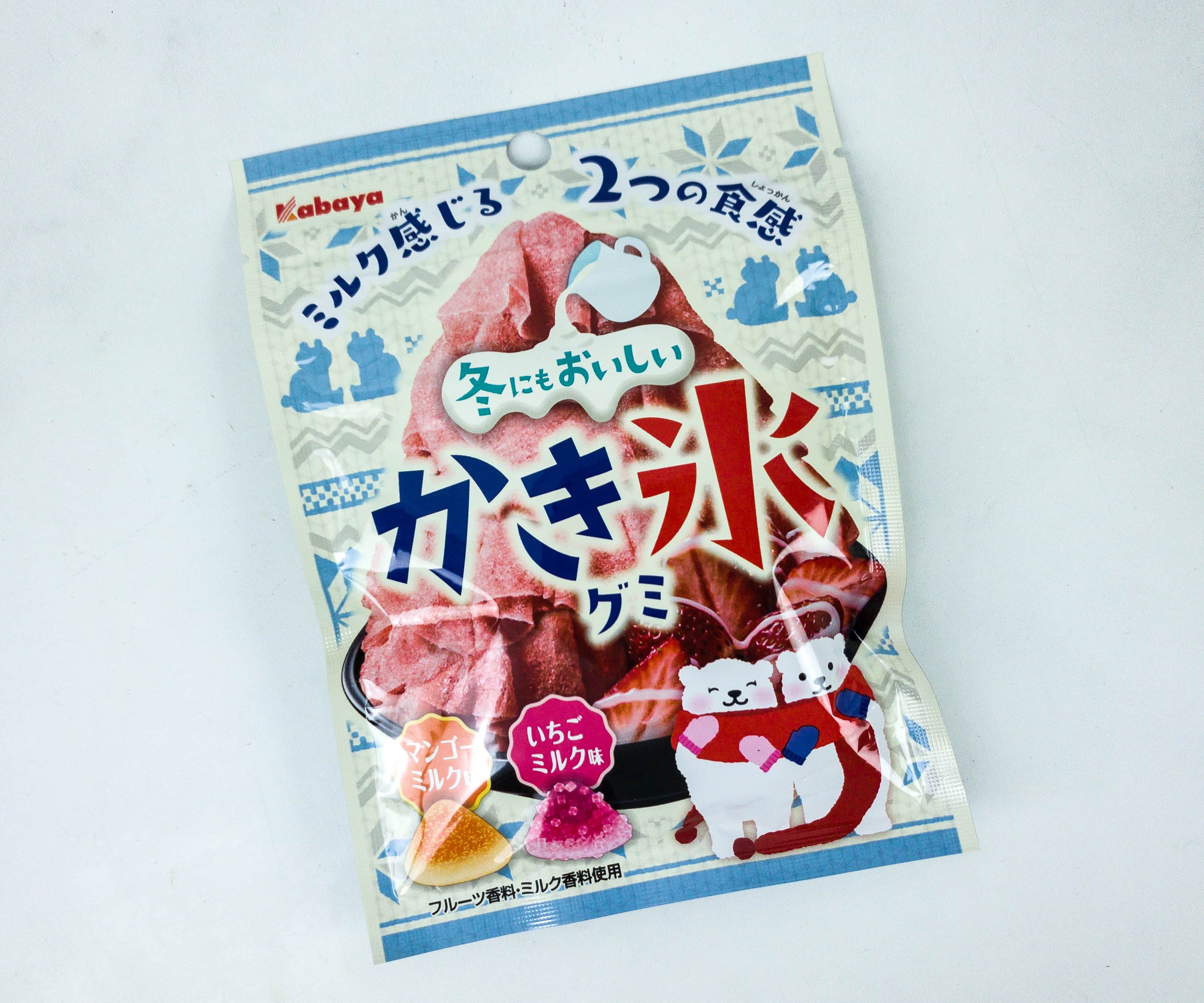 Winter Kakigori Gummies. These gummy candies are irresistible, and we didn't know that milk goes well with strawberry and mango! They're so good, the package is emptied fast!
Maple Hotcakes. Another "cake" in this box is this pair of maple hotcakes! You may heat these mini pancakes and slather some butter on them, as they already have a hint of maple goodness. What a perfect breakfast snack.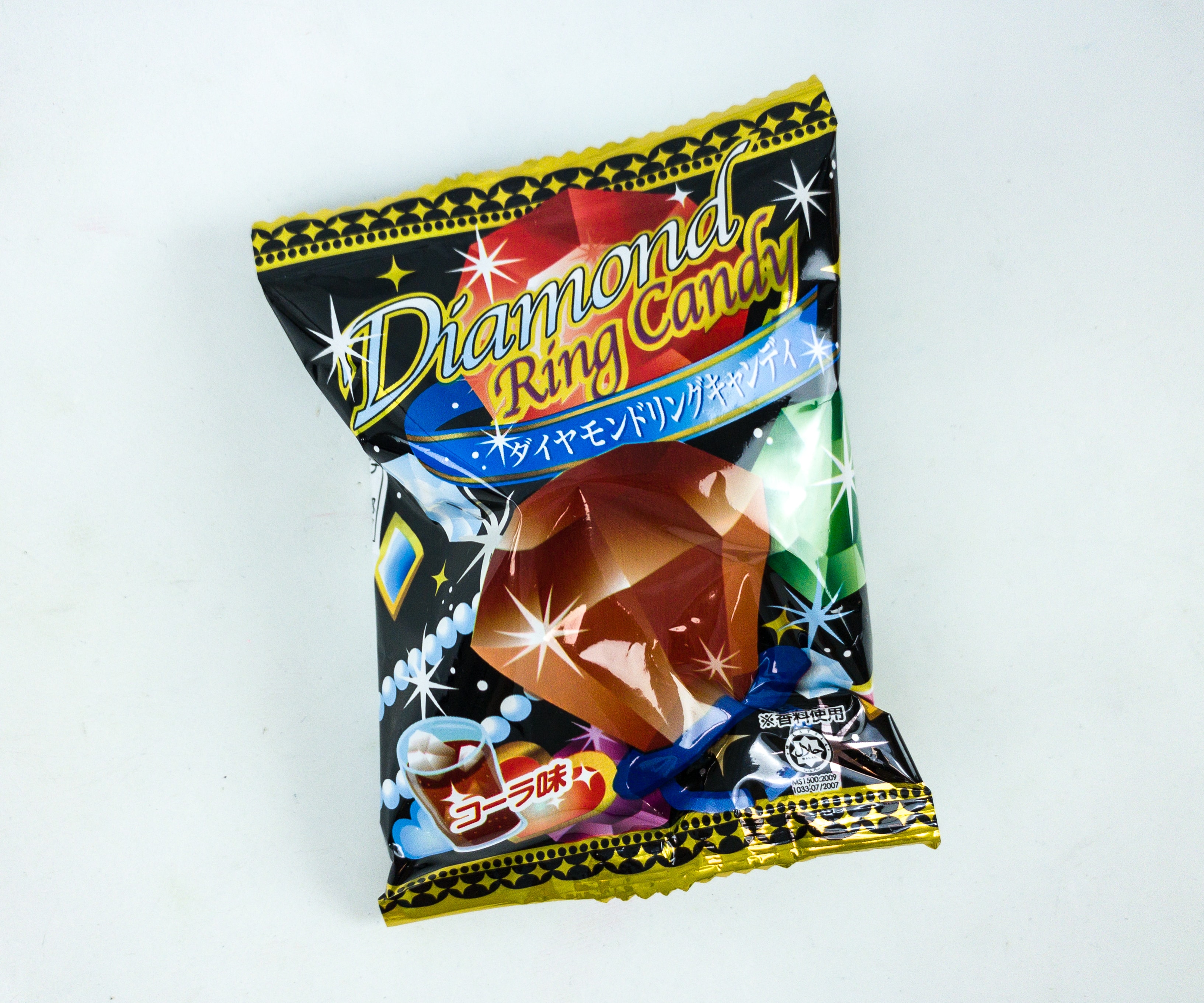 Diamond Ring Candy. It's a diamond ring candy featuring a refreshing cola flavor. It's another treat that my kids loved!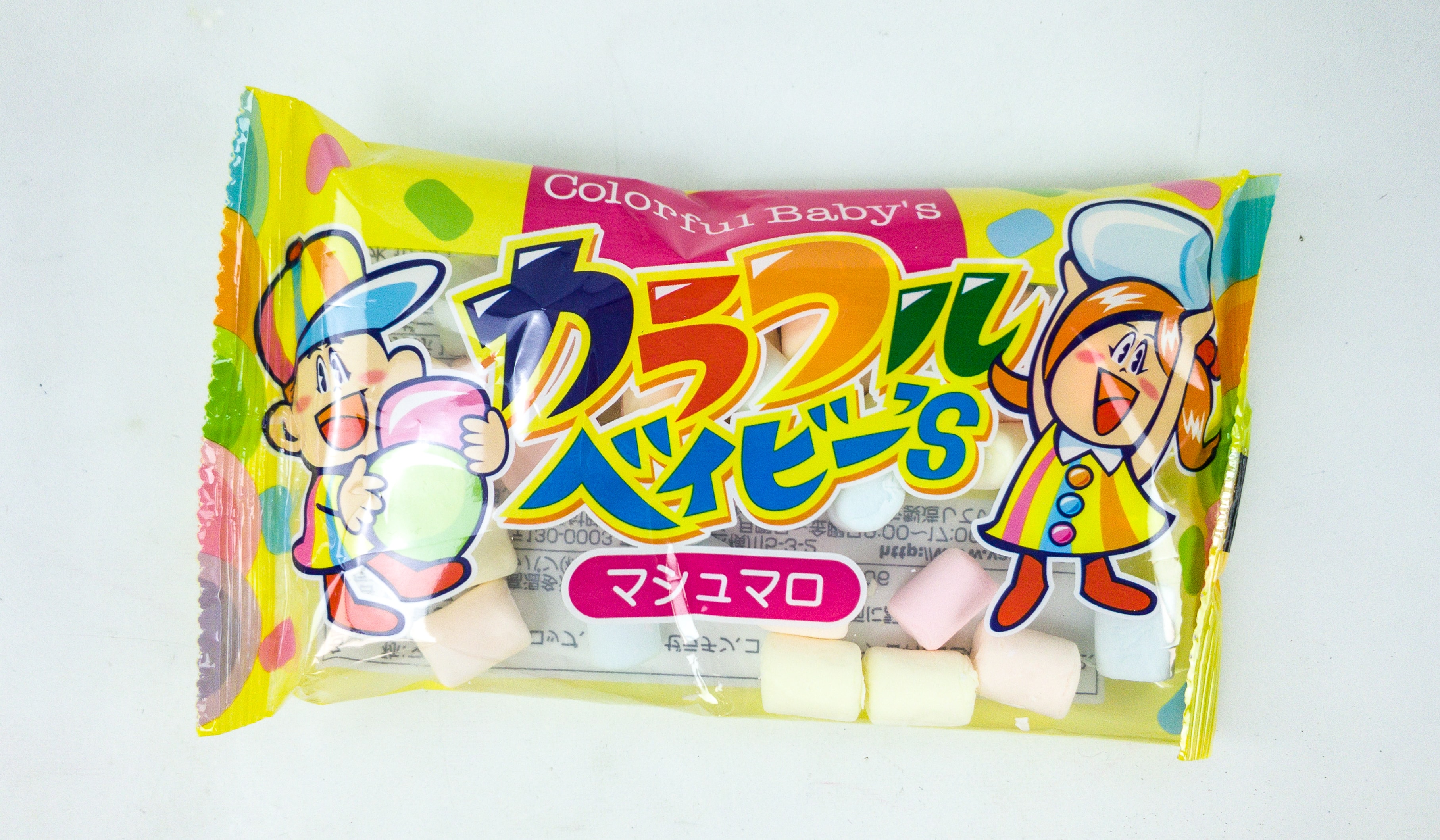 Colorful Baby's Marshmallows. These baby marshmallows are not just yummy munchies, they're also great as toppings! You can add this to a mug of hot chocolate or other desserts.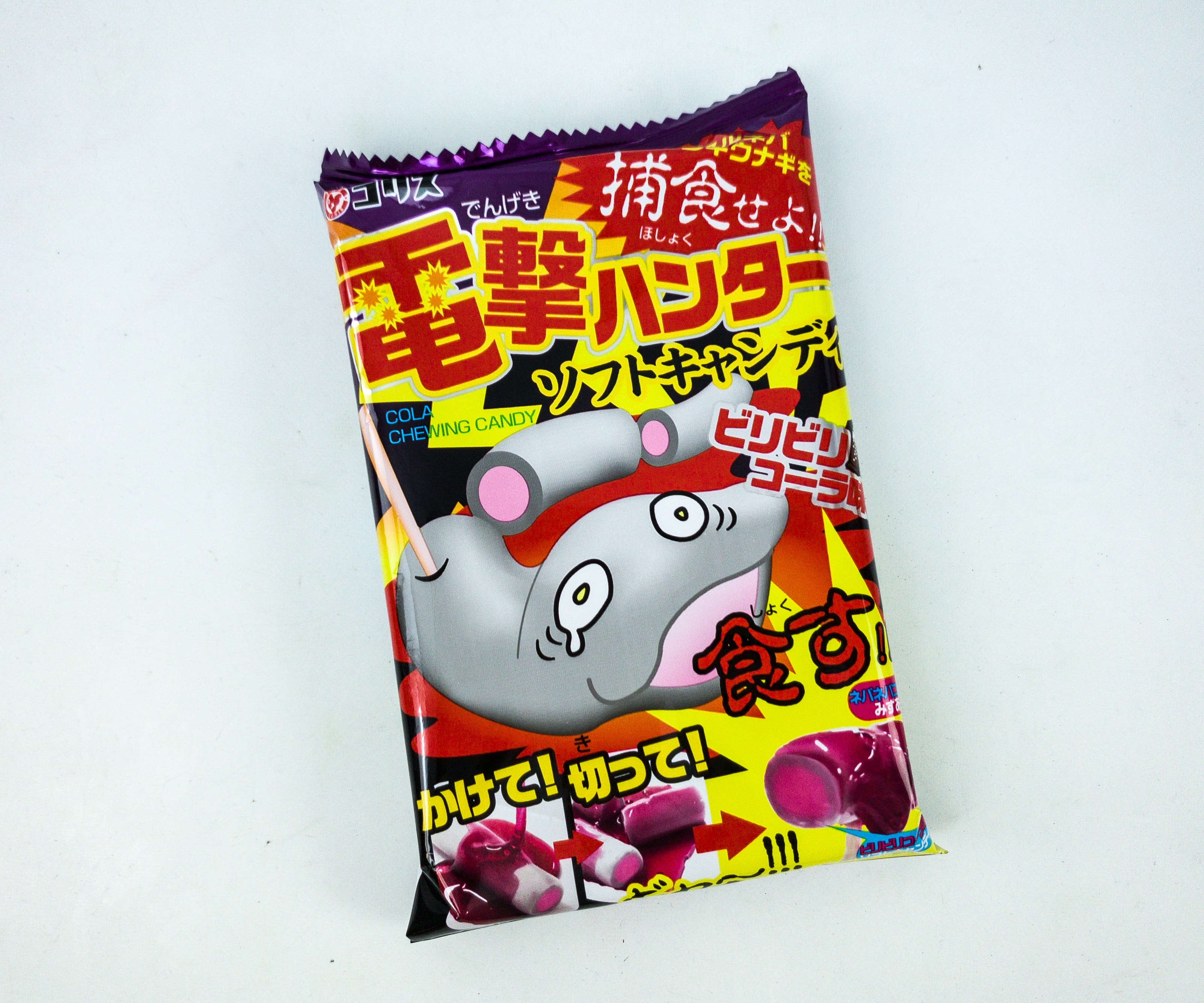 Dengeki Hunter DYI Kit. This month's DIY candy kit features ingredients for making cola-flavored eel! The pack includes a candy piece that you can cut and drizzle the slices with the cola sauce. They even include a tiny knife to easily cut the "eel".
Key Ring Chocolates. Lastly, here are cute mini chocolates in a key-shaped blister pack! Like the mini marshmallows, these mini chocolate candies can be eaten as is or used as toppings on desserts.
Tokyo Treat started the New Year with a bang with all these enjoyable snacks! We feel that it will really be a great snacking year for all of us! The box is filled with mostly sweet treats that kids and adults alike will enjoy. As always, the snacks are great for sharing. The booklet is a great inclusion as we get to learn more about Japan, how beautiful and amazing the place is, so as their culture and practices. We will love to go and visit the place someday and enjoy the snacks they offer, but in the meantime, we'll enjoy Japan's great snacks through this box!
What did you think of this month's Tokyo Treat?