The Gentleman's Box Premium Box is a quarterly luxury subscription for men, which brings lifestyle and fashion goods centered around the season. Each box is inspired by luxury brands throughout the world and is curated by fashion experts.
DEAL: Save 20% on your first Premium Box! Just use the coupon code HELLO20.
LIMITED TIME: Sign up for the Premium Subscription this quarter & get the Speakeasy Edition (this box!) PLUS the Winter 2018 Box for FREE! Just use coupon code BOGO18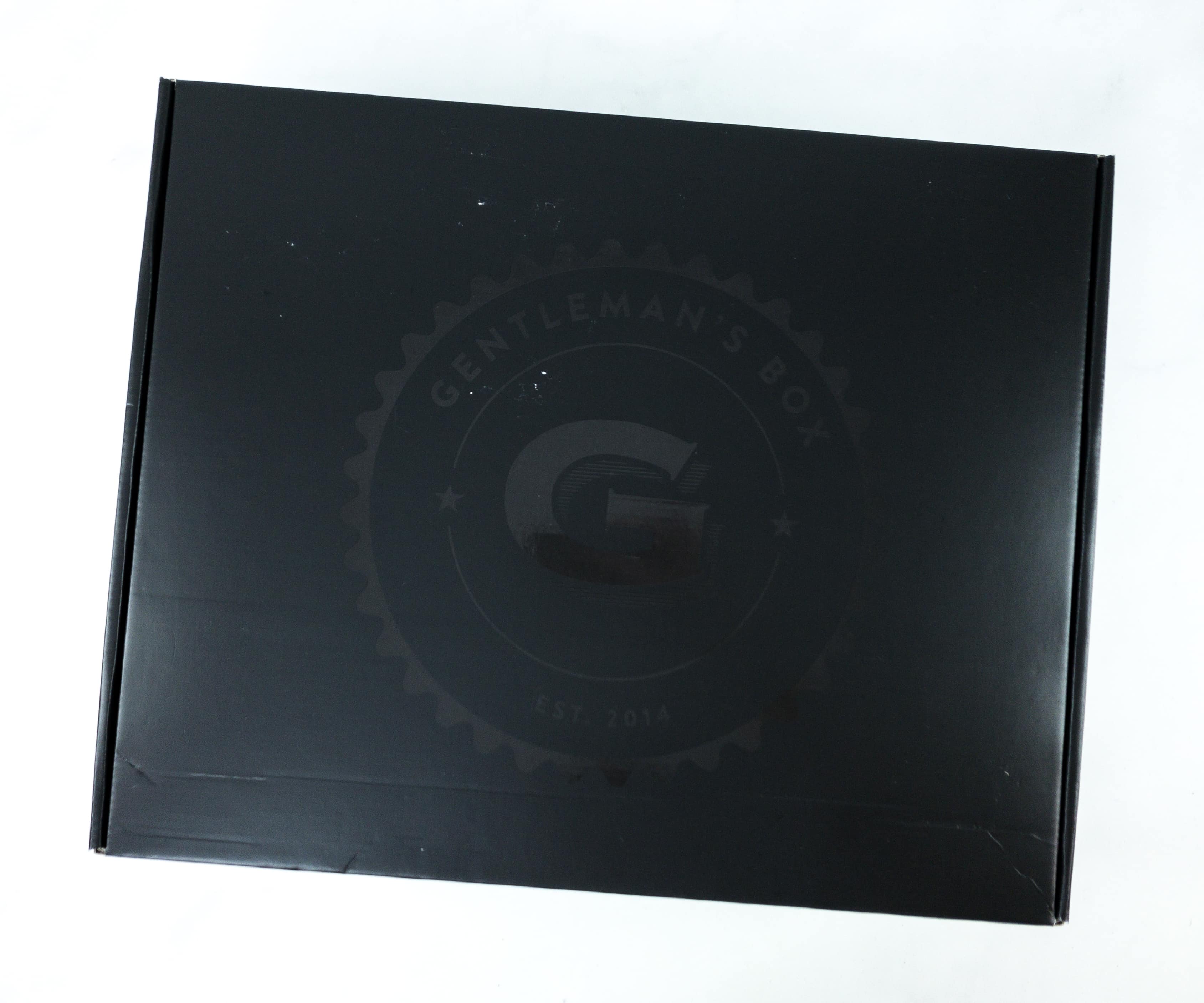 The box itself looks elegant and sleek in black.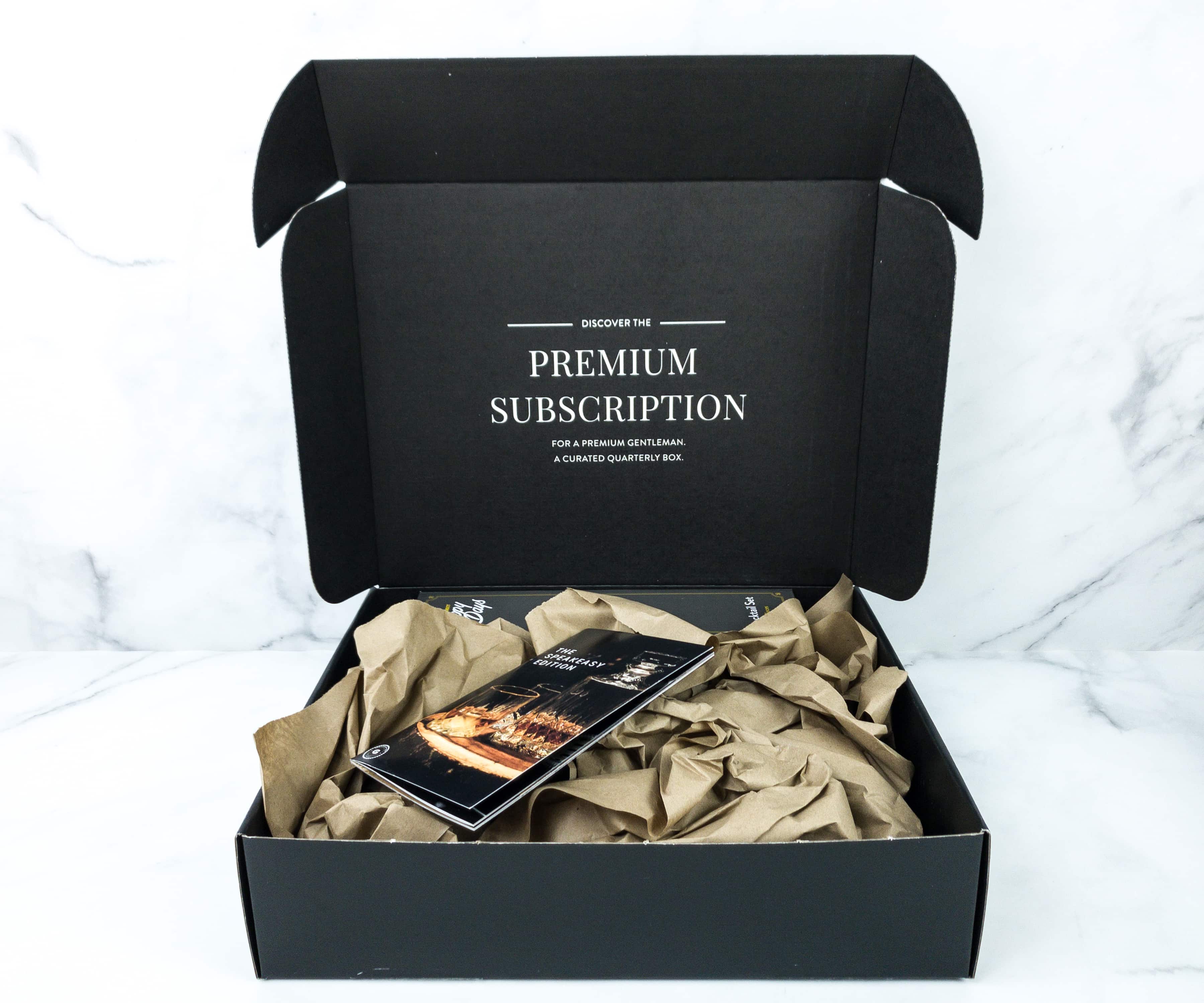 The Winter 2019 box is called The Speakeasy Edition.
All the items are neatly packed inside the box. It's fairly huge and the items are covered with a crumpled paper to cover and protect all the items in the box.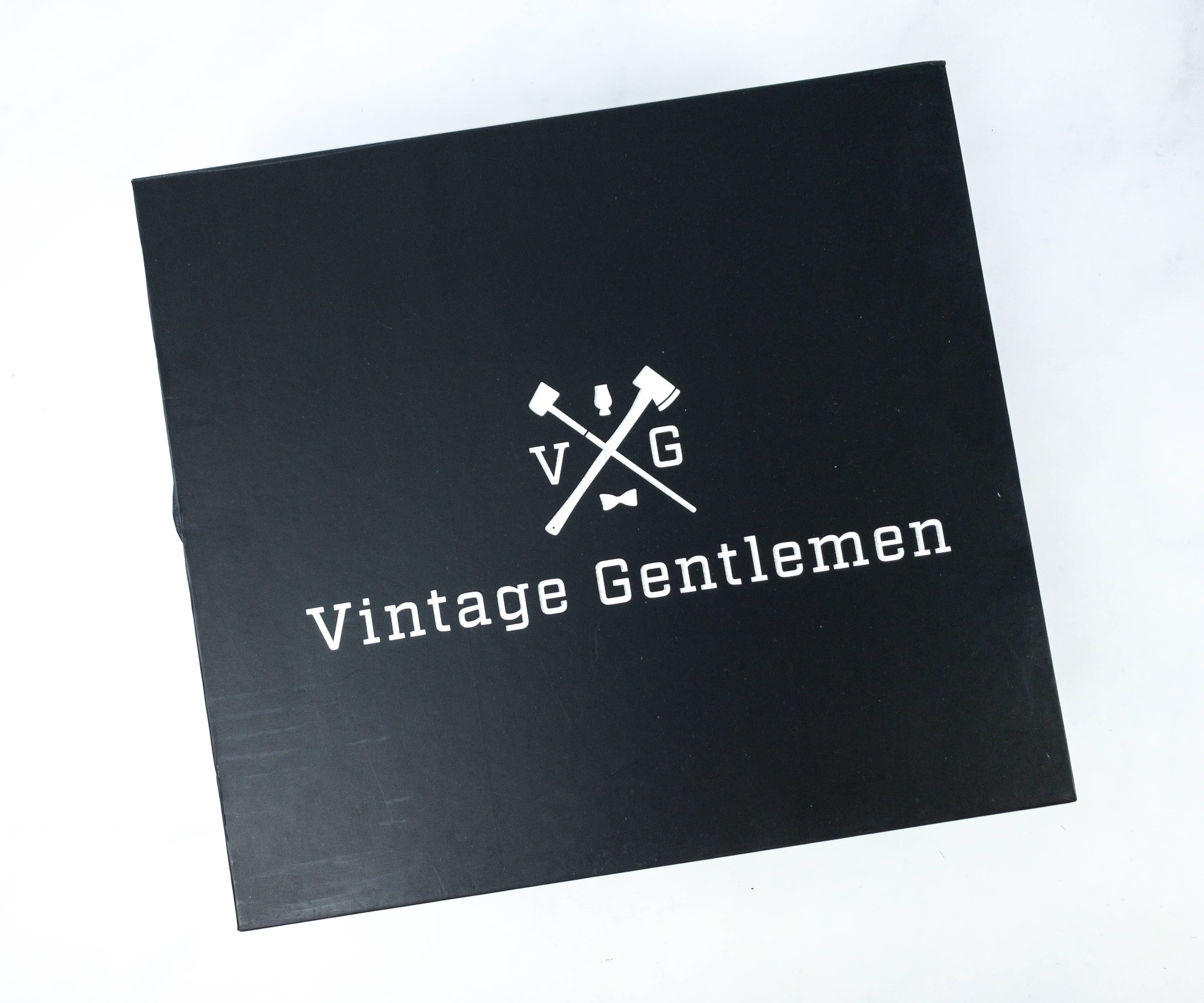 The Village Gentlemen's black box looks so classy and elegant and I am excited to open what's inside!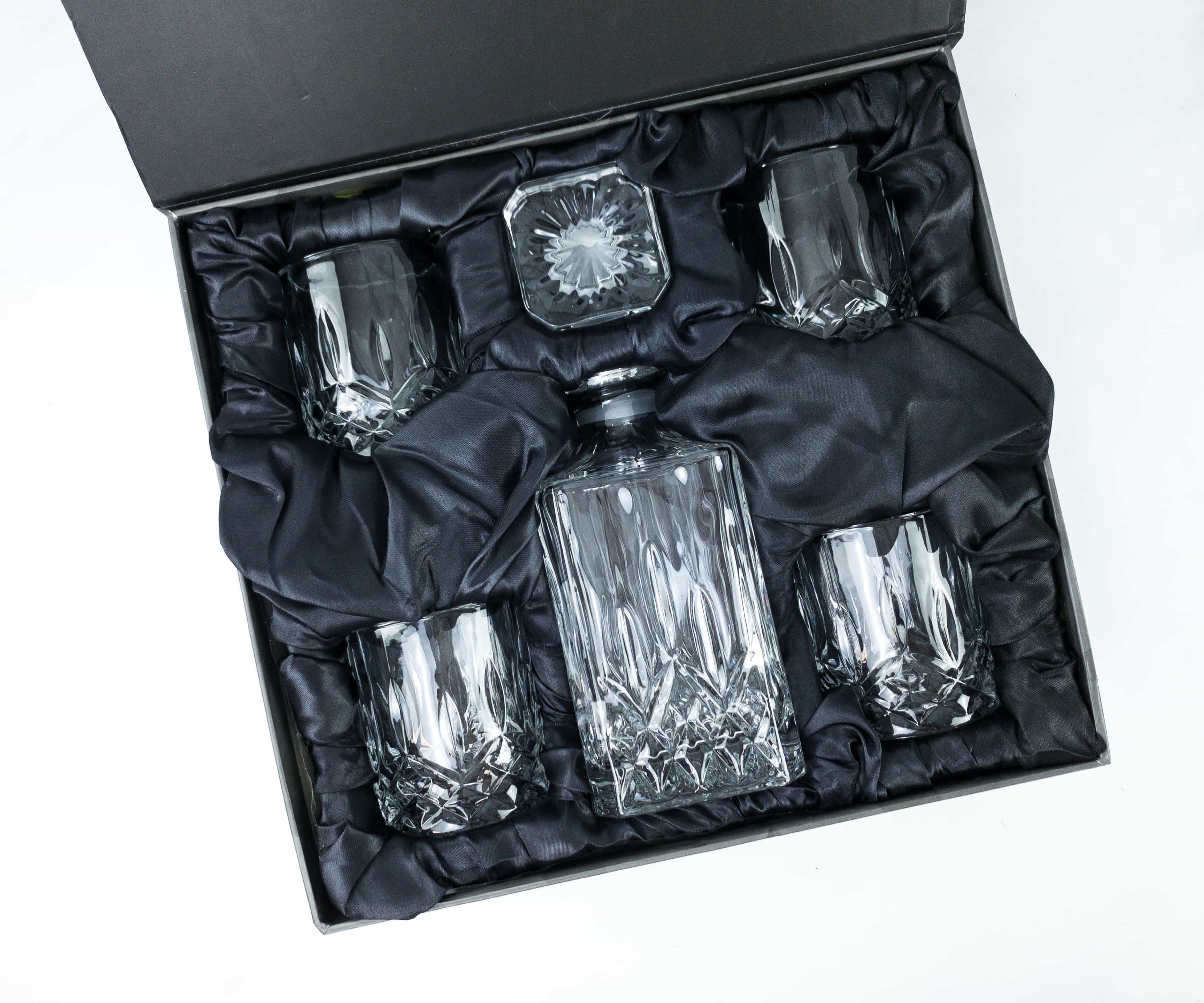 The crystal decanter set is aesthetically pleasing. It adds a touch of class to any fine spirits contributing to tons of enjoyment at home.
Each box includes a well-designed booklet describing the products and offering usage suggestions for each one.
It also lists all the brands featured in this quarter's box.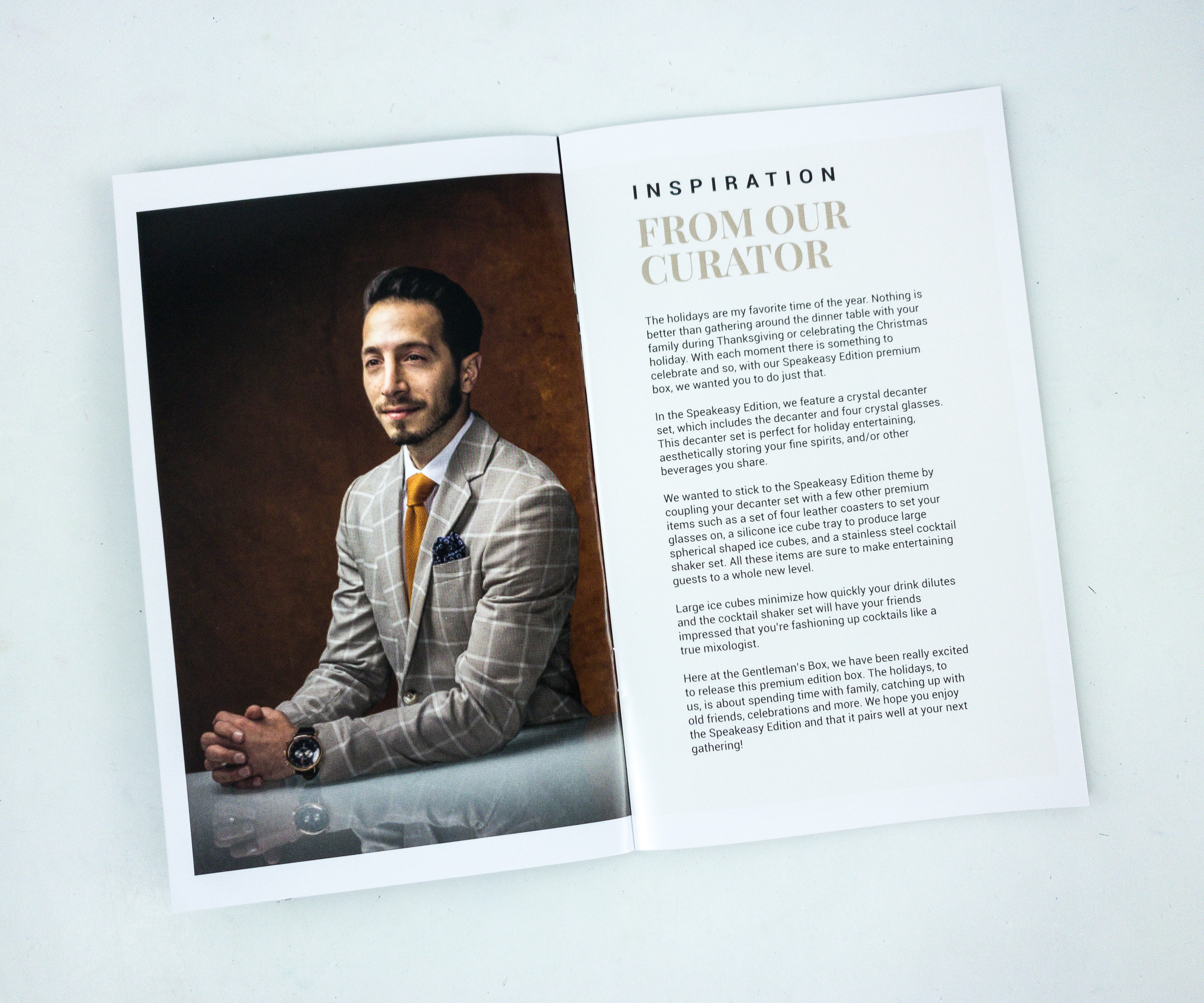 Here's a short article about all the items included inside the box, describing how each of them fits into a contemplative day out and about.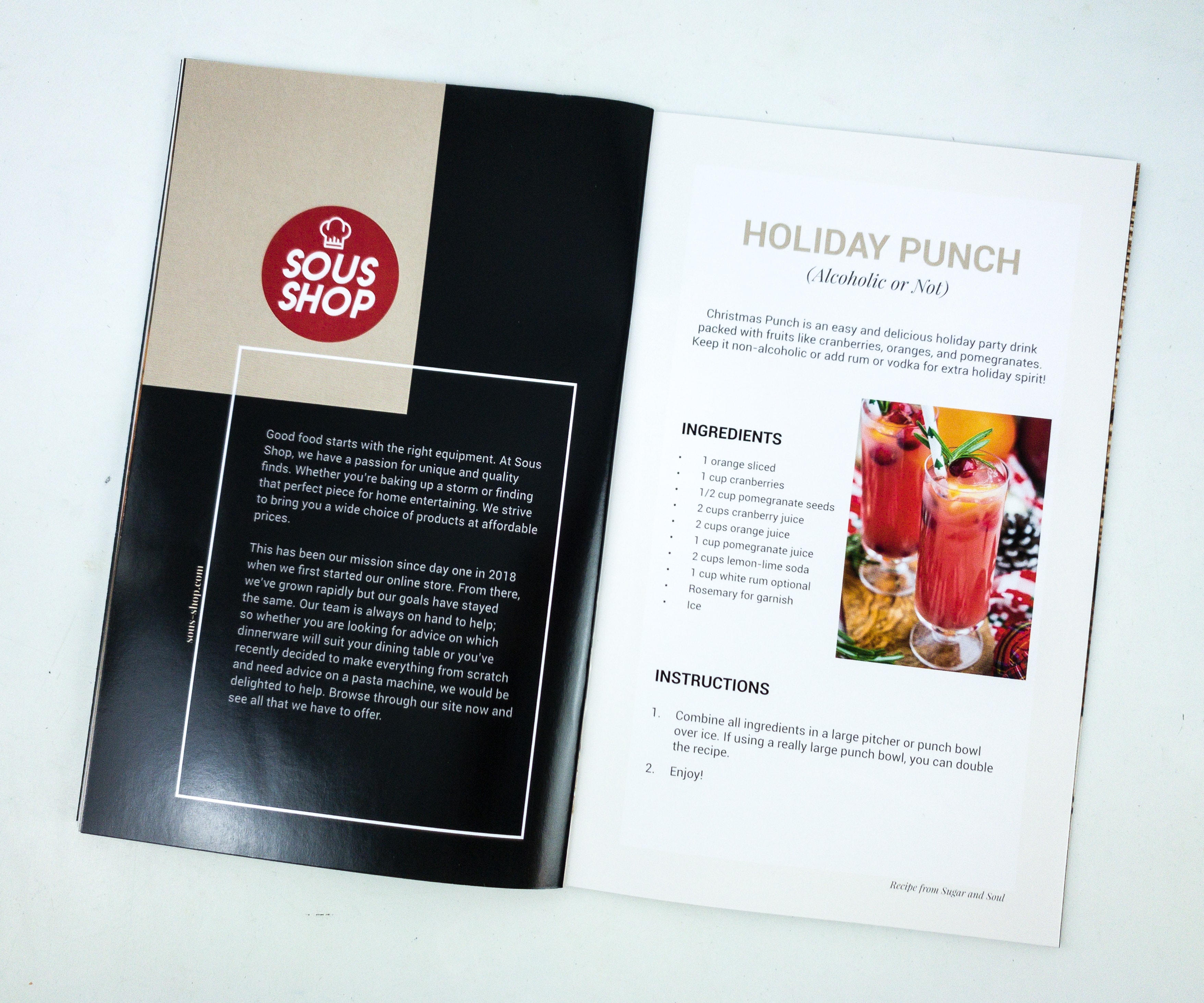 The featured brand for this box, Sous Shop, has included a Holiday Punch recipe as well.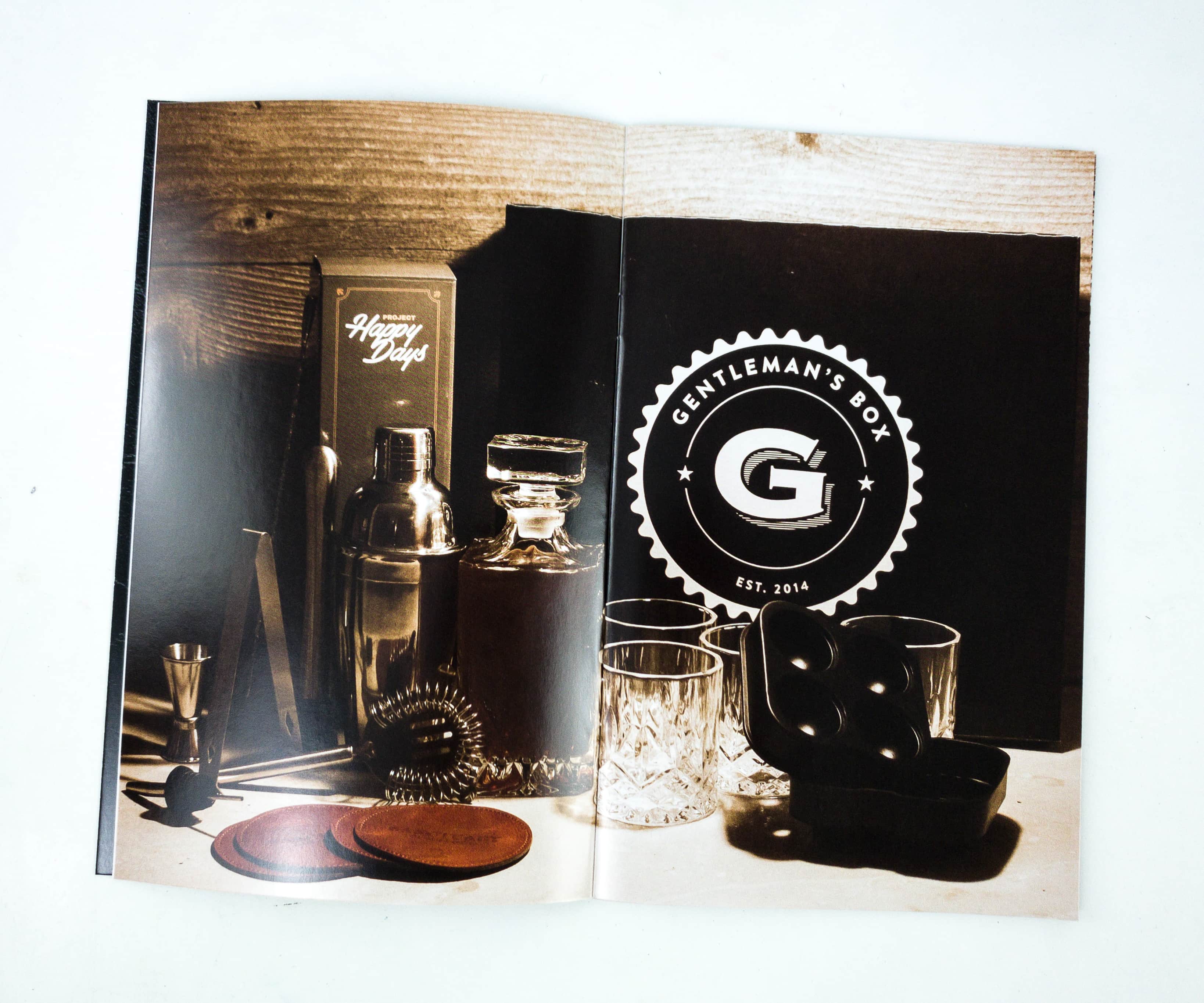 The booklet normally includes a group picture of all the items included inside the box.
Everything in my box!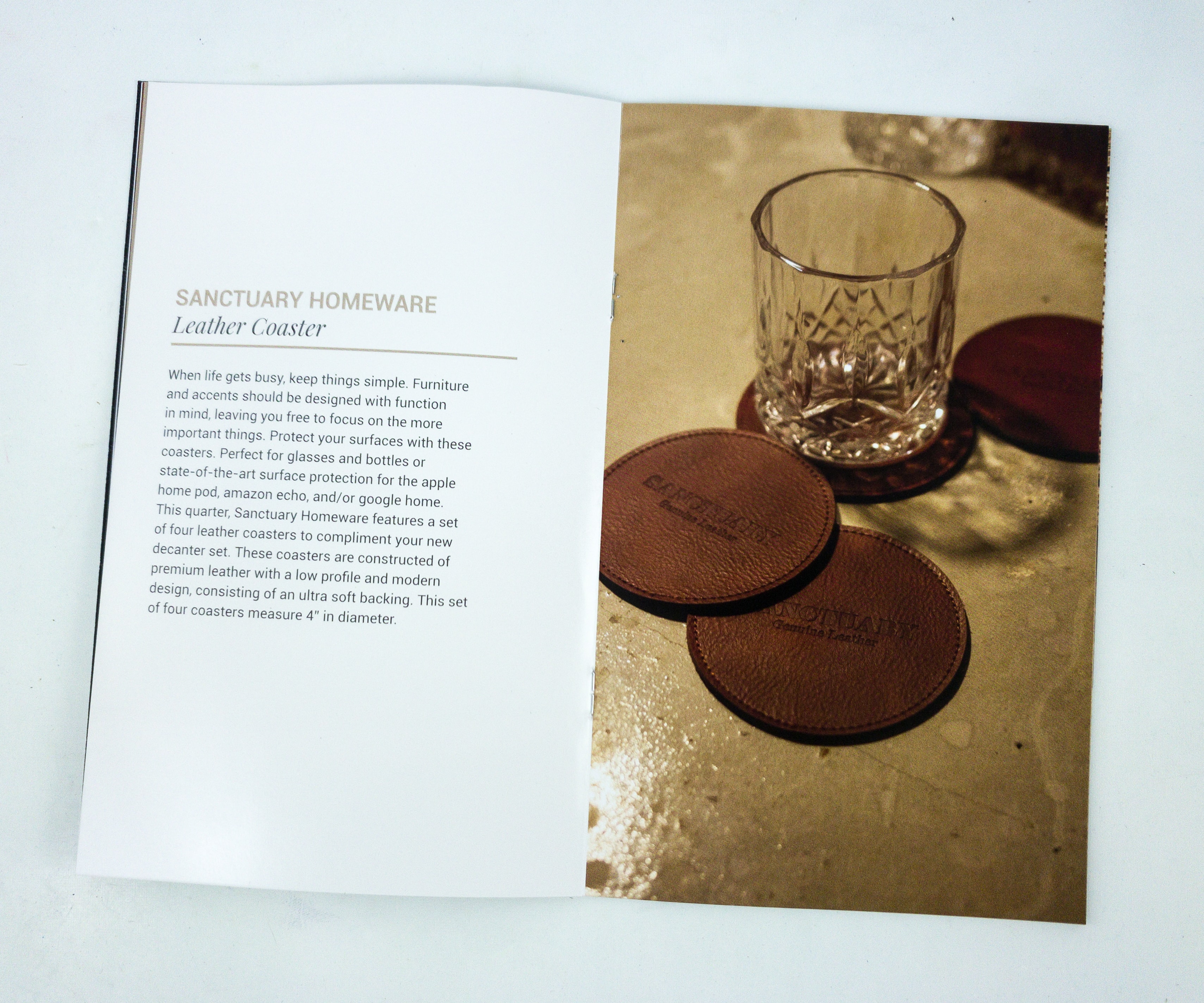 Sanctuary Homeware Leather Coasters. The box showcases four leather coasters that perfectly matches the crystal decanter set. It's stylish, classic, and vintage due to its leather appearance.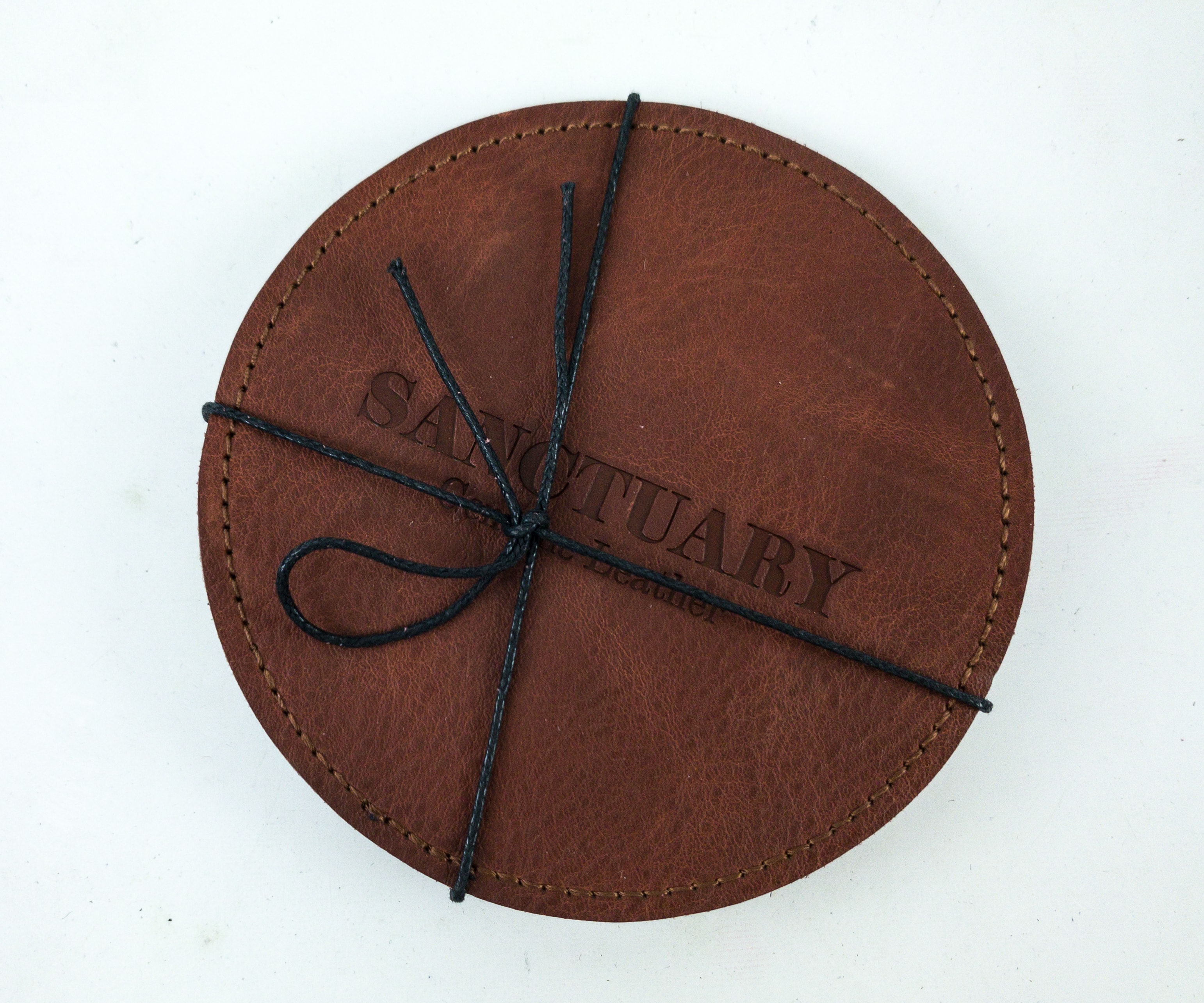 The four-piece set is tied together by a black twine cord to help keep it stay in place. These luxury coasters are made from sophisticated artisan genuine leather. It has a classy look but with a rustic premium finish.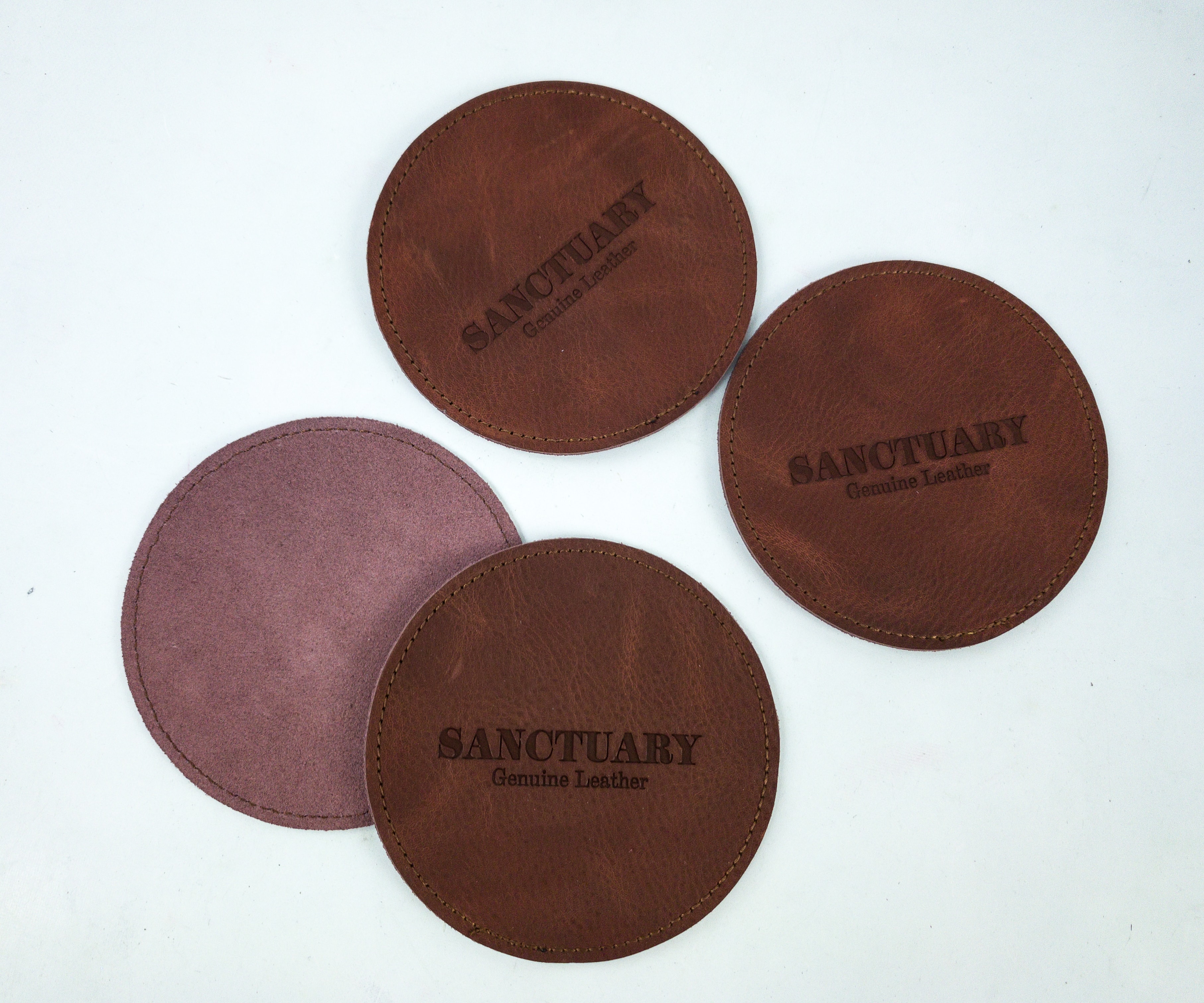 It is made of genuine leather, durable and easy to clean. They are finely hand-stitched, lightweight, durable, and water-resistant. I love how these coasters look so attractive, and since they are made with full-grain leather coasters provide excellent protection to your wooden surfaces.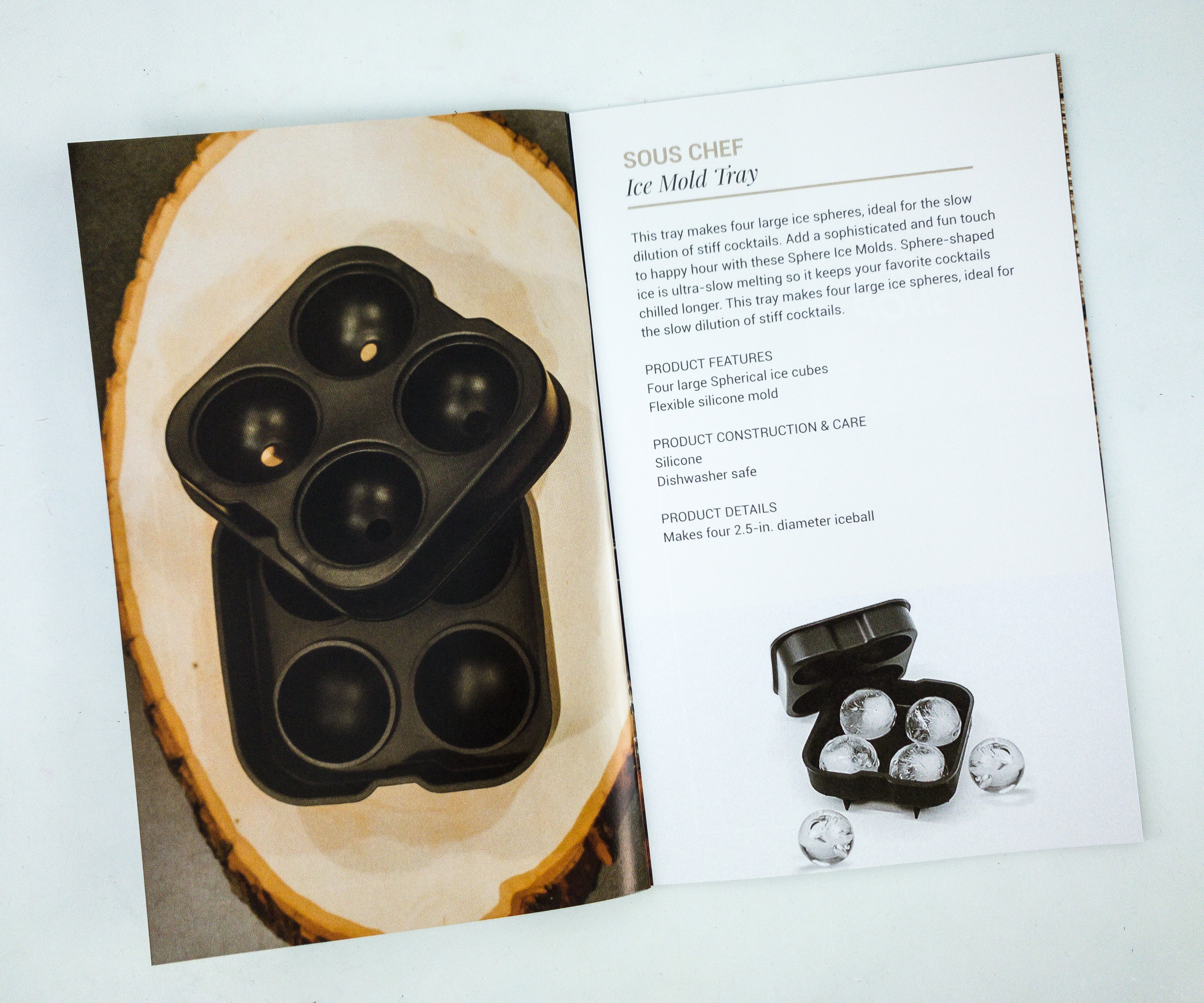 Sous Chef Ice Mold Tray. This is a silicone ice ball tray that makes extra-large spheres of ice for whiskey or scotch.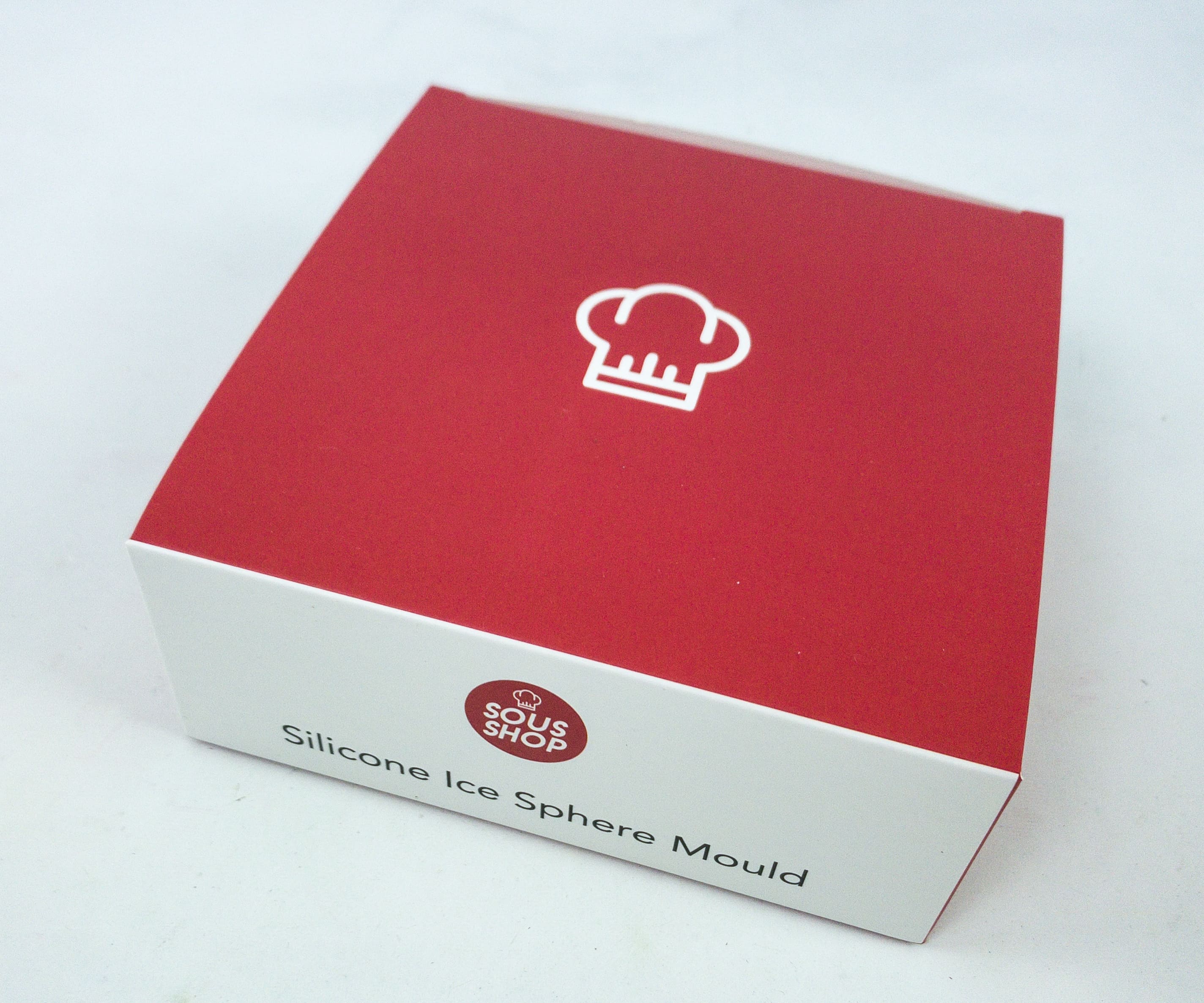 The silicone ice sphere mold came inside a white and red box which is fairly huge for a 4-hole mold.
It comes with an info card for the ice mold. What's nice is that the mold is BPA-free and dishwasher-safe.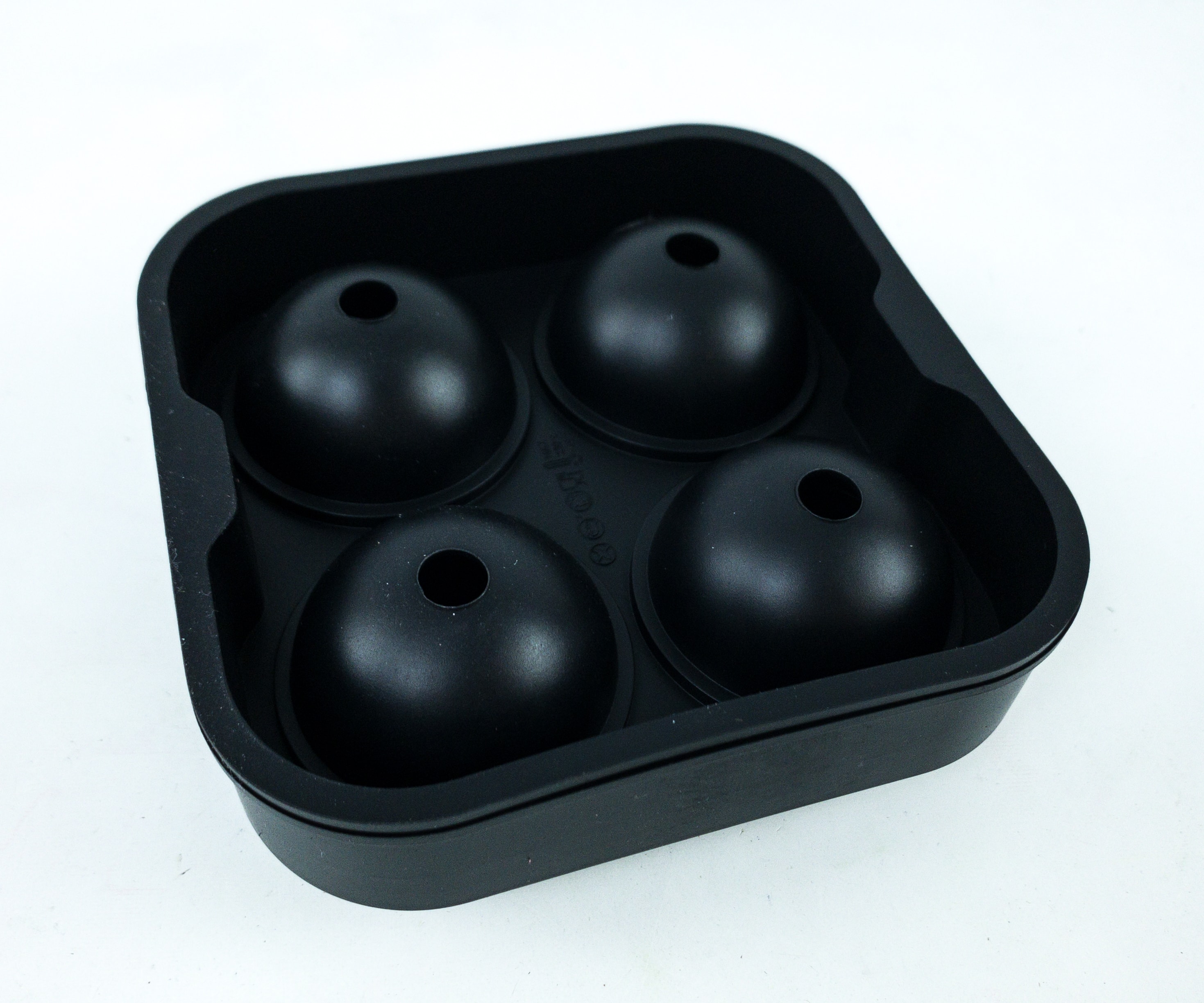 The ice sphere mold creates four large, sphere-shaped ice.  The large ice spheres melt much more slowly than conventional ice cubes due to its unconventional shape.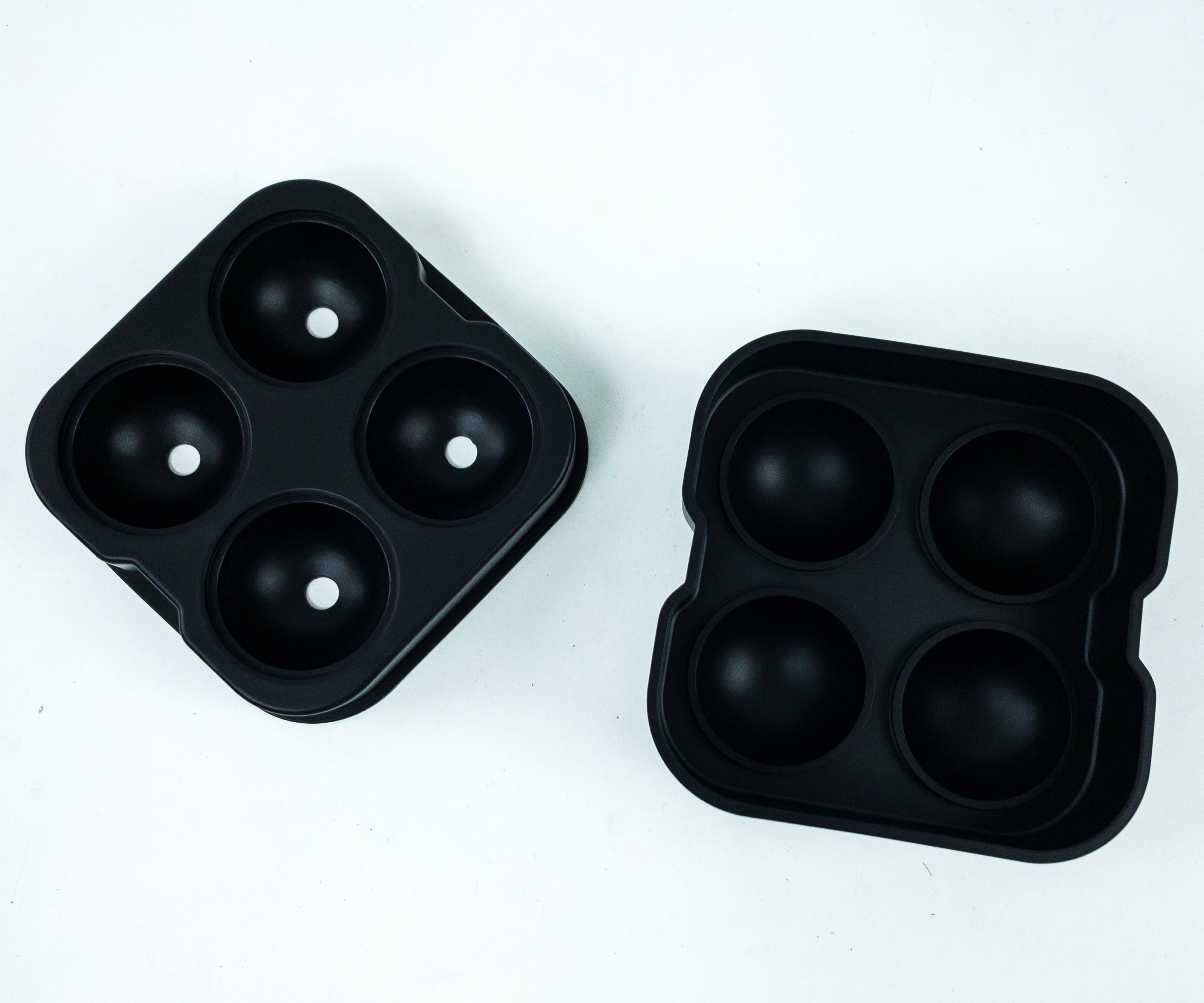 It features a flexible mold design for easy ice ball removal.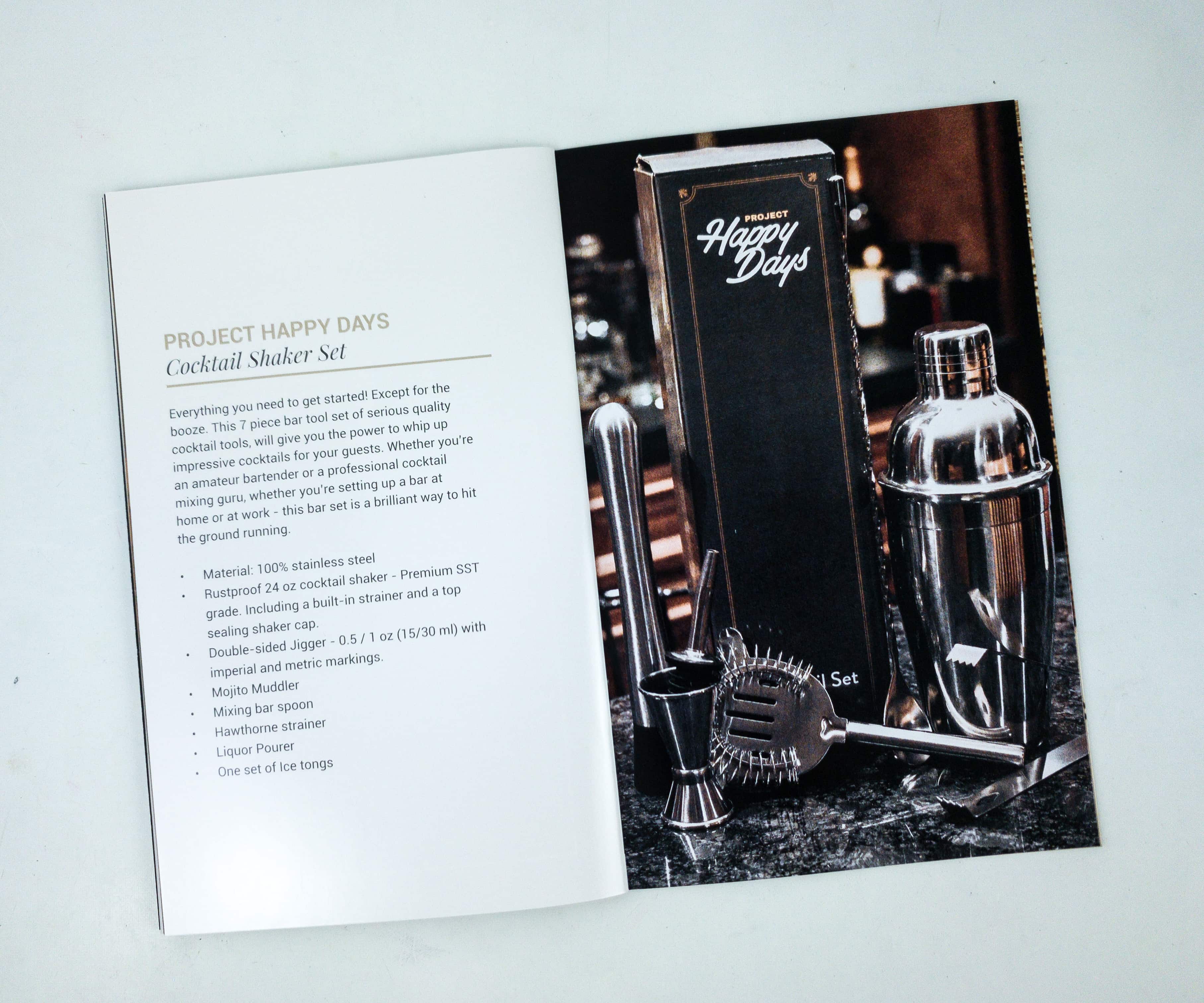 Project Happy Days Cocktail Shaker Set. This cocktail shaker set contains 7 pieces of excellent-quality rustproof-tools for making your favorite cocktails. It has an info card that comes along with its box.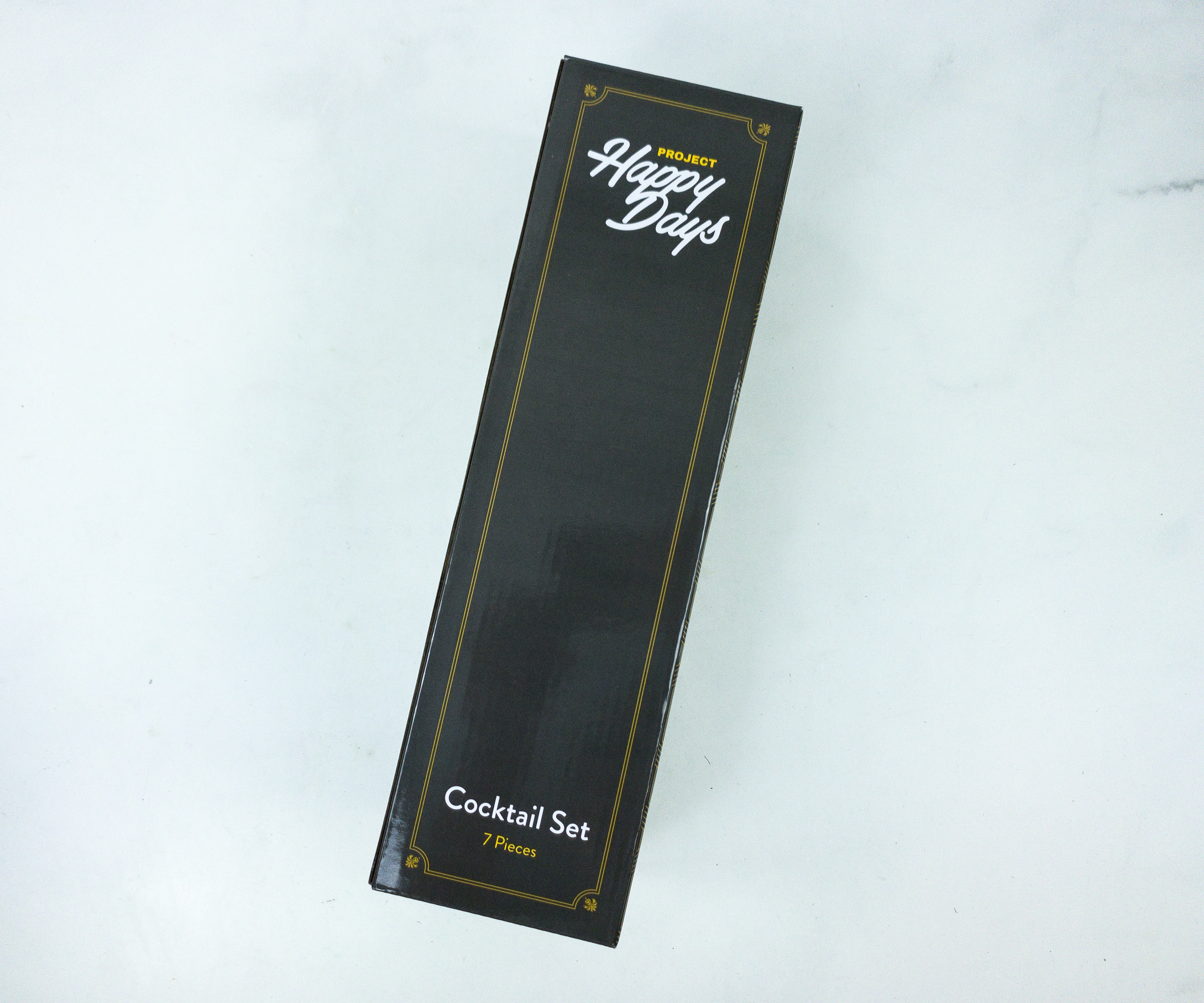 Its packaging is elegant and makes this cocktail shaker set a perfect holiday gift or any special gift for anyone.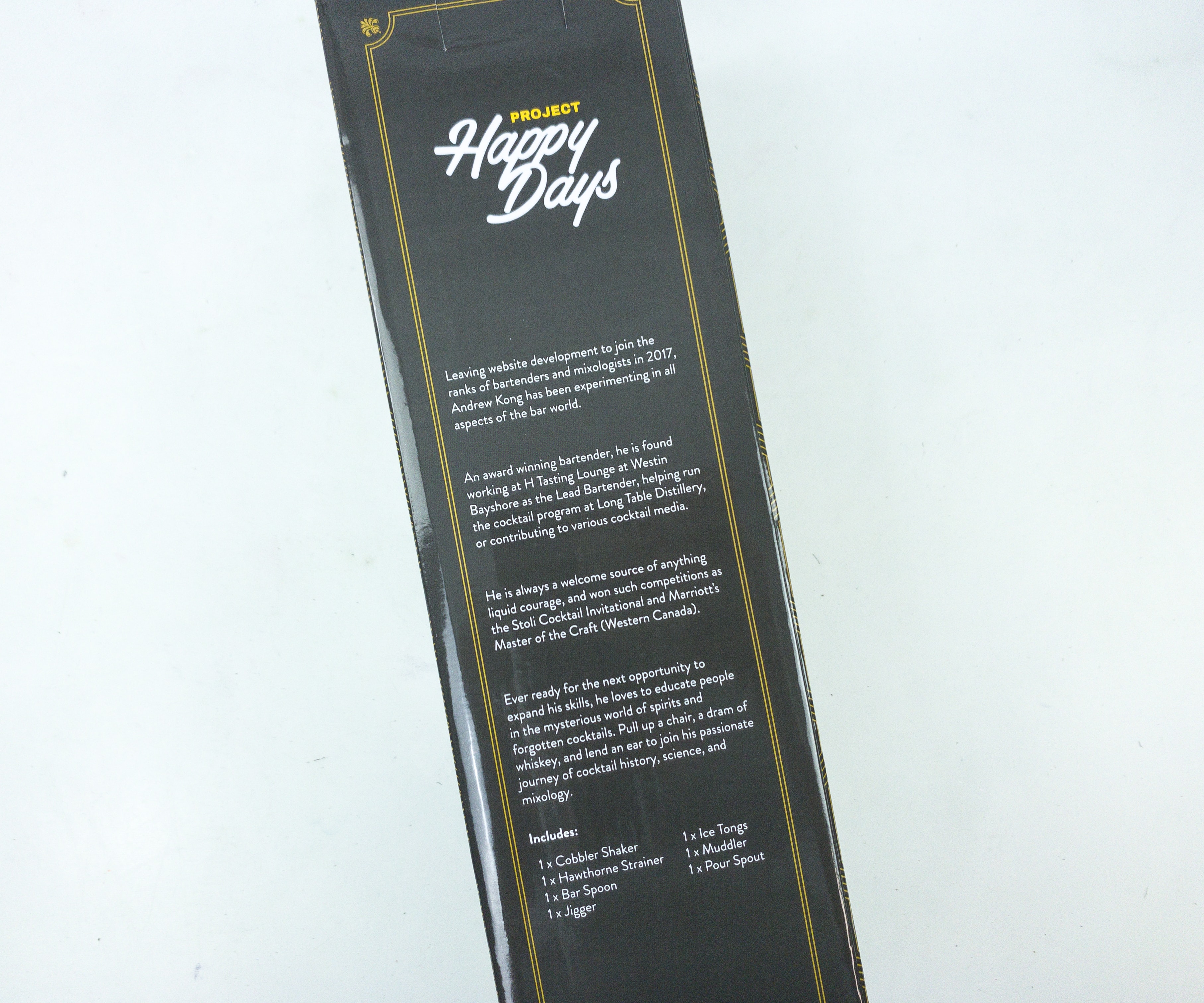 The backside of the box has useful info about Andrew Kong, the award-winning bartender behind Project Happy Days plus all the contents inside the box.
Everything in the Project Happy Days cocktail set!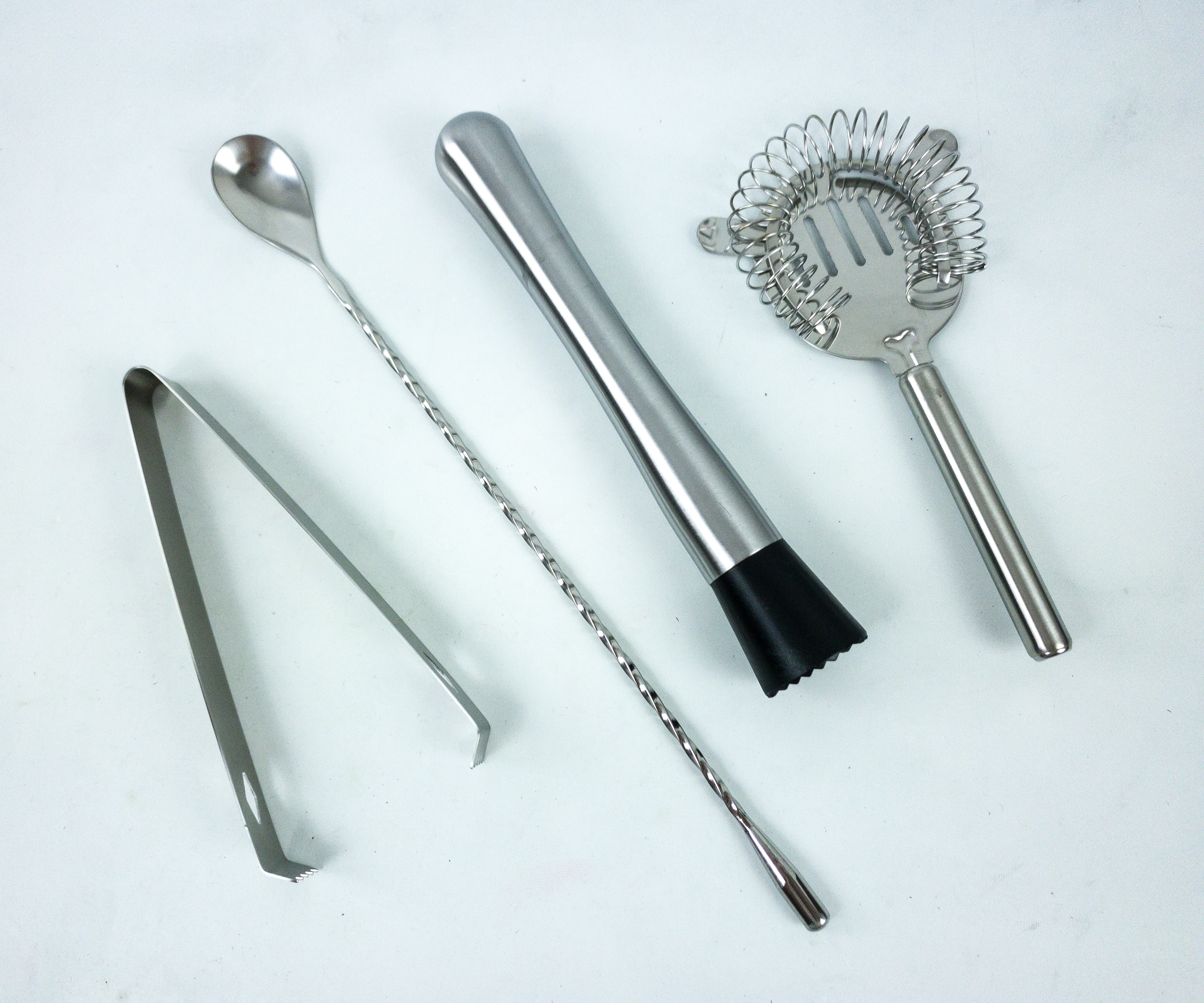 The set includes ice tongs, bar mixing spoon, cocktail muddler. and Hawthorne strainer with high-density spring. These are perfect for creating and mixing any drink of your choice.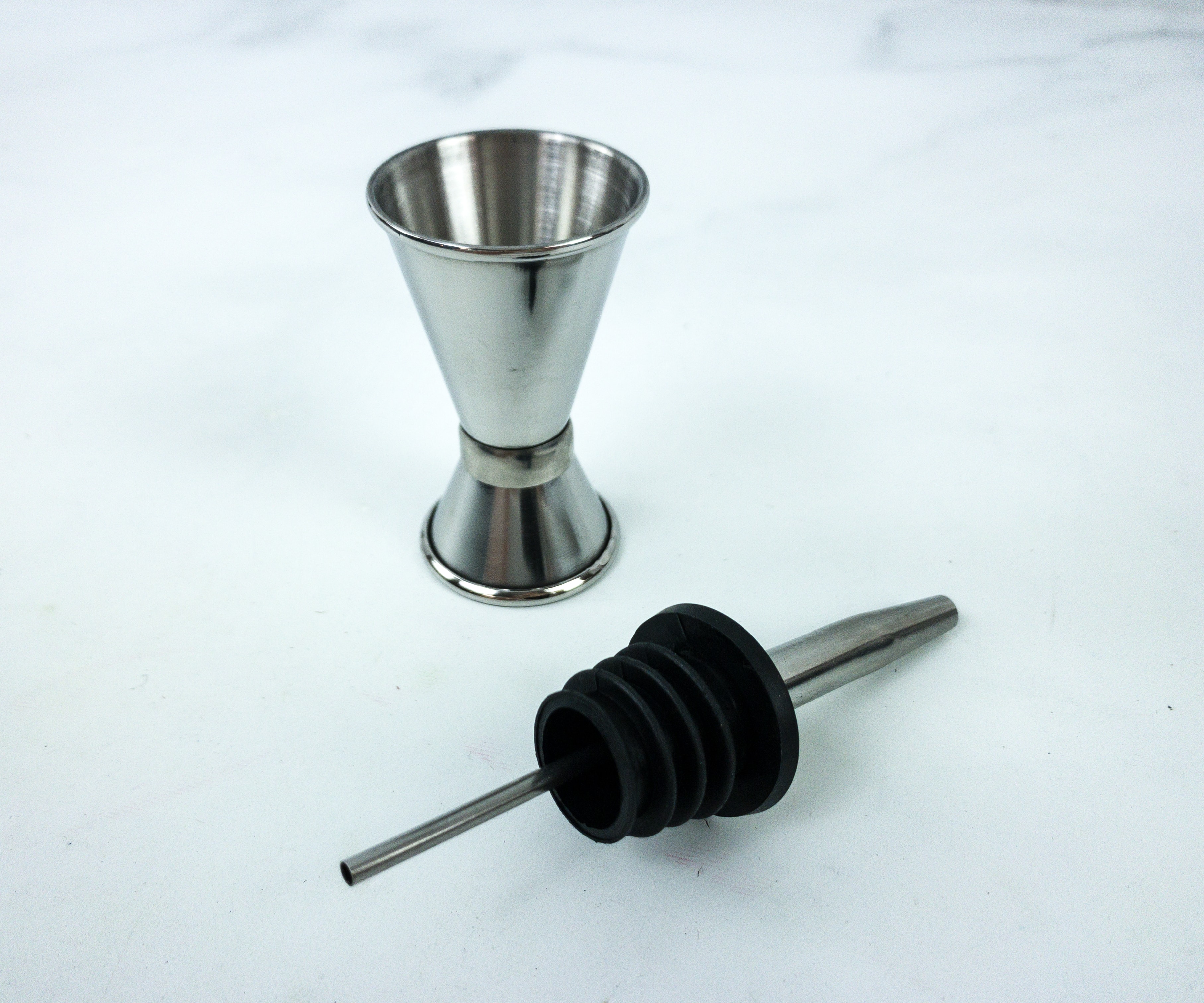 It also includes an American-style jigger and a liquor bottle pourer. This kind of jigger is the preferred jigger style of U.S. bartenders because of its dual wide-mouth measure cups and ease of use which makes mixing drinks fun and easy!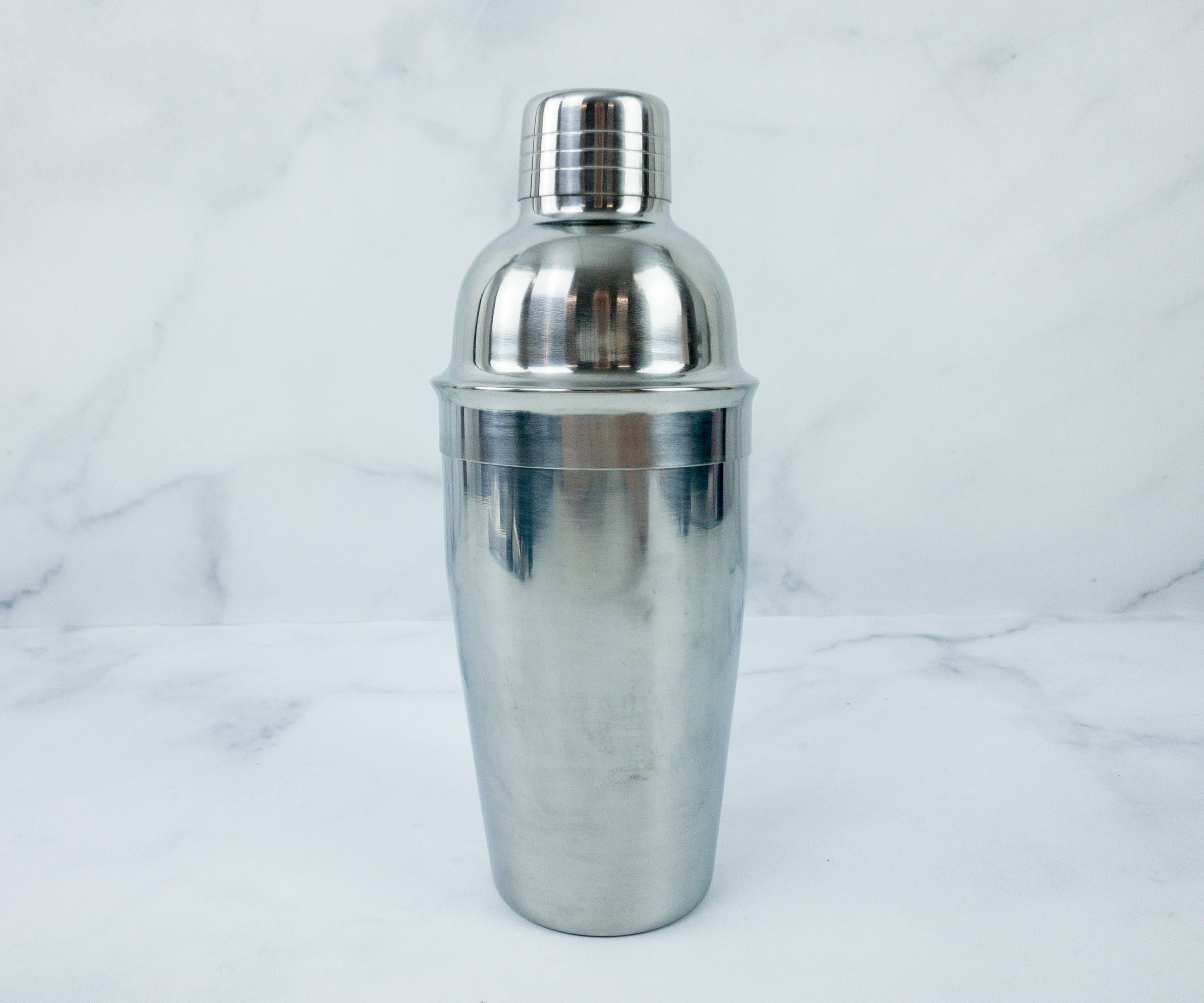 The cocktail shaker is of premium SST grade which means it is made of the highest quality food-grade stainless steel. I like that it is totally rustproof! The shaker comes with a built-in strainer and a top sealing shaker cap. Its capacity is 24 oz. which is big enough to shake 3 servings, at once.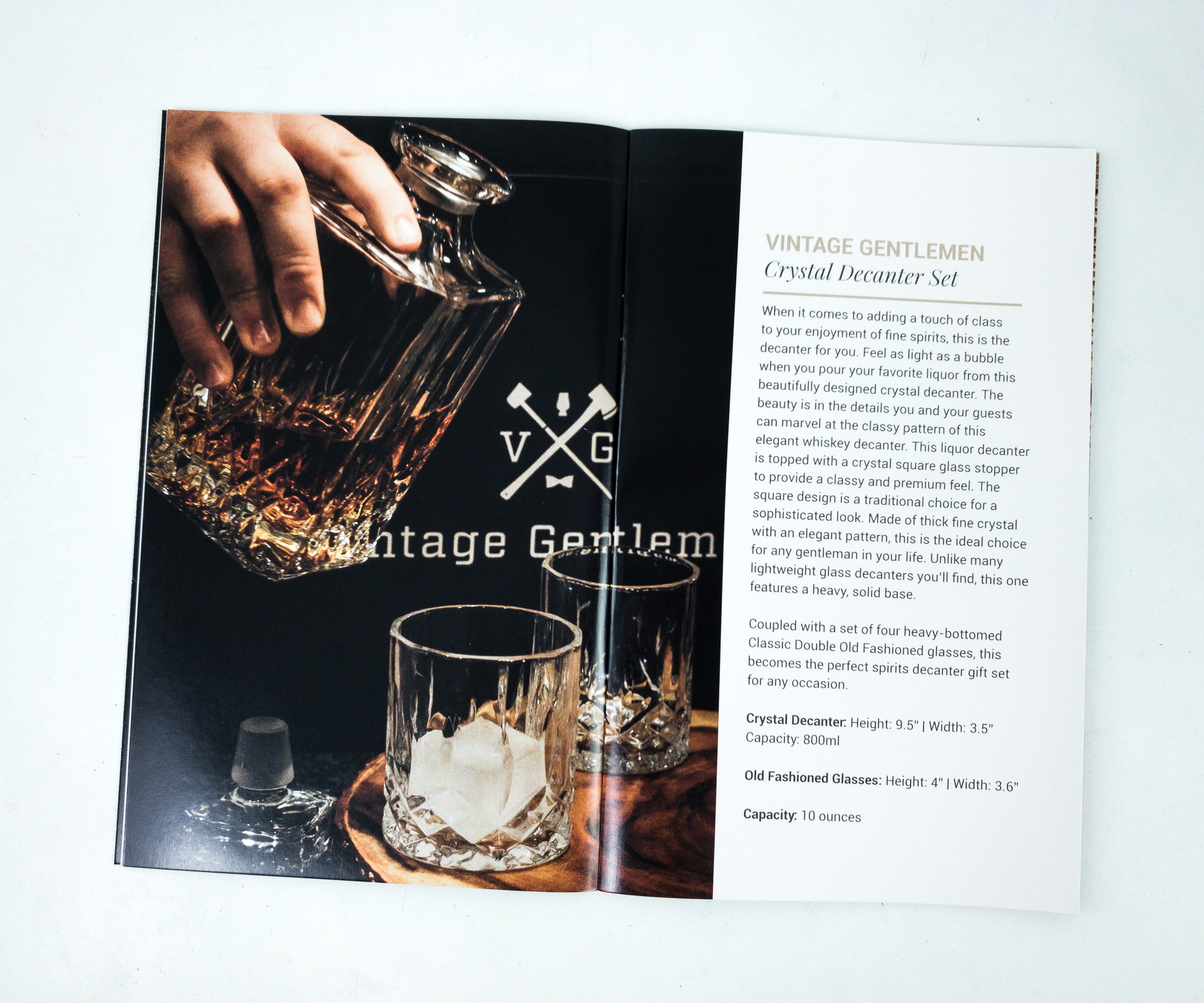 Vintage Gentleman Crystal Decanter Set. This decanter set is made with exceptional craftsmanship and care that it exudes pure luxury, class, and elegance.
The booklet has some useful verbiage all about the brand.
The decanter set comes with a timeless classic design featuring a whiskey decanter with a glass stopper and four 30-ml whiskey high-crystalline glasses.
It has a heavy, thick base for your ultimate drinking experience.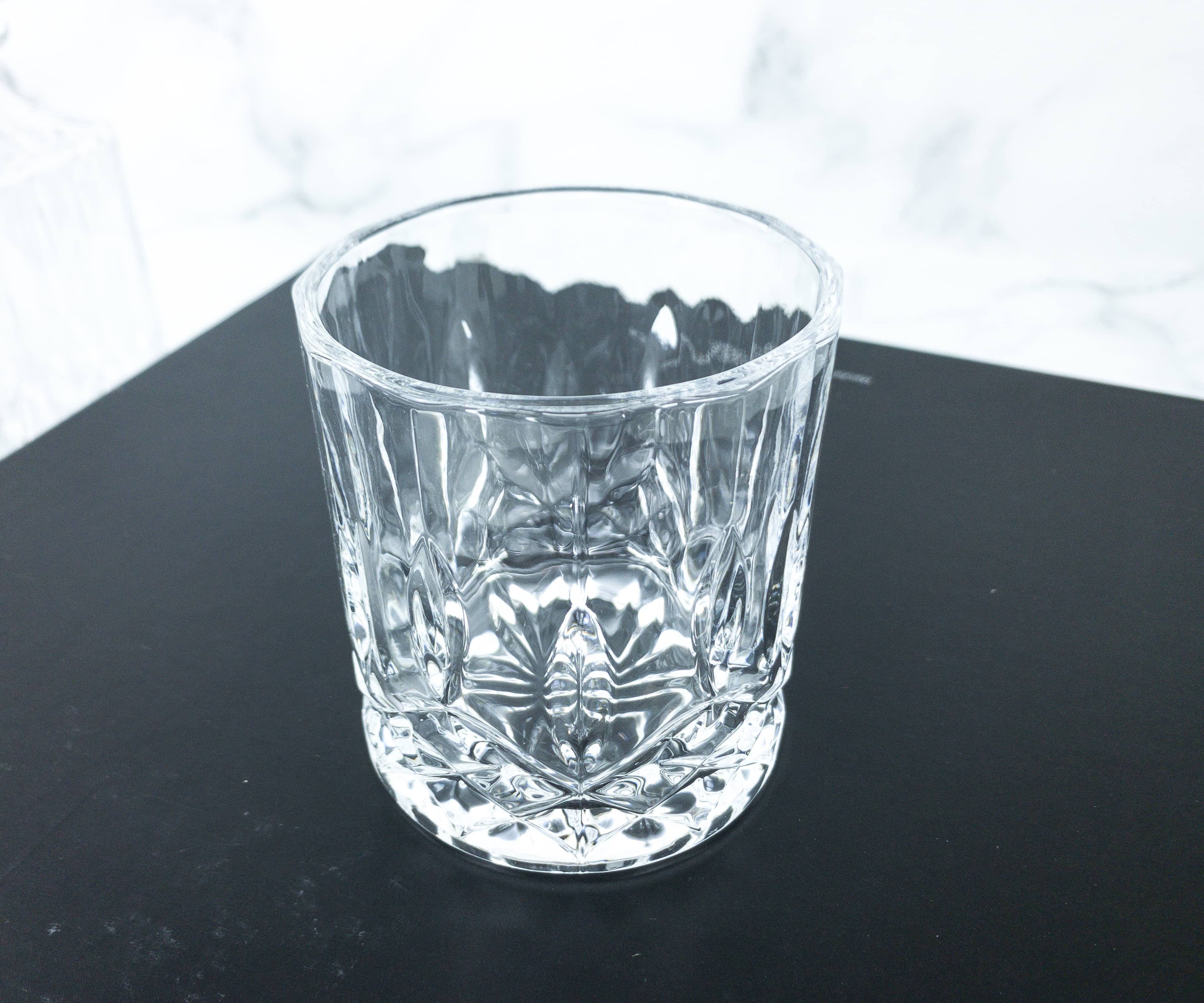 The crystal material is beautiful, durable and safe to use every day. I love that it has a vintage and elegant crystal cut design.
Obviously, the glass is thick and magnificently designed. It is large enough to hold whiskey to suffice a crowd.  It is heavy and balanced allowing a smooth pour each time.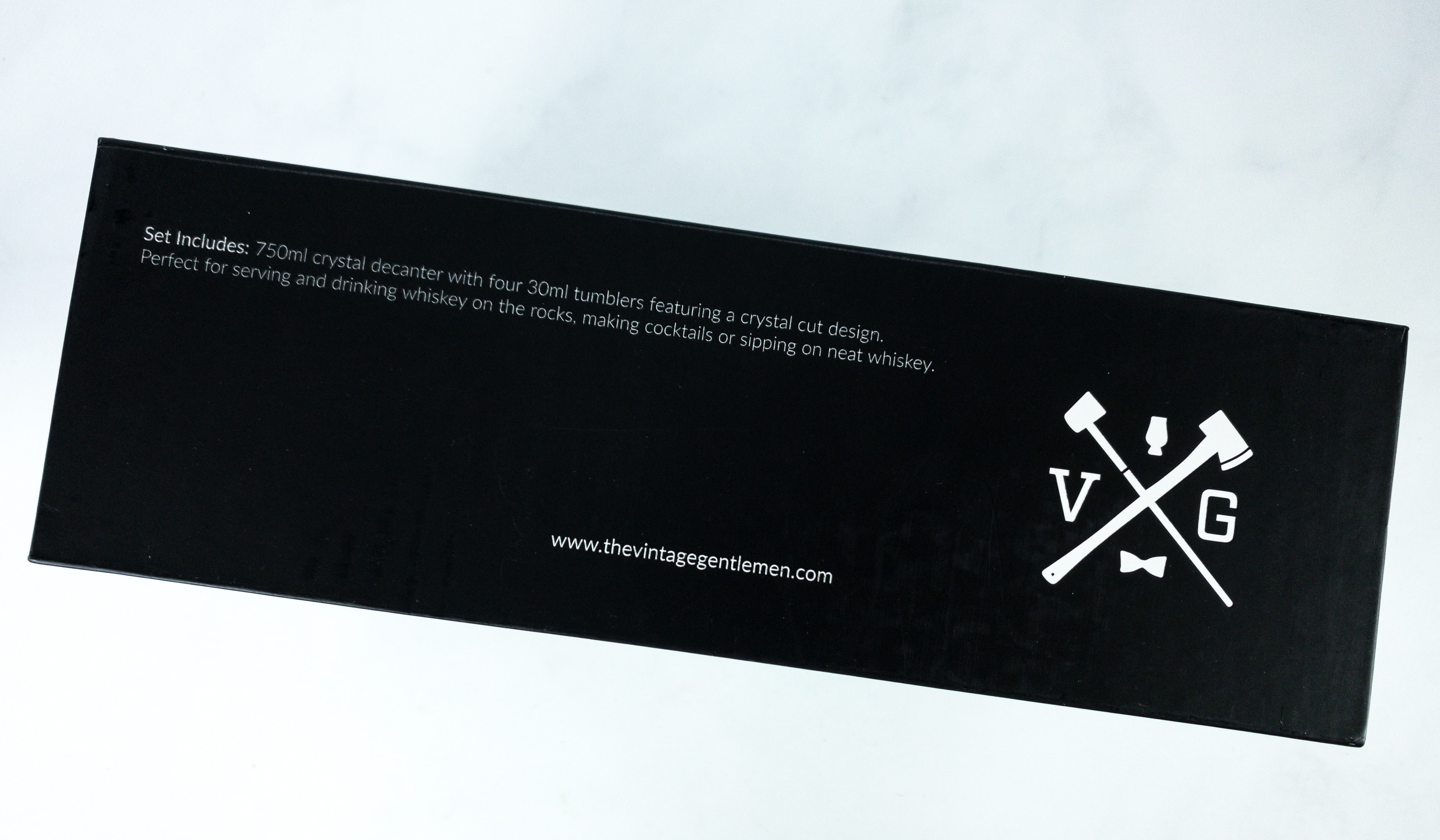 I love how one-of-a-kind the design is! It can definitely bring a sense of style and old-fashioned sophistication to your liquor bar. It is one stunning liquor decanter set with exceptional craftsmanship and additional info is found on its classy black info card.
The pieces in this season's Gentleman's Box Premium box are all elegant and beautifully-crafted. This is the perfect box for entertaining friends and family in the classiest way possible. It does create a luxurious ambiance and vibe. It is a gentleman's must-have. My favorite is definitely the decanter set. I like its old-fashioned yet sophisticated design. Unlike the monthly box, the quarterly premium box requires a longer wait, but it definitely cranks up the coolness and has an air of luxury, so it's definitely worth all the wait between boxes!
What do you think of Gentleman's Box Premium this quarter?