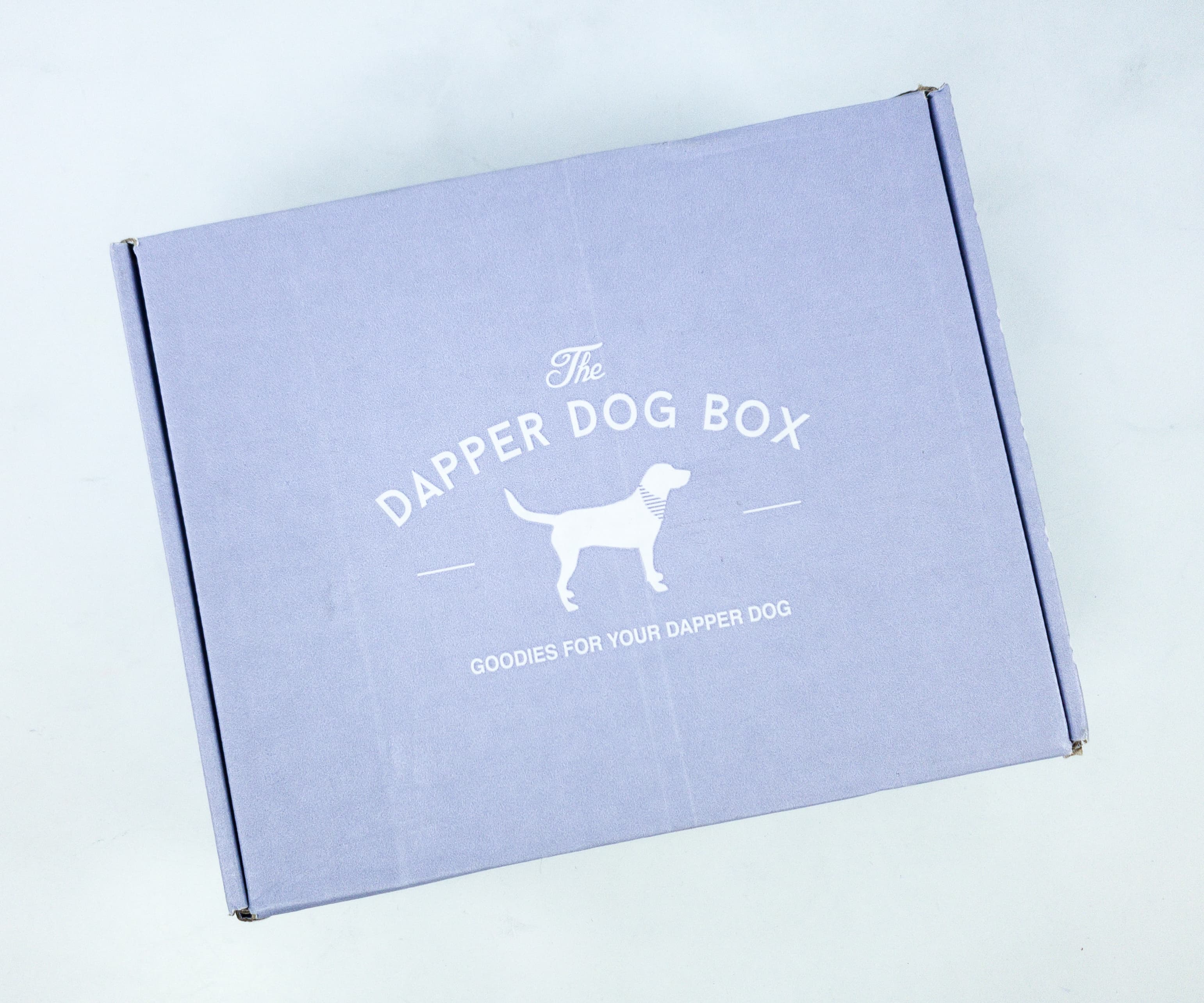 The Dapper Dog Box is a monthly box for your best friend in the world – your dog! They source organic and natural items from passionate small companies that love dogs, hand-picking each item for your dog based on a personalized survey. The survey lets you customize your box for gender, five different dog sizes, and also any allergies. The regular sized box has 4-6 items with an average $50 value.
DEAL: Save 10% off your first shipment! Use coupon code HELLOSUBSCRIPTION.
The interior of the box cover says "all you need is love and a dog" and I couldn't agree more.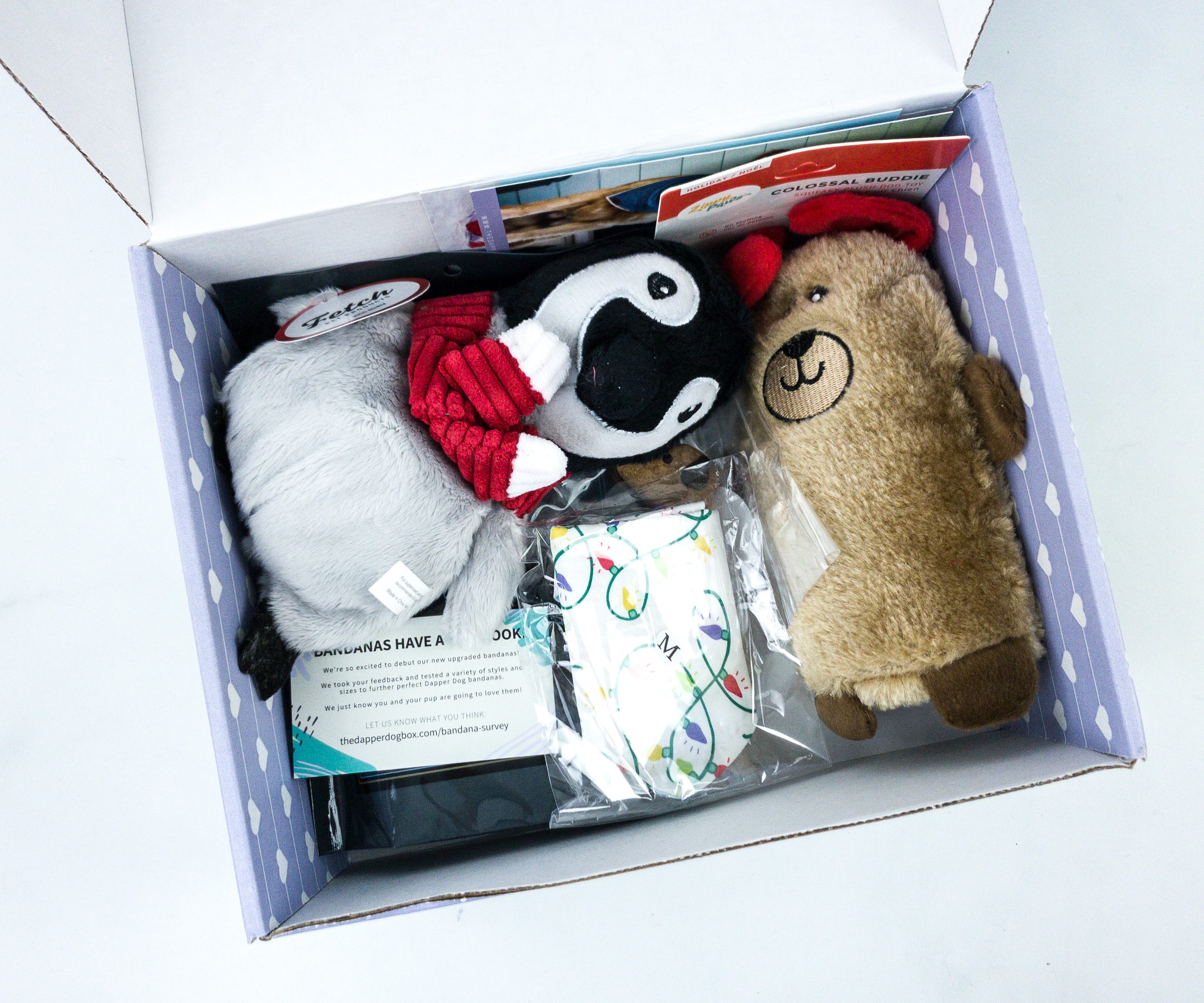 All the items are packed neatly inside the box. No fillers!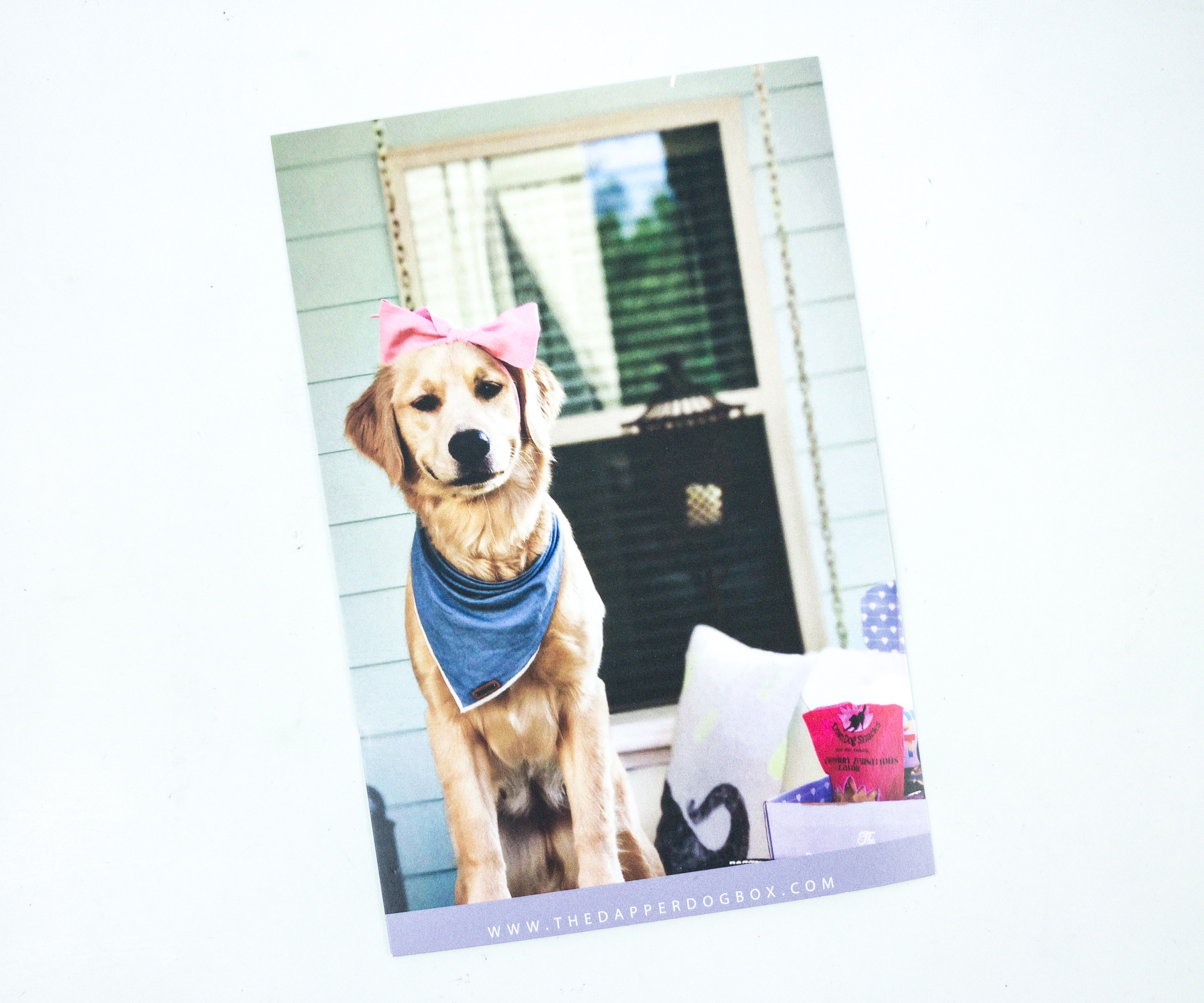 Every box comes with a cute information card.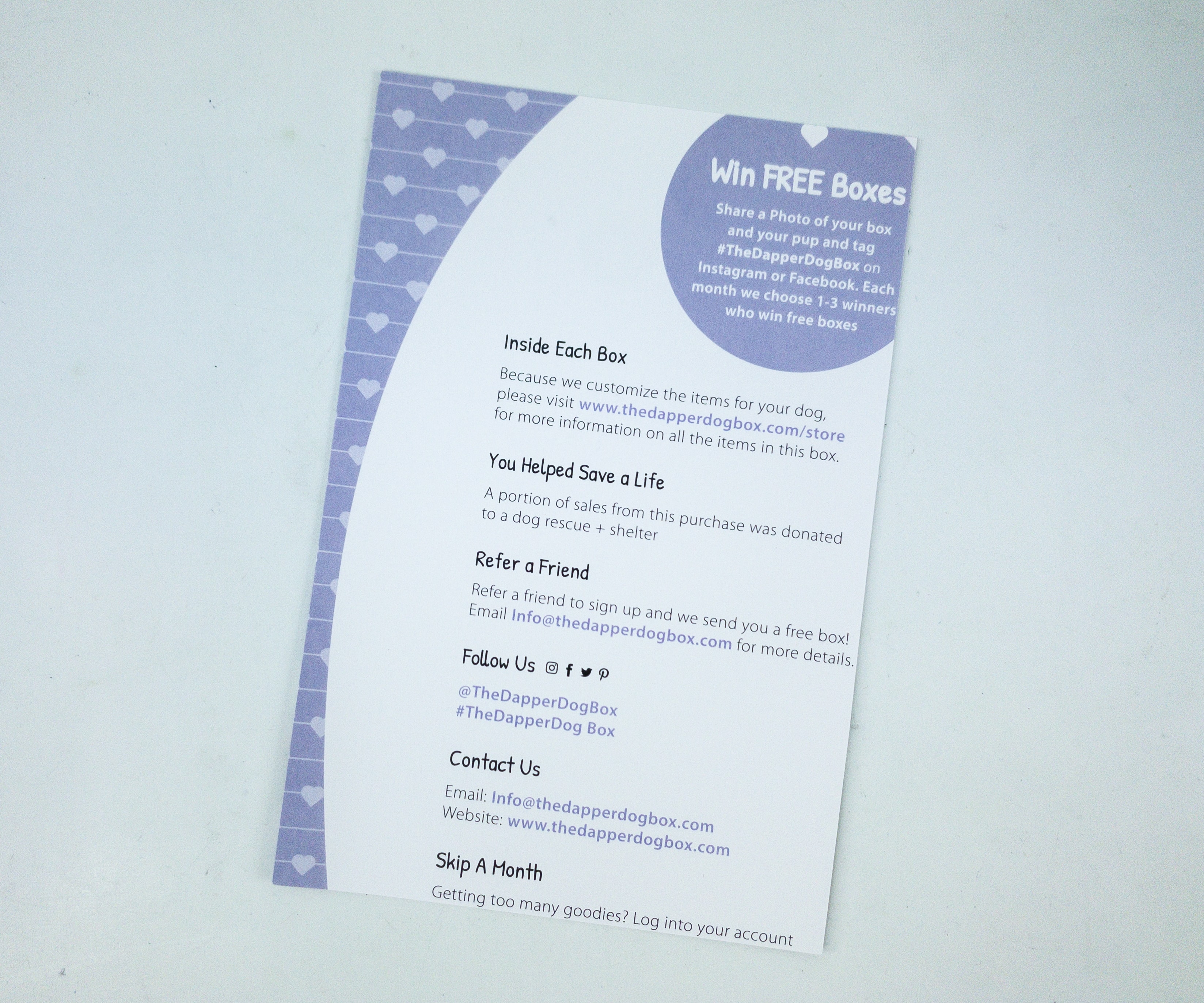 This card provides all the information you need to know about the box.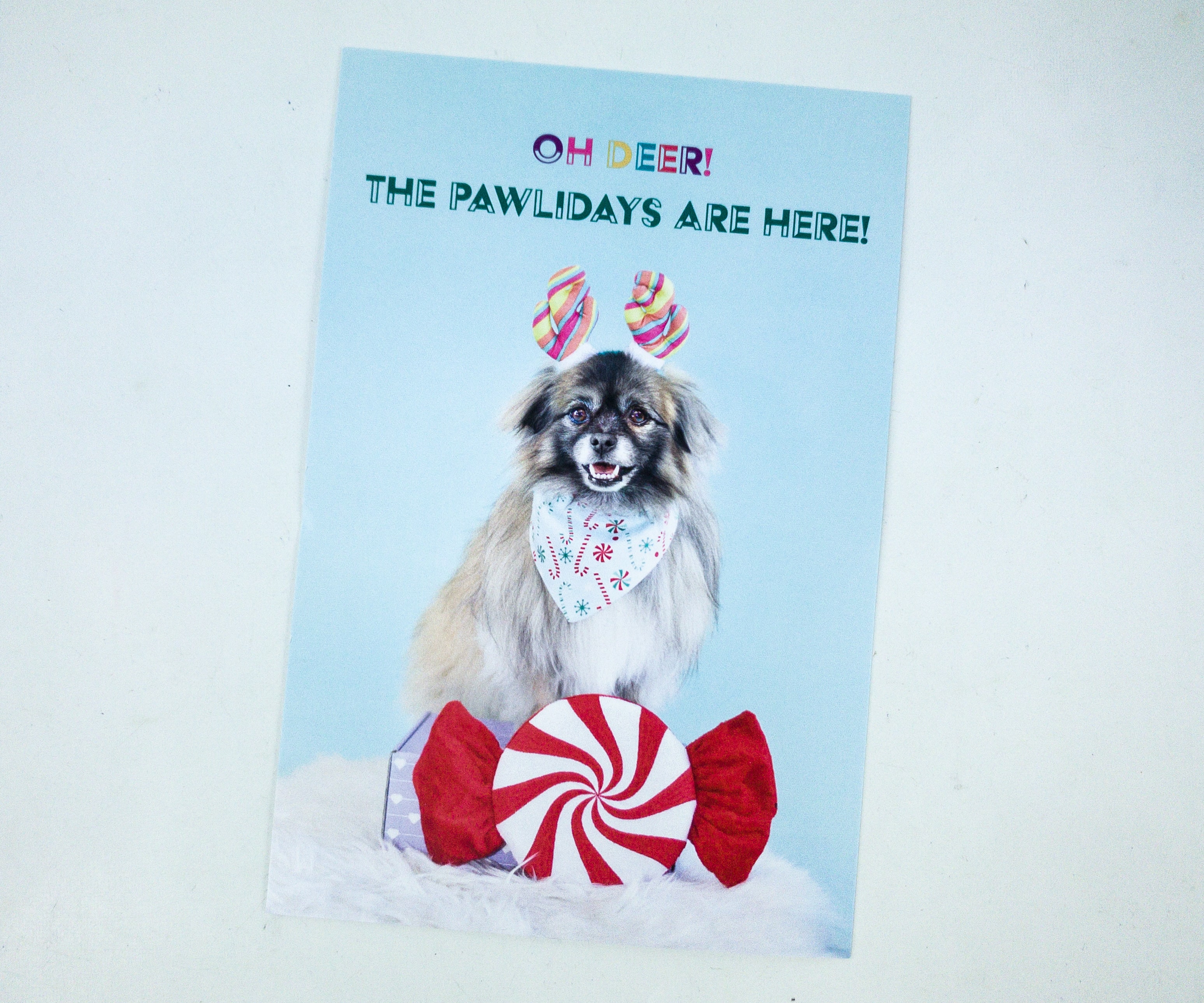 This month's theme is Oh Deer! Pawholidays Are Here!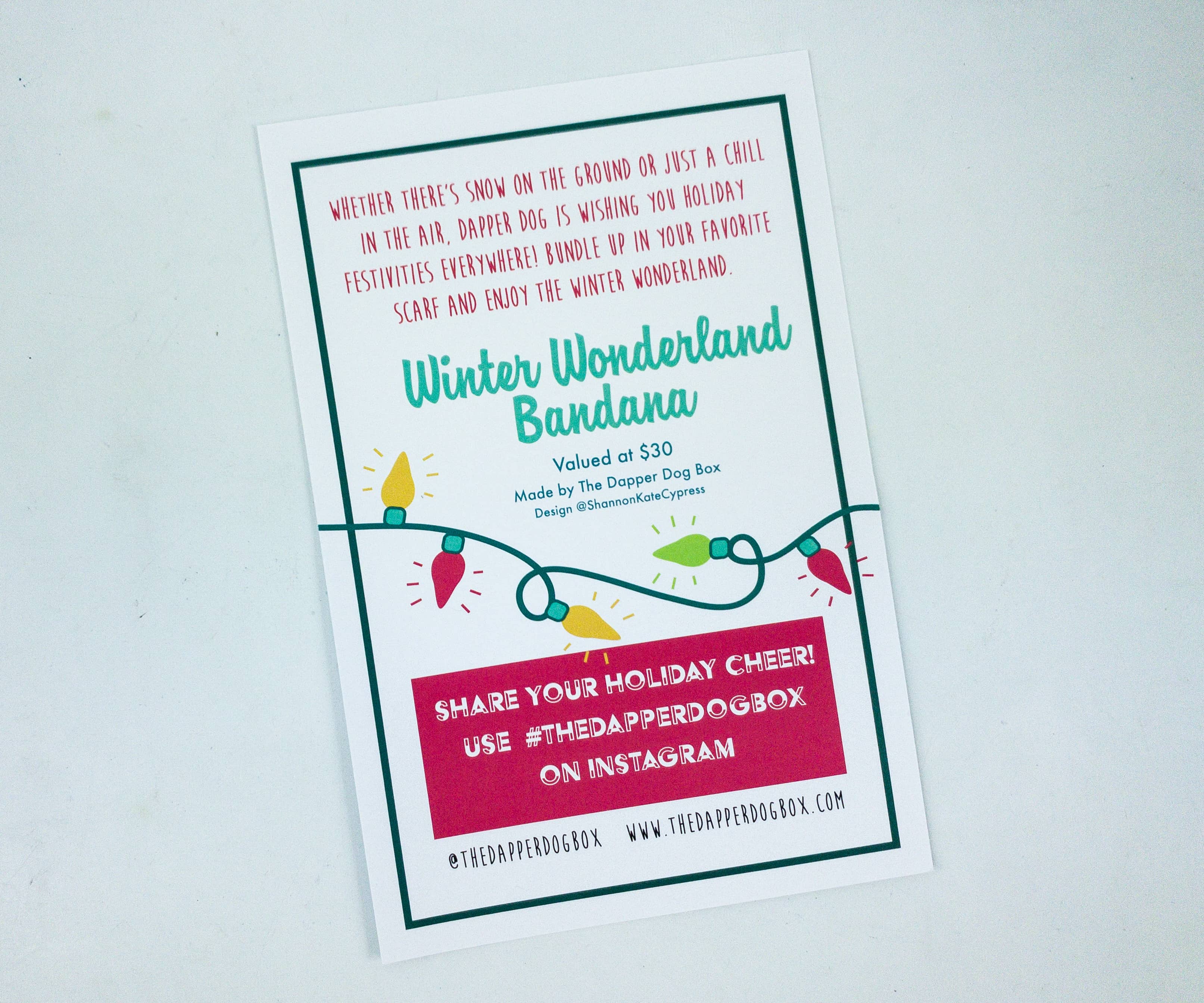 At the back, it lists the featured product! This month, it's the Winter Wonderland bandana!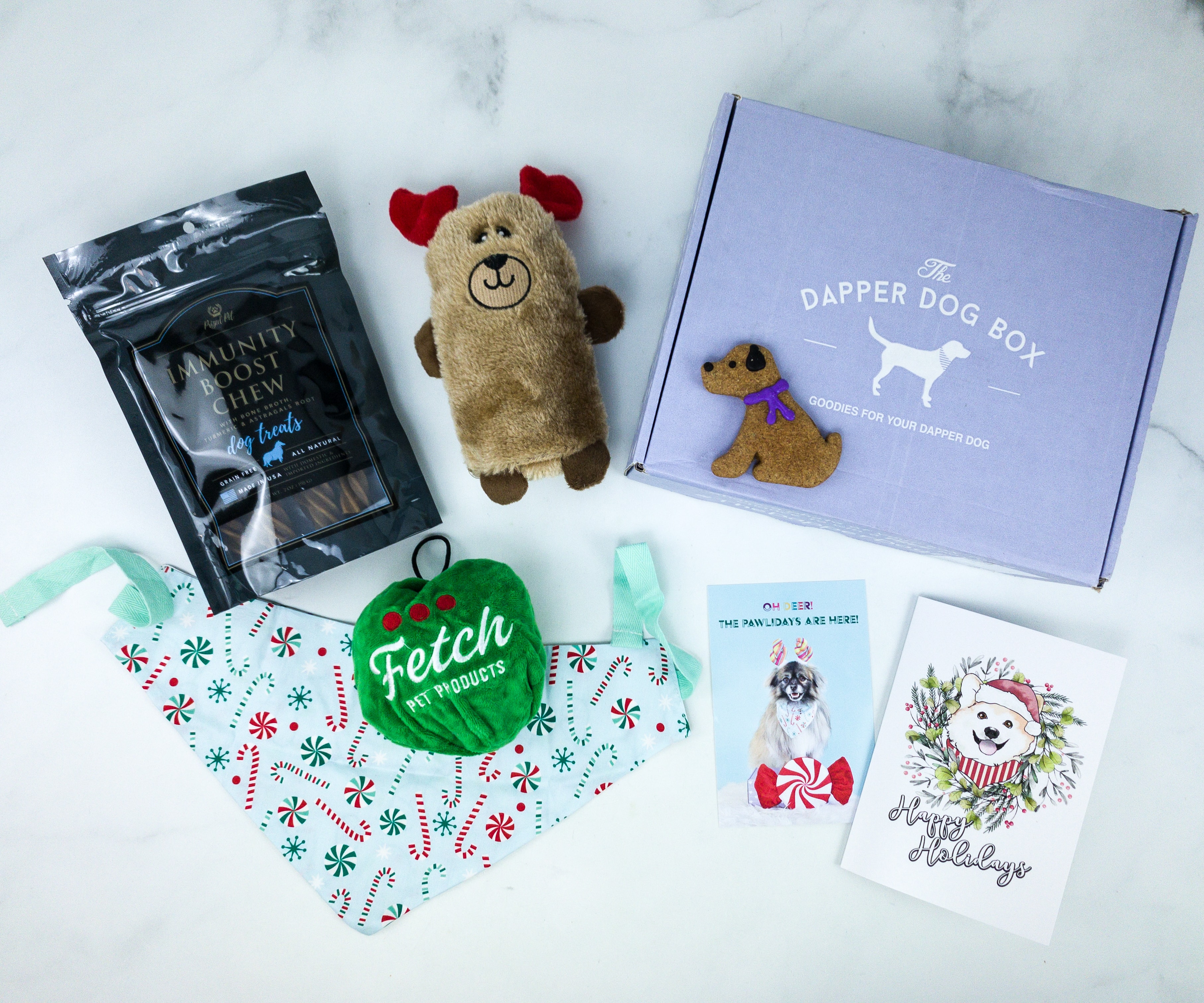 Here are all the items in the December box!
Happy Holidays Card. The box included a cute dog-themed Christmas card. The illustration of a dog with a Santa hat is accompanied by a wreath and a text that says "Happy Holidays"!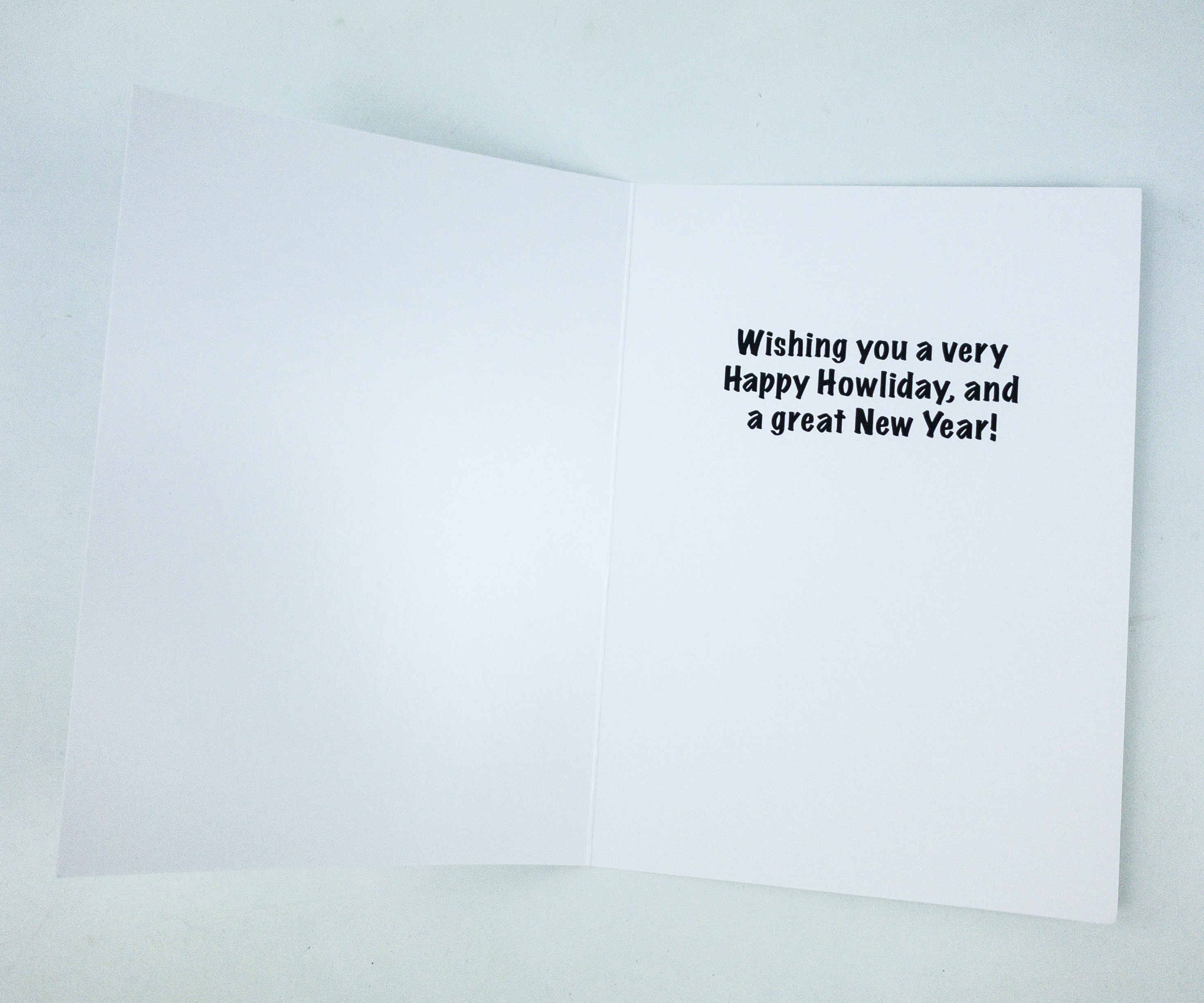 This greeting card can be given to a fellow pet parent. It comes with a generic message that says:
Wishing you a very Happy Howliday, and a great New Year!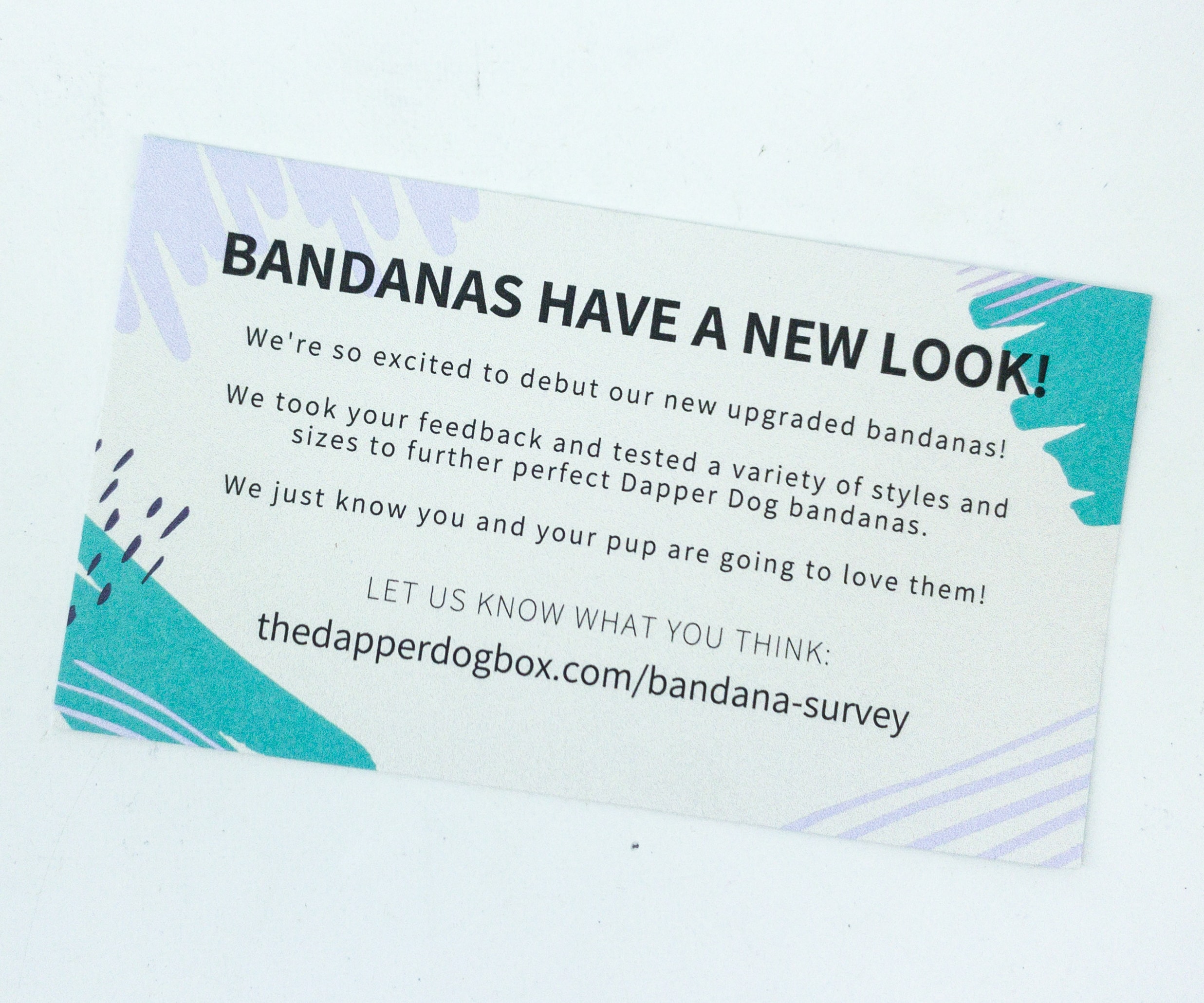 Bandana. The Dapper Dog sends out a limited edition bandana every month, and they take pleasure in continuously upgrading the bandanas they offer. This month's featured bandana came with a card that contains the link to a survey to help the team further improve it.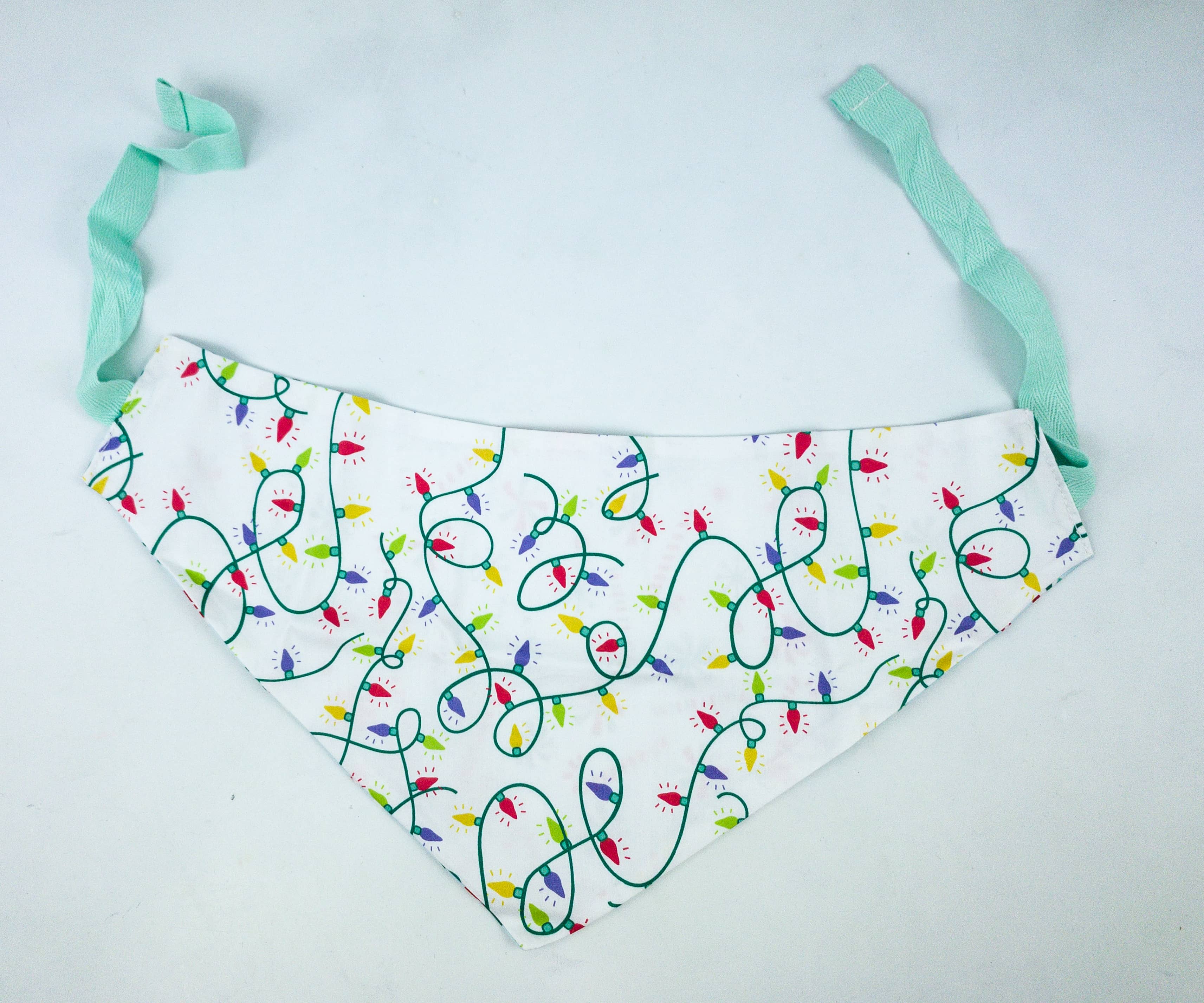 The reversible bandana has an attractive print on each side! One side shows colorful Christmas lights.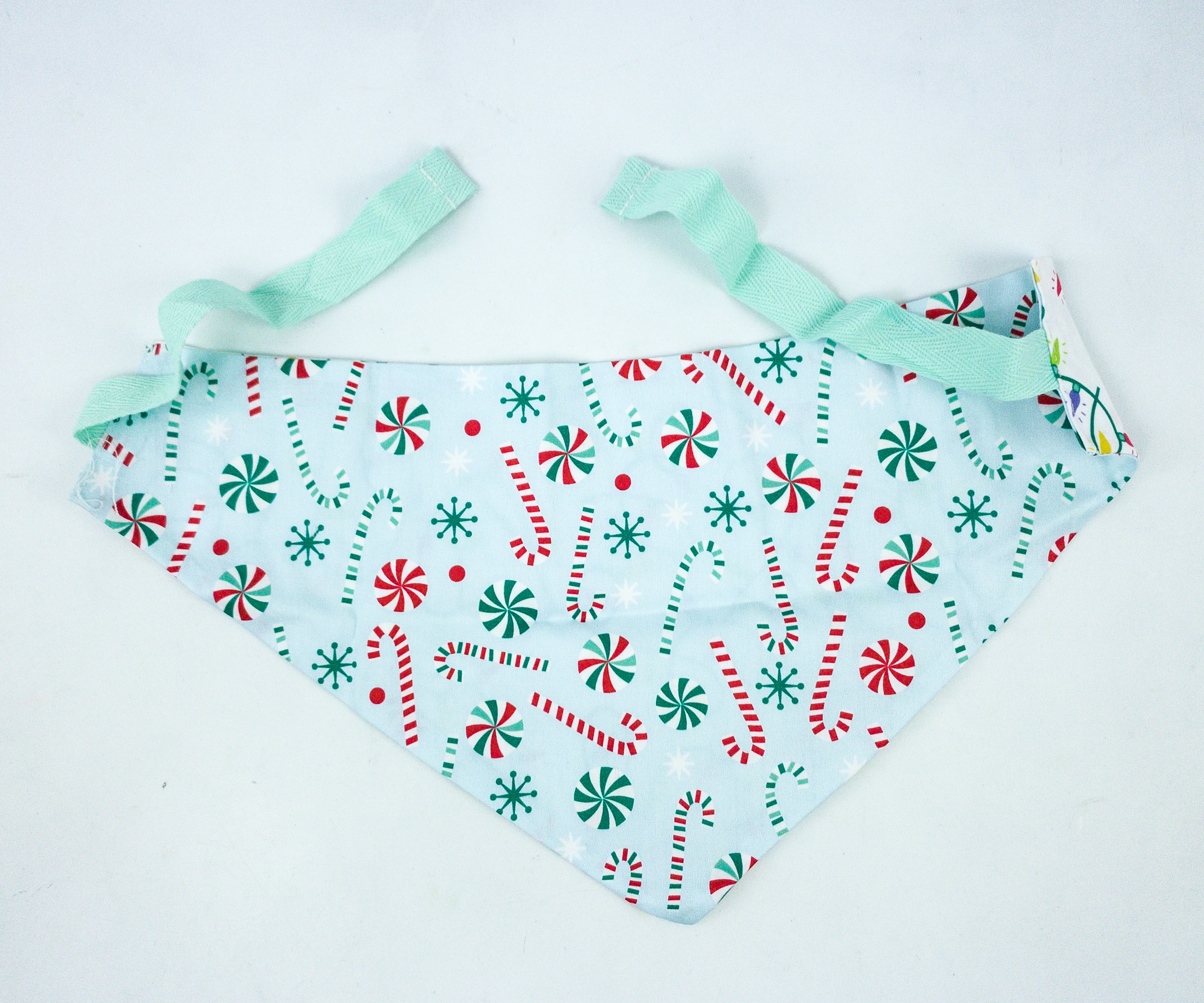 The other side has candy canes and candy swirls in popular Christmas hues of red, green, and white.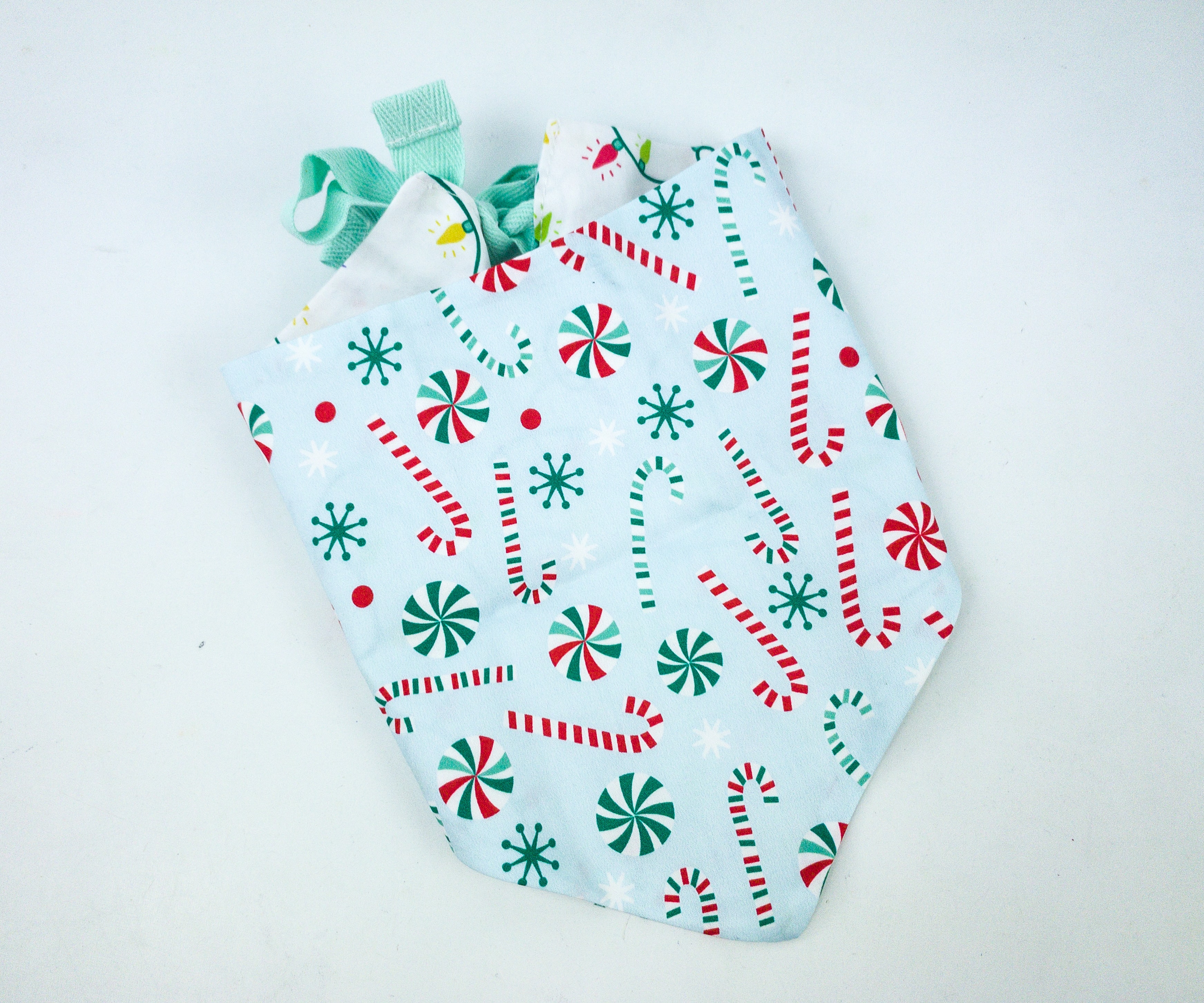 This high-quality, double-sided dog bandana is available exclusively from Dapper Dog! It also features a new and improved tie feature.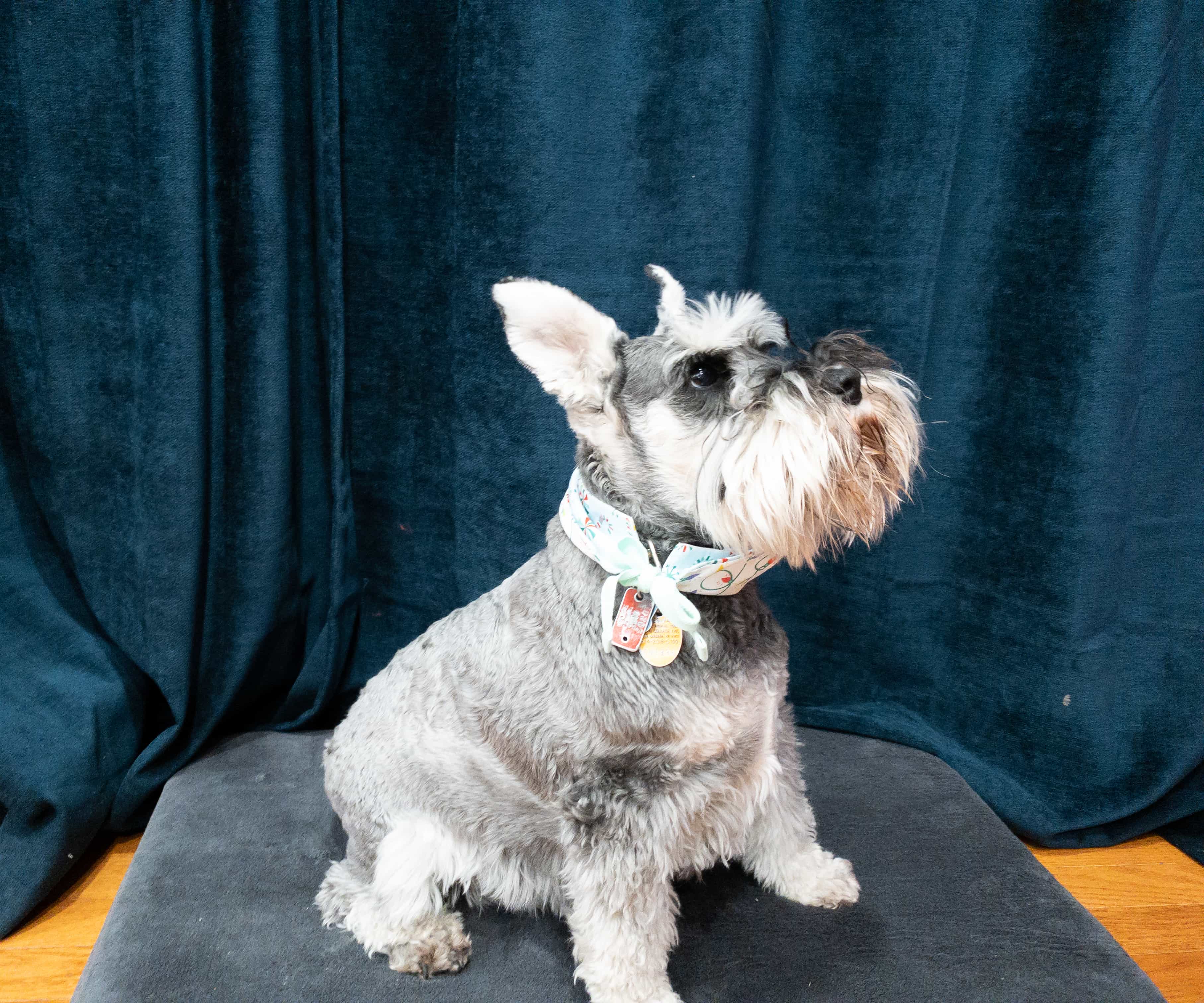 We had to try it out right away and our pup loved it!
The garment is soft and lightweight and we're very impressed with the prints, as always!
Zippy Paws Colossal Buddy Squeaky Plush Dog Toy ($6.49) The first toy is a reindeer plush toy. It doesn't have any stuffing to ensure your dog's safety. Another great thing about this plush toy is that it promotes exercise to your adorable pet since they can toss, tug, and run with this toy.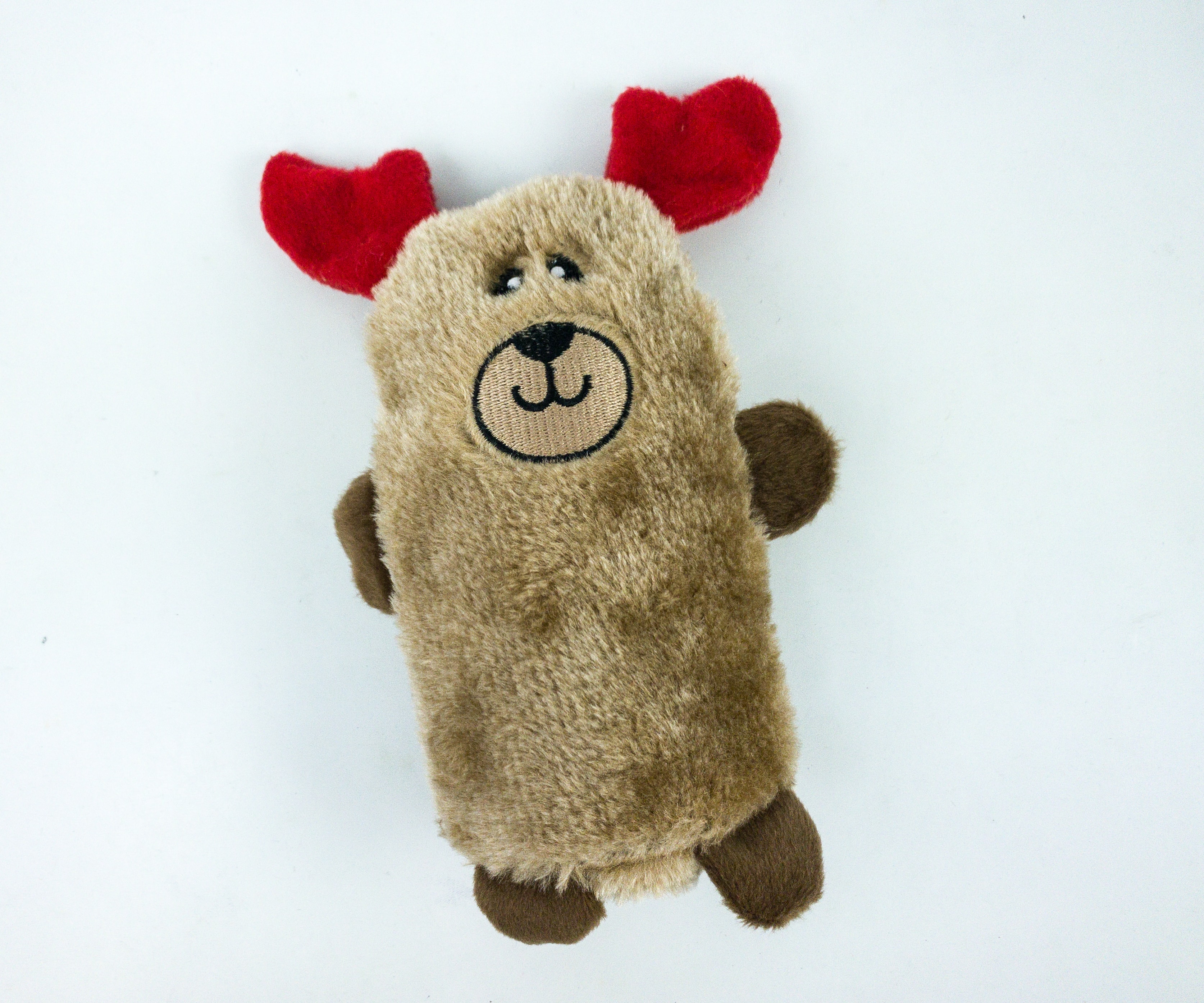 The reindeer design is so cuddly, making it a perfect buddy for our pets. It perfectly matches the holiday festivities.
Since it has a squeaky sound, the toy easily keeps our beloved pets occupied and entertained.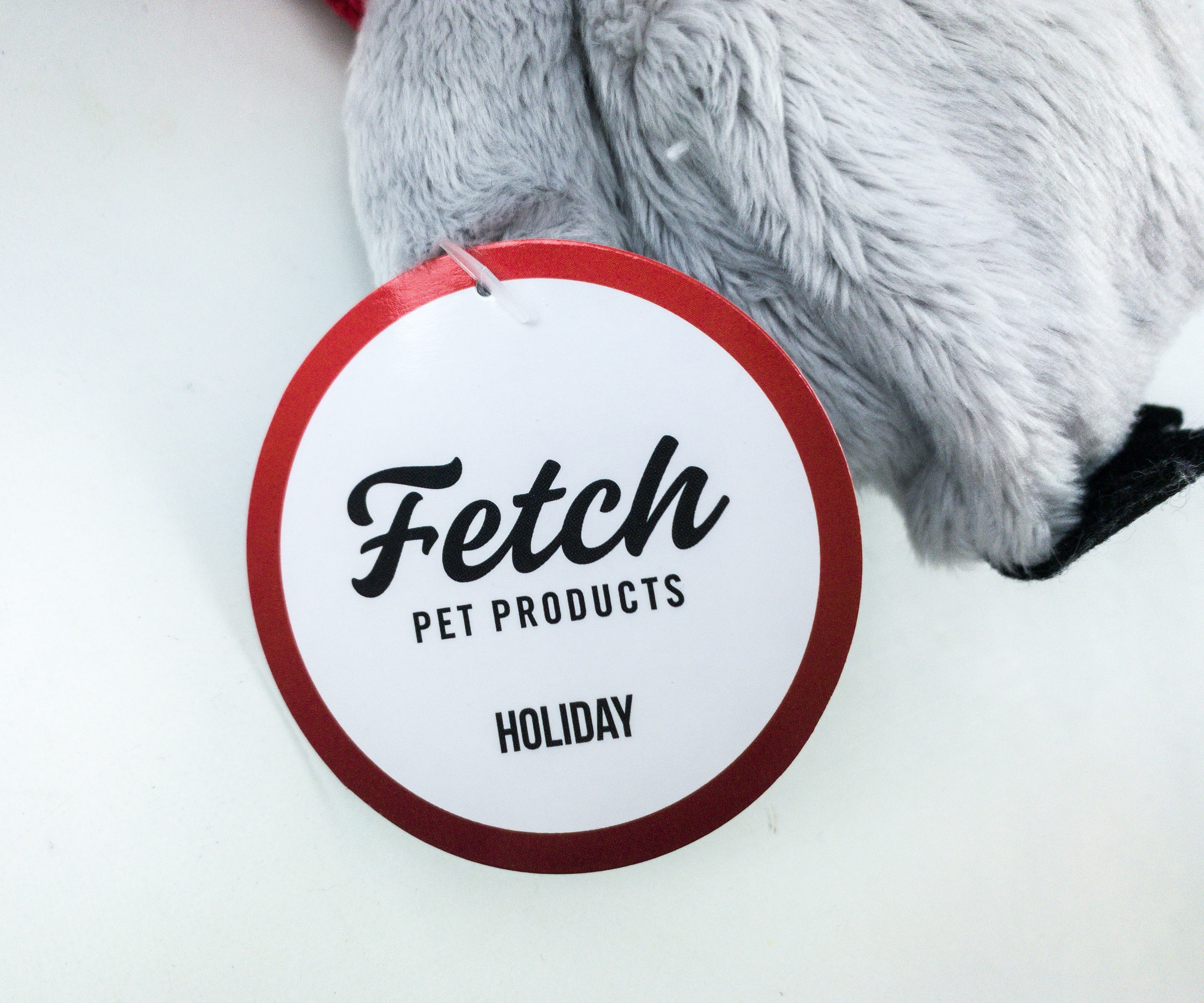 Fetch Pet Products Holiday Penguin Dog Plush ($8.99) The second toy is another big hit! It's an interactive hide-and-seek puzzle plush, which has an open hatchet for hiding treats.
The cute little penguin plushie is even wearing a red scarf!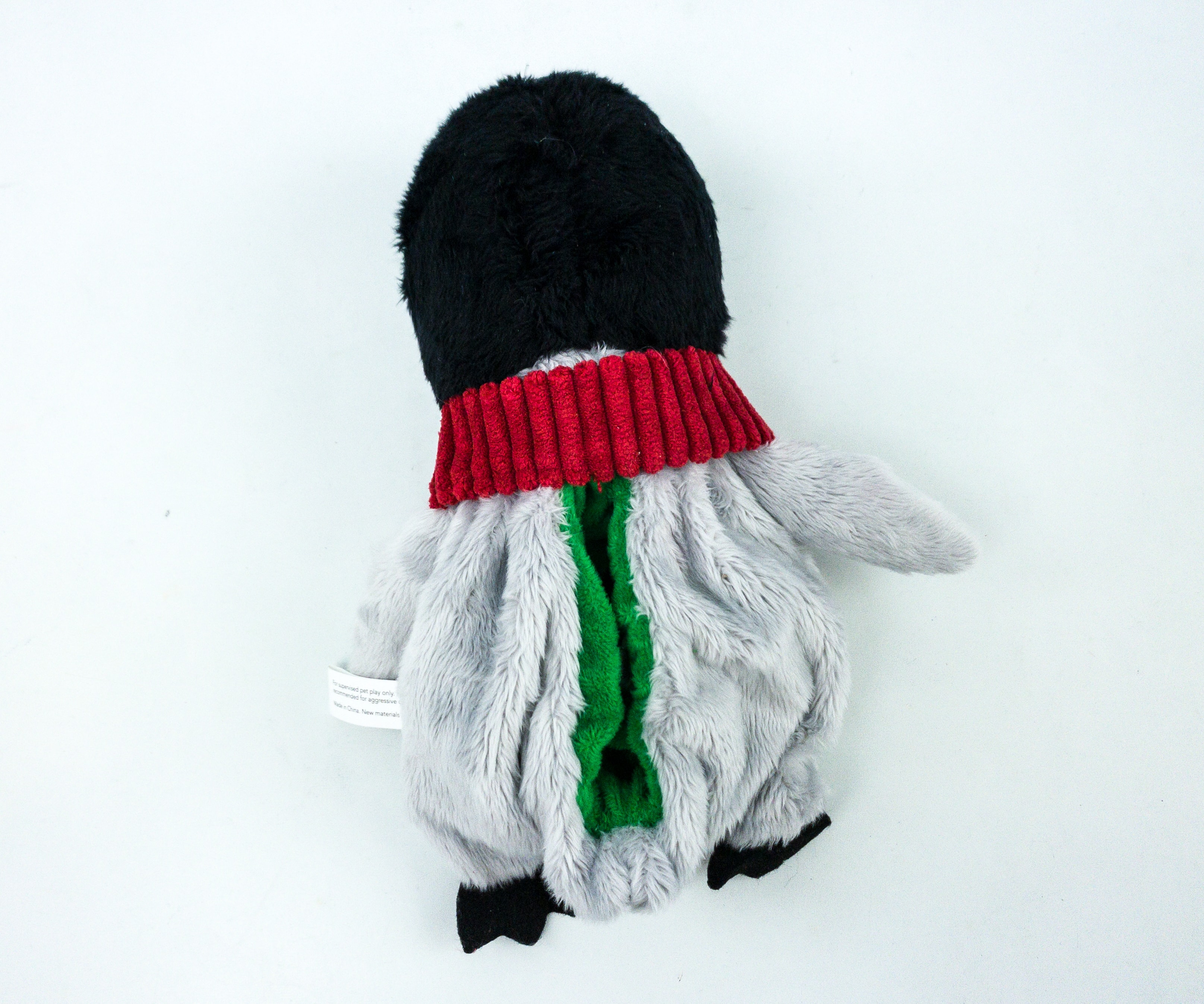 The special plush toy surprisingly turns into a holiday ornament once you tuck in the penguin character into the green open hollow back.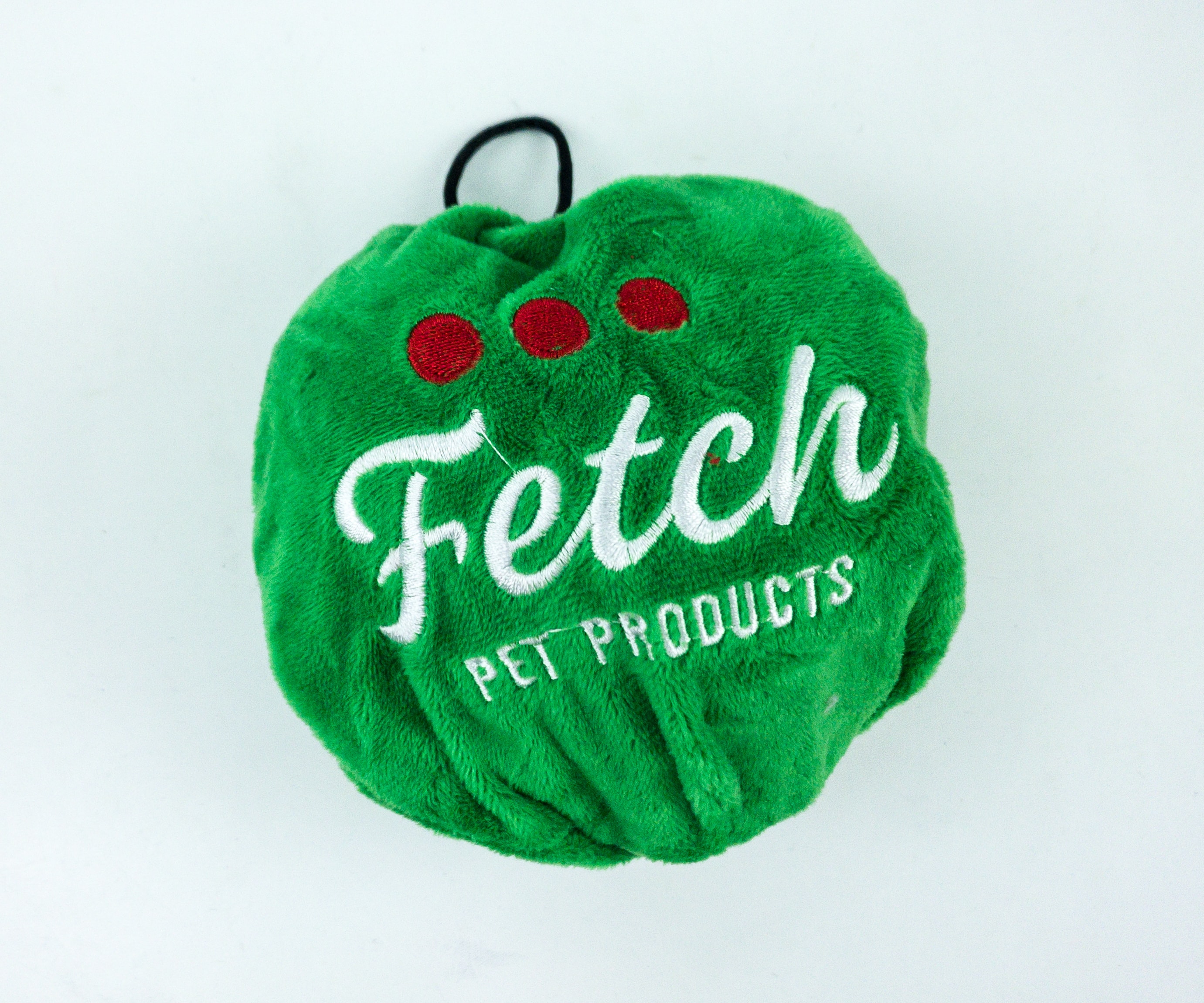 Its hollow back is intended for hiding the penguin character into a holiday ball ornament. It looks like a green Christmas ball that you can hang in the tree.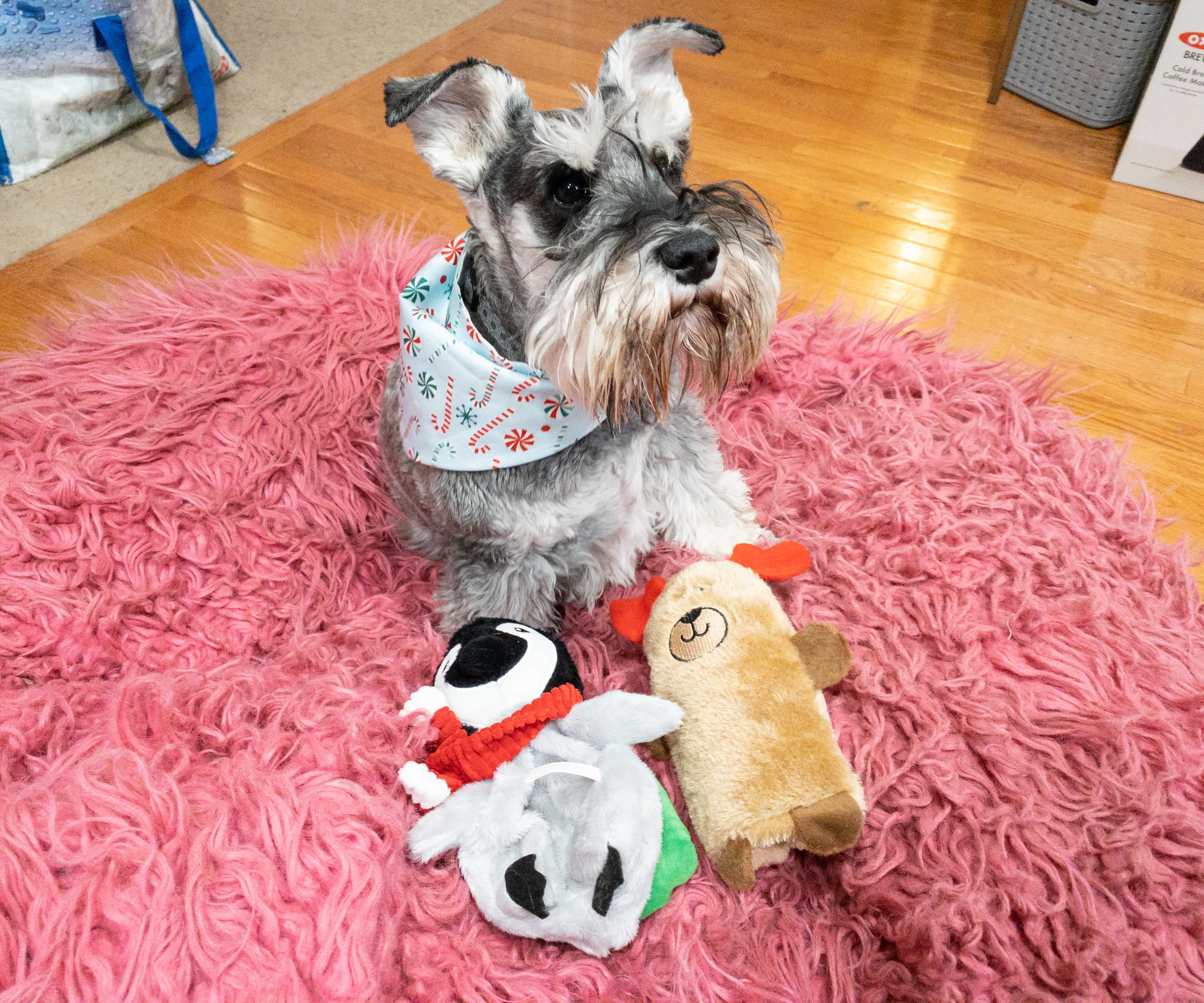 Hooray for new toys and new cuddle buddies!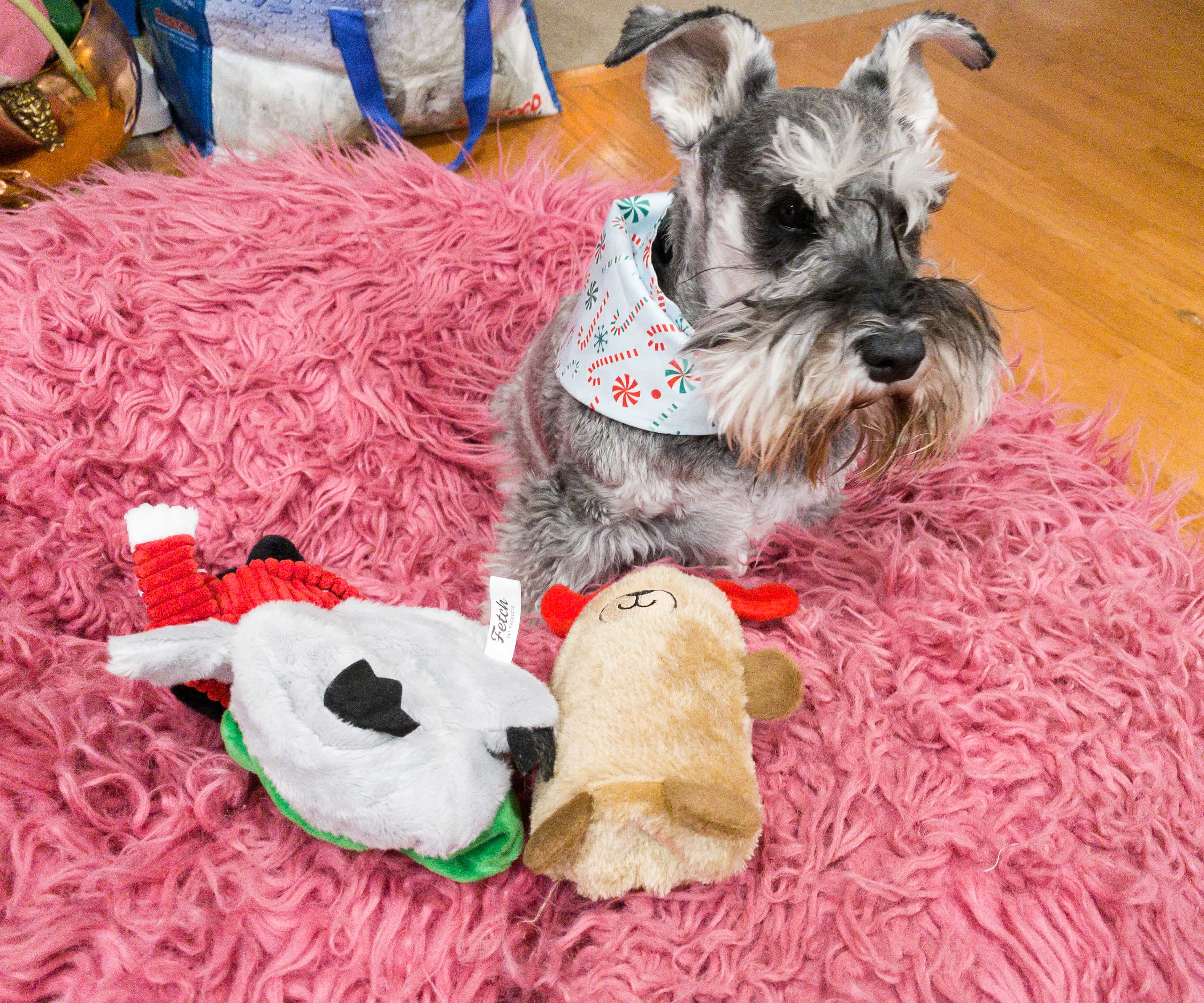 Our pup wouldn't let these new toys go!
Taj Ma-Hound Pea-Mutt Butter Dog Treats. This cute mutt-shaped biscuit is a healthy treat for our beloved dogs. It's made of all-natural ingredients including peanut butter and oat flour, and also decorated with carob and yogurt frosting.
This bite-sized treat is perfect for dogs of any size and also makes a great training treat.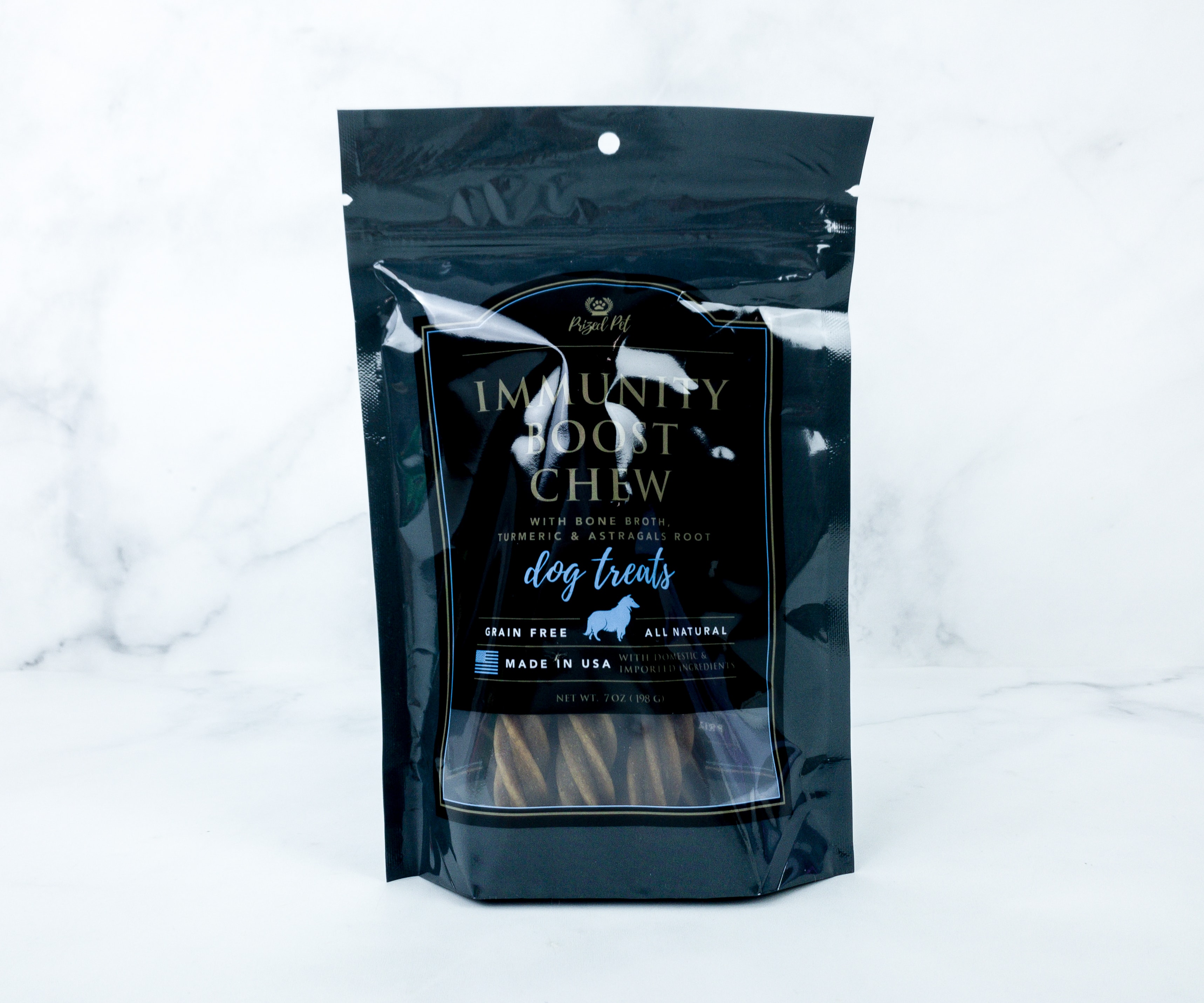 Prized Pet Immunity Boost Chew Dog Treats ($9.99) This special treat is an all-natural and grain-fee immunity-boosting chew stick! It's made with bone broth, turmeric, and astragalus root. It also has chickpea, pea fiber, sweet potato, and tapioca flour. Peas are known to have a high protein and fiber content that boosts your dog's overall health.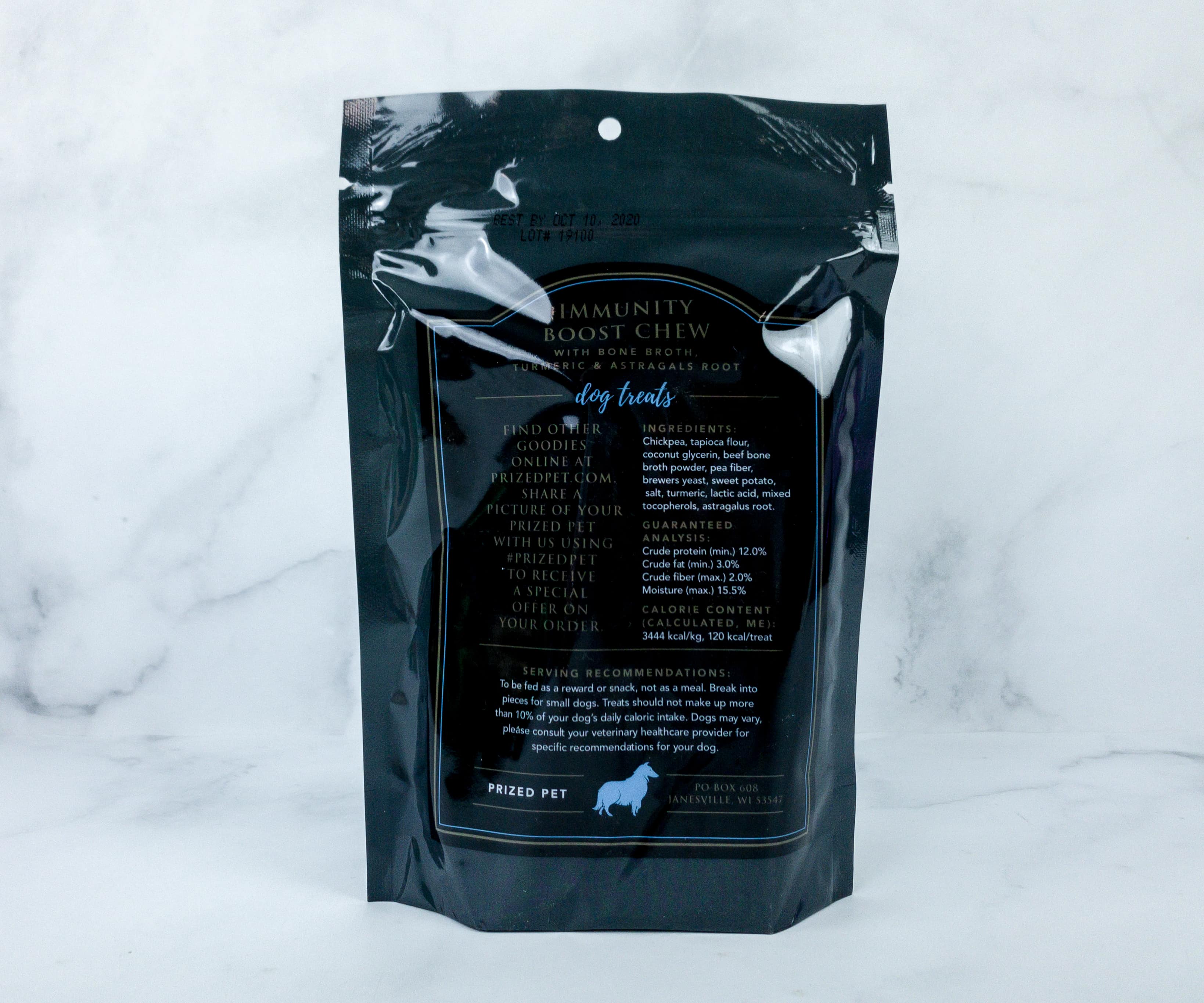 It can be fed as a reward or a snack but not suggested as a meal replacement.
There are 7 pieces of immunity boost chews inside the packaging. They're all textured and chewy. The size is just right for our pups, but you can also break them down into smaller pieces easily.
This box is a complete hit! The toys are special and unique, and we love the festive character designs perfect for the Christmas season. Our favorite is definitely the interactive penguin toy. We had fun watching our dogs use their nose to find and dispense the treats from the toy. Gradually, they started to learn how to turn the toy inside-out! As for the treats, they're tasty and made with such healthy ingredients so we have one less thing to worry about regarding our dogs' well-being. As always, we're impressed with the bandana! It's really cute and now easier to wear because of the tie feature. We have happy and satisfied furbabies, all thanks to Dapper Dog! They can't wait to unbox next month's surprise treats!
Did you love this month's box as much as we did?