The Argan Beauty Box is a monthly subscription service that focuses on products made with the purest argan oil, including skincare, haircare, cosmetics, and even argan products for culinary purposes. You can choose to receive a box curated by them, or customize your own box depending on your needs or preferences.
This is a review of The Opulent Skin Box ($289.95).
DEAL: Get 50% off + FREE gift with your first box! Use coupon code 50FREE.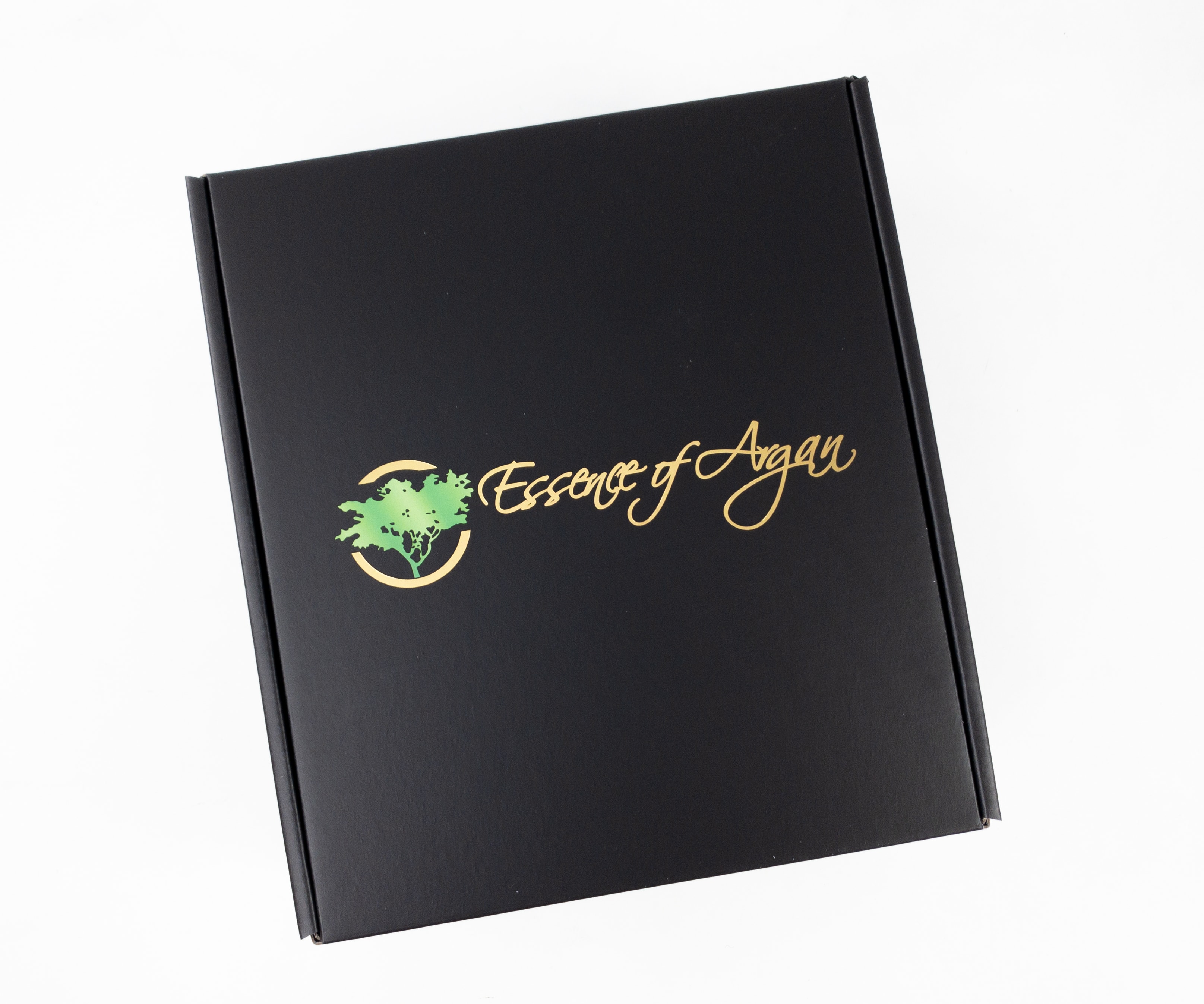 The items arrived in an elegant, black box with the Essence of Argan branding.
The box is carefully packed and has black squiggles to keep everything in place.
There were a total of 7 items inside this month's box. Again, this is The Opulent Skin Box which contains 5 anti-aging serums, pure argan oil 30ml, and CaviArgan.
Everything in my box!
Essence of Argan CaviArgan ($79.99) CaviArgan is made with caviar and Moroccan argan oil, thus its name. This is an all-in-one skincare product that works as a moisturizer and anti-aging cream, while also protecting your skin from UVA and UVB light. Other key ingredients are retinol, omega fatty acids, and antioxidants.
It has a smooth, creamy consistency. Although it takes quite a while to completely dry up, it feels very moisturizing on my skin. It has a neutral odor and doesn't have a strong smell which I like especially for facial creams that I use. I love how this cream gives me an inner glow shine after my skincare routine.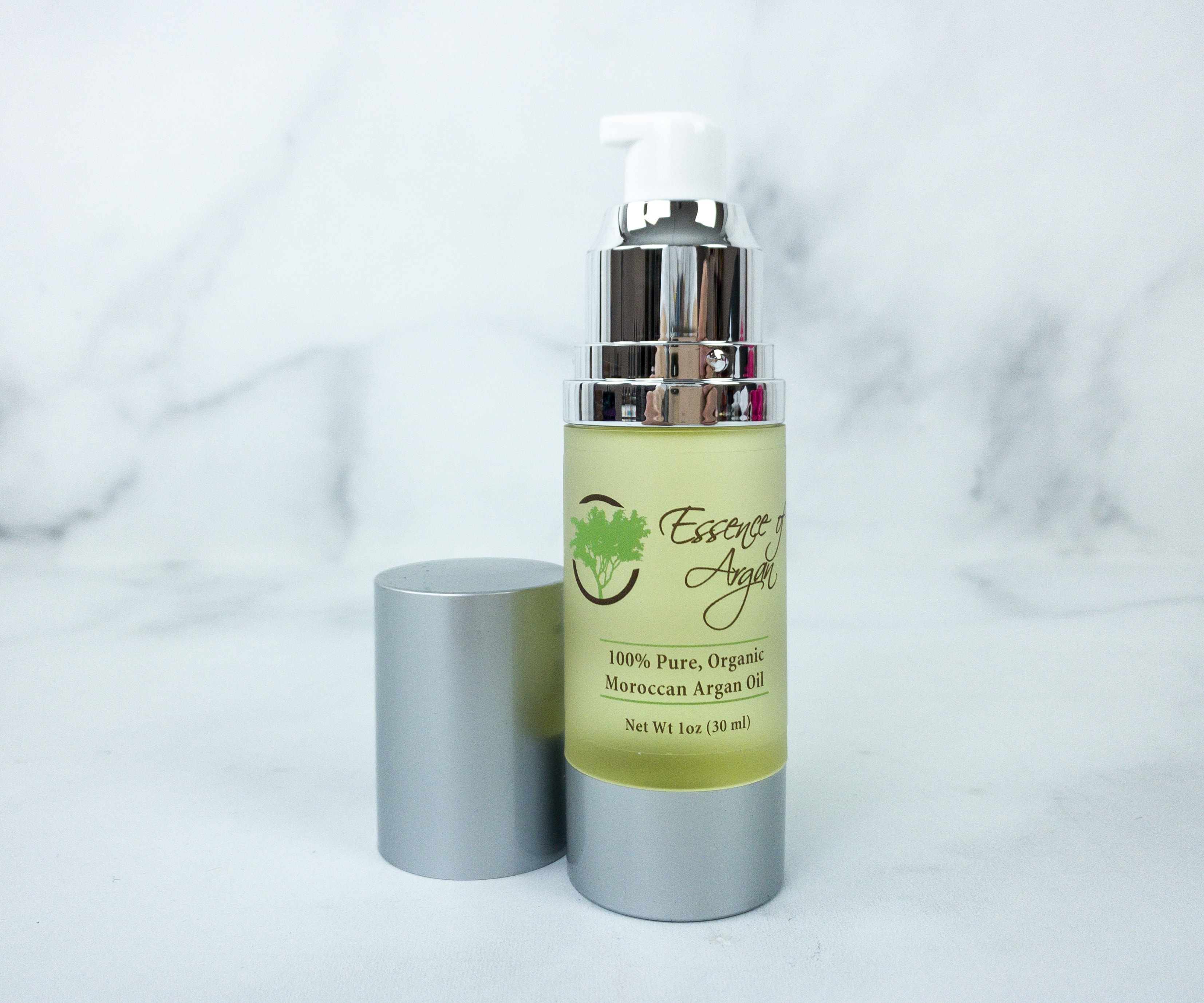 Essence of Argan Moroccan Argan Oil ($88.30) It's a 30 ml bottle of all-natural argan oil, also known as "liquid gold" due to its outstanding medicinal, nutritional, and cosmetic properties. It can be used to treat, moisturize, and nourish conditions in the hands, skin, hair, nails, lips, feet, and cuticles. I love that it has a pump-action nozzle for easy application which keeps it clean and bacteria-free.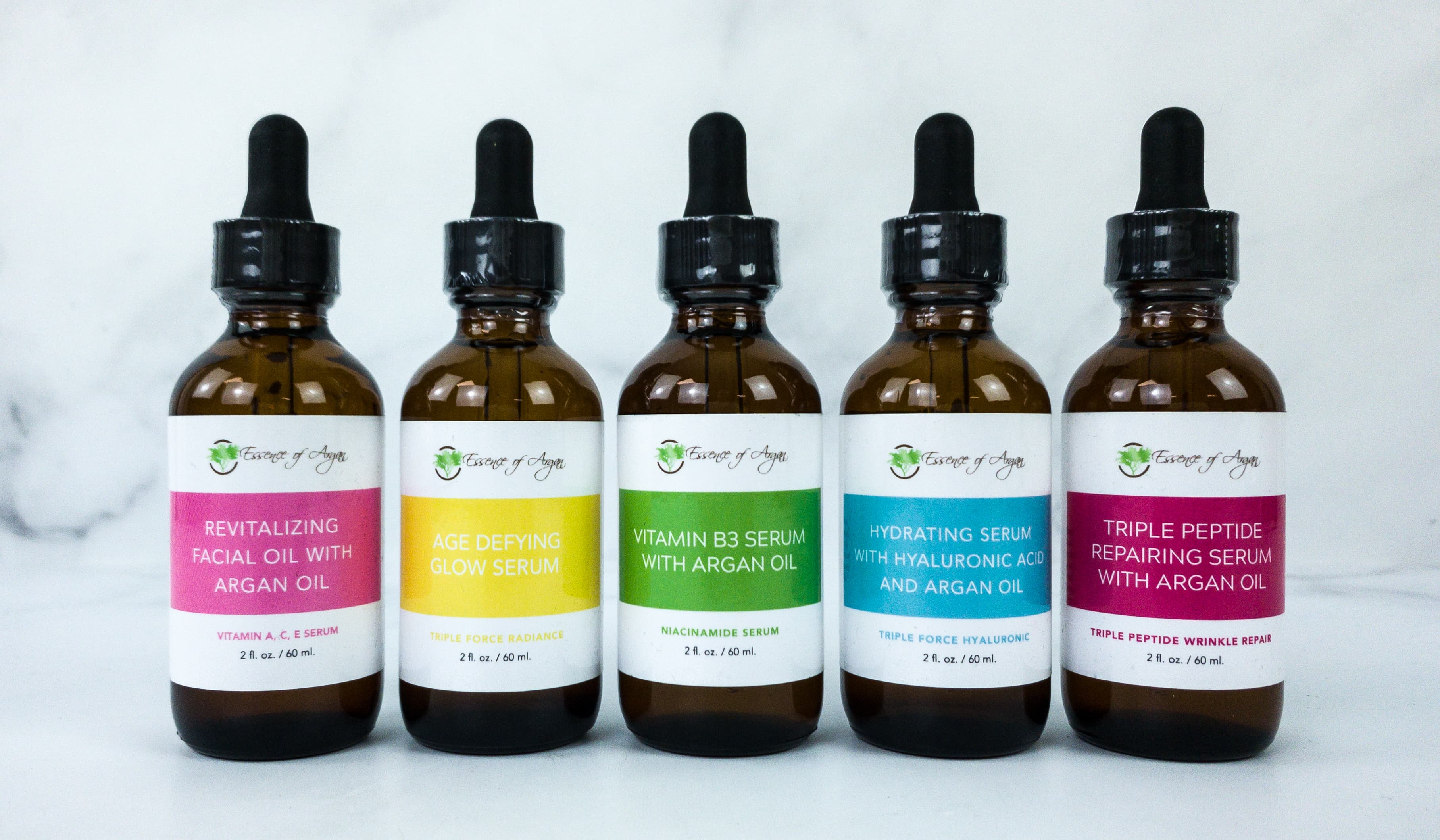 We got the Essence of Argan anti-aging serums in 5 different varieties!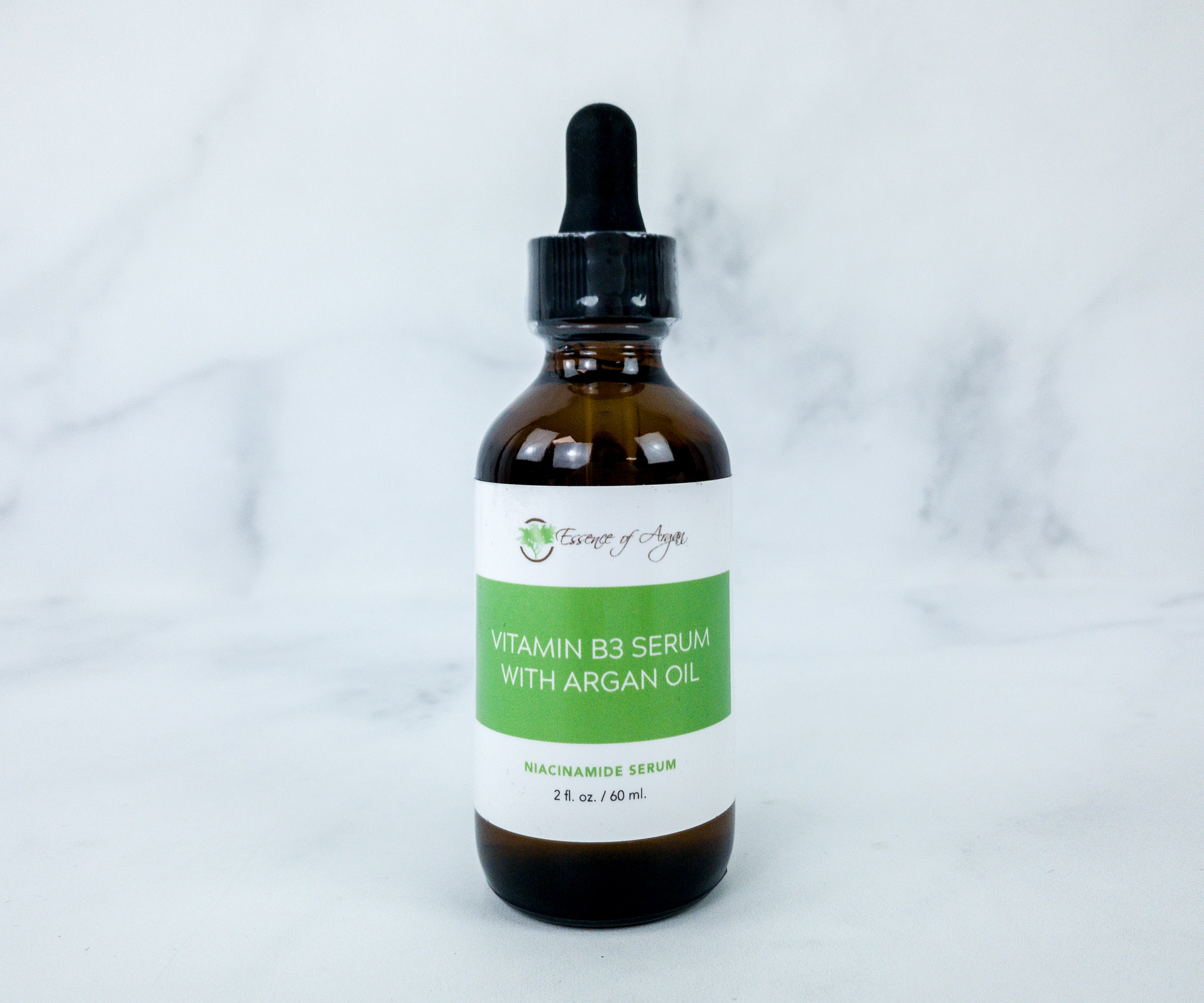 Vitamin B3 Serum with Argan Oil ($39.99) Enhanced with vitamin B3, this brightening serum helps hydrate and balance skin tone while also reducing wrinkles and fine lines.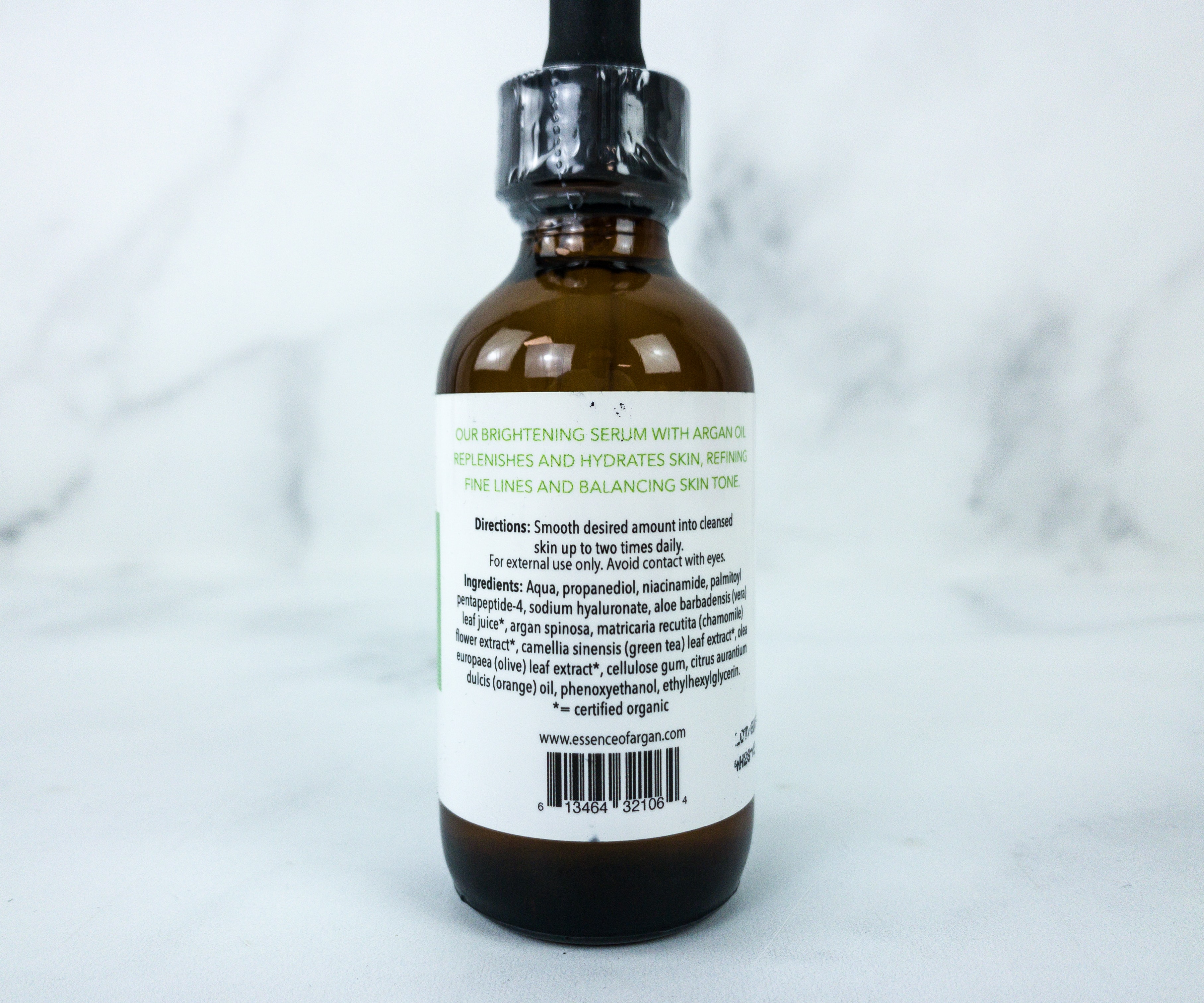 The serum also contains a blend of aloe vera, chamomile, green tea leaf extract, olive leaf extract, and orange oil to soften, moisturize, and improve skin's texture.
It comes with a dropper for a more convenient application.
Age Defying Glow Serum ($39.99) This glow serum helps you achieve a radiant glow through its deep moisturizing power. It highly promotes long-term health and wellness of the face, eyes, and neck with its triple force radiance formulation.
Just like all the other serums, the back label has all the listed ingredients.
The viscosity of the serum is perfectly balanced for maximum skin absorption and not leaving it greasy.
Triple Peptide Repairing Serum With Argan Oil ($39.99) The powerful blend of three natural peptides makes this a great repairing serum. The formula revitalizes and repairs the skin, and even boosts its firmness!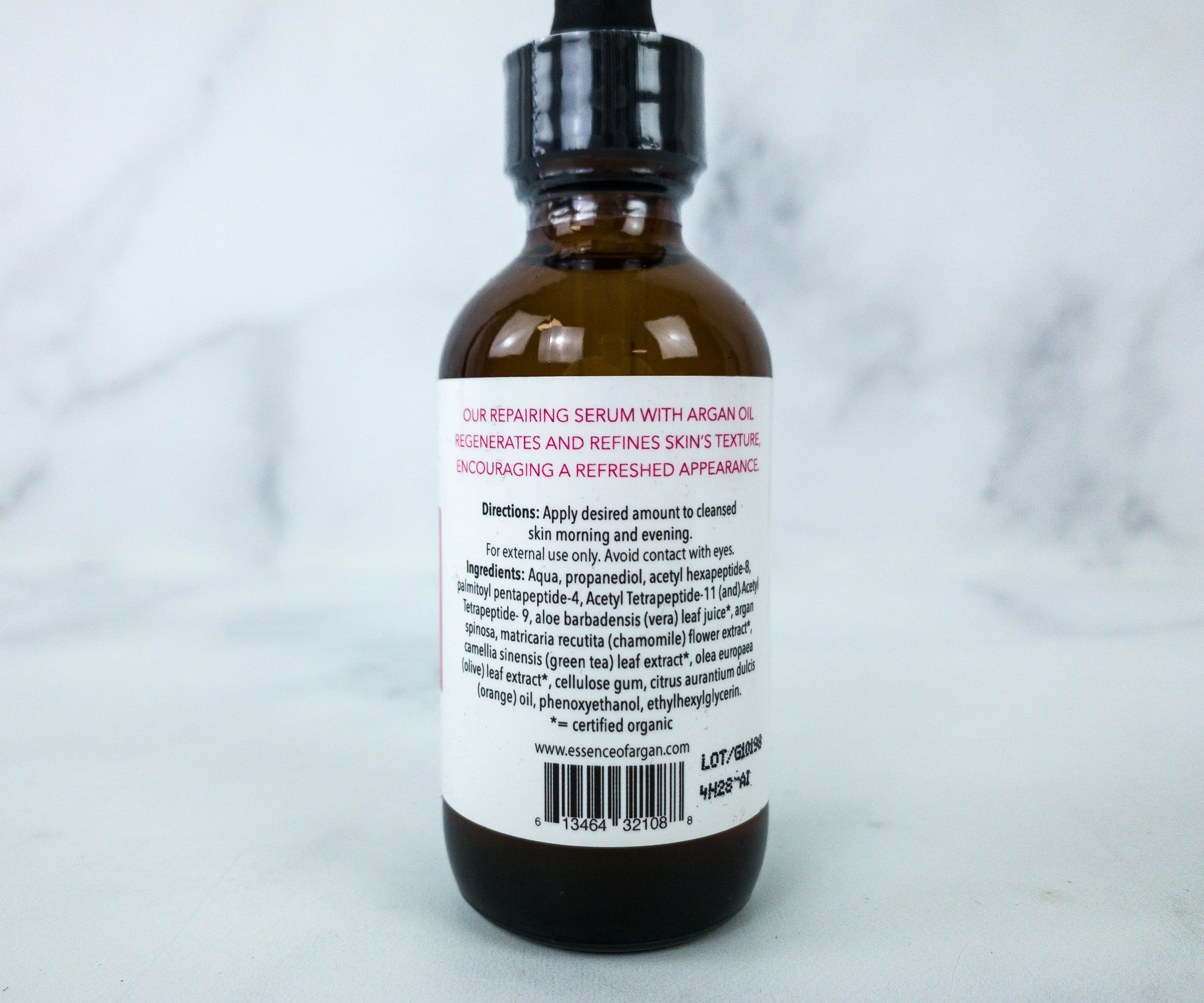 This is best used twice a day, in the morning and in the evening, to achieve the best results.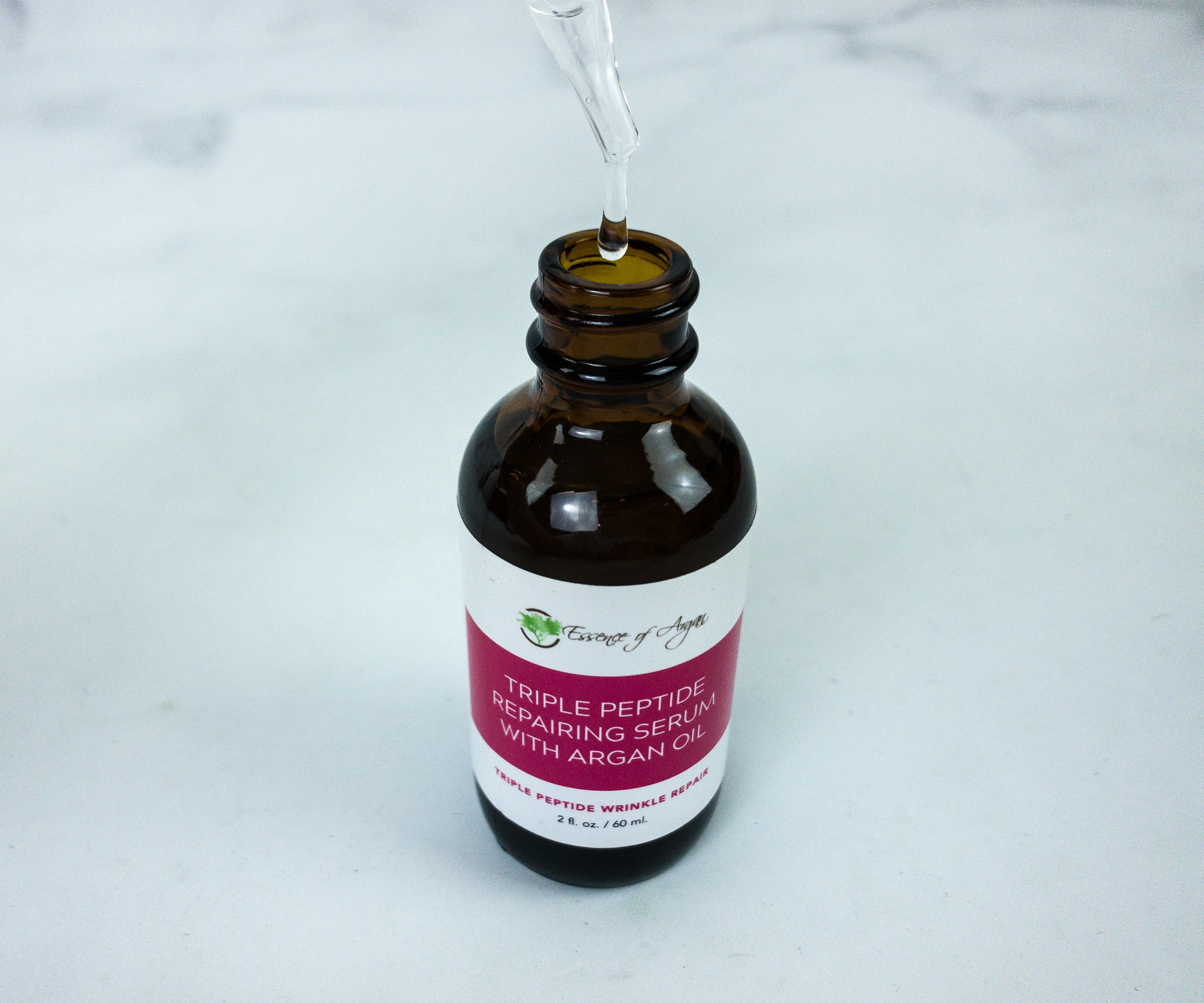 It has a thick texture, but it gets easily absorbed by the skin and doesn't feel icky when applied.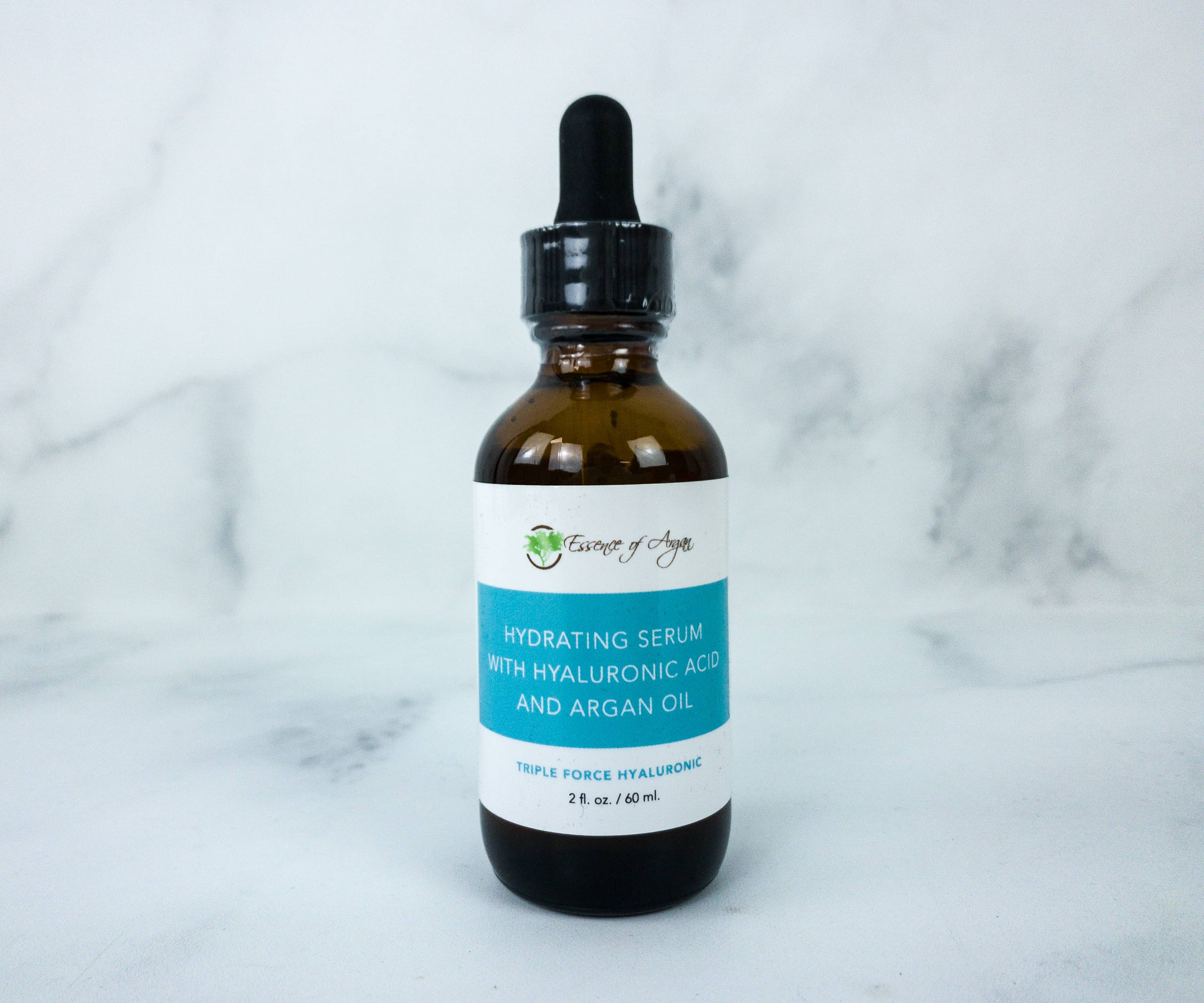 Hydrating Serum With Hyaluronic Acid and Argan Oil ($39.99) Next up is a serum packed with hydrating ingredients such as hyaluronic acid to help you achieve that perfectly hydrated and moisturized skin.
Hyaluronic acid is known to help the skin retain its natural moisture with its binding power with water.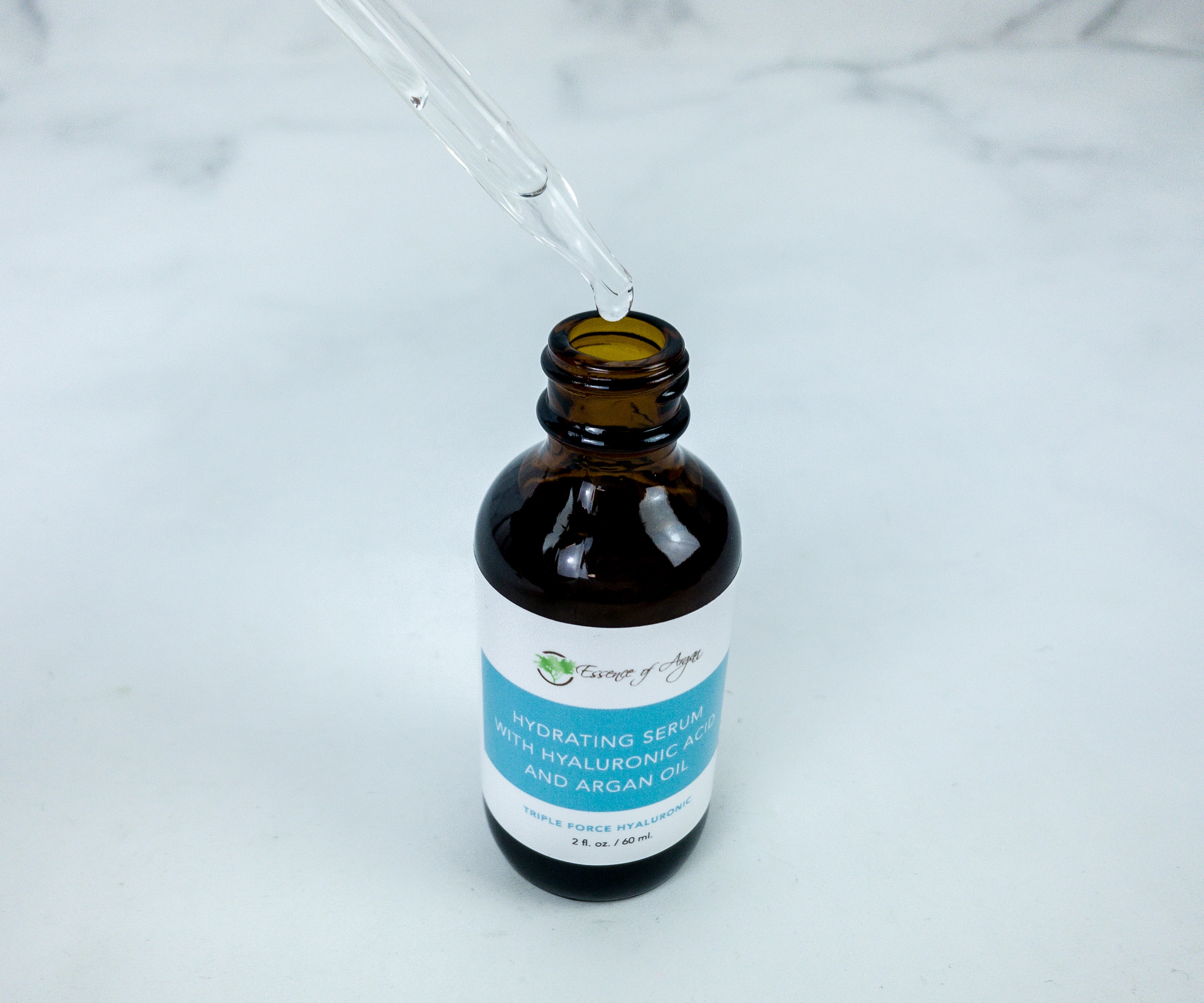 You can easily control the amount to apply with the glass pipette.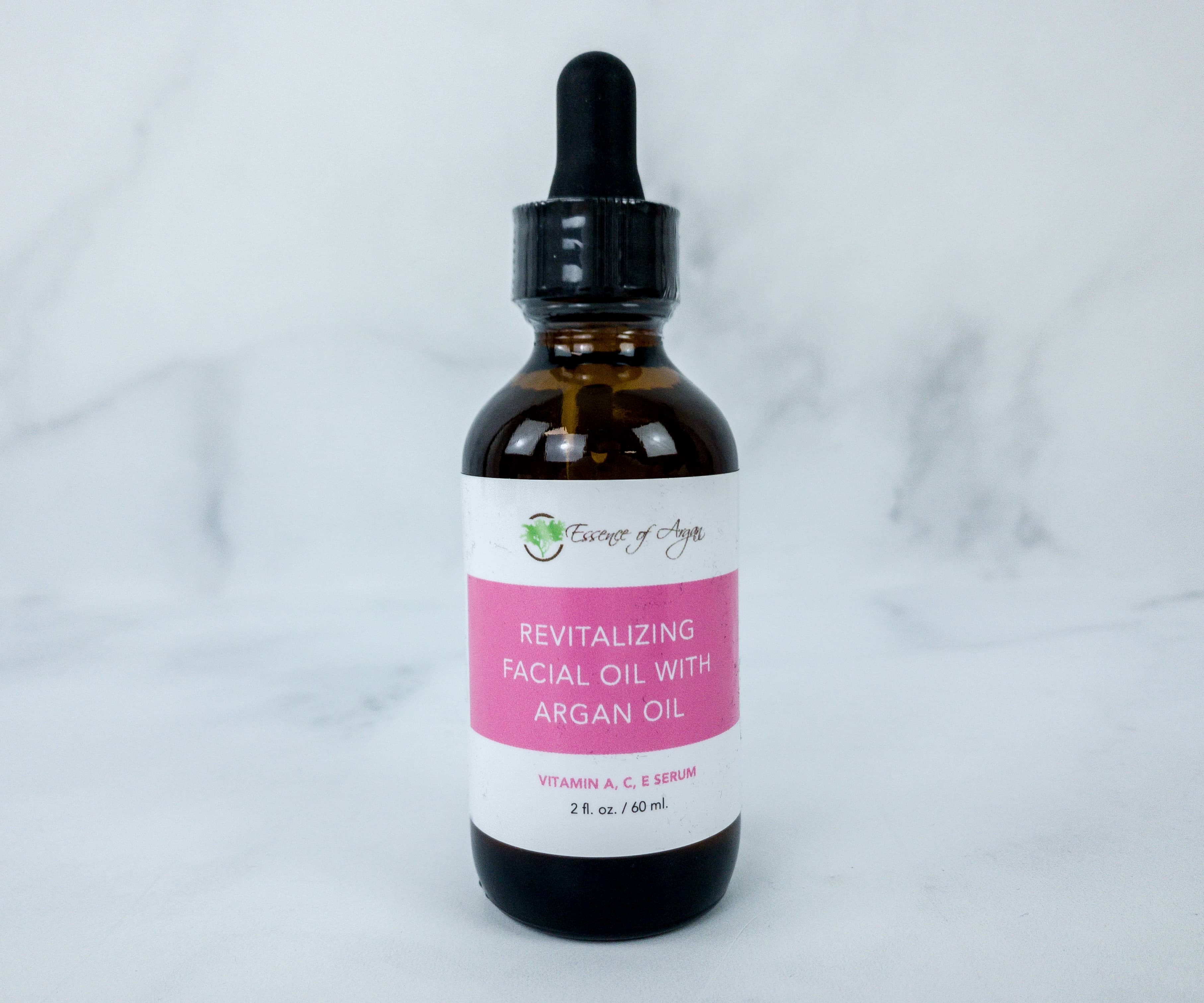 Revitalizing Facial Oil with Argan Oil. ($39.99) Lastly, here's a revitalizing facial oil formulated with rosehip oil and sea buckthorn!
It helps repair oxidative damage as well as reduce inflammation while proving all the vital nutrients that the skin needs.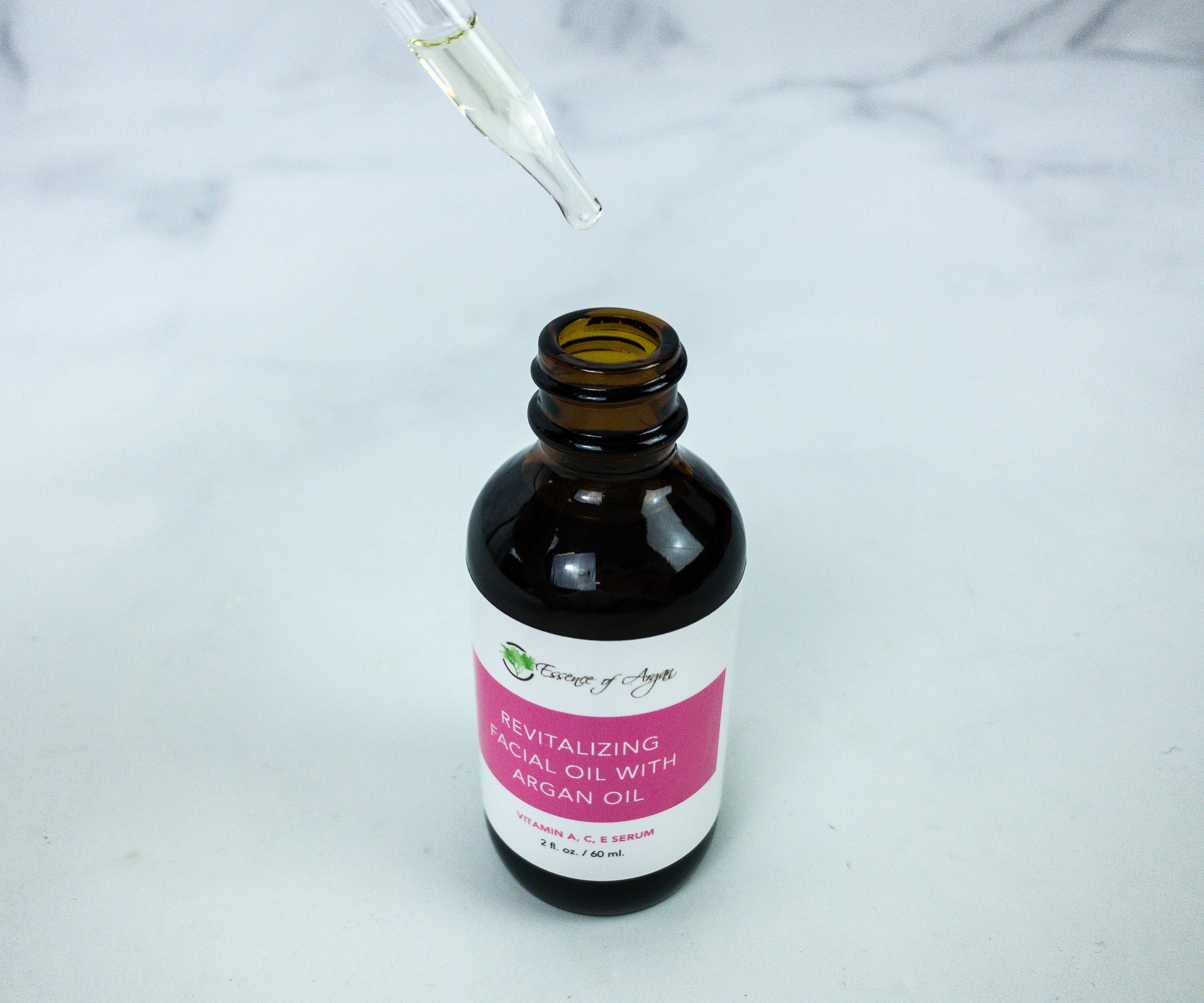 These glass droppers in a round bottle are very ideal for dispensing small amounts of liquid.
This box is commendable for its luxurious and lavishly rich sum of contents. With all the 5 anti-aging serums included in the box plus the pure argan oil and the CaviArgan, it's the perfect beauty skincare box to maintain the fountain of youth. It's going to be the secret weapon box towards fighting skin aging. My two favorites in this month's box are the revitalizing oil and the CaviArgan. These will be perfect to use in fighting the dryness brought by the cold weather. And who doesn't want anti-aging products? It's really good to try all the serums so that you can determine what your skin specifically needs and what to add to your regular skincare regimen. No doubt with all of this moisturizing goodies it is for sure Opulent! I'm definitely looking forward to more argan products in the next boxes!
What do you think of this month's The Argan Beauty Box?