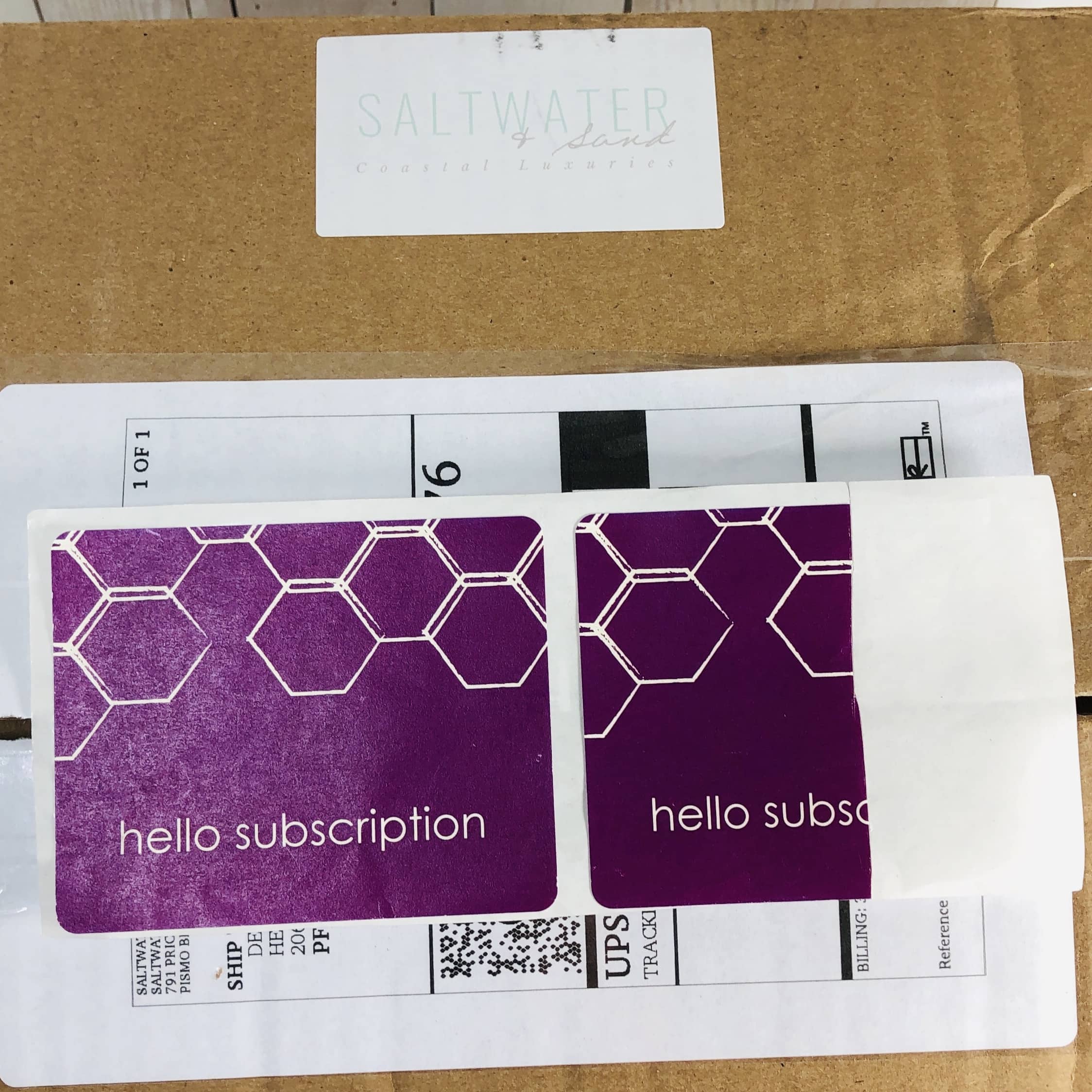 Saltwater & Sand sends a quarterly box of coastal luxuries: items one might find at shops near the beach! Products sent may include high-end home decor; fine jewelry; luxury bath, body and beauty products; and gourmet food and drink from beach boutiques around the world. Each box is $129 and the items will come in a collectible basket that can be used around the house.
Coastal collections from high-end beach boutiques around the world.
Shipped every 3 months in a signature collectible basket
Excellent gift for weddings, house warming, birthdays, and Mother's Day.
Proud to be a military family owned business.
DEAL: Save $10 on your first box! Use this link and the coupon code OCEANBUCKS.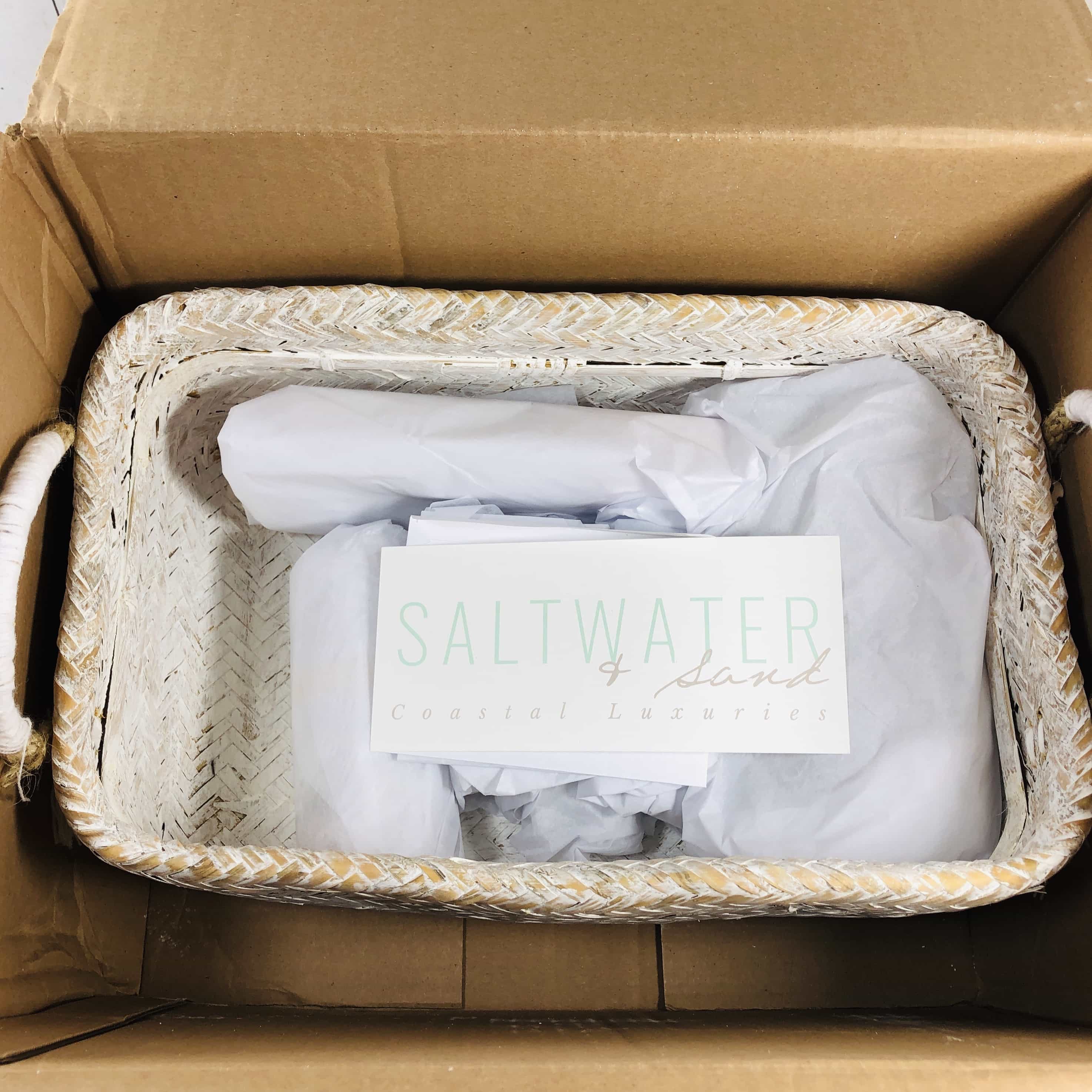 My items were shipped in a box but you can see the basket inside!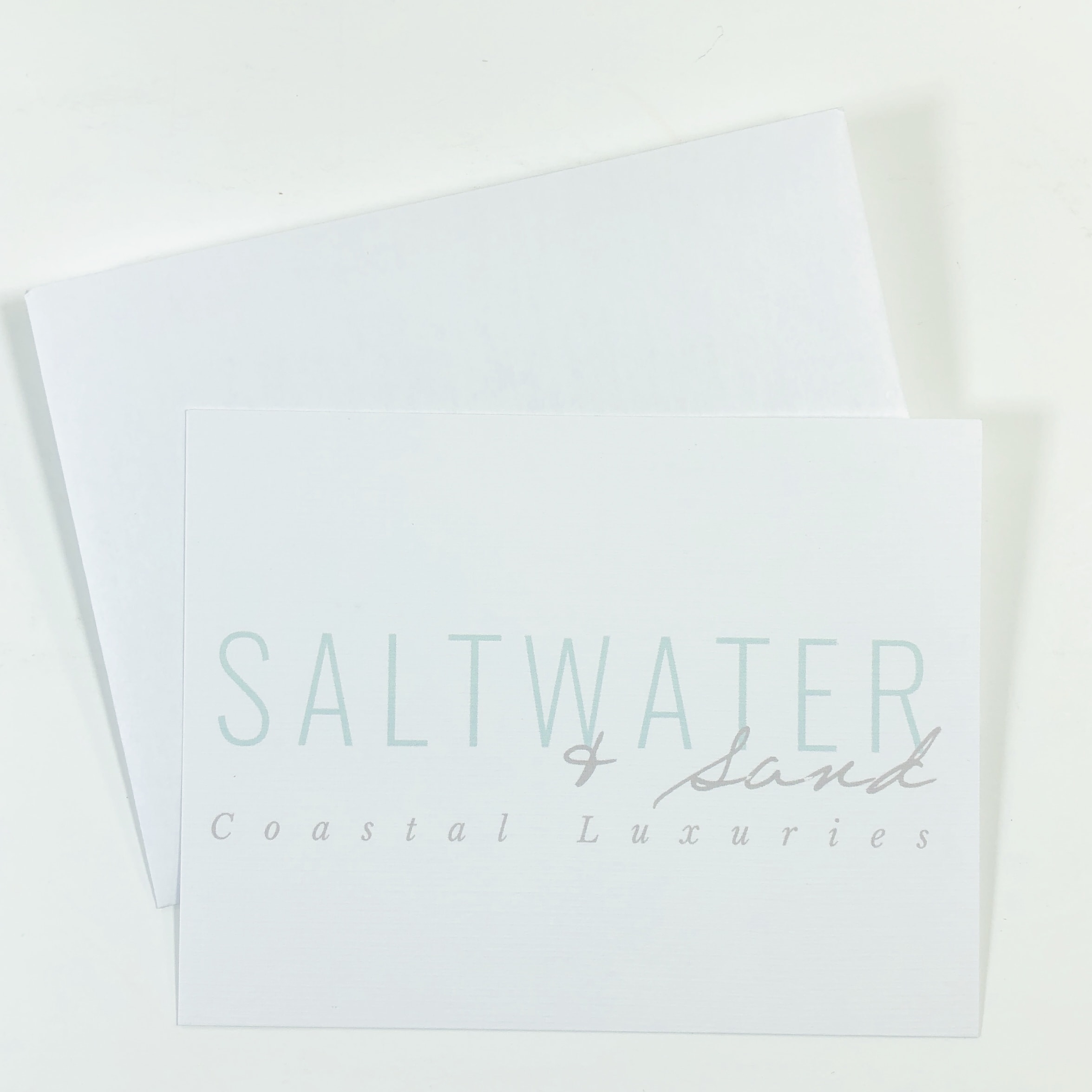 I found a card inside my basket.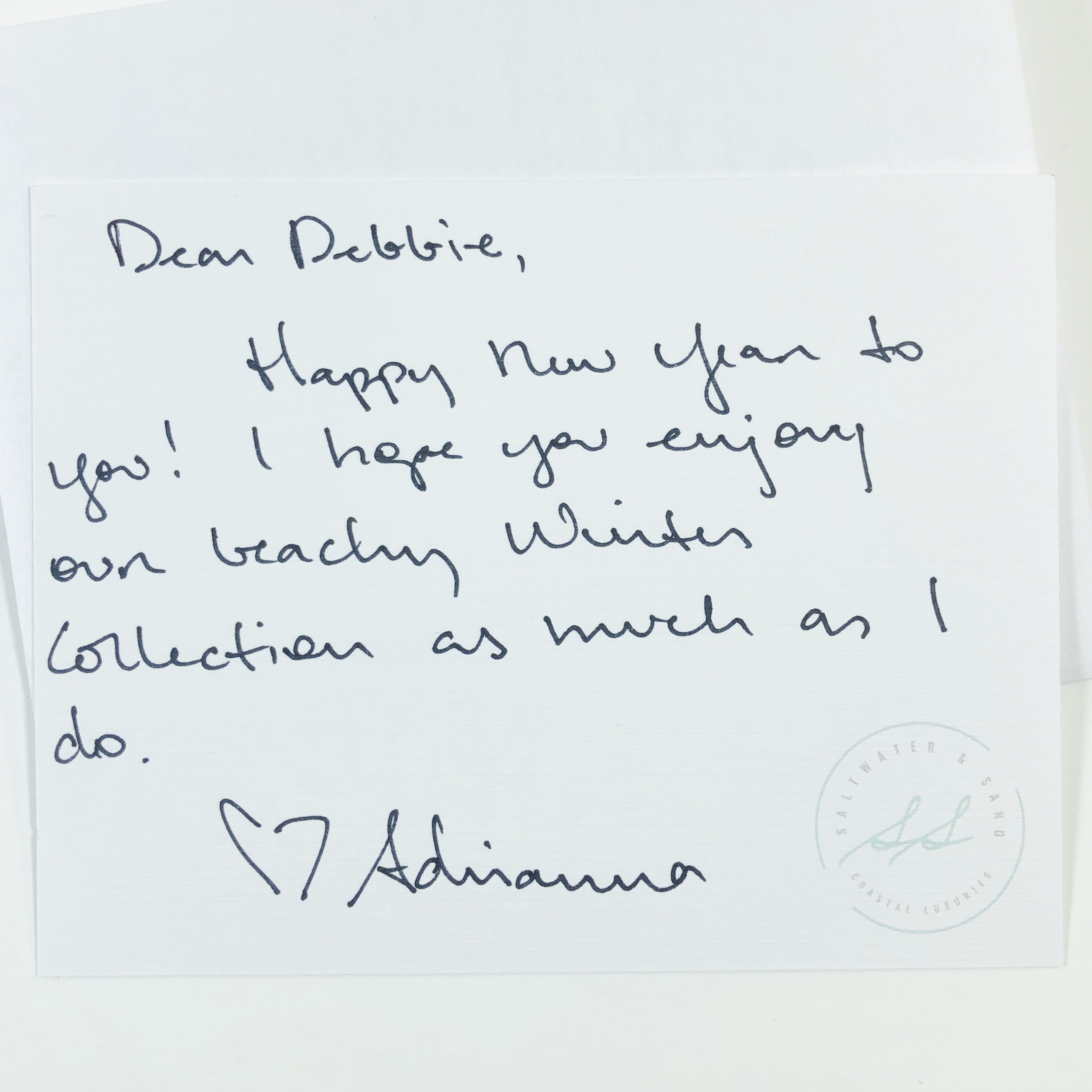 It was hand written and addressed to me! I love a personal touch. I found another card.
The back of the card listed the items I would find in my box.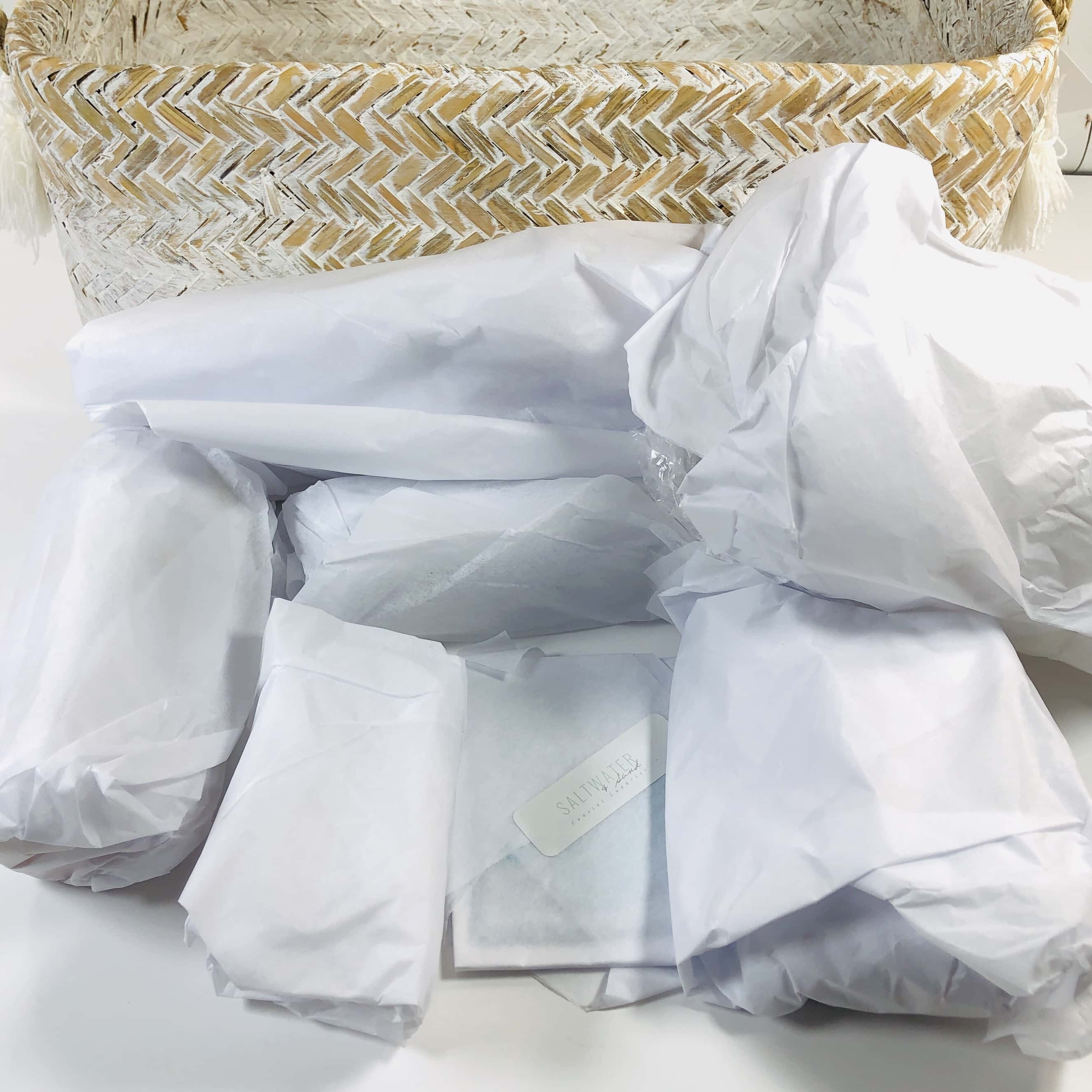 All of my items were individually wrapped. If you can bear the suspense, then you could unwrap a parcel every day until they are all opened. This may help extend that "surprise" feeling!
Everything in my box!
Ombre Tassel Basket The biggest item in the box was the basket! The basket is about 16″L x 10″W x 7″H.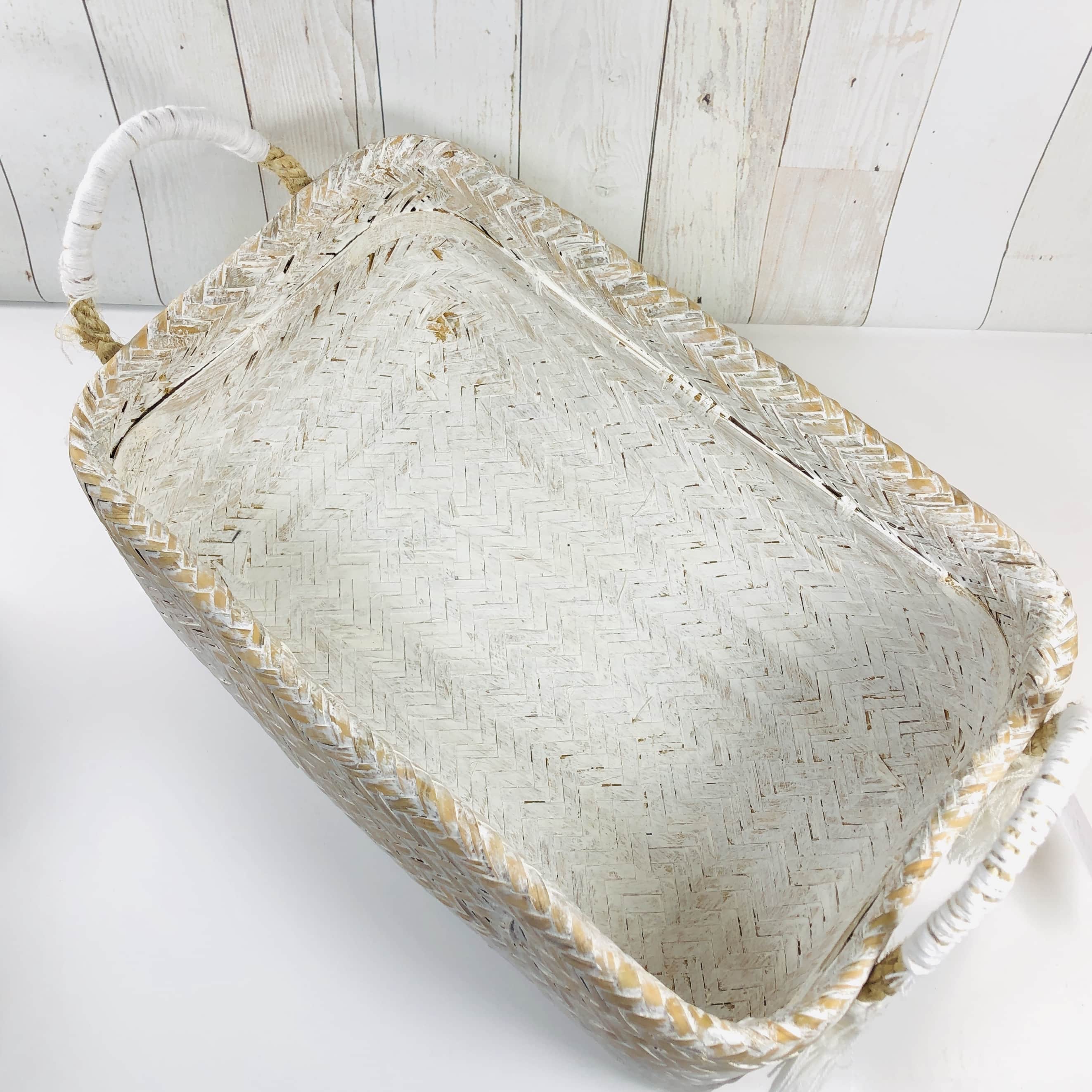 According to the card, this basket is made of bamboo.
It has tassels on the handles on both sides and the handles are wrapped in yarn. I like the whitewashed look of the basket and can't wait to put it to use in my home!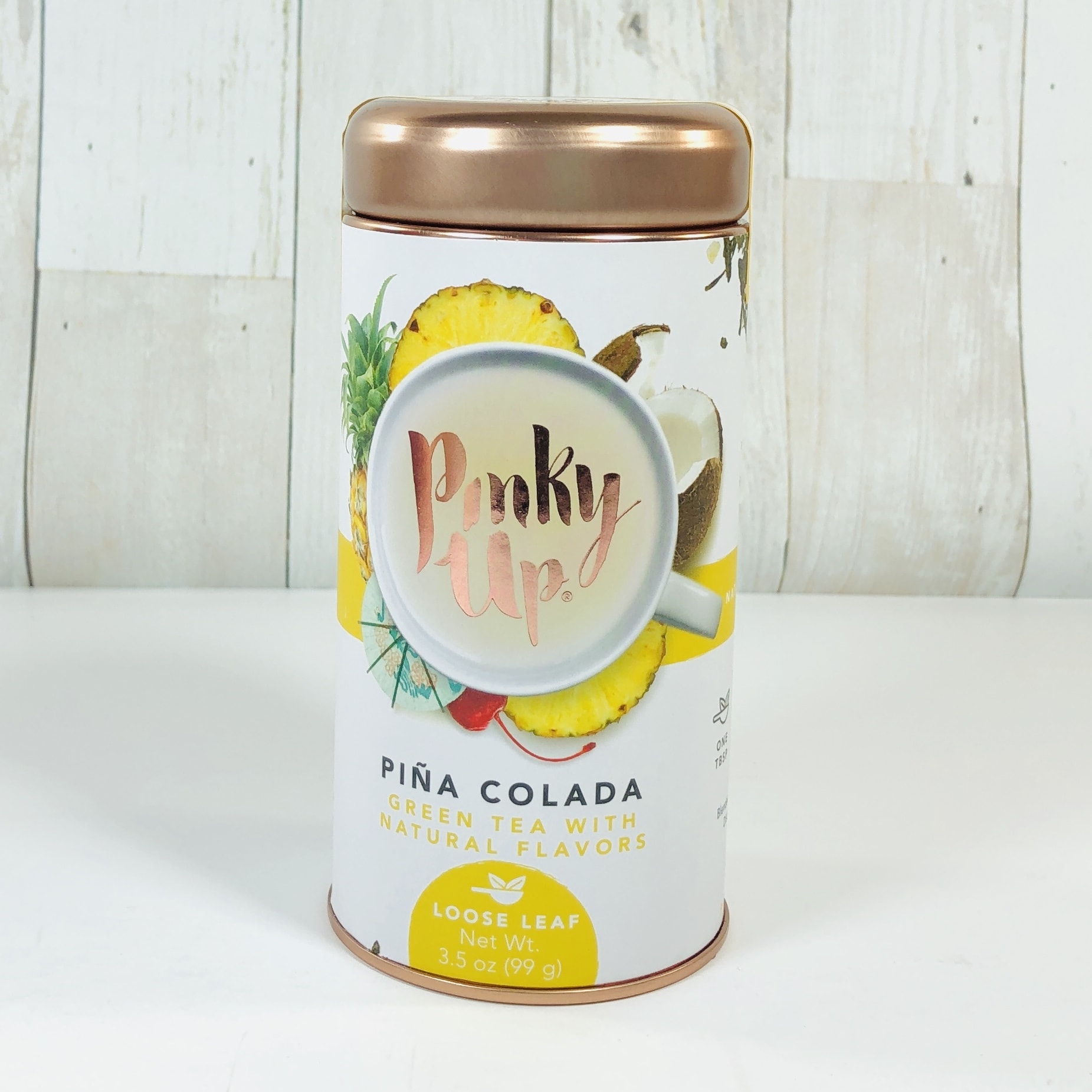 Pinky Up Piña Colada Loose Leaf Tea ($23.35) Most of the teas on the Pinky Up website are $11.99 but this flavor wasn't listed. As you can see, Amazon has given it quite a markup.
It has candied pineapple, stevia, and green tea along with natural flavors. Instructions say to use 1 tablespoon of tea to 8 ounces of water. For green tea you need to take the water off before it comes to a boil, and avoid steeping for longer than 3 minutes, to avoid bitter tea.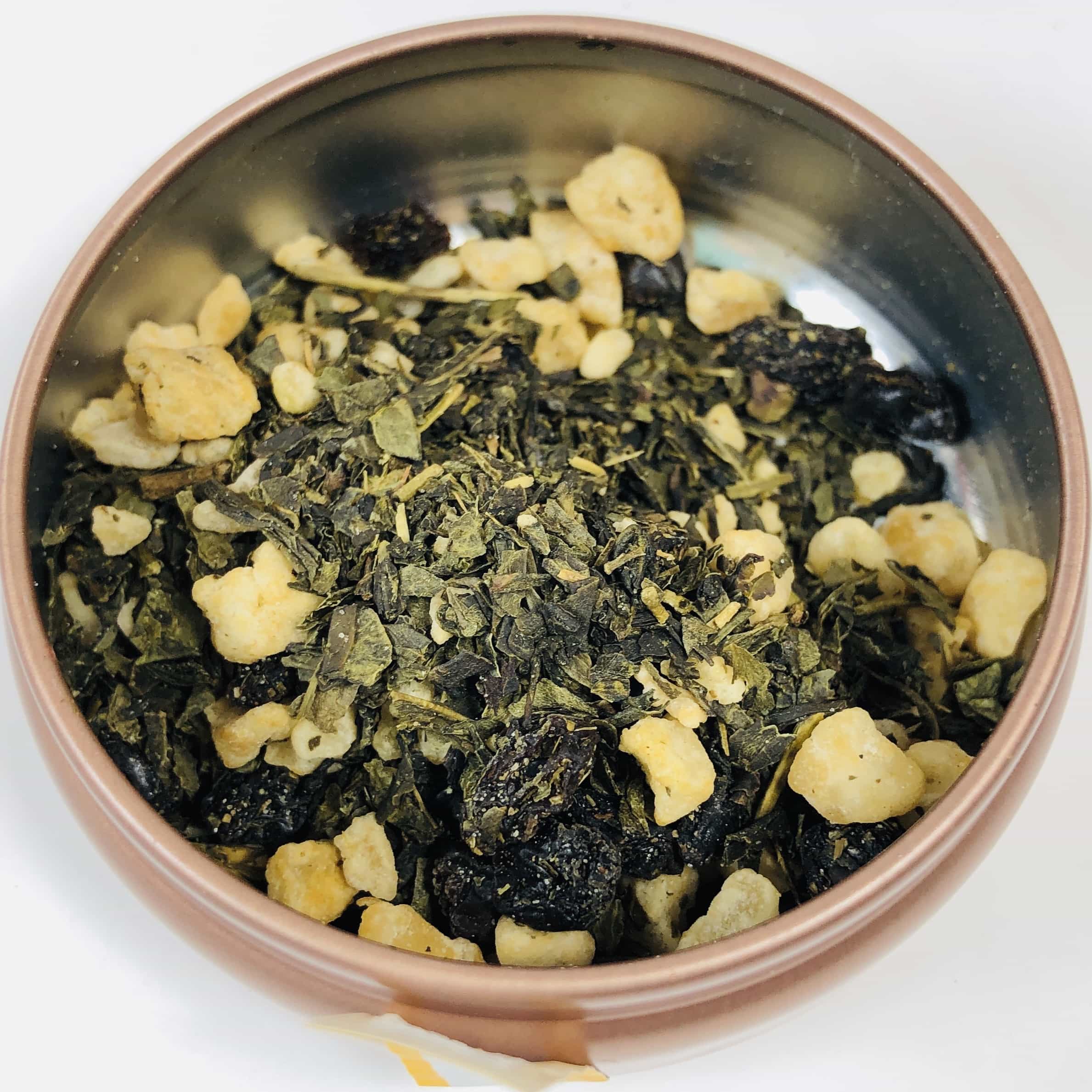 Oh, it's so pretty! I tried it but I really can't do stevia, but my daughter loves this tea and says it tastes great!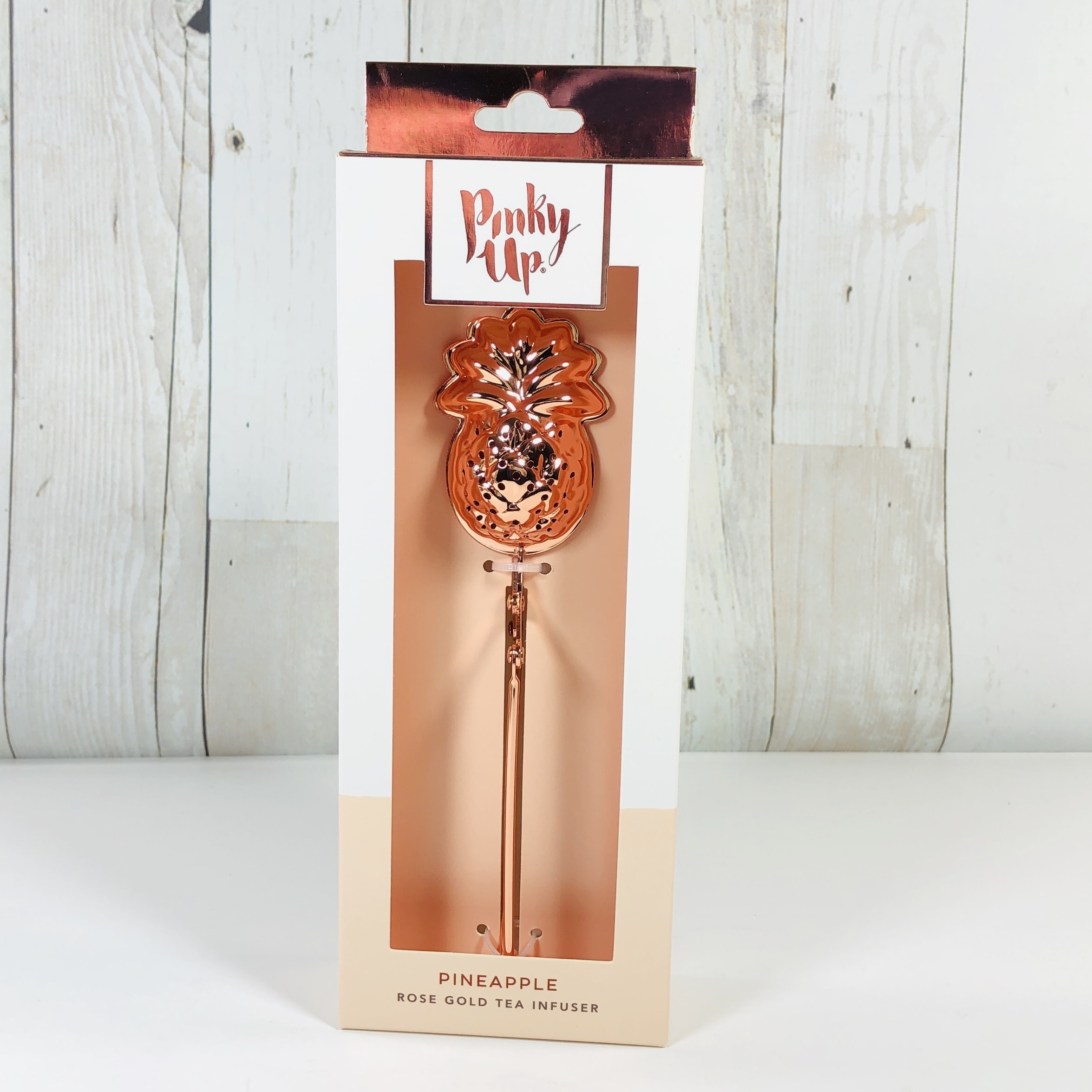 Pinky Up Rose Gold Pineapple Tea Infuser ($9.59) I've never used a rose gold tea infuser before!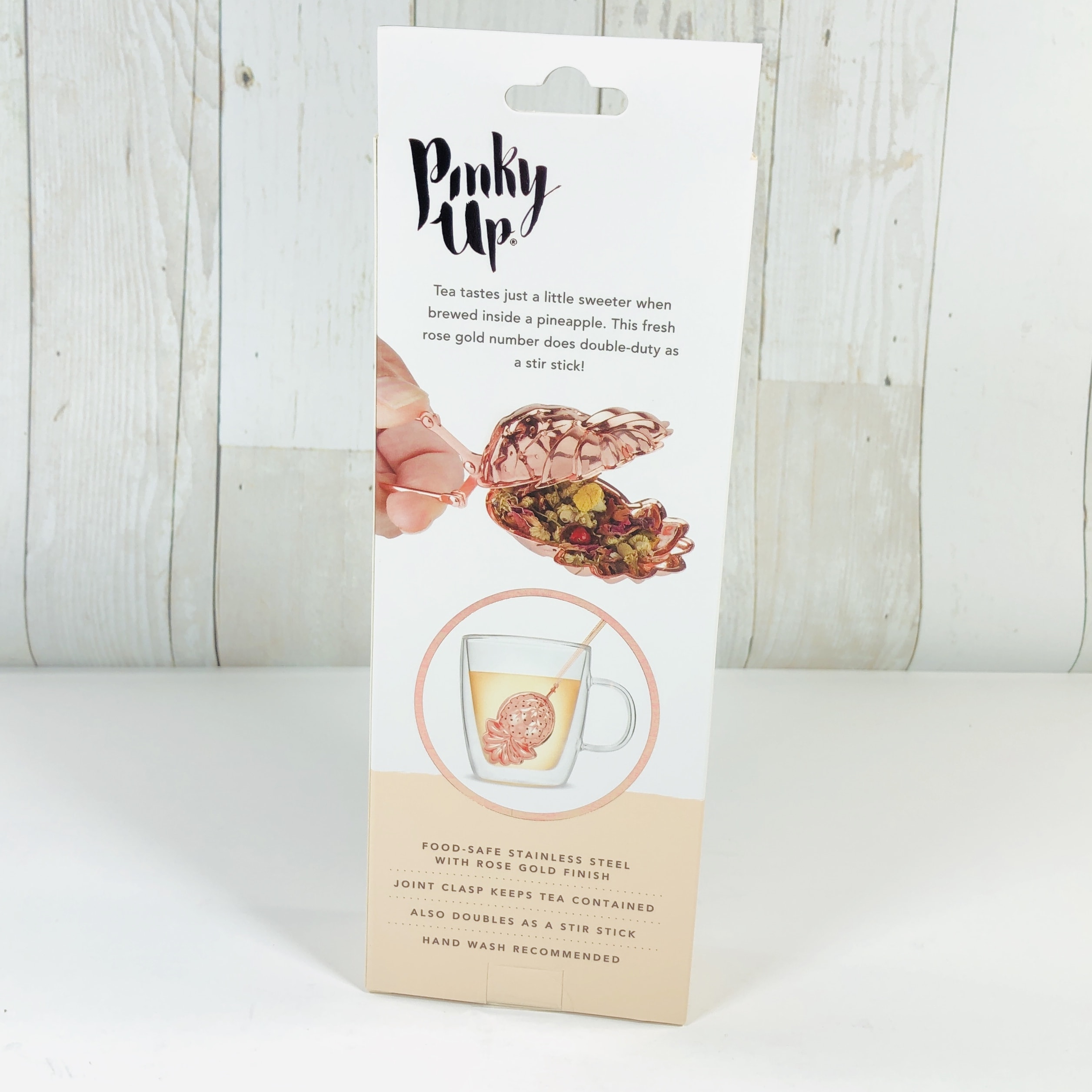 According to the box this is made of stainless steel with a rose gold finish and it looks like classic copper cookware.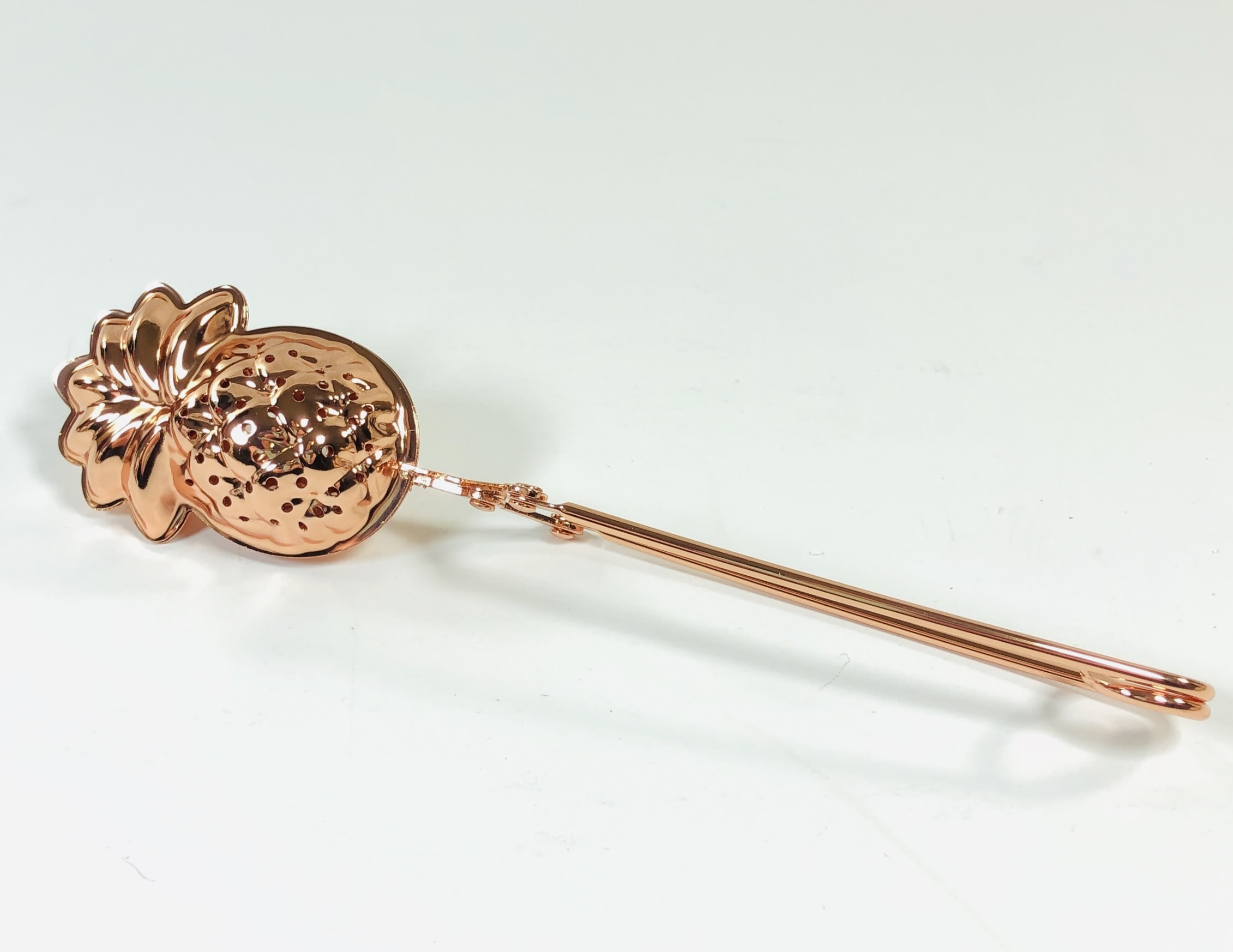 It is 7″ long.
Place the desired amount of tea inside…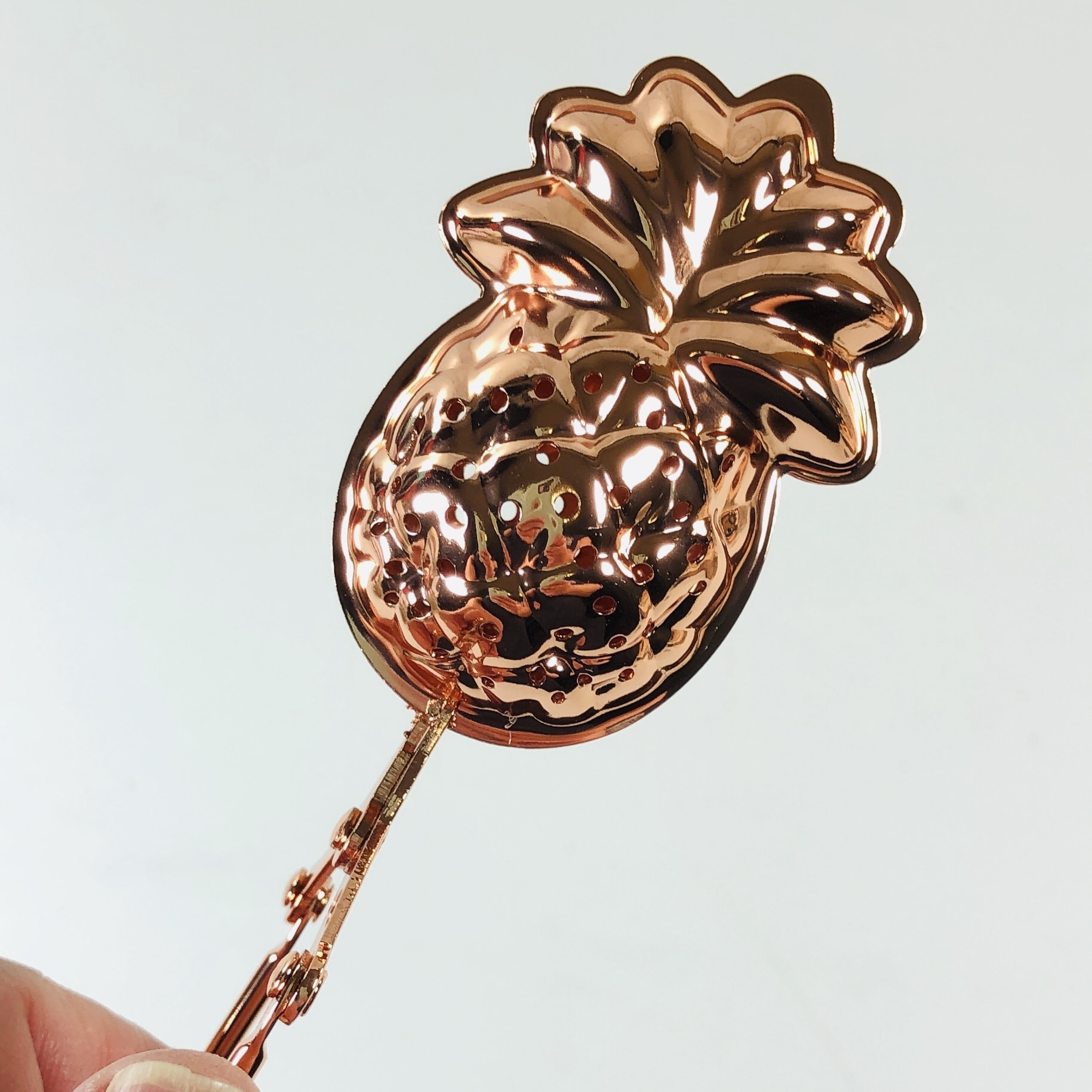 …then close it and place in a mug. Remember not to pack the holder full or the tea won't have room to expand. I would stick to no more than 1.5 teaspoons of loose leaf tea in here.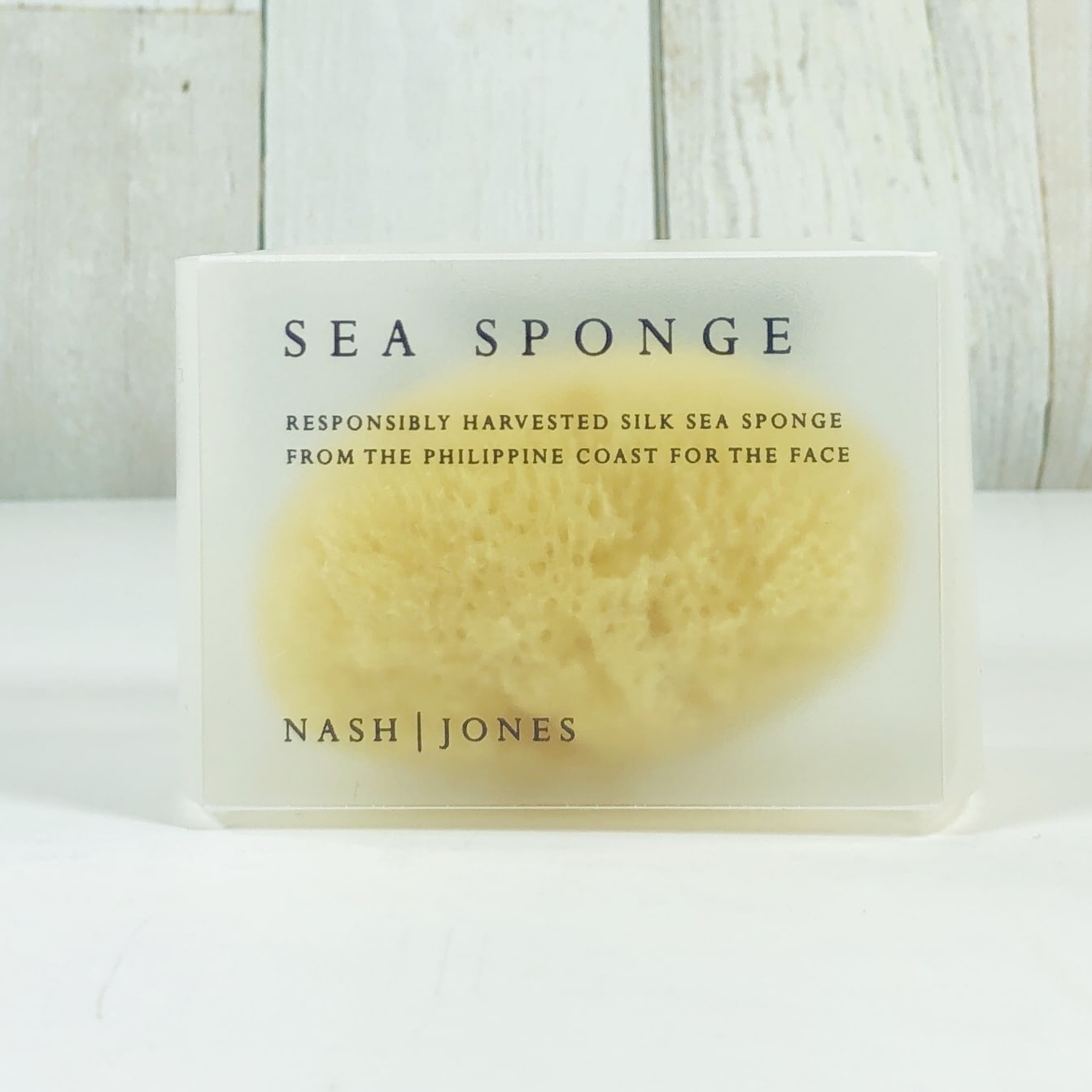 Nash Jones Facial Sea Sponge ($8) I haven't owned a sea sponge in decades, I think I used one back in the day to put on foundation!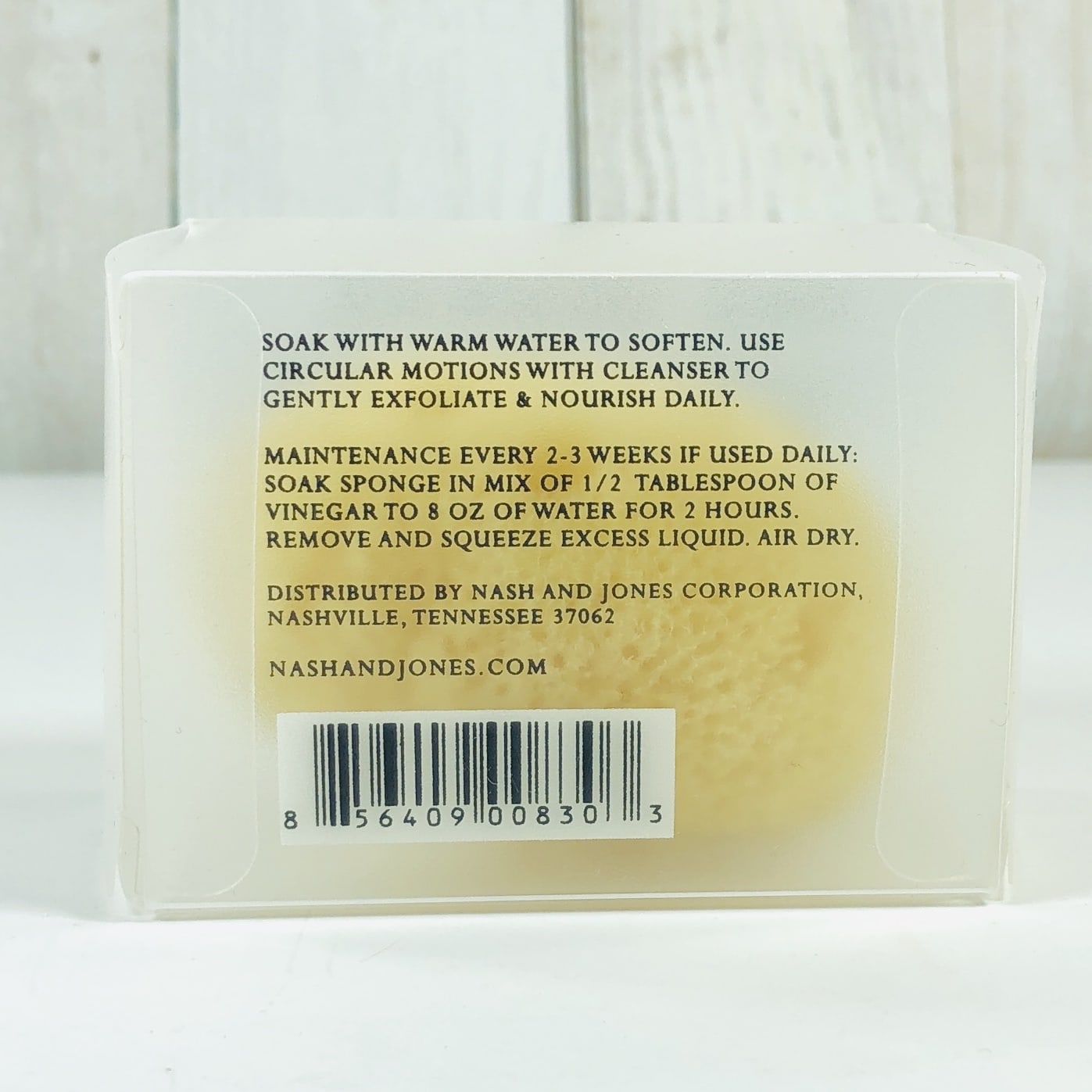 Instructions for keeping the sponge clean are given on the box, and the website has even more info. They also discuss where the sponge comes from and tells us that is is sustainably harvested.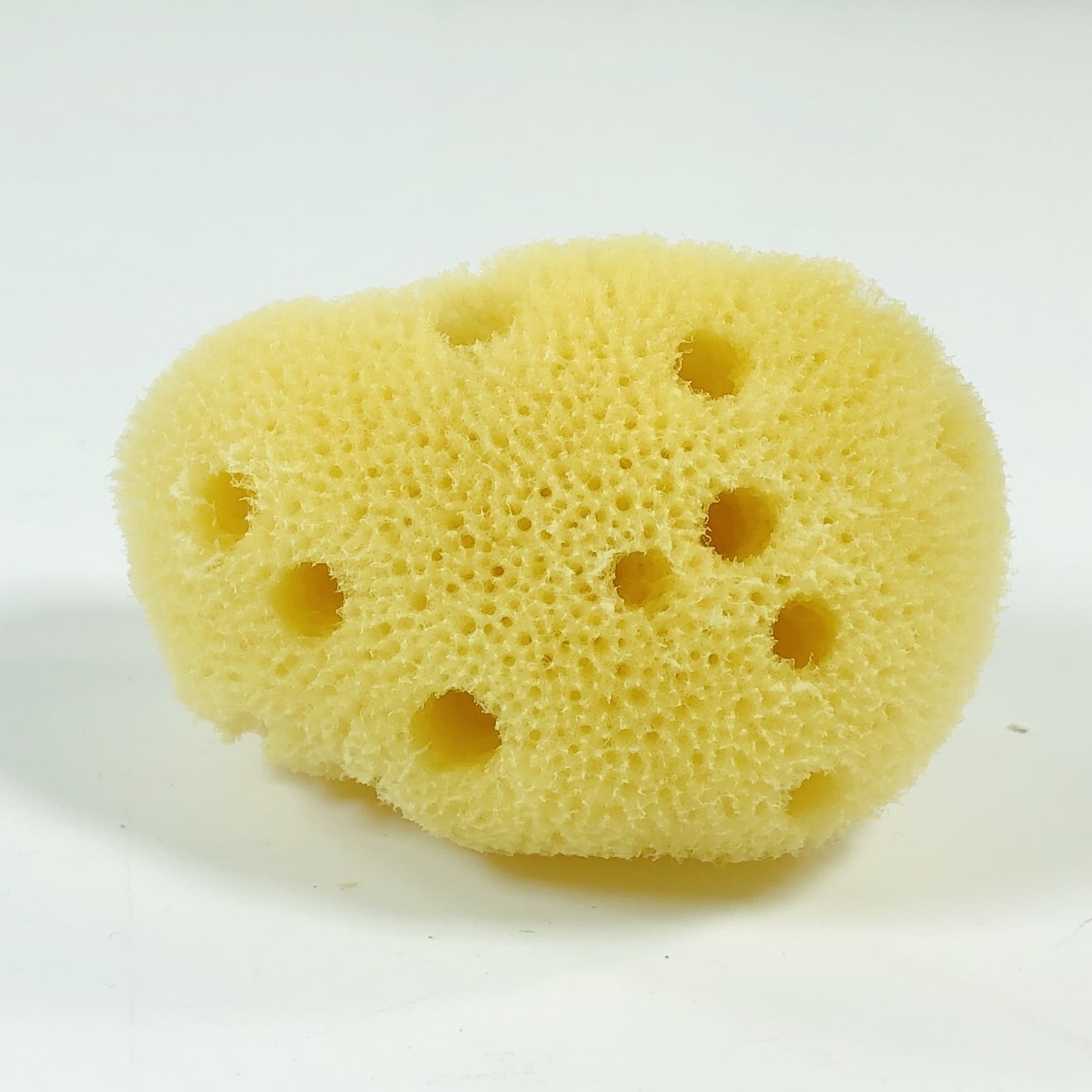 I think this is used mainly like a non-abrasive loofah for the face. Supposedly the minerals in the sponge are good for the skin!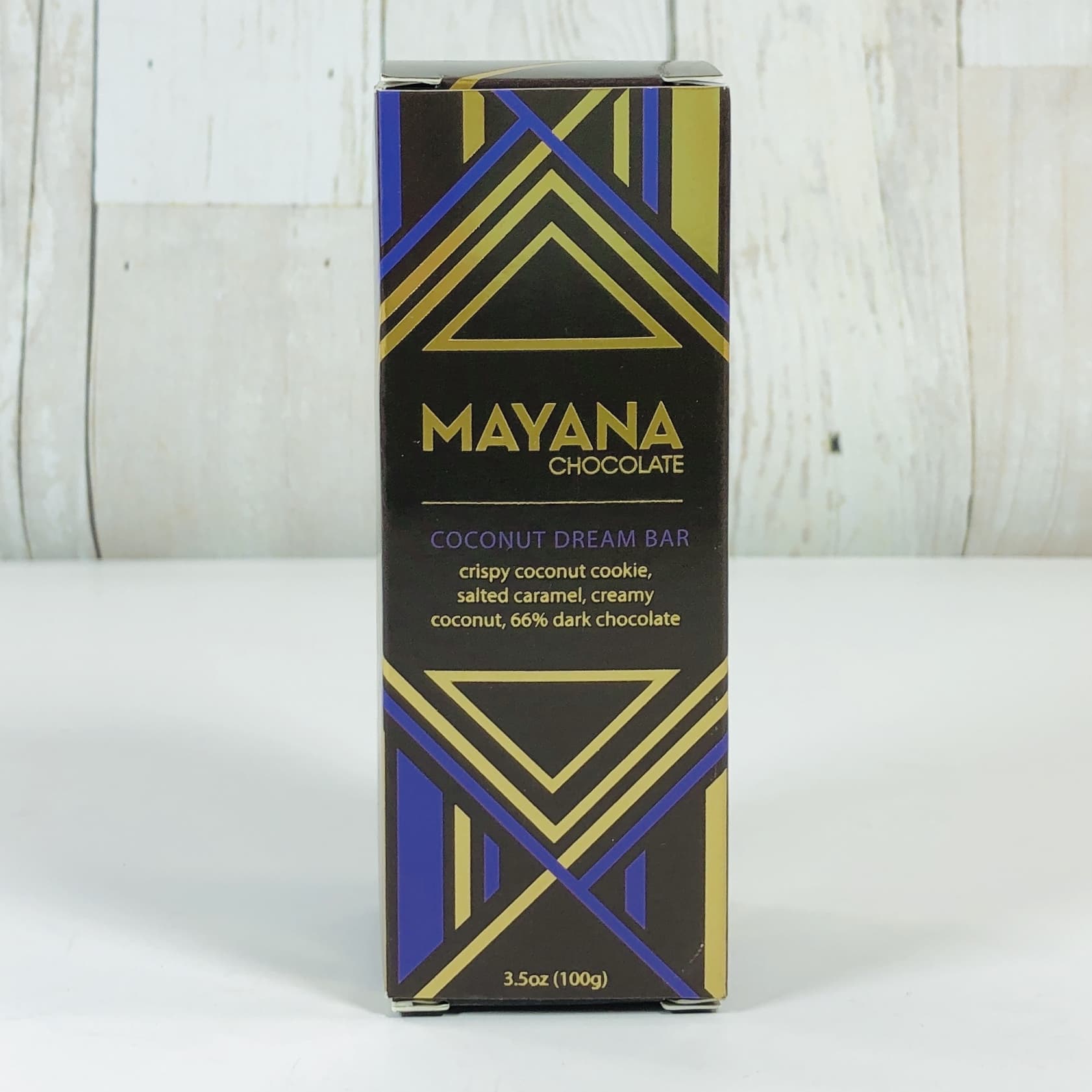 Mayana Chocolate Coconut Dream Bar ($8) I love Mayana Dream Bars and this flavor was new to me!
The all-natural, no funny stuff ingredients were listed on the box.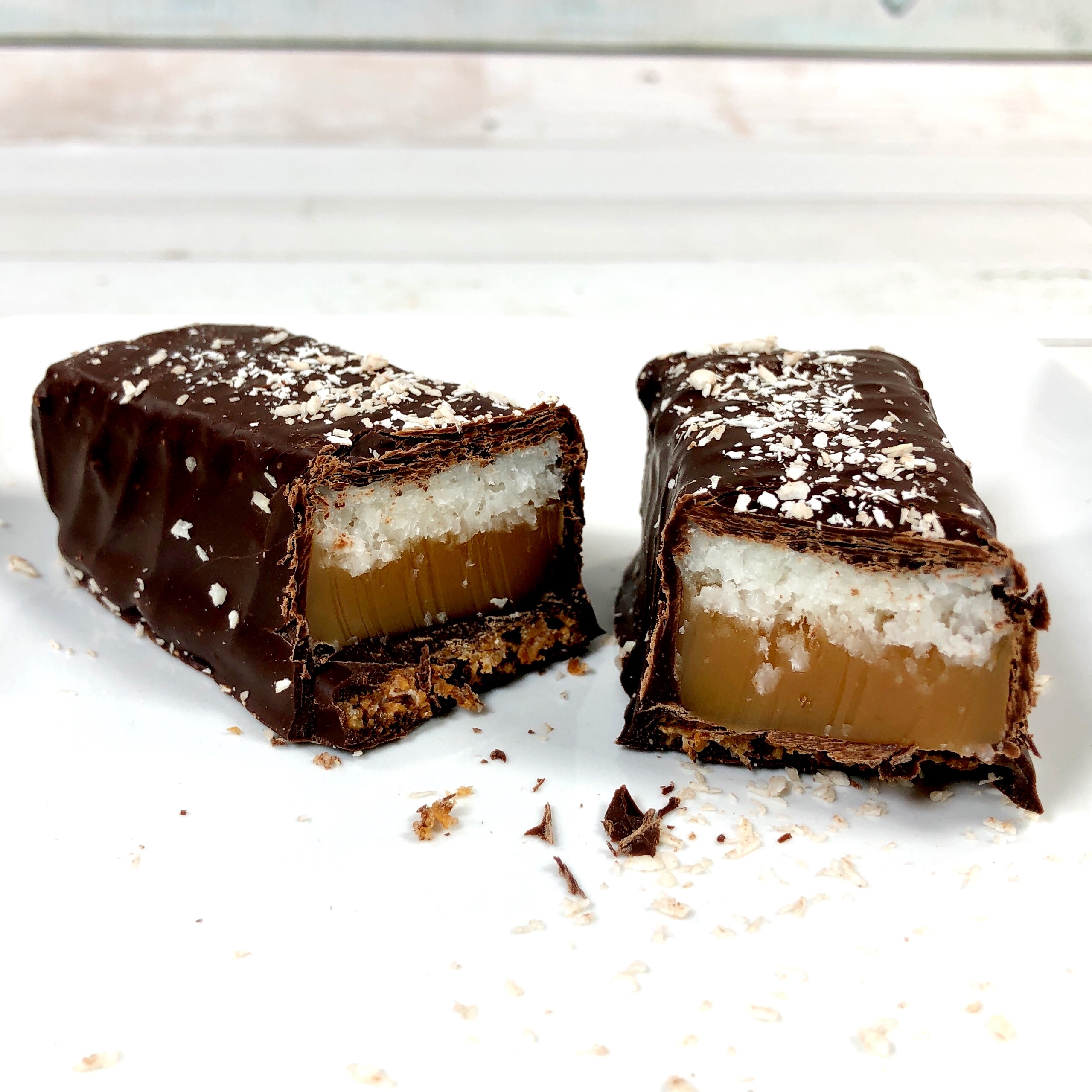 The bottom of the bar is coconut cookie, topped with salted caramel, then a creamy coconut layer, and then it is all covered with dark chocolate and then sprinkled with dried coconut. It is 100 times better than a Mounds bar. The caramel is superb and the dark chocolate helps cut some of the sweetness. I cut it into 4 pieces so I could share it with my family and my piece was more than enough to satisfy my crunchy/sweet/salty/chewy/chocolate cravings.
The next item came in a pretty little bag.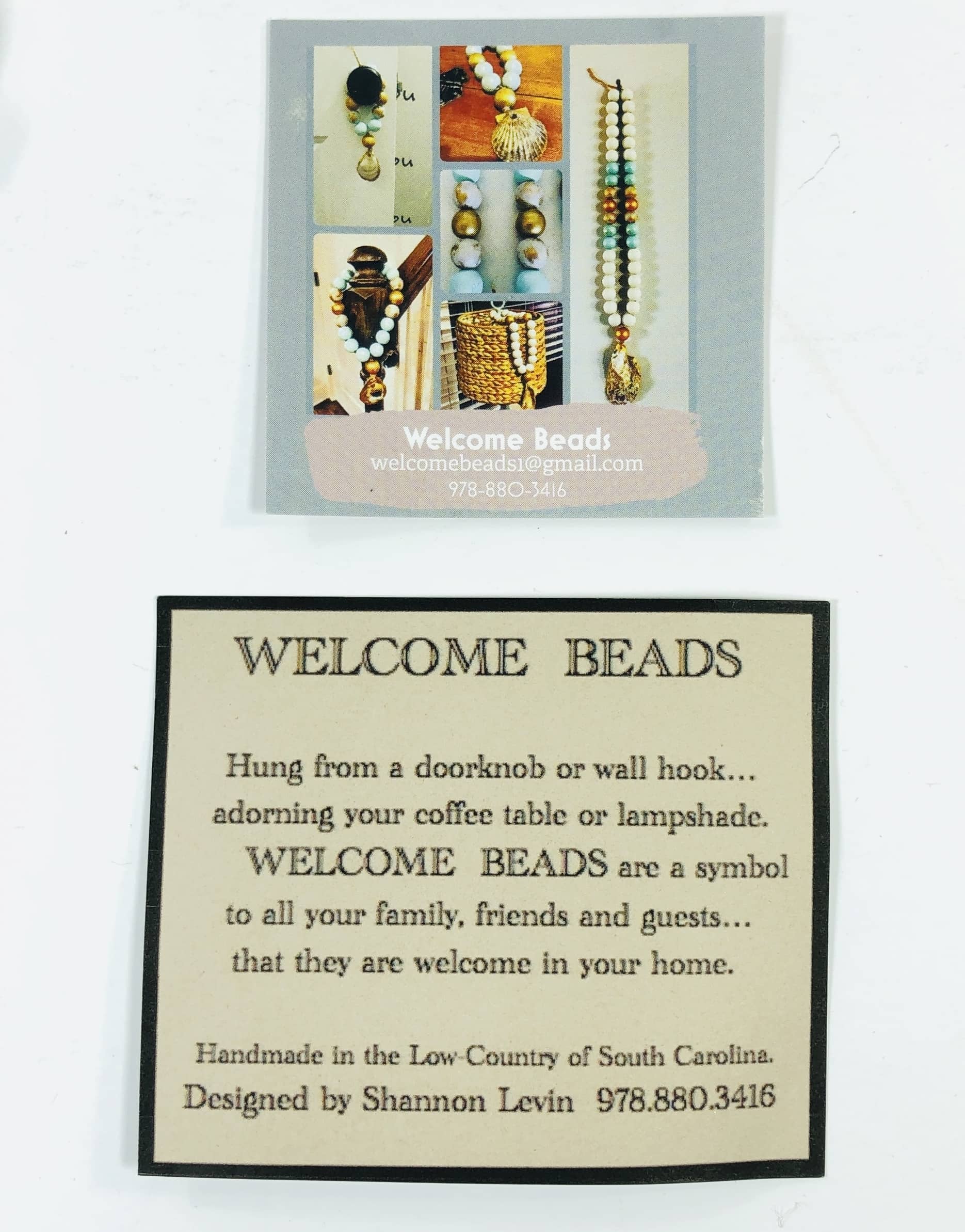 Welcome Beads by Shannon Levin ($24.99 for similar) Welcome Beads can be used to decorate a door, a wine bottle, or even a Christmas tree!
It has tan wooden beads, white wooden beads, and sea glass beads on twine with an oyster shell dangling off of the end. The shell has a gilded edge on one side, and gold glitter on the other.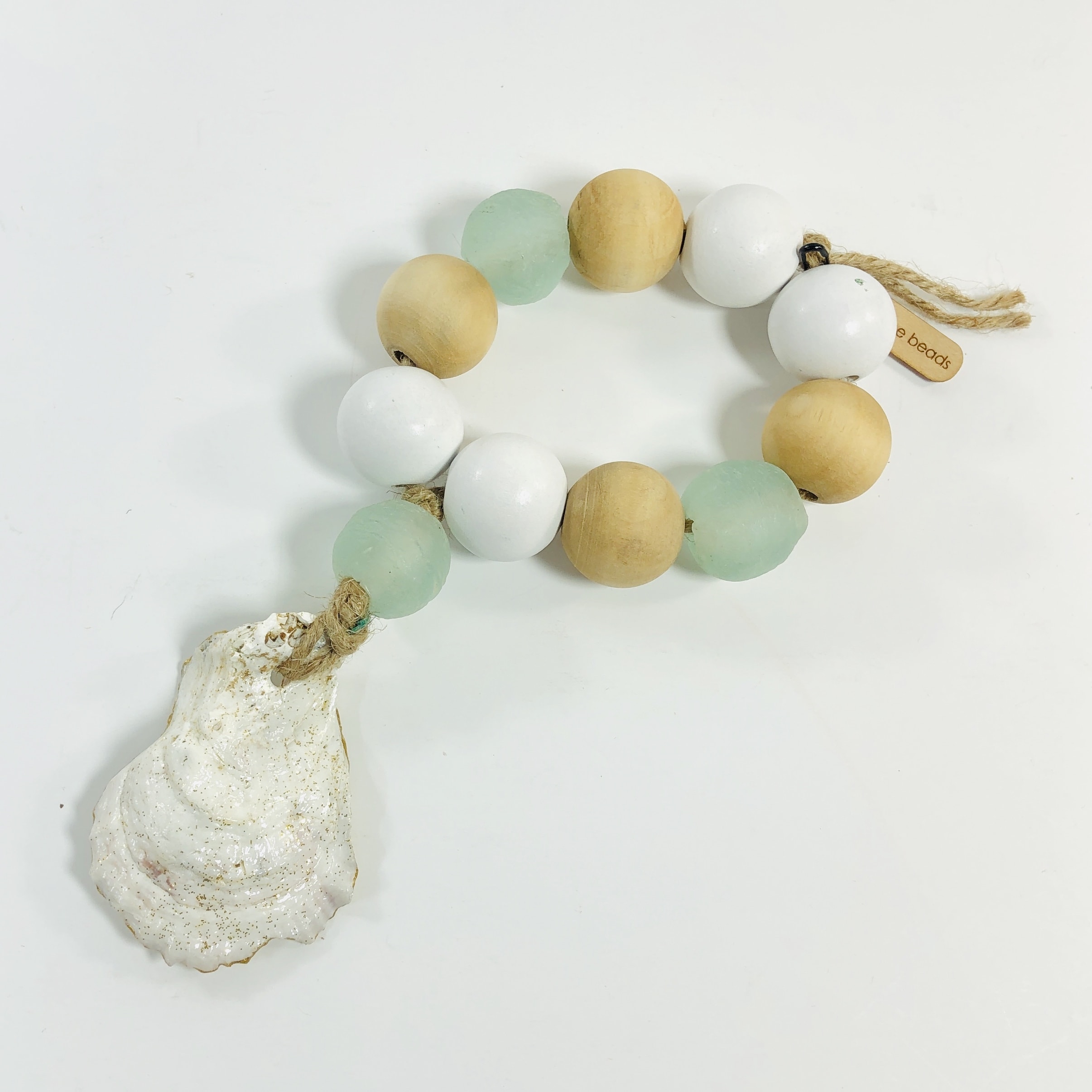 This is a handmade item and I think it's beautiful. The beads are about 3/4″ in diameter, the oyster shell is about 2.5″ inches long, and the whole thing is about 8″ long.
Beauty Kitchen Golden Ocean Under Eye Collagen Eye Masks ($5.25) I love to wear eye masks and these were very nice, I was even able to walk around the house with them on and they didn't slip off. Glycerin, algae, nano-active gold, and hyaluronic acid are a few of the ingredients. I don't see fragrance on here but these smelled like roses.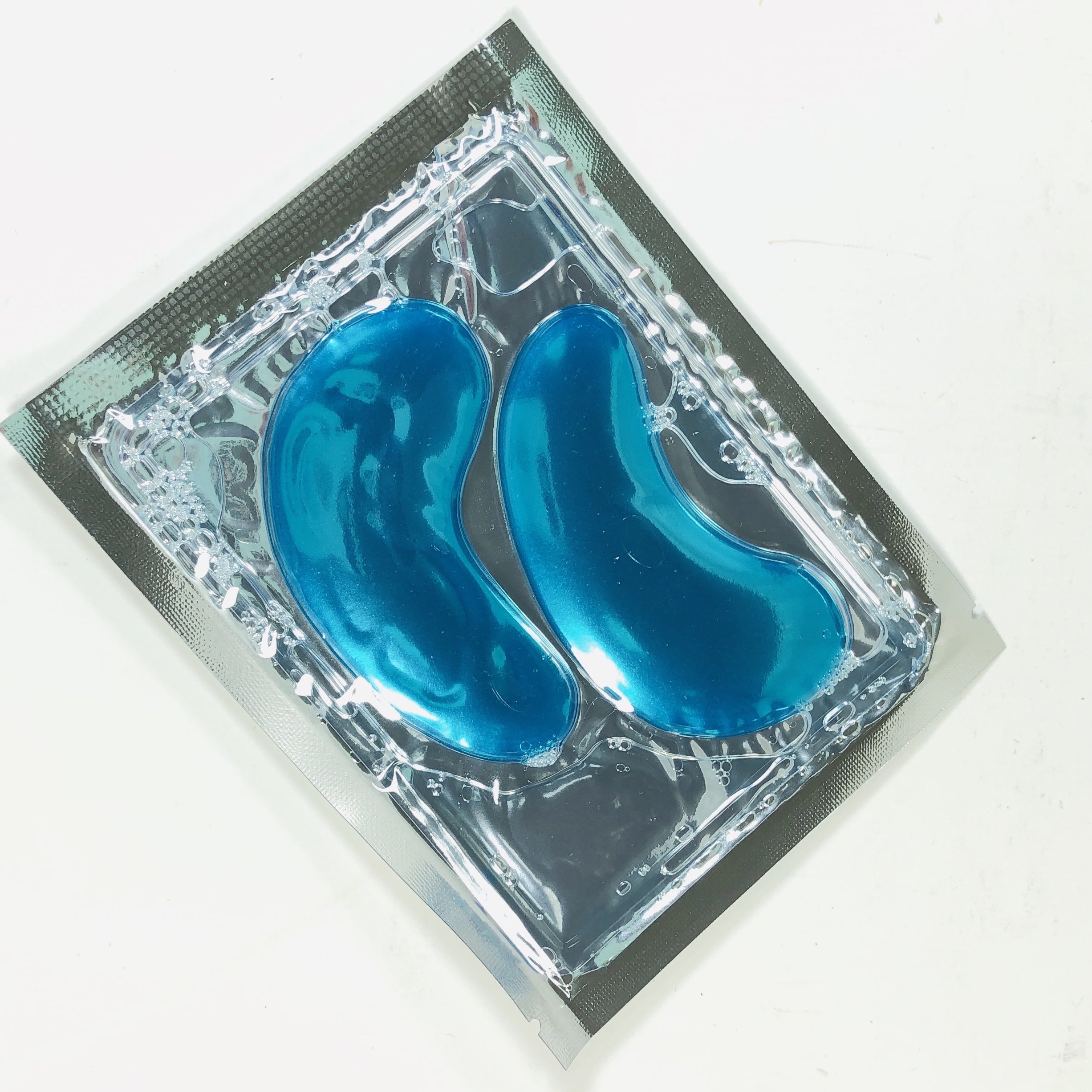 The masks are supposed to reduce puffiness and reduce the look of fine lines and wrinkles. They had a cooling effect on the area, which I liked, but I can't say they did a whole lot to reduce wrinkles but I really don't think anything can do that, short of surgery or injections.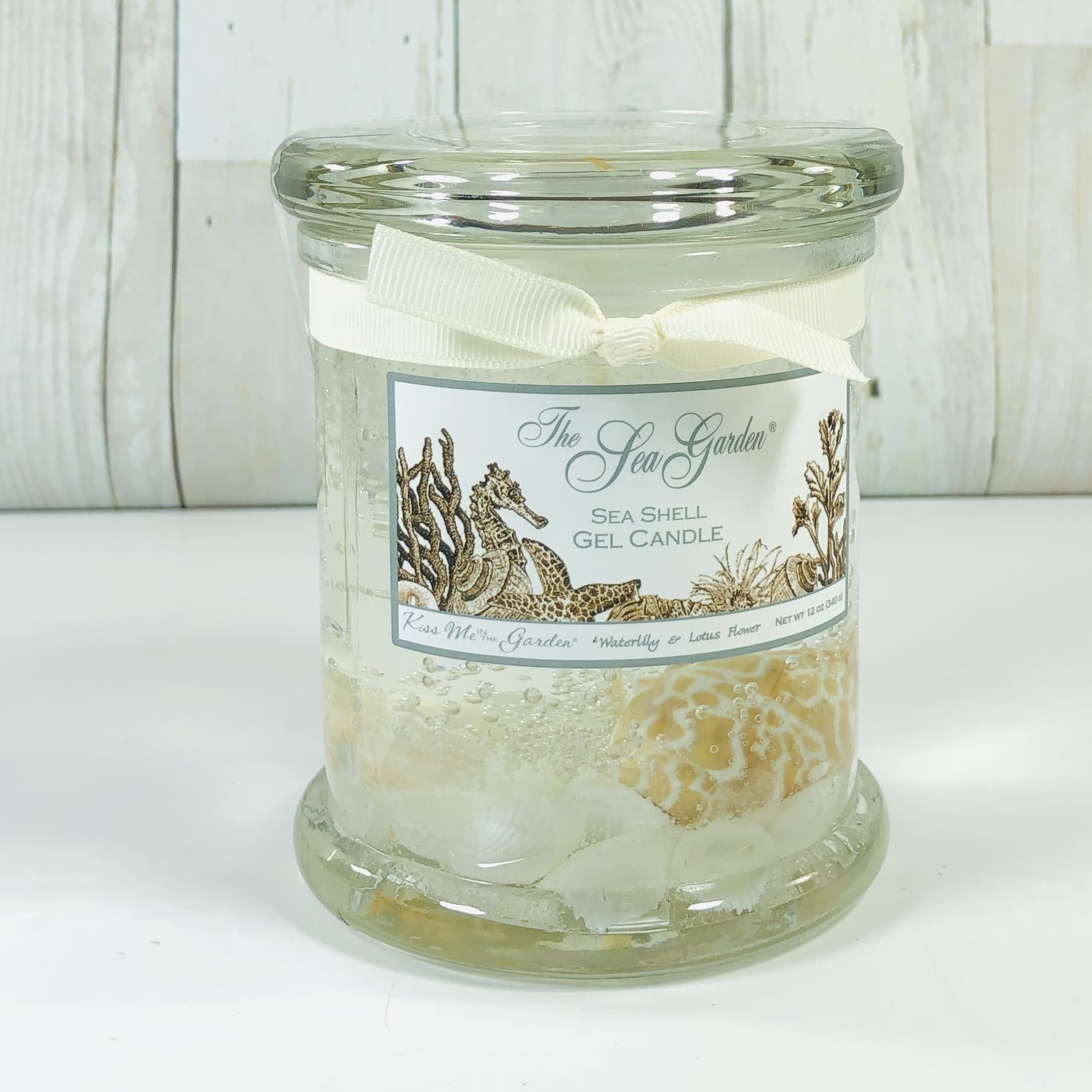 Kiss Me In The Garden The Sea Garden Gel Candle ($27) What a unique candle! I've received tons of candles from boxes but I think this is my first ever gel candle!
It is paraben-free and of course, use caution when burning!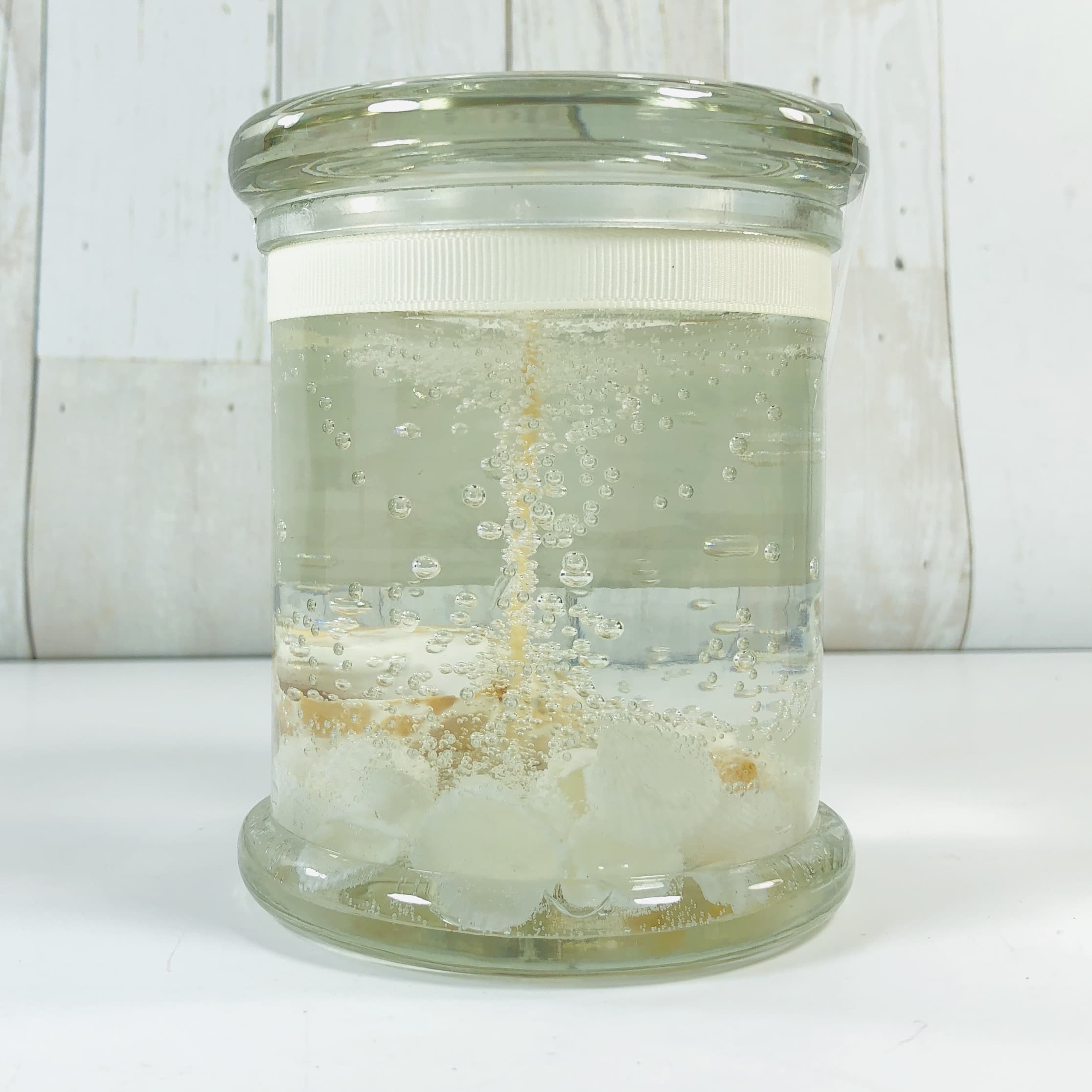 Gel candles are supposed to burn up to 4 times longer than wax candles. I can't bring myself to burn this candle – it's too pretty! I'm going to place it on my mantle as decoration for now, the shells are just so pretty inside. The scent is described as waterlily and lotus flower and it smells fresh and floral but not overwhelming.
I was super excited to try Saltwater & Sand and was very pleased with their Winter 2019 box, which was my first from them. The items were interesting and they sent products that were new takes on old favorites, like a pineapple shaped tea infuser (and a rose gold one at that!), a pineapple flavored tea, and a gel candle. The basket and beads will add a beach-house touch to my home and the other items rounded out the box nicely. The chocolate bar was a piece of heaven too. I thought it was a neat box and appreciated the curation. If you like items with a tropical touch then check out Saltwater & Sand!
What do you think of the Winter 2019 Saltwater & Sand box?