Robb Vices is a monthly luxury subscription service that delivers a collection of "storied treasures." The subscription costs $159.95 per month, and each box comes with a collection of incredible products and experiences that have been curated for your enjoyment.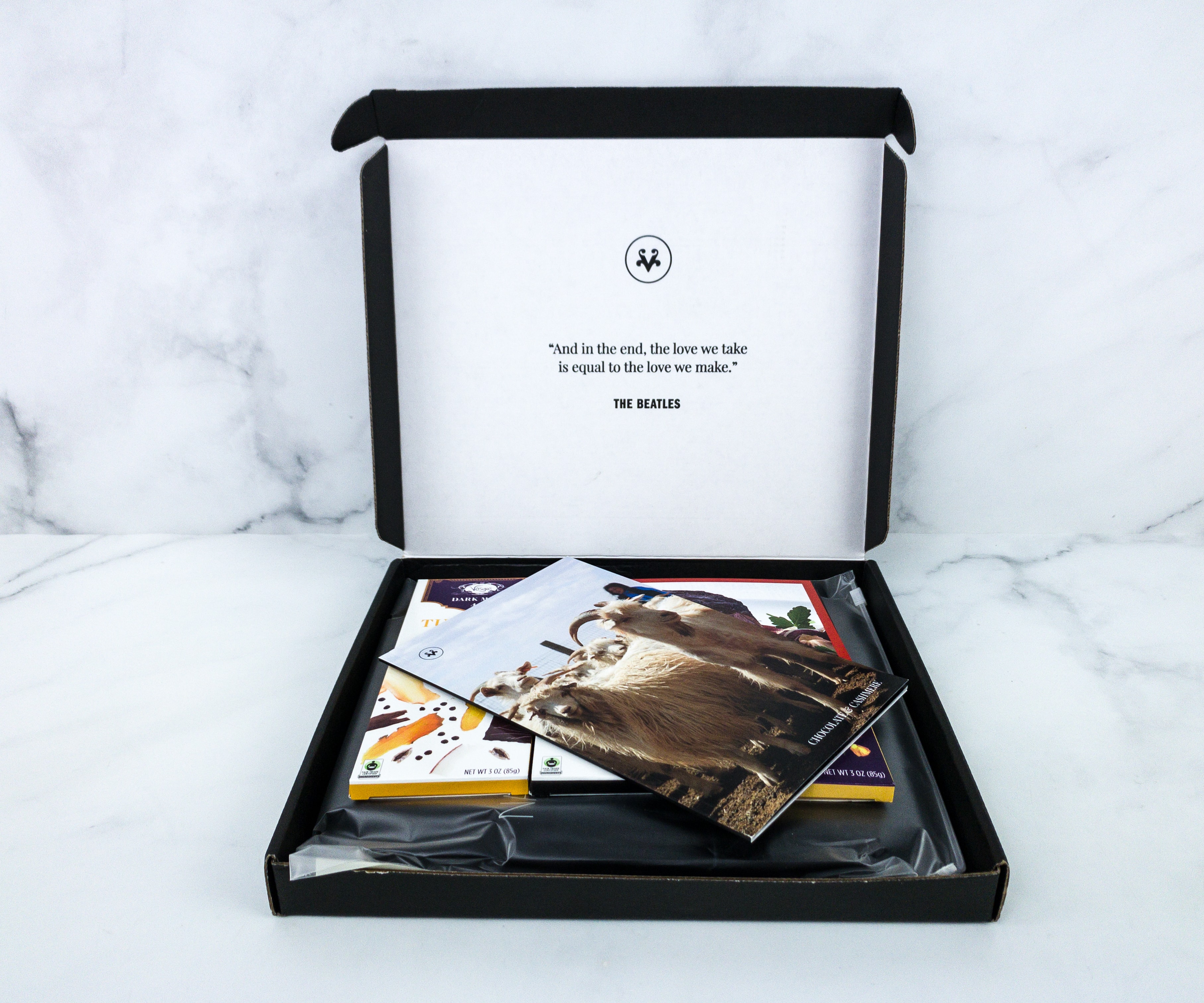 All the items are cradled in a thick a customized carton case with the exclusive Robb Vices booklet on top. The box also features a quote:
And in the end, the love we take
is equal to the love we make.  – The Beatles
This month's box doesn't contain any custom-fitted foam case since all the items are packed separately. The topmost items are some yummy chocolates securely laid side by side with each other.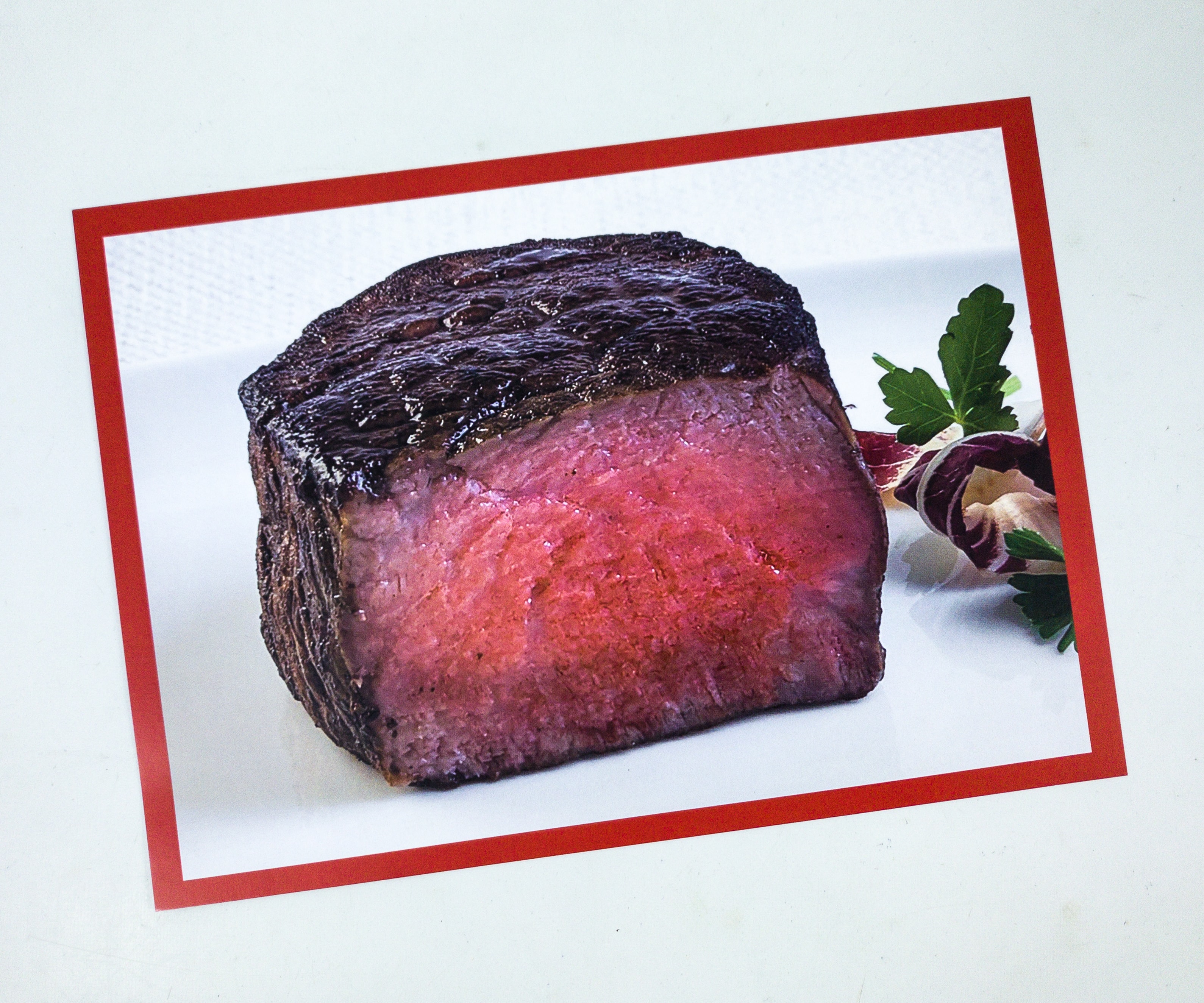 Here's an enticing photo card of a medium-rare cooked New York Prime Beef.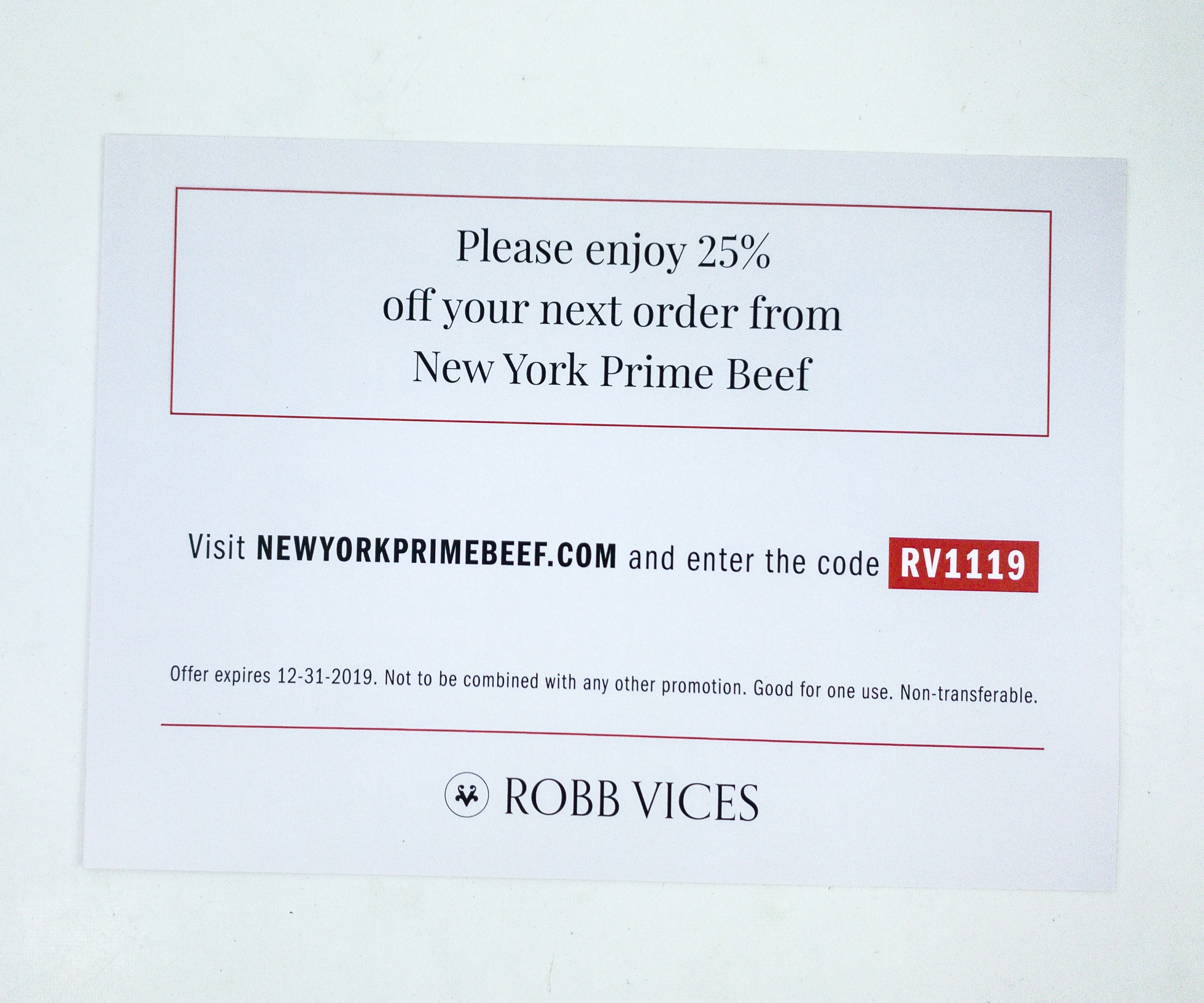 At the back of the card is a discount code to enjoy 25% off your next order from New York Prime Beef.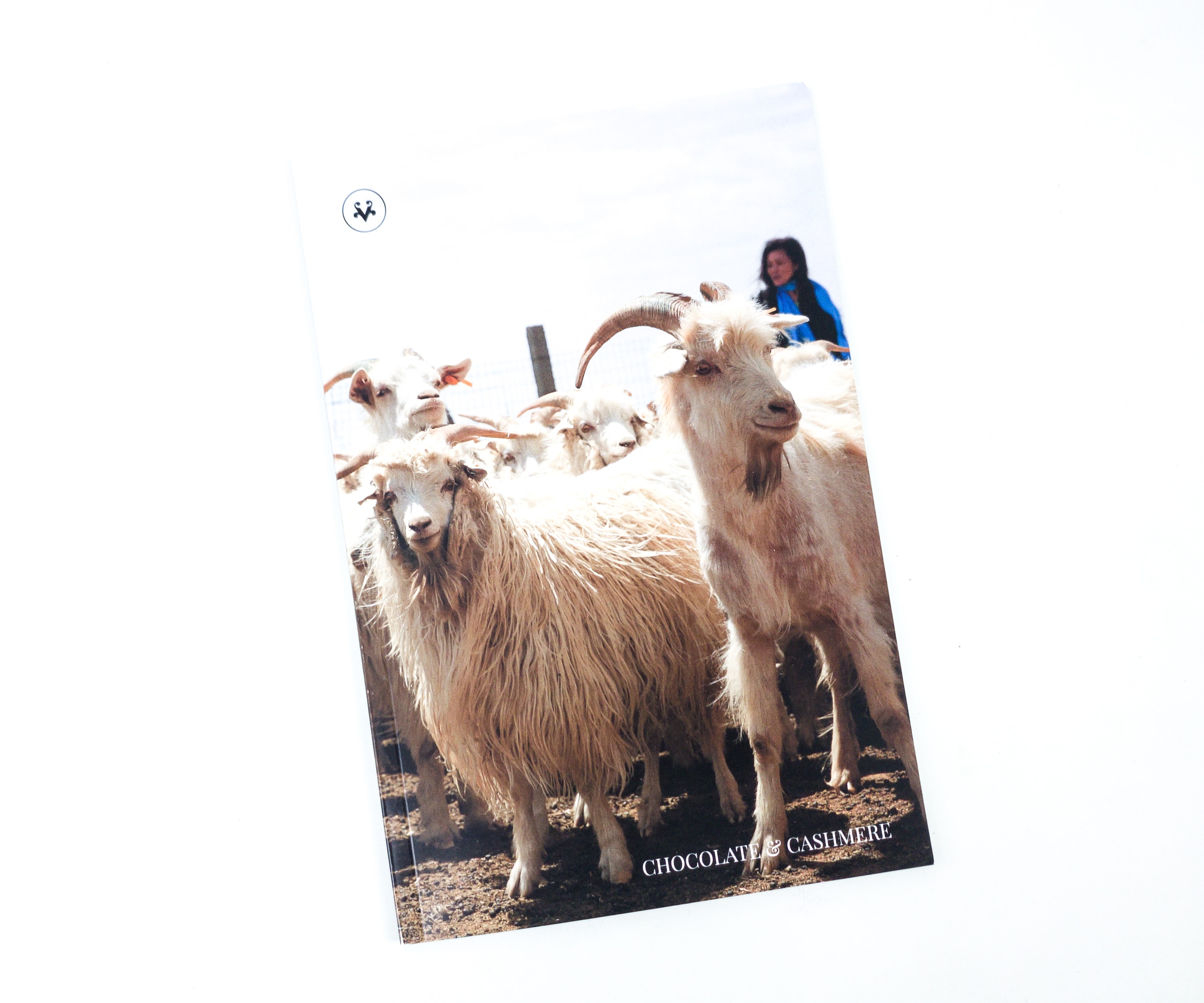 The story of the premium products is told through this novella-sized booklet with a multi-page featurette on each selection. This month is a Chocolate & Cashmere edition.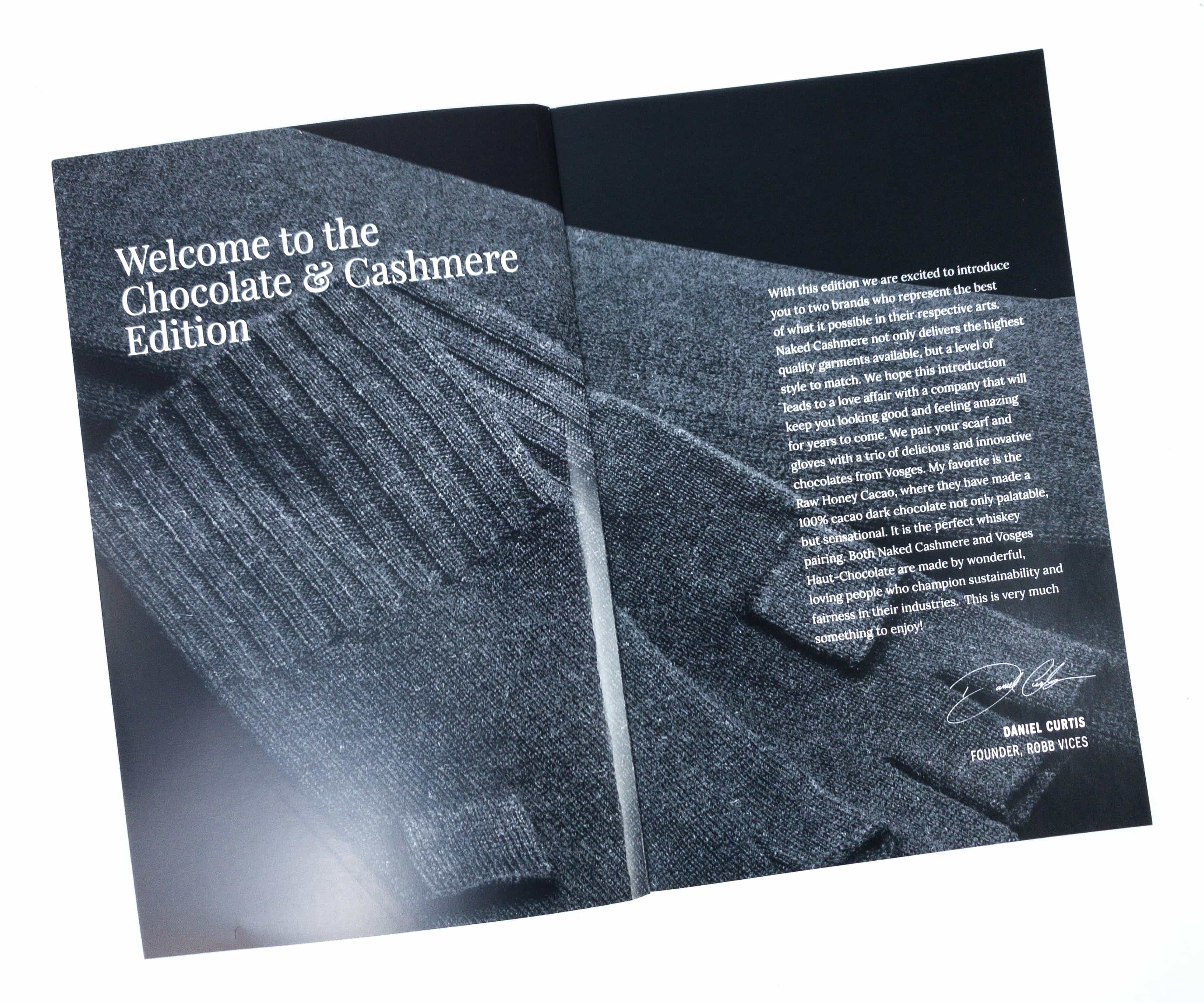 Featured on one side of the booklet is a full-page message from Daniel Curtis, the founder of Robb Vices.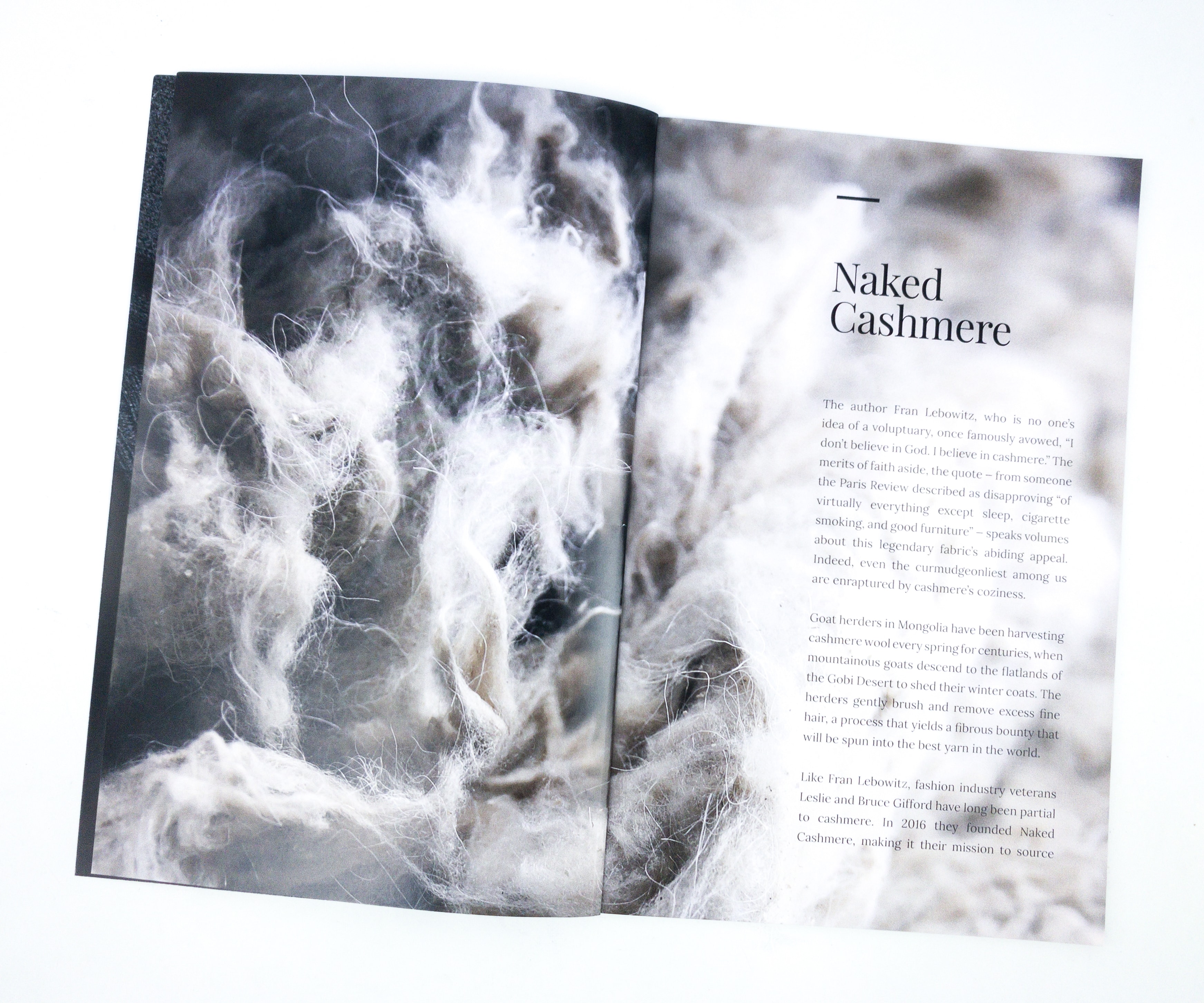 This part of the booklet provides a brief history of this month's featured brand.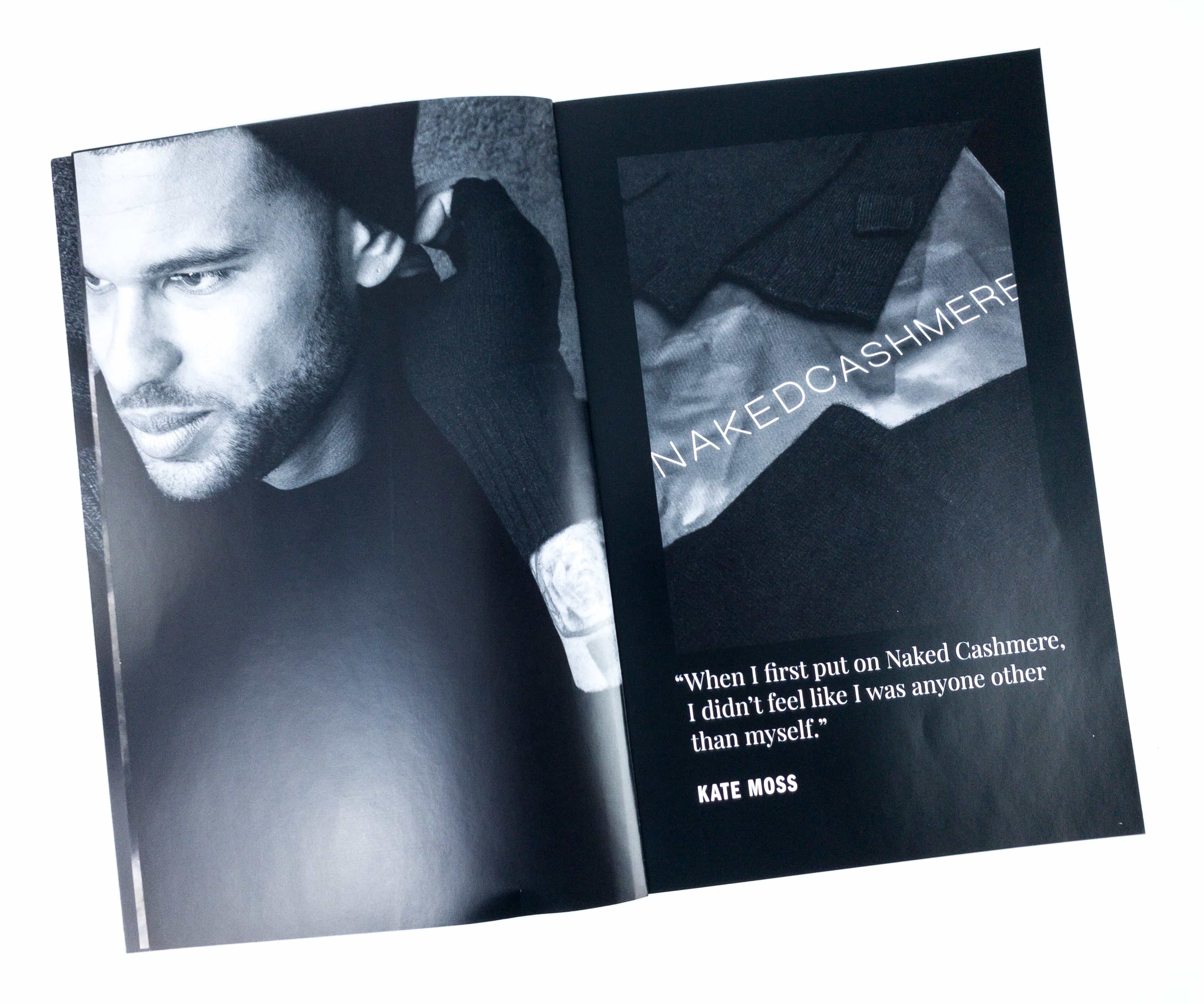 When I first put on Naked Cashmere, I didn't feel like I was anyone other than myself.

Kate Moss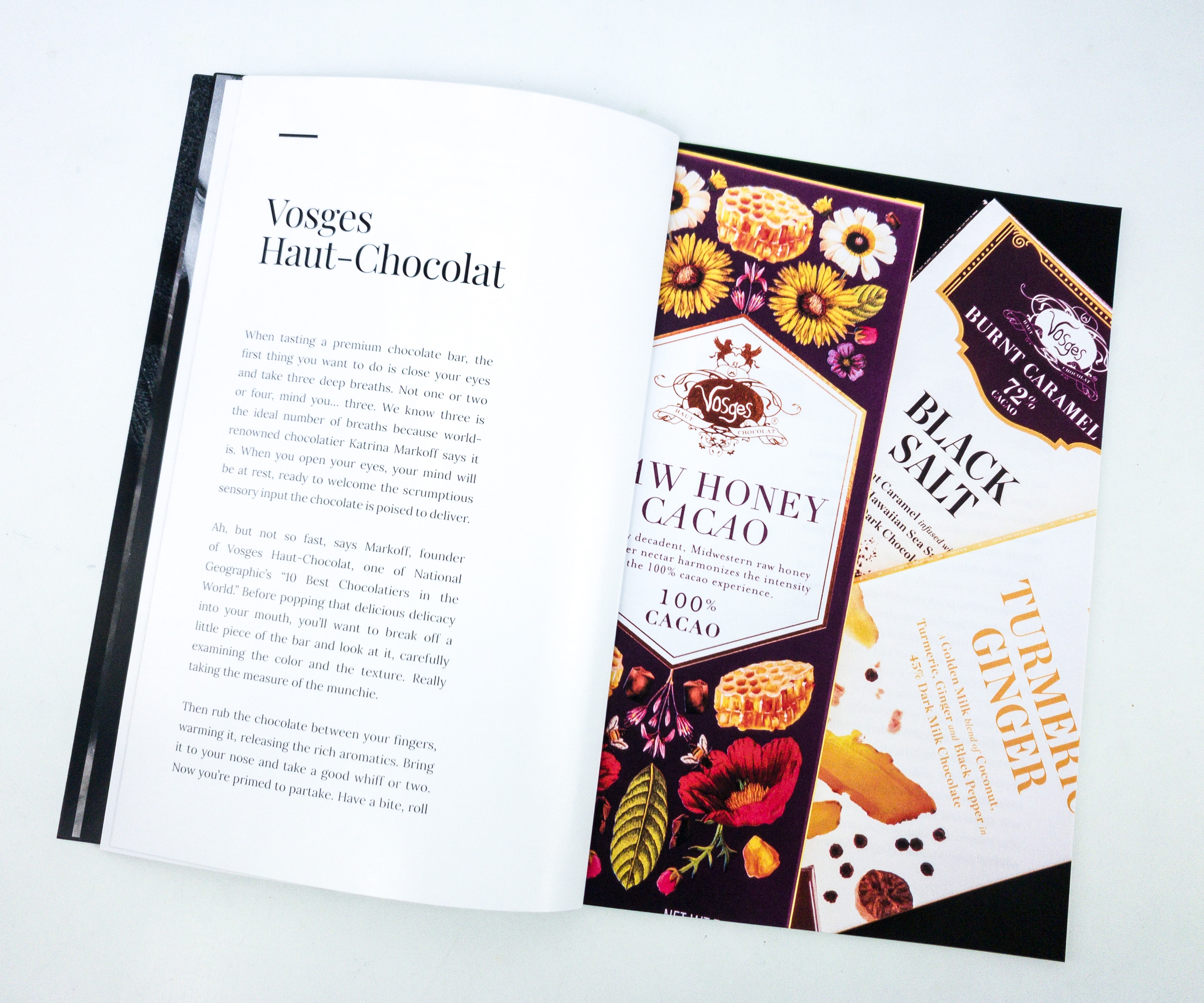 This handy booklet comes with all of the necessary product info!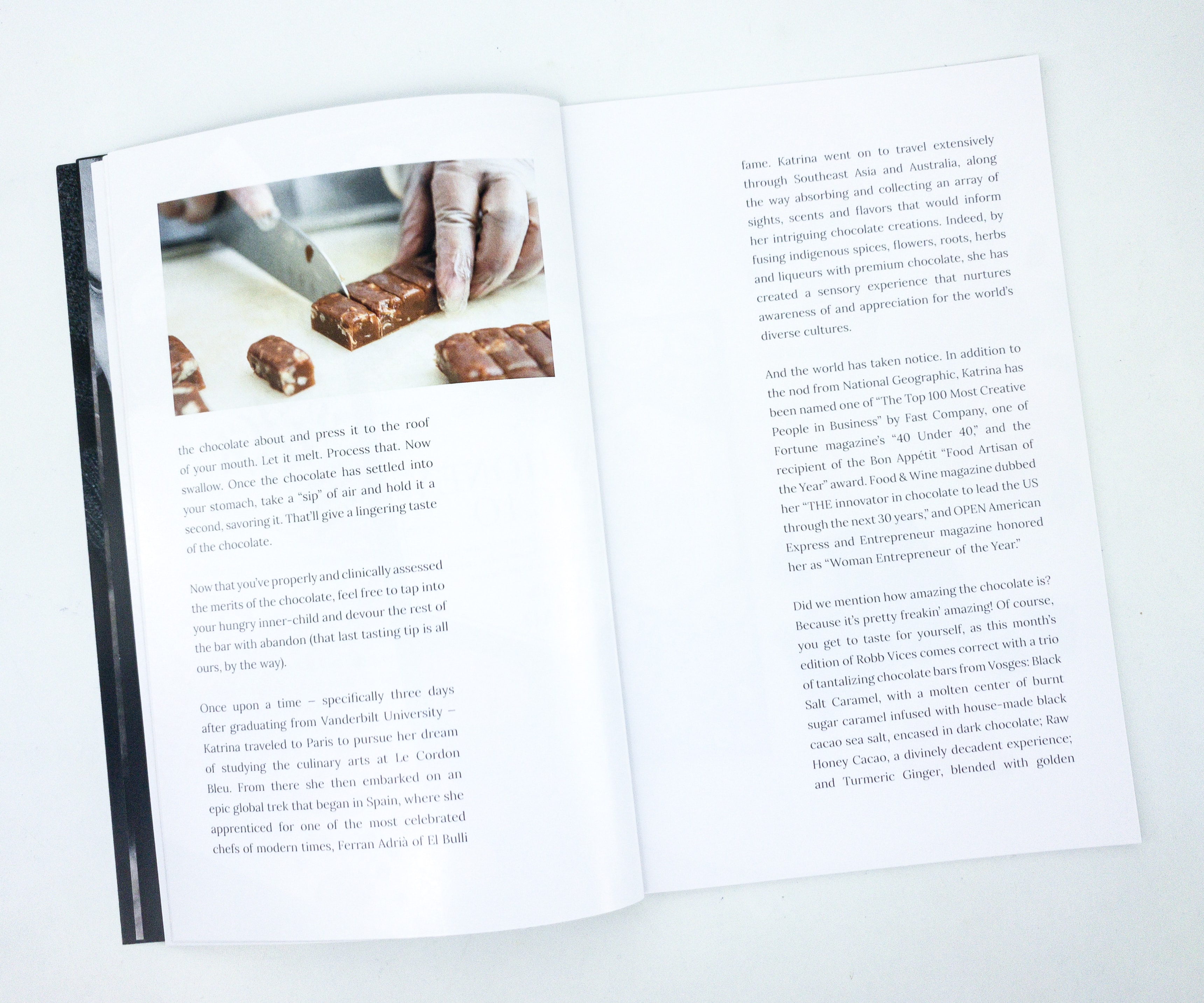 It's interesting how the booklet indulges the subscribers into the story of each month's contents.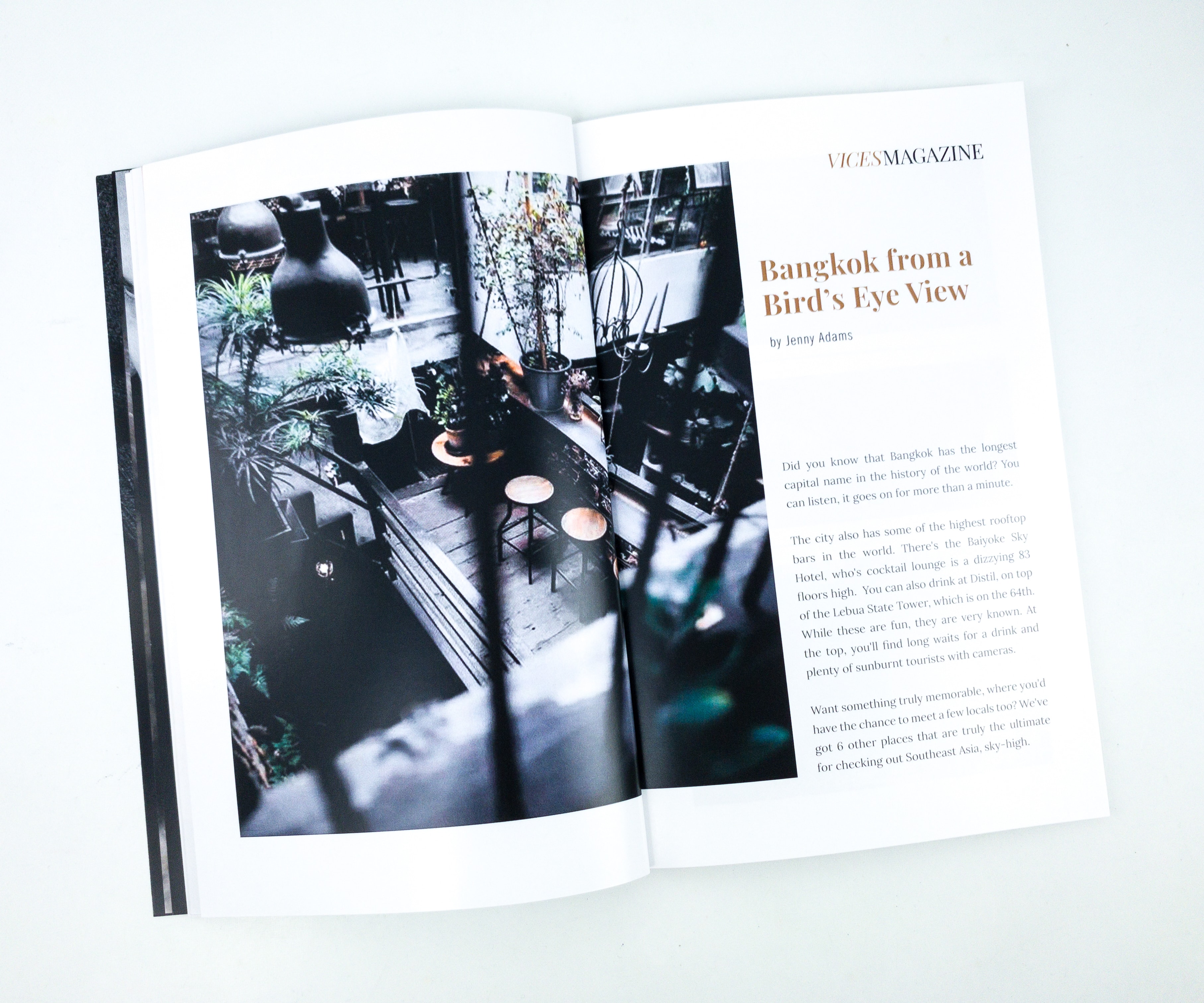 As always, the booklet comes with a variety of high-quality photos printed on thick, glossy and smooth pages.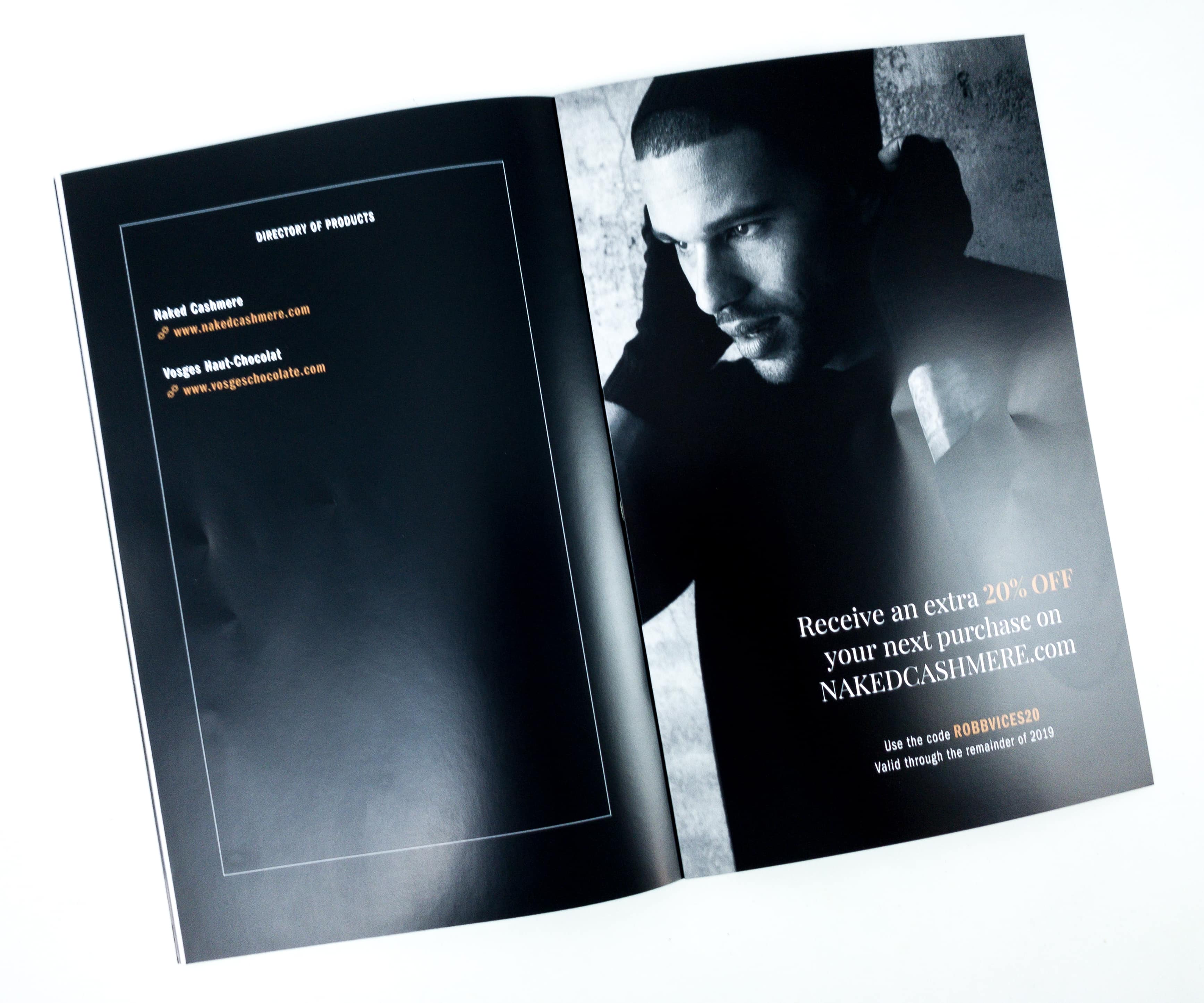 There's a directory of the featured products this month, as well as a 20% off coupon code for your next purchase of Naked Cashmere.
Everything in my November 2019 box!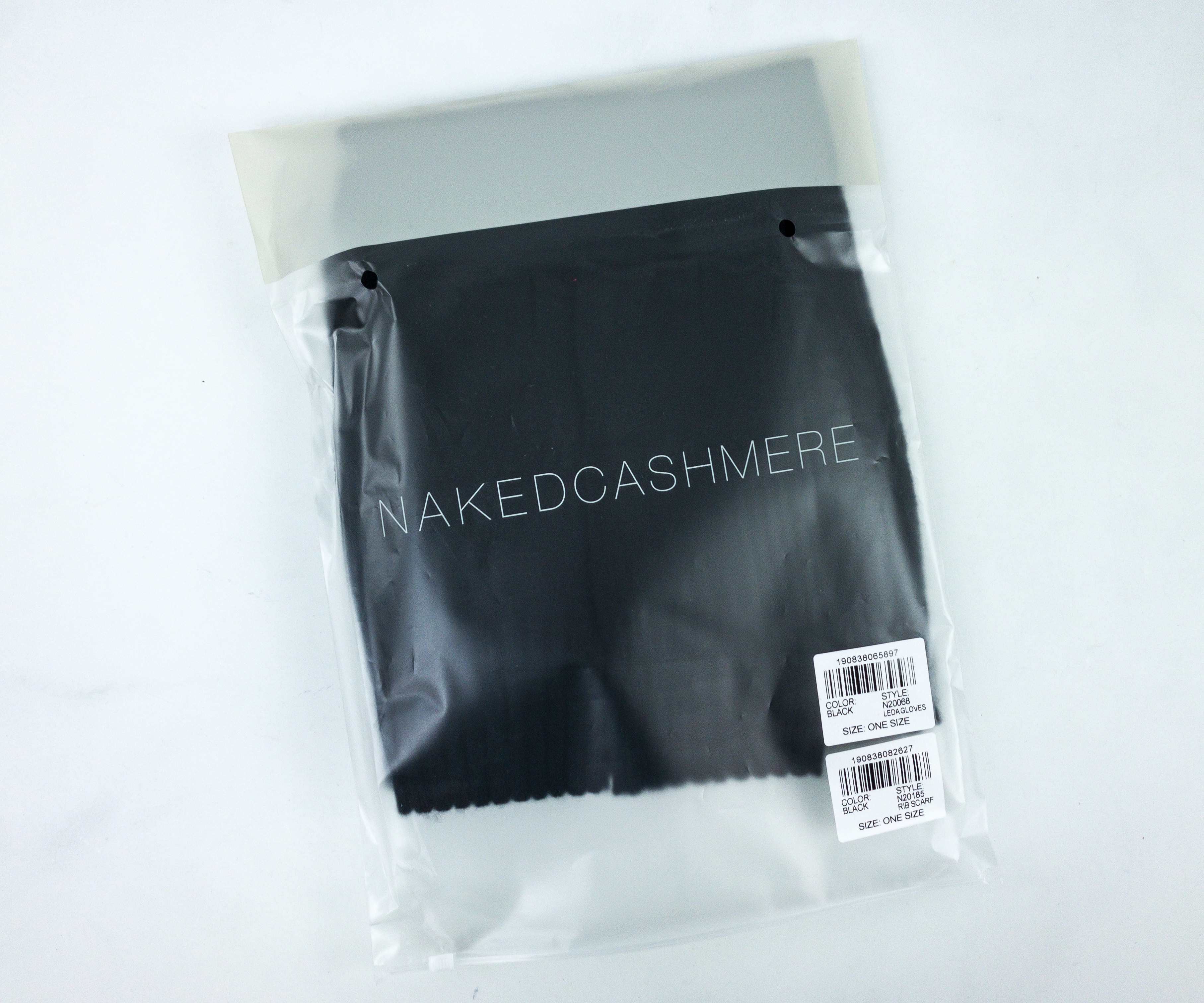 Naked Cashmere The Naked Cashmere collection comes with 2 items, the Leda gloves and the R/B scarf. These two garments are perfect for any season. They can also be worn alone or layered.
Both items come in a classic black color that perfectly matches any color of outfit. They're also extra cozy, soft, and warm.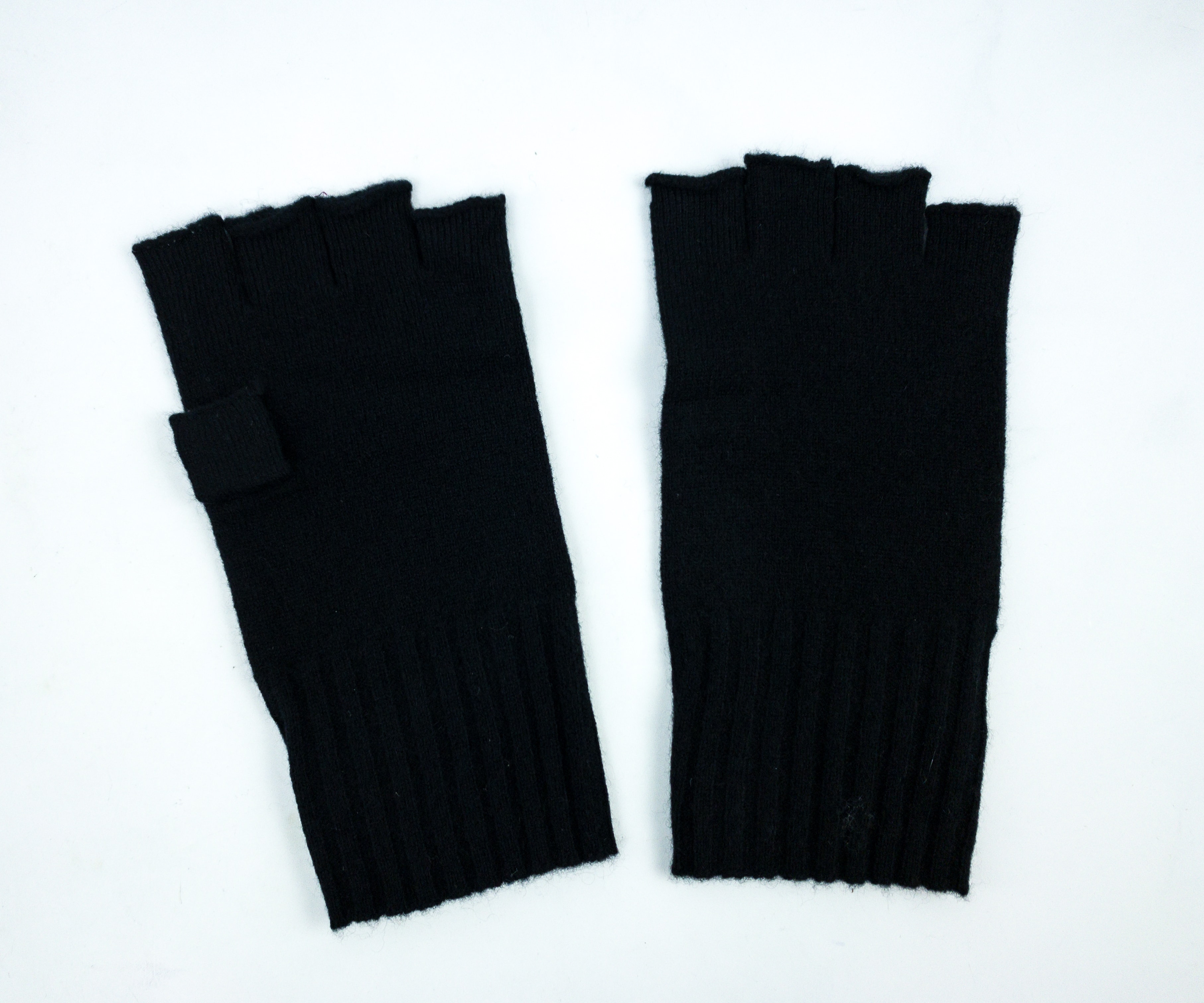 The gloves are knitted from sumptuously soft cashmere. It has a fingerless design which makes this glove a great accessory to protect your hands from the cold.
The second cashmere garment is a unisex wrap made with 100% pure cashmere. This scarf is so soft and lightweight. It provides enough warmth to use as a wrap on a cool winter evening.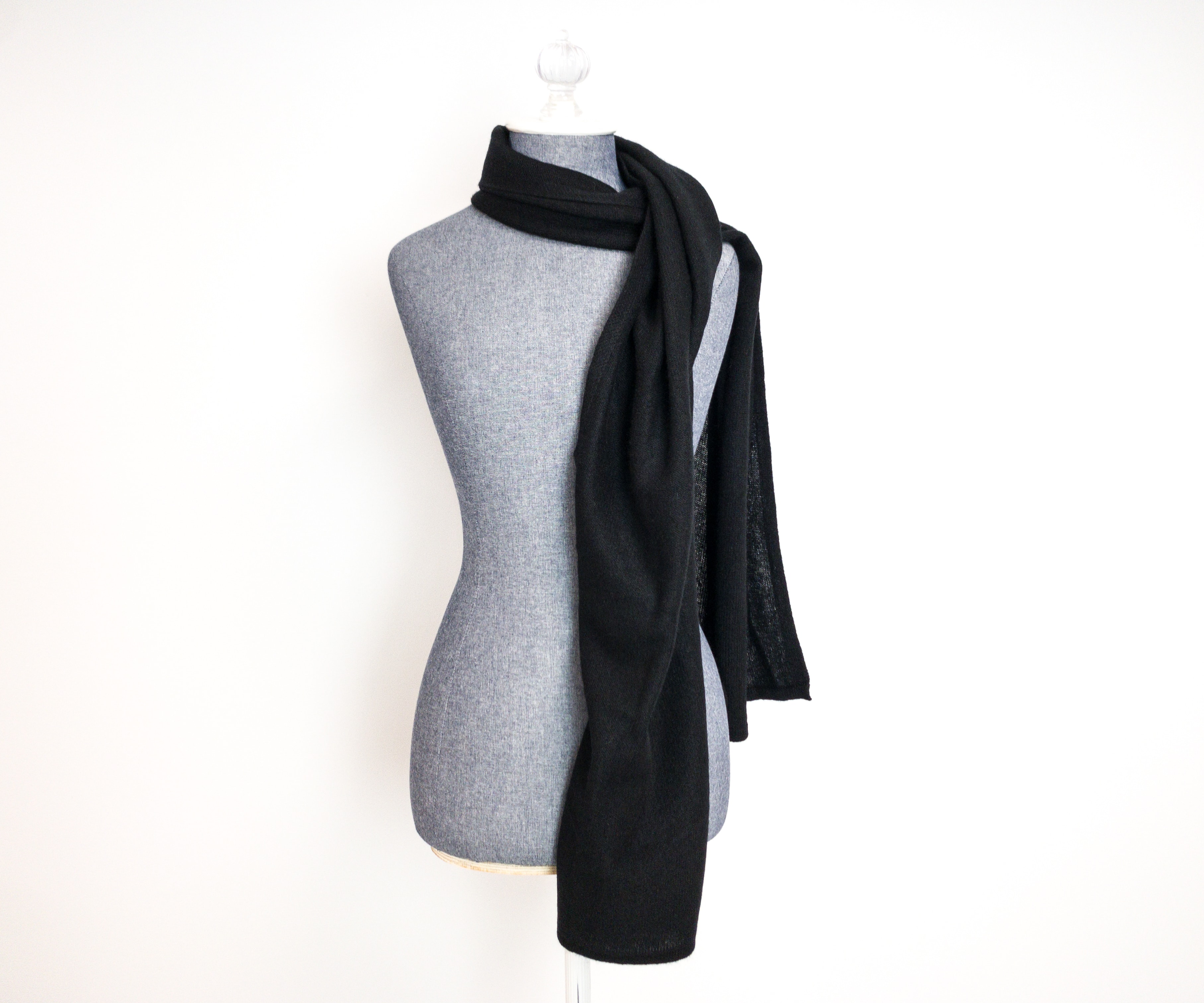 It's quite versatile. It has a cut for a soft and airy silhouette perfect for travel and layering over on cool nights, as well as complementing any evening look.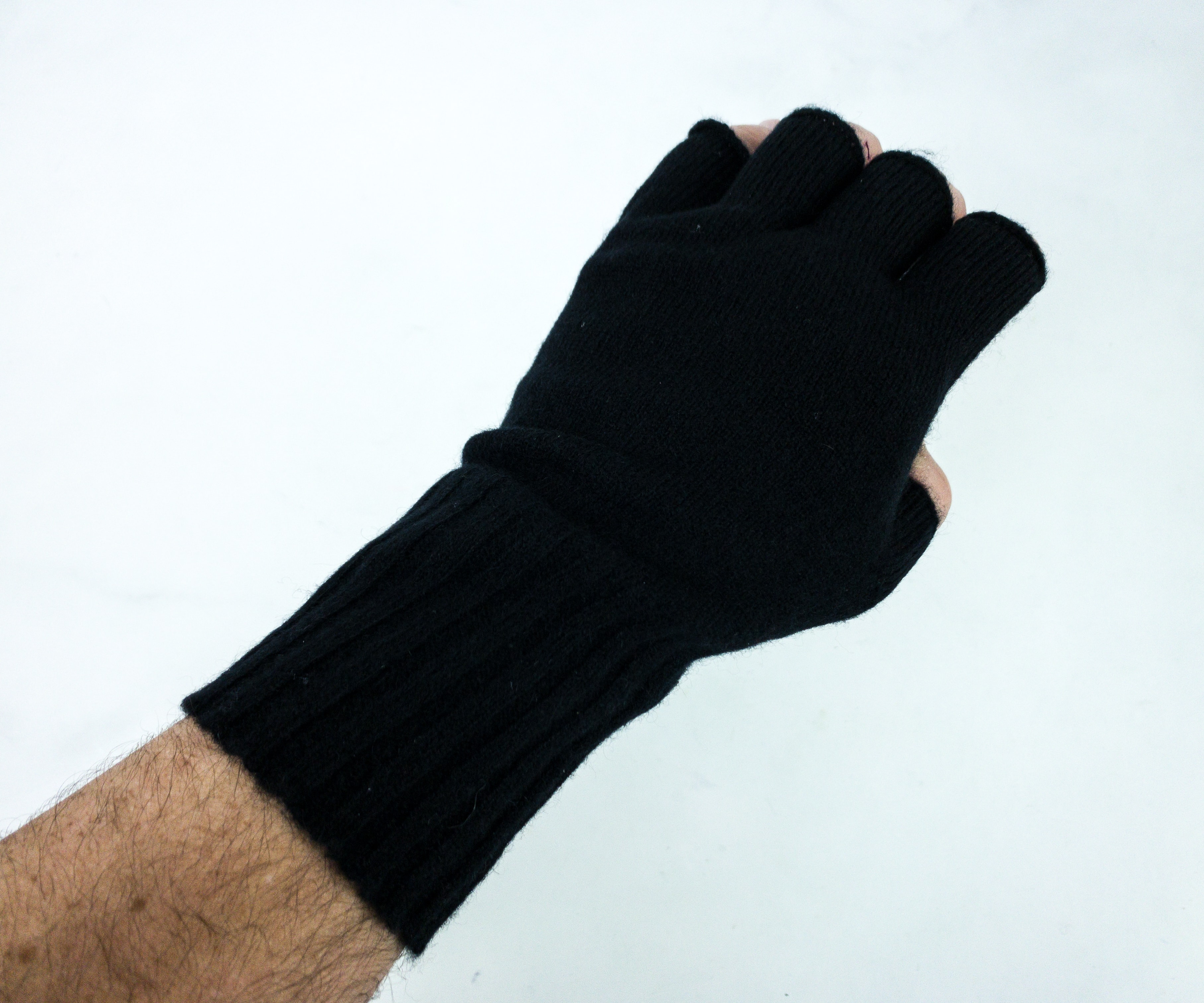 It is also finished with finely ribbed trim on the cuffs. They are definitely man-sized, and if you're a woman that's been subscribing to this box for yourself, you're probably disappointed in the fit. As for quality, it's ok. It's softer than wool, but not the most luxurious cashmere ever.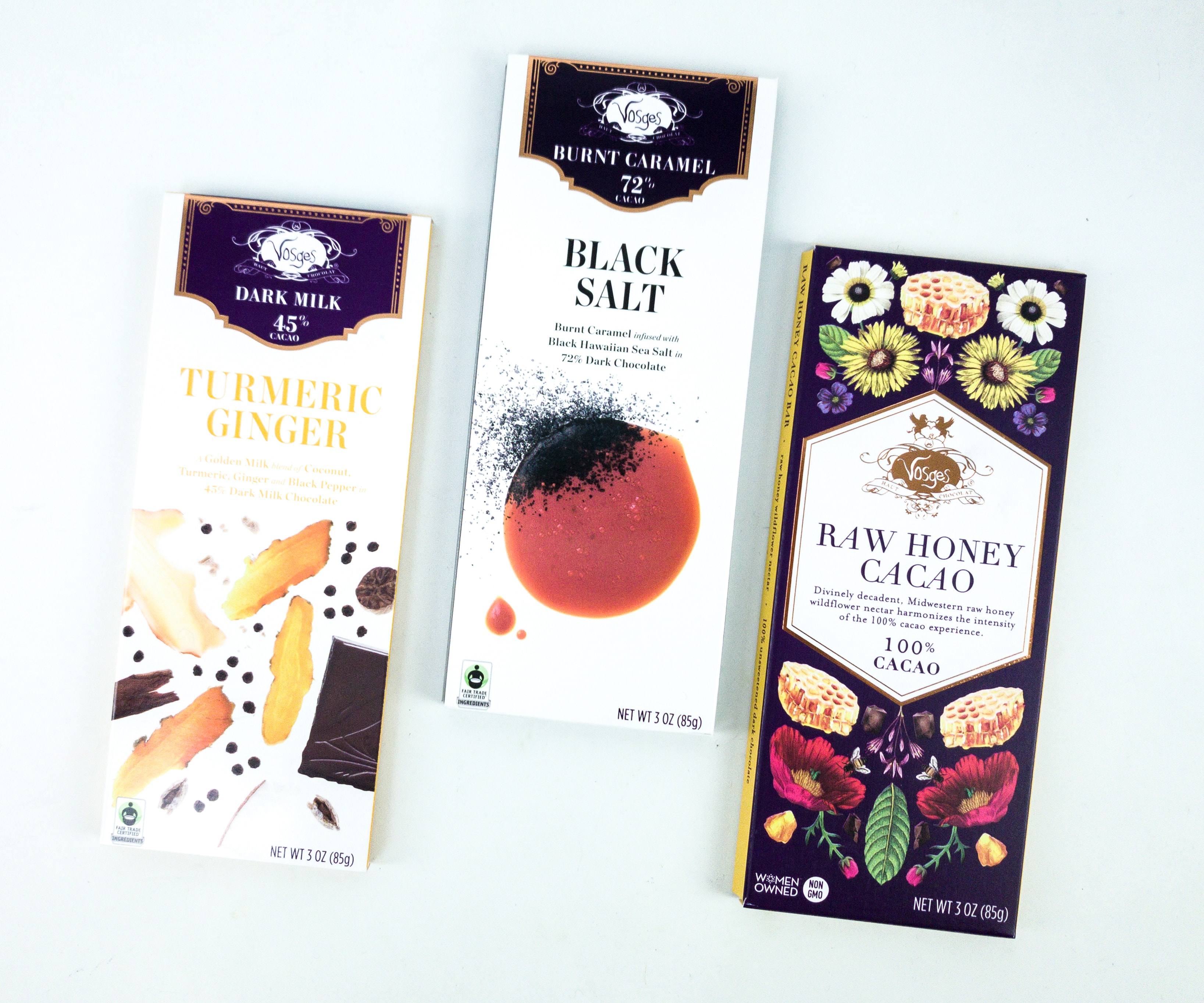 Vosges Naut-Chocolat A luxurious trio of chocolate bars is inside this month's box for indulgence. For those who have a sweet tooth like us, chocolate bars are a staple in the pantry. I can say that this is by far one of the best-tasting chocolate bars that we have tried!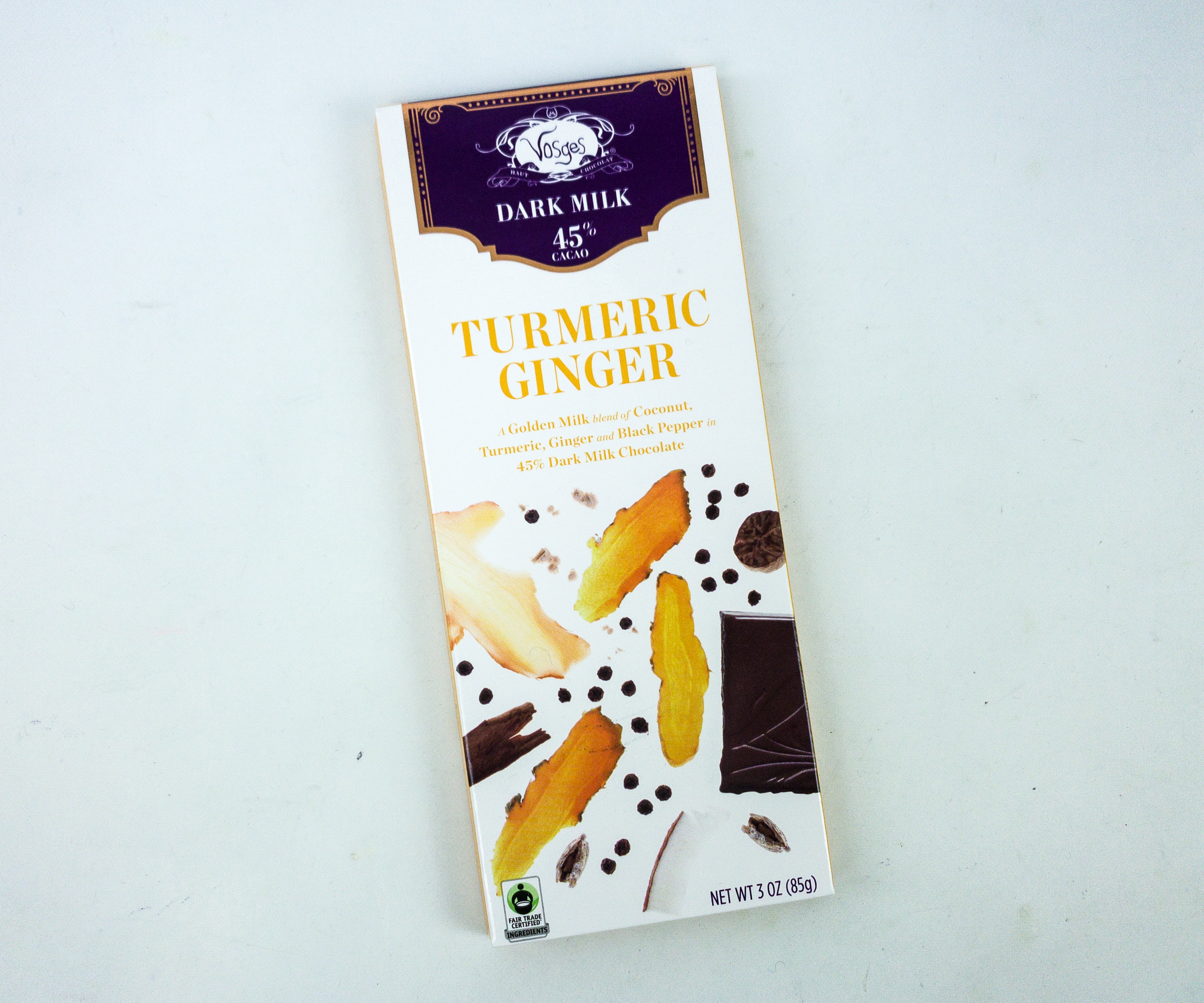 Vosges Turmeric Ginger Dark Milk Chocolate Bar ($8.00) This dark milk chocolate has magically combined the exotic flavors of turmeric, black peppercorn, warm ginger, and crisp coconut.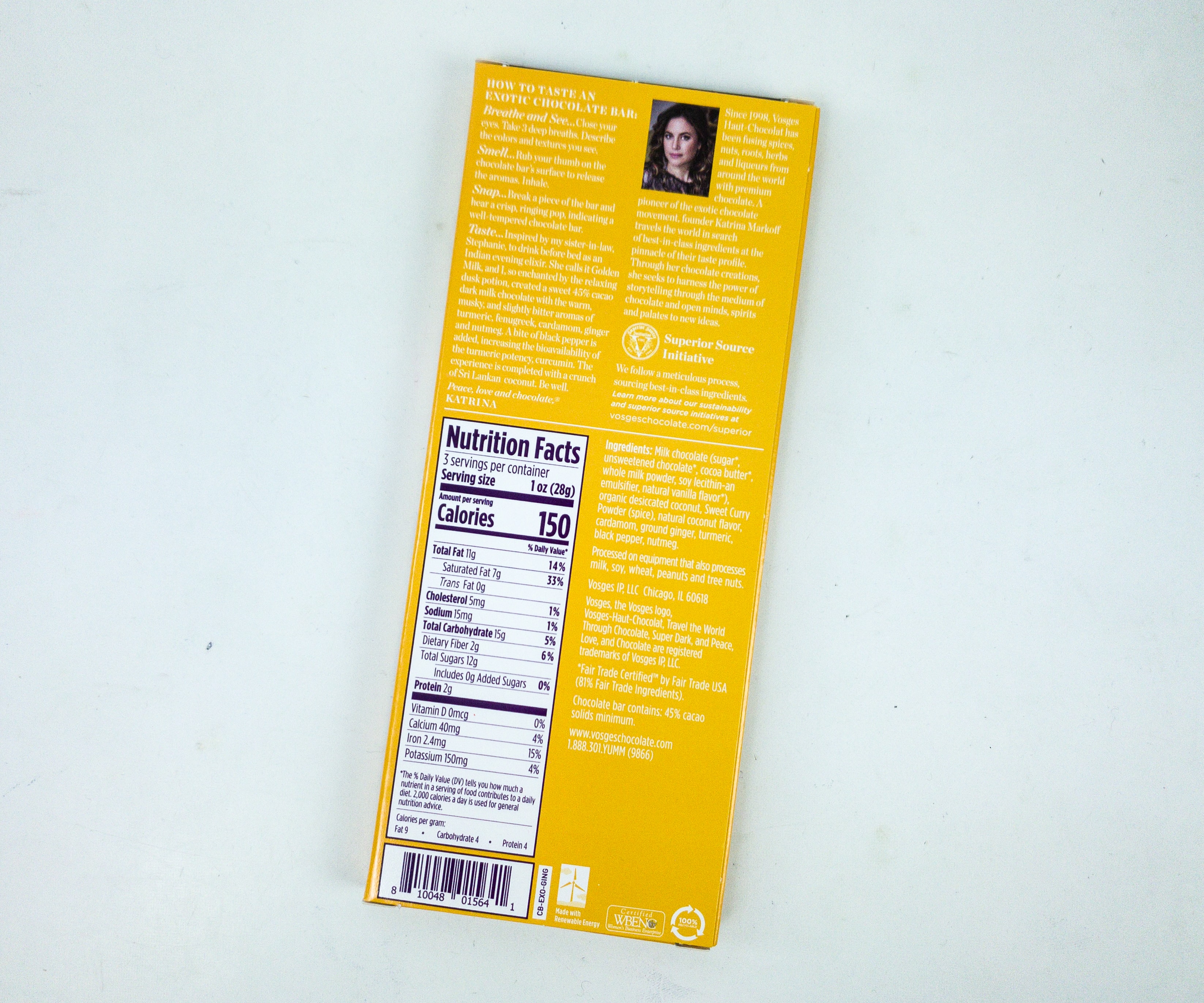 This 4% cacao deep milk chocolate is gluten-free, non-GMO and fair trade certified, as stated in the label.
It has a monogrammed text engraved on the bar saying, "with what would chocolate not marry?"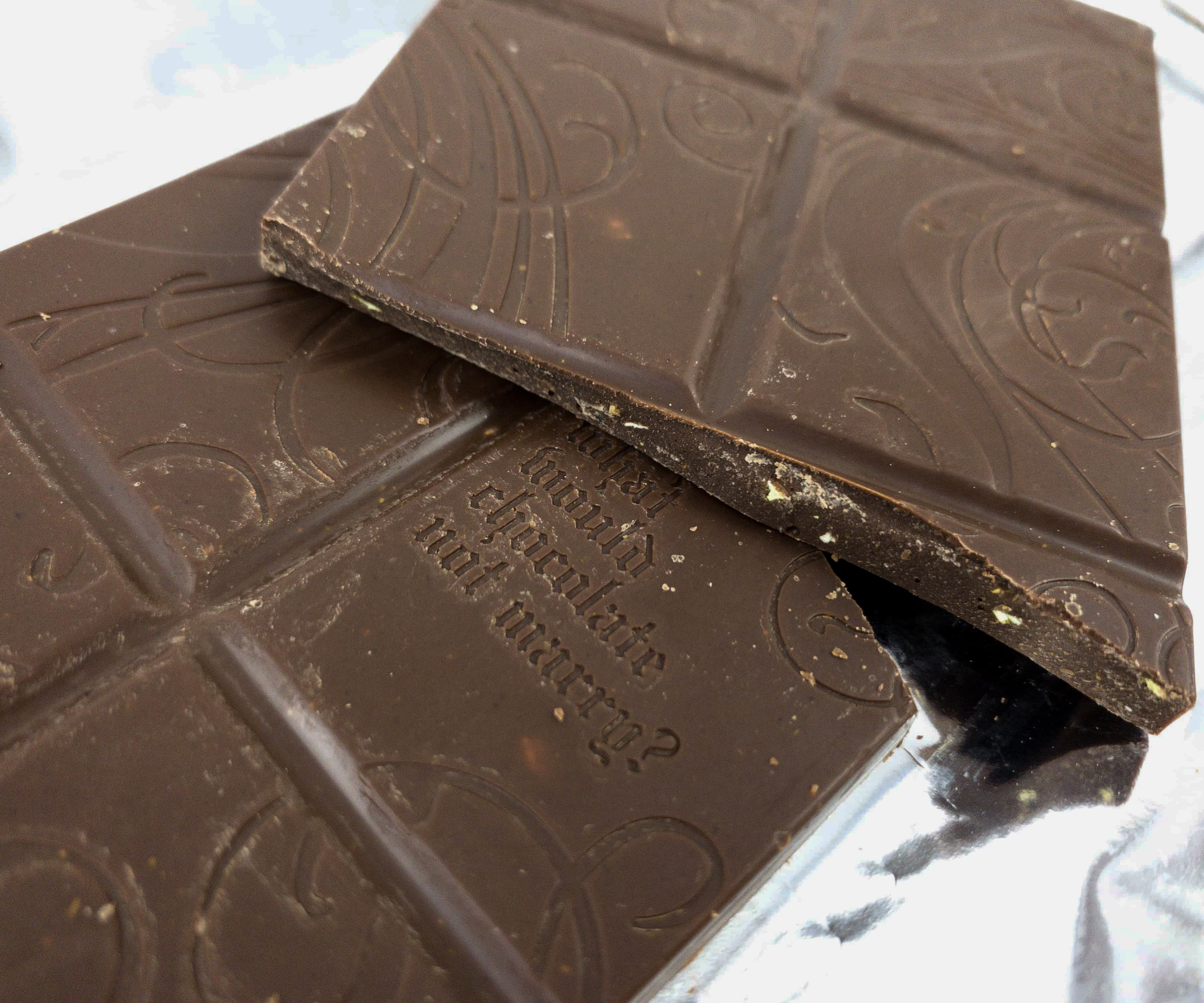 I'm very much surprised how the marriage of dark chocolate with exotic flavors tasted so good. It's like tasting chocolate at a next-level quality. It's magnificent! I think it's creamy for a dark milk chocolate bar, I can taste the cream with strong notes of ginger, turmeric, and black pepper but it has little crisp every bite to it from the coconut bits.
Black Salt Caramel Bar ($8.00) This 72% cacao dark chocolate with black Hawaiian sea salt and soft burnt sugar caramel have made up for the smooth and creamy chocolate bar that is gourmet quality.
This is our favorite among the three bars due to its smooth, creamy and decadent flavor.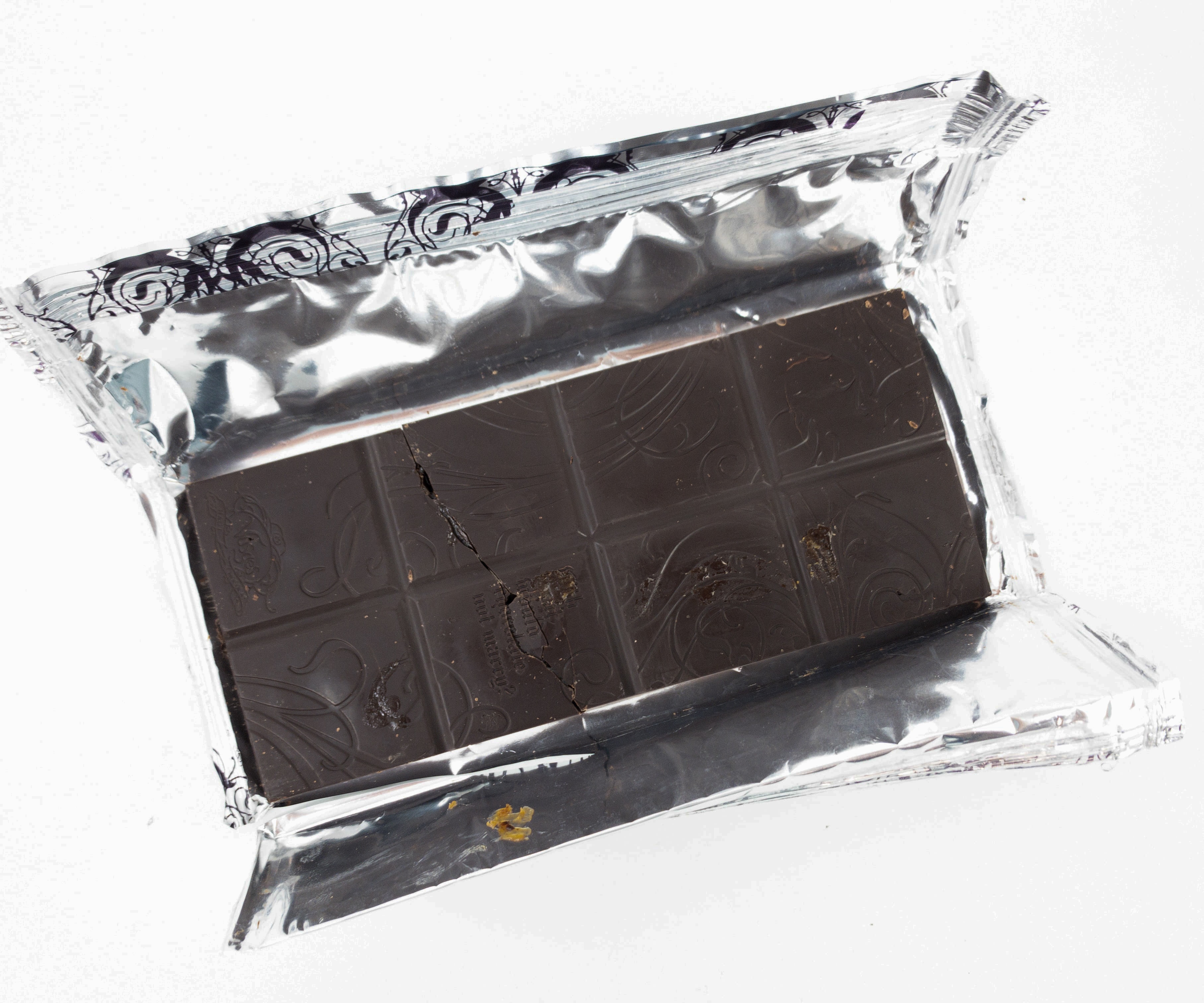 The sweetness and saltiness have achieved a perfect balance, it's like dancing on the palate with the burnt caramel and the black salt.
The luscious caramel filling was truly enticing. We've finished the entire bar in a jiffy!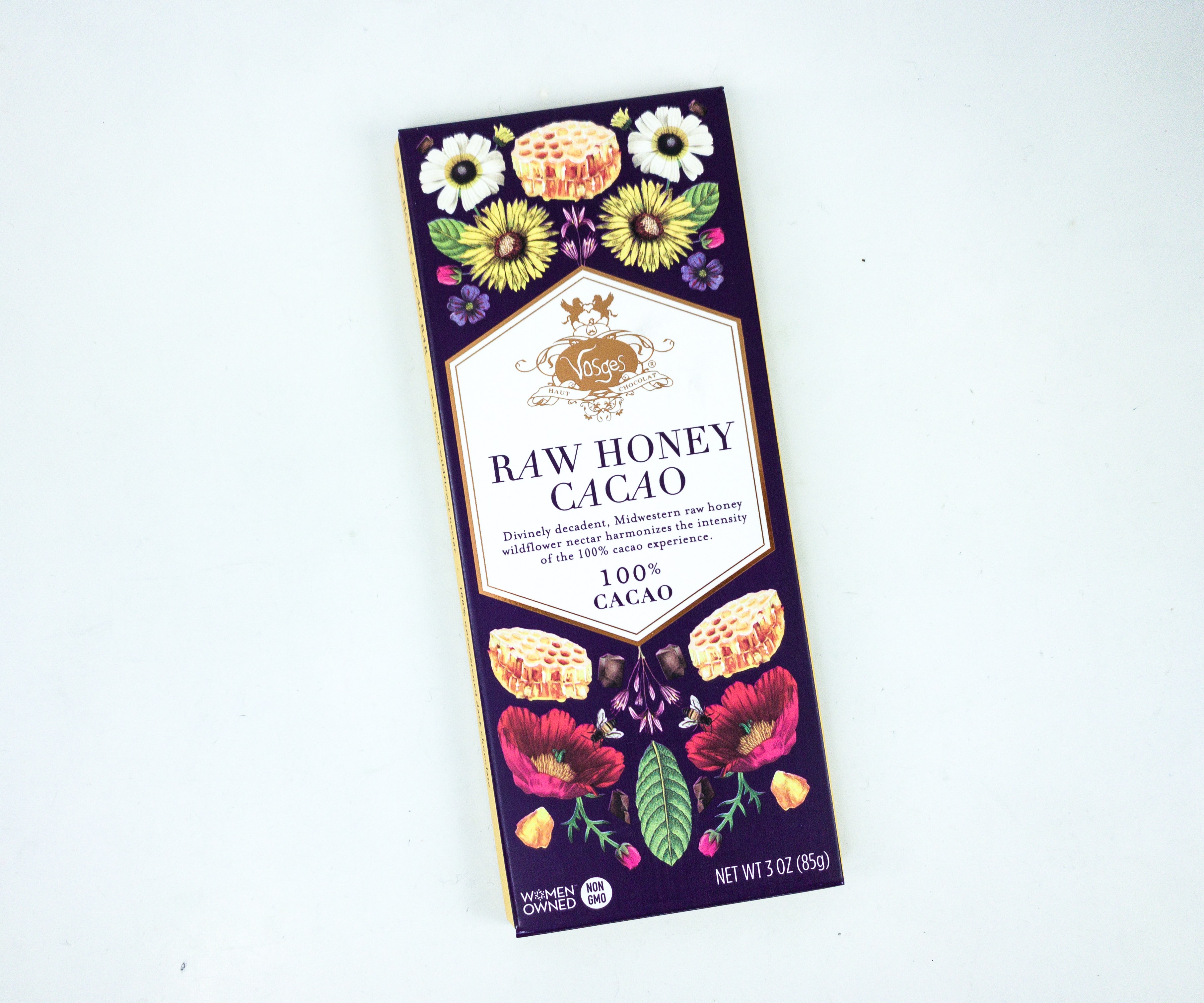 Raw Honey Cacao Chocolate Bar ($8.00) This bar has the most bitter taste since it is 100% cacao. It was less creamy than the milk chocolates that we prefer but still tasty.
The inclusion of raw honey wildflower nectar has added that sweet and floral taste to the dark fruit chocolatey cocoa. It is a beautiful bittersweet flavor.
Its dark chocolate color is almost next to black proving how pure its cacao content is.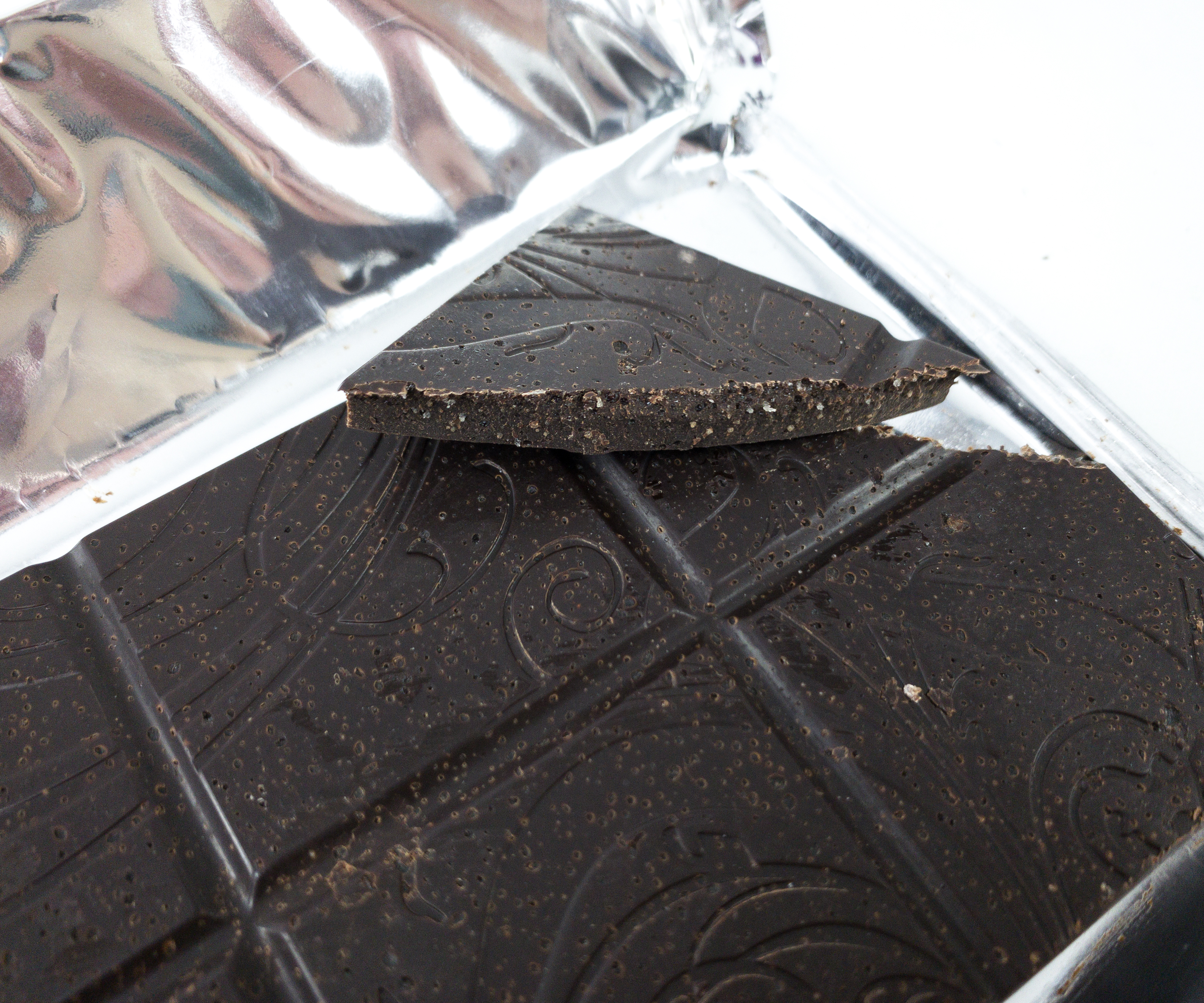 The chocolate bar itself has a rough texture due to the raw cocoa. Its almost tasting the freshness cocoa fruit from its tree. I love how unprocessed it is.
The November 2019 Robb Vices box is a sophisticated culmination of luxurious cashmere and chocolate. It is definitely pricey but I can say totally worth it! Design-wise, the black box is simple yet sleek. I like the cashmere garments that they've included this month. They both look so luxurious with the color, the softness, and even the stretch factor. The cashmere scarf's quality and versatility make it well worth the price. The selection of chocolate bars is quite clever and refined. The exotic flavors married to the dark chocolate is something you would not experience anywhere else. But this is not exactly the box I was expecting (where's the alcohol? where's the vice?) and if the cashmere accessories weren't to your taste, this pricey box was probably a huge miss. This is definitely a bigger risk with this subscription, more than any other major subscription box we review.
What do you think of this month's Robb Vices box?