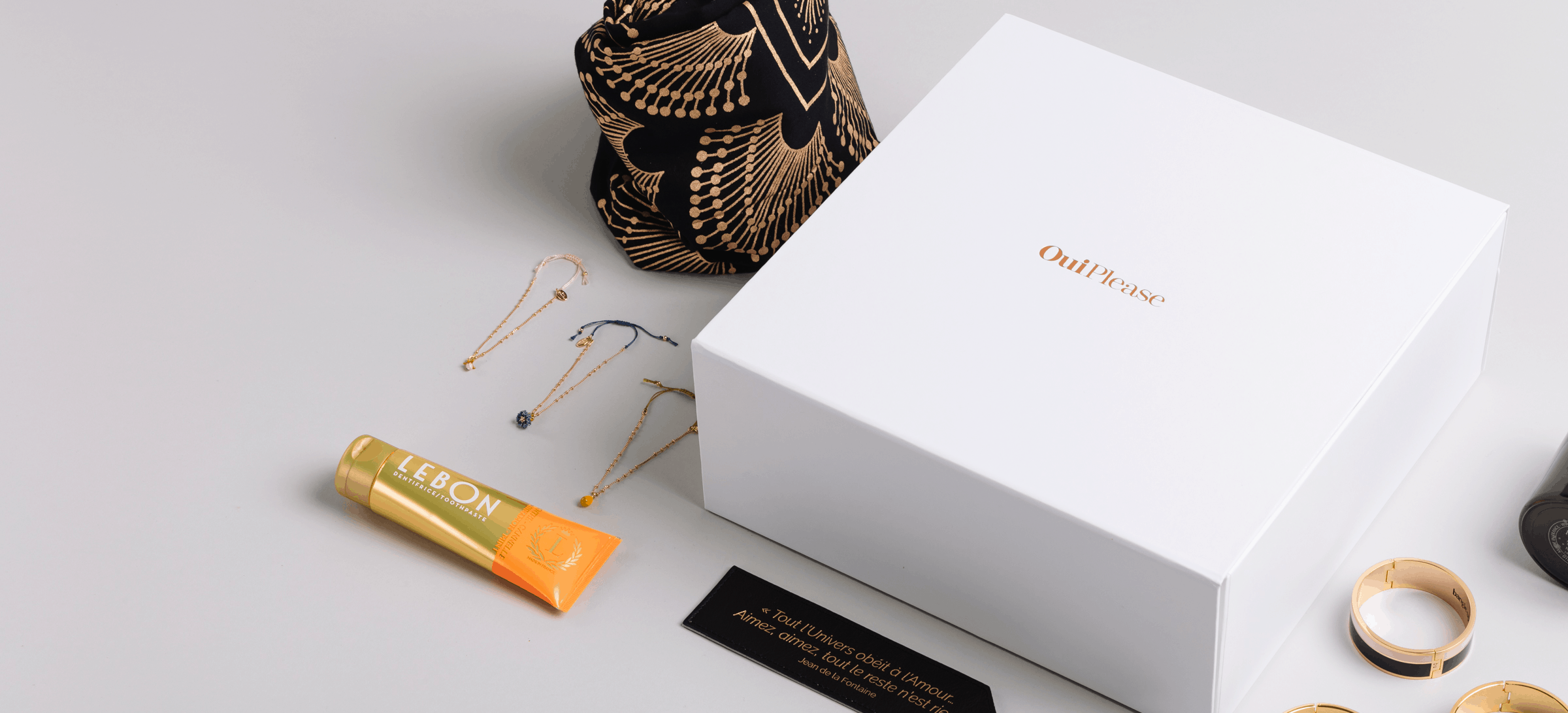 We have the full spoilers for the February & March 2020 Volume 5.1 Oui Please box!
DEAL: Use coupon code HIVER15 to save 15% on your subscription!
Each box includes:
Maradji Throw Blanket
Papier D'Armenie Burning Paper
L'Epicurien Flower Confit
Les Nereides Flower Bracelet
Codage Paris Serums
Fer Parfumeur Lip Balm
Terre De Mars Body and Hair Oil OR Body Cream
Bachca Hair Pin & Barrette
Earlier spoilers:
L'EPICURIEN FLOWER CONFIT – $10 VALUE, 4.4oz.
Fresh and floral in flavor, this Rose Petal Confit is perfect for a light sweet snack. Stir in a little of this confit into your vanilla ice cream or plain yogurt, or spread it onto a cracker, scone or fresh bread. For a hot sweet treat, stir this confit into your favorite hot tea!
PAPIER D'ARMENIE – $10.00 VALUE, 36 strips/12 sheets
Older than the Eiffel Tower, the Papier d'Arménie was born in Paris in 1885. Incense, myrrh, woodsy, and vanilla scent, it created in 2006 by the well-known perfumer Francis Kurkdjian to purify the air.
Feret Parfumeur La Baume!
BARRETTE METAL TRIANGULAIRE ($7)
OR
PIC CHIGNON METAL ($7)
TERRE DE MARS RESILIENCE HAND & BODY CREAM –  $65 VALUE, 100ML
OR
TERRE DE MARS RESONANCE BODY & HAIR OIL – $70 VALUE, 100ML
Select between 1 of 2 options: Hand & Body Crream or Body & Hair oil. Keep your skin moisturized all Winter long. This hand and body cream is tightening, hydrating & fragrance free. Key ingredients: caffeine, chamomile, shea butter. Certified: COSMOS, Vegan, Cruelty Free, COSMEBIO
MARADJI DIAMOND THROW BLANKET – $70 VALUE
Cozy up with diamond throw blanket. Maradji produces beautiful accessories combining different prints, patterns and embellishments and inspired by destinations around the world. 125cm x 150cm

Select between four color options: coral, sunshine, blush, or ciel (light blue). 4″ Diamond design. 125cm x 150cm
LES NEREIDES FLOWER CHARM BRACELET  – $70 VALUE
Each Piece Of Hand-Crafted Jewelry Makes Up A Unique Story. You'll love this charming flower bracelet from highly-coveted jewelry brand Les Nereides.
CODAGE PARIS FALL IN LOVE SERUM – $55 VALUE, 10ML
OR
CODAGE PARRIS OH MY COLD SERUM – $55 VALUE, 10ML
Receive a Fall in Love or Oh My Cold Serum in the V5.1 Renew & Relax Box. Either one is sure to leave your skin hydrated and glowing. 10ml