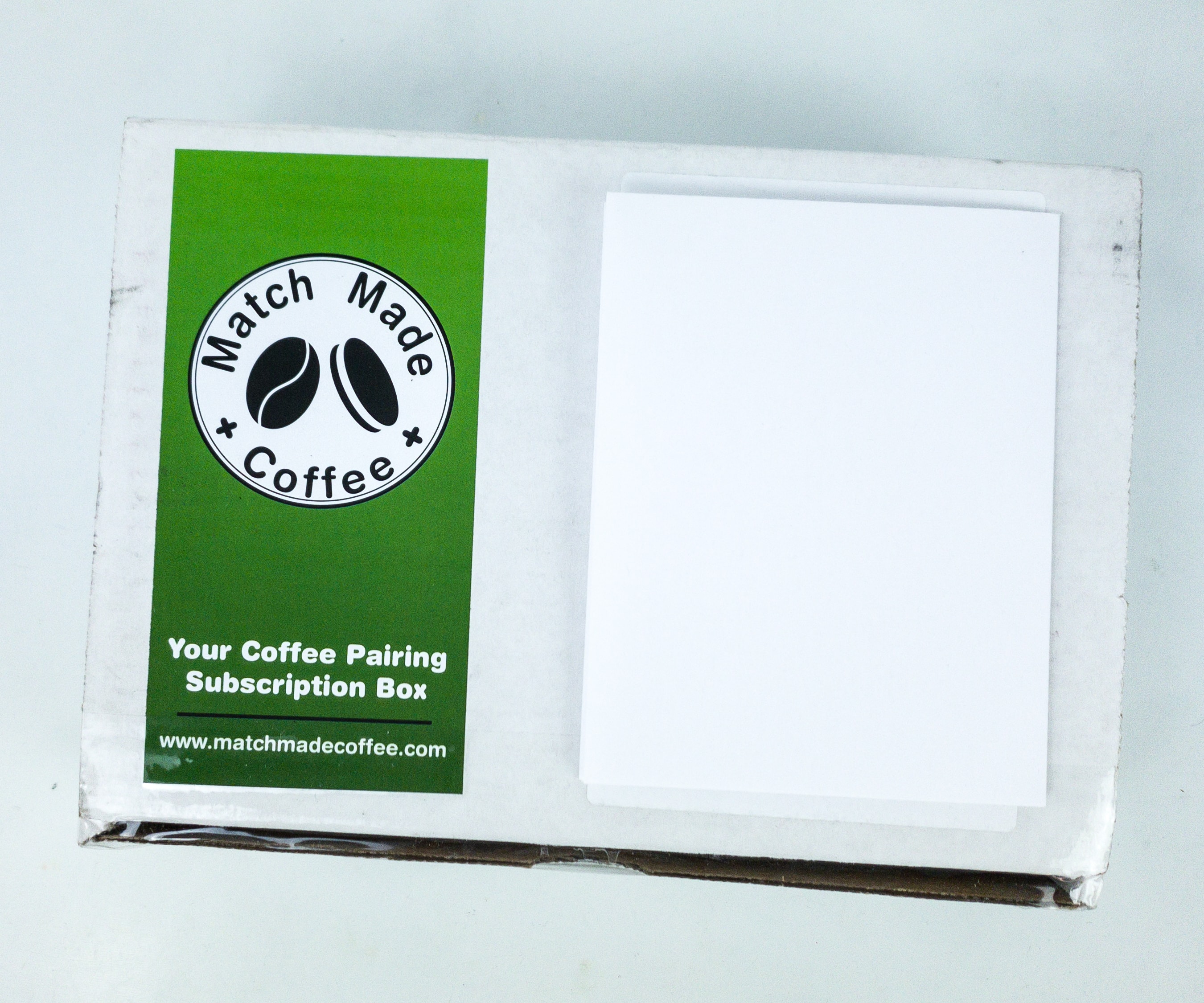 Match Made Coffee is a monthly subscription box that sends perfectly matched coffee and cookies. Each box includes two packs of freshly roasted international craft coffee, along with two superbly flavor-paired gourmet cookies. Subscriptions start at $19.95 a month and shipping is free.
DEAL: Get 10% discount on your first subscription box with any subscription purchase! Use coupon code HS10.
All the items are cushioned with green squiggles!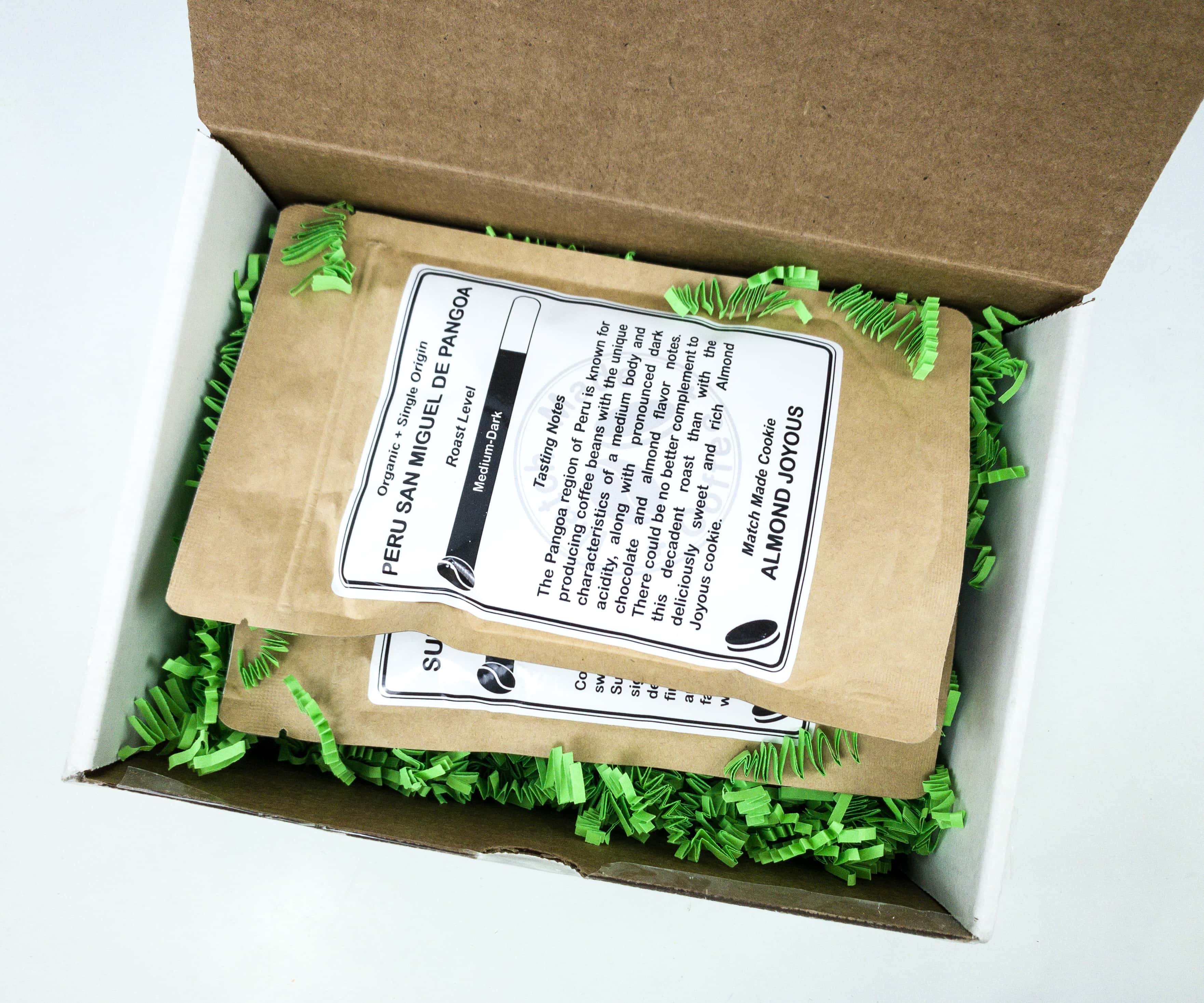 The coffee packs are on top!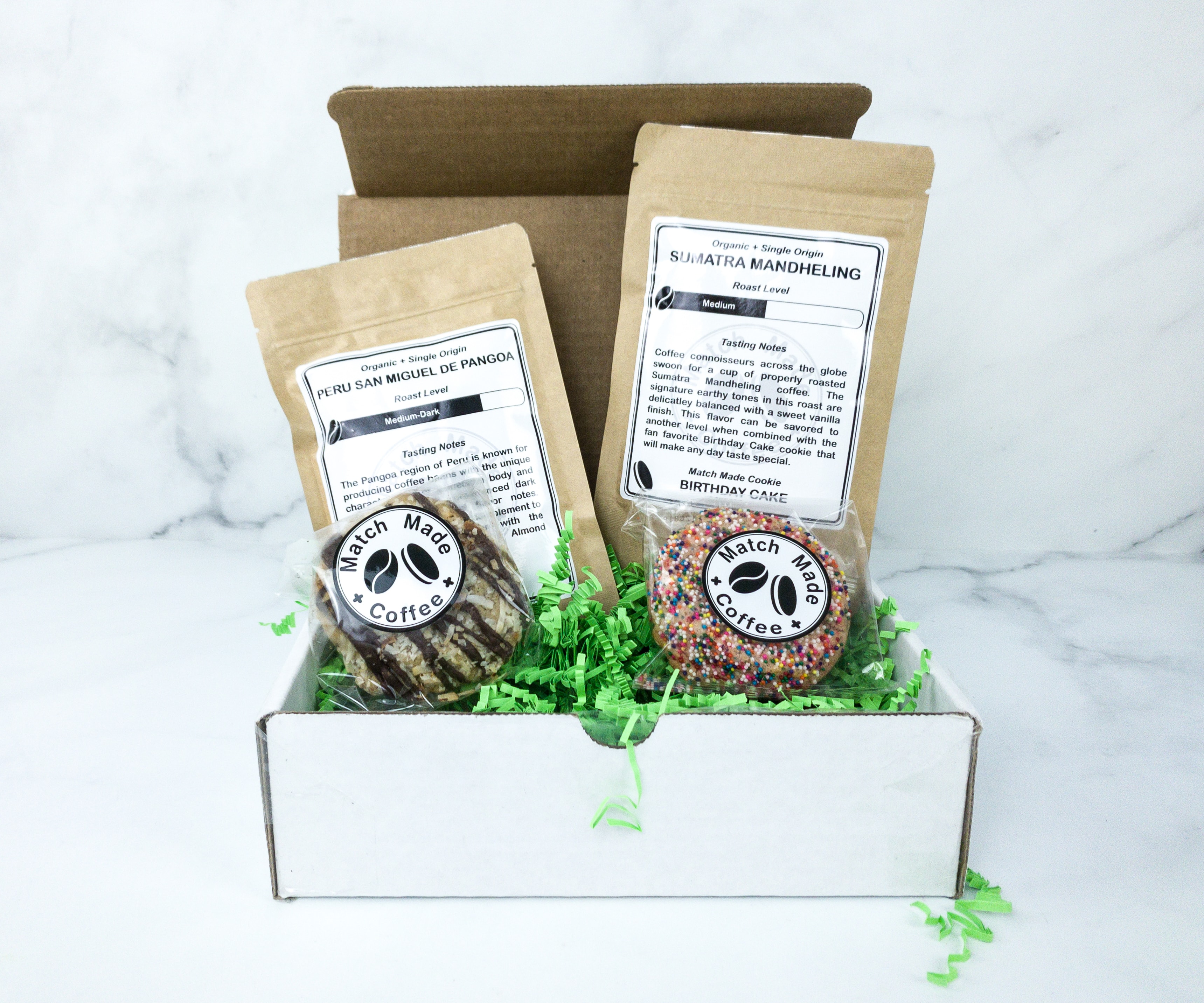 Inside the box, there are two different types of coffee with two cookies. There isn't any info card inside but the coffee packs contain info for each.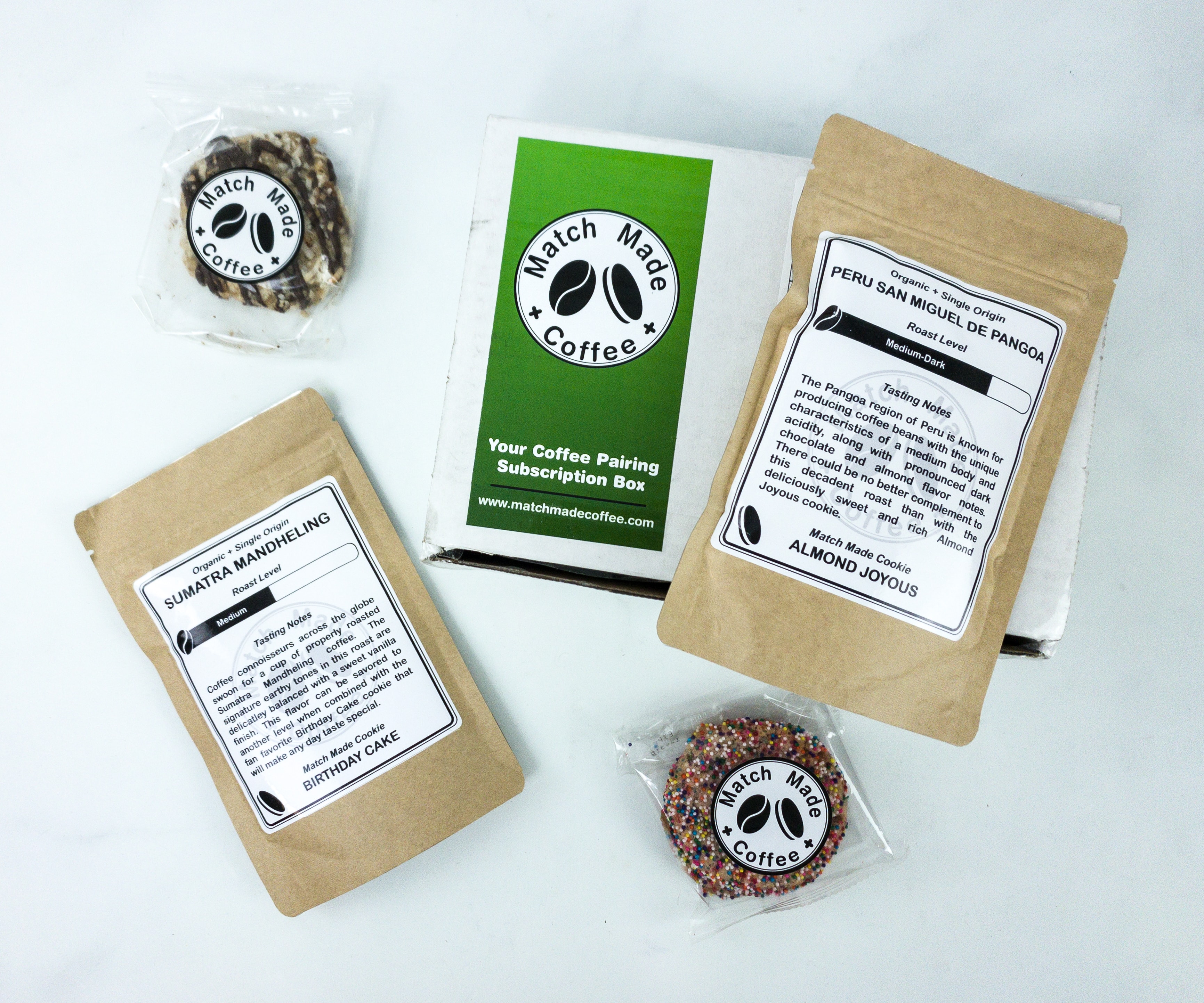 Everything in my November 2019 box!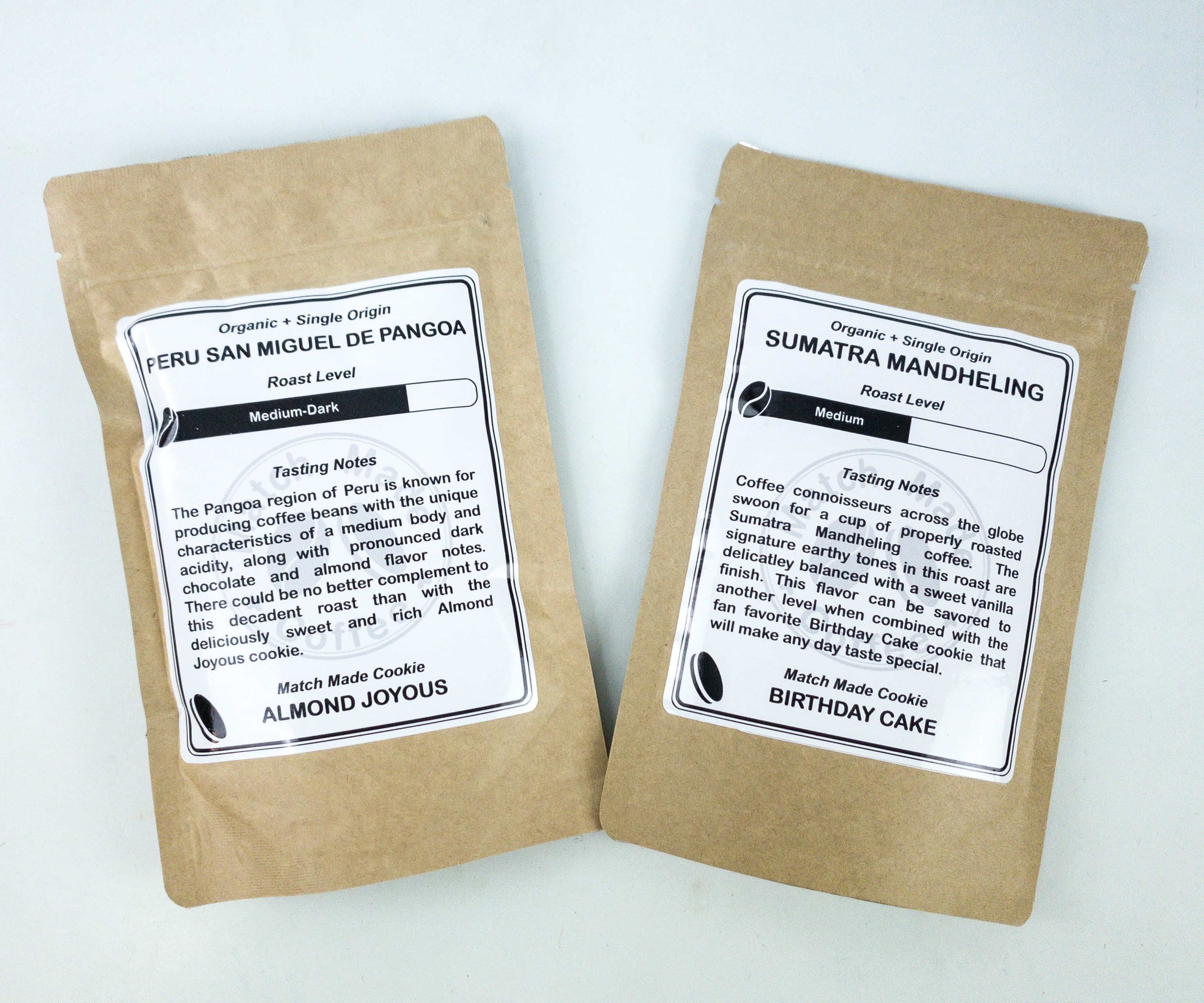 This month's featured coffees are Peru San Miguel De Pangoa and Sumatra Mandheling.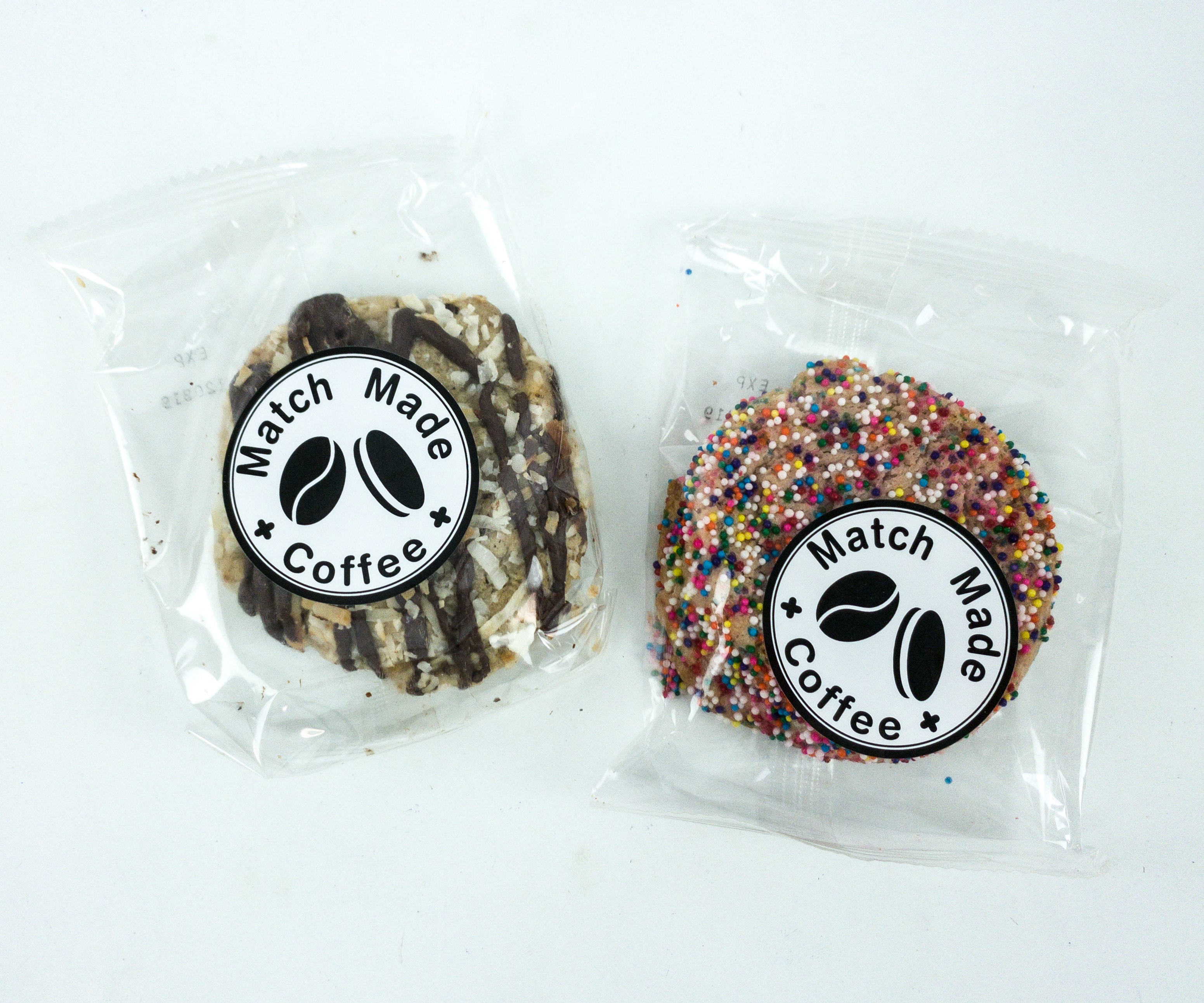 Paired with them are Almond Joyous and Birthday Cake cookies.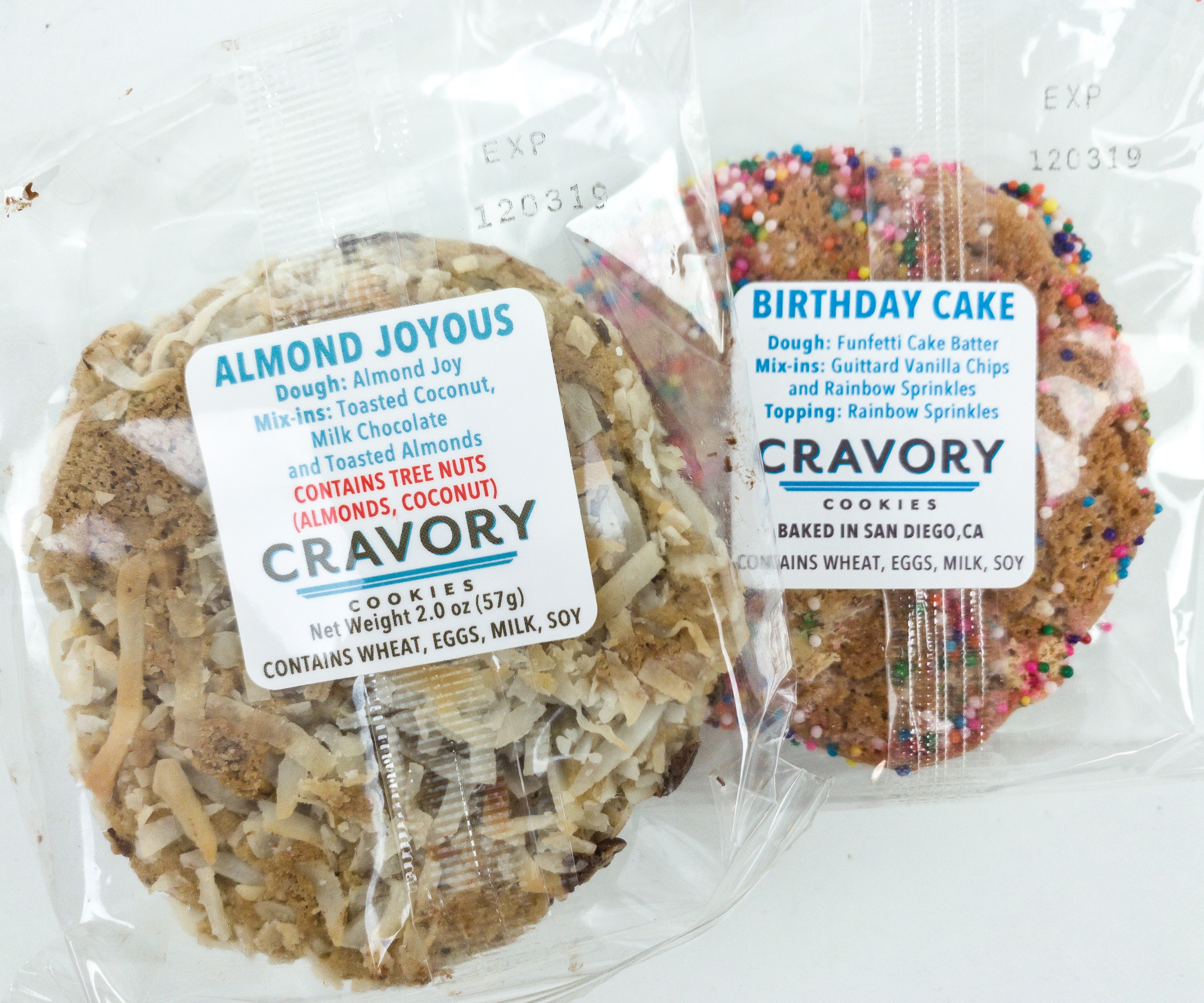 Both cookies look so amazing. They're made to enhance our coffee experience like no other!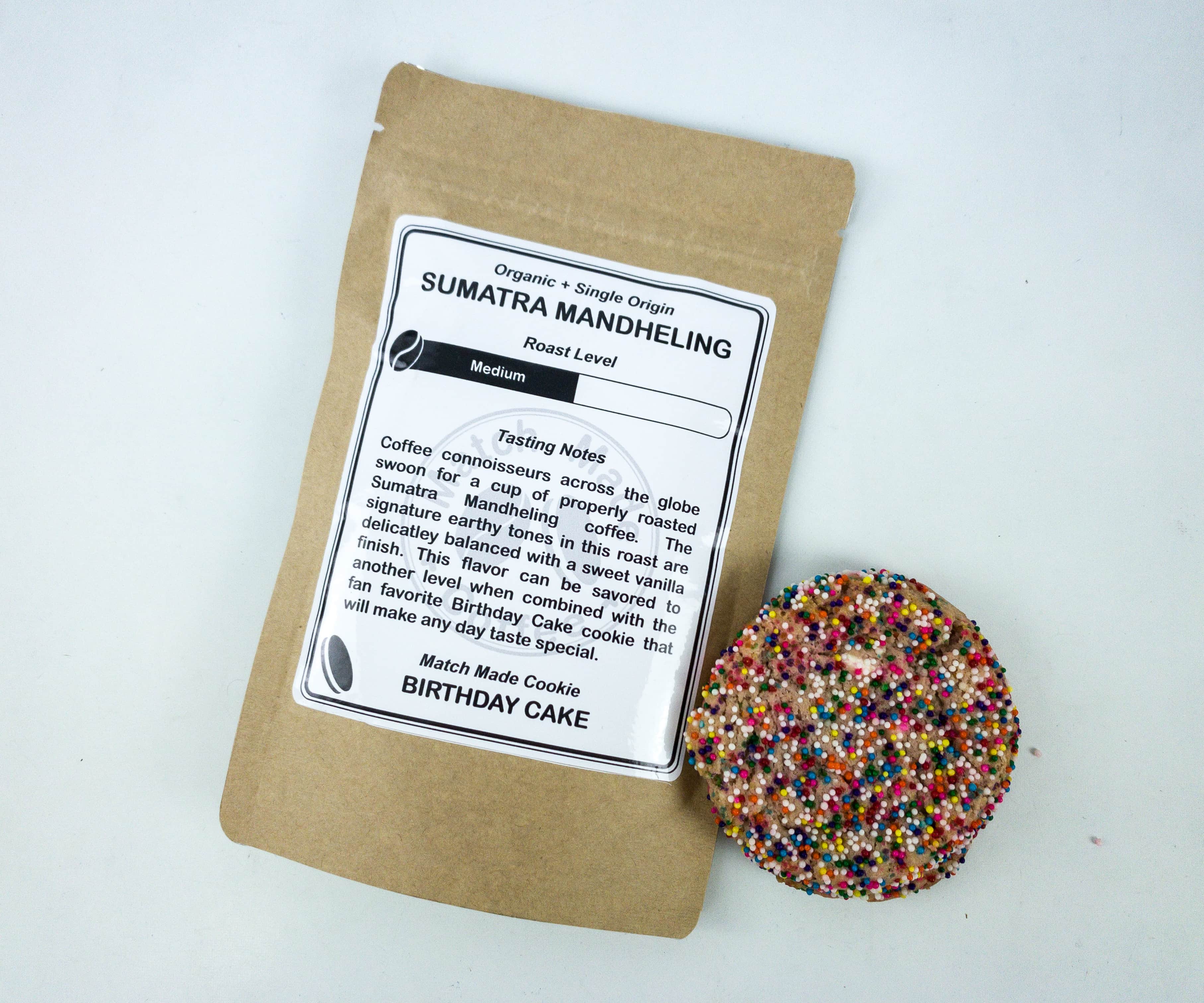 Sumatra Mandheling & Birthday Cake cookie. The funfetti cake batter plus rainbow sprinkles paired with a medium-roasted coffee makes such a heavenly snack!
This Sumatran coffee has a pleasant, medium body.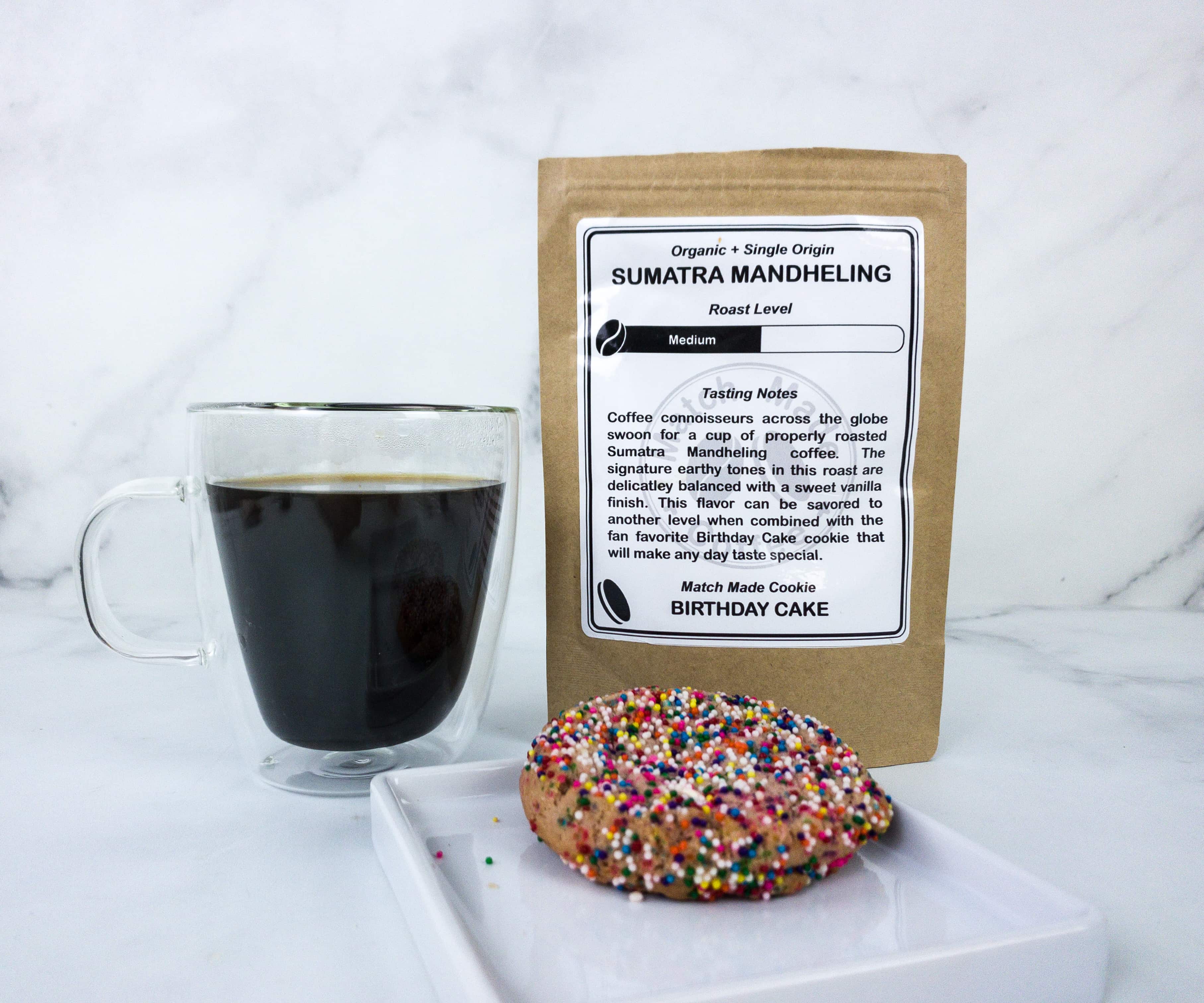 I liked the way the medium roast complemented the signature earthy tones of the bean and delicately balanced in a way that the sweet vanilla could come through. It matched well with the richness of the Birthday Cake cookie.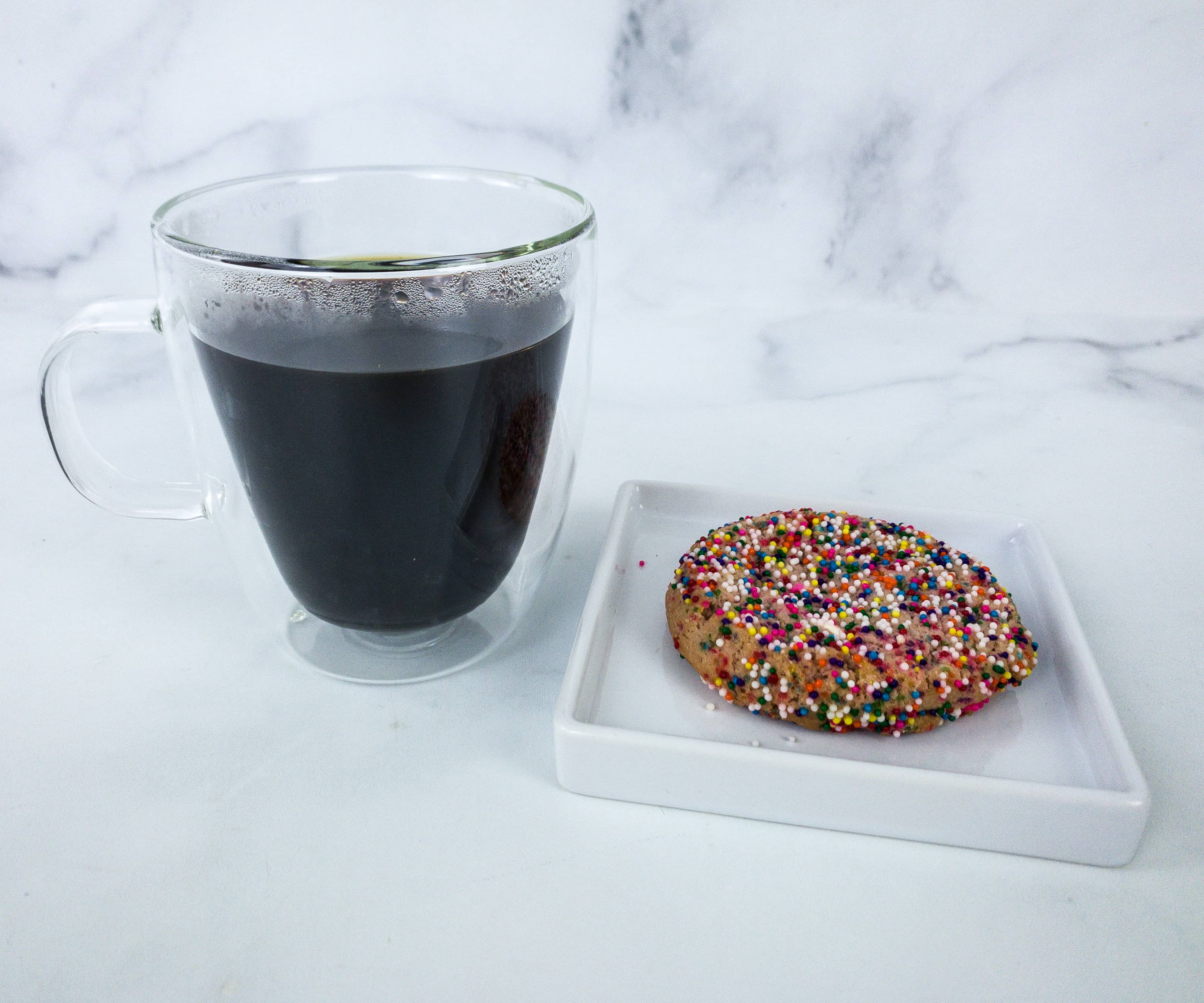 Sumatra coffees are one of the best coffee beans widely known for having distinct characteristics. With its relatively low acidity, it is no doubt the perfect pair for a decadent gourmet cookie. The vanilla chips and sweet rainbow sprinkles in this cookie are just enticing!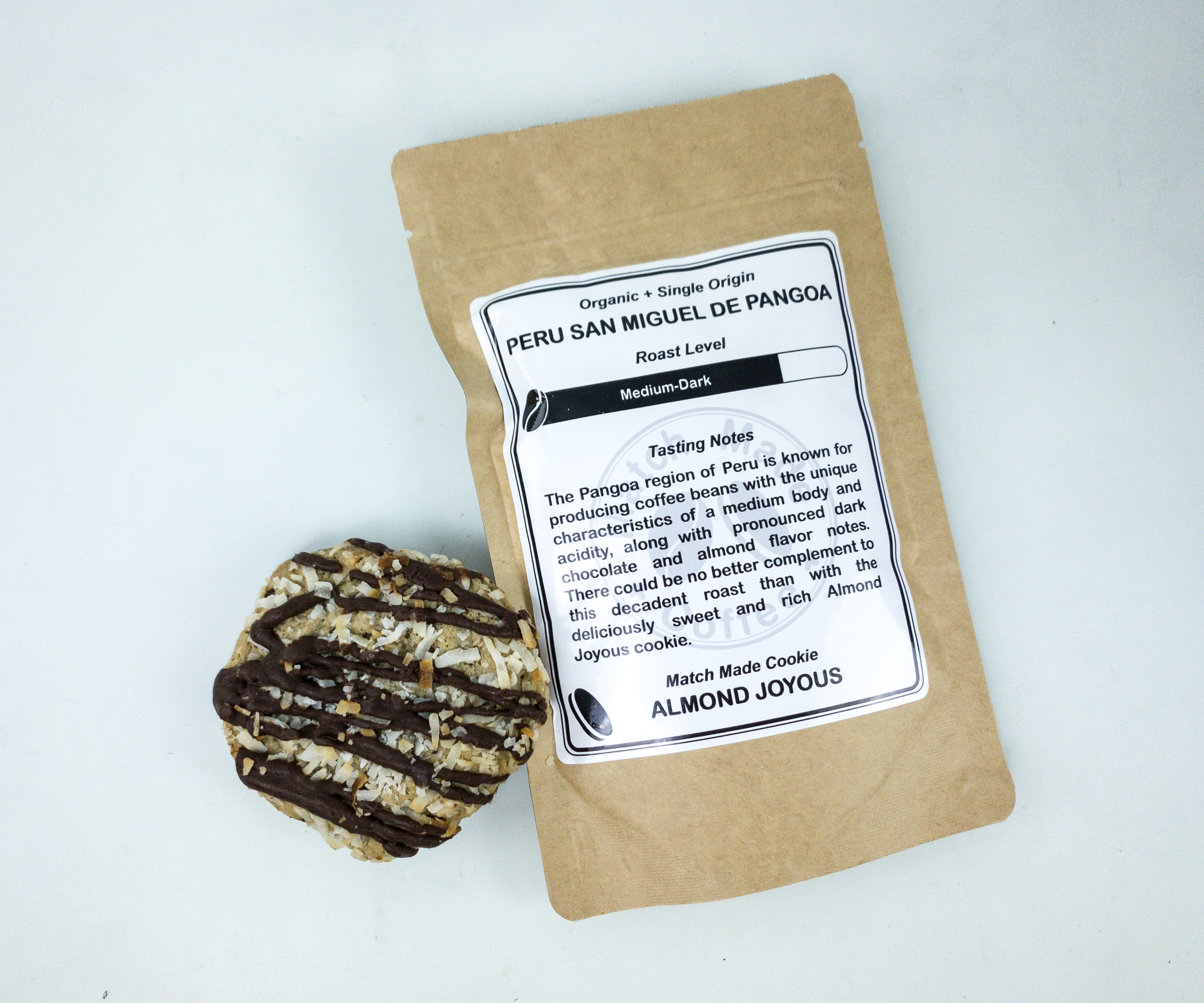 Peru San Miguel De Pangoa & Almond Joyous Cookie. The next gourmet cookie is made more special with the mix-ins of toasted coconut and almonds plus the milk chocolate.
It paired well with this medium-dark coffee from Peru, which boasts of rich dark chocolate and almond flavor notes. What a harmonious match!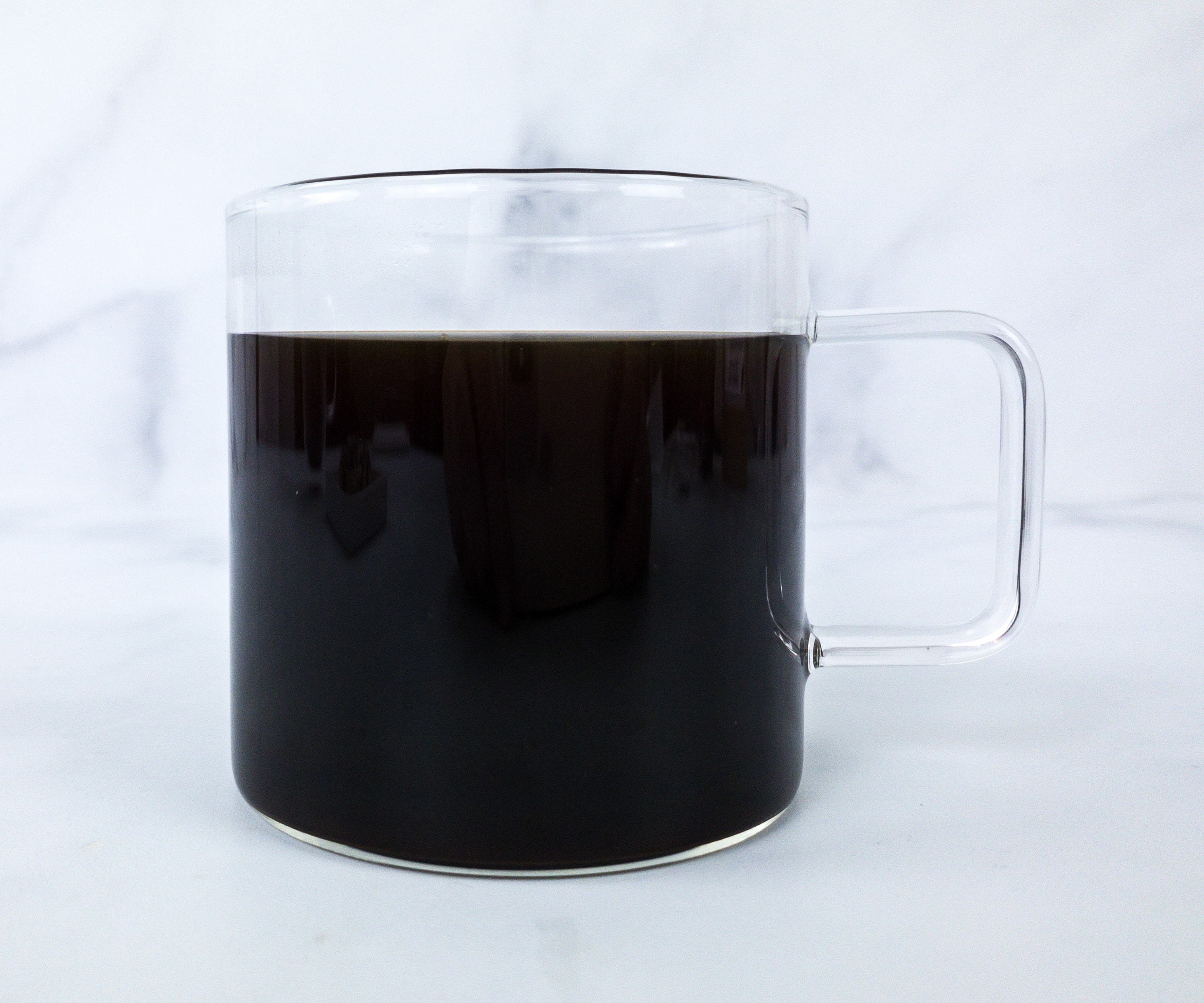 The unique characteristic of the bean is due to the smooth, full body and low acidity. Also, the medium-dark roast let the sweet and rich almond undertones shine through in a way not usually seen in fairly dark roasts. Pairing it with Almond Joyous is truly joyful to the palate!
I liked this pair due to the mix-ins of dark chocolate and almond flavor notes which both gave the coffee and the cookie a unique taste. The added texture of the toasted coconut made the cookie a little more exciting to munch on.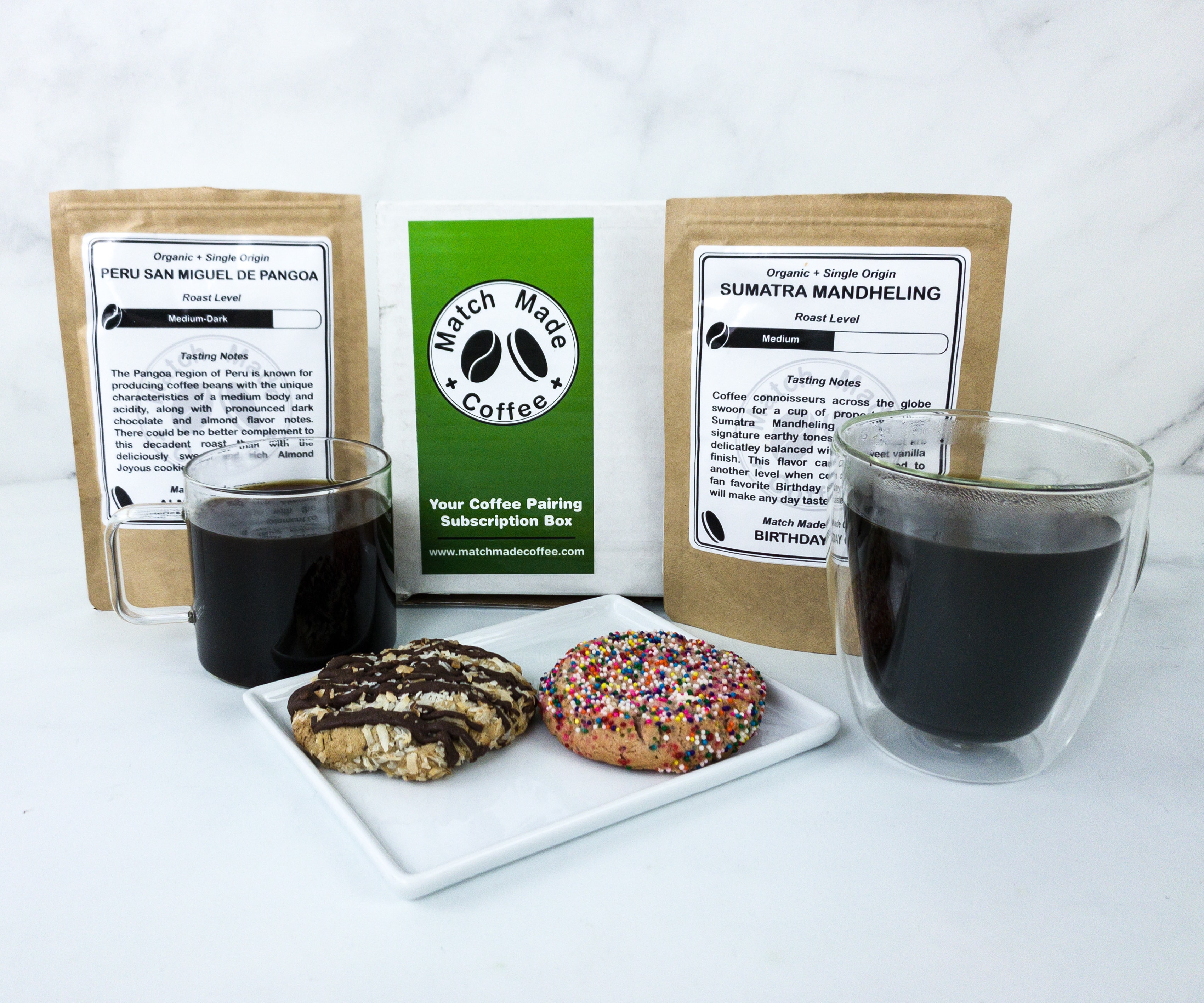 Match Made Coffee is different from the usual coffee subscriptions because these aren't your average coffee found in store shelves. Each box includes perfect pairings of hand-picked coffee and delicious cookies. What I like most about this month's selection is the medium-dark roast with pronounced dark chocolate and almond notes that are perfectly paired with the cookie with the same flavor. It's a no-brainer perfect match! If you're a coffee enthusiast who also loves pairing your cup of joe with a yummy treat, then this is definitely the coffee subscription for you. Sometimes we don't really have the luxury to try new things, that's why this box is amazing. It gives us the chance to try new and unexpected things, a kind of adventure that is exciting. The pairing concept is fun, but the bags don't have a ton of coffee, so it's not intended as your sole source of daily brew. I think I could get a second Aeropress brew (I make it strong) out of each bag, or a single French press preparation from each. I'm looking forward to more exciting coffee pairings in next month's Match Made Coffee!
What do you think of our November 2019 Match Made Coffee box?