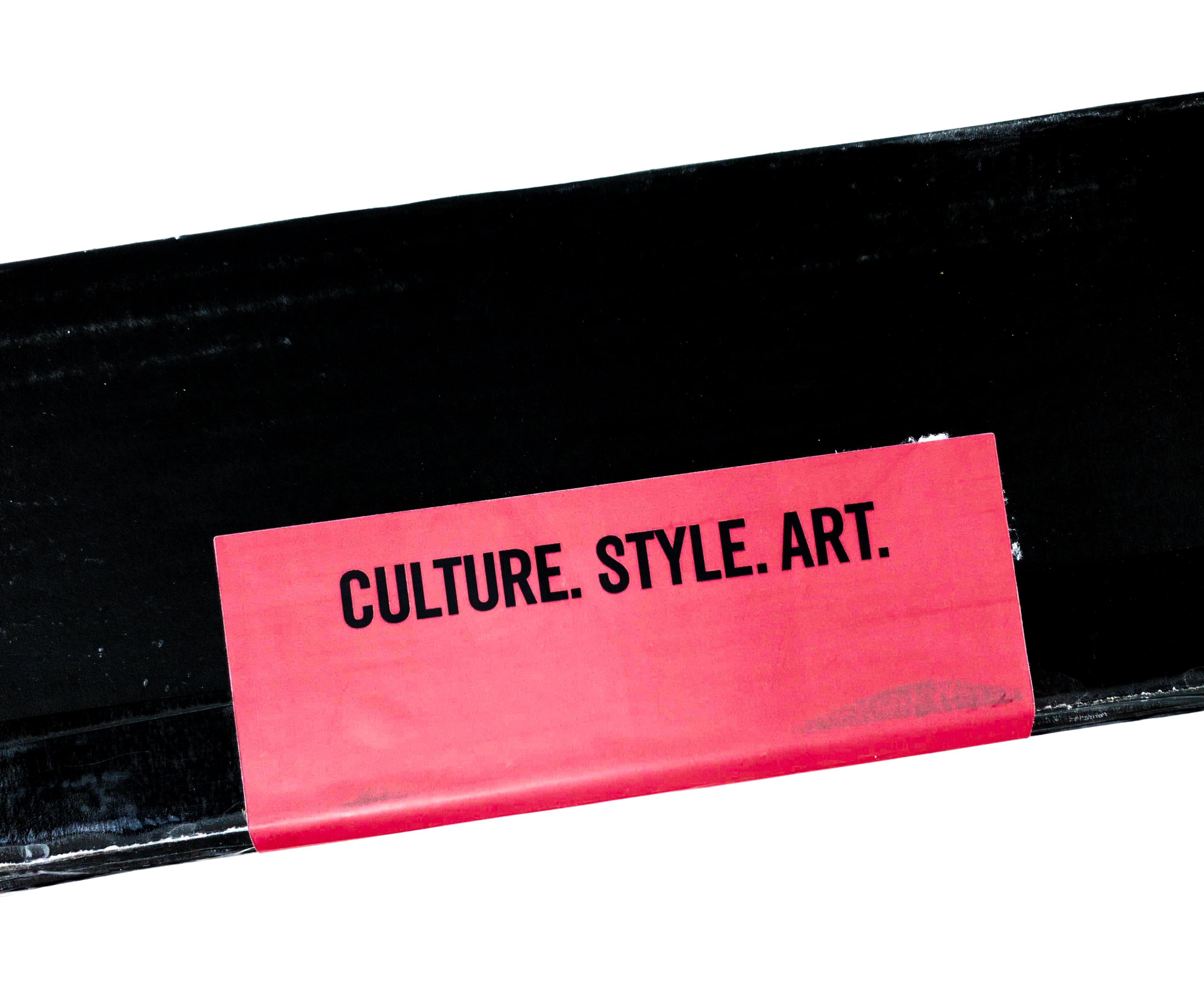 Marked By Inked is a monthly subscription box exclusively made for tattoo enthusiasts. The box costs $39.95 plus shipping/handling each month, and you can opt for  6 months or annual prepaid boxes for less. Every box contains 5 or more curated items celebrating tattoo culture, art, style and tattoo wellness, and features a collectible, limited edition piece of canvas art by a notable tattoo artist and a hat or t-shirt from a top tattoo shop.
DEAL: Get $5 off on your first box! Use coupon code HELLO5.
The box looks artistic as well!
Culture. Style. Art.

Marked by Inked represents a cultural movement, anchored in creative expression, with products and experiences that reflect this philosophy.
The contents of the box are wrapped in red tissue paper, and it's wax-sealed! Amazing!
The wax seal is in black. It has an inverted letter I, in the same font style as what's used in the brand's logo.
I am seeing great stuff inside the box! I am excited to unbox it!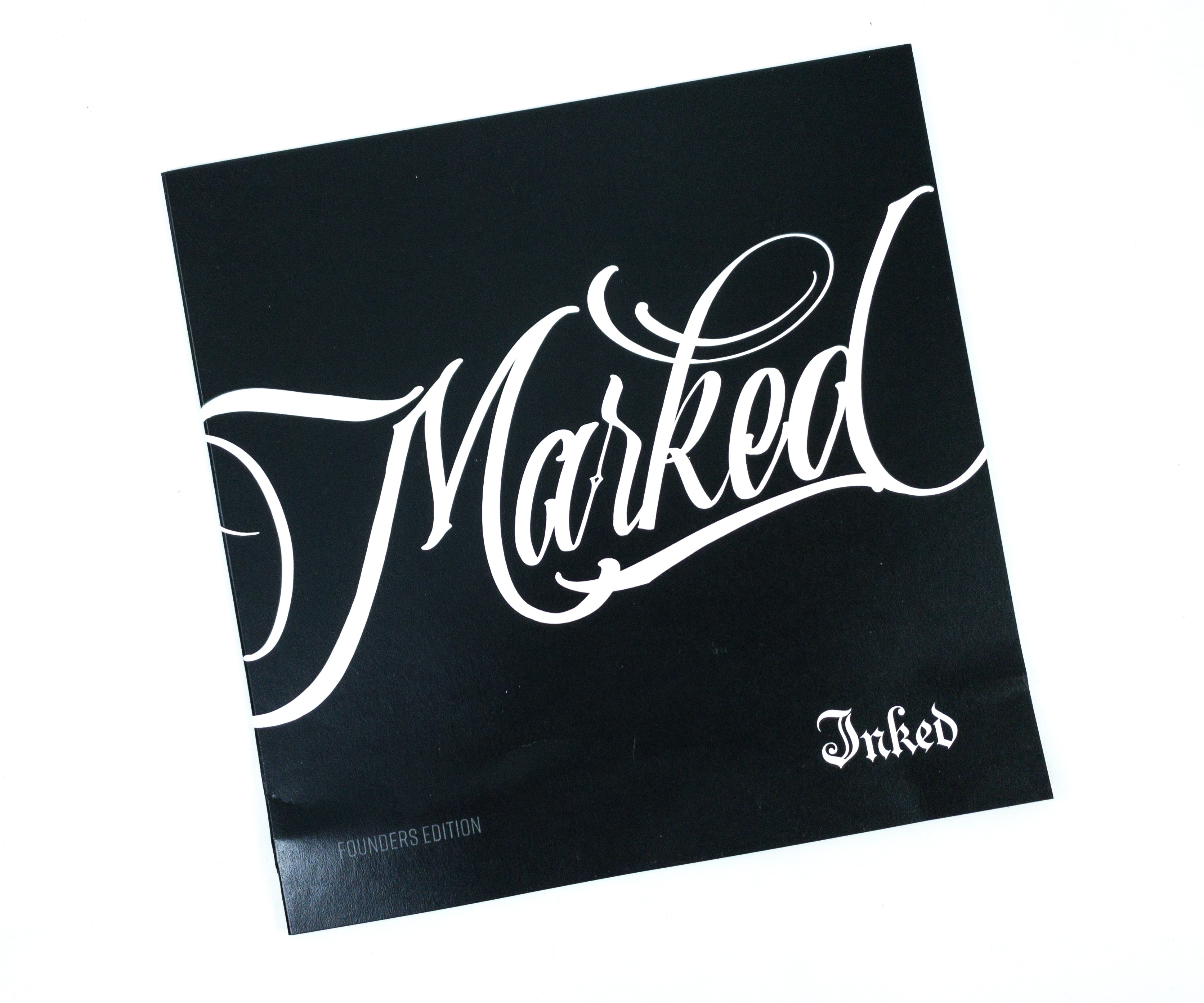 On top of the box is a card.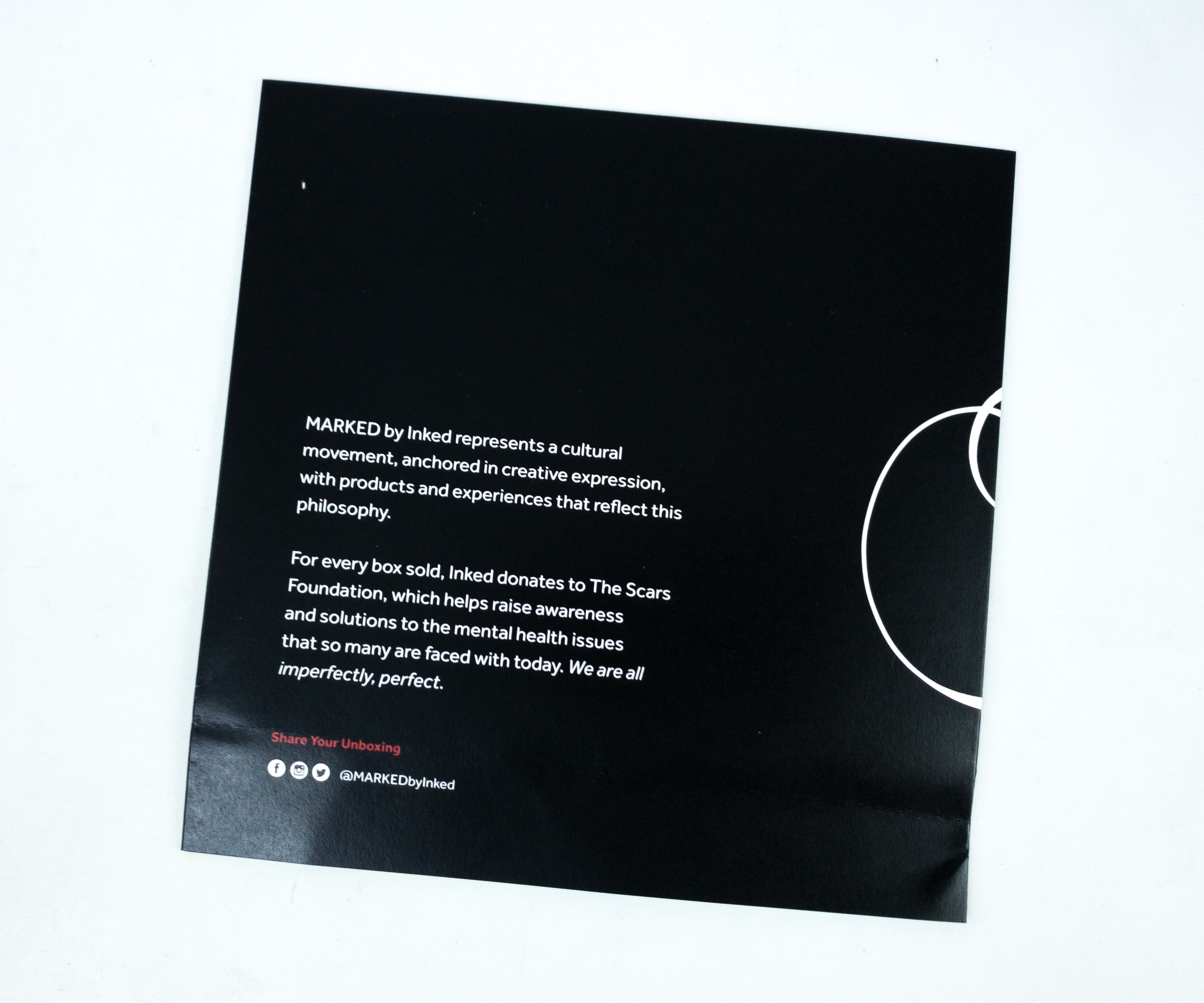 On the other side, it tells us more about the box. For every box sold, they donate to The Scars Foundation that helps raise awareness and solutions to the mental health issues that so many people are facing today.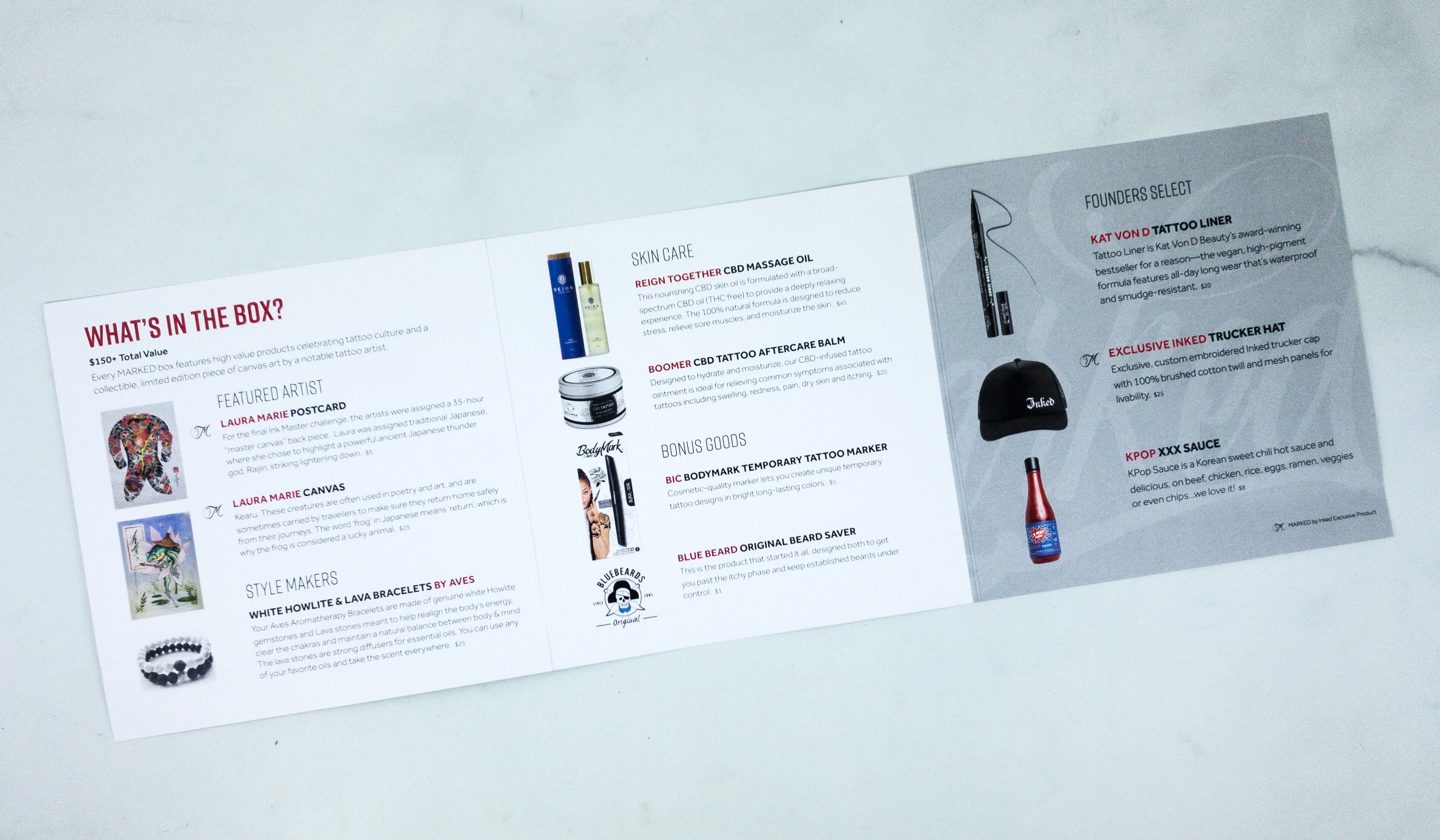 The card spreads into three parts, and it lists all the items in the box, plus a brief description for each.
It also has an article about this month's featured artist, Laura Marie, a Rochester-based tattoo artist who won the Ink Master Season 12 Battle of the Sexes, and the co-owner of Atomic ROC.
Everything in the box!
Laura Marie Postcard ($5) The postcard is based on the Japanese thunder God, Raijin! It's the piece that Laura Marie made for the final Ink Master challenge, where the artists were assigned a 35-hour "master canvas" back piece.
Aside from information about the art, the back of the postcard also has a space for notes, the receiver/sender's information, and stamp!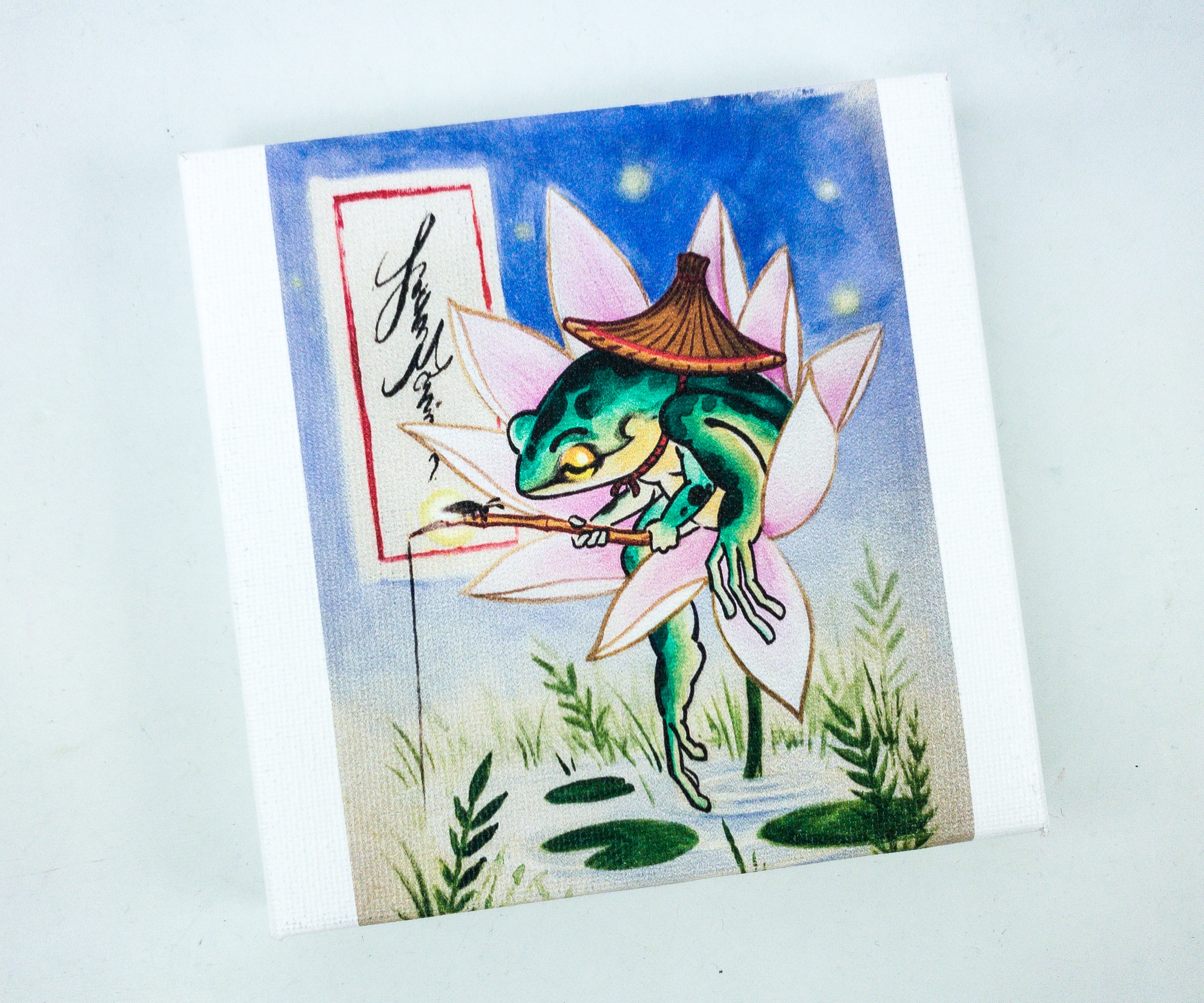 Laura Marie Canvas ($25) Another Laura Marie artwork in this box features Kearu or a frog. The frog is often used in poetry and art. Frog symbols are sometimes carried by travelers to make sure they return home safe, as the word "frog" is similar to "return" in Japanese. It's considered as a lucky animal!
Blue Beard Original Beard Saver ($0.61) This fresh and citrusy lotion helps keep your beard soft and clean. It also works as an anti-itch cream and even promotes the healthy growth of your facial hair. Just dab and rub throughout the facial hair, from root to tip. It promises to manage even the most unruly hair! The product also contains aloe vera that soothes and protects, while the lime essential oil will help dissolve the oils trapped by your goatee!
Exclusive Inked Trucker Hat ($25) Wearing the trucker hat will let the others know that you are proudly "Inked" as it features an embroidered brand name in front!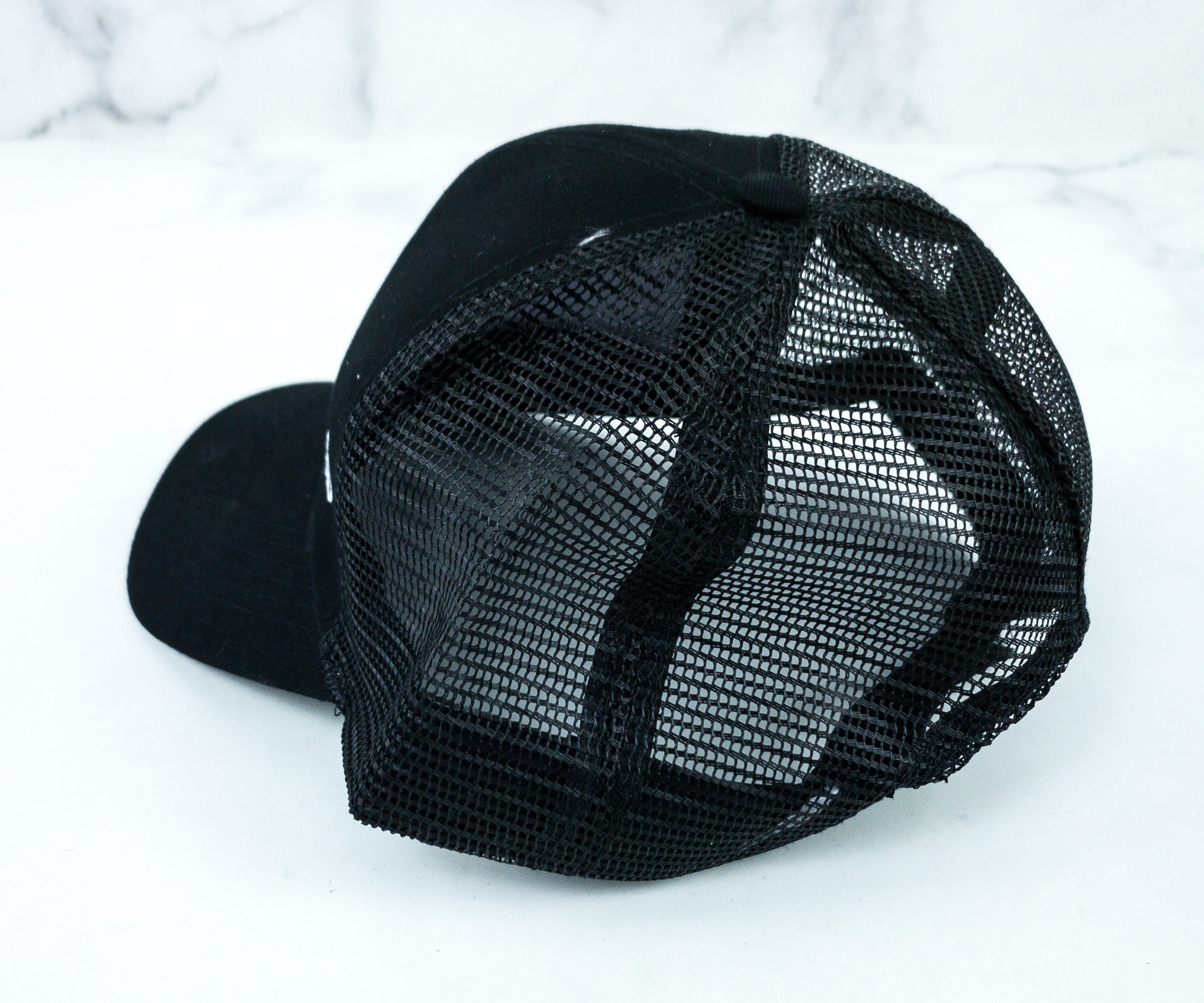 It is made of 100% cotton twill and has a mesh panels, which is more breathable than closed-panel ones.
Kat Von D Tattoo Liner in Trooper Black ($20) The liner looks like a fancy marker used in calligraphy or an artist's paintbrush. It's really easy to use and control!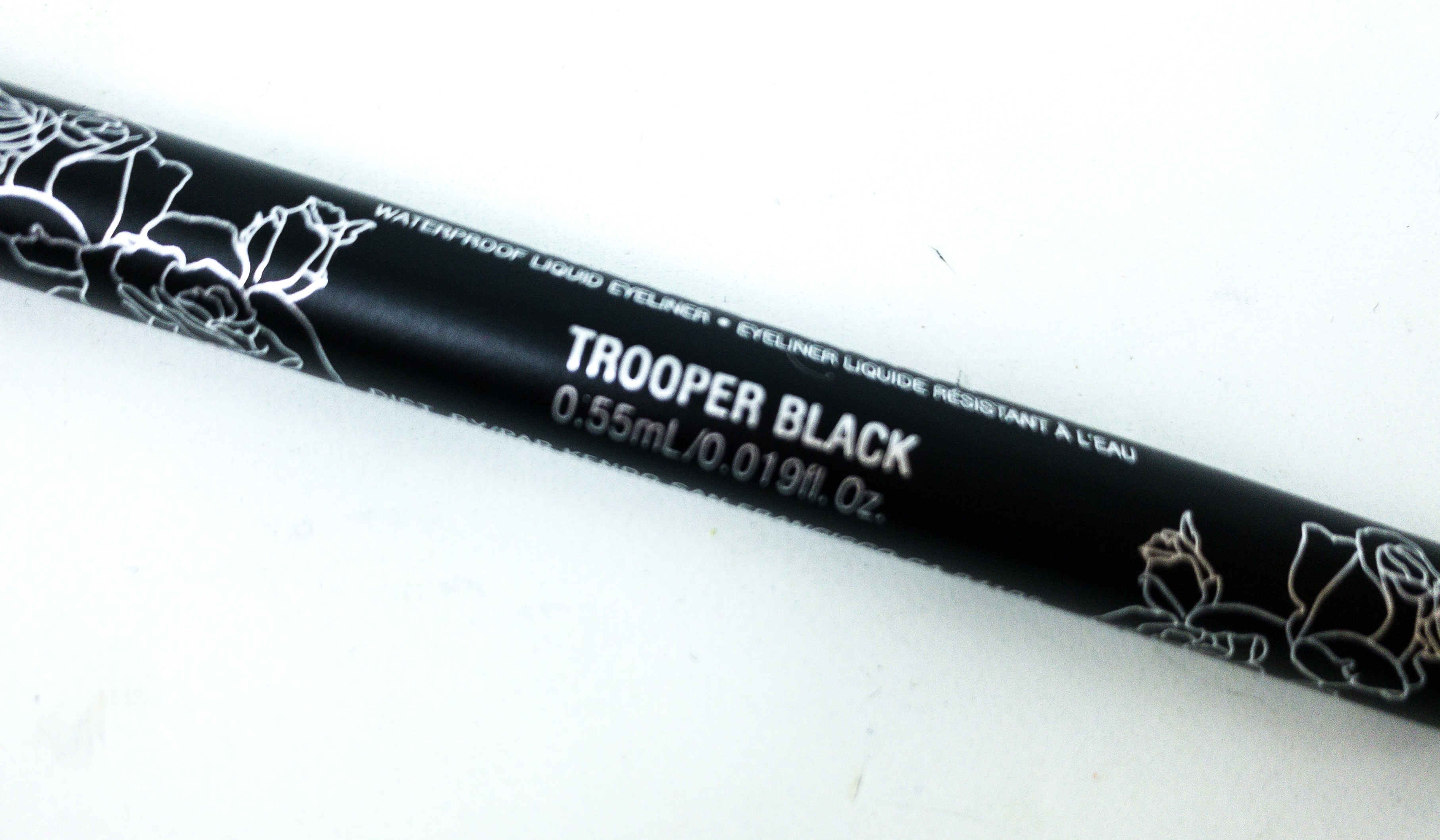 It stayed for a long time and the formula is even smudge-resistant and waterproof. Also, it's vegan!
Bic Bodymark Temporary Tattoo Marker ($2.12) It's a temporary tattoo marker with a skin-safe formula. The pigment is really nice and it makes the art last for longer until you want to "take off" the tattoo.
You can make your own design, or see inspirations from the Body Mark app. You can express yourself by doing it on your own, or ask an artist friend to draw them on you. The marker is ideal for parties, sporting events, festivals, and more!
White Howlite & Lava Bracelets By Aves ($25) The next items are placed inside a beautiful suede stringed pouch.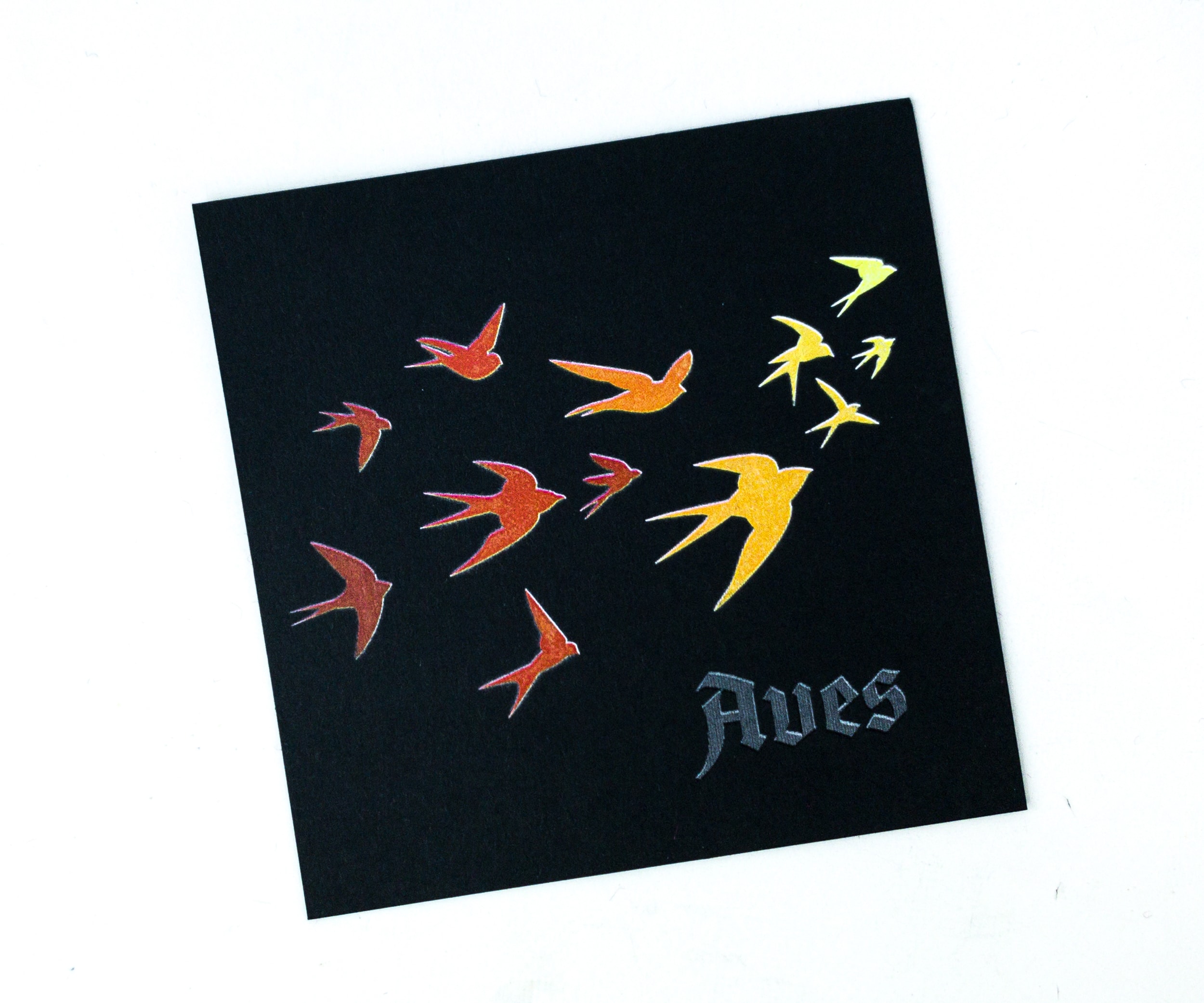 It also comes with an artistically-designed card from Aves.
The bracelets are made of Howlite gemstones and Lava rocks that work to help realign the body's energy, clear the chakras, and maintain a natural balance between the body and the mind.
Also, the stones can serve as diffusers for essential oils, just use your favorite oil and take the fragrance wherever you go!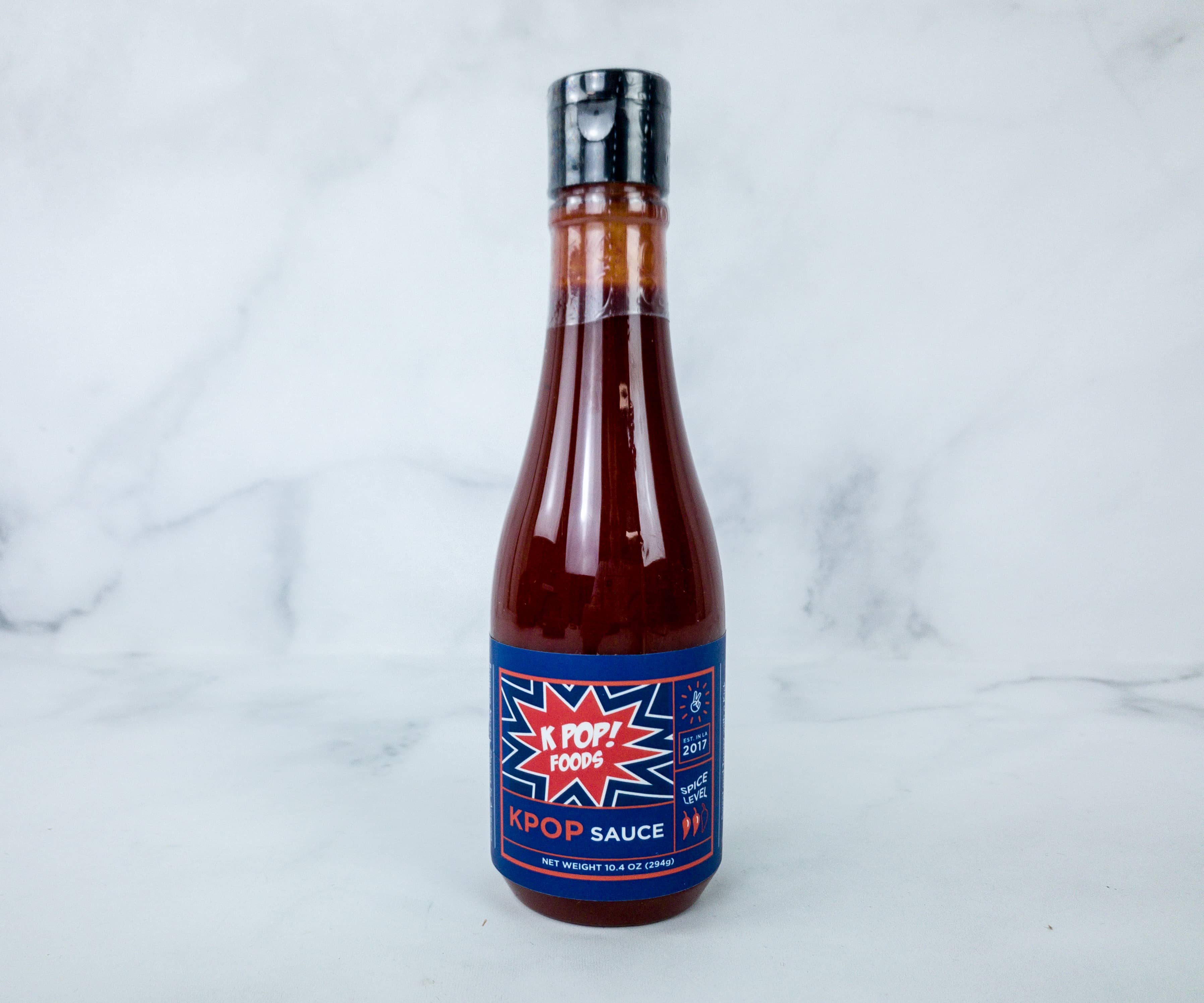 Kpop XXX Sauce ($9.98) It's sweet, savory, and spicy! The hot chili sauce is amazing to add on meats like beef and chicken, rice, eggs, veggies, ramen, and even used as dips for chips.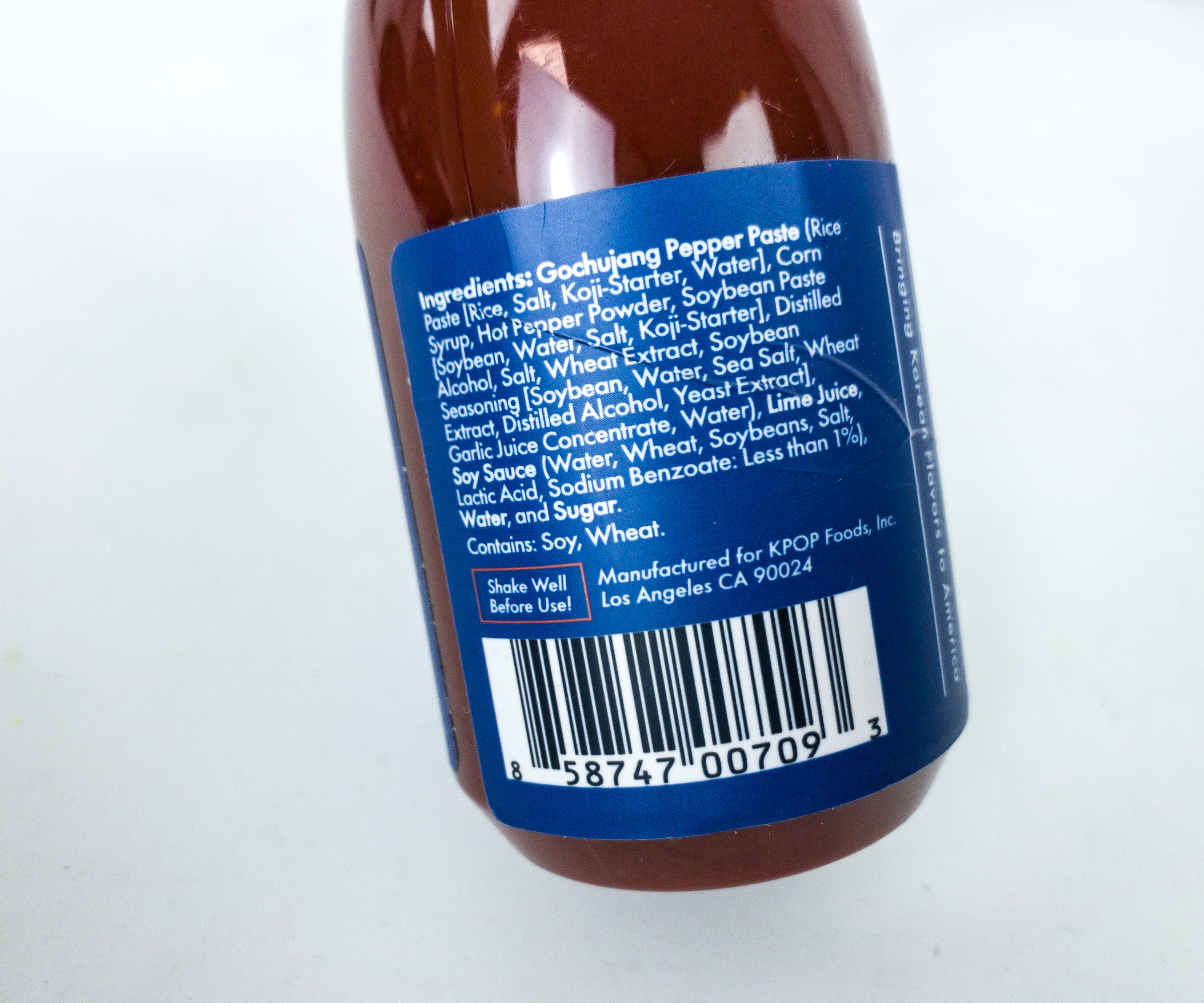 The sauce is made from Gochujang pepper paste which is a savory, sweet, and spicy fermented condiment made from chili powder, glutinous rice, meju powder (dried fermented soybean powder), yeotgireum (barley powder), and salt.
Boomer CBD Tattoo Aftercare Balm ($19.77) For those who just got their tattoo done, it's important to keep your skin hydrated and moisturized. This aftercare balm is useful for that purpose, as it's designed to relieve common symptoms after getting yourself inked like dry skin, swelling, redness, pain, and itching!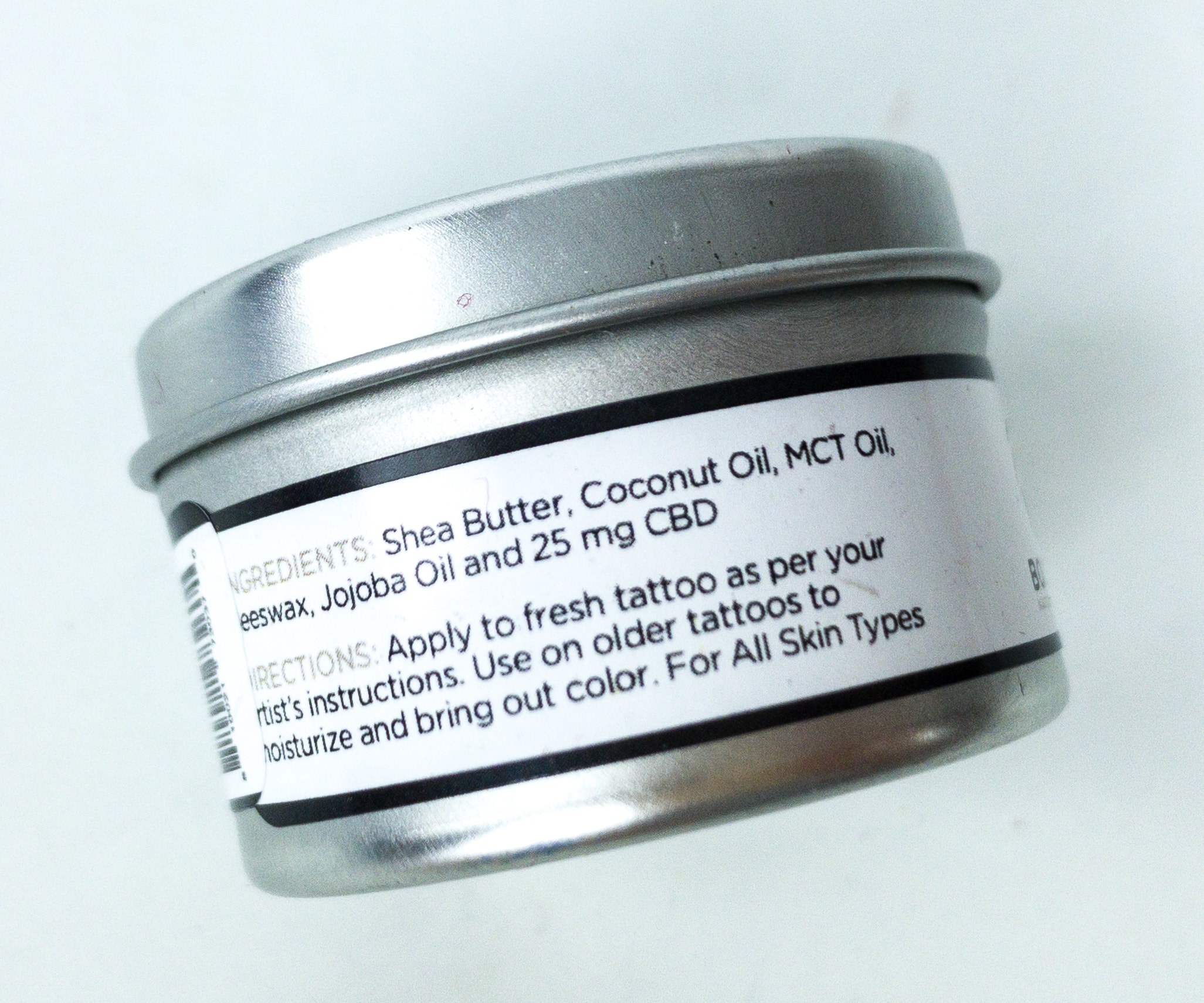 The balm is made from shea butter, coconut oil, MCT oil, beeswax, jojoba oil, and CBD, all to keep the skin hydrated and well-moisturized!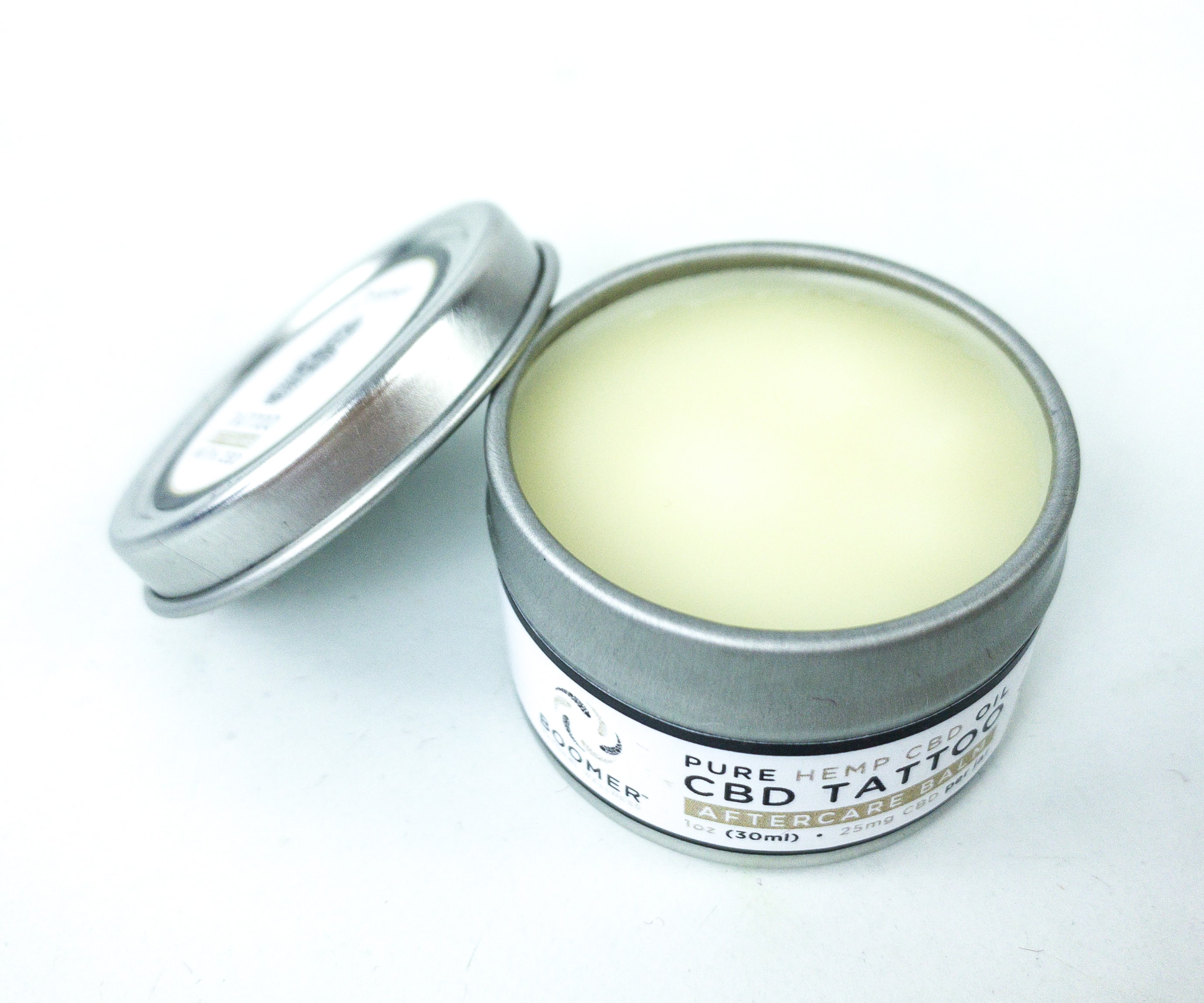 To use, just apply to fresh tattoo as per your artist's instruction. It can also be used for old tattoos to bring out the color, and moisturize the skin. It works on all skin types as well.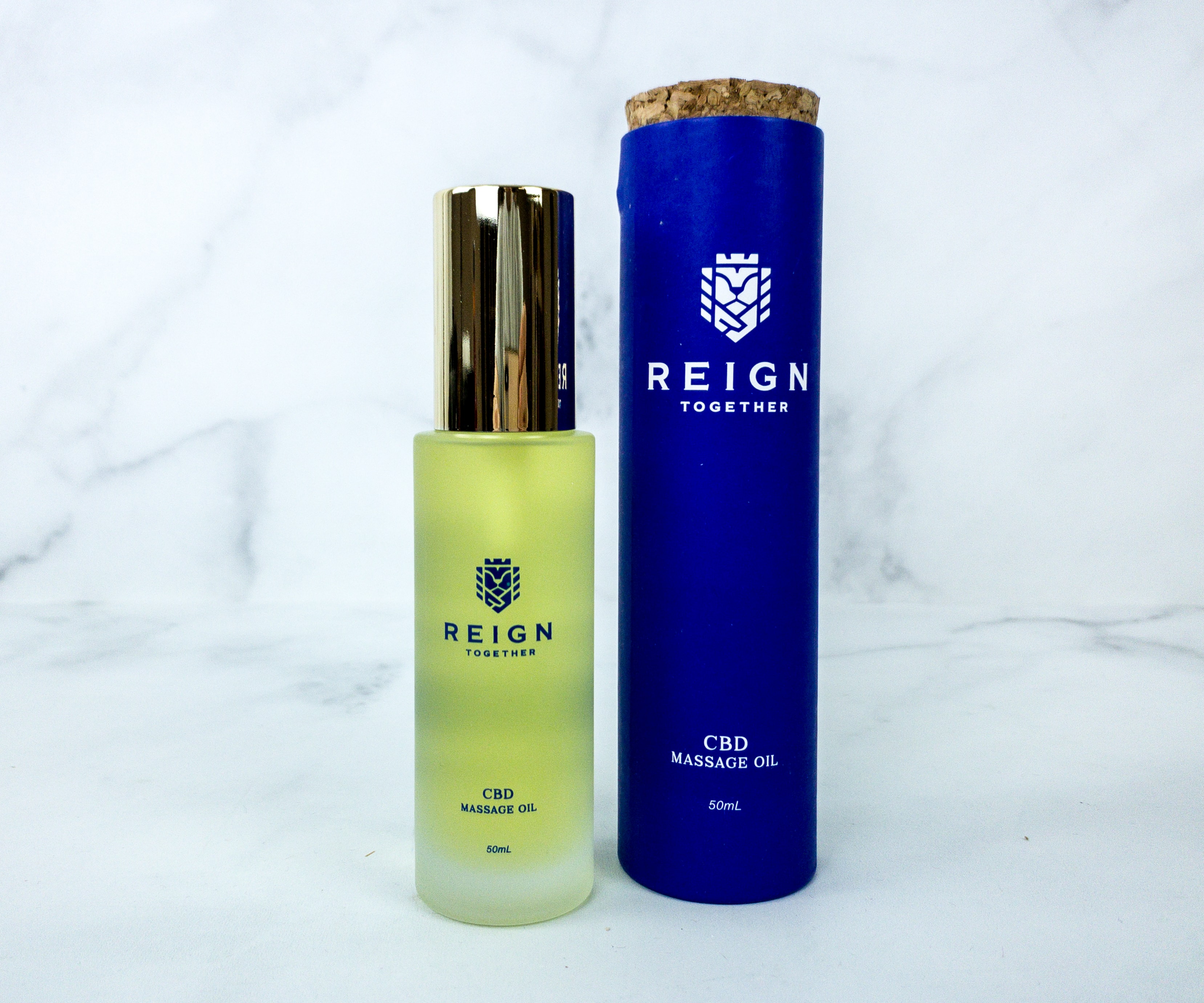 Reign Together CBD Massage Oil ($45) Made with broad-spectrum CBD oil, arnica montana, jojoba oil, and vitamin E, this nourishing massage oil provides a relaxing and soothing experience.
It's formulated to reduce stress, relieve sore muscles, and moisturize the skin. It is also water-dispersible.
It's also THC-free, non-GMO, vegan, and 100% natural! To use, just apply 1 to 2 pumps to the designated area on the body and massage until relaxed. This is also suitable for all skin types.
There are so many ways to express ourselves, and one of them is through art, may it be on paper, canvas, or even a tattoo on the skin! Getting a tattoo is one of the many ways people showcase their art and style. It's nice that we finally have a subscription made exclusively for tattoo enthusiasts, which provide items and stuff just to keep their tattoos beautiful and to keep their skin healthy! I also like the inclusion of the founders select as we also get spices, wearables, and even make-up items! This is really a great subscription!
What do you think of the Marked By Inked box?