Loti Wellness is a new Canadian subscription box with a focus on self-care. The box has a monthly theme curated by therapists to focus on items and rituals to promote positivity and improving one's self. Loti Wellness works with local brands and small businesses whenever they can, and choose cruelty-free and natural products. The box is $49.95 CAD with lower prices on annual subscriptions – about $35 USD. Shipping is $5.99 CAD to Canada and $7.99 CAD to the US (about $6 USD).
DEAL: Save 10% on your first box! Just use this link and coupon code SUBSCRIBE10.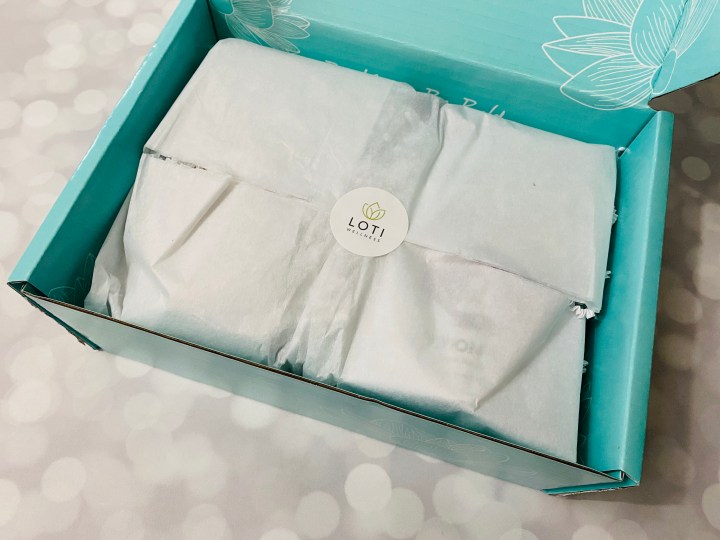 First look!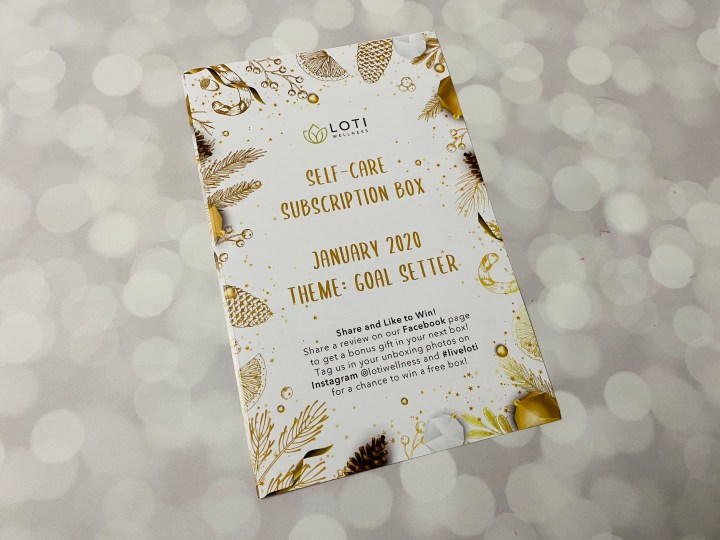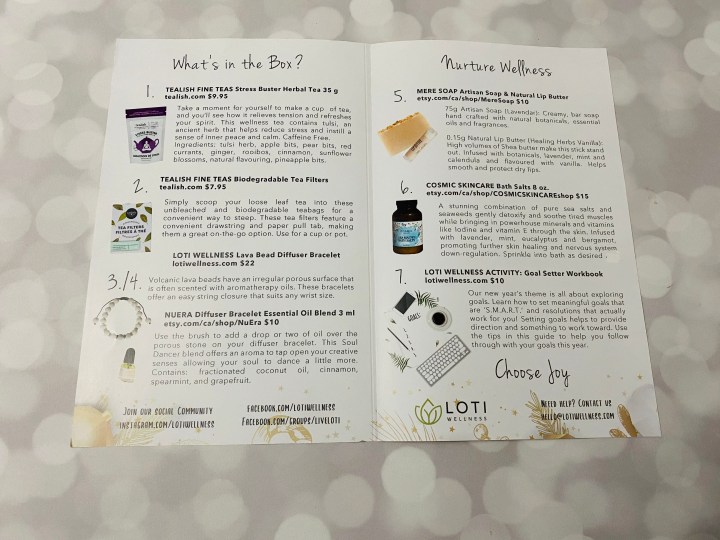 The information booklet goes over the theme for the month as well as the items and retail values for the included products.
Goal Setter Workbook ($10 CAD) — Loti is about self care so they always include one of their simple workbooks. January's plan is to set a goal.
Remember to make your goals SMART — Specific, Measurable, Achievable, Realistic, and Timely.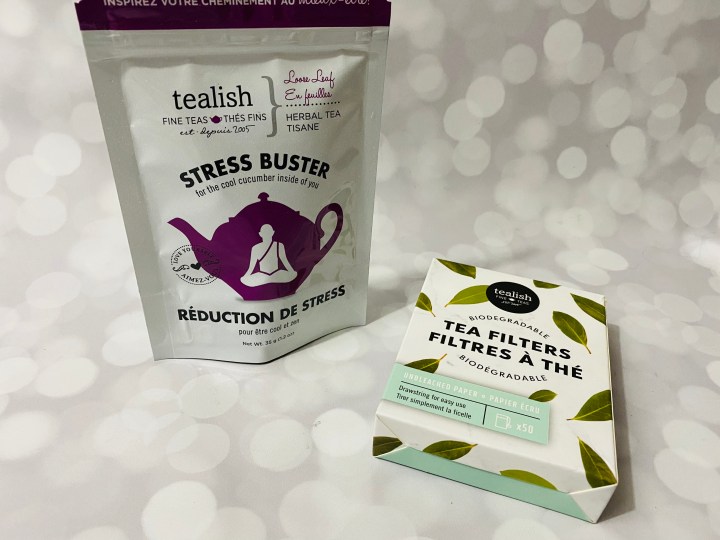 Tealish Stress Buster Tea ($9.95 CAD) — Tealish is a Toronto-based tea house that has a huge catalog of teas. I've been lucky enough to try several of their teas and they've all been wonderful. Stress Buster is a non-caffeinated herbal tea with an herb called tulsi which is said to be relaxing. It also contains apple, pear, and ginger among other ingredients.
Tealish Tea Filters ($7.95 CAD) — Switching to loose leaf tea is an amazing experience, but it's definitely an extra step to prepare it. You can use these biodegradable tea filters to make your own tea bag easily. Just scoop your tea into the bag, pull the drawstring, and steep it as you would a regular tea bag.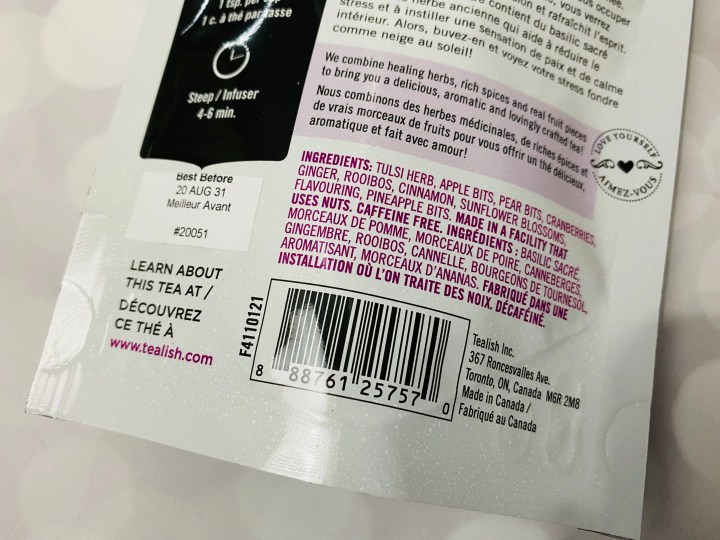 Full ingredients!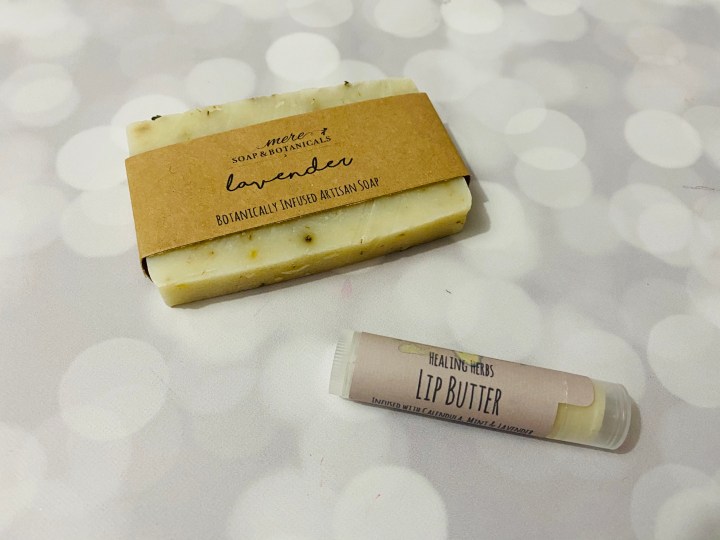 Mere Botanicals Soap & Mere Botanicals Lip Balm  ($10 CAD) — The lovely lavendar scented soap with natural oils and fragrance. It has bits of lavender throughout which makes it look so pretty! I won't be keeping this for myself but gifting it to my mom who loves lavender and also loves fancy soaps!
The lip balm is a soothing blend of shea butter, beeswax, and apricot oil. This is so smooth and silky and perfect for the -5 degree weather we're having right now!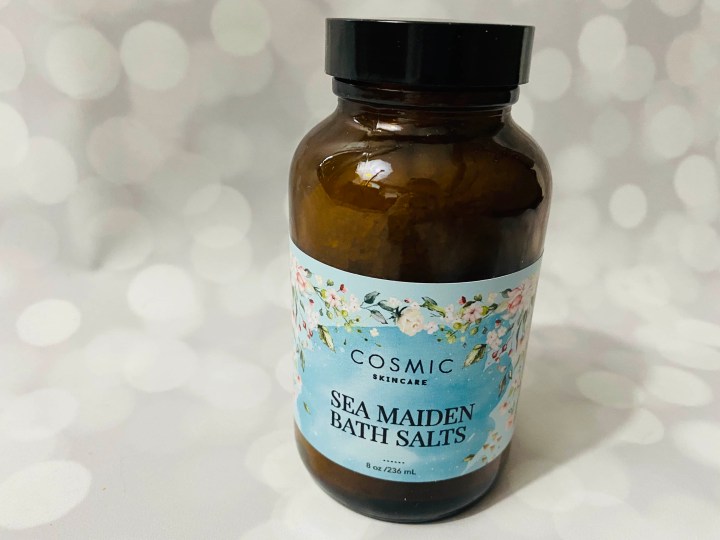 Cosmic Skincare Sea Maiden Bath Salts ($15 CAD) — I love baths so I'm always soaking in one at night with a glass of wine… this is an amazing scent with lavender, mint, eucalyptus, and bergamot. I am feeling a bit congested because of the cold weather and this is going to be heavenly. The bottle is a generous 8oz and I look forward to many hot baths with it!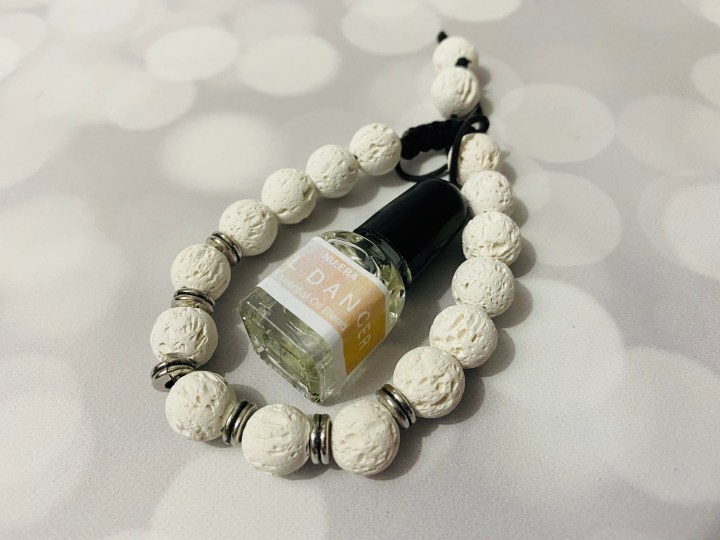 Loti Wellness Diffuser Bracelet  ($22 CAD) — The beaded bracelet is made of porous stones which absorb essential oils to keep you energized and uplifted all day.
NuEra Oil Blend ($10 CAD)- The blend we received with the bracelet is Soul Dancer, which has grapefruit, spearamint, and cinnamon! I love wearing bracelets with diffuser beads because when you move your hand you catch a whiff of fragrance… it's so nice!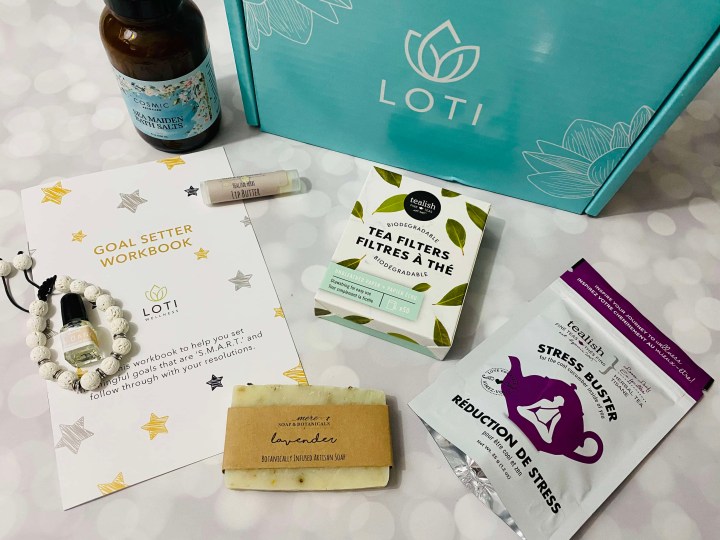 Loti Wellness is such a great box full of Canadian brands and a lot of heart and soul put into it. I love the workbook and find it to be really good for beginners who need a bit of help focusing on something to improve or nurture. Setting a goal this month was a great way to start 2020 and I love that I can treat myself to the wonderful products included in this box.
What do you think of this self-care subscription?