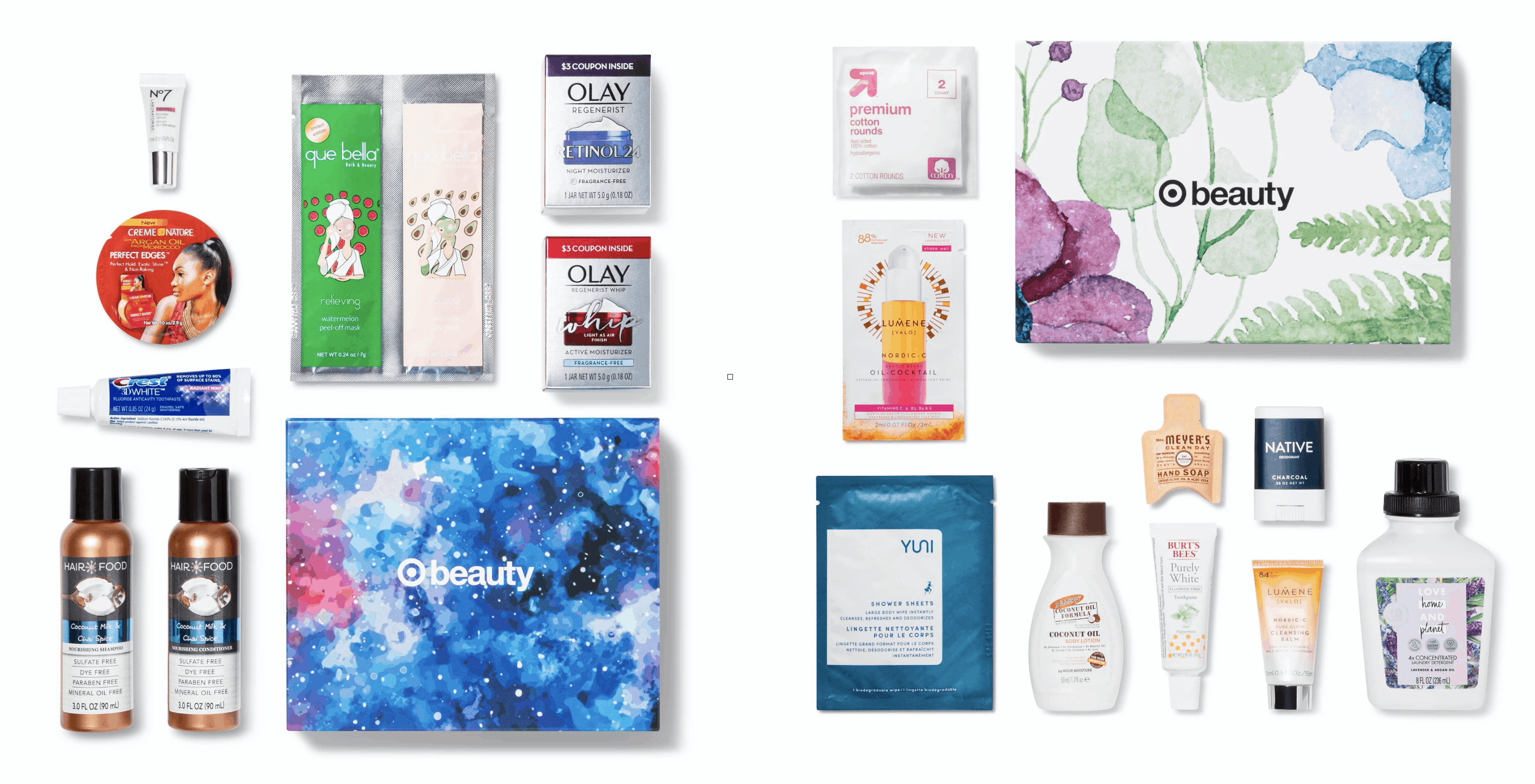 TWO January 2020 Target Beauty Boxes are available now – just $7 each.
J anuary 2020 Target Beauty Box – In With The New ($7):
Out with the old, in with the new – Ditch the old-school resolutions (like losing the last 10 lbs) – Instead make 2020 the year you elevate your beauty game! Whether you want to upgrade your skincare routine, show your hair some extra TLC or simply pamper yourself, these hero products have got you covered.
The box includes:
Hair Food Coconut & Chai Spice Sulfate Free Shampoo- 3 fl oz.
Sulfate-free coconut recipe nourishes hair and adds volume, leaving strands bouncy, luscious and smelling delicious, too!
Hair Food Coconut & Chai Spice Sulfate Free Conditioner- 3 fl oz.
Rich blend of coconut milk and aromatic chai spice lavishes hair with moisture so strands look lush, luxurious and full of life.
Crest 3D White Radiant Mint Toothpaste – .85 oz.
3D White fluoride toothpaste removes up to 80% of surface stains, strengthens tooth enamel and helps protect against cavities so you can say hello to a brighter, whiter smile.
Que Bella Limited Edition Watermelon Peel off Mask & Cooling Avocado Clay Mask Duo- .48 oz.
Refreshing watermelon adds a boost of hydration so your complexion looks brighter and blemish-free, while avocado oil plus conditioning shea and coconut butter leaves skin soft and moisturized.
Creme of Nature Perfect Hold with Exotic Shine – .10 oz.
Infused with argan oil controls and holds down edges while moisturizing and adding exotic shine creating sleek, smooth styles.
No7 Laboratories Firming Booster Serum – .11 fl oz.
Clinically proven booster serum is specially designed to target areas of the face most prone to loss of firmness – In just 1 week skin looks toned and tighter.
Olay Regenerist Whip Facial Moisturizer – .18 oz.
Innovative Active Rush Technology features a unique three-dimensional structure that improves elasticity and diminishes the appearance of fine lines and wrinkles so skin looks firmer and lifted.
Olay Regenerist Retinol 24 Night Moisturizer- .18 oz.
Proprietary blend of Vitamin V3 and Retinol visibly improves fine lines and wrinkles overnights, so you'll wake up to smoother, brighter, younger-looking skin!
January 2020 Target Beauty Box – Clean Up Your Beauty Routine ($7):
Clean Up Your Beauty Routine – From ingredient-conscious formulas to recyclable packaging, there's no better time than now to give your beauty routine a clean start. But with so many options to choose from, picking the right products can be trickier than it seems. Thankfully, we tried, tested and found some of the best better-for-you brands that work to make your complexion brighter, skin softer and teeth whiter.
The box includes:
Palmer's Coconut Oil Formula Body Lotion – 1.7 fl oz.
Organic extra virgin coconut oil and tahitian monol provide 24-hour hydration, leaving skin soft, supple and silky-smooth.
Lumene Nordic-C Cleansing Balm – .5 fl oz.
Arctic cloudberry seed oil, radiant-enhancing Nordic-C complex and vitamin C instantly energize and smooth skin for a brighter, younger-looking complexion.
Lumene Nordic-C Arctic Berry Oil Cocktail – .07 fl oz.
Replenishing blend of vitamins, omega fatty acids and pure arctic spring water perfectly hydrates skin, revealing a radiant, velvety complexion.
Native Deodorant Mini- Charcoal – .35 oz.
Try the aluminum and paraben free deodorant with over 5,000 five star reviews! Native Deodorants are safe, simple and effective. Long-lasting odor protection that goes on smooth and smells addictively good. Native Charcoal Deodorant has a fresh mineral scent with citrus undertones and the power of charcoal.
Yuni Travel Shower Sheet Body Wipe – 1 Wipe
Oversized, super-soft, moist body wipes made with natural purifying neem, peppermint and citrus smell delicious and instantly cleanse, anytime, anywhere!
Burt's Bees Fluoride Free Purely White Zen Peppermint Toothpaste – .85 oz.
Fluoride-free toothpaste removes surface stains, while zen peppermint leaves breath feeling fresh and clean – hello, gorgeous smile!
Love Home & Planet Laundry Detergent – Lavender & Argan Oil – 8 fl oz.
A little goes a long way for perfectly clean clothes with our concentrated laundry detergent. It is made with plant-based cleansers and is so smart it detects the type of stain it encounters to cleanse effectively yet gently, plus it's vegan and cruelty free. Blended with ethically-sourced Moroccan Argan Oil extracts, and infused with the calming scent of French Lavender.
Mrs. Meyer's Oat Blossom Hand Soap – 1 ct.
Special recipe of aloe vera gel, olive oil and unique blend of essential oils creates a non-drying, softening cleanser for even the busiest of hands.
Up & Up Premium Rounds – 2 ct.
Dual-sided design made with 100% pure cotton is strong, soft and lint-free, making it perfect for all you skin-care needs.
Are you getting a box? Save 5% when you use your Target Red Card.